Scrapbooking has become a popular hobby for those looking to preserve their memories creatively. For beginners, scrapbooking can be quite daunting and overwhelming. To make the process fun and easy, here are 35 easy scrapbook ideas for beginners – from baby scrapbook ideas and wedding scrapbook ideas to travel scrapbook ideas; from scrapbook page ideas, layout ideas, cover ideas, and design ideas to journal scrapbook ideas – there's something for everyone! So why not go ahead, explore some easy creative solutions, and get lost in the amazing world of perfect scrapbooks?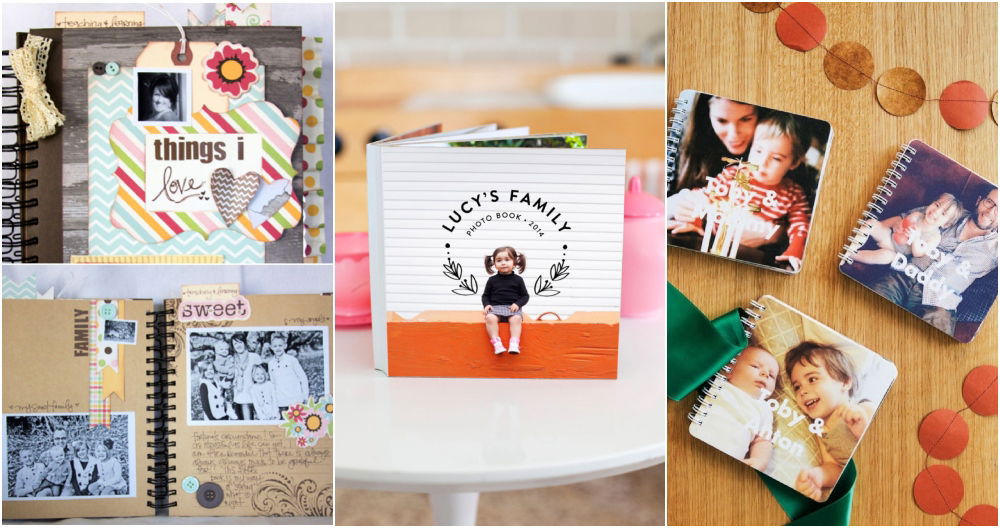 35 Easy Scrapbook Ideas for Beginners
Creating a scrapbook is an excellent way to preserve and showcase your fondest memories in a unique and creative way. However, it can be intimidating for newcomers who are unfamiliar with the process. Thankfully, there is a multitude of easy scrapbook ideas that even beginners can create! From journal scrapbook ideas to baby memorabilia scrapbooks, there are limitless possibilities when it comes to incorporating different themes and designs into your project.
Consider using favorite photos, mementos, postcards or any other trinkets you may want to incorporate into your design. With enough creativity, research and planning, anyone can craft a timeless scrapbook for themselves or as a special gift!
1. Scrapbooking With The Tab Punch
Here is how you can add more fun to your photo albums by adding some new memorable photos with the pretty and cute details with the scrapbook paper. You can use the tab punch to add subtitles and flip them through and thus bring more memories and fun to your album yourself. Details here wermemorykeep
2. Paper Flowers On Canvas
If you are a crafter then you must be in love with the making of paper flowers and with the scrap book papers the flowers turn out to be so whimsy and colorful and you can use them to decorate your scrapbook memories by decorating your pages with them. You can easily learn to make these adorable an cute scrapbook papers. treasureinanear
3. Up-cycled Scrapbook Into Lovable
From your sweet memories to the best moments of your life you can add all to your scrapbook and keep them preserved for ages to be cherished over time to time. On the same theme and idea you can create this The Things I Love the book and display your love for your favorite things, persons, games, food or anything in a really cute and fun way. missfancypants
4. How to Make Ombre Note Cards
If you have those sample paint chips lying in your drawer then here is the idea idea of using them for the most cute and the adorable purpose of making handmade thank you cards for your dear and ones. Using the butterfly and bird punches you can get the cutest omber cut outs to decorate your pretty thank you cards with and let them make an amazing gift idea for your favorite persons. Fully detailed tutorial here graceandgood
5. Homemade Woven Flower
When you are decorating your scrap book you must be getting your hands on the paper flowers to decorate your pages with. Here is the idea of weaving the ribbons to your flowers and make them look all spruced up and fun for you scrapbook decoration and get the custom beautification of your book.You can learn to weave it on your own here forscrappingout
6. DIY Scrapbook Diaries
What makes the memories preserved in the scrapbook more memorable and sweet is the cute embellishing of it and here is a scrap book shared with you to note down the gorgeous intricate decoration details of it and use it on yours. A lot of things have been used to beautify this lovely memory with the star fish, pearls, rope, leaves and so much more. You can check it out completely here gabriellepolla
7. How to Make Paper Popsicles
When you are doing some projects for the kids there are just lots of ideas to work on. here is this lovely idea of creating colorful Popsicle ice creams for the kids and use them to decorate lots of your kid's stuff with. You need to cut out the ice creams shapes from the card stock and add the exciting colors and textures to them with the gel pens. damasklove
8. Gift Box Out of Scrapbook Paper
With their colors, exciting prints and adorable design the scrap papers are just too much crafty and fun to use for loads of projects at home. So if you are in hurry and need an instant gift wrap idea you can use this lovely scrap paper to embellish your gift along with an added ribbon. It would be the easiest, quickest and the cheapest of the idea for the gift wrapping that you ever come across thriftdiving
9. Scrapbook Paper Organizer
Scrap paperis the most favorite crafting materiel for the craft lovers with their variety of designs, colors and the prints and if you are the crafty person you really need some organizing ideas to hold your scarp papers safely and nicely on them.Here is the easy solution of sorting your papers in the drawers of your crafting table and over a wall mounted rod organizer which is easy to install on your own and you can learn it all here inmyownstyle
10. One Year Anniversary Scrapbook
The first year of the marriage is really special for the couples and you can now preserve all your early marriage memories in this One Year Anniversary scrapbook with your pictures, some cute love quotes and lot more. Here is the idea of decorating your anniversary scrapbook to make your memories more cute, adorable and fun to look at when one year has passed. You can check out the complete details of the idea here nativeandsol
11. How to Make a Chipboard Album
The photo albums are so special as they hold all our pretty and sweet memories in them to cherish us at any moment of the lift and let us revise those moments with a smile on our face. So here is the gorgeous chipboard photo album idea that is just too simple and fun to create on your own at home with chipboard and the colorfully printed photos of yours. You can learn this adorable idea here with all the details and more abeautifulmess
12. DIY Travel Scrapbook
Traveling is not only fun but a passion for the travel loves and to make their travel memories preserved they should really be making this lovely travel scrapbook on their own. You would need your travel pictures and some cute printouts to create this adorable and memorable scrapbook for keeping your travel memoirs alive forever. You can check out the details of the tutorial here worldofwander
13. Family Photo Board Book
If you have a kid at your home then making this lovely family photo would be really a fun idea for you to let him or her have a family album with the photos of uncles, aunts, grandparents, siblings and more and thus let them remember the family members who are not even near her. The photo family book is just too easy and simple to create on your own you can check out the detailed tutorial here abeautifulmess
14. DIY Photo Books for Kids
Kids are just in huge love with the photos and they can look at them for hours so here is how you can indulge them with the photos more interestingly. You can make them this pretty family photo book with the photos of your dear and near family members with their names and relations mentioned. With the pretty colorful pages and the, graphics and prints you can add lots of charm to this book decoration and learn doing it all here cupofjo
15. DIY Valentine Love Book
This Valentine you can make the best of the gift for your partners with this pretty and memorable Valentine love book. You can portray your whole journey of love through pictures and quotations in this book and let your partner relive those cherished love moments again. Here is how you can create this pretty book with printed pictures, rope and ribbons so check out the tutorial weddingchicks
16. Scrap-Worthy Map With Photoshop
Here is the awesome and totally unique way to make your travel diaries on your own instead of the travel books and the journals. You can print out the map of your the places you have visited and tag them with your photos using the colorful card stocks, scrapbook papers and some paint. You can learn to create this pretty scrap worthy travel map with photoshop right here nettiodesigns
17. Scrapbook With Removable Pages
The scrapbooks are the lovely things to make sweet and fun memories with your pictures, writings and more. Here is this lovely scrapbook having been made up with easy to remove pages so that you can add or remove the pages per your desires. You would need binding boards, card stock, drawing paper, ribbons and some crafting tools to shape up this pretty scrapbook and for the complete details you can click here crafts tutsplus
18. Front Door Privacy using Scrapbook
If your neighbors can peek through your windows and your privacy is disturbed with this then you really need to cover your your windows. Here we have this really cute and pretty idea of covering the windows with the scrapbook paper and thus adding the perfect privacy to your spaces and that too without damaging the decor and style of your spaces. You can check out the complete tutorial here thefrugalgirls
19. Easy Scrapbook Idea
We all have a special person in our lives who deserves love and appreciation. Here's a DIY romantic scrapbook idea, called 100 Reasons Why I Love You! This is such an easy project that you can do to show your best friend. instructables
20. DIY Scrapbook Page
There are so many themes to work on while you are working n a particular kind of scrapbook idea and here is the idea of making this pretty and fun man tea shirt and tie page for adding a memory page in your scrapbooks that deals with your husband, son or the father or any other male in your life. Here is this pretty and fun idea described with all the details and more and you can try it easily at home on your own metdaan troomtroom
21. Scrapbook Page Decoration
The colors can add instants charm to any of your boring and dull possessions and here is how you can make your scrapbook pages look all gorgeous and fun if they are plain and simple. You can dd some colors and dots to the plain pages using paint and the sponge and thus so simply and nicely turn your pages to look cute and fun. The details of this pretty ideas are lying here to follow it more easily at home instructables
22. How to Cupcake Scrapbook Layout
Saving your sweet memories in a gorgeous and colorful scrapbook is really the fun thing to do in your idle pursuits and here is the sweetest idea to do that. Yes you can create this pretty cupcake sweet layouts for your scrapbook pages and the result would be so much cute and fun. You can learn to create these pretty and fun cupcake layouts. joyfuldaisy
23. DIY Valentine's Scrapbook
Valentine's Day is coming soon and it's just not the same without a little DIY. Create your own Valentine's Day scrapbook with this quick and easy tutorial. instructables
24. Make Scrapbook With Divider
Instead of creating separate scrapbooks for your family album, travel memories and for your valentine day love you can combine them all in one and differentiate them with the pretty and colorful dividers. To show you the perfect sample we have this lovely idea of creating the a scrapbook with dividers so that you can put lots of your memories together and cherish them at once while going through this book in your free time.Complete tutorial of the project here instructables
25. Beautiful Scrapbook Layouts
While working on your scrapbook ideas you really need to make some pretty and fun layouts and here is the idea of creating the colorful and cute geometric shapes layouts for your scrapbooks in square, round and triangle shapes and turn the pages out to be so cool and fancy.diyandfyi
26. Handmade Mini Scrapbook
The things look really cute and fun in the mini size and here is how you can make them on your own like this mini version of the scrapbook for your daughter with the school theme. You can use the lovely paper with school printable to shape up this lively and colorful scrapbook with the cute and pretty embellishing of ribbons to make it look more fun and interesting.Check out the fully detailed tutorial here crissyscrafts
27. DIY Scrapbook Layout Craft
If you girl is insisting on some unique kind of gift for her daddy on this father's day then making this memorable and heart melting father's day scrapbook would be the perfect idea to show the father-daughter love in a really cute and fun way. You can use colorful prints, designs and papers along with the father-daughter quote and pictures to form up this amazing and memorable book artsycraftsymom
28. Custom Gift Bag Out of Scrapbook Paper
With the colors, cute prints and the gorgeous patterns the scrapbook papers are so much of the crafting value and artistic worth. There is like a hell of the ideas and projects that can be boosted up more with the use of the scrapbook paper and these adorable gift bags are one of them. you gift would catch more delight and fun when hold in this pretty and cute bags made out of the scrapbook papers with some easy cuts, twists and folds.Complete tutorial here liagriffith
29. Make Your Own Scrapbook
If its your baby's first birthday then you can create this lovely scrapbook to show his cute and fun journey of one year through his lovely pictures you have taken all through the year, With adorable printed picture and the colorful scrapbook paper you can gorgeously archive this scrapbook and get a pleasureful addition to your baby's one year memories and cherish them forever. Complete details of the idea are lying here to be followed easily at home thenewage
33. Decoupage Box With Scrapbook Paper
If you got a plain box lying around your spaces then you can really turn it into a fun looking box and use it for the holding your valuable supplies and materials or any other accessories like jewelry an pictures too. So you would need to decoupage this box with the colorful and cutely printed scrapbook papers and decorate it with butterfly and doily pieces and it would all ready to sorter your possession and make an lovely eye catching display over your tables creativekhadija
31. Coasters With Scrapbook Paper and Mod Podge
Making your own coasters would not only save your money but also give you some custom possessions for your table serving too that you can easily flaunt as your personalized favorite things. So here is the idea of creating the custom coasters for your self or for any none to be used as the gifts. You can use some white tiles in square shape and cover them up with the scrapbook paper and turn them out as the most cute and fun looking coasters to hold your drinks and coffees on.Details here thelovenerds
32. DIY Paper Bag Scrapbook
Here is another cute and fun idea to do your scrapbook project with and especially the kids would just love it. Its a cute paper bag that would hold your scrapbook papers in it and make a really cute and gun possession. With some few and easy cuts, folds and and twists you can easily shape up this paper bag and turn it into a unique scrapbook with some painted hues making it look more funky and fun.Details here chicacircle
33. Book With a Chipboard Scrapbook Kit
The scrapbooks are really a trend these days and there are so many fun things that you can use to make them some really cute, custom and fun scrapbooks for yourself or for anyone around to be used as the pretty gift. Here is the idea of making a lovely scrapbook out of the chipboard and the gorgeously printed scrapbook papers on them along with some other crafting tools and supplies that have been all enlisted here with more instructions and details runtoradiancel
34. Turn Scrapbook Paper Into Home Decor
With some efforts you can get the most fancy and the most whimsy kind of scrapbook papers and use them for the beautification of your so much things around the home and for the home decor itself too. You can turn this lovely, colorful flowery paper into an exquisite wall art piece by gluing it over a wooden board or a square tile piece. lifeafterlaundry
35. DIY Wall Art With Scrapbook Paper
Those art pieces for the walls having the deer draw outs on them are really in trend these days and now you can give them a more colorful and funky twist with this pretty and fun scrapbook paper use. You can cover the deer head with the gold and the rest of the board with an enchantingly printed scrapbook paper using mod podge and it's done. modpodgerocks
Related DIY Projects and Ideas
Photo Album Ideas: Setting up your own photo album is a great way to display your memories, and personalize the design with all the things that make you unique. Get inspired by these creative DIY photo album ideas and get started!
Photo Collage Ideas: These awesome DIY photo collage ideas are perfect for your Instagram feed, Facebook profile, or just to hang on your wall. Follow this photo collage tutorial and make one of your own!
Photo Gift Ideas: We all know how hard it is to find the perfect gift for a friend, family member, or loved one. These thoughtful DIY photo gift ideas are perfect for people who have everything and want something unique.
Notebook Cover Ideas: These delightful DIY notebook ideas are a great way to add some personalization to your notebook. They're also a great, budget-friendly alternative to buying something new.
Maternity Shoot Ideas: Sometimes it's hard to know where to start when you're looking for a maternity photo shoot idea. Here are superb DIY maternity shoot ideas and tips to help you get started.
Valentine's Day Crafts and Gifts: Valentine's Day is the perfect time to show someone you love them in a different way. Here are some creative ideas for valentine's day gifts, decorations, and crafts that will help you express your love in a way they'll never forget.
Conclusion:
If you are looking for some cute and easy scrapbook ideas, then our list of beginner-friendly scrapbook ideas will get your creative juices flowing in no time. Whether you are just getting started with scrapbooking or are a seasoned pro, we've got unique scrapbook ideas for everyone. So what are you waiting for? Start scrapbooking!