The season of warm wools to make cute felting projects is upon us! Winters are the best time to sit beside the fire pit, enjoy a hot cup of coffee and at the same time, indulge yourself in making something productive and exciting!! Like these 25 easy needle felting ideas and projects that we rounded up for you! If you love the soft feels of felt and the texture it makes, at the same time bringing the cozy warm vibes to the things it is used to make, you are so in for a treat with these DIY needle felting projects! Needle felting can also be called a delicate form or type of felting! It requires a few tricks and some patience, and you can end up making some real-time stuffed toys or textures at home all by yourself!
Get ready to allow your creativity to take quite the flight with these DIY needle felting projects! Have you ever been awestruck with the cute tiny felt owls? We have got a detailed tutorial on how you can make those little guys and set them up in your home decor! Make your own collection of pretty felt earrings or flowers, strawberries, cute little birdies, or a pretty and trendy beret or brooch! We have rounded up these lovely DIY needle felting ideas that you can totally keep yourself happily occupied these winters. And who knows you might even end up having brilliant home decor ideas.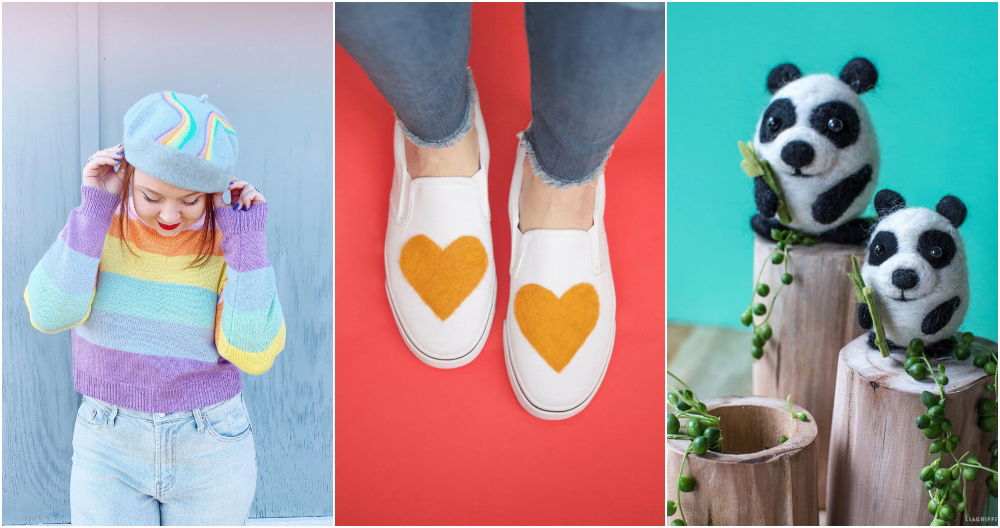 What is Needle Felting?
Needle felting is a crafting technique that involves using special needles to repeatedly Poke and prod at wool or other types of fibers. This process can be used to create 2D or 3D sculptures, as well as flat felted pieces. Needle felting is a great way to add texture and dimension to your craft projects, and the results can be truly stunning!
If you're new to needle felting, you might be wondering what kinds of projects are possible. To help you get started, we've gathered a list of 25 cute and easy needle felting ideas and projects. From cute animals to trendy home decor, there's something here for everyone!
Where Does Needle Felting Come From?
The origins of needle felting are somewhat mysterious, but it is believed to have originated in Asia or Europe. It is thought that the technique was first used to create felt for clothing and other items. Needle felting may have also been used to create tapestries and rugs.
The first recorded use of needle felting was in the early 19th century when it was used to create toys and other objects. Needle felting became popular in the 20th century when it was used to create sculptures and other art objects.
Today, needle felting is used for a variety of purposes, including creating clothing, accessories, toys, and home decor. Above all, it is also used in a variety of other crafts, such as jewelry making and quilting.
If you're looking for some needle felting ideas, there are many resources available below!
What Supplies You Need For Needle Felting?
You will need a few basic supplies to get started with needle felting.
First, you will need felting needles and a needles holder. There are various needle felting tools on the market, so choose one that feels comfortable in your hand. You will also require some wool roving in the colors of your choice.
Wool roving is a type of wool that has been combed and twisted into a long rope. You can buy these at most craft stores or online.
Finally, you will need a piece of foam to needle into. A piece of upholstery foam or a felting pad will work well.
With these supplies, you are ready to start needle felting! Check out some of our favorite needle felting ideas and projects below.
Types Of Felting Needles
There are a few different types of felting needles that you can use for your projects. The most common needle is the barbed needle, which has tiny barbs along the shaft that help to grab and pull the fibers. There are also single-pointed needles, which are often used for finer details, and multi-pointed needles, which are good for covering larger areas quickly.
Needle felting is a great way to add texture and dimension to your projects. You can use needle felting to create 3D objects, embellish existing fabric or add details to needlework. Therefore, Needle felting is also a great way to use up small bits of fiber or yarn.
Here are some easy needle felting ideas to get you started:
1. DIY Needle Felted Owl
If you are someone who likes to do a little crochet or knitting, this playful DIY needle felting project can be a perfect add on to your skillset. This tutorial on DIY Needle felted owl is one fascinating craft to work on, it's easy and less time consuming than more crafts that involve wool and needle. themagiconions
2. Make Needle Felting Realistic Animals
Art and decor always go side by side! If you are into wool and needlecrafts, this DIY Tutorial on needle felt realistic animals is undoubtedly going to create a statement in your decor settings. It's a creative decor element that you can place in your living room too. instructables
3. DIY Needle Felted Word Cushion
If you are fond of some DIY Crafts and like to experiment with them, this tutorial on how to make a needle felted word cushion is for you. By this craft, you can add a customized touch to your bedroom, even you can make his and her pillows using this craft. fallfordiy
4. Pretty Needle Felted Owls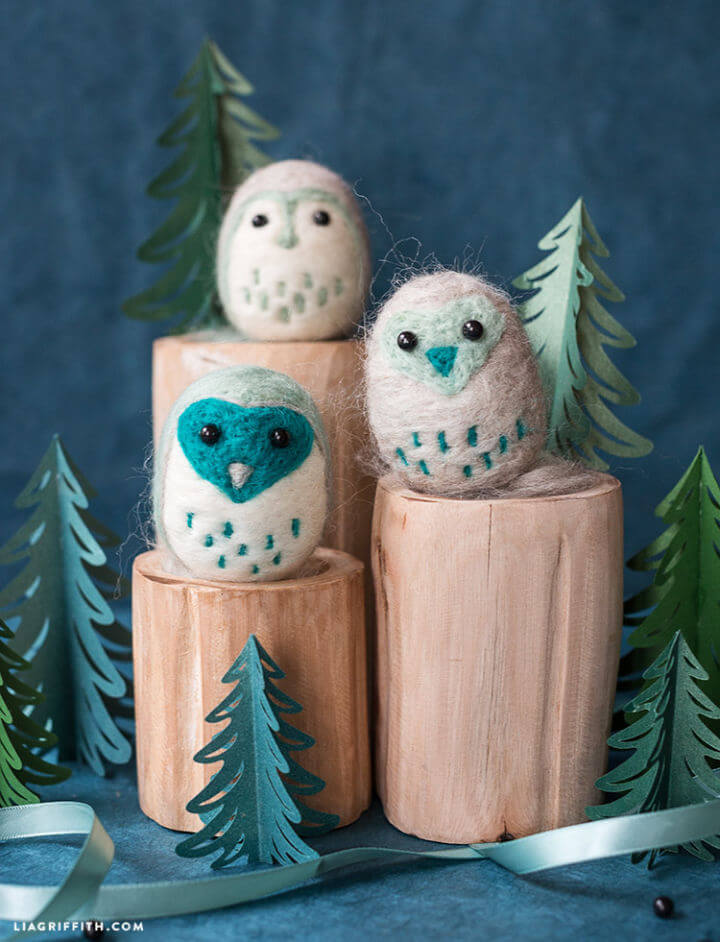 Since Christmas is almost near, it's the right time to start planning on some Christmas decor. This Needle felted craft on Owls is a perfect Christmas decoration to put in your living room, place them against a lovely green Christmas tree, and lights on the background to give it a nice feeler. liagriffith
5. Needle Felt Earrings
For a girl, jewelry is one of the most important aspects of an overall outlook. But it's not necessary to always wear some gold or fancy jewelry. You can rock these simple needle felted earing too, a simple DIY Craft for your next party wear. small good things
6. Felted Macaron Garland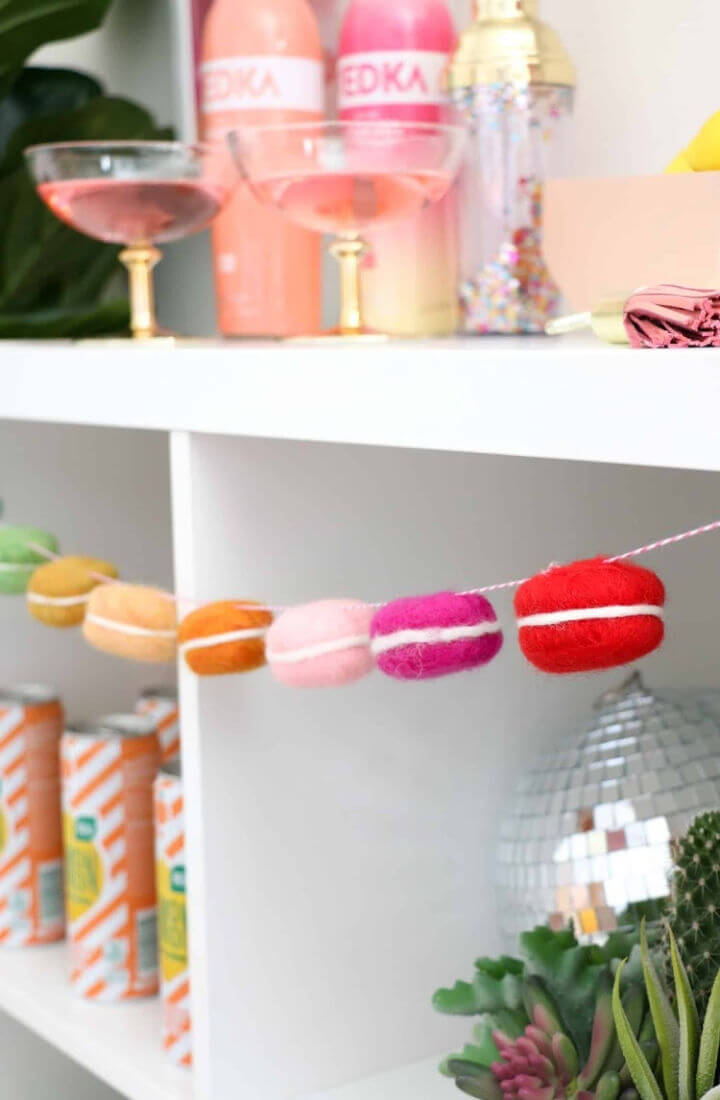 Are you planning a family get-together any sooner? Can't decide how to add a nice decor and feel to your living room? This tutorial on needle felt Macaron garland is a perfect idea to decorate your living room with, the guest will surely love it. abeautifulmess
7. Beautiful Needle Felted Rainbow Pillow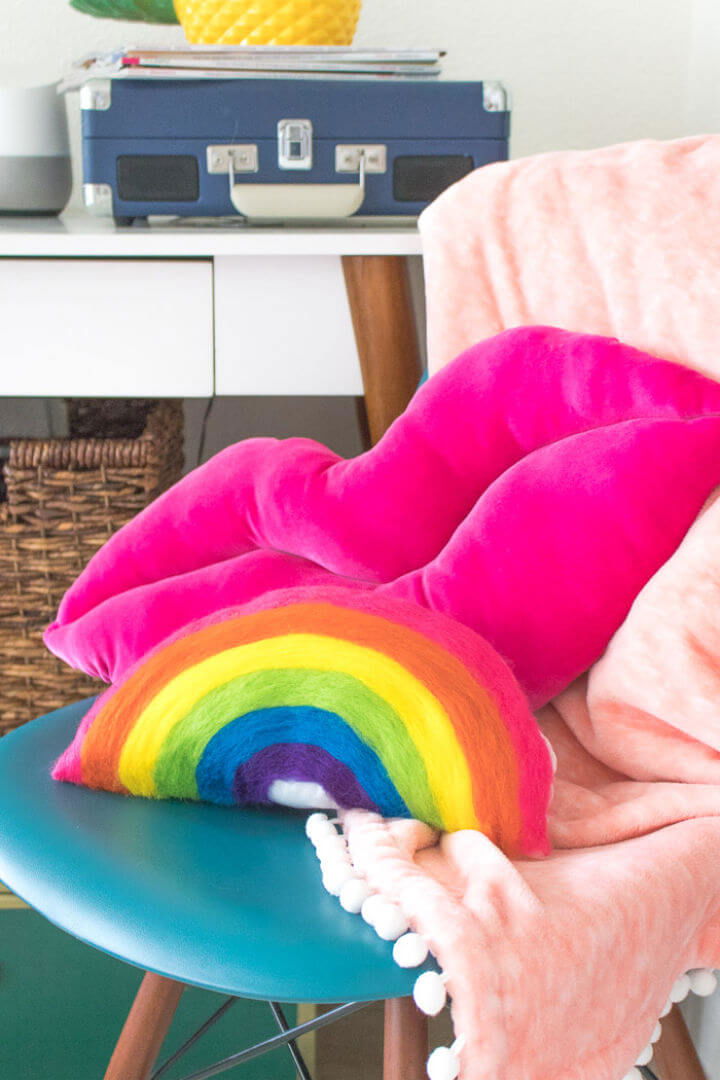 If you are stressed from exhausting work this week and want to feel relaxed, can't decide how to do so? This DIY needle felted pillow craft is sure going to soothe your mind. You can create these colorful pillows in less than 30 minutes. All you need are a few supplies. clubcrafted
8. DIY Needle Felted Art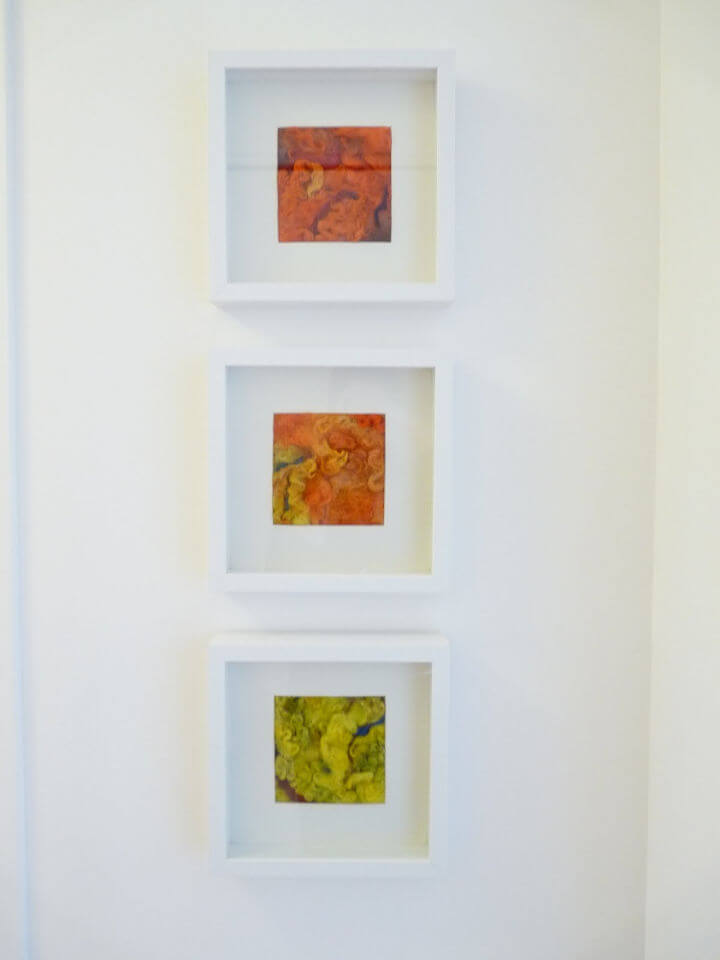 If you are planning to redo your favorite living room wall, but can't decide how to revamp it flawlessly. This DIY needle felting tutorial on needle felt art is a perfect way to give a little pop of color to your plain white wall. danslelakehouse
9. Make Needle Felted Cloud T-shirt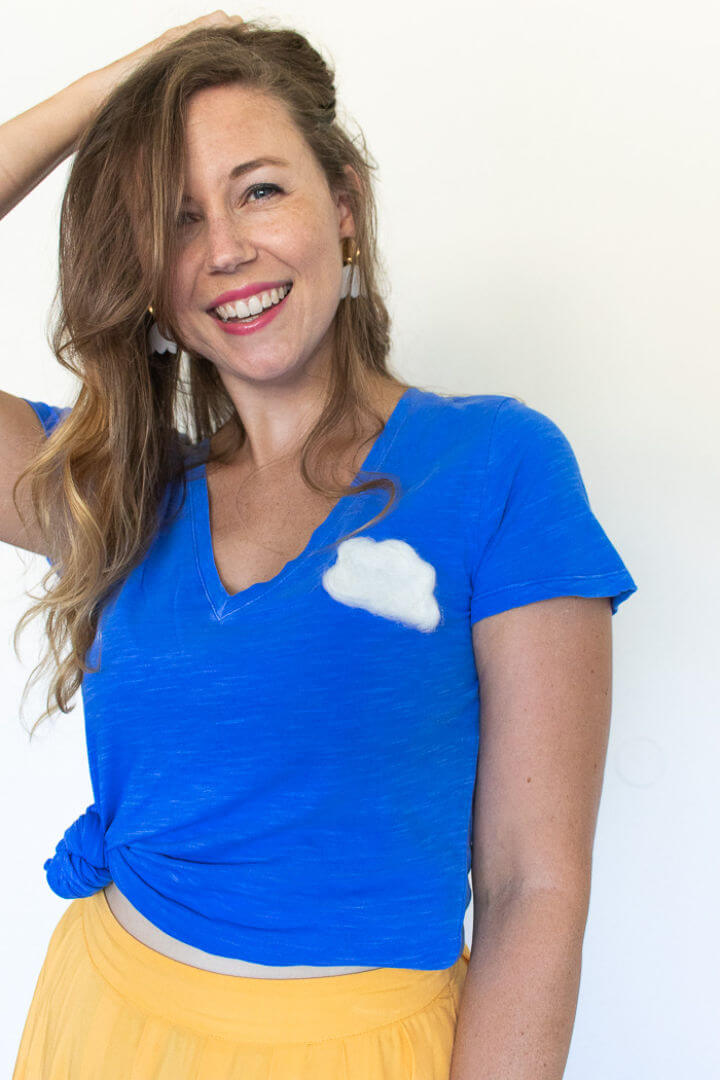 Crafting can be fun and exciting at the same time. If you like to experiment with some homemade DIY Crafts, this tutorial on a needle felted cloud t-shirt is something you should not skip. A perfect craft to get those old t-shirts back to use this summer. clubcrafted
10. How to Make Needle Felted Flowers
For every party or celebration, flowers are an important accessory of decor. Instead of using real flowers for your next family get-together party, use these needle felted flowers for your girls to wear on their heads. It will surely create an impression that will last. craftmehappy
11. Quick DIY Needle Felted Owl
If you are a beginner at needle felt crafts, this DIY craft on the wooly owl is what you need to start with. It's an easy project, you can learn how needle felt crafts are done, and what basic materials and supplies are required to make this craft. petalstopicots
12. Cute DIY Needle Felted Robin
If you are going to plan a welcome spring get together party with family and friends, why not do something crafty for your living area too. This DIY craft of needle felt Robin bird is one of those crafts you need to work on. craftaholique
13. Needle Felted Little Birds
Planning to do a little makeover to your kid's room? But can't decide how to do so. This DIY Needle felting art on little birds is one craft that you can try to hang on the wall, you can also make these little birds stand on their little feet and place them in a nest. craftpassion
14. Easy to Make Needle Felted Strawberries
Everyone loves strawberries on their plates, how about you can put some as a decor piece on your dining table. Not the real ones, but these super comfy needle felted strawberries. This tutorial will help you to create your very own homemade strawberry craft. realfelt
15. Colorful DIY Needle Felt Hearts
Action speaks louder than words, how about you take this seriously with this Amazing soft heart-shaped needle felt craft. These delicate, fuzzy heart-shaped crafts are perfect for presenting to your loved ones on your anniversary or any day you want. bluebearwood
16. DIY Needle Felted Gloves
Kids always love some cute and adorable crafts, how about this winter vacation they learn a new craft before school starts. This DIY tutorial on needle felted gloves is surely what kids will love. They can even pick their favorite glove and craft on it. blitsy
17. Needle Felted Panda Pals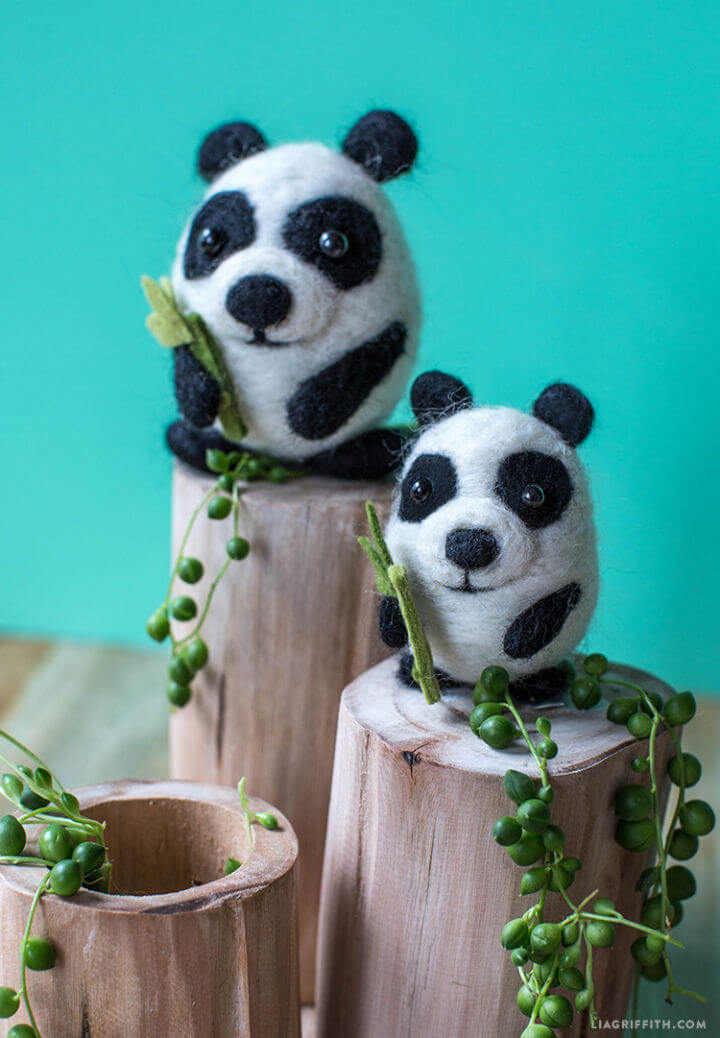 If you are someone who is in love with pandas, this DIY tutorial is for you. This fantastic craft consists of some basic needle felt techniques, all you have to do is use some of the supplies readily available in your house, and you can make this soft felt panda. liagriffith
18. DIY Needle Felted Heart Shoes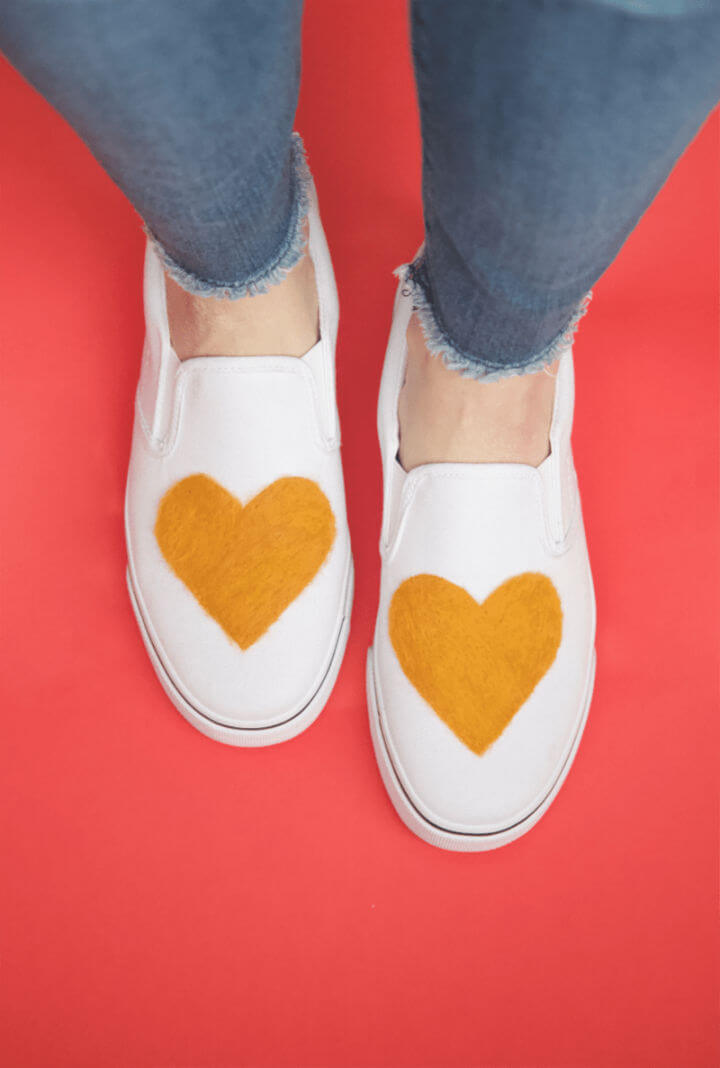 A little sign of love and affection goes a long way! With this DIY Heart-shaped needle felt art on a shoe, you can learn how to create one for yourself or even for your loved ones. All you need is a shoe and some basic supplies. prettylifegirls
19. Make Needle Felted Beret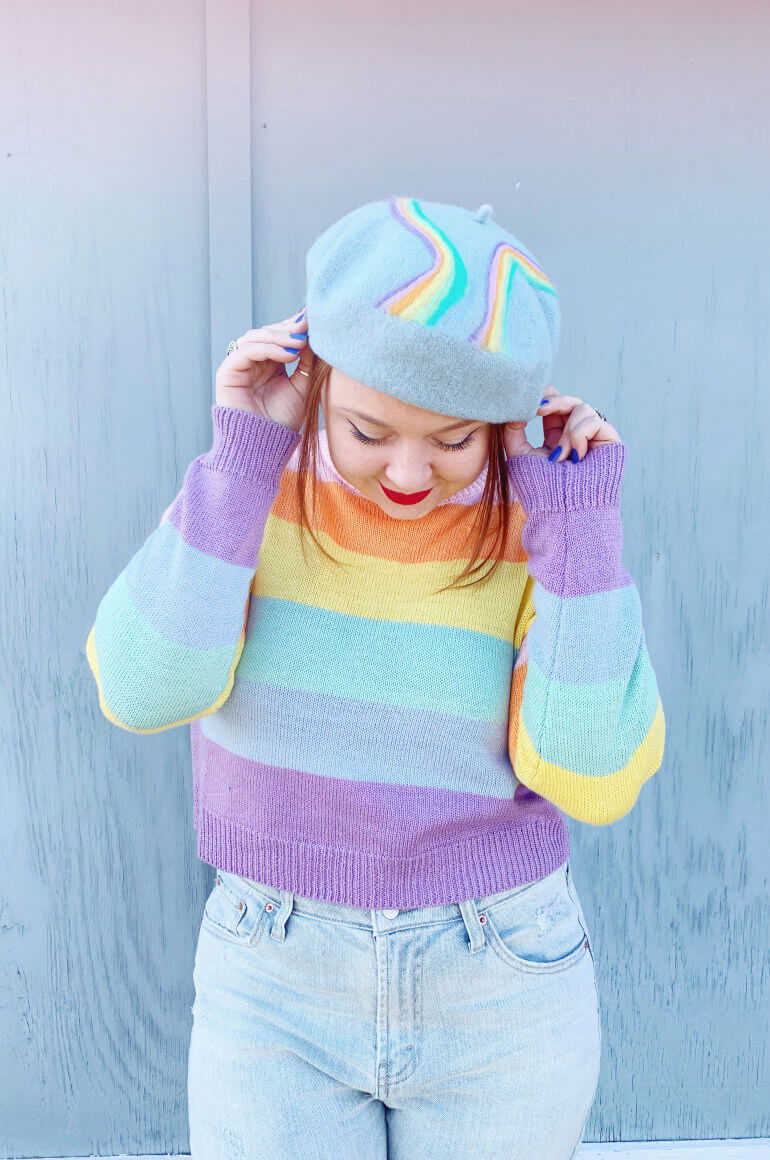 Since the winter season is here, a perfect time to wear a beret cap. These woolen caps are life keeper in winters, how about if you modify them a little bit? This DIY Needle felted art on beret by using some wool and needle is surely going to make a statement. auburnartisan
20. Awesome Needle-felted Cardinal Bird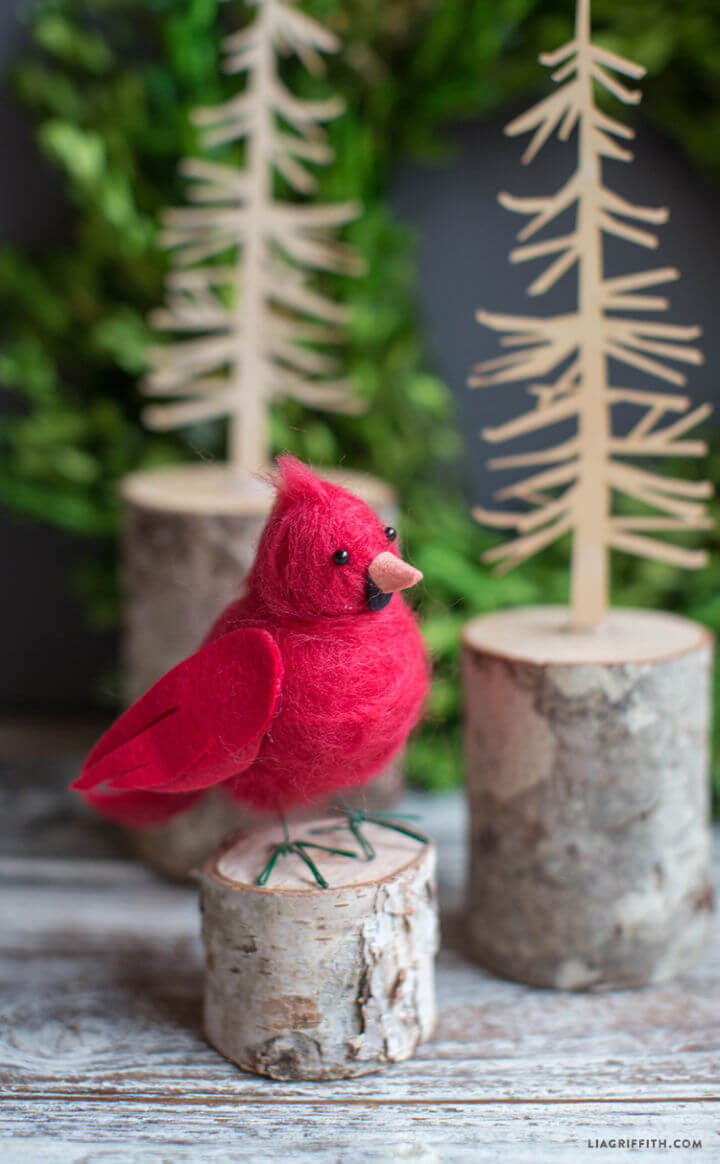 The more there is to color, the more fun it becomes. If you have an affection for birds, this DIY Needle felted cardinal bird is one amazing craft to try these winters. The tutorial here is going to help you on how to make one. liagriffith
21. Needle Felted Rattle Ball
If you are new at needle felt crafts, this soft, furry needle felted rattle ball is something you should start first from. It's a perfect craft to gift to your friends who recently became parents. Add a bell in it, so it jingles too, kids will love it. prettyprudent
22. Pretty DIY Needle Felt Cactus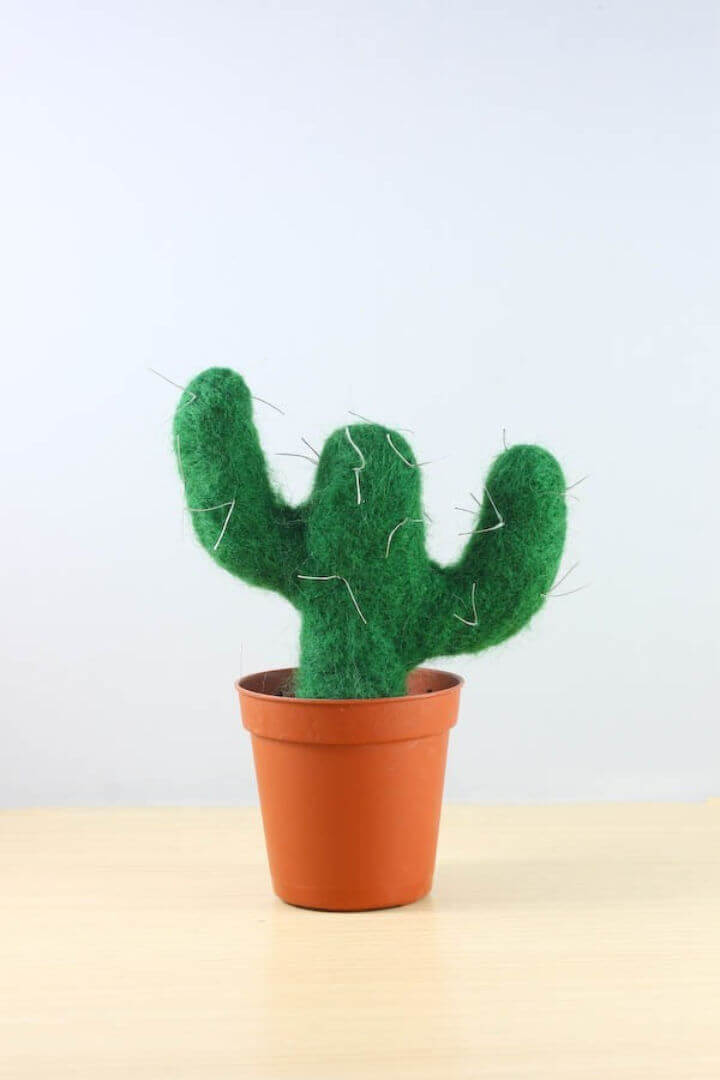 Sometimes it gets messy to put planters in your room since they don't get enough sunlight or enough air to breath. This DIY Needle felt cactus craft is surely going to help you a lot in this scenario. It's an easy task to do with just a handful of supplies. makeandfable
23. Needle Felted Pom Pom Cushion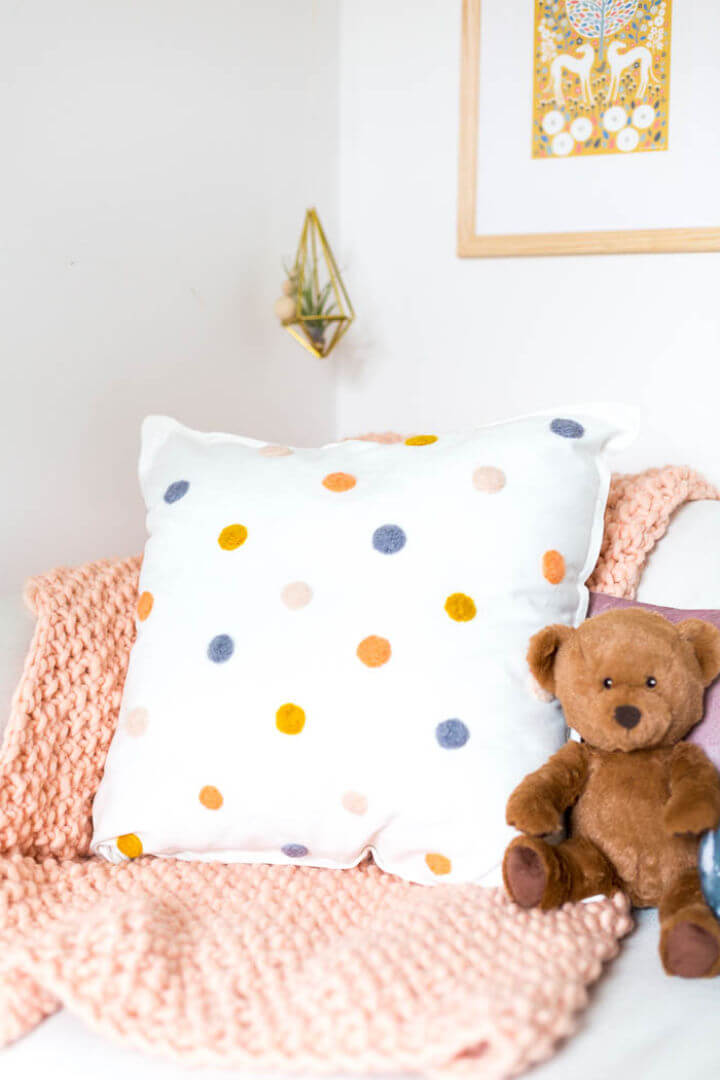 Kids love pom pom stuff toys in their rooms, with their soft toys how about you give a little makeover to their DIY cushions too. With this DIY Pom Pom needle felted cushion craft now, you can add a pop of color and softness to their room. fallfordiy
24. How to Make Needle Felted Chick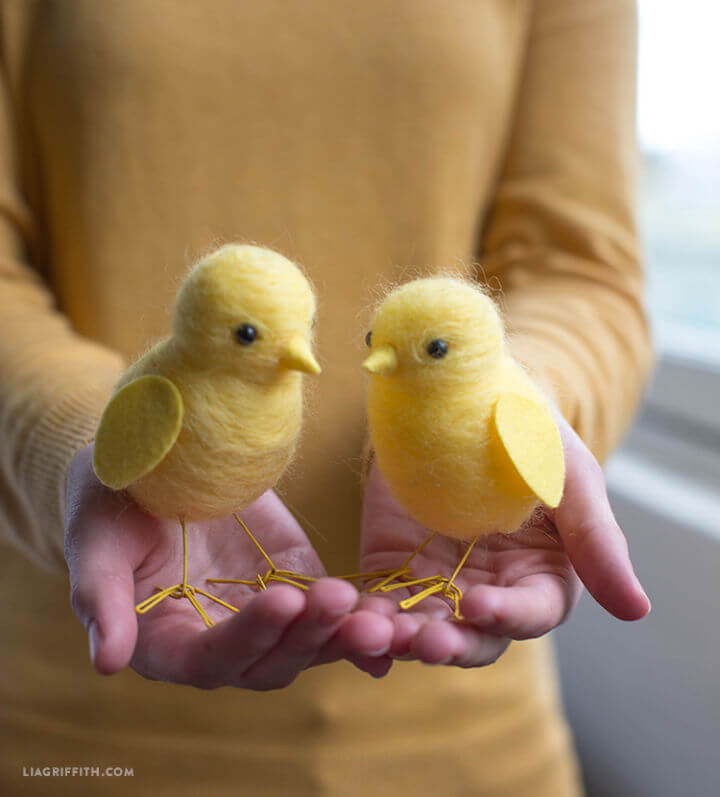 Kids love soft and fuzzy baby chickens, just hand them one, and they will keep playing with them all day long. If you don't have one, this DIY Needle felted chick art will help you out. The craft is easy and playful, even kids can join with you to create one cute little chick. liagriffith
25. DIY Needle Felted Molecule Brooch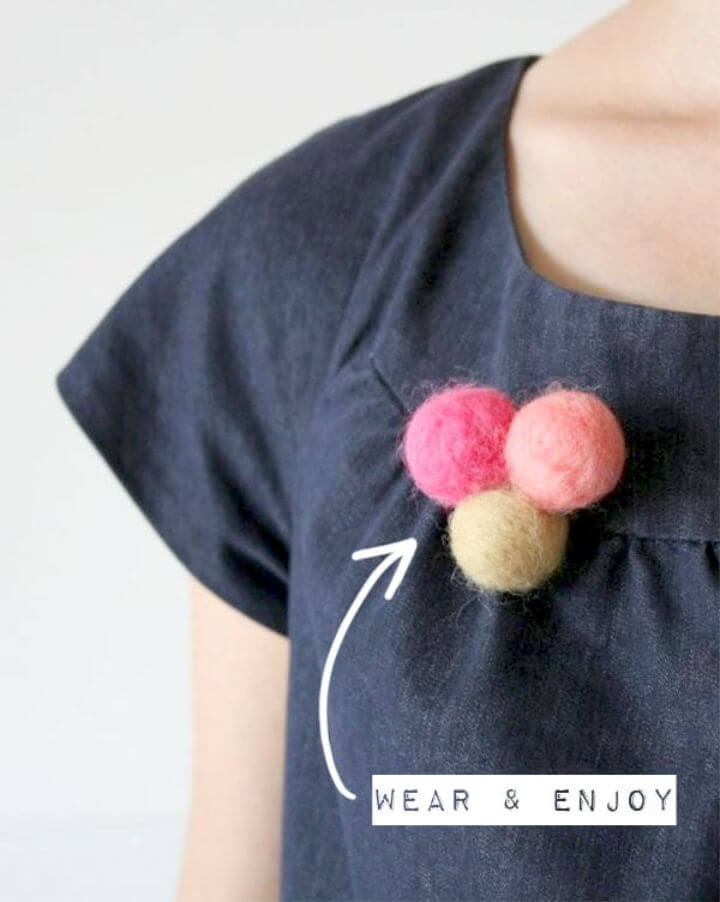 Going to attend a science festival at your school? How about getting extra ready for the event? This DIY needle felting craft on molecule brooch is surely going to make a statement, this is how you can show that you are 100% ready for the festival. mypoppet
To nail these DIY needle felting projects, most of the things you are going to need are felting needles, felting mats, hot glue guns, and felt the color in your choices! You can use beads or other embellishments as per your requirements! Get crazy with these easy needle felting ideas!
How much fiber do you need for needle felting projects?
If you're new to needle felting, you may be wondering how much fiber you need for your projects. A general rule of thumb is that you'll need about 1 ounce of fiber for every square inch of the project area. So, for a small project like a needle felted ornament, you might only need a few ounces of fiber. For a larger project, like a needle felted rug, you'll need several pounds of fiber.
If you're not sure how much fiber to get, it's always better to err on the side of too much rather than too little. That way, you'll have plenty of fiber to work with and you won't have to stop in the middle of your project to get more.
What is new in needle felting projects?
If you're looking for some new and creative needle felting ideas, you've come to the right place! We've rounded up a collection of our favorite needle felting projects from around the web, including both simple and advanced tutorials.
Whether you're a needle felting beginner or an experienced pro, you're sure to find something to inspire you in this collection. So grab your needles and some wool roving and get felting!
Related Craft Ideas:
Felt flower patterns: Sharing free, printable felt flower patterns and tutorials. These felt flowers are great for embellishing your home and wardrobe with easy-to-make embellishments.
Felt projects: Felt crafts have been a popular hobby for years. This list of things to make from felt includes a variety of felt crafts, decorations, and toys that are perfect for kids.
In Conclusion:
There are needle felting ideas for every skill level, from beginner to expert. And, they're not just for adults either – kids will love needle felting crafts! So, get your needles and some felt and start exploring the world of needle felting today.