Are you addicted to knitting? Then knit amazing blankets with these bestArm knit Blanket pattern list. The art surprises when you need your arms in place of knitting needles. Knitting oversize wool strands for massive knit blanket designs will make you get with chunky blankets, will rock as outstanding winter warmers. Kids can enjoy the movie by sitting on a sofa while being wrapped in a knit blanket on chilly days. The design inspirations are endless but browse the most popular ones in this list of 10 Arm Knit Blankets patterns that are from the genius knitters and have only been shared a yarn crafting wonder.
Vary the in-between spacing and even the style of knitting to bring cool variations to the design. So, enjoy knitting with arms while wishing to be happy. Using your knitting skills and other special hacks, you can come up with lots of variations that will delight all the onlookers.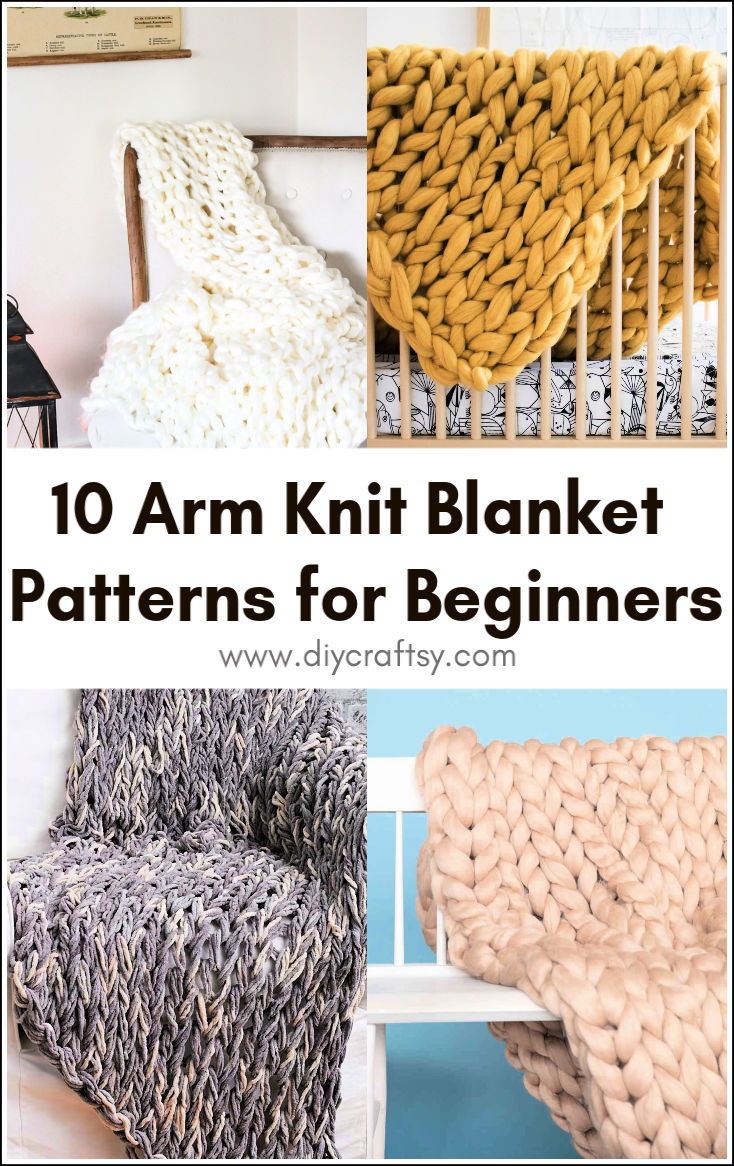 Some knitting blanket patterns will work up super quickly, and some will take some time for more than 3 hours. Hence, it can be completed during a whole summer afternoon. Browse the entire list of these DIY arm knit blanket patterns and add your favorite pattern in your to-do list.
1. Arm Knit a Blanket in Less Than 1 Hour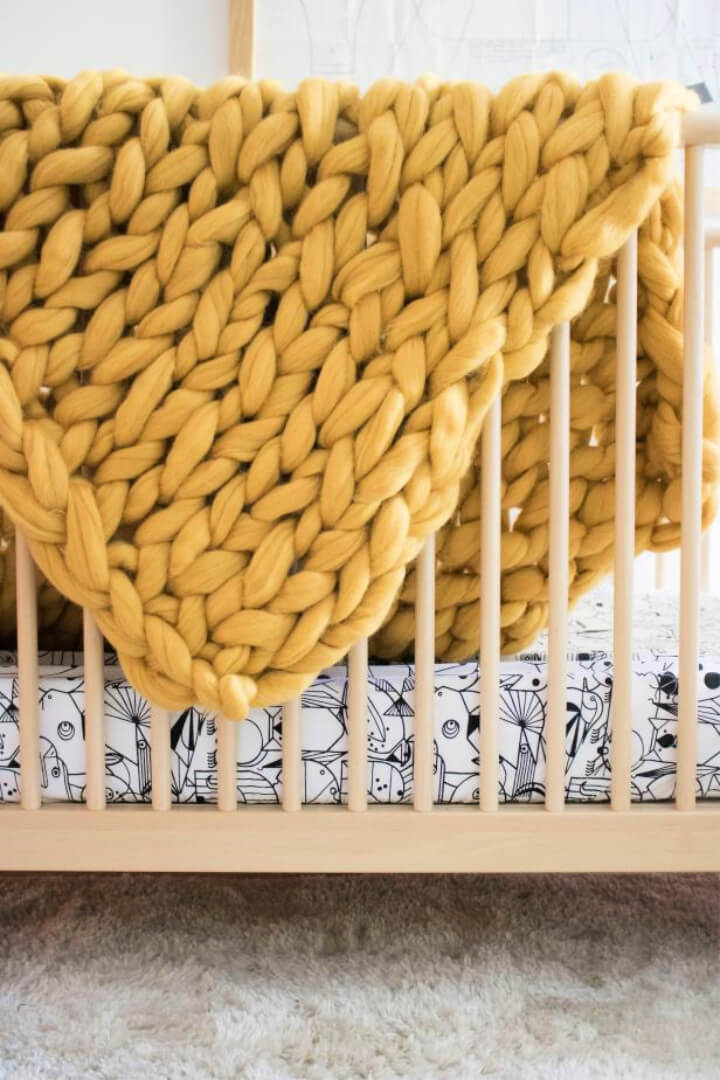 Do chilly evenings are demand for cozy accessories? Then get the winter comfort in a stylish snug way by knitting this massive blanket design with extra soft wool, will complete in less than an hour! Use your arms instead of knitting needles for oversize knitting stitches that create a bold design texture! Check out this yellow chunky wood blanket, a big winter wardrobe must-have! Details here hgtv
2. Beginner Arm Knit Blanket Pattern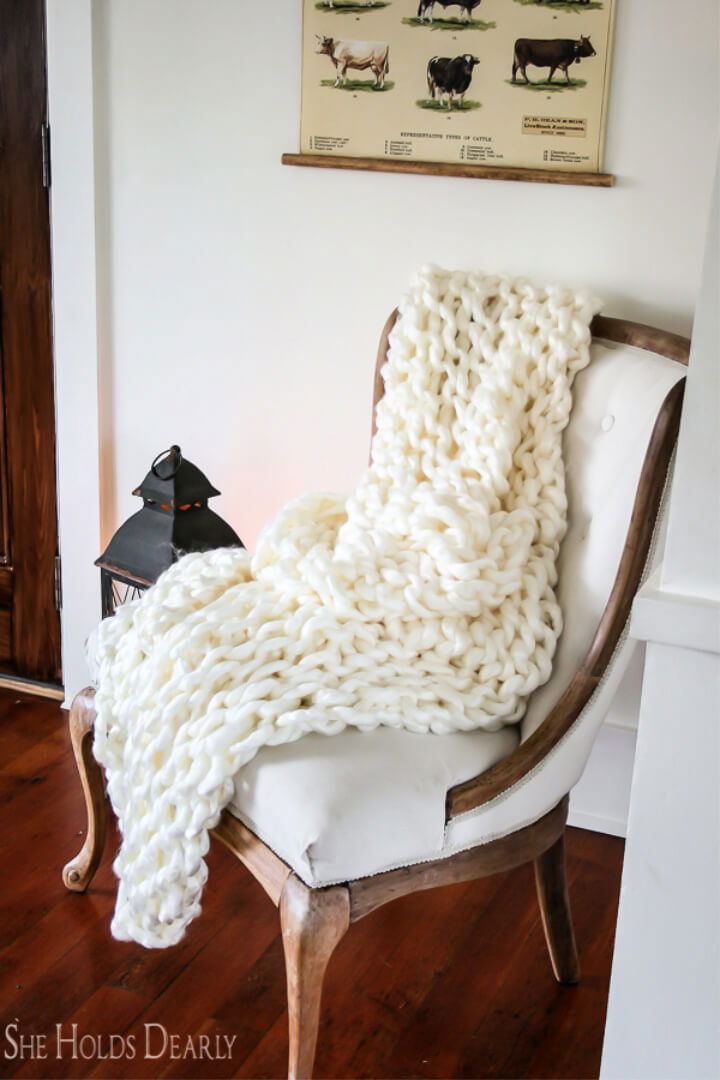 Have you been lusting over those cushy chunky blankets? Then get comfortable in winter nights with this arm knit blanket, a beginner-friendly pattern will make you feel proud after the end! If you are on the way to learn how to arm knit a blanket, then you must go with this beginner knit blanket pattern! sheholdsdearly
3. Arm Knitting a Blanket for Beginners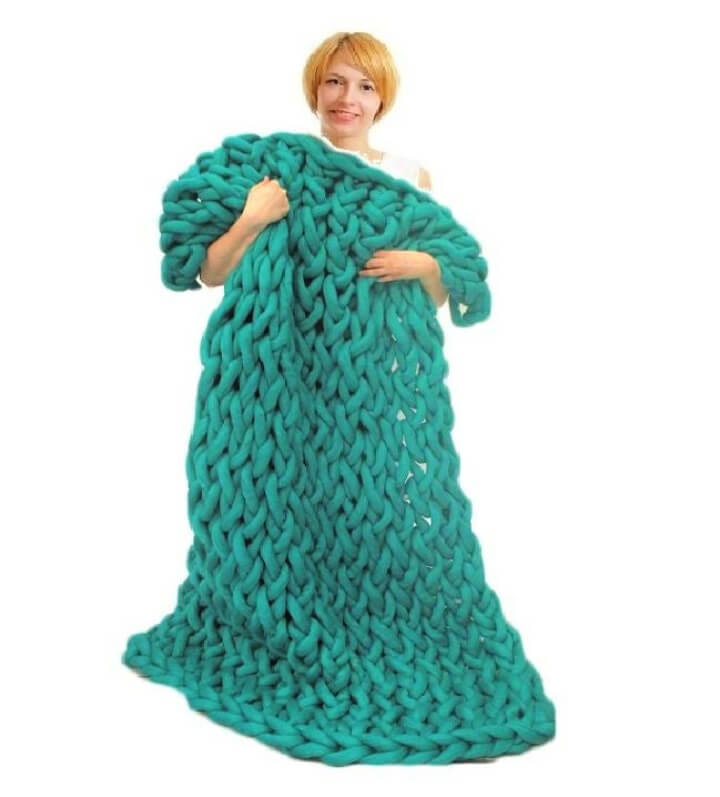 Knitting with arms is rewarding, get busy with softwood of choice to practice beginner arm knitting skills creating this massive chunky blanket! The perfect winter warmer for the kids to snug in, it will work up quickly like in less than two hours! Knit it with any yarn color that is favorable to you! instructables
4. How to Arm Knit a Blanket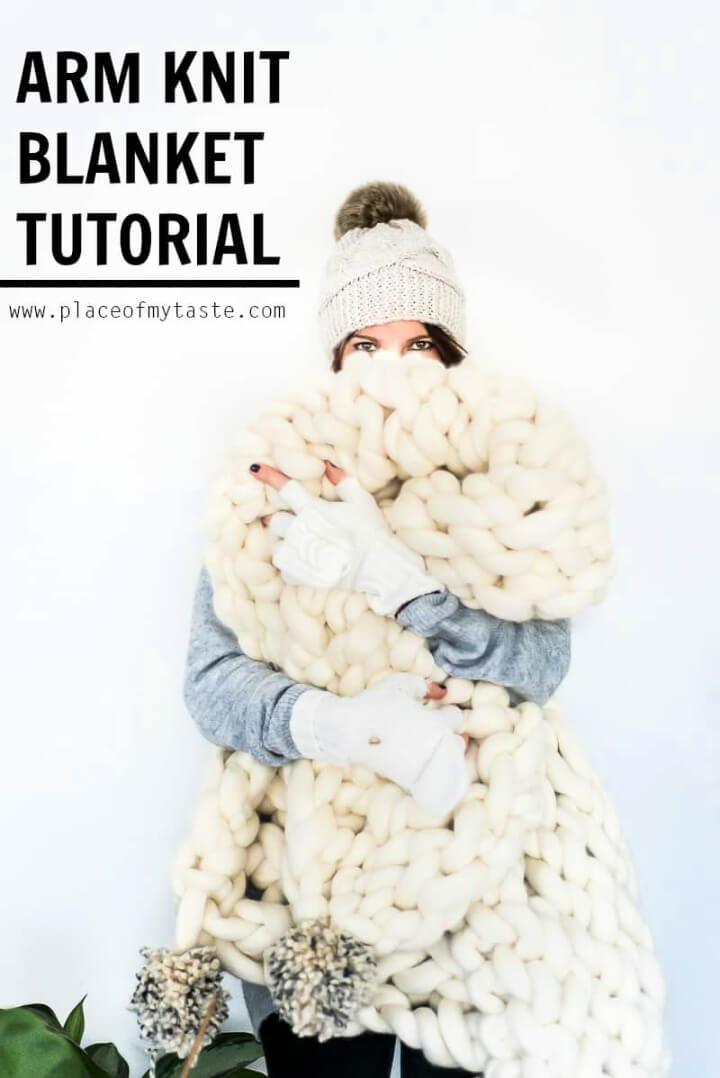 Celebrate the arrival of chilly days when leaves become crispy with this chunky arm knit blanket! It will impress with its chunky design texture! The oversized blankets will be a thoughtful winter gift and will be ridiculously cozy! The pom-pom embellishments or accents cute up the entire massive blanket design! placeofmytaste
5. Arm-knit Bulky-style Yarn Blanket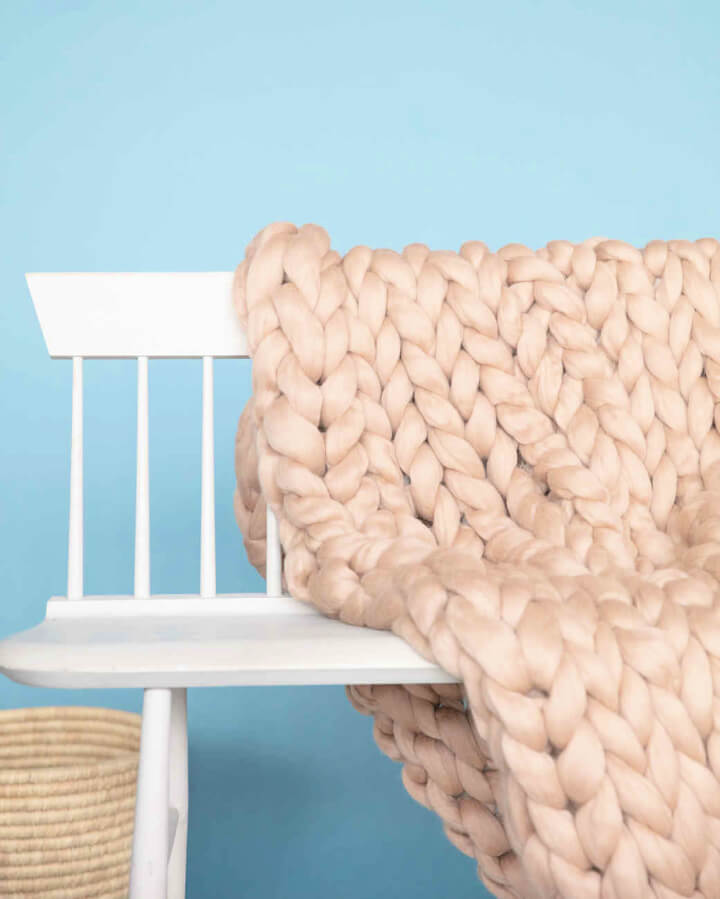 Celebrate the cold nights with this bulky-style yarn blanket, knitted with arms! Here also, the soft but bulky yarn has been used to craft this very precious bulky-style yarn blanket! It will be a cozy and lasting longer winder accessory to make at home! marthastewart
6. Arm Knitted Cosy Chunky Blanket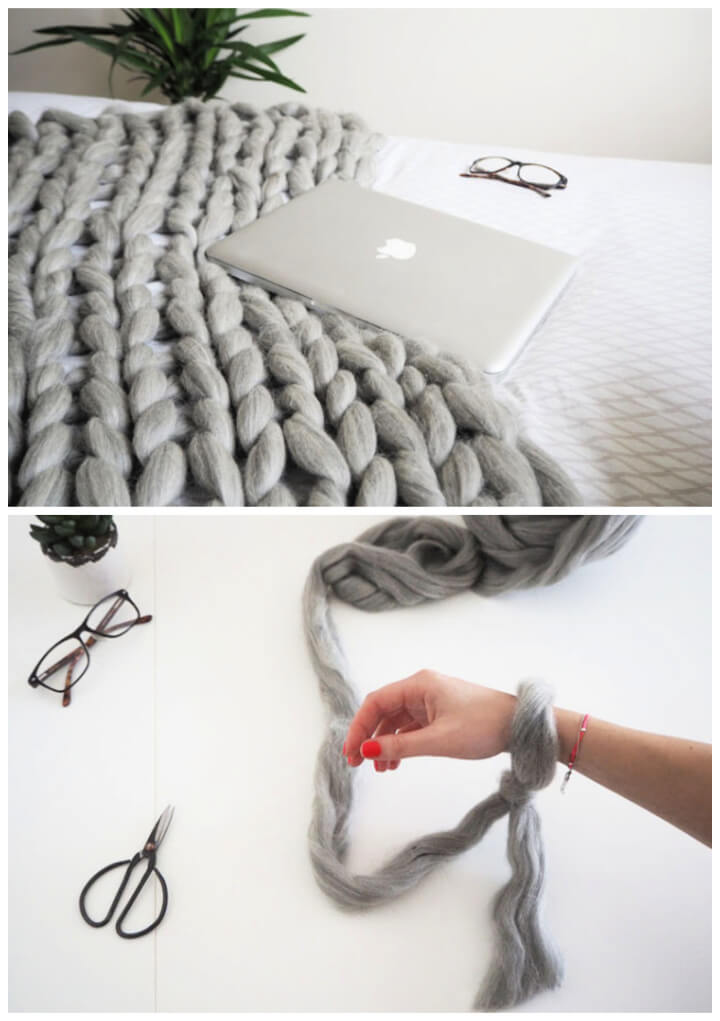 A little dark grey appearance confirms it to be an epic fall warmer! The chunky knitted wool lengths will provide a sufficient amount of winter warmth. It will also make a great handmade gift for a mother-to-be! The cozy chunky knit blanket to make quickly for kids to snuggle in extra chilly days! Details here woolcouture
7. Chunky Arm Knit Blanket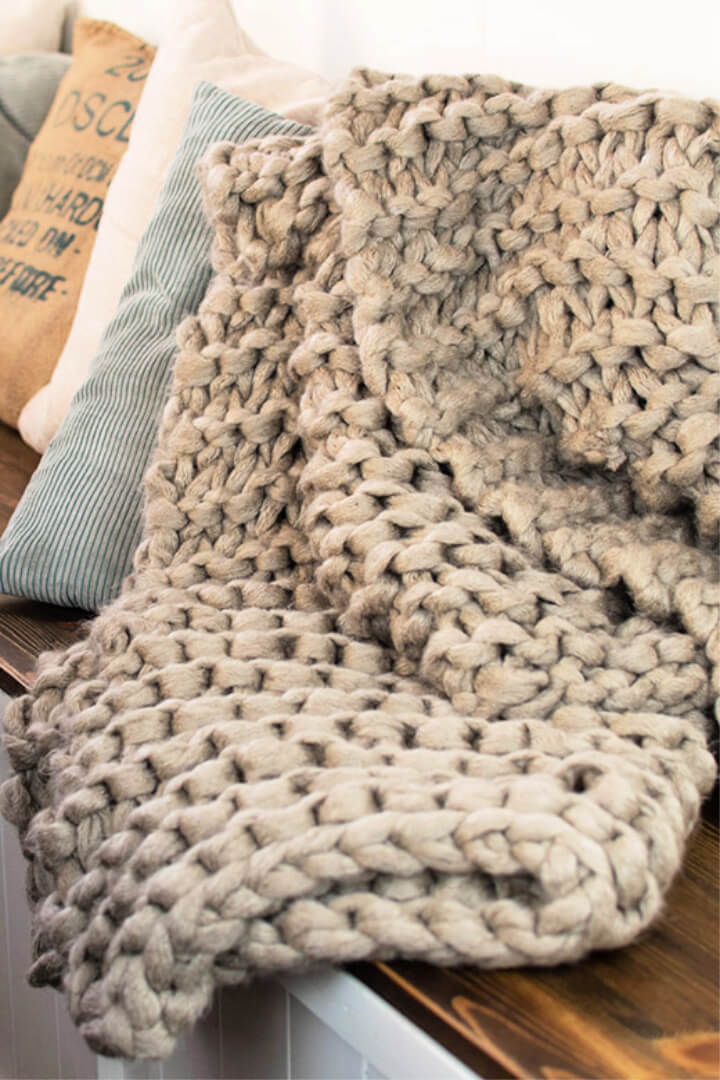 With the help of the provided pattern, this chunky knit blanket will be a no-fail to if thinking to try it out! Experiment with your favorite type of wool! Make it get a sufficient amount of warmth this winter! A must-have knit blanket to add to your winter wardrobe! Details here littleyelloww
8. Arm Knit 3-Hour Blanket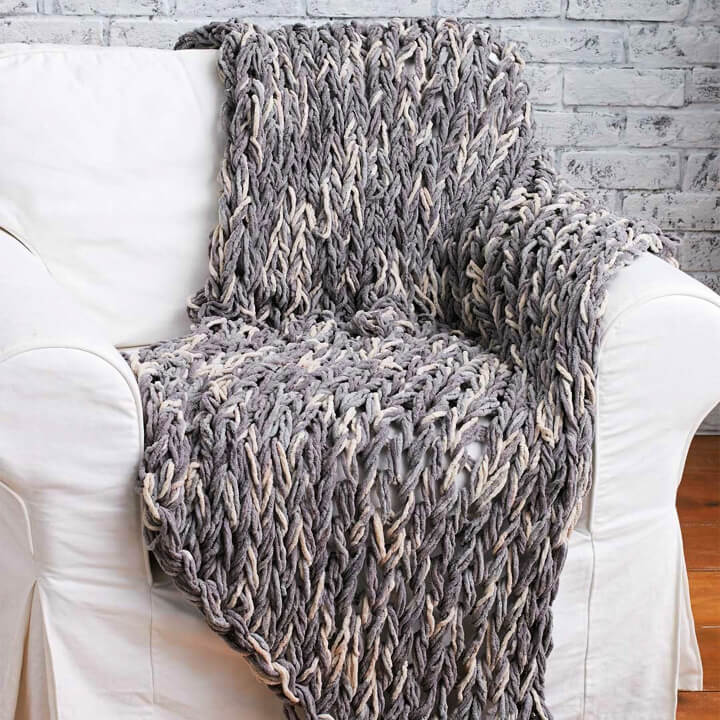 You can vary the wood weights to vary the design texture of the arm-knit blankets! Spending only a Sunday afternoon to nit this blanket with your arms as knitting hooks! It completes in 3-hours, even if you are a beginner! Grey and neutral hues of yarn create a mesmerizing appeal of this arm knit blanket! Details here yarnspirations
9. Free Arm Knitting Ribbed Blanket Pattern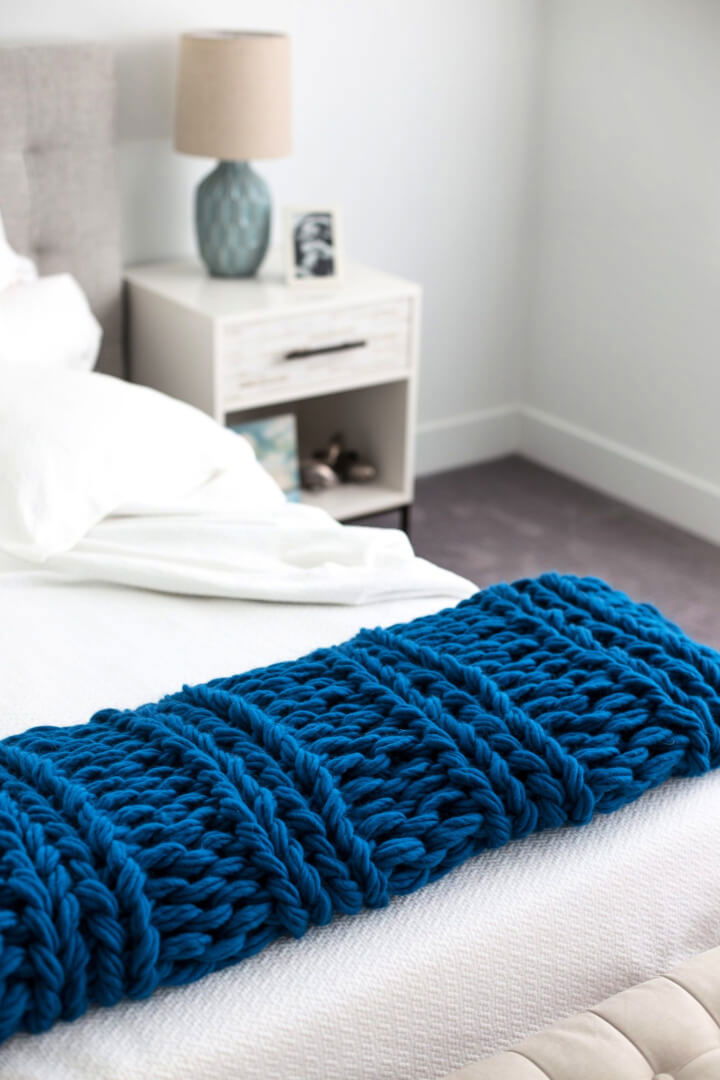 This arm knit blanket pattern gains uniqueness from the ribbed design texture and is a great pleasure to knit with arms! Grab the heavy-duty wood strands in lovely navy appeal! Next, knit them by wearing on the wrists, this will help make a loop! The lush and luxurious navy ribbed blanket to knit at home with great ease! Full how-to guides here flaxandtwine
10. Arm Knit Blanket for Home Decor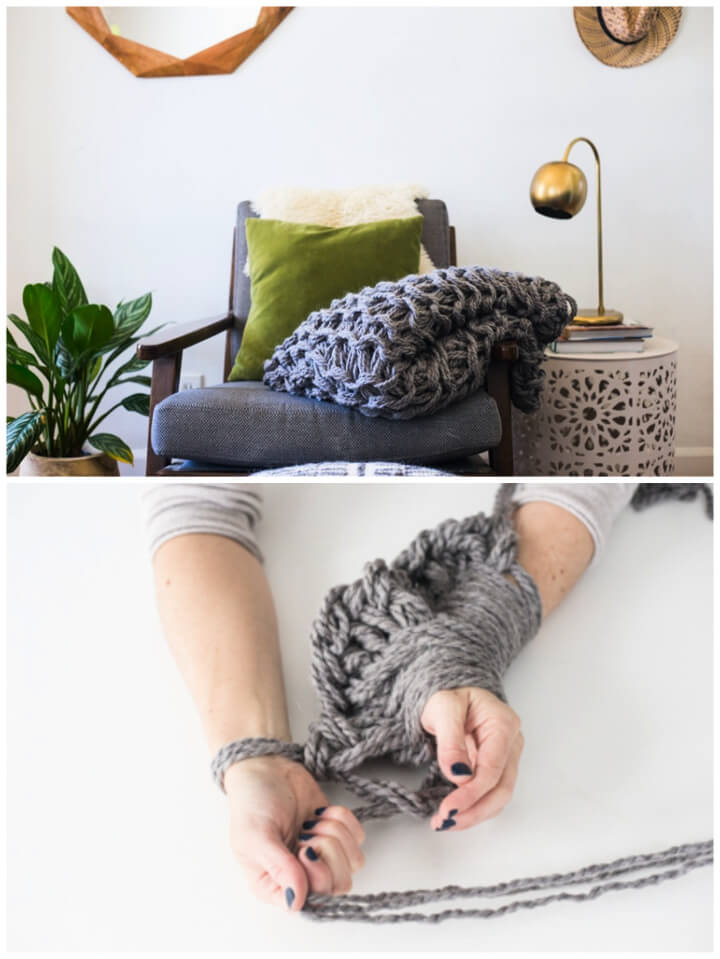 Why use knitting hooks as you have your arms, go with your arm-knit skills and make this Arm Knit Blanket will add a lot in the home decors! A thoughtful winter warmer gift to make quickly! Grab the chunky yarn of choice to make this DIY Blanket! Instructions here worldmarket