Discover how to make a balloon garland or arch with these 20 easy DIY balloon garland ideas that are perfect for a birthday, wedding, or baby shower! The balloons are one of the most loved party decorations. They are often to see an amazing decor element in the birthday party, wedding decor and on a baby shower. However, the balloon decorations often look rough but they are darn easy to compose. Get helped by an inflator to blow up tons of balloons needed for party decorations. A helium tank will be a smart replacement for flying balloons.
After you get hundreds of blown-up balloons in your favorite colors, tie them together making a precious DIY balloon arch. Mount them up on the wall for interesting colorful backdrops. Use them in the same manner for adding impressive backgrounds to wedding stages. Get helped by these 20 simple DIY balloon garland tutorials while being puzzled at using the balloon smartly for celebration and party decor. Also, You can use your front door, dessert table and windows to make an amazing balloon arch.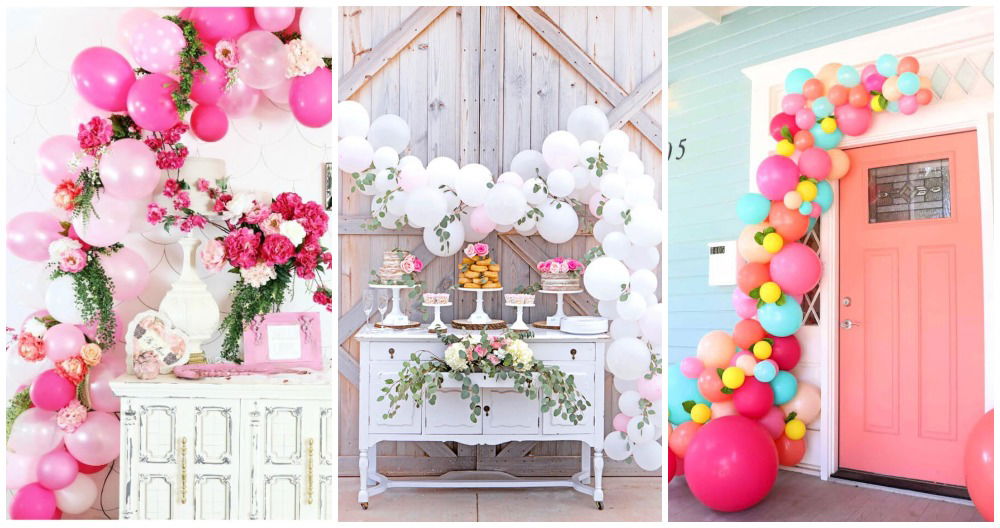 Balloons come in so many different textures and designs, generating more possibilities for lovely balloon decorations. Mix these balloons garland with the inflated letters or numbers and also with the greenery, sprigs, and flowers for more amazing results. Take a roundup of these DIY balloon garland ideas to make the balloon arch the way you would like.
Make a Balloon Garland for Your Front Door: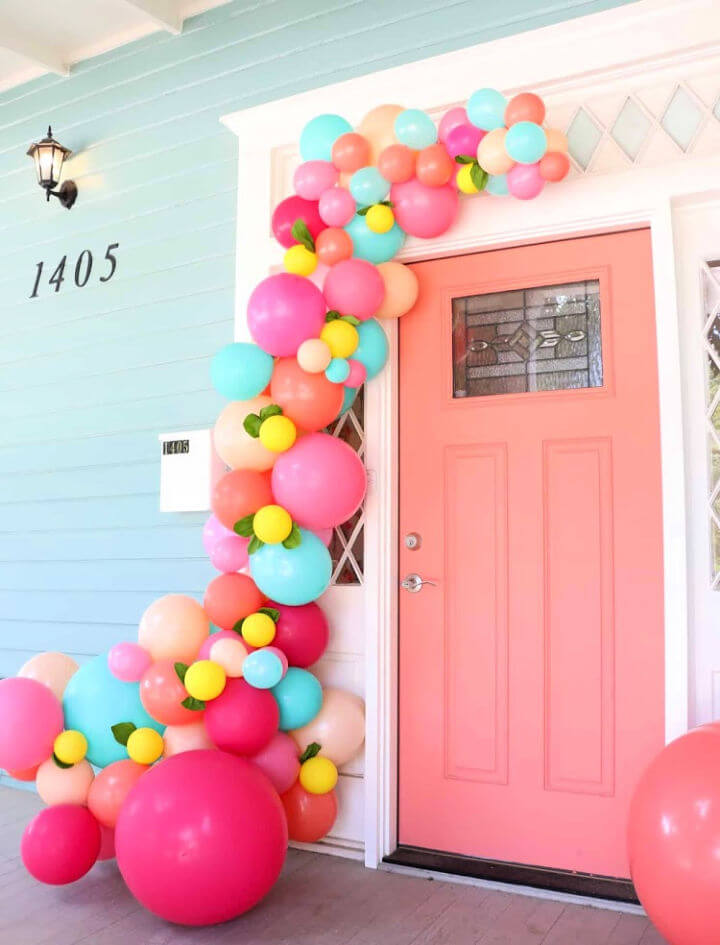 This gorgeous summer decor idea is perfect for your outdoors to bring the perfect welcoming attitude there. Based on the fruity citrus theme the gorgeous and colorful balloon garland with mini and big balloons would be so refreshing for your outdoors. Easy details here abeautifulmess
DIY Balloon Garland: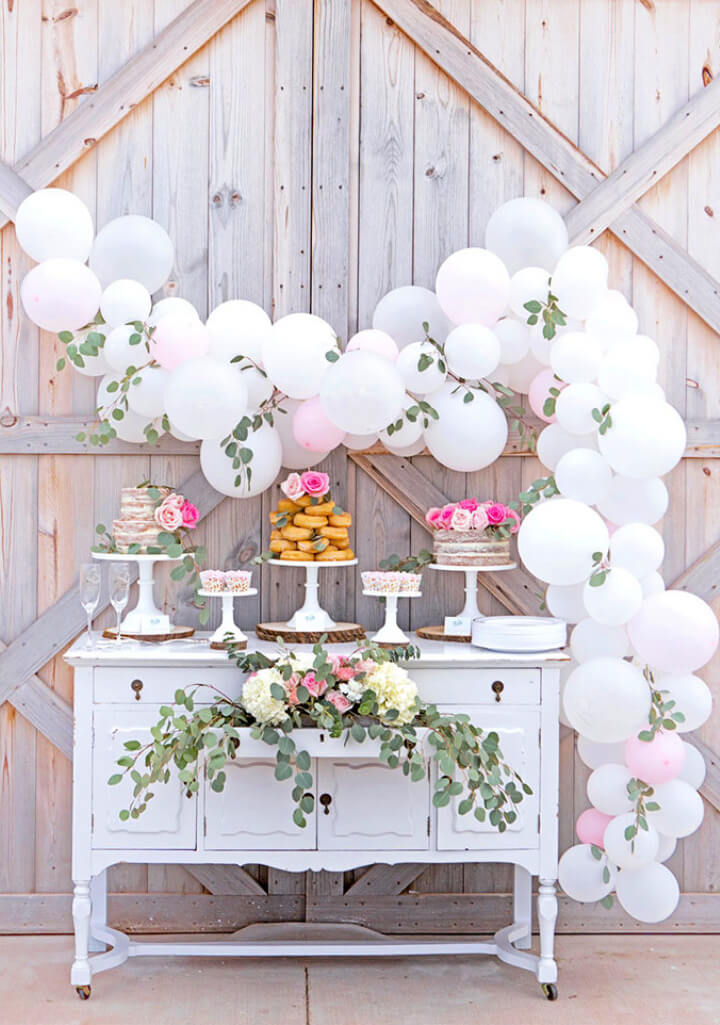 Bring the acute decor vibes to your outdoor garden or yard party with this giant backdrop of the balloon garland to your party table. The combination of elegant white balloons with cutely pink balloons and that too with varied sizes, look just so beautiful and ethereal. Details here orientaltrading
Easiest DIY Balloon Garland: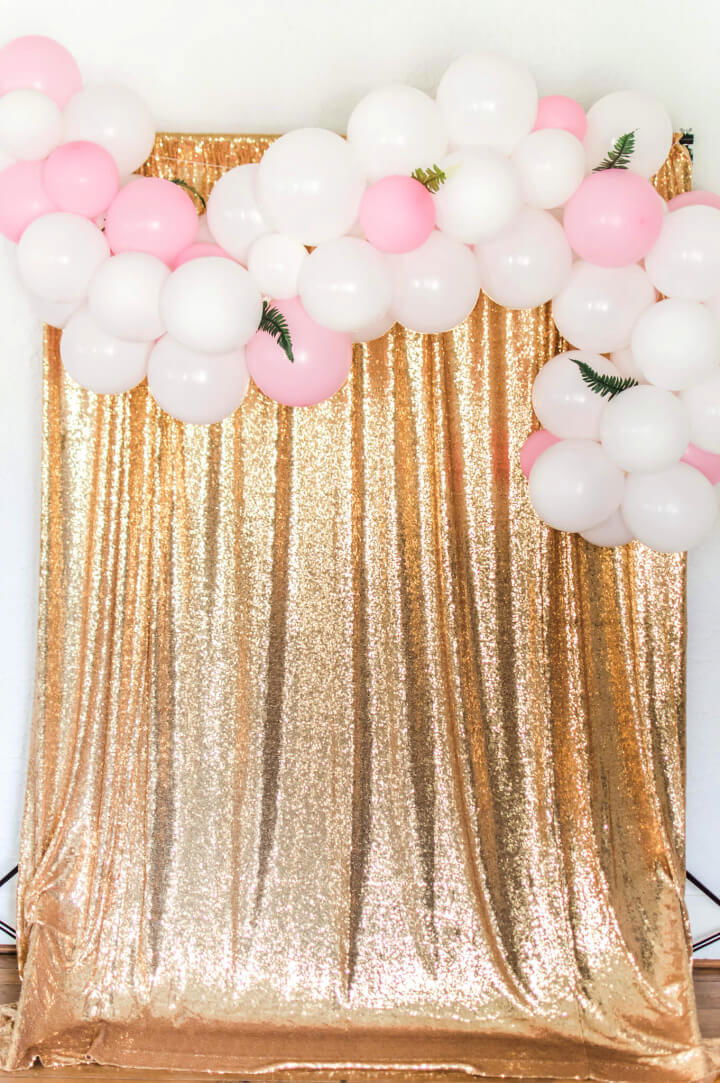 Balloons are the must-haves for party decor and now you can add them in this gorgeous and impressive garland style. The white and pink balloons with some green leaves look just so beautiful and perfect for a girly theme party be it birthday or the baby shower. How to here ahostinghome
Flower Balloons: Make flower balloons for parties or any decoration. They are so easy to make, a kid can do help with the preparations.
How to Make a Balloon Garland: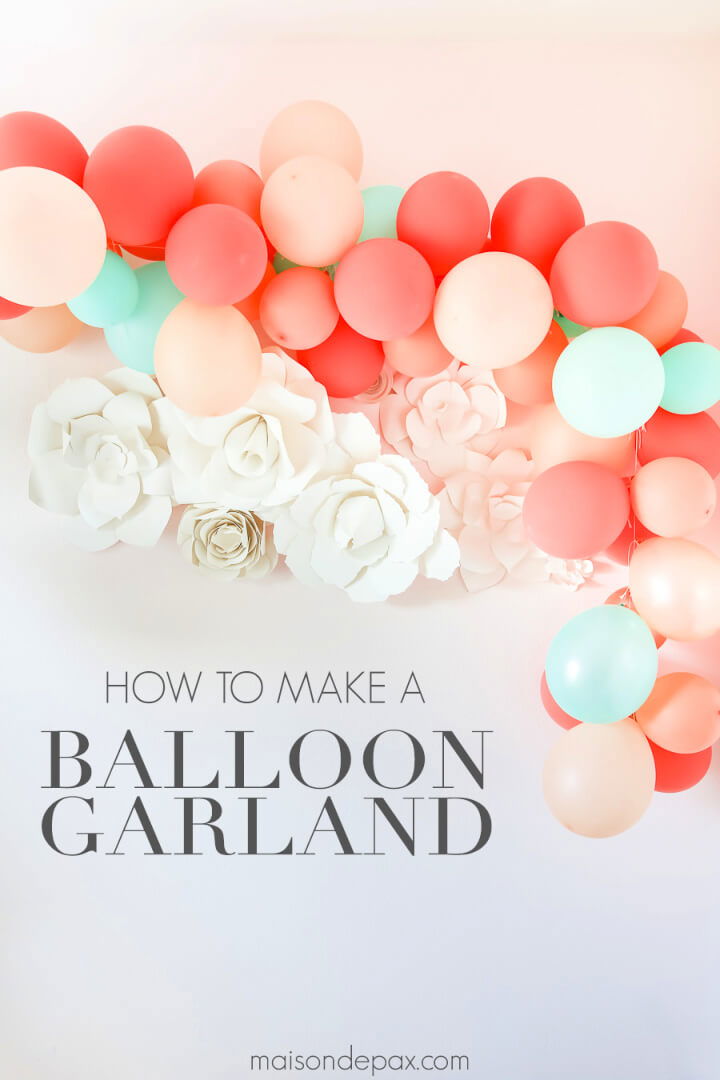 Instead of throwing the balloons on the ground for the next celebration you can join them together and create this lovely balloon garland. You can create this garland with the balloons of your choice that match to your home decor. This garland looks so chic with the paper roses being mounted over the walls too. Details here maisondepax
DIY $22 Balloon Garland: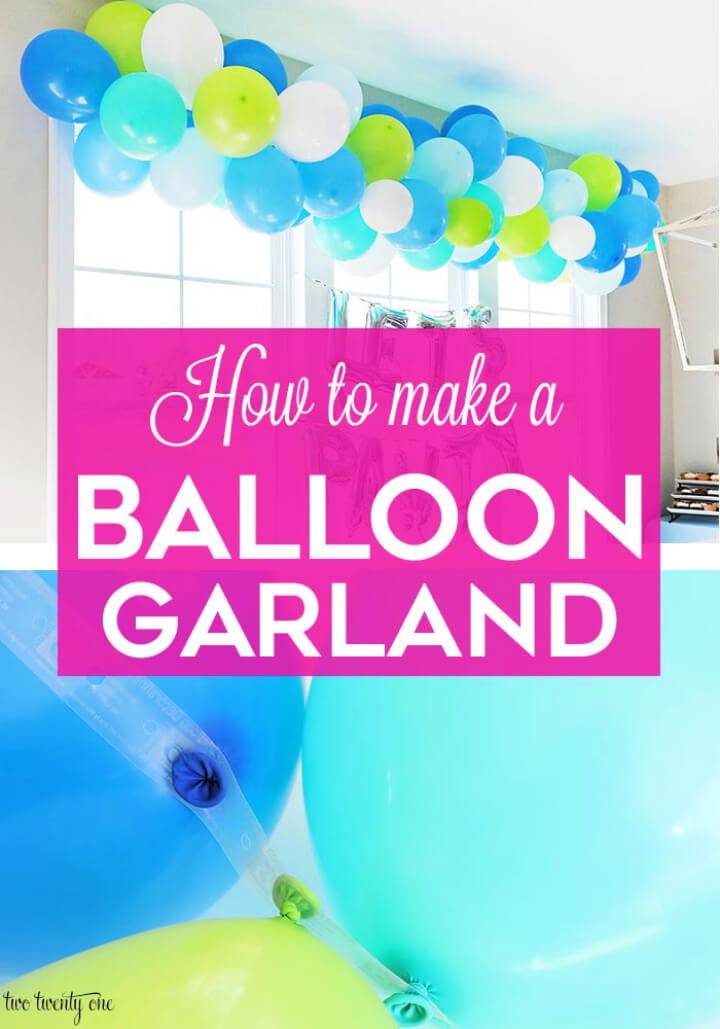 This is how you can create big impact of decor to your celebrations with this DIY balloon garland. The binding of the colorfully cute and contrasted balloons really brings a cute charm to your party decor for sure. You can mount this garland over your windows or over your walls as well. Tutorial here twotwentyone
DIY Baby Shark Party Balloons Garland: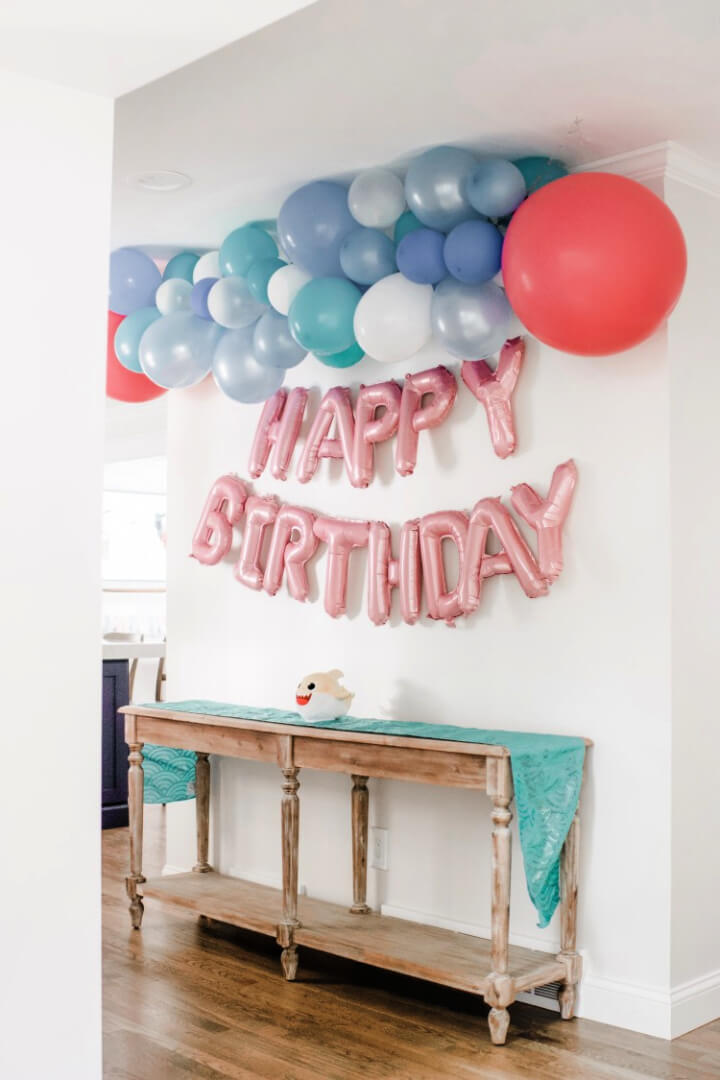 If you think the oomph is missing from your home decor for the party that you are working on then here is the idea of this pretty balloon garland. The cute baby shark party garland with white, black and blue balloons look just so fantastic to bring the catchy vibes in your party. Details shared here lovelyluckylife
DIY First Birthday Balloon Garland: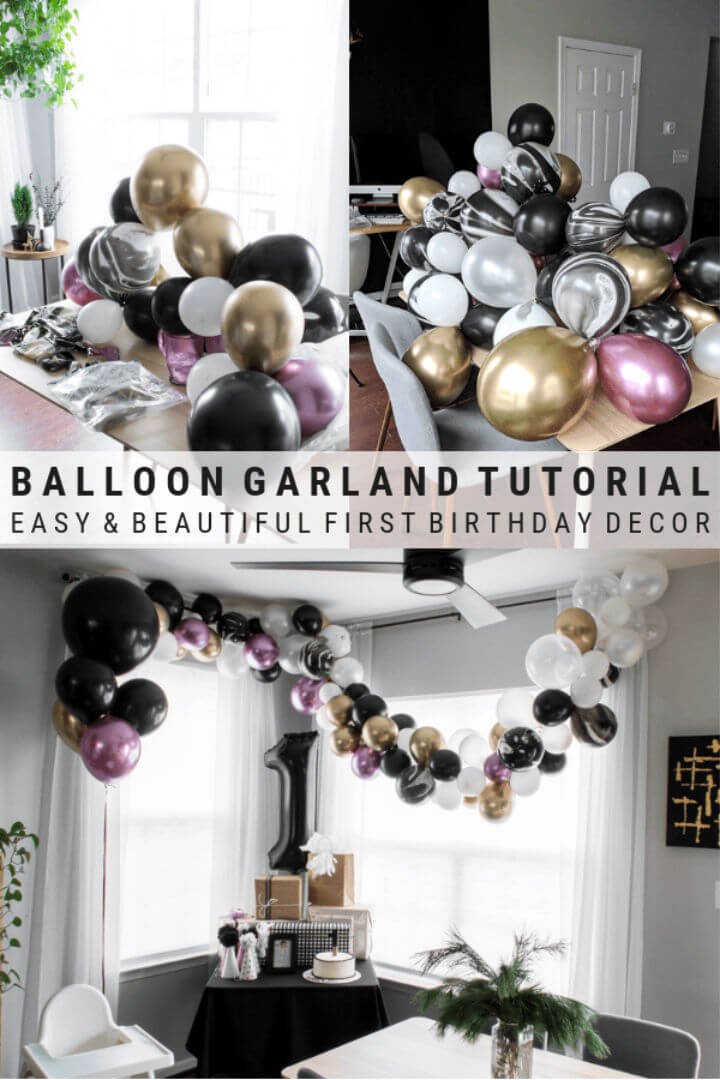 The first birthday is always special and now you can make the celebrations more special with this cute and impressive arrangement of the balloons. Yes, the gorgeous balloons in white, black, golden and marbled shades have been put to together in arch style to shape up this adorable balloon garland. How to here bybrittanygold
Make Balloon Garland for Birthday Parties: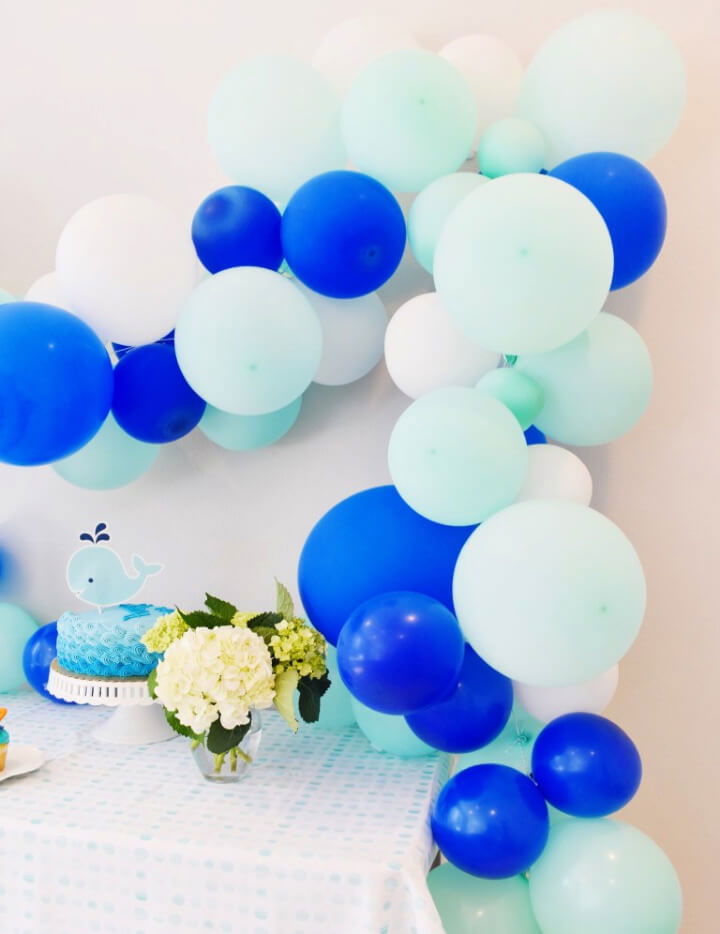 No matter what is a celebration for the balloons add the perfect party vibes to our spaces. This time you can arrange your flowers in this beautiful garland style and enjoy the huge charm being added to your decor. The ocean-themed balloons in white and blue have been used to shape up this gorgeous garland. Details here sabrinasoto
DIY Balloon Garland for Birthday Party Decor: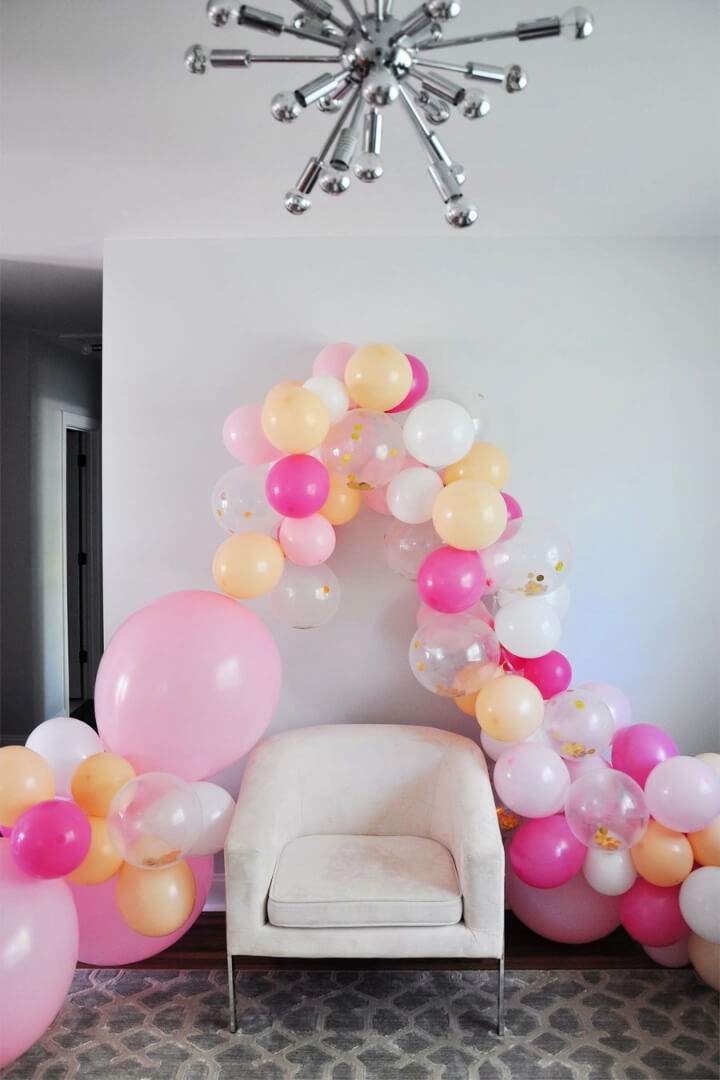 Plan this gorgeous surprise for the birthday person in your house with this Balloon garland for the birthday party decor. The garland has been made with the colorful pastel theme balloons and that too around the chair to surround the birthday boy or girl. Easy details here foxyoxie
Make Your Own Balloon Garland: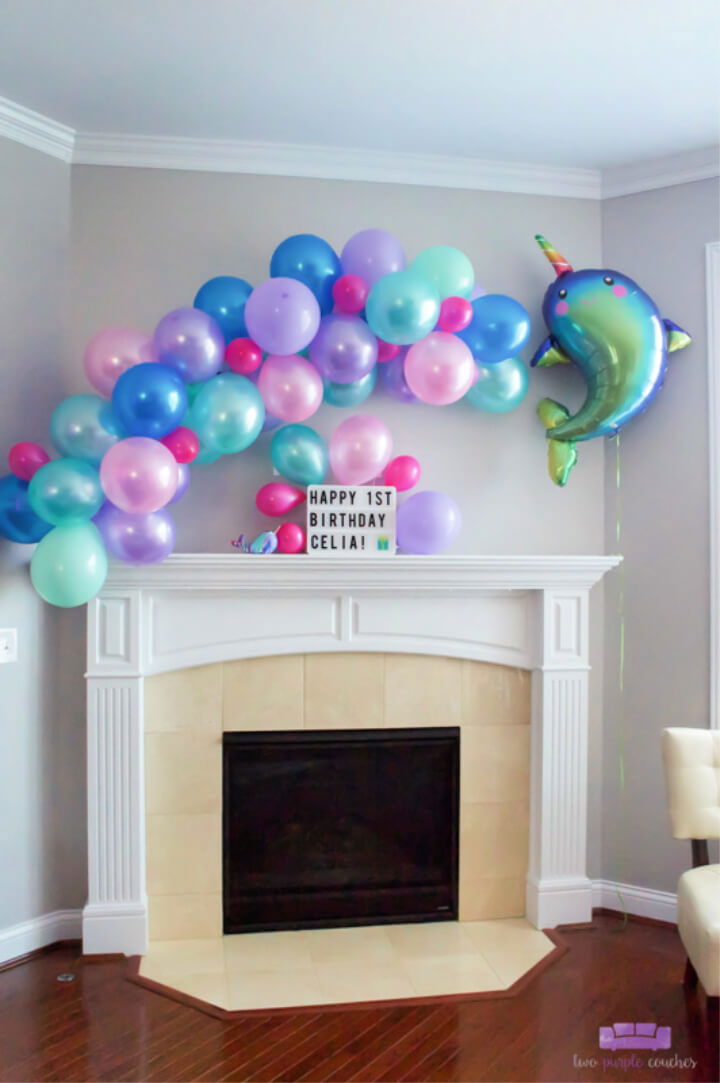 Whether you are having a birthday party in the coming days or you are planning a baby shower for your friend this gorgeous balloon garland idea is for you. Making the balloon garland over your fireplace is probably the best way to arrange your balloons and oomph up your party decor with. Learn to make it here twopurplecouches
How To Make Your Own Balloon Garland: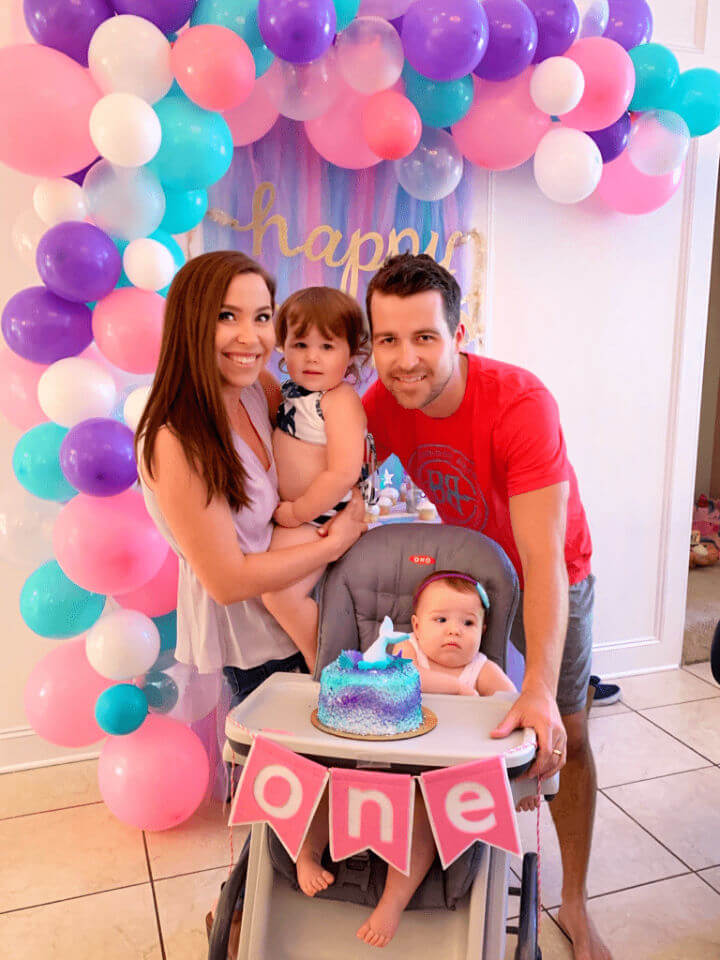 Having the notion that the balloon garland can be only made by professionals? It's time to get rid of this idea and make this gorgeous DIY balloon garland for your little one's birthday party. Just pick up the balloons of your favorite colors and create this easy and grand looking garland. Learn how to attach balloon garland to the wall. swaddlesnbottles
Fun & Easy Balloon Garland – Party Decor Ideas: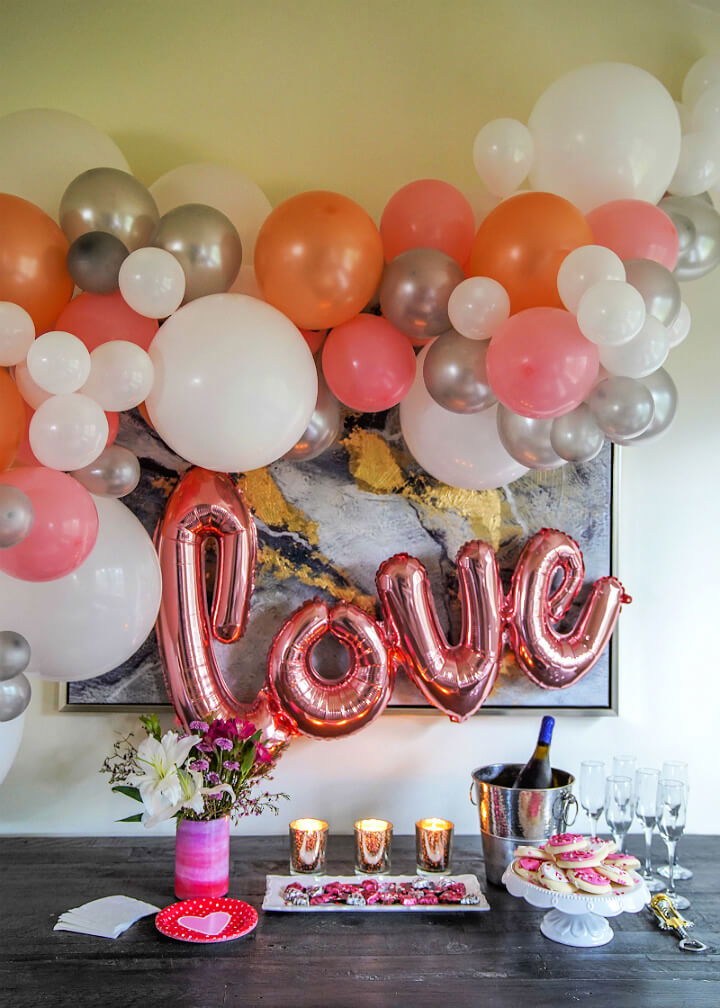 Want the huge decor impact on short notice and a small budget? Then get your hands on this pretty and cute balloon garland that would make a lovely backdrop for your party table. Just decide which colors of balloons would match your theme decor and get the desired sizes to make this balloon garland. Tutorial here inspirationsand
Colorful DIY Balloon Backdrop Arch: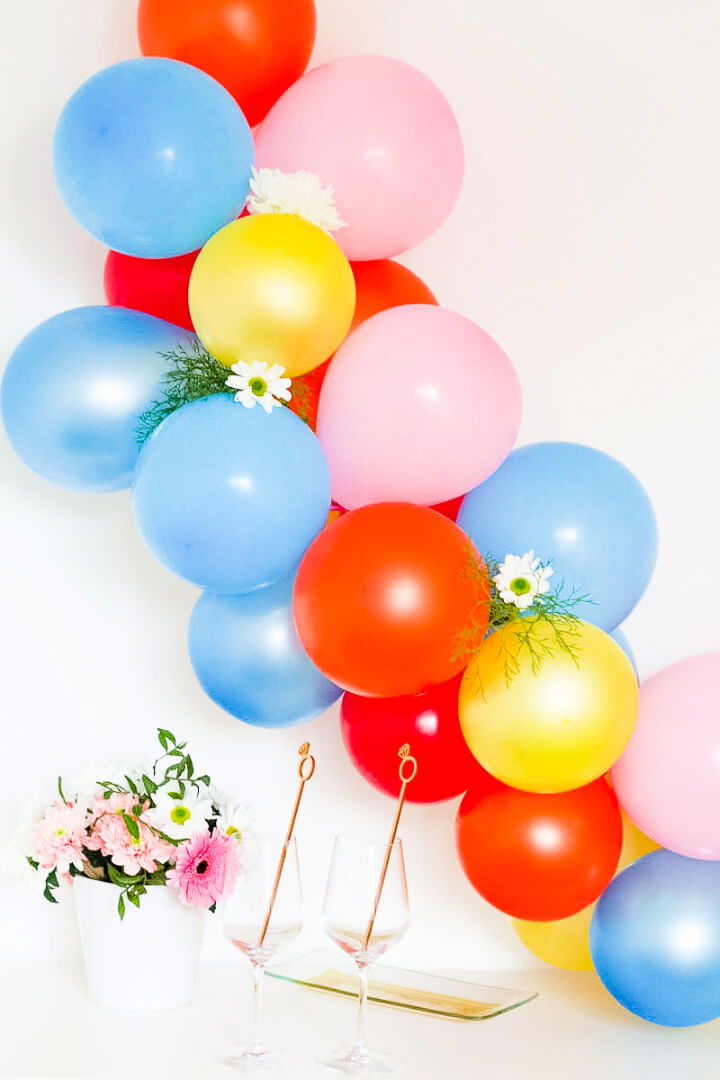 Give your party tables an intimidating backdrop with this gorgeous and colorful DIY balloon backdrop arch. Not only the balloon arch or garland makes your decor look super enchanting but it also brings a complete professional decor kind of vibe in your spaces too. Get how-to here bespoke-bride
DIY Balloon Garland Cake Topper: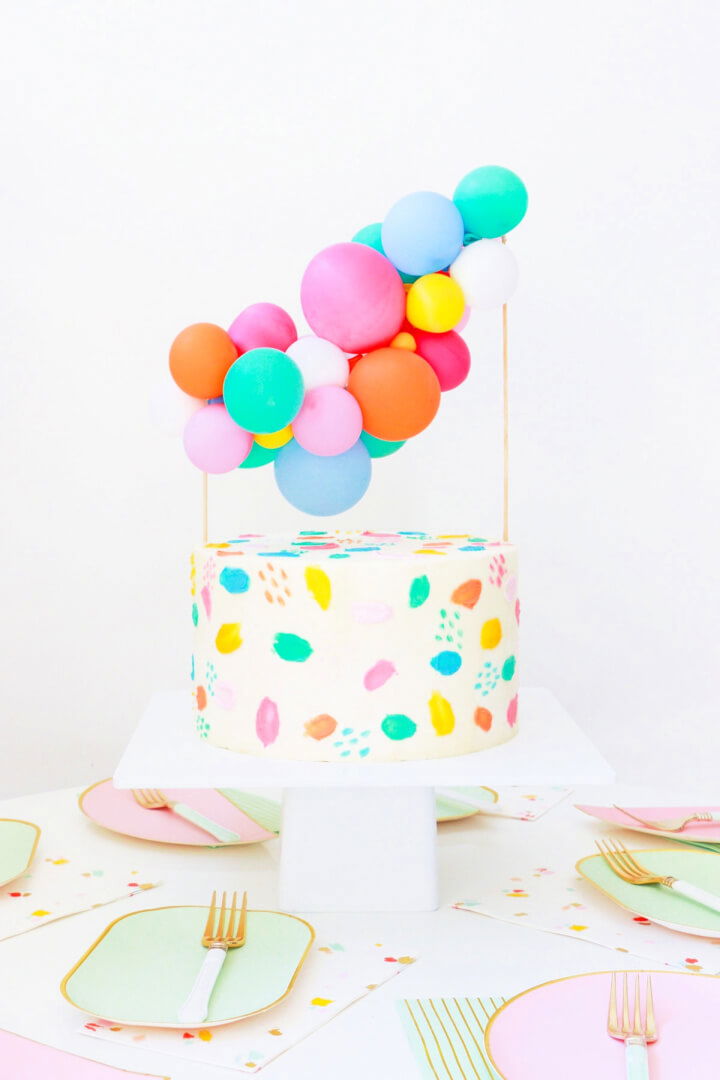 You are so going to lose your heart to this adorable idea of adding a mini cute balloon garland to your cake. No matter what is the occasion of celebration, this balloon garland would make the prettiest and the most adorable cake topper ever. Follow the details here sugarandcloth
DIY Balloon Arch Without Chicken Wire: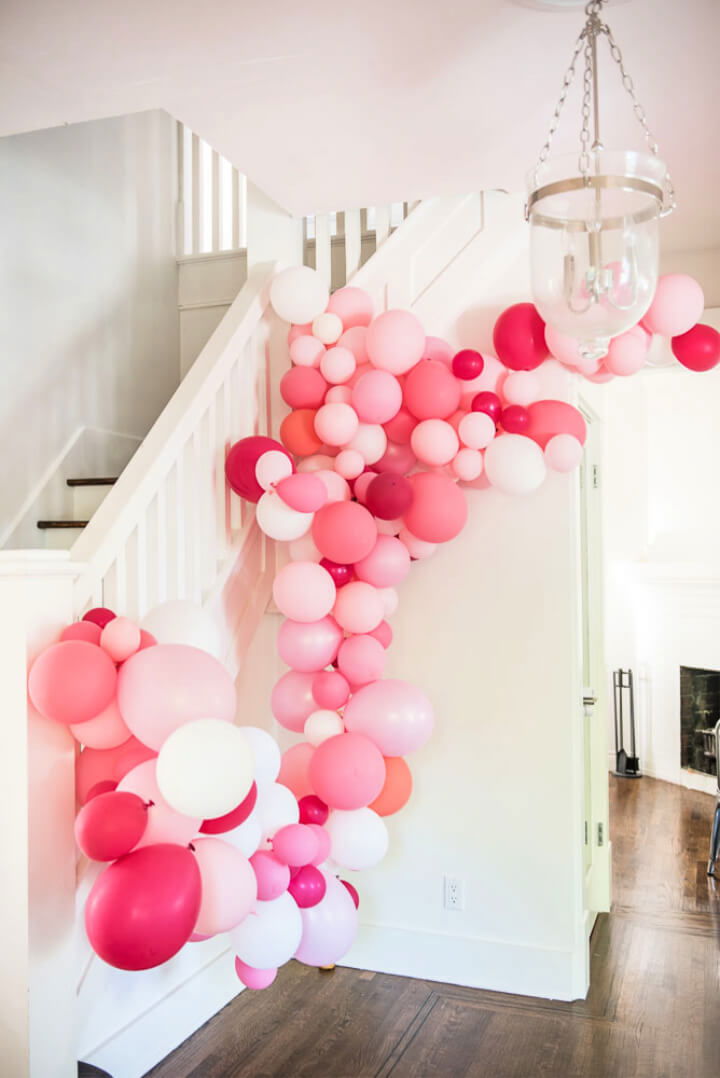 DIY balloon arch or the balloon garland is the new decor rage for birthday parties, wedding decor, and baby showers. Now you can arrange the pretty and cute DIY balloon arch on your own and that too without using the chicken wire. Details here priscilla-locke
Create a Quick and Easy Balloon Garland Tutorial: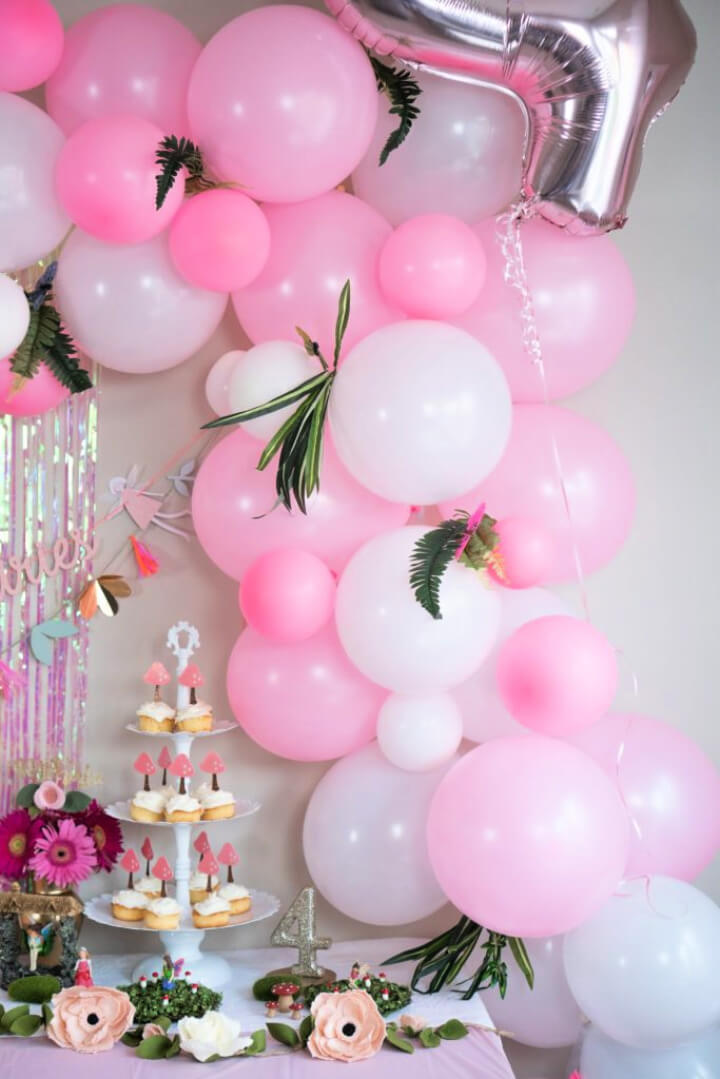 Follow the trend for your next party celebration with this quick and easy balloon garland idea. The balloons are an integral part of the decor so creating this adorable balloon garland is the best arrangement to add the balloons in the decor. How to of the garland here thehouseofhood
DIY Balloon Garland with Florals: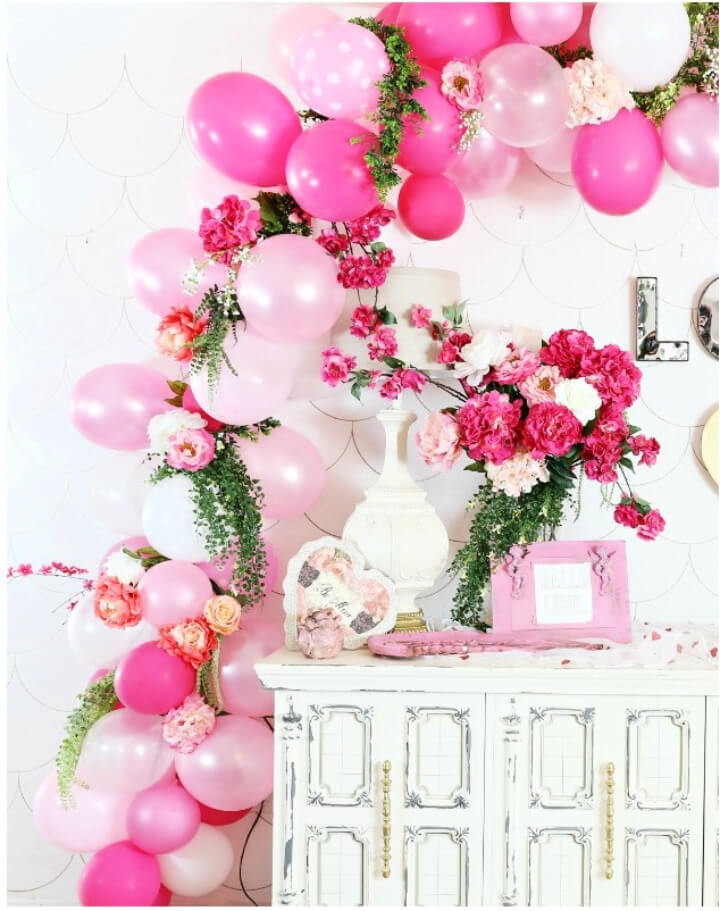 The art of balloon garland is everywhere these days. Now you can add more charm and an ethereal look to your diy balloon arch by adding DIY paper flowers. This pinkish diy balloon arch looks just so tempting with the pink and white flowers and some green stems. Hack the details here classyclutter
Gorgeous DIY Balloon Garland: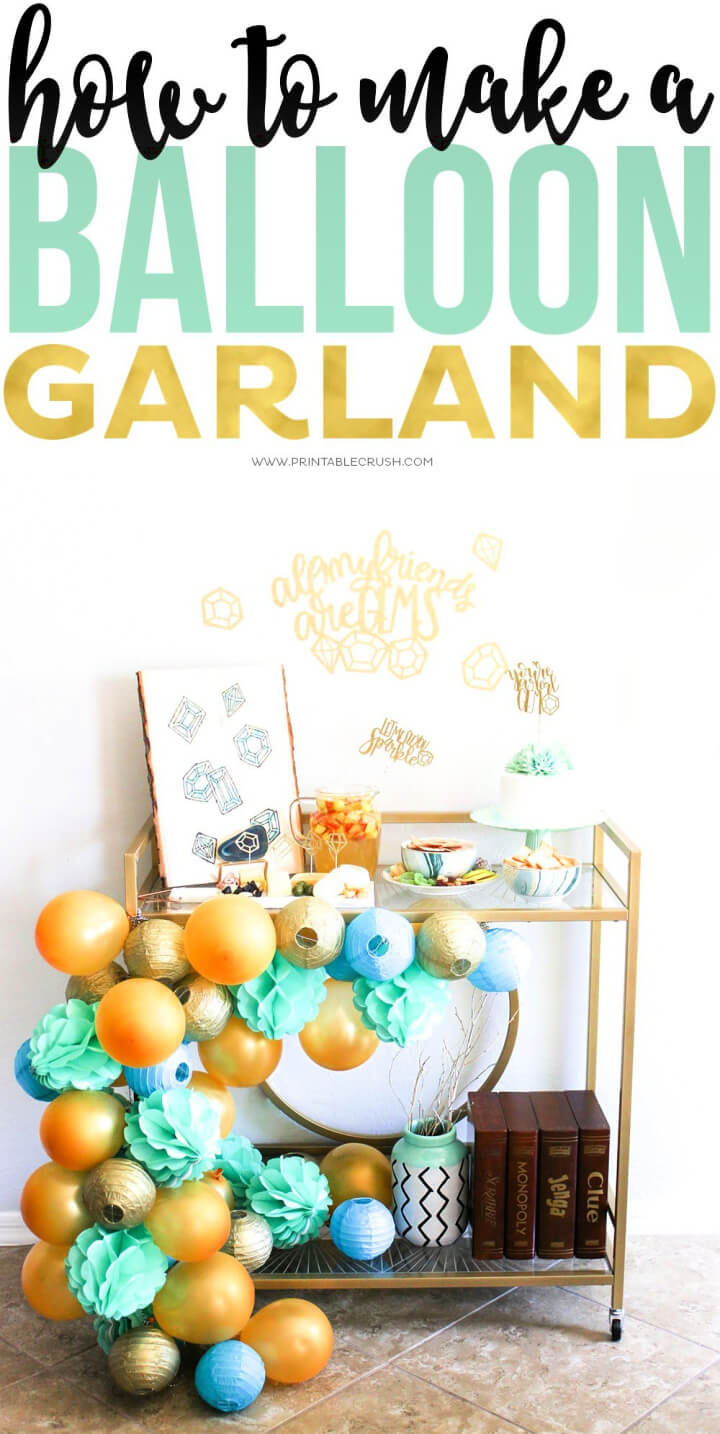 This mini and cute DIY balloon garland is just a pure delight to our eyes and a pleasure to our aesthetic sense for being so damn gorgeous. The icing on the cake is that you can easily and cheaply shape up this beautiful and exquisite balloon arch for your next celebration. You would need mini gold balloons, paper lanterns and paper honeycombs for the purpose. printablecrush
DIY Balloon Garland Tutorial for Next Party: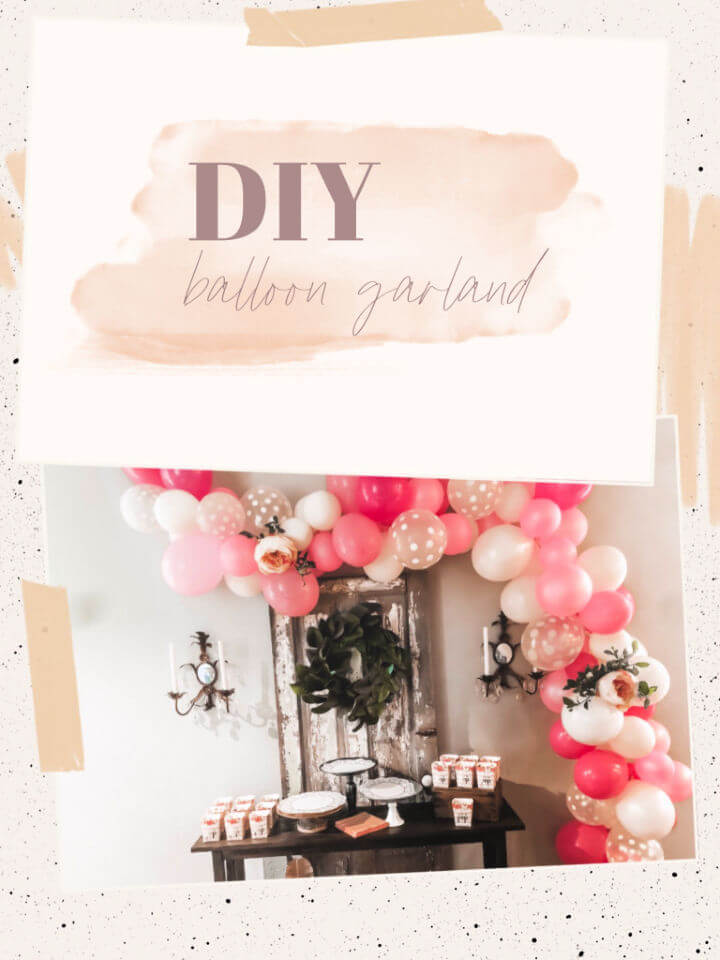 No matter how much effort you have put into the party table and the party food, your celebrations are undone without the balloons. The beautiful balloons garland has been created with simple pinkish balloons some dotted ones and the addition of green stems spice it up more. Visual aid here marinashaystyle
DIY Balloon Garland for Nursery Room: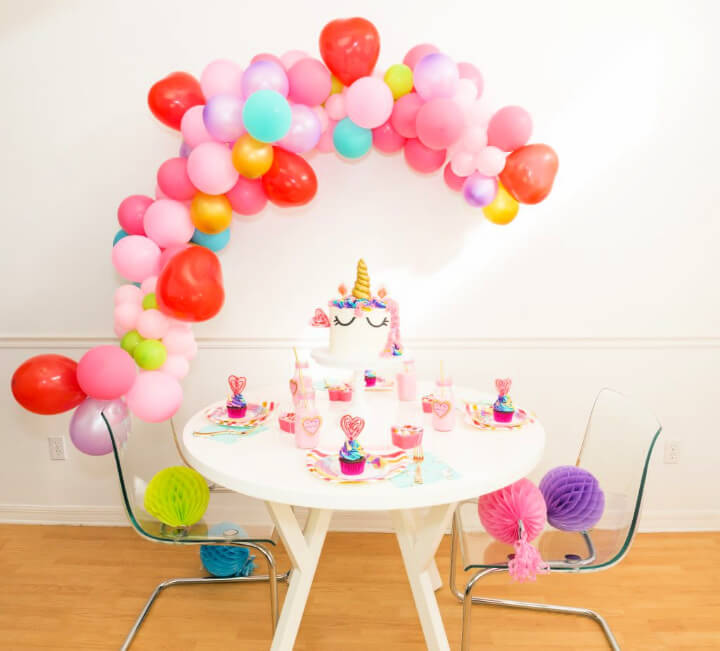 Make the unicorn them of the birthday celebration much more fascinating with this gorgeous DIY balloon garland idea. Inspired by the unicorn theme colors this colorful diy balloon arch really jazzes up the beauty and charm of the nursery room decor. Details here cakeandpartydiy