It makes you instantly feel happy when you start looking at the DIY felt flowers. So, Learn how to make a felt flower quickly with these 25 simple DIY felt flowers if willing to redecorate your home with some impactful flower decorations. Felt is cheap and readily available, so getting the best flowers for your impressive home flower arrangements, will be damn easy. Opt for different felt brands and types to make the type of flower you really like, the wood felt will really rock sometimes. There are unlimited possibilities to turn the felt scraps into the eye-opening floral decor.
Make every single type of flower with felt with the help of these 25 easy DIY Felt Flower templates will surely be your first choice when willing to impress your crafting knack. You are going to discover here the endless different ways to use these flowers. They will be a great practical choice to use as embellishments for various of your things and accessories. Embellish your handbags, headbands and even picture frames and greeting cards.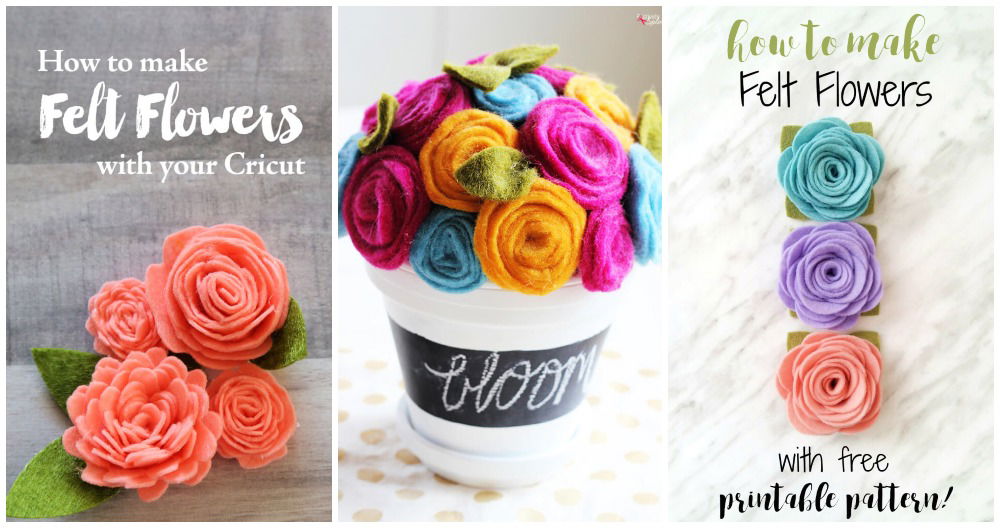 Add the felt flowers with custom stems and put them in a floral container to make gorgeous wedding decor centerpieces or bouquets. Hang them as fancy ornaments, which can be threaded on the string lengths for irresistible floral party garlands. The sky is the limit for using felt flowers in the home decorations and party decor. Check out a lot more hacks by browsing the entire list of these DIY Felt Flowers that you can put together for making gorgeous scarves.
DIY Die Cut Felt Flowers:

Greet your guests by putting this felt flower vase on a dining or coffee table, will be best possible garnishing of that particular table! Make the felt flowers using die-cut procedure and this will be an ideal way too to bring colors to space! Complete how-to guides here consumercrafts
How to Make Felt Flowers With Cricut:

Using a Cricut machine would be another great option to make near-to-real looking flowers out of felt! Felt is available in all colors that are a big plus point and will help you make all-color flowers with felt! These felt roses can be added to a space in the number of different ways like in vases, garlands and they will make a perfect floral embellishment too! Complete tutorial here weekendcraft
Make Your Own Felt Flowers:

Expand your floral based home decor with these felt roses, quite quick and easy to make! Use a custom paper template to cut the felt that you can coil together making a glorious rose! Finish with a green leaf base and that's it! Use these flowers also to make spring wreaths! Full picture instructions here wildflowerfelt
DIY Flowers Guide:
Burlap flowers: You can easily find burlap in fabric stores or online and just need other materials and tools to make burlap flowers at home.
Fabric Flowers: Find these 50 easy DIY ways to make fabric flowers at home using scrap fabrics.
Origami Flowers: Find these simple origami flowers you can make and pretty enough to be a fun project for all ages.
Flower Balloons: Making flower balloons is super easy now, crowd-pleasing balloon animal/sculpture. Learn how to make a balloon flower with our step-by-step guide.
Crepe Paper Flowers: With a few snips and folds, paper can be changed into faux flowers of all varieties. All you require are a few basic tools and materials to make crepe paper flowers.
DIY Felt Flowers – Wedding Centerpiece: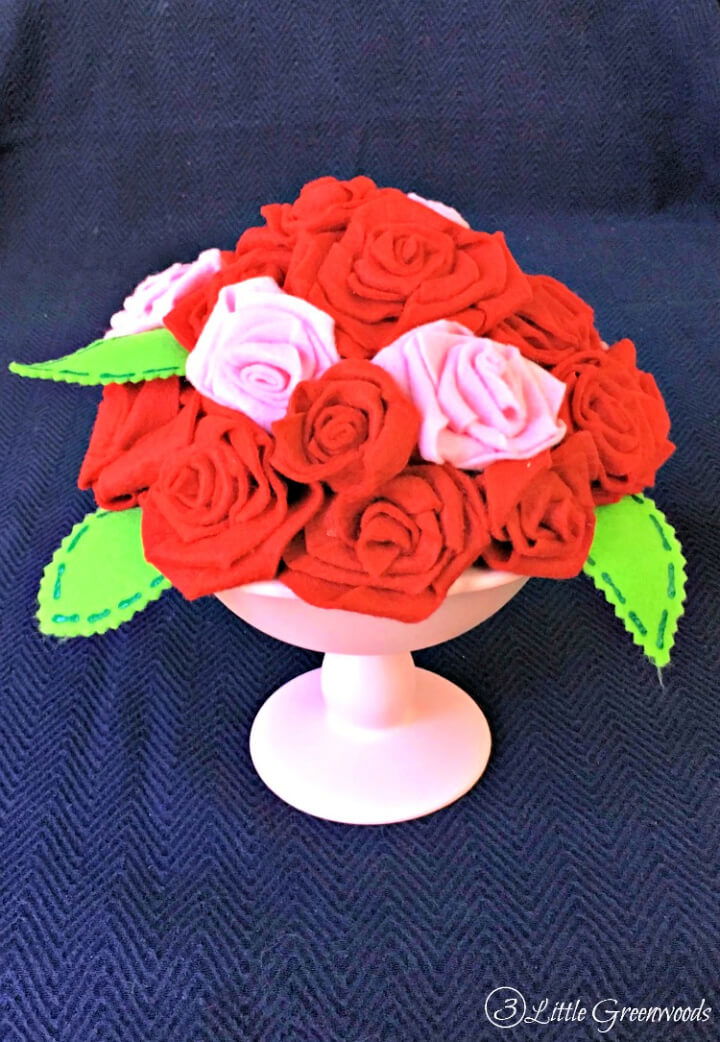 The perfect flower bouquet to add to your wedding decor will also make a great gift for the bride! Make the felt flowers as you do, add them up with stems, next put them together in a floral container! This will create a gorgeous wedding flower centerpiece! Complete instructions here 3littlegreenwoods
DIY Felt Flowers – Mother's Day Gift Idea: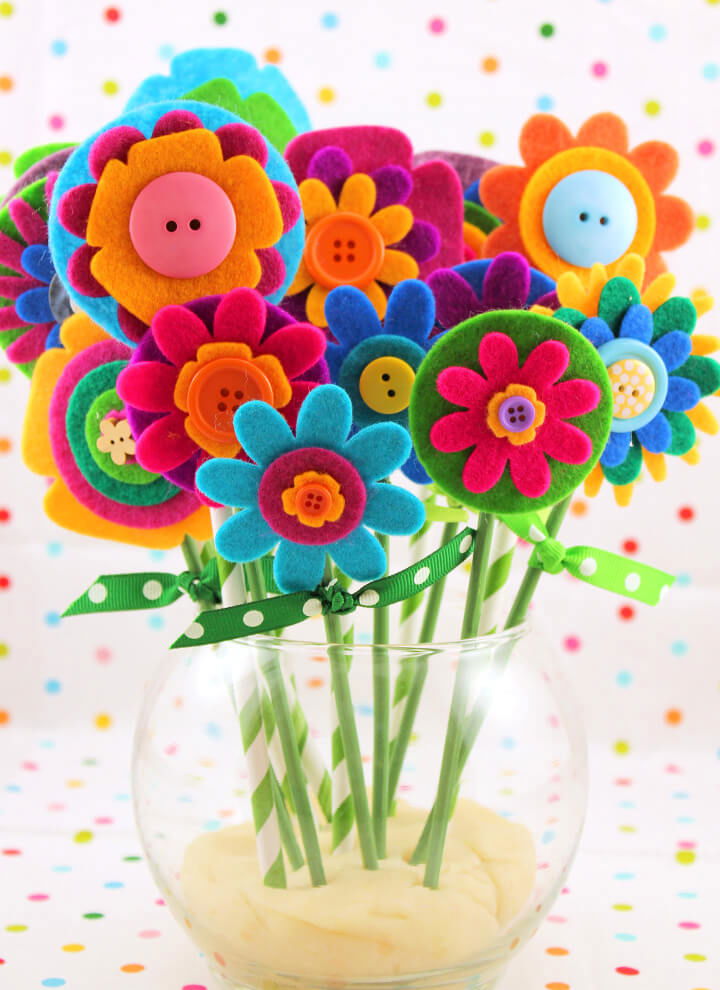 Thanks to the felt flowers for giving the of best Mother's Day gift! Make the simple felt flowers with the button centers and they should be added with green stems to add into the vases or jars! Use a decorative ribbon for a visual boost! Full how-to guides here happinessishome
Make Your Own Felt Pom Pom Flowers: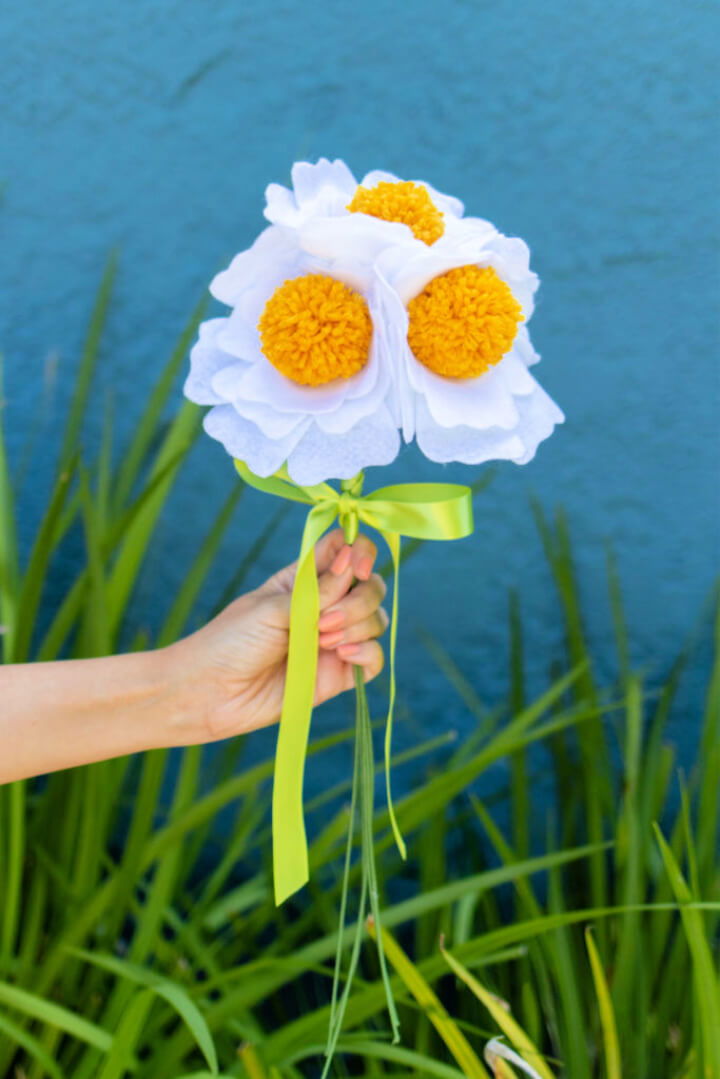 Really don't know what to do with the fake blooms that you will make with felt? Try making a bouquet with them, can be given to a special person you want to see smiling! A sample is already waiting for you here to inspire your creativity! A felt pom-pom flower bouquet, decorated with ribbon! How-to guides here clubcrafted
DIY Rolled Felt Flowers: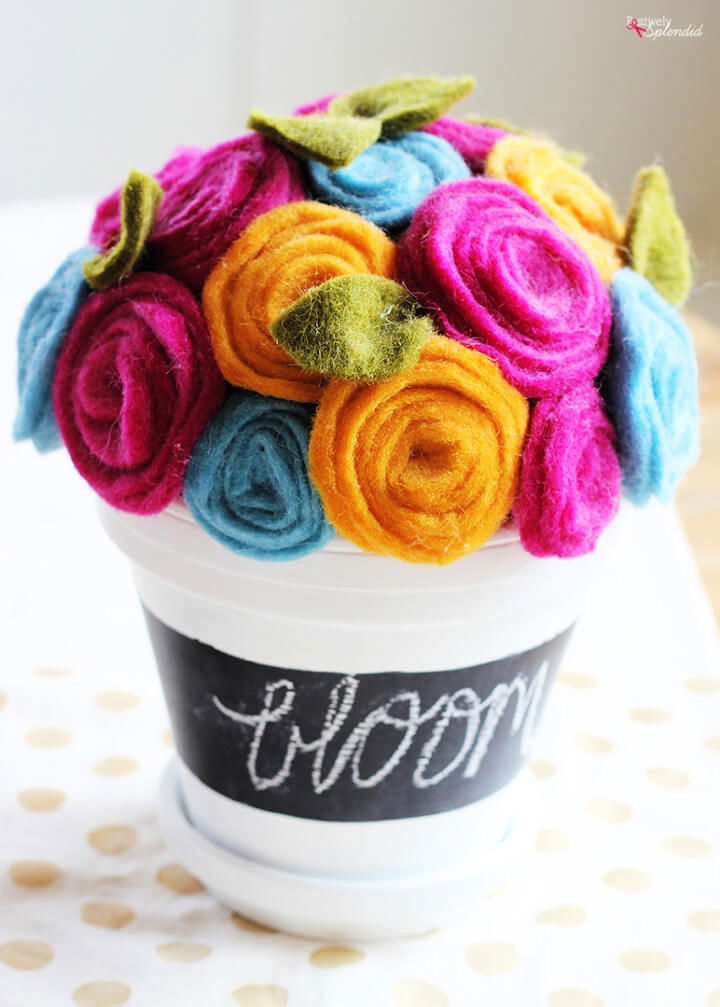 This tutorial will help to make the flowers with felt in the easiest way ever! Simply roll the felt strips and make epic round flowers out of them! Use the wood felt to make these colorful beauties that you can put in a floral container or cup for a gorgeous flower bouquet! Full how-to guides here positivelysplendid
DIY Felt Flowers for Headband: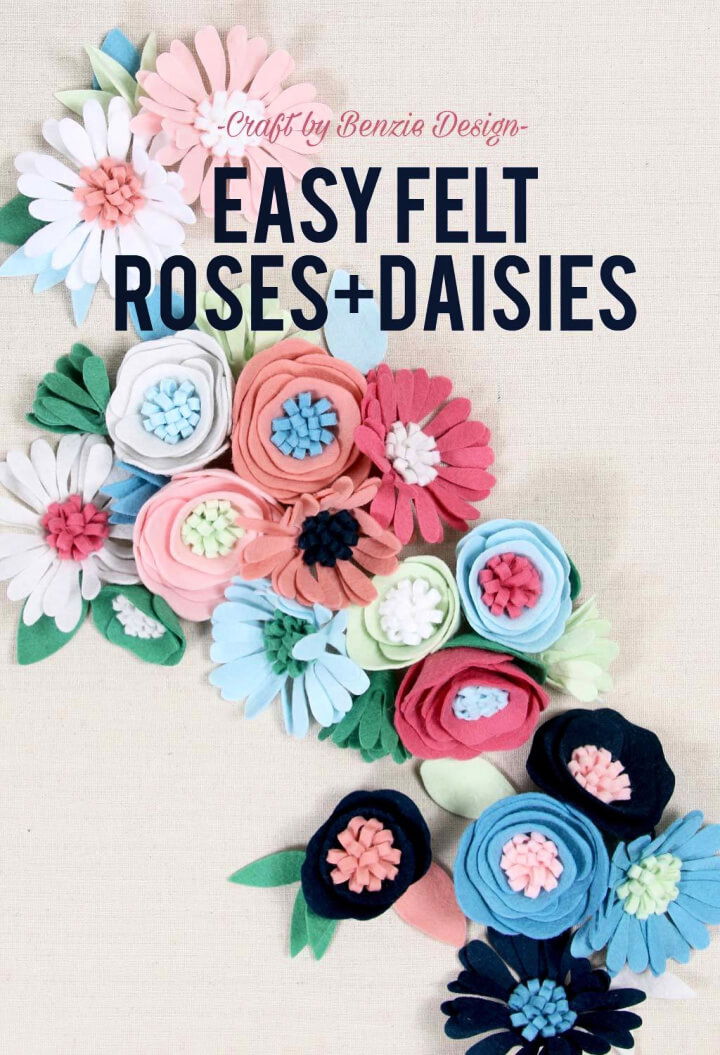 There is a lot to cover with the felt flowers! Try making adorable hair accessories too with special felt flower embellishments! Add the felt flowers to the gorgeous headbands; this will double up the cuteness of the headband that is going over the head of your little girl! How-to guides here benziedesign
DIY Felt Flowers and Leaves Wreath:

Wondering where to use the felt flower accents? Go genius with them and make adorable floral wreaths out of them, will be loved dearly by all! Glue the felt flowers onto a metal hoop or wooden embroidery hoop along with some green leaves, the epic floral wreaths will be there for you! Full how-to tutorial here happyhappynester
DIY No-sew Felt Flowers: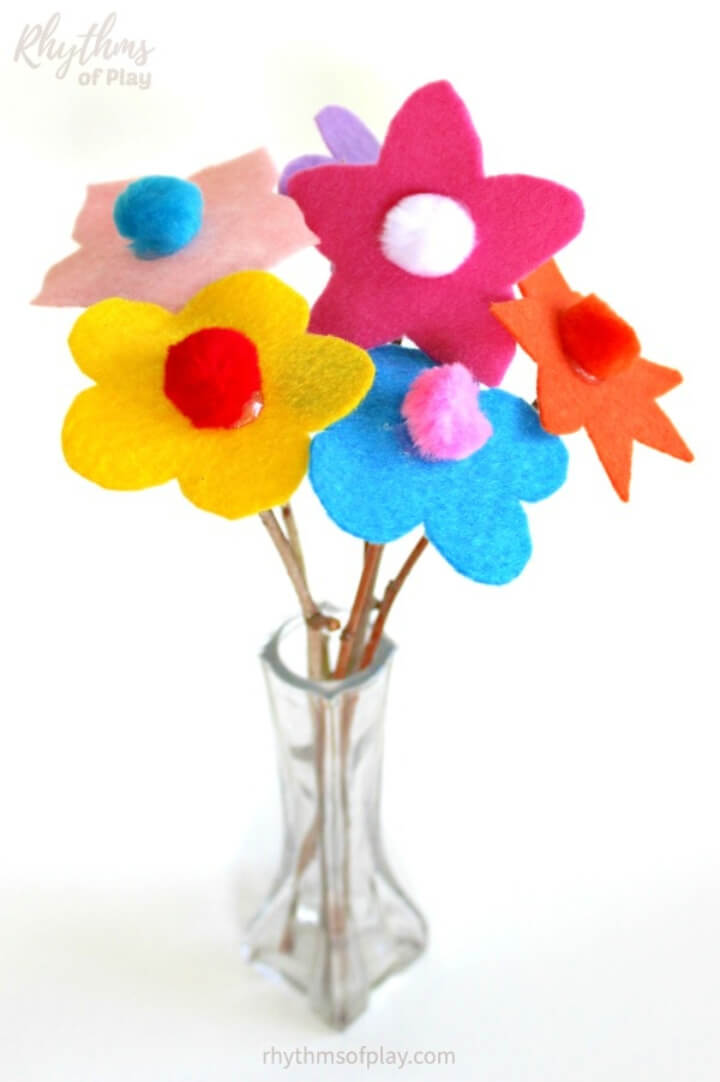 The simple and pretty felt flowers can be displayed in a jar on added stems, for making gorgeous low-cost yet beautiful flower vases for your home! Cut the simple floral shapes out of felting, add them onto tree branch stems and next put in a glass container or jar! Complete guides here rhythmsofplay
How to Make Felt Flowers: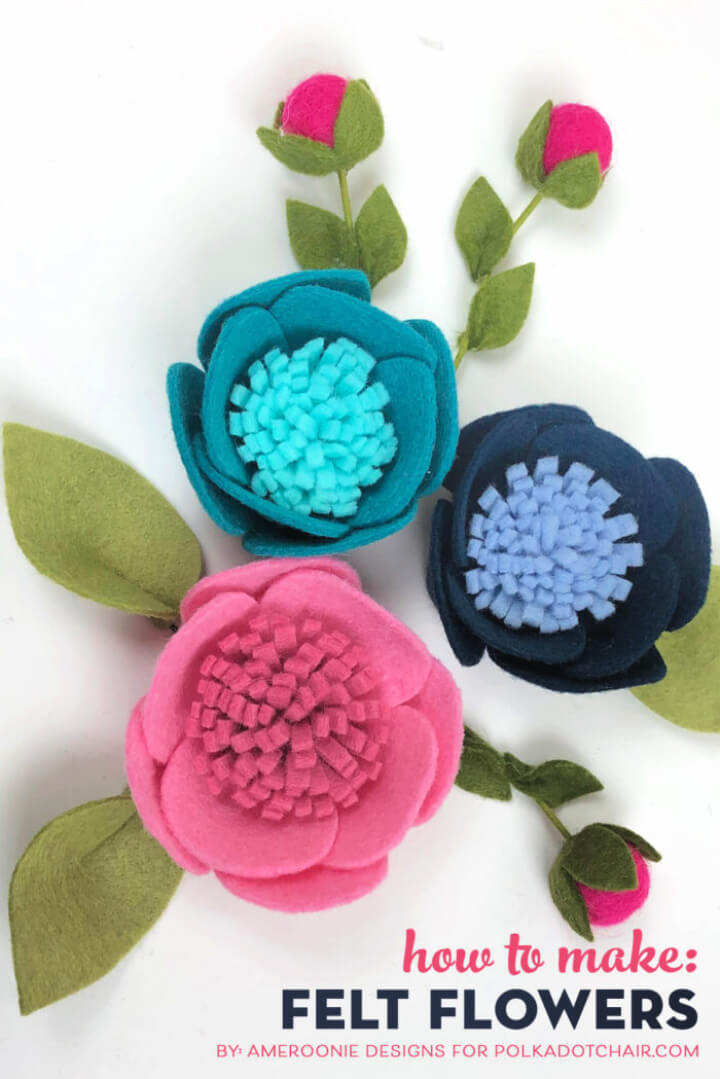 Make these flowers to add as a graceful decor to kids' nurseries! Thread them onto a piece of rope and make fabulous floral garlands that you can hang on the wall for brilliant decor statements! The inner seed portion has also been added in these flowers! Full how-to guides here polkadotchair
DIY No-sew Felt Flowers: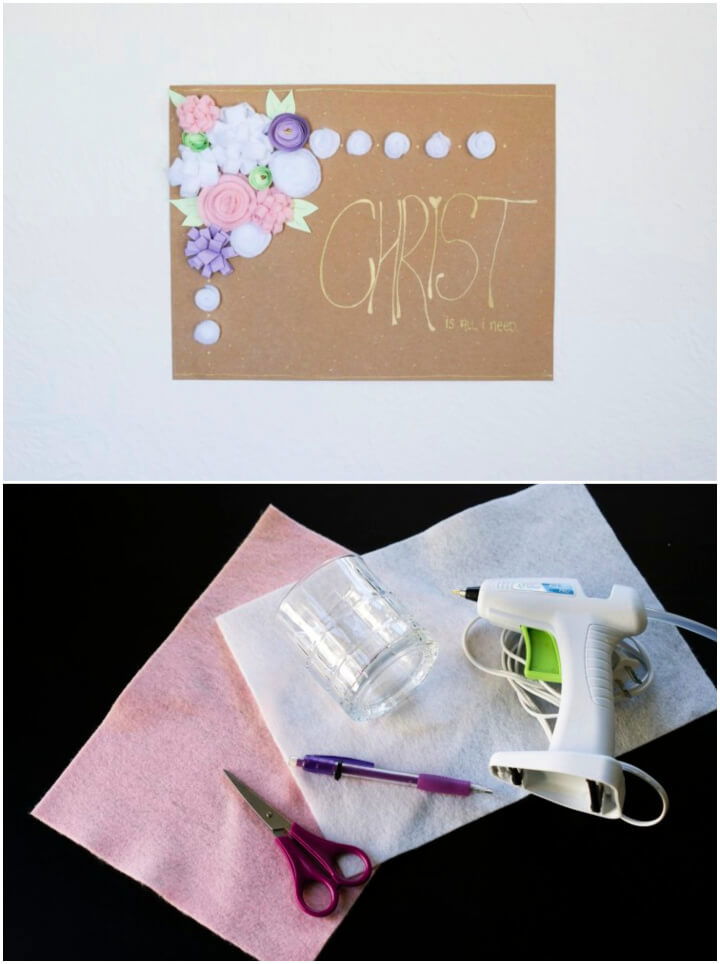 You don't need a sewing machine to make the felt flowers every time! Here is the best guide to make no-sew felt flowers, will make the best accent for your decorative wall frames and art signs! Take a look at the sample felt flowers, sure to impress, will work up super quickly! Details here sixcleversisters
DIY Felt Flower in 3 Ways: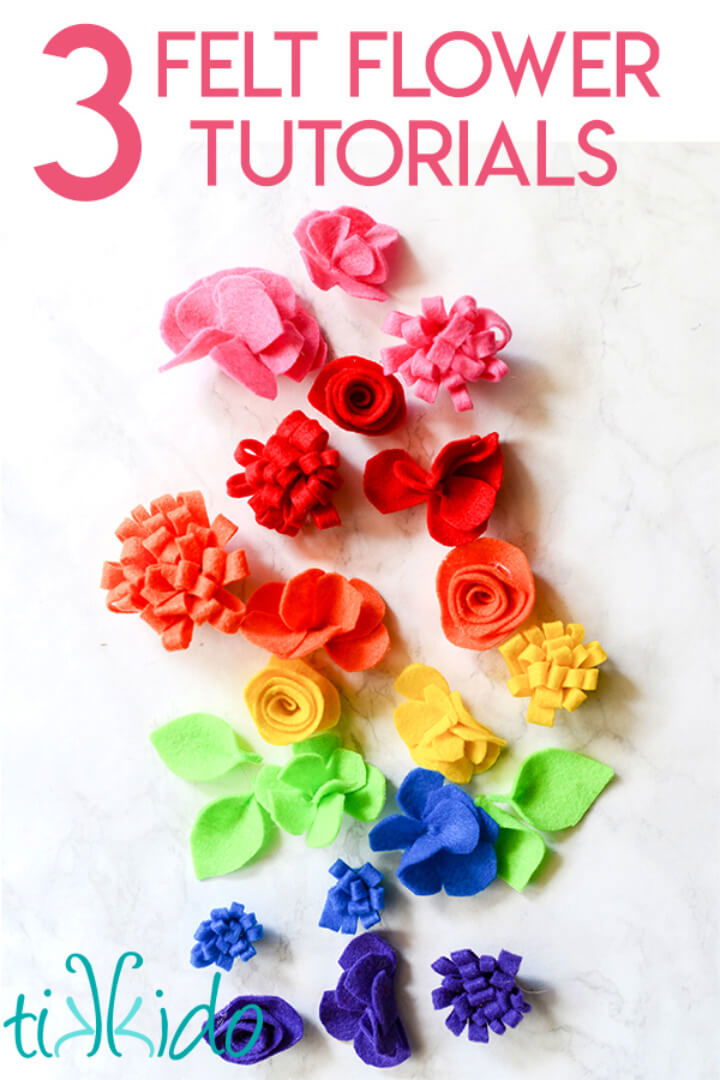 Want to improve your flower making game in the felt medium? Then check out here the 3 smart ways to make adorably cute and gorgeous flowers with felt selected in your favorite colors! You will be guided here with the step-by-step tutorials and picture instructions! Details here tikkido
DIY Spring Wreath With Felt Flowers: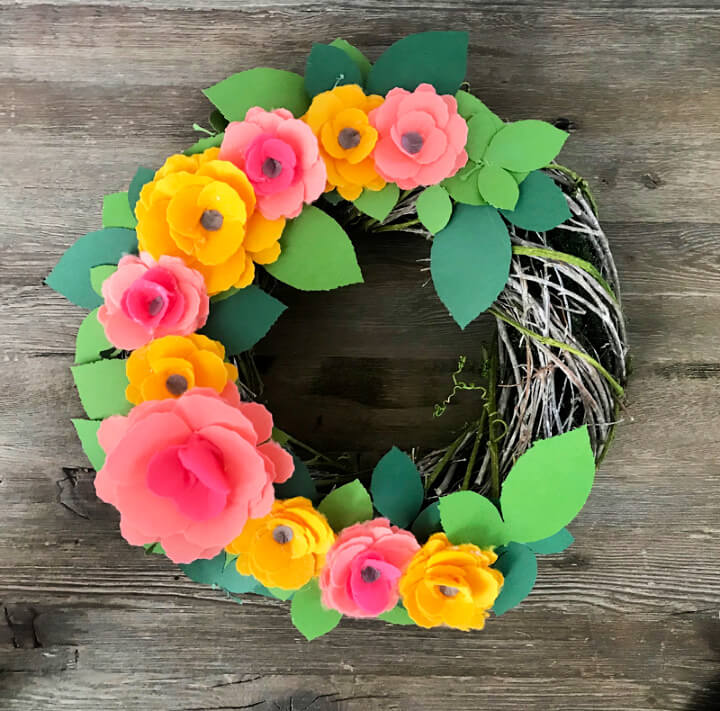 The felt flowers will be an ideal choice for making spring decor especially the wreaths! They will not wilt and hence will always be there to give a warm welcome to the season of flowers! Glue the felt flowers on a grapevine wreath along with green felt petals and make inexpensive spring wreaths! Tutorial here inspiration.cricut
Create Felt Flower Wreath for Your Front Door: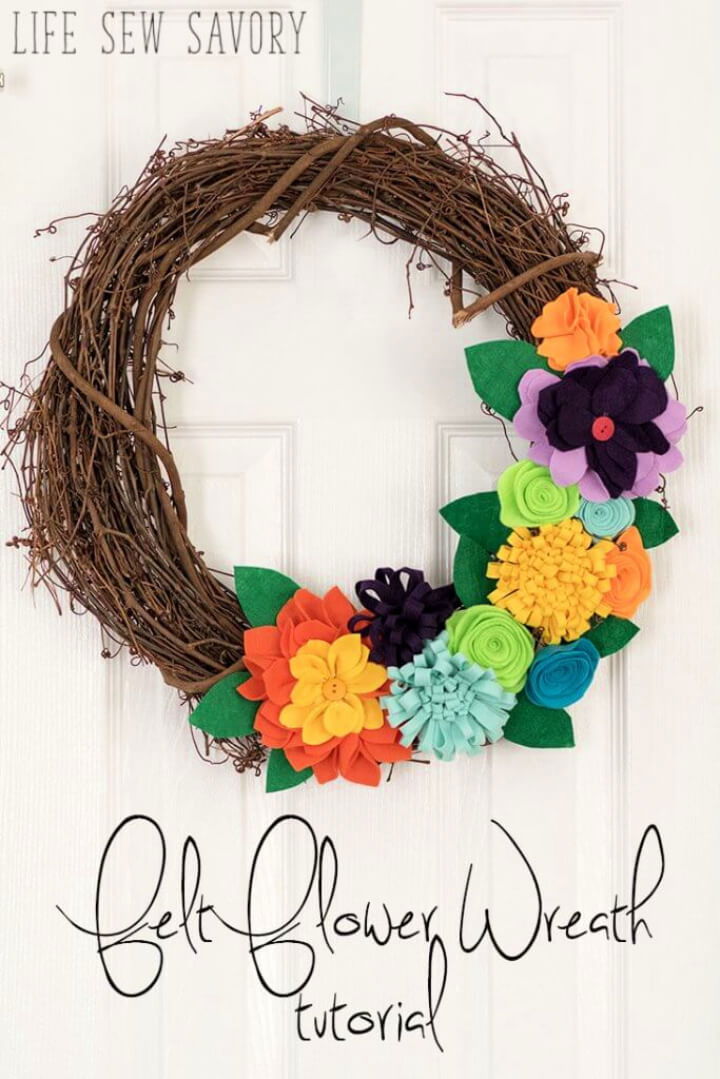 Spruce up your main entrance with this rustic yet colorful felt flower wreath! The flowers will not droop so it is going to be a long-lasting floral wreath, will also add a great curb appeal! Make bunch of felt flowers and fill full or half of the grapevine wreath with them! Complete how-to guides and tutorial here lifesewsavory
Easy to Make Framed Felt Flower Picture: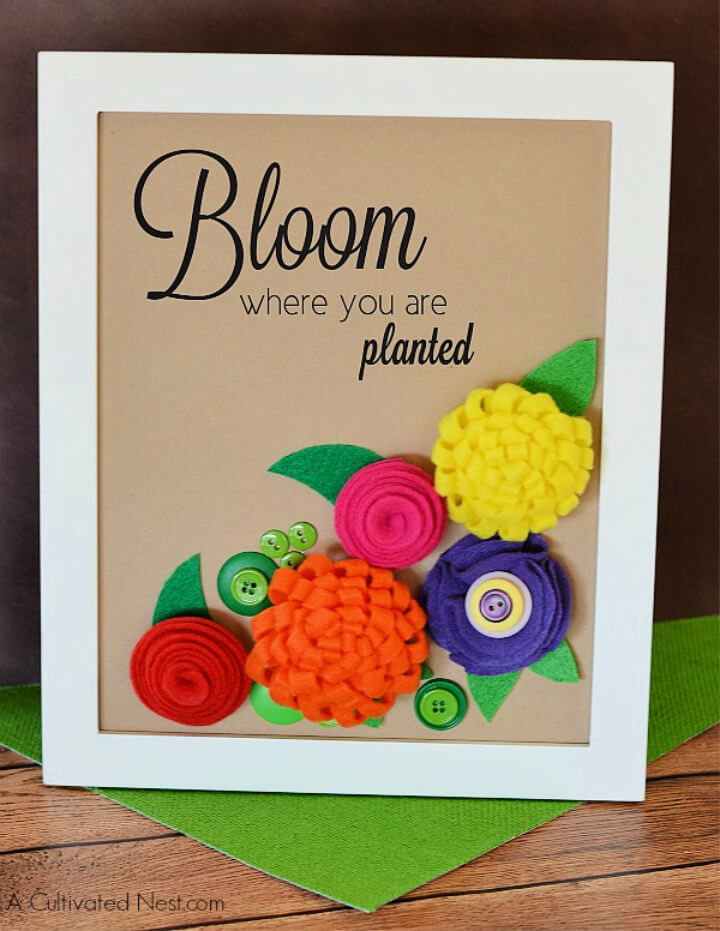 Why not display the felt flowers as interesting art frames on your interior home walls? Make a bunch of felt flowers and glue them on the backing of the frame and then add the backing back in place for making a felt flower frame in no time! Complete how-to guides here acultivatednest
DIY Bookmarks from Felt Flowers: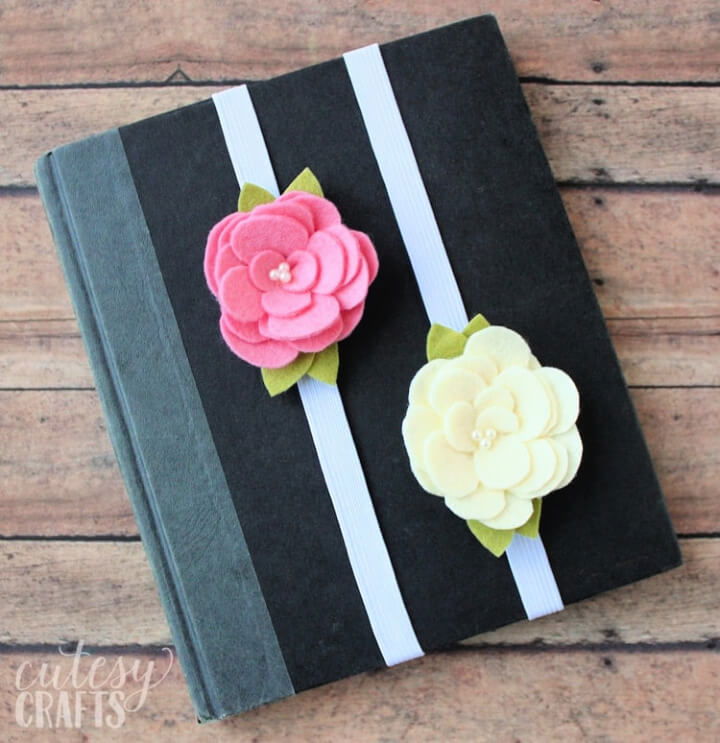 Use also the felt flowers to bookmark your pages, they can be added with the elastic loops to make very beautiful bookmarks! A smart project to do with the felt-made flowers! Do give it a brilliant gift to the book lovers and it will definitely earn you great respect! Complete guides here cutesycrafts
Awesome DIY Felt Flower Bouquet: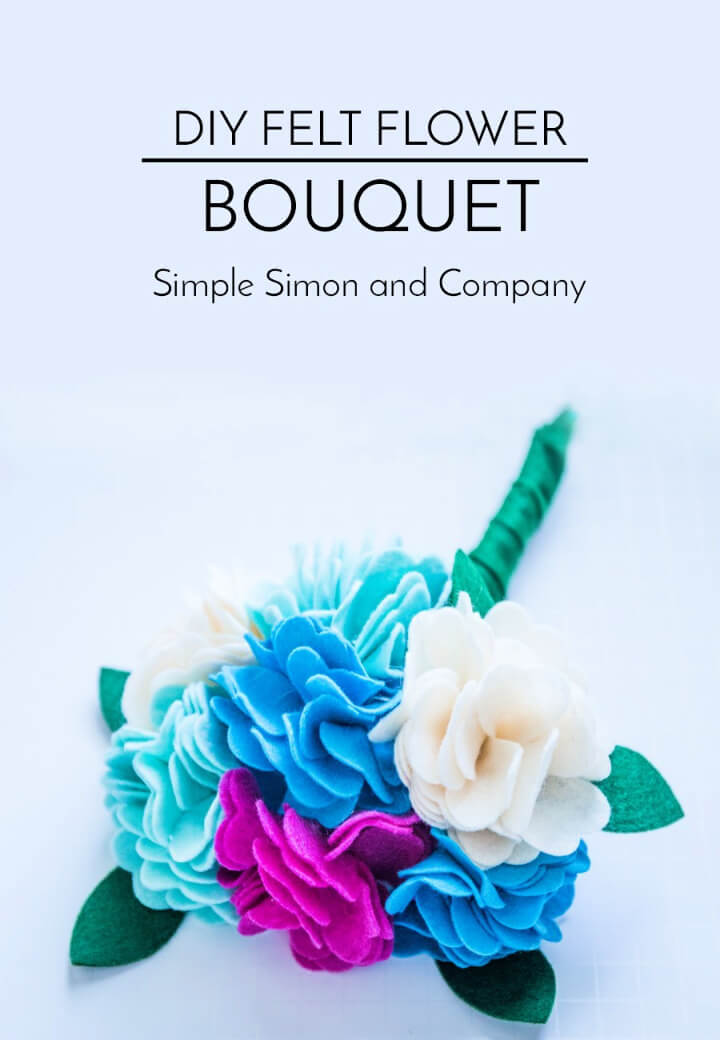 Have you got your hands mastered in making felt flowers? Then do add them up with the custom stems and put together for making bouquets as you see in the hands of a bride! The project to do further after you learn to make the felt flowers like a pro! Complete visual tutorial here simplesimonandco
DIY Felt Flower Baby Headband: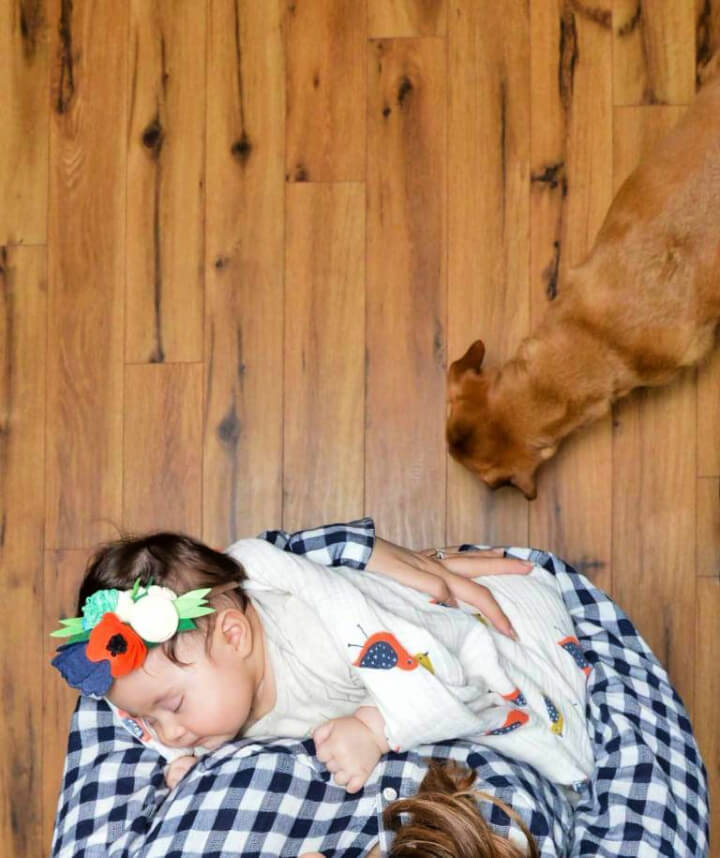 Turn your baby girl into a cute princess by making her wear a felt flower headband! The idea is all about to use the felt made flowers as cute colorful embellishments for a baby headband! Sew them on the headband or glue in place! Complete how-to guides and instructions here lifemadewithlove
DIY Felt Flower Garland for Home Decor: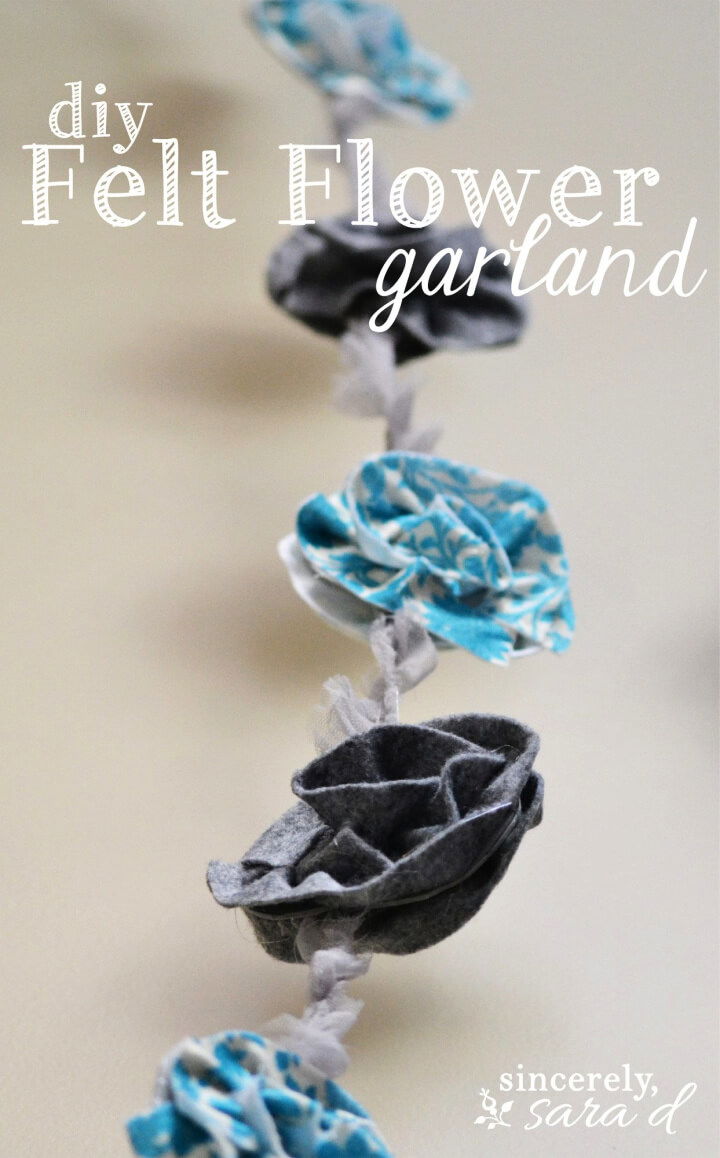 Really don't know what to do worthy and decorative with felt flowers? Then connect them together as lovely chain loops and make pretty felt flower garlands! They will be a significant addition to your home or party decorations! An inexpensive but great home decor idea using felt flowers! Complete tutorial here sincerelysarad
DIY Felt Flowers Daffodils: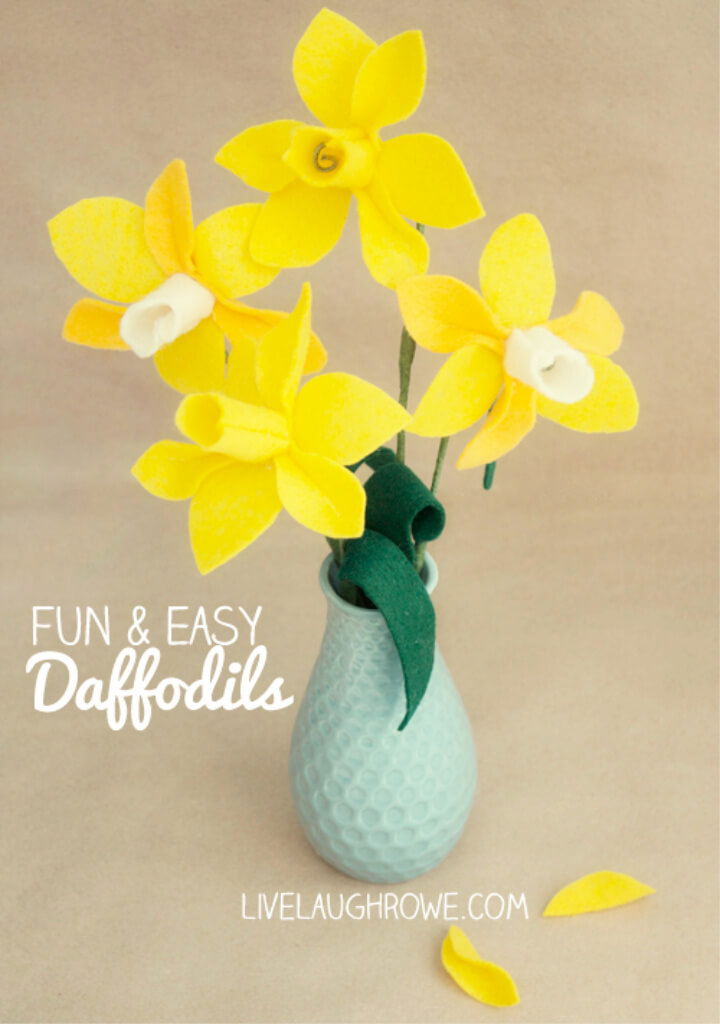 Go for a great garnishing of your spaces by making adorably cute daffodils! Make the felt daffodils with added green stems and then don't hesitate to put them in a lovely and decorative jar or vase! Use the finally completed daffodil flower centerpiece as eye-catching wedding decor! Complete guides here livelaughrowe
Simple DIY Yellow Felt Flower Scarf:
It is quite an easy task to cut the superb flowers out of felt using a die-cut! Mount those flowers on a long felt flower strip having same or different color and gain a perfectly beautiful floral scarf! Complete project tutorial and guide here thecraftyblogs
Easy DIY Layered Felt Flowers: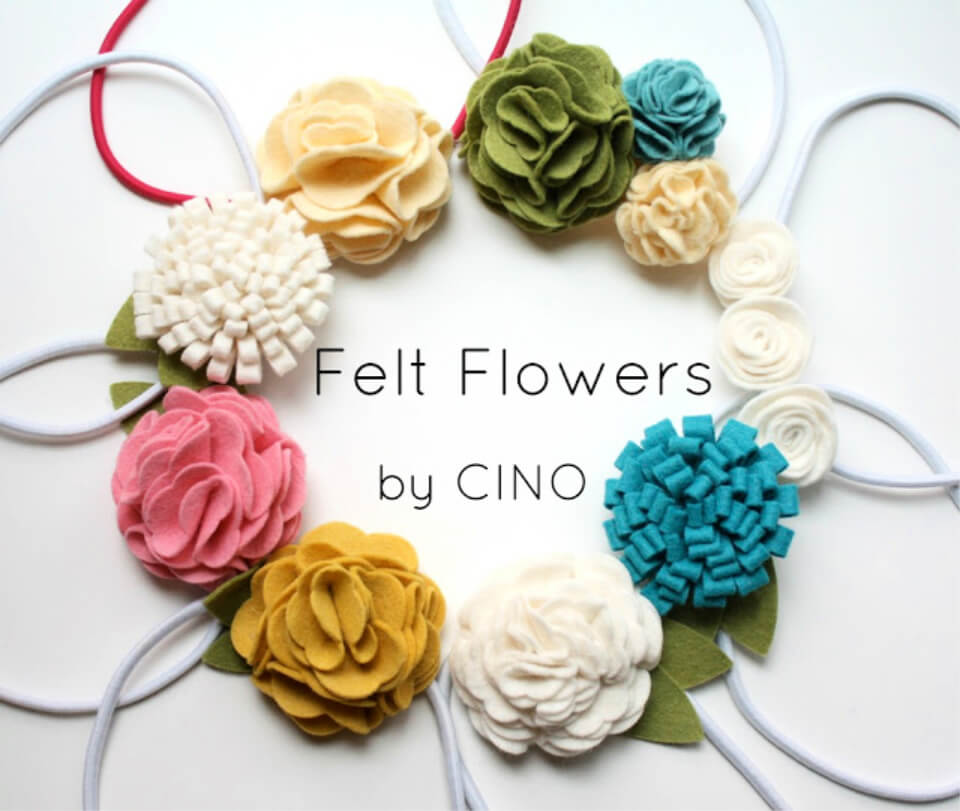 Making a felt flower becomes fairly easy when you layer up the die-cut felt flower petal! After getting a stack of petal, you only have to fold the petals a little up to make gorgeous felt roses! Leave your felt flowers with straps to tie onto anything you want to embellish with them! How-to project details here craftinessisnot
How to Make Felt Flower Wedding Bouquet:

It is super easy to build a bouquet out of felt flowers that you can give as a pleasing present to a bride! Make also special gifts for the groom too using felt flowers, make the epic boutonnieres out of felt flowers, will instantly jazz up your formal wear that is going to wear at proms, weddings and at homecomings! Complete project guides here somethingtur
DIY Felt Flowers – Five Ways: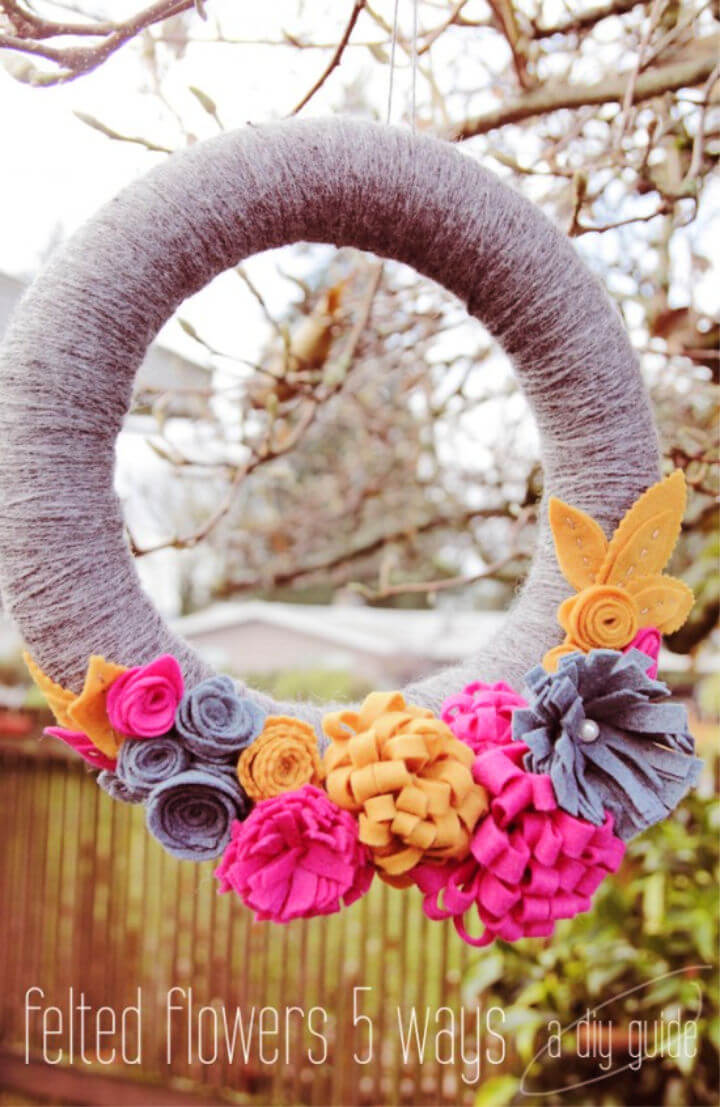 You are going to love this another great list showing the five easy methods to make a felt flower like a pro! Being incredibly decorative, they can be a great choice to mount on the yarn wrapped wreaths you are going to hang on your front door! The most precious type of felt flowers to make at home! papernstitch