Looking for the perfect DIY camera strap to make your photography life easier? Here are 35 of the best DIY camera strap ideas to help you find your perfect match. Along with a noble expression of your photography profession, the straps will also help get your hands free while adjusting or setting up a tripod and also to take different angle tests.
The straps will also be effective camera protection while working in crowded areas where you are often get pushed, but your camera will not fall off. Otherwise, it will be lead to a total disaster. Change your camera lenses easily while getting an accent photographer style with these 35 D best diy camera strap ideas that are having most of the designs made of recycled materials like old leather belts. Repurpose your old scarves, braid the rope and also upcycle fabric ribbons to make these gorgeous camera straps in seconds.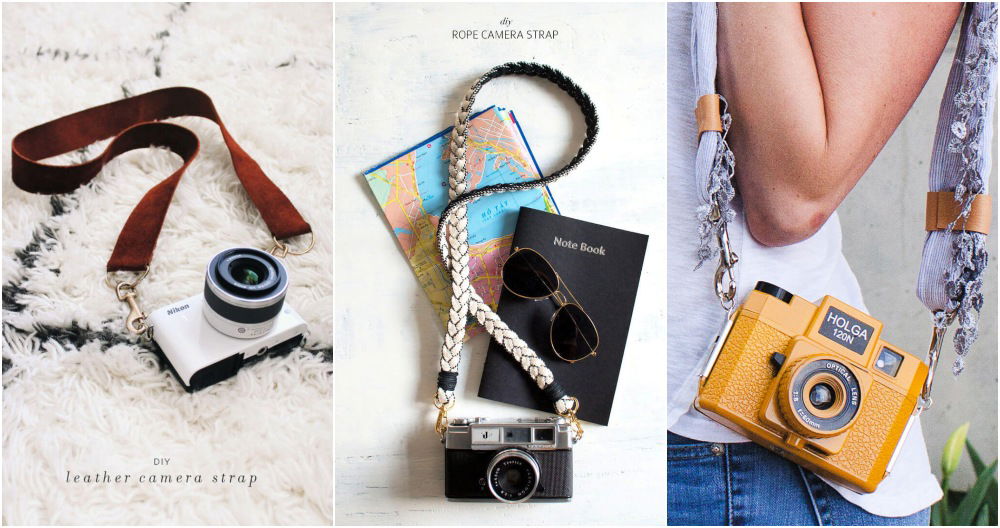 Along with being a stylish camera accessory, an anti-theft, and also full-proof camera security, they will also be a smart solution to hold multiple cameras together at the same time. Ending clasps, D-rings, and jump rings would be the best hardware for installing straps to the camera durably. Look through the entire collection of these DIY camera strap ideas to see more unique designs.
1. DIY Leather Camera Strap
Are you interested in photography and keep your camera always with you to capture the world? Then here is how to wear the camera in a style around your neck. Make these good looking leather camera straps, can be added to both sides of the camera using D-rings and clasps. Here is how to make it. Complete guides here almostmakes
DIY light box: A light box is a great way to take photos of small, fragile, or hard-to-reach objects. You can use a light box to take pictures of jewelry, insects, stamps and coins. This list of DIY light box ideas will make your photography life easier and give you some inspiration.
DIY photo backdrop: Whether you're a professional or beginner photographer, you'll need to know how to set up a perfect photo backdrop. Here are DIY photo backdrop ideas that will make your life easier and inspire your next shoot.
2. Make a Camera Strap for Summer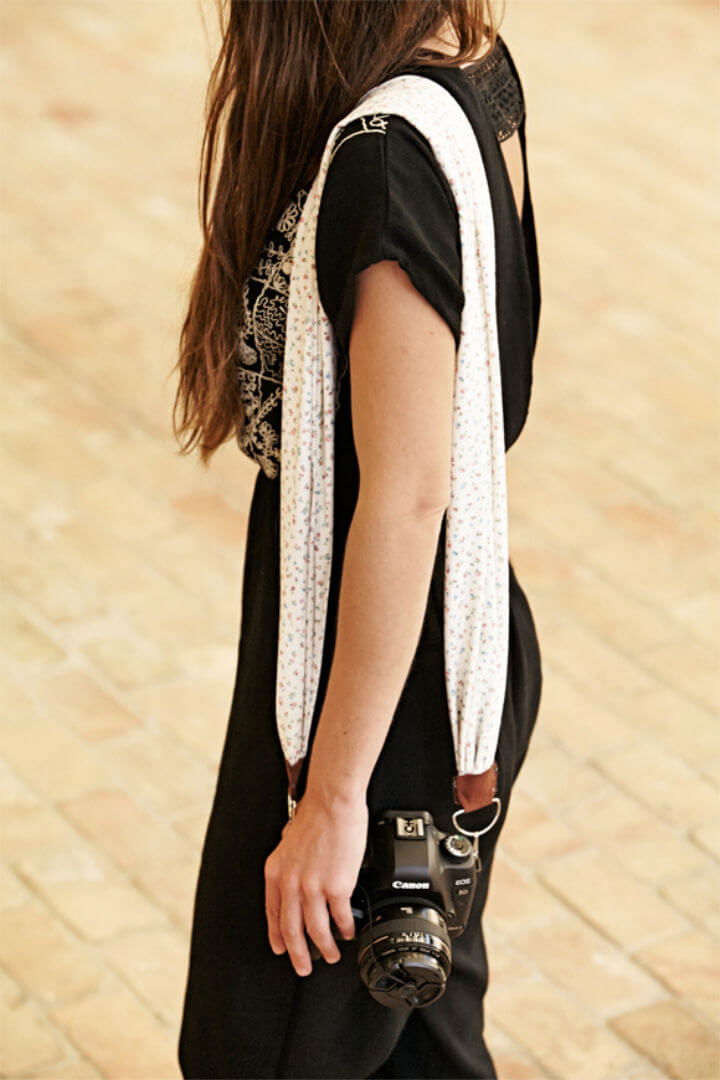 This is very gorgeous camera straps to make the summers, made of fabric and will be a great choice for the ladies interested in photography. Here all you need a summer scarf, leather loops, and d-rings to make this handsome strap for the camera. Complete how-to guides here freepeople
3. DIY Rope Camera Strap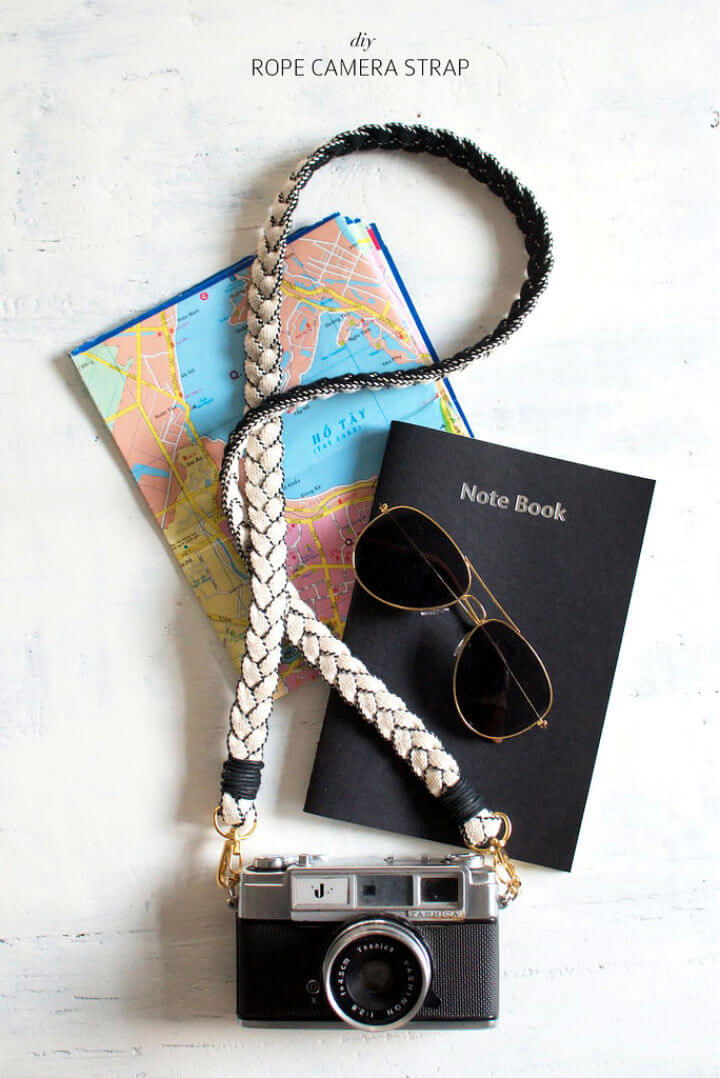 Do you really like the braided stuff and the texture they come with? If yes, then you will definitely give ten out of ten to this rope camera straps, will provide an unbeatable visual beauty to your camera. Choose this strap next time you thin to personalize your camera. It comes with gold D-ring hooks and clasps. Full how-to guides here apairandasparediy
4. DIY 45 Minutes Camera Strap
The gorgeous and quickest camera strap to make only in 45 minutes. A little creative will result in this brilliant reward, the very good looking camera straps will be the best gift to give to a camera lover. Complete guides here designlovefest
5. Braided Fabric Camera Strap
Once again a beautiful fabric braid is here to be attached to your camera for a should support. A charming braided camera strap that you can quickly make with fabric yarn. It will go super soft over your should and everyone is going to love it for sure. How-to tutorial here teva
6. DIY Braided Camera Strap
You can put your expensive camera on the risk of falling off accidentally it may cause big damage. Ensure better protection of your camera with this durable camera strap. Braid the twine, rope or yarn to make it no time. Finish both ends of straps with D-rings holding ending clasps. Complete guides here almostmakes
7. DIY Macrame Camera Strap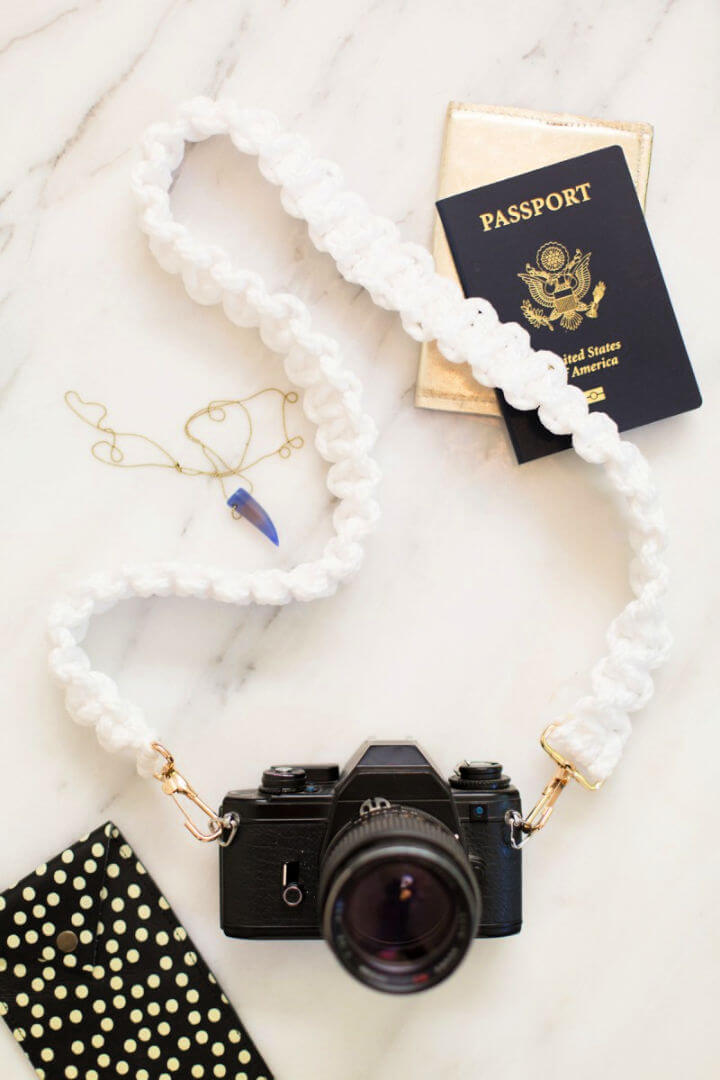 You will love to stare at the design texture of this macramé camera strap again and again. A brilliant yarn knotted camera straps that will satisfy you about the security of your expensive camera and is quite easy and inexpensive to make. Full tutorial here lovelyindeed
8. Simple DIY Leather Camera Strap
Leather straps will be at the top of the list when you need to bring a gorgeous style too to your camera along with added protection. Here you only need to cut a leather strap out of the leather sheet to make it. The old leather belts will also be great options to make it at no-cost. Full project details here alwaysrooney
9. DIY Vintage Belt Camera Strap
Let the vintage design print on your old leather belt be the outstanding accent of your camera. A mind-blowing repurposing of an old leather belt that is lying for nothing. Here this camera strap is made of two vintage belts combine together using a leather punch and rivets. Complete how-to guides here poppytalk
10. Make a Custom Camera Strap
Make also smart use of fabric trim to make traditional-style camera straps. Get yourself featured with your camera by adding this accent fabric trim camera strap. It will never go unnoticed by the fellows and people all around. While wearing it around your neck, it will also pair up beautifully with your outfit. Full how-to guides here etsy
11. Beauitful DIY Scarf Camera Strap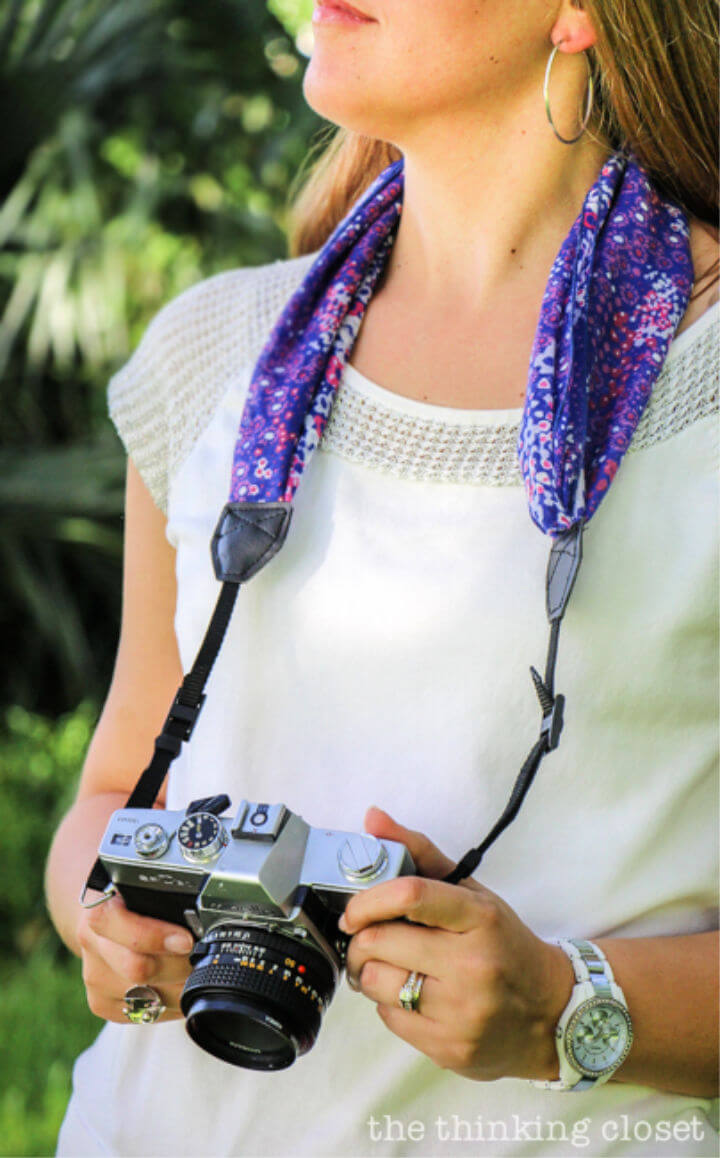 One more creative remake of an old scarf, a gorgeous camera strap, will create a distinguished appeal of your camera. Here is what you need to ensure better safety of your camera. Half leather and half fabric camera straps will really go eye-catching. Here is what you need to bring a unique style to your camera. How-to guides here thinkingcloset
12. Make Camera Strap in 15 Minutes
Style up your camera in only 15 minutes without getting a little expensive. The hacks are to spice up the look of your camera with this accent camera strap. Make this heavy-duty and extra beautiful camera strap using lace, fabric, faux leather, and swivel hooks. Complete how-to guides here fabric
13. Camera Strap With Climbing Rope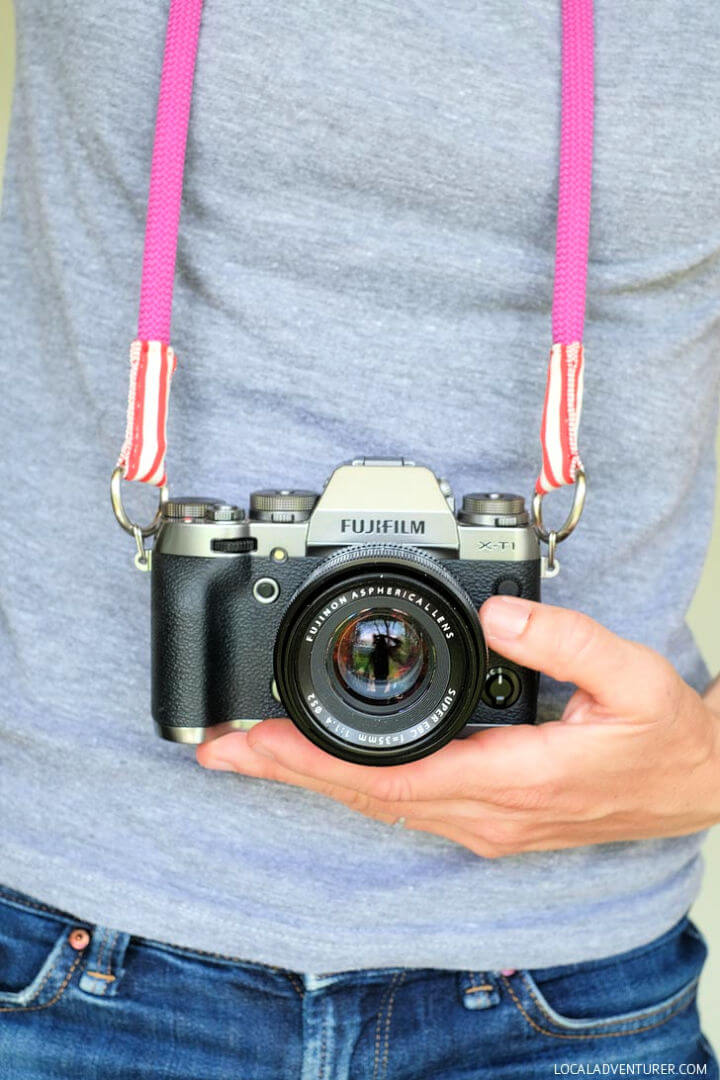 If you strive for durability and style in everything then you must go with this climbing rope camera strap, something you will love to look at again and again. Use the D-rings along with some jump rings for camera attachments. Complete how-to guides and tutorial here localadventurer
14. How to Make a Camera Strap – Two Ways
Do you want to know what you can do amazing with the rope or braided yarn? It can help you to wear a camera around your neck in a gorgeous style. Make also the attachments to the camera using gold lobster clasp swivel hooks and here you go. Full how-to guides and tutorial here lilyandval
15. Homemade Camera Strap Cover
Do also the easy sewing projects to make a gorgeous camera strap cover, will be a smart way to update your camera straps without actually replacing them. Here all you need a template to cut the fabric pieces accordingly and next feed your straps through it. Complete guides and tutorial here tidymom
16. DIY Camera Pink Color Straps
Raise also the rope camera strap game to the next level by choosing the ropes in stylish accent appeals. Prefer the neon ropes to make cool and eye-catching camera straps that can be installed to both sides of the camera using D-rings and custom hooks. Full how-to guide and tutorial here karenkavett
17. How to Make Fabric Camera Strap
Put also the fabric scraps to some really good uses by making this very gorgeous looking fabric camera strap, made to inspire. Take the fabric into strips according to the design template. Next, feed the camera straps through both ends and make a good looking camera strap in no time. Complete guides here keepinglifesane
18. DIY Glam Camera Strap
Bring tons of visual charm and grace to your camera by adding this most expensive-looking glam camera strap. It will bring the royal gold touch to your camera. Make using metallic gold belting trim and gold thread. Choose also the hardware like clasps, split rings in gold for a glorious gold view. Full how-to guides here sugarandcloth
19. Make Camera Strap from a Scarf
Here is how to end up your scarves that are mostly destined to home trash store. Finish them with the cool leather loops and then attach to both sides of a camera through D-rings and clasps making lovely camera straps. A stylish remake of an old scarf. Complete details here thehousetha
20. Handmade Camera Strap Gift
Willing to please a sweetie, hubby or a cool friend with a lovely handmade gift? Then consider making this camera straps if he/she is highly passionate about photography. Here you need fabric, rubber bands and a sewing machine to sew a new camera straps cover will instantly renew an old one. Complete details here designsponge
21. DIY No Sew Camera Strap
Bring a super unique style to your camera by making this no-sew camera strap made of a tape measure. Take the measuring ribbon to size then turn it into a really nice looking camera strap using black fabric ribbon, fusible interfacing, soft leather, and adjuster. Here is how to bring a unique style to wearing the camera around the neck fashion. Complete details here thecraftygen
22. Make a Braided Camera Strap
Do copy these braided camera braided straps, personalized with cool alphabet beads put together for name letters. Grab the suede lace and black cord to make this braided camera strap in no time. A super handmade gift to give a camera loving friend. Complete how-to guides here brit co
23. DIY Camera Strap – Perfect Gift Idea
One more extra brilliant and stylish camera strap to make at home in just no time. Make it using fat quarter fabric with repeated camera print, fat quarter batting, narrow twill tape, cotton webbing, camera straps ends and tri-glides. A perfectly cute camera strap that will make a great gift too. Tutorial here spoonflower
24. Upcycle an Old Scarf Into a Cool Camera Strap
Repurpose an old scarf also to make a cool camera strap that will be loved dearly by all the style lovers. Use a custom heavy-duty material like leather to make the ends of the scarf. Next use the jump rings and clasps to add them to the camera as outstanding camera straps. Complete how-to guides here popsugar
25. Quick DIY Camera Strap
Another quick to whip up a camera strap that you can also make out of an old scarf. The process is same and you can really go versatile by choosing some other metallic hooks, clasps and jump rings. Add up the scarf with leather loop ends, next install it to the camera using recommended hardware. Full details here lovecreatecelebrate
26. Adjustable Patchwork Camera Strap
This camera strap will get some extra plush points due to having some great adjustable features. Put together the scrap fabric pieces doing a smart patchwork. After you gain a scarf length, add the heavy-duty D-ring loop ends. Swivel hooks will be an ideal choice to use with jump rings for making camera-strap connections. Full how-to guides here weallsew
27. How to Sew Camera Strap
Old scarves are again here to rock, the stunning camera strap that comes with fancy end loops made of leather. They are heavy in duty and hold the scarf ends as napkin rings. Use the scarf along with lace for more amazing results. Complete how-to guides here sewbon
28. DIY Fabric Camera Strap
Change the designs and colors of the scarves that are you are going to use and give outstanding variations to your finally finished camera straps. Here scarf has been used with dominant black color and it comes with fabric ending loops. Here is how to make it in no time. Details here seamsandscissors
29. How to Macramé Camera Strap
Use your art of knotting, the macrame-ing, to make outstanding camera straps of simple ribbon, rope, and twine. By giving custom knots you will be able to come with outstanding design textures that will simply go eye-catching. Look at the sample macrame camera strap, instantly style up your camera. Details here darngoodyarn
30. Bow Peep Camera Strap
You will feel great while pairing up this camera strap with your outfits. This is a bow peep camera strap that comes with an interesting bow accent and will surely impress. It is having a dominant white color and have lovely ending loops that come in changed color. A cool camera strap to make in no time. Complete guides here sewinginno
31. DIY Camera Strap Update: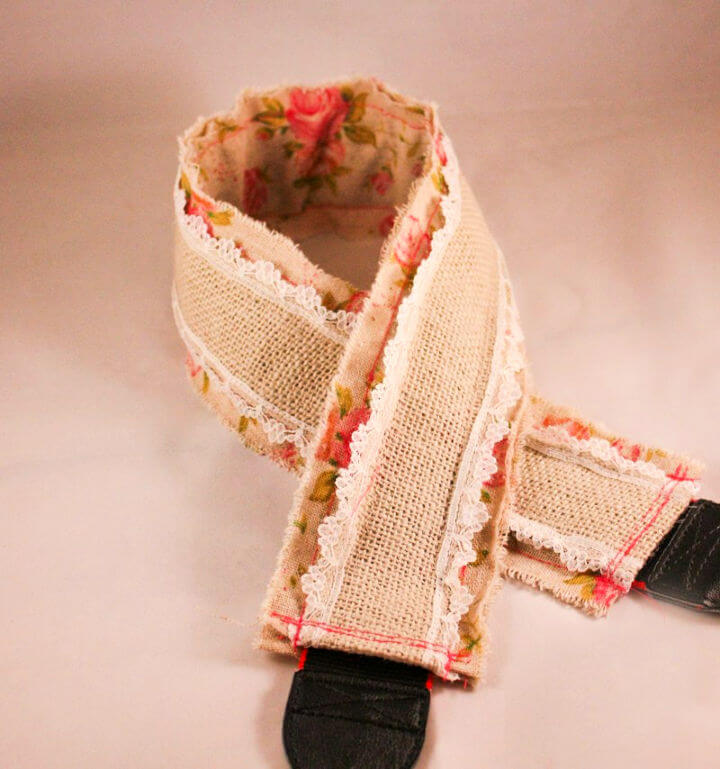 If you love to be around a sewing machine then spend only a few minutes to crochet this adorable camera fashion. The cool camera straps to make with printed burlap, lace, and printed fabric. Give a nice floral touch to your camera and your outfit also indirectly while wearing it over the shoulder. Details here mayarts
32. Dual Camera Strap Harness
This is the most beautiful model of the camera strap to make at home, involves also a little sewing. Grab the camera strap carabiner and take a length of it to size. Do little measurements and sewing work to sew a double camera strap harness. Feed the leather straps through and don't forget to install the hardware like clasps, D-rings and rivets. Complete how-to instructions here moriahjaephoto
33. Hand Embroidered Camera Strap
Sew the camera straps like you do with the fabric or any other material and next finish with heavy-duty ending loops. Here a creative twist is the hand embroidered letters, help create a personal statement on the camera straps. It will go eye-catching and is superior from the ordinary mass. Complete guides here clubcrafted
34. DIY Camera Strap Even Kids Can Make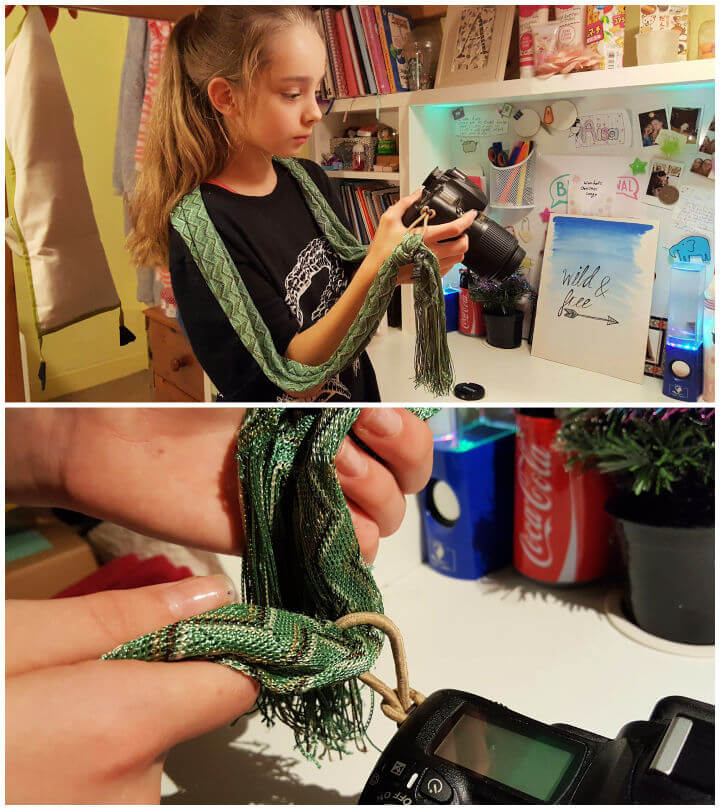 This is the most suitable and subtle design of the camera strap that is too easy to make. Here you only need the cord first to add the loops to both sides of the camera and next tie the scarf ends to them gaining a lovely camera strap in no time. A lovely and good looking camera strap to make in no time. How-to guides here techadvisor
35. DIY Fringe Camera Strap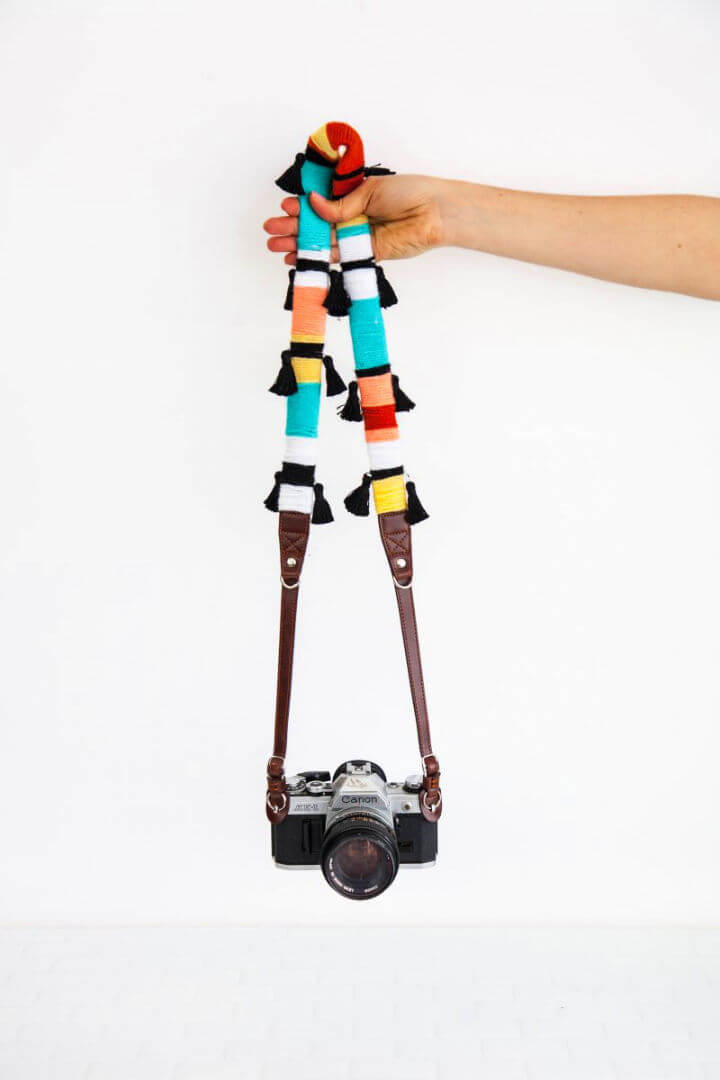 The super glorious and colorful camera strap that will bring tons of colors and hence amazing visual charm to your camera. The strap, while being over your shoulder or around the neck, will pair up beautifully with your outfits. Wrap the colorful yarn around the leather strap for a colorful fringed appeal and next adorn it more using tassels. Full how-to guides here bemakeful
36. DIY Neoprene Camera Strap
One more personalized camera strap that is having the most professional look. A neoprene camera strap personalized with easy weed heat transfer vinyl. Here you also need a heat press and heat transfer cover sheet to do this project with great ease. The blasting good news is that you can go with your own custom letters in this case. Complete tutorial here siserna