Learn the incredible world of paper mache art and make your own masterpiece – a fun and creative activity for all ages! Explore 25 easy paper mache ideas and art projects, perfect for kids and adults. Paper mache crafts range from stunning home décor pieces to fun and engaging activities for children. Discover easy paper mache projects like custom bowls, realistic animal sculptures, or whimsical hot air balloons for your home, and simple paper mache ideas for kids, such as colorful piñatas and mobiles.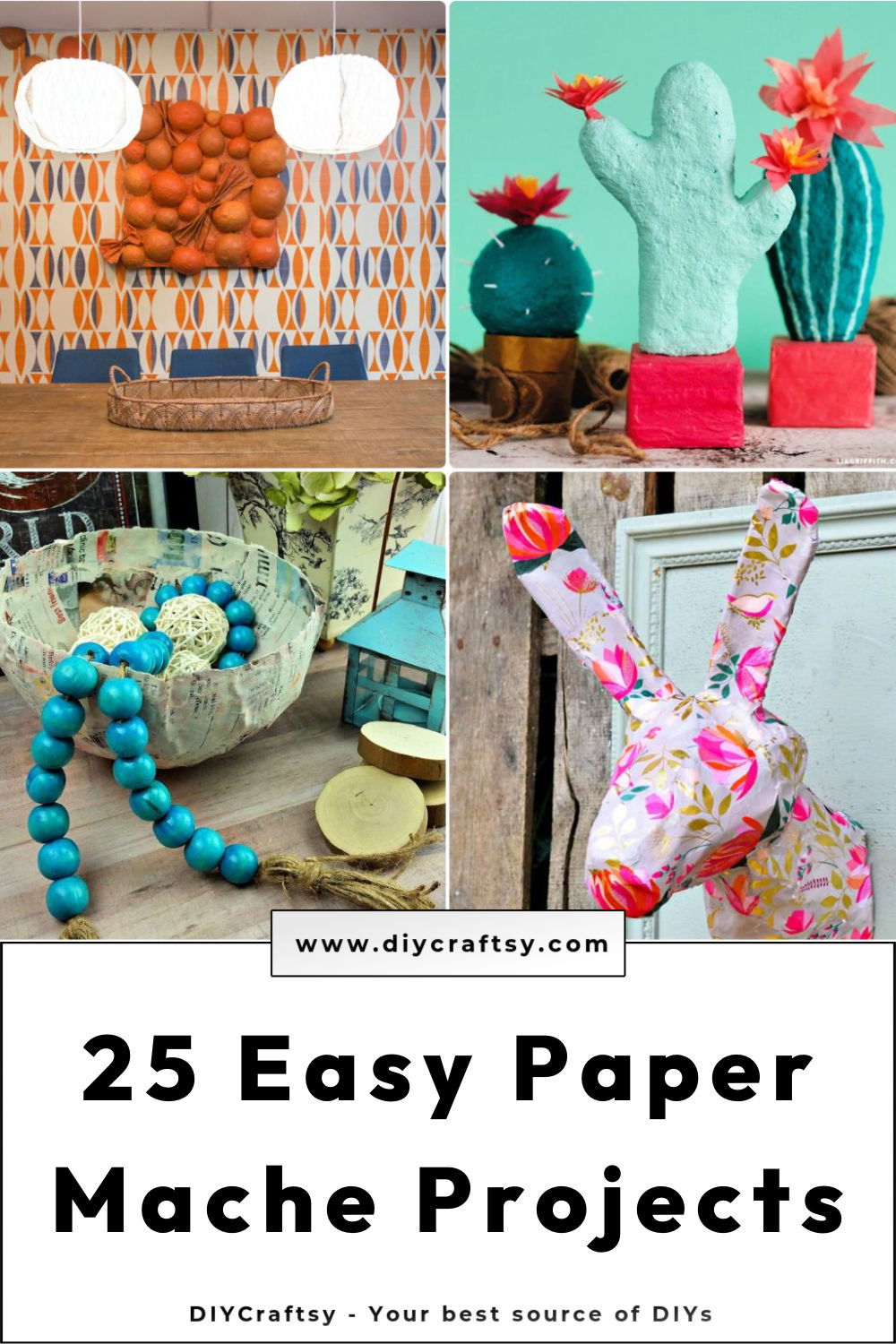 Paper mache art projects can cater to a wide range of interests, including unique planters, faux wood letters or hexagon storage boxes. With step-by-step instructions and handy tutorials, you'll be sure to find a paper mache idea that suits your preferences and skill levels. So grab some newspapers, glue, and paint, and embark on a creative journey with these 25 easy paper mache ideas and art projects that are engaging and environmentally friendly. Dive into the world of paper mache crafts and make something unique and special today!
1. Making an Anthropologie Paper Mache Rabbit Head
Explore the fascinating world of paper mache art, utilizing recycled materials to create stunning sculptures and intricate designs.
Marvelous and unique, make your own anthropologie-inspired paper mache rabbit head with this simple DIY tutorial. Save money and customize the design to match your decor using different paper patterns. Gather craft aluminum wire mesh, old newspapers, white school glue or pva glue, mod podge, glue brushes, gesso (optional), and a sheet of pretty floral wrapping paper.
Begin by making a wireframe for the neck, head, and ears, then shape it accordingly before securing parts with tape or a hot glue gun. Layer strips of newspaper soaked in white school glue onto the frame to build up the texture of paper mache. Allow it time to dry before applying mod podge and attaching a beautiful floral wrapping paper! pillarboxblue
2. Adorable Papier Mache Cacti for Home Decor
Transform your home with this fun DIY project to craft adorable papier mache cacti decorations! Gather the tools such as a low-temp hot glue gun, mod podge glue, wire cutters, paintbrushes, and a craft knife.
Assemble the materials, including papier mache, foam blocks, 18-gauge floral wire, tissue paper popsicle sticks, and acrylic craft paint. Follow the easy step-by-step instructions to shape the foam into cactus forms, then cover them in papier mache and add custom colors and designs of your choice. Top it off with some tissue paper flowers for an irresistible charm! Suitable for all ages – start crafting now! liagriffith
3. Make Your Own Paper Mache Bowl
Unleash the eco-friendly artist within by upcycling newspapers into stunning paper mache projects for a sustainable crafting experience.
Gustatory upcycling! Make your DIY paper mache bowl using simple materials like balloons, newspaper, flour, and water. Revel in the creative benefits of this versatile project; choose your desired shape and size to make it yours. Mix the flour and water for a fuss-free paste at home, then cover the work area with newspaper or plastic bag to prevent messes. Remember: glossy paper doesn't work well with the paste. Enjoy your new decorative bowl while reducing waste – an inventive way to enhance home decor! reusegrowenjoy
4. Homemade Paper Mache Bubble Art
Fantastic! Get ready to unleash your creative side with this DIY paper mache bubble art. Add a 70s-inspired maximalist touch to your decor with this unique art form. You can make something truly special for your walls with balloons, newspaper, white glue, water, paintbrushes, and three shades of orange paint.
Make the paper mache mixture by mixing white glue and water and coat each balloon with paper mache strips. Then let it dry before trimming the edges for a neat finish. Attach these paper mache bubbles to a canvas with hot glue while adding other shapes like stars or circles for an even better look. Unleash your imagination and start creating today! mrkate
5. Cool Paper Mache Globe for Decorations
Fabricate inviting paper mache globe decorations with this comprehensive tutorial! Commence with a 16″ inflatable ball as the foundation and cover it with aluminum foil secured by masking tape. Layer six layers of papier-mache, utilizing roman pro-543 universal wallpaper adhesive and swapping between newspaper and brown wrapping paper.
To acquire an even surface, utilize blank newspaper for the concluding layer. When dry, adorn the globe with latitude and longitude lines. Carefully cut into paper mache to remove the base, then cut out a round hole for the south pole – attach craft foam continents using adhesive; reattach the circular area with masking tape. Get creative & make striking globe ornaments today! manningkrull
6. How to Make a Paper Mache Fireplace
Unequivocally craft your DIY paper mache fireplace with these phenomenal suggestions! Utilize a flour-and-water paste for an astonishingly strong adhesive, and oscillate between various paper types for each layer to accurately monitor progress. Incorporate flat surfaces into your rock forms and wrap them with cling wrap for uncomplicated removal. Meticulously measure and consider using ball foam for enhanced strength.
Refrain from papier mâchéing over real rocks or on top of rocks. Enable each layer to dry partially before continuing onward, creating gaps between stones slightly larger than required. Remember to use a sharp utility knife and expect the project to last longer than presumed. pizzabytheslice
7. Quick and Easy DIY Paper Mache Pinata
Enticing everyone to join the fun and learn how to craft a DIY piñata from simple found-at-home ingredients. Economically make a customized piñata for your next festivity with great base options like cereal boxes, paper bags, or old cardboard boxes. Use classic paper mache paste and crepe paper for decoration, then hang your homemade piñata. Discover the joy of breaking it open as surprises come forth! Follow stepwise instructions for constructing the base and crafting the paper mache paste to get started on this exciting project today! thediynuts
8. Handmade Paper Mache Planters Using Plastic Bottle
Discover the rich history behind paper mache art, stemming from ancient China to modern-day artists pushing the boundaries of imagination.
Transform mundane plastic bottles into stylish and self-draining planters with unique marimekko designs. An inspiring eco-friendly craft project for plant lovers, the task requires simple materials such as empty soda bottles, newspaper, white paint, flour or glue for paper mache, mod podge decoupage glue, and marimekko paper napkins.
Follow step-by-step instructions to make an exquisite planter suitable for various plants – herbs gardens or flowering plants like succulents. With this budget-friendly activity, you will enhance your gardening experience by adding chic decorations to your indoor space! pillarboxblue
9. DIY Paper Mache Animal Heads
Transform simple newspaper strips into stunning masterpieces by experimenting with diverse paper mache ideas, techniques, and mixed-media elements.
Make whimsical and three-dimensional artwork with DIY paper mache animal heads for a child's room! Begin by crumpling newspaper into balls and securing them with masking tape to form the head. Merge multiple newspaper balls and contour them with tape, then make a neck using newspaper and attach it to a sturdy cardboard backing. Next, concoct boiled paper mache paste from flour and water before dipping torn paper towels into the paste and cover the entire head while sculpting and shaping as you go. A fun-filled creative project that will surely add a vibrant touch of playfulness to any space! lilblueboo
10. Making a Paper Mache Dinosaur Cave
Enthralling your imagination, embark on a prehistoric journey with a DIY paper mache dinosaur cave! Gather all the necessary materials, including no-cook paper mache glue recipe, bowl/tray, paintbrush set, paper strips (packing paper or newspaper), recycled containers/balloons for structure, and cardboard/wood/plastic base. Make rock-like caves and tunnels to explore the world of dinosaurs in this exciting craft project. Enjoy an awe-inspiring sensory play experience and uncover dino-mite discoveries with this creative activity! crayonboxchronicles
11. DIY Paper Mache Bowl for Preschooler's
Unleash your creativity with paper mache art, a versatile medium that transforms newspapers and glue into inspiring masterpieces.
Revel in the creative possibilities of paper mache with this easy-to-follow recipe! Gather old newspaper strips to cover a bowling template and make a sturdy base. Make your simple paste using equal parts water and flour, then dip the newspaper strips into it. Remove excess paste, layer on multiple strips to build sturdiness, and let dry overnight. After removing the bowl template, paint and decorate your kid-made craft for a unique touch of fun! kidsactivitiesblog
12. Paper Mache Mobile for Kids
Also, engage in family bonding by creating memorable paper mache projects that foster teamwork, enhance fine motor skills, and spark artistic expression.
Put together a prodigious paper mâché mobile with kids using ordinary supplies! Gather your wire hangers, fabric/ribbon strips, colored tape, white school glue, tin foil, and newspaper strips, and mix flour and water for the paste.
Make shapes by wrapping wire hangers in fabric/ribbon and shape tinfoil into base forms. Then begin to layer on newspaper strips with the flour-water paste. Once dry, paint your mobile balls with tempera paints, then attach them to the wire hanger framework using twine & jump rings. Hang it up with a ribbon for an enticingly eye-catching display! artbarblog
13. DIY Papier-mâché Balloon Bowl
Stimulating your creative senses, this DIY papier-mâché balloon bowl provides an attractive storage solution! You can make a one-of-a-kind bowl for storing small items with a few simple materials—balloons, decoupage glue, foam brush, torn newspaper and plain newsprint squares, paint, and paintbrushes. Inflate the balloon and cover it with decoupage glue and overlapping layers of paper. Once it's dry, pop the balloon to remove it before decorating it with paint. Now you have a charming bowl that is both unique and functional! todaysparent
14. Easy Faux Wood Love Letters
Customize your valentine's day decor with these elegant DIY faux wood love letters! Using cardboard or paper mache letters as the base, you can paint them in any hue you desire. Trace the original shape of each letter onto adhesive wood veneer sheets and cut it out accordingly – remember to reverse the l and e when tracing! Then stick them onto the letters for a sophisticated craft that will add an exquisite touch to your home interior. This holiday season, it's time to show extra love with these chic faux wood love letters! sisterswhat
15. Ikea Vase Hacks With Step by Step Instructions
Aestheticize your $1.99 IKEA vasen glass vase with this creative, budget-friendly hack! Gather the following materials for this fun DIY project: wooden curtain rings, shibori print fabric scraps, decoupage glue or modge podge, a small paintbrush, and some scissors. Layer the fabric and wooden rings to make an awe-inspiring Japanese wabi-sabi effect—all for under $6! You can craft unique indigo vessels with just a few simple steps to make a stunning statement piece in any space. we-are-scout
16. DIY Paper Mache Hot Air Balloons
Enhance your artistic skills by delving into the world of paper mache crafts, a versatile medium for both beginners and experts.
Unlock your inner creativity this Easter with paper mache hot air balloons! Tear up sheets of newspaper and bind them to inflated balloons using a 50/50 mix of pva glue and water. Then, cover the balloons in fabric strips soaked in the same mixture for a brilliantly unique effect. Add an extra layer of the pva blends for reinforcement before snipping off the balloon ends. Hang your charming creations proudly by attaching twine to yogurt pot baskets – a fun and engaging craft kids will love! lululoves
17. Amazing Paper Mache Disco Ball Costume
Gleam and glimmer in this glamorous DIY disco ball costume! Make your dazzling attire with simple supplies: a 36″ balloon, newspaper, flour, water, holographic bird/ribbon, scotch tape, sequin trim or silver ribbon, and a stapler. Follow the straightforward paper mache method to transform the balloon into an entrancing disco ball. Finish off the look with a shimmery top paired with shorts (or jeans) and disco heels. Get ready to dance up a storm with this eye-catching costume! studiodiy
18. Upcycled Paper Mache Bird Sculpture
Explore your creativity with versatile paper mache projects, from masks and sculptures to piñatas and home decor items. Marvel at the beauty of your own upcycled paper mache bird sculpture! This DIY tutorial makes creating a Carolina wren or any other bird right in your home easy.
Above all, you can make an adorable ornament for your living space with just some old cardboard, crumpled newspaper, masking tape, and lightweight cardboard.
Use wire and toothpick legs for structure, then wrap in floral tape before coating with activa fastmache. Finally, complete with a decoupage using historical newspapers and acrylic paint for a one-of-a-kind design. Get the full instructions plus a free printable pattern today! hometalk
19. DIY Paper Mache Faux Stained Glass House
Inspire your child's creativity with this whimsical kids' craft – designing a faux stained glass house! Gather up mod podge wash out for kids (or regular mod podge), white craft paint, tissue paper in various colors, coordinating cardstock, craft glue, a small white button, and ric rac trim.
Start off by adding a base coat of white craft paint to the paper mache house, accordingly creating an ideal surface for the stained glass effect. Then let their imaginations roam free as they add color and detail to make a one-of-a-kind masterpiece that will surely be cherished for years to come! Get ready for hours of fun crafting filled with beautiful artistry. modpodgerocksblog
20. Paper Mache Wood Hexagon Storage Boxes
Paper mache ideas offer endless crafts for kids and adults alike, from stunning masks to intricate sculptures and festive ornaments. Unlock craft storage possibilities with these darling faux wood hexagon boxes! Perfectly suited for organizing your space, these DIY boxes can be easily assembled in minutes and look stunning on shelves.
All you need is paper mache boxes of any shape or size, adhesive-backed wood grain veneer sheets, acrylic paint, and a paintbrush. Adhere the wood grain veneer to the boxes, then enhance it with a splash of color from the acrylic paint and enjoy an orderly craft storage solution that's sure to impress! akailochiclife
21. How to Make a Paper Mache Flower Vase
Unleash your creativity with innovative paper mache ideas, using recycled materials to fashion eco-friendly home decor and gifts. This delightful DIY paper mache flower vase creates a cheerful atmosphere this spring! This easy paper mache art makes crafting these organic-shaped vases effortless.
Perfect for holiday brunch, Mother's Day gifts, or also adding lively accents to any corner of your house, you only need newspaper strips, fabric stiffener, mason jars, and some colorful paint to get started on this fun project. Get the kids involved, too – it's an enjoyable activity everyone can enjoy together. Bring the beauty of spring into your home today – try making these vibrant handmade vases! asubtlerevelry
22. DIY Papier Mache Cake Stand
Marvelously elevate your cake presentation with this DIY papier mâché cake stand! Uncover the boundless versatility of paper mâché as a decorative technique that can be utilized to make both functional and ornamental objects for your home. This easy project allows you to upcycle everyday materials from the recycle bin, utilizing your existing tools and supplies – no need for special equipment or extra purchases. Get creative and craft your one-of-a-kind cake stands that are both eco-friendly and eye-catching! thehousethatlarsbuilt
23. How to Make Paper Mache Pots
Fascinate your kids with sustainable paper mache art! Using recycled magazine pages, white pva craft glue, and other child-friendly materials, this creative project is perfect for children ages 5 and up in primary/elementary school. Discover plastic containers with smooth sides, magazines, water, a plastic glue tray, and masking tape to make wonderful paper mache pots that are eco-friendly! Let your kid's imaginations blossom as they make unique crafts that will last. childhood101
24. Simple Paper Mache Bowls
Explore endless paper mache ideas, like creating decorative bowls, animal sculptures, and festive piñatas for all occasions. See these Marvelous paper mache bowls with gold accents that make a stylish and practical addition to any room! Transform newspaper, modpodge, balloons, cups for drying, craft paint, and liquid gilding into beautiful creations that can store all your favorite items.
Also, Layer the strips onto the balloon shape and let it dry thoroughly. Trim off the edges, apply craft paint on the exterior, and an elegant finish of liquid gilding on the inside. Make sure to cure your bowl before using it – one of the best  DIY paper mache projects ever!  hgtv
25. Beautiful DIY Paper Mache ​Vase
Discover your artistic talents and make something unique with DIY paper mâché vases. Show off your creative side by producing a one-of-a-kind, ceramically-inspired item!
This DIY project will guide you through the step-by-step process and gathering materials such as cardboard, newspaper, flour, water, a hot glue gun, and more. Unleash your imaginative prowess to craft distinctive designs that make beautiful home decor or heartfelt gifts. Let the pencils draw, rulers, measure, and knives cut to make something special that will stand out in any space. thehousethatlars
Related DIY Crafts and Projects to Try:
Conclusion:
In conclusion, paper mache art offers a plethora of creative opportunities for individuals of all skill levels. With 25 easy paper mache ideas and art projects, ranging from papier mache cacti and animal heads to handmade planters and intricate sculptures, you will surely find the perfect project to spark your imagination. So, gather your materials, prepare your workspace, and delve into the enjoyable and versatile realm of paper mache art ideas and crafts. Happy crafting!