There are various crafts out there that demand was getting great experience first so that you can do some of the related DIY projects! But this is not just the case in the art of crocheting! No matter whether you are skilled enough or not, no matter what is your skill-level if you are a person with minimal crochet skills you can still crochet several different free crochet patterns from fashionable clothing to home decors to kids amigurumi! So, why should master crocheters should have all the fun, the dedicated beginners will now also enjoy the crocheting!
Just to inspire the hook of all crochet beginners, we have brought here these 101 Free Crochet Patterns for Beginners that are all beautiful and will help the beginner acquire more knowledge of crocheting for sure! Browse the collection and select your favorite project you want to take a creative start with and just enjoy happy hooking! The give list of patterns will provide you all you want to crochet your necessary crochet skills! Just hit the respective source links to get the free tutorial, step-by-step visual guides, and comprehensive project details!
Have learned only the single or double stitch yet? Just no need to worry about you can still be able to flawless free crochet patterns! Crochet the alluring blankets in neutral hues that will work great for fall or winter warmers! Crochet also the throws in various color stripes using the same single or double stitch cover your couches and other furniture warm and cozy! Moreover, even brilliant crochet loveys for the kids that would be same to crochet a blanket with will come with a stuffed toy head popped out!
Boost your also your fashion by going with the minimal crochet skills, crochet the flawless scarves and crochet shawl patterns to do so, check out some brilliant samples give below! Crochet also fantastic jewelry like bracelets, necklaces and other items of this kind that will adorn you more this winter, get inspired by some given samples! Another tremendous easy pattern would be to crochet possible snuggy or the trinket boxes that are the gift-worthy items!
Another super easy crochet pattern would be the granny owl squares that can further be combined with crochet various of items of interest from fashionable accessories to brilliant winter warmers! Use your minimal crochet skills to crochet fancy car seat covers and also go smart with your hook to crochet trendy handbags and purses that are mostly to see in the hands of style loving girls and women! This is also the idea to crochet some beautiful and Thanksgiving gifts at home!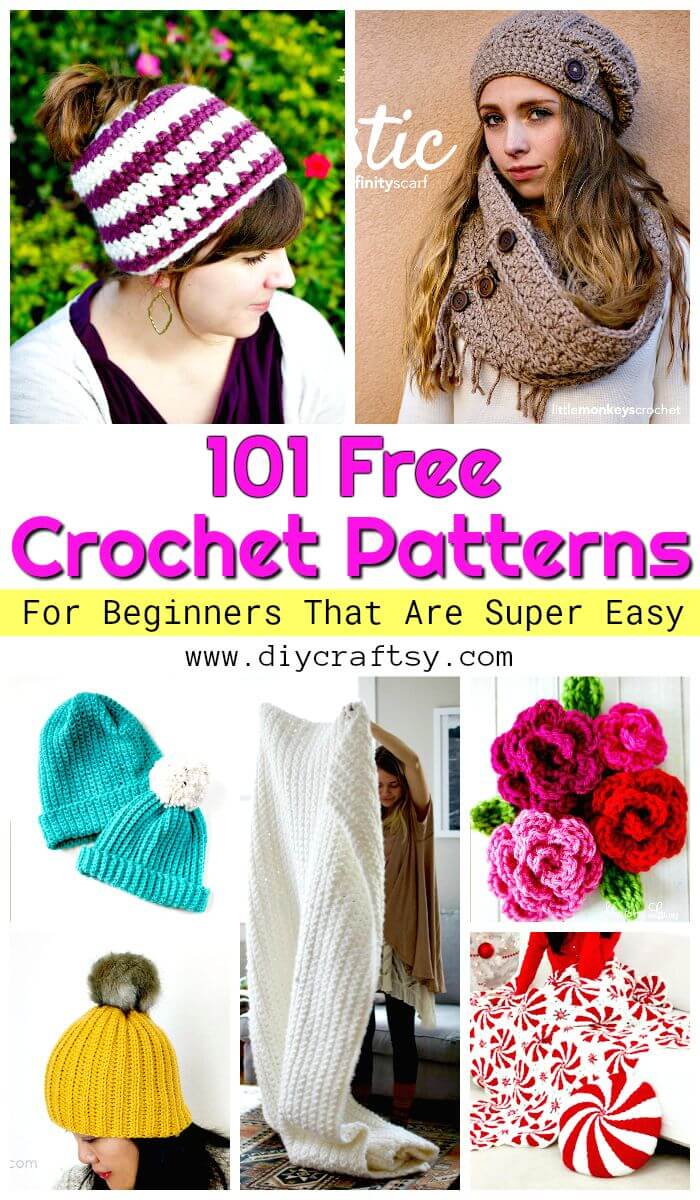 Browse the entire collection to grab tons of free beginner-friendly free crochet patterns more!
Free Crochet 1 hour Messy Bun Beanie Pattern: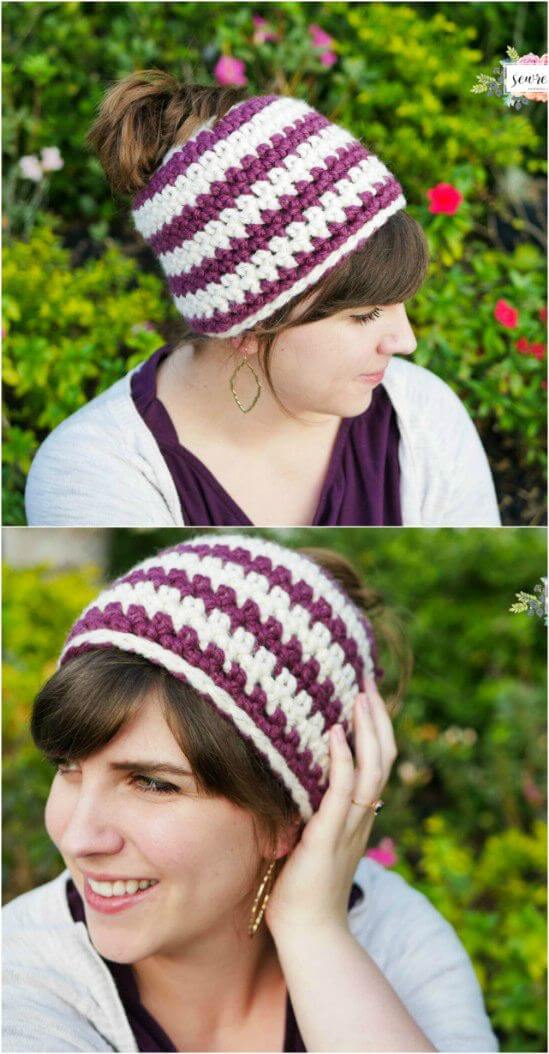 Do some easy crochet project that will help to create a beautiful and fashion worthy look of you! A great sample, in this case, is this messy bun beanie that comes with alluring white and purple stripes and is just a super beautiful ear warmer too! This is how to adorn the head of a style loving girl or women! Grab the full free pattern and step by step visual instructions from here sewrella
DIY Lolly – Poms Easy Ribbed Free Crochet Beanie: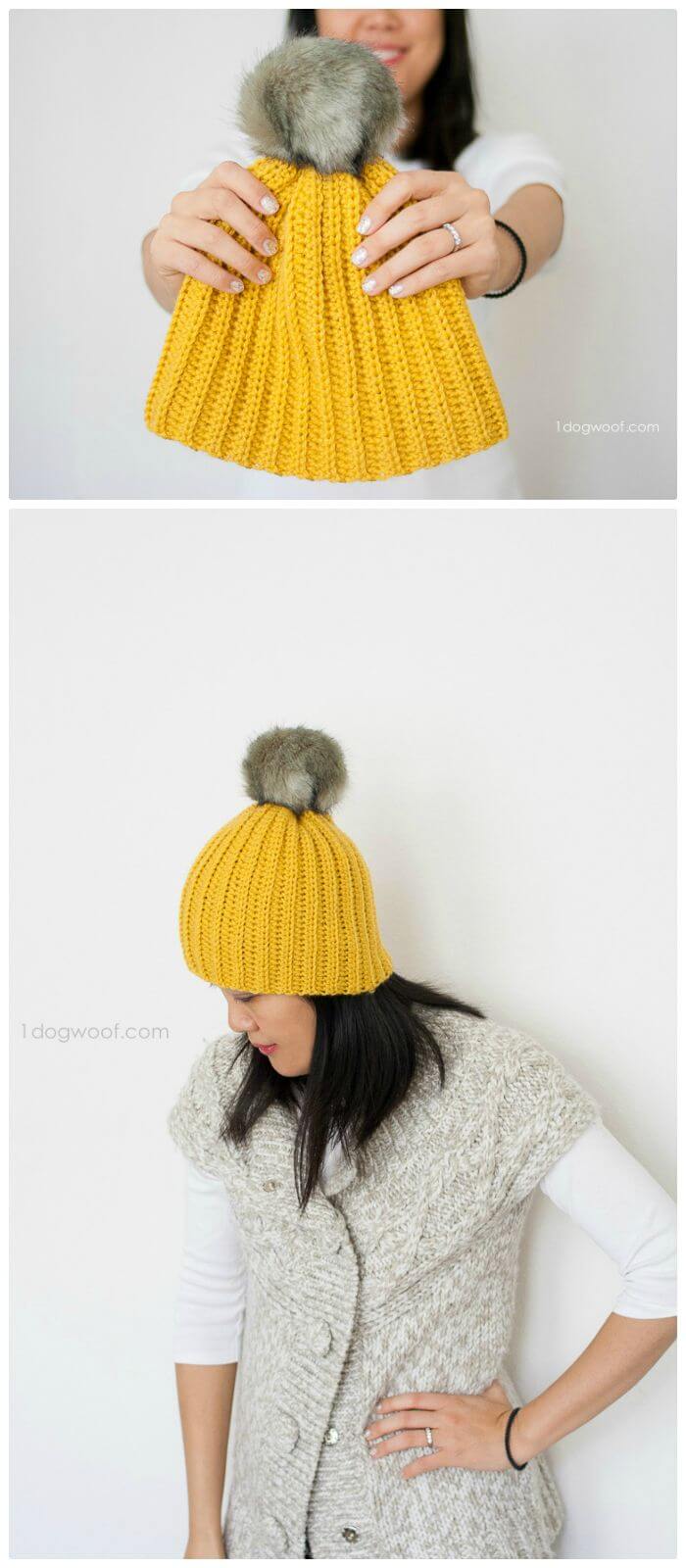 Crochet hats are taken as the best winter head warmers! They also create a super beautiful look of you if they come crocheted in enchanting colors! Check out here this yellow ribbed crochet beanie that is a big pleasure to wear over the head and comes with a pom-pom on the top as the enticing embellishment! This crochet beanie is also super easy to crochet, and this is here another beginner-friendly crochet pattern here! Find the complete free tutorial and free crochet pattern here 1dogwoof
Easy Free Reversible Crochet Boot Cuffs Pattern: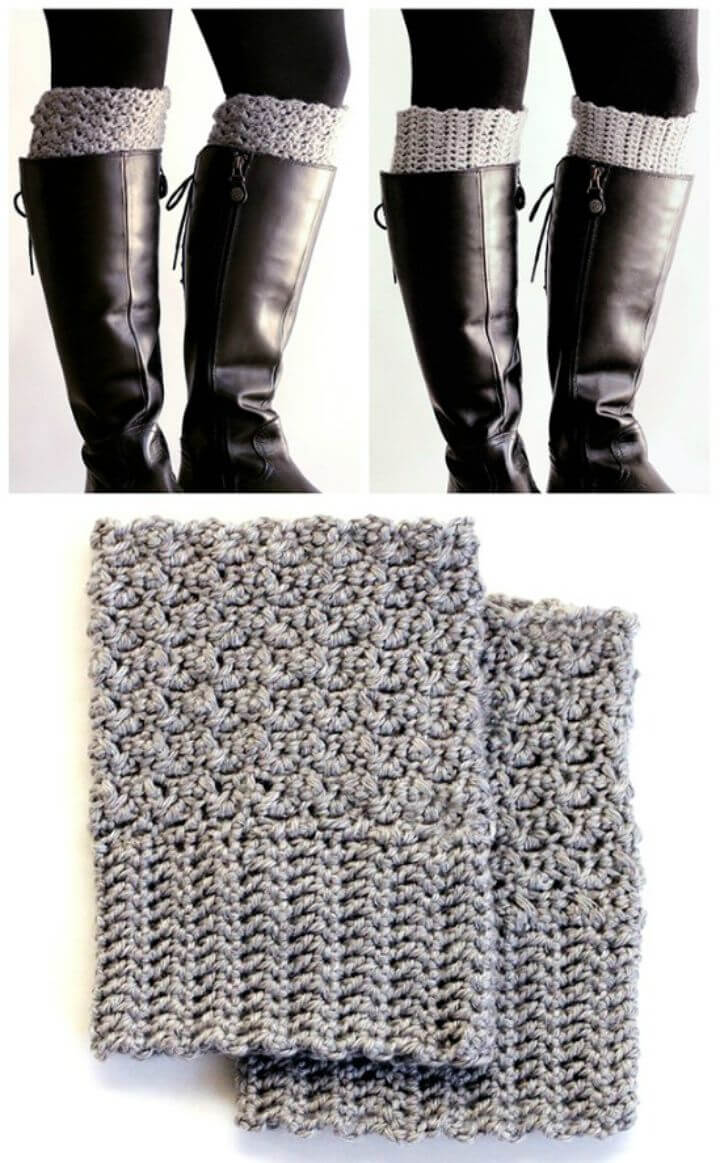 Here is another adorable crochet pattern that would make a perfect gift for a style loving friend! The good news is that is also beginner-friendly so everyone with easy skill level can try crocheting these beautifully reversible boot cuffs! They will bring warmth to your legs along with a cozy fashion statement! Find the complete free pattern and step-by-step tutorial here dabblesandbabbles
Free Easy Crocheted Chunky Blanket Pattern: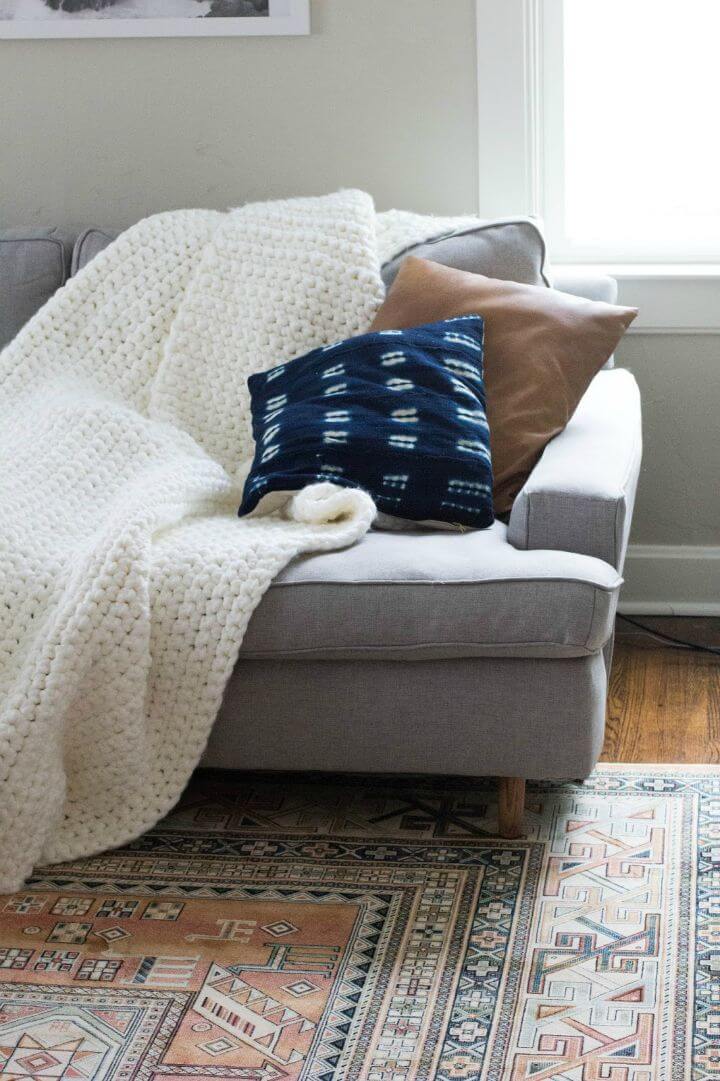 This not means that if you are not a master in crocheting you can't crochet some beautiful patterns! Even if you have a beginner skill level, you can enjoy crocheting various useful pattern that will serve in everyday life! One brilliant beginner-friendly crochet pattern here is this chunky crochet blanket that is adorable and makes a perfect winter warmer! It comes in alluring white appeal and would make a perfect throw too! Clone it with the help of provided pattern given here alwaysrooney
Are You Want more Free Crochet Patterns?
Here are some free crochet patterns that you'll surely love for yourself, for your family and also for your kids.
Free Slouch Hat And Fringe Infinity Scarf Pattern: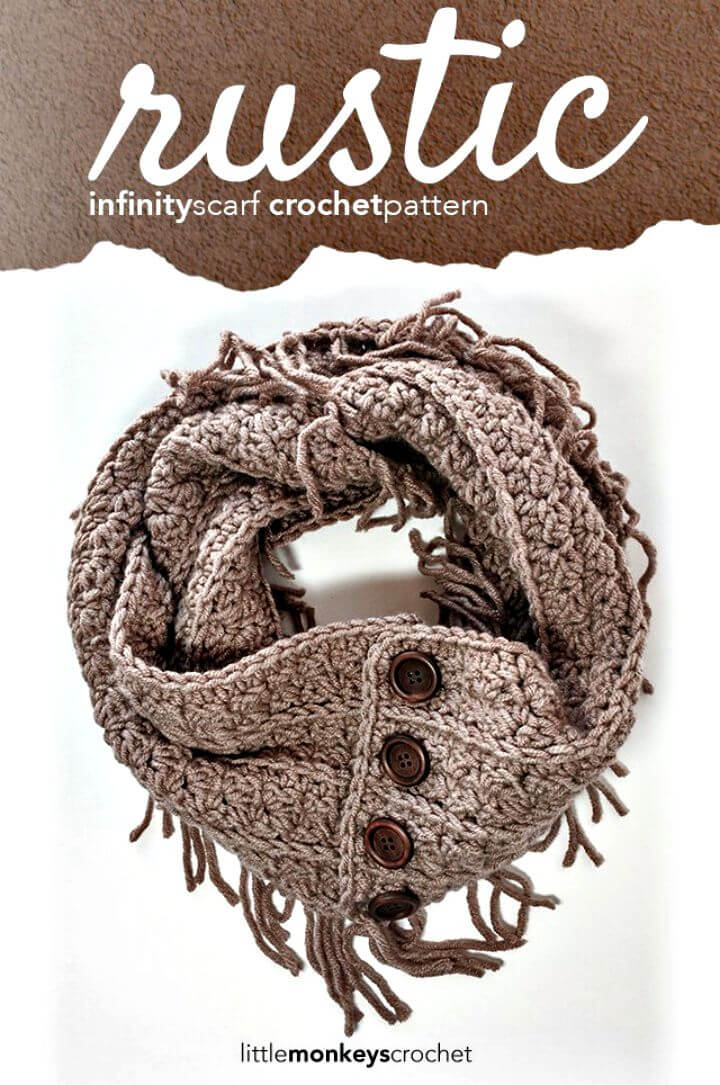 Know the basics of crocheting? You can still crochet amazing fashion with your beginner crochet skill level! Check out here this very precious slouch hat and fringe infinity scarf that is sure to compliment your style and will make precious style statements of your personality! Intending to clone this infinity scar and slouch hat set? Just take your hook out and duplicate this set with the help of free pattern provided here littlemonkeyscrochet
Make Simple Chain Stitch Necklace – Free Crochet Pattern: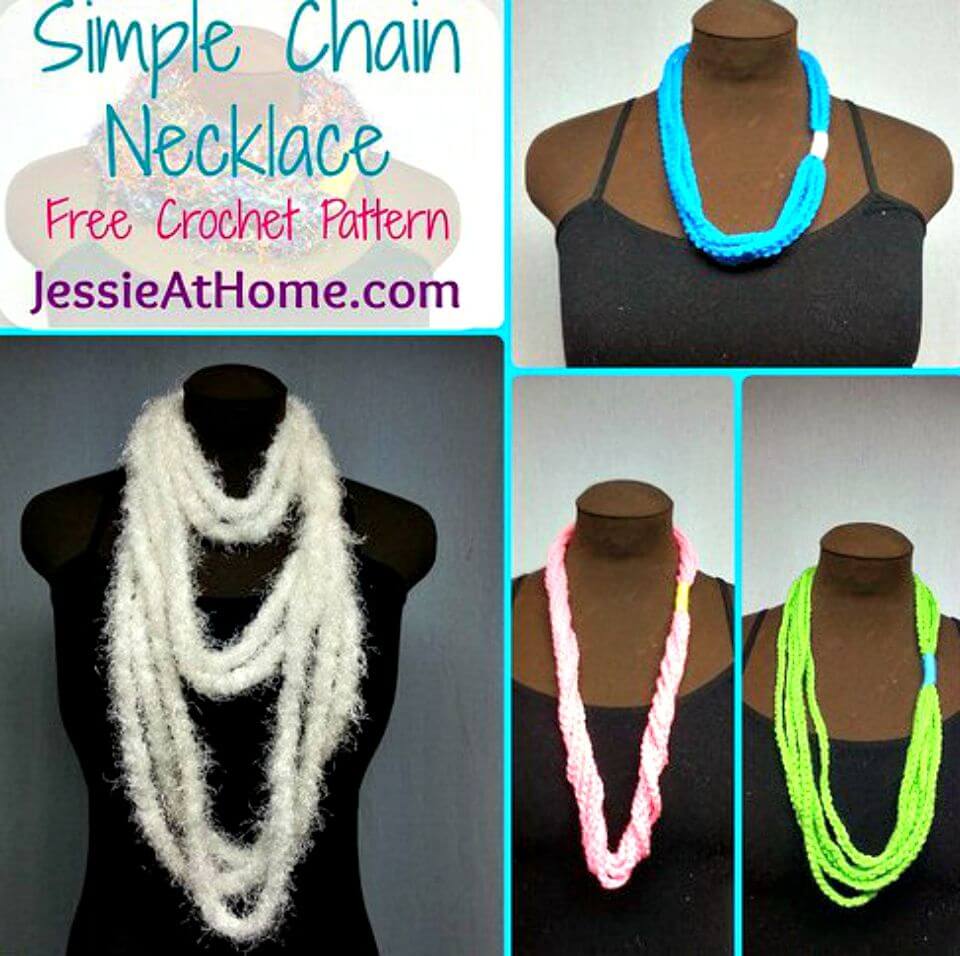 One more charming crochet pattern here that all fashion enthusiasts will love to have, a cool crochet necklace, crocheted by going with simple chain stitch and is damn beautiful to wear around the neck! It is something to gift to someone who has the always-on fashion brain! You only require the basic knowledge of crocheting or beginner skill level to crochet this fab necklace! Find the complete free crochet pattern and complete visual tutorial here jessieathome
Chunky Feather And Fan Crochet Blanket – Free Pattern: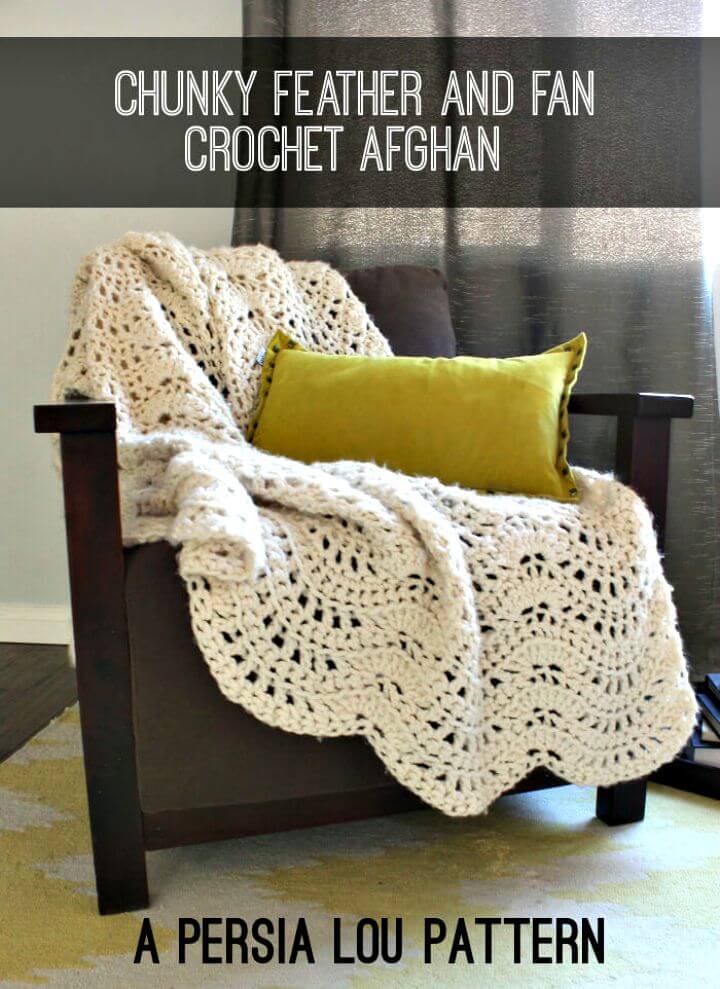 Looking for the best furniture throw or blanket? Here it comes the feather and fans blanket that features a neutral hue that will look fantastic in fall! This blanket and throw will also make a beautiful housewarming gift for the new homeowner! This is another beginner-friendly crochet pattern you can clone for your home or any beloved one! Find the complete free crochet pattern and visual instructions here persialou
Free Crochet Lovely Giraffe Pattern: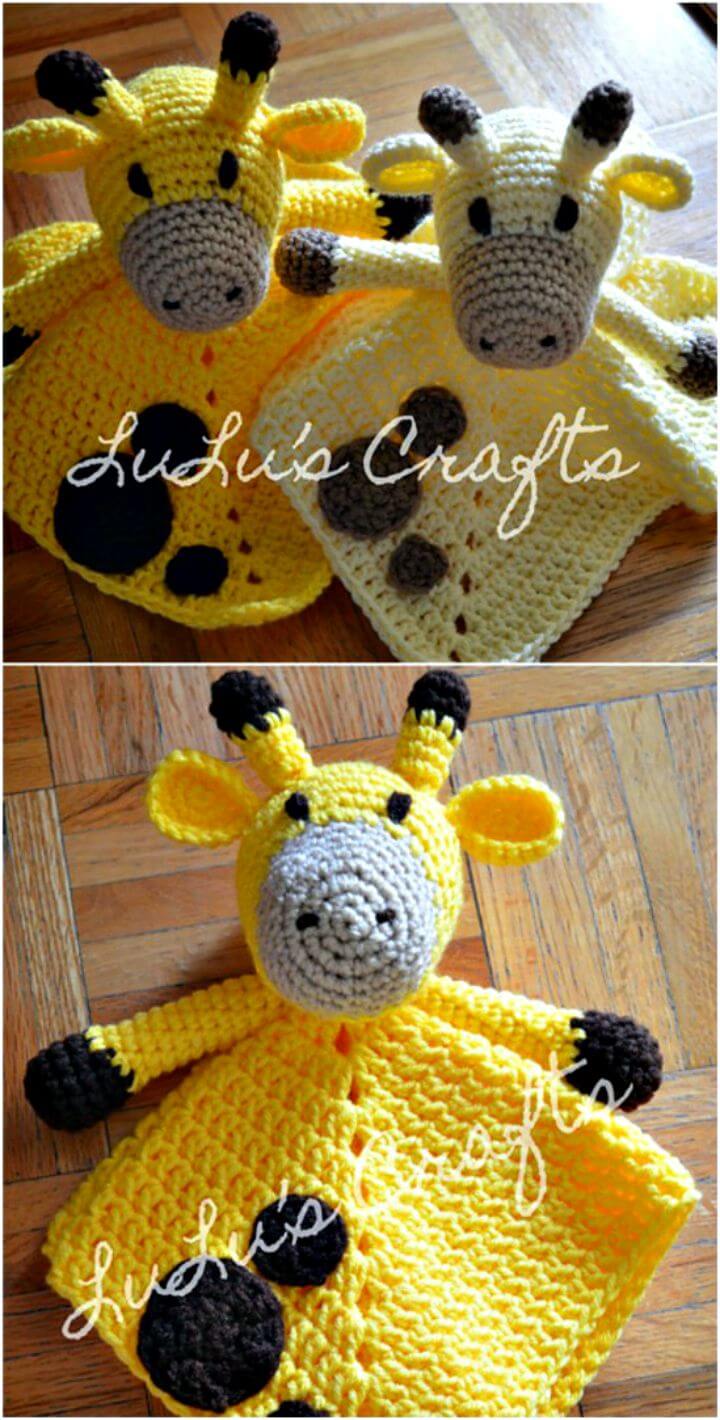 Even if you are not skilled enough in crocheting, you can still do beautiful crochet projects like crocheting this sweet crochet giraffe love that will make a great enchanting gift for a baby who is falling asleep for sure! Time to do something amazing with your hook that will bring the smile to little cute faces! Clone this giraffe lovey with the help of free tutorial and crochet pattern given here ravelry
Easy Free Crochet Ruffled Bag Pattern: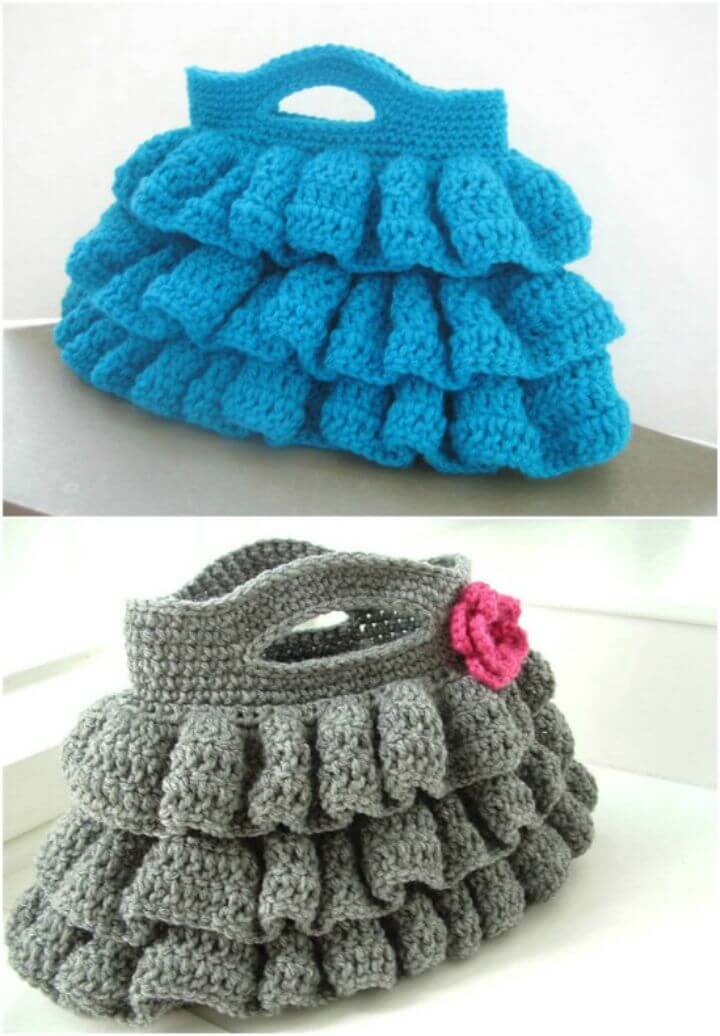 These are the handbags and purses that raises the feminine touch of a women's personality to peak! This time you can also crochet beautiful purses and bags with your favorite crochet hooks, check out here the ruffled crochet bags that are insanely beautiful and eye-catching! A perfect gift-worthy crochet accessory that everyone can crochet even if he is having the basic knowledge of crocheting! Find the complete free pattern here crochetdreamz
DIY Owl Granny Square Crochet Pattern: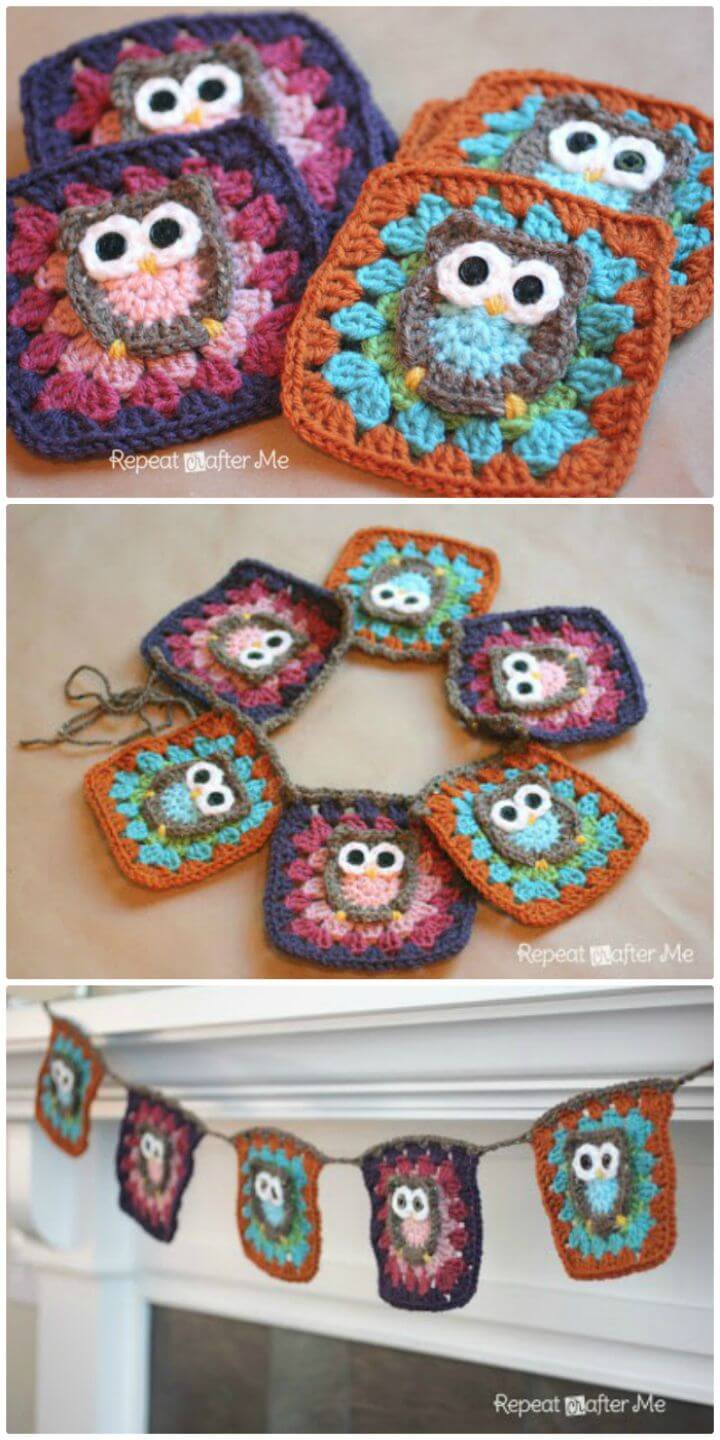 There are tons of crochet pattern from fashionable clothing to outstandingly stylish accessories that are mostly to crochet by going with granny square! So, crocheting a granny square is not very tough no matter if you know only to crochet single or double stitch! Checkout here the sample beautiful owl granny square that require only the beginner skill level to be in your hands! Grab the full free pattern from here repeatcrafterme
Free Crocheted Popsicle Snuggy Pattern: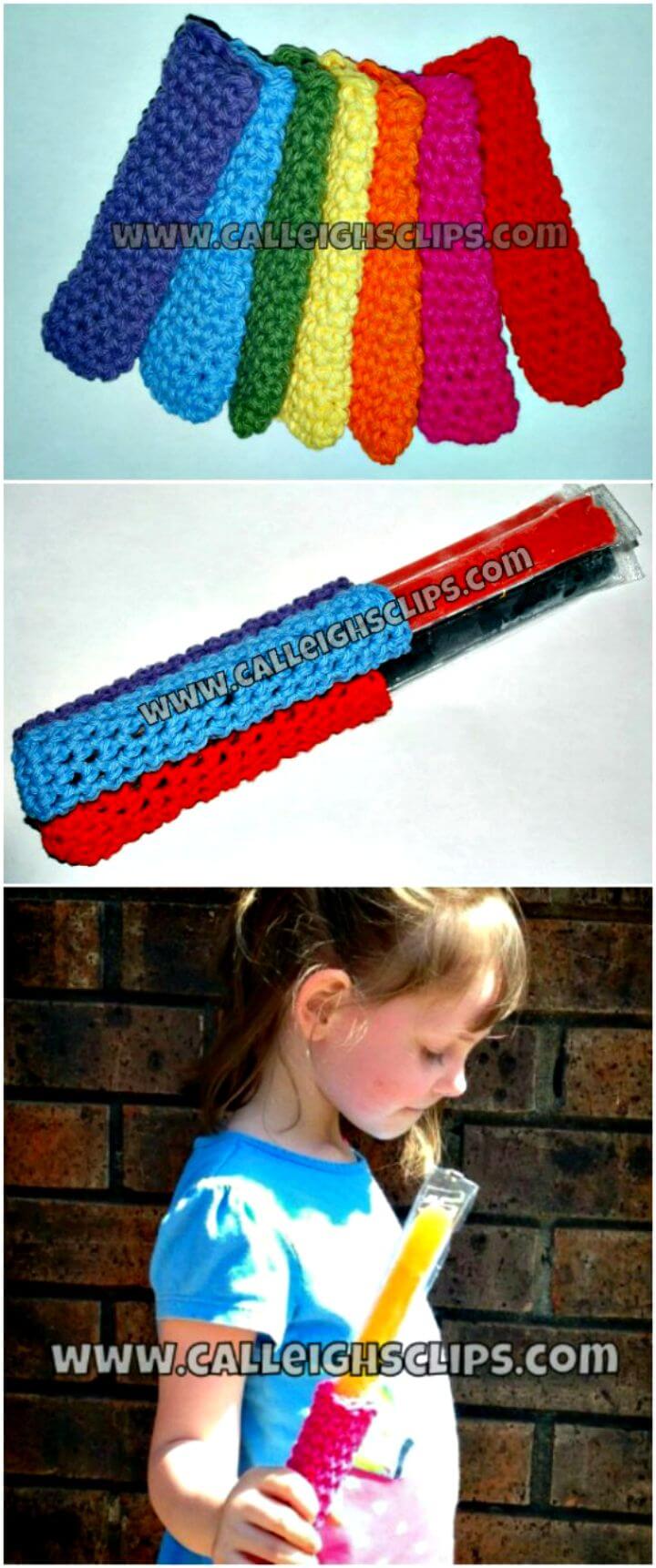 When the weather is deadly cold, it may be hard for the kids to hold the popsicles in hands, it may cause trembling to them! However, there is a best solution to enjoy popsicles without causing any cold your hands! Just crochet a popsicle snuggy that will make your kids feel cozy while holding their favorite popsicles in hands! You only require the basic skill level to crochet a beautiful popsicle snuggy like this given sample snuggly! Find the complete free pattern from here calleighsclips
Free Crochet Trinket Boxes Pattern: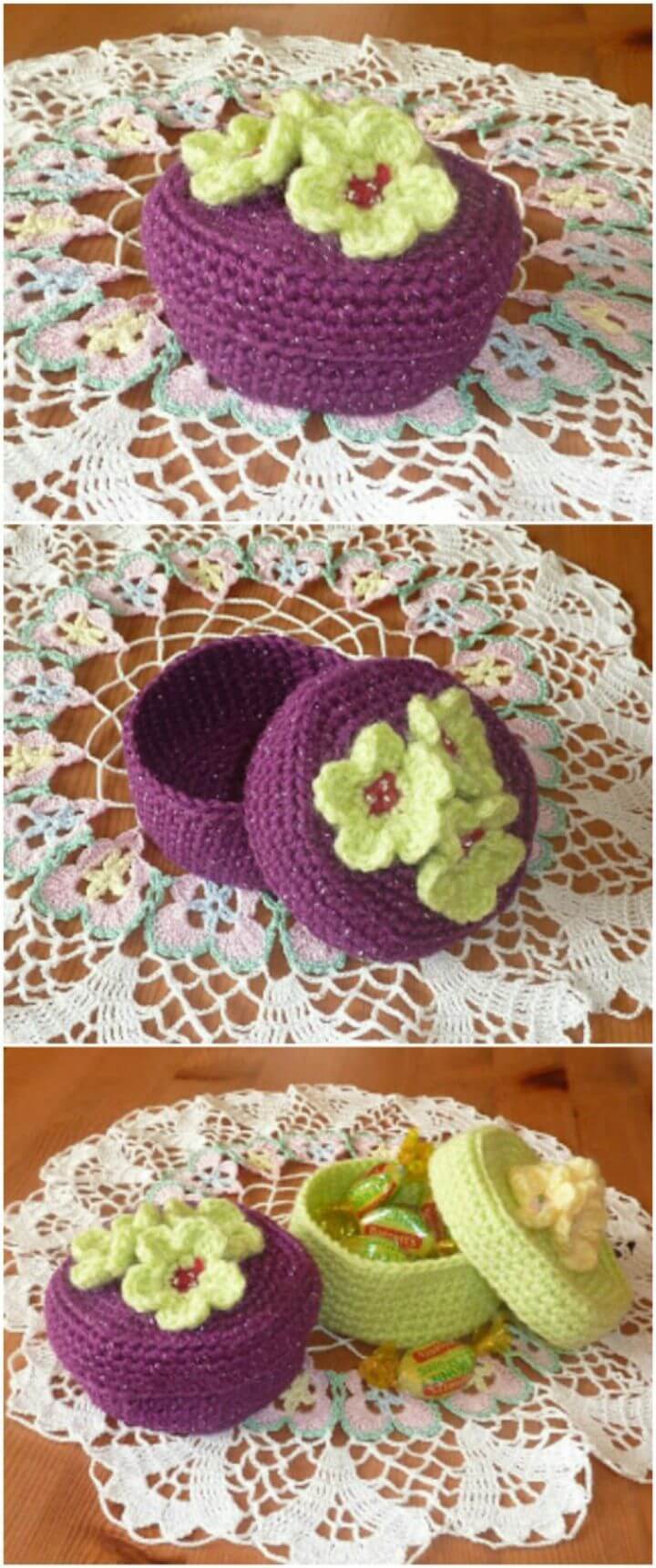 Another mind-blowing crochet pattern here that all beginners can crochet for themselves or beloved ones! Check out here the mind-blowing trinket boxes that can be in your hands if you go with single or double stitch only with your hook! These boxes have been spruced up with tiny flower embellishments on the lids! Another beginner-friendly crochet pattern! Grab the full free crochet pattern from here yellowpinkandsparkly
Free Crochet Shell Stitch Cowl In Ecru: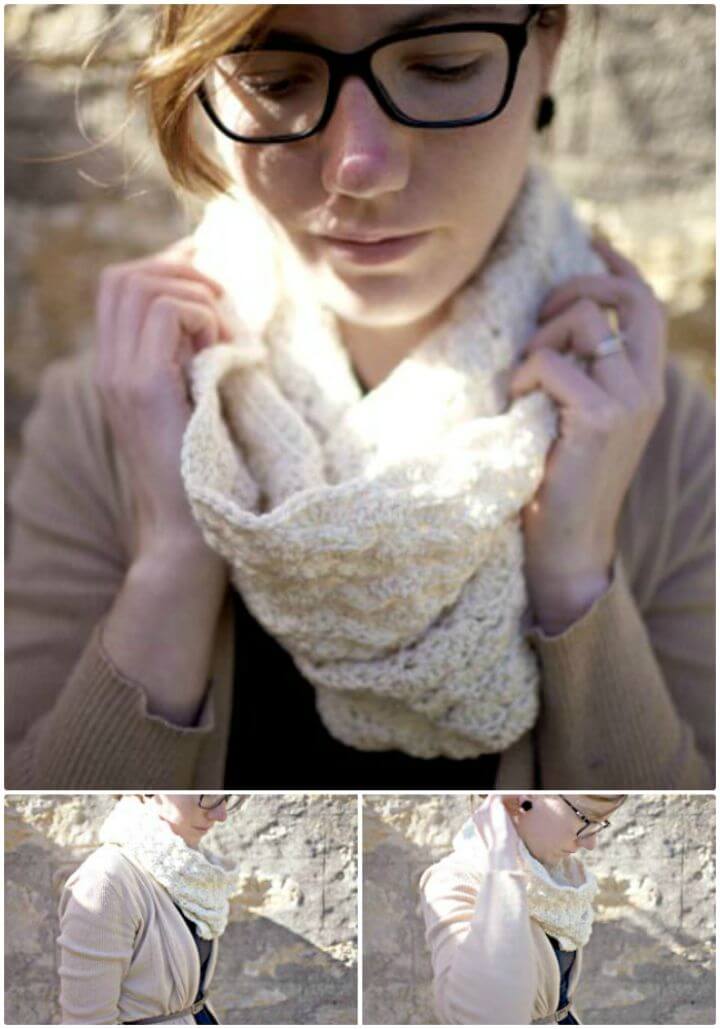 Time to boost your fashion with your hook! No matter if you are not skilled enough in the art of crocheting, you can still crochet amazing winter fashion accessories to add to your winter wardrobe! An amazing example here is this shell stitch crochet cowl that features a neutral hue and is just a stylish neckwarmer that would make a great gift too! Willing to duplicate it? Find the complete free crochet pattern from here shesowsseeds
DIY Crocheted Car Seat Cover Pattern: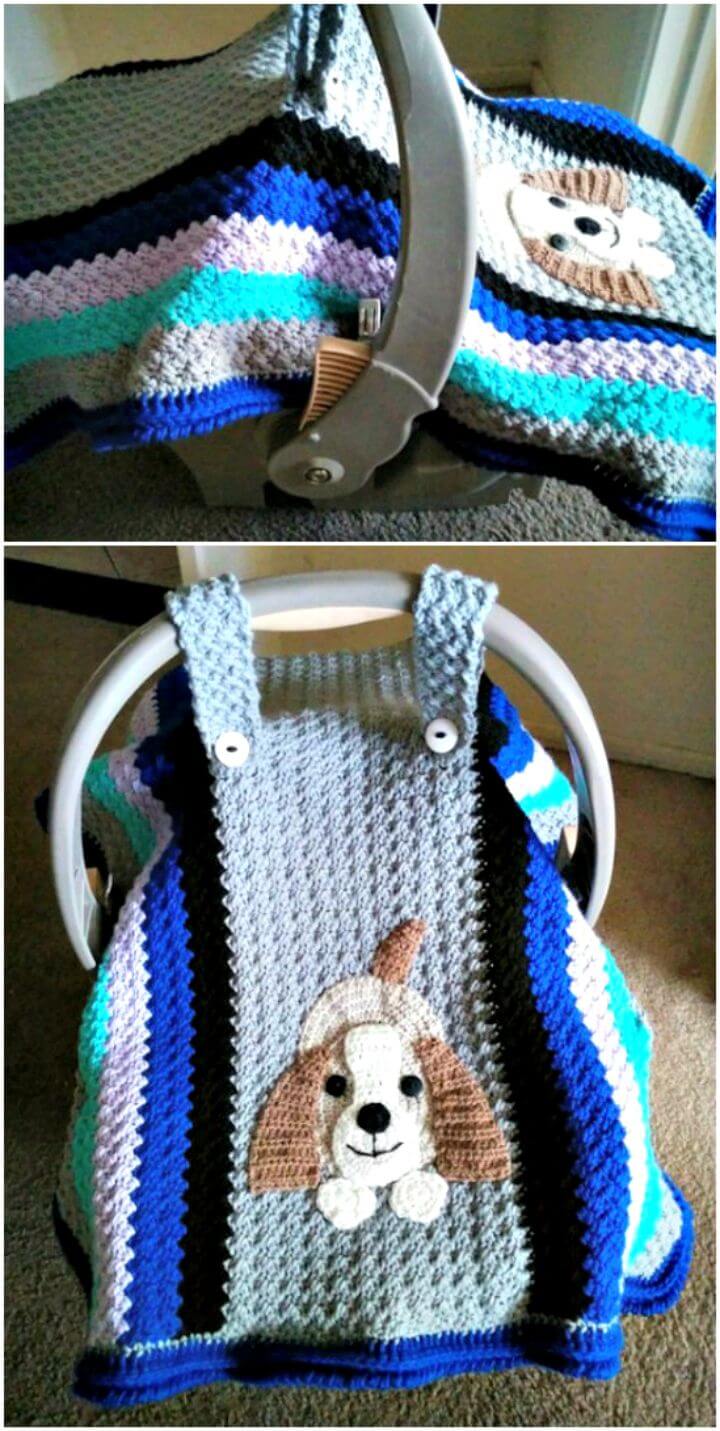 Want to see that what you can do amazing with your hook even if you are not master in crocheting? Just check out this car seat cover that is beautiful comes in alluring color stripes and has been dignified with a crocheted puppy monogram! Clone this seat cover if you were also willing to bring coziness to your car seats, only the basic crochet skills are required here! Get the full free tutorial and free crochet pattern from here ravelry
Easy And Simple Crocheted Chain Bracelet Pattern: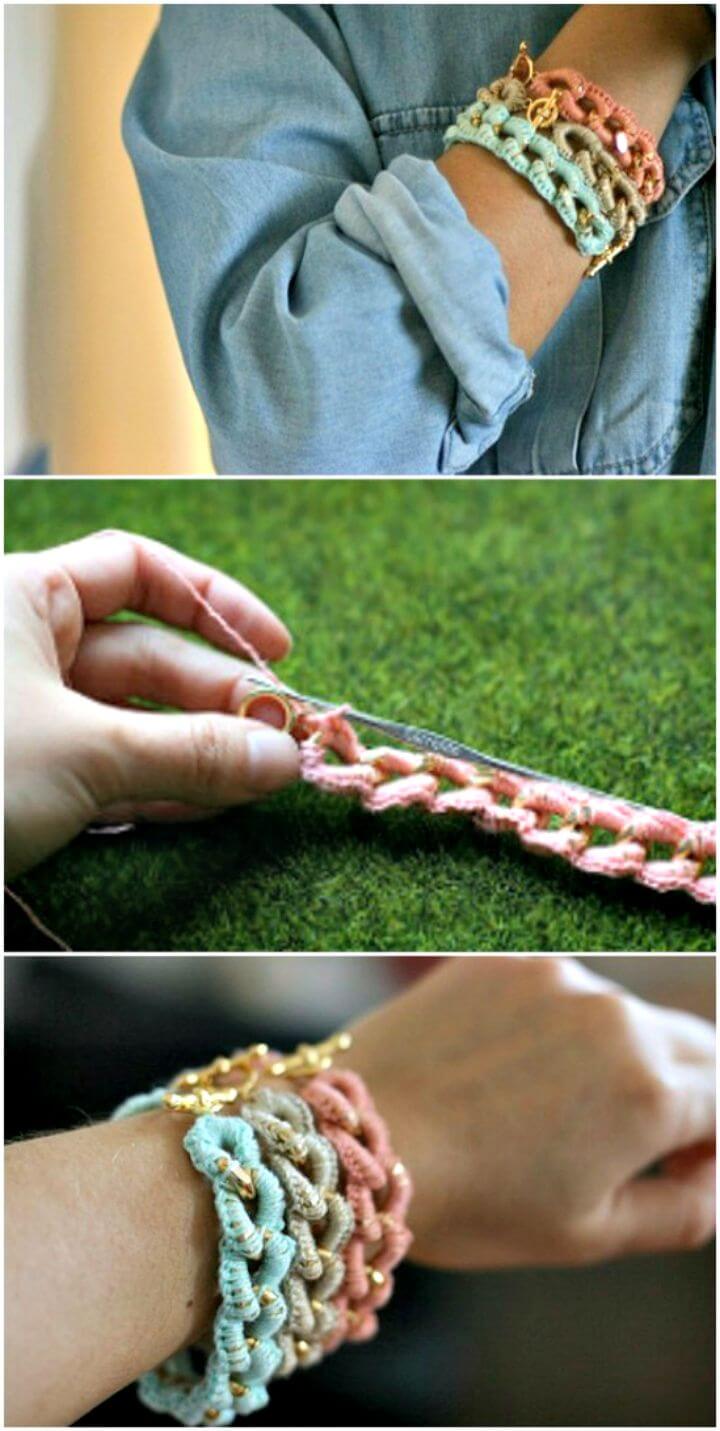 You can crochet various of your items of interests with your crochet from jewelry to clothing and from footwear to stuffed toys! Check out here a beautiful sample, the crochet chain bracelet, will make your forearm look great and it also what you can use in gift-giving when the intention is to please some targeted friends! This bracelet pattern also require a beginner skill level! Complete free crochet pattern and visual tutorial here superziper
Free Crochet Coffee Mug Cozy Pattern: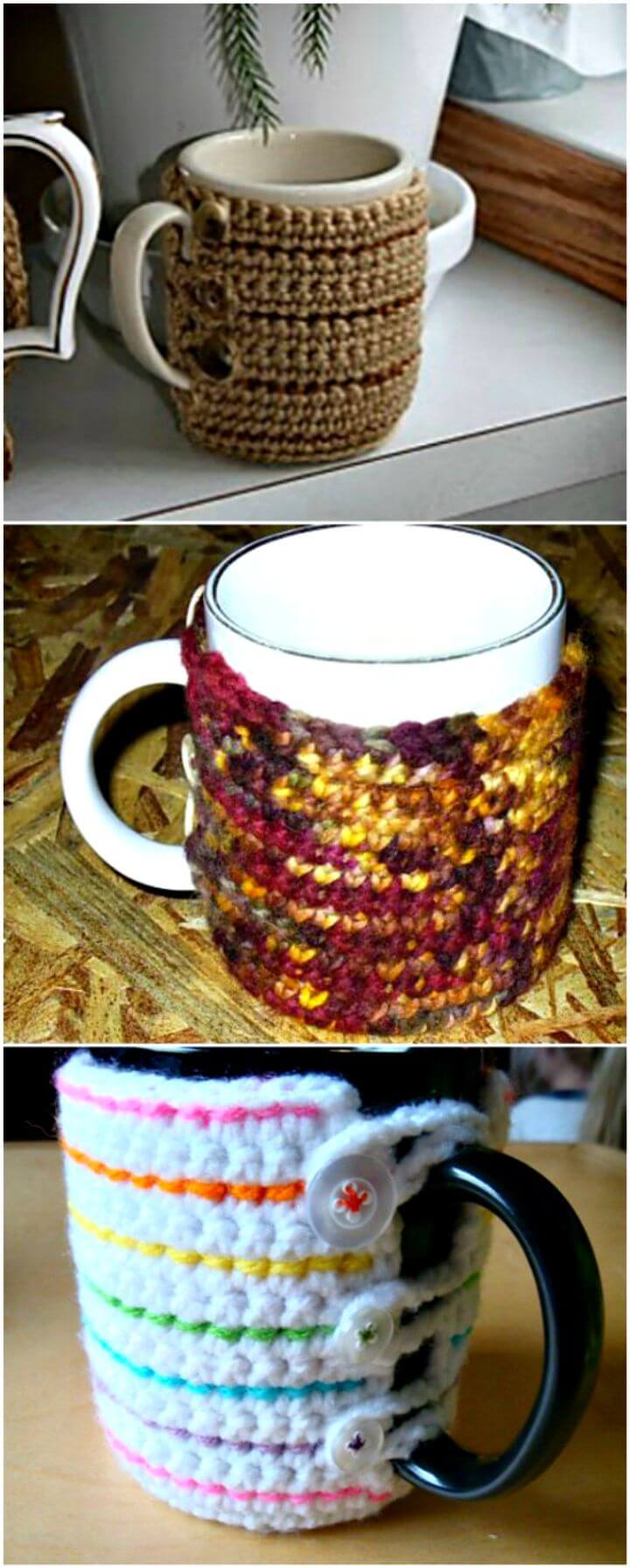 When winter comes, the home lovers tend to give any home décor or accessory a cozy cover that will create a beautiful cozy appeal! You can do so in case of your coffee mugs too that is going to be used over and over again in dead of cold to keep yourself warm! So, time to crochet some beautiful mug cozies with your hook that will also keep your hands safe from burning while holding the hot coffee mugs longer! Another great crochet beginner-friendly pattern! Find the complete project details and free pattern from here ravelry
Free Crochet Cuffed Baby Booties Pattern: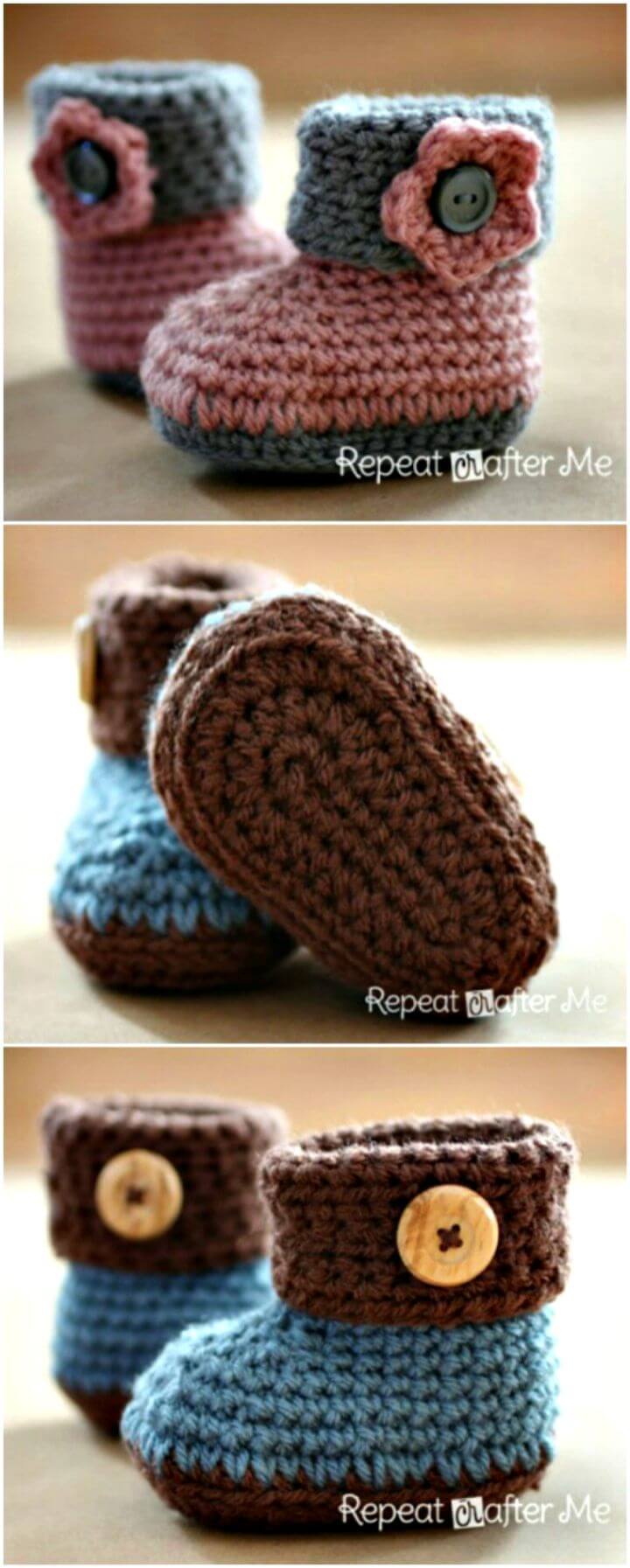 Want to keep those tiny toes winter-protected but in a style? The only solution to do that is these beautiful cuffed baby booties that can be crocheted in less time even with a basic knowledge of crocheting! So, keep on hooking happily to make those tiny feet feel warm and cozy this winter! Intending to duplicate these flawless baby booties? Grab the full free crochet pattern and visual guides from here repeatcrafterme
Free Crochet Breezy Shell Tank Pattern: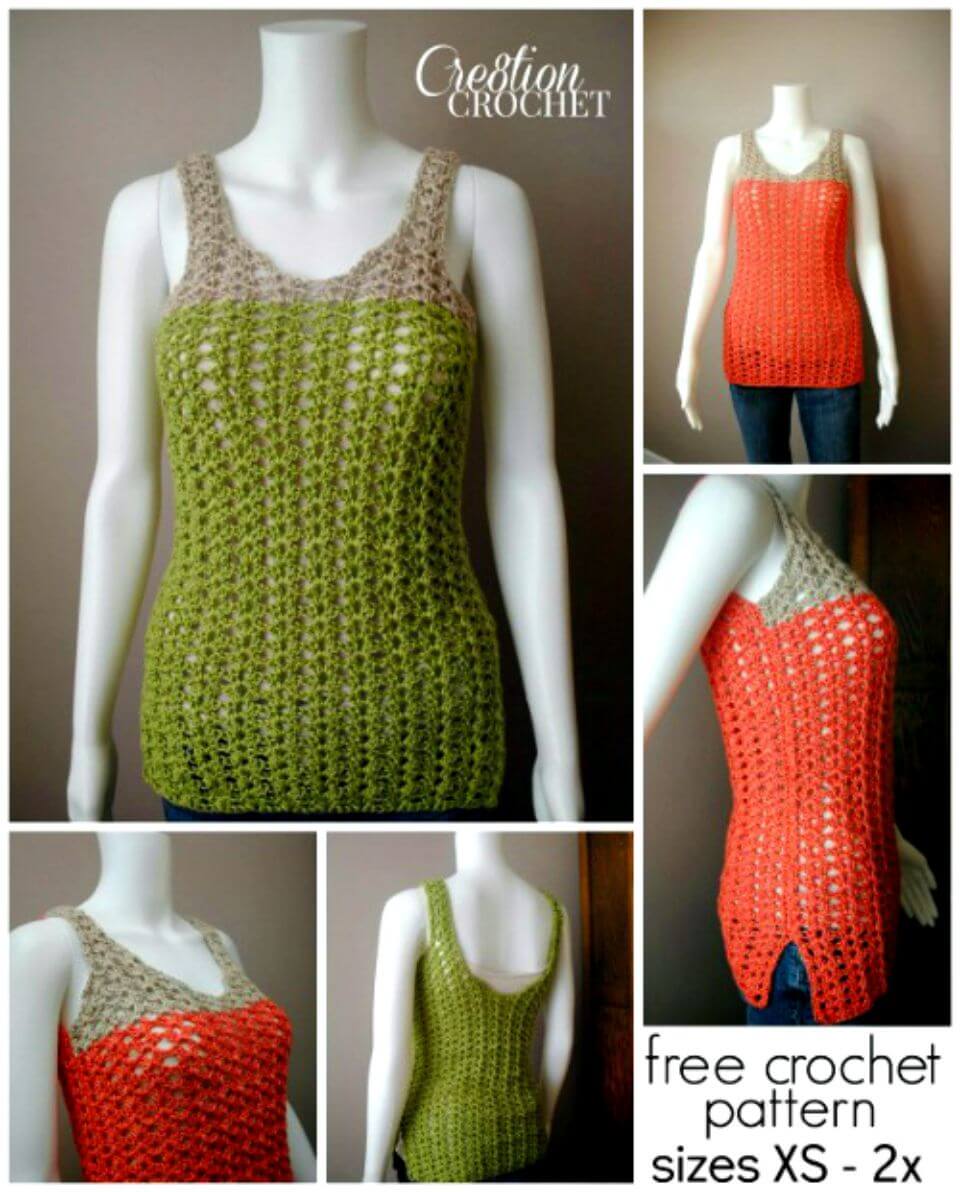 Know how to crochet a shell stitch, may the combination of a single or double crochet stitch! So, if you are skilled enough in it then why not try crocheting this beautiful breezy tank top that is a must-have wardrobe accessory for summer to spring fashion! This breezy tank top will also go as favorite gift for a fashion enthusiast teen or lady! Want to see next in your wardrobe? Grab the full free crochet pattern and step-by-step instructions from here cre8tioncrochet
DIY Grey Crochet Ear-warmer Pattern: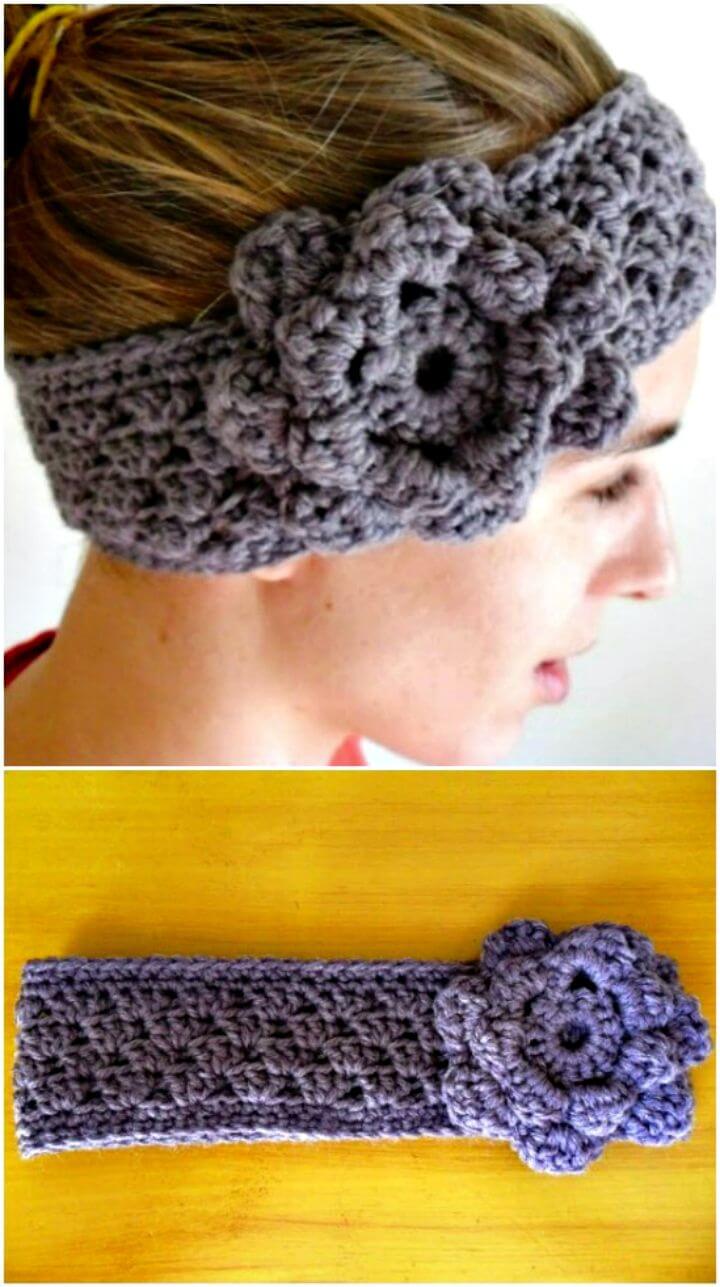 These are feet, nose, forehead, and ears that are most sensitive body parts to cold! So, these body parts should be covered nicely warm to be winter-protected! If you are willing to do in style then presenting there the perfect crochet ear-warmer, a favorite crochet gift for a style loving lady that will cover warm both forehead and ear! Intending to duplicate it? Find the complete free pattern and compressive project details from here cre8tioncrochet
Free Crochet Peppermint  Swirl Afghan Pattern: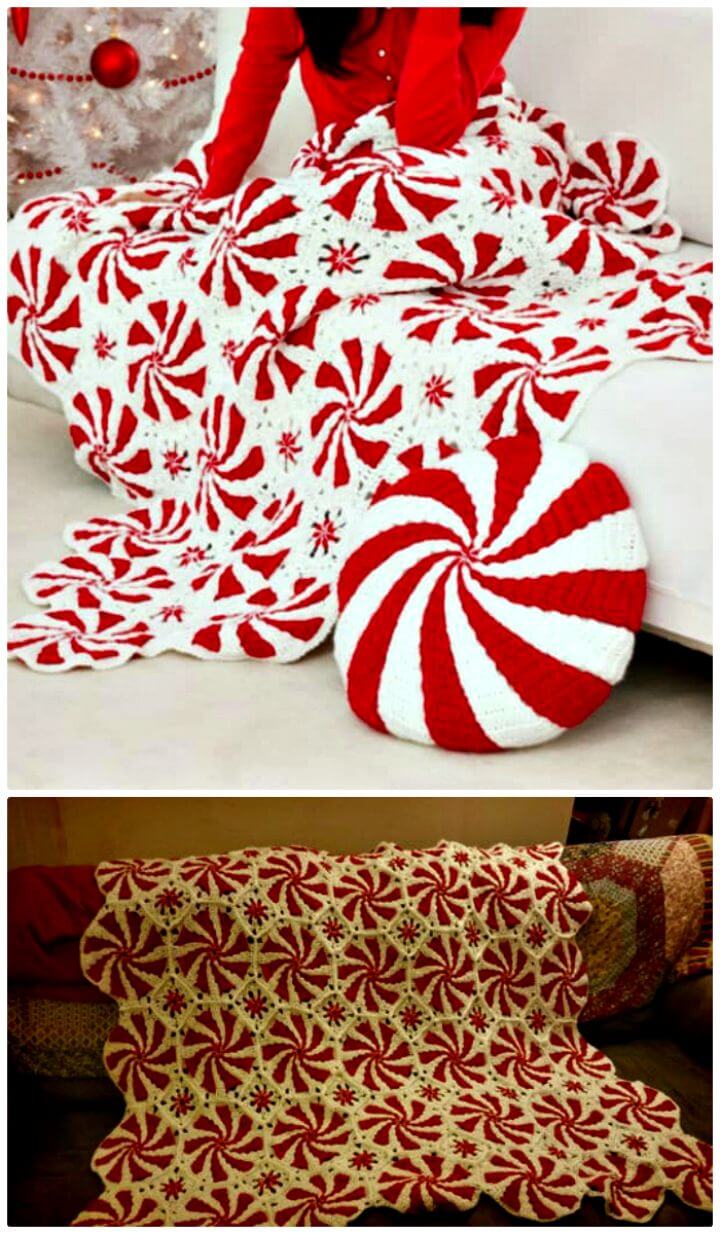 Here is a crochet accessory that will make everyone a big fan of its artful design and outstandingly colorful texture! This is here the perfect peppermint swirl afghan that can also be used as best alternative to throw and blanket! So, if you are having the basic knowledge of art of crocheting then you can get your hands onto it in just no time! Experiment with different yarn colors and weights! Find the complete free crochet pattern and step-by-step tutorial from here thewhoot
Crochet Summer Beach Tote – Free Pattern: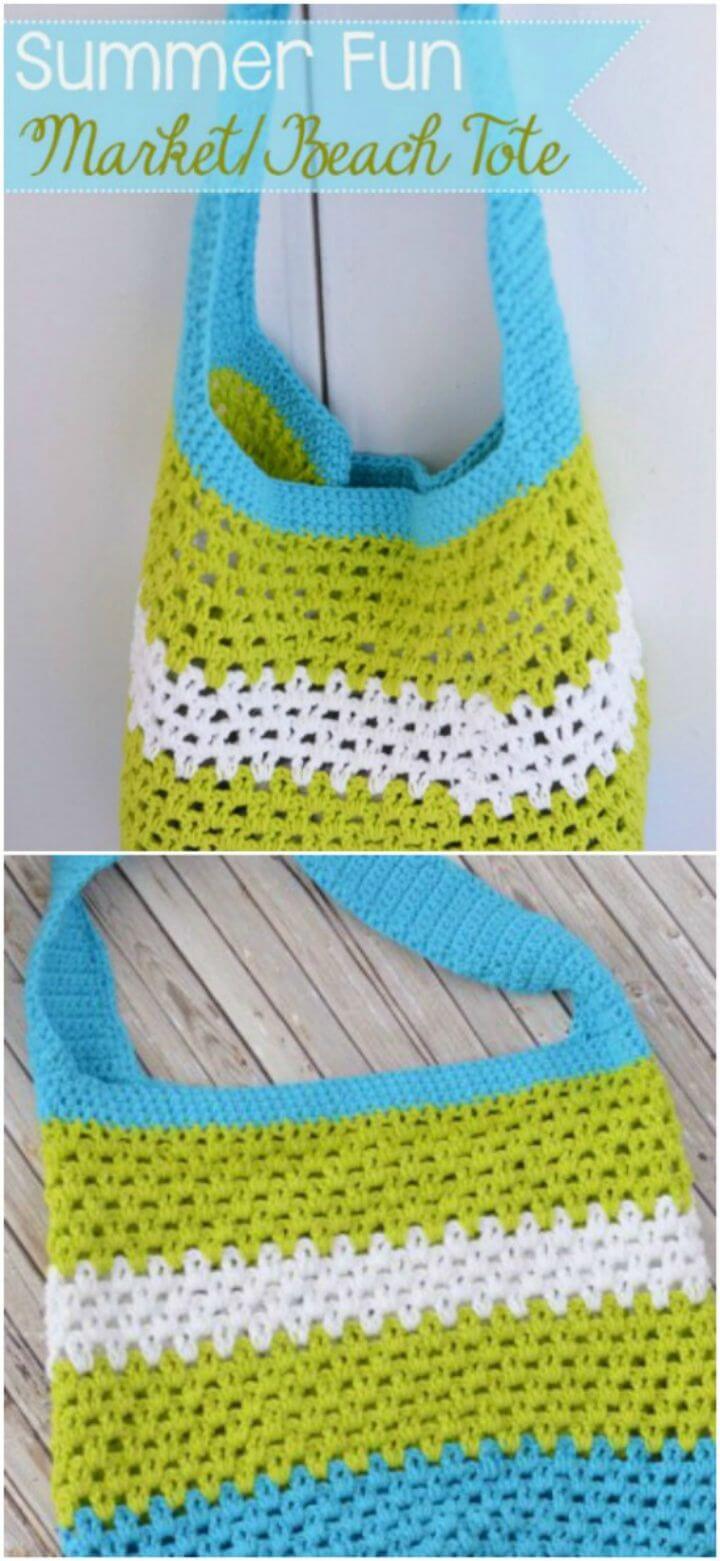 Crocheting is mostly considered an art that is specific to winter fashion only! This is not true, you can also crochet beautiful summer fashion accessories with your hook like this stunning crochet beach tote! This is here a fancily striped, beautiful textured and breezy design of crochet tote, perfect for beach visits and picnics to carry your items of interest with you! Find the complete free crochet pattern and visual guide from here thestitchinmommy
DIY Super Easy Crocheted Coasters Pattern :

Yarn is also having the capability to soak the liquids, so crocheting some beautiful coasters with your favorite yarn would be a mind-blowing idea! Check out here the set of coasters that only require the basic knowledge of crocheting or crochet stitches! These coasters will also make a perfect housewarming gift for a new homeowner! Intending to duplicate these coasters? Find the full free crochet pattern and visual guides from here lululoves
Free Crochet Peekaboo Picot Flip Flops Pattern: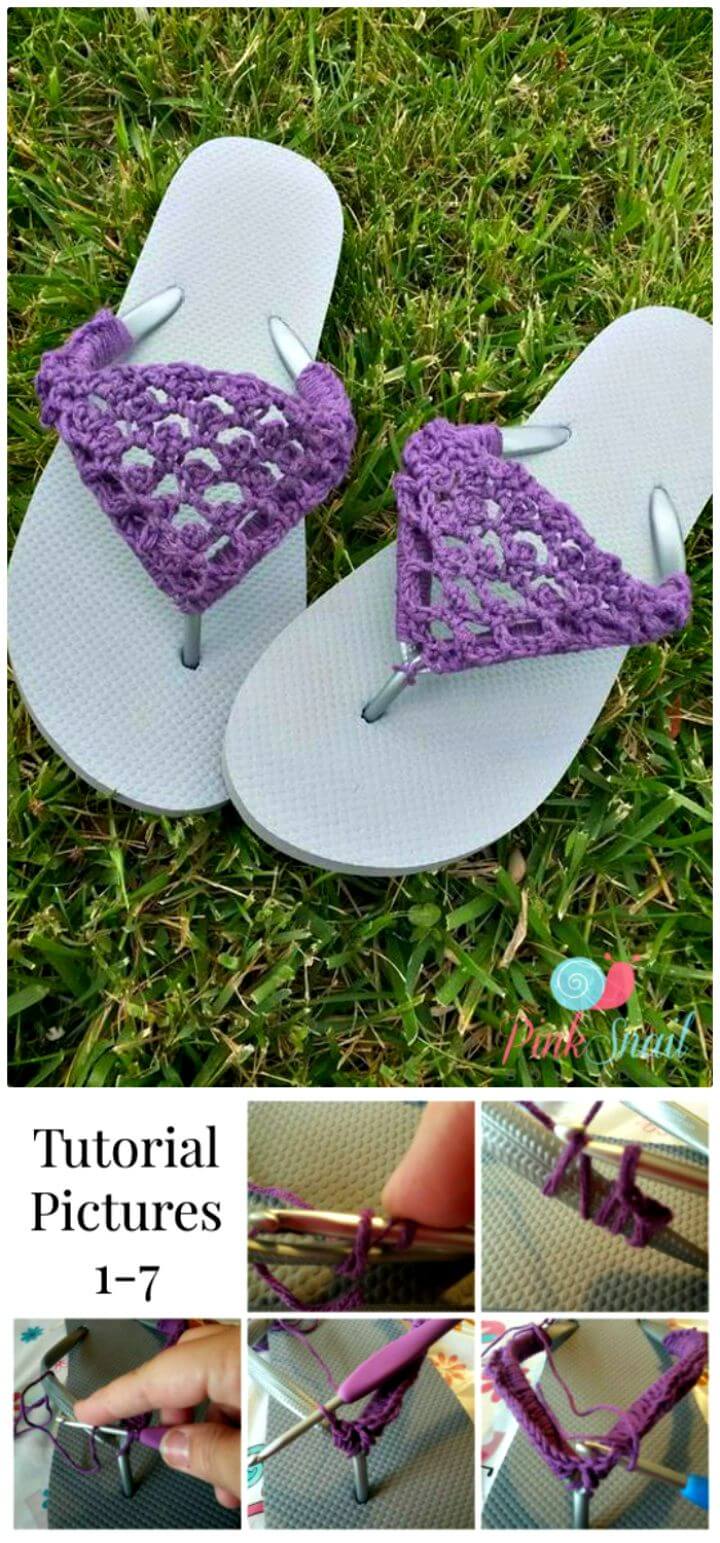 Take your favorite crochet hooks and refashion your flip flops also! You can go with interesting yarn colors for amazing visual details to them, check out here the artful sample of picot flip-flops that will truly go amazing to any feet of fashion loving lady or teen girl! This is here another crochet project that demand for a beginner skill level only! So, you want to do the same with your flip-flop or slippers? Grab the full free pattern and step-by-step visual instructions here cre8tioncrochet
Free Crochet Teddy Bear Pattern: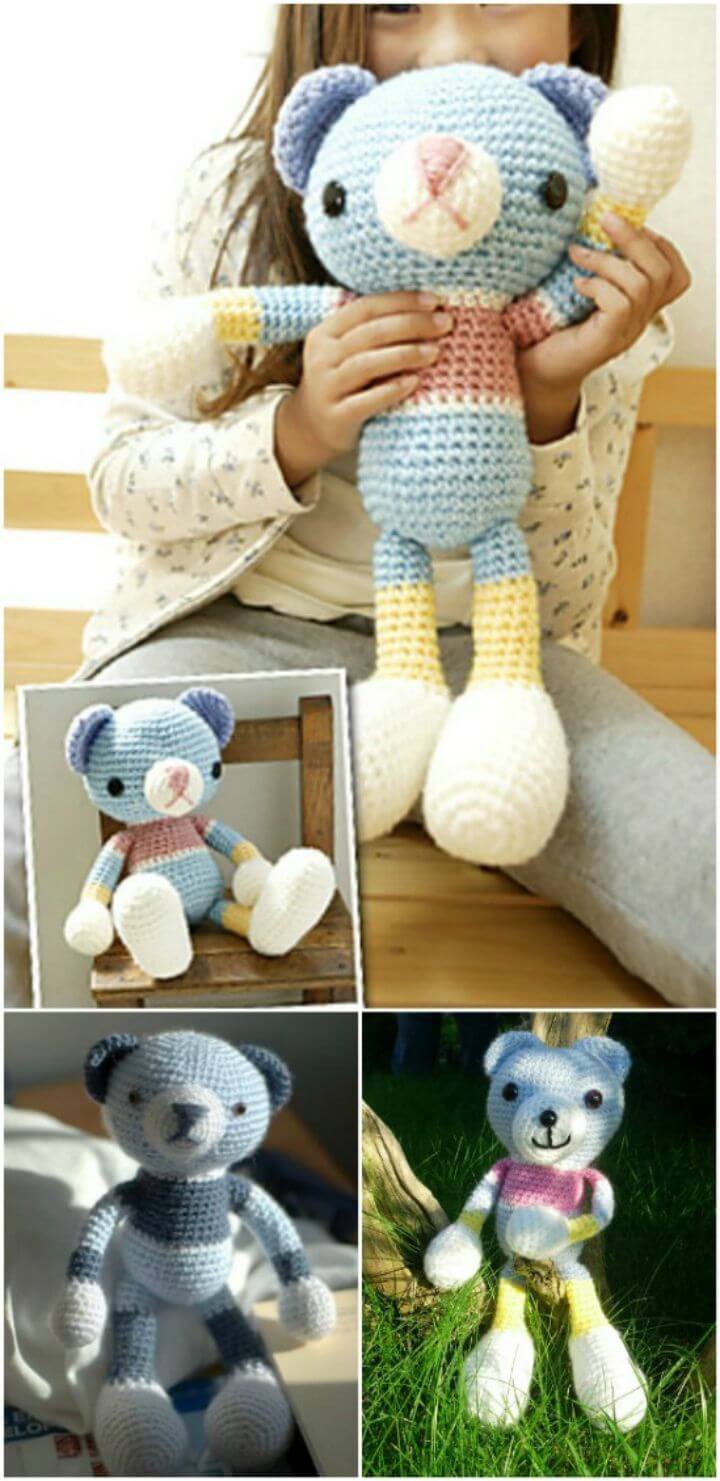 Generate also beautiful gifts with your hook no matter whether you are intending to please a baby, a newly graduated friend or your mother or father on some Memorial Day, the crochet gifts will rock for every occasion! This teddy bear here is just a perfect sample here that will make a perfect gift for every event! This stuffed bear toy also requires the basic knowledge of crocheting to be in your hands next! So, why not duplicate it with the help of free pattern and tutorial provided here gosyo
How To Make Your Own Crocheted Basket Pattern: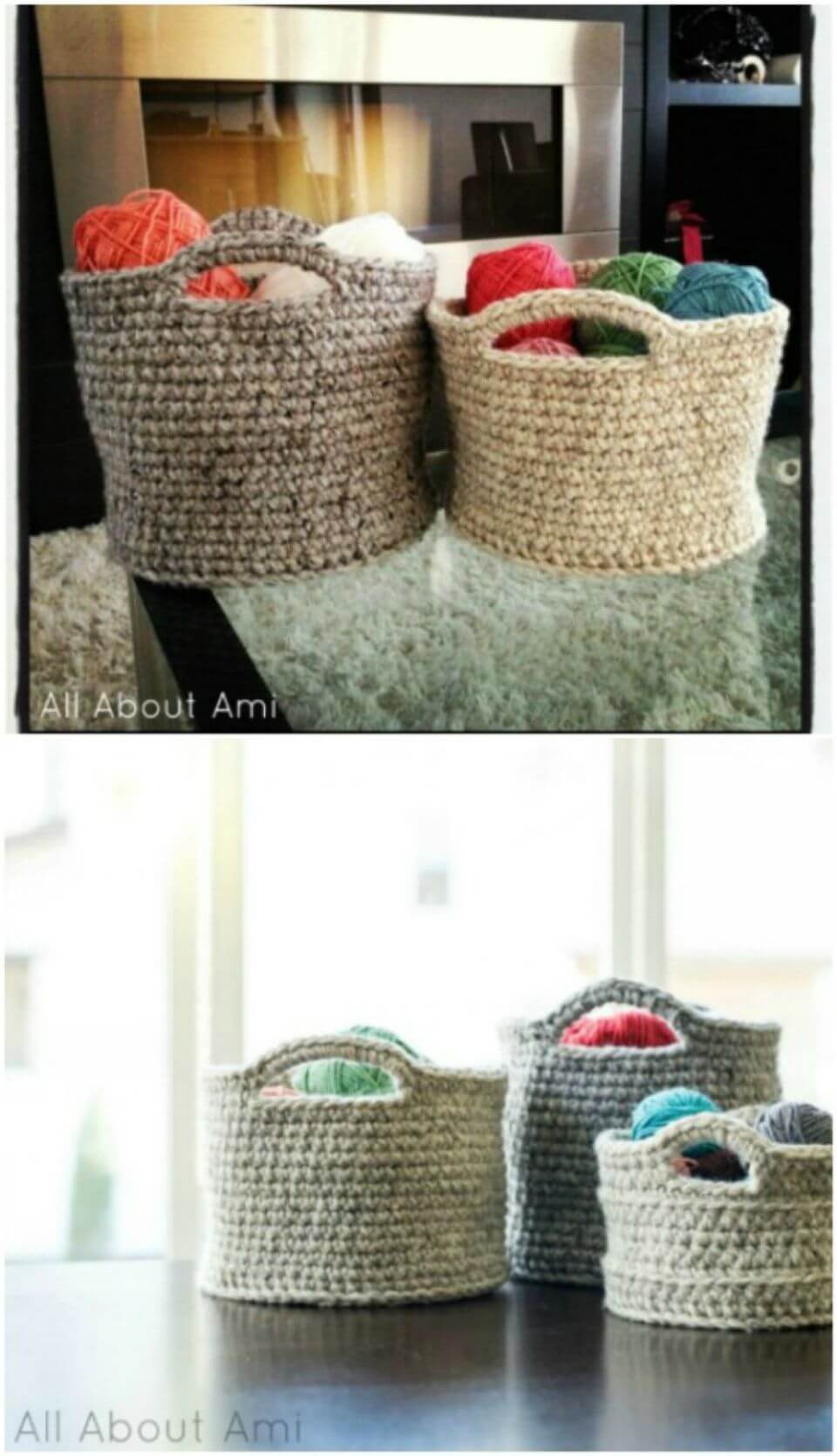 There could be various smart implementations of your art of crocheting that can help getting a rocking life! For example, you can also get your crochet hook to help you in getting better home storage options! Check out here these sample crochet baskets that are truly mind-blowing and will help storing the yarn supplies and everything that need some storage space! Intending to duplicate these crochet baskets? Get the complete free crochet pattern from here allaboutami
Boho Tassel Free Crochet Bag Pattern: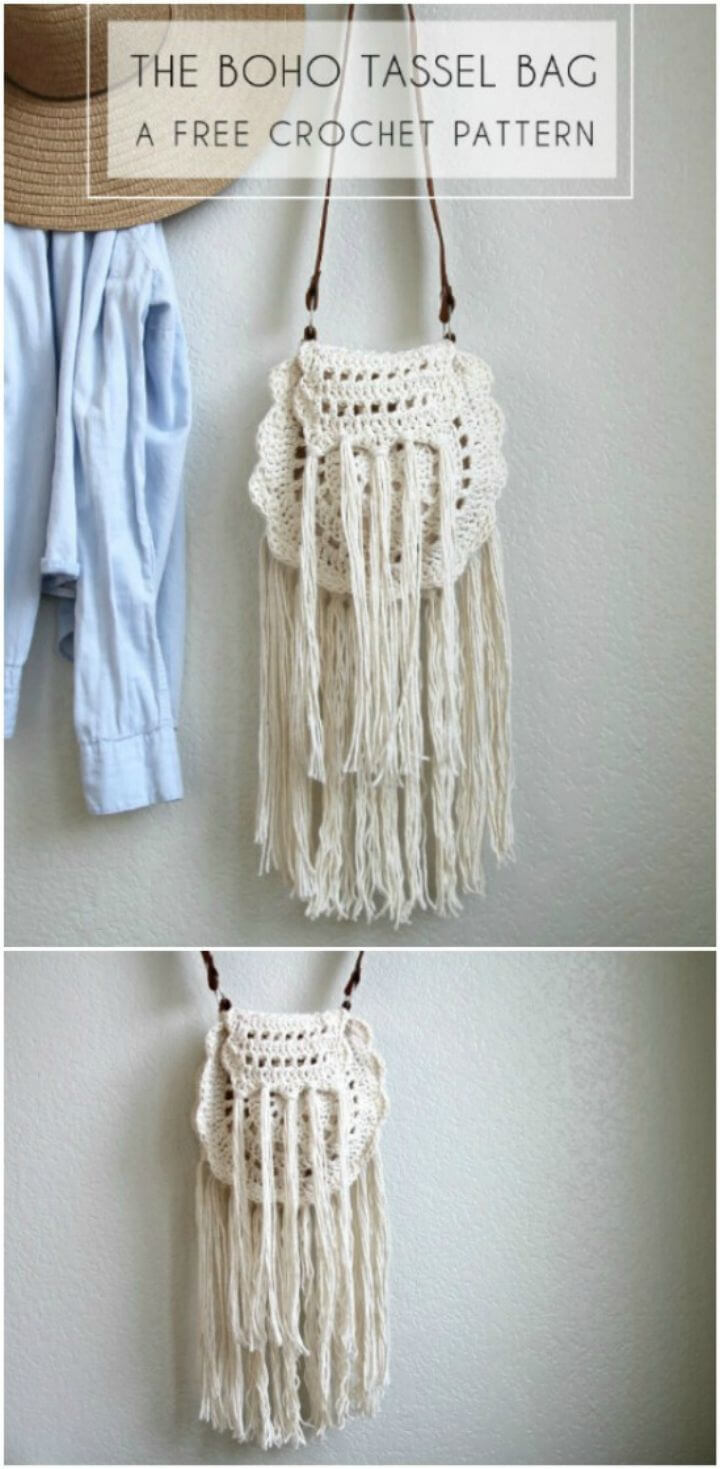 Are you a fan of bohemian fashion? Boost your boho fashion also with your crochet bag! You can do so by just having the basic skill level of art of crocheting! Just check out here this perfect white boho tassel bag that comes with leather stripes to be outstandingly over the shoulders of a fashion-loving lady! Why not crochet this bag with your favorite yarn colors now? Find the complete free pattern and tutorial guide from here persialou
 Cozy Free Crochet Blanket Pattern: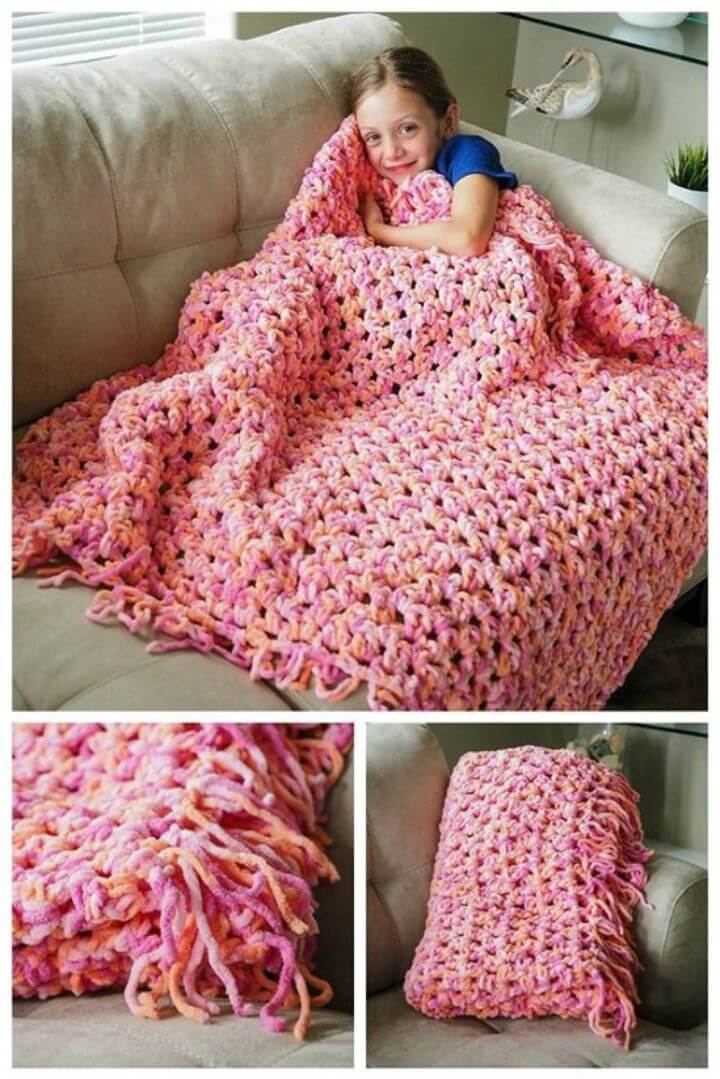 You can also bring great comfort and coziness to your kids just by making use of your crochet hook no higher skills needed! Get inspired by this blanket sample that has been crocheted chunky and is a simple beginner-friendly crochet pattern! This blanket is just a perfect winter kid or baby warmer so it would also make an ideal gift for a mother-to-be for sure! Intending to duplicate this crochet blanket? Find the complete free crochet pattern and step-by-step visual guide here dabblesandbabbles
Free Crochet Granny Sweet Hearts Pattern: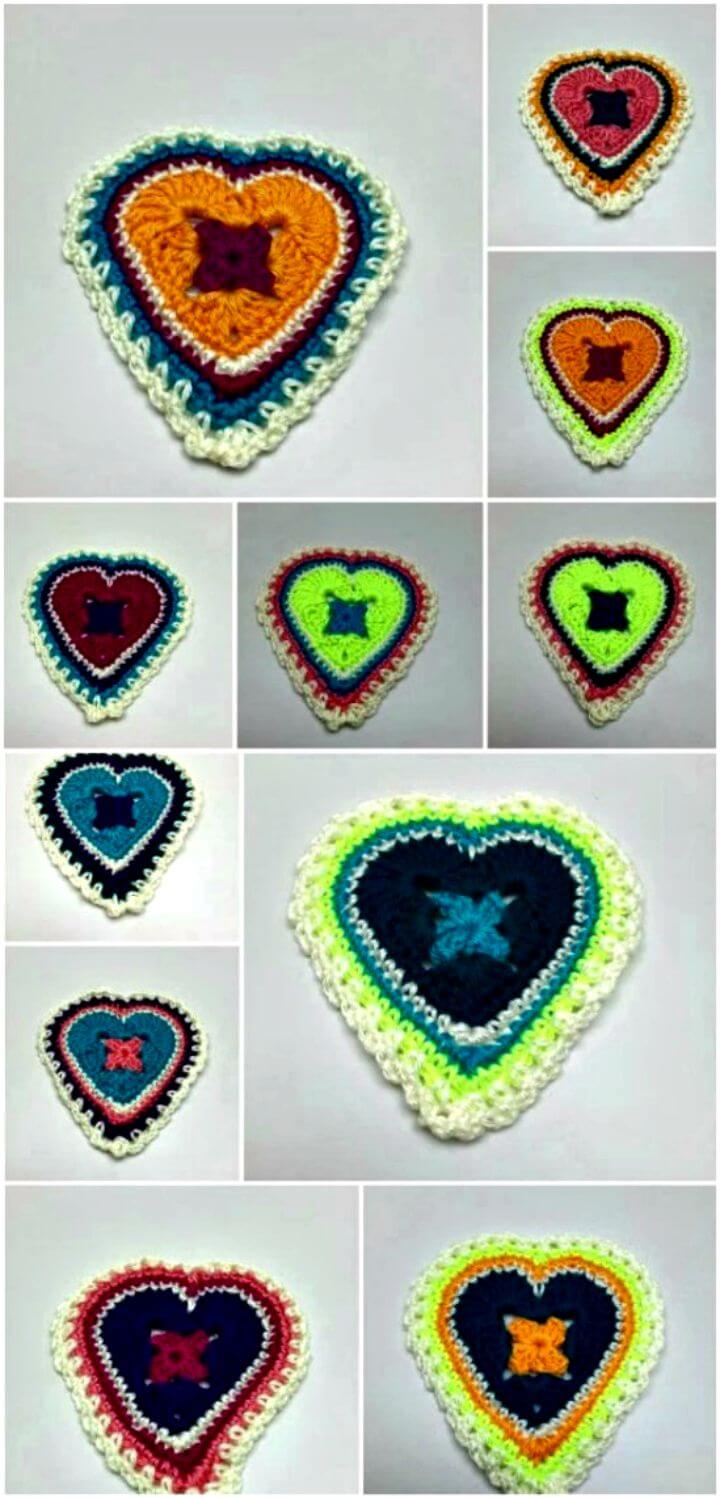 Sometimes you tend to crochet the patterns for a lover for an anyone in the family, so your targeted pattern comes with some beautiful heart shapes or textures it will show your love to the targeted person! So, time to express your love emotions through your hook! Just check out these granny square hearts that are super easy to crochet with minimal crochet skills and can be added to your next crochet pattern to describe your love! Full free pattern and visual guide here archive
Easy Free Crochet Black And White Throw Pattern: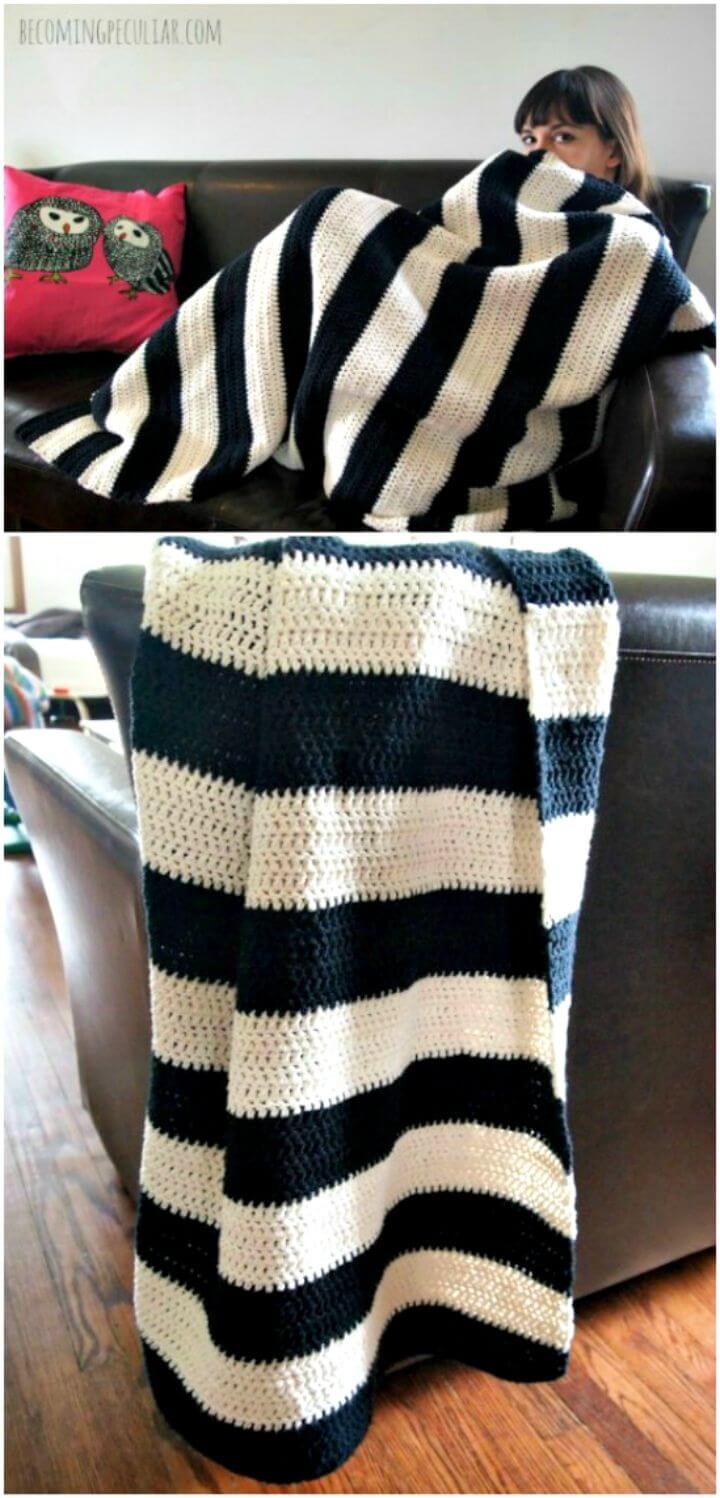 The blanket, throw and rug patterns are often to come with straight lines so if you know to crochet the single or double stitch only, you can still be able to crochet some highly attractive designs of crochet blanket just like this give sample! It comes with black and white stripes and makes a perfect throw for home furniture and a cozy blanket also to snug in! Find the complete free crochet pattern here becomingpeculiar
Free Swirly Crocheted Cupcake Pattern: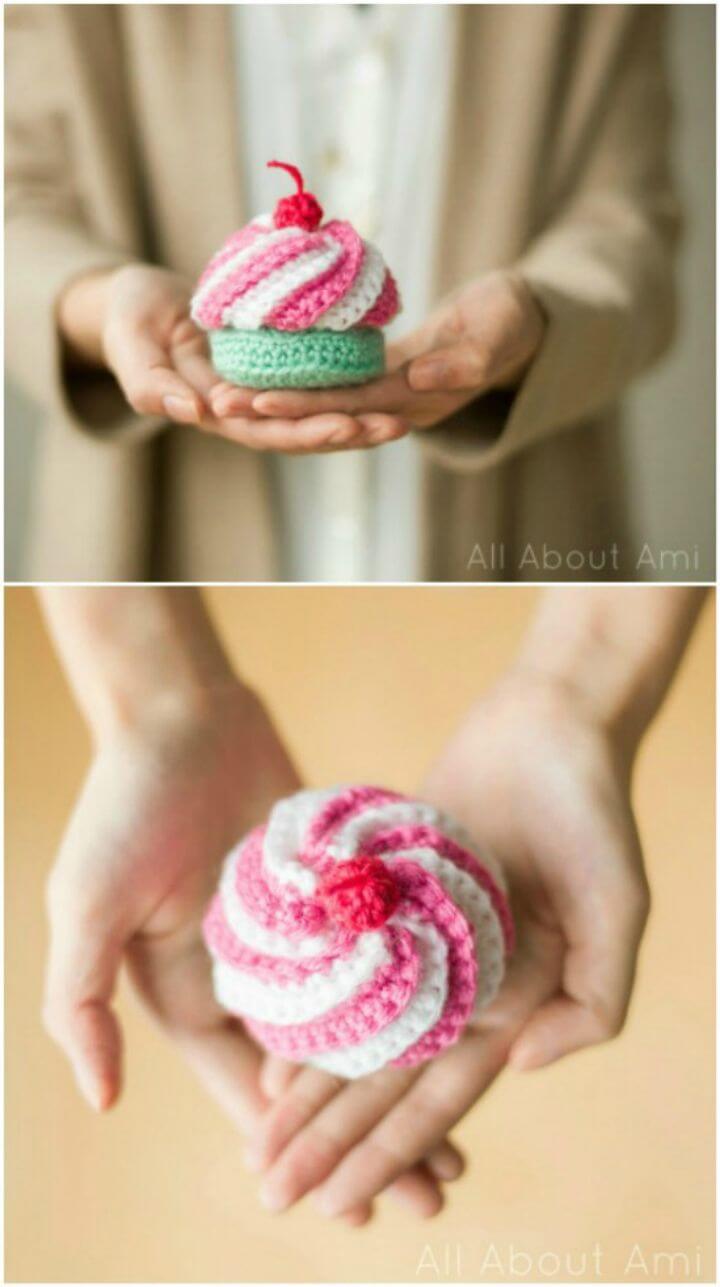 Here is another excellent crochet faux food pattern that requires a comfortable skill level! This is here the swirly crocheted cupcake that makes a perfect toy for kids play kitchen and also an excellent décor for your home kitchen! This would even make an ideal toy for a food-loving kid and is just super cute and adorable crochet amigurumi! Want to duplicate it now? Grab the full free pattern from here allaboutami
DIY Easy & Simple Crocheted Valance Pattern: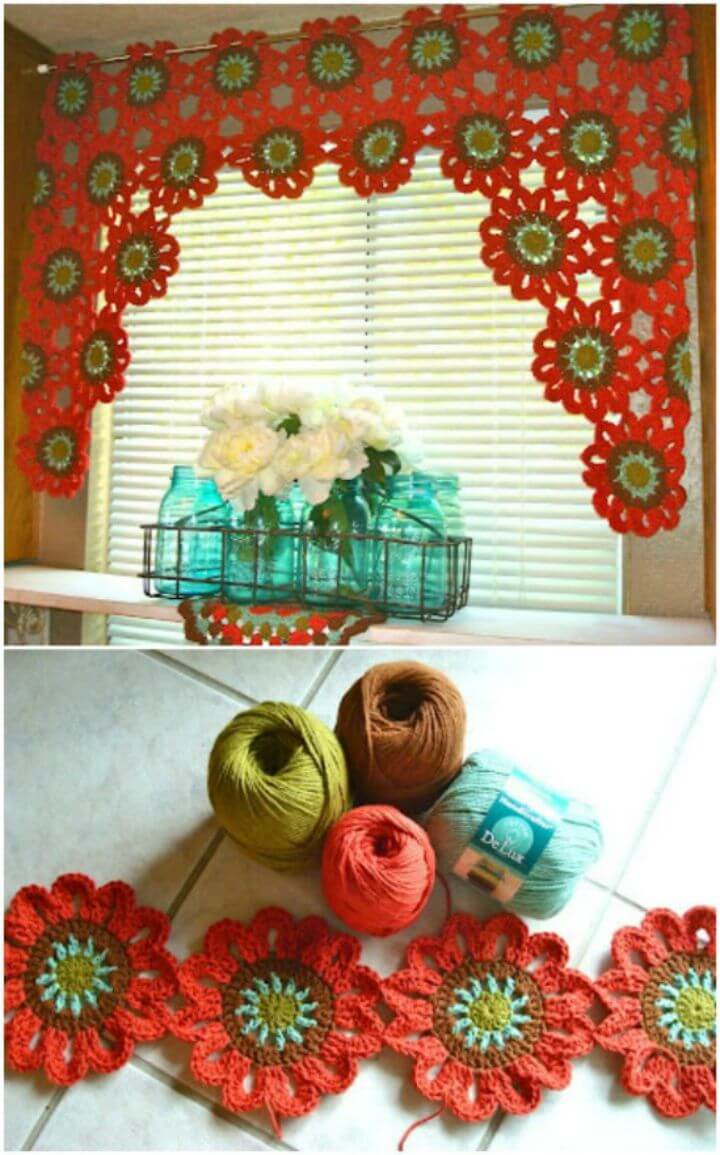 Crocheting is also what you can go with to find some cheap but high solutions for decorative window treatments! If you are not going to believe it then here is a mind-blowing crochet project in this regard, just check out these crocheted valance patterns that create a perfect look for the window side! Want to copy this project? You just no need to worry about the skill level, only the easy skill level required here! Find the full free crochet pattern here onceuponapinkmoon
Free Crochet Retro Pin-Up Headband Pattern: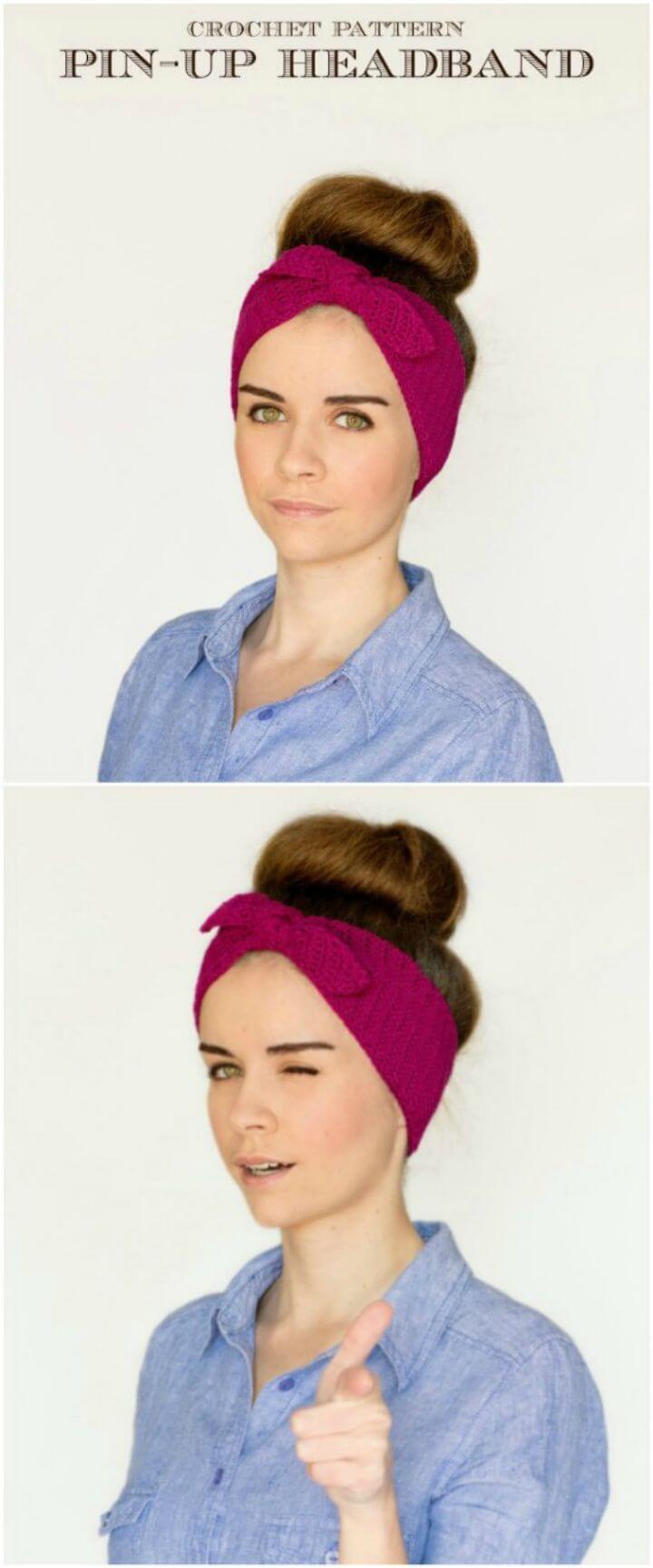 Looking for a perfect headband that will go like a stylish turban over your head? Covering your ears and forehead warm at the same time? Just check out here this retro pin-up headband that will serve the purpose best and is damn easy to crochet, it only requires the minimal crochet skills and would be handy to crochet for a beginner crocheter! Get the full free crochet pattern with visual instructions from here hopefulhoney
Free Crochet Bunny Hat Pattern: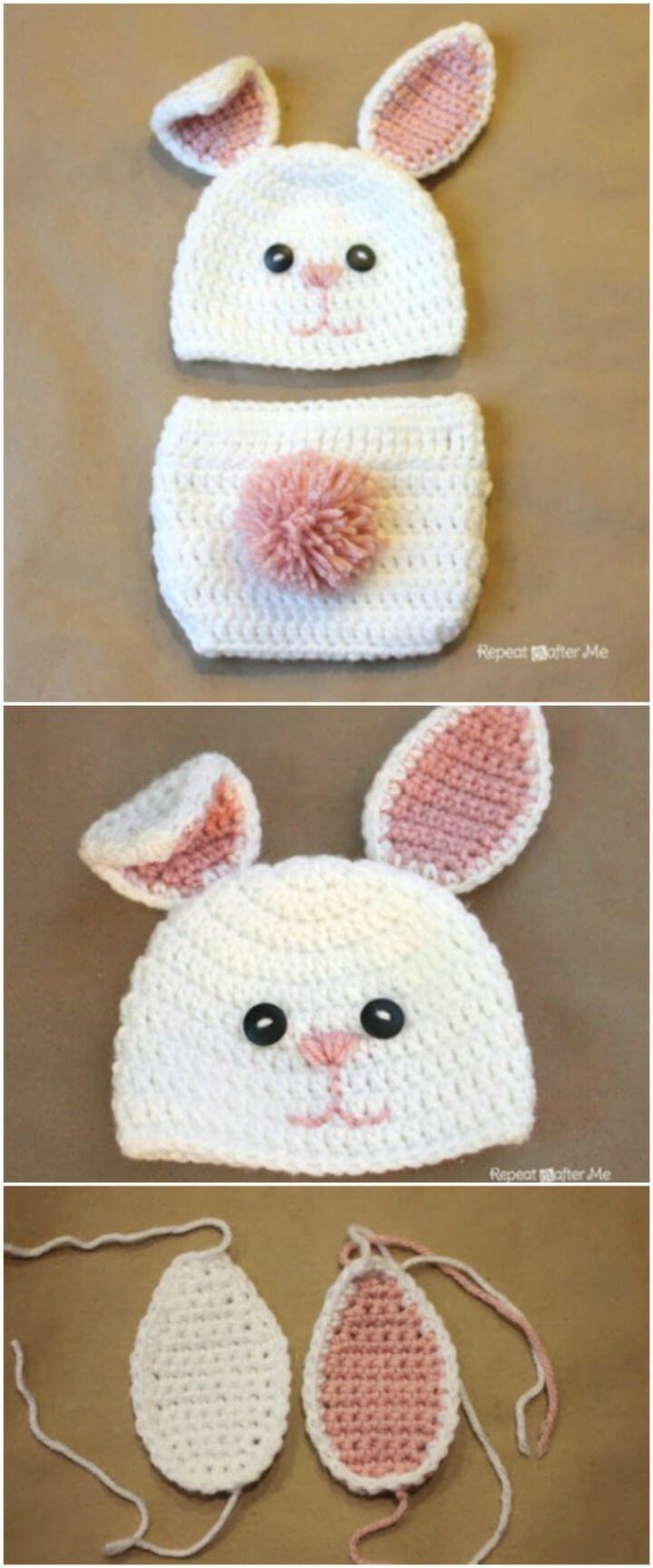 It is all great to for all from kids to mature to wear hats in the dead of cold it is a way to get your head winter protected! Just in case if you are looking for a super cute hat that will also be gorgeous for a first photo shoot of your newborn then presenting here this bunny hat, even come with matching diaper, a whole exciting crochet gift package for a mother-to-be! Another beginner-friendly crochet pattern! Willing to duplicate this crochet set? Find the full free crochet pattern and step-b-step guide here repeatcrafterme
Free Crochet Chevron Pattern & Tutorial: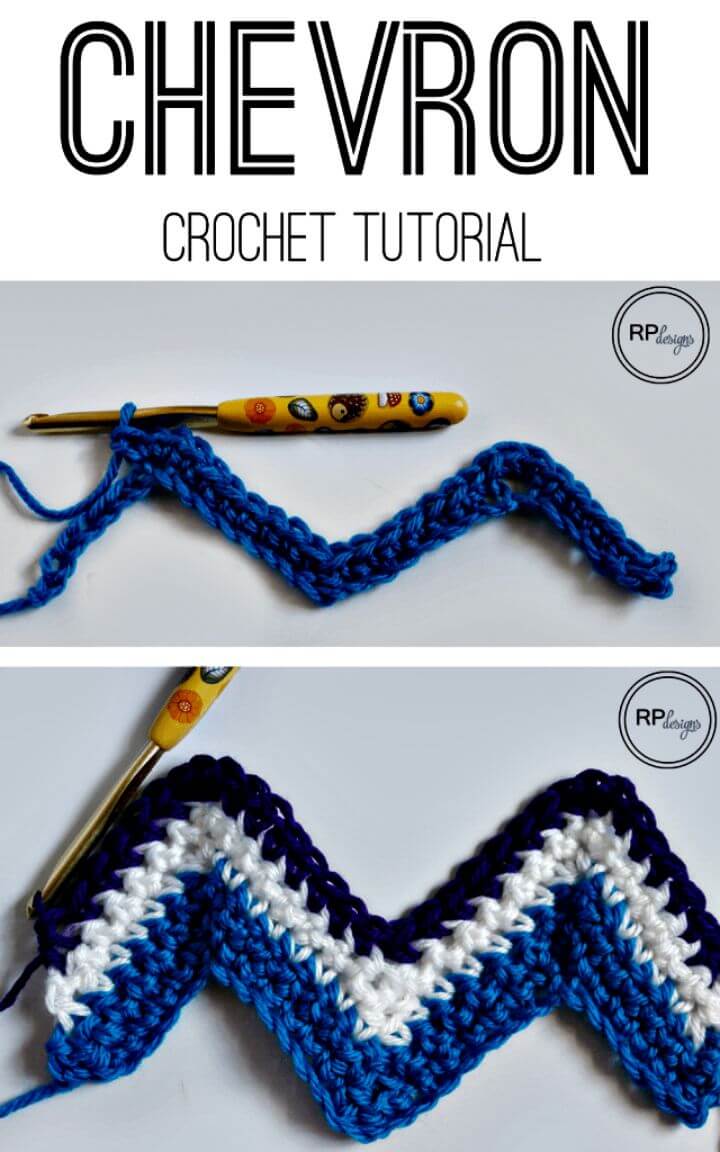 It often depends on the design textures and yarn color combination that how much a crochet pattern is visually attractive! So, if you are willing to add some great visual details to your decided crochet pattern then going with colorful chevron stripes will also be an excellent choice! Do you know how to crochet chevron with minimal crochet skills? This is pretty easy check out the free tutorial, pattern and visual guides here rescuedpawdesigns
Free Crochet Star Ornament Pattern: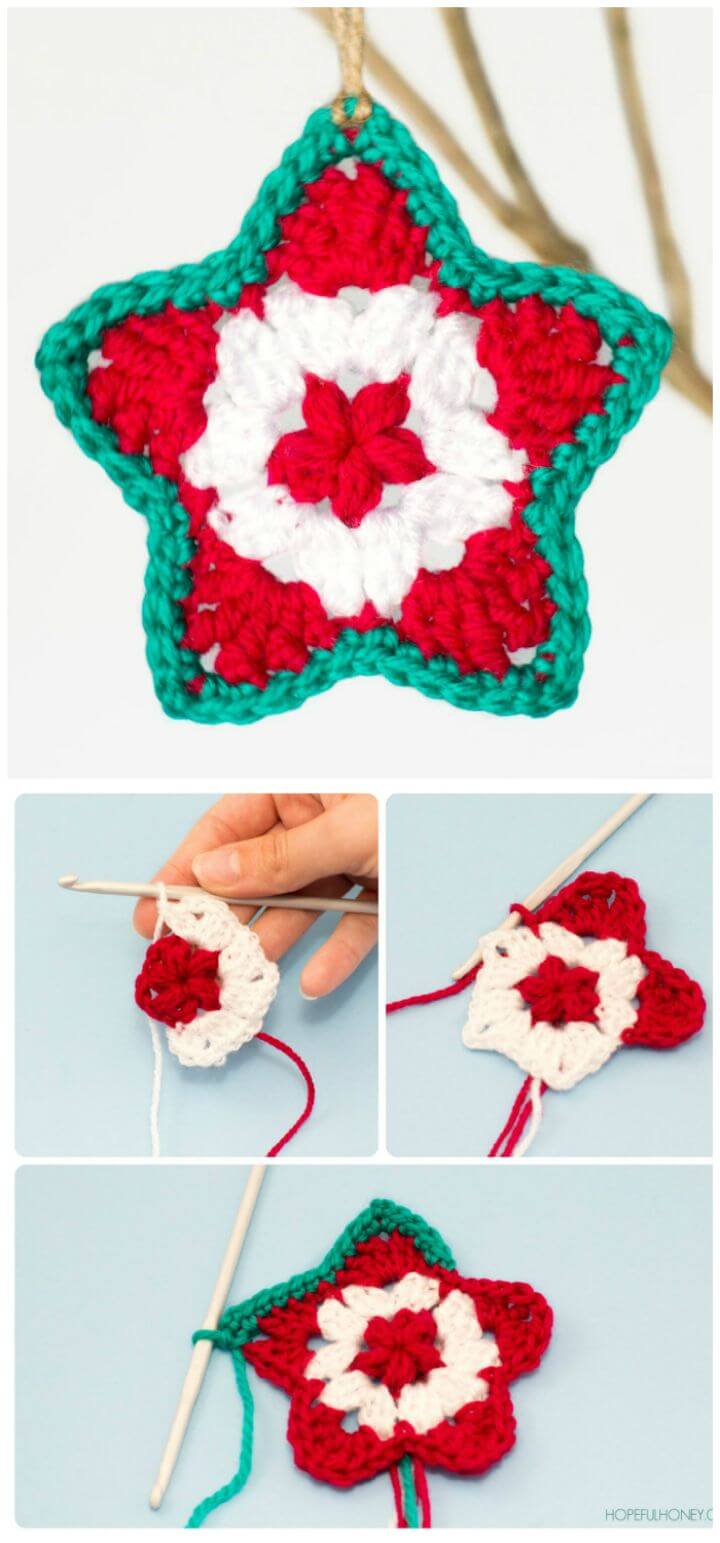 No matter if you do not have master hands in the art of crocheting you can still go with your crochet to boost your home decors by crocheting some flawless hanging ornaments! One precious one is given here, the beautiful crochet star that comes in enchanting colors and is super beautiful! This would make the perfect festival décor, holiday party décor and also a gorgeous hanging ornament for kids rooms! Clone it with the help of free pattern and visual tutorial provided here hopefulhoney
Free Crochet Little Girl's Valentine Head Warmer Pattern: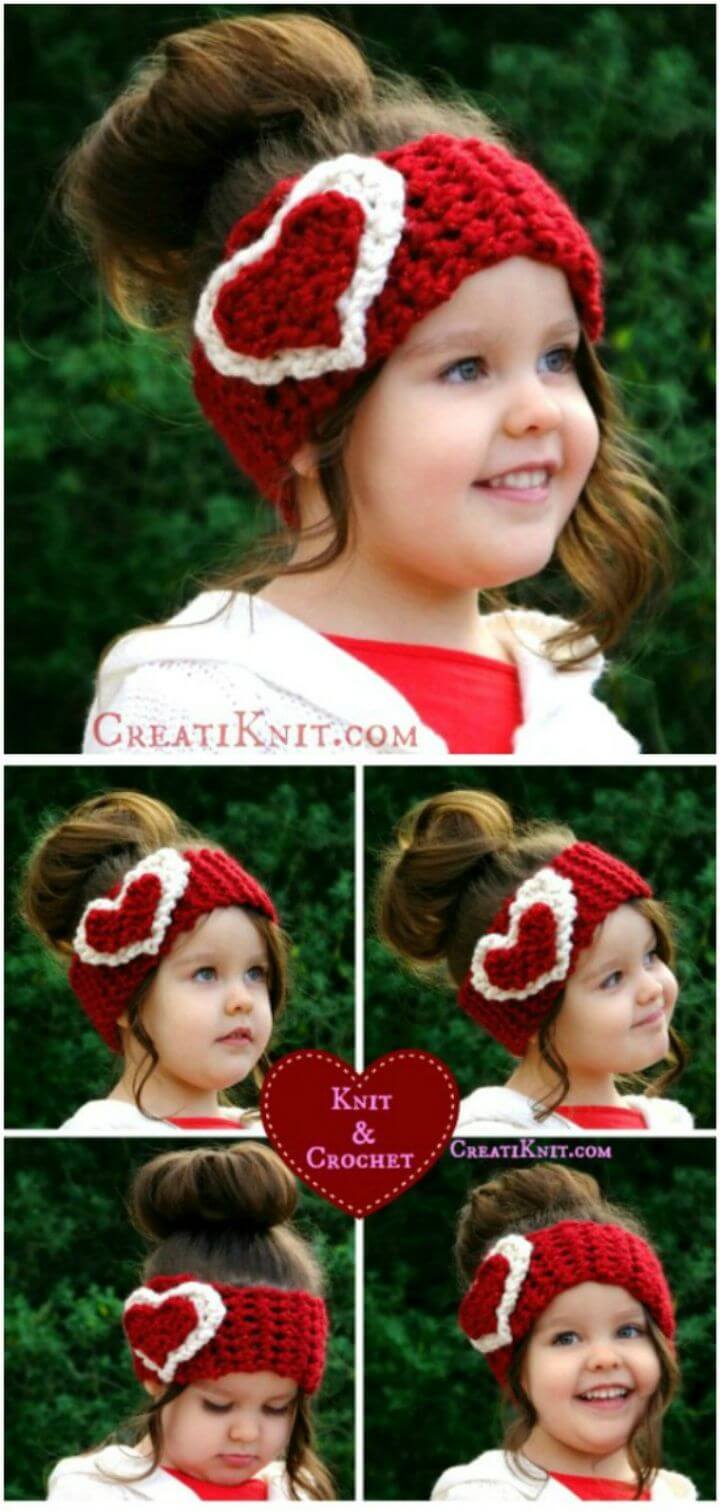 The heart is a symbol of love and crocheting some heart patterns would definitely be great to express your love through your crochet skills! One amazing sample here is this cute crochet heart head warmer that is just best for a little girl to wear over the head to look double cute and lovely! Willing to adorn your baby girl like the same? Just crochet this heart-head warmer for her that is super easy to crochet with the help of visual guide and free pattern provided here creatiknit
Easy Free Crochet Customizable Poncho Pattern: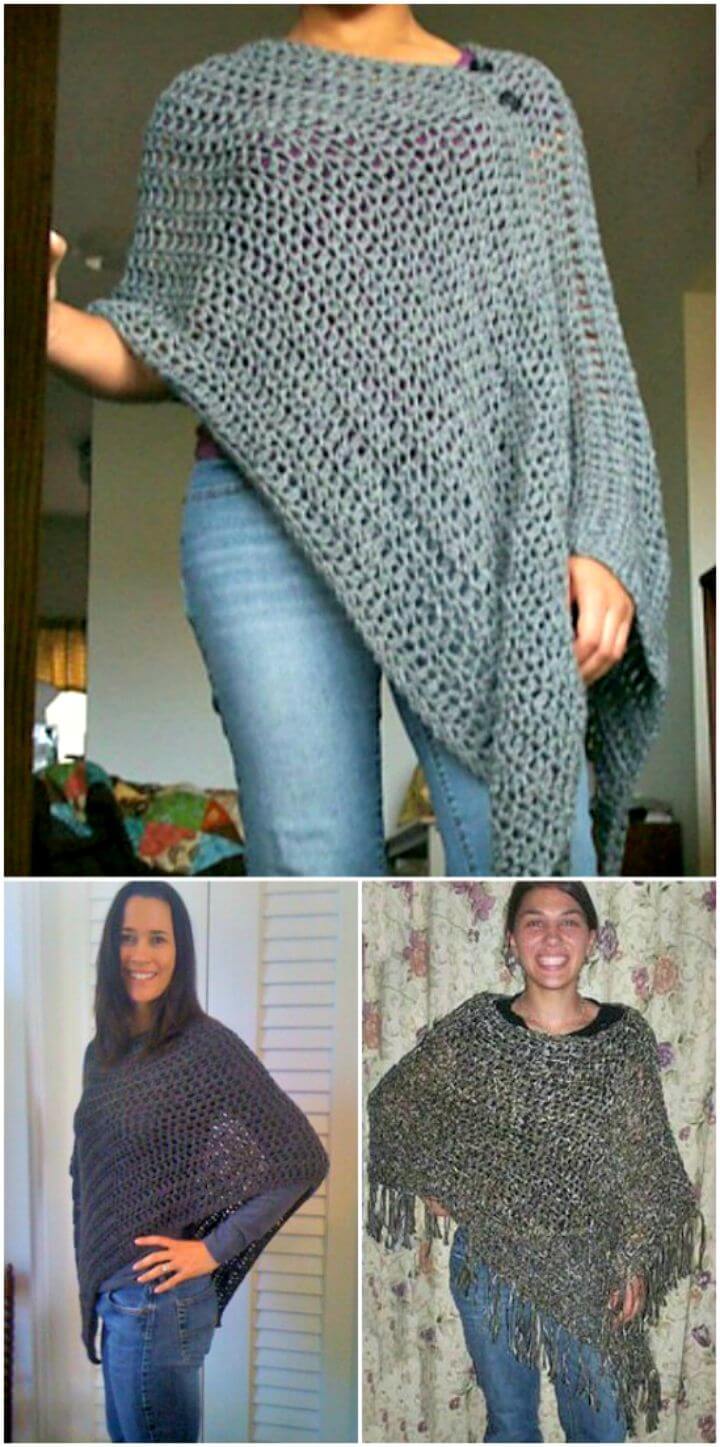 Here is something love to cover your torso and shoulders warm, a perfect customizable poncho that is a delight to wear! You should add this crochet poncho to your winter wardrobe this winter; this will bring tons of focal stimulation to your style and personality! Crochet this poncho also for a beautiful gift for a friend; the pattern is just friendly to beginners! Another easy but great crochet pattern! Find the comprehensive project details and free pattern from here ravelry
Free Crocheted Fabric Baskets Pattern: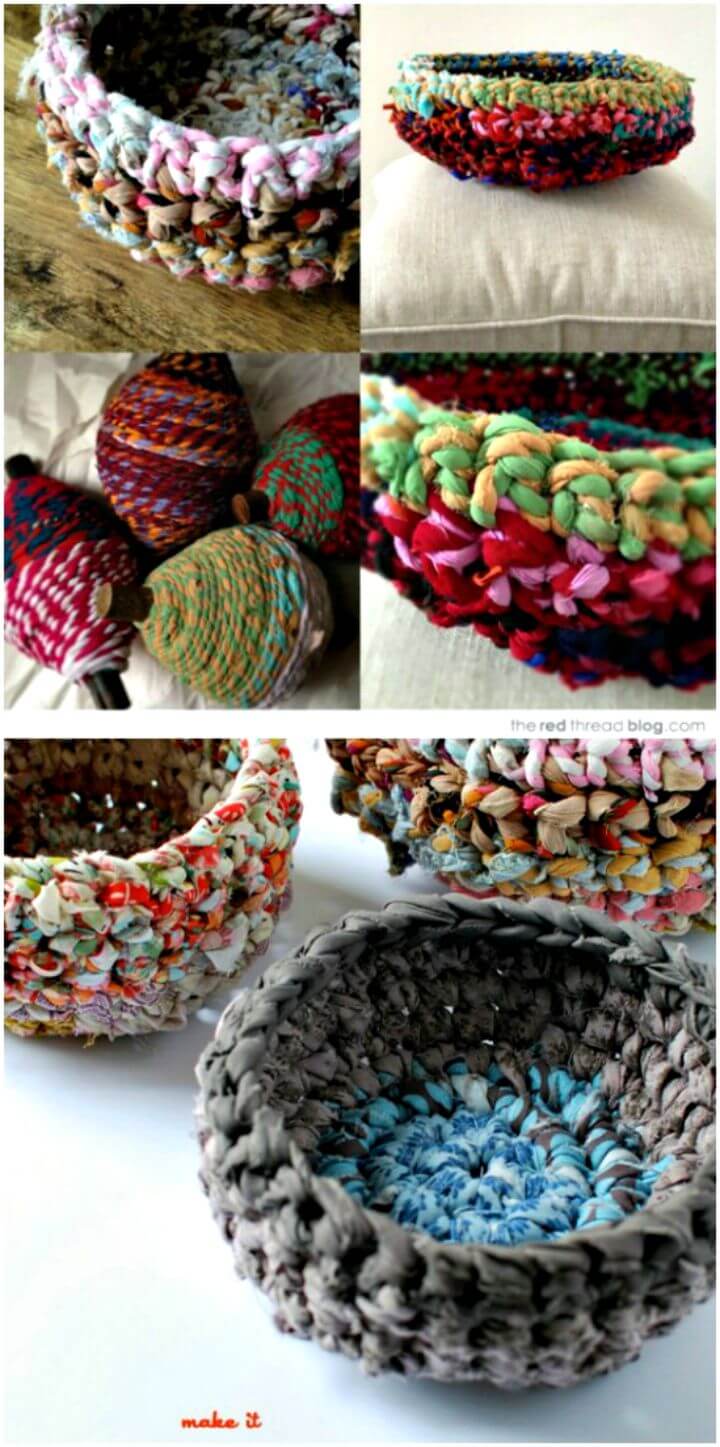 One more interesting crochet pattern and project that is much doable for the dedicated crochet beginners! Crochet the beautiful fabric baskets, and here you only need to go with the scarp fabric yarn of your favorite colors! Take a look at the sample baskets given here that are enchanting to eyes due to their little and colorful appeal! Want to see these baskets next storing your craft supplies? Grab the full free tutorial and free crochet pattern from here scout
Easy Free Crochet Throw Pillow Pattern: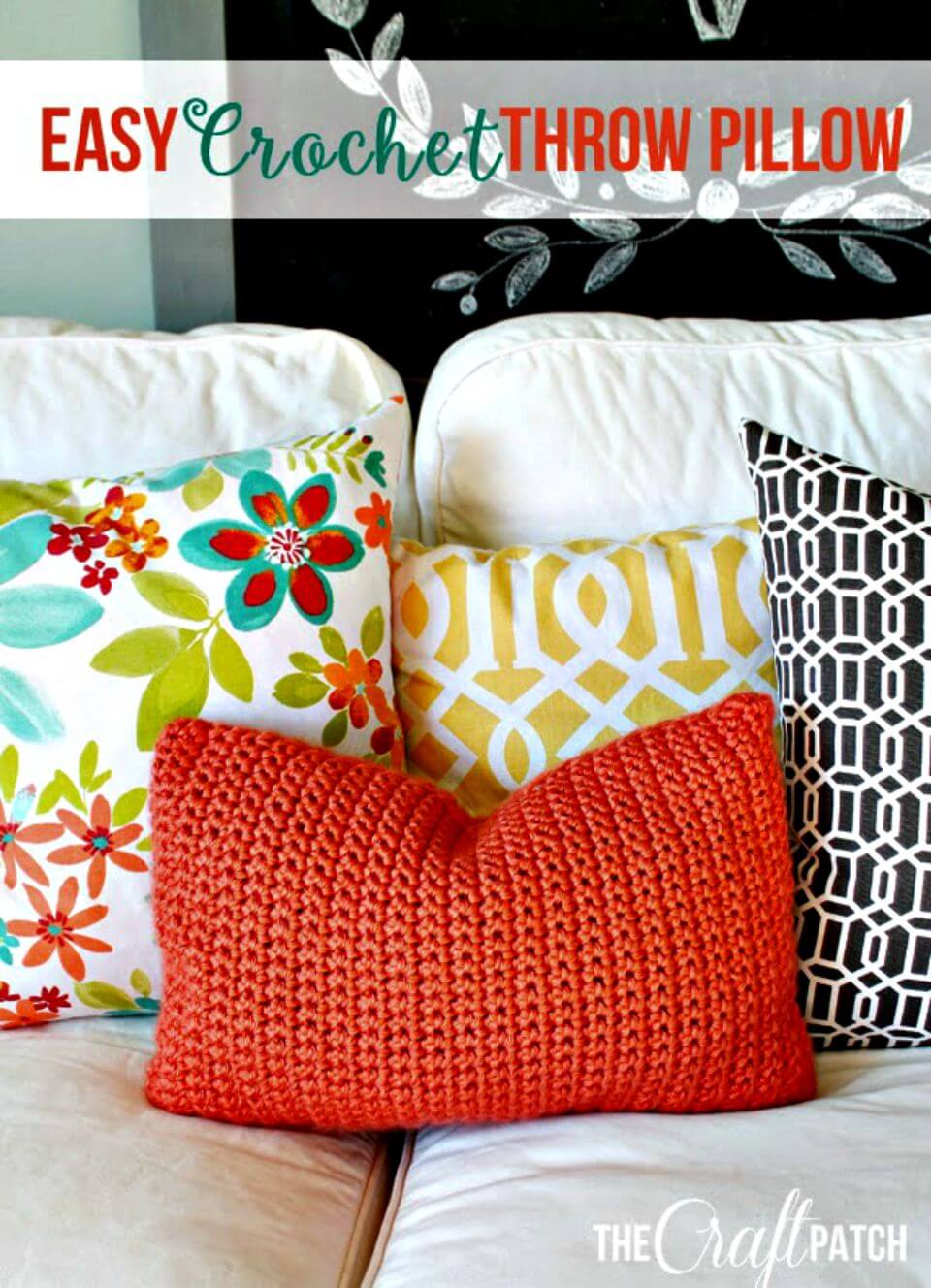 Not skill enough in the art of crocheting? Just no need to worry about it as there are tons of available crochet patterns you can try out with the minimal skills! A great one is here, the beautiful looking crochet throw pillow that would make a great gift also! Why not experiment this pillow with your own selected color and weights of yarn? Grab the full free crochet pattern and pictorial here thecraftpatchblog
DIY Easy Rose Crochet – Free Pattern:
Crochet also the faux roses that can be put in your interior home vases for bigger decorative statements and can also be tied together for making beautiful bouquets to please or gift someone! Get inspired by these easy crochet roses that are pretty simple and quick to crochet even if you have the easy skill level! One more interesting crochet pattern for the beginners! Further project details and free crochet pattern here skiptomylou
Easy Free Crocheted Hats Pattern: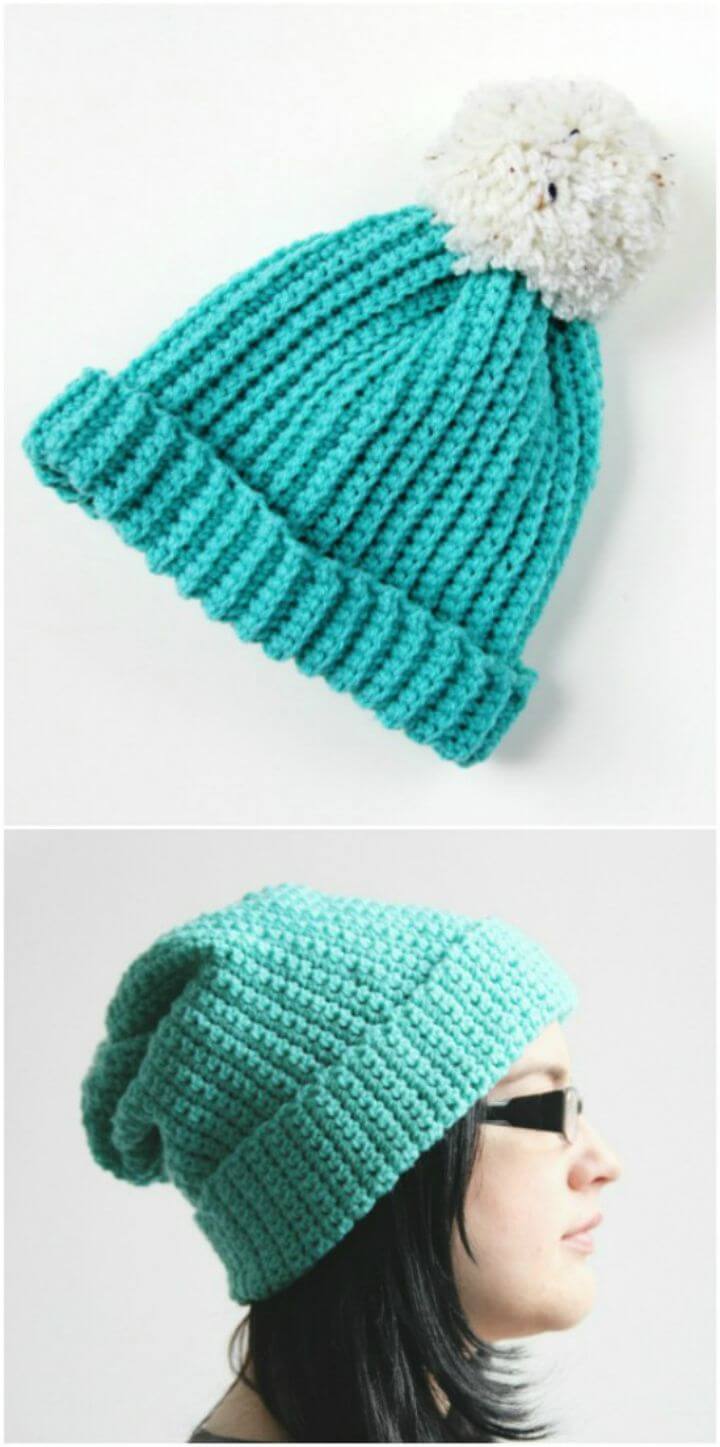 Are having the basic skills of crocheting like having the master hands in single or double crochet stitch? You dedication matters not the skill level to crochet some fab patterns like this slouchy crochet hat! It would make a perfect gift for a baby, for a teen and also for a style loving girl! This hat comes with a pom-pom embellishment and is just perfect for cute up any kid's face! Intending to duplicate it now? Grab the full free pattern along with instructional guides from here gatheringbeauty
Easy Free Crocheted Edge Baby Blankets Pattern: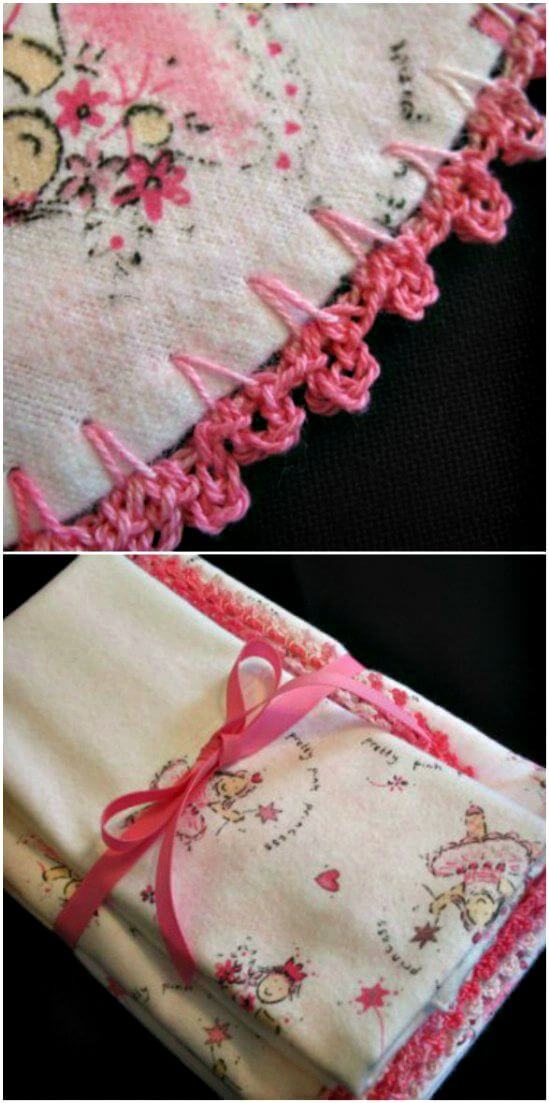 Intending to give accent trimming to some of the baby blankets? The yarn borders will definitely look great and eye-catching! Put a glance on this baby blanket that is having a crocheted edge to look great and stunning! This accent blanket edging also requires an easy skill level and is just a perfect crochet pattern for beginners! Want free pattern for this adorable blanket yarn edging? Find it from here blogspot
DIY Puffy Bath Pouf  – Free Crochet Pattern: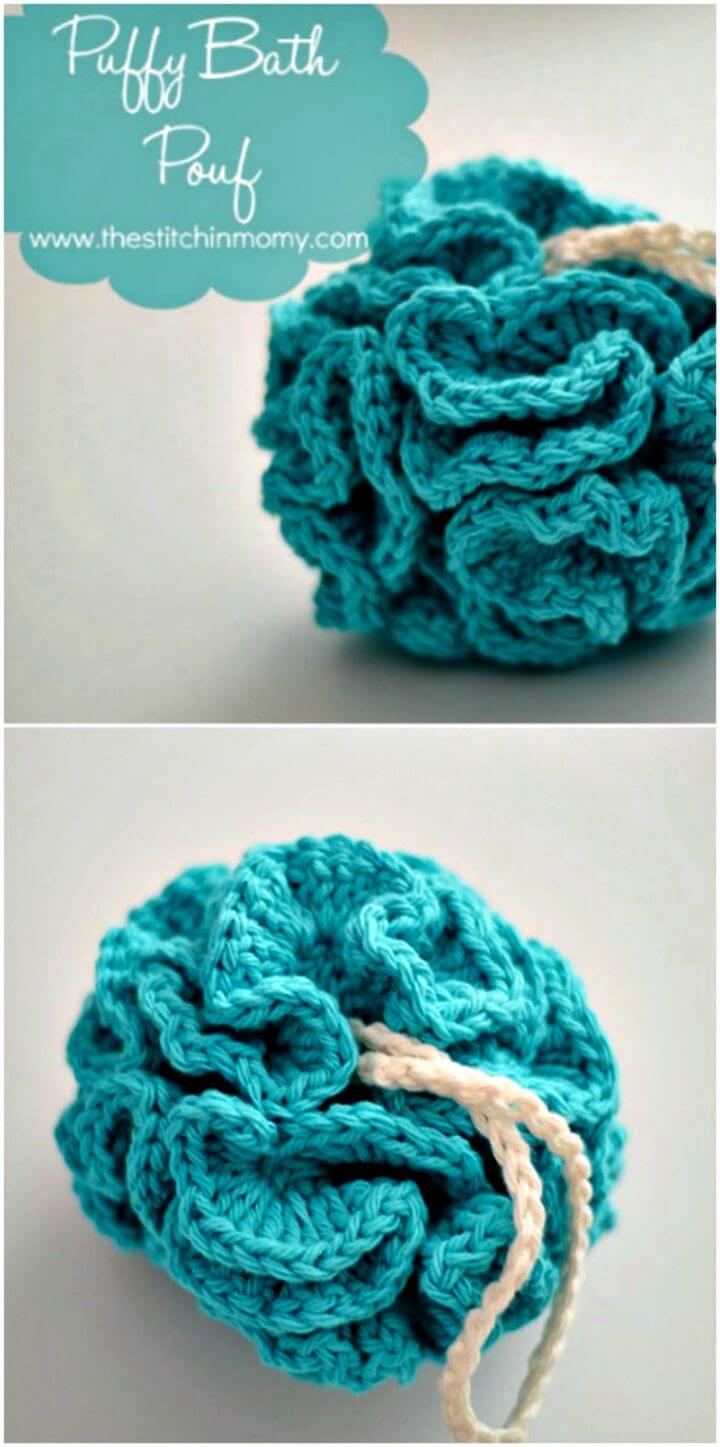 The list can be huge for easy or beginner crochet patterns, here comes another great one! The beginner crochet can also try crocheting some fab bath poufs like the given beautiful sample! Crochet a set of these bath poufs and gift to someone special! Here this bath pouf comes in teal blue color and is super beautiful! Duplicate this crochet bath pouf with the help of free crochet pattern and guide given here thestitchinmommy
Free Crochet I – Phone Case – Quick And Easy Pattern: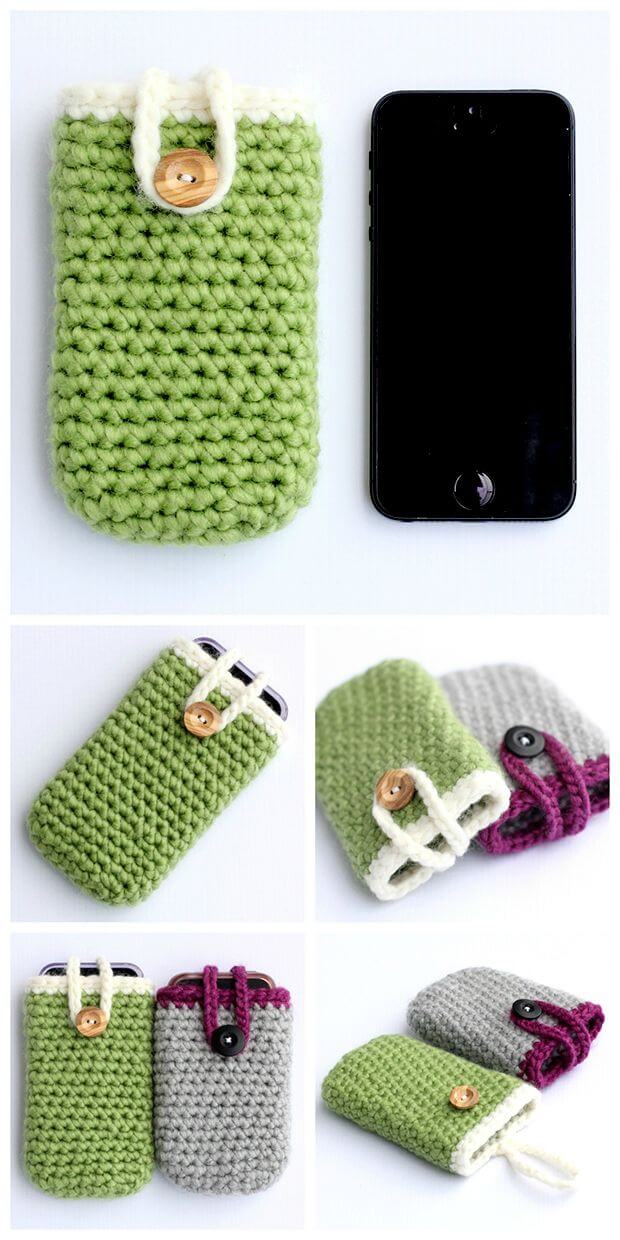 Crochet sleeve patterns are a big hit; you can crochet perfectly colorful crochet sleeves for your mugs, pots, for mobile phones and also for various other items of interest! Check out here the brilliantly beautiful crochet iPhone case that is as easy to crochet as it is colorful! You can experiment it using your yarn colors and weights! This would also make a perfect gift for a friend who is addicted to mobile! Find the complete free pattern and instructional tutorial here dabblesandbabbles
DIY Easy Face Scrubbies – Free Pattern: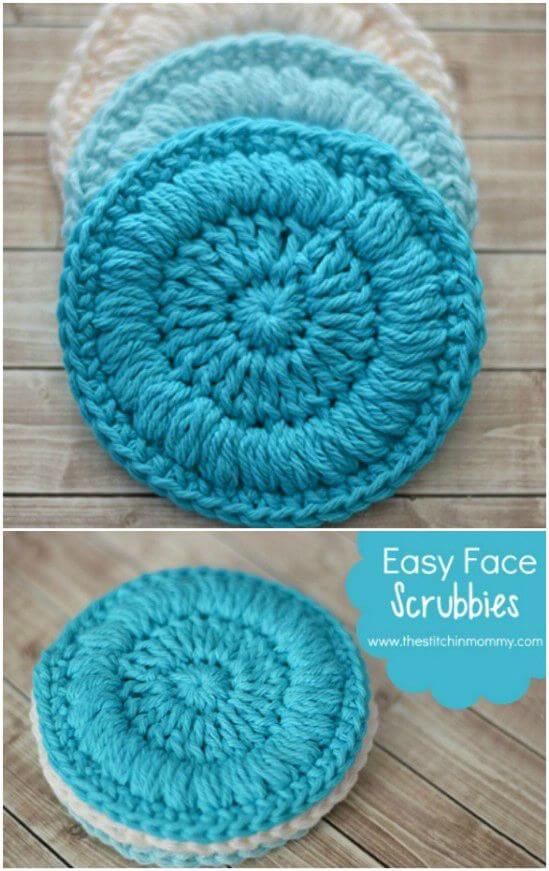 Have you tried crocheting some yarn coasters which are always easy to crochet? If yes, then this would also be a child's play to crochet these face scrubbies that are beautiful and colorful as well! Another great crochet easy pattern that require an easy crochet skill level! Willing to crochet these face scrubbies for a neighbor or friend? Complete free crochet pattern and step-by-step visual guide here thestitchinmommy
Free Crochet Popcorn Stitch Flower Pattern: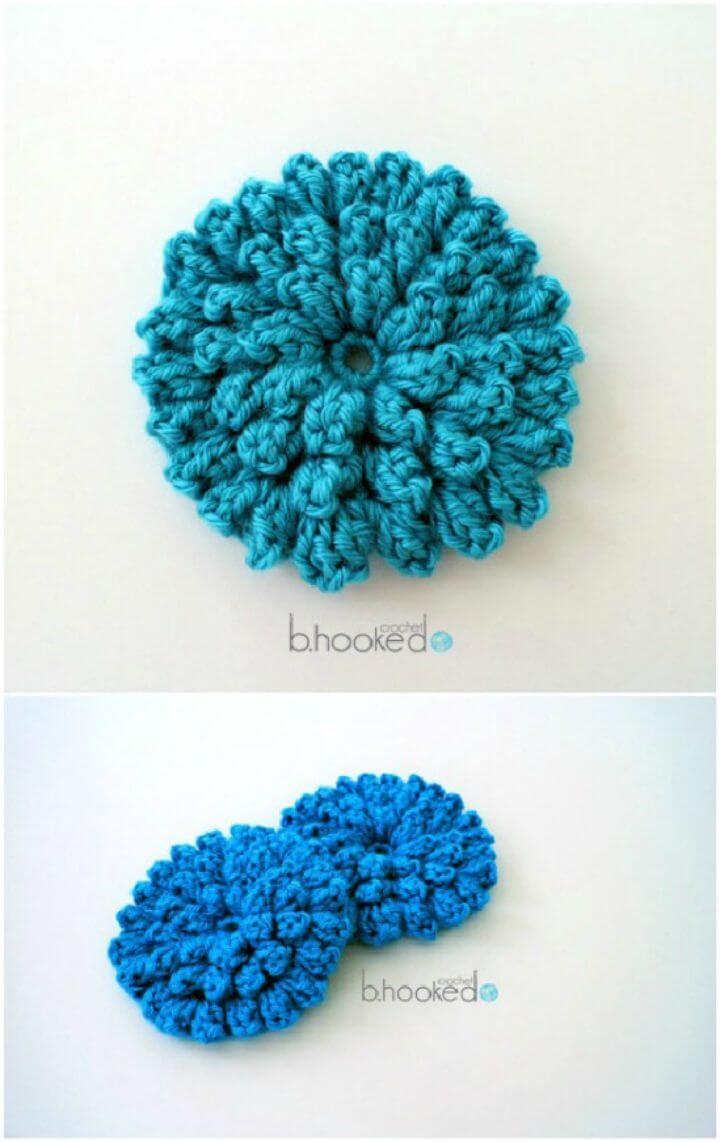 Crochet flowers can be used in multiple different ornament projects in home! They are just best to use as party decors as festival decors and also make the great embellishments for other crochet projects! Here is another crochet flower pattern that is super easy to crochet also! Just check out this crochet popcorn stitch flower pattern that comes in enchanting teal blue hue and is just eye-catching one! Find the complete free pattern and visual guide from here bhookedcrochet
Free Crochet Cozy For Jars Or Cans: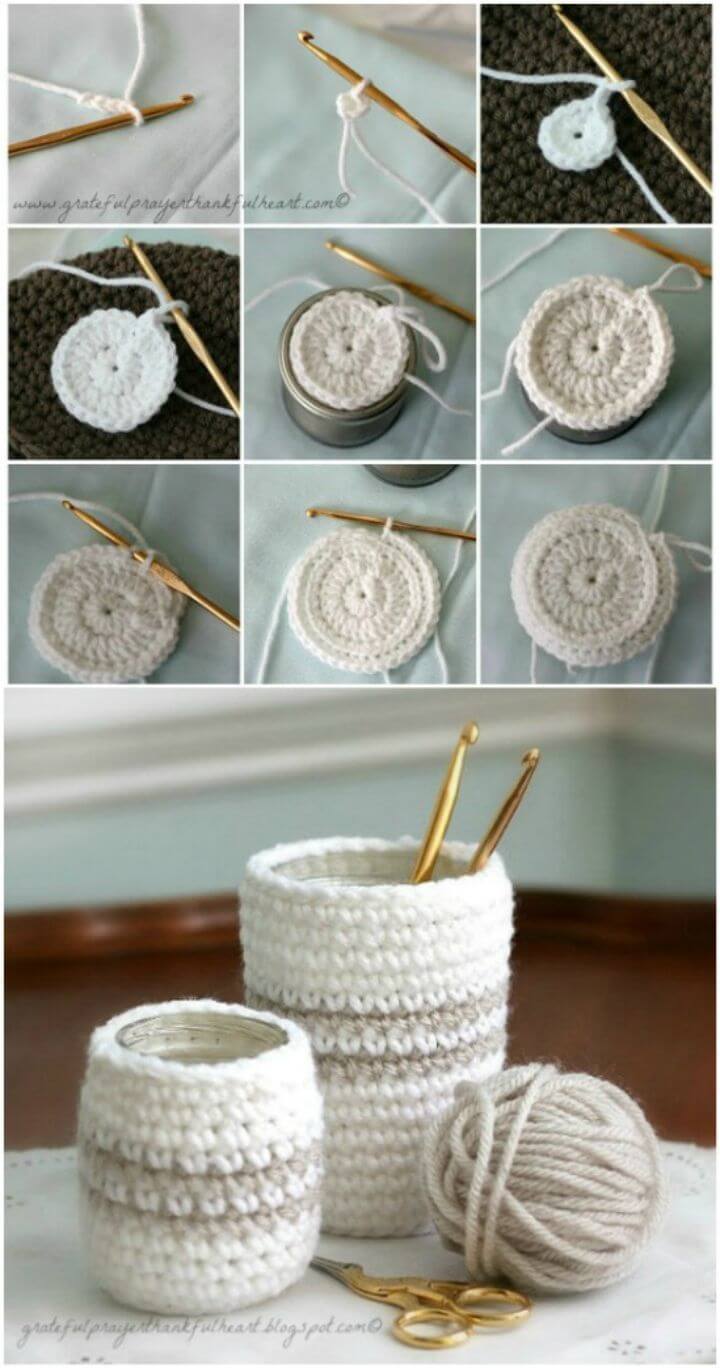 Interior home vases are to prefer first always while being on mission to garnish the interiors! If there is a fall or deadly cold region then you should definitely go with the respective appeal of vases! The cozy covered vases will just work great and the idea is to crochet some fab vase sleeves or cozies! A beautiful one is given here that features a neutral hue and is mind-blowing one! Intending to clone it now? Free crochet pattern and tutorial here gratefulprayerthankfulheart
Free Crochet Bangle Bracelets Pattern:

Another beautiful crochet jewelry project that every crochet even with minimal crochet skills can try out in his free time! This is here the perfect crochet bangle bracelet, crocheted to inspire the hook of beginners! This statement piece of crochet jewelry will also make a Thanksgiving gift for a style or fashion enthusiast! Find the complete free bracelet pattern and tutorial here lebenslustiger
Free Crochet Hair Ties Pattern: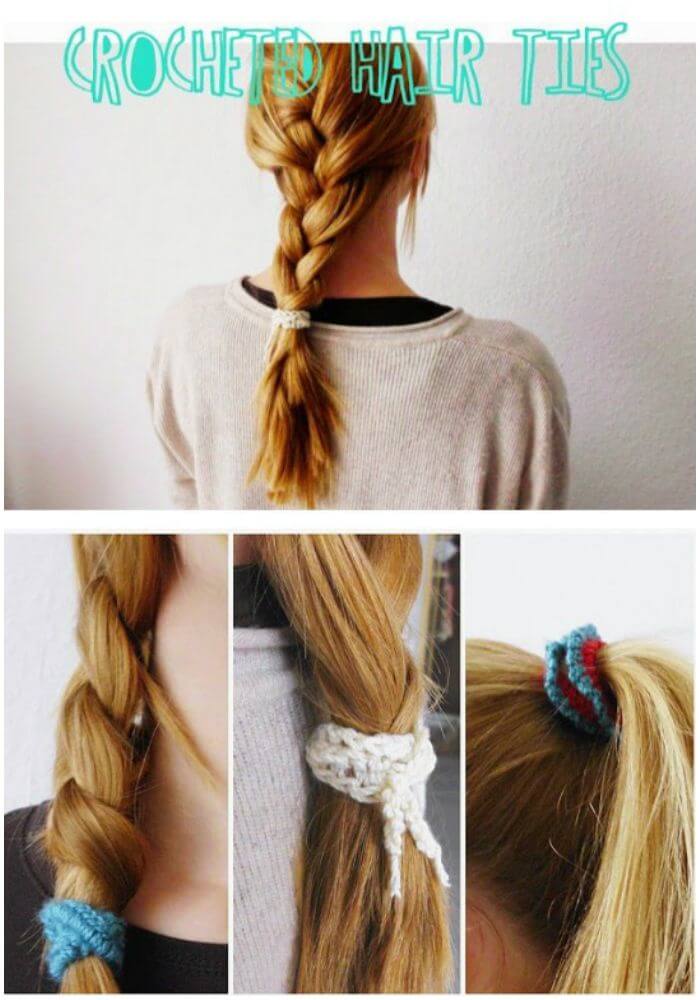 Yarn colors are just enchanting, they can also mixed with your hair for brilliant fashion statements of your hairs! The idea is to crochet some eye-catching hair ties using your favorite colored yarn! Check out here the sample crochet ties that are insanely cute and beautiful! The thing that is above all is that they are super easy to crochet! Want to try out these crochet hair ties? Find the complete free pattern and step-by-step visual guide here curiousandcatcat
DIY Crochet Puff Flower Blanket – Free Pattern: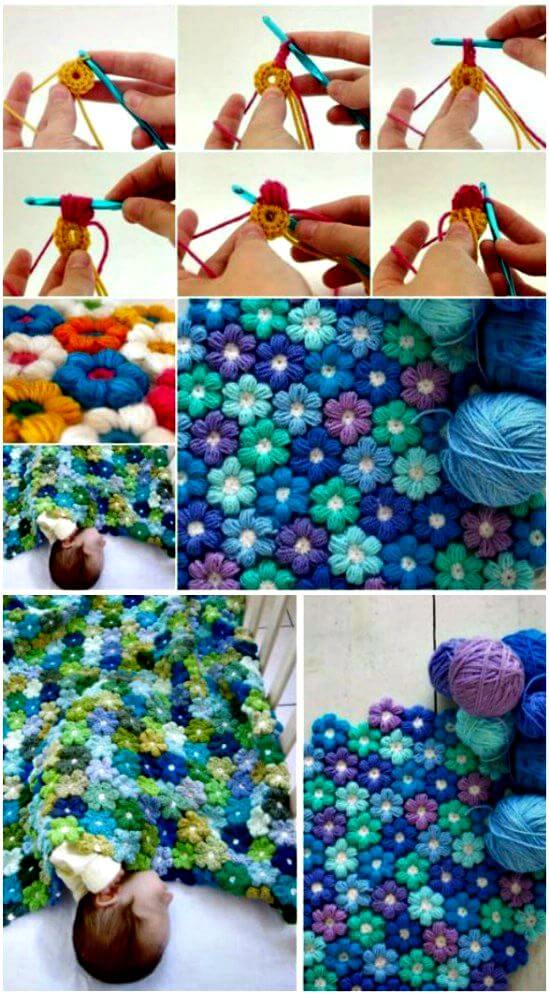 Have you ever gone through the crochet puff stitching? This just the perfect one style of stitch when you need to give some bouncy texture or a fluffy touch to your targeted crochet pattern! It requires the beginner skill level to crochet the puff stitch which be used in doing some great crochet project like this crochet flower blanket! Something that will make an enticing winter warmer for a newborn! This is going to be the most favorite blanket to all kids and babies! Intending to duplicate this blanket? Find the complete free pattern and visual guide here thewhoot
DIY Textured Bow Tie – Free Crochet Pattern: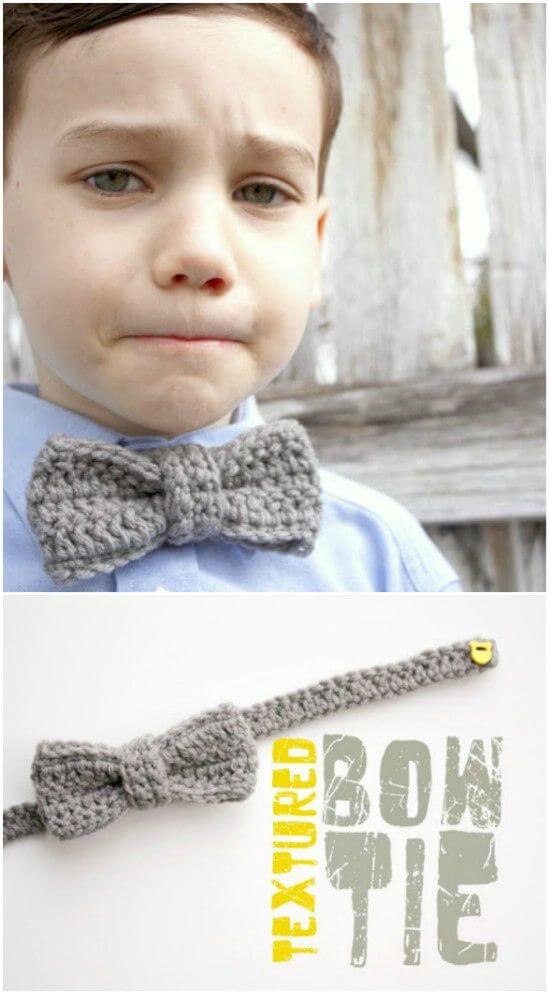 Have recently start using your crochet hook? Willing to try out beginner-friendly patterns? Check out here a perfect one, the textured crochet bow tie, crocheted to inspire and will make a worthy gift for a fashion lover! This tie will just rock with a winter kids dress up to create a smart personality of your kids! Check out here the sample inspiration! Want to duplicate this bow tie for a beloved kid? Grab the complete free crochet pattern and instructional help from here archive
Free Crochet Stool Cover Photo Tutorial:

Your basic knowledge about art of crocheting can also help you to adorn your furniture like you can crochet beautiful cozy covers for your furniture for a cozy and colorful appeal of it! A great example here this very pretty crochet stool that is both artistic and amazingly beautiful! The mini colorful squares just bring great focal stimulation to entire furniture and the hanging tassels are just like icing on the cake! A beautiful beginner-friendly crochet project! Find the complete free pattern here blogspot
Easy Free Crochet And Leather Clutch Pattern: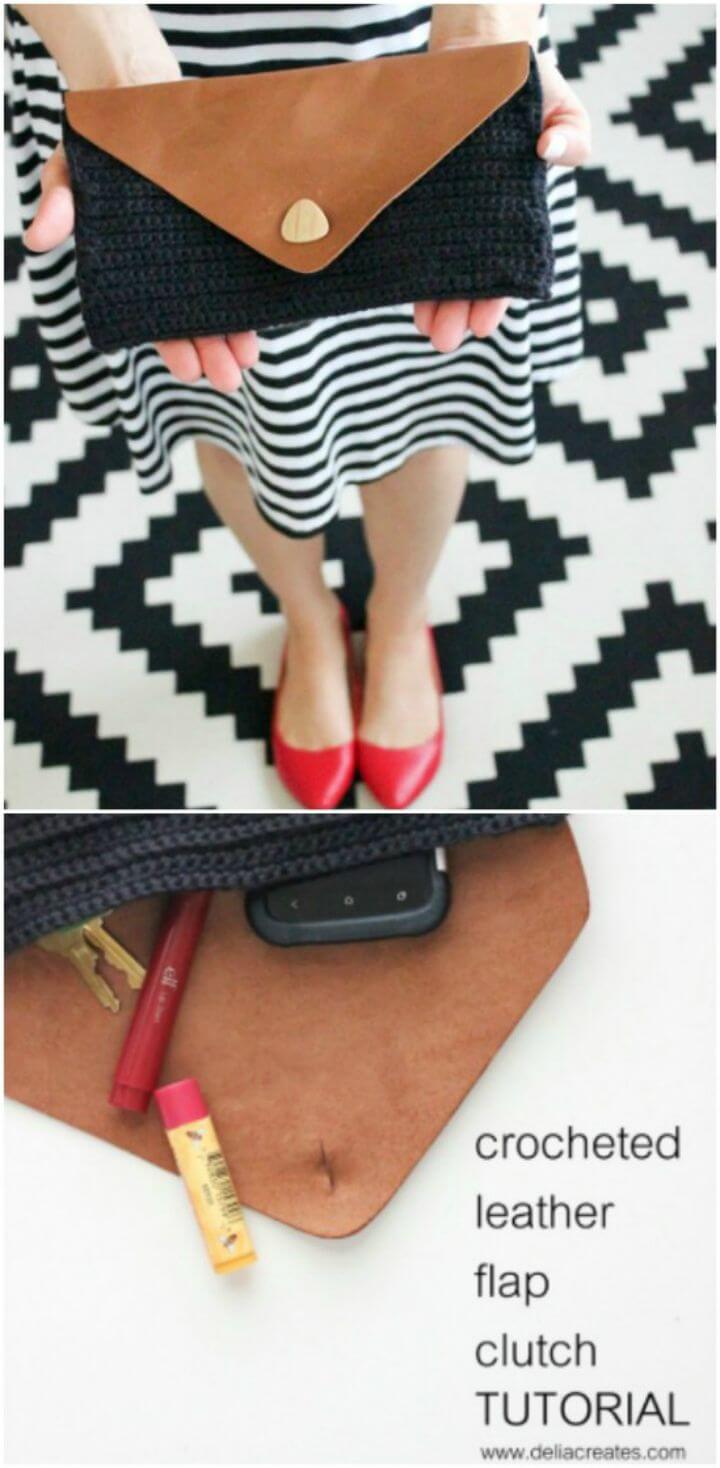 Check out here another smart crocheting and crafting project that will help to get a fashionable accessory! Just check out here this very precious leather and crochet clutch that is insanely stylish and will be the delight to hold in hands! The perfect cozy clutch with modern appeal, would definitely go enchanting to all style loving ladies! This crochet project also demands for an easy skill level! Grab the full free pattern from here deliacreates
Make Your Own Free Crocheted Adult Booties Pattern: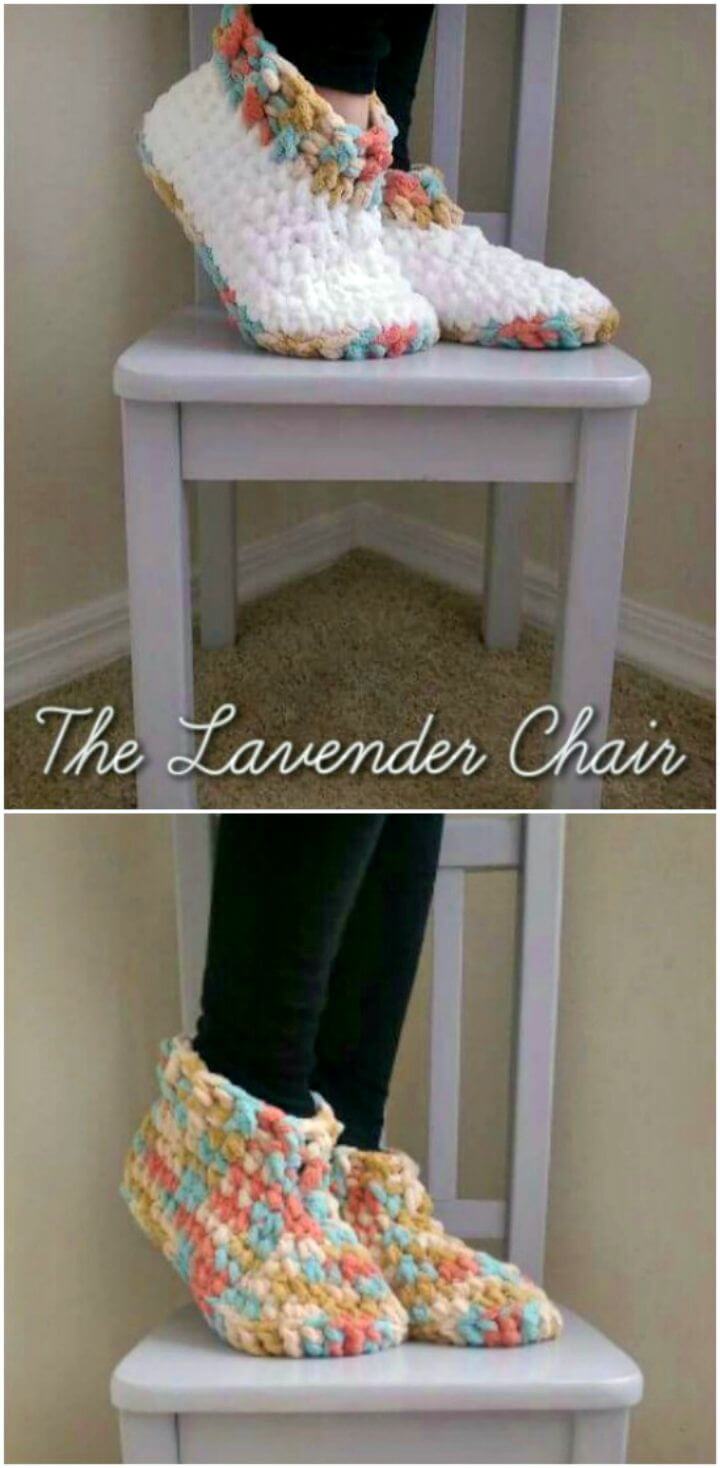 Stylish footwear will also be on your fingertips if you know how to crochet the basics! Amaze yourself by taking a look at these charming crochet adult booties that comes with colorful border or boundary line! This is here an all great sample of art of crocheting and this pattern also best one for the beginner crocheters! Want to duplicate it now? Grab the full free pattern and step-by-step visual guide from here thelavenderchair
Free Crochet Towel Holder Pattern: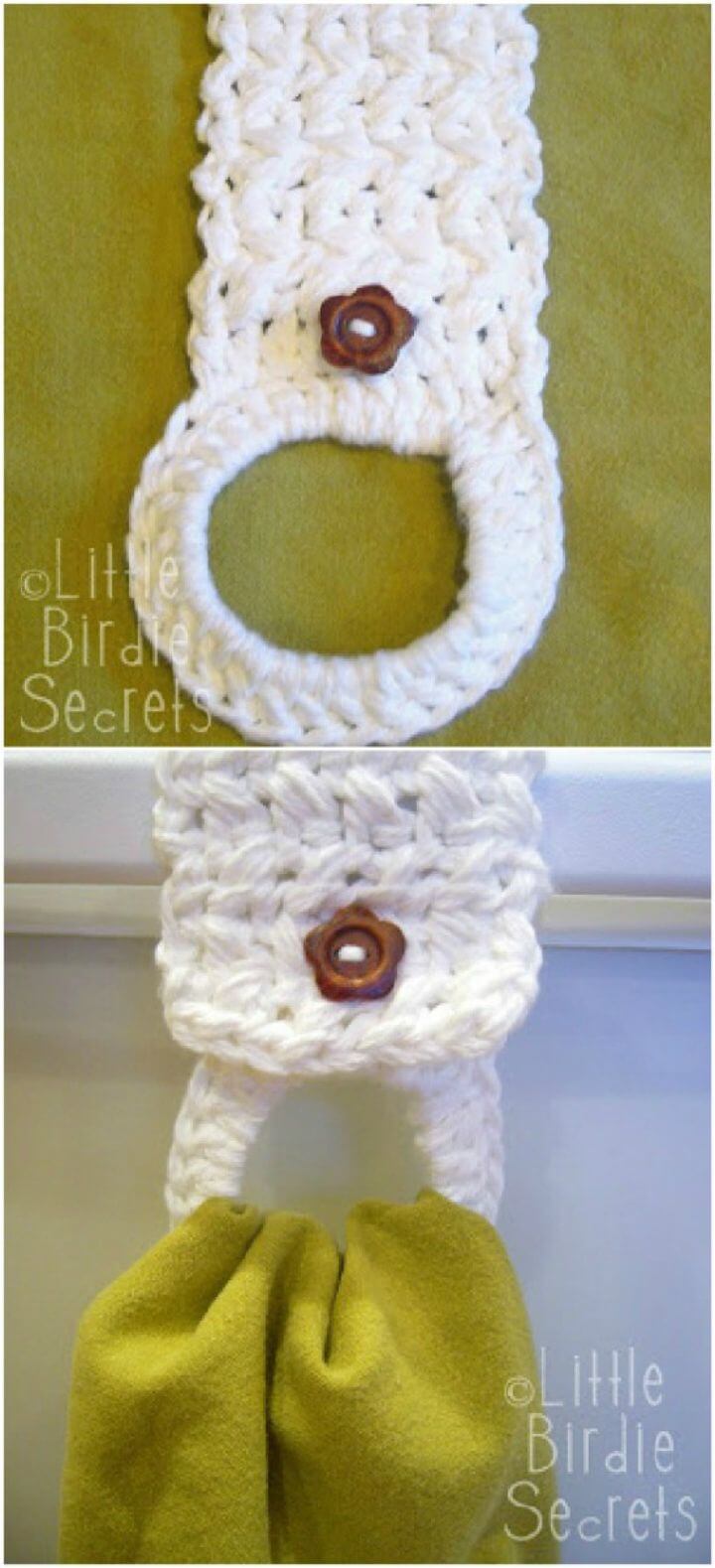 After the home décor and ornaments, let the crochet also boost the functional behavior of your home! Crochet also the utilitarian items with your hook just like this crochet towel holder that that would also go enchanting to your targeted wall! This is here another crochet project that only require minimal crochet skills! Grab the full free crochet pattern from here littlebirdiesecrets
Easy Free Crochet Snowflake Pattern: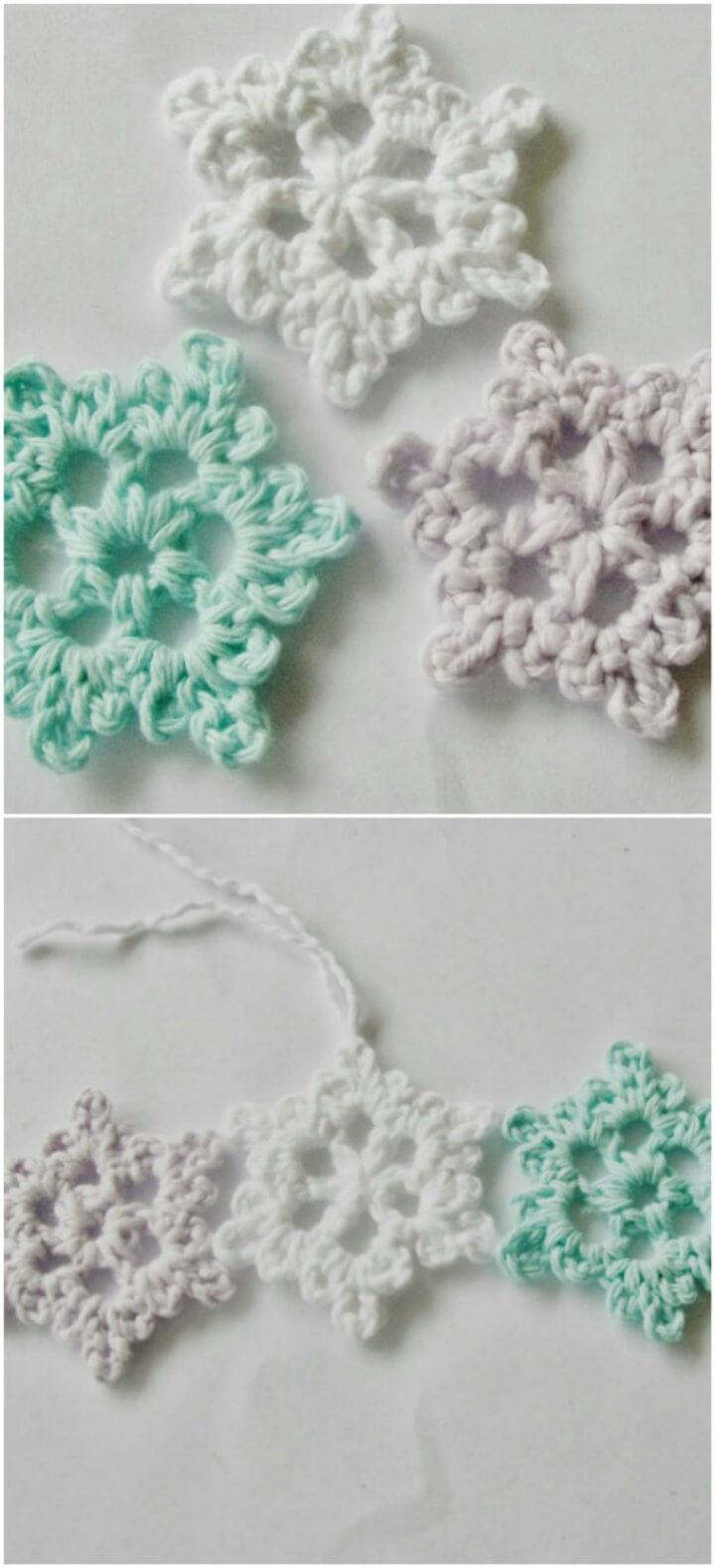 It would also be easy to crochet to some fancy ornaments for your home! You can crochet some miniature flowers and plushies in this case and the enchanting crochet stars or colorful snowflakes will also work great in this case! Have a look at these crochet snowflakes that are adorable and are super quick to crochet! Duplicate these snowflakes with the help of free pattern provided here flowergirlcottage
Free Crochet Hand Warmers Pattern: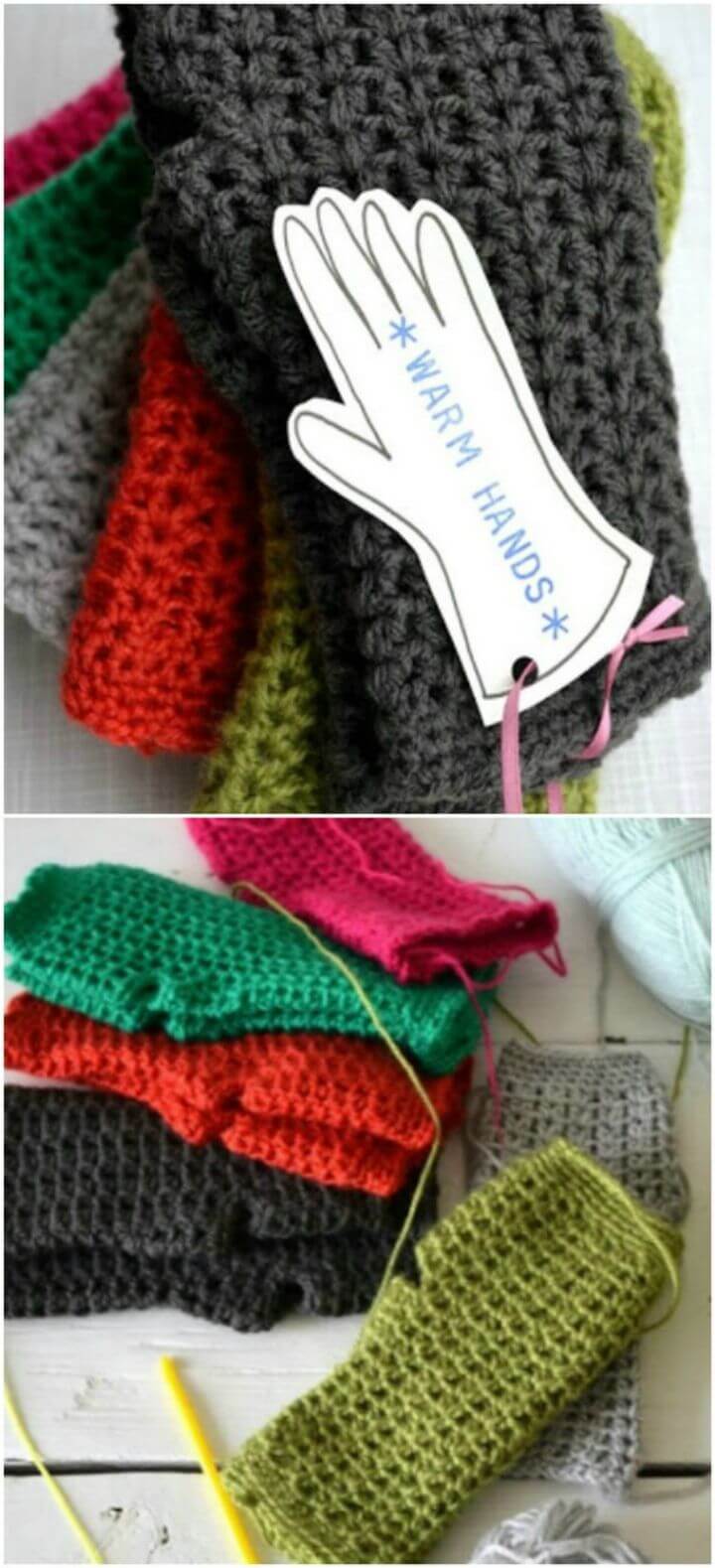 If your hands are open to cold then it may also cause trembling to your whole body! So, to get nicely winter protected in dead of cold you should also use the hand warmers! If you like to bring coziness to your hands in a style then you can go with these crochet hand warmers that are colorful and is simple like ABC to crochet! Grab the full free pattern and visual guide from here blogspot
How To Make Your Own Multi – Colored Crocheted Oval Rug: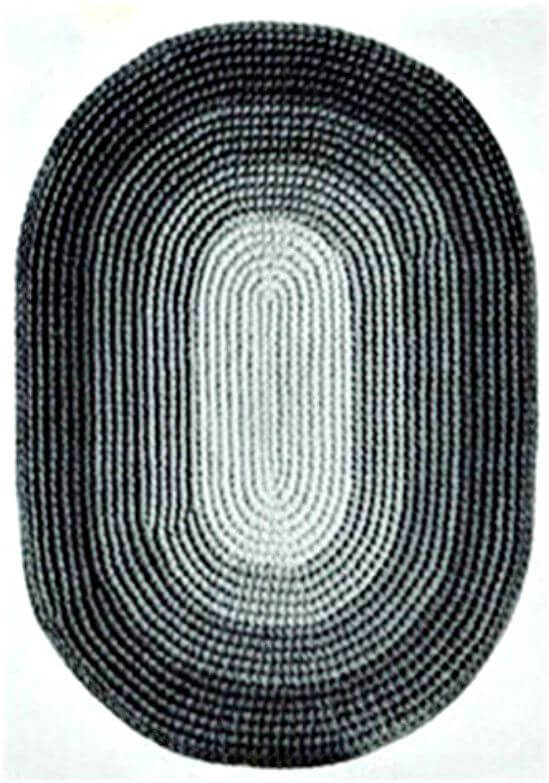 Know only to crochet single or double stitch? You can still be able to crochet some fab home accessories like this fantastic oval rug, a smart and intelligent piece of crochet work that only need the basic crochet skills to be in your hands! Just go with your own favorite yarn colors and stitches and duplicate this rug for enchanting first impressions of your home! Grab the full free pattern and step-by-step visual instructions from here twilightwoods
Free Crochet Owl Eye Mask Pattern: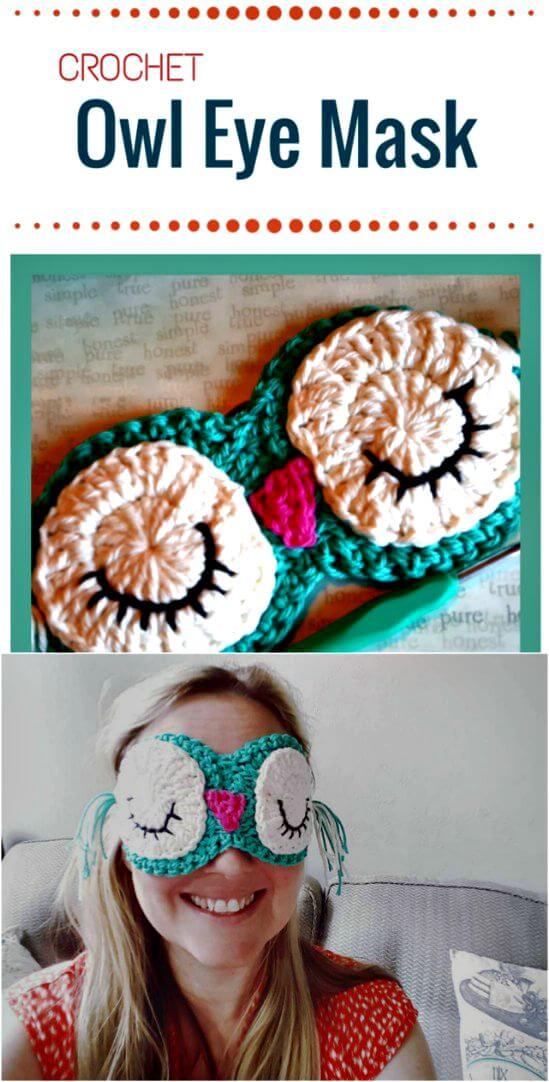 Sleeping eye masks are fun to wear especially if they come with some fun shapes! You can crochet some personal favorite eye masks at home just by using your basic skills and favorite yarn colors! A great example here is this owl eye mask that is precious and will definitely go lovely to all kids and to all owl fans in your home! Another cute and easy crochet pattern! Further project details and free crochet pattern here goodstuffmama
Free Crochet Fruit Coasters Pattern: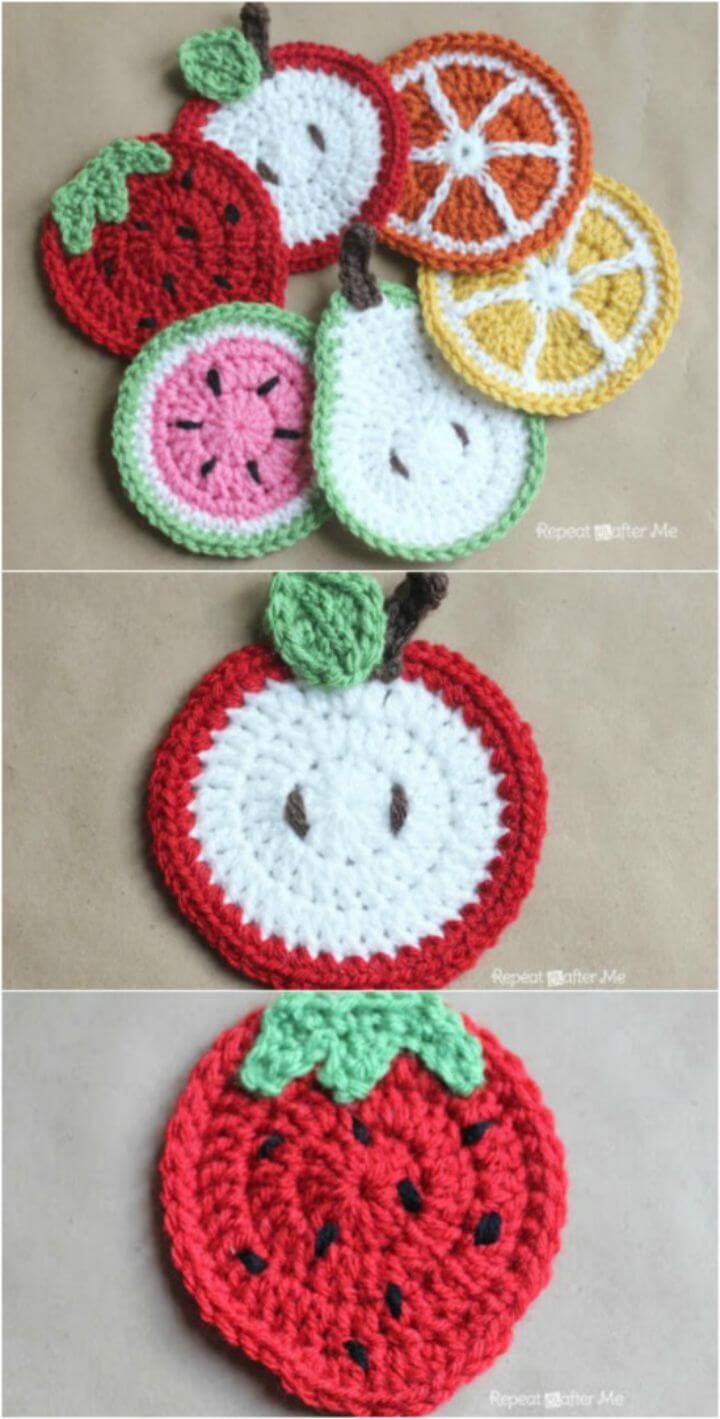 Beverage spills on your elegant furniture surfaces are always annoying as they may cause serious damage! Using coasters can be the best solution to avoid causing further damage to your furniture! Your crocheting skills can also help you in this case, crochet beautiful coasters that will soak all beverage spills beautifully! However if you want to do in a style then these fruit coasters will just rock! Another fun crochet project that require an easy skill level! Get the full free pattern and tutorial from here repeatcrafterme
Easy Free Crochet Black Cat Pattern: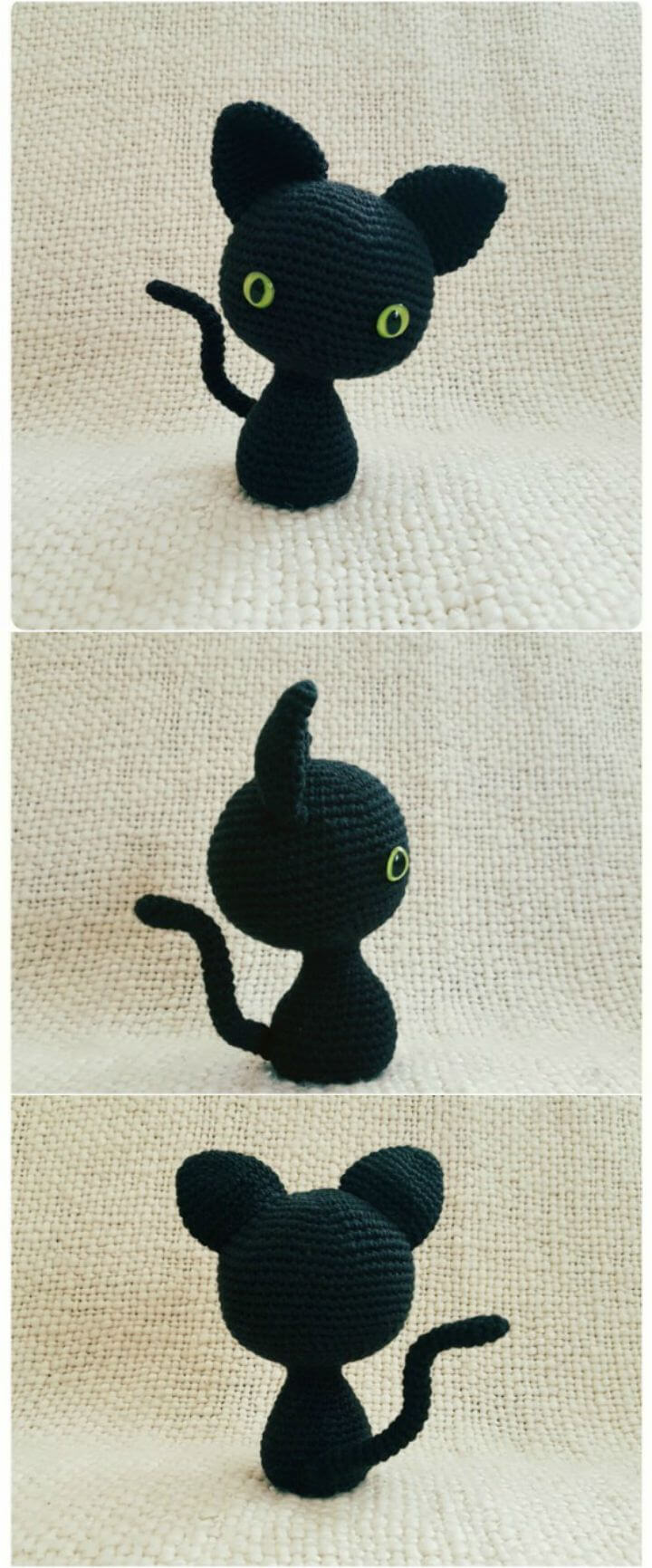 Black cats are mysterious they are considered the sign of bad luck or and also of good luck in various regions around the globe! Excluding these meanings from black cats, we can just look at them how beautiful the animal they are! So, how about crocheting some black cat plushies that will make a great toy gift too for the kids! Check out here a sample black cat amigurumi here that is cute and will be loved dearly by all the kids! Duplicate it now with the help of photo tutorial and free crochet pattern provided here blogspot
DIY Crochet Floor Pouf And Ottoman – Free Pattern: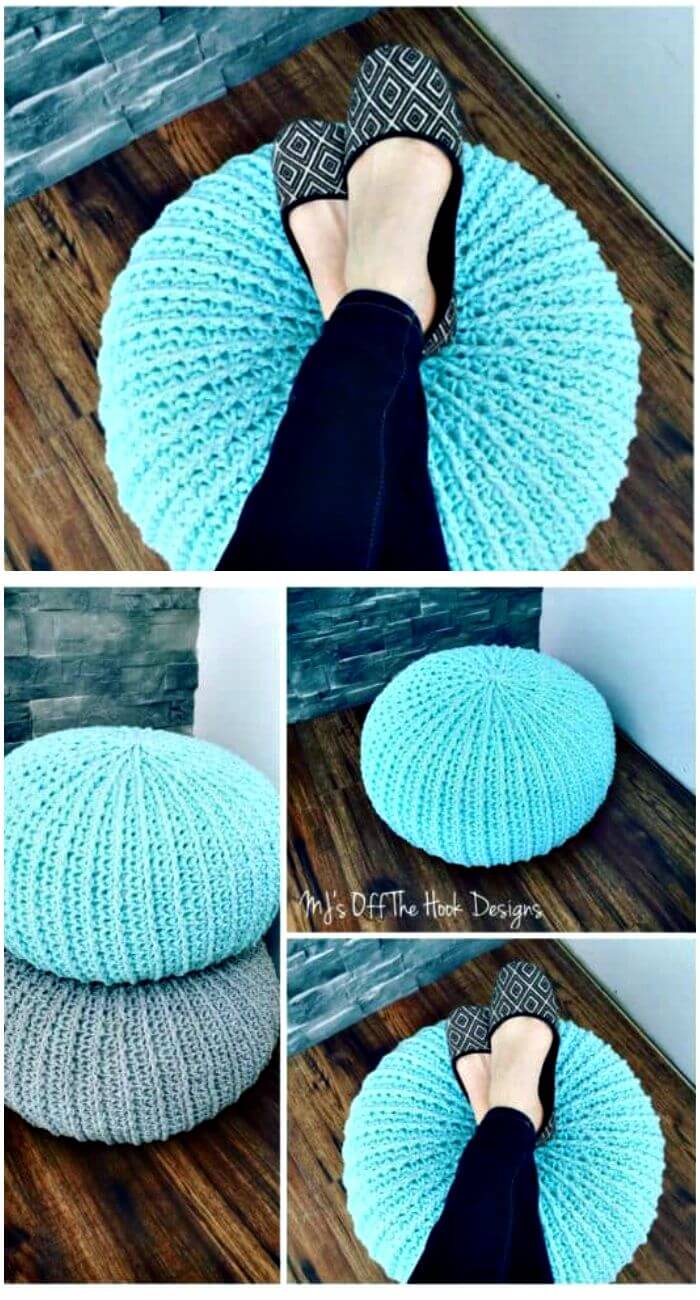 Your crochet skills no matter if they are minimal, can help you creating adorable pieces of furniture too! This may sound strange to you but is all true, just take a look at this precious floor pouf or ottoman that is just lovely and super beautiful and is also super soft to rest upon your feet! Want to clone this ottoman? Only easy crochet skill level would be required here! Grab the full free pattern and complete project details from here thewhoot
Free Crochet A Postage Stamp Pattern: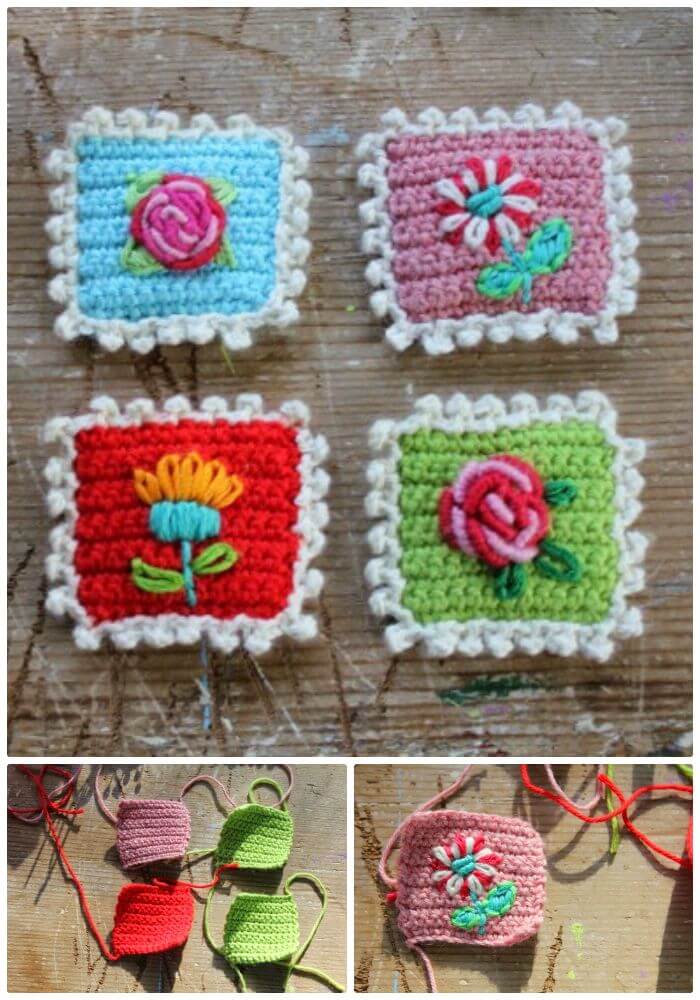 They may be many who are interested in collecting old stamps or coins! It can be a great hobby but if you are having some basic knowledge of art of crocheting you can add more fun to your hobby! You can crochet your favorite postage stamps that will look near to real but will be long lasting than the paper stamps! These stamps would also make a great gift for stamp lover! Full free pattern and complete project details here littlewoollie
Free Crochet Bag Pattern For Beginners: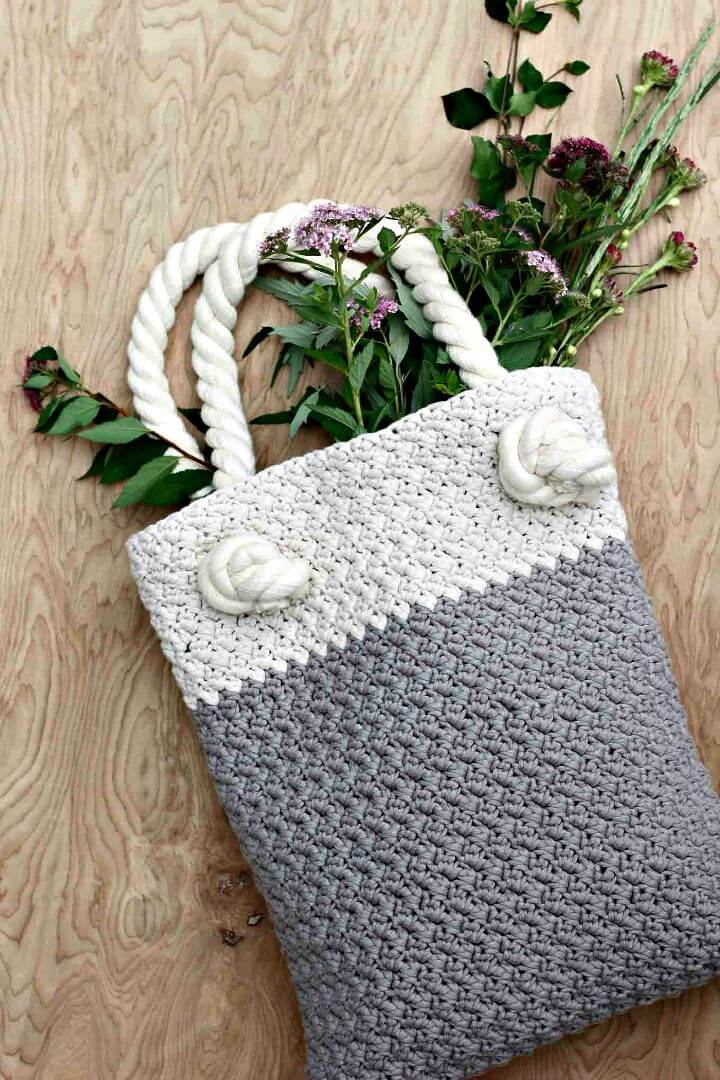 Here is something more interesting that beginner can crochet in their spare time! This is here the fantastic market tote that comes in double yarn color and hence having a fetching appeal! This handsome crochet bag would make a pleasing gift too for a shopping loving lady! Duplicate this precious crochet bag with the help of free pattern provided here makeanddocrew
How To Free Crochet Donuts Pattern: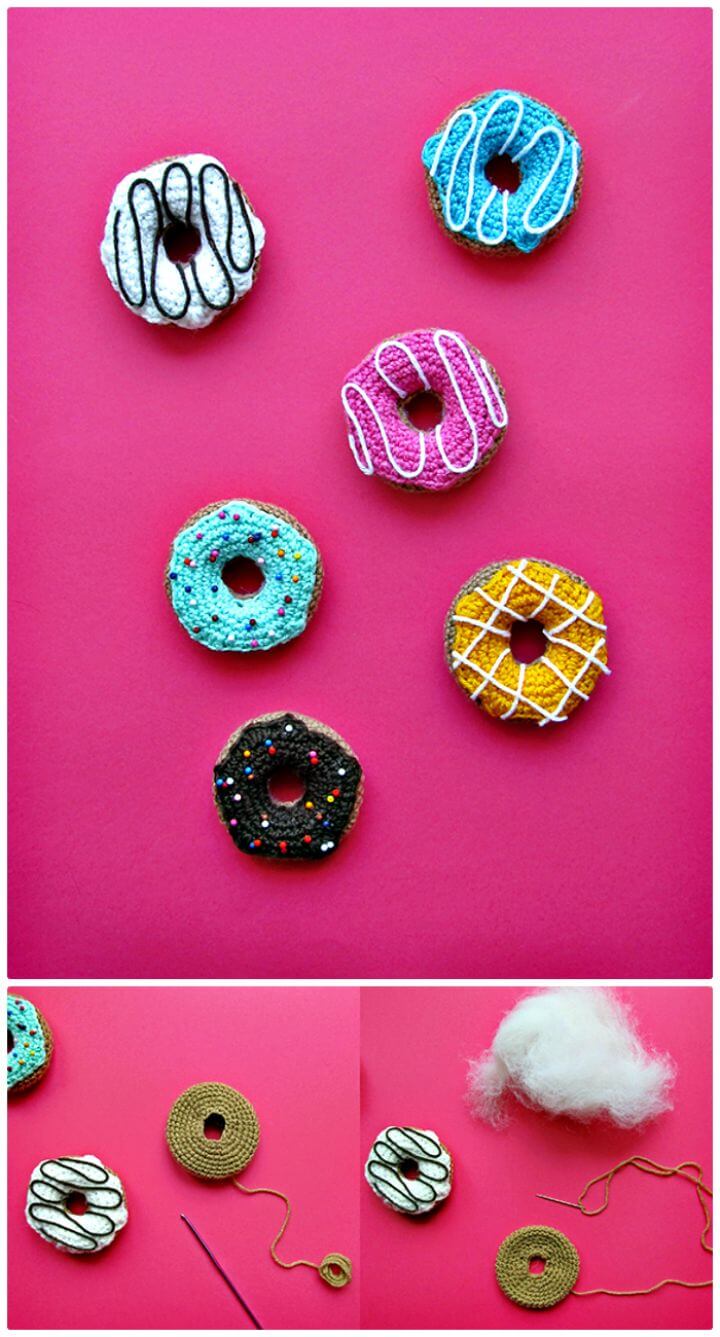 Get inspired of this another crochet faux food amigurumi that will make a delicious toy for the kids and an enchanting toy to add to kids play kitchen! These are the colorful donuts that are crochet so that they look near to real and hence are mouthwatering for sure! Find the full free crochet pattern here littlethingsblogged
Easy Free Crochet Camera Satchel Bag Pattern: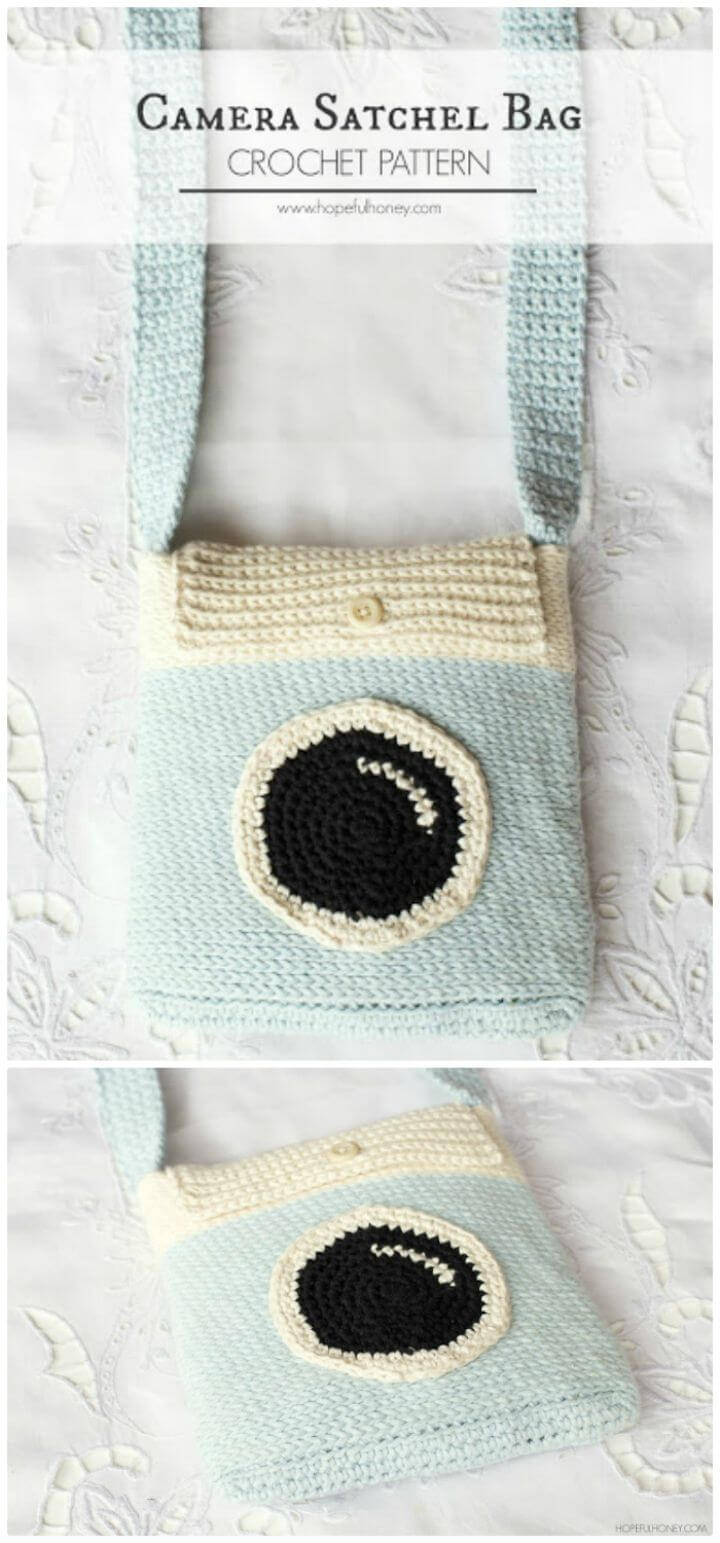 Check out here this one more fetching crochet pattern that can be duplicated easy with minimal crochet skills! This is here a fantastic camera satchel bag that would make a heart-winning for a friend having eager interest in photography! This bags comes with a crocheted camera lens that will make it perfect to serve the purpose! Find the full free pattern with step-by-step guide here hopefulhoney
DIY Broomstick Lace Crochet Top Pattern: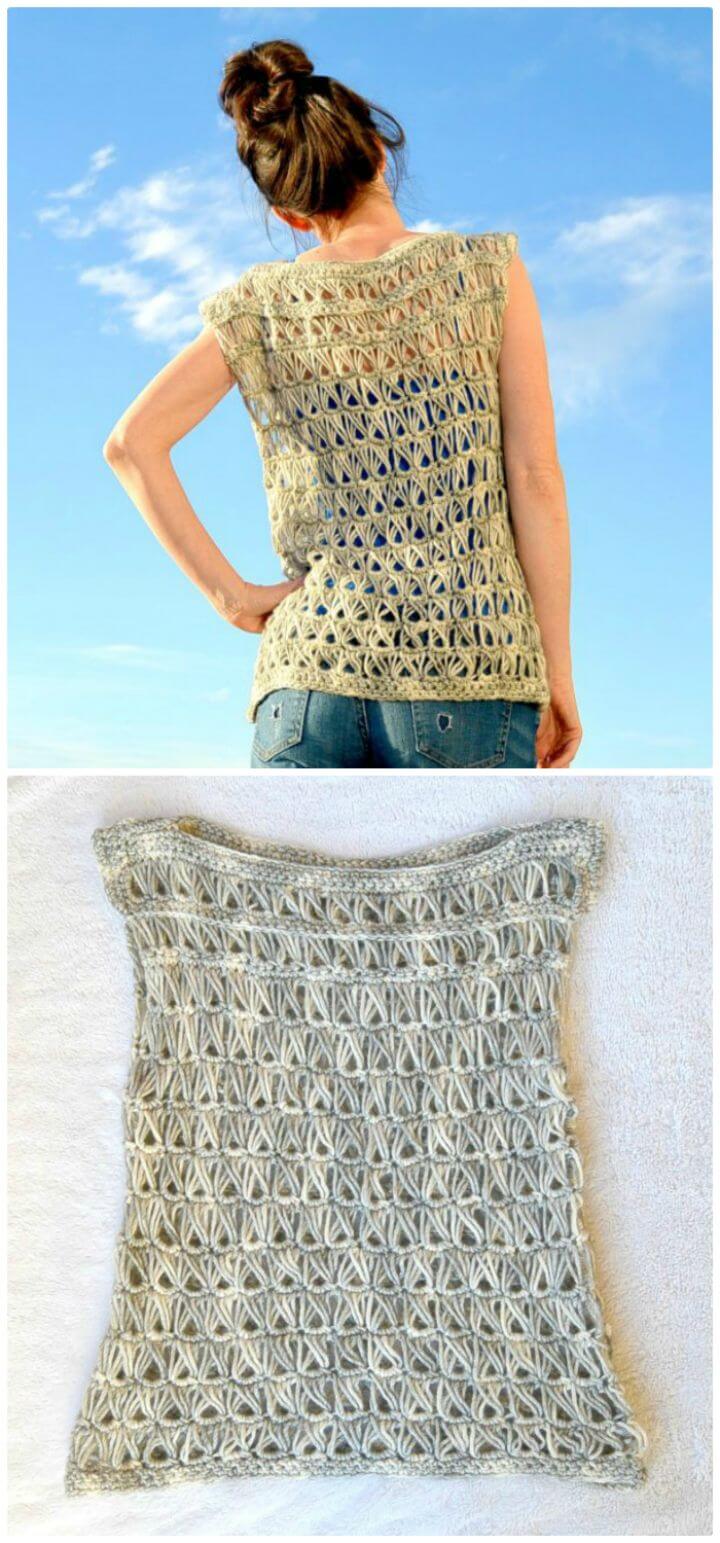 Crochet also the beautiful summer or spring fashion using your crochet hook! If you are worrying about the skill level then time to be happy as you only require the easy skill level for it! In this case, this broomstick lace top is just a perfect sample and is just a breezy top that every fashion enthusiast will like to have in her summer wardrobe! Get the full free pattern with visual instructions from here mamainastitch
Free Crochet Ombre Poncho Pattern: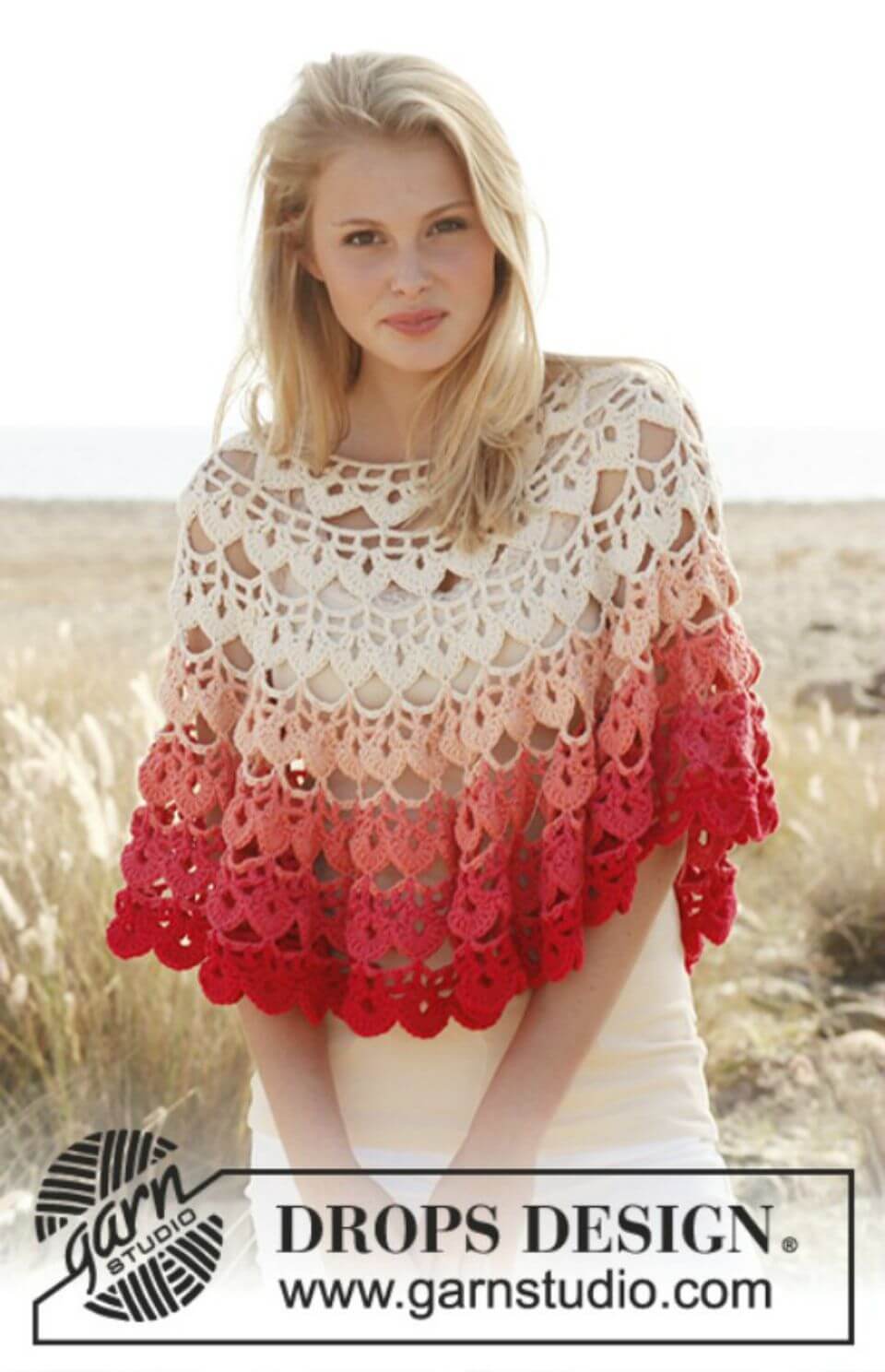 Willing to go for some precious style statements this winter or summer? You can do this beautifully if having some mind-blowing ponchos in your summer or winter clothing collection! Ponchos just come around your shoulders and just work great as a winter warmer! So, if you are willing to get some ponchos that will raise your fashion points also then check out here the perfect one the ombre crochet poncho, crocheted to amaze and inspire! Another beginner-friendly crochet pattern to copy! Complete free pattern and step-by-step visual instructions here garnstudio
Free Chunky Scarf With Leather Accent Pattern: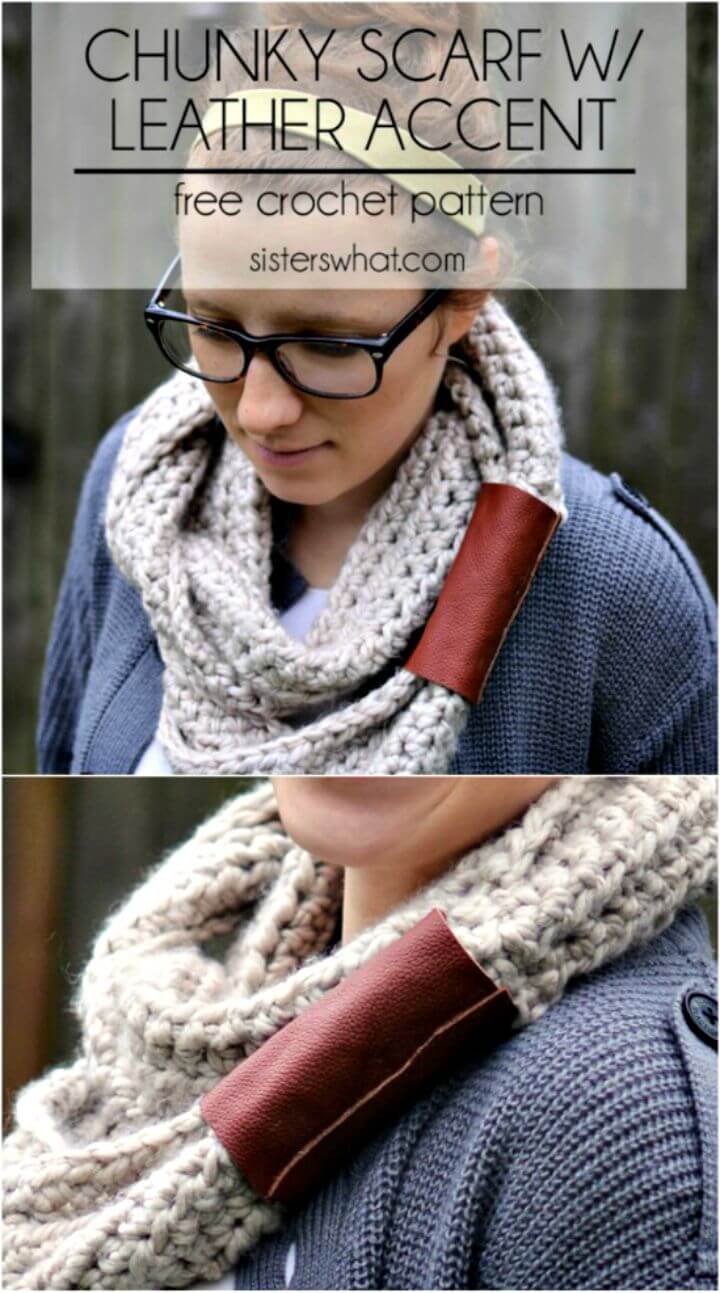 Are you a fashion-loving lady or teen? If yes then will definitely fall in love with this chunky fall scarf that is featuring here a neutral hue and is just a fetching winter warmer! The leather accent just doubles up its beauty and makes it brilliantly eye-catching! Duplicate this beautiful crochet scarf for a friend for your winter fashion wardrobe! Grab the full free tutorial and visual guides from here sisterswhat
DIY Tapered Granite Stitch Free Crochet Scarf Pattern With Pompoms: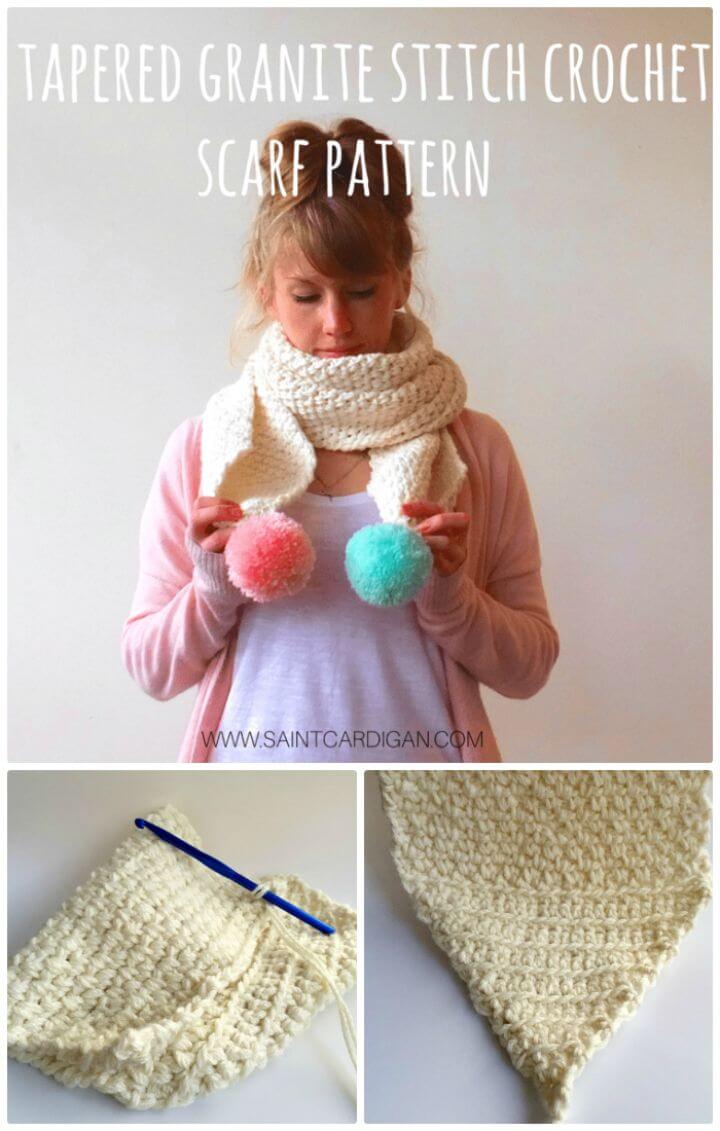 Create a brilliant cute personality of you this winter by wearing this very beautiful scarf that features a neutral hue and is damn beautiful! This scarf has been crocheted using granite stitch that is come in handy to beginner crocheted what makes the scarf beautiful are the tapered edges! The edges end up with colorful pom-poms that double up its beautiful! Further project details and step-by-step instructions here saintcardigan
Free Crochet Baby Bunny Hat Pattern: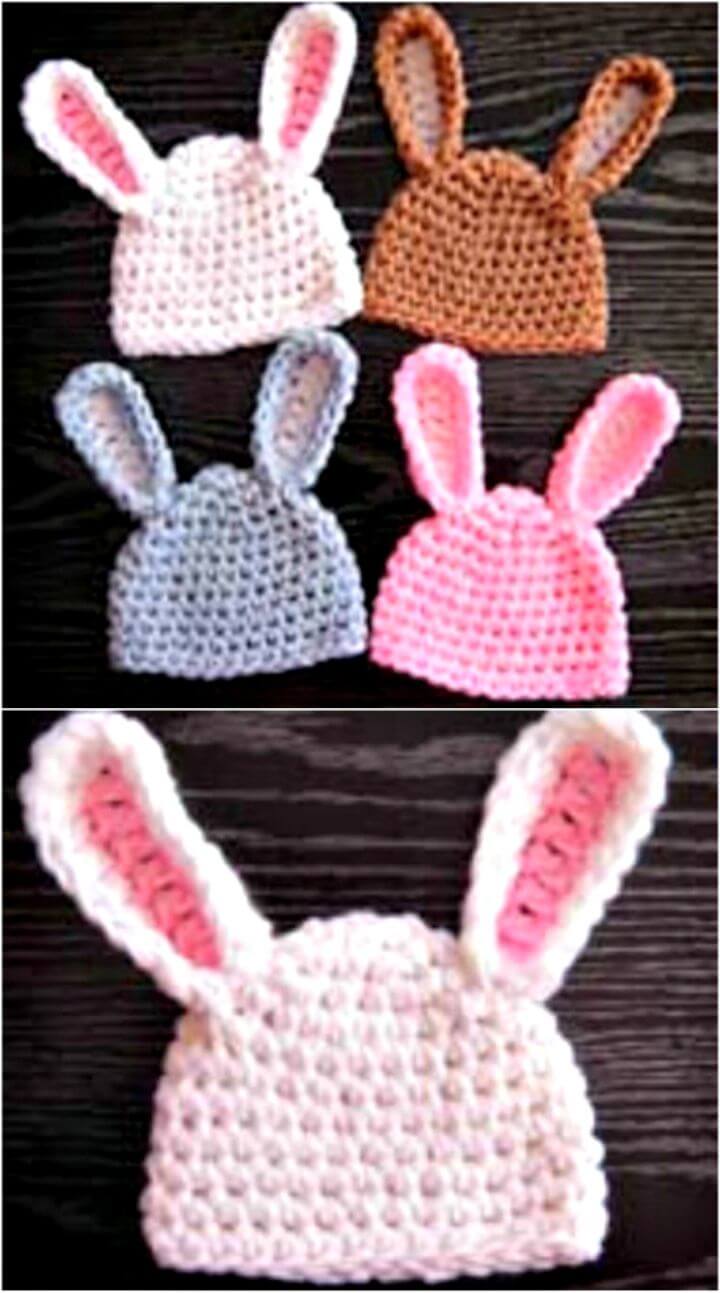 Willing to make your newborn baby look double cute while going for his first photo shoot? The only prop that will work great to do this would be this very beautiful crochet bunny hat, will instantly transform your baby into an adorable bunny! This crochet bunny hat is just pretty easy to crochet also! Grab the full free pattern and visual guide from here beginner
DIY Beginner Free Crochet Market Bag Pattern: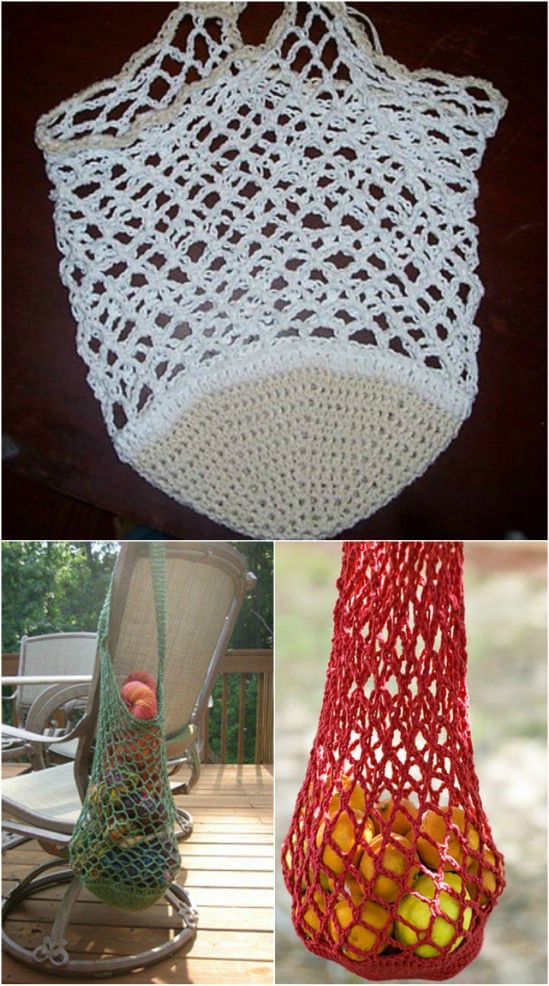 Shopping of vegetables and fruits could be a tiresome task as you have to carry a lot of weight with you while coming back from market to home! However, you can easily handle the weight if you are having a market tote or bag! Just in example if you are not having a beautiful one you can simply clone this beautiful given one with your hook that is super airy but lasting longer! An easy-to-crochet market bag! Further project details and full free pattern here ravelry
Easy Free Crocheted Wash Cloths Pattern: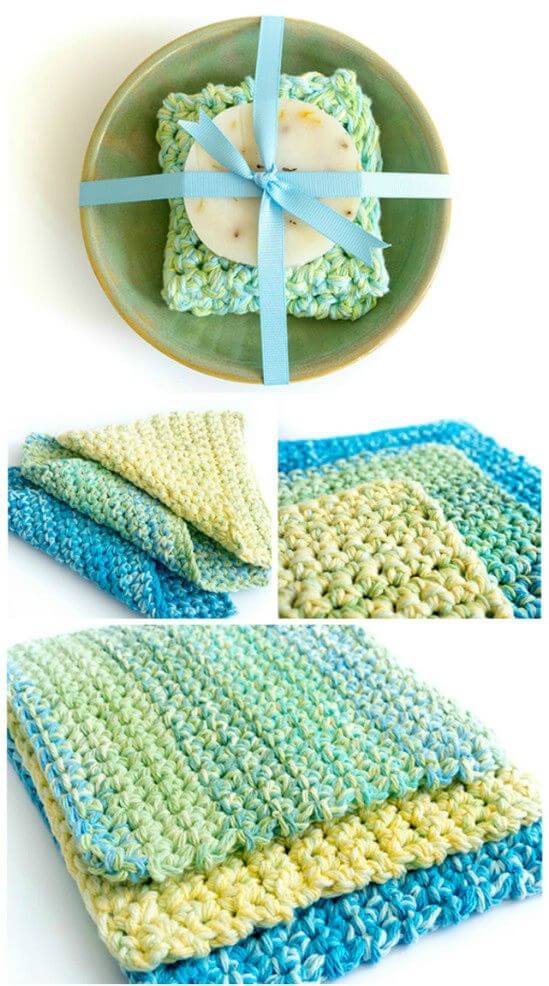 You can facilitate yourself while doing the home tasks using your crochet hook! A great idea here is to crochet some beautiful washcloths that will help you in washing the kitchen utensils nicely and easily! Crochet also a set of colorful wash clothes to give as a gift to as a housewarming gift to a new homeowner! Check out here the sample washcloths that are beautiful and easy to crochet at the same time! Grab the full free crochet pattern from here dabblesandbabbles
DIY Cozy Cocoon Crocheted Cardigan Pattern: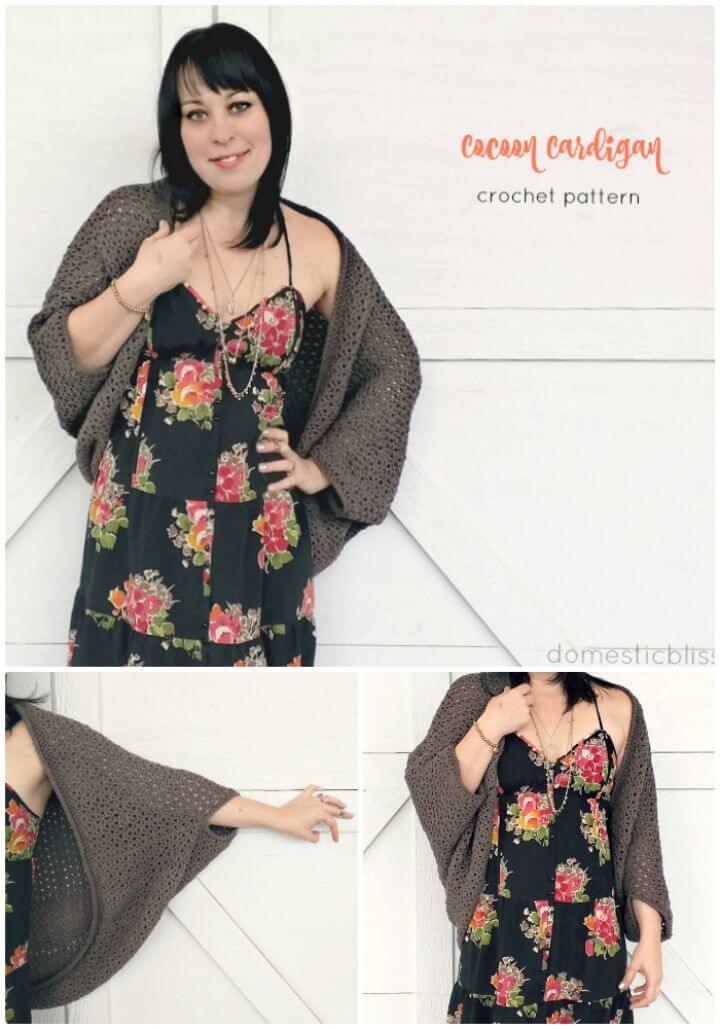 Intending to crochet some beautiful winter fashion accessories and clothing to add to your winter wardrobe? Here is a beautiful cozy cocoon cardigan that will be a must-have item in this regard! This cardigan will just be around the shoulder and torso a little like a cozy winter warmer and will also work great as a summer top! Experiment this beginner friendly crochet cardigan with your own favorite yarn colors! Find the complete free tutorial and step-by-step instructions from here domesticbliss2
 Super Easy Free Crocheted Cat Toy Pattern: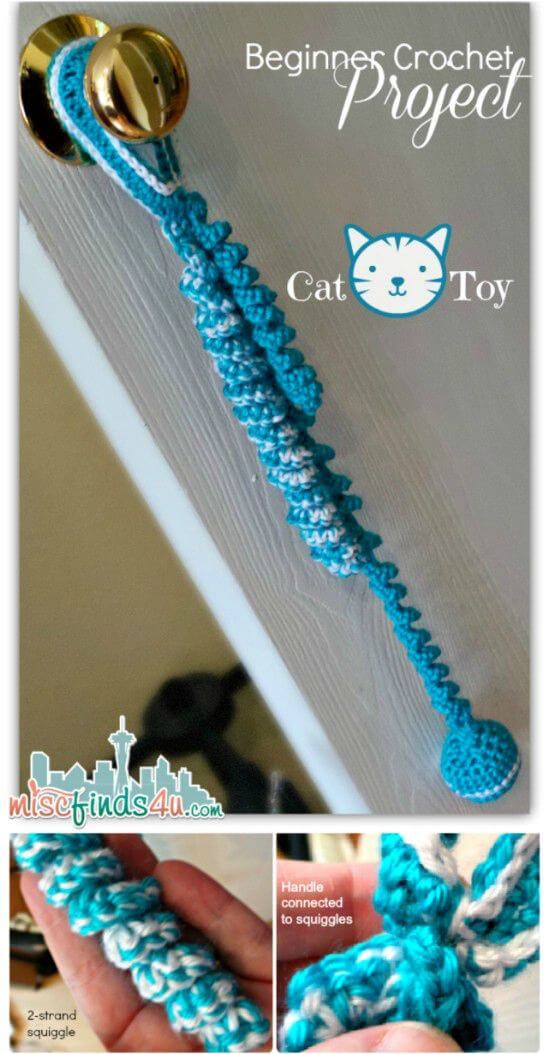 When you just keep some beautiful pets it is also up to you to take good care of them! So what you have done special to maintain the better physical health of your cats? This demands for some beautiful play stations like this given crocheted cat toy that is just fabulous one! This is here another great crochet pattern that all pet lovers can crochet in their free time! Find the complete free pattern and visual instructions from here babytoboomer
Free Crochet Dust Mop Cover Pattern: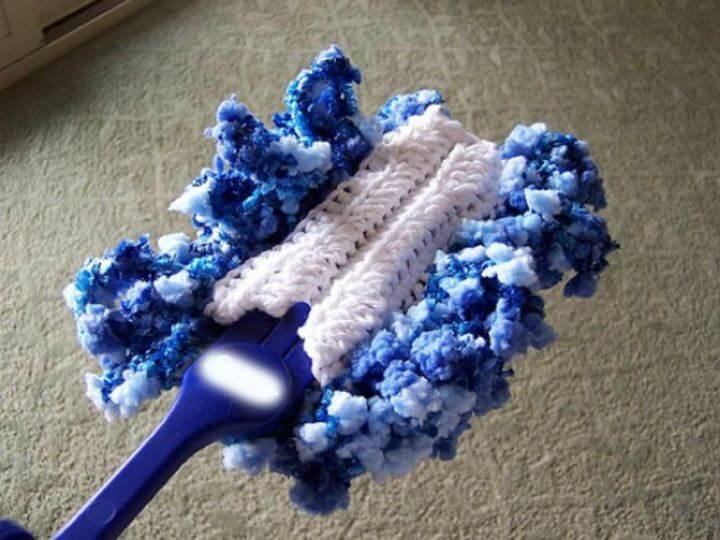 A dust mop helps to remove the dust from your interior and is a brilliant tool in this case but the question is how to keep the dust mop dust-free? This can easily be done by using a cover the mop and how amazing would be to crochet a custom mop cover at home! Check out here a fab sample that is truly brilliant! Find the complete free pattern and step-by-step visual guide here ravelry
How To Free Crochet A Bath Rug With Rope Pattern: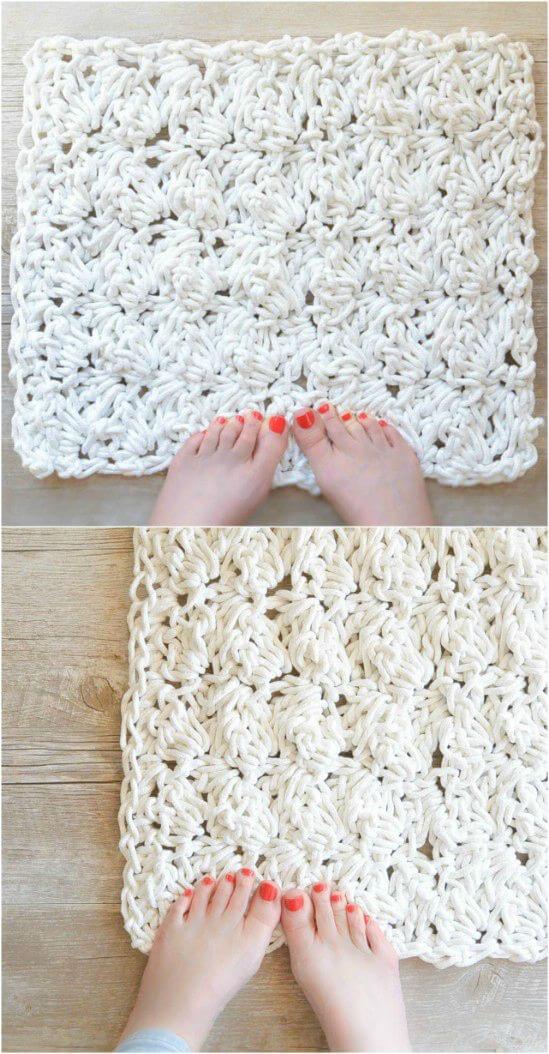 Bathroom mats are a must-have item to keep your bathroom environments look clean and beautiful! So intending to buy some great mats for your bathroom? Just skip it the expensive mat purchases from now and use your hook to beautiful crochet ones at home just like this given white sample of bath mat that is chunky and lovely at the same time! Another crochet beginner-friendly pattern and a gift-worthy pattern! Complete free guides and visual instructions here mamainastitch
Free Crochet Fish Scrubbie Wash Cloths Pattern: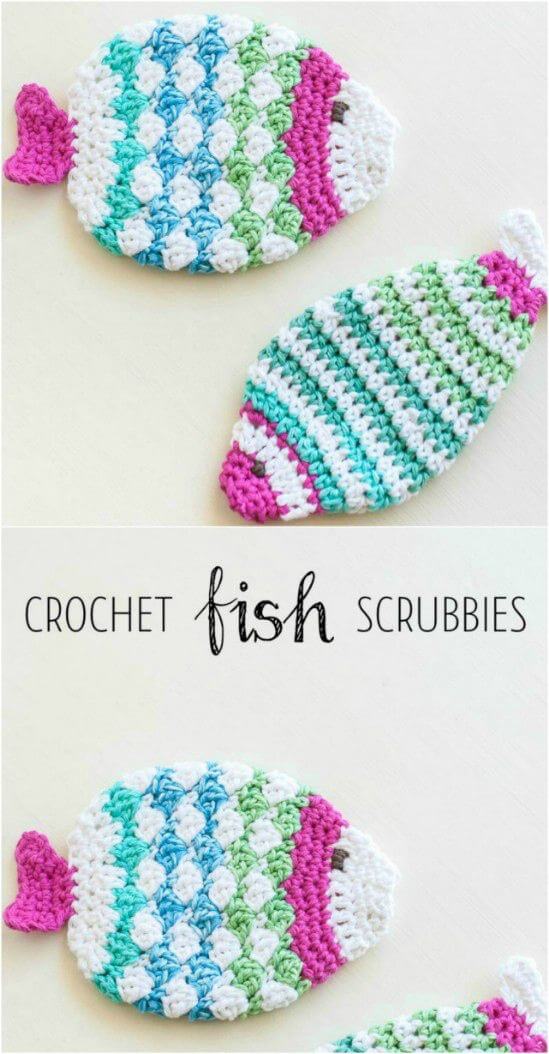 Washcloths are always to lend you a helping hand whitewashing the kitchen utensils and other items of interest! So are you having some beautiful wash clones that will be a delight to view in hands? If not yet then try crocheting these scrubbing washcloths that come in a fish shape and are super beautiful due to brilliant design texture! Go with your yarn colors and crochet these washcloths now! Grab the full free pattern and visual guides from here 1dogwoof
Free Swiffer Wet Mop Cover Pattern: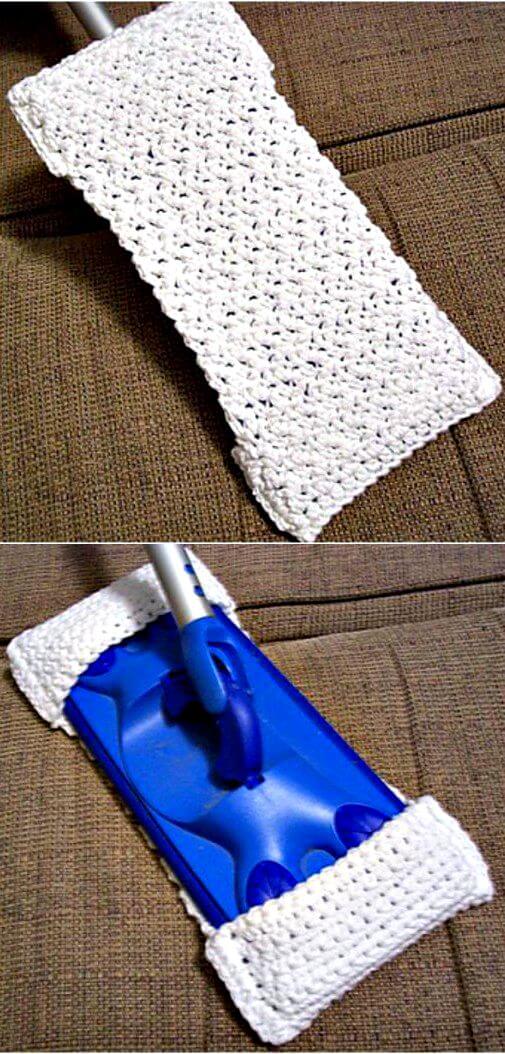 This is here another great mop cover that will help to keep the mop dust free after its one time use! This is here the white Swiffer wet mop cover that is beautiful and enchanting as well and is just a piece of cake to crochet! This is here another fantastic crochet pattern that all beginner can try out to give their skills a boost! Full free pattern and visual tutorial here ravelry
How To Crochet Baby Owl Free Pattern: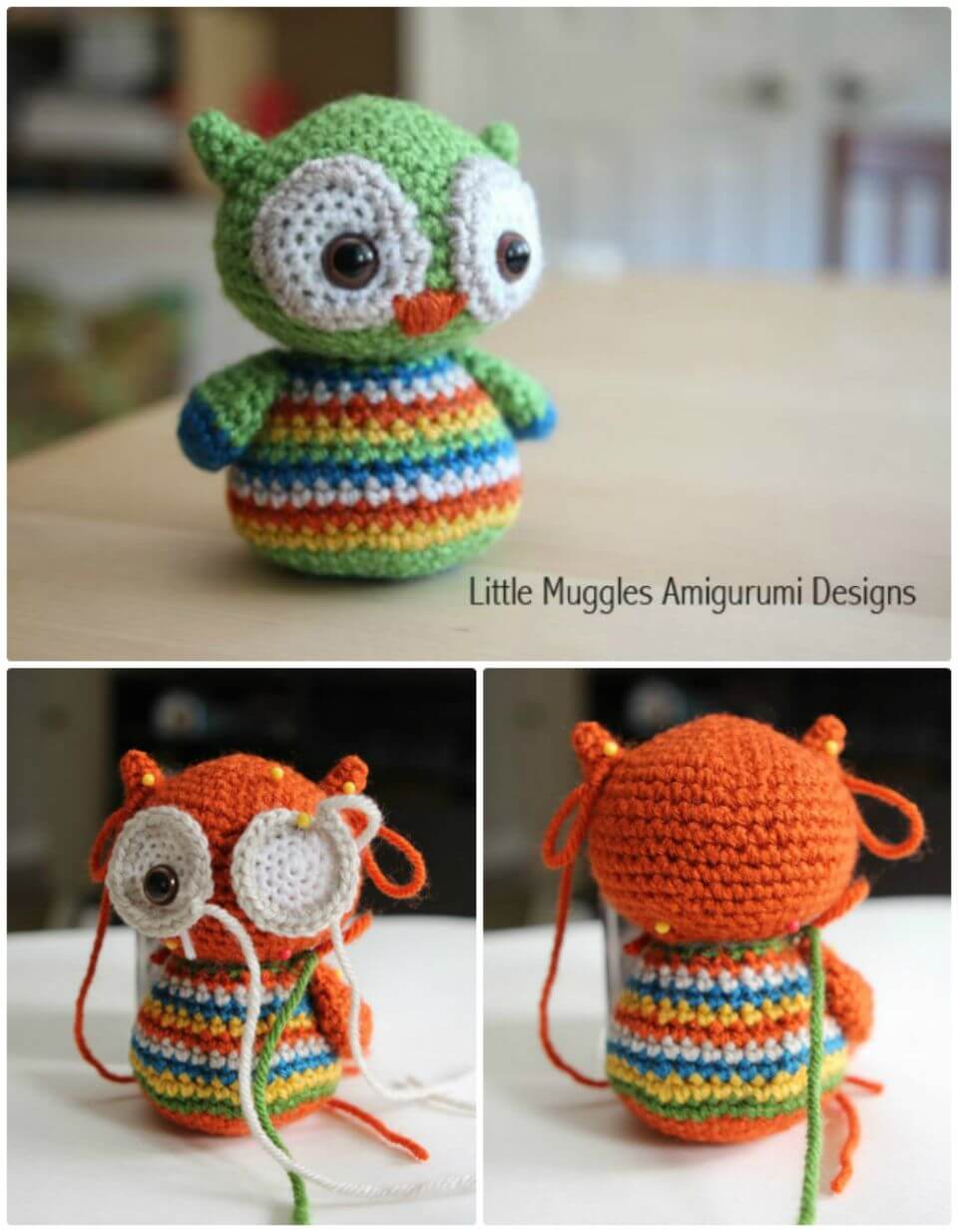 It always makes the kids happier when you give some beautiful toys! If the toys are having shapes inspired by their favorite animals, birds or characters, then they become just a favorite gift for the kids! A perfect sample, in this case, is this baby owl amigurumi that is super soft to hold in hands and is something you can give to your baby to play with and cuddle with! Want to clone this crochet owl amigurumi? Find the complete free pattern and visual instructions from here littlemuggles
Free Crochet Cactus Pincushion Pattern: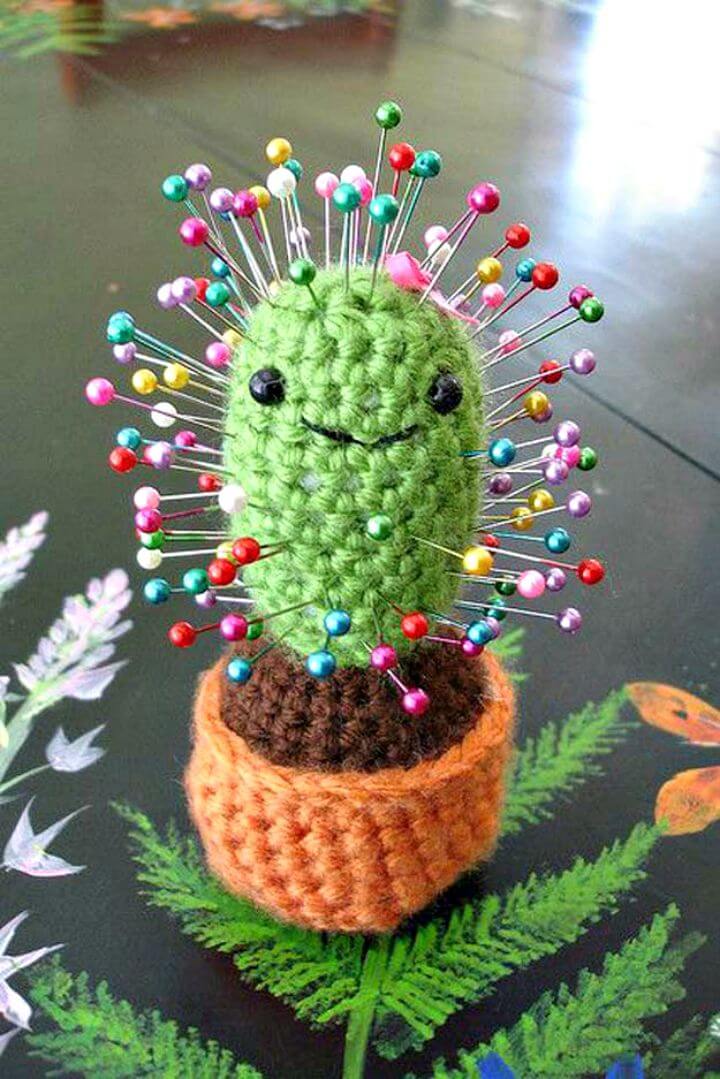 A pincushion is a must-have item for a craft room or crafting table and also for a desktop! So, how about crocheting a fun-shaped cactus that will make a home décor too along with serving the purpose very well! Just check out this cactus pincushion that is another smart and great crochet project that requires only the easy skill level! Check out the free crochet pattern and step-by-step visual guide from here ravelry
Free Crochet Heart Shaped Storage Baskets Pattern: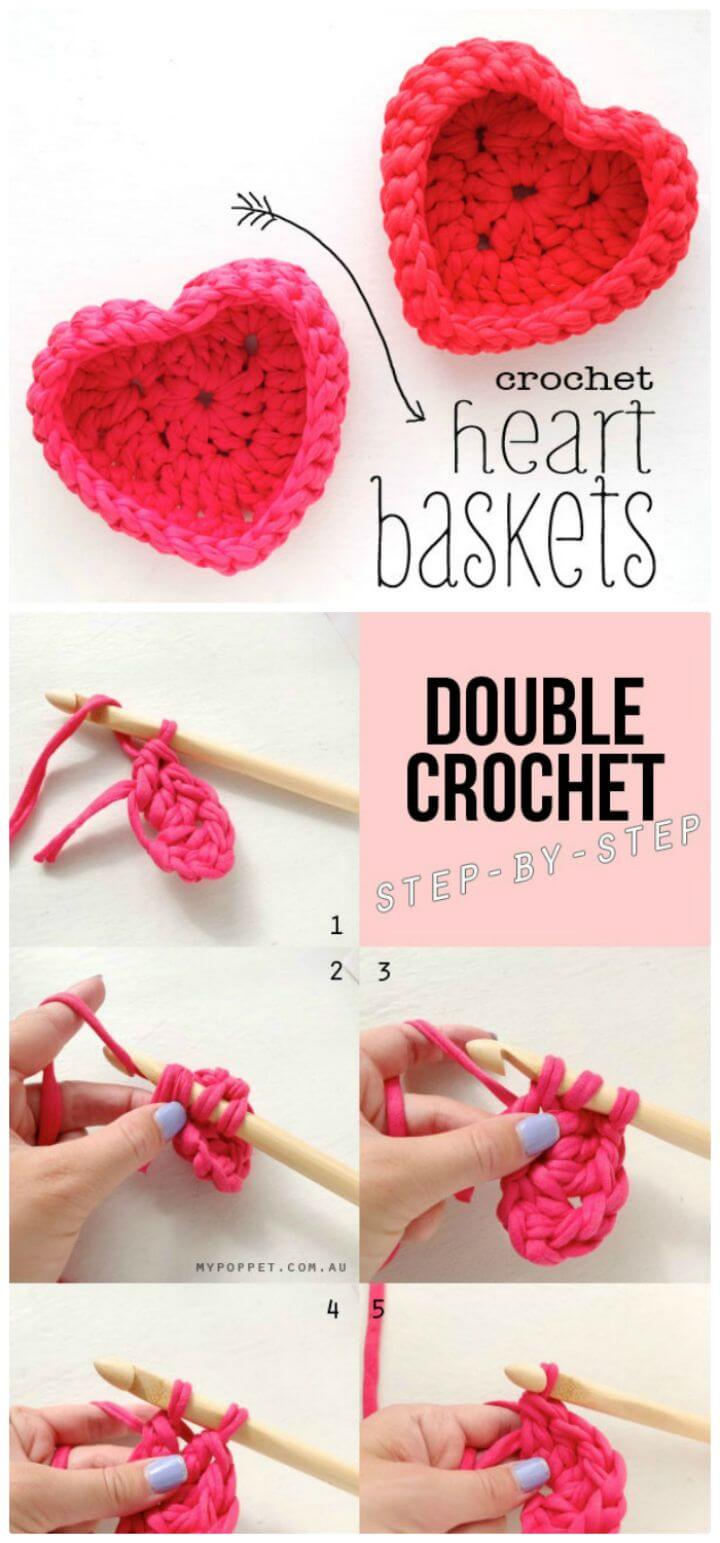 Want to give some lovely statements to your desktop or craft room? Just use these heart-shaped crochet storage baskets that would be a delight to view and a big pleasure to hold in hands! They would also make a lovely gift for a home lover! This would also be a great idea for a Valentine's Day gift for sure! Intending to duplicate these heart yarn baskets that are perfect to hold ribbon rolls, washi tapes, and other craft room supplies? Grab the full free pattern and visual guide from here mypoppet
How To Treble Free Crochet Zip Pouch Pattern:
Crocheting is a great art in which you can do an amazing respective project without acquiring the full experience; the beginner skills would also be enough to crochet your favorite items of interest beautifully! Get inspired of this precious zip pouch that is a super easy crochet pattern here and would be a delight to crochet at home! It would also make a perfect gift for a style loving lady! Find the complete free crochet pattern and further project details here deliacreates
DIY Manhattan Market Tote – Crochet Pattern:

This is here another great crochet market tote that is lovely and comes with gorgeous design texture! This is going to be another great pattern for the beginner; this is here a Manhattan market tote that comes in alluring white hue and comes with a tassel for a beautiful look! Vary the size of your hook and yarn weights to vary the size and also vary the yarn colors for a beautiful appeal! Grab the full free tutorial and free crochet pattern from here mamainastitch
DIY Ivory Ocean Beanie – Free Crochet Pattern & Yarn Review: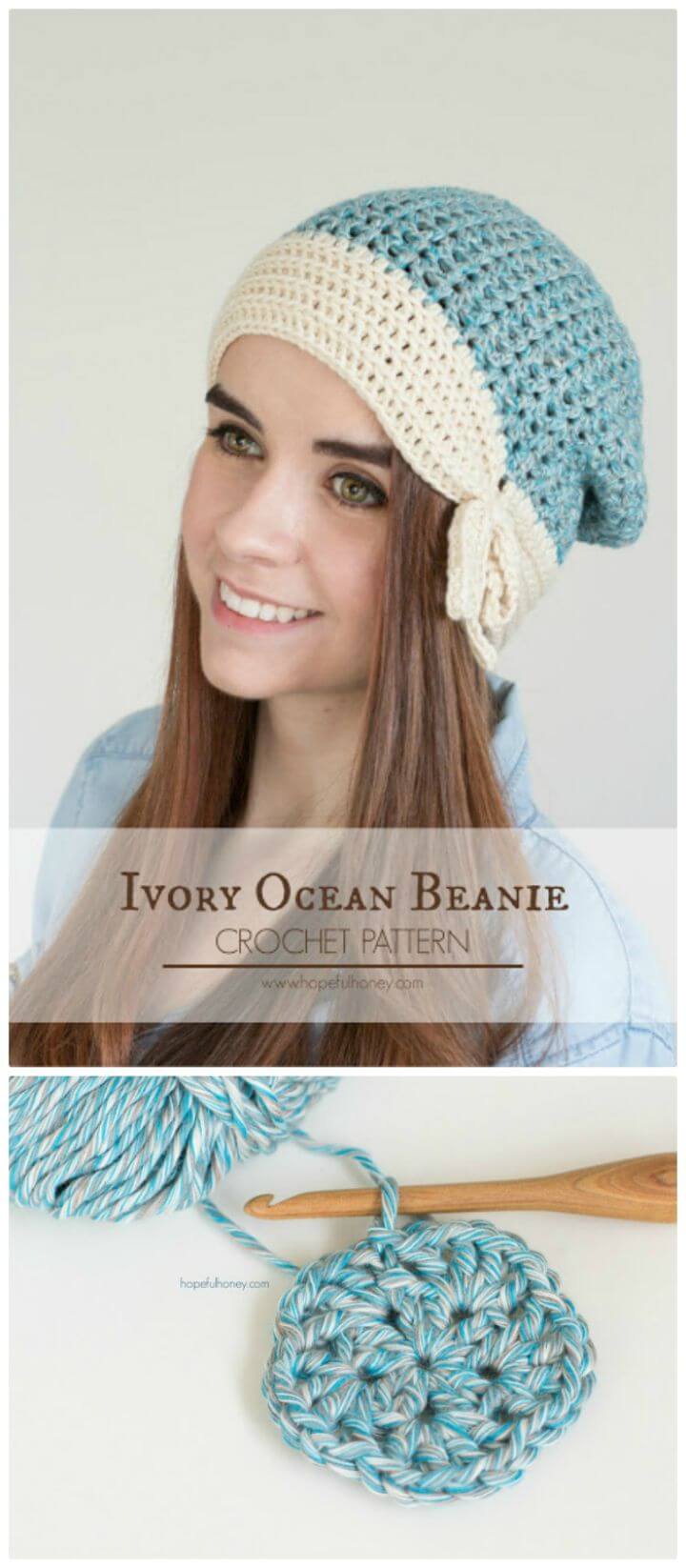 Willing to style yourself up this winter uniquely? A hat is always something that can help to create a beautiful look at your personality and here is the perfect one hat that will go favorite with any style loving teen! This is here a brilliant ocean beanie crocheted using aqua yarn, and it comes with the brilliant white border that doubles up its beauty! So, do add this precious beanie to your winter wardrobe and it will also make a beautiful gift too! Find the complete free pattern and step-by-step visual guide here hopefulhoney
Free Crochet Puppy Love Heart Slouchy Pattern: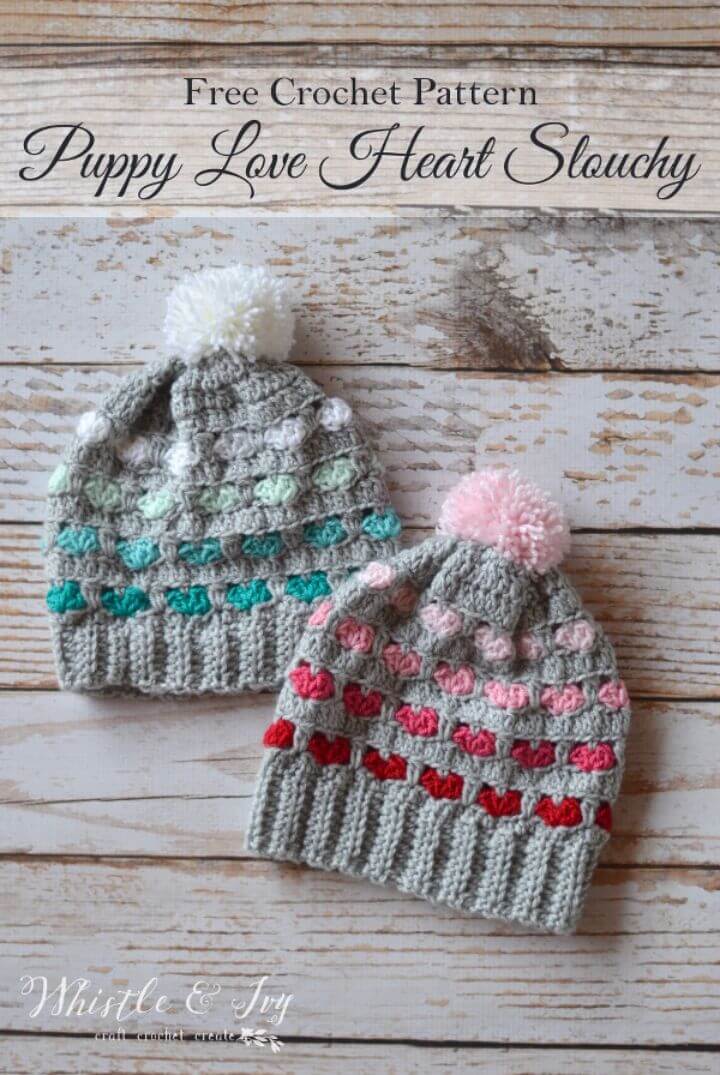 Sorting out some beautiful and perfect hats to crochet at home for a friend or baby? Here is a perfect one that you can try out in your spare time as a perfect winter present! Get your hook inspired of this puppy love heart slouchy hat that is here another beginner crochet pattern! The color mini hearts just give amazing visual details to entire hat along with a love expression! Find the complete free pattern here whistleandivy
Free Crochet Black Cat Slouch Hat Pattern: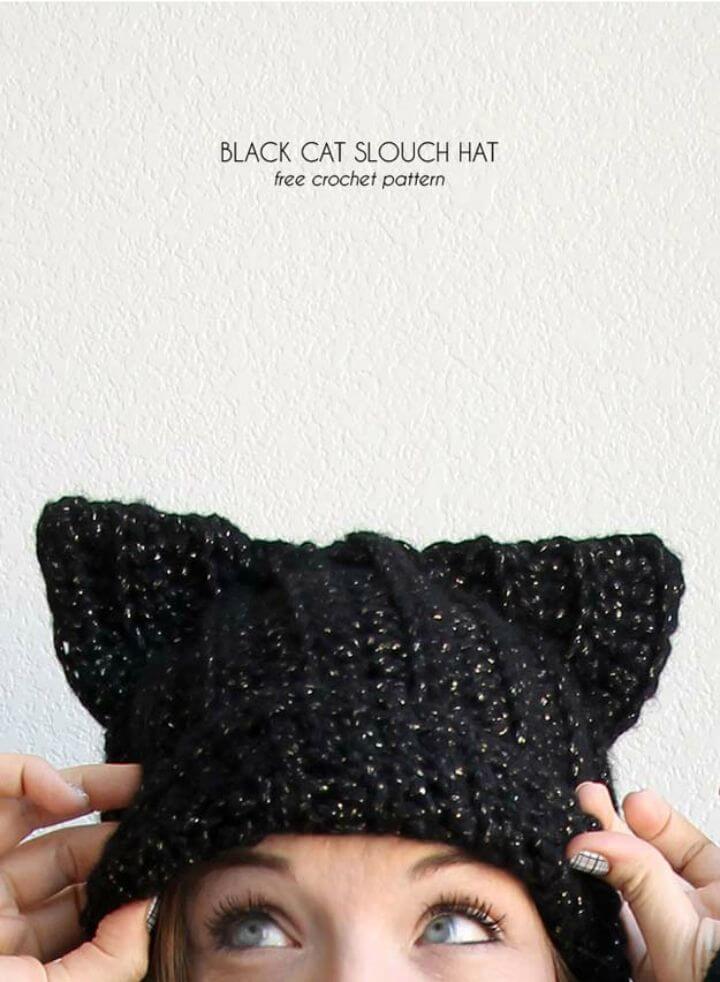 Here is how you can raise the fun of your kids using your crochet hook and a little bit of creativity! Just crochet some kids-friendly patterns that will go exciting to all the fun-loving kids! One awe-inspiring one is this black cat slouch hat that is precious and would make a great gift for sure! Whether you are intending to create a cute look of a toddler or just willing to make a teen girl look funky, this hat will just be rocking to go for either way you decided! Grab the full free crochet pattern from here persialou
Easy Free Crochet Beginner Mittens For All Pattern: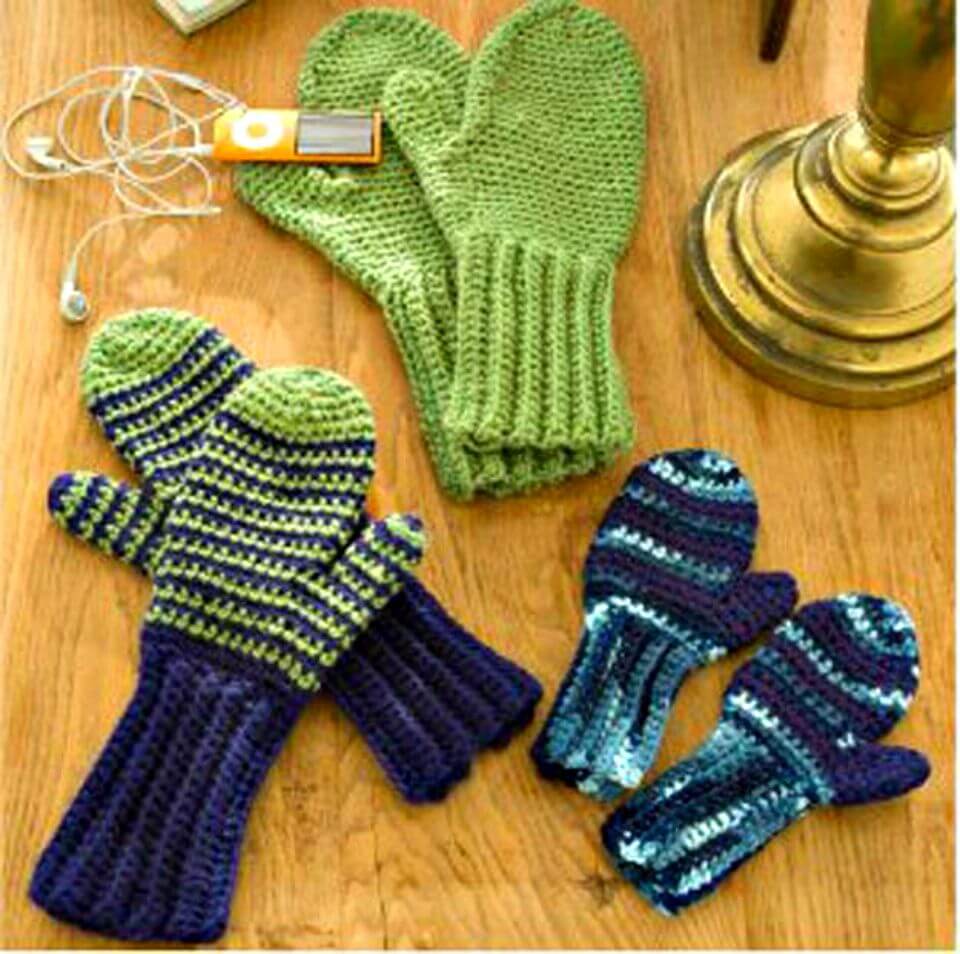 It is said that if your hands and feet are covered warm then rest of body will also feel warm and cozy in dead of cold! So, after wearing your favorite winter shoes you can head over to these crochet mittens that will not bring warmth to your hands only but also a little to your forearm without losing any fashion point! This is here another great beginner crochet pattern! Further project details and complete visual guide here favecrafts
Free Dainty Bow Crochet Arm Warmers Pattern: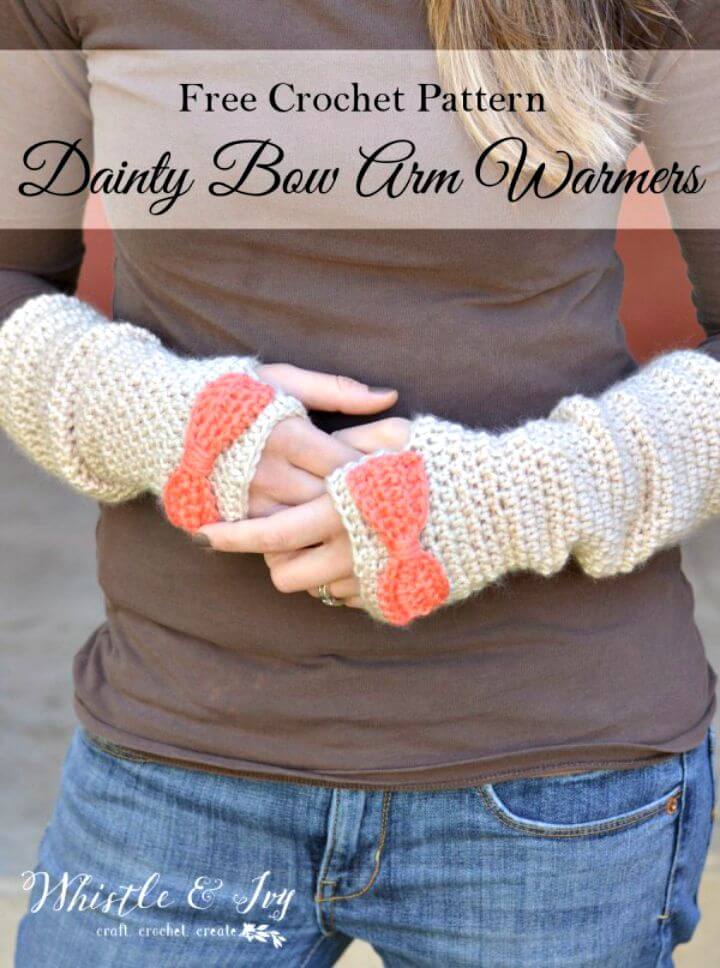 When the weather is extremely cold you tend to go multi-layer to bead the coldness! This brings the leg warmers and arm warmers into fashion and also the all other kinds of winter warmers! While talking about the winter warmers, the crochet medium is always great to get some perfect winter warmers like these precious crochet arm warmers! These arm warmers comes with an accent crocheted bow that make the design look extra lovely and eye-catching! Another easy crochet pattern for beginners! Complete free pattern and visual tutorial here whistleandivy
Free Crochet Children's Fox Mittens Pattern: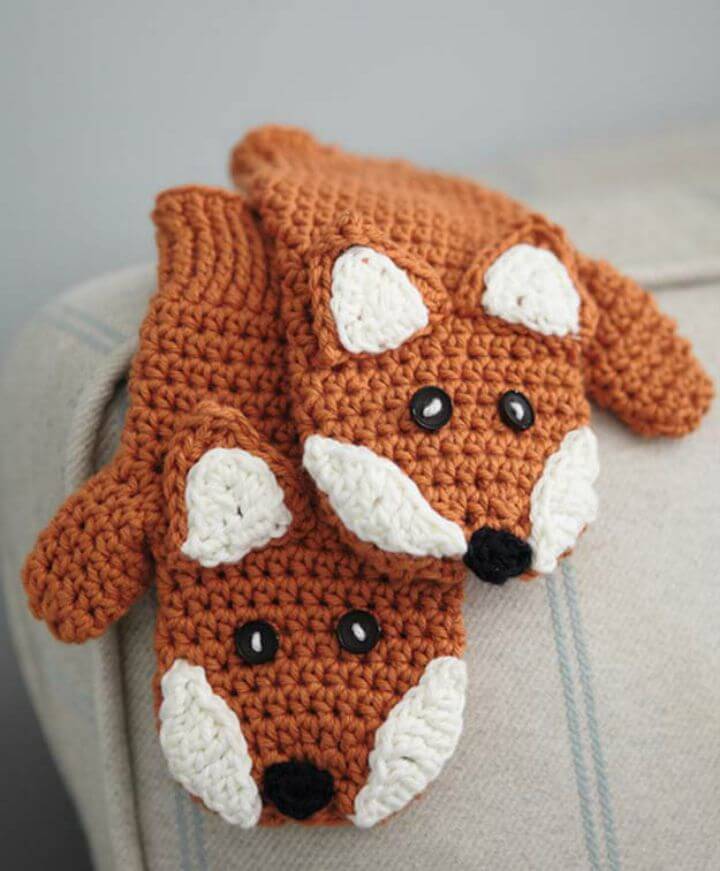 Kids just like the funky shapes of animals, cartoons, birds and various other things! So, when the mission to please the kids with some clothing gifts we just can't miss out the fun factor that come from these fun shapes! So, presenting here the fox mittens that would be the most favorite hand warmers to all kids who love animal inspired clothing or stuffed toys! These fox mittens would be something your kids will love to wear all the day long! These mittens are also easy to crochet, find the complete free pattern and visual instructions here craftfoxes
DIY Cozy Free Crochet Mittens Pattern:
Exposing your hands to cold can cause trembling to your entire body, so they should be perfect covered while doing some home-related tasks in dead of cold! So, wearing mittens would be a great idea  and idea would also work great for the kids who always need some hand warmers to feel cozy! So just crochet these cozy mittens, crocheted with bulky yarn weight and would be a delight wear! These mittens are also super easy to crochet even for a dedicated beginner! Find the complete free pattern and visual guide from here allaboutami
DIY Puff Stitch Fingerless Gloves – Free Crochet Pattern:
Love to go with puff stitch that gives a bouncy textures to your finally finished crochet patterns? So, here is another great pattern that is to crochet using the puff stitch, the precious blue fingerless gloves dignified with button accents! These fingerless gloves would bring warmth to your hands and forearms without causing any inconvenience and you will having your fingers free to work nicely! Further project details and complete visual guide here hopefulhoney
Free Crochet Snowfall Mittens Pattern: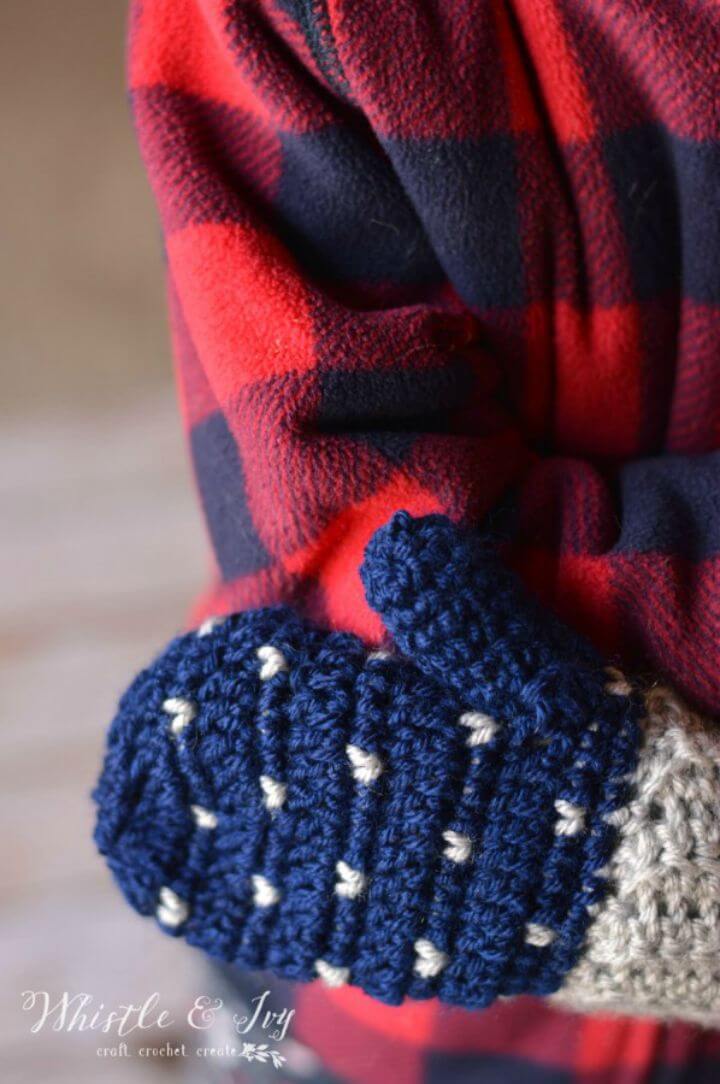 Need some perfect mittens to wear in fall or in deadly cold weather that will not make you lose any fashion points? If yes, then you can simply go with these snowfall mittens that are just unbeatable in coziness, design texture and appearance! The white and blue appeal will catch anybody's eyes and the little white yarn marks will mimic the fall snow! Another easy crochet pattern that beginners can try out! Get the full free pattern from here whistleandivy
Free Crochet Ups and Downs Slouchy Beanie Pattern: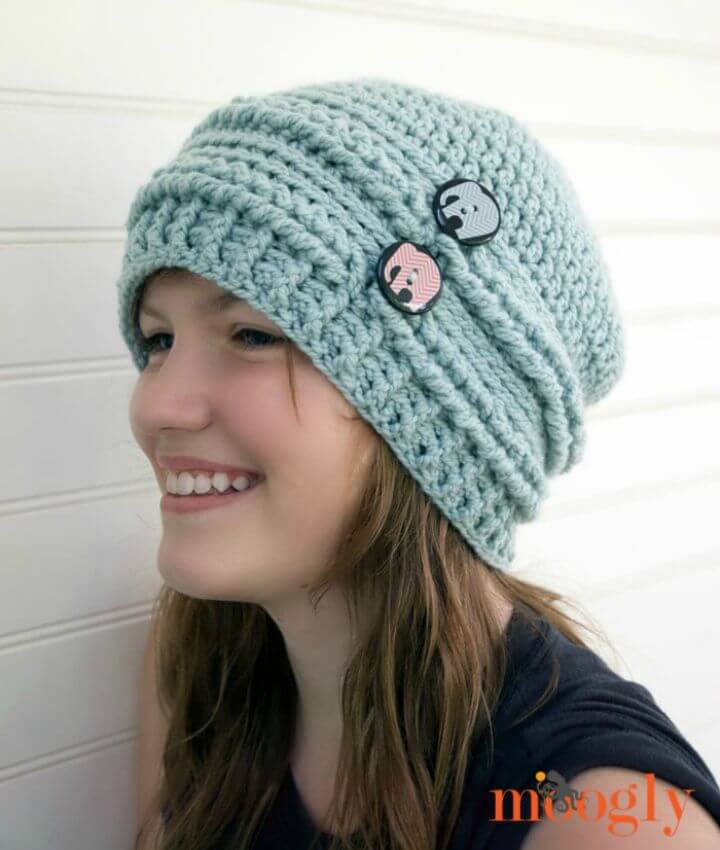 Check out here a perfect crochet pattern that you can crochet for a style loving teen, a precious slouchy beanie that comes with beautiful ups and downs! This is what that will create a funky look of any teen in just no time! Moreover, there are accent buttons that double the beauty of the hat! Every beginner can experiment this hat with different yarn colors and weights! Find the complete free crochet pattern from here mooglyblog
Free Crochet Owl Cell Phone Cozy Pattern: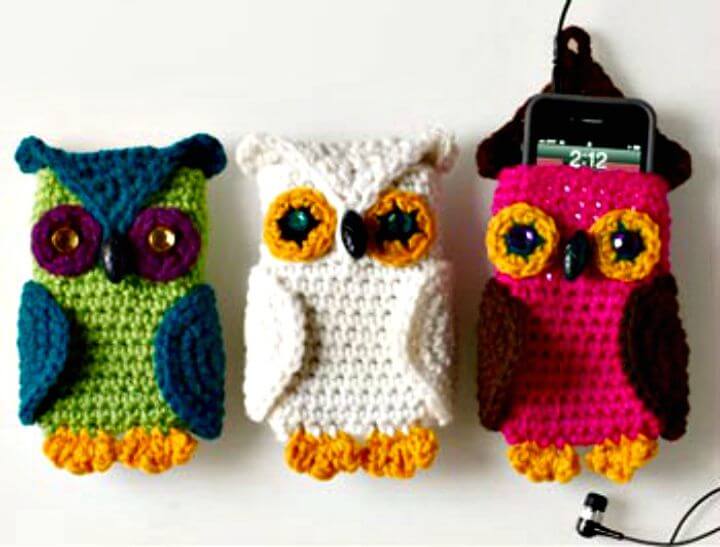 Looking forward for some beautiful mobile phone snuggies? Here are the perfect ones that will also help keeping your mobile phone screen scratch-free while being in your bag or pocket! These are the flawless crochet cell phone cozies that come in beautiful owl shapes and as easy to crochet as they are enchanting! This is the right gift idea for an owl lover! Another fantastic crochet beginner pattern here! Complete project details and visual instructions here craftyarncouncil
Free Crochet Hogwarts House Scarf Bookmarks Pattern:
There always some family members or friends who love a lot reading books! So, if you also having a this kind of person in family or in friend's circle so how about to gift him/her some super beautiful bookmarks? If you are like to work with hands are also having some minimal crochet skills then you can easily crochet some fantastic bookmarks at home! A great sample here is these house scarf bookmarks that are inspired of a scarf design! Just by enlarging this pattern you can also crochet beautiful scarves! Full free crochet pattern here 5littlemonsters
Easy Free Crochet Beginner Baby Blanket Pattern: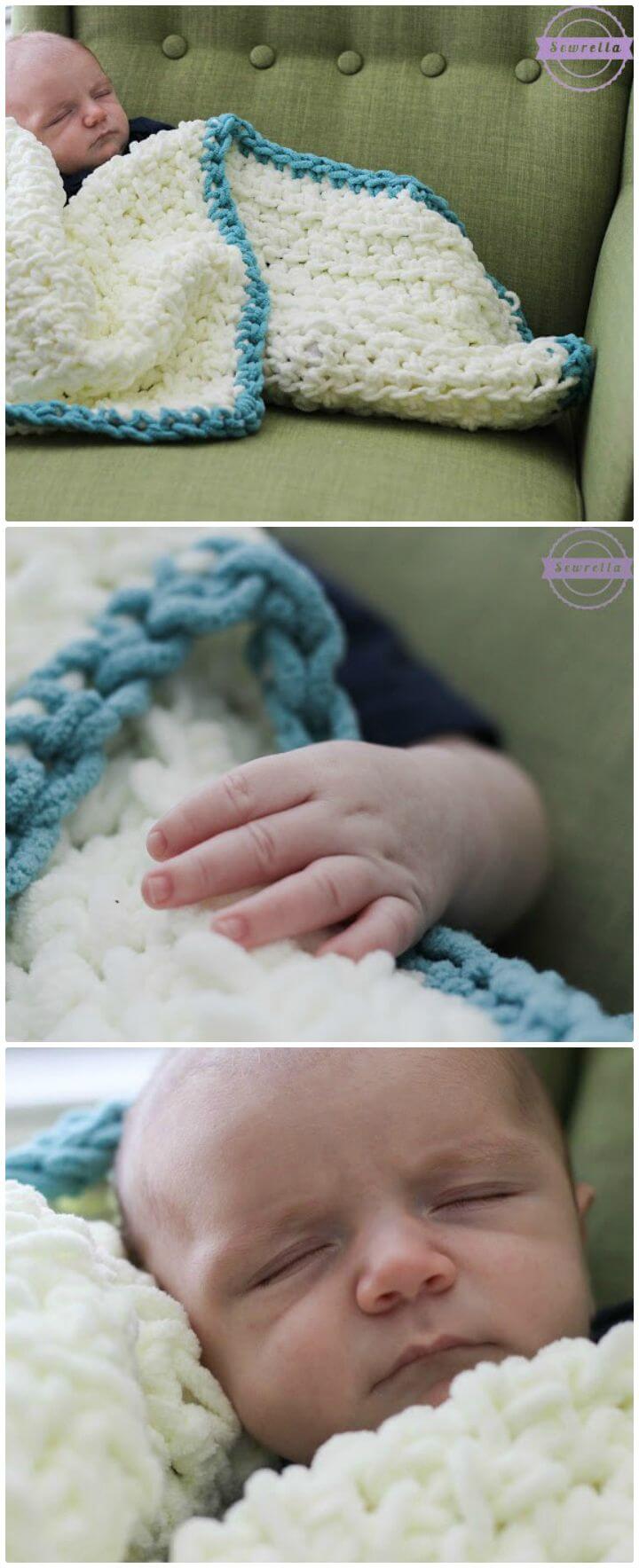 Sorting out some perfect winter gifts for a mother-to-be! Just be with here to give a warm welcome to upcoming baby by crocheting this beautiful baby blanket for here, would make a Thanksgiving gift for her! The perfect winter warmer for a newborn and is super easy to crochet! So, all beginners can try this blanket for their newborn babies or for a friend's baby! Further project details and visual instructions here sewrella
Free Crochet Basic Towel Topper Pattern: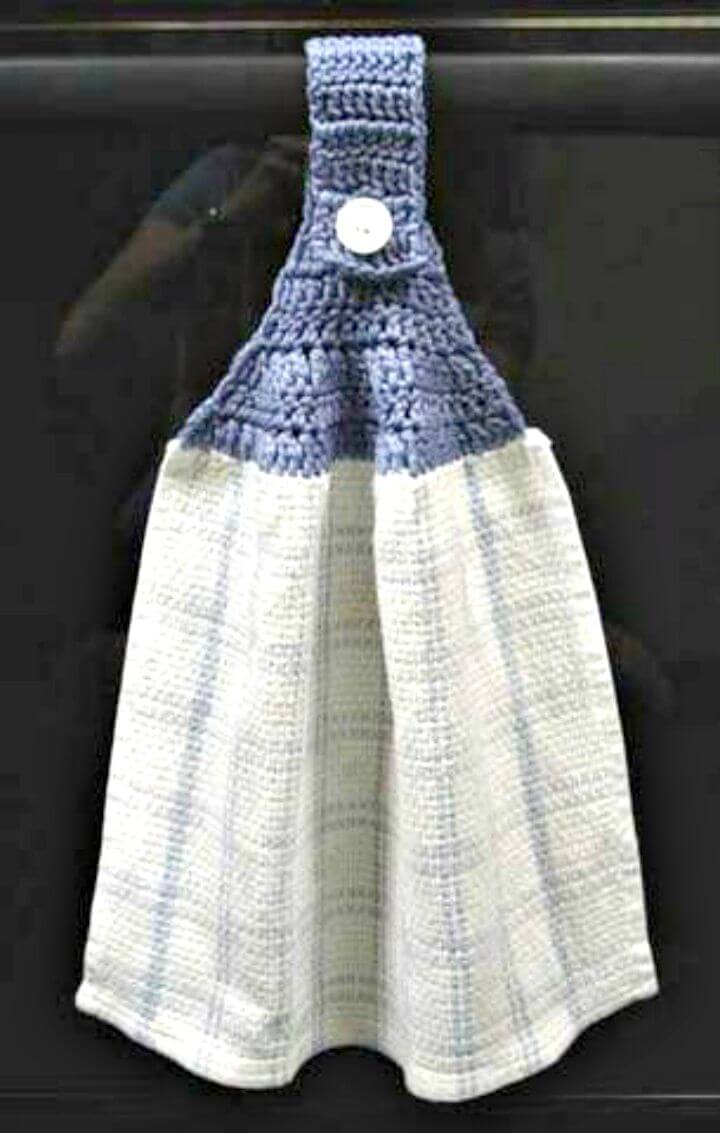 Hanging towels may be a big issue which is mostly solved by adding custom towel rack and hangers in home but still there are chances the towels to fall off! Here is the perfect solution to avoid getting your towels fall off to get dirty, just add them with beautiful crochet toppers that can be buttoned making a loop around the towel rack! Another smart crochet hack and a beginner pattern! Full free crochet pattern and step-by-step visual details here maggiescrochet
How to Make Simple Free Crochet Slippers Pattern: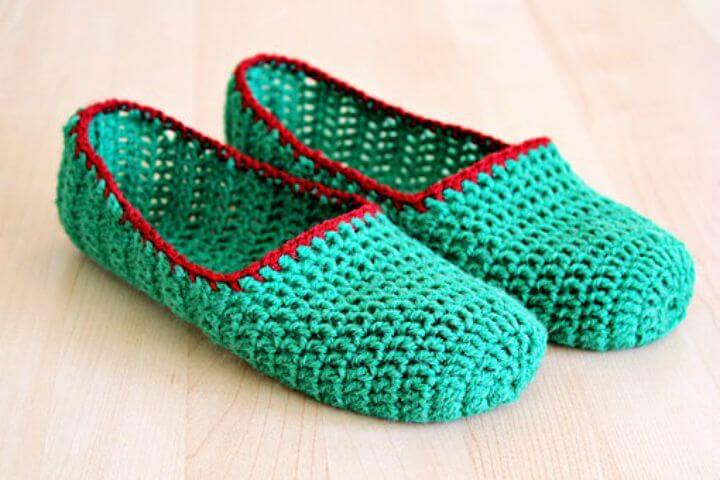 You crochet hook can also help in getting the right and fashionable footwear this winter! After crocheting some fab booties for your little ones you can also bring coziness to your feet by crocheting some brilliant slippers! Get inspired of these given crocheted slippers that are having a turquoise appeal dignified with a red border! However, you can also add up these crochet slippers with flip-flop soles to be more beautiful and cuter! Grab the full free pattern and tutorial from here zoom yummy
Free Crochet Head Huggers Pattern: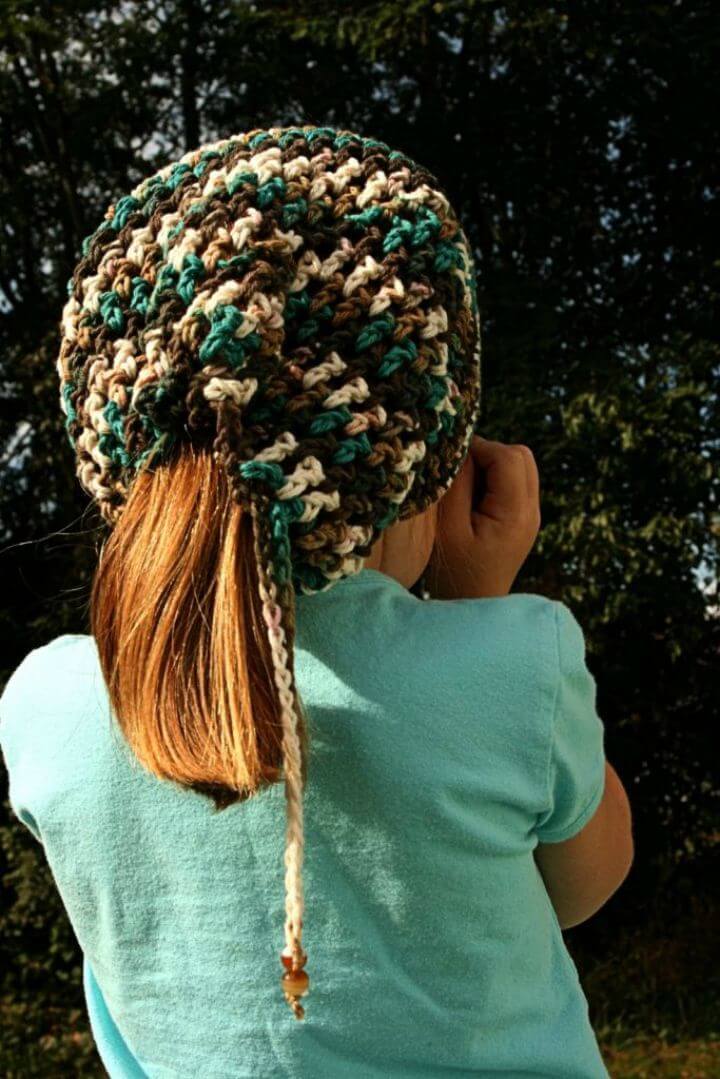 To wear the complete winter protection also demand to get your head covered warm and cozy also! So, if you are ready to do so without losing any fashion points, then these crochet head huggers would just be a great choice! These chunky crocheted yarn head huggers will definitely create an adorable look of a style loving teen or a fashion-loving lady! Another beginner-friendly crochet pattern! Complete details and free crochet pattern here rallies kids
Free Crochet Ponytail Beanie Pattern: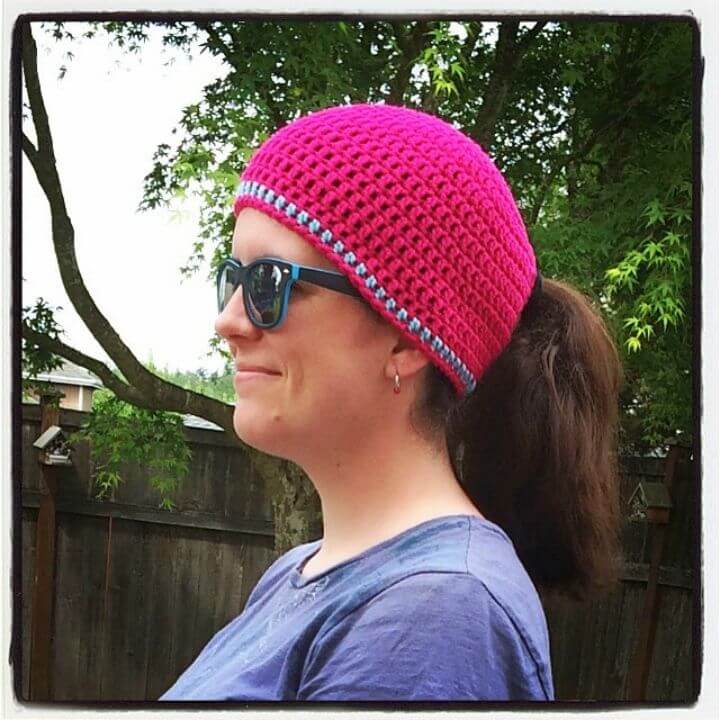 Wearing beanies is great for girls as they make look funky along with bringing great winter protection to entire head! However, sometime it becomes difficult to cover the entire hairs along with the braids in a beanie! If you do so by force, it may cause damage to your hairs and etching or paint to your head! Here this issue has beautifully been resolved, just check out this ponytail beanie the gives the way to braid or pony to come out covering your head warm and cozy at the same time! Another great beginner crochet pattern! Complete project details and step-by-step instructions here danyelpinkdesigns