Summers and springs are all about the outdoor fun, beach trips, and pool parties. So more the outing, more the pretty dresses you need to look good all the summer while having a blast of fun and enjoyment with your family, friends and best buddies. What if you can fill up your summer and spring wardrobe with gorgeous and stylish clothes and that too with the least of the cost? Yes, it's possible with the crocheting, as you can crochet a variety of stylish stuff for these fun seasons for yourself. For the beautiful designs and free crochet patterns, you can visit this round-up of 110+ free crochet patterns for summer and spring for the women right here!
So the perception that the crochet wear is only for the winters has been falsified completely as there is a lot to free crochet for the hot weather. Pretty tops, boho tanks, maxis, skirts, DIY shorts, crochet pants, cardigans, beach covers, wraps barefoot sandals, there is a lot to crochet and feel stay high in fashion in the spring and summers! Not only hinting at the style and beauty all these crochet wears would also keep you cozified when there is a chill in the air in the spring evenings and summer nights. What make these crocheted summer dress ups so comfortable are their breathy and airy patterns that are the result of light and textured yarn!
Each of the chic designs for your favorite crochet piece comes with the free pattern and extra details about the yarn, stitch and colors schemes to make it immense feasible and easy for your approach! You can alternate the colors and customize the sizes to get the personalized results with for your favorite pick up from the brilliant collection provided below.

Some of them are too cute, gorgeous and adorable that they make a perfect gifting for your mother, sister, best friend, and the colleague or even for the teachers. To get the tutorials and written instructions the links have been pasted below each picture so browse and start crocheting!
Free Crochet Patterns for Summer here:
Easy Crochet Star Stitch Pouches: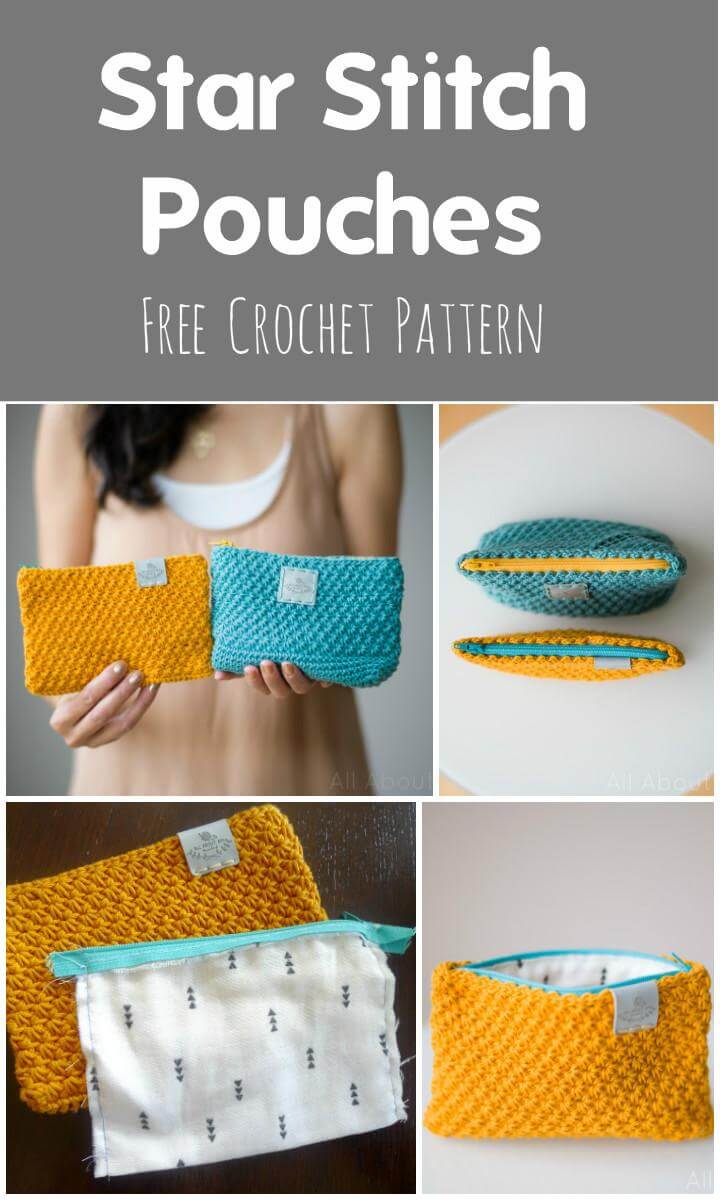 If you are a crocheter then you must know the star stitch so here we have this lovely pouch that you can easily create with the help of start stitch with the bright and soft yarn threads. It would be like half or one hour project ending up with this gorgeous and bright colored pouch that you can use personally or gift to some special lady in your life allaboutami
Crochet Granny 2 Top: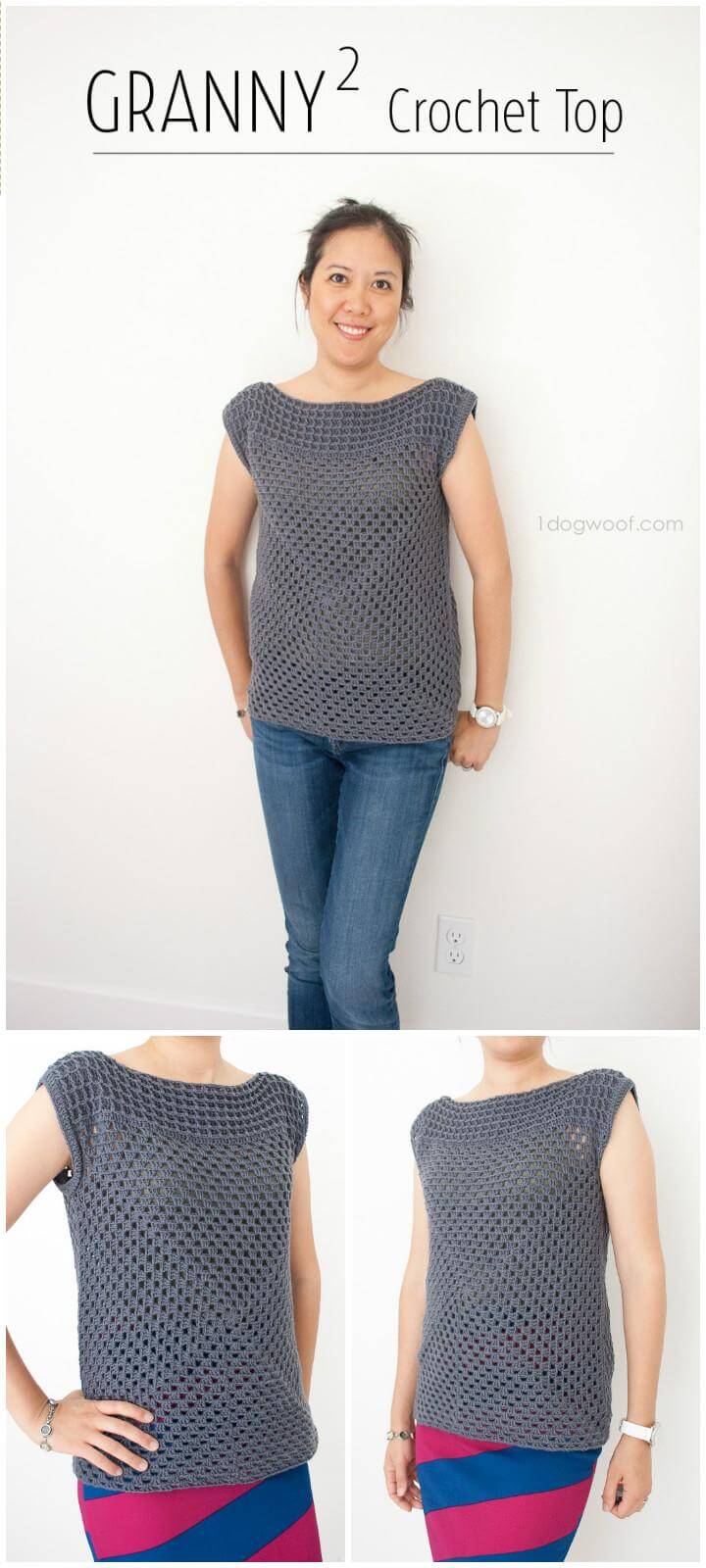 Granny square is one of the popular stitches and the most used for the crocheting and now you can combine two granny squares to crochet his immensely cute and fun top for yourself or for any gorgeous lady in your circle as a gift. The stitch and pattern is so simple and you can have all the details step by step on this link provided so browse and enjoy 1dogwoof
Stylish Crochet Peplum Vest:

Give your dress up a stylish boost with the crocheting as you can crochet this lovely and super fashionable peplum top to wear over your shirts and tops and look really styled up. So this cute and lovely peplum is the best way to stay cozy in the chilly weather and that too without losing the enchantment of your personality. Full tutorial here with written instructions and video tutorial lionbrand
The Boho Crochet Wrap: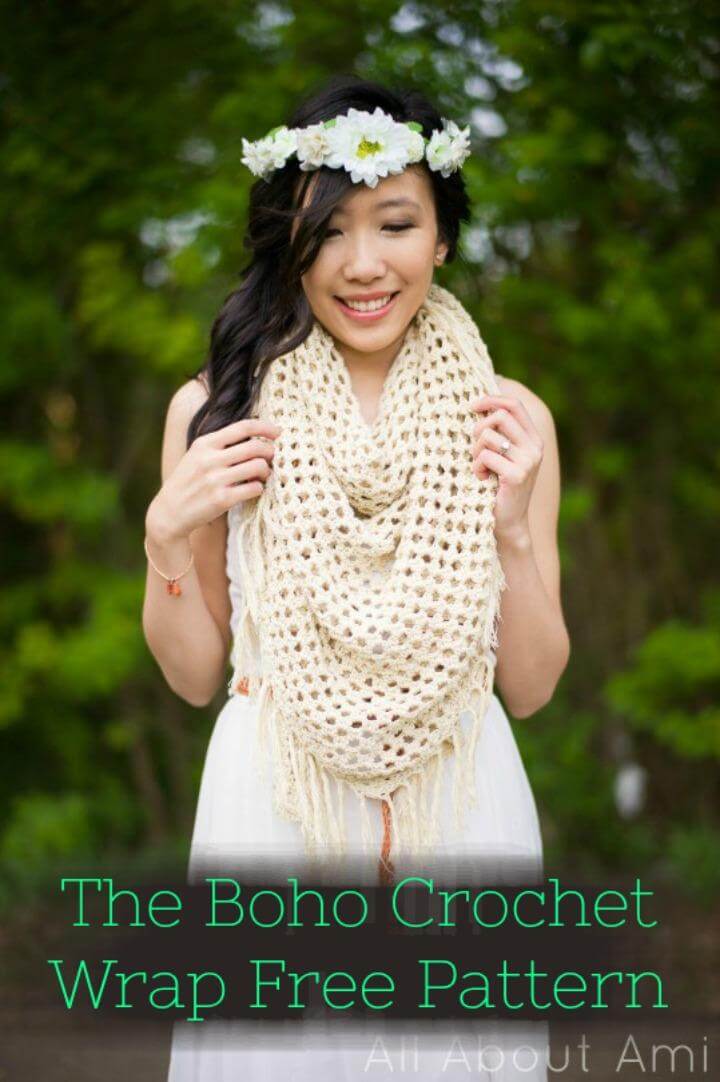 Crochet wraps are the favorite of every woman and they have a variety of scarves, wraps and neck warmers in their closet. And now you can add a more chic and boho style wrap to your collection and that too crocheting of your own. Here is the full detailed tutorial to know the easy crochet details and to get the free pattern too. So click and enjoy making your own stylish scarves lionbrand
Beautiful Crochet Canyon Shrug: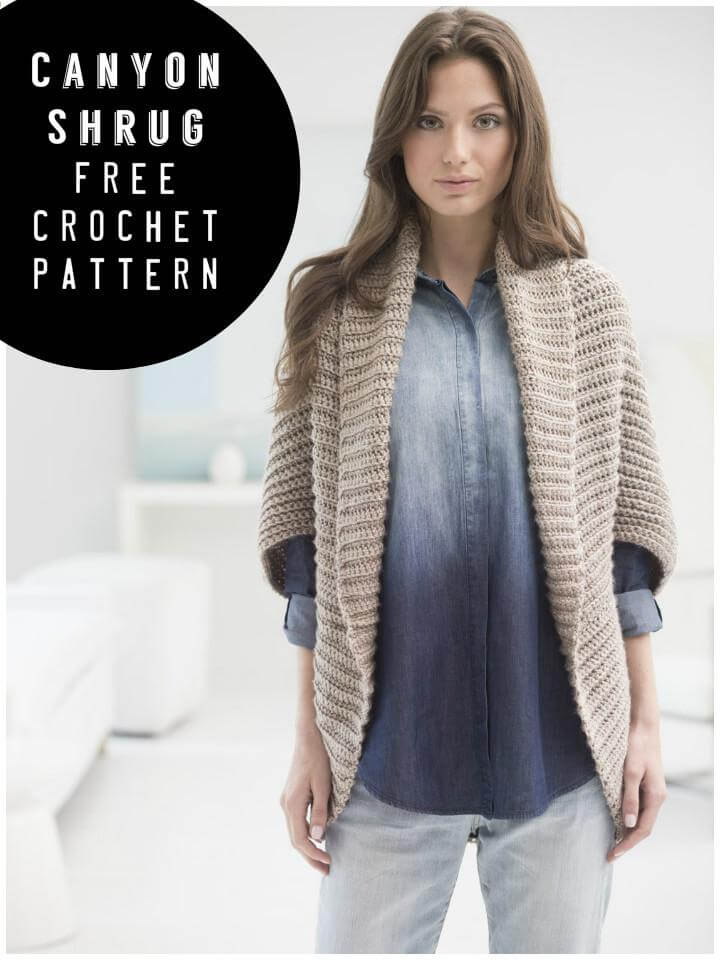 Every woman wants to have a kind of shrug, jacket or something that she can wear over any kind of dress without facing the problems of shapes and style.So here is this gorgeous and stylish canyon shrug that would go with your all types of dress ups and would look really cool with each one of them. Its really easy and fun to create of your own and that too with simple pattern. Here are all the details to grab lionbrand
Crochet Topcho/Shirt: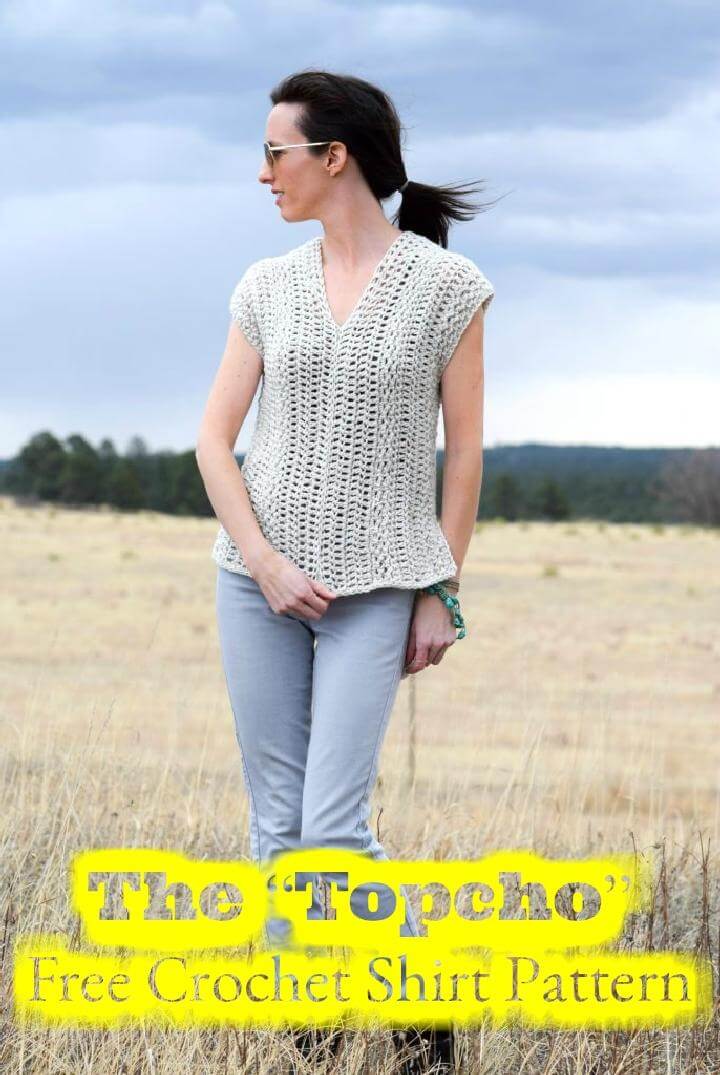 Crochet made shirts are the best kind of things to fill your summer or spring wardrobe as there is a slight chill in the air and they are just prefect to let you stay cozy and comfortable. SO here is this lovely and totally stylish The Topchoc shirt pattern that you can easily crochet yourself at home even if you are a beginner. The free pattern and all other details are lying right here mamainastitch
Crochet Key West Circle Top: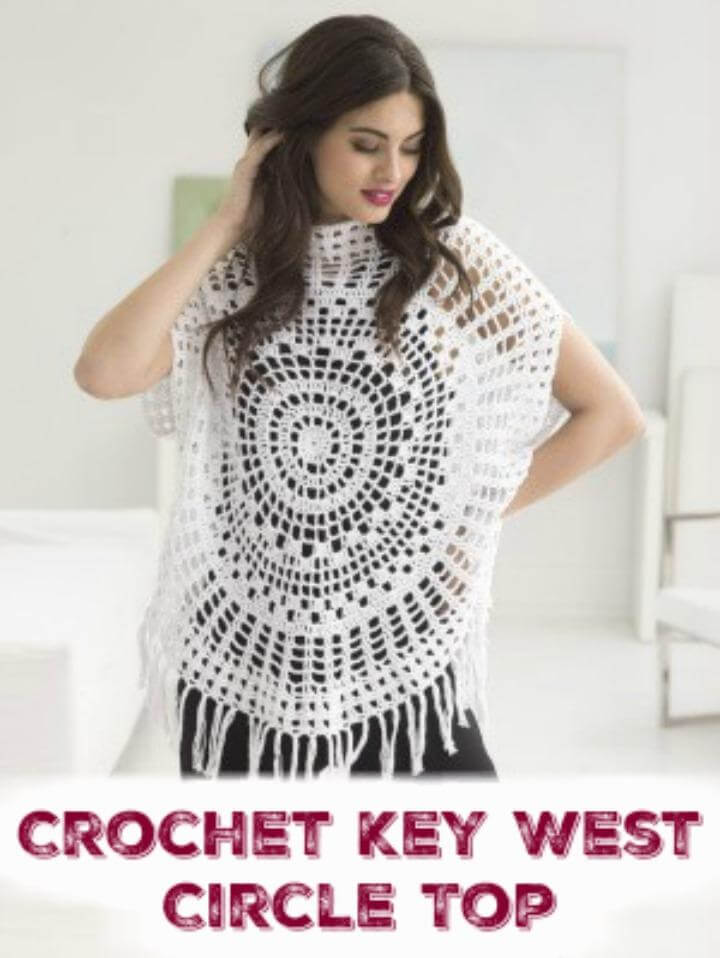 Hey girls enhance your style statement but no with the branded and expensive clothe but with this handmade crocheted Key West circle top which is super fashionable and totally a model wear in its design and pattern. Its too simple and easy to pull off yourself and with these provided instructions and tutorial it has been made more feasible to crochet of your won lionbrand
Crochet Baja Blanket Sweater: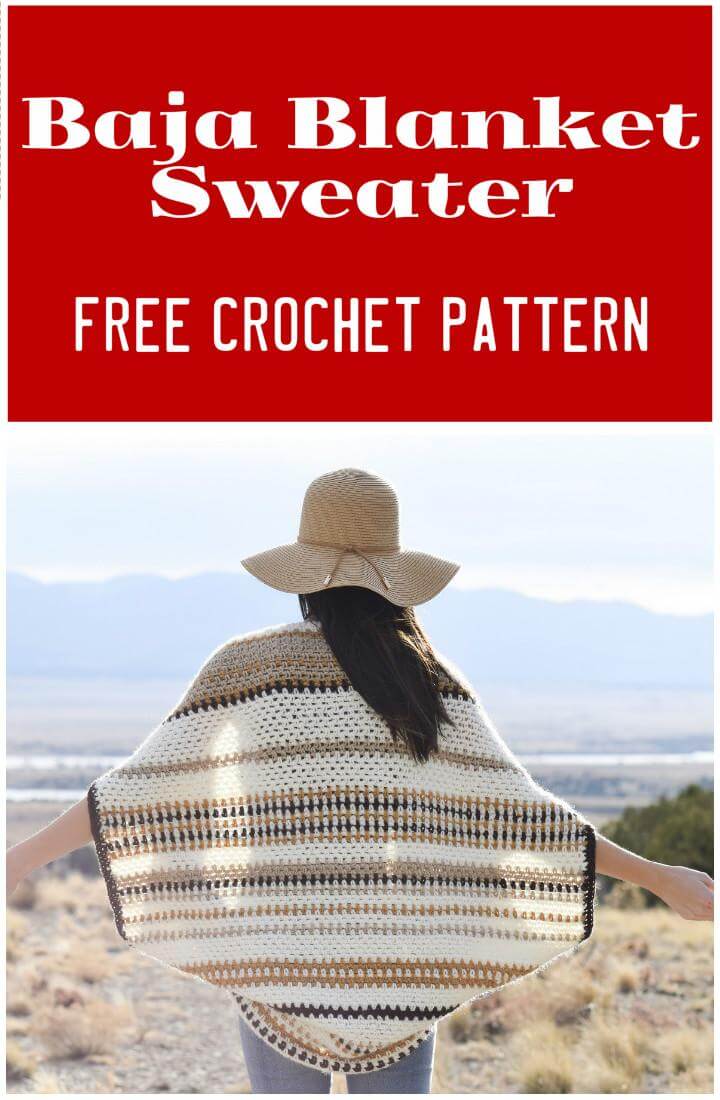 Here is this totally adorable and fun looking sweater called the Baja Blanket sweater and it's really fresh in its design and shape to. So this winter get this lovely and unique styled sweater in your closet and you can crochet it yourself. WE have all the details about the color schemes, pattern and stitches right here lionbrand
Easy Crochet Coachella Boots with Flip Flop Soles: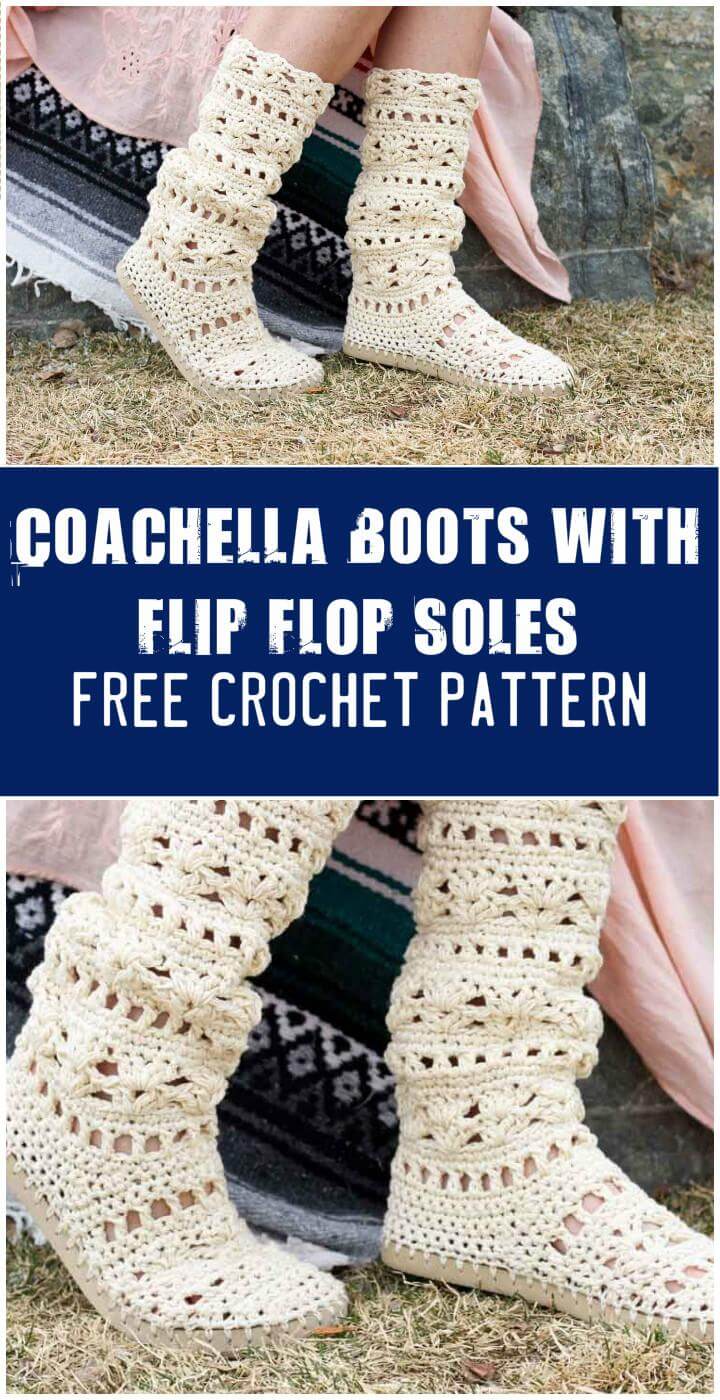 Crocheting has gone so far from just shawls, hats and scarves there is lot to explore and crochet for the style and fashion cause like these immense adorable and pretty crochet boots with flip flop soles. This pair of shoes would look great with your shorts and skirts so do make them with the free pattern and details lying here lionbrand
Crochet Espadrilles With Flip Flop Soles: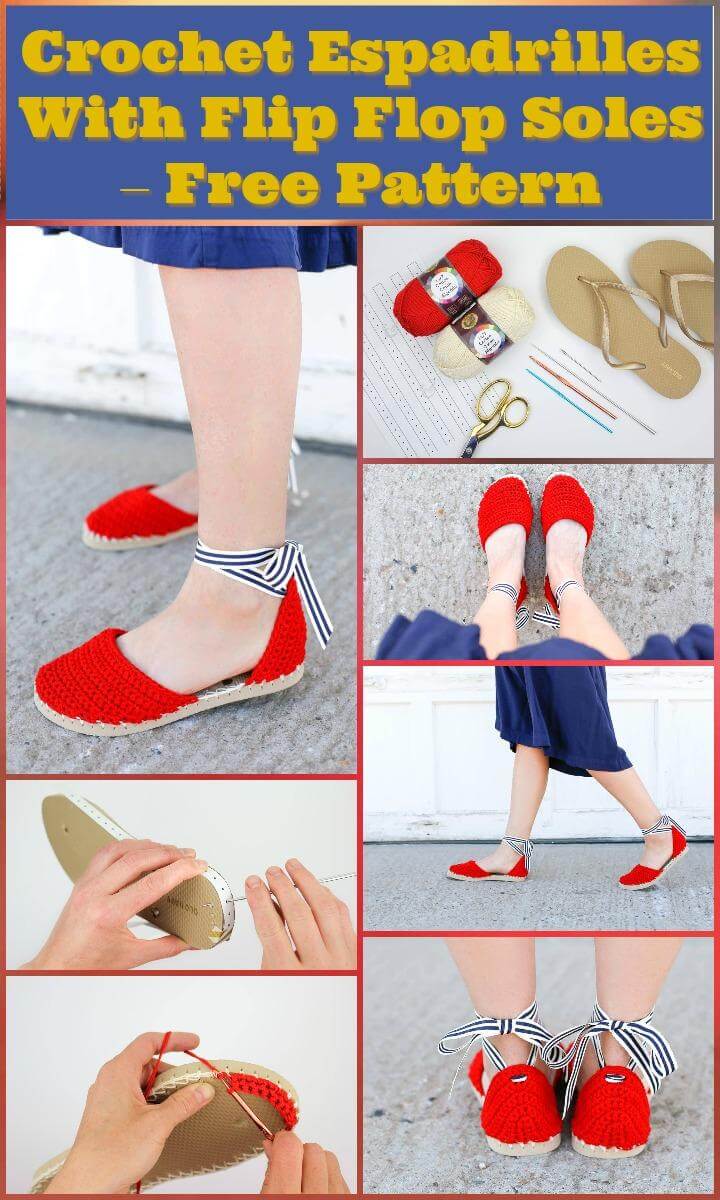 A girl's shoe rack is just incomplete if there is not a nice pair of espadrilles there and they can crochet them and create the most cozy, comfortable and stylish pair for themselves. For the free pattern and inspiration we have this gorgeous crocheted Red Espadrilles with flip flop soles so do check them out makeanddocrew
Crochet Urban Gypsy Boho Bag: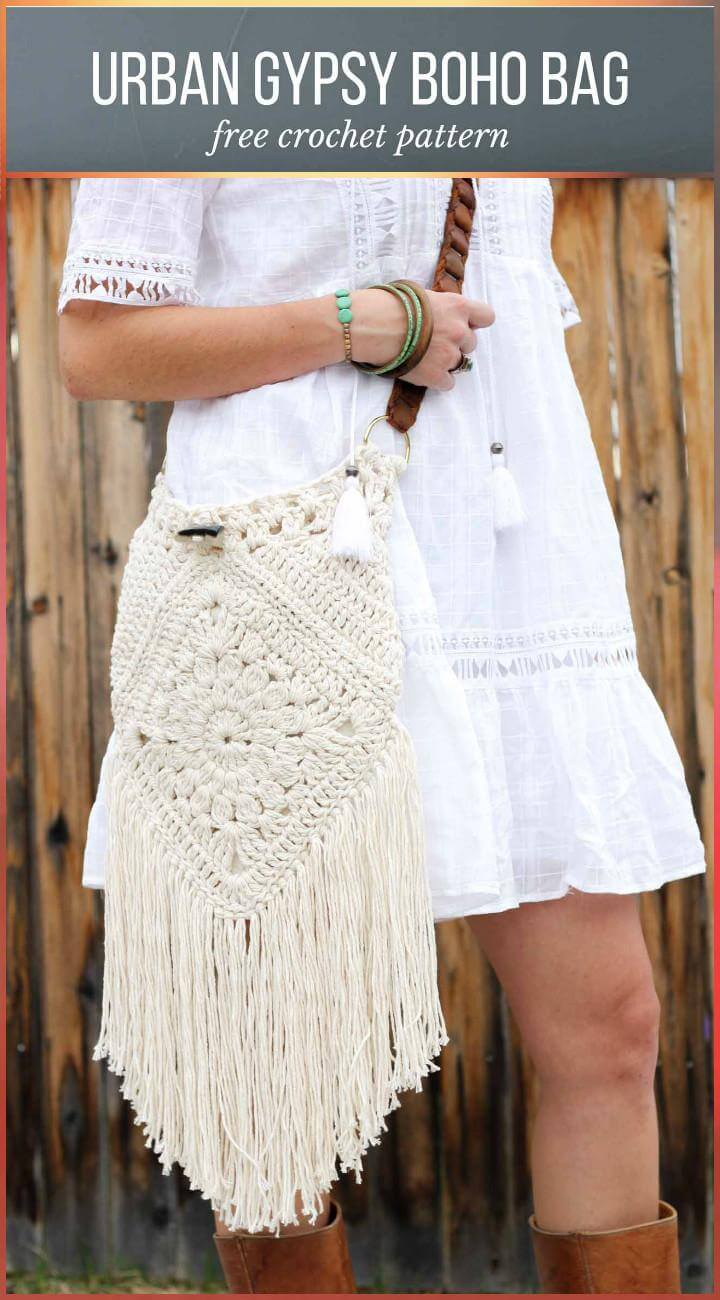 Bags are the must items to be present in a girl's or woman's closet and that too in a variety of styles and designs to suit different styles of dress ups. So you must have this lovely crocheted bag coming with totally chic and Boho pattern to add some fashion in your personality with lovely fringes at the end. Complete tutorial here makeanddocrew
Crochet Cocoon Cardigan: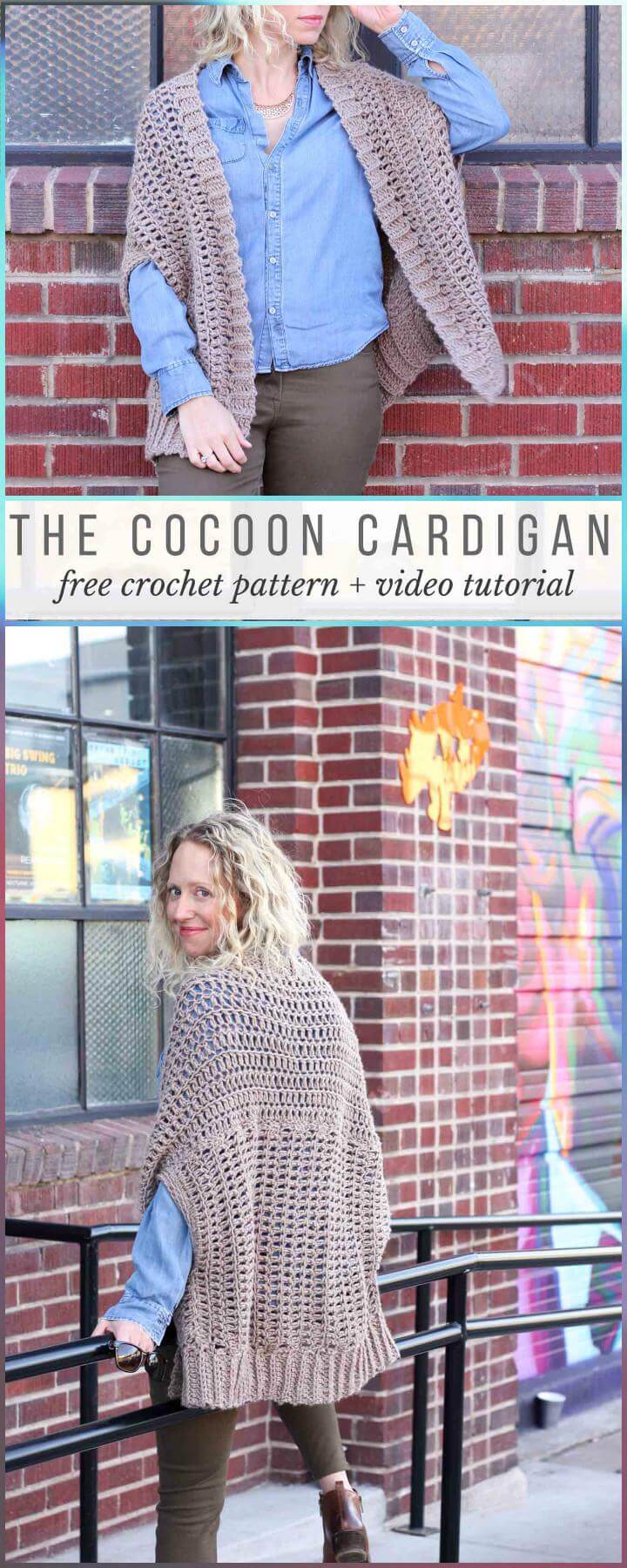 Get this cocon cardigan to enhance your style and enchantment of your personality and that too at the lowest of the cost. You can wear it on your outdoor trips and give every one a big jaw drop as it looks so cool and fashionable over your pants and shirts .Just grab the crochet yarn and start crocheting it and with all the details and free pattern lying here makeanddocrew
Crochet Slippers with Flip Flop Soles: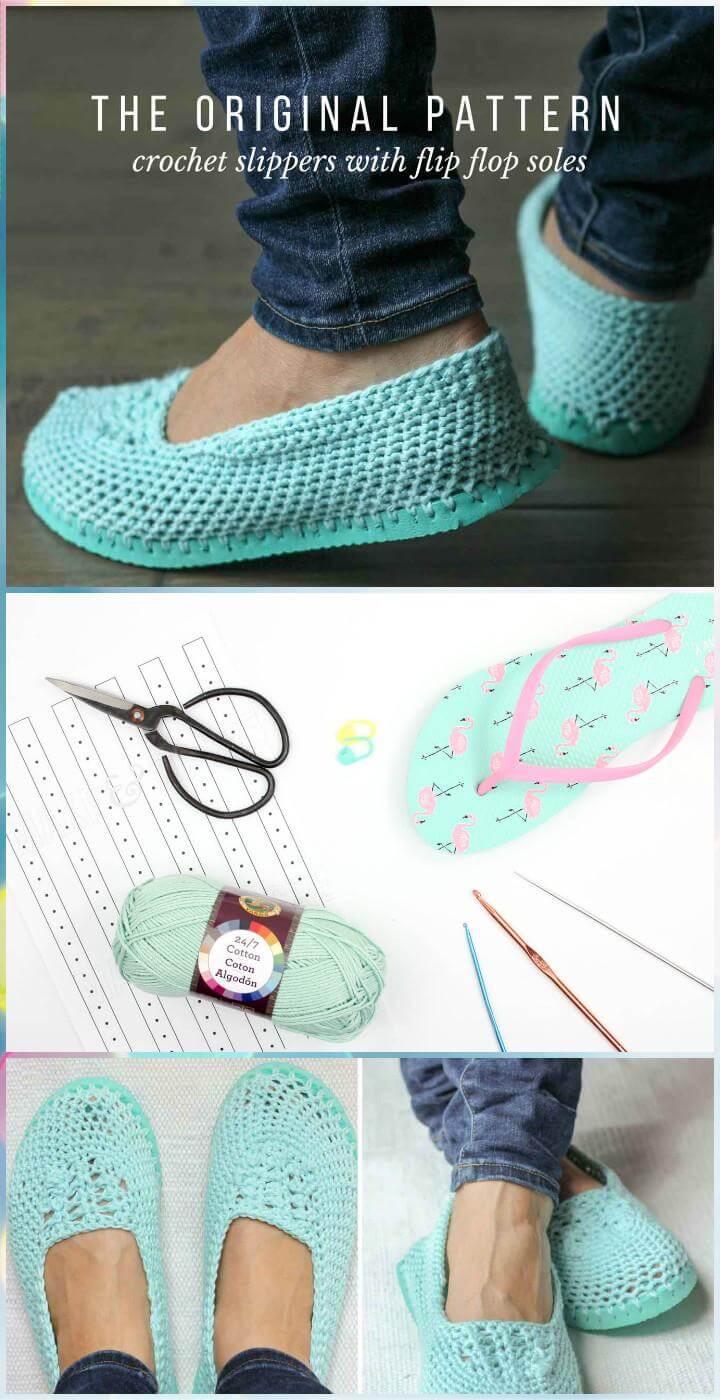 Get your feet cozy and comfortable with these pretty crochet slippers when there is a chill in the air but its not too cold to wear the socks. The sole is of flip flops and the upper part has been nicely crocheted with the matching color and yarn. Even the beginner can pull off this cute and fun project with all the directions being provided on this link makeanddocrew
Easy Crochet Triangle Wrap: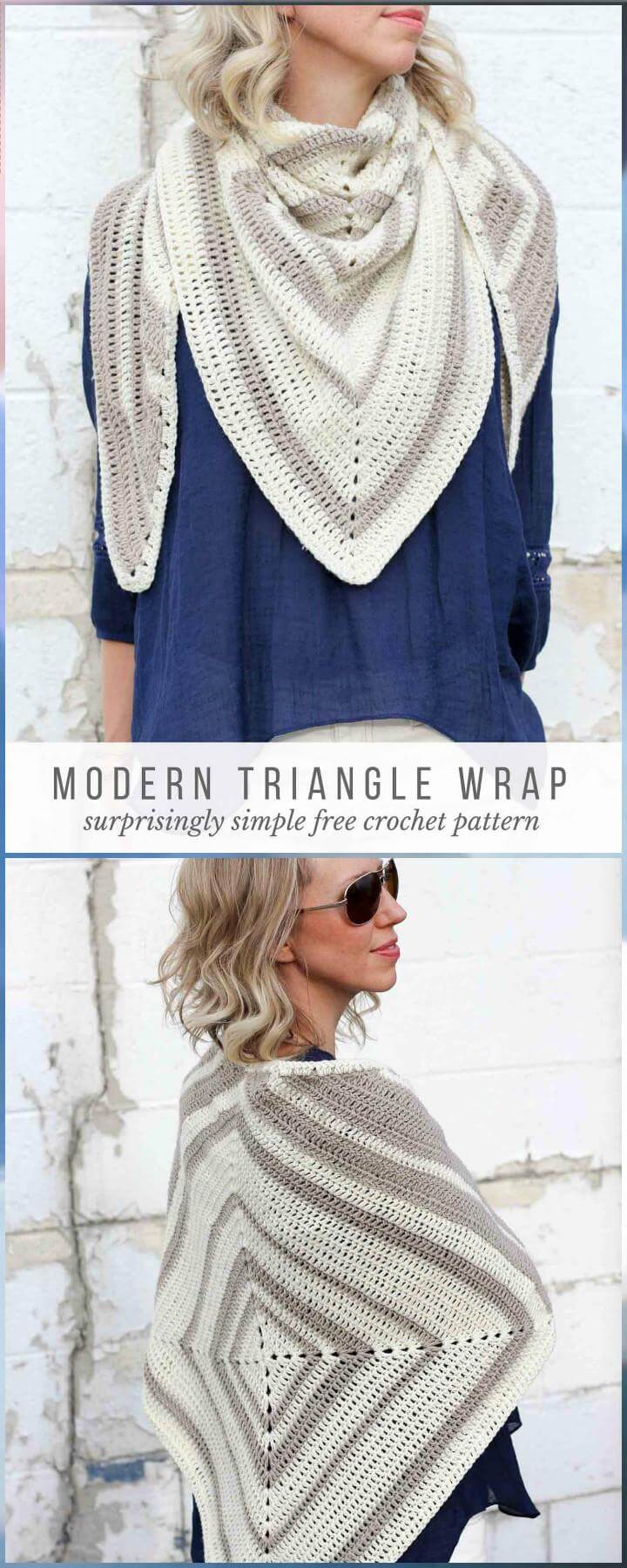 In the evening of summers or spring the shoulders and the neck need a cover up as they are bit chilly due to breeze and this lovely modern cardigan wrap with the lovely triangle pattern on the back.The two color scheme is adding really a subtle touch to the pattern and the soft texture of the wrap. So hack the free pattern and other needy details right from this link in makeanddocrew
Easy Crochet Moccasins: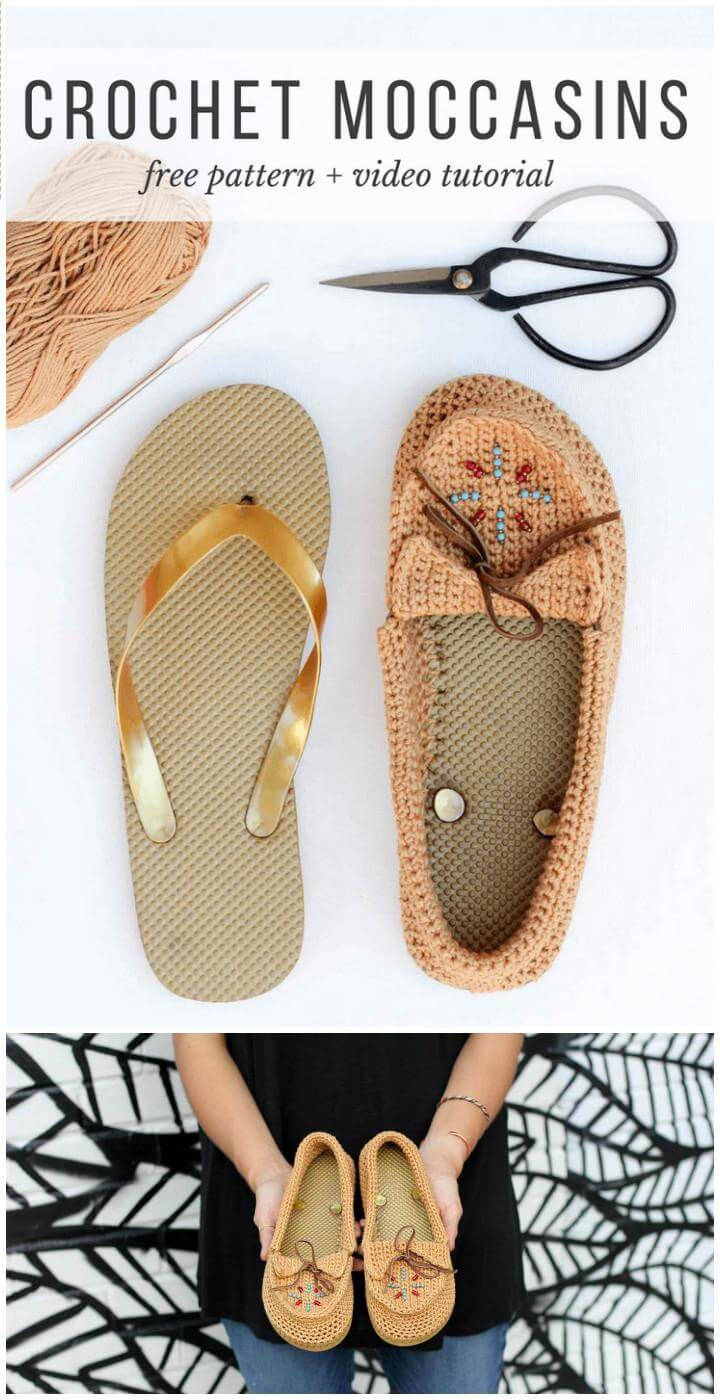 Moccasins are so much cozy and comfortable and now you can make them of your own and enjoy a personalized foot wear in the winters and that too with a warm touch to the feet. Here is the lovely moccasin pair made with the flip flop soles being worked up with the crochet on the top with a really simple stitch and cute pattern. You can catch the details and instructions of making it right on this link makeanddocrew
Crochet Mesh Raglan Pullover:

Stay cozy, stay simple and yet totally stylish with this lovely and cute crocheted raglan pullover that would look too much pretty and defining with your jeans. Its totally simple to crochet yourself without any complications of the stitches so would also be a perfect grab for the beginners. The free pattern for this gorgeous raglan pull over is available right on this link lionbrand
Crochet Gingham Picnic Blanket: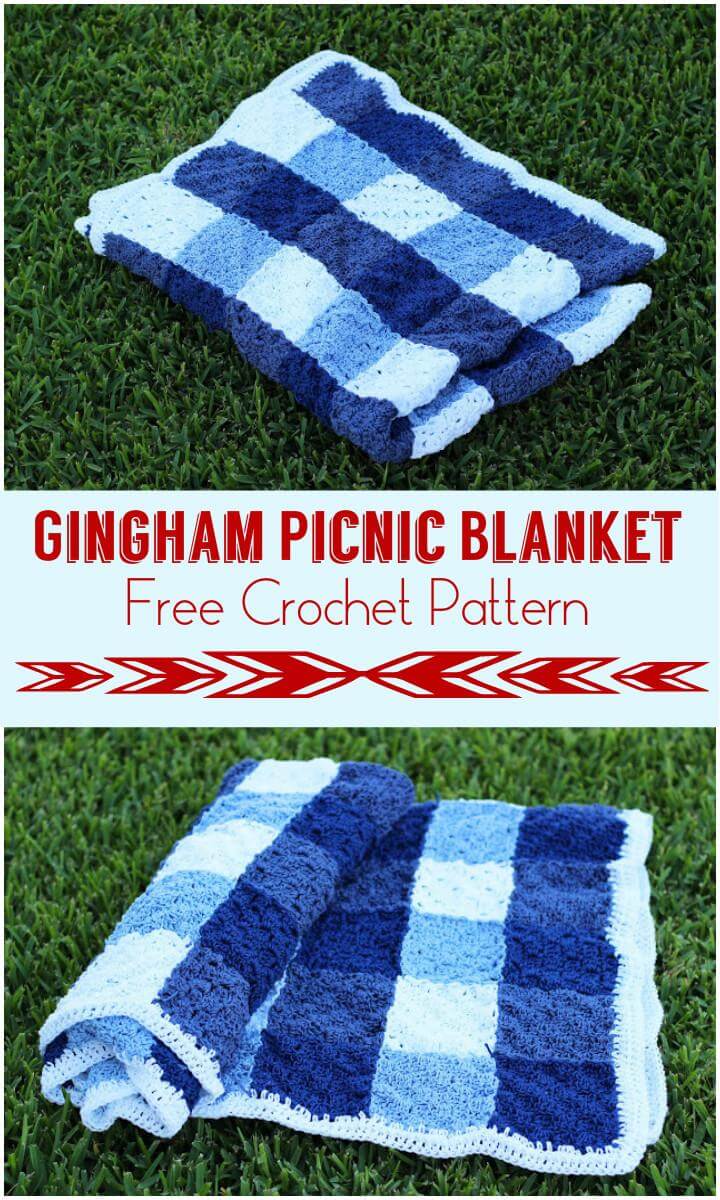 Make this so lovely and eye catching picnic blanket now you can really use your crocheting skills. So for that you need to work on this Gingham picnic blanket made out of lots of small squares being nicely put up together in navy and sky blue shades for that perfect bright look. Here is the link where you can get the free pattern of this pretty and cost efficient crochet picnic blanket sewrella
Crochet Bottle Bag: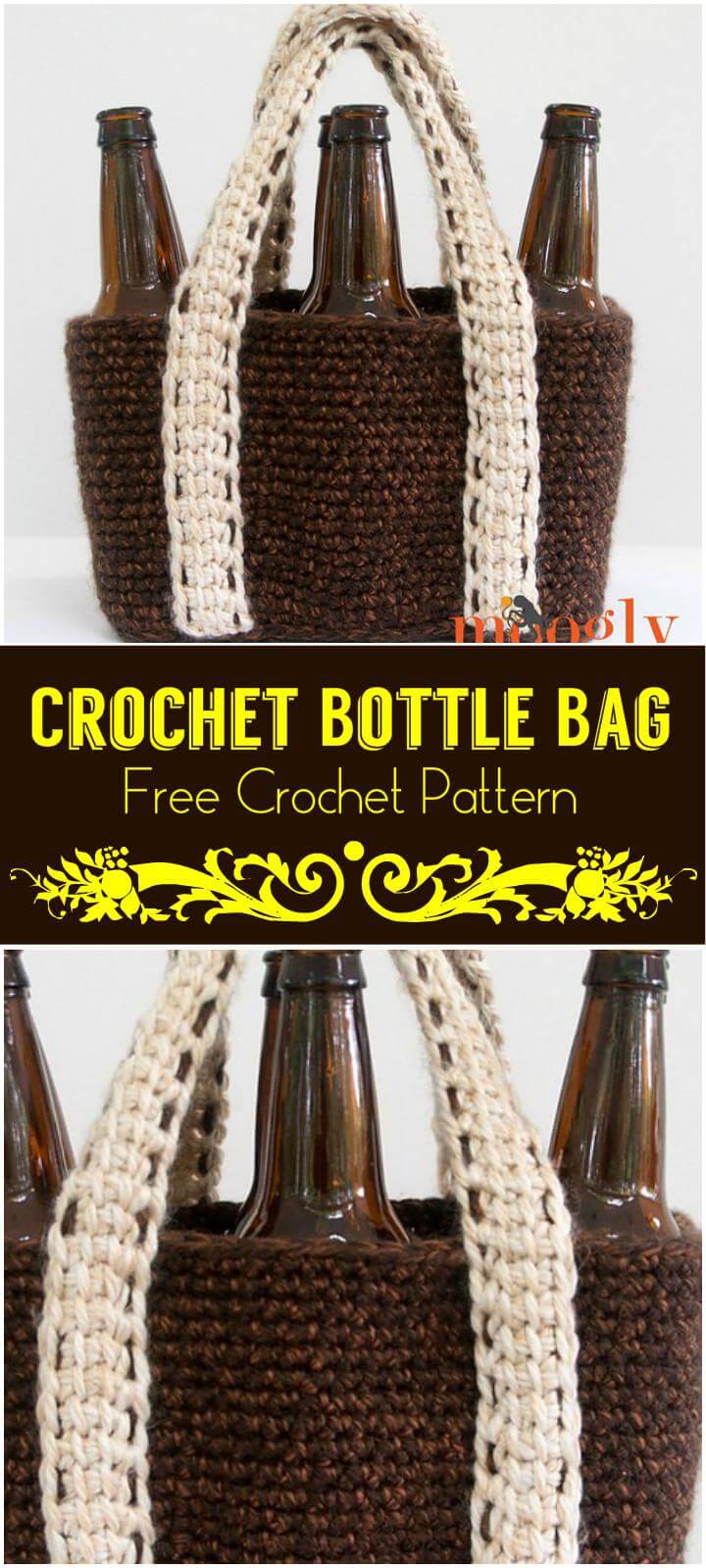 If you are a crochet expert then there is a lot of things that you can create from your art and thus saving lot of your fortune.Like this lovely bottle bag has been achieved simply at home and its just perfect to replace a bottle rack or shelf and too in a unique and fun way. You can also carry it around when you are off to a picnic party. Here are the easy details and instruction with free pattern so click and add this project in your next to do list lionbrand
Super Easy Crochet Market Bag: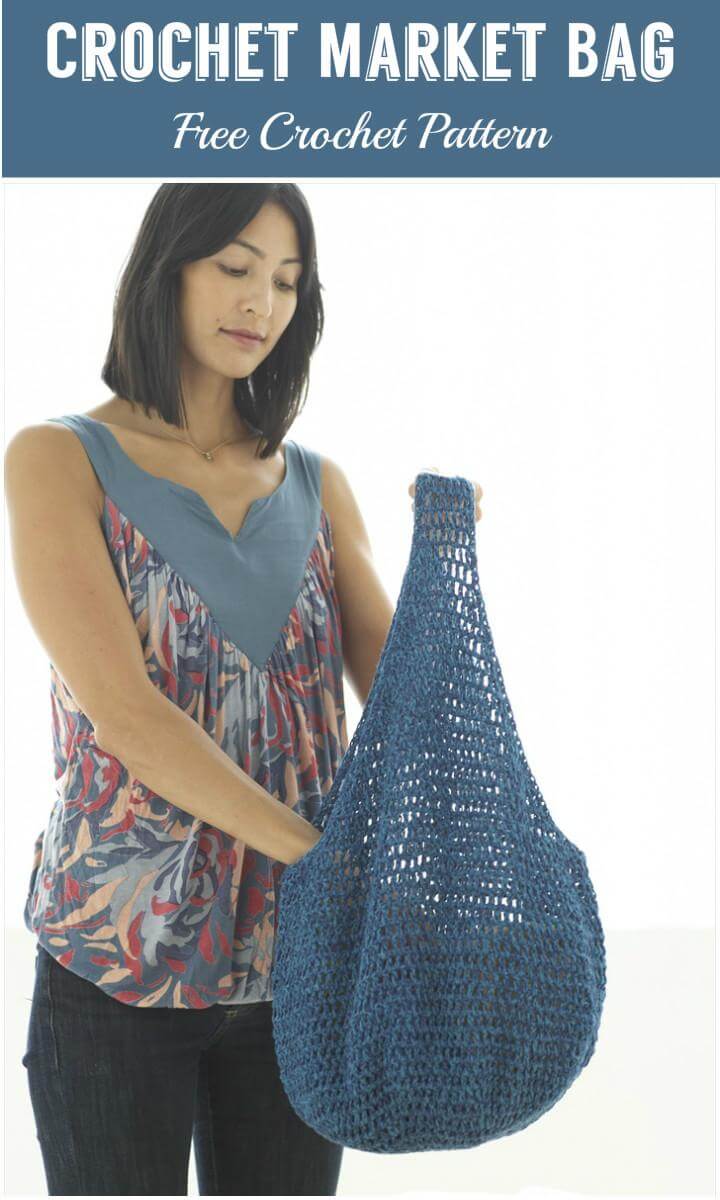 If you are house wife than having the tote bags or shopping bags would always be preferable for you then getting the hand bags and purses for your dress up. So here is this modern styled crocheted shopping bag the the ladies can proudly carry with them when heading towards the market. You can change the color while crocheting it of your own and for the possession of free pattern click on this link lionbrand
Perfect Crochet Purse: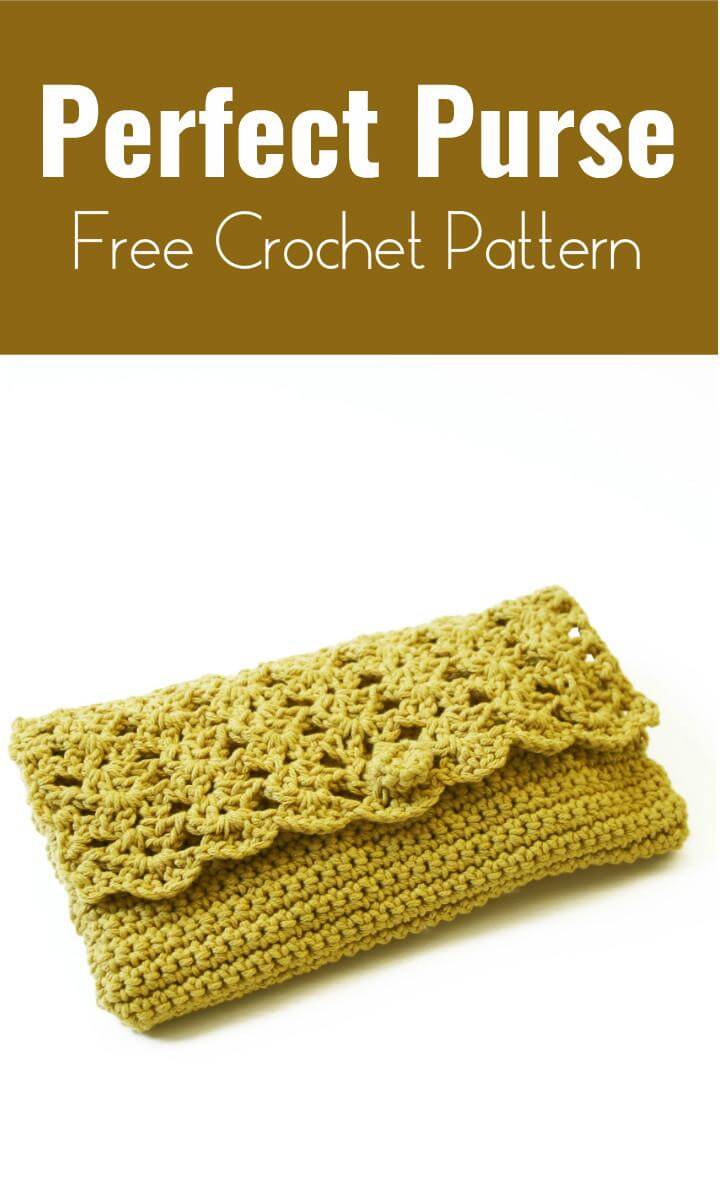 To carry a fancy purse that really compliments your dress up for parties, weddings and any other such special celebrations that s why we spend too much on them. But now you can crochet a fancy and stylish purse of your own and jazz up the style statement of your special get up and that too at the lowest cost.Here is the link to attain the pattern and stitch instructions of this cute purse lionbrand
Brilliant Crochet Movie Night Cocoon Cardi: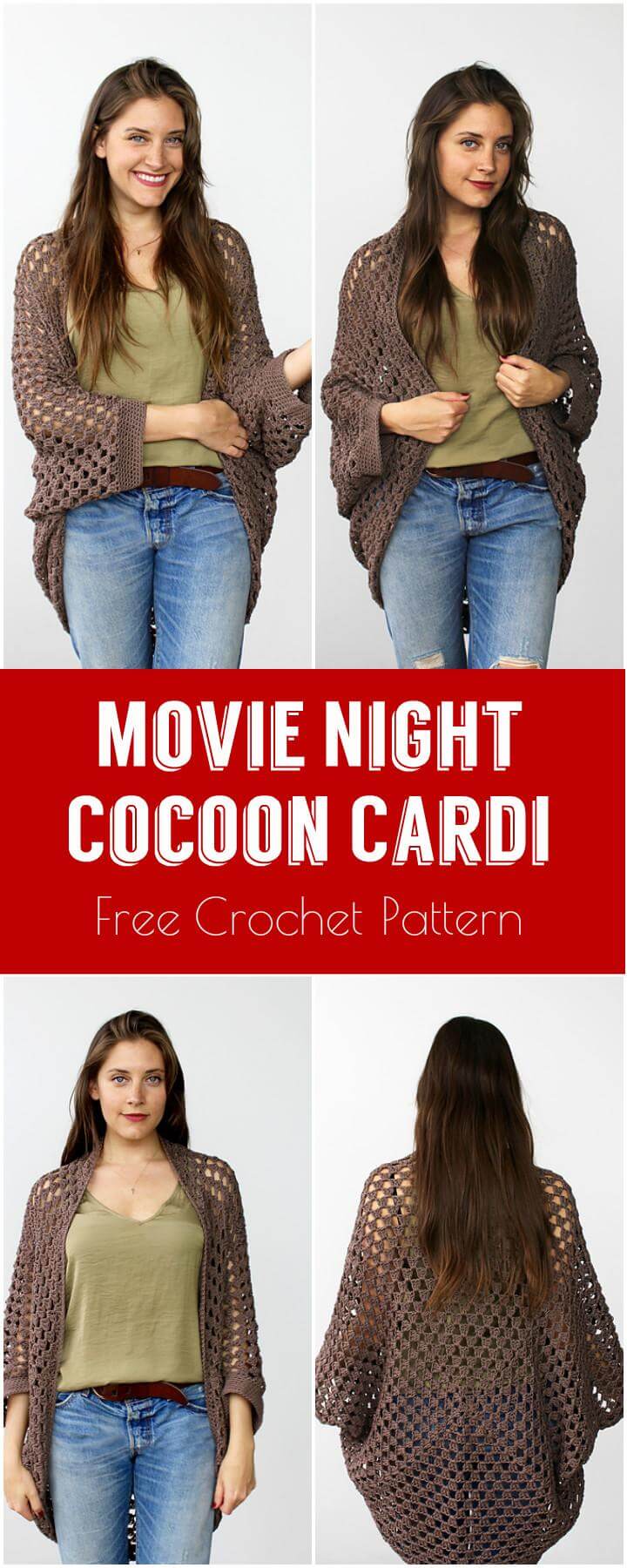 The movie nights are the most fun in the summers and the spring season when the cool breeze is blowing outside. So to get some warm touch you need to get a bit covered up and this lovely and stylish Cocon cardigan is just perfect for your movie night with the very enchanting pattern and design.Here is the link where you can get the pattern and all its details to make it feasibly at home. ravelry
Dual Colored Finger Crochet Market Tote Bag: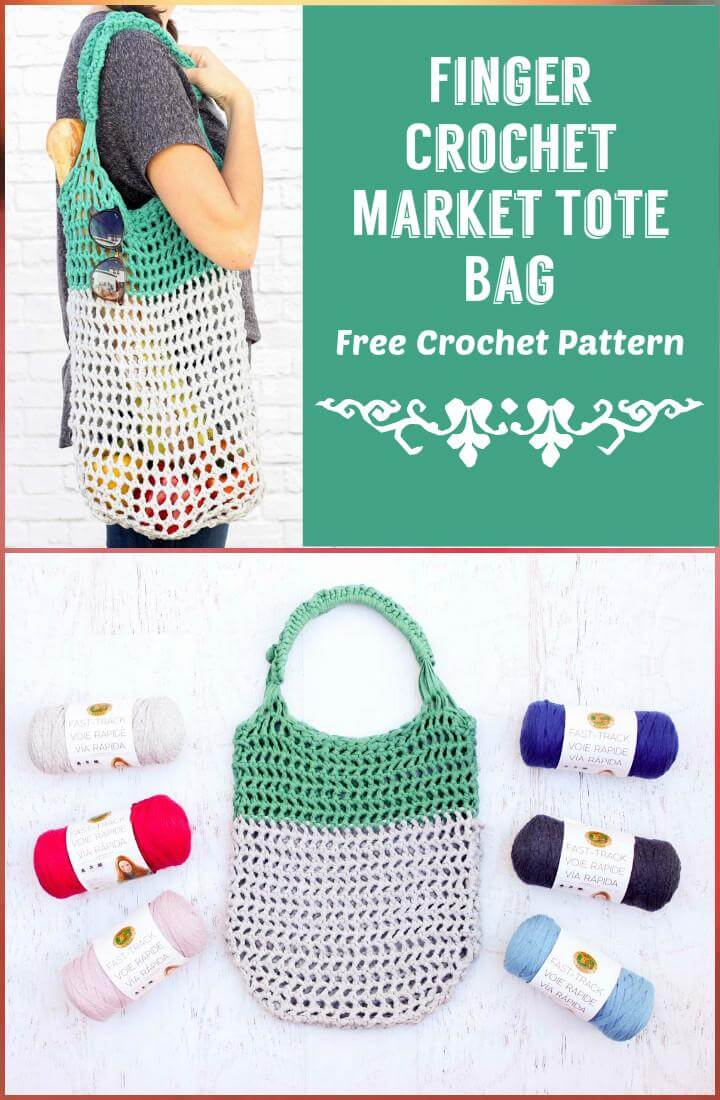 If you are going out for shopping then your pick up from the foyer rack is a cute and stylish tote bag which is now possible to create of your own at home.Yes with the crocheting skills and the lovely colored yarns you can simply crochet this perfect tote bag for your shopping and hold it so stylishly on your shoulders while roaming around the mall.Complete tutorial details are here lionbrand
Baby Humpback Whale – Crochet Amigurumi: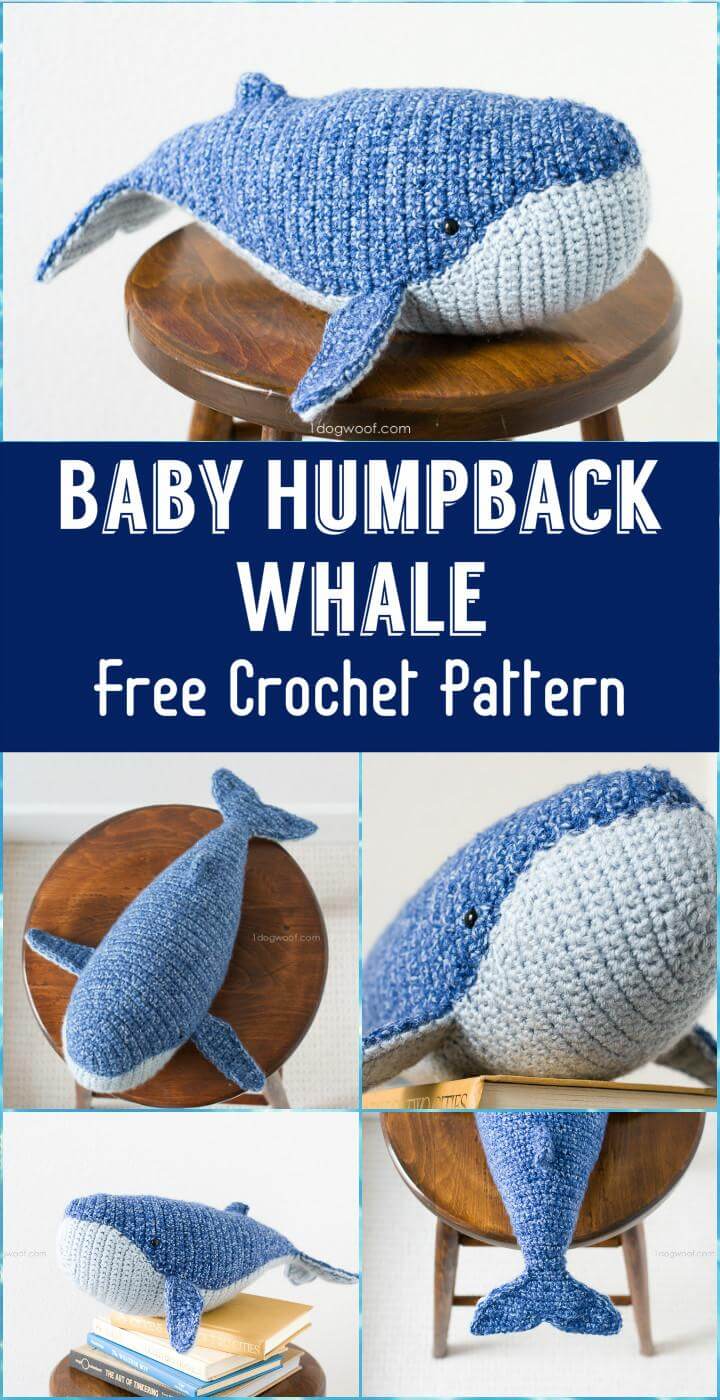 The fabric and crocheted toys are just so safe for the kids to play with and you can also wash them to make them germ free too. So bring in use your crocheting skills and make this lovely humpback shark with those real colors in yarn and let your baby have a fun playing session with it. Its too simple and fun to create and for the beginners the instructions and the feasible free patter lies here 1dogwoof
Seaside Tank Free Crochet Pattern: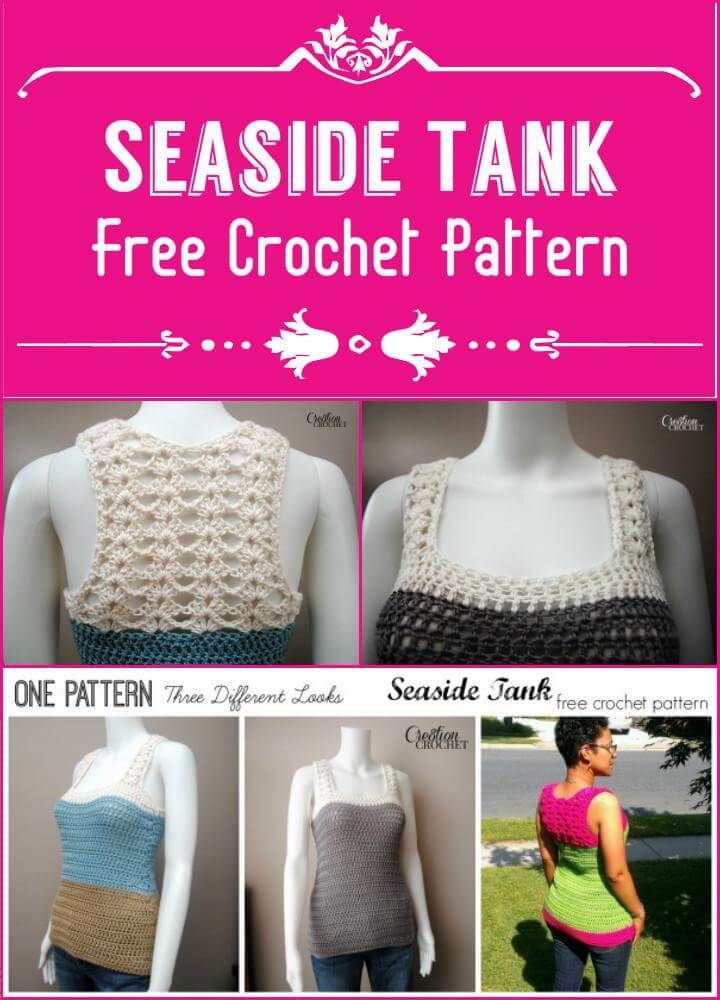 The two colored or tow paneled clothes are always attractive and cool to wear. So while crocheting something for yourself you have the complete freedom to play with the desired colors and patterns to get some personalized results.So here is this lovely two panel tank that you can easily crochet at home with simple pattern and beginner skills are required for this project.So hack it and for that you need to browse this link cre8tioncrochet
Stylish Crochet Star Sun Hat: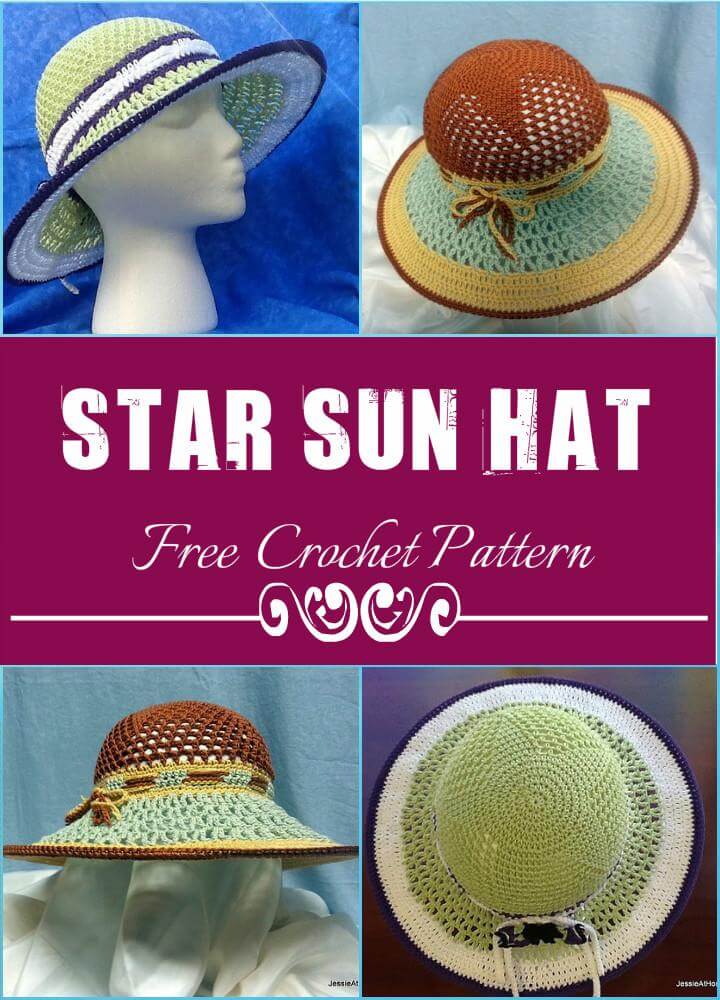 Save your face and skin from the damaging rays of sun with this utterly gorgeous and cute crocheted hat in the any of the seasons.The color selections really comes out as a hit for looking so pleasing and delightful to the eyes. So get the free pattern of this pretty hat here and copy it to add some extra fun and safety to yourself. Choose the colors of your own choice to get the customized results with this hat jessieathome
Crochet X-Stitch Garden Tank Top: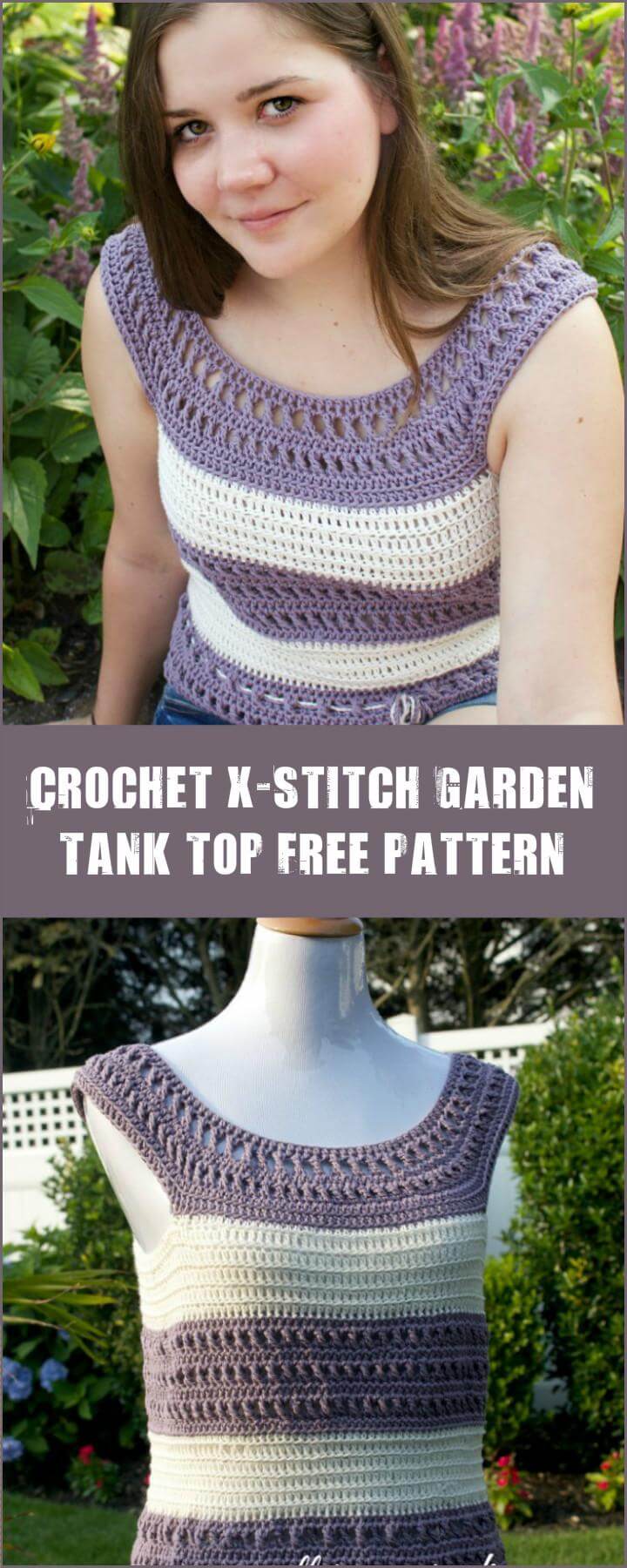 Tanks are the perfect pick up when the weather is lighter and moderate.So crochet this lovely tank for yourself using the X stitch with a really cool and simple pattern. Two pretty colors have been combined to make the tank look really pretty and can be changed per your desire too. You can wear it alone or over your tanks or vests too, here is the link to grab its free pattern pattern-paradise
Easy Crochet Summer Spiral Earrings and Necklace Set: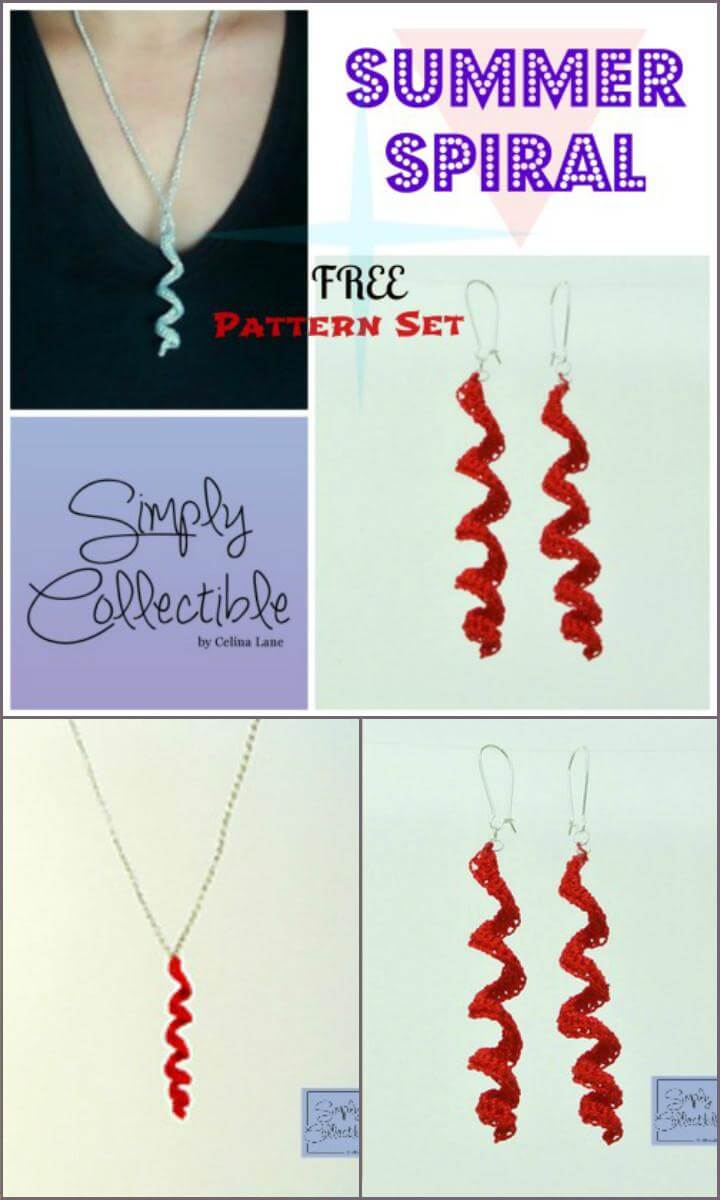 We dress up more nicely in the summers because there are no layers of the clothes on us. So its the best time to accessorize yourself and flaunt your style so damn perfectly. So here we have some pleasing surprises for your jewellery collections with these crocheted spiral ear rings and necklaces. You can instantly enhance a simple top or tank with these too cute jewelry piece.So do get the pattern and details for free right from this link simplycollectiblecrochet
Crochet Beach Bag for Momma: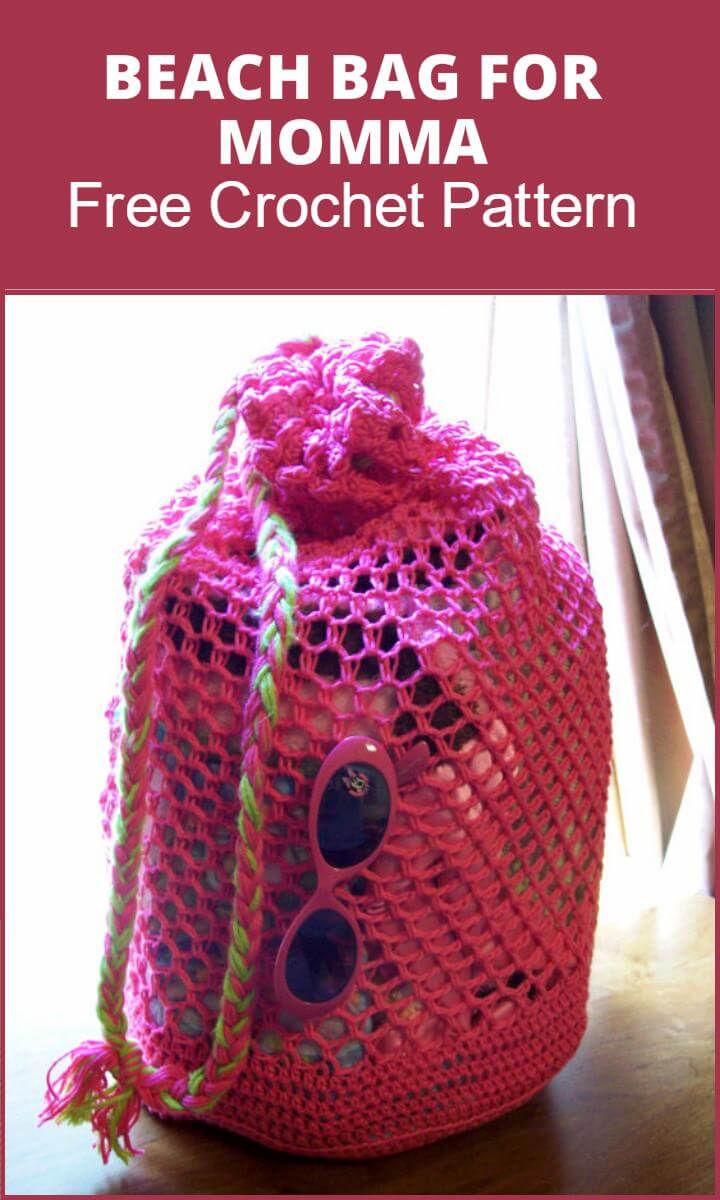 For the mother's day the lovely and functional ideas of DIY crafts are the best and here we have another delightful gift addition to this collection. You can crochet this so cute, cool and fun beach bag for your mother and gift her on this mother's day and believe me she would be more than glad to receive it. Not only for the mothers its also a perfect gifting for friends and colleagues too. So get the free pattern here so that you can crochet it soon stitch11
Stylish Crochet Elisa Sleeveless Top:
You would never buy anything crocheted from the market when you can crochet all the styles, designs and patterns of you own getting the aid from the internet.From the fun, boho and chic styled crocheted possessions to simple ones like this arm less top, you can have them all right here with all the needy details and free patterns so that you can work on them at home and save yourself a huge fortune.Complete tutorial here crochetkim
Crochet Not Granny Gladiator Barefoot Sandals: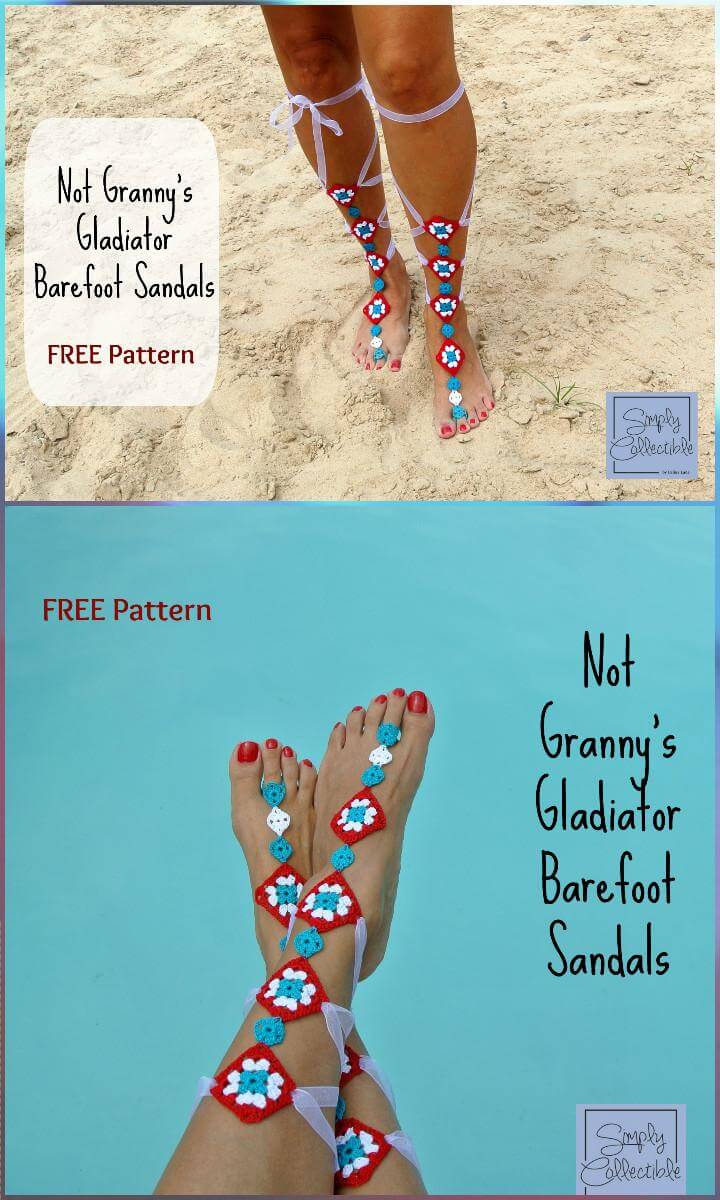 These colorful, chic and stylish barefoot sandals are just too stunning and beautiful and would surely win every girl and lady's heart with the every first glance of it. If you look great with your bikini, short skirt or frock adding the subtle and soft style statements to your personality and fashion.So they are a must try to add some graceful fashion to your dress up this summer. Here is the full tutorial to know its all details along with the pattern simplycollectiblecrochet
Free Crochet Peplum Tank Top Pattern: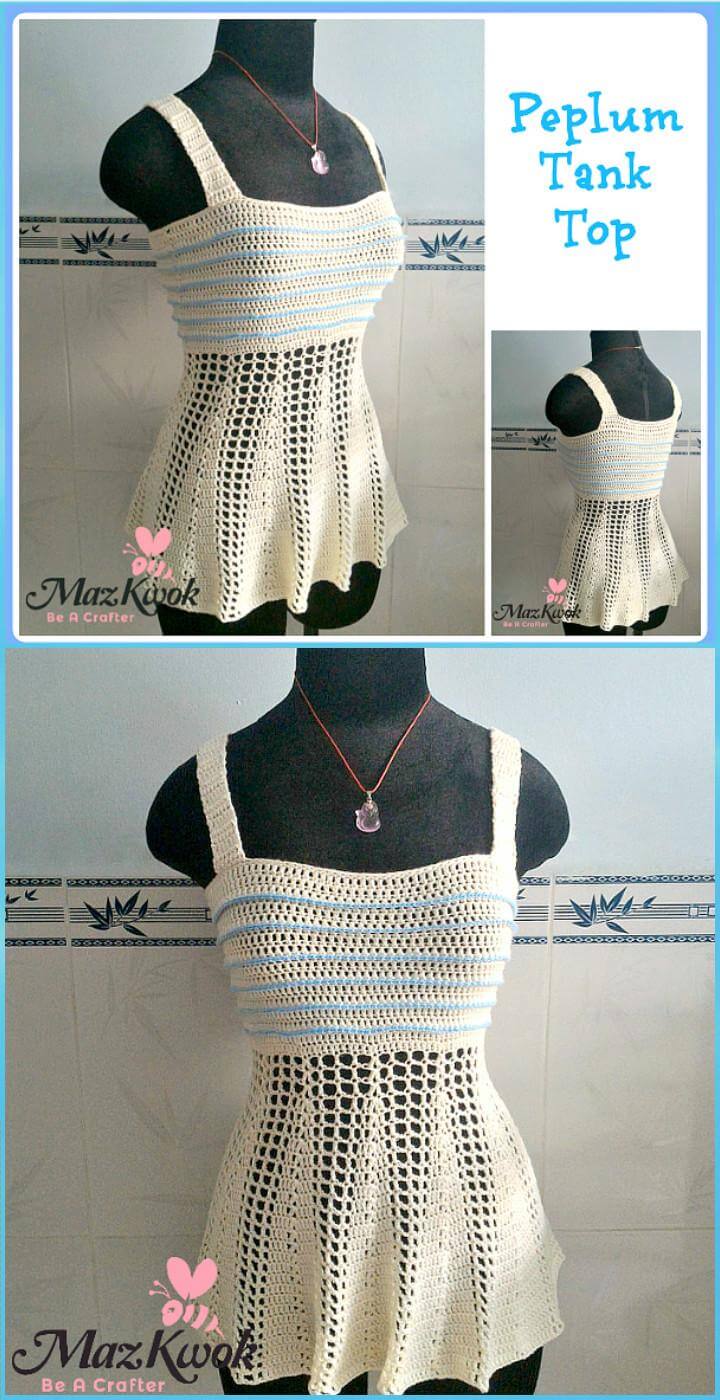 The crochet tops are so much cute and women just love them to wear and flaunt around. SO here is another good work in this regard with this lovely and cute crochet peplum in white that you can nicely carry with your pants and shorts too. The pattern and design is so much gorgeous so do steal it from this provided link beacrafter
Easy Summer Beach Towel: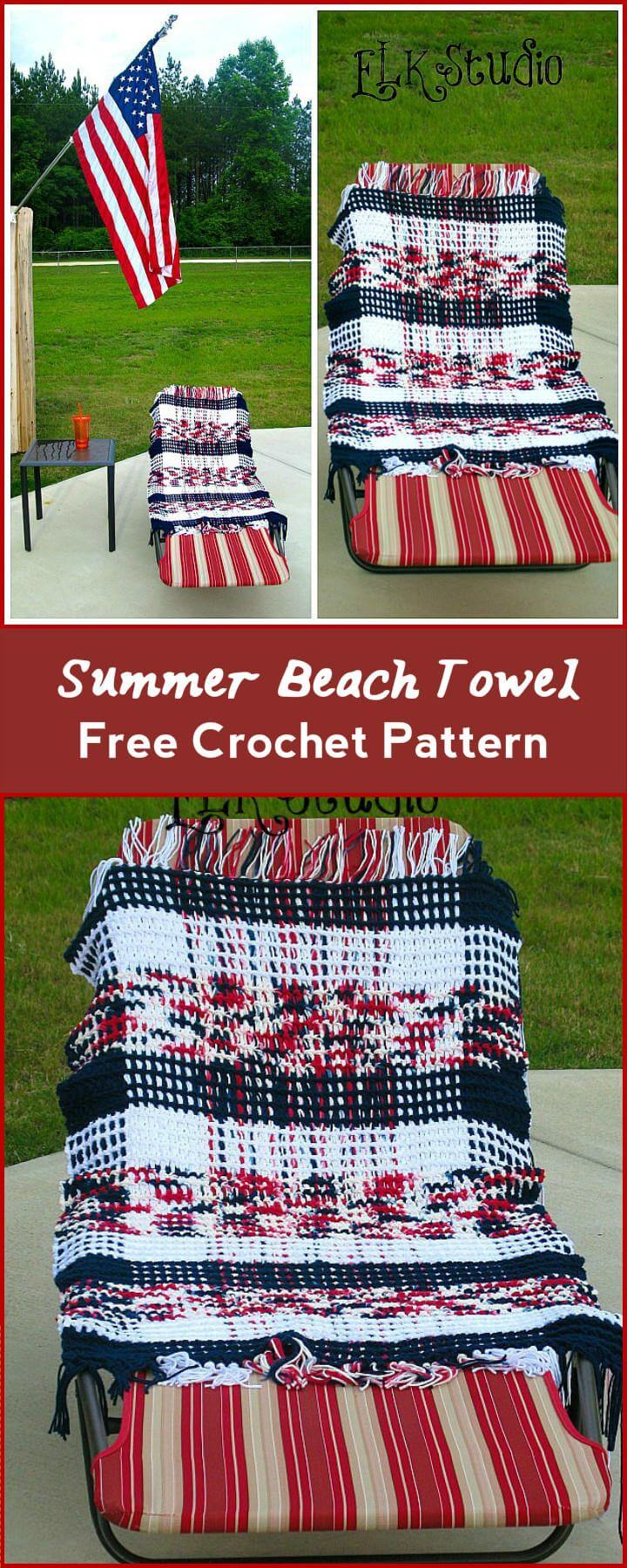 Summers are all about the beach fun and beach trips and a beach towel is a must thing to go in your beach bag.So crochet this lovely beach towel for yourself as it would be really easy and money saving too. So grab your favorite yarn colors and crochet them together to form that mesh patterned beach towel.Here is the link to get the fee pattern and crochet stitch instructions elkstudiohandcraftedcrochetdesigns
Brilliant Crochet Hammock: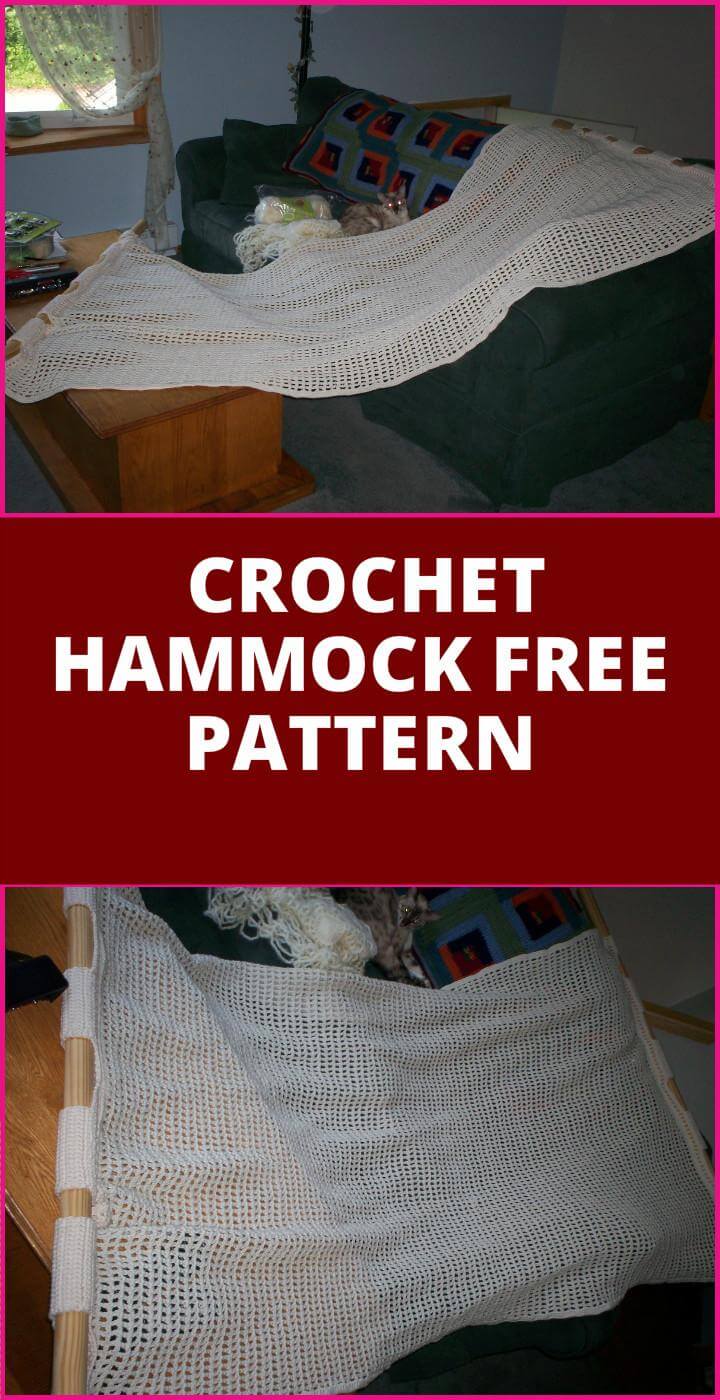 A hammock in the house is the ultimate leisure spot to spend the lazy Sundays and weekends on. SO if you need one do not find it in the market as you can create it of your own self.With the simple crocheting techniques and stitches you would be able to crochet this long and wide hammock for your fun and rest.Here is the link to get more information about this lovely hammock and also to get its free pattern sites.google
Lovely Crochet Sandra's Shorts: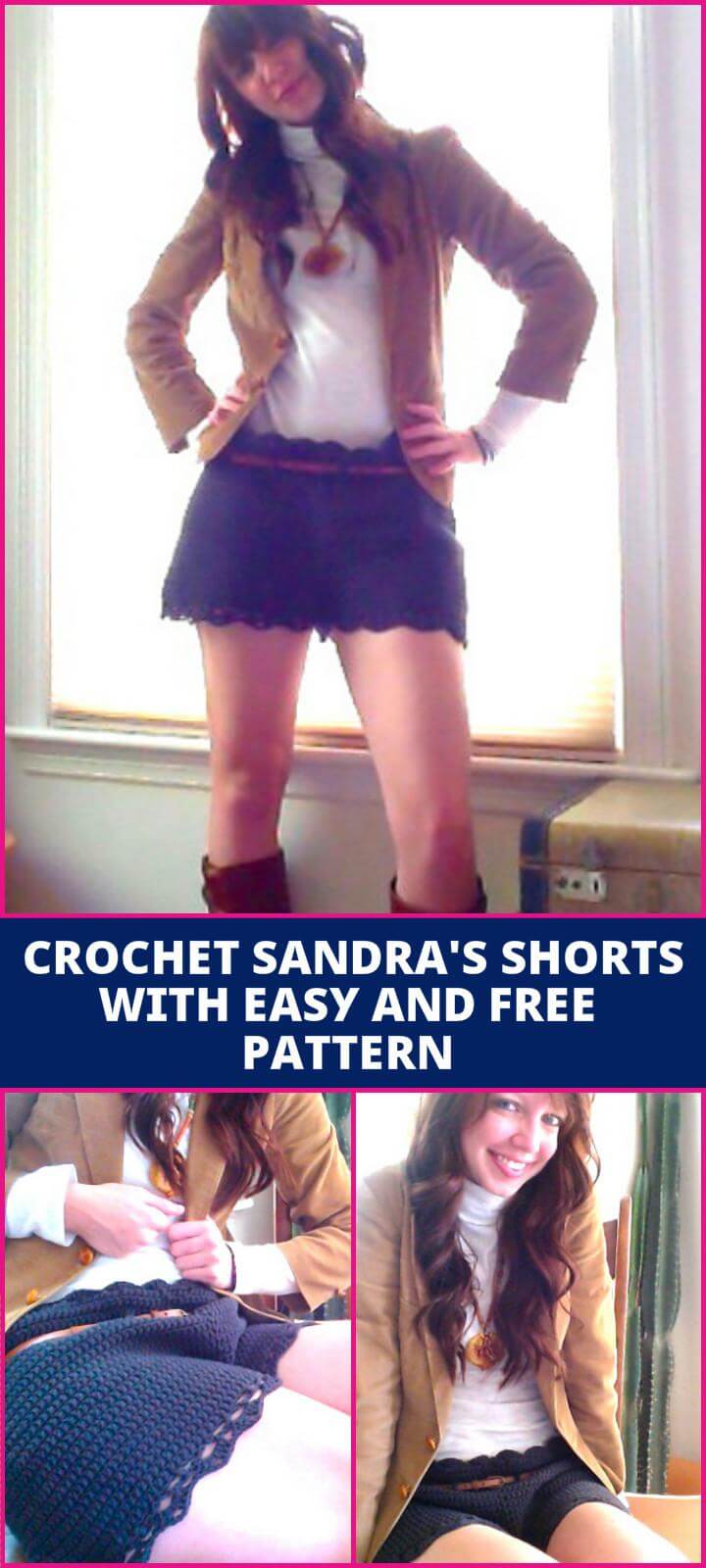 Shorts are one of the favorite things women love to wear and adore themselves with.So how about crocheting one cute short for yourself? its a great idea and would be so nice and easy to do yourself with some crochet yarn and the crochet sticks.Here we the free pattern and stitching details of the pretty short so that even the beginners can whip off this cute short idea.Tutorial here ravelry
Crochet Webby Sundress/Skirt: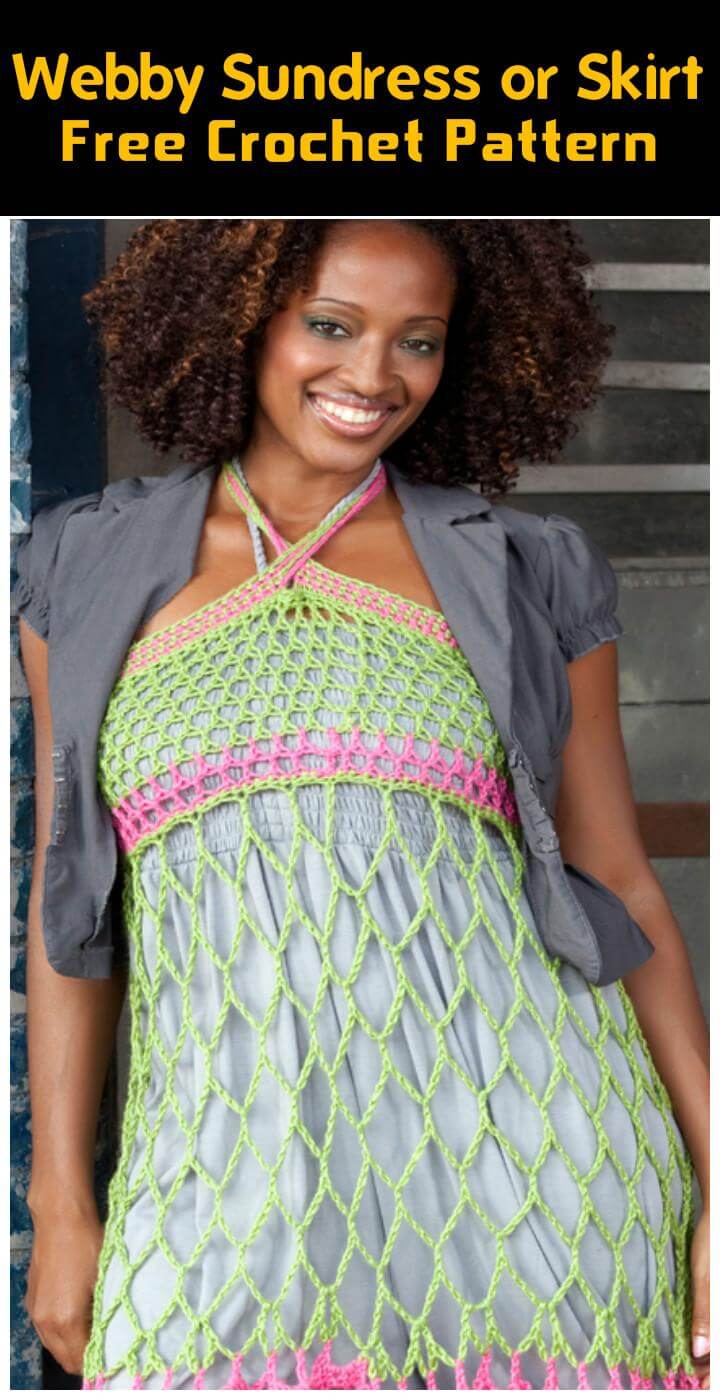 The lovely colors and the pretty pattern of this crochet sun dress would definitely tempt you to make one for yourself that you can flaunt around in the summers of springs. Its too pretty and stylish and would go over your so many shirt,s ops and tanks too. Here we got the link where you can get the free pattern of this fun and cool crochet dress redheart
Easy Crochet Flower Pot Hat: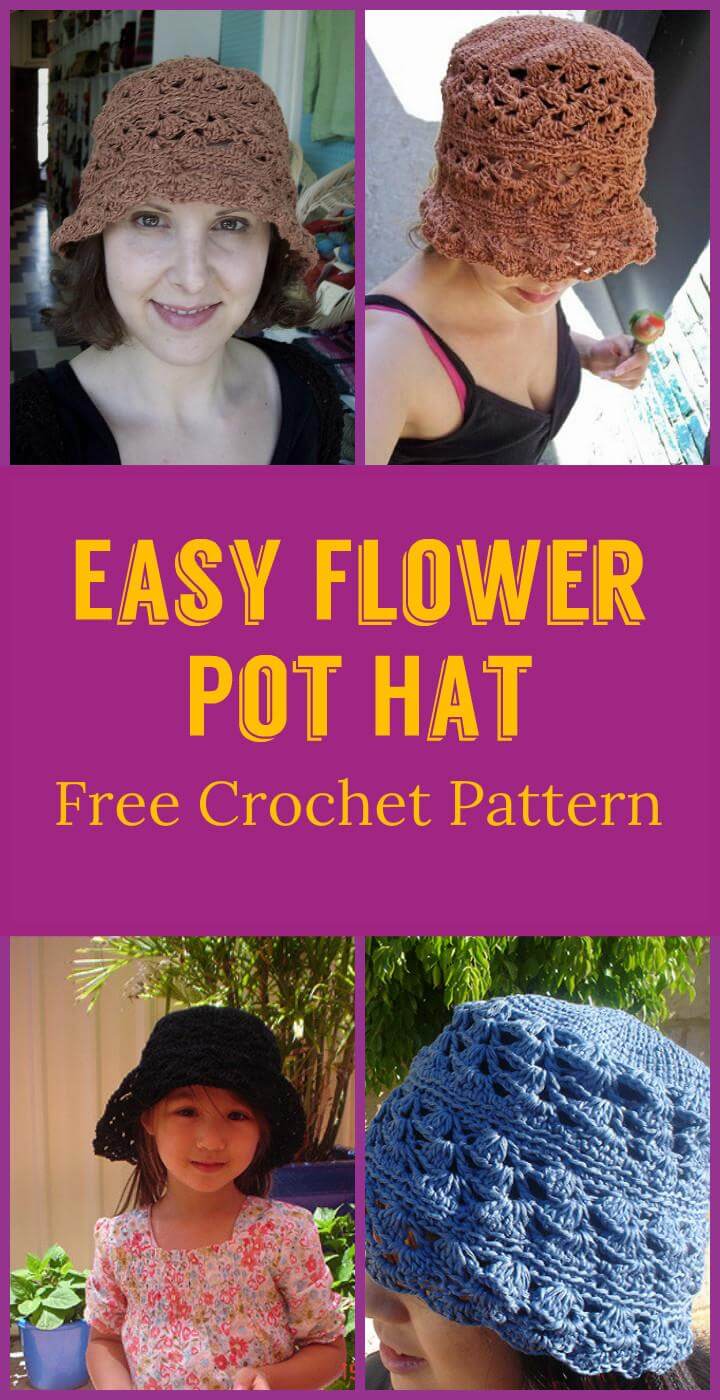 Crochet hats one of the most liked and the adored cozy things for the winters for the ladies and the little girls. So trying new patterns and designs is the goal of every woman for herself or for her princess so here we got this lovely crochet flower pot patterned hat that is so cute and so easy to crochet of your own at home with your favorite colors.Need free pattern for it? get it here ravelry
Beautiful Crochet Summer Sun Wreath: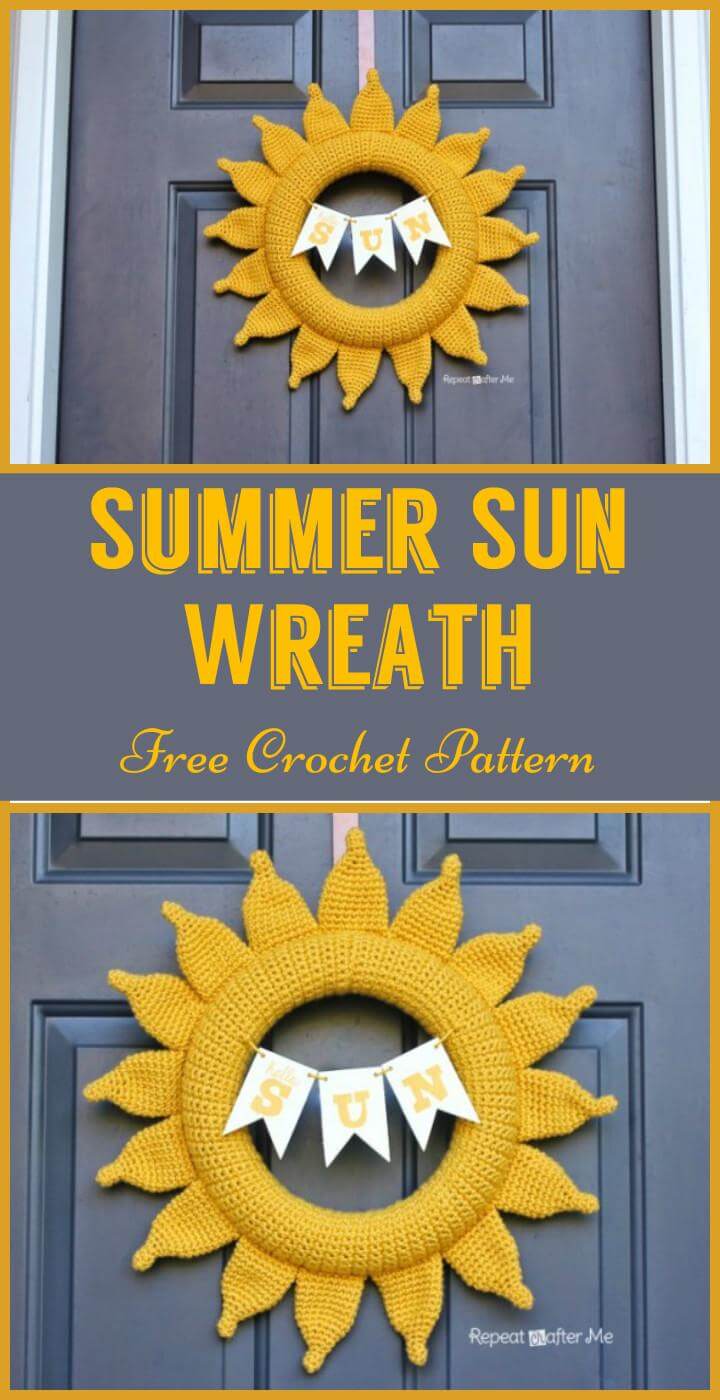 If you are looking for a new crochet project to get your hands dirty with then this totally adorable summer sun wreath to welcome the fun summers in subtle style. Get a wreath ring and work over it all along with the yellow yarn being nicely crocheted with the cute sun rays coming out.The SUN name has been got in printable and displayed over the wreath in a cute garland form.Here is the full tutorial to know it more here repeatcrafterme
Easy Crochet Water Bottle Cover: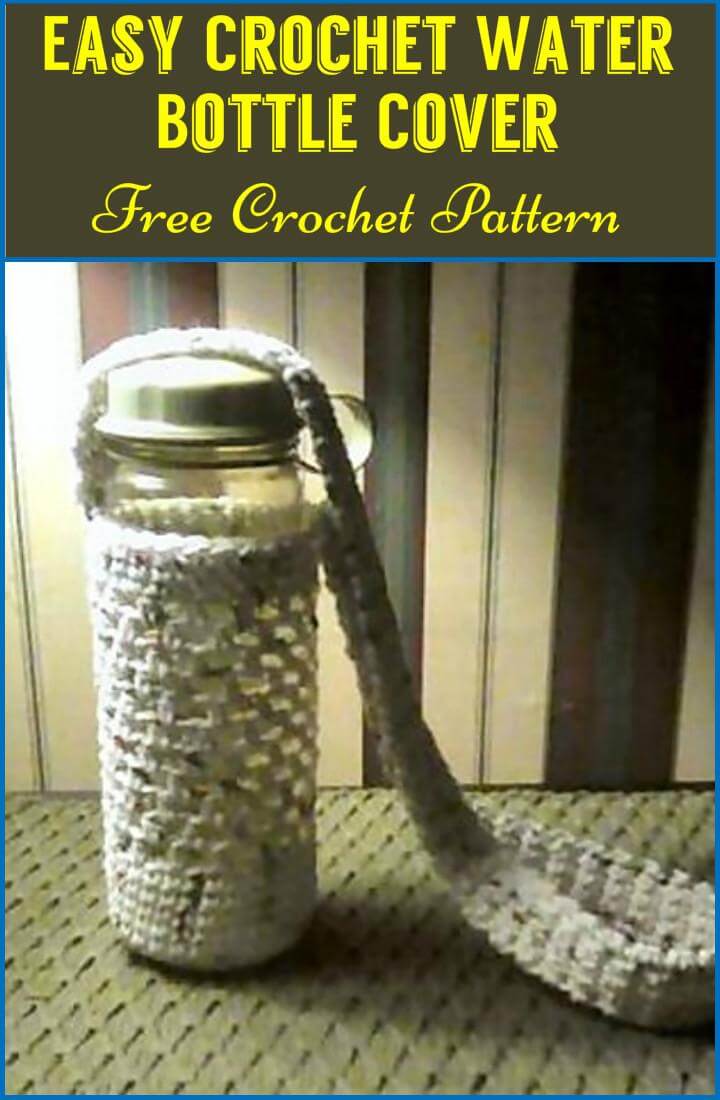 Get this lovely and functional bottle cover and carrier with the crochet yarn, crochet hooks and some free time of yours. You can carry it anywhere with your and that too in style on your shoulders.Its too simple and fun to crochet at home and we have the link where you can get all the details of the crochet directions and also the free pattern of it. You are allowed to change the colors if you don't like it in white ravelry
Beautiful Crochet Stones:
Bring some attraction and appeal into your home décor and that too in the most unique and fun way. Bring home some small and big rocks and make crochet covers fro them to get them wrapped up. Display them in your living room by housing them gorgeously in a dish.Get the full detailed link here to grab the free patterns too thebeehivecottage
Crochet Easy Starfish Dishcloths: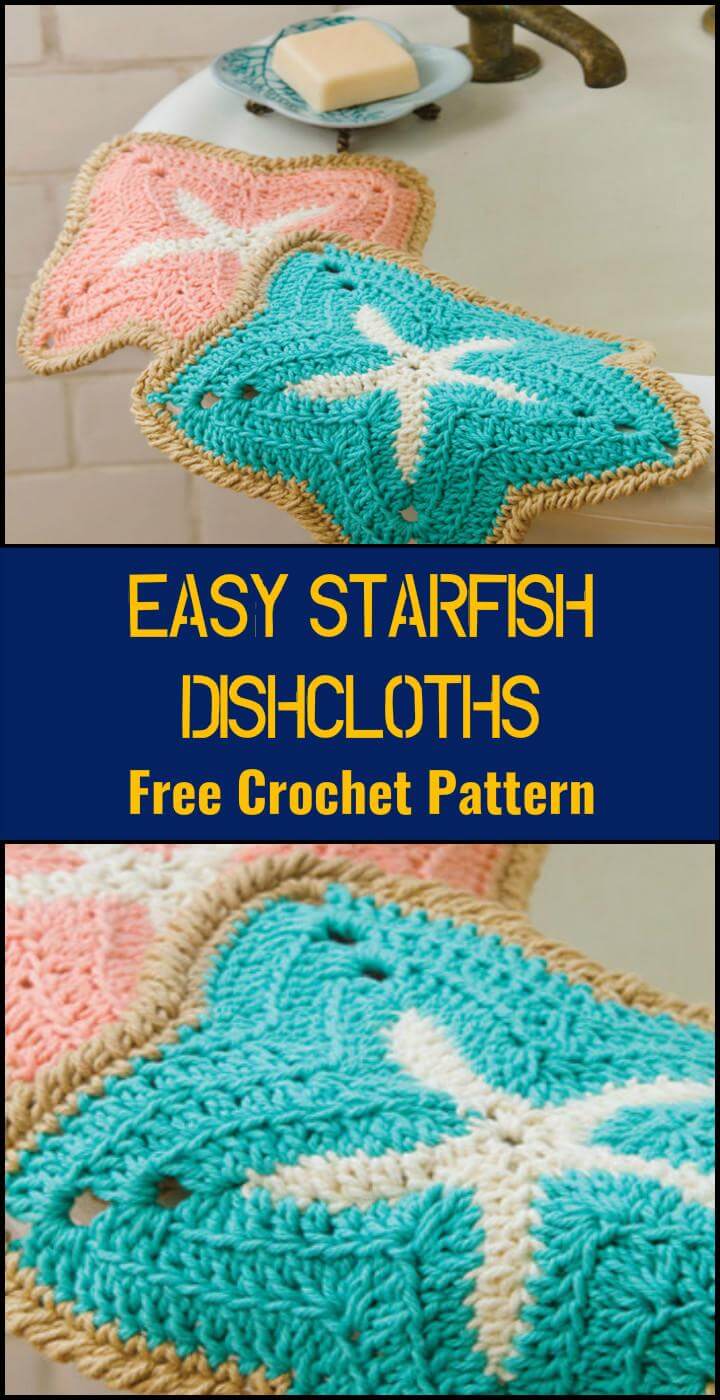 Washing dishes is never a pleasing task for the ladies but it can be made a bit easy and comfortable for your hands with these starfish dish clothes. These pretty looking dish clothes would be so soft and cozy to use and would also last so much long doing your dishes regularly. Here is the complete tutorial of it redheart
Crochet Summer Squares Beach Tote: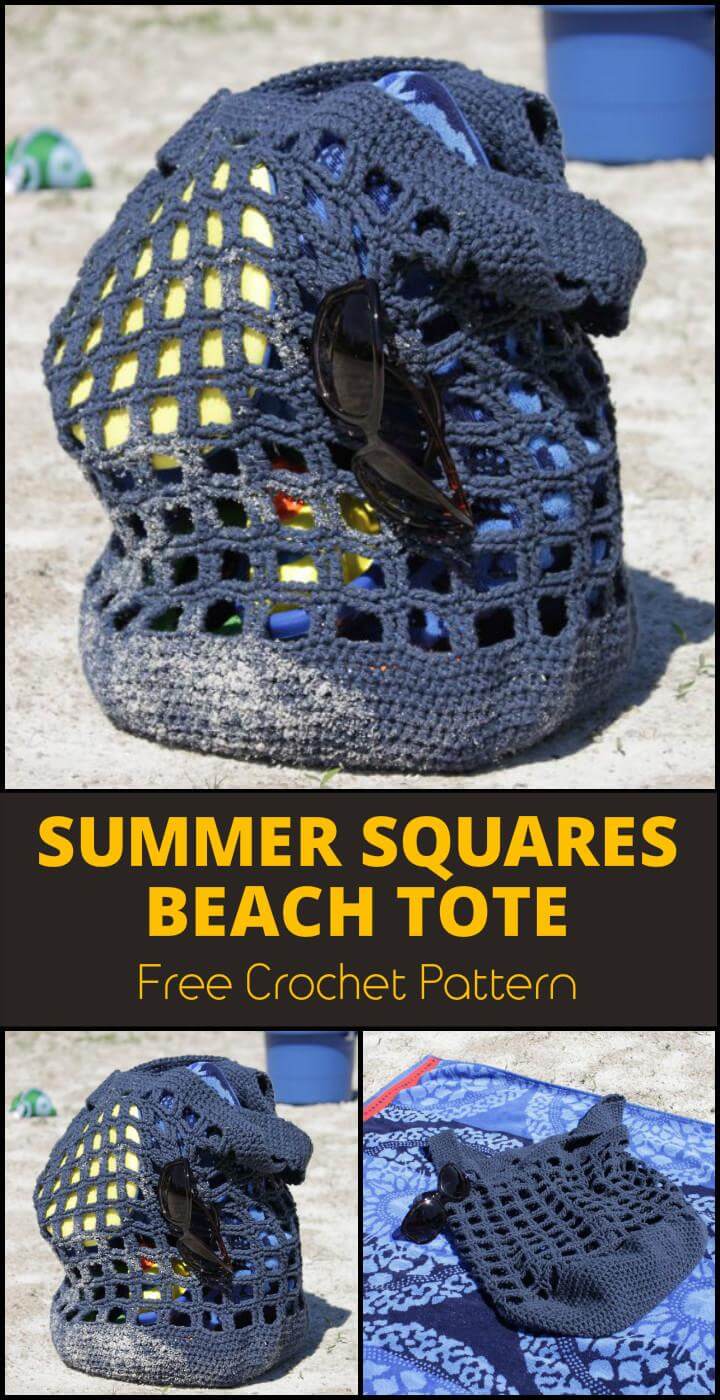 There is a lot carry with when we plan a visit to the beach or a pool like the swim suits, towels, lotions and a good book to read and relax. SO you need a bag to carry all this beechy stuff and you can now crochet one for yourself. For the pattern and design we have this lovely beach tote bag for you having its free mesh pattern here micahmakes
Super Easy Summer Barefoot Sandals: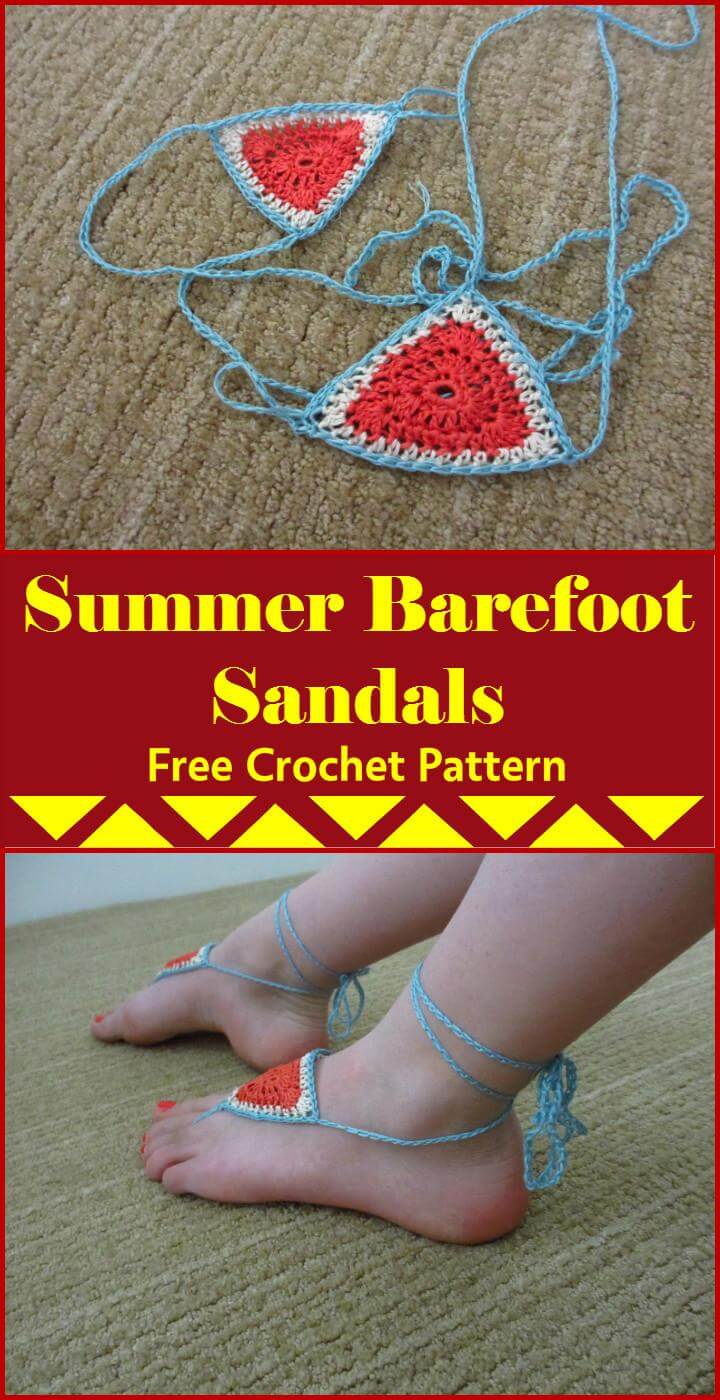 Barefoot sandals are so just so cute and look so gorgeous in the feet. They are the perfect for the beech visit when you are enjoying the cool sand on the beach and it touches your feet sole and really makes you feel fresh and up. So get the beach fun in style with these utterly cute beach sandals jaysboutiqueblog
Easy Lacy Crochet Kerchief: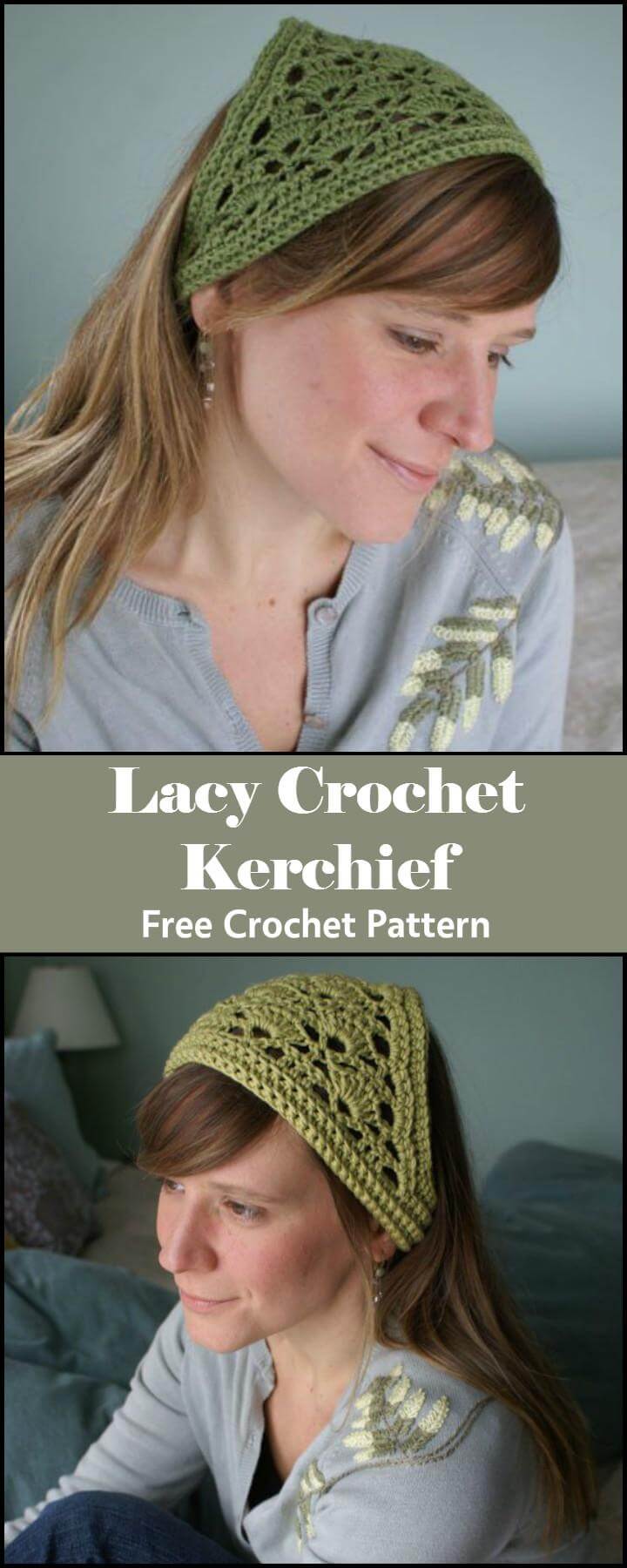 Sometimes the small details really add to your personality and style and for that you can opt for some really common and fun things like this cute kerchief for your head and hair would really make you look tidy and graceful. Its too simple and quick to make from the crochet yarn and if you are regular crochet worker you can have it within hour and hour too.So grab the pattern details here and start crocheting it kristentendyke
Lovely Crochet Fruit Coasters: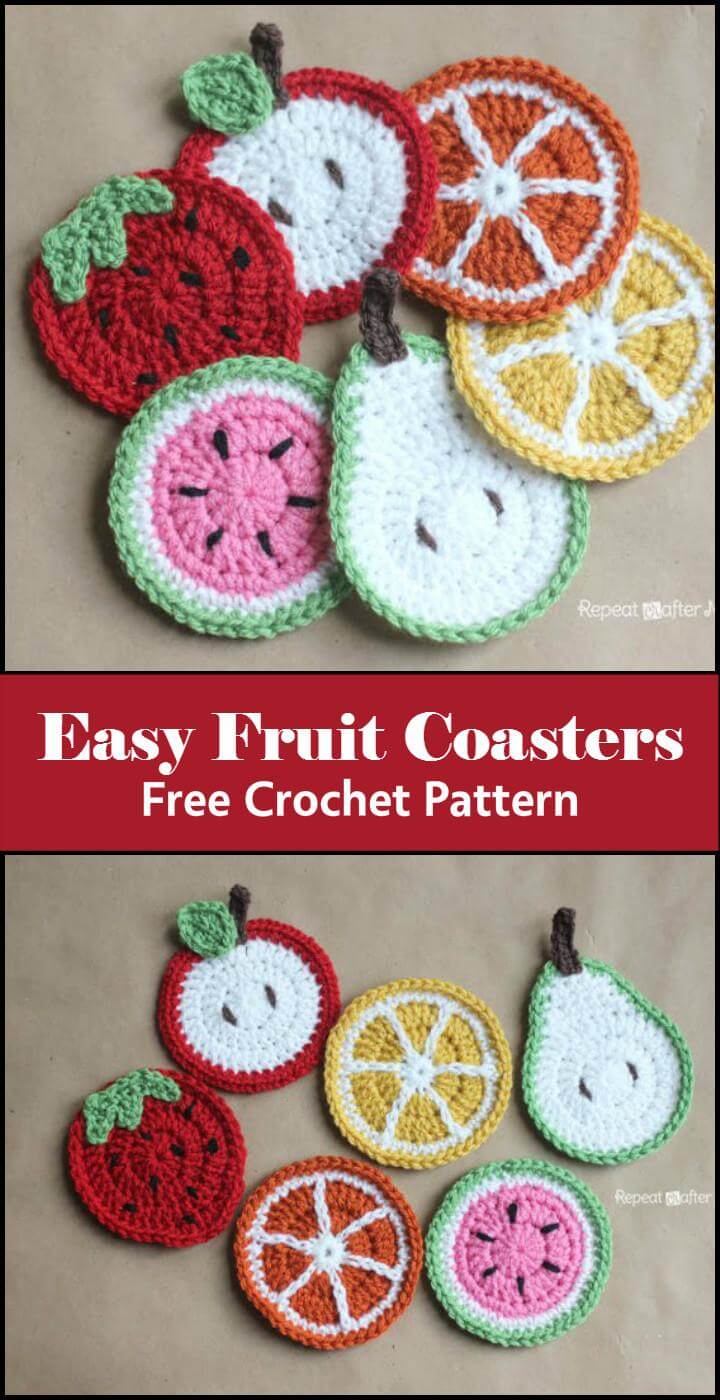 Crochet coasters are really famous and now you can make them with a cute and fun twist. Yes you can make them like the tiny crocheted fruits, Strawberry, oranges, peaches, apples, water melons you can make them all with the relevant colors and features and they would look so damn cute and also make a perfect kind of gift for your dear and near ones.Full tutorial is here so browse to catch all the details repeatcrafterme
Crochet Beautiful Bikini Swimsuit Bag: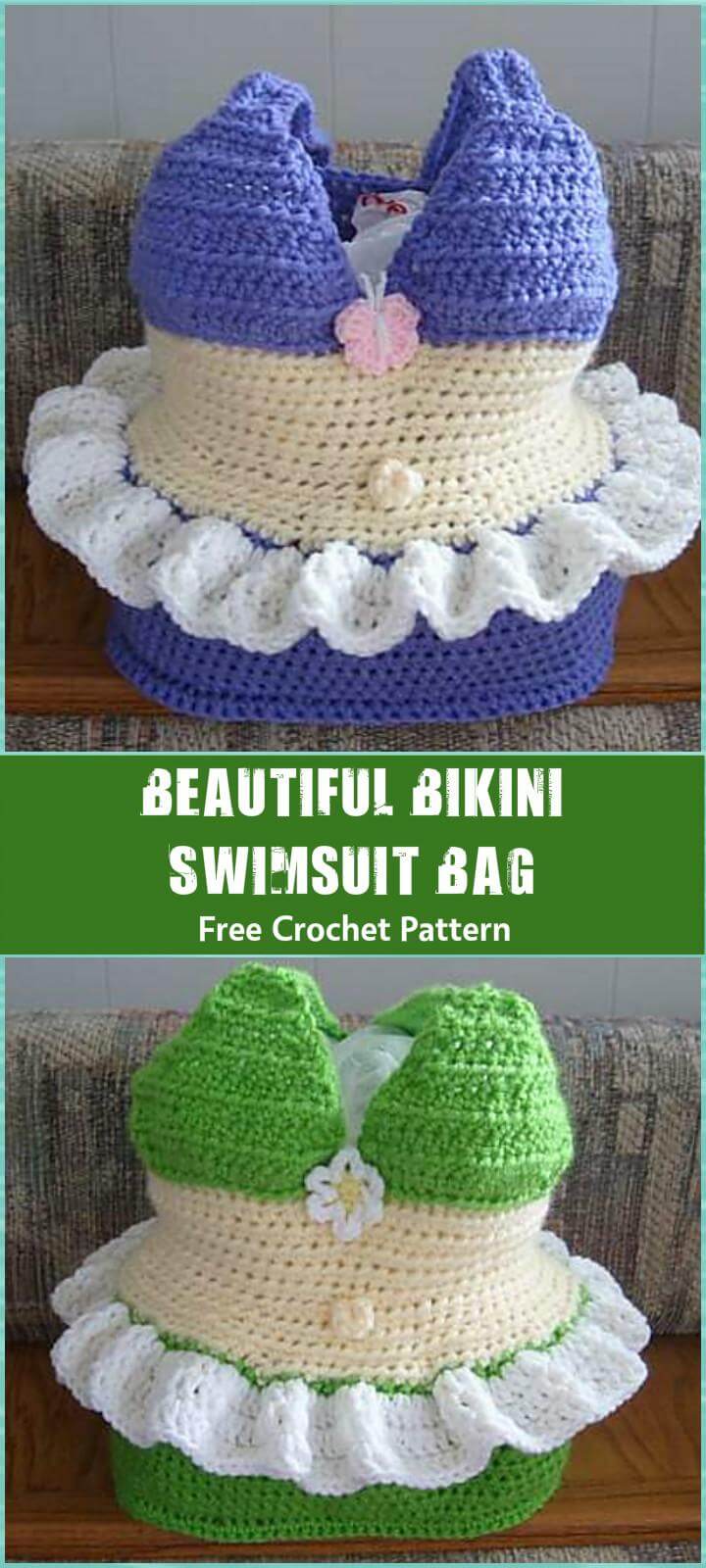 Carry your swim suit and other needy necessities to the beach trip in this utterly gorgeous, cute fun and above all immensely customized bikini bag that is so easy to crochet yourself at home.Just choose the favorite colors of your and crochet it up and you can get all the details and the fun free pattern from this link provided. Do include it in your next to do list ravelry
Crochet Little Waves Towel Applique: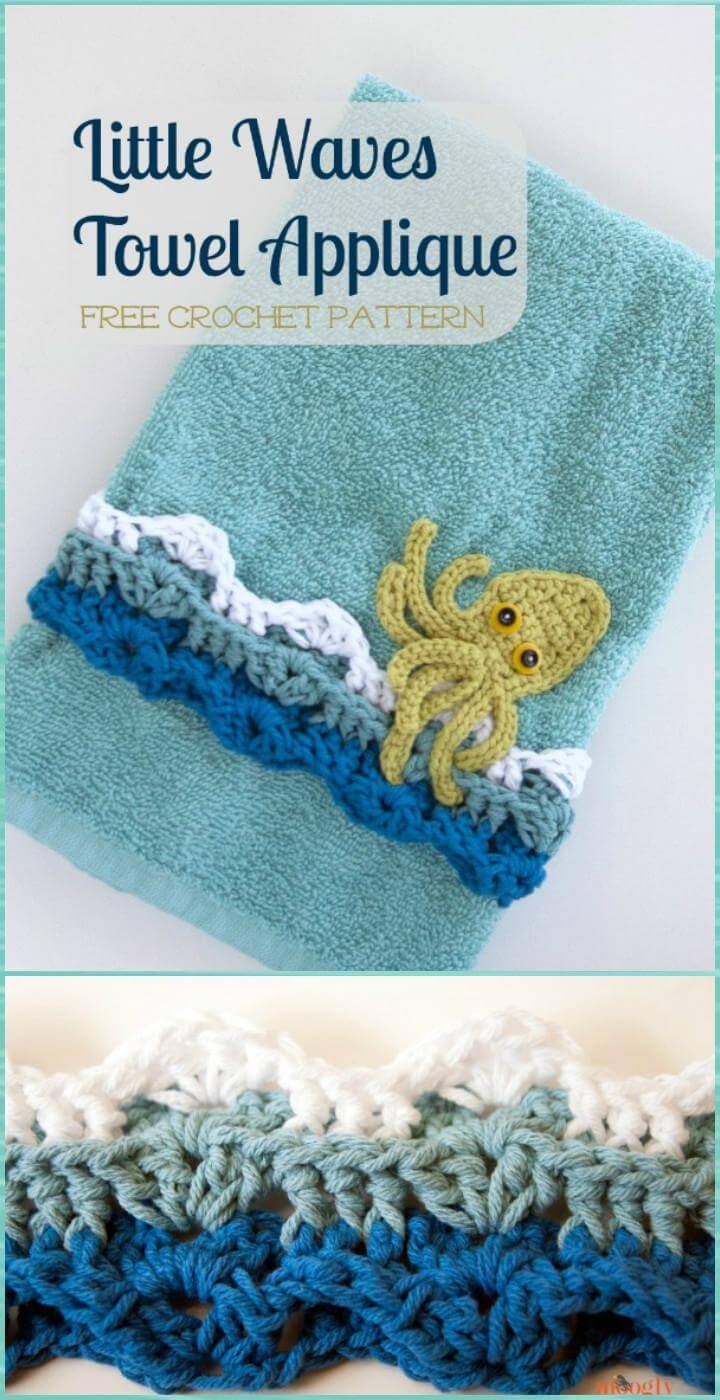 Towels are bought from the market always and they are always in the same design only with the differences of the colors. So here we are suggesting you to add some really fun and cue vibes to your towels with the crocheting. yes you can crochet the water waves and a cute octopus on the edge of the towel and it would look really interesting and exciting. Catch the fun details here mooglyblog
Stylish Crochet Lex Crop Top: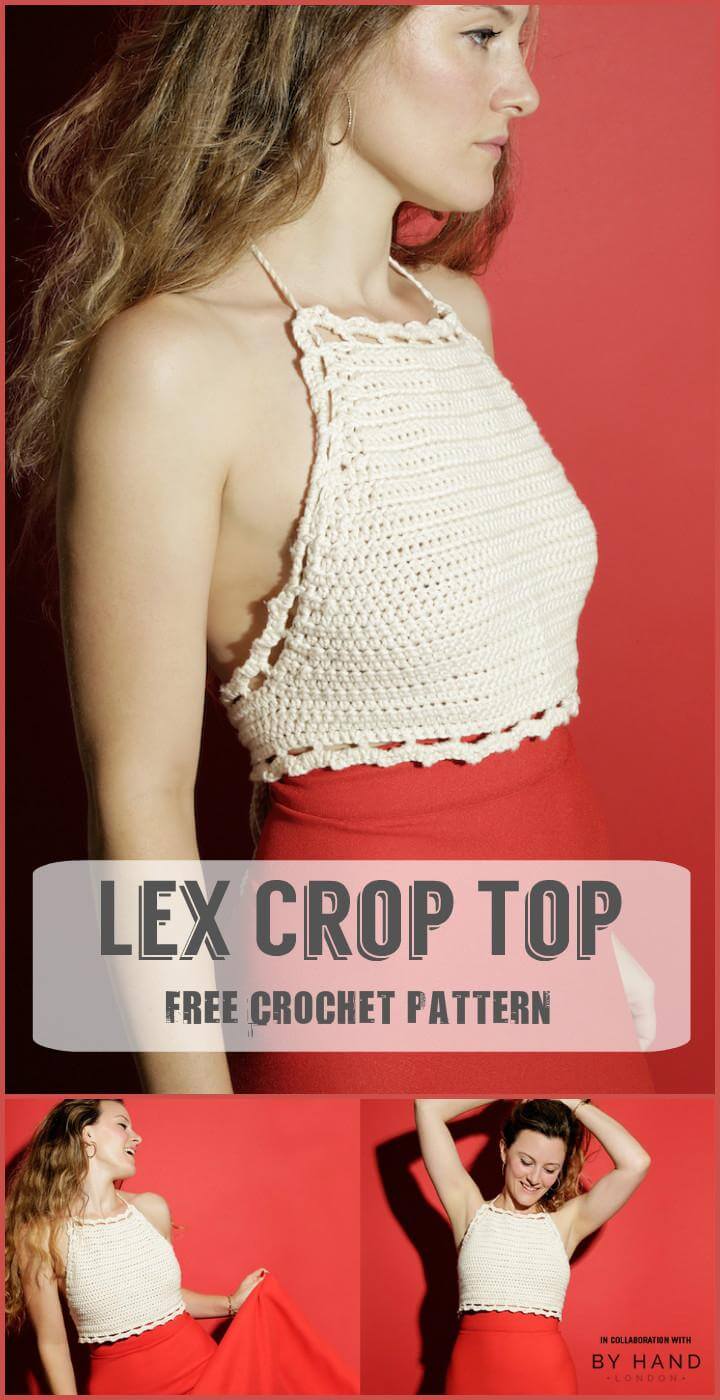 Girls are surely going to crazy to see this lovely and cute crochet top as it so gorgeous, stylish and totally fashionable.It would look great with the skirts and you can carry it anywhere be it a fun summer party, a date or a family dinner its just perfect in style and beauty for all the occasions.Here is the simple pattern to follow and make this top of your own and save a lot of your money over party dresses byhandlondon
Crochet Selena Gomez Dress:
If you love to follow your favorite celebrity and copy their style and fashion then you would surely love this Selena Gomez crochet dress that you can use as a bikini cover, or wear over your tops and tanks.It can be crocheted in so many hues depending on the color you would like to have it in your wardrobe. It would be really fun and feasible to crochet with the free pattern and the stitch details resting here andreialessatricos
Crochet Light Airy Poncho for Summers: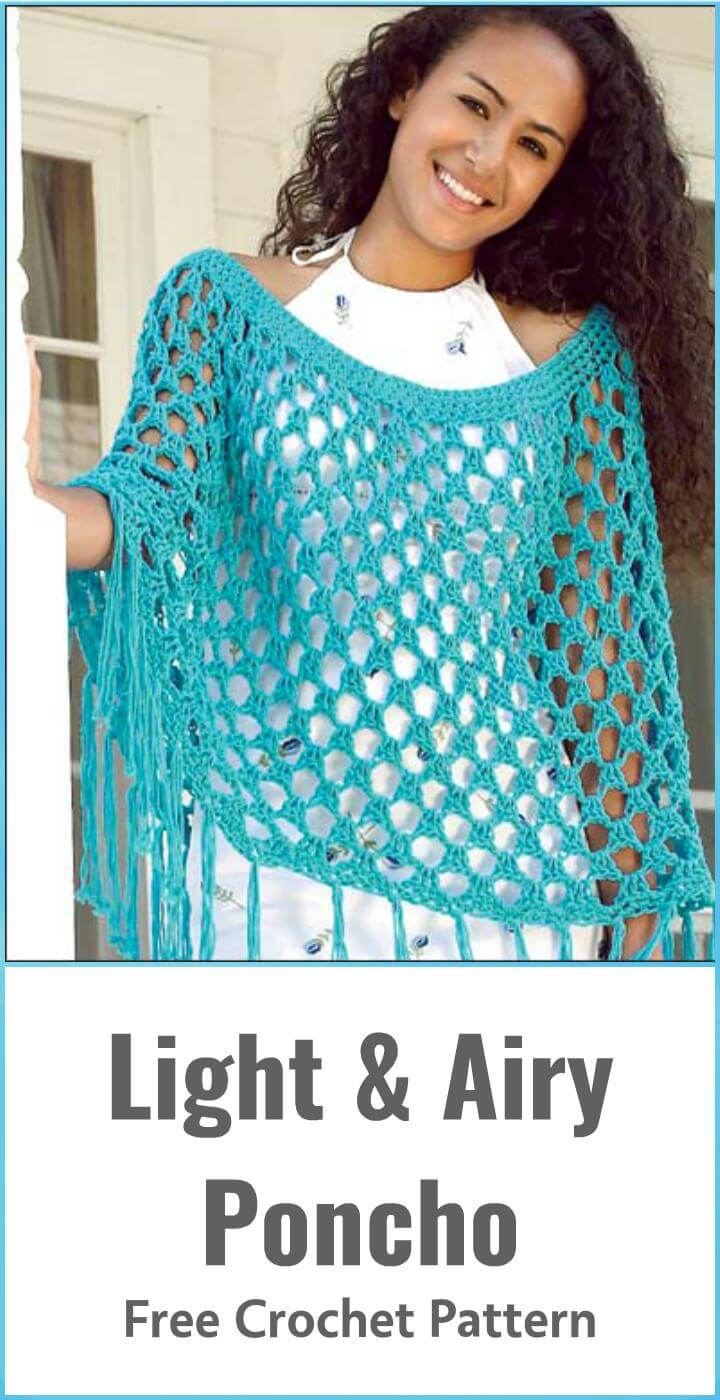 Ponchos are just perfect to inkstand grace and glam to any of your boring and dull dress. So for the summers you need the kind of ponchos which are airy and light and we have a perfect sample for you. This airy and light poncho would be simple to crochet and would really add the style factor to your simple tank or top. You can make it in any of the colors of your choice so to make it you can get the free pattern here freepatterns
Spring Blooms Crochet Shawl:

The wedding celebrations go on til the night and if the wedding is in spring or the early summers then this pretty crochet wrap would be so much cozy and comfortable to cover the shoulders of the bride.The wrap is so gorgeous that it would really add to the dress of bride the style and the beauty factor. The pattern feature the mesh pattern all over with the cute flowers being crocheted on the edges of the scarf or the wrap. You can steal the free pattern of it here allfreediyweddings
Crochet Spectacular Summer Pants:
The crochet pants are now again in fashion and with the all rage. To revive this fashion of your mother's days by crocheting this cute and retro styled crochet pant for yourself, for your mother, aunt or the best friend.IT would look too cute with a belt and the flat shoes and matching with all color blouses.Here is the link to know more details and also the free pattern of it crochetpatternstotry
Crochet Floral Crochet Headband: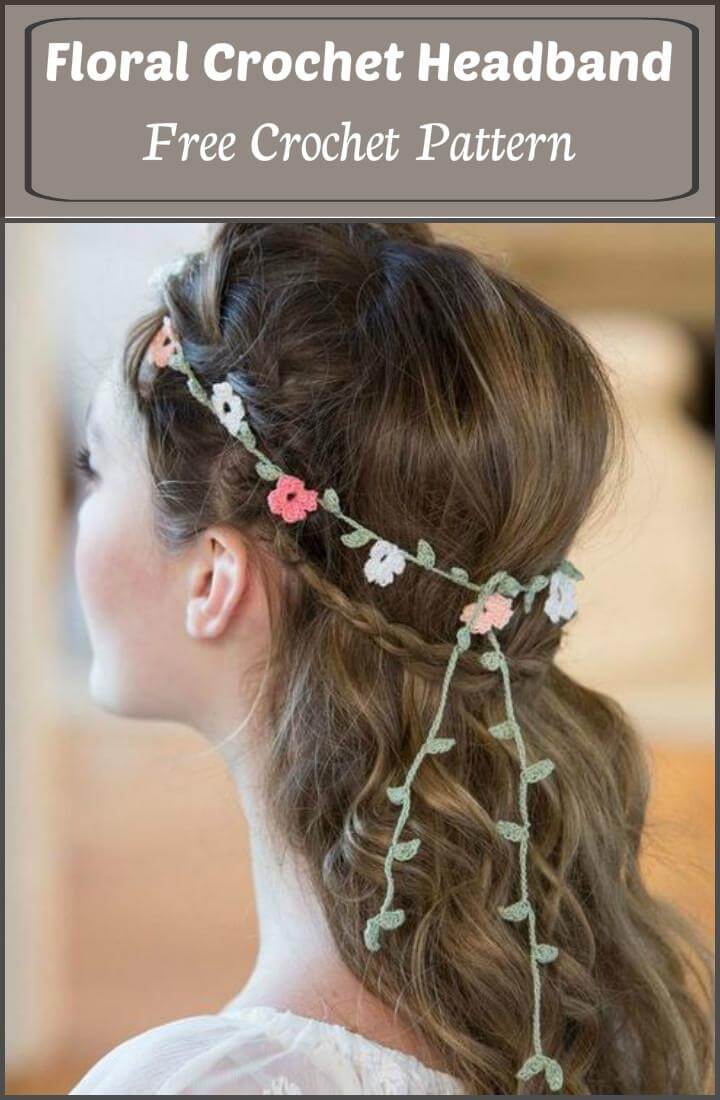 The hairdo is one of the most important steps of a bridal dress up and now it can be made to look more gorgeous and impressive with the addition of this cute and pretty floral headband.The headband is sure to add the delicacy with grace to the bridal avatar and that too at no cost. If you friend is a bride to be you make this headband and gift her on the wedding allfreediyweddings
Summer Fun Crochet Market or Beach Tote: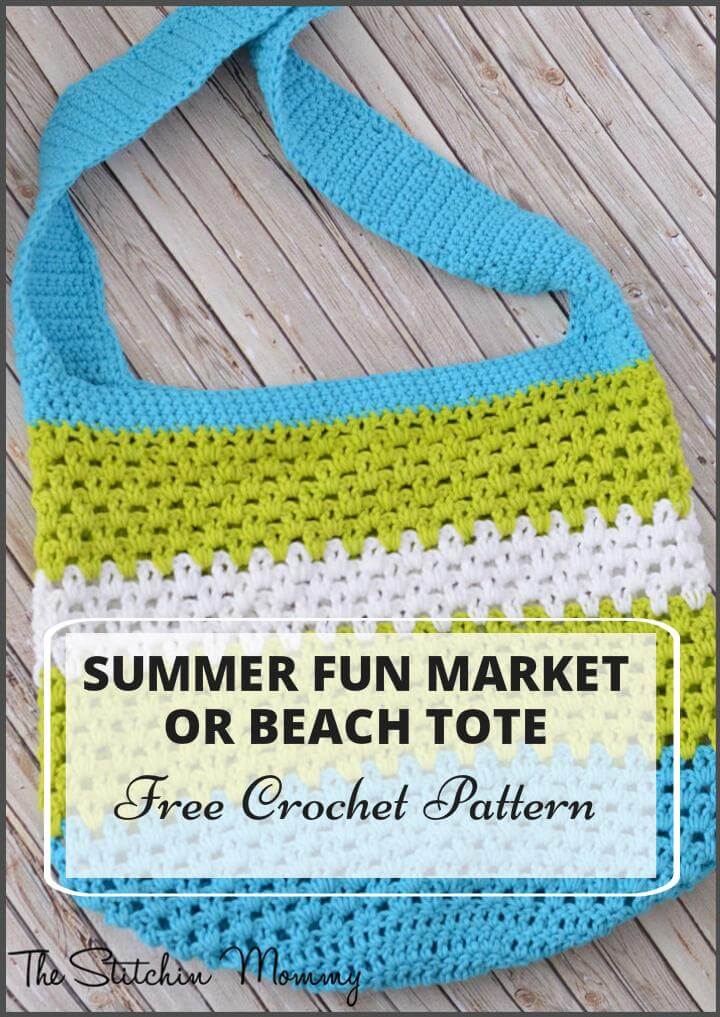 The color selections really have a big impact on the beauty and style of anything you crochet at home>Like this adorable tote bag has been crocheted with three colors of yarn which are white, blue and green and this contrast really add to the appeal of the bag. You can use it as a tore bag for your shopping and also as a beach bag in the summers for your beach trips to carry the beachy stuff in it thestitchinmommy
Crochet Peekaboo Picot Flip Flops: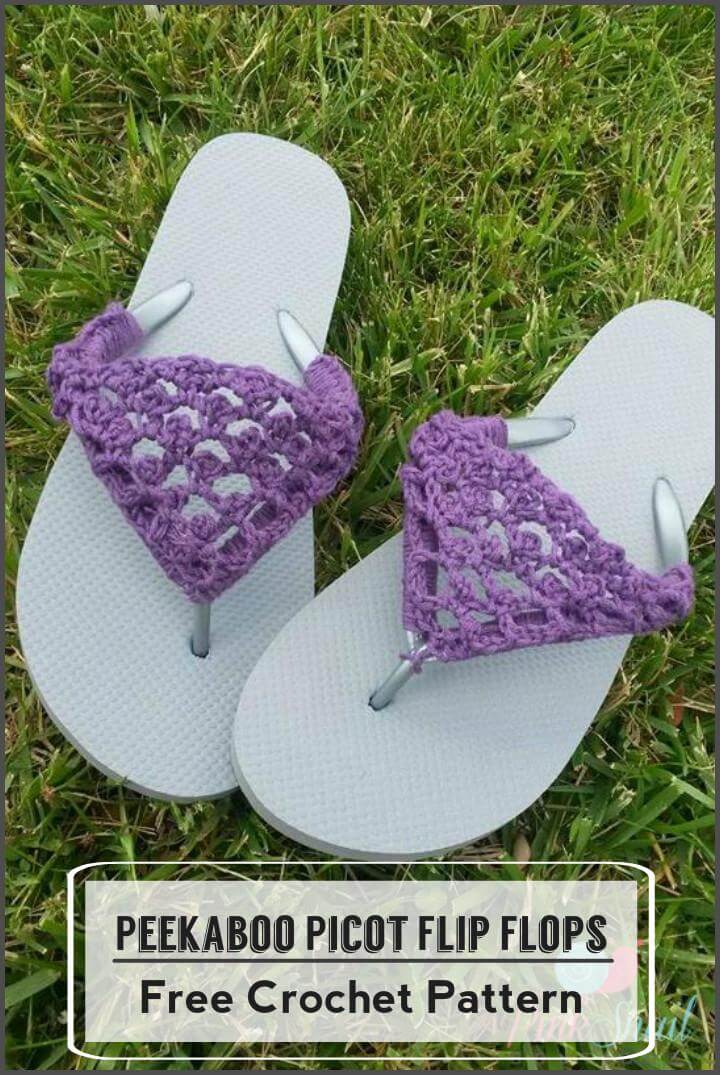 The simple and plain flip flops can be made to look super stylish and cute with the crohcet work over the flip flop stripes. Its like a weaved net over the stripes and would really look great with your summer skirts, jeans and shorts.You can crochet it in any color of your choice and that too so nice and quickly with the free pattern and stitching details lying right here cre8tioncrochet
Crochet Lace Beach Shorts: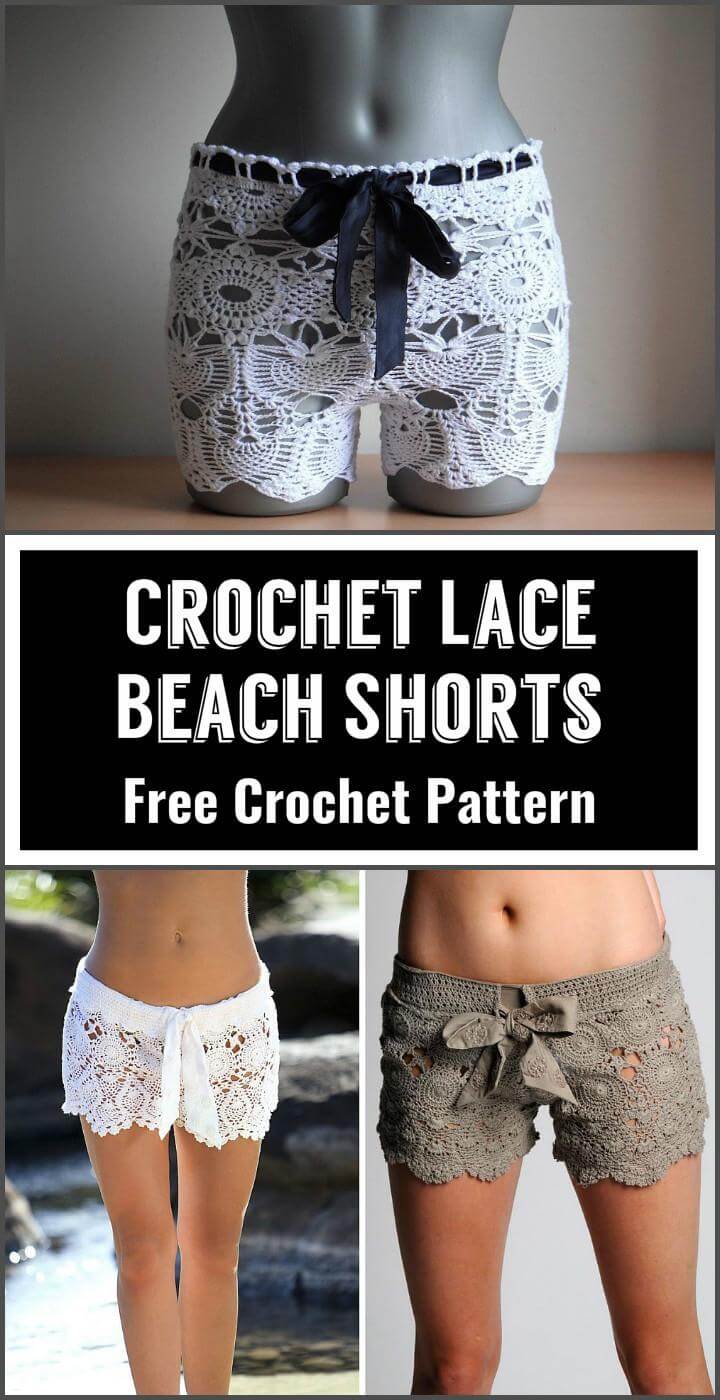 If you are a beach lover then you have always wished to have a lovely pair of lace shorts to wear and flaunt around your body on the beach.But they are too much expensive to bu from the stores so its better to crochet them for yourself and save a huge fortune of yours. This project would be really time saving too and would get ready too quickly so do grab the free pattern of it right here wonderfuldiy
Airy Crochet Lea Blouse: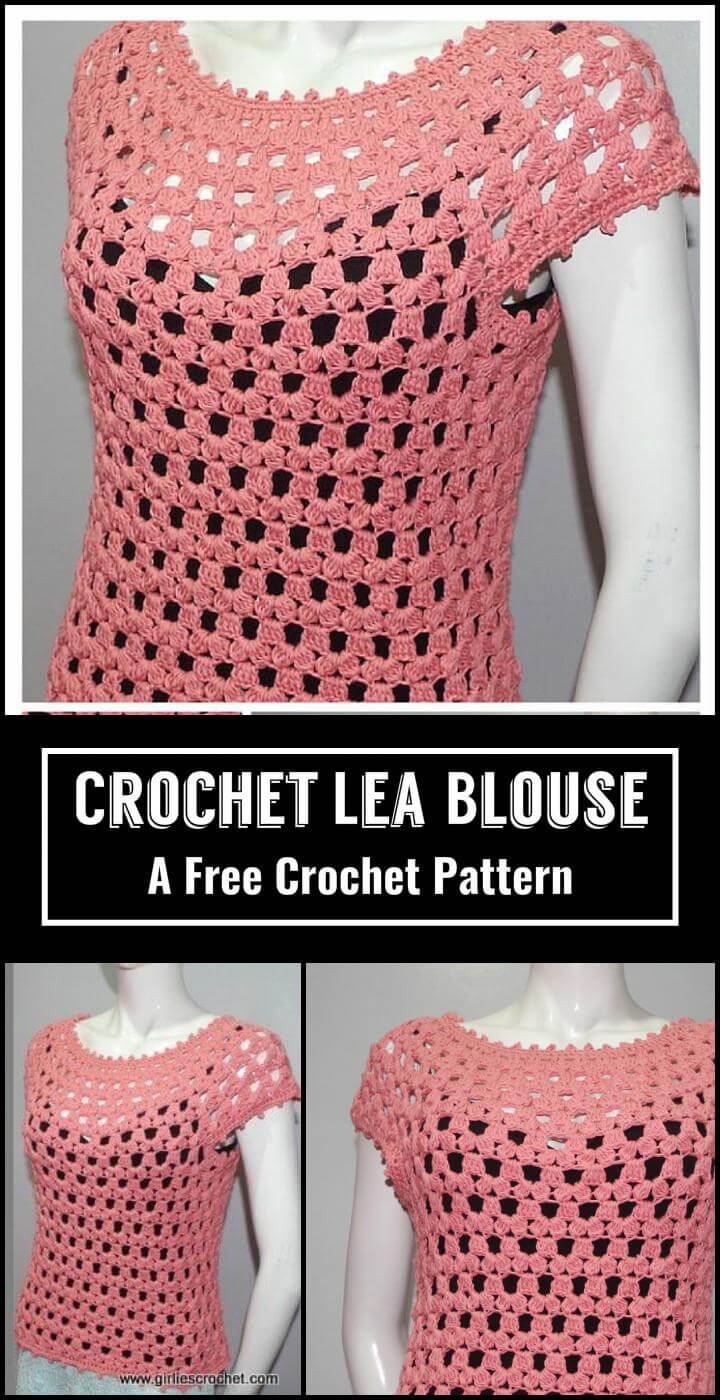 If you learn crocheting then you can really bring the fun and fashion to your wardrobe and save a lot of your money over the branded clothes.Here is this cute crocheted blouse in in pink which is too airy and light to wear so it makes a perfect pick up for the summer and spring dress ups.The Lea blouse has the free pattern and the step by step pictorial guide right on this link provided girliescrochet
Easy Casual Crochet Top: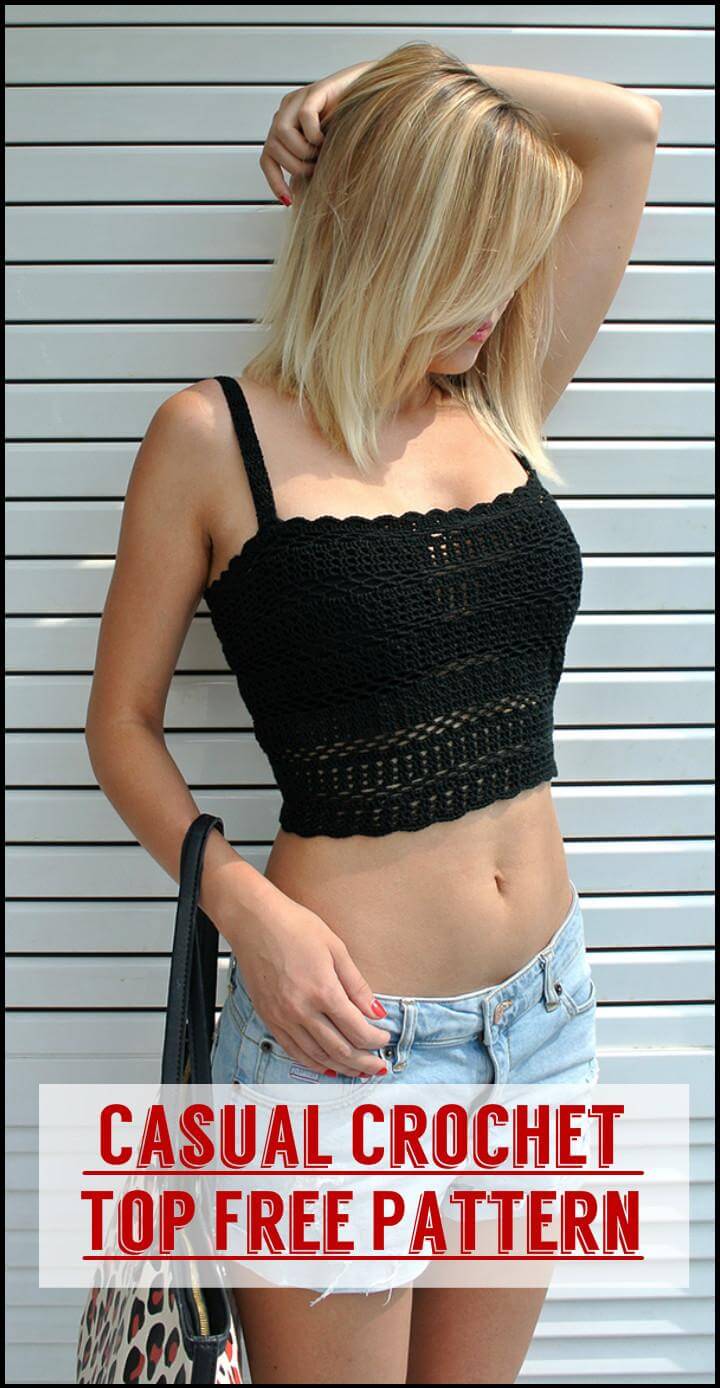 You can crochet tops of your favorite styles and designs to wear them according to the demand of the weather.So when its too hot you can have this lovely small size top, pairing it up with the denim shorts and flaunt around the beaches or the night parties. Its also a perfectly comfortable pick up for the casual wear too so grab the complete tutorial details and the free pattern of this cute top here beautifulcrochetstuff
Easy Breathy Crochet Skirt: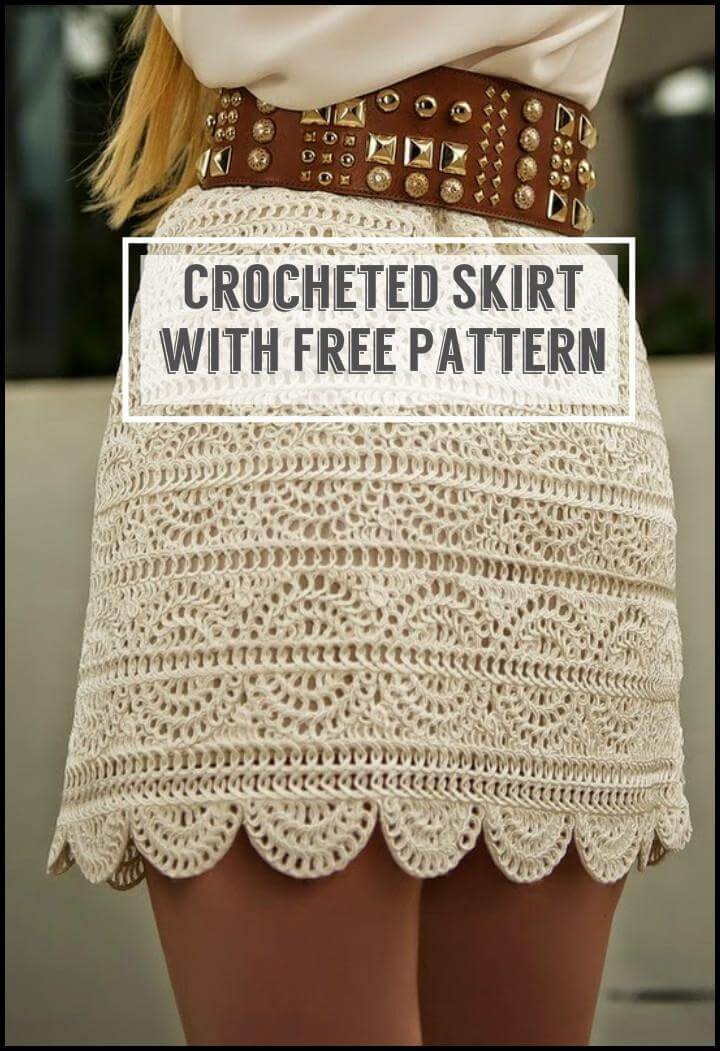 If you have all sorts of skirts but not that beautiful crocheted one then your skirt collections is just incomplete.So here were with this absolutely gorgeous and dazzling white skirt that you can crochet, wear and then flaunt like a Diva around in your parties, gathering and even its perfect for a beach visit too. Get the free pattern and the other details of it here patronesgratisdetejido
Crochet Summer Maxi Skirt: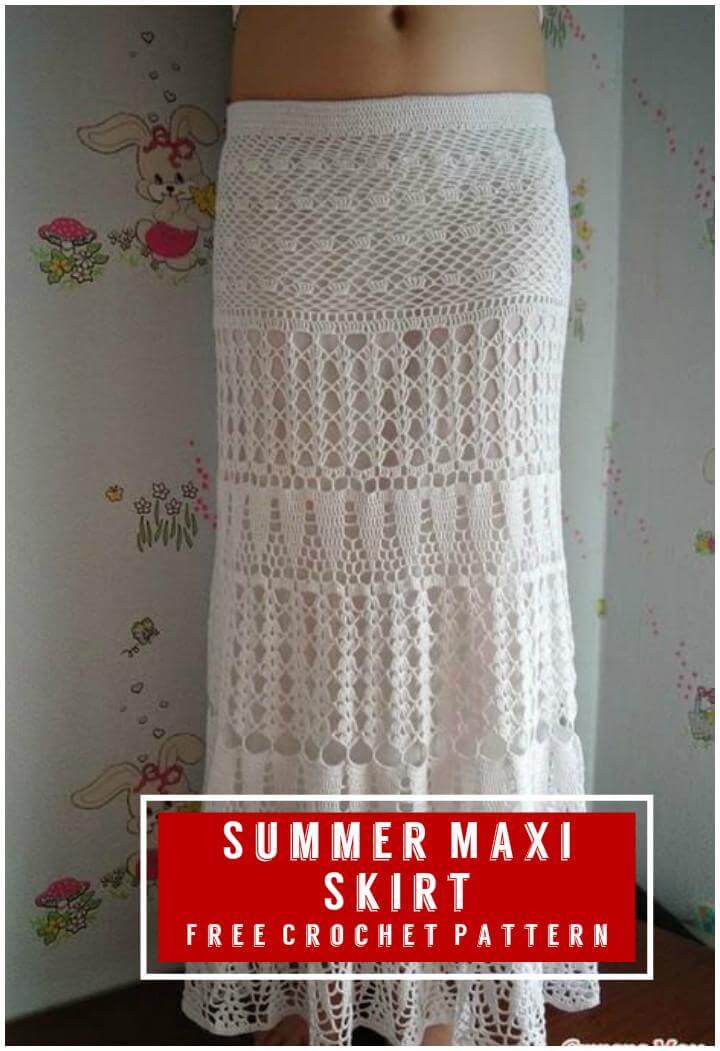 When the spring is around the corner the wardrobe of the girls start getting filled up with the light and airy clothes like the skirt, shorts, tops, tanks and many more so that they can rally enjoy dressing up unlike the thick clothing of the winters. So we suggest to crochet this absolutely stunning skirt maxi for your spring outdoor fun with the family and friends. It would be comfortable and stylish at the same time so catch its free pattern here bloglovin
Crochet Breezy Shell Tank: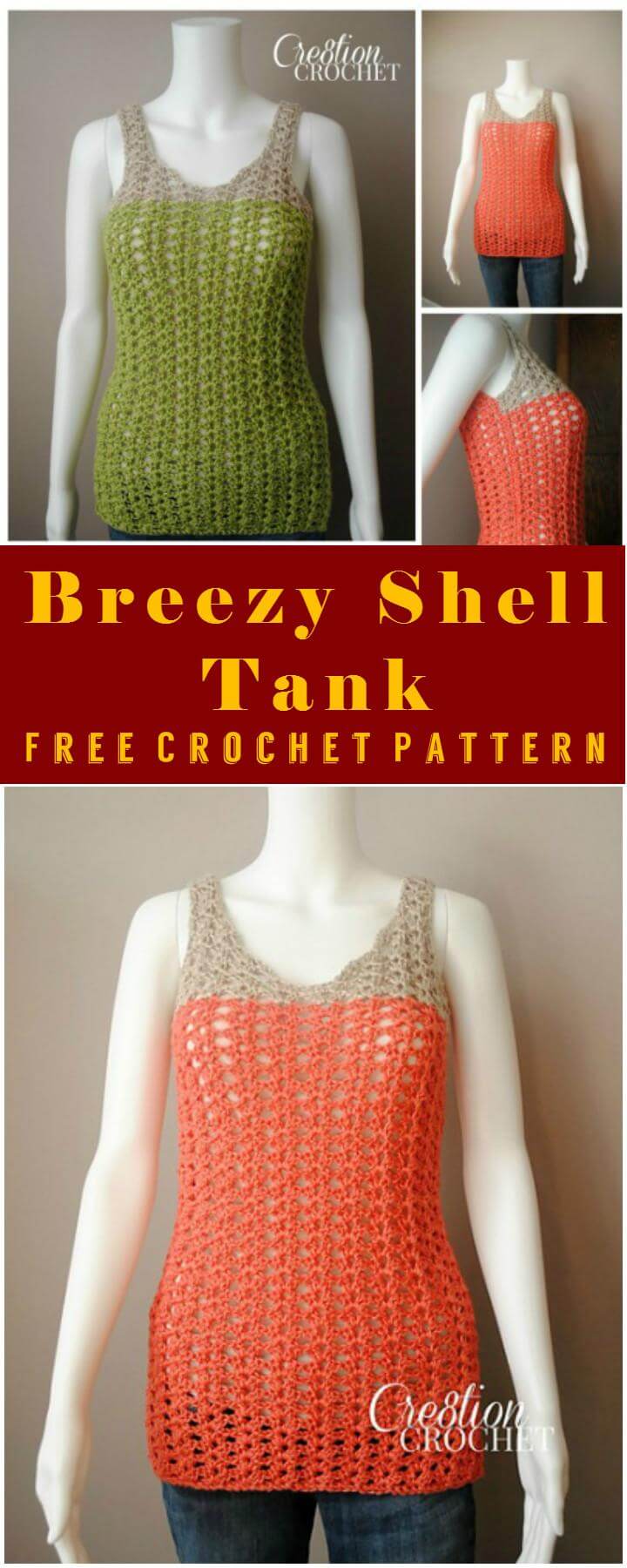 Tanks are too comfortable and light to wear in the hot weather and a tank of crocheted art would be really more comfortable and gorgeous than the regular ones. You can not only wear them as the casual but also as the party and beech pick ups too.The two colored contrast is really adding the freshness to the shell pattern so you can hack it with custom and personalized colors from this link cre8tioncrochet
Easy Crochet Barefoot Sandals: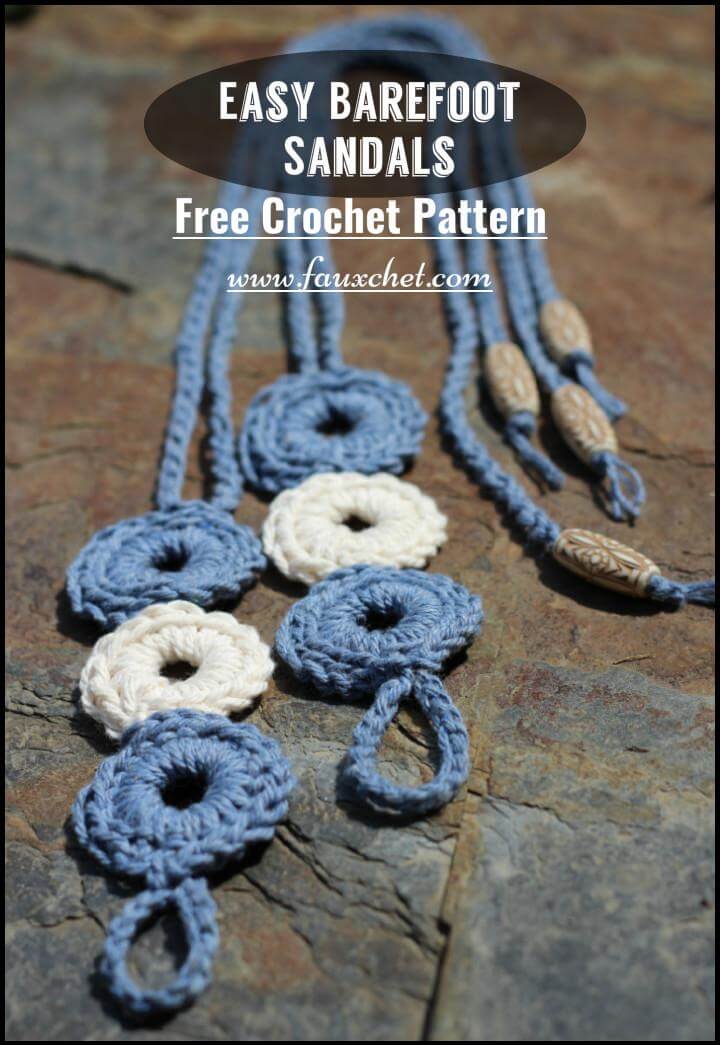 Barefoot sandals shave now become all the fashion for the spring an summer and they really look delicate and feminine. So if you have not graced your feet with them then its the right time to do that.Here is this lovely and cute barefoot sandal pattern that is immense easy to crochet yourself at home and that too within no time as it requires the beginner skill level to make it. fauxchet
Crochet Joie Elida Overlay Dress: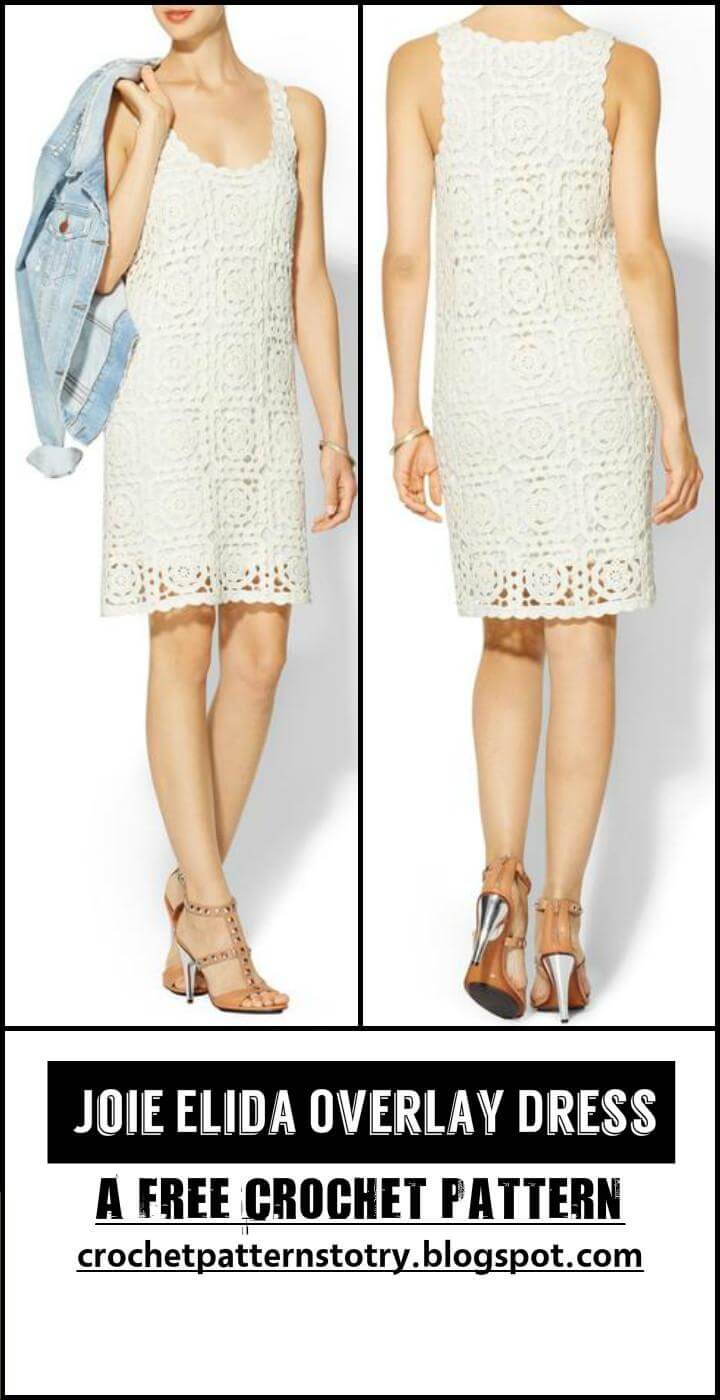 To keep up with the high fashion in the summers you really need to have some crochet dresses in your wardrobe because they are light and really comfortable to wear in the hot season while looking really stylish and fashionable too.So here we have this exquisite overlay crochet dress to wear over a long tank with some lovely high heel and you are instant ready to attend a wedding, summer party or even a dinner date too. crochetpatternstotry
Crochet Sparkle Swirl Tunic: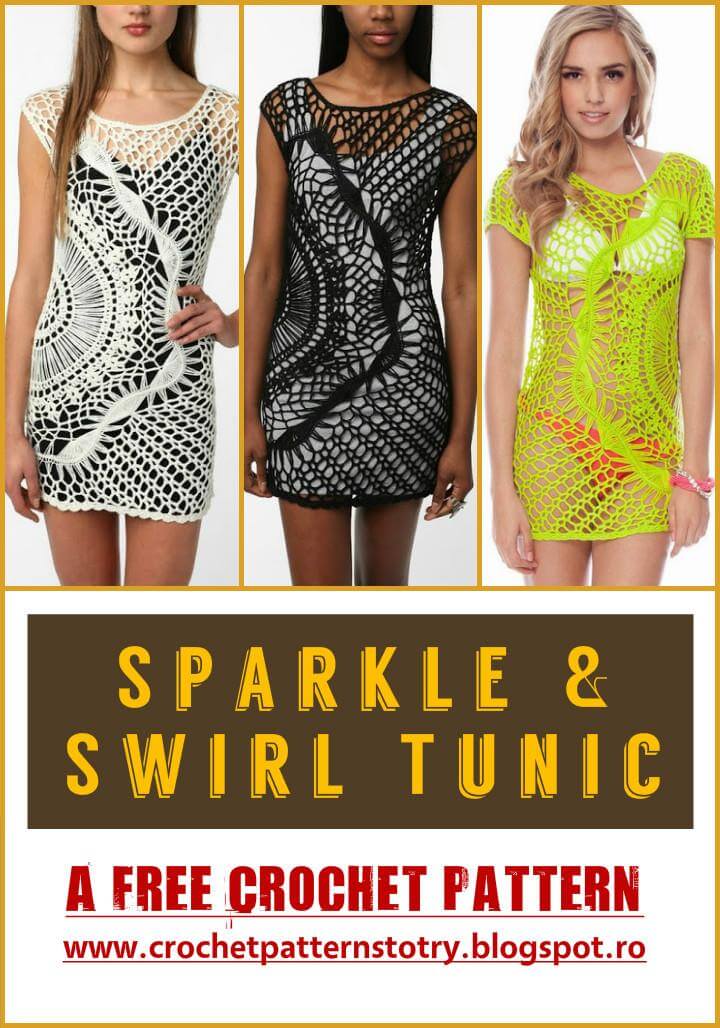 If you are bored with the basic designs and patterns of the old crochet patterns and stitches then we have something really cool and fun new arrivals for you to try your hands on.This is pretty spiral and swirl patented tunics to wear over your tops, tanks and even as a Bikini cover too. You can crochet it in any of the colors of your choice and for the free pattern you can browse this link provided crochetpatternstotry
Beach Day Cover-Up Tunic: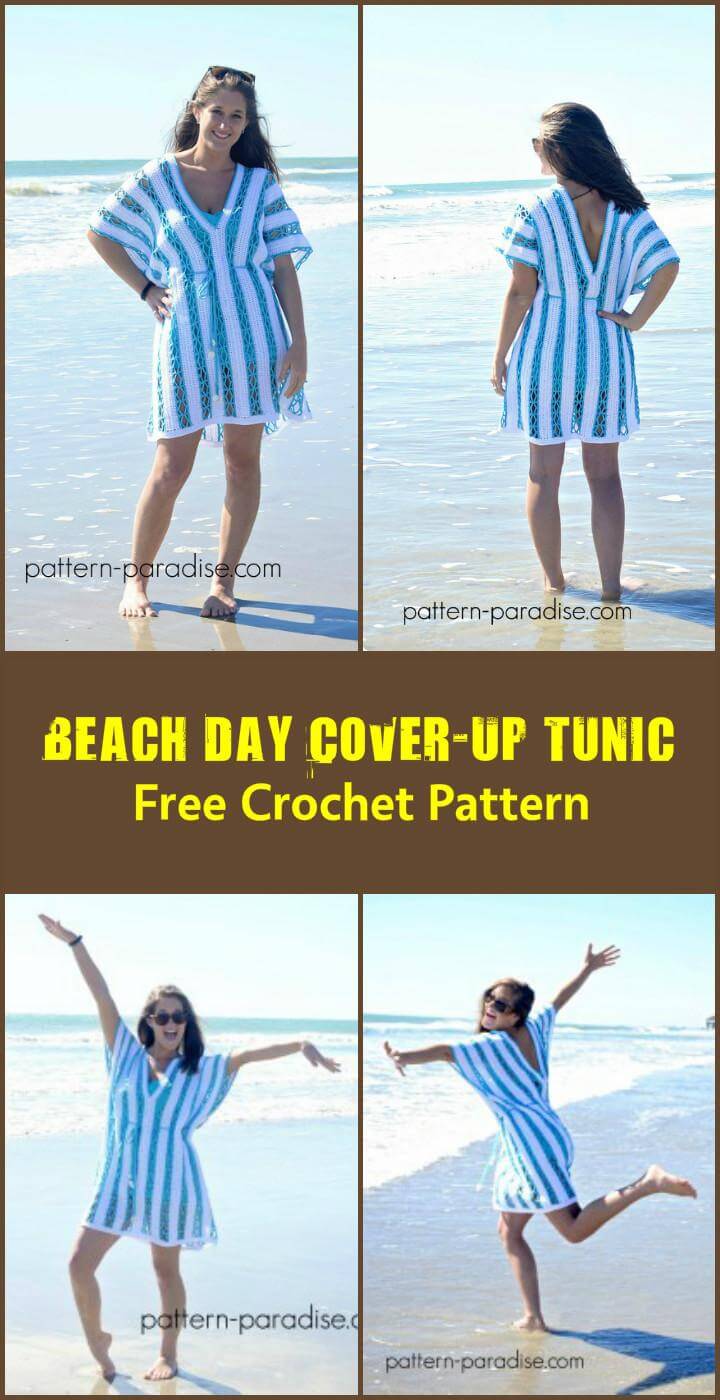 A multi functional crochet bikini cover up is here that you can also wear over your tops and tanks too.So do get your hands on this so that you can have the enjoy too many style and fashion benefits from a single piece. The white and the blue stripes in the pattern really make it look a fancy and pretty piece. So do crochet it and enhance the fashion of your wardrobe with the free pattern lying here pattern-paradise
Easy Gemstone Lace Top:

Simplicity always attracts and it comes so perfect to this lovely and cute crochet lace top which really grabs the attention and the eye of every beholder for that simple pattern and the lovely color. You can grace up your casual short and top wear with it and get ready for any of your outdoor trips so easily and instantly. So do crochet it and for that you can get the free pattern and its details right here thelavenderchair
Crochet Beachy Keen Cover Up: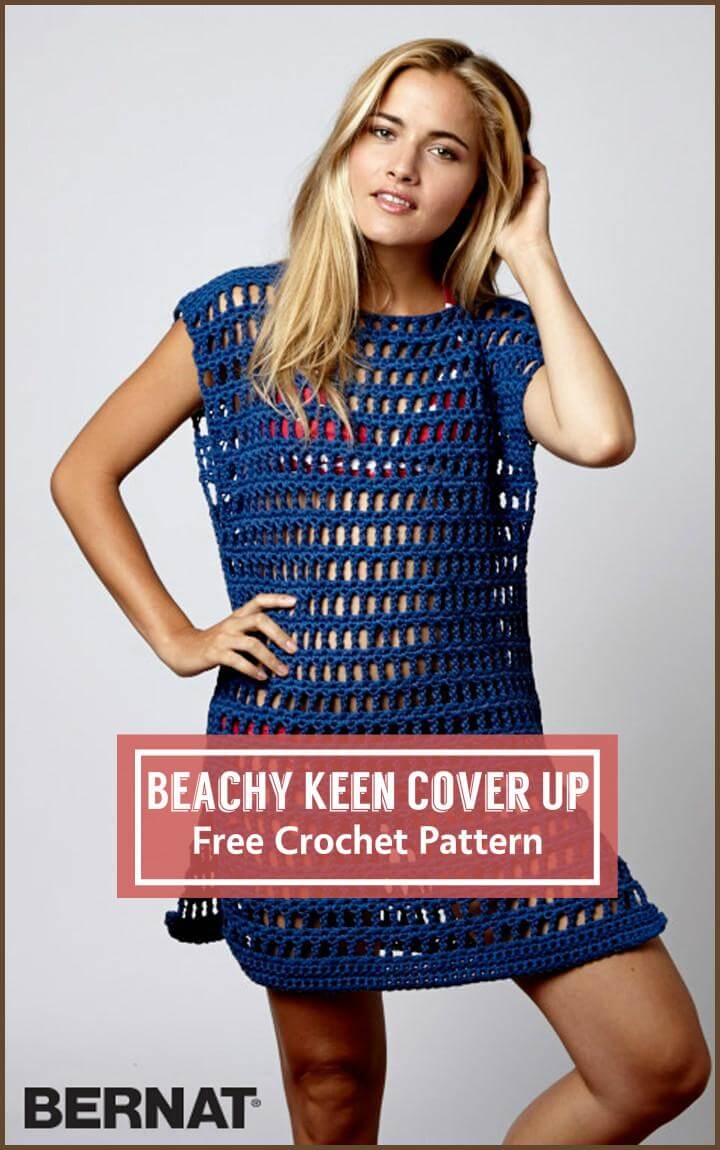 Not only a sexy bikini but a nice bikini cover up is also needed for a successful beach visit.So here is this simple patterned beach cover up that is so easy and quick to install at home and that too in any of your favorite colors.It would also look great when you are off to the pool parties with your besties and friends.SO give it a try this weekend with the free pattern and the free directions right here yarnspirations
Textures Free Crochet Top:

Here is another amazing top coming with lots of colors, three quarter sleeves and an open pattern so it would be really easy and fun to crochet yourself at home. This cute and fun top is really gorgeous to wear in summers, spring and in the early fall to. So do make it in any or your favorite colors as it would surely look great in all and for the free pattern and details click here cre8tioncrochet
Clarice Free Crochet Top Pattern:

This light and airy top is just perfect for your summer wear over you bore and casual dress to make it look instantly jazzed up and that too so simply and stylishly. The blue color and cute flowery pattern really adds a beauty charm to the top and you can easily have it in your wardrobe with the free pattern and all the additional aid added on this link crochetkim
Breezy Crochet Vest: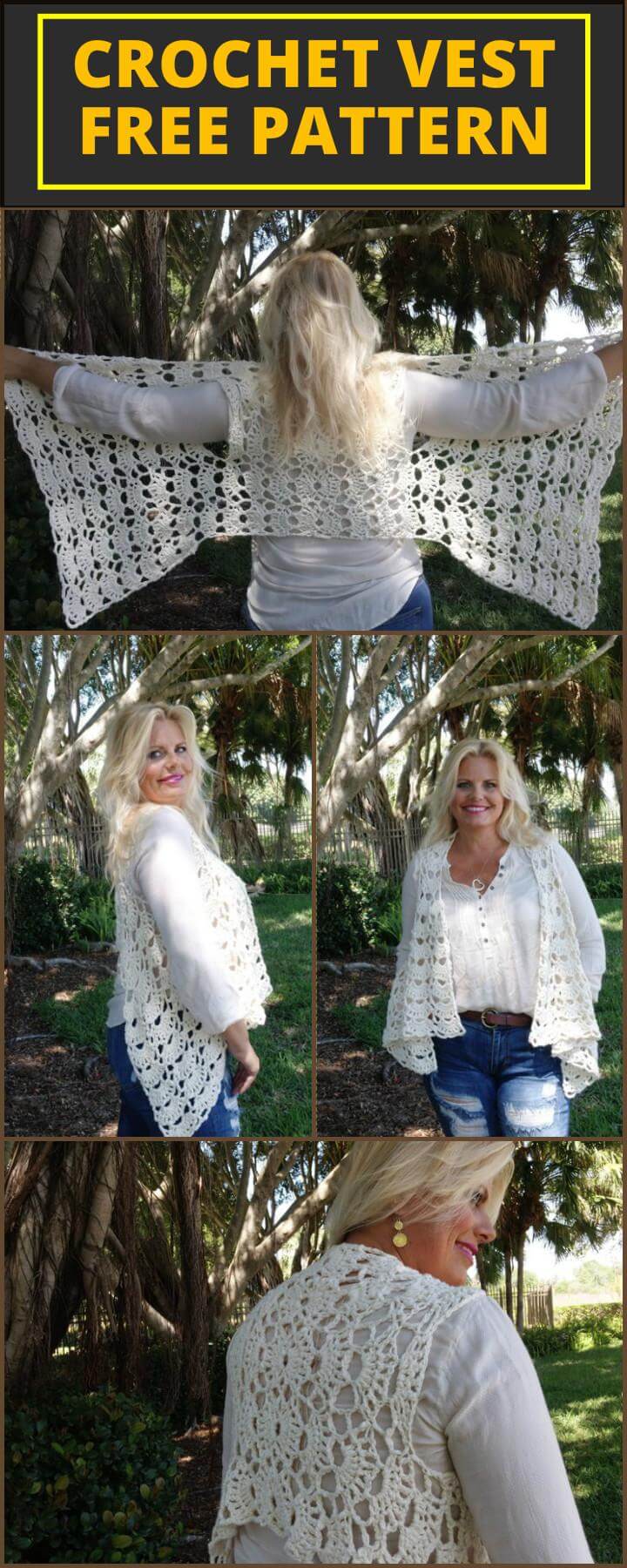 This crochet vest can be a great styling tool for lots of your dresses like the maxis, tops, shirts, jeans and capries by with the lovely pattern and the texture of the crochet yarn.SO with this cute and simple vest you can add extra style and fashion to any of your dress up and look all made up each day or on some particular occasions.Here is the link to get all the details of this super cool vest pattern kristinomdahl
Fashion-Worthy Crochet Mesh Top: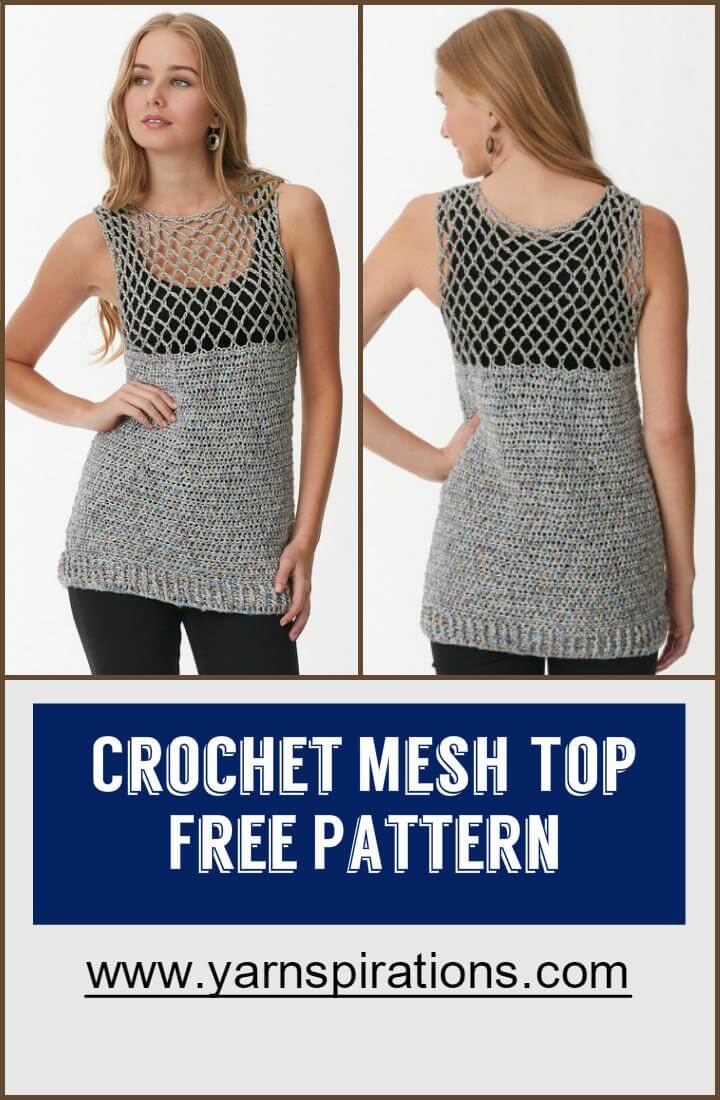 Summer night parties are just the hell of fun and for that a bold and glamorous dress is needed to look really the center of attractions. And this lovely mesh pattern top is just perfect for such night outs making you all stylish, chic and really graceful at the same time. You can easily crochet it of your own with the help of this free pattern and and guiding directions right here yarnspirations
Crochet Beach Cover-Up: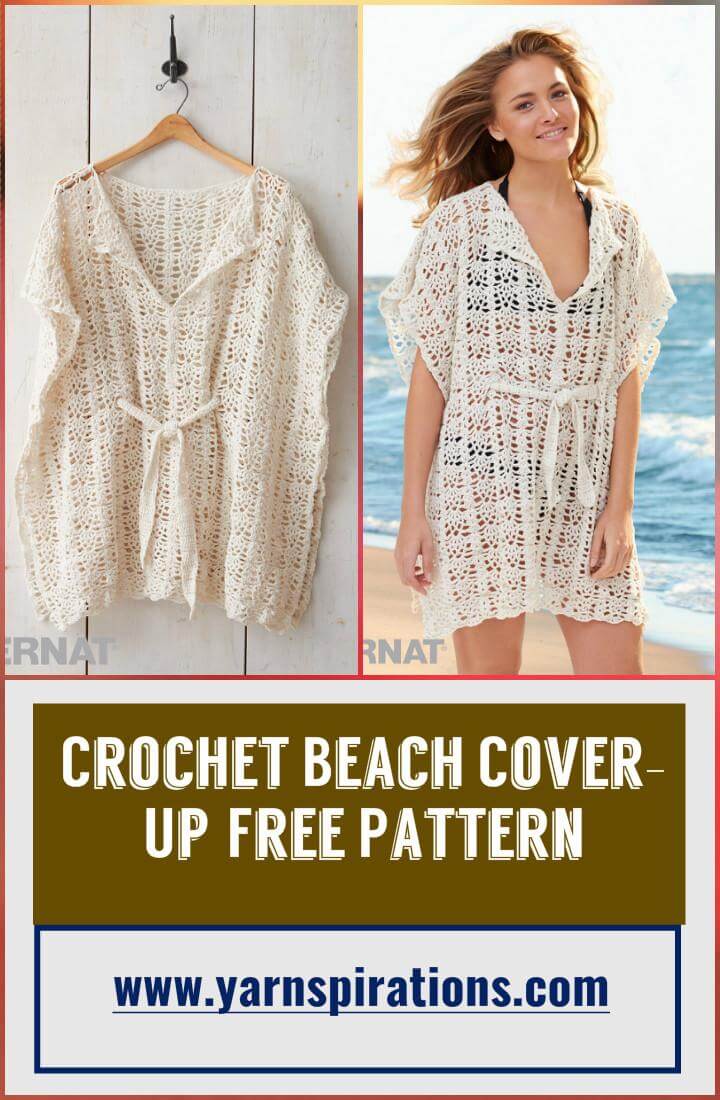 A cool and sexy beach cover is at the top of the to do list of a woman whenever a beach trip is planned.So do not rush to market to buy one as you can make one of your own and that too super chic and super stylish like this crochet beach cover in white with a neat pattern and the stunning design.So do check it out all here with the free pattern and other guiding details right here yarnspirations
Crochet Festive Fringe Tank: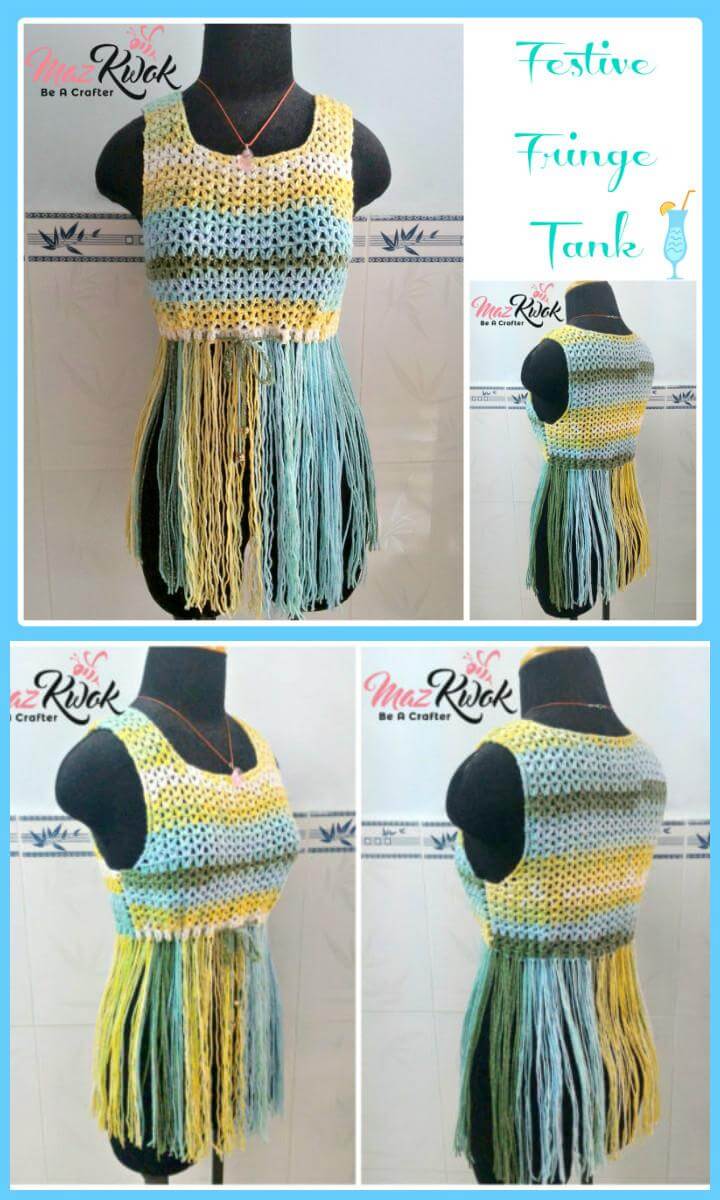 The soft texture, delight of colors and the style of fringes all these fun factors really make it look a super stylish and fashionable top for your summer and spring dress ups. It would be really fun to even crochet yourself at home making those cute fringes so do hack this gorgeous top pattern and its details from this link provided and hurry to make, wear and flaunt it around to make your fellows jealous. beacrafter
Crochet Summer Air Tank Top: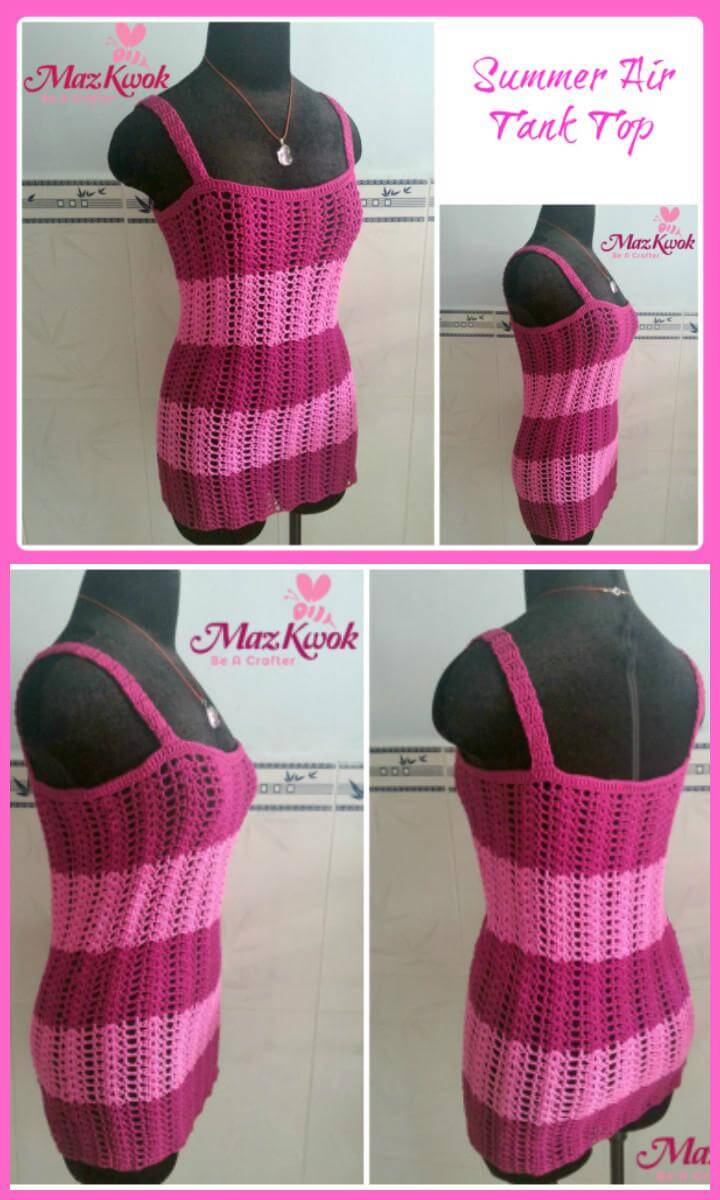 You can adore this lovely air tunic in the summers and that too without blocking the air as it would really let the air come in for being too airy and breezy.The simplicity of the pattern would really lend your dress up a touch of glam and elegance too. So as this top has too many functional roles do hack it with the free pattern and the stitching details lying here beacrafter
Easy Crochet Marilyn Sleeveless Top: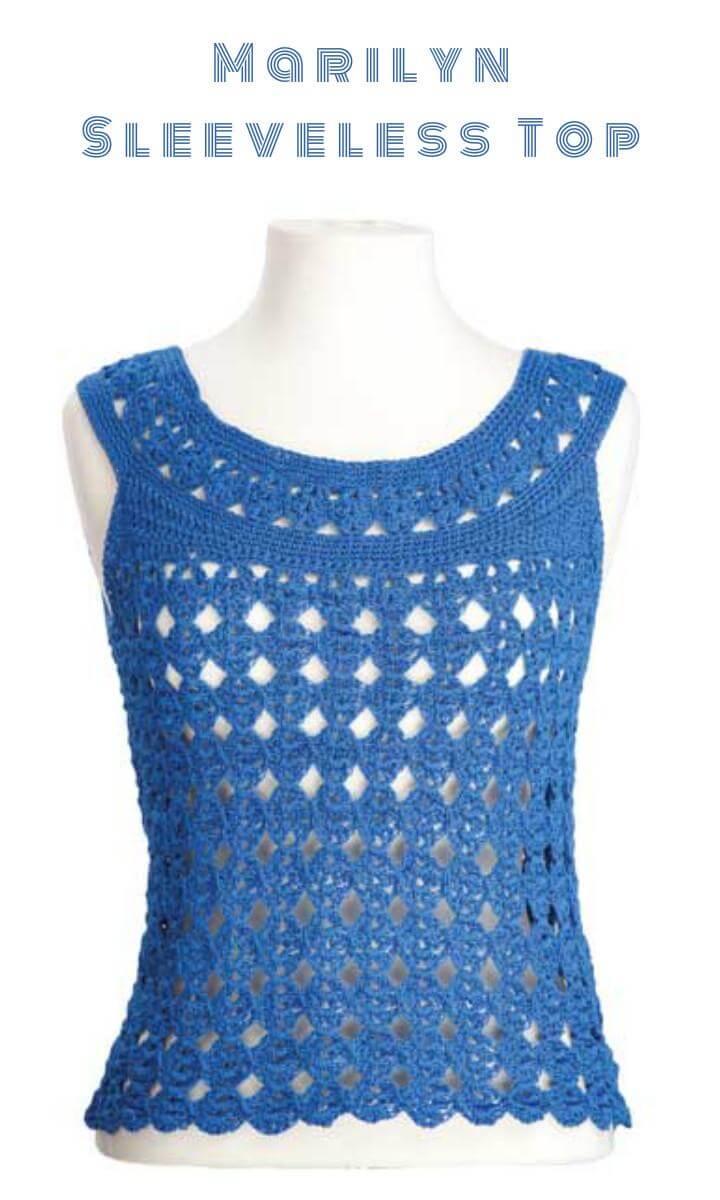 Getting rid of the thick and heavy clothes of the winter you can dress up lightly and freely in summers and these kind of sleeveless tops and beat the hotness of the weather in style.Here is the link to follow the stitch instructions and also to avail the free pattern so that you can easily work out his easy top pattern and add it to the summer or spring wardrobe in your favorite color. crochetkim
Free Crochet Mesh Summer Top Pattern and Tutorial: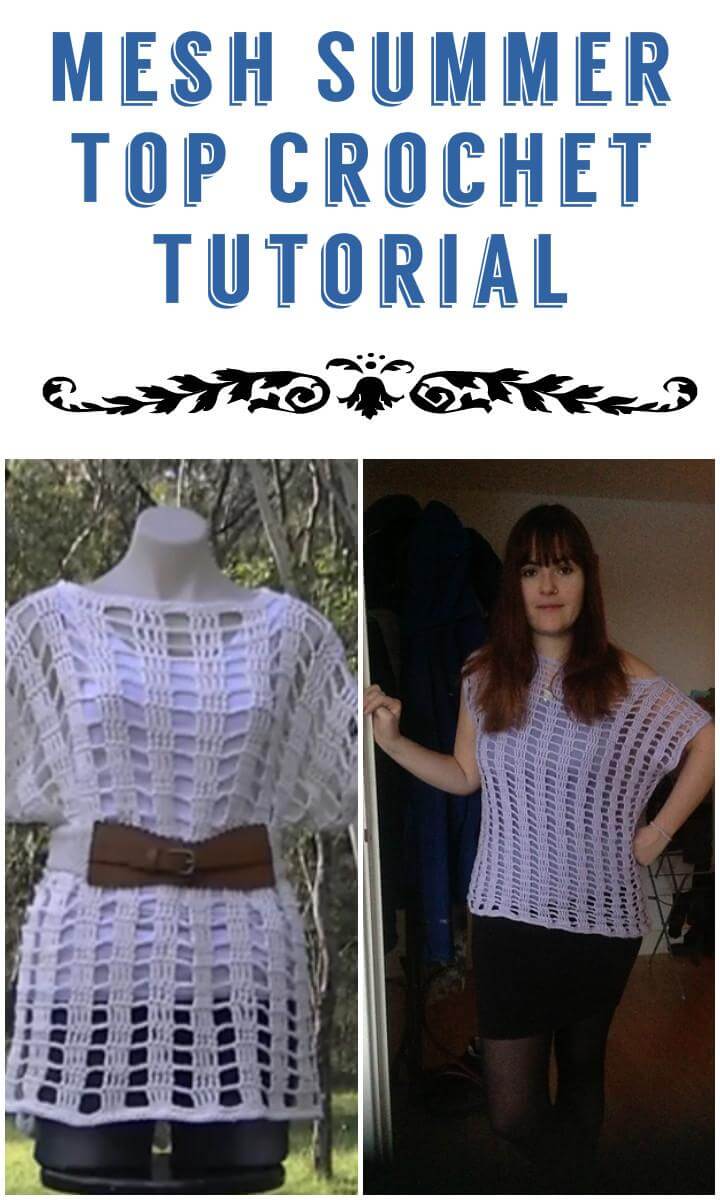 The cool breeze of the spring and summer is like refreshing not only the body but also the soul of us too. So here we have this amazing crochet top pattern that would elevate the style of your dress up and also let the air touch you easily through the airy and breezy pattern. This would look so complimentary with the tops, tanks, vests and even the shirts. So do make it as it would be really quick and easy to do yourself at the weekends ravelry
Crochet Granny Crop Top: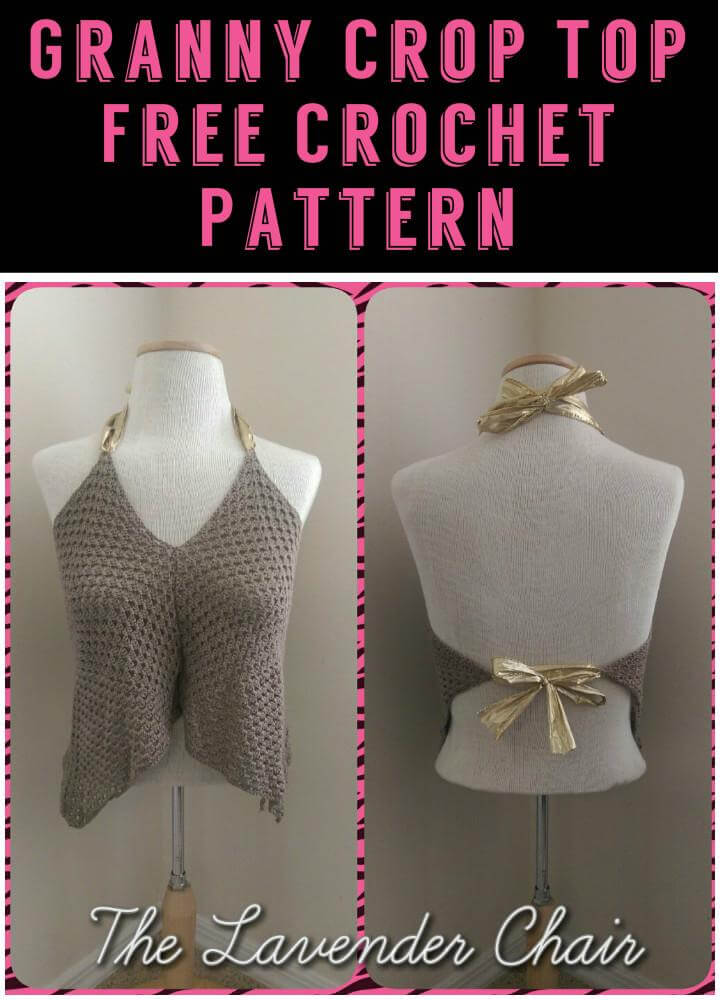 A crop top is the best way to look hot and sexy for your special dates and parties. Even the crocheted crop top would be really gorgeous to let you make some bold style statement but that too in elegant and graceful ways. SO either you are planning a date or a night out party with your friends this summer you should really try this lovely and chic crop top. We got its free pattern and the stitch directions right on this link thelavenderchair
Stylish Summer Crochet Pullover: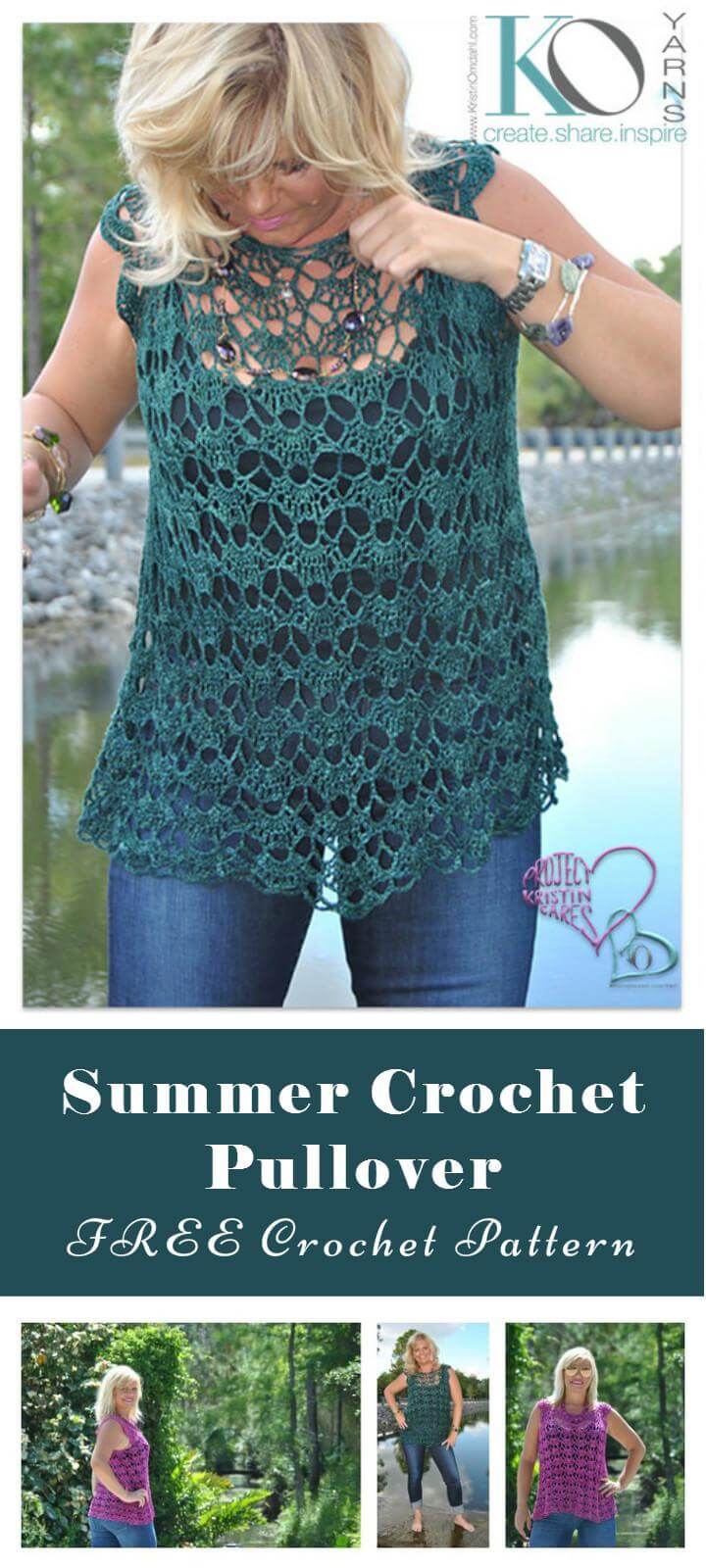 If you love crocheting then your wardrobe can never fall short of gorgeous and stylish clothes.You can even dress up so nice and fashionably in your routine by crocheting some really cool and cute tops like this one in the picture. The sleeveless, airy and totally easy pattern is worth hacking to maintain the style statement of your personality so nice and easily and also enjoy the cool air through it too. So catch its free pattern here and make it soon in your favorite color of green or purple or any other kristinomdahl
Crochet Summer Floral Cami Top: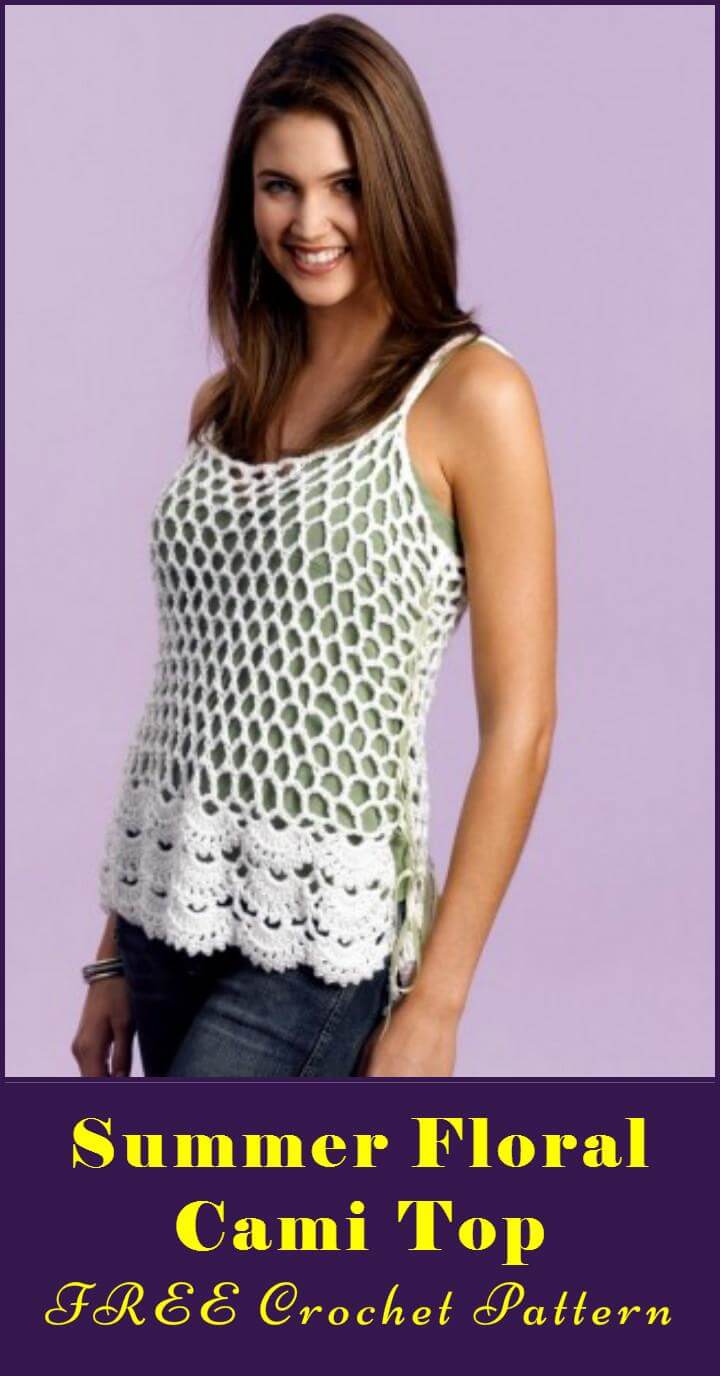 Floral patterns are always to beautiful and attractive when it comes to the crocheting art so now you can work out this cute floral pattern on your tops and tanks too. For the cute sample or inspiration we have this lovely floral cami top having a stitched body and the floral boundary or edging which is really adding a stylish and beauty touch to the pattern and the design. You can really steal the pattern with the complete tutorial guidance here thecrochetcrowd
Crochet Pineapple Racerback Tank Top: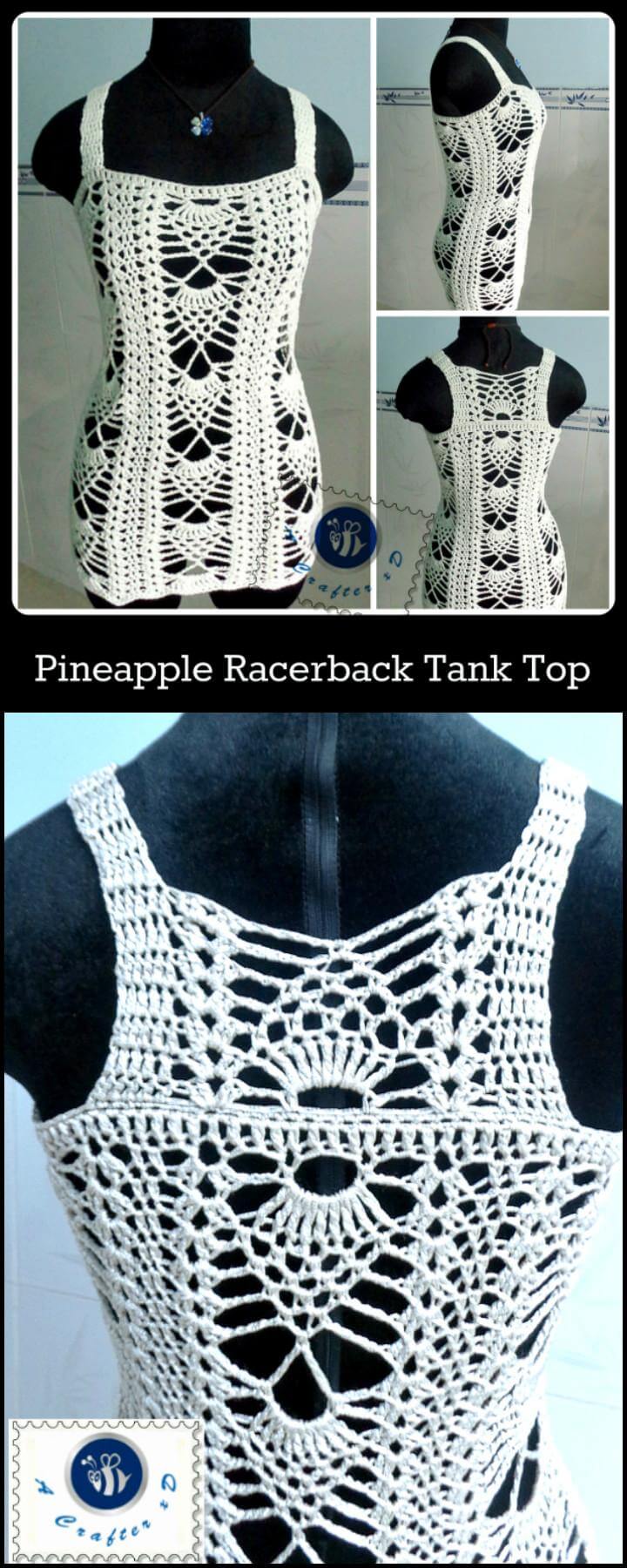 Here is a design that would really let you make some bold style statements with it racer back design but it would also let you stay really delicate and graceful with that pineapple stitch and pattern all over it. So select your favorite yarn hues and pick your crochet hooks to create this adorable and double functional pattern having all the details and the tutorial here on this link so browse and enjoy crocheting beacrafter
Simple and Easy Crochet Tank Top:

This Bernat crochet top is really simple in pattern and would really look good on your for the regular wear. The bright yellow color would really make it a perfect pick up out of the closet for the spring season which is all about the gorgeous colors and hues. The close knit pattern is too simple and easy to crochet and thus it would be really a good project on for the beginners. So crochet it and before that visit this link to download the free pattern of it yarnspirations
Dusky Free Crochet Pattern: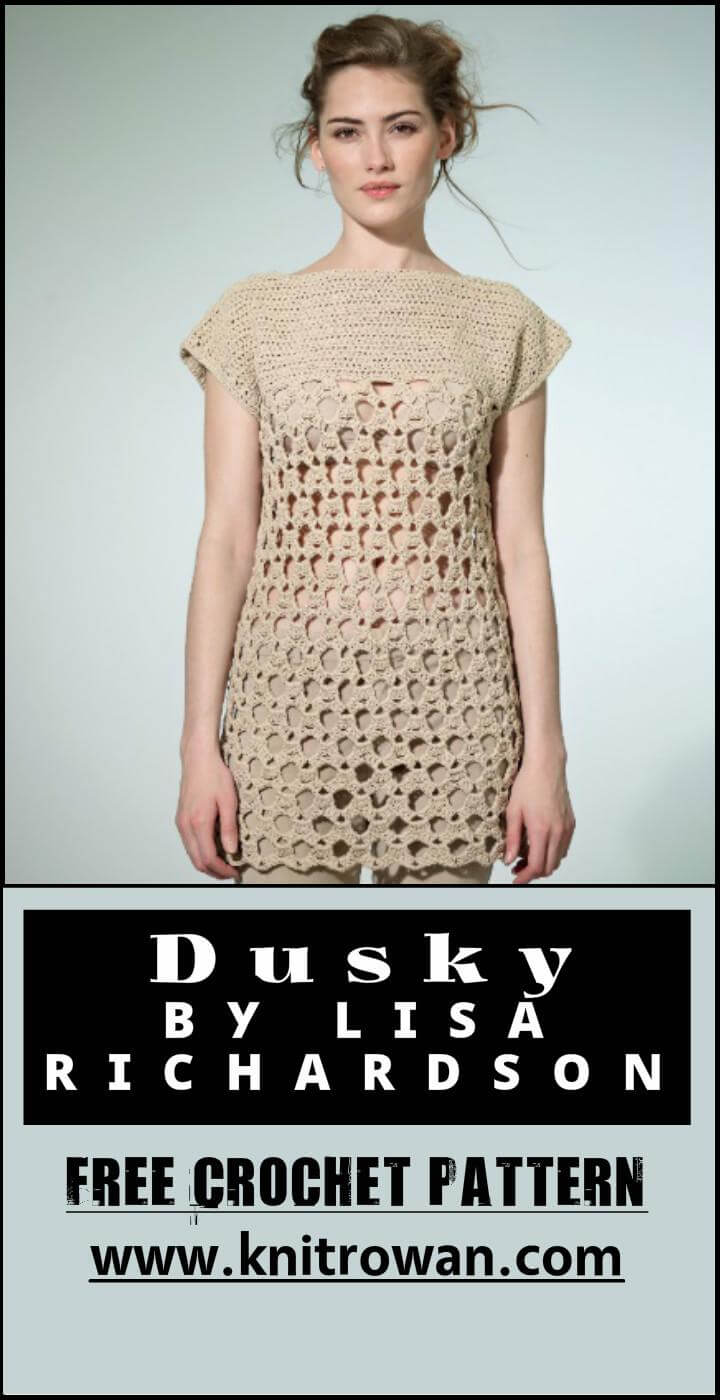 Sometime we see the kind of dresses which are too rich in style and totally celebrity material and we only wish to have them with a feeling that this wish would never come true. But now as you can have those celebrity and model like dresses of your own like this dusky by Lisa crochet top is with a close knit chest and mesh crochet pattern at the rest of this top. Here is the link to download the free pattern of it lofiland
Crochet Marie Beach Top: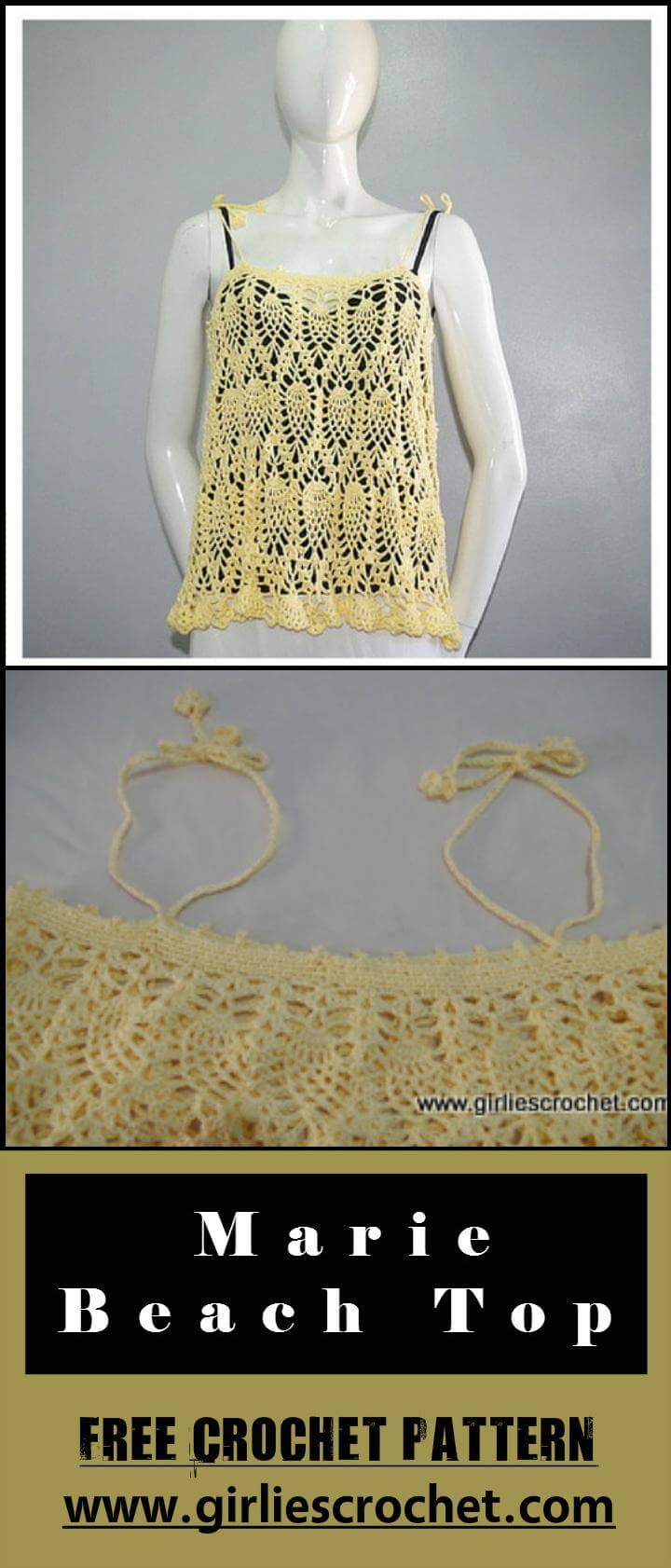 Even if you are a beginner to the crochet world the pineapple stitch would be really easy and crochet yourself at home. Here is this cute and simple top that you can easily give a try at home and make it successfully as it features the only pineapple stitch all over the pattern. Just get the yarn of your favorite color and start corseting it in our next idle pursuit. Tutorial and stitch details are here girliescrochet
Super Beautiful Broomstick Crochet Top: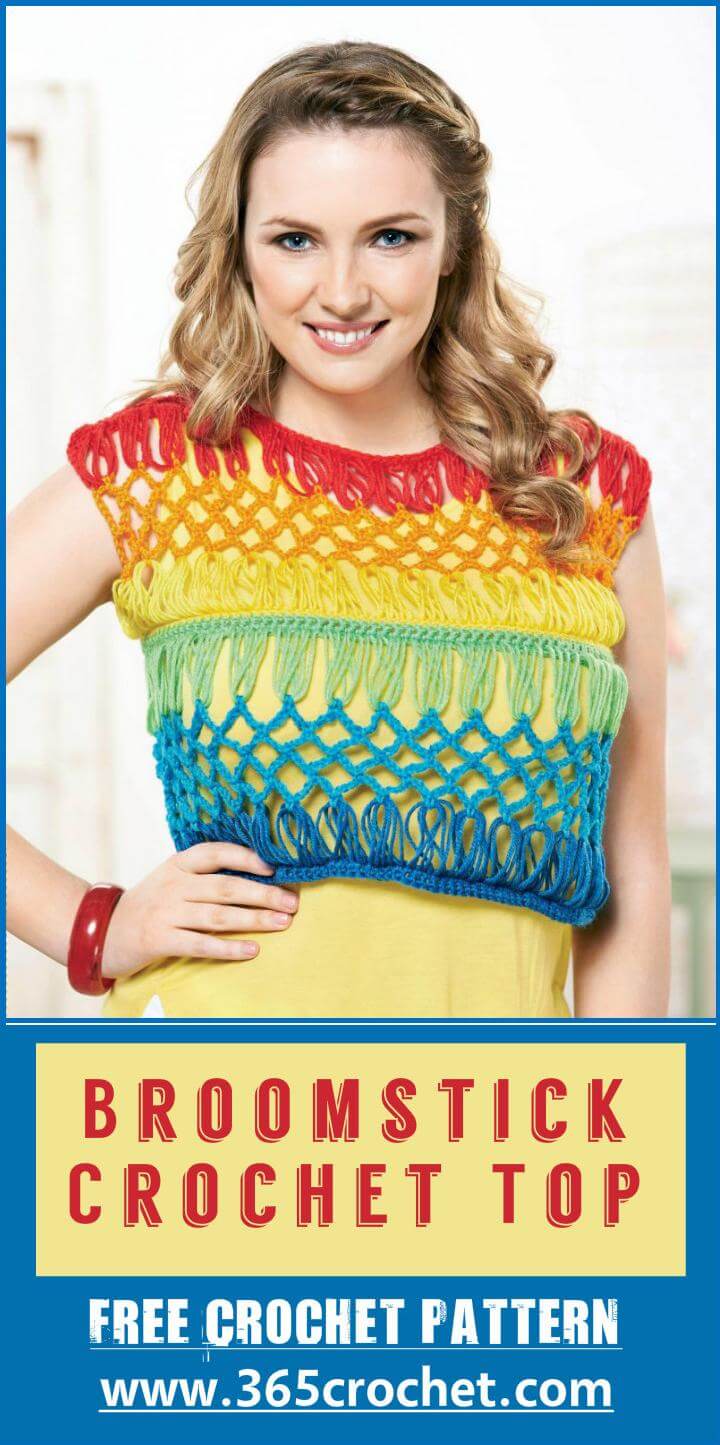 Learning the new patterns and the techniques it he goal of every crochet lover so do learn the broomstick stitch too as it can let you create this adorable crochet top. You would to combine the broomstick lace pattern and the mesh pattern to crochet this exquisite and colorful top which would be a gorgeous wear over for any of your clothes like tops, tanks and shirts and complimenting them enough. Tutorial link is here for free pattern and details 365crochet
Crochet Crane Hill: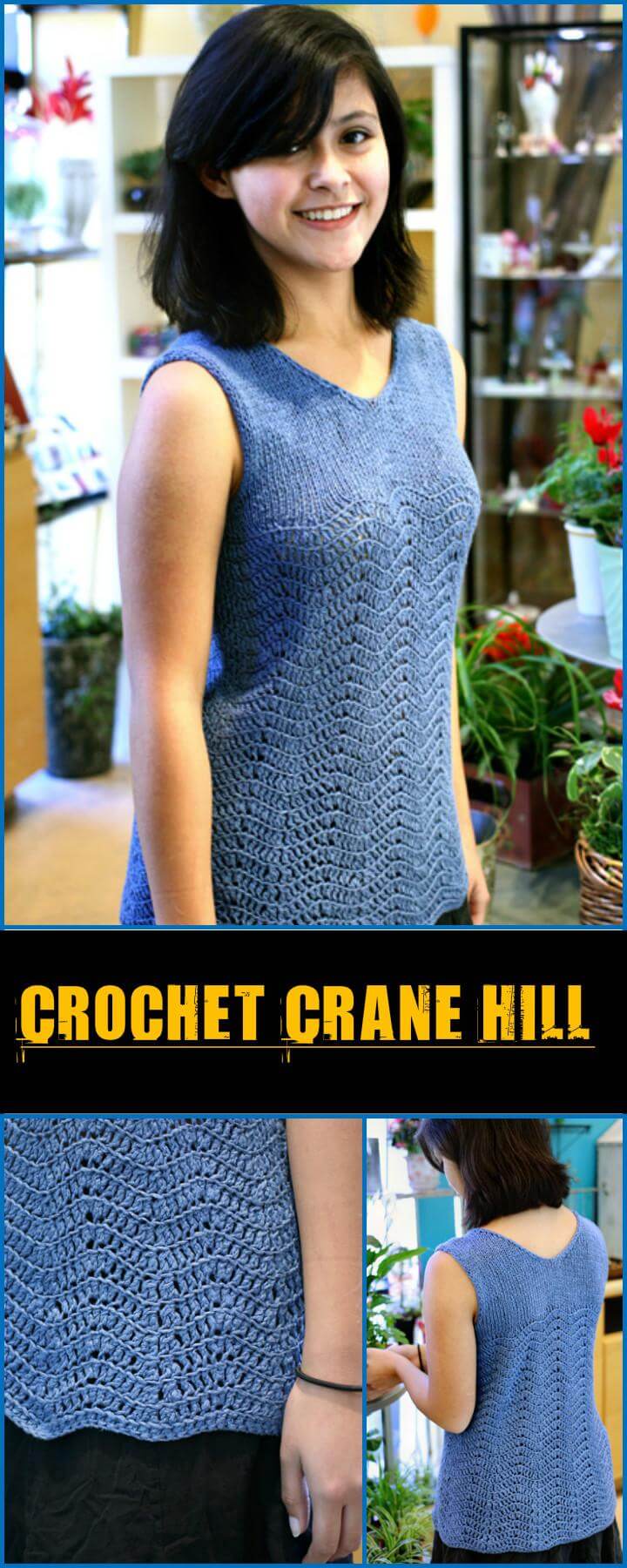 This crane hill top l pattern is really cute and pretty and would look really nice on you during the summer days with your favorite denims or the lovely skirts too. The wavy pattern is easy to create and for the beginners it would be really feasible to crochet as we have its complete tutorial with only on the written instructions but also the pictorial guide too. So click and enjoy knitty
Glam Summer Pineapple Top: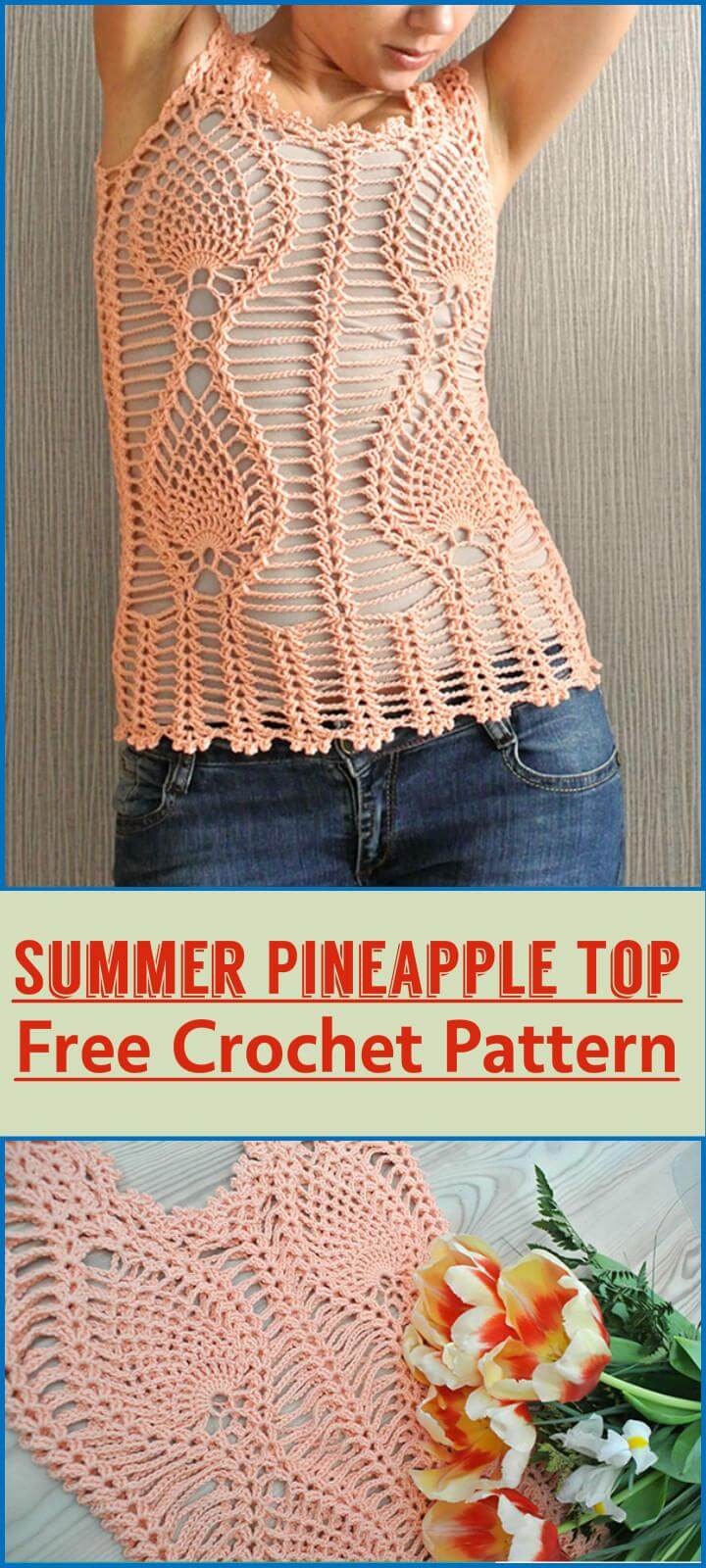 Pineapple pattern is really famous one and is really easy to crochet at home to create any of your crochet favorite possessions. Let me tell you that the crochet tops and tanks are really getting the hype these days and now using the easy and simple pineapple stitch you can create this lovely peach color top to wear and flaunt around so stylishly and proudly. It has the complete tutorial and the detailed written instructions right here beautifulcrochetstuff
Super Airy Summer Floral Top: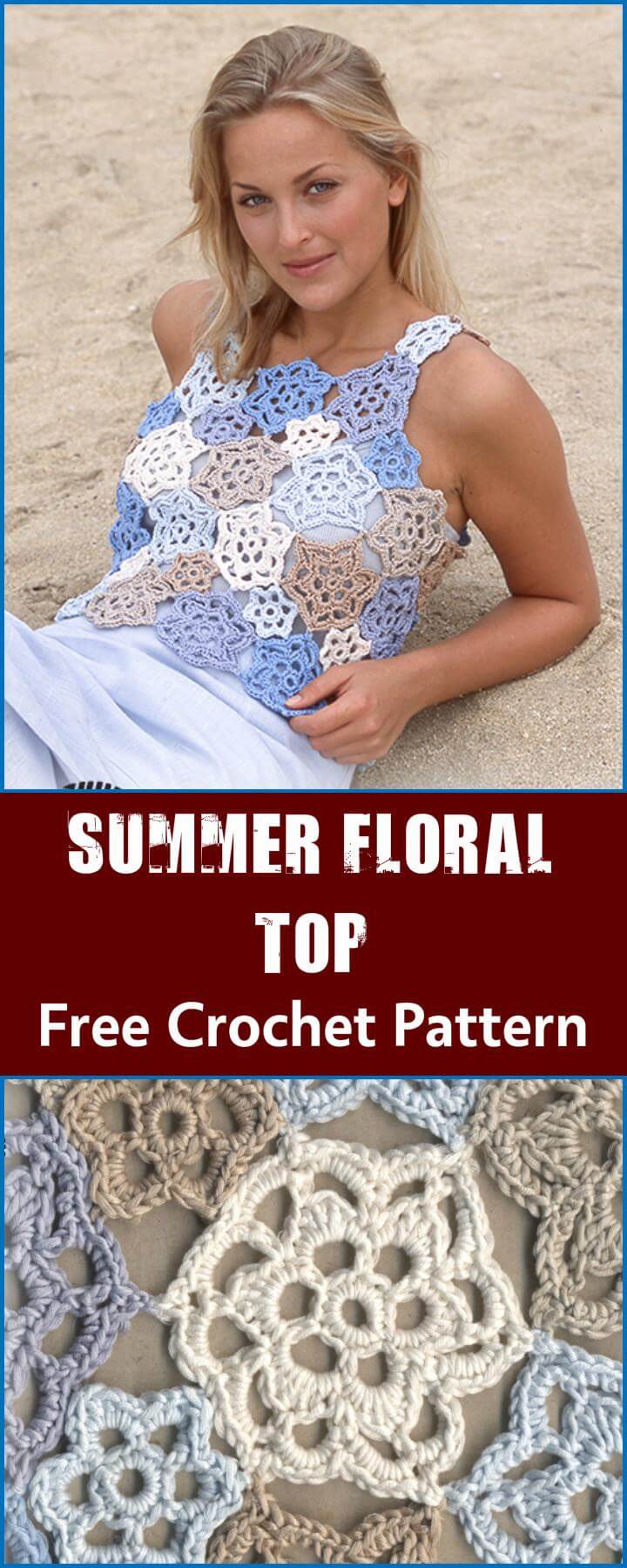 Spring is all about the lovely flowers and the colorful blooms so to relate to the beauty and fun of this season you can just crochet this utterly cute and adorable flower patterned top without sleeves. It would be really cool wear over your tops, vests and the tanks adding really a jazz dressing to your casuals. You can also nicely carry it for your beach look to. Tutorial link is here to get the free pattern its crocheting details garnstudio
Crochet Peacock Summer Shell or Vest: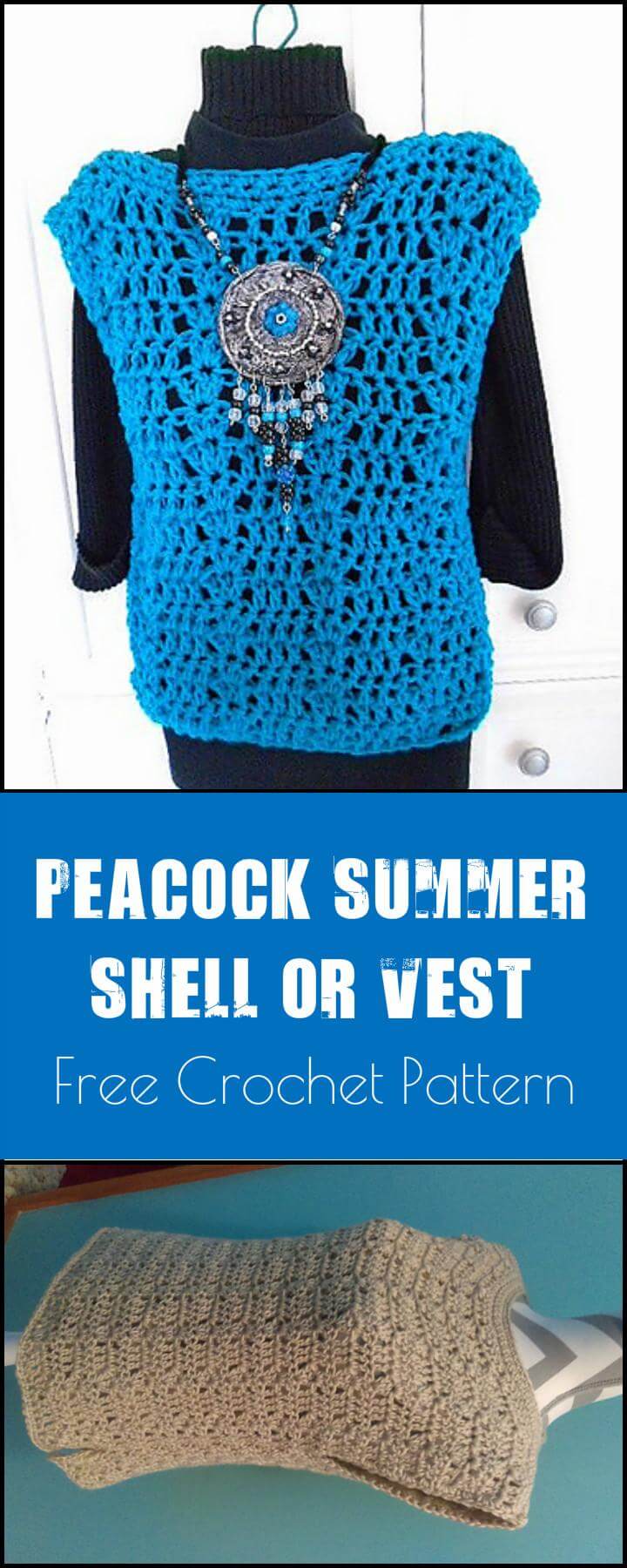 The crochet tops are the just really the rage these days and there is a lot to create and crochet in this regard.To let you all feel the ease with the crocheting of the tops we have this simple and easy pattern to get your hands dirty with.Just get your favorite color of yarn and work it out all with the easy shell pattern without the sleeves and its summer ready for your wardrobe.The free pattern is available here so click to grab it ravelry
Crochet Light and Lacy Top: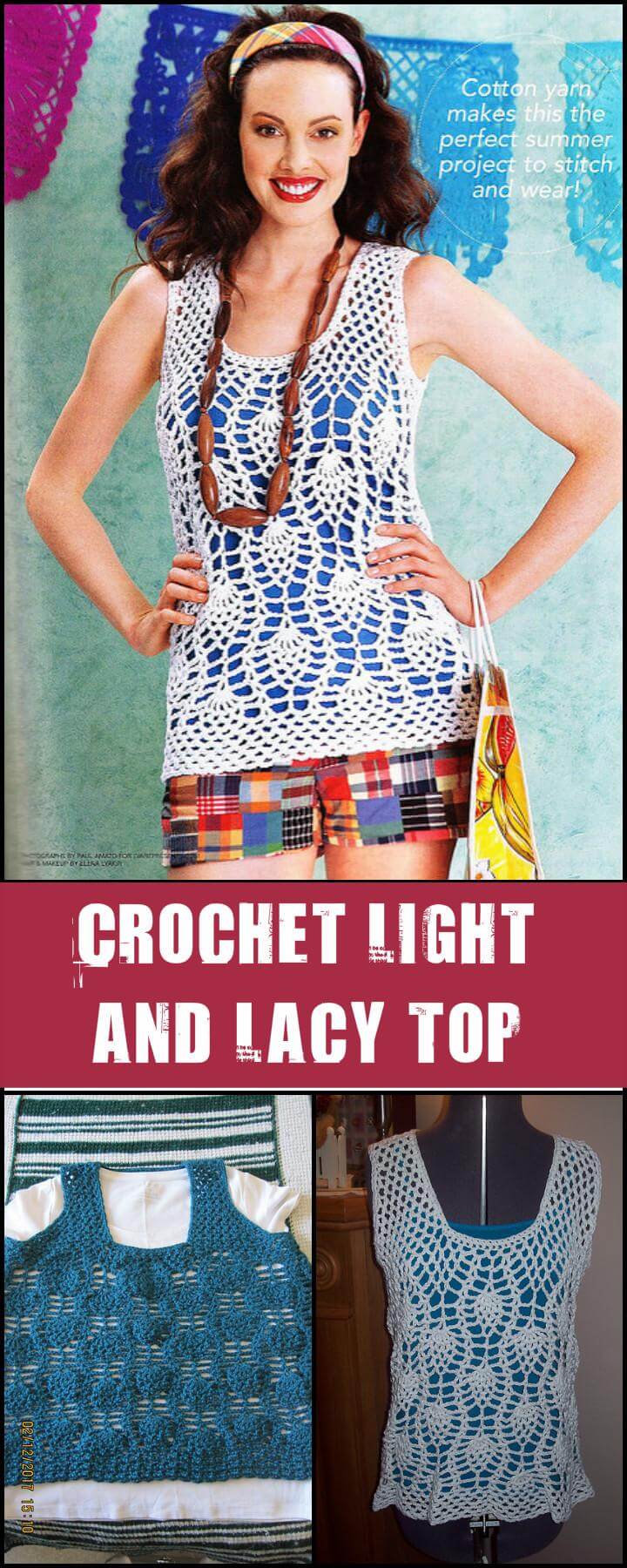 This light and airy top is just perfect for your colorful tops and tanks to let the bright and boho colors of them to pop out of this more nicely and vividly and create the ravishing style statement for your dress up.As the pattern is really breezy so it would be really easy and quick and to work on and get ready in no time if you are good at the handling of the crochet sticks.Here ist he full detailed link along with the free pattern availability ravelry
Crochet Festival Fancy Vintage Top: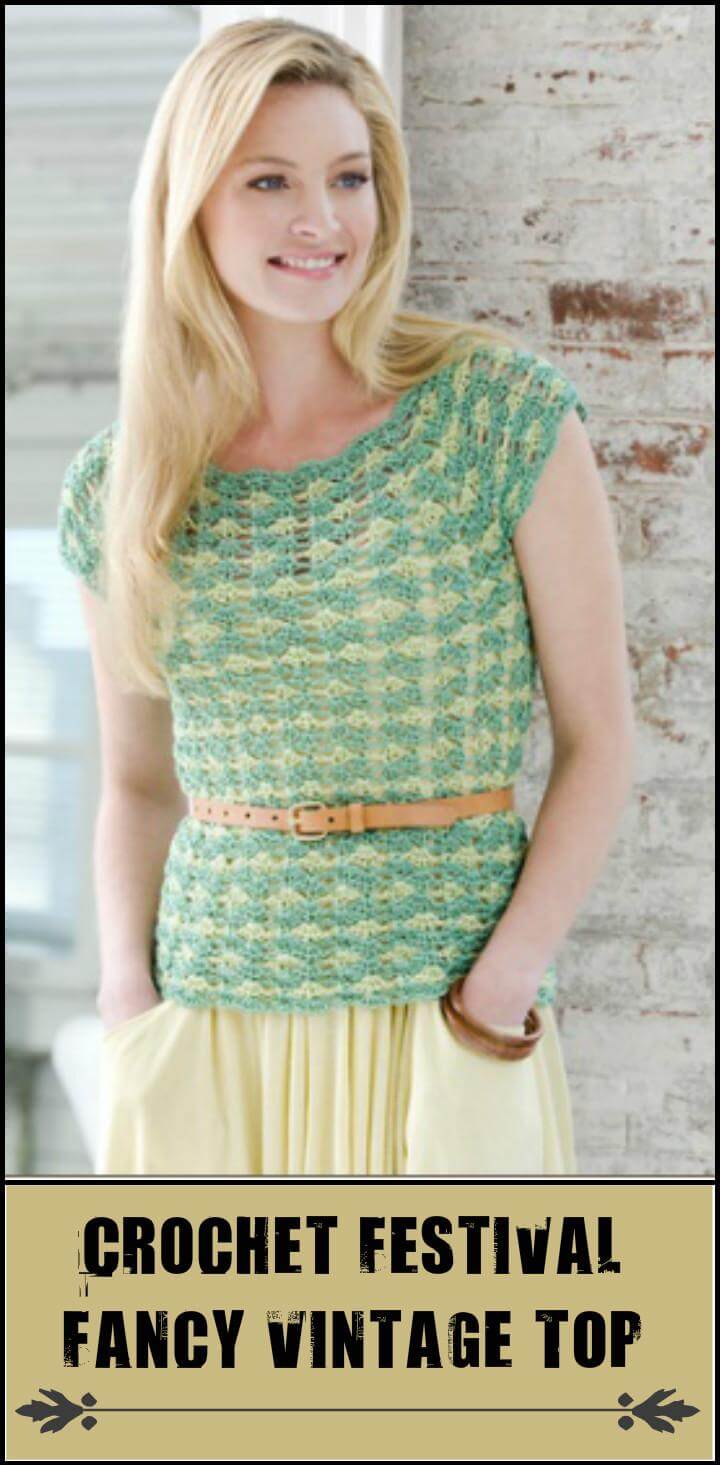 This lovely top would really grace up a simple skirt along with a belt and would make you party, wedding or dinner ready. You can really make it simply and nicely at home and saving a big fortune over the purchase of a formal dress. Just get the color that would suit your skirt and get the yarn in that color and start working on it and it would be more simple and fun to crochet with this free pattern here and the extra stitch details about the pattern redheart
Crochet Summer Top Free Pattern: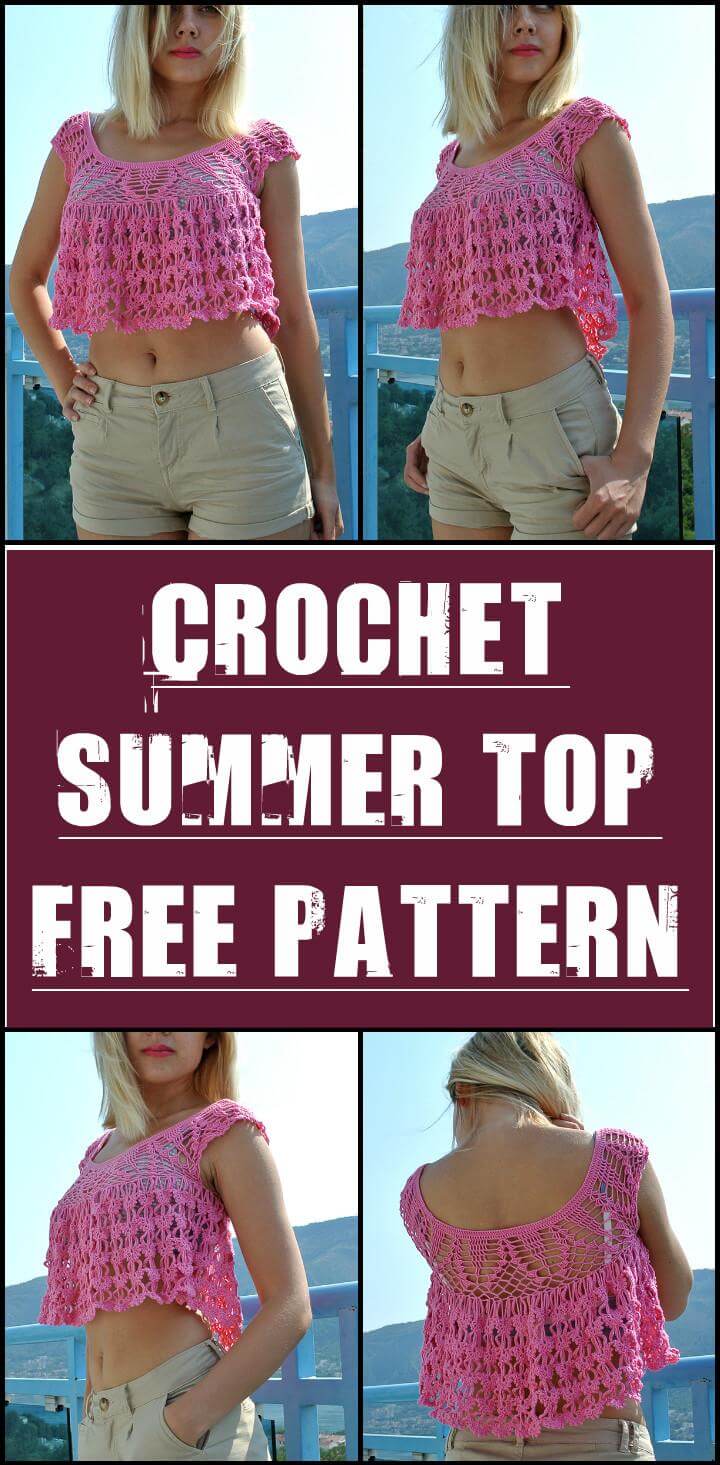 The young girls especially the teen age girls really like the bold dresses that really make them look attractive and captivating for every eye around them.This lovely crochet top with the small size would really make a sexy style statement with shorts and bring out the style and fashion Diva of you. Its a complicated one pattern and would really be best for the experienced crocheters but the beginners can also try it with the stitch details given here beautifulcrochetstuff
Summer Tunic Free Crochet Pattern: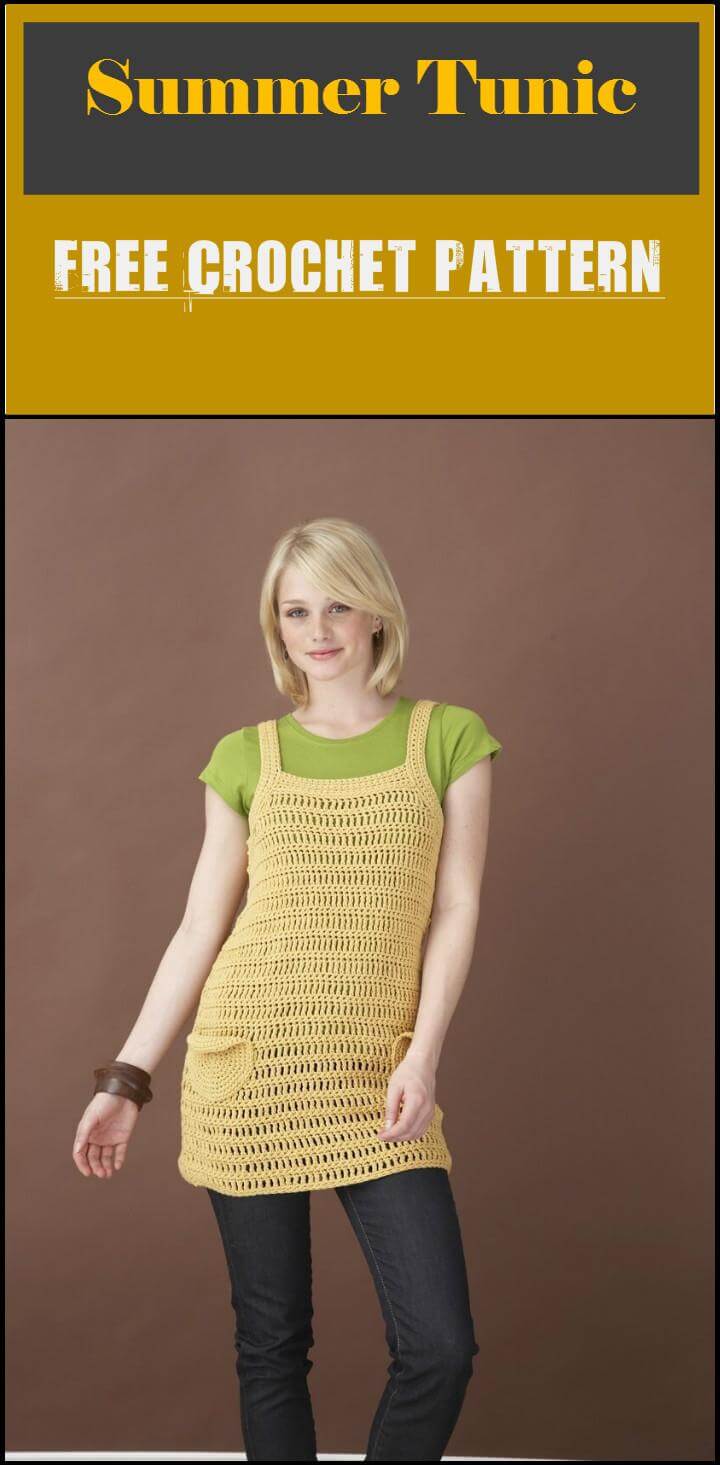 Go glamorous and stylish this summer with the utility of your crochet art as it can really let you create a variety of clothes to wear in the summers and be high on fashion and the trends.Here is another gorgeous and simple pattern that would really suit your personality and would make your look all styled up even on the casual days wearing it over your shirts, tops and vests. SO catch the free pattern of this pretty summer tunic right here lionbrand
Crochet Venice Beach Top: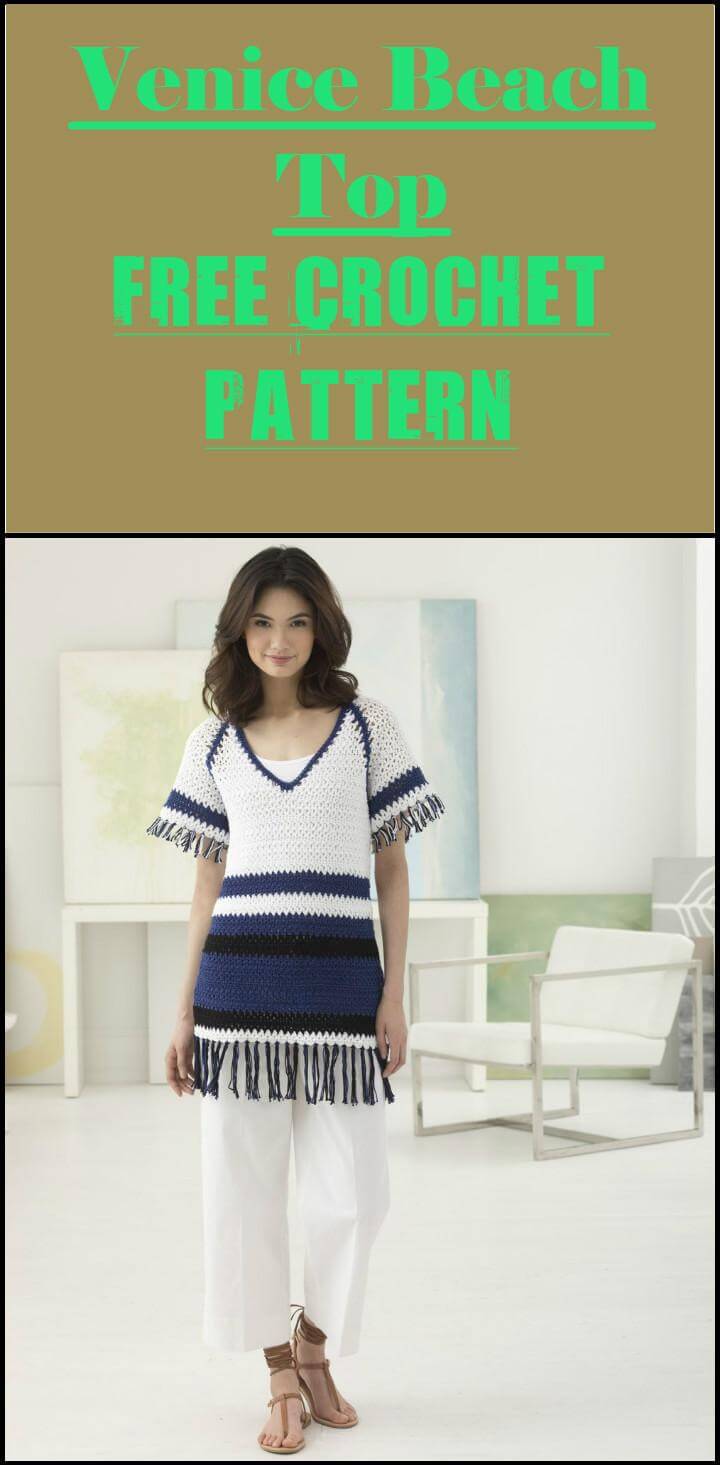 This utterly gorgeous and immensely pretty summer crochet top would surely win the hearts of each and every lady out there for being so graceful, stylish and beautiful. The close knit pattern, stripes of multiple colors and the fringes at the edge of the top and the sleeves are really adding the fascinating touches to the top and let it your favorite pattern to stitch and flaunt around this summer or spring. We got the full tutorial details and the pattern for free right on this link so click and enjoy crocheting it soon lionbrand
Crochet Summer Raglan Top: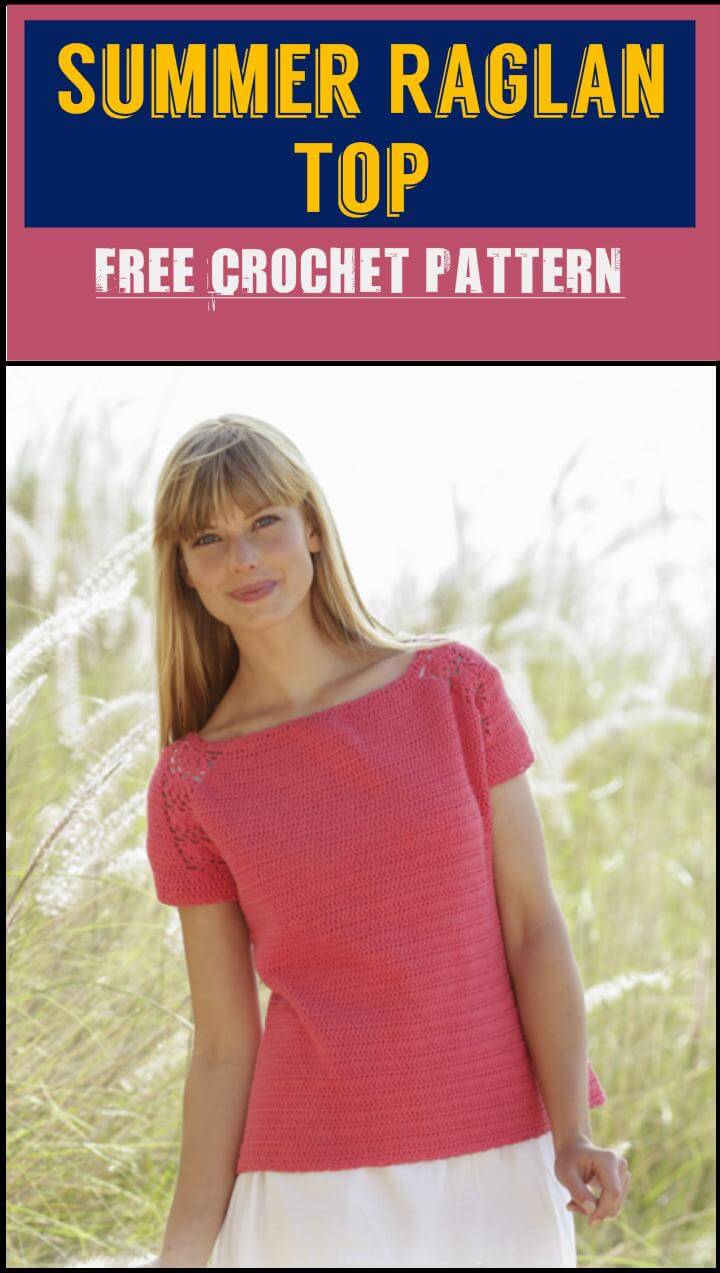 This simple and cute pink top would be your favorite thing in the summer or spring as you can pull it off with the denims, shorts, pants and even with a skirt and get new look each time wearing it with different things. Its really simple and easy to work on and the pattern demands only he beginner to medium skill level so everybody of you can try this and have it of your own.The pattern and the written details for step by step guidance are shown here garnstudio
Crochet Shell Stitch Summer Airy Top: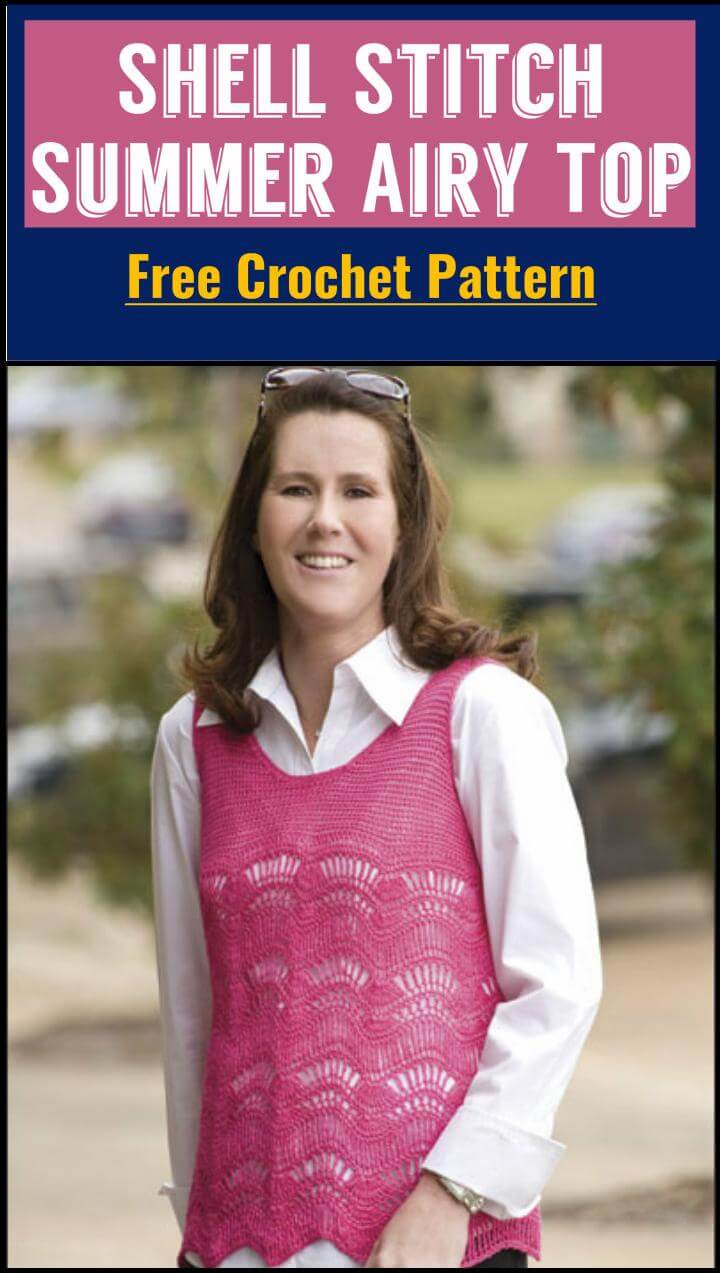 Wearing those same office shirts again and again gets really boring and you can not even buy ones as you have spent a lot of money on their purchase. So get the idea of styling up or dressing up those boring clothes and using a crochet top is really a brilliant idea in this regard. Yes like this lovely pink to has been crocheted to ear over your long sleeve shirts would be a really good idea to add some fun and style to the old and bore clothes. Here is the link to get the pattern details of this top freepatterns
Crochet Breathy Summer Top: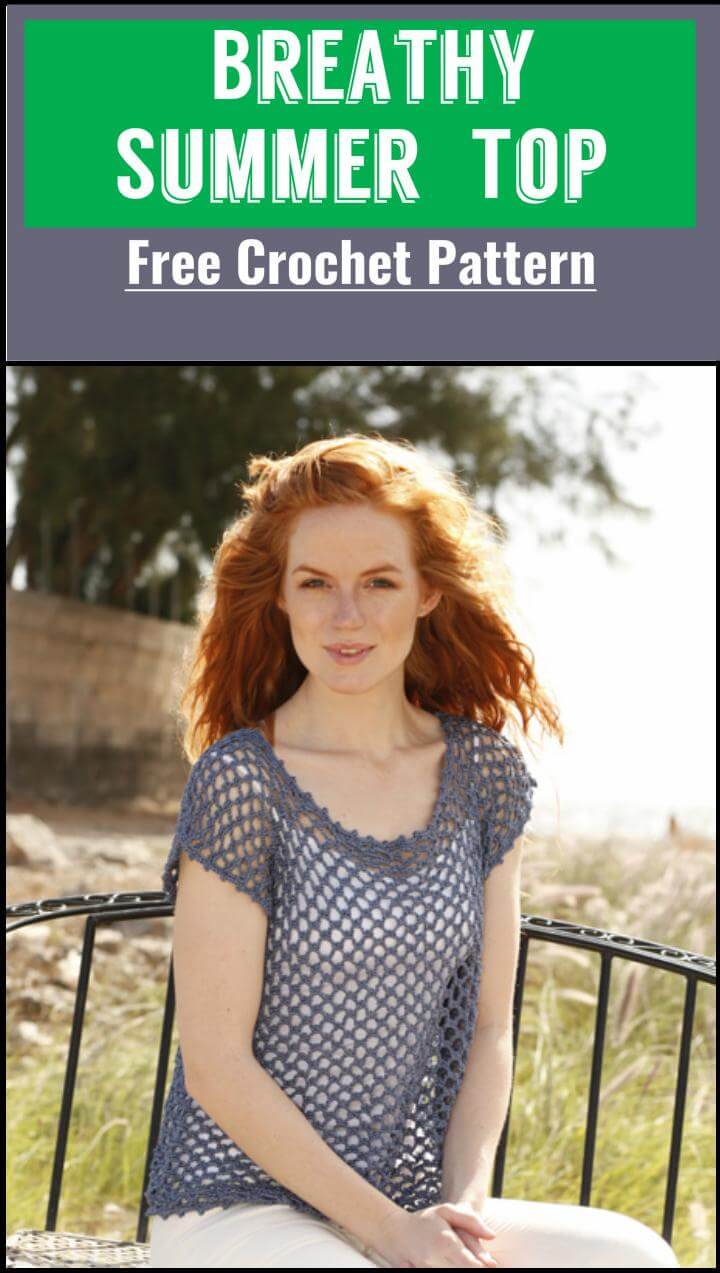 This see though crochet top is just perfect add a touch of extra glam to your lovely and pretty clothes and that too without hiding the beauty of them. Even a simple and regular t-shirt would look cool and stylish when you would wear this gorgeous mesh pattern top over it. So what are you waiting for its the best idea to enhance the charm and beauty of your casuals so steal the pattern and the details of it right from this given link garnstudio
Crochet Breezy-T Or Summer Top: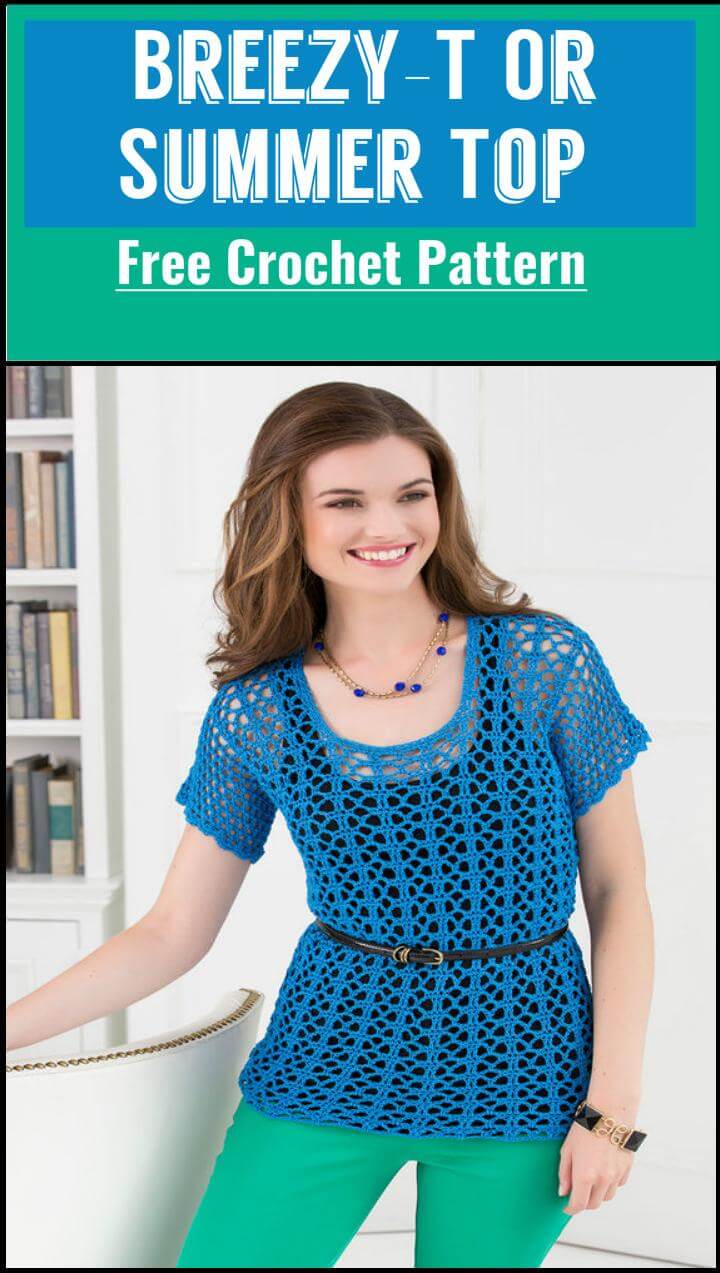 The colorful and the tight leggings are really in fashion and trend these days and there is a lot to match and contrast with them and bring out the stylish girl out of you. So with that perfectly fit legging you can wear a simple vest or tank and to instantly get that glamor and up graded look you can use this mesh pattern crochet top over it. This can be used on so many other clothes and dresses too so do make it and create lots of fashion possibilities for you redheart
Crochet Breezy Summer Tunic: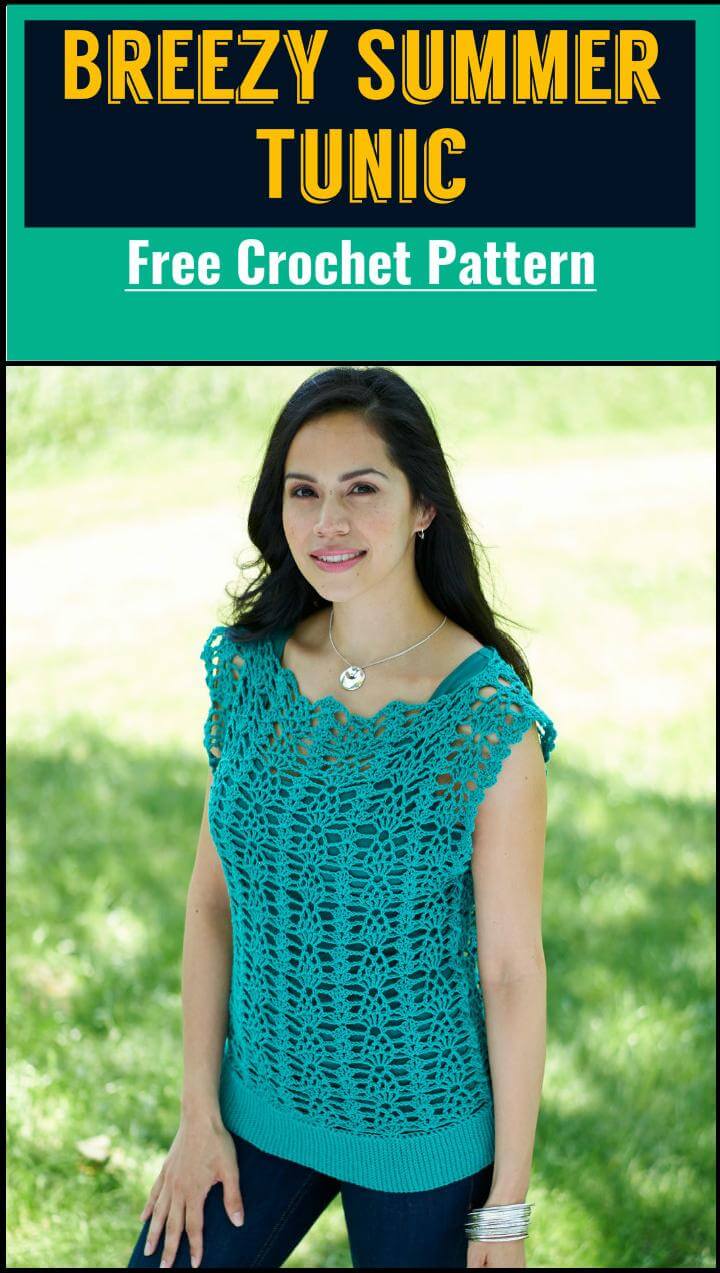 For more instruction and free crochet pattern: yarnspirations
Crochet Airy Top with Round Yoke: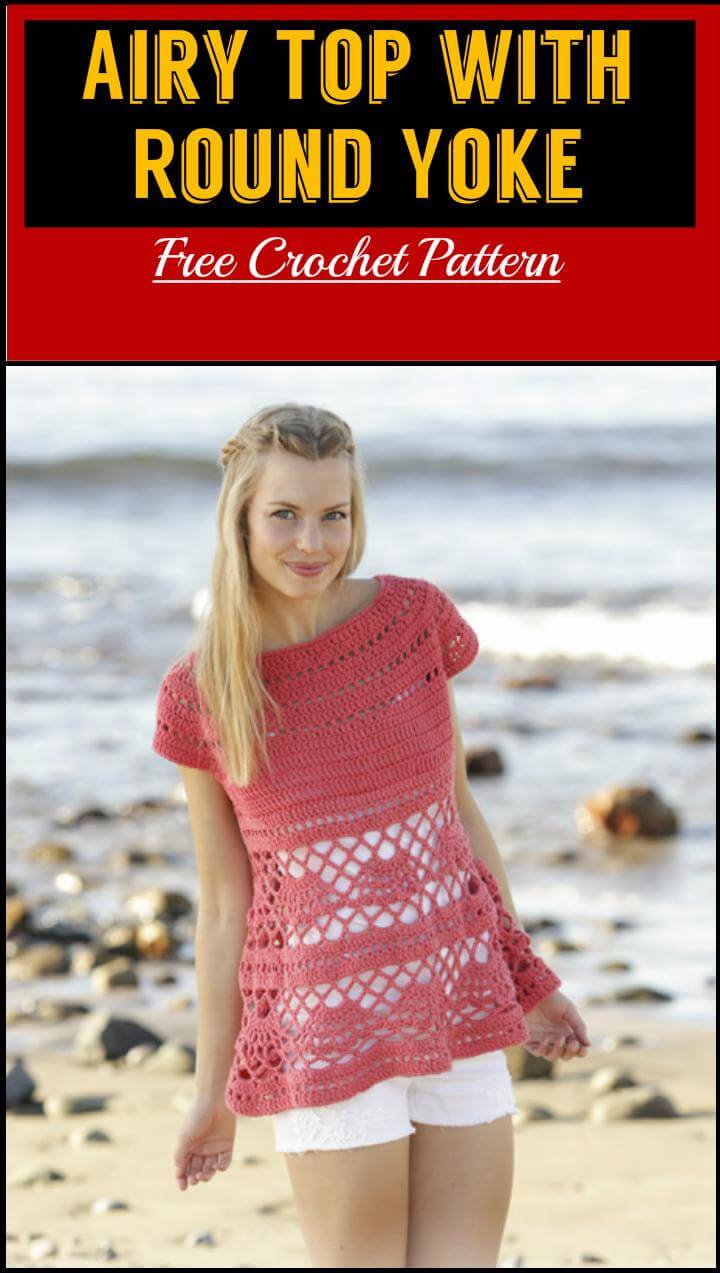 Not only your but your wardrobe also get light when the winters are gone and so the heavy and thick clothing of that season. So let your closet breath with these thin, light weight and breezy kind of things like this cute and adorable crochet top that you can carry so nicely and gracefully with your shorts, pants and even the the skirts. So do make it and let your closet enjoy some cool and chic stuff hanging there. Here is the complete tutorial and the pattern details for free garnstudio
Crochet Garden Party Hats: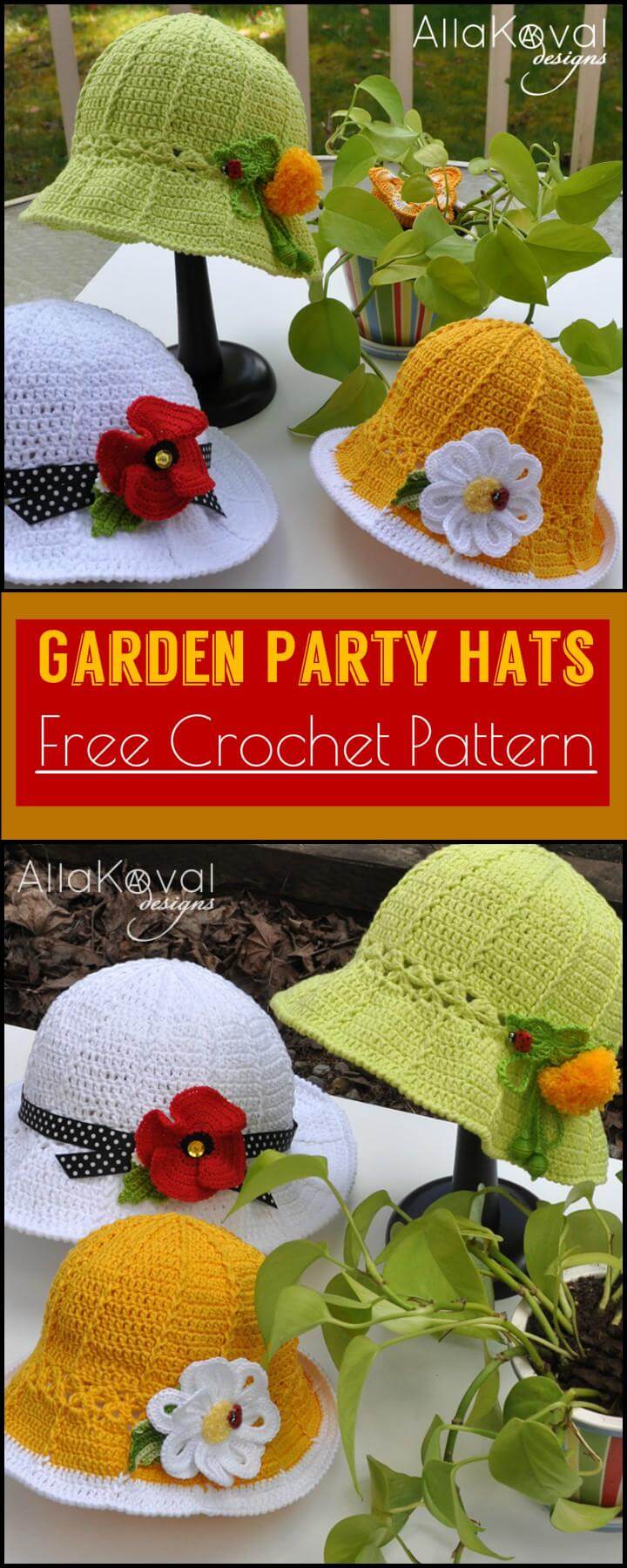 There are so many easy and cute ways to bring some uniqueness and fun to your regular accessories of dress ups. Like the crochet hats are so common to use for the winters with a simple and feasible touch of crocheted flowers to those hats would make them your favorite for the summers to use them against the sun rays while getting out of the house. To have this super stylish and enchanting of voiding the sun rays you need to grab the tutorial for this flower hats right there mylittlecitygirl
Crochet Amigurmi Octopus baby Toy: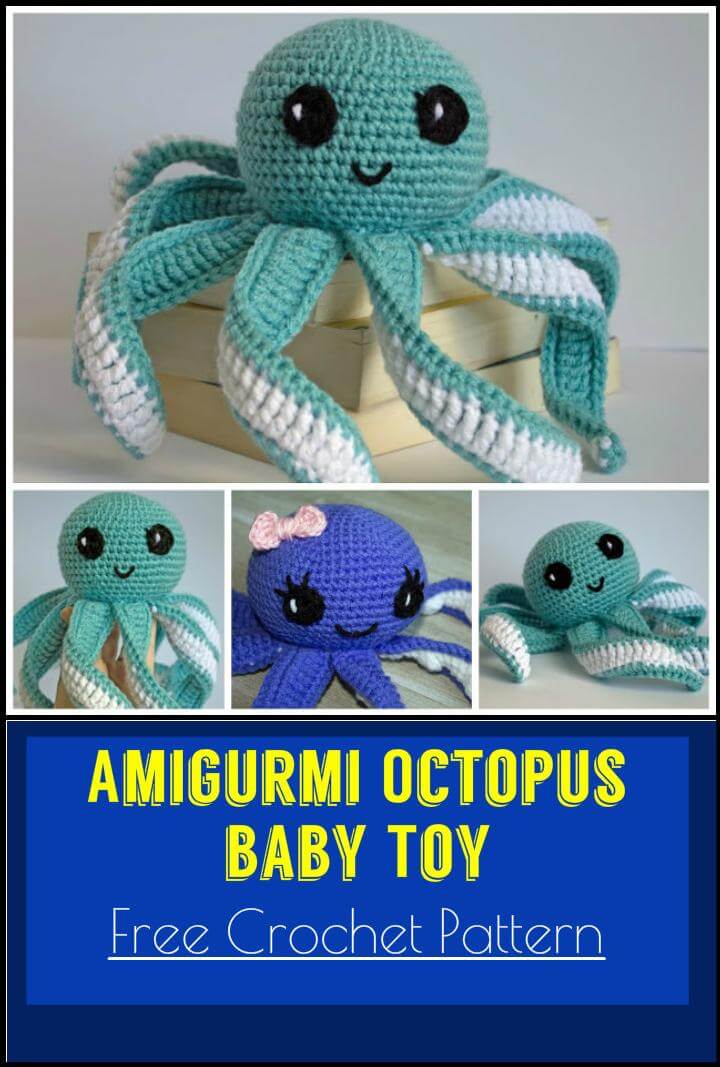 The crocheted toys not only create a fun playing source for the kids but also bring some really fun and cute vibes to your home decor too. There is a lot to crochet in the filed of toys of and baby cartoons but the octopus is like the favorite of inspiration in this regard. SO if you are also looking for a crochet octopus to create for your cute kids then you are just at the right place. Here we have the full free pattern the crocheting details of this cute amigurmi of crochet octopus so that you can easily crochet it instead of buying it thefriendlyredfox
Crochet Beach Ball Pillow: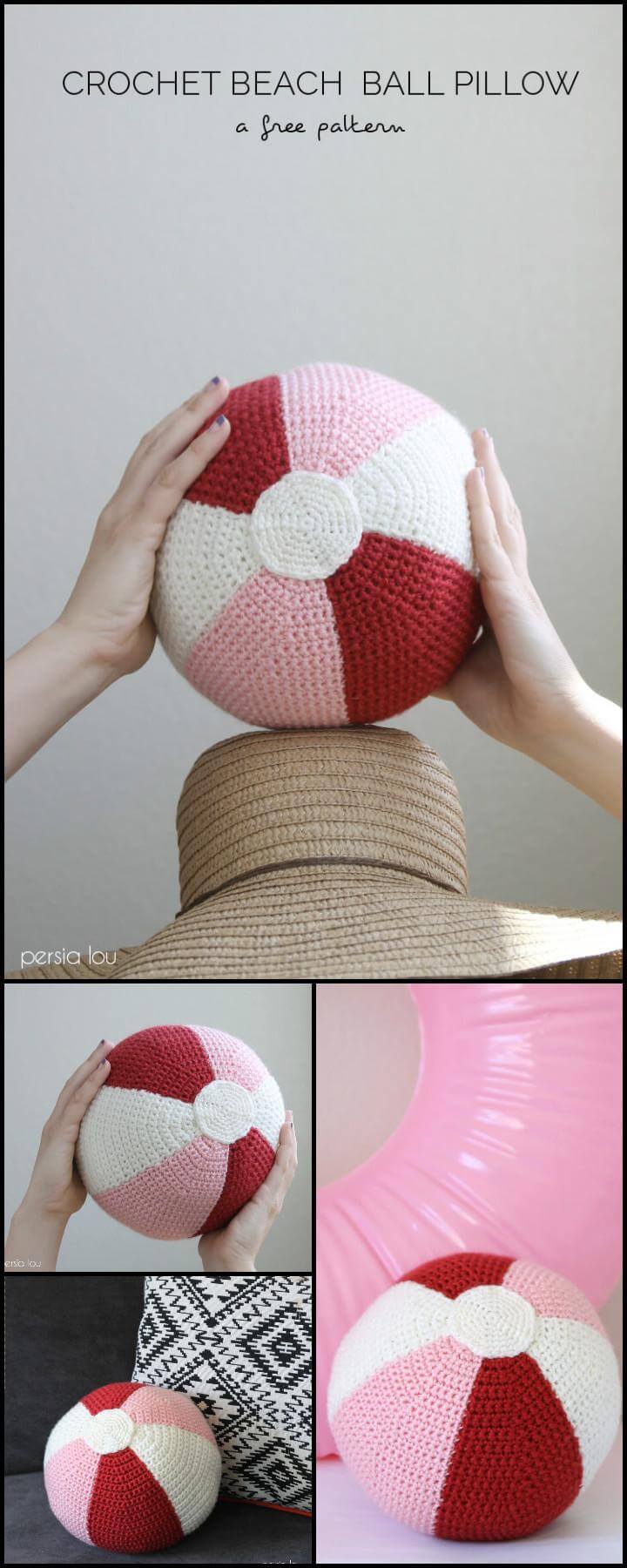 As there are crocheted towels, beach covers, tops and tanks there is something more fun to add to your beach trip enjoyment and pleasure. WE all love to play beach ball game to double up the fun at the beach and now you can even crochet that ball of your own with the combination of so many colors and for the perfect kind of sample we have this crochet beach ball for you with all the details and the free pattern too persialou
Summer Sunglasses Case Free Crochet Pattern: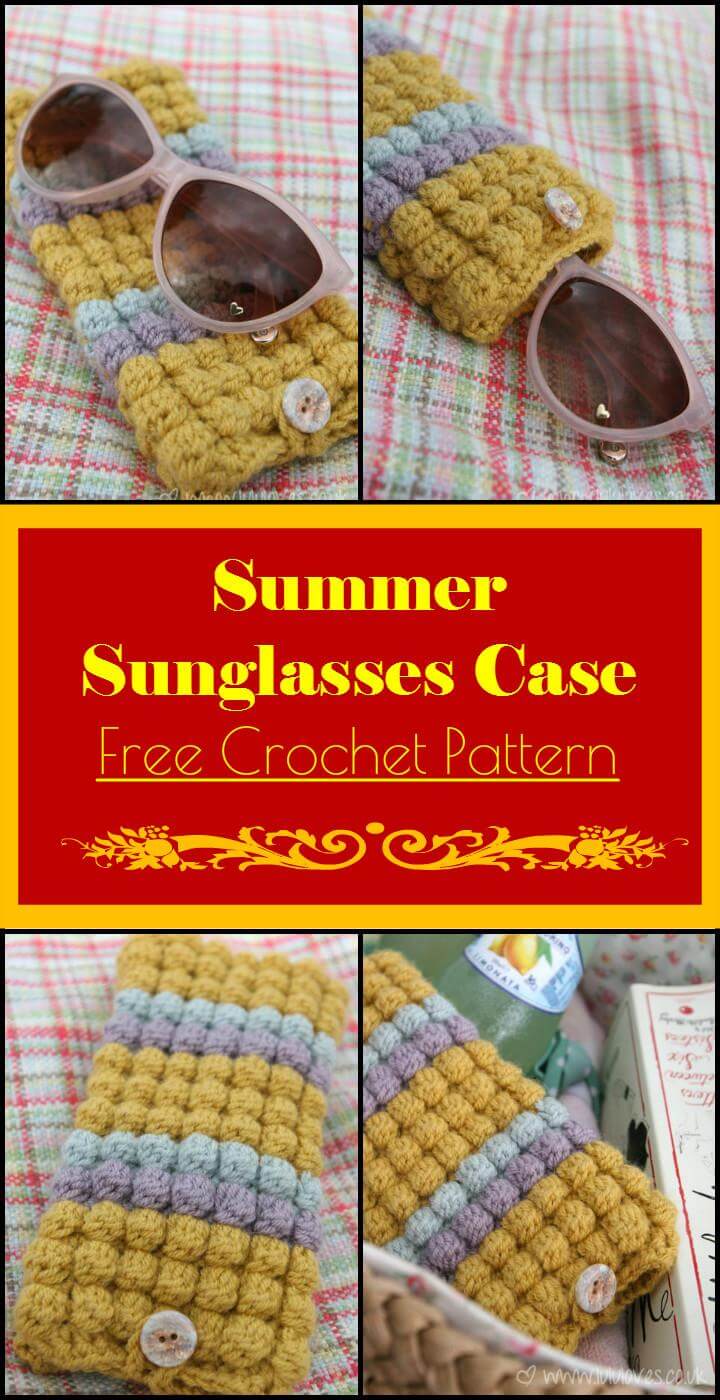 Sunglasses are the the perfect way to keep your eyes safe from the ultra rays of the sun and also look really stylish and cool at the same time. But when the sun glasses are no in use or you need to carry them with you, this cute crochet sunglasses cover would hold it so nicely and safely in it and saving it from the scratches and the other damages. So bring some soft yarn and start crocheting this cover that would be so simple and quick to work on lululoves
Crochet Summer Openwork Top:
Break the myth that the black color is not for the summers and you can opt for this lovely black crochet top to go against the trends. yes the colors are all bout the summers and bring but wearing black would really bring the boho and chic factor to your personality and the personal style statement too.SO here is the link to know all the details of the this absolutely stunning and beautiful black summer top abc-knitting
Crochet Super Airy Lighthearted Tunic: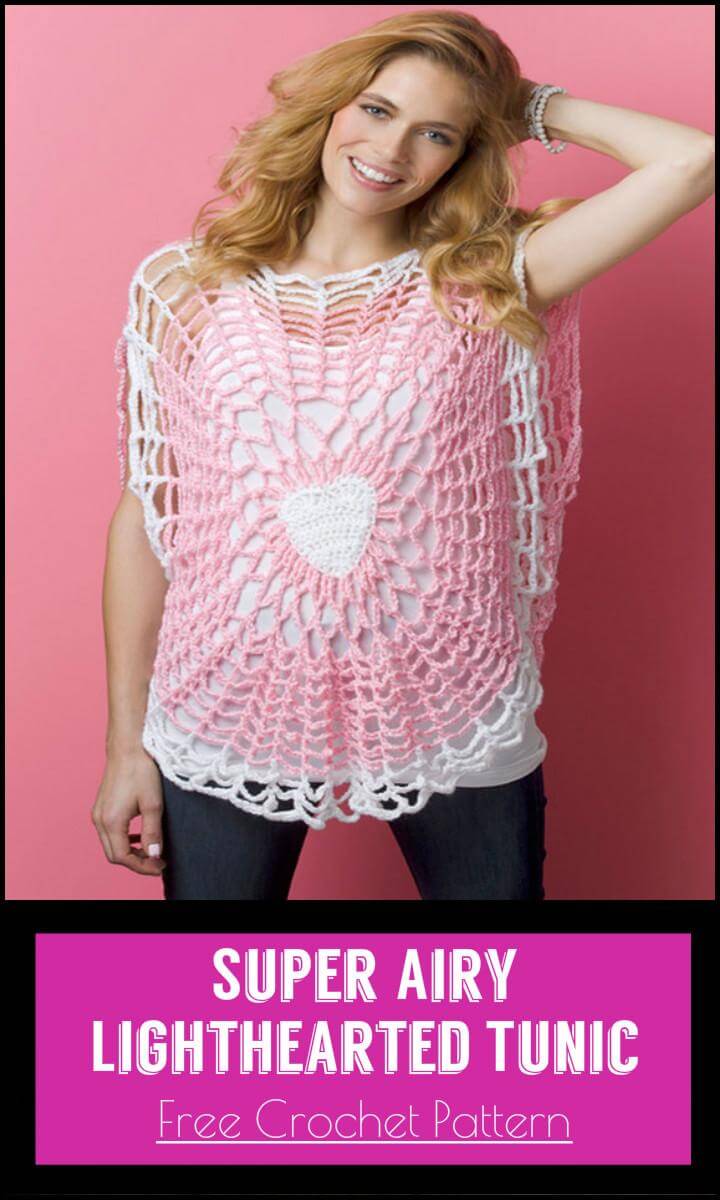 Summer is all about the light weight and airy clothes so that you can beat the heat and feel cool all the time. SO crochet this lovely top which is featuring a simple design with the airy and breezy pattern and thus would be really fun and really quick to crochet yourself at home in your favorite yarn hues. Jut click on this link provided to know more about the pattern and the instructions of the stitch redheart
Crochet Light Layers Tank: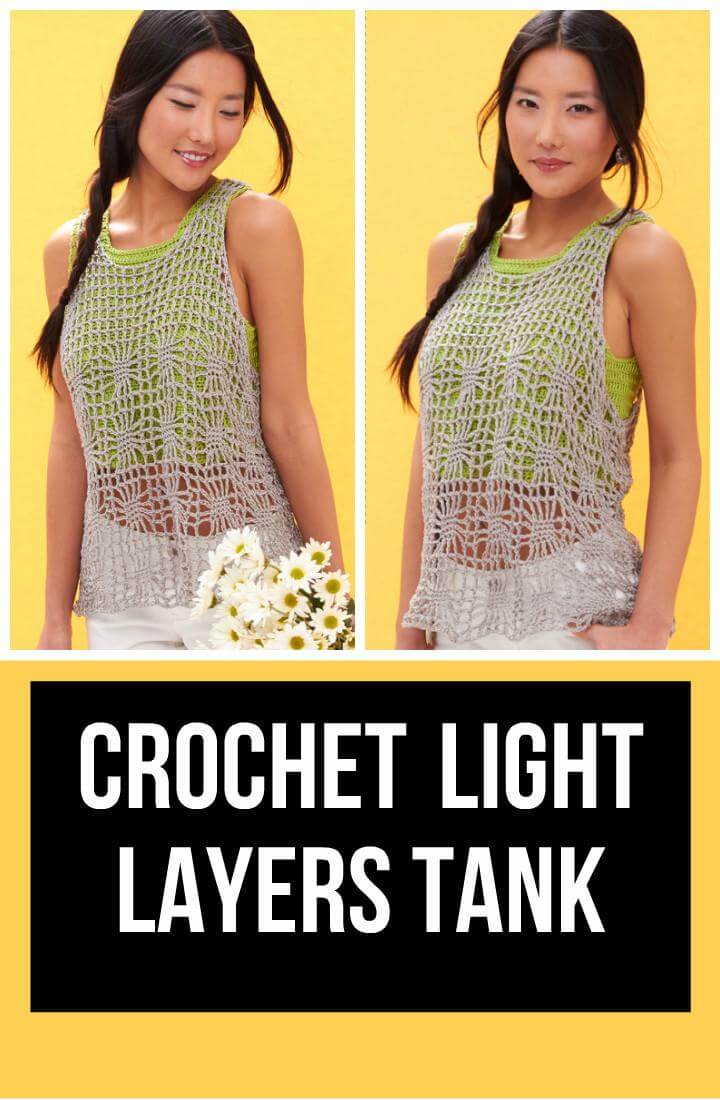 Here is this amazing and really unique spider web pattern top for you to try this summer and add something really smart and one o a kind in your summer wardrobe.The pattern is just too easy and fun to create yourself at home with your favorite colors to create that perfect contrast or matching with the tops, tanks or the vests you would wear under it.Check out the complete tutorial link here yarnspirations
Crochet Sea Breeze Top: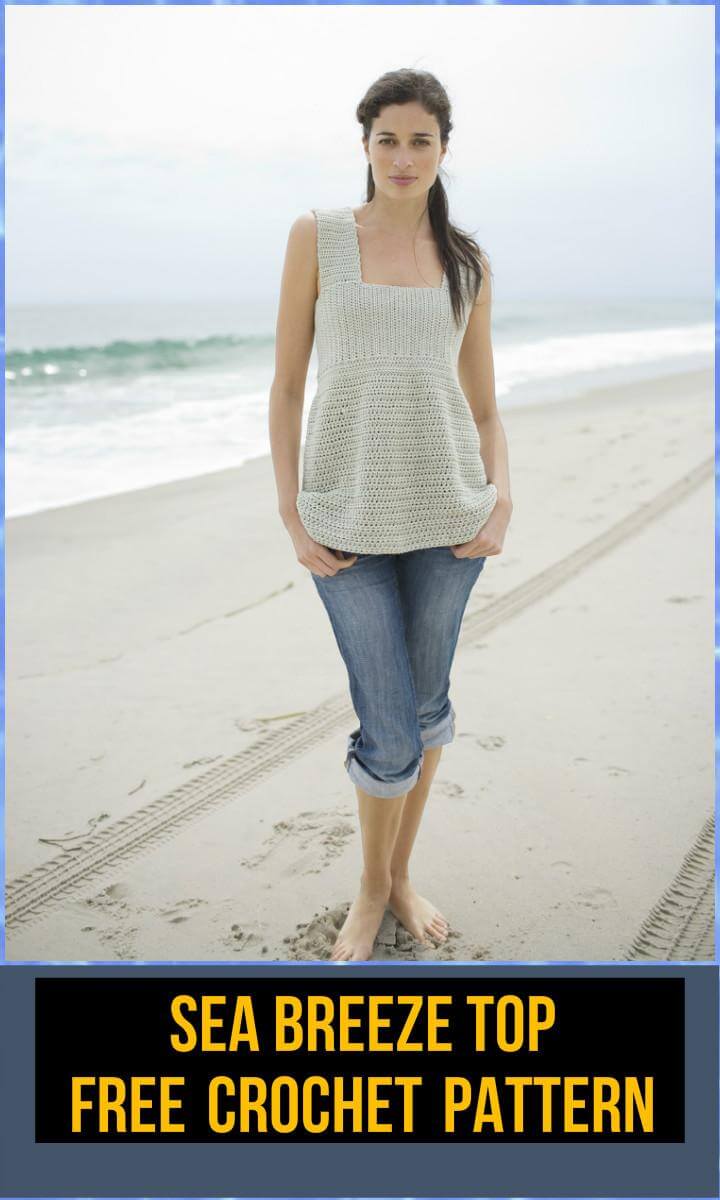 We want to feel light in the summers that is why the clothing is so thin and fun in the summers. So here is this fun looking summer crochet top that is really breezy and thus make you feel really light and comfortable even on your beach trips too.The design and the pattern is so simple and thus would be really easy and quick to crochet yourself at home.Here is the link to grab the details of the pattern and the stitch lionbrand
Crochet Casual Summer Top: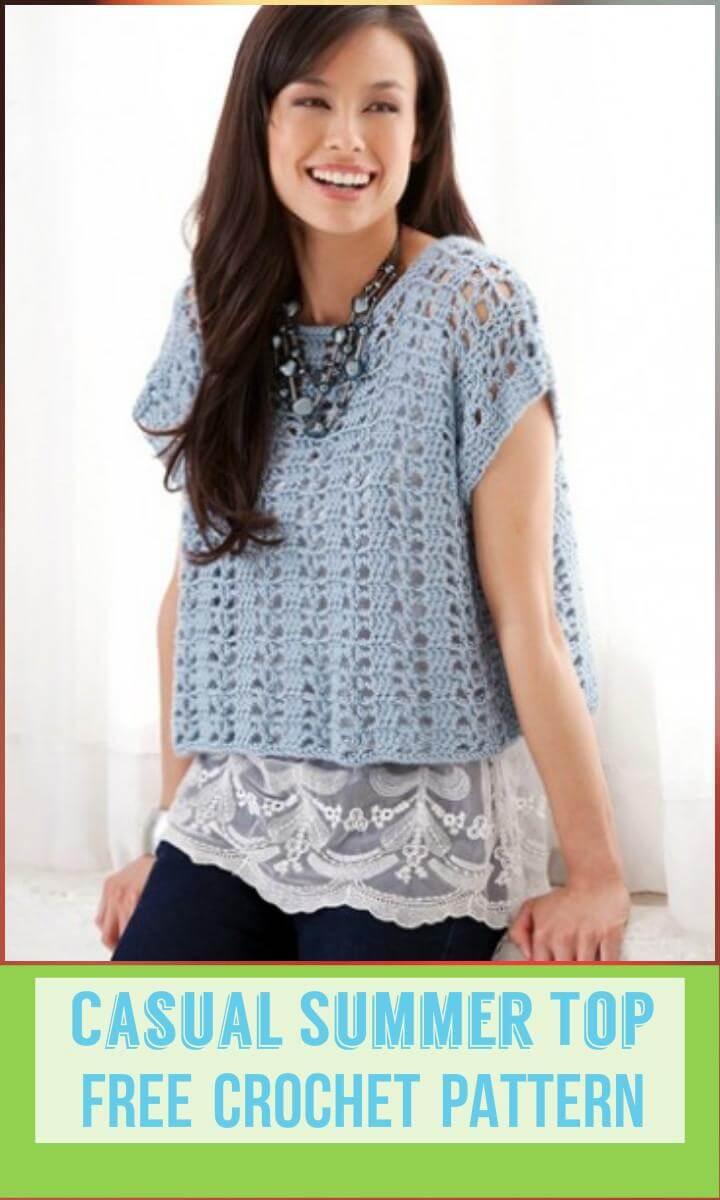 Crochet art is really fun and useful to let you make some fun creations for your wardrobe and let you have some really cool and tempting stuff for your every weather.So catch all types of fun and fancy tops and tanks here to crochet them at home of your own.Here is this another simply gorgeous and simply stylish crochet top to dress your shirt, tops and tanks and instantly add the stylish charm to your personality.Here ist he link to get the free pattern of this cute top yarnspirations
Crochet Floral Cami: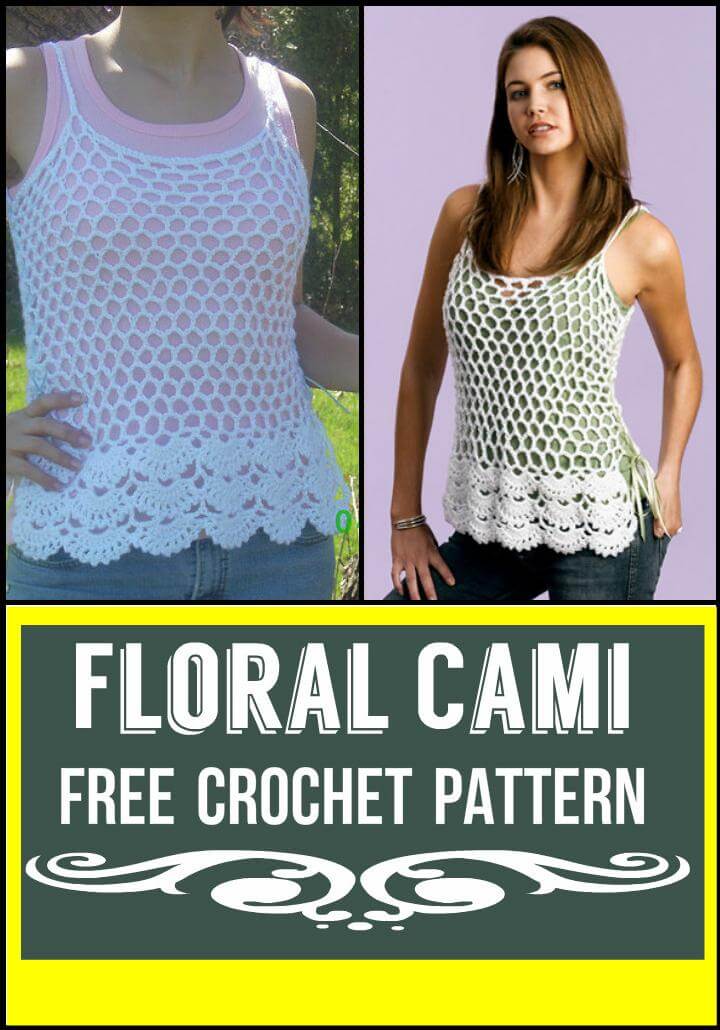 Adding flowers to anything really makes the things look so nice and fancy so why not add some flowery touche to your tops and tanks that you can easily crochet yourself at home.Here is this too cute and pretty top with the mesh pattern and the floral border being so nicely combined to get this exquisite and delicate top for your fun summer wear. Here the link to grab the free pattern of this gorgeous top ravelry
Crochet Airy Lace Shell Top: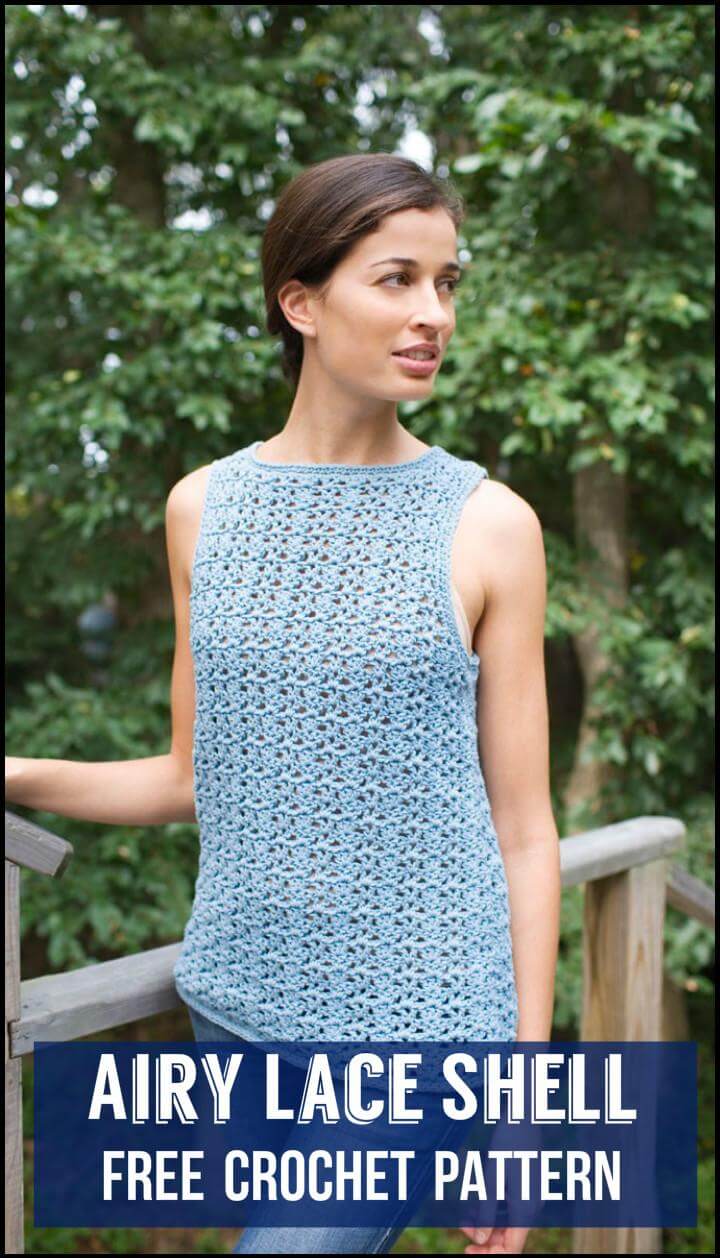 Learning the art of crocheting would ave a huge fortune of yours as you can crochet so many things at home instead of buying them at hefty prices.SO here is this lovely airy and breezy pattern of a crochet summer top without sleeves and thus making a perfect pick up for the summer casuals or the common outdoor trips of yours.Get to downlaod its free pattern right from this link and just crochet it lionbrand
Crochet Airy Lace Tunic: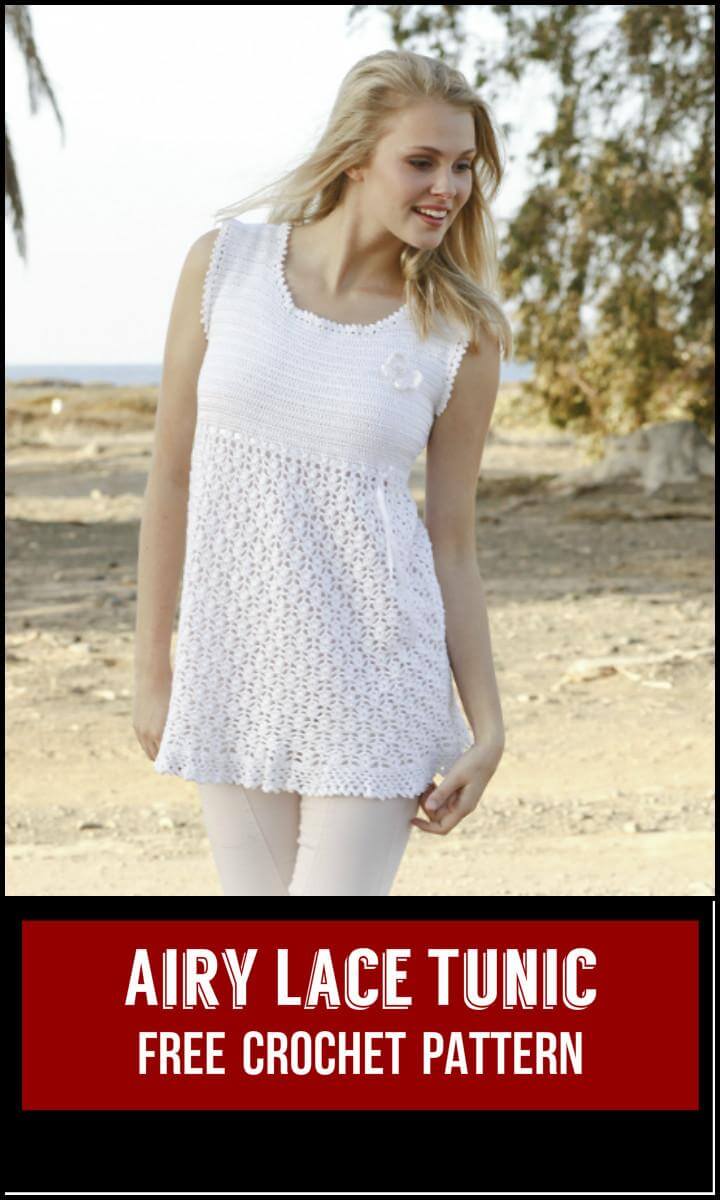 Tunics are just perfect for the summer letting you dress up so nice and comfortably.So get a crocheted tunic which is really simple and elegant in style and would look really cute and pretty in it.you can easily crochet it as it got really a nice and easy pattern to let you copy and make it this weekend to flaunt around in the summers with your favorite pant and tights.Free pattern link here garnstudio
Crochet Oceanside Dolman Sleeve Top: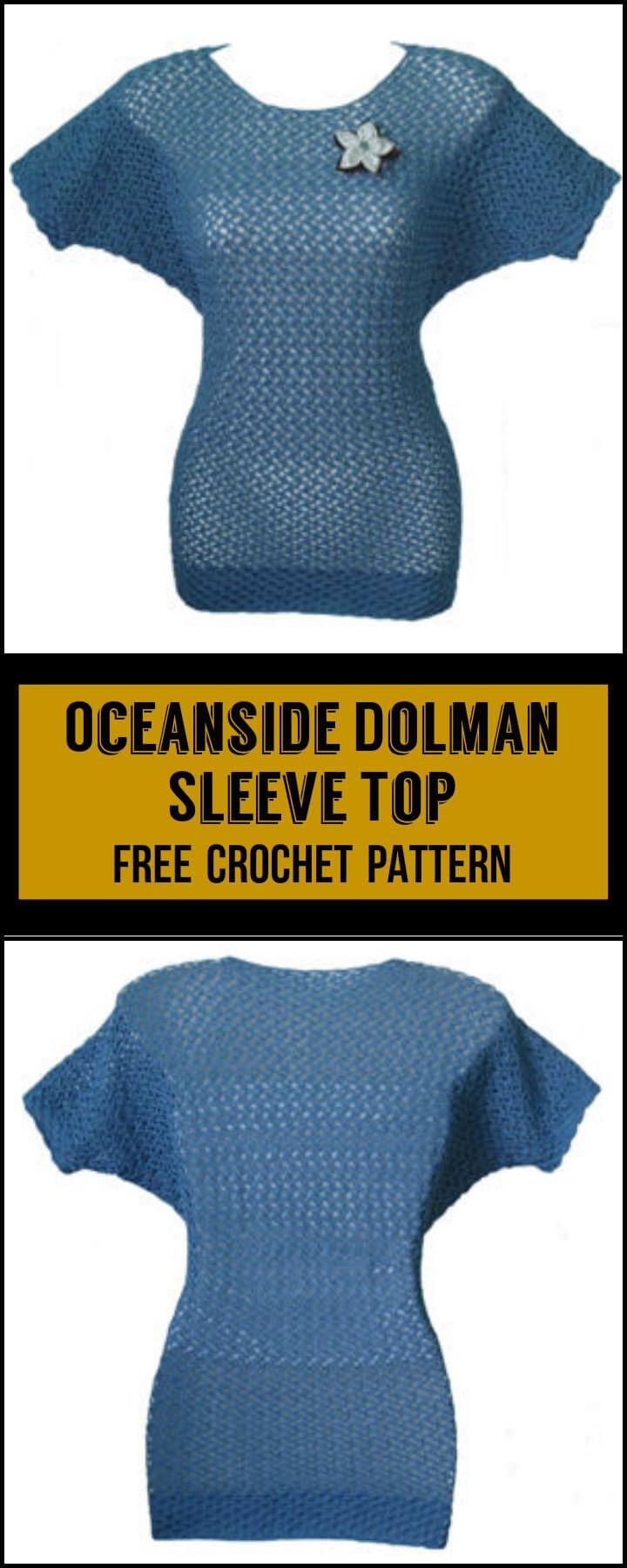 Here is the cute pattern for the ladies who really wants to have the nice fitting clothes. This crochet Dolman sleeve top is really going to your party favorite for the summer for being too nicely fitted to your body.You can make it in any size to get it apt for your figure.You can catch the complete pattern and the written details of it right on this link and have lots of fun creating this lovely piece of your own.Link here flexiblefashions
Crochet Cap Sleeve Summer Top: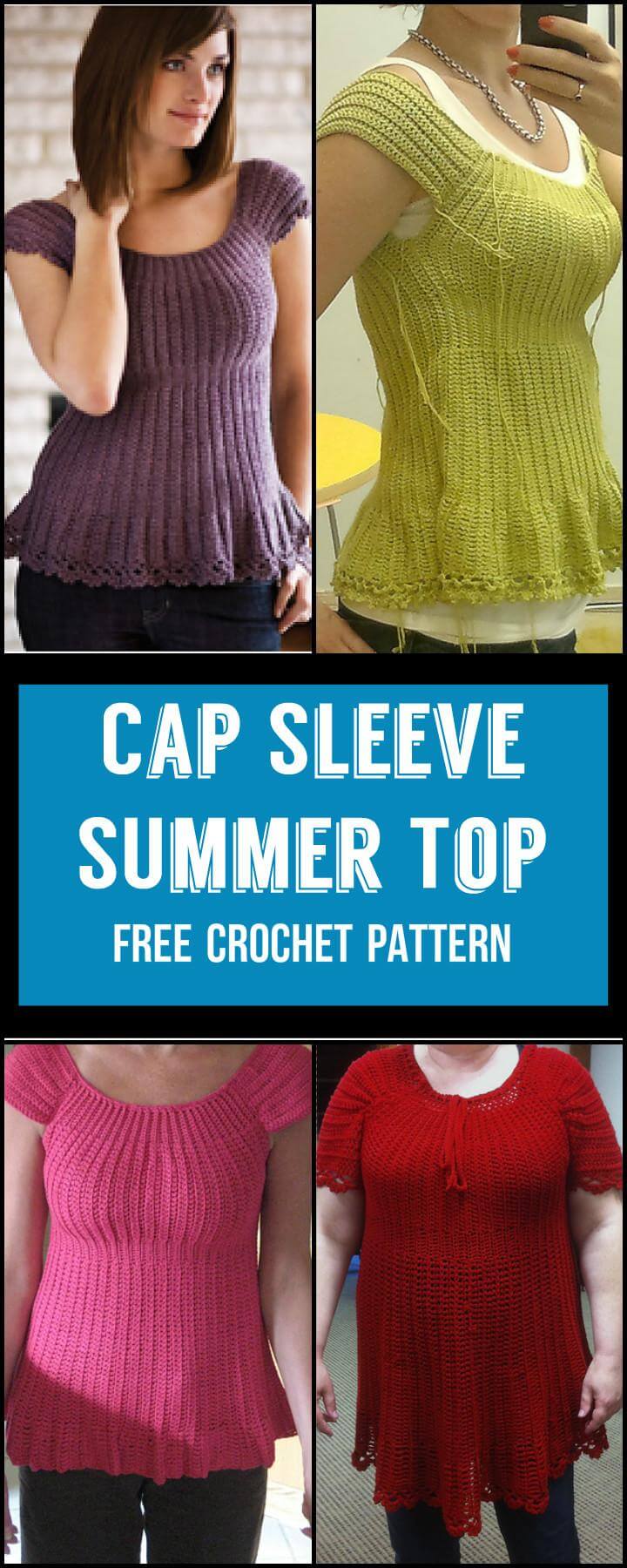 Here is another amazing pattern of the top that you can make and flaunt around in the summers.This cap sleeve top would really be your favorite thing to wear often and wander around.Wear it with your jeans or the tights and it wold look all grecufl and gorgeous on you. Just grab the favorite color of your crochet yarn to get the desired and personalized results with this adorable pattern. Get the pattern for free here ravelry
Crochet Lace-Inspired Summer Top: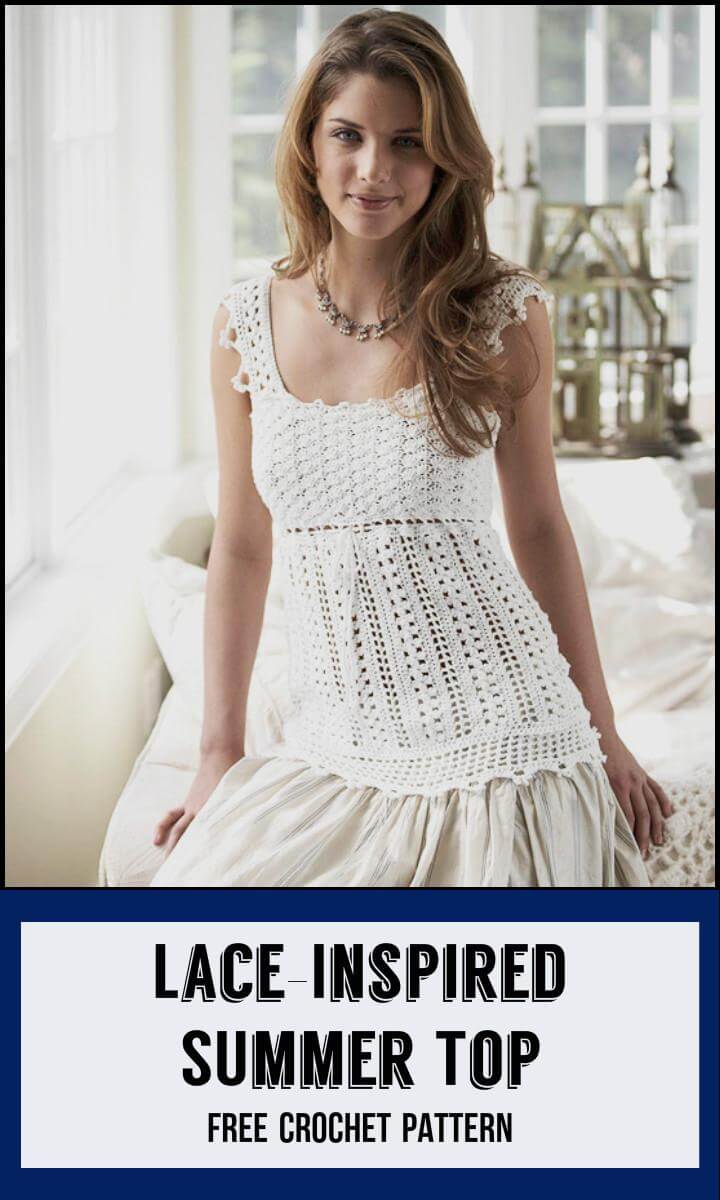 We uses fancy and expensive laces to style up dresses and make them look more gorgeous and beautiful so here is this lace inspired crochet top for your summer dress up. The dazzling white top look really cute and fun with that unique and pretty Lacey pattern to suit your jeans and skirts.You can get the free pattern of this amazing top right here and grace up yourself with it soon this summer bhg
Crochet Stylish Airy Ladies Summer Top: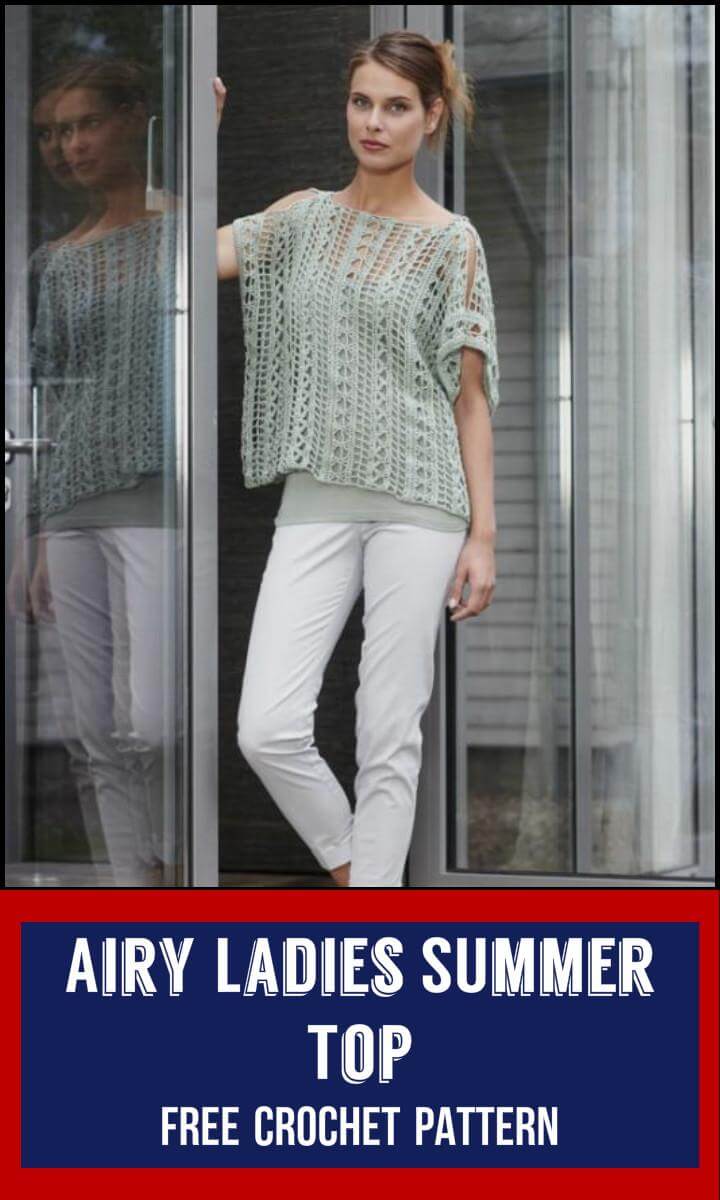 This one is a really cute pattern for the day dress ups and would alternate into a sexy top at the night for your night parties and trips.And the light and breathy pattern of it would really make it a comfortable and cozy wear for your summer wardrobe so do make it.You can customize the color and the personalize the size according to your body shape and the details to do all these alternations are right here along with the free pattern schachenmayr