Come out of the risk of paying high electricity bills by availing the free sun-energy. Harness the power of the sun with these 16 cheap diy solar panels that can be put into projects getting fully-fledged solar power systems providing free electric energy for a whole life. You must get some knowledge, tricks, and tips to install the solar panel for maximum output. Installing a solar power system will also include adding batteries, custom stands, control systems, inverters, and much more. The very first thing to do is to get a diy solar panel that you can build yourself with the help of these 15 DIY Solar Panel Ideas sharing every single idea and detail to make a solar panel from scratch.
Most of the diy solar projects contain soldering the solar cells on the wood boards and even on glass sheets to make a solar panel. Next, put together solar panels to get their powers multiplied until you get the calculated amount of energy needed in your home. All these plans making solar panel installation super easy.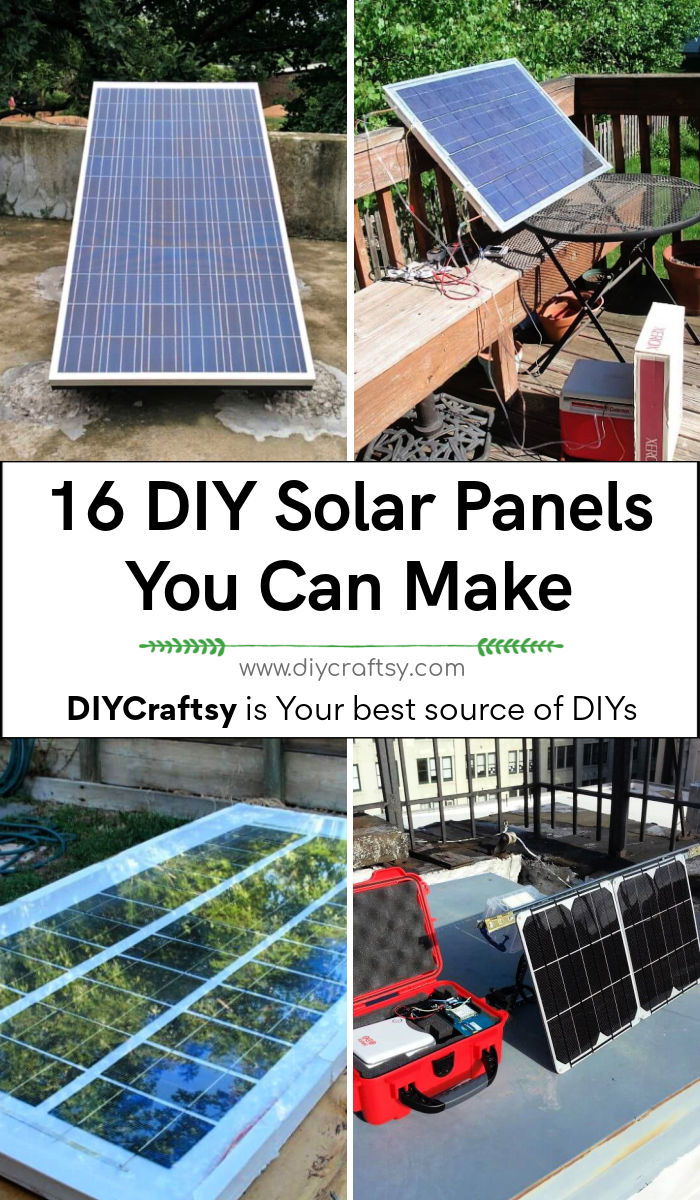 These sun-powered projects will be the best tech projects too for the students to learn the solar energy systems. They can also be installed directly on the chevron roofs of your outdoor houses for a self-sustaining electric supply system. Charge your camping truck gel batteries by mounting the solar panels on the vehicle roofs. They will serve everywhere you can't get the electrical supply. Raise also the diy solar panels to the next level by installing solar flower panels, which will enhance the visual of your outdoors.
1. Budget-friendly DIY Solar Panel System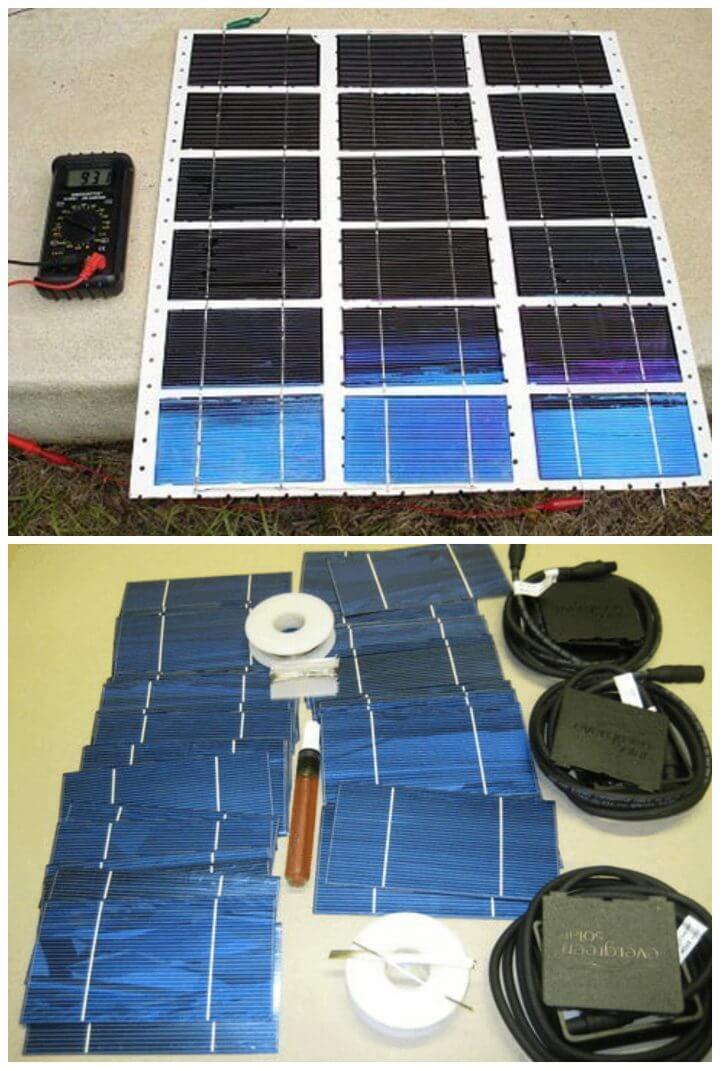 Solar panels cost you big while buying from the market. Making them at home is something easy to take on your wallet. Building solar panel systems will also be great for educational purposes, the total concept finally revealed here.  Get the solar cells arranged on a wooden board, get them wired together, and frame-up, and you are done. Full tutorial here greenoptimistic
2. How to Build a Solar Panel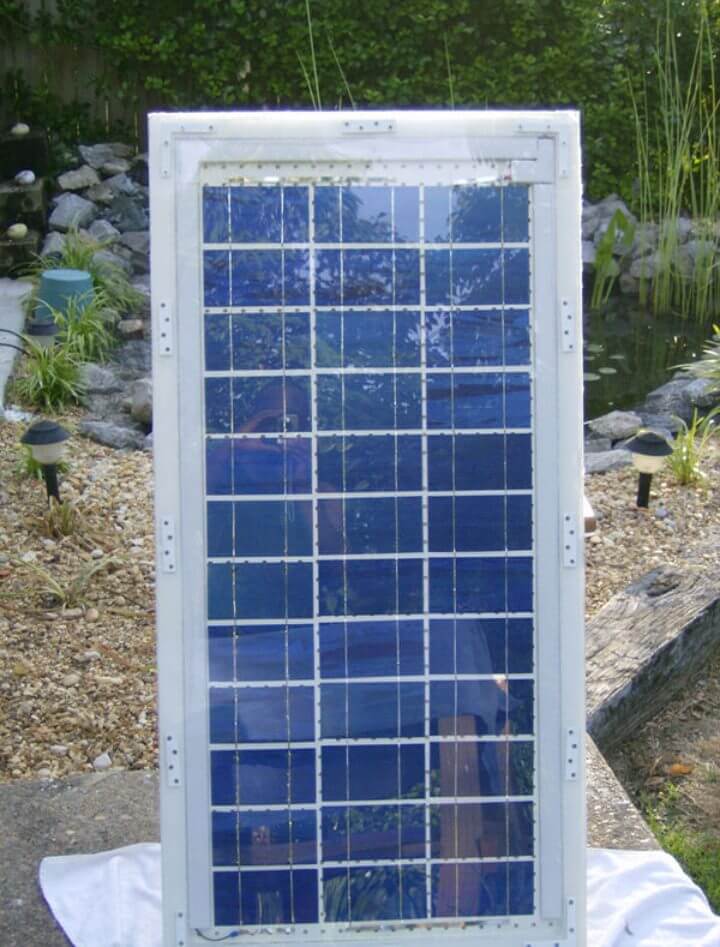 If you are wondering how to build a solar panel that generates solar energy, then you have got the comprehensive tutorial here. First, create a solar panel template using wood and a 2×4 piece of pegboard, give UV rays, and deck stain paint coats if necessary. Next, assemble the solar cells on it, which can be wired together easily if you make holes in it like a pegboard. How-to tutorial here instructables
DIY Lights:
DIY solar lights for the garden: Do you want to light up your garden at no cost? Find these diy solar lights that detailed free instructions and save you a lot of electricity cost.
Mason jar light: Find these mason jar light fixture ideas to reuse old mason jars and craft your own lights free of cost.
Pendant lights: See a large selection of concrete pendant lights at craftsy, including drum pendant lighting, industrial pendant lighting and glass pendant lights.
DIY oil lamp: How do you make a homemade oil lamp? Find these diy oil lamp ideas to make an oil lamp at home.
Wooden lamp: The use of wood in light decor gets grace to your home. See these DIY wood lamp ideas that will make perfect lights for the home.
3. Electricity Producing Solar Panel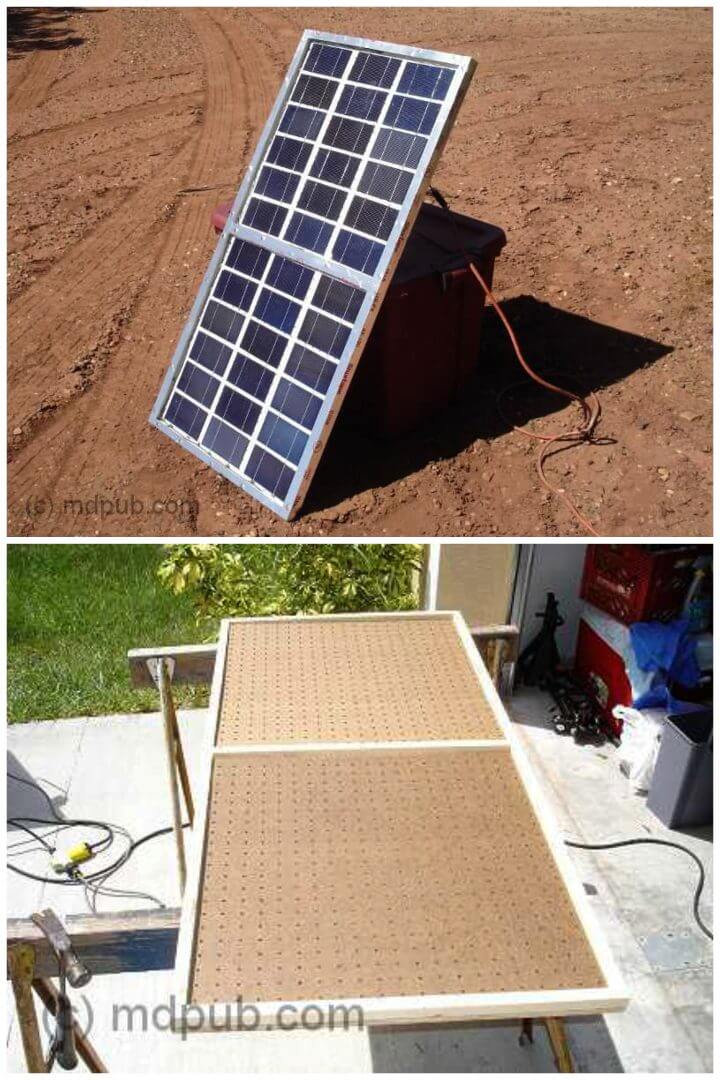 If solar panels are a big mystery for you, then time to reveal it for you. Learn here all the how-to details to build a solar panel, and how to produce electricity out of it. Along with making a solar panel, you will be guided here for the complete installation of controller sections and batteries too. Full details here mdpub
4. Install DIY Solar Panels Power System at Home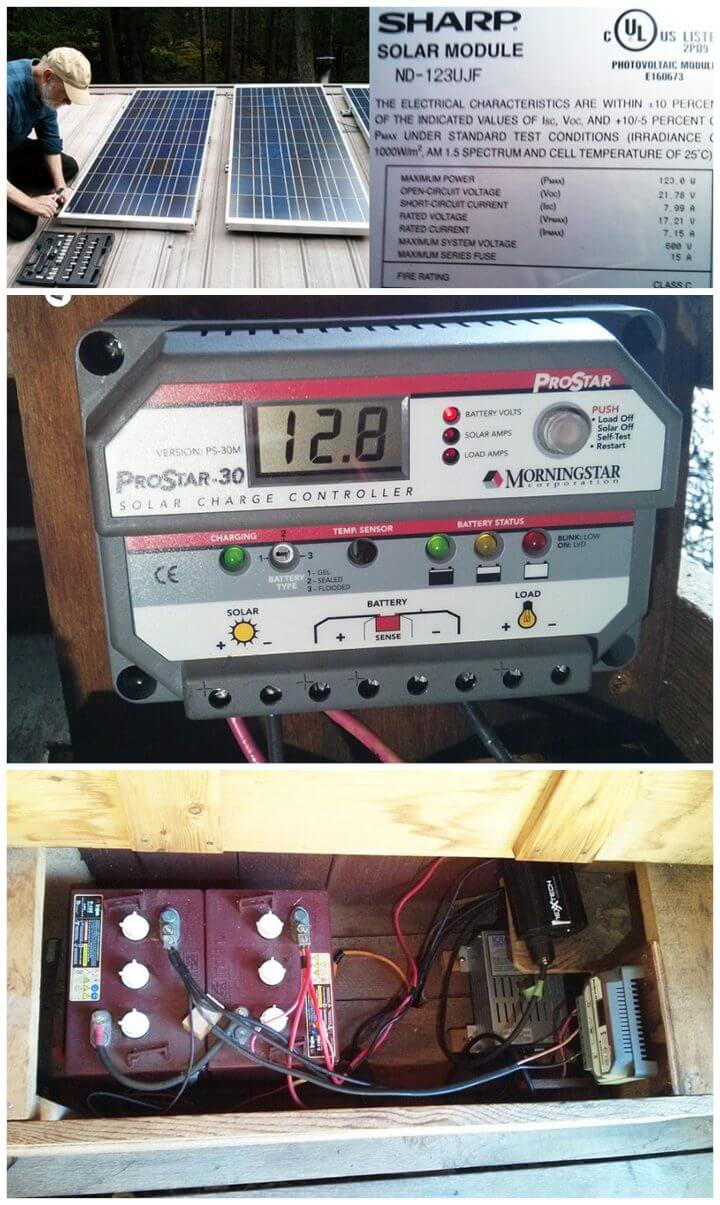 Have you installed a solar power system in your home? Have you ever wondered how professionals install them and how they are made? Learn all here from making a solar panel to install a complete solar power system for your home. You will be guided completely to accurately install the controller sections, batteries, and other necessary wiring. Complete project guides and tutorial here learn eartheasy
5. Build a Off-Grid Solar PV System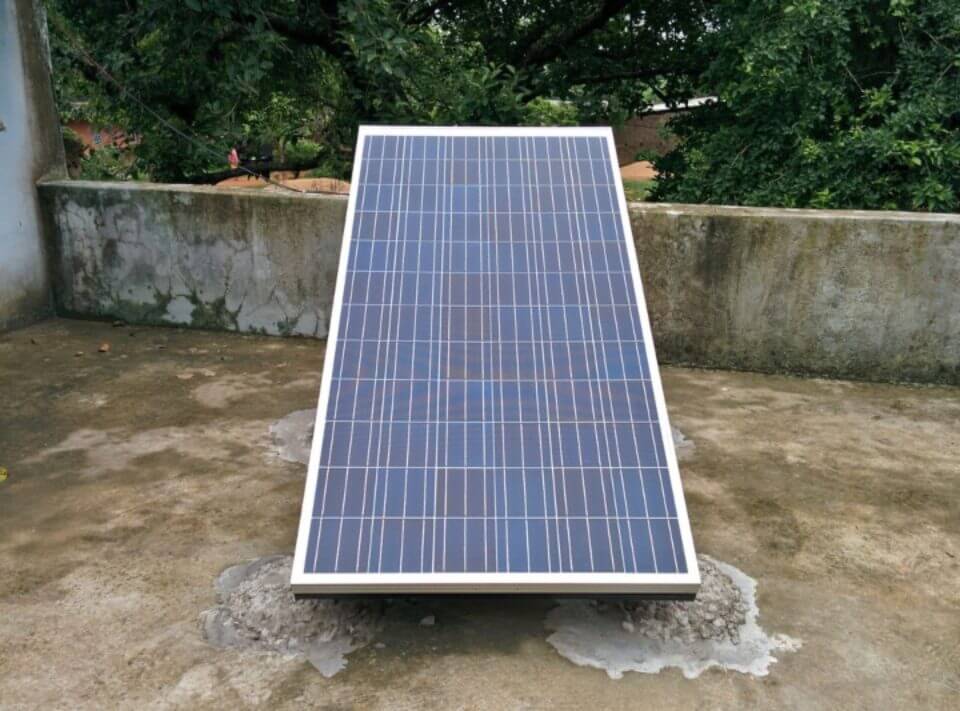 This project will take you to the full guides of building a solar panel and how to install it for maximum power with all controls in your hands. Building this off-grid solar PV system will demand PV solar panels, charge controller, inverter, and batteries. The total guides here waldenlabs
6. DIY Solar Panel Setup Around $100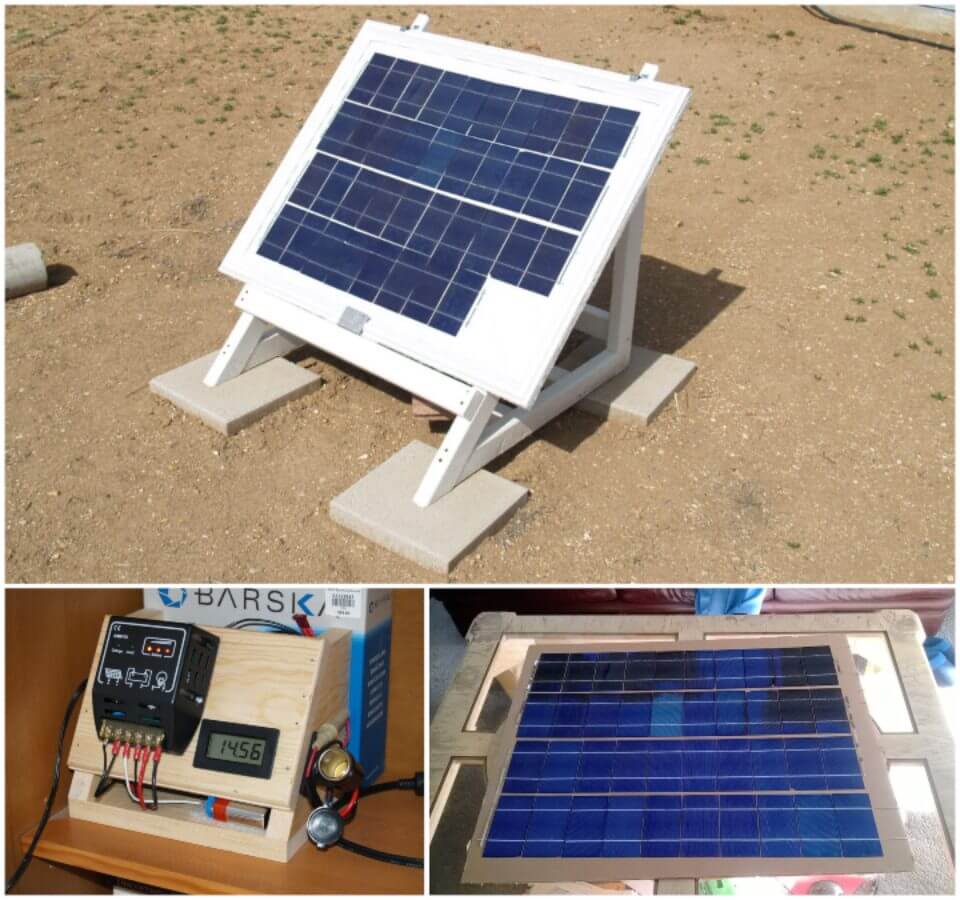 You are at the right spot for a better understanding of building a solar panel, how to set it on an angle in the sun to get maximum and how to run the wire through your home to get the system working properly. This whole project will cost you under $100, and here handmade-build solar panels stay on an L-shape wood stand. Complete project details and tutorial here instructables
7. Build Your Own Solar Panel System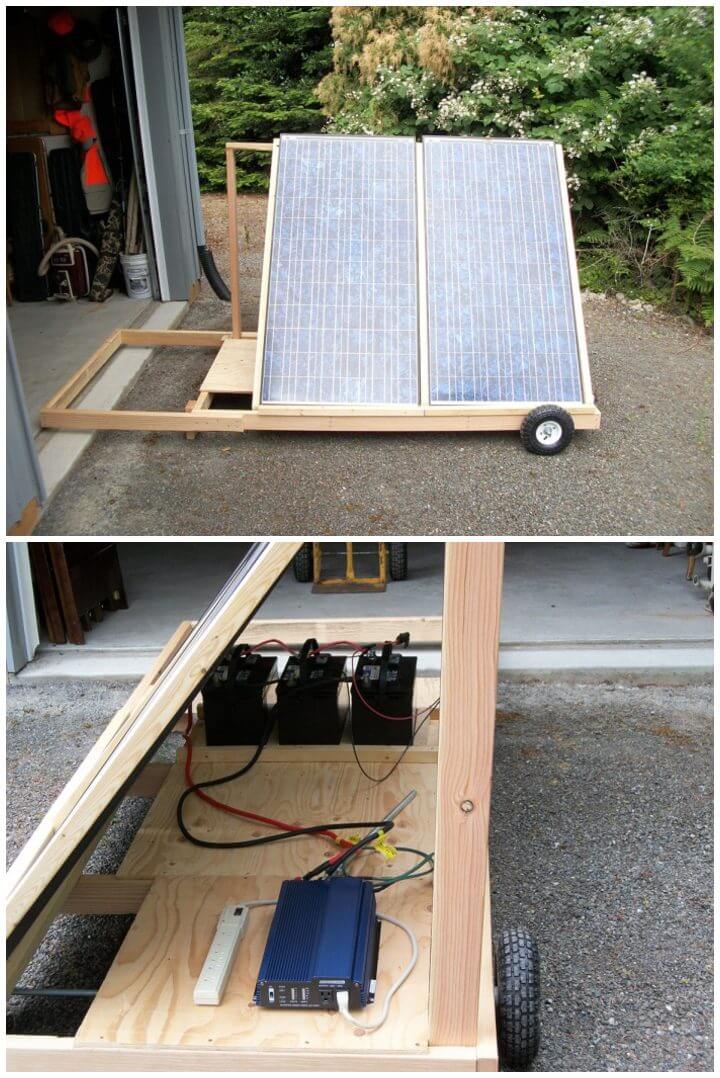 Build also this portable solar panel system, comes on wheels added to the bottom of the stand. Install the charging controls and batteries to the bottom side of the wood stand. Build most of the stand out of plywood 2×4 wood lengths and build solar panels by installing solar cells on a wooden box painted for maximum UV light exposure. Complete how-to guides here electronicproducts
8. Solar Power Setup – Free Energy for Life
Installing solar power systems once is like you are not messing up with the electricity bills again, getting free energy for the whole life. Here is the best solar power system to build and install on your chevron roof to gain the maximum of free energy. If you want to learn about making of solar panels and the whole power system for home then all about this project has been explained here mrmoneymustache
9. How to Make Hybrid Solar Panel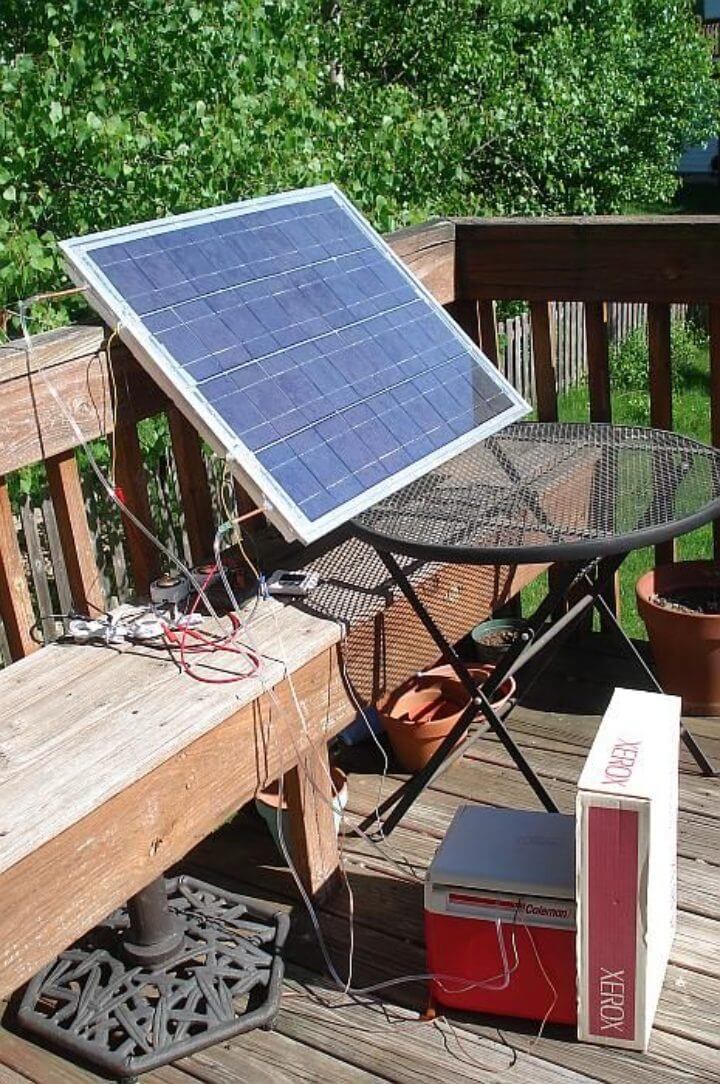 To get maximum out of solar energy and thermal energy, build this most advanced solar panel, the hybrid solar panel. It comes with a heat exchange system installed along with a nicely wired assortment of solar cells. One of the best solar panels to make at home with great ease comes with the insulated back. Full how-to tutorial here instructables
10. How to Construct a Solar Panel at Home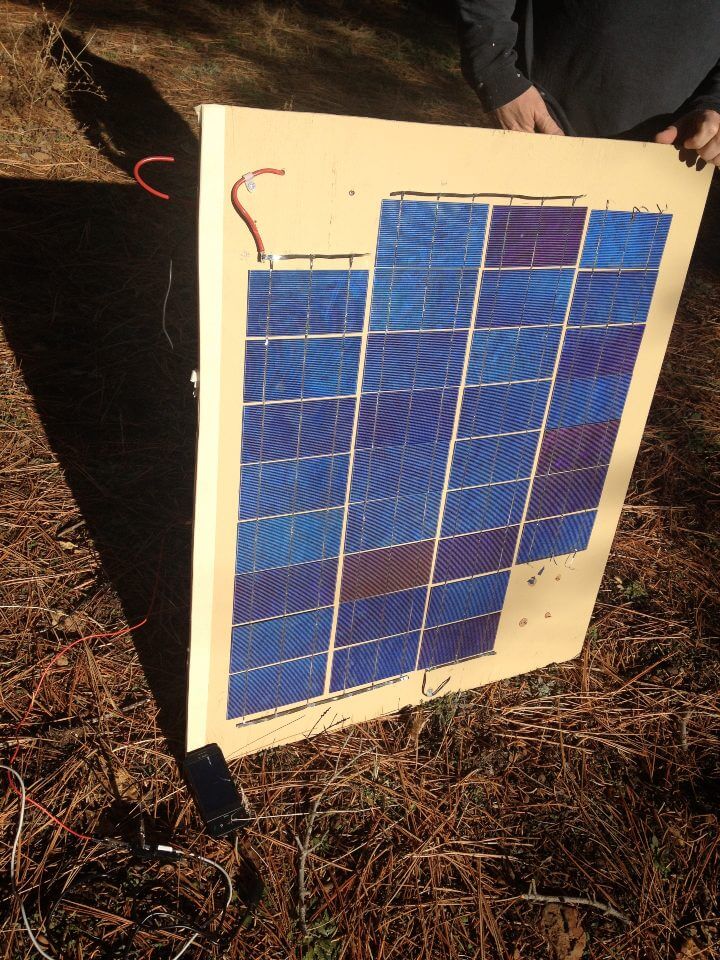 Grab a piece of plywood, solar cells, a tube of silicon, multimeter, and pieces of plexiglass to make this very gorgeous looking solar panel at home with great ease. This project reveals the total secretes of building a solar panel from scratch and comes with all the pro-tips too. Build a set of panels to get free energy for life. How-to tutorial here appropedia
11. How to Build Truck Solar Panel
Are you addicted to camping and owning a camping truck? Then you will be carrying your electric energy with you in the form of gel batteries. Charge them any time even when traveling by installing this solar panel, use the hardware systems to fix it on the truck roof. Build the panel separately and stick to the truck roof. All building and installation guides here instructables
12. Easy DIY Solar Panel Installation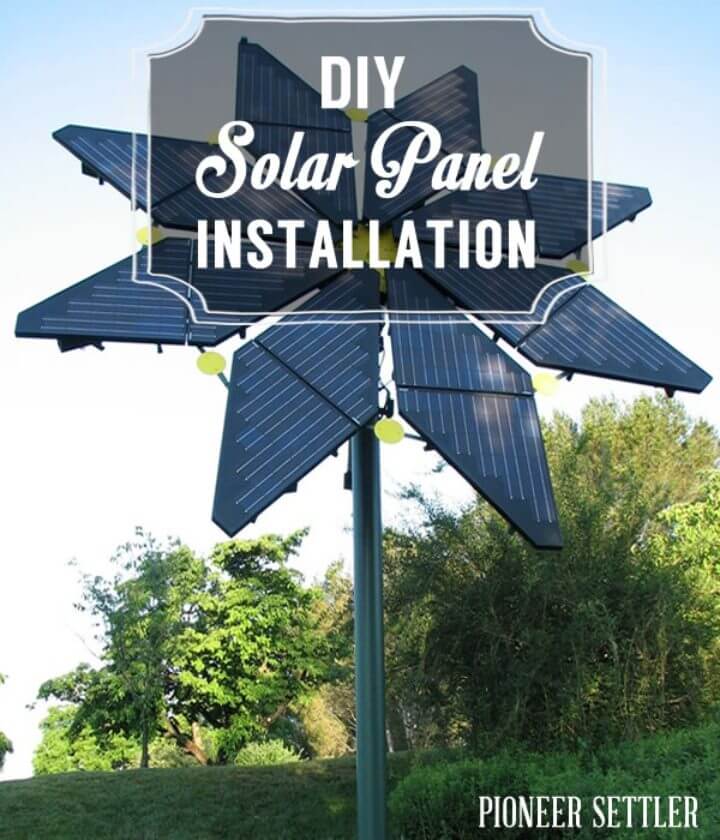 These flower-shaped solar panels are trendy and make hot outdoor decor, also get them for amazing curb appeal. Cut and pack the solar panels to make a flower, add it up with a solid vertical stem and set it at any of your outdoor for getting maximum sunlight. The coolest solar panel ever to make at home homesteading
13. DIY Solar Panel From Cells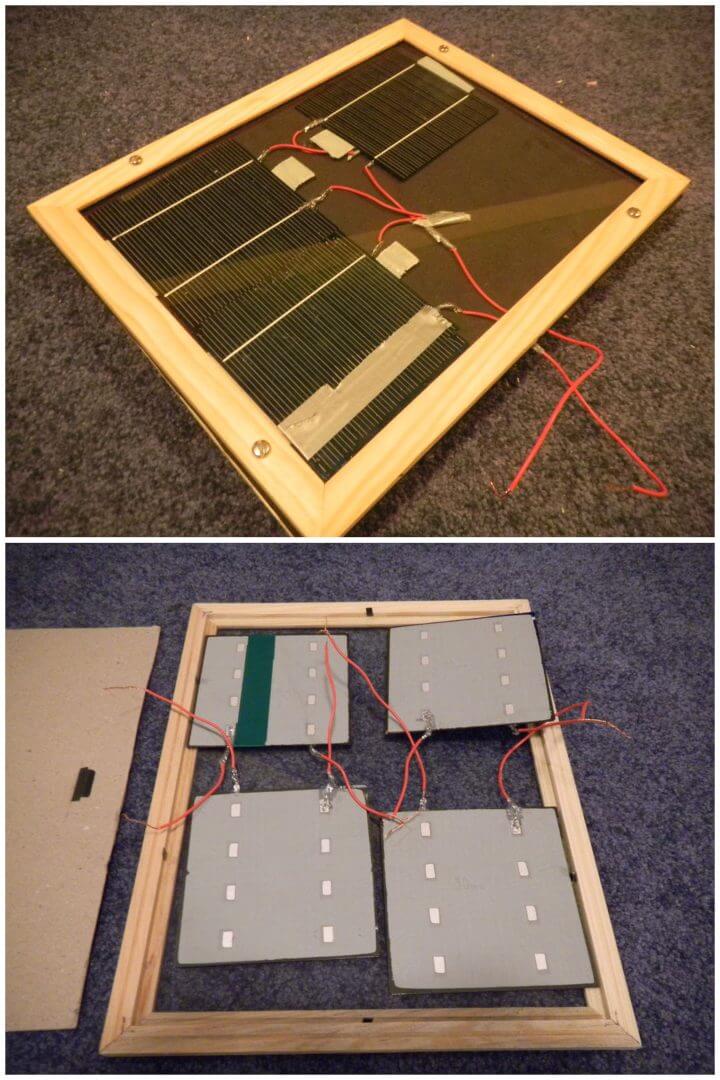 You will love building this solar panel like a pro, getting a whole bag of tricks to operate and install it too. You need here the solar cells, solar cell ribbon, picture frames, foam rubber sheet, and plywood to build this solar panel. Building this solar panel will also be a great educational project for engineering students. Step-by-step instructions here instructables
14. How to Make Solar Panel at Home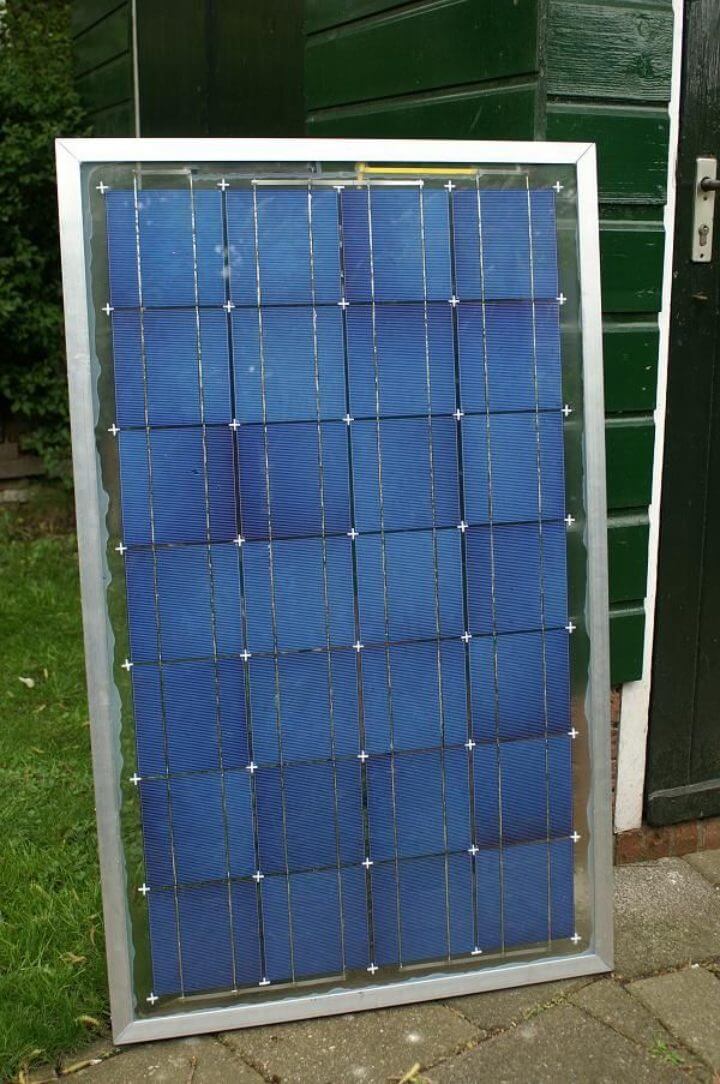 Make your mind to build a solar panel at home, will help save tons of your costs. This project involves building a solar cell system on a glass sheet, simple solder the solar cells on the glass sheet, add controls like production meter, inverter, and other junction boxes. Finish this solar panel with another sheet of glass then. Building it home with some genius friends will be a big pleasure for sure. Details here instructables
15. How to Make Solar Panels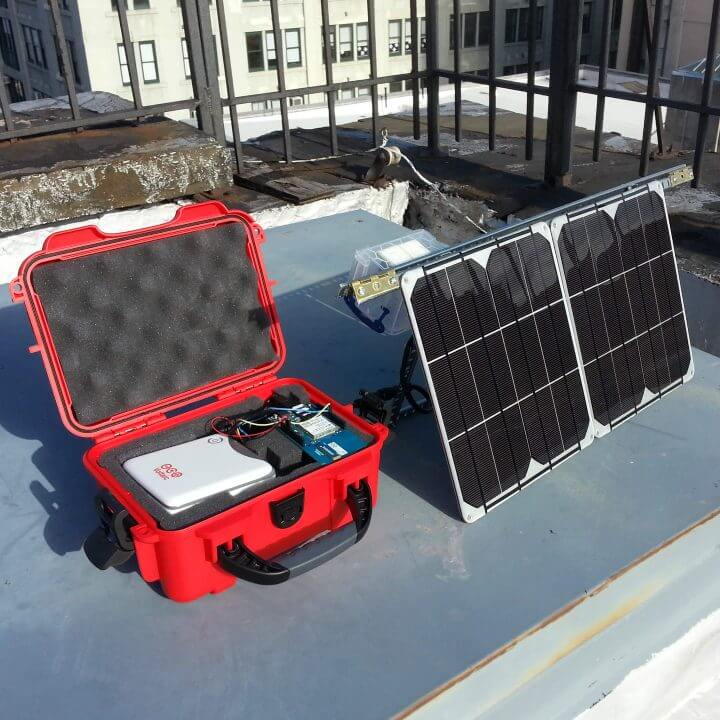 Have you decided to avail the free solar energy? Then building solar panels will be a smart trick to get free electricity throughout your life. Look at the given homemade solar panels, looking pretty beautiful and quite something simple to make. Get detailed guides also from here to install controls, inverters, and batters. Full how-to guides here voltaicsystems
16. Homemade 63 Watt Solar Panel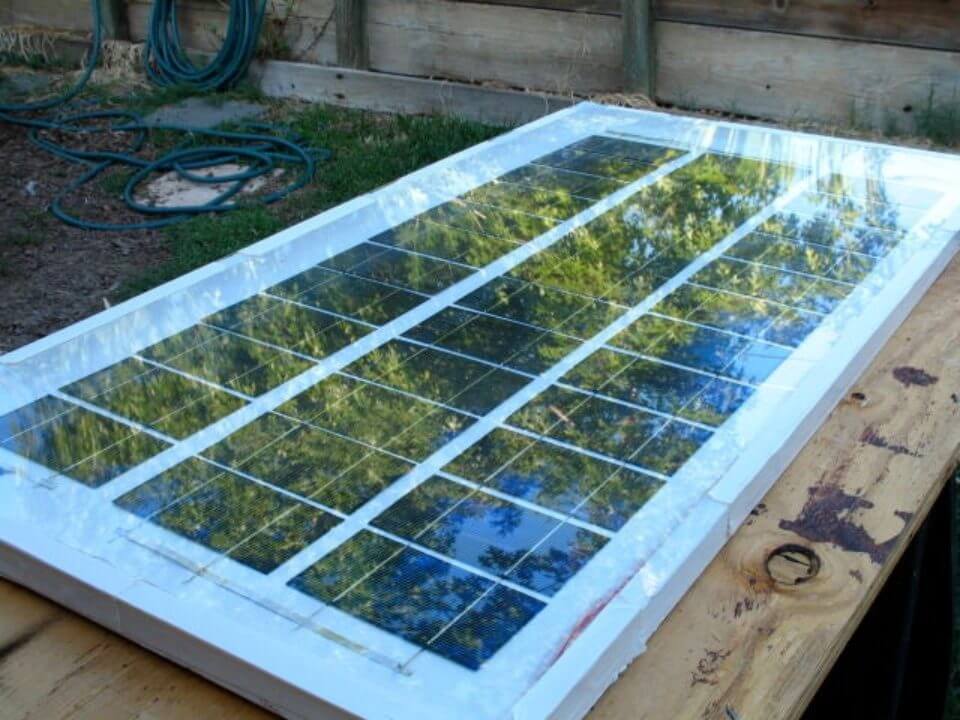 You can calculate the energy required for your home to build also custom solar panels providing energy according to your calculated amounts. For instance, this homemade solar panel will provide 63 watts, and hence, you can pack a whole set of them to get a solar power system for the entire home. Full how-to guides here instructables