If you're looking for a way to organize your things, drawer dividers are a great option. You can make them yourself with some simple materials and they'll help keep your things tidy and easy to find. Check out these 25 DIY drawer dividers that will help you get organized.
With a little bit of creativity and some simple supplies, you can create drawer separators that will help keep everything in its place. Whether you're looking for a way to organize your kitchen utensils or your bathroom toiletries, these DIY drawer dividers will do the trick.
Check these unique DIY drawer divider ideas for your cosmetics, jewelry, craft supplies, charges, leads, and even managing your kitchenware like a pro. Our collection of 25 easy DIY drawer dividers has both cardboard dividers and wooden dividers, alike. So depending upon your requirements, your budget, drawer size, storage requirements, and time constraints you can set up some pretty handy DIY drawer dividers. So get organized and check out these great DIY drawer divider ideas!
1. DIY Desk Organizing Drawer Dividers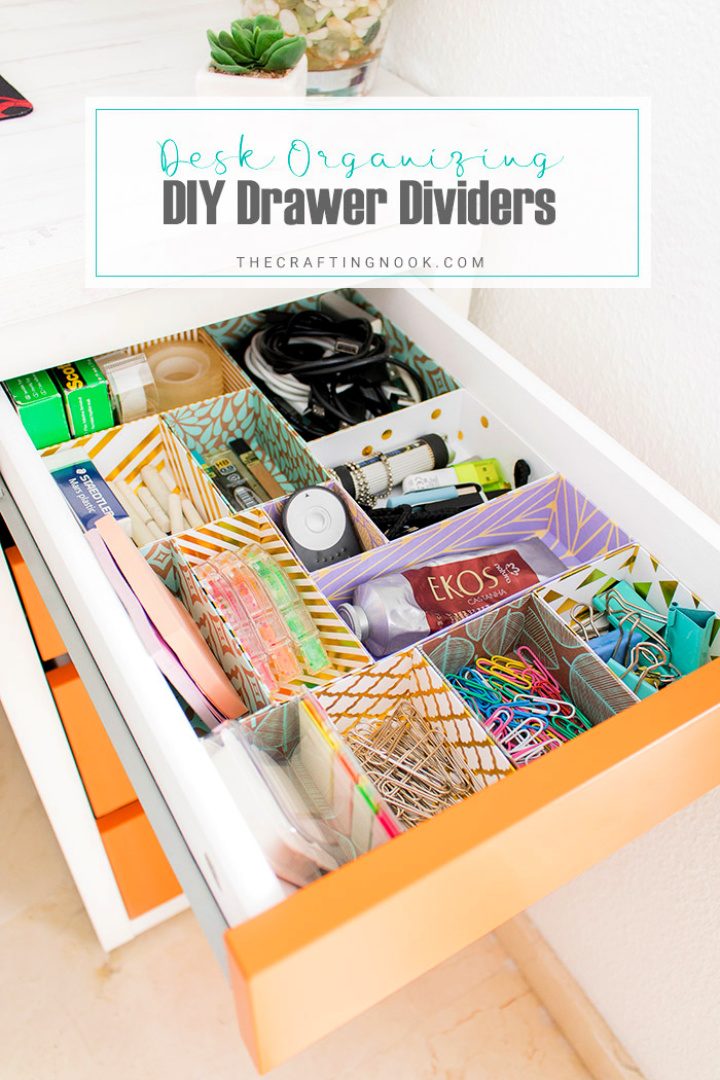 Maximize your drawers space using scrapbook paper boxes! The best thing with having customized drawers space is that you can easily manage and move around things like a pro. Head over to the tutorial now and see the best way to manage your drawer. thecraftingnook
2. How to Build Drawer Dividers Organizer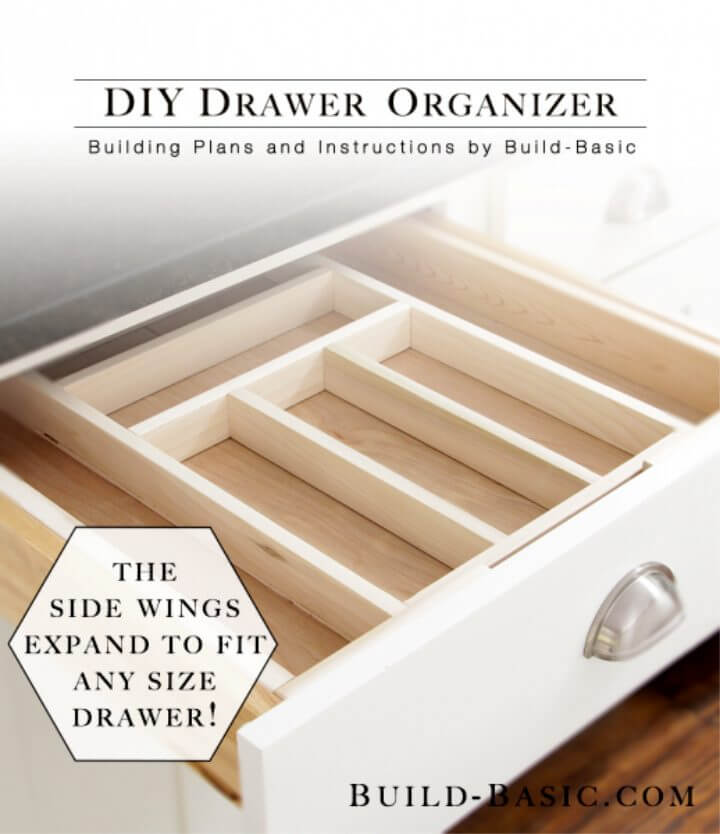 In just under $23 and working for around 4 hours, you can manage your drawers like a pro. With this DIY drawer organizer, make it as easy for you as possible. The key and magic charm in this one is using a plywood panel in perfect cuttings. build basic
3. Make a Spice Drawer Organizer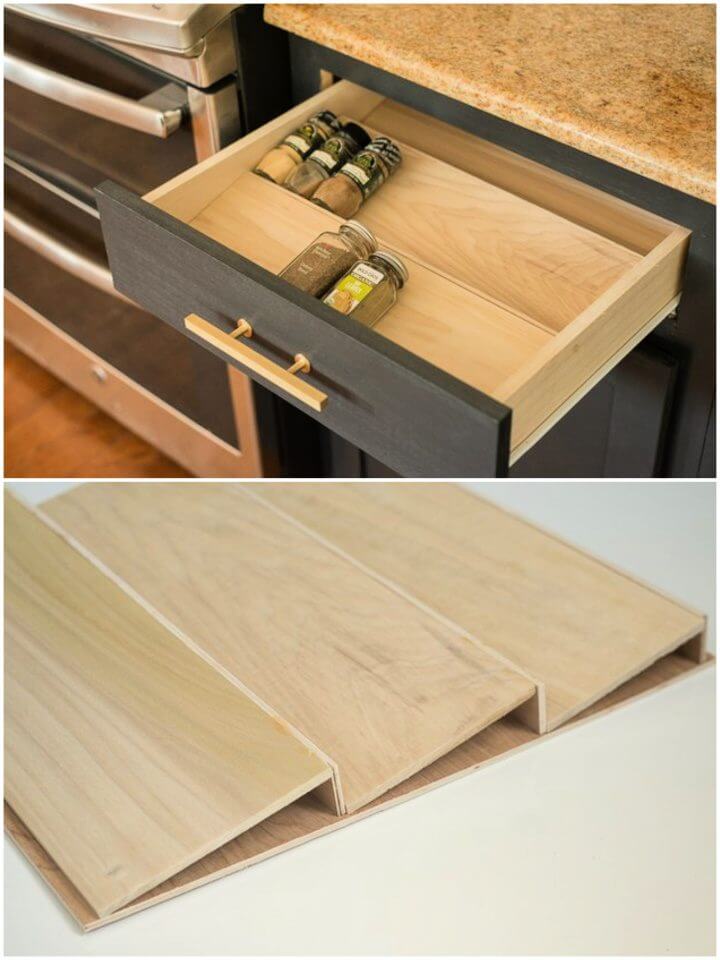 Spices are the essence of every kitchen! They need to be as easily accessible and organized as anything else in the house. With this tutorial, you can aesthetically manage your spices collection like a pro chef. See full details in the tutorial. ehow
Closet dividers: Give your baby's closet a beautiful makeover with these easy-to-install, affordable baby closet dividers. They're quick to set up, and they'll keep clothes off the floor and neatly organized.
4. Pull Out Drawer Dividers for Water Bottles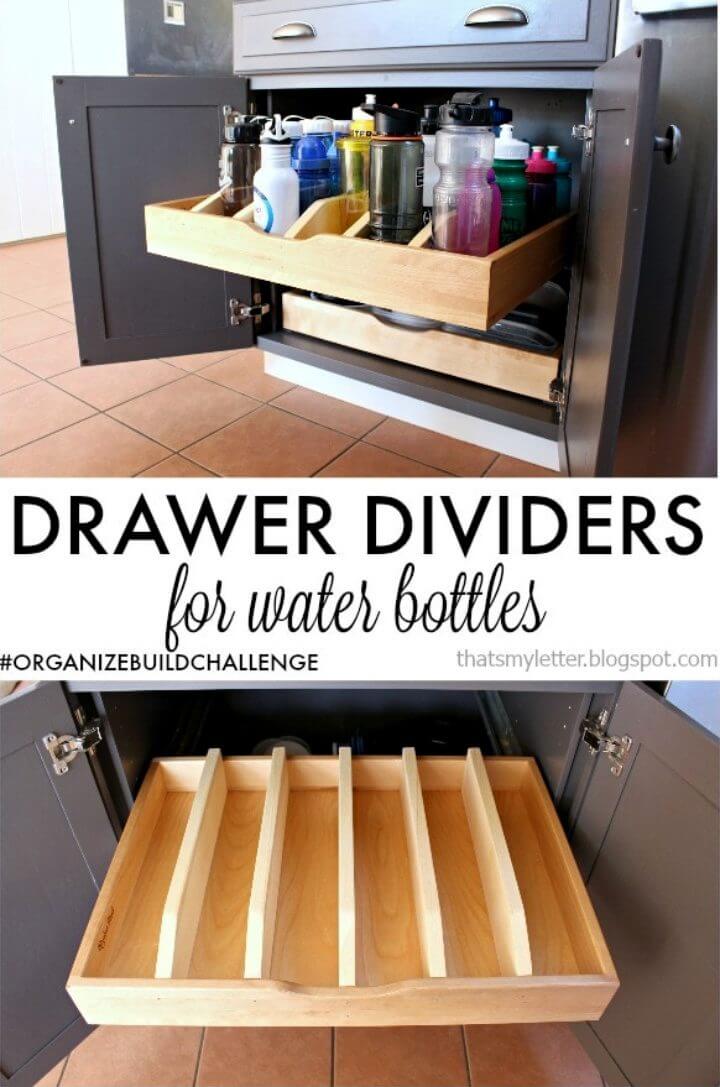 Tackle a messy spot say a messy water bottle drawer with this perfectly spaced and manageable pull out drawer dividers! This way, the bottles will have enough support and space to keep standing tall instead of falling over each other and messing up the place. jaimecostiglio
5. Make Two Types of Drawer Dividers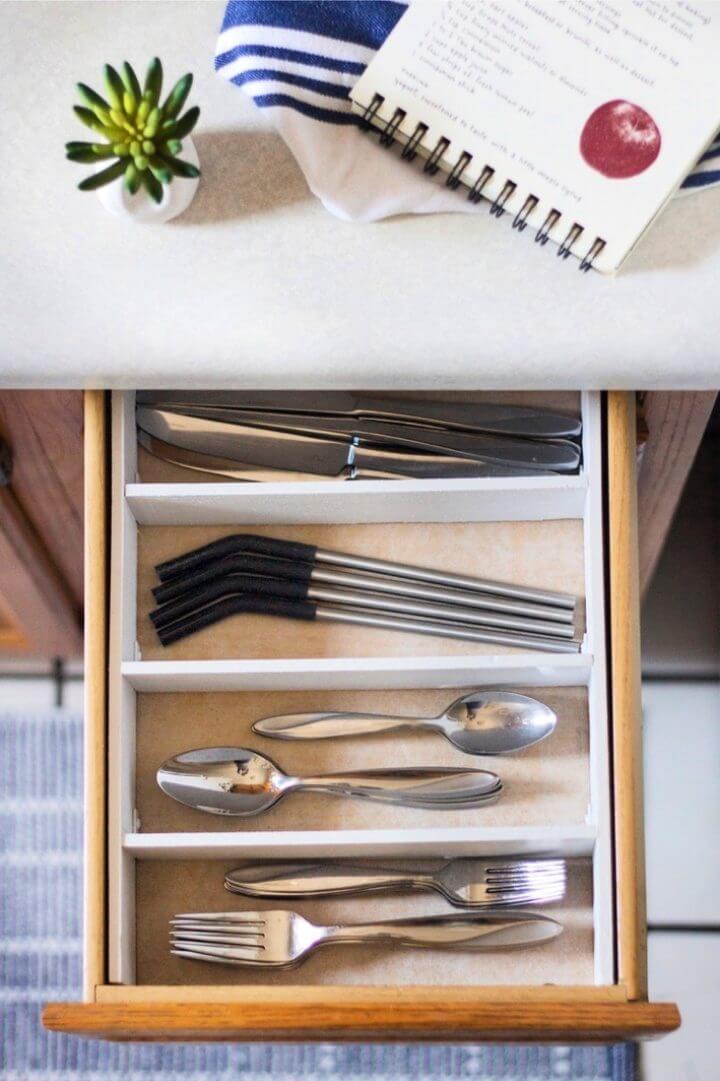 In just an hour, upgrade your utensils drawer to a completely and easily manageable space using some glue, screws, and brackets. The poplar wood boards will be perfect for this task! Head over to the tutorial now and fix your haphazard utensils drawers. curbly
6. Wooden Kitchen Drawer Organizer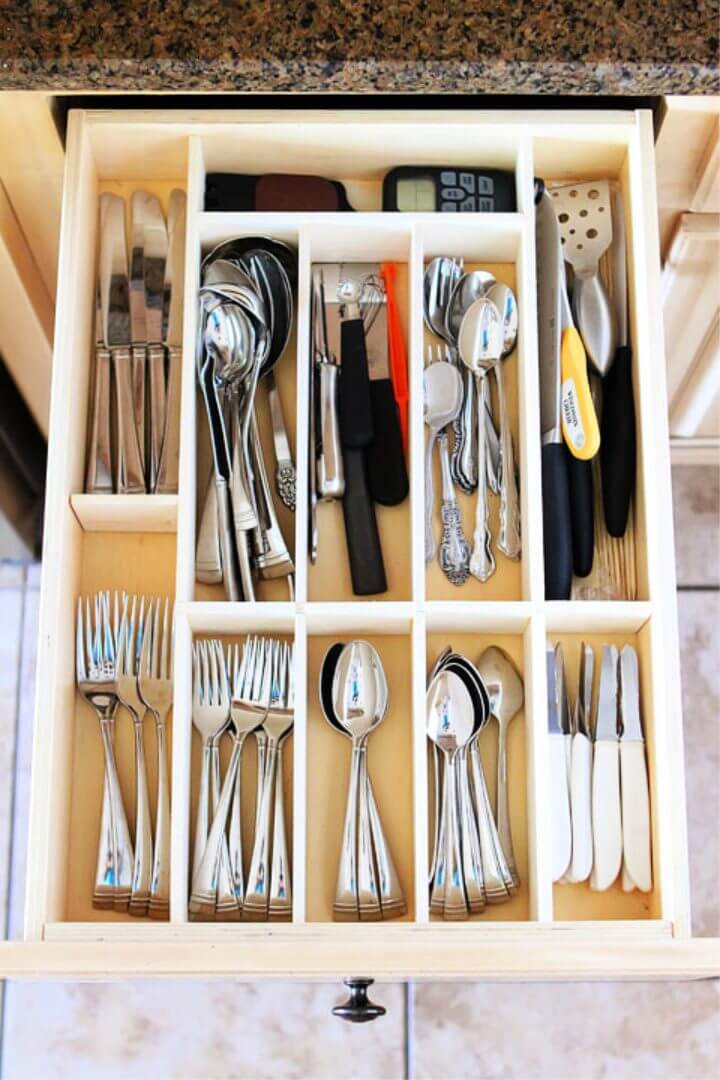 Are you exhausted of stuffing your head each day in a jumbled drawer and pull out the right spoon to continue cooking? Must be so annoying each day. Get your hands on some thick craft or hobby boards and reorganize your drawers with access factor added. kevinandamand
7. Drawer Dividers for Under $5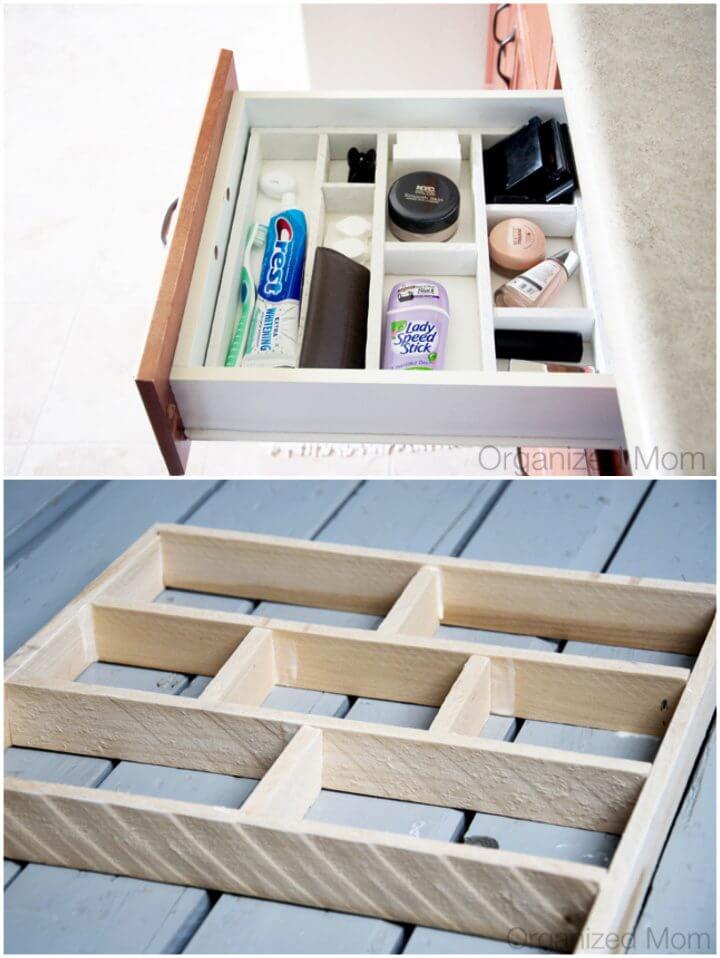 Nobody has enough time in the mornings to ramble through the whole drawer to get the right creams or hairpins. With this tutorial, you can make sure you actually never have to go through that again. Check details in the tutorial. organizedmom
8. How to Make Drawer Dividers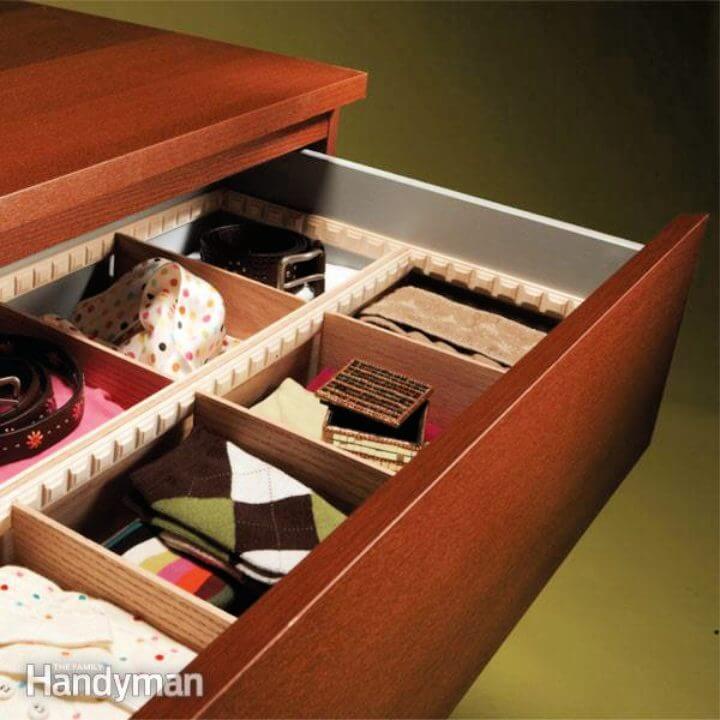 Get your hands on some dentil molding, mull strip and crafty supplies like a hot melt glue gun, miter saw, and a braid nail gun. Rearrange your messy drawers with these DIY drawer dividers. Choose the number of dividers as per your stuff's categories. familyhandyman
9. Easy DIY Wood Drawer Dividers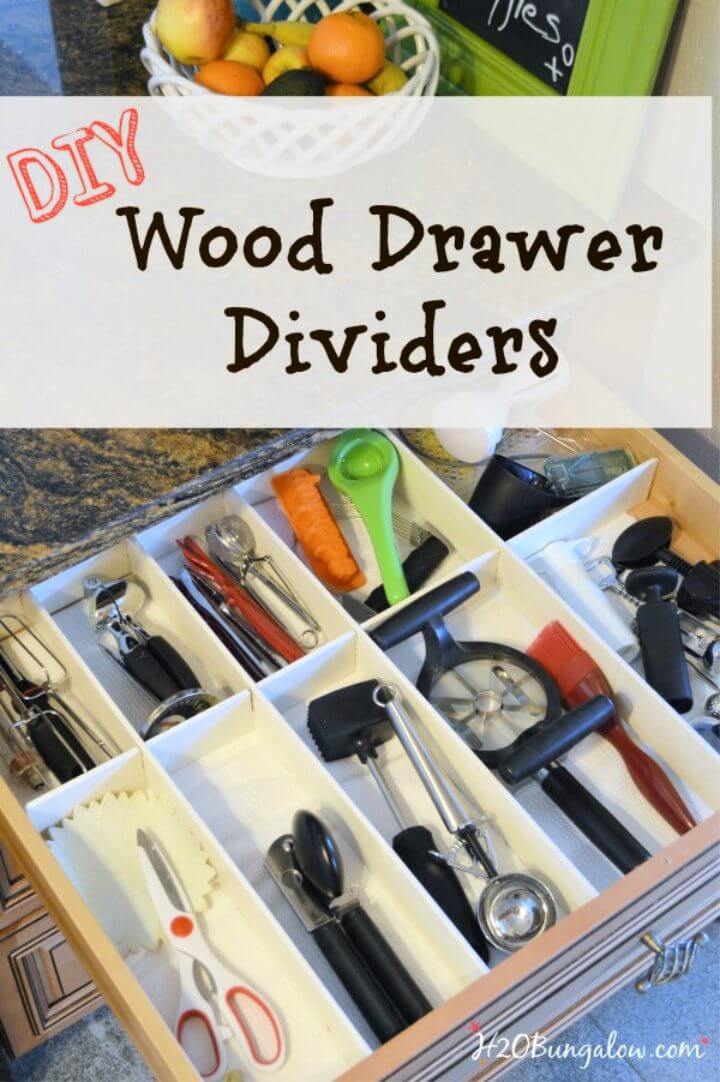 The tutorial suggests using plywood as the DIY drawer dividers. But before you start cutting all pieces in equal sizes, you need to confirm what goes in the drawer and how much space is that one category going to take. Get full details in the tutorial. h2obungalow
10. Drawer Dividers Out of Cardboard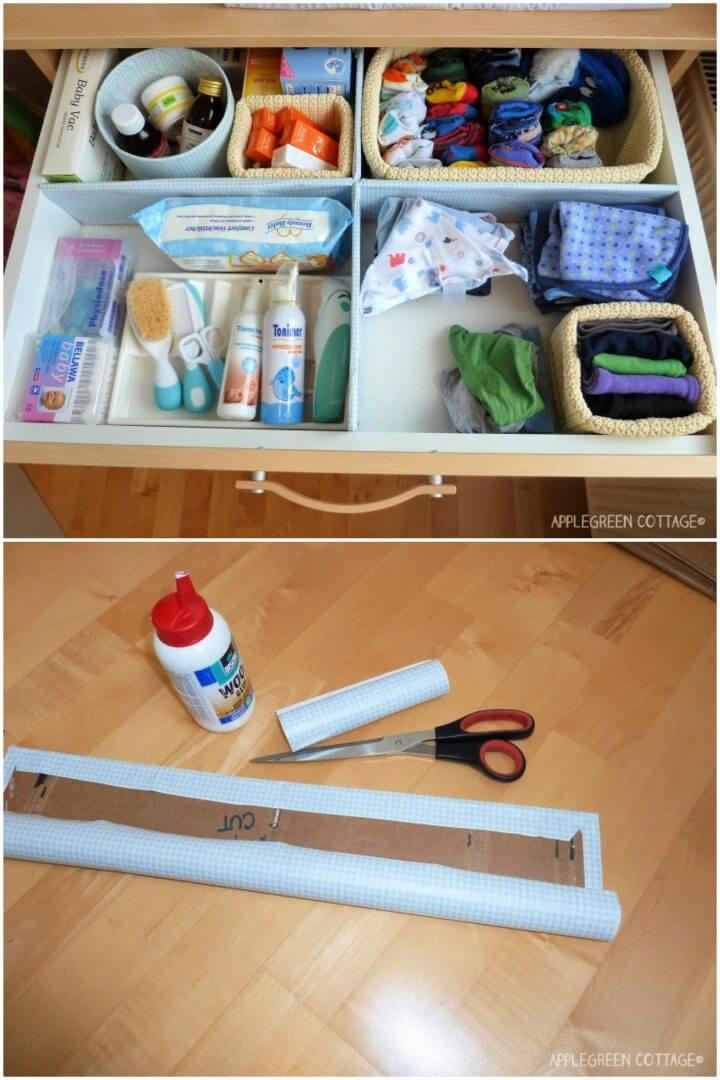 Keeping it simple and darn easy here, this tutorial is going to elaborate on how to make cardboard DIY drawer dividers in absolutely no time! All you are going to need is sturdy cardboard, scissors, measuring tape, and a wrapping paper to give it a neat look! applegreen
11. DIY Customizable Drawer Dividers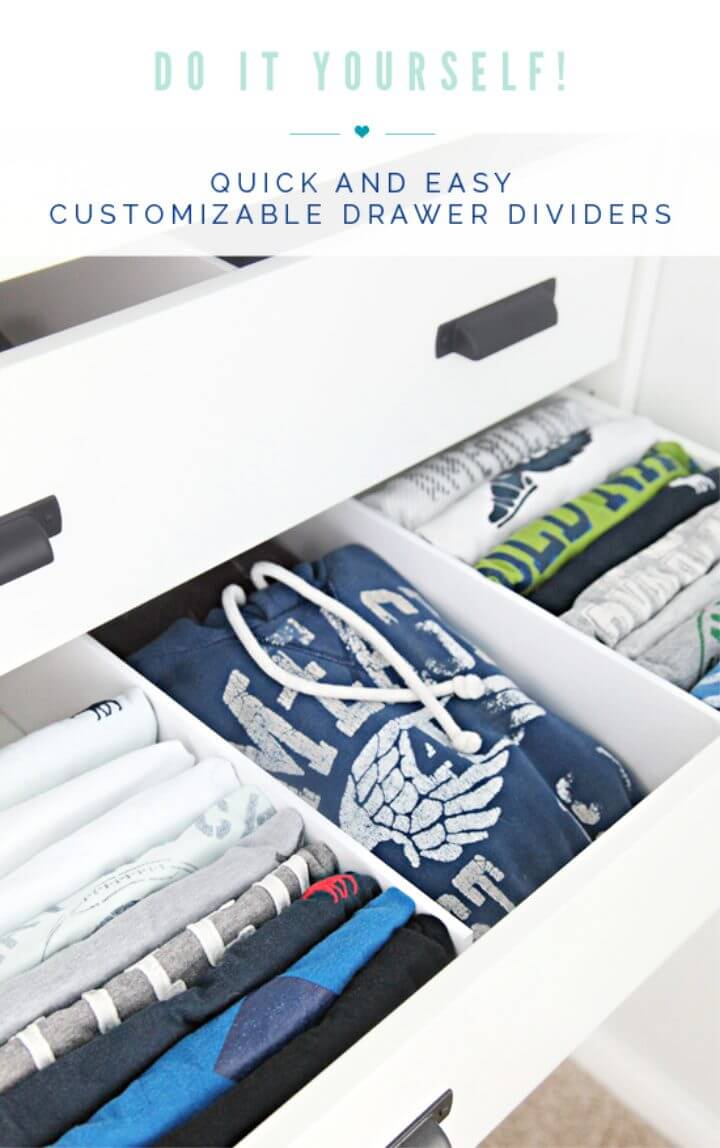 With this tutorial, you can be a pro at making customizable drawer dividers using cord clips! With these, you can easily move the divider to move left or right for getting more space say for example an added collection of new T-shirts! Details, in the tutorial. iheartorganizing
12. Free and Easy DIY Drawer Dividers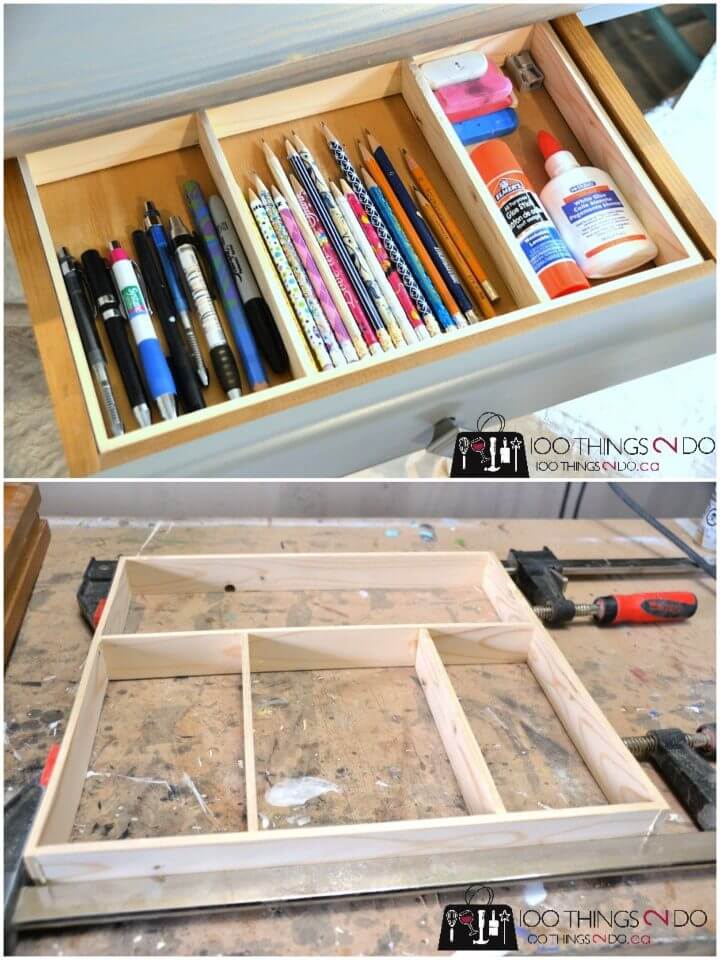 Having kids at home is not an easy and fun job all the time. Especially when it comes to managing all the stuff they just leave wherever. With this tutorial, you can help induce the organizing factor in your kids. Check the tutorial for details. 100things2do
13. Cereal Box Drawer Dividers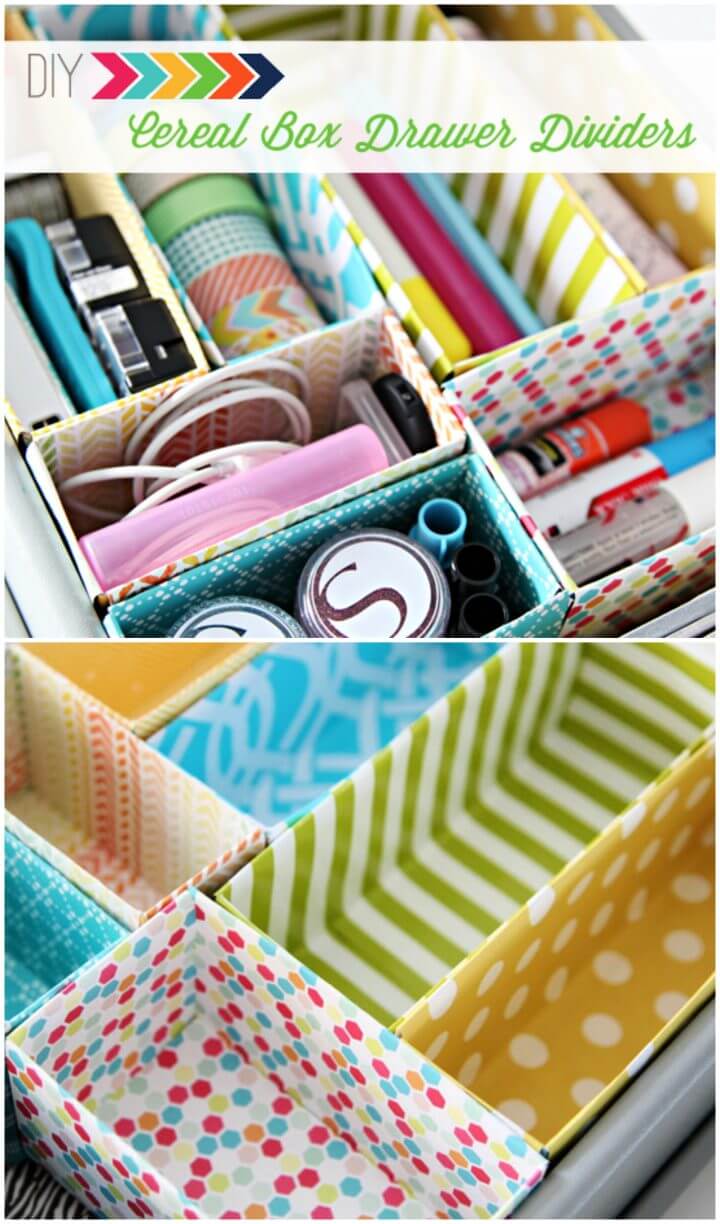 Did you know using your old cereal boxes you can make these pretty handy and cute drawer dividers? See, it's almost like a totally costless and free drawer redo kind of thing. You can wrap them up with colorful wrapping papers! Get details in the tutorial. iheartorganizing
14. Dollar Store DIY Bathroom Drawer Organization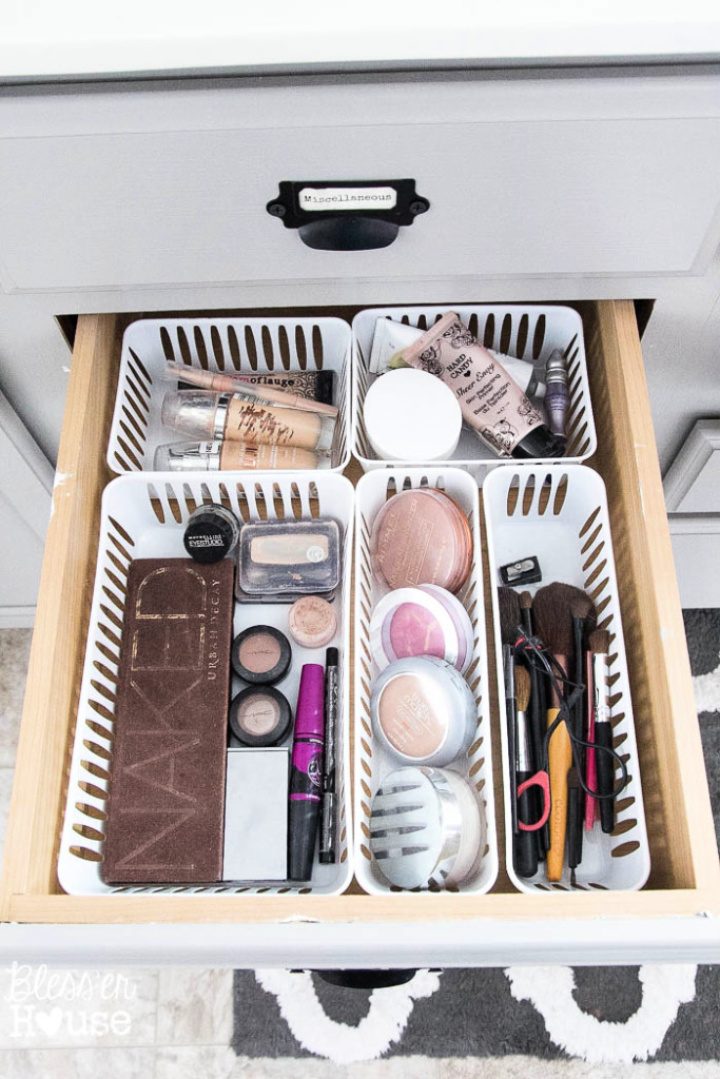 These different sizes of baskets from the dollar store can reorganize your bathroom drawer in no time and almost no money! Plus, it will take like just 10 minutes to organize your drawers. Head over to the tutorial now for full details. thesummeryum
15. Wooden Desk Drawer Dividers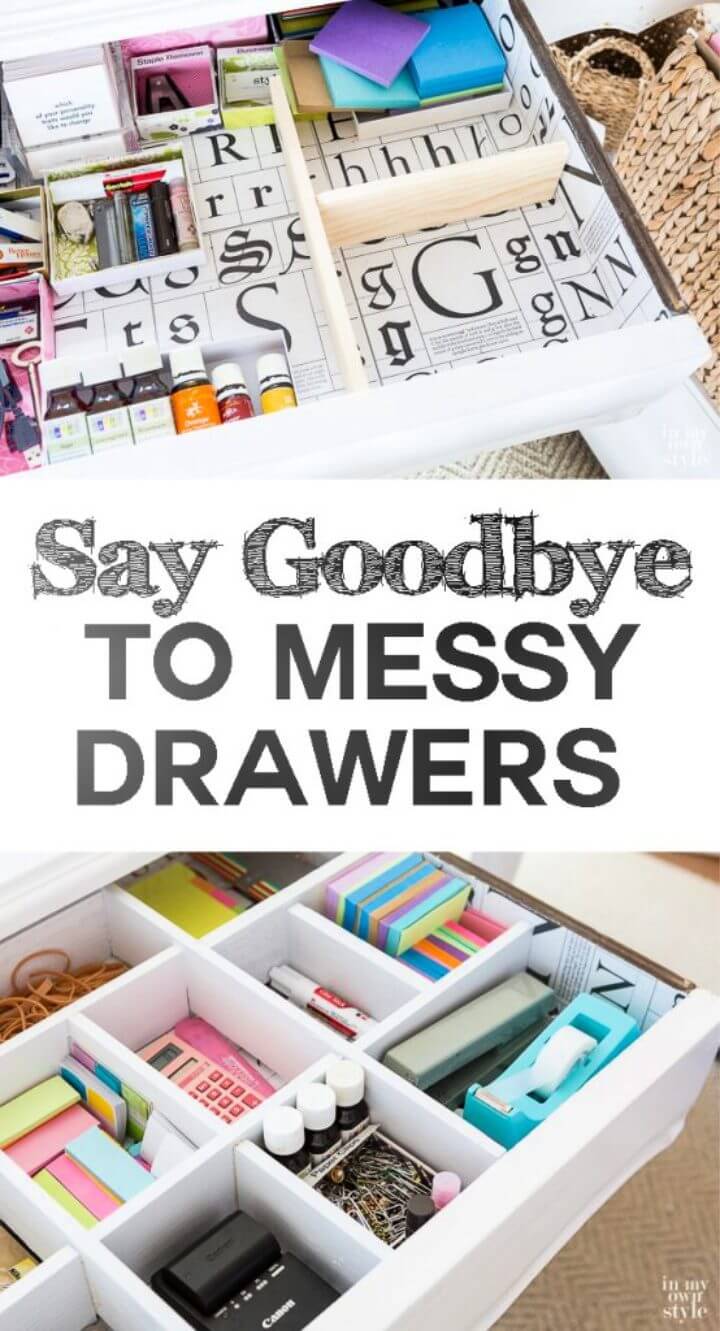 Declutter your messy drawer with this DYI wood desk drawer dividers. All you are going to need is some hobby boards with a hand saw, Miter box, measuring tapes, pencil and wood glue like liquid names. Get full details in the tutorial. inmyownstyle
16. DIY Makeup Drawer Dividers
No one wants to get caught up in messy makeup drawers in the morning or while heading off to a party. Did you know that by reusing your old shoe boxes you can make up some pretty good DIY makeup drawer dividers? diys
17. Build Wood Drawer Dividers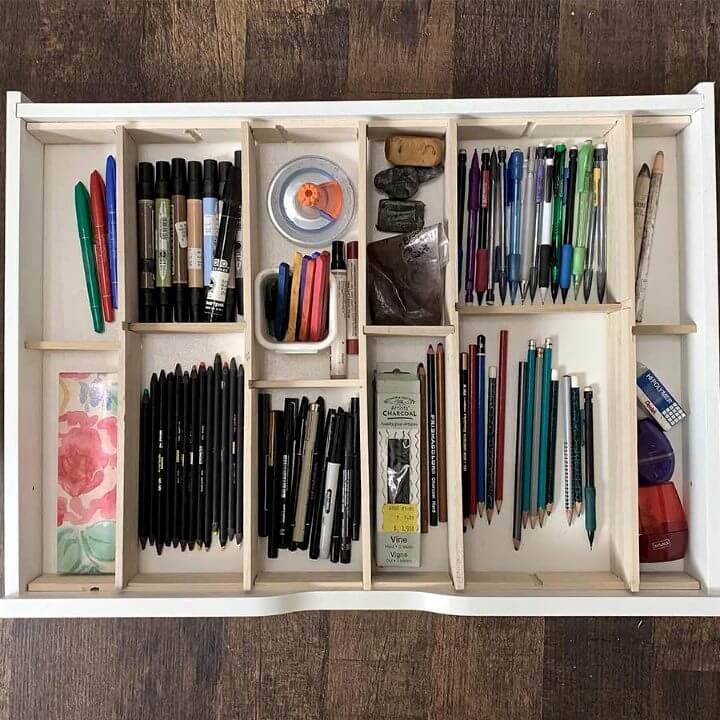 Manage your craft suppliers, like a pro with this tutorial. You will be needing Poplar wood strips, measuring tape T-square, sliding bar claps and pencil. Head over to the tutorial, now first step by step guide and details. Hit the tutorial now. artsyprettyplan
18. Drawer Dividers to Organize Your Craft Supplies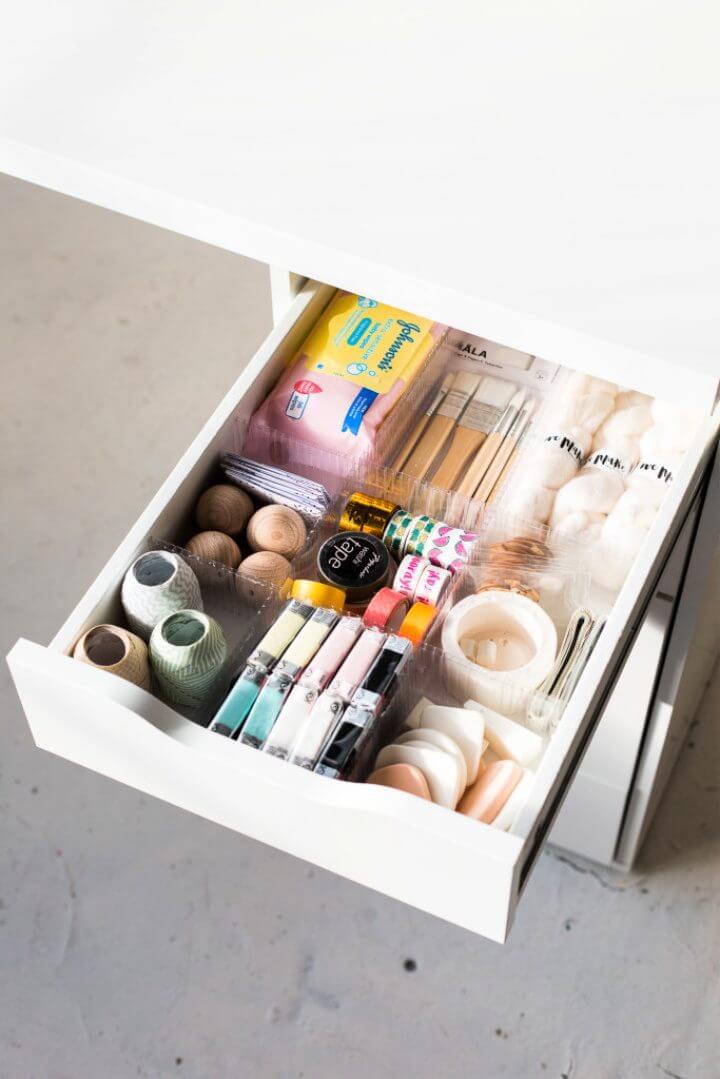 For a true DYI-er, their craft supply's is like there treasure. We are sure nobody likes to have a messed up monstrous treasure drawers. Let's get that fixed with some pretty cool DIY drawer dividers using a corrugated plastic sheet, retractable knife and along a ruler. fallfordiy
19. DIY Drawer Organizer with Pegboard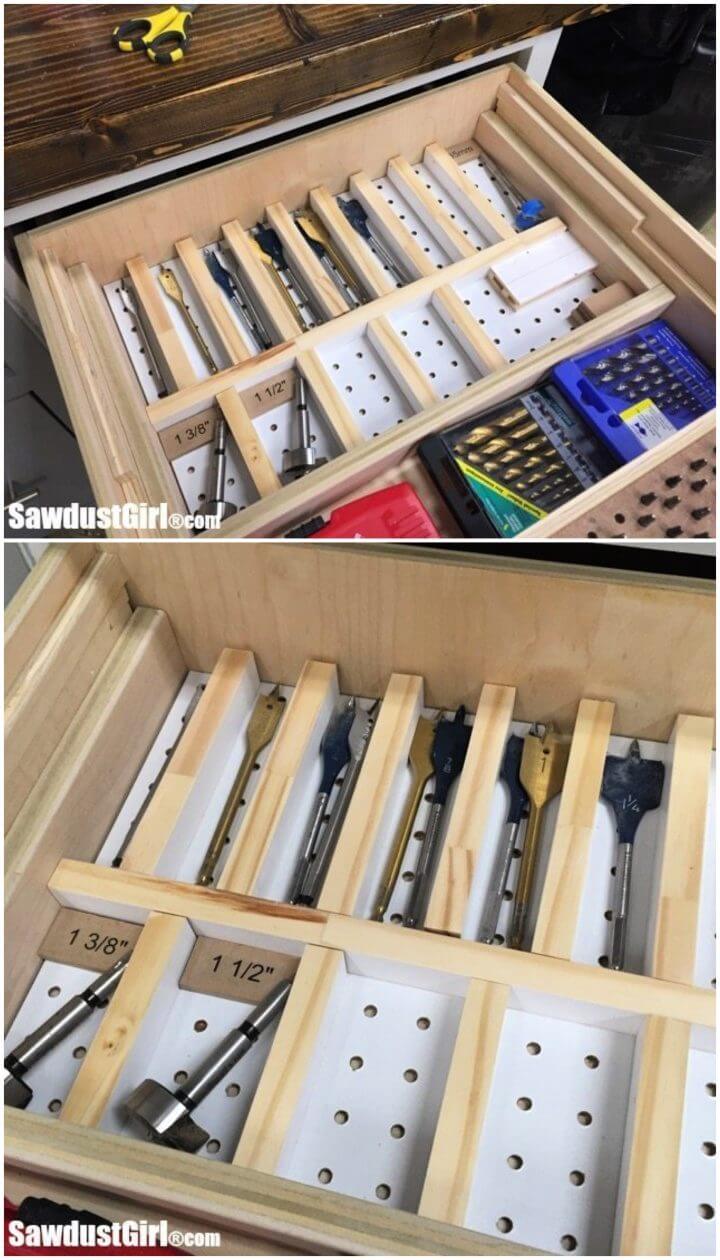 Get your hands on pegboard, wood dowels, and some scrap wood to be used as dividers. With this tutorial, you can manage your workshop drawers like a pro and save yourself the pain of messy drawers. Get full details with step by step guide in the tutorial. sawdustgirl
20. Make Your Own Drawer Dividers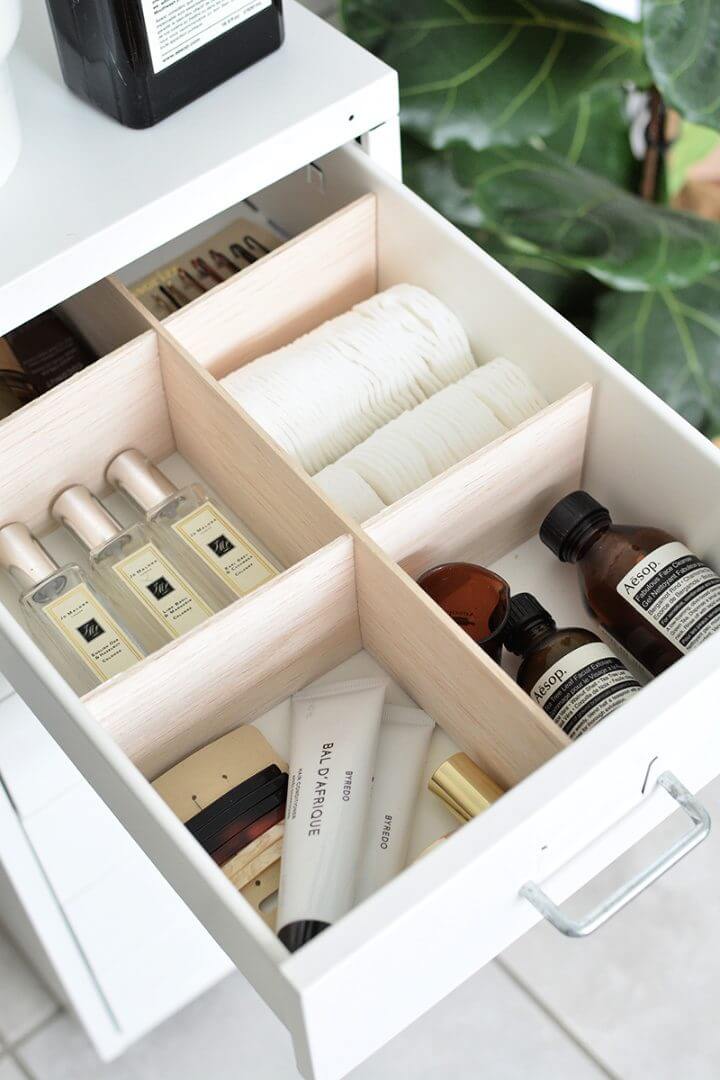 There is no more excellent feeling in the world, then organizing a drawer full of junk. Wait, that's a not a drawer full of junk, but just the way how we have got it all messed up, lets de-clutter it with balsa wood dividers. Get full details in the tutorial. burkatron
21. DIY Acrylic Drawer Dividers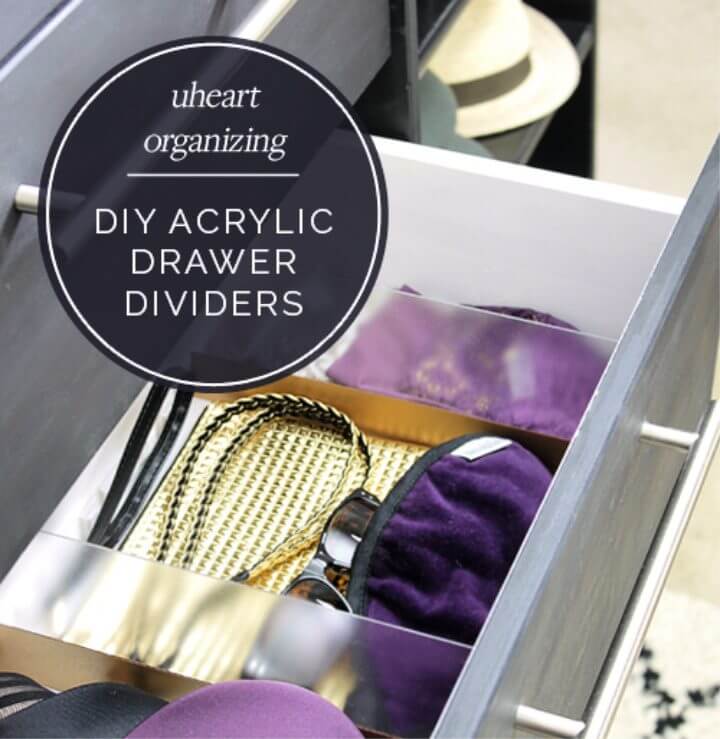 Get your hands on dentil molding, plastic sheets, wood glue, finishing nails, a hack of and spray paint, painter tape with a few other craft supplies to make these DIY acrylic drawer dividers. The tutorial will walk you through the step by step guide with illustrations. iheartorganizing
22. Wooden Drawer Organizing Dividers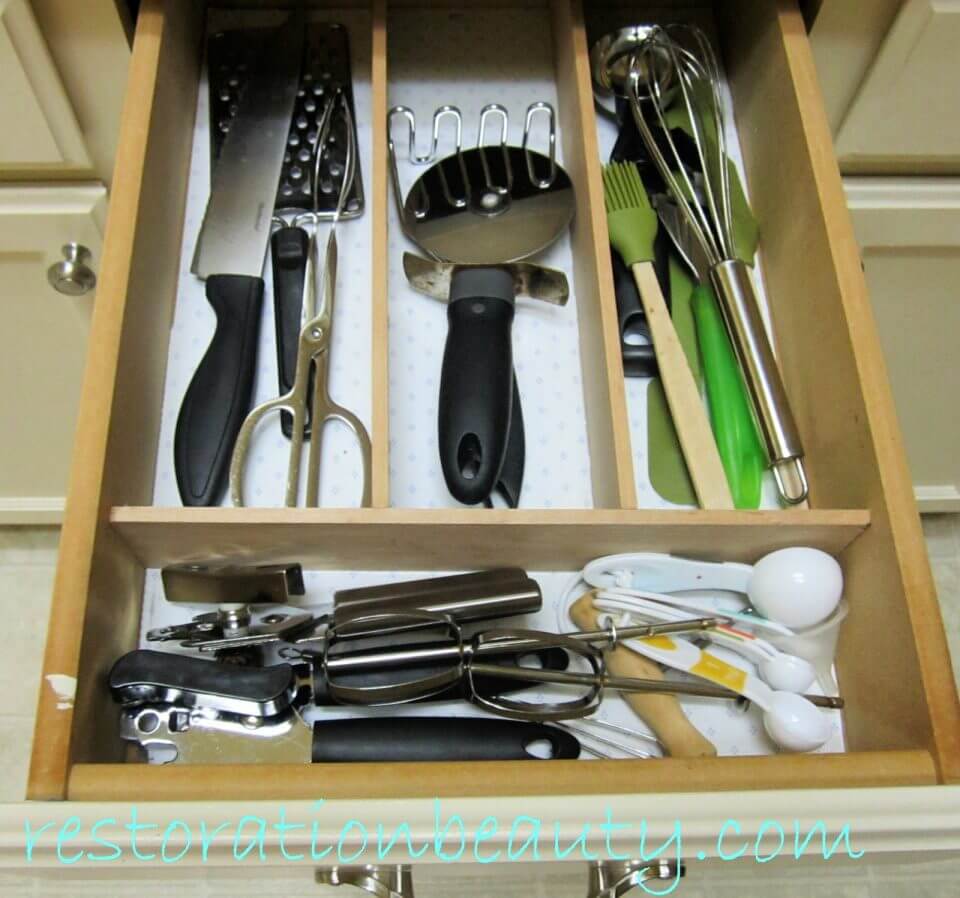 Transform your messy utensils drawers to a completely and utterly tidy and organized drawers. All of this by making your very own DYI wooden drawer dividers. Anybody can panic seeing a messy kitchen let alone handling with messy drawers, while in the rush of cooking. Get details in the tutorial. restorationbe
23. DIY $10 Silverware Drawer Organizer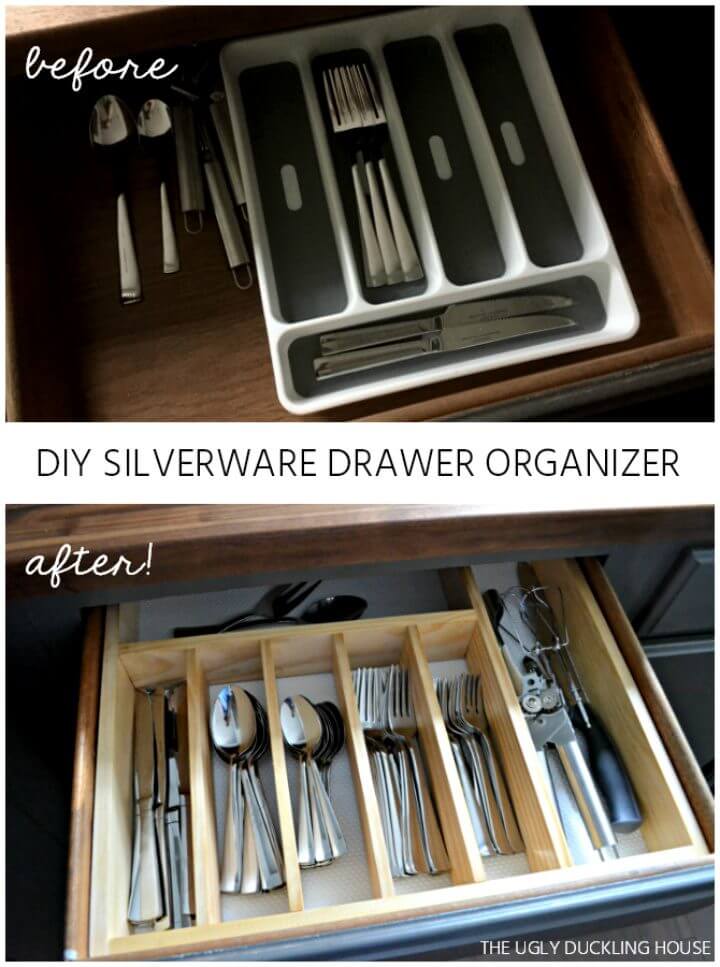 In just under dollar 10 organize your silver wear drawer like a pro. Pick up the craft wood of your choice. Get your hands on some wood glue, clamps, nail gun, tape measure, pencil, and a miter saw. The tutorial will walk you through the step by step guide with illustrations. uglyduckling
24. Paper Drawer Dividers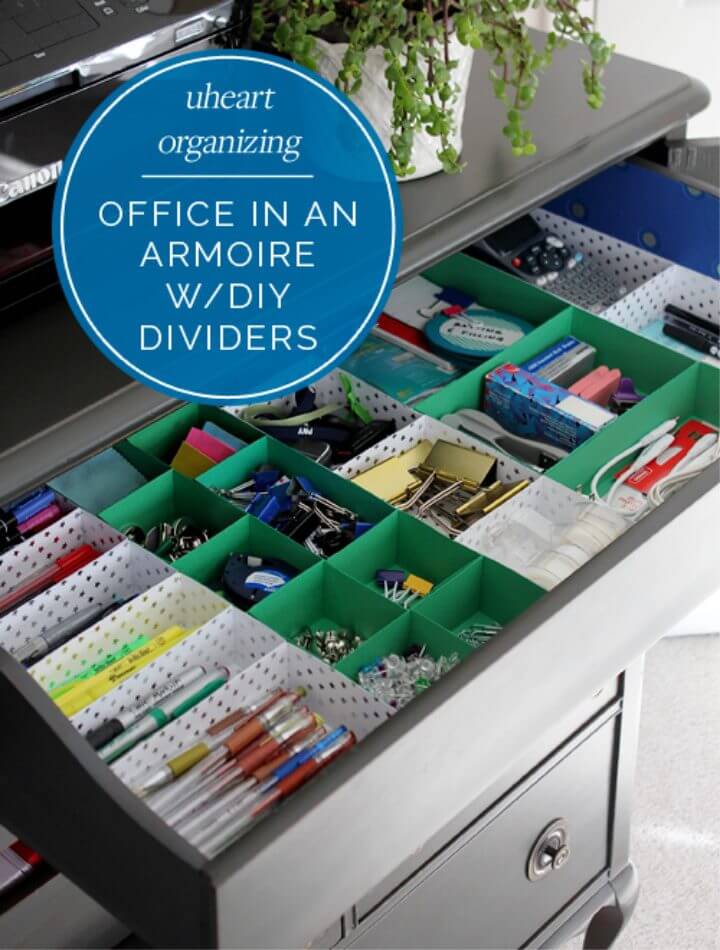 Our office drawers need to be as organized as your meeting schedule. By using some heavy card stock, wrapping paper, sizers, strong head adhesive, scotch tape, and tape measure make these handy little drawer dividers. Get full details in the tutorial. iheartorganizing
25. How to Make Drawer Organizer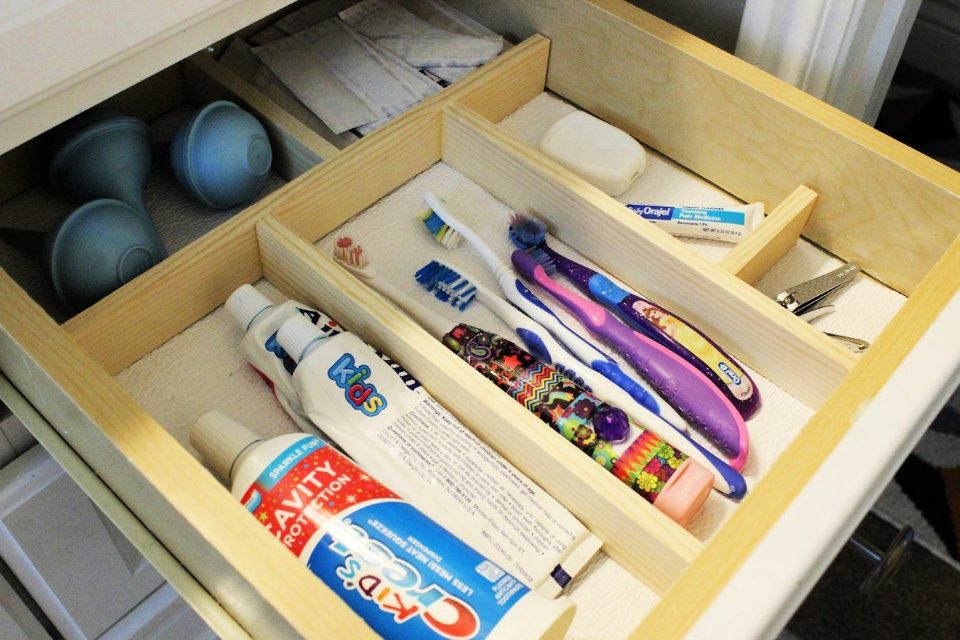 Using some craft boards, wood glue, measuring tape, and a saw you can easily and effectively organize your bathroom drawers. Clean up the mess of jumbled up things by putting them in the right places, the tutorial will walk you through the step by step guide to make these DIY drawer organizers.
Conclusion
We can bet after exploring through these super easy DIY drawer dividers, you must have already started imagining a much more comfortable life. No mess, no fuss! No rushing off to the office early in the morning all messed up because you couldn't find your favorite makeup base from the junk-filled drawer. Live a pretty organized and easily accessible life, folks.