You must have also seen these designer tripod floor lamps that must have stolen your heart. But given the fact of how pricey they are, buying them could be a huge blow at the pocket. We have gathered here 10 easy to make and cool DIY tripod floor lamps for you! You can make them quite easily with just a few supplies and a tripod surveyor or some live edge wooden legs.
Many of our tutorials below have the designs inspired by Big brands like Pottery Bran or West Elm. You must have come across those stately tripod lamps at these big places, but the prices must have been keeping you from buying them. With our detailed tutorials here, some basic supplies, and a hint of imagination and love for decor, you can make those stately Tripod floor lamps all by yourself! They are only going to cost you a fraction of the pricey ones you see at these brands. Having said that, let's explore through our exciting DIY tripod floor lamp ideas here.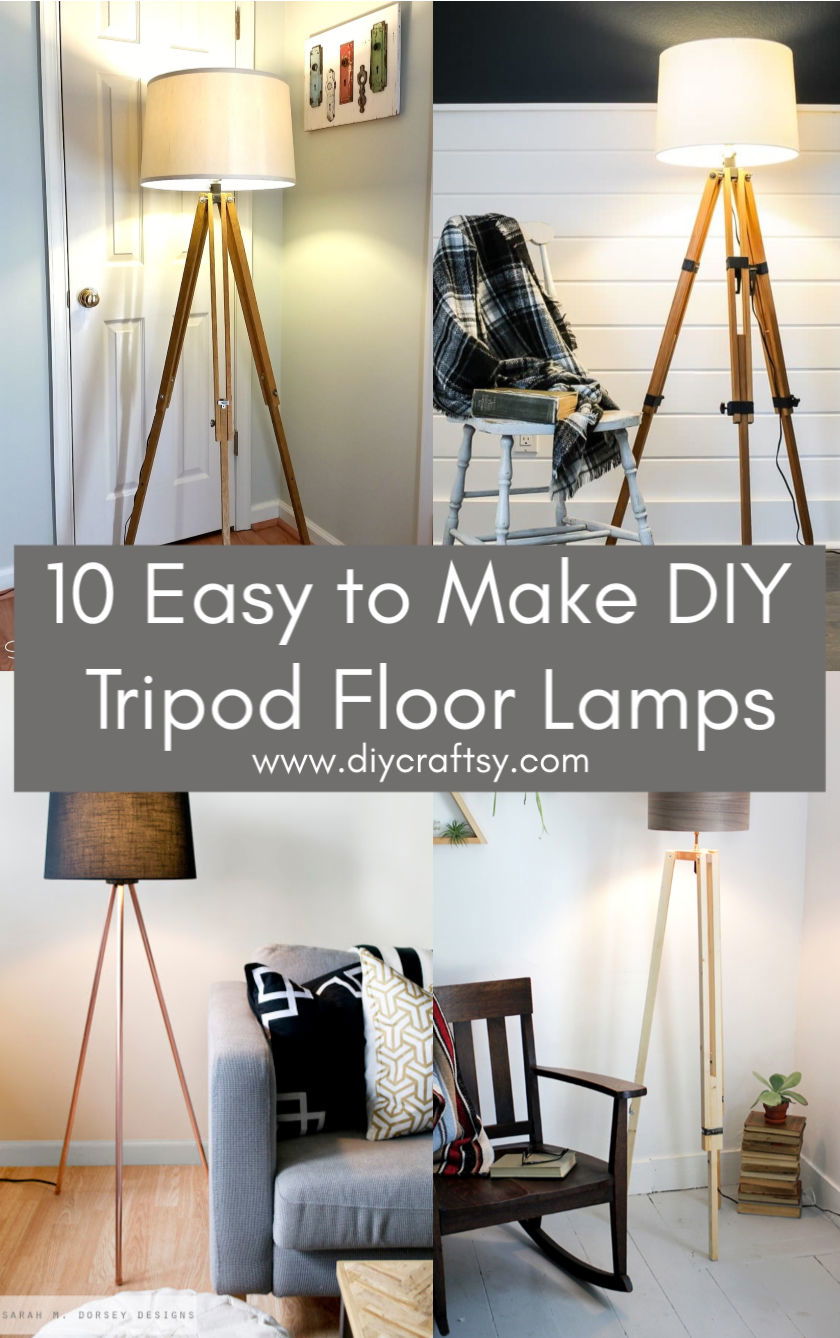 1. DIY West Elm Inspired Tripod Floor Lamp: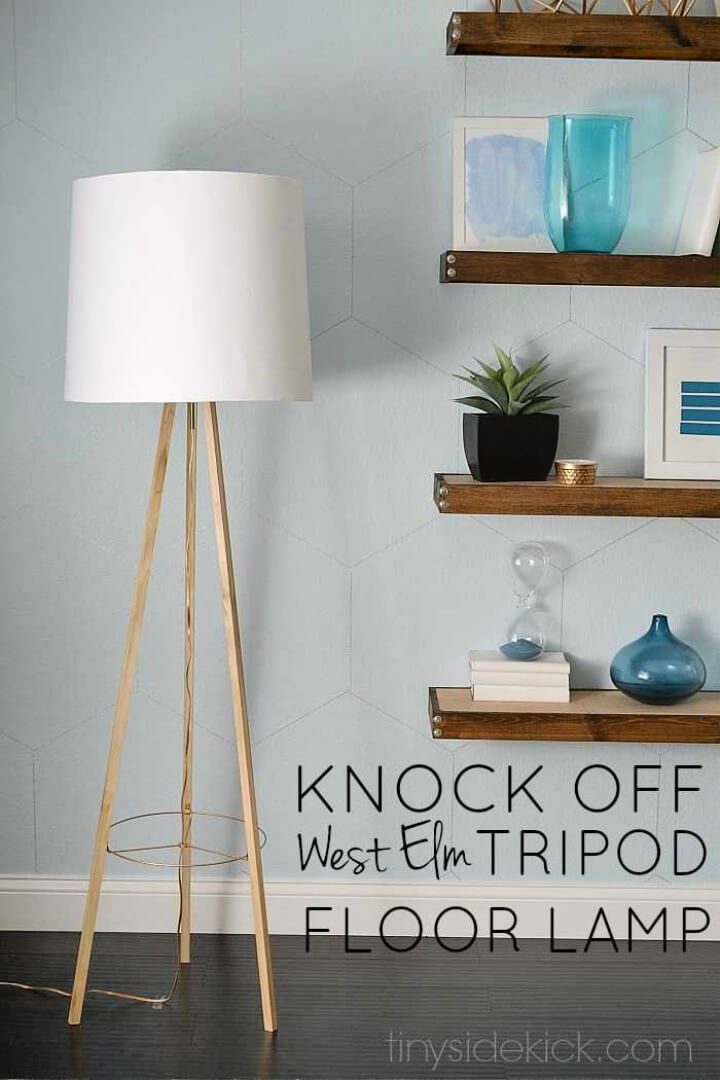 In just under 40 bucks, make this perfect and super elegant DIY tripod floor lamp! While you can find the exact same piece at West Elm, but in $250, why not cute the cost to just $40 with the same inspiration and the added love of DIYing? heytherehome
2. Make a Wooden Tripod Floor Lamp: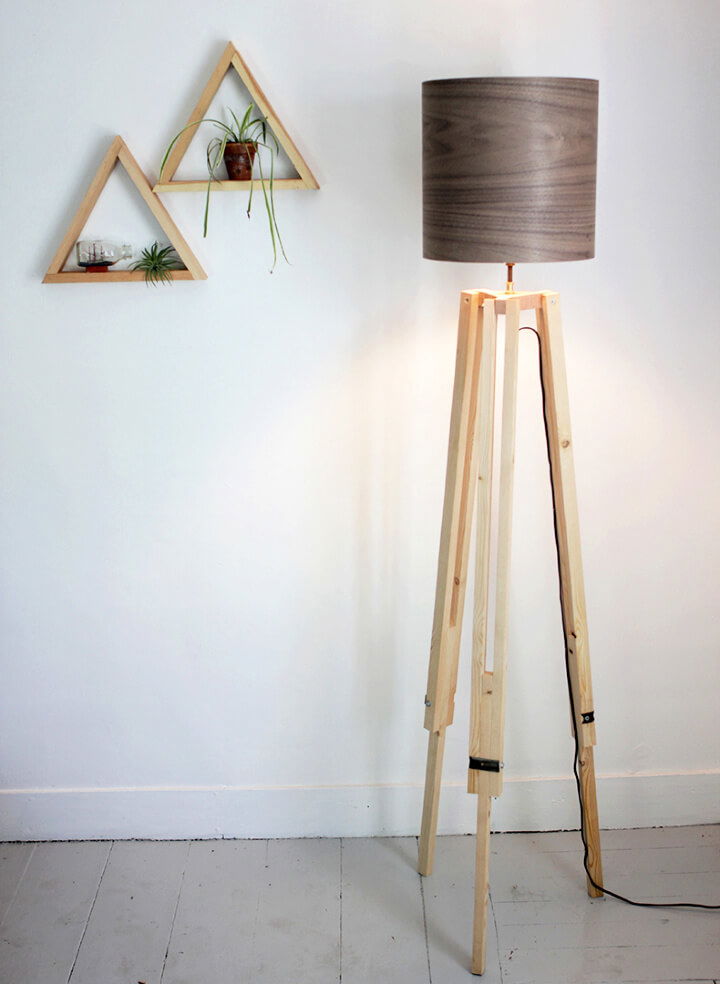 Tripod floor lamps are the ultimate splendor addition to your rooms! Make a vintage-inspired tripod lamp for your room by using some pine board, circular saw, thick wood, clamps, angle bracket, measuring tape, and a few more supplies. themerrythought
Add this wooden floor lamp to your next most profitable woodworking projects to build and sell.
3. DIY Floor Lamp out of a Tripod: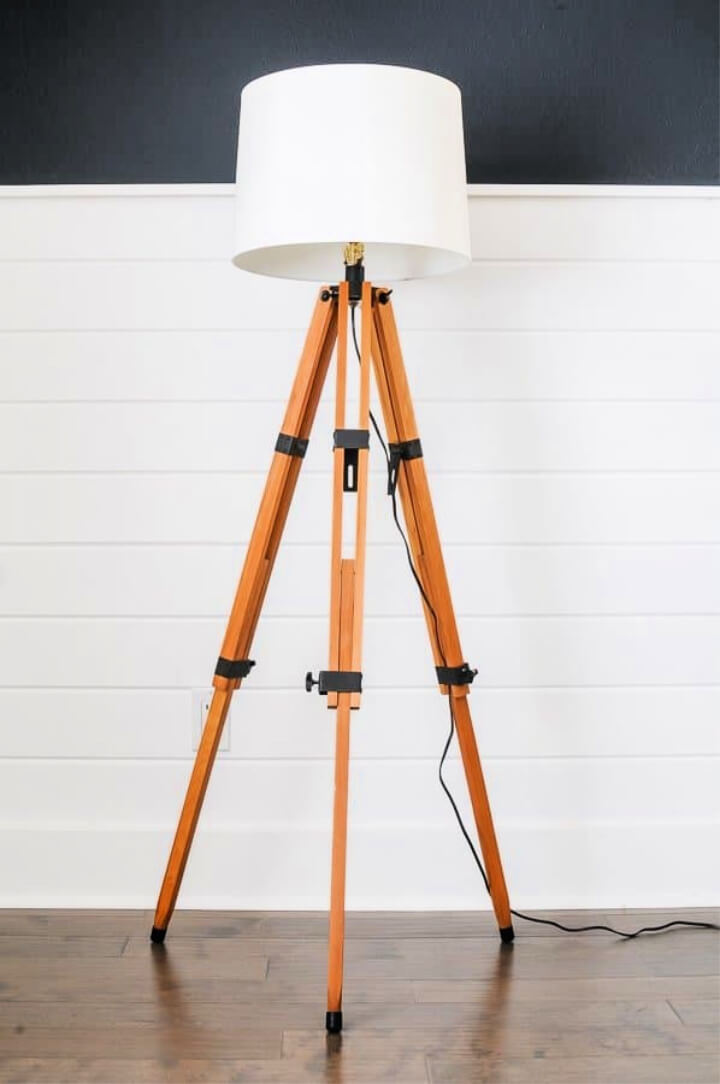 Joyful Derivatives is all set to share with you a perfect floor lamp made out of a tripod! Tripod lamps are an ideal way to bring a bit of a modern and minimalistic appeal to your rooms. Why not do that by staying in budget? joyfulderivatives
4. How to Make a Tripod Lamp: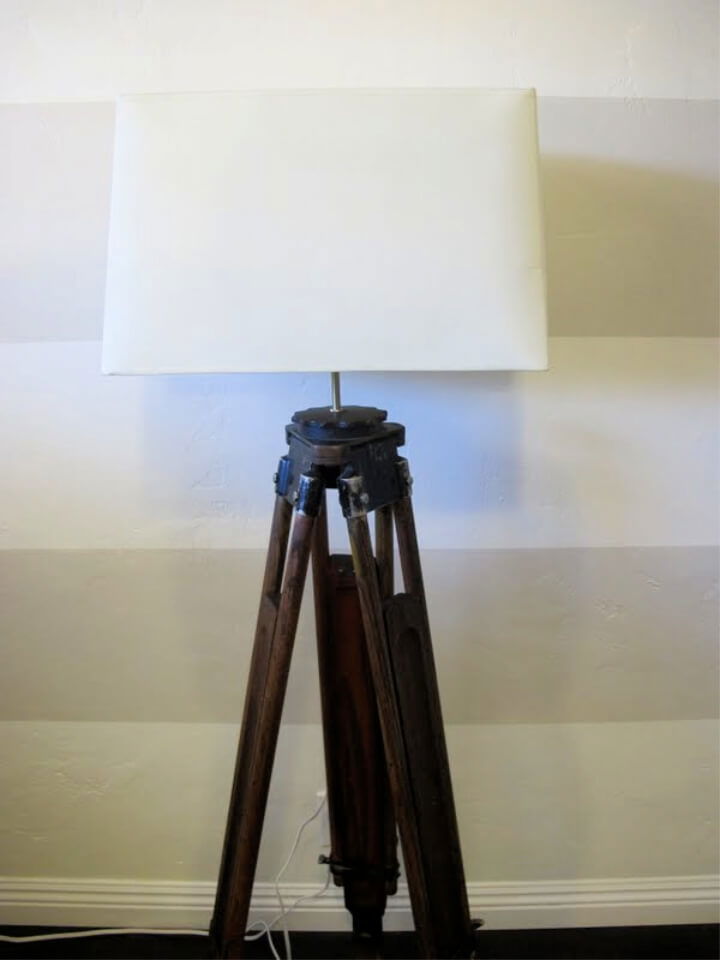 IF you have been getting inspired by the amazing tripod lamps in the market, here's your chance to make one by yourself for your home. Get your hands on a lamp kit, 2 extended poles, Extra washers and nuts, lamp harp, and Drill with the drill bit. dreambookdesign
5. Easy DIY Tripod Floor Lamp: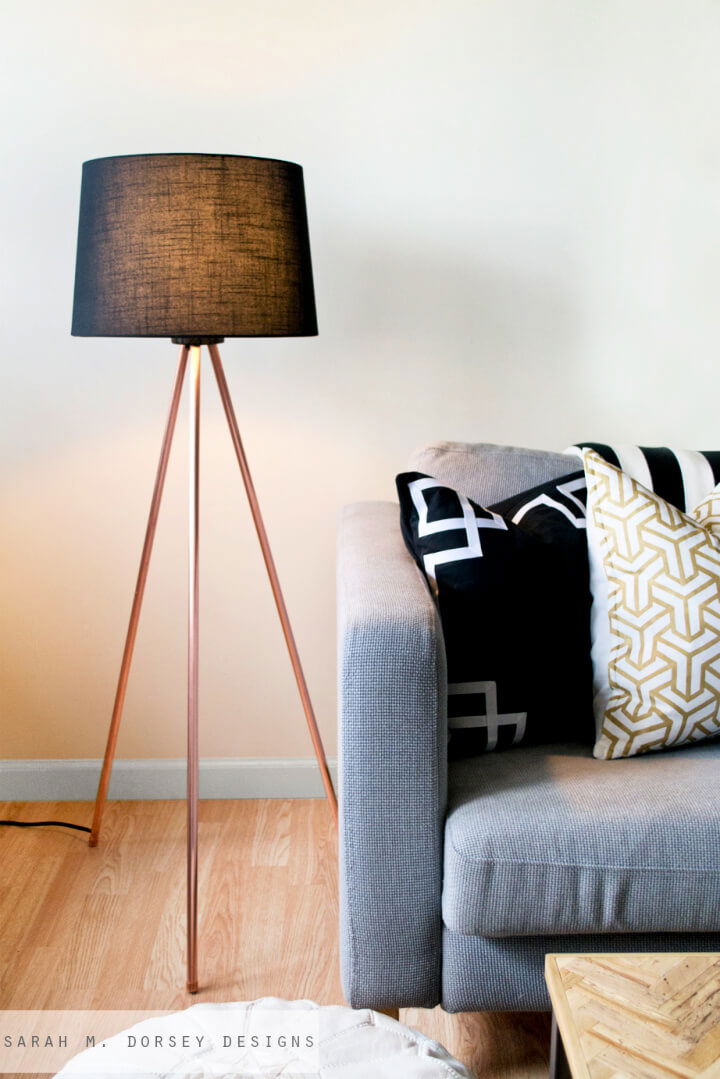 How about adding more character to your room with a sleek and vintage DIY tripod lamp? Dorsey designs have got just the perfect supplies list and step by step guide for you to pull off this minimalistic addition to your home like a pro. dorseydesigns
6. Industrial Floor Lamp from a Surveyors Tripod: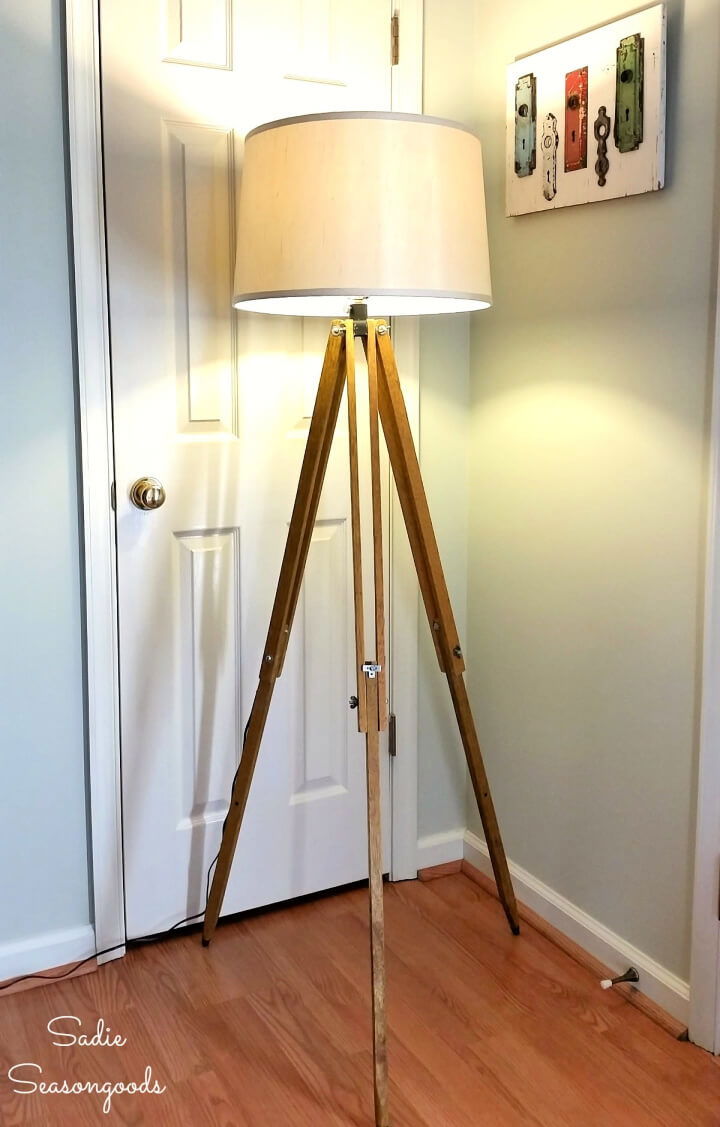 This one right here is a transformation dream! A surveyor's tripod eventually transformed into an industrial floor lamp. It can also count as the upcycling is done right! Get the full supplies detail and the step by step guide here. sadieseasongoods
7. DIY Tripod Floor Lamp for Dinning Room: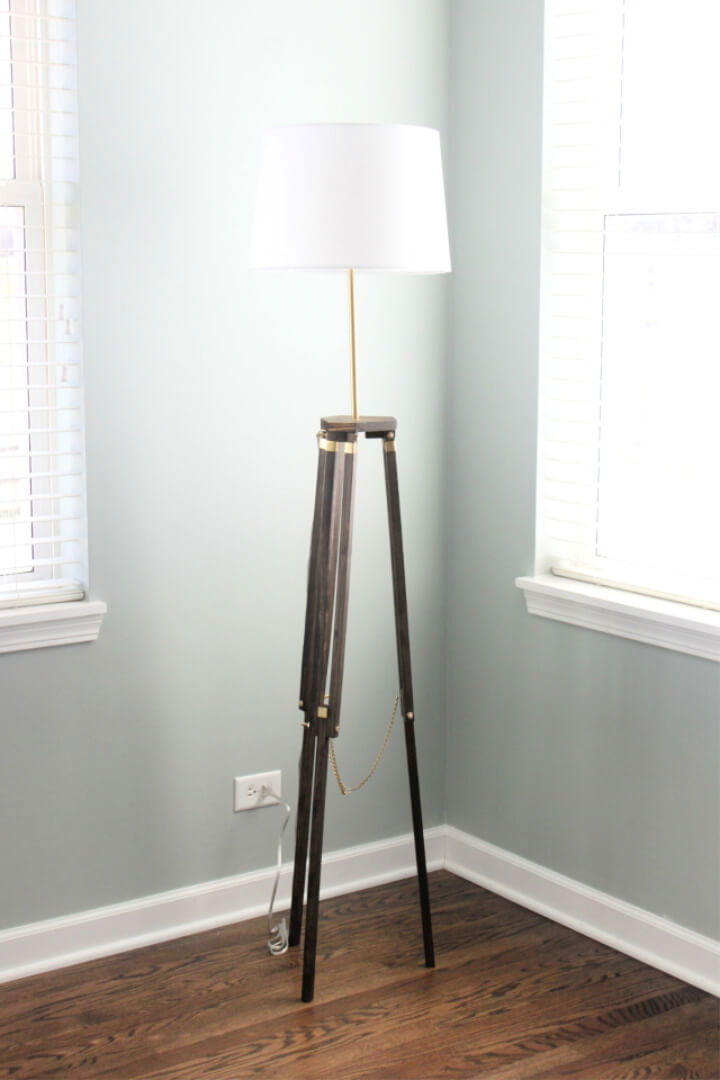 These DIY tripod floor lamps are going to be your next to-do DIY thing for sure! We totally adore the character and accent it is bringing to the whole room. Some of the few supplies you'll need are a DIY lampshade, square dowels, lighting kit, round tube, and scrap wood. colorsandcraft
8. DIY Wood Surveyor's Tripod Floor Lamp: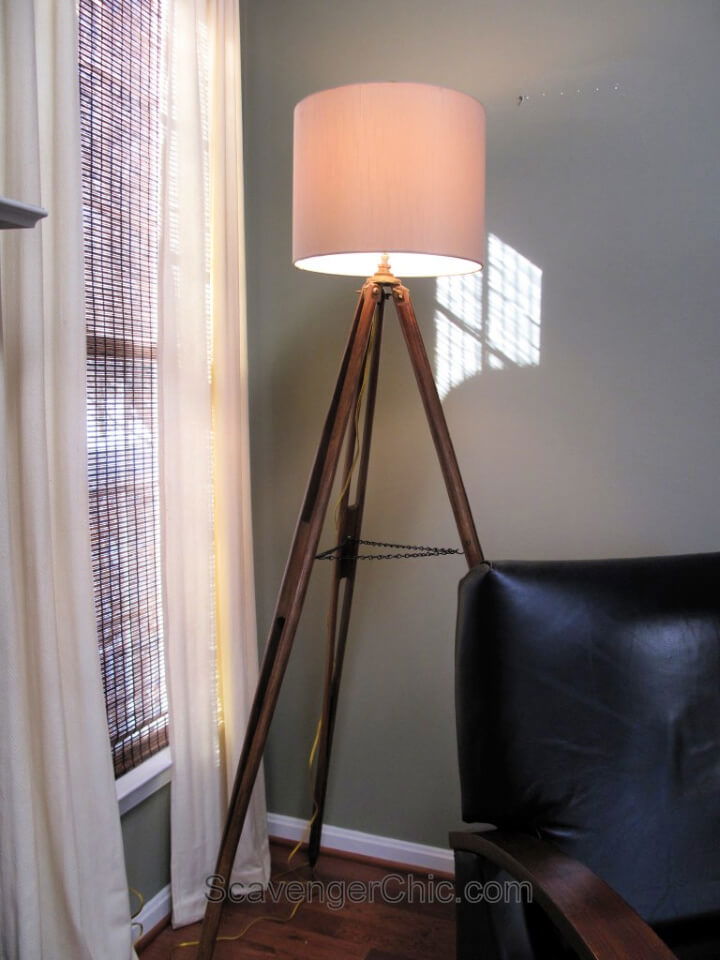 Driven from a yard sale, this DIY tripod floor lamp is now looking like a vision! You will require a lamp kit to start the transformation. Inspired by the Pottery Barn design, this tripod floor lamp is going to cost you just a fraction of cost. scavengerchic
9. DIY Copper Tripod Lamp: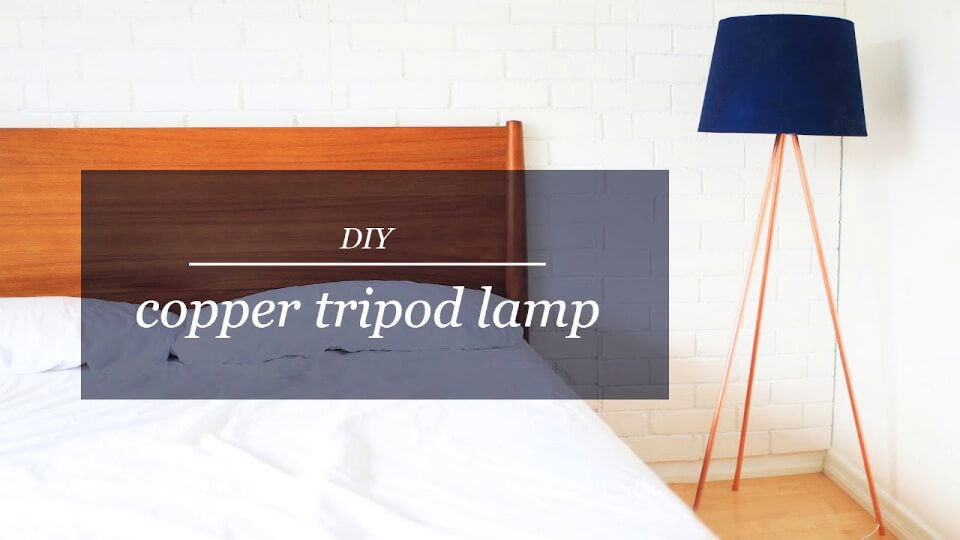 Check out this perfect and beautiful combination of copper tripod legs with royal blue lamp shade! Tripod lamps have been adding character and beauty to house decors for quite some time! With this tutorial, learn how to DIY for your room. youtube
10. DIY Floor Lamp Big Reveal: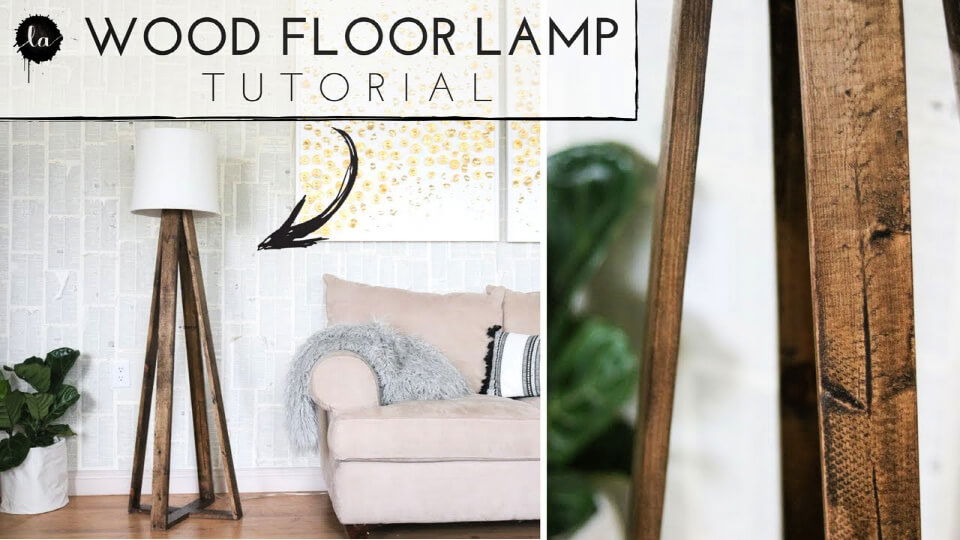 Check out this beautiful floor lamp with rustic and vintage legs and a minimalistic white shade! The details of these live edge wood legs are amplifying the entire beauty of this lamp. Head over to the link for getting the complete guide. youtube
We bet after exploring through our inspirational DIY tripod floor lamp designs, you must have been inspired to make these beautiful DIY lamps for your home. Most of these tutorials have transformed some yard sale tripod surveyors to fancy tripod floor lamps! The beauty of DIY. The magic of a lamp kit and your chosen and complimenting colors of lampshades will do the magic. Add up to your decor game with these classy DIY tripod floor lamp ideas.