For book lovers, reading books after a long busy day is just great entertainment! To imagine your favorite character in your favorite storybooks and also to play detectives in your visualization while reading a detective book or just enjoy your favorite words and sentences in the books, really fills you up with joy! So, if you are addicted to reading books in the comfortable environments then here is a great gift for you, the DIY bookshelf chair that is actually a bookshelf that allows sitting in it or you can say that is a comfy chair that comes with a bookshelf built in the sides! This type of chair will allow you to keep your stock of favorite books always with you while enjoying sitting!
he blasting good news is that you can build your own custom models of bookshelf chairs at home using your woodwork experience and creativity! If you want some design inspirations then you must explore this collection of 5 DIY Bookshelf Chair Plans that are looking divine and allows amazing storage cubbies and shelves to hold the books with care but with an amazing display! Along with a great appeal, these chairs will also provide you the ease of picking up your favorite book and hence saving lots of your time! If you love DIY projects then building these chairs with attached bookcases are really going to be big fun!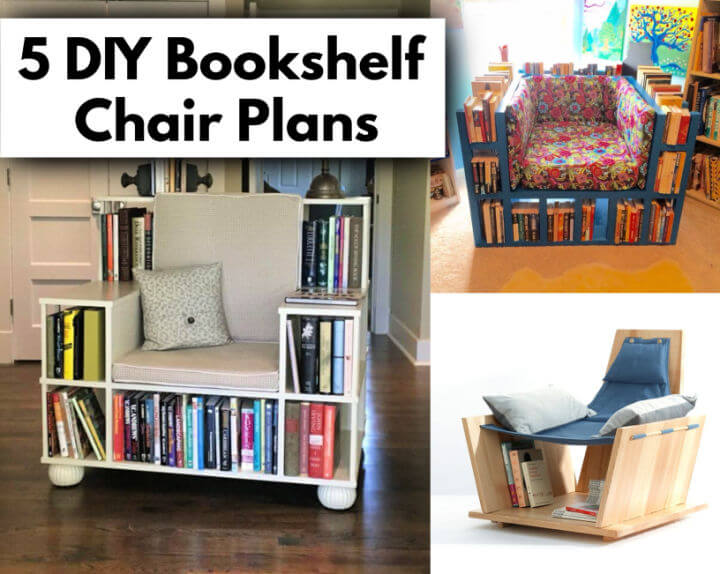 Look at the perfect model that comes with an all-around bookshelf having several different compartments that also goes from backrest positions to front armrest positions! It provides a well-cushioned sitting space in the center and would be the perfect reading nook for every book lover! Plan also the plywood and IKEA kallax units or the IKEA bookcases to make modern bookshelf chairs that you can raise on wheels or on short wooden legs for an amazing style!
If you are following minimalism in your interior home decors then given paciocco chair will really win your heart that is made of simple wooden boards and comes with fabric seats and allows book storage underside the seat! Build also the square box like a wooden bookshelf chair that will make you sit like a boss who is addicted to book-reading! Browse all the bookshelf chair ideas and see the perfectly stylish readymade samples and click on attached links to grab full free tutorials with instructions!
How to Build a Bookshelf Chair:
Do you really love to read when being seated?
Then there is a big surprise for you, a lovely hand-built wooden bookshelf chair that comes with attached bookshelf that will provide ease of pick and store your favorite reading books!
Here is how to make this bookshelf chair theownerbuildernetwork
Adorable DIY Bookshelf Chair:
Bookshelf chairs will rock for the book worms, and it will really make them feel great to have their favorite books in arms reach while sitting comfortably!
Look at this another lovely bookshelf chair model that will also make a great gift! Details here hunker
DIY Bookshelf Chair:
Build also the super gorgeous sitting chairs with installed bookshelves that will make a great surprise for all those who love to read books by sitting in a comfortable way!
Grab the plywood or IKEA kallax units to build this nice looking bookshelf chair that provides fine storage cubbies for organizing reading book stocks!
How-to tutorial here youtube
DIY Paciocco Bookshelf Chair:
Here all you need some scrap wood pieces to build also a glam mini model of a rocking chair that will also be loved dearly by all who love reading books!
Get inspired by the epic design of this Paciocco bookshelf that comes with a modern minimalist chair design and is super comfortable and storage friendly! Really a smart chair design to make at home!
Tutorial here behance
How To Make A Bookshelf Chair:
You will love to duplicate this another fantastic model of bookshelf chair that will make you sit like a boss, it comes in perfect square dimensions and provides finely built cubbies or pockets to store and organize the reading book stocks! Don't forget to cushion it nicely!
Full free plans and tutorial here youtube
Best DIY Projects You May Like: