When talking about boosting the home decors, there tons of different options out there but going with the wall signs always makes a great and ideal choice! By hanging the custom art signs on the walls, you can instantly upgrade your home decors and if you go with the monogrammed or name letter sign that will help create a personal statement in any particular ambiance of your home or room! So, do grace up your home and other spaces of your home with these 55 DIY sign ideas for your home that is all well-thought ones and will help create a magnificent appeal of any part or room of the home! This collection of compiled home decor sign ideas will provide you all the lovely hacks to make a painted, quoted or stenciled sign like a pro! Here you will learn to make the perfect living room, kitchen, front porch, bedroom and laundry signs that will definitely jazz up the respective rooms and spaces!
Along with being a visually captivating wall art piece, the wall signs are also the way to show the audience about your unique interests and personality! In the same way, you can also tell the onlookers about your religion by painting custom religious signs on the wall art signs! Moreover, also paint the custom quotes and love sayings on them so they will express your love to your beloved ones and at the same time also make the patriotic signs to express your country love! Furthermore, also write the custom family rules chart on the wall signs so they will nicely display them to your home audience!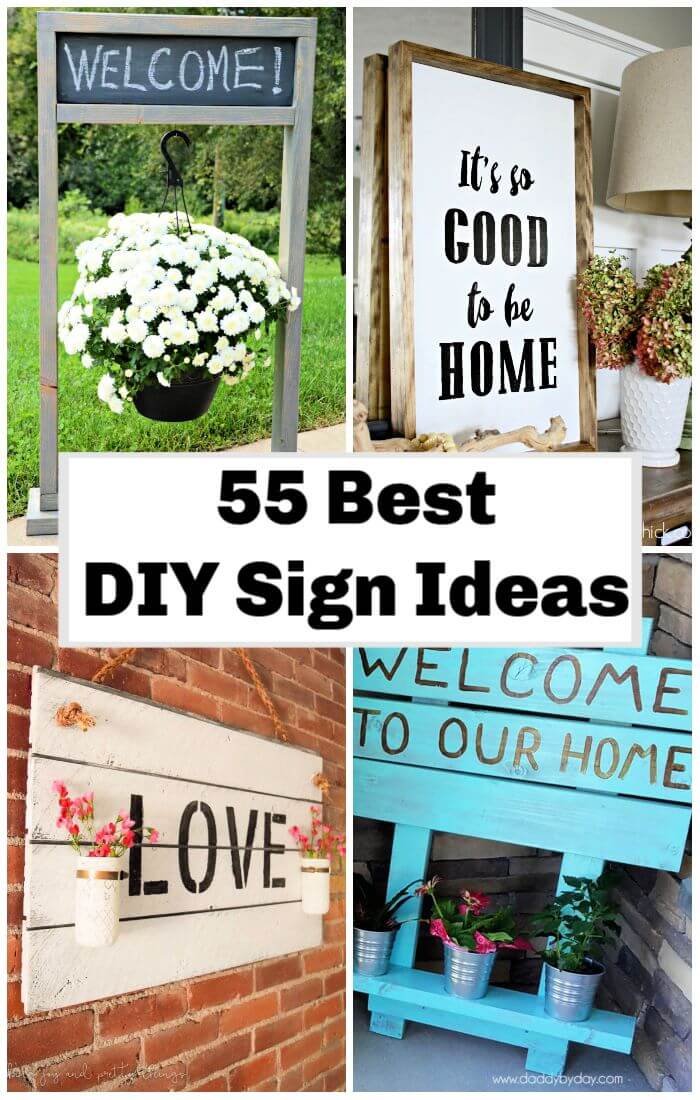 The best medium for making the wall signs in the wood and you can use any type of wood like rustic or durable to make the gorgeous DIY wall signs and if you go with the recycled, leftover and scrap wood then you are going to make these wall signs for free! After you get the wood, you have to make a square, rectangular or a circular board out of it on which you can draw or paste your art!
DIY Ideas for Home Decor:
Use stencils, vinyl letters, vinyl art, and custom stickers to make the quoted and lettered wall art signs and here you will also learn the smart ways to create a fab personal appeal of your wall signs by using the custom embellishments!
Like you can embellish your wall art signs with the rope for a nautical decor touch and can decorate them with flowers for a spring decor touch! The list will also show you how to make the lovely wedding signs and you can also create the interesting embroidered letter signs and also the gorgeous wall signs with hanging planters! Check out the entire list to see more interesting wall art signs, visit links for further details and tutorials!
Make Farmhouse Laundry Sign: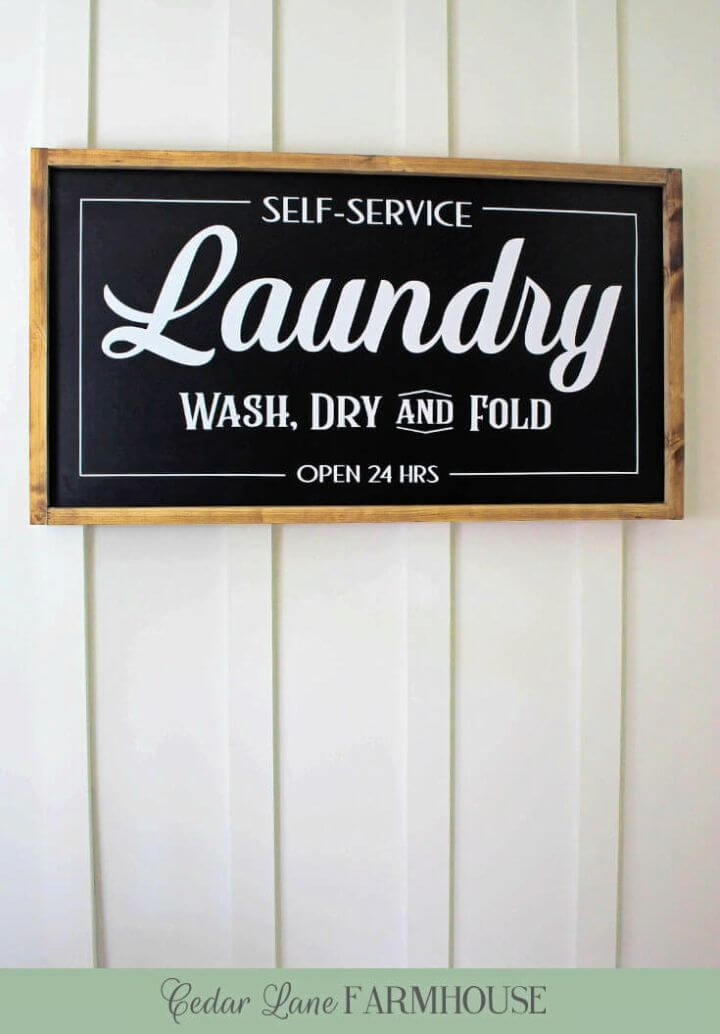 Create a big focal point in your laundry room by hanging this sign on the wall, make it using plywood and pine boards! Give a white base coat to plywood piece, transfer vinyl letting and then give black spray paint coats, remove vinyl letters to reveal letter art and then frame up the plywood board with pine boards! cedarlanefarmhouse
Easy DIY Embroidered Pallet Wood Art: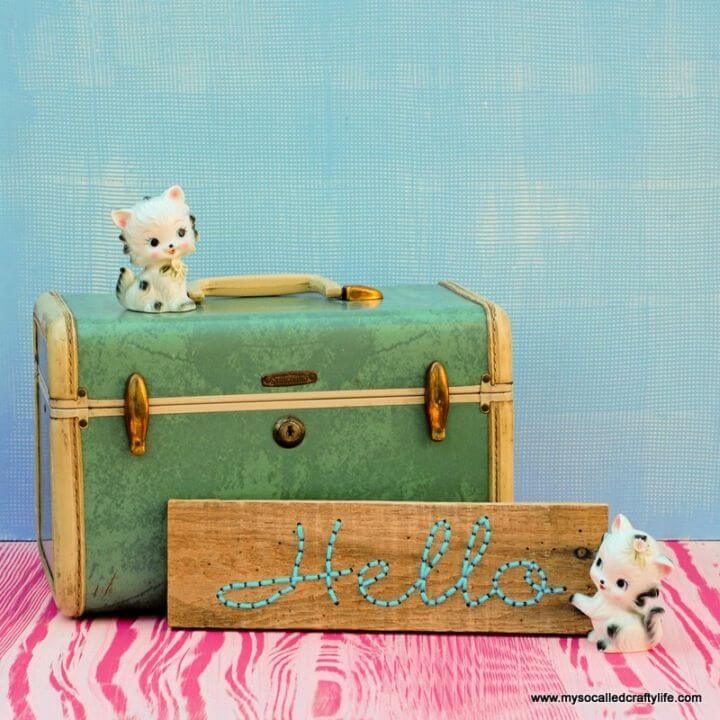 Gain the glorious view of your blank boring walls by hanging this embroidered pallet wood art that you can quickly make by embroidering a free pallet wood plank! Trace letters, drill holes and then embroider the letter art using a rope of choice! Pretty quick and budget-friendly wall art idea! mysocalledcraftylife
DIY 3-dimensional Spring Sign: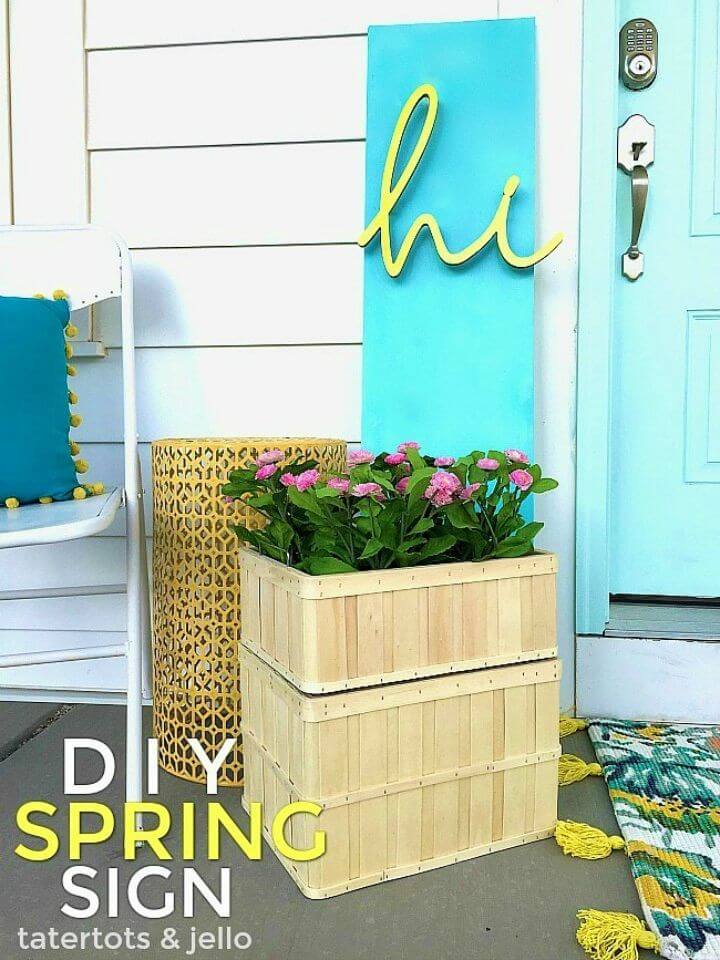 Create a complete look of any wall by hanging this 3D spring sign, will also bring spring decor vibes to a home! It is pretty simple to make using a blue painted wooden board and custom painted wooden letters of choice! Just glue the letters on the wood plank and make a quick wall art in no time! tatertotsandjello
DIY Vintage Style Telephone Sign: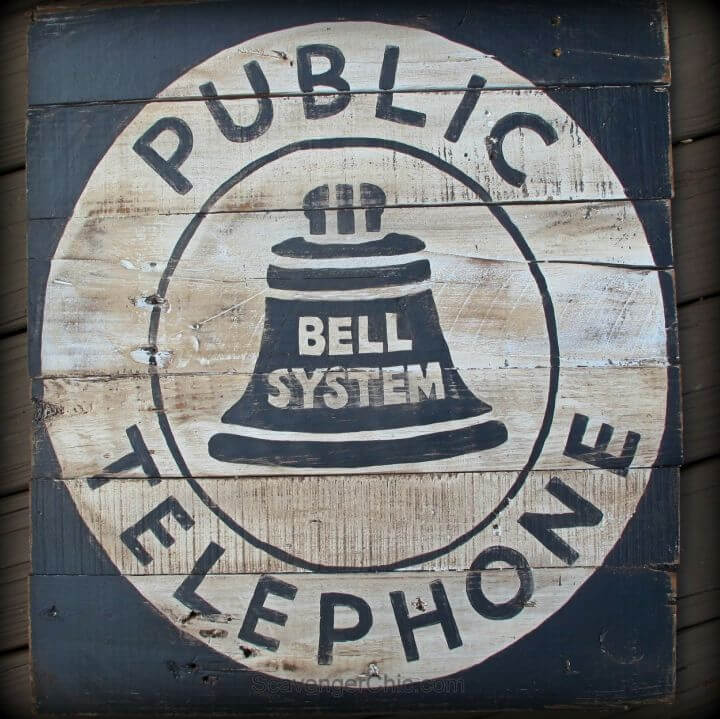 It would be a great idea to satisfy your love for vintage decors by hanging vintage decor wall art pieces! Make vintage inspired art pieces at home using the free wood that you can quickly source from home! Make the wood board out of wood and then paint this vintage telephone sign on it using a stencil! scavengerchic
Make Painted Canvas Farmhouse Sign: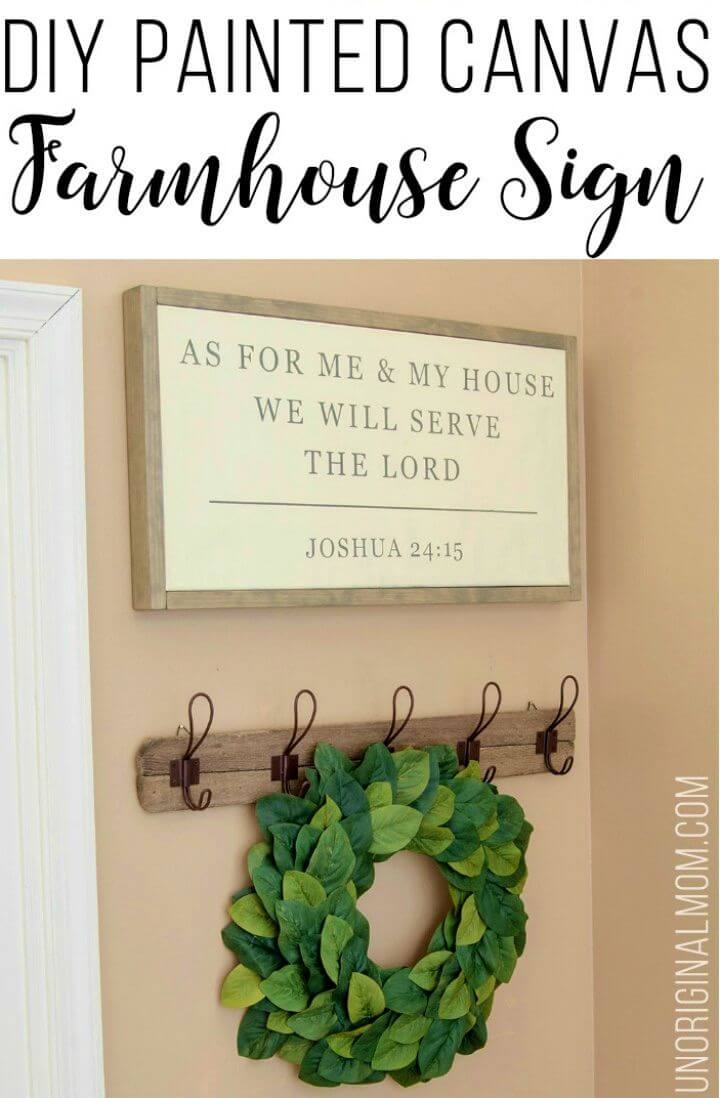 Paste your silhouette cut vinyl letter art on a canvas frame and then apply a paint coat, remove the letters to unveil your letter art and then add up the canvas with a wooden frame and make a lovely farmhouse sign wall art, use this art sign to give any wall a farmhouse decor touch! unoriginalmom
How to Make "Eat" Sign: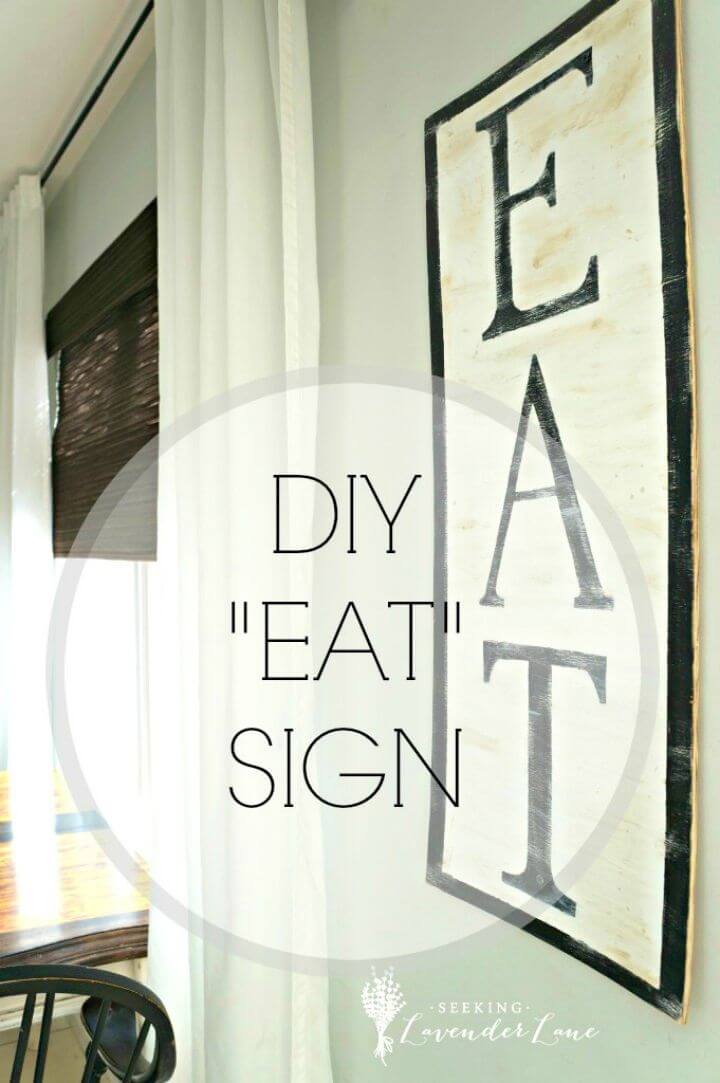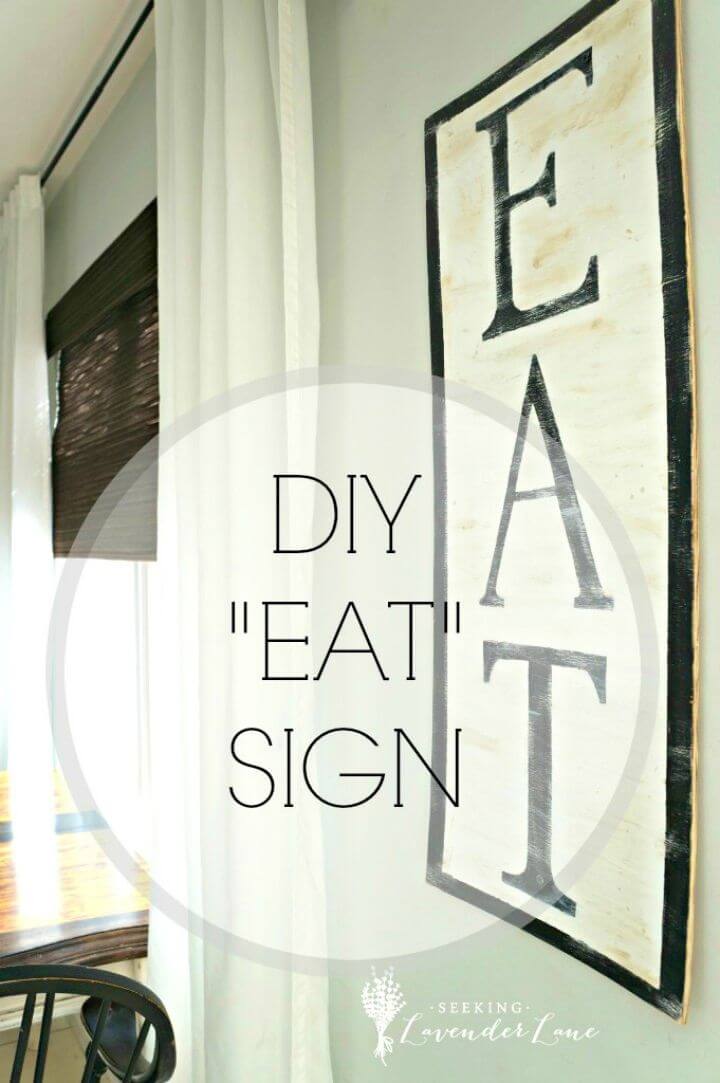 Also, promote eating in your home by hanging this extraordinary "EAT" sign on your indoor wall! Make it using a scrap wood board, give a white base coat to your selected wood board, then stencil black "EAT" letters on it using black paint and letter stencils! Full instructions here seekinglavenderlane
DIY Rustic Farmhouse-inspired Shiplap Sign: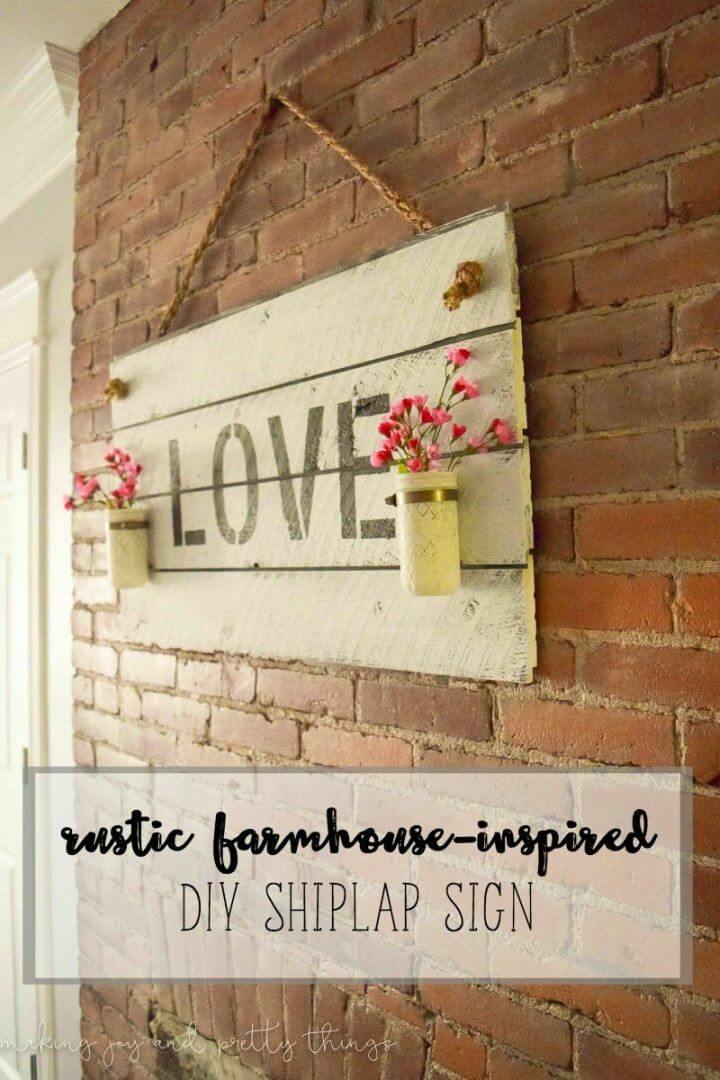 Double up the grace of any wall with a rustic touch that will come from this farmhouse-inspired shiplap sign! Make a planked wood board, adhere "LOVE" letter stickers on its, give a white paint coat and remove stickers to gain a love art sign, spruce it up by hanging a flower vase to each side! makingitinthemountains
Make Home Is Where the Heart Is Sign: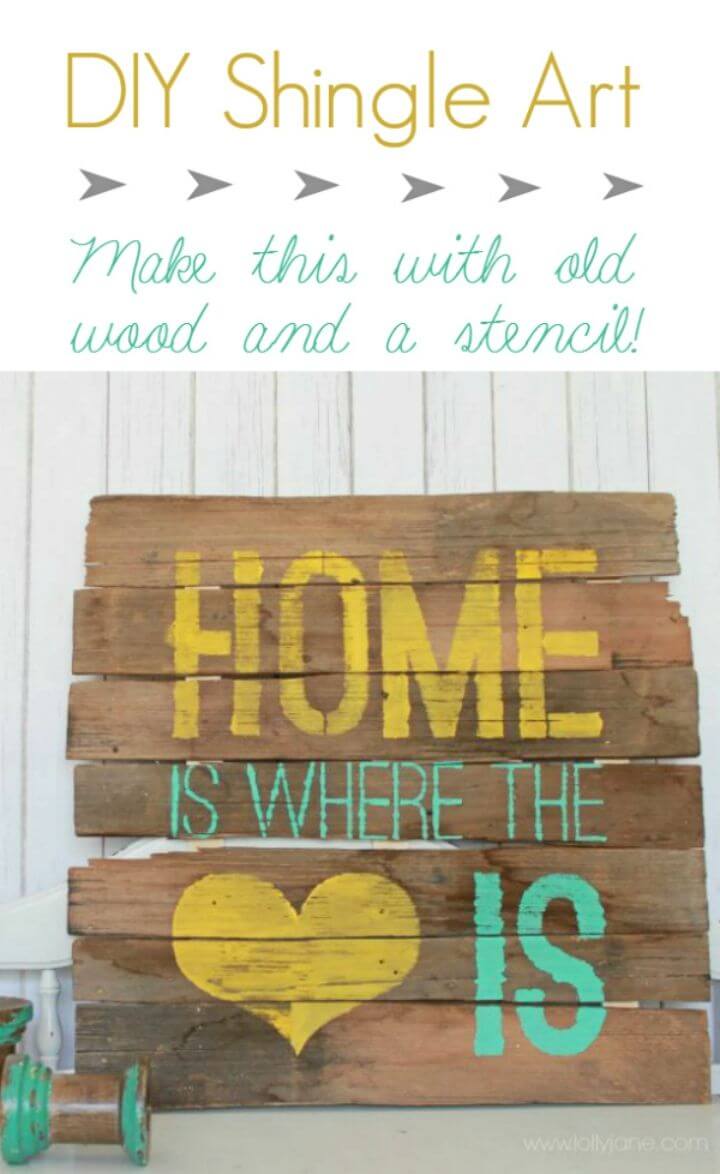 Show also love for your home by making this lovely and cute wooden sign that comes with overwritten quotes expressing love for a sweet home! Gather the rustic wood planks and some paint to duplicate this lovely "Home is Where the Heart is Sign"!! Here is how to make it lollyjane
Beautiful DIY Pallet Anchor Sign: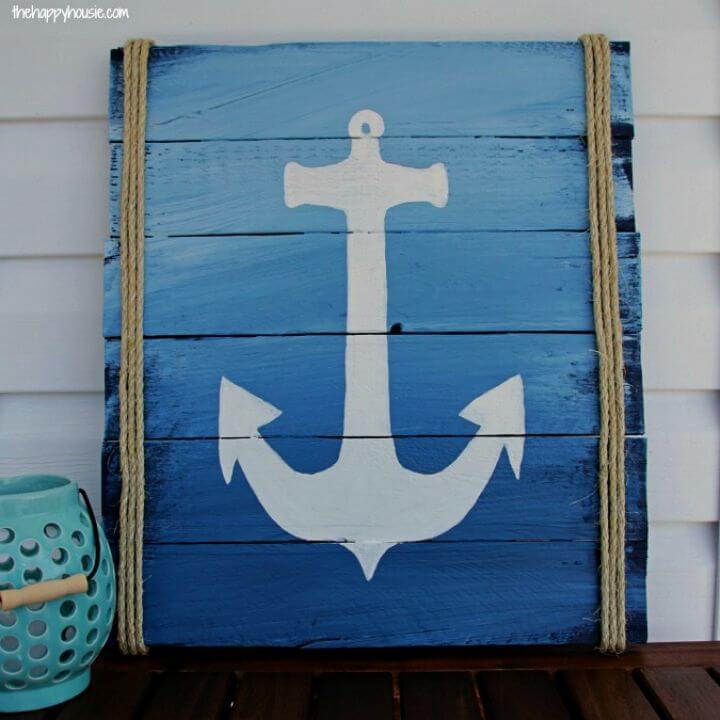 Need lovely art signs to add to your coastal or beach inspired interior spaces? Then make the wall art signs with the highlight nautical objects and beachy items, and this anchor sign will make an ideal choice and is super simple and easy to make! Put together the aqua painted boards, paint the anchor sign on it and then double up the nautical charm by wrapping the nautical around the edges! thehappyhousie
Easy to Make Large Wooden Sign: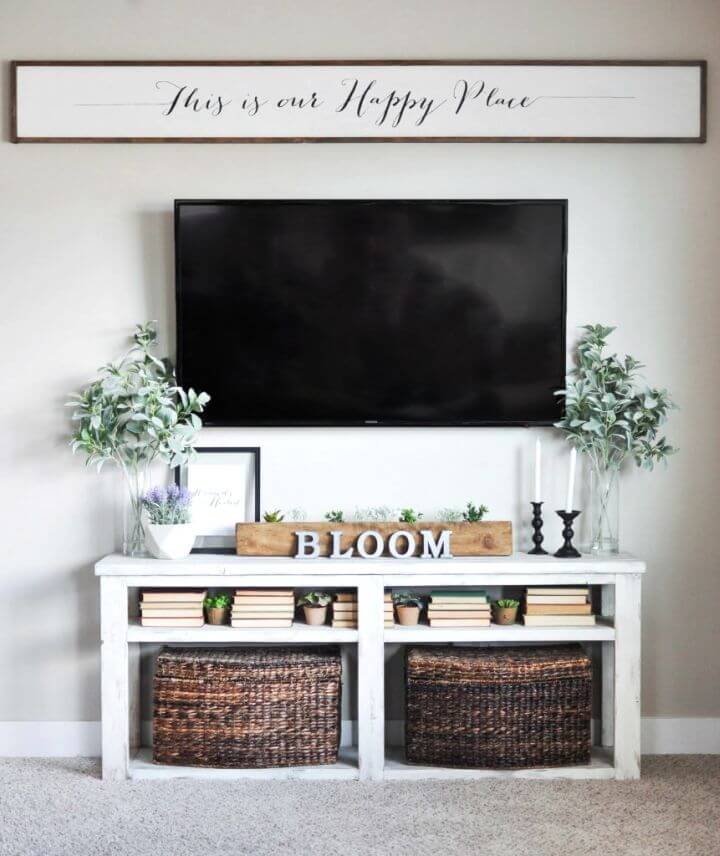 Complete the look of a specified room interior by hanging the final wall art sign after its complete renovation! Make this sign by painting or stenciling the custom home lover quotes on a longer piece of wood! If you want to duplicate this given wooden sign then here is how to make it quickly and with no experience! cherishedbliss
Quick DIY Hand Lettered Signs: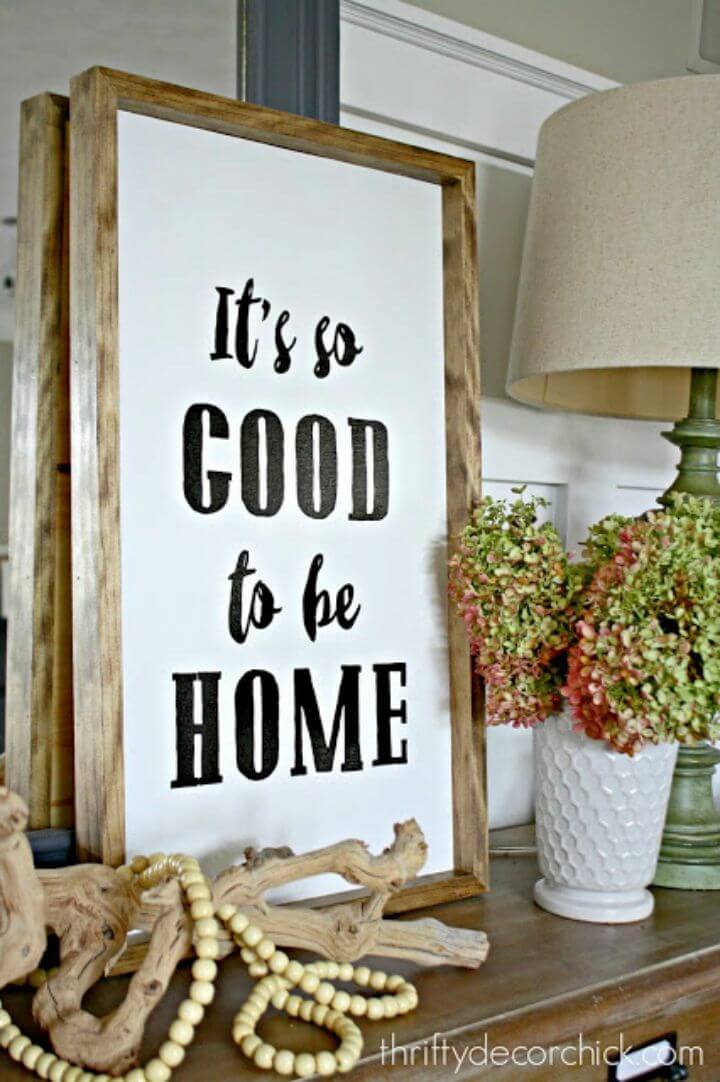 Putting extra grace to your interior home walls is just a matter of seconds if you go with the wall art signs! Make also cool ones at home just like this hand-lettered sign that is sure to go eye-catching! Trace your letter on a wooden or canvas board using a letter template and then fill the letter with markers or paint! Details here thriftydecorchick
Make Your Own Vintage Market Sign: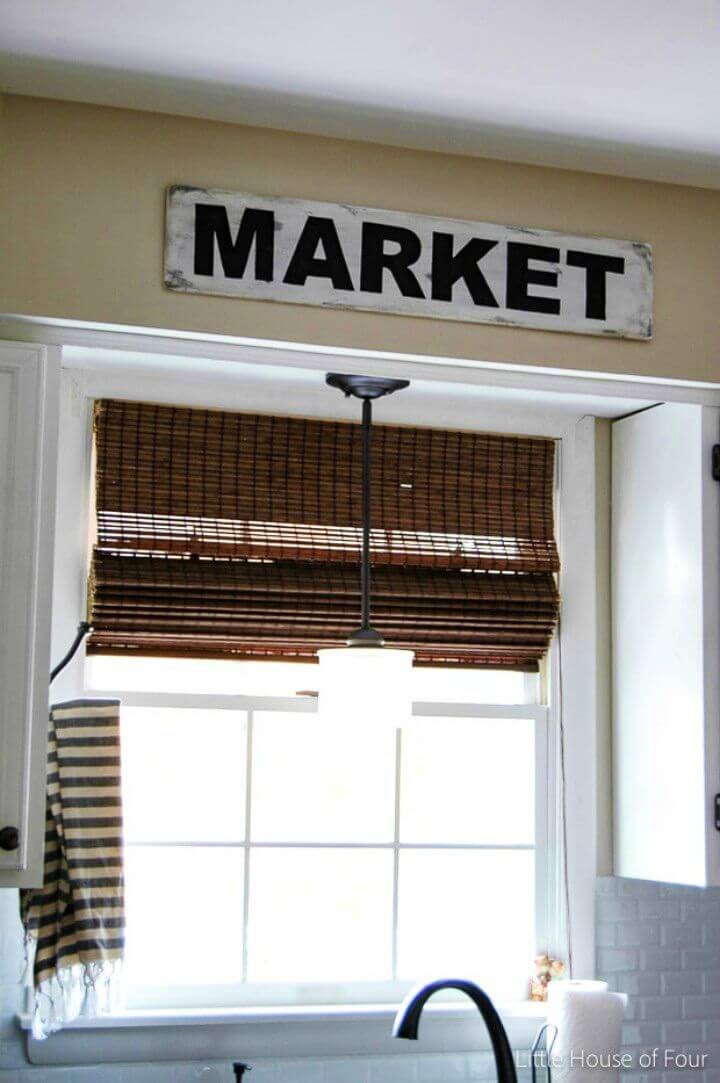 Let the vintage vibes create a more refined look of a targeted interior space, here is what you need to bring instant vintage or rustic vibes to your home, glam rustic and distressed wood that you can make even with single wood plank which you can paint and add up with custom letters as you can see! littlehouseoffour
Super Easy DIY Fab 5 Sign: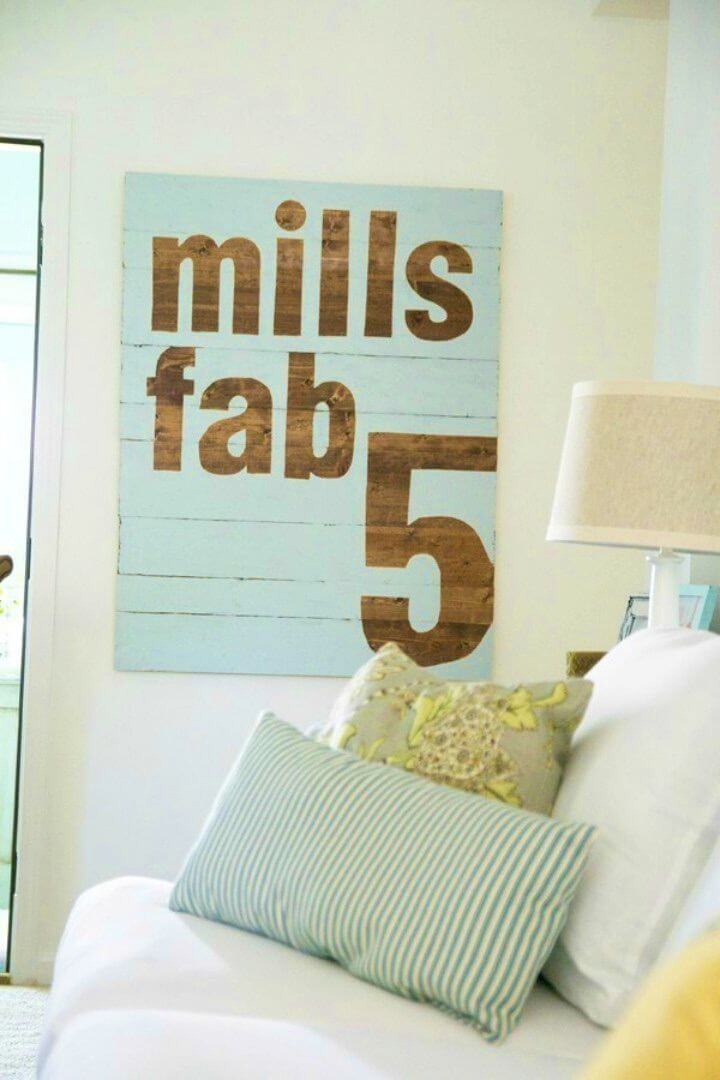 If you think that handmade art goes extra eye-catching, then you must consider adorning your interior wall with handmade signs and here is a hack to make some good ones cheaply! Use the reclaimed wooden lengths and some paint to create this fab five sign! Here is how to make it thehandmadehome
Simple DIY Bakery Sign: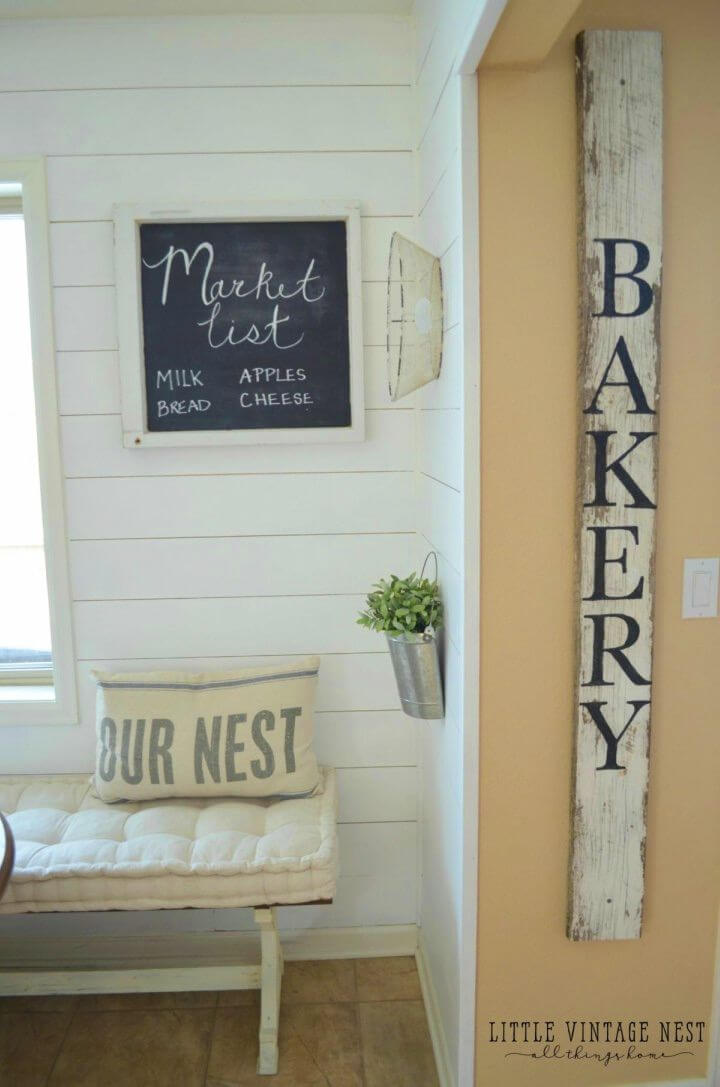 Along with being fascinating wall decors, the wall art signs also allow you to highlight the purpose of a space or room and same will do this bakery sign that you can duplicate using a longer wood slat, letter templates, pencil for tracing and some paint! Experiment this project with your own selected paint shades! Details here sarahjoyblog
DIY Hanging Planter Welcome Sign: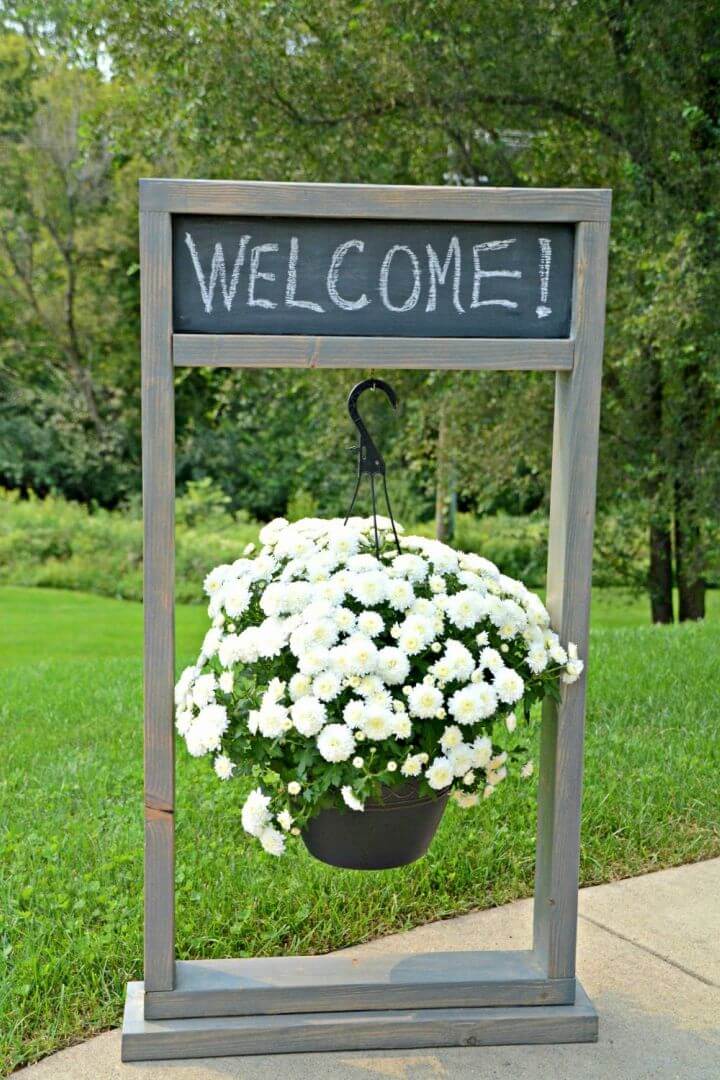 Make the walkway, garden roadway, and outdoor self-standing signs at home that will come in handy to show the directions to new entering persons and guests! So, direct to your guest to wedding or party place by making this hanging planter welcome sign that you can make using a planter, a hook and some wood! Details here decorandthedog
DIY Where the Wild Thing Are Pallet Sign: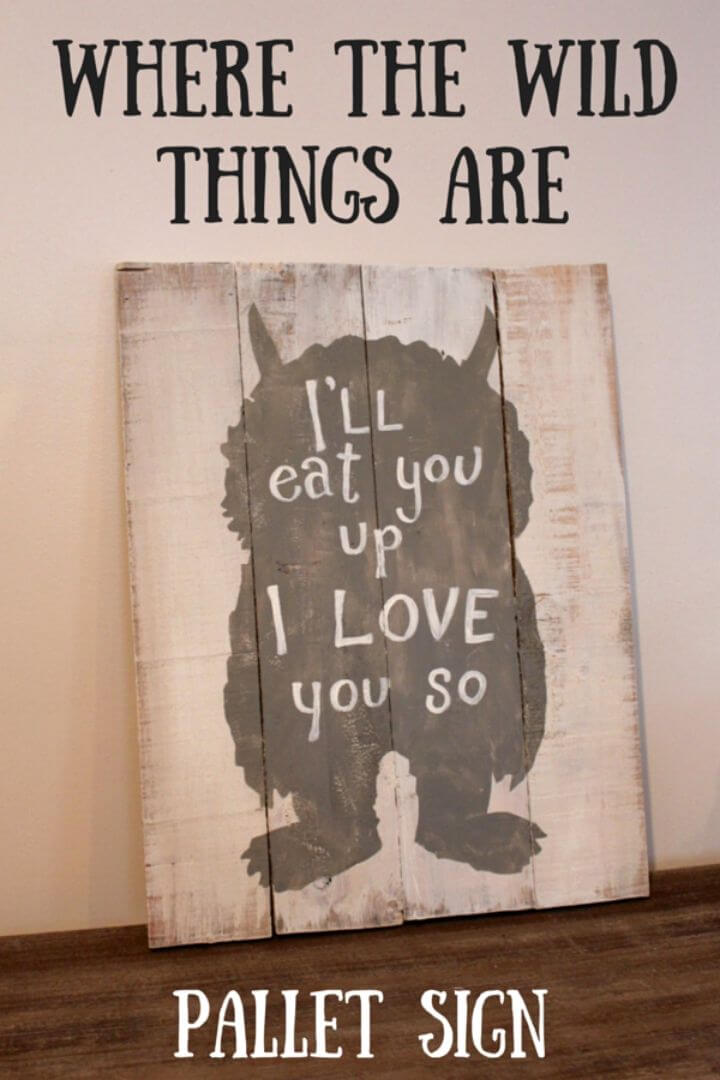 Make adorable and no-cost wood signs using the free pallets! Put together plucked apart planks of wood pallets together and make the wooden boards on which you can stencil a custom art and can write custom words to make cool wall signs! Look at this "where the Wild Things are" pallet sign and get inspired! weekendcraft
Make Monogram Pallet Family Name Sign: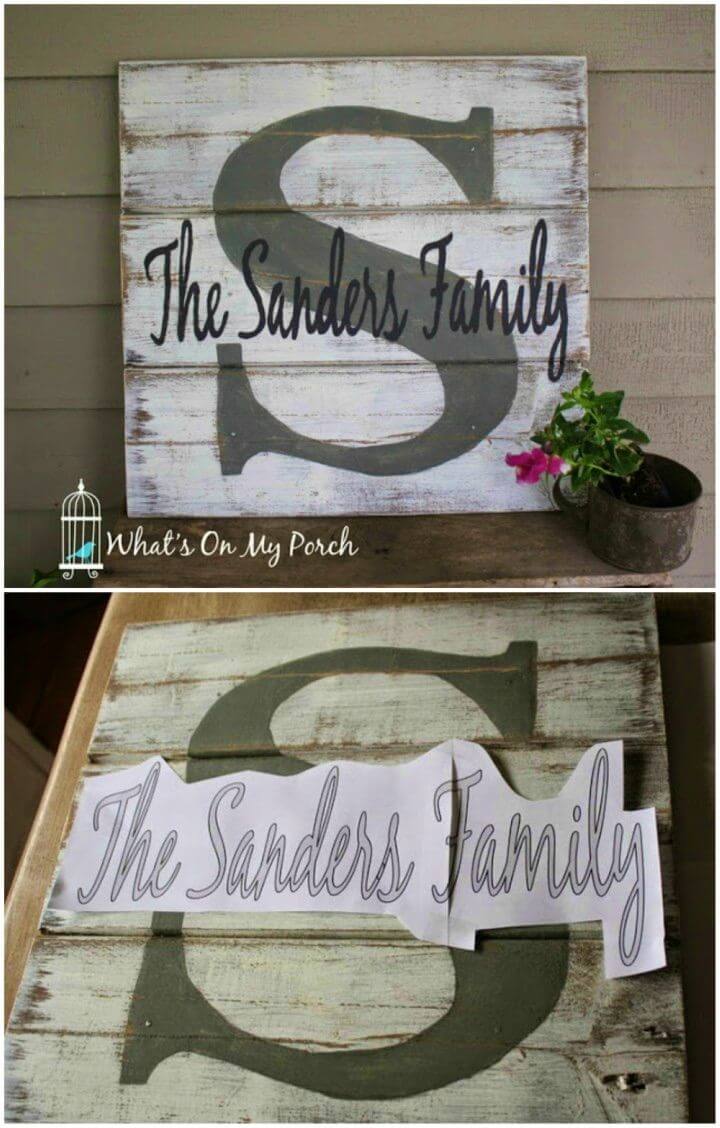 You will love the way here to express your love to your family! Make the monogram family signs at home using the recycled wood, custom stencils, and paint! Peek into creative details of this handmade monogram pallet family name sign that is sure to be visually captivating! Here is how to make it using a letter template whatsonmyporch
Pretty DIY Front Porch Welcome Sign: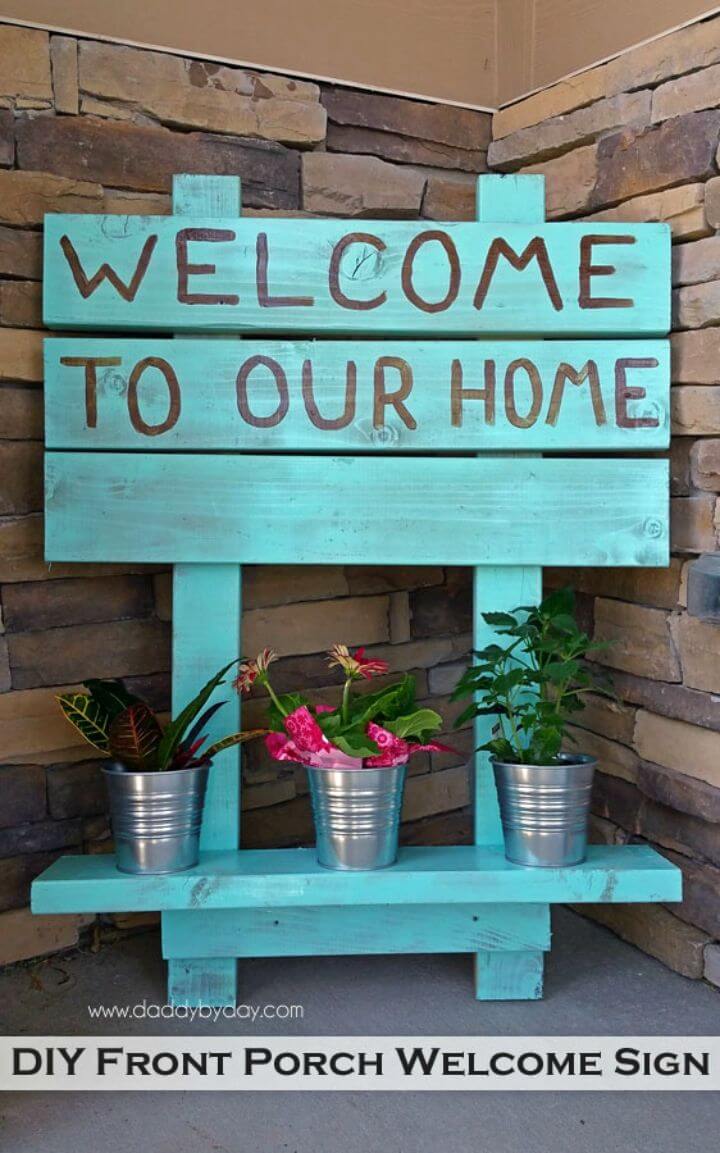 Rejuvenate your porch space with this glam addition that would be more than a decor there! This is here the quoted self-standing welcome sign that you can add to your porch for giving a warm welcome to your guests! Grab the slats of wood to make a message board with a base stand and write custom words on it! daddybyday
Awesome DIY Rustic USA Wood Sign:

Make also the rustic yet modern wood wall signs using the free wood like pallets! Make a rustic wood board with weathered wood planks and then mount the colorful painted wooden letters on it and make a quick, lovely wall art sign! Experiment this USA wood signs with your beautiful paint colors! tarynwhiteaker
DIY Chalkboard Sign Under $10: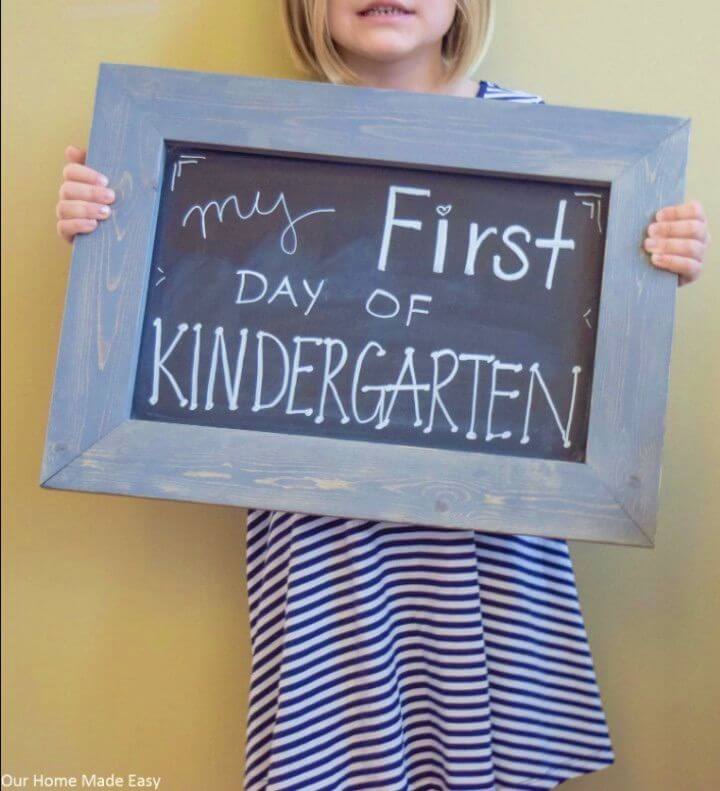 You should not miss this opportunity here to jazz up your wall by spending much less like $10 from your pocket! Grab a piece of plywood, chalkboard paint it and then frame it up using extra wooden lengths and gain a precious chalkboard sign on which you can write anything every day to show to your home audience! ourhomemadeeasy
Make Rustic Sign From Fence Post and Rope: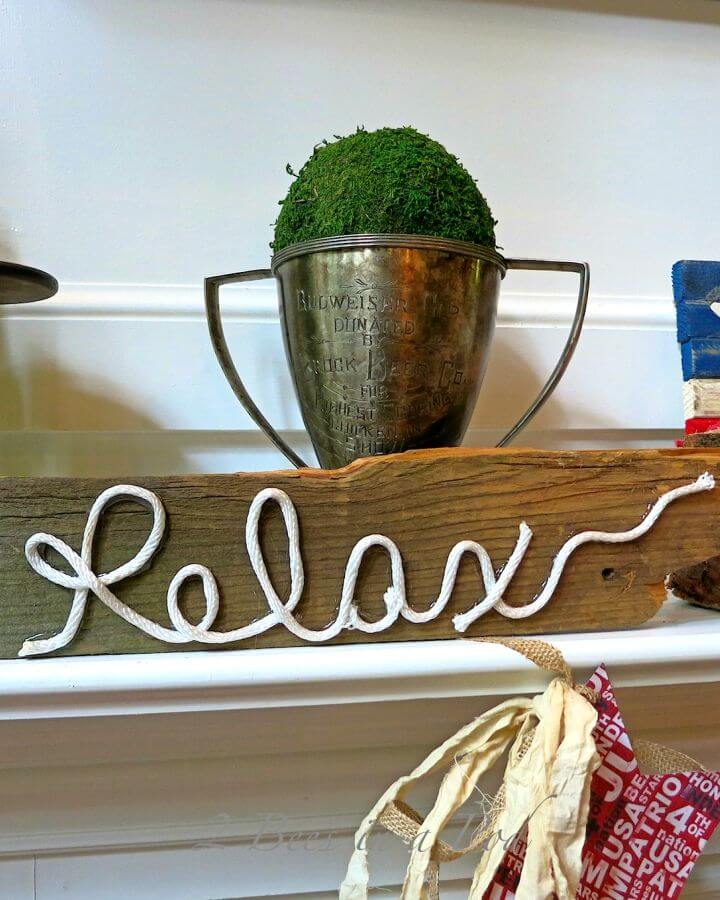 Fancy up any accent shelf or tabletop and also a wall with one sing slat art sign that comes with rope letters glued on! Grab a single wood slat that you can paint or stain for a custom appeal and then glue the rope letters on it and gain a fantastic fence rustic sign, will also rock in modern environments! Details here 2beesinapod
How to Make Wooden Sign: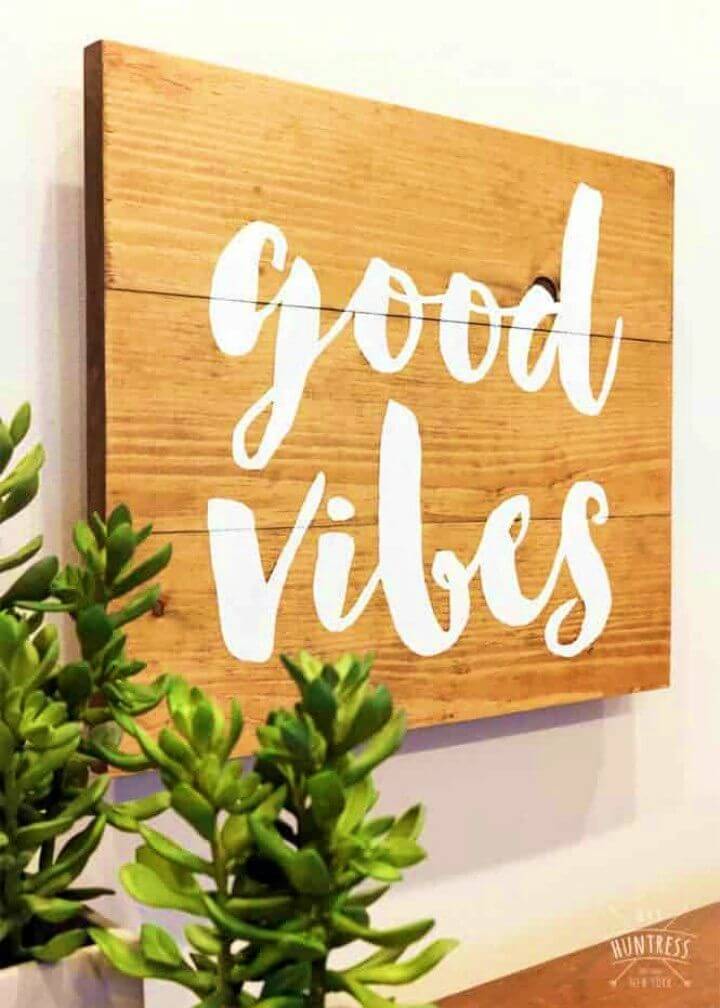 Let your interior walls enchant every onlooker by adding this handmade wooden sign there! Make it using the wooden lengths of choice! Make a square wood board by joining 2 or 3 wood slats and then stencil the letters or quotes on it! Make your letter stencils by printing out the letter templates! Details here diyhuntress
DIY Don't Worry Be Happy Signs: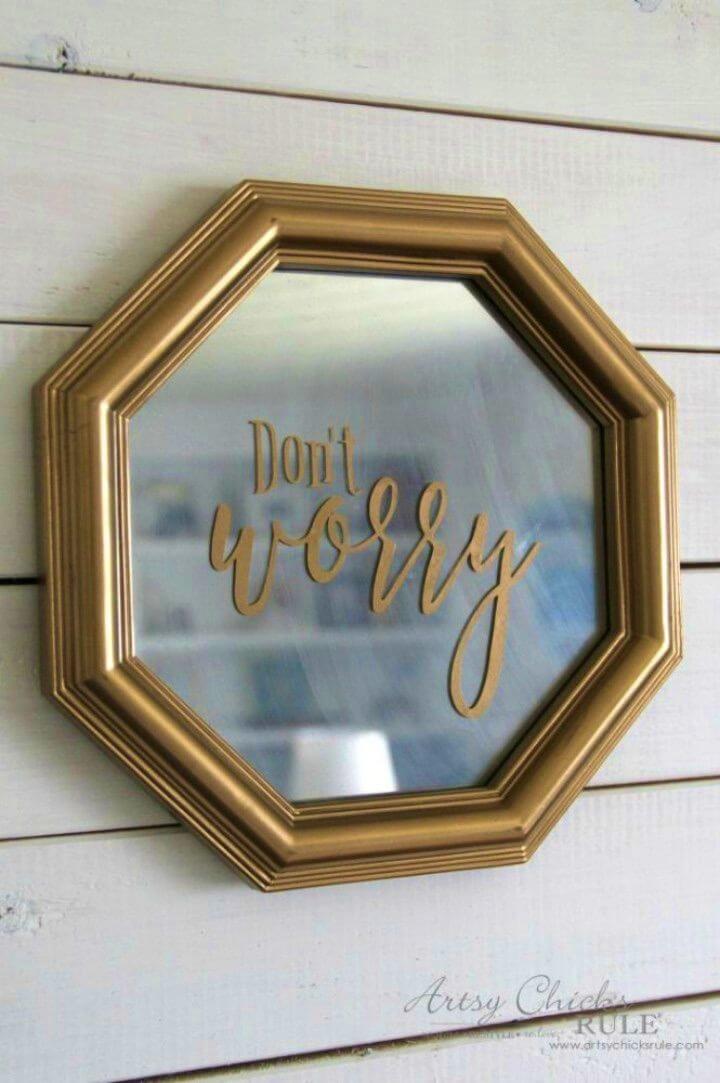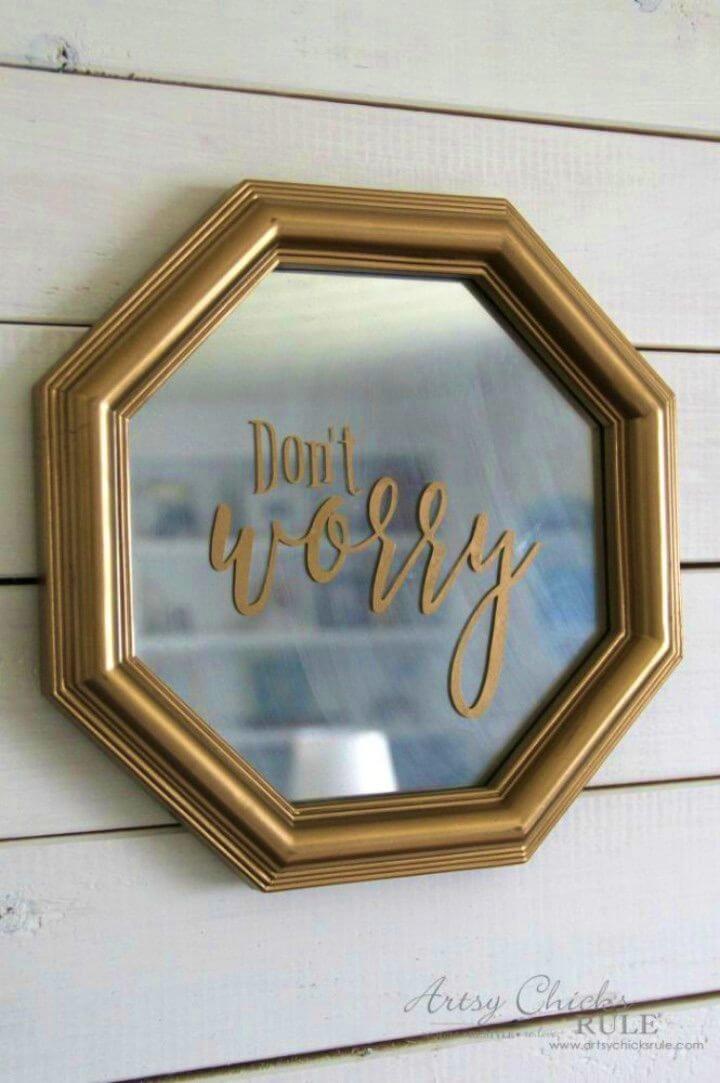 This is something too good and creative, another handsome quoted wall sign that will also bring instant grace to your interior home walls! Grab the thrift store home interior prints or glass picture frames and then transfer the gold vinyl letters on them and transform them into quoted wall art signs! artsychicksrule
Easy DIY Welcome Sign: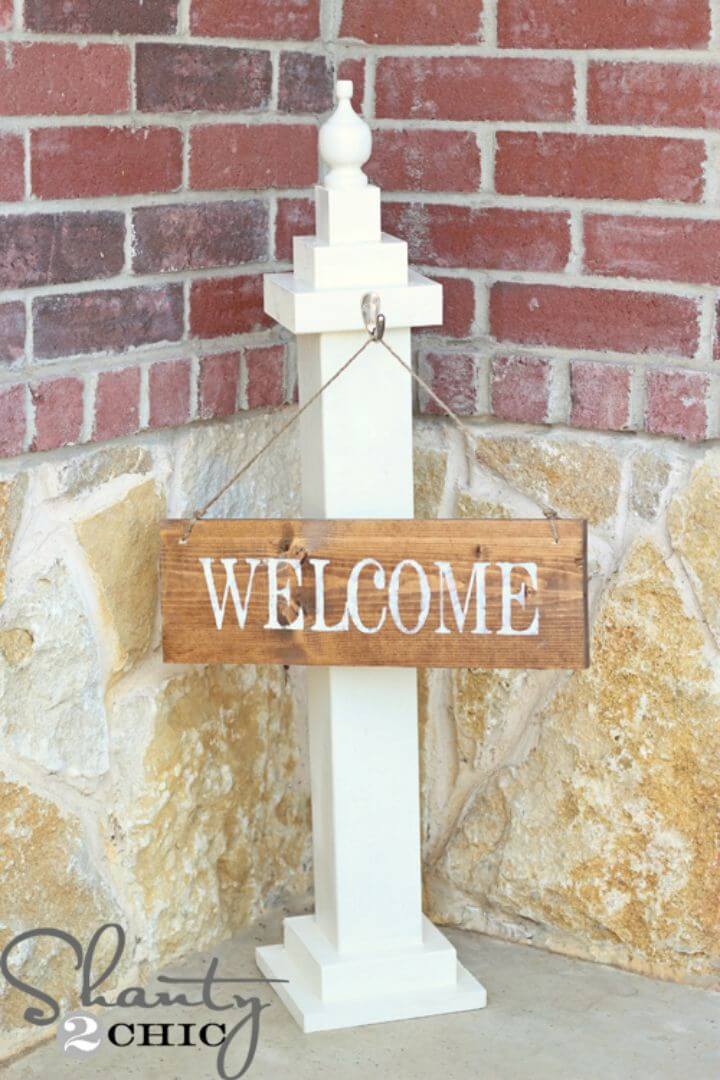 Welcome the guests entering to your porch with this self-standing welcome sign that you can also drag to any outdoor! Add up a thick wood post with wood square bases and with a decorative finial top to make a self-standing post and then hang your art on it! Paint the posts to match your porch or outdoor decors! shanty-2-chic
Make a Gilmore Girls Coffee Sign: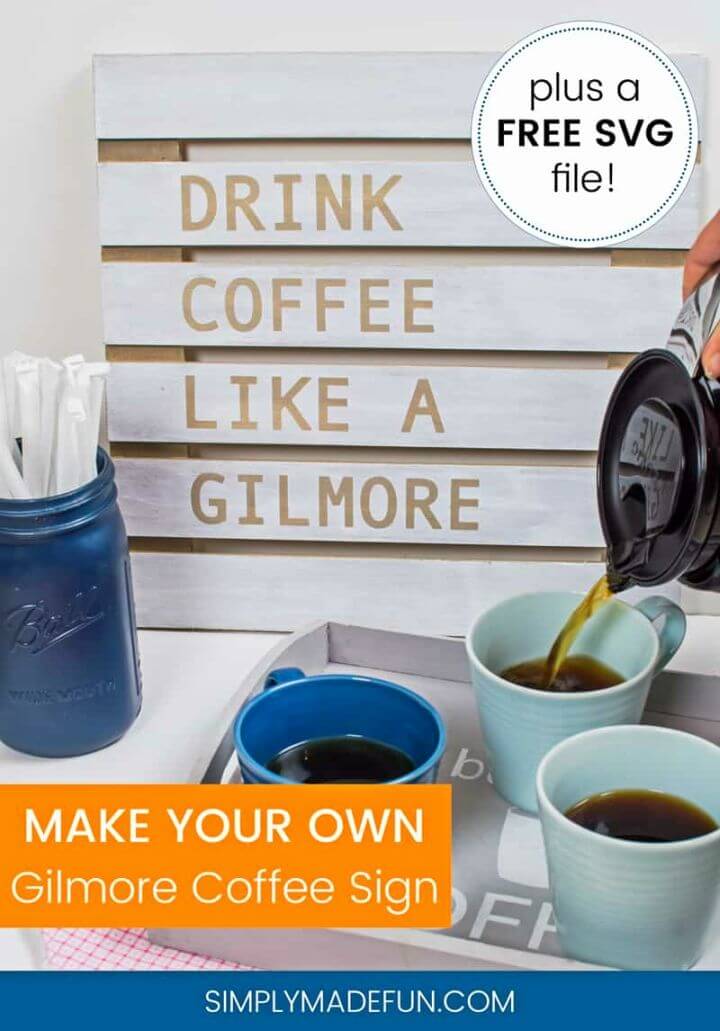 Hang this sign to any place where the coffee lovers sit together for making never-ending gossips, create a slatted wood frame and then stencil coffee loving quotes on each of the wood lengths using vinyl letter stickers or stencils, and that's it! This here another quick to make wall art sign that even a beginner can make! simplymadefun
Elegant DIY Acrylic and Wood Fall Sign: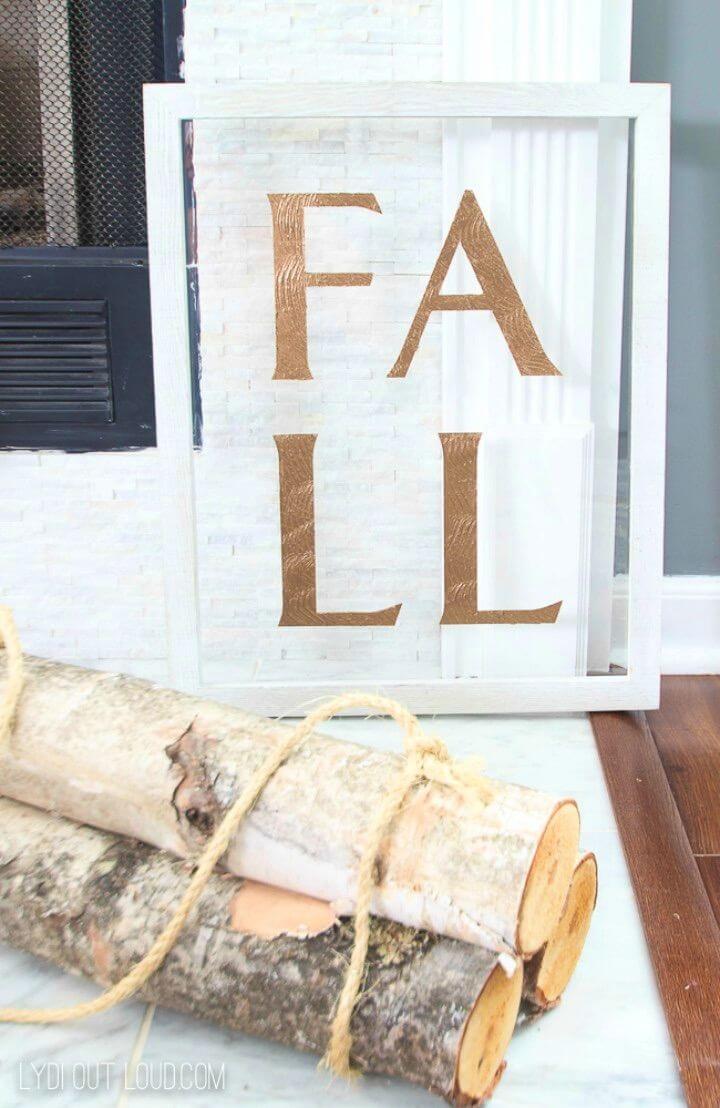 Giving the season a warm welcome is becoming a tradition, and this is often done by making the respective type of seasonal decors and this handmade fall art signs would rock as fall sign! Grab an acrylic or glass frame, paint it in the way you like and then glue the painted "FALL" wooden letters on it! lydioutloud
Adorable DIY Ombre Letterboard: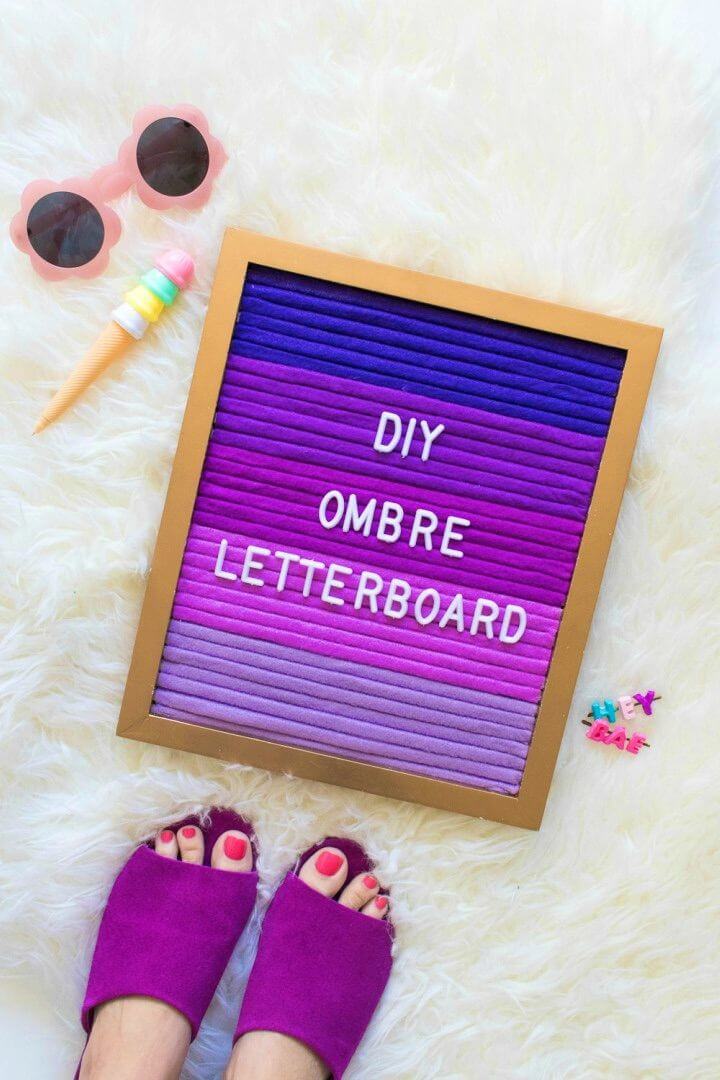 If you are on a mission to get some perfect signs for your places, then do check out here this ombre letter board sign that is sure to go eye-catching and is super easy to make! Fill a selected frame with the folded felt ombre lines and then paste your letterboard letters for a quick quote or name letters and that's it! clubcrafted
Quick to Make Welcome Sign: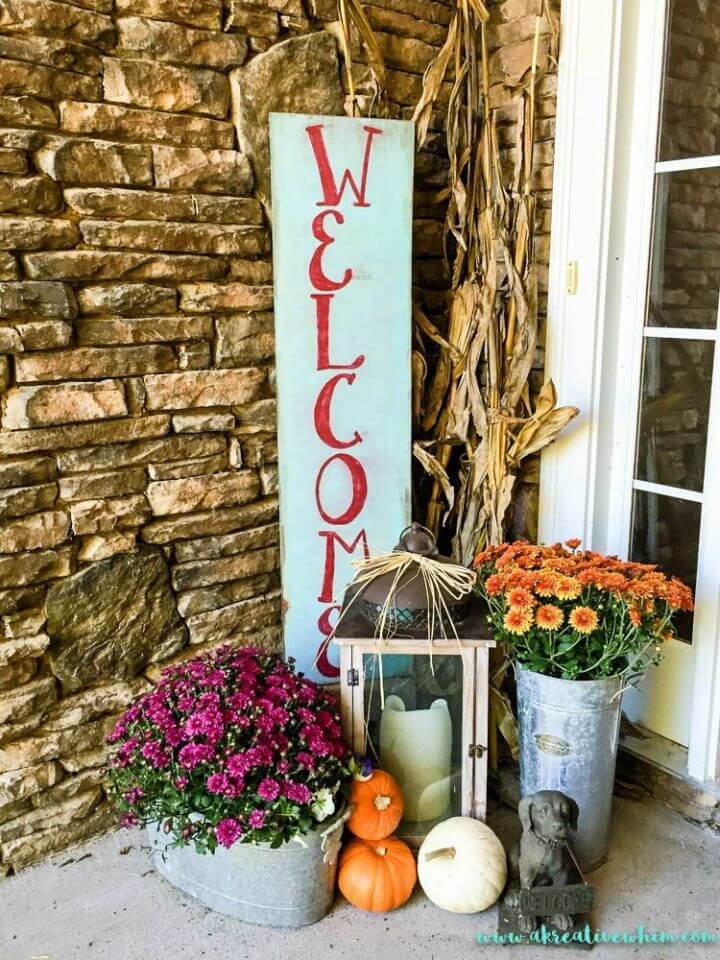 Create the most fantastic visual of your porch area by adding this single plank welcome art or sign that is super quick to make! Grab a longer piece of wood, give it a custom base coat and then paint the "WELCOME" letters on it and get a lovely welcome sign in no time! Decorate it more there by putting some flower pot all around it! akreativewhim
How to Make Driftwood Signs: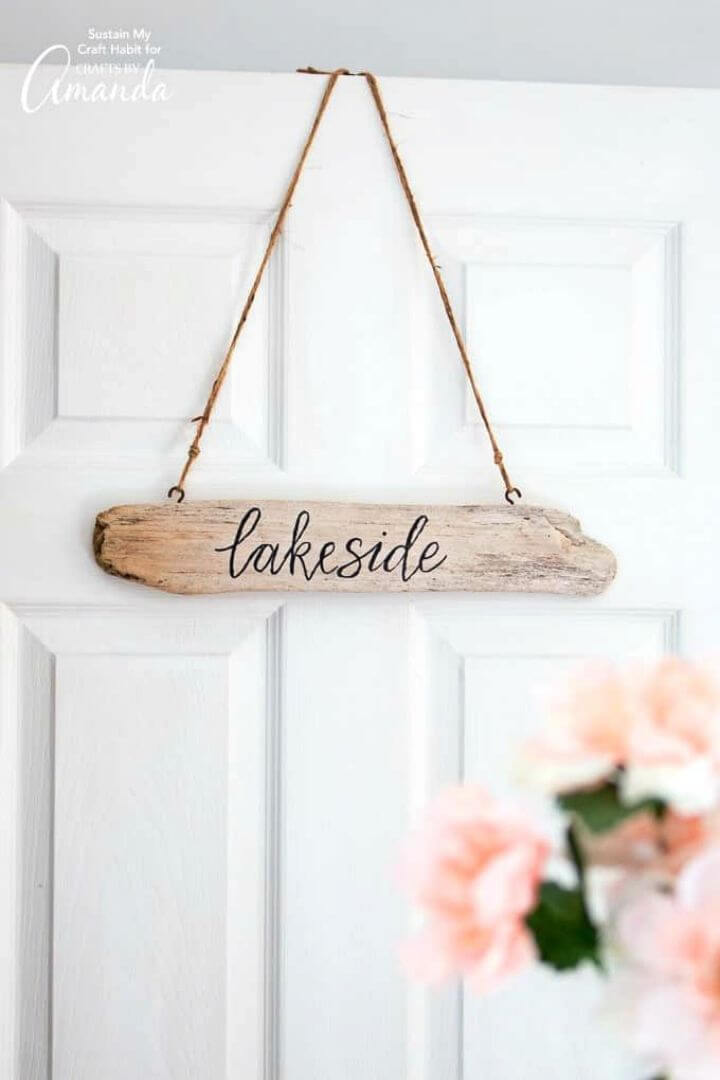 Repurpose also the driftwood and make quick wall art signs out of it! Grab a piece of driftwood, write custom words on it and then finish it up with the hooks to which you can tie a rope to hang this art on any wall hooks for an enchanting display! Full project details here craftsbyamanda
Make Hello Sign Using a Yute Place Mat: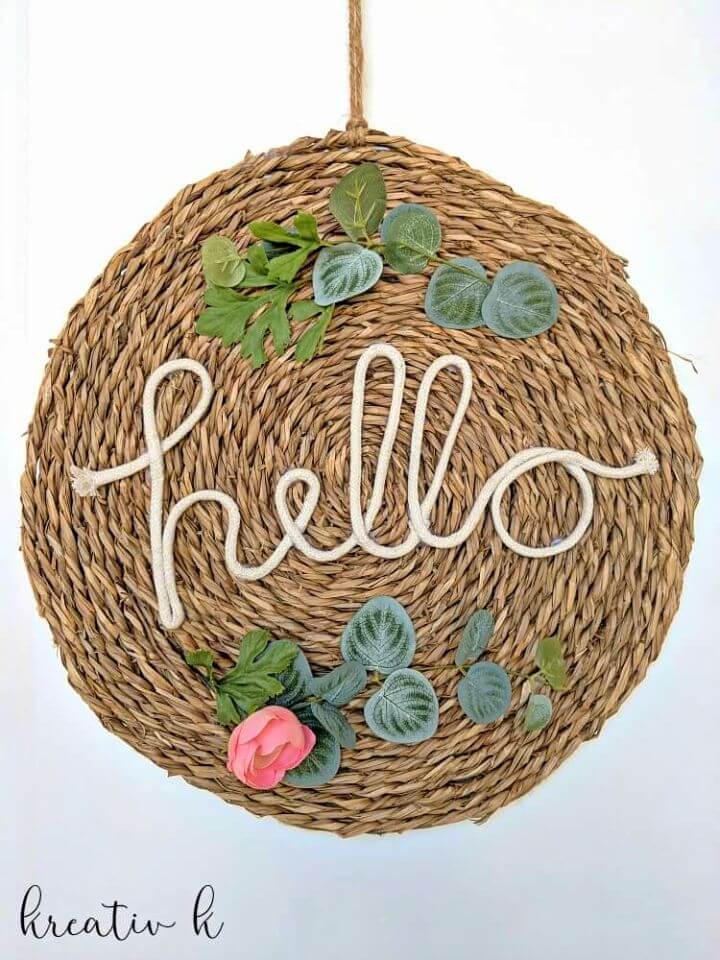 Another great addition to wall art making mania, repurpose also a coiled jute mat and add it up with custom white rope letters and make quick and lovely quoted wall art sign! Spruce up your complete wall art sign more by gluing some faux flowers and leaves as you can see! Rock your walls with this rustic sign! kreativk
How to DIY Wood Sign: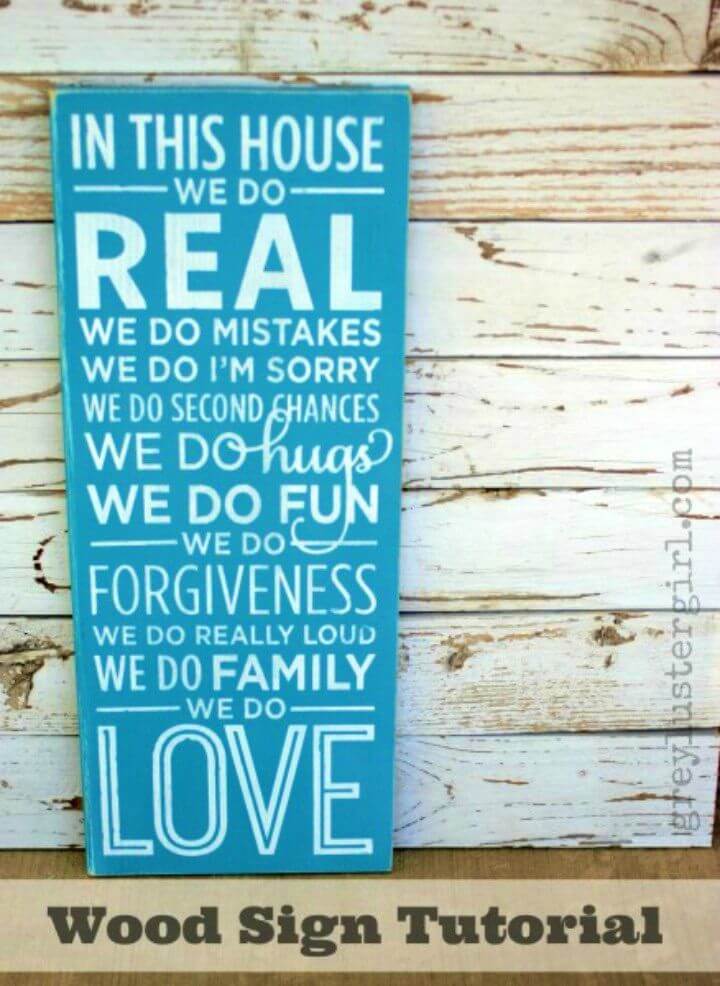 Also, write the kindness and love quotes on the painted wooden boards and make quick and lovely wall art signs in just no time! Add the letter stickers on your selected board paint the entire board and then remove the stickers to make the letters visible and gain a lovely quoted wood art sign! Here is how to make it greylustergirl
How to Make Rope Anchor Sign: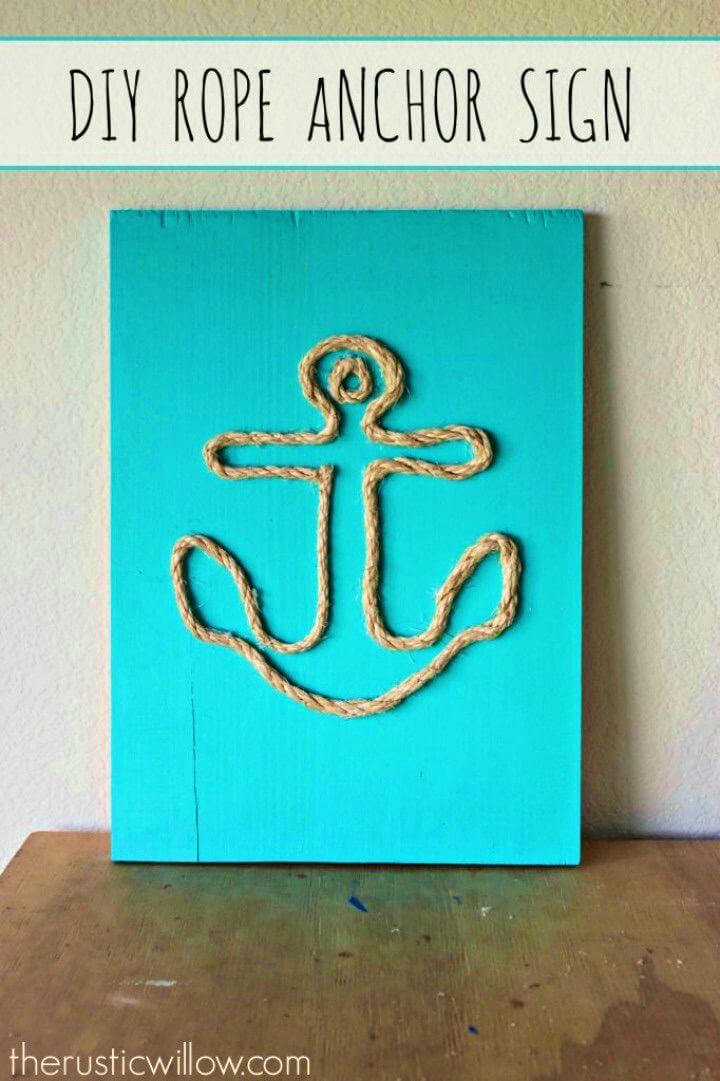 Perfect wall sign for your beach house, a handmade rope anchor wall sign, make it in a few minutes and using common home materials! The idea is to make a rope anchor on a painted wood board, and you can use an anchor template for it! Stick the rope in place using glue, and here you go! therusticwillow
Make Stenciled "But First, Coffee" Sign: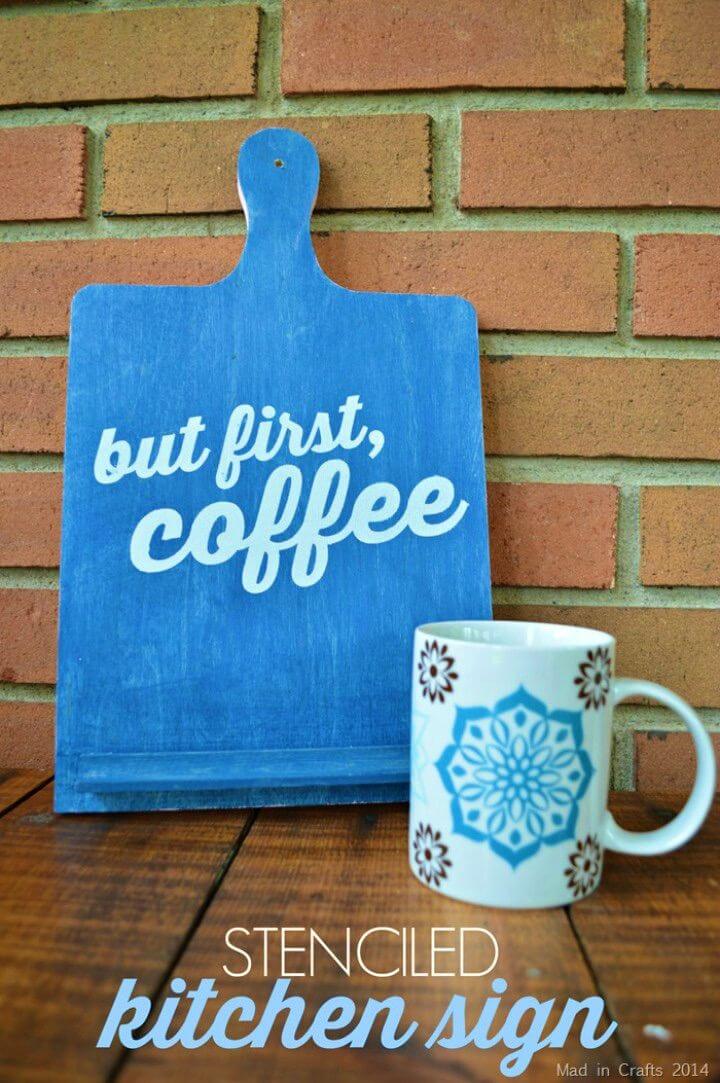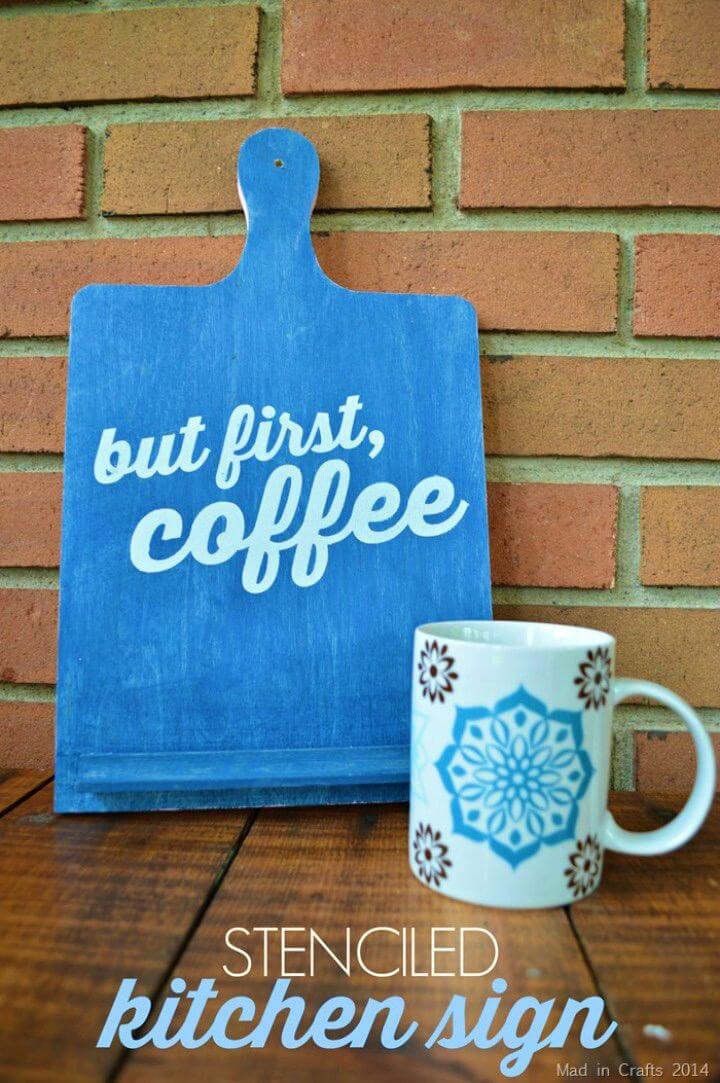 If you have some spare wood cutting boards, then it will not take much time to turn into stimulating pieces of wall art! Grab a wood cutting board and then stencil custom letters, quotes and art shapes on it and gain a lovely wall art sign out of it! A quick and no-cost plan for making a beautiful wall art! madincrafts
Easy DIY Inspirational Farmhouse Wood Signs: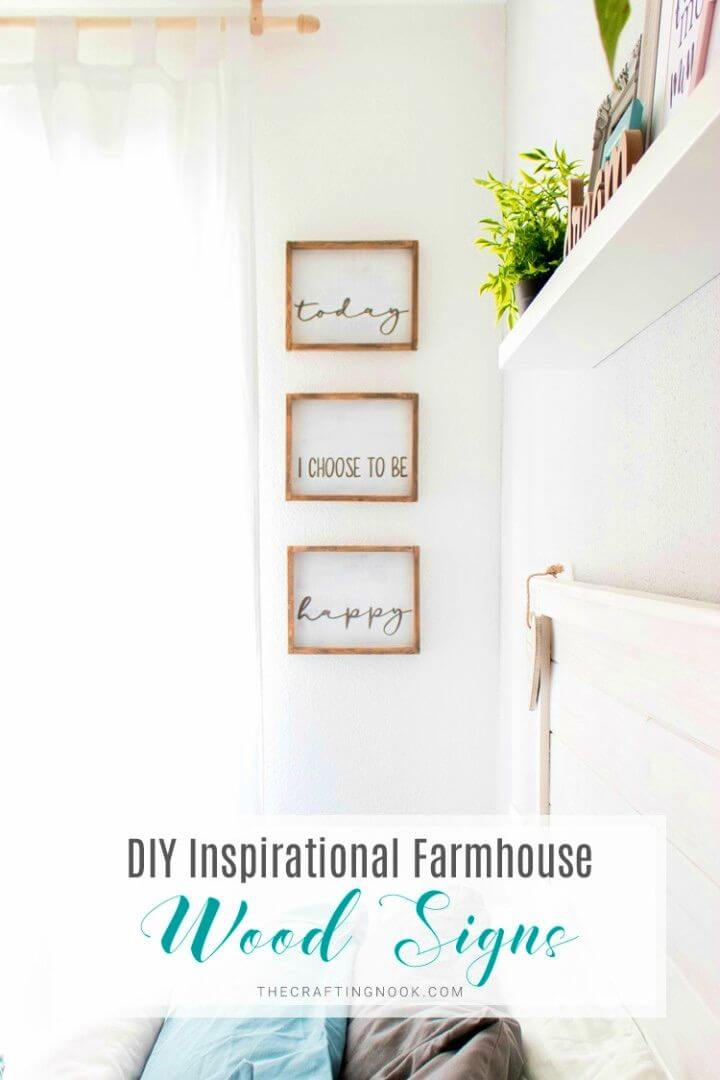 Convey also a custom moral lesson to your home audience by making these inspirational farmhouse wood signs that will not take much time to be your hands! Use the wooden lengths and frame up the plywood squares to make the wood frames and then transfer vinyl letters on them! Perfect wood signs for giving a space a farmhouse touch! thecraftingnook
Easy to Make Gather Here Sign: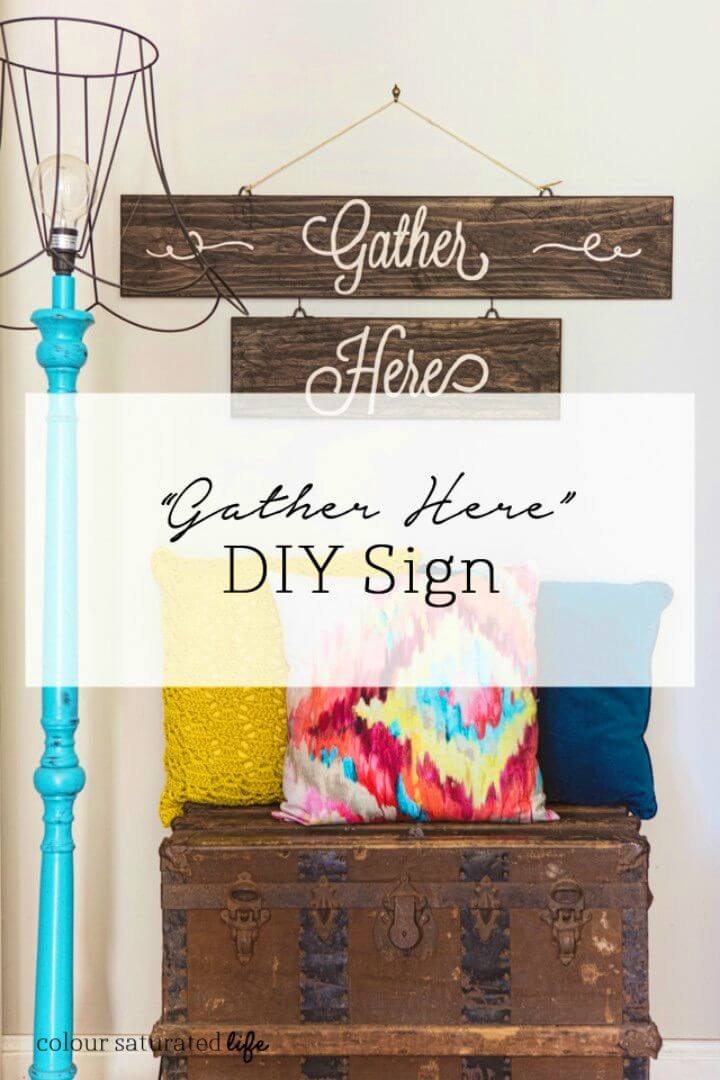 Spruce up space where you are expecting some gatherings of people for wedding or birthday parties with this gather here sign that is super cheap and easy to make! Here two quoted wood plank art signs have been linked together using metal hooks and wire eye straps! Full project details here homemadebycarmona
Make a Galvanized Market Sign: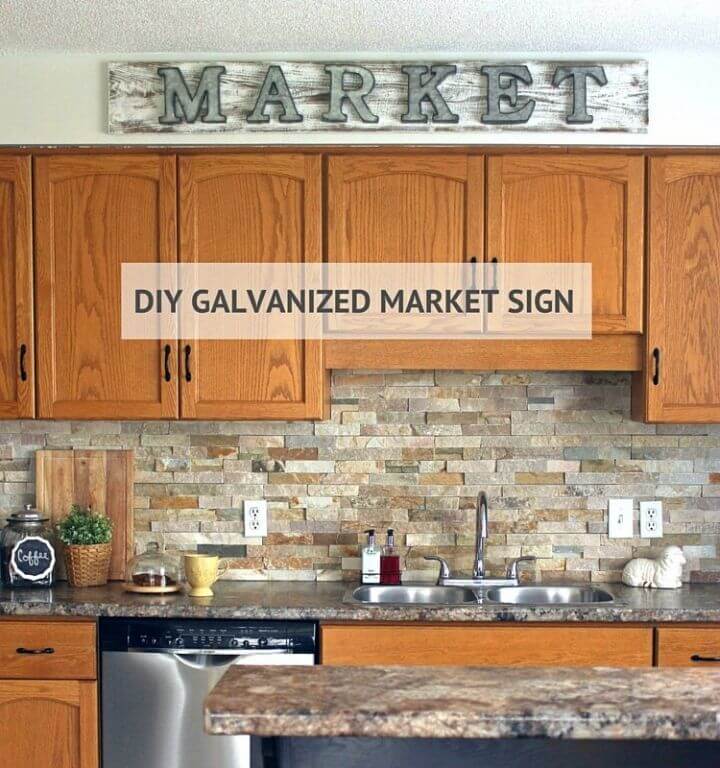 Give also any space a lovely industrial and rustic touch by hanging this galvanized market sign there that is quite simple and easy to make! Grab a piece of wood, give it a base paint coat and then glue the galvanized metal letters on it making a custom quote, word or name letter and you are done! Details here littledekonings
Quick DIY Distressed Wood Welcome Sign: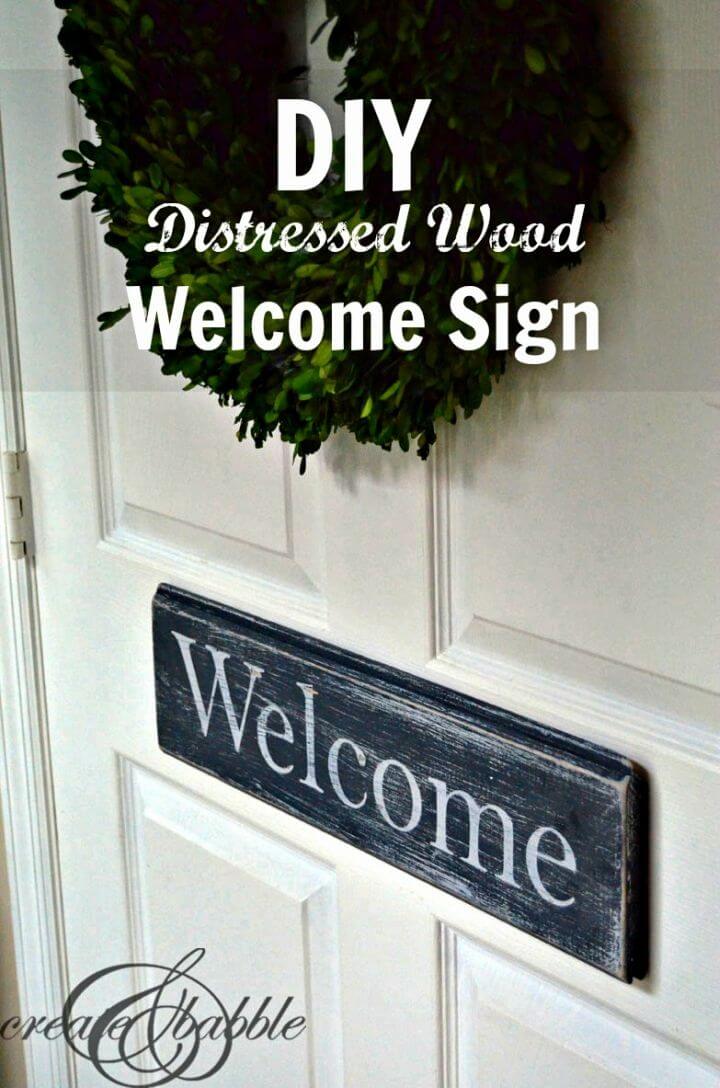 Make also this another lovely distressed wall art sign using the vinyl letters that you can easily make using a Cricut machine! Get a wood plank, give it a white paint base coat, add vinyl lettering and then give it a coat of black paint remove the vinyl letters to reveal the white letter art! How-to tutorial here createandbabble
Inexpensive DIY Pallet Wood Sign: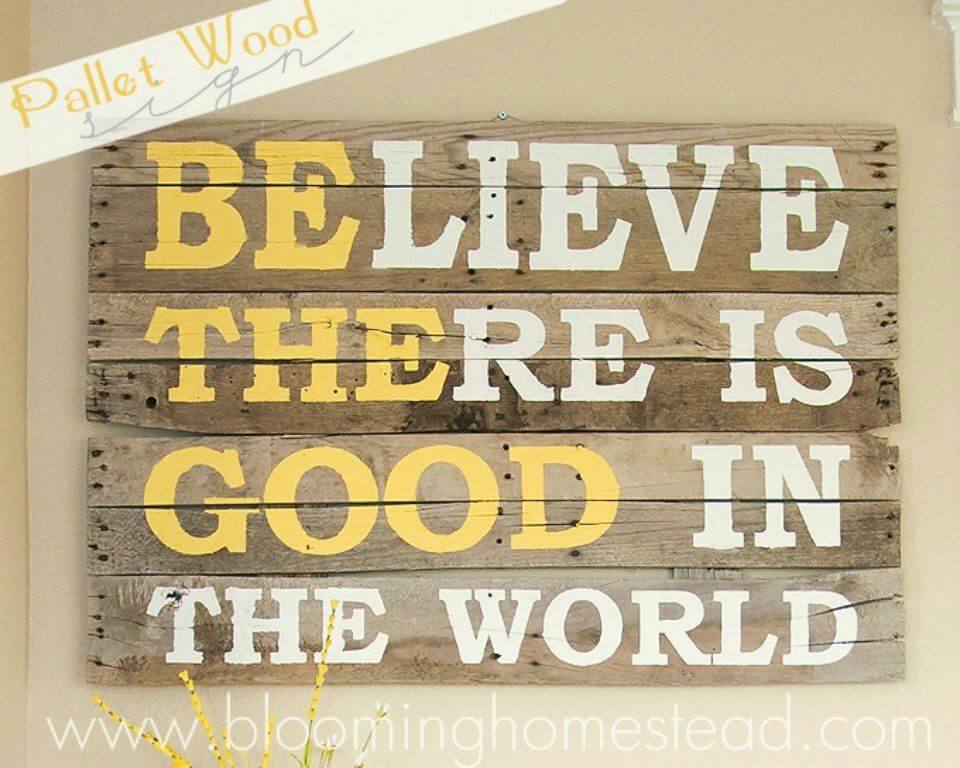 Duplicate this wooden wall art sign that will simply cost you nothing! Put the recycled pallet wood slats together to make a slatted wood board and stencil or paint letters on each plank of the board creating a preciously colorful quoted wall art, will also bring a rustic touch to any of your space! Details here bloominghomestead
Pretty DIY Slatted Summer Sign: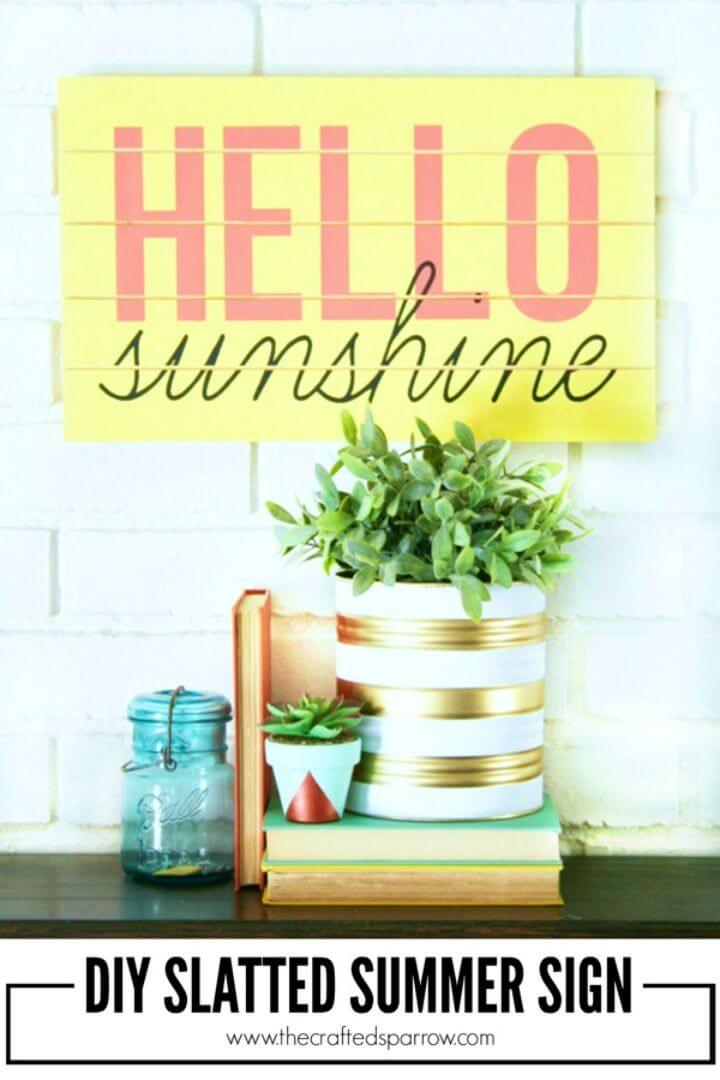 Simply paint the slatted wooden boards and then paint the custom letters and art shapes on them using custom letter art templates or stencils and gain amusing wall art signs without getting a bit expensive! By going in the same manner, you can also easily duplicate this lovely slatted summer sign! Here is how to make it thecraftedsparrow
DIY Home Sweet Home Sign:
For making the lettered or quoted wall art signs like a pro, you can simply use the Cricut machine! Use the machine to cut the letters on vinyl selected in your favorite color, and then transfer them on your stained wooden boards! By going in the same way, you can quickly clone this home sweet home wall art sign! wherethesmileshavebeen
Easy DIY Harry Potter Laundry Sign: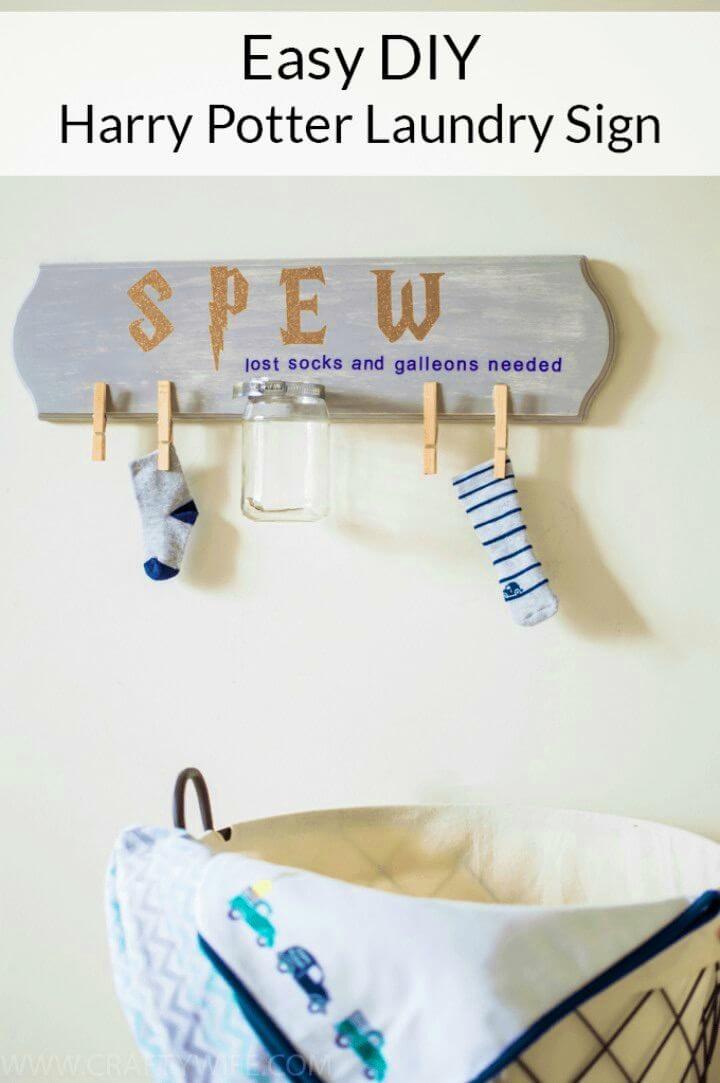 If you deeply in love with the Harry Potter movies series and then also bring the magical vibes to your home by hanging this Harry Potter laundry sign that also comes with clothespins hooks and with a Mason jar accessory holder! Grab wood plaque, paint it and finish with Harry Pottery Style letters! Details here simplymadefun
How to Make "Eat" Sign from Pallets: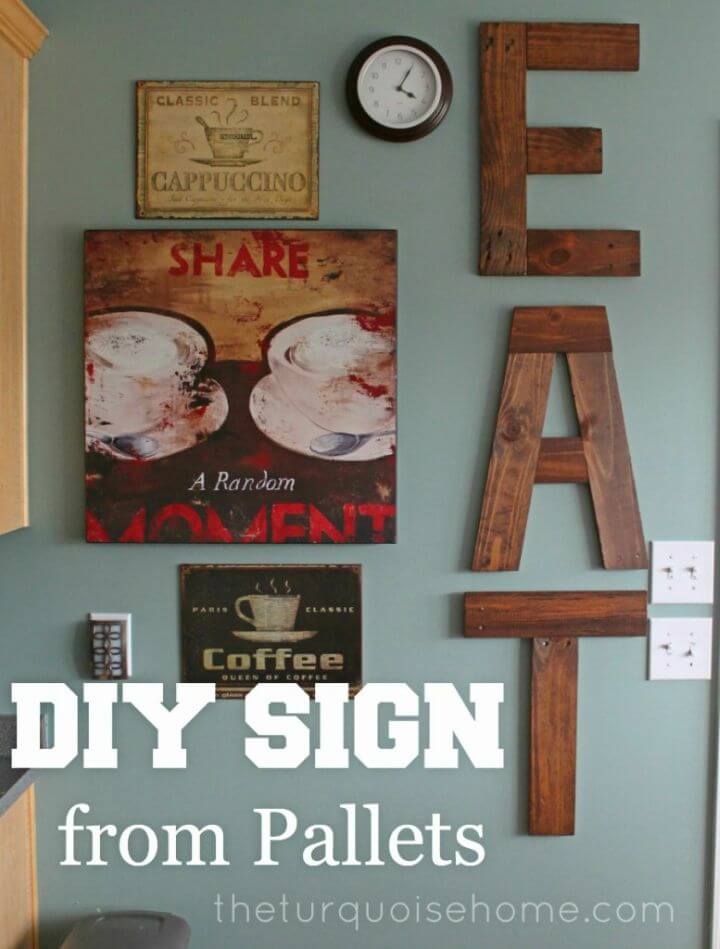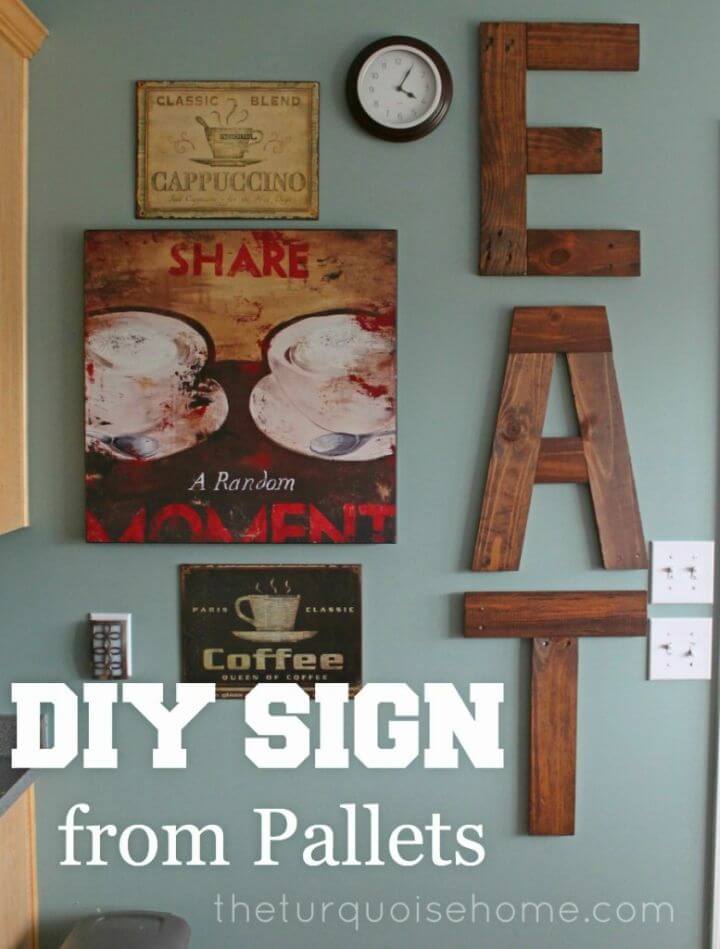 Make this "EAT" wall art sign for free using recycled pallets, and this will help promoting eating among the kids and the whole family! Take the pallets into separated slats, next put the slats together making the "EAT" letters and give them a nice wood finish! Hang on walls using custom hardware hangers, and that's it! theturquoisehome
Make Jute Rope Love Sign: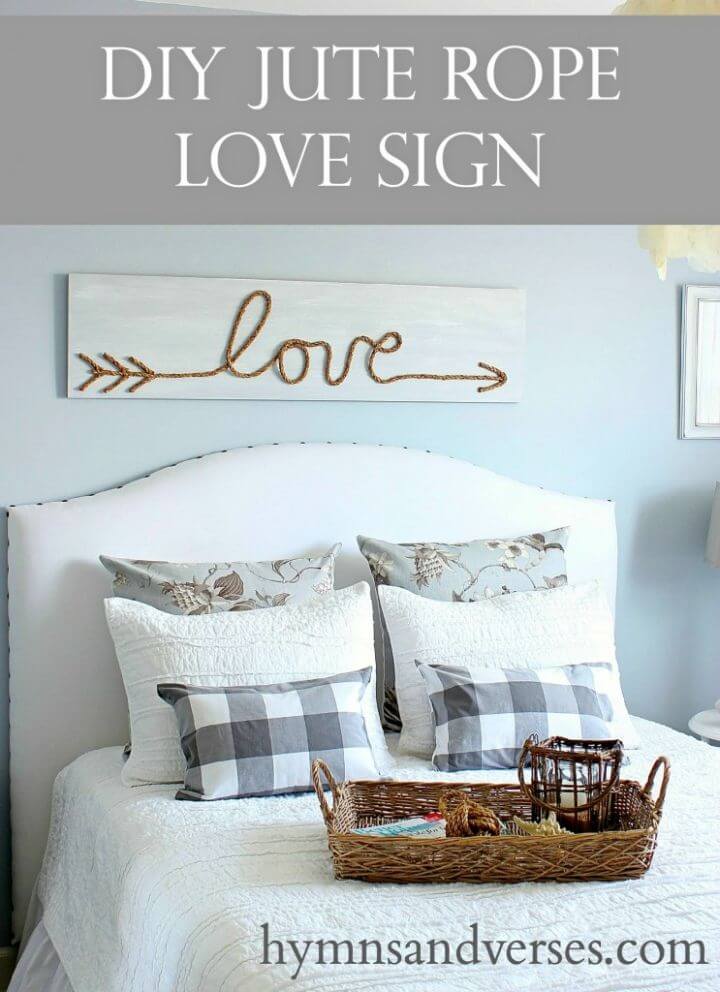 Jute rope is super easy to fold into a custom letter art which you can paste on a painted wooden board to make quick and no-cost wood wall signs! In the same way, this jute rope love sign has been made that will create a love statement in any custom room interior along with giving a rustic touch! hymnsandverses
Easy DIY Hand-painted Pallet Signs: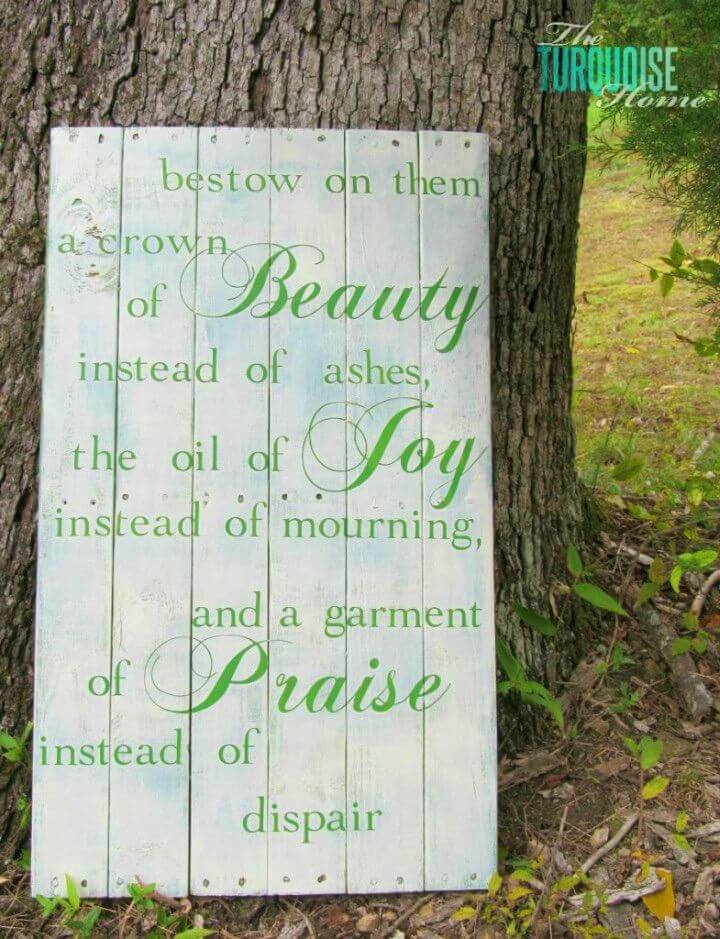 Another amazing handmade wood art sign that will bring instant decorative vibes to any indoor or outdoor space! Use the Cricut machine again to cut out the vinyl letter quotes and then use them as masking letters to paint art on the wooden letters! Here the wood sign is made of pallet wood planks! theturquoisehome
How to Make Rope Letters: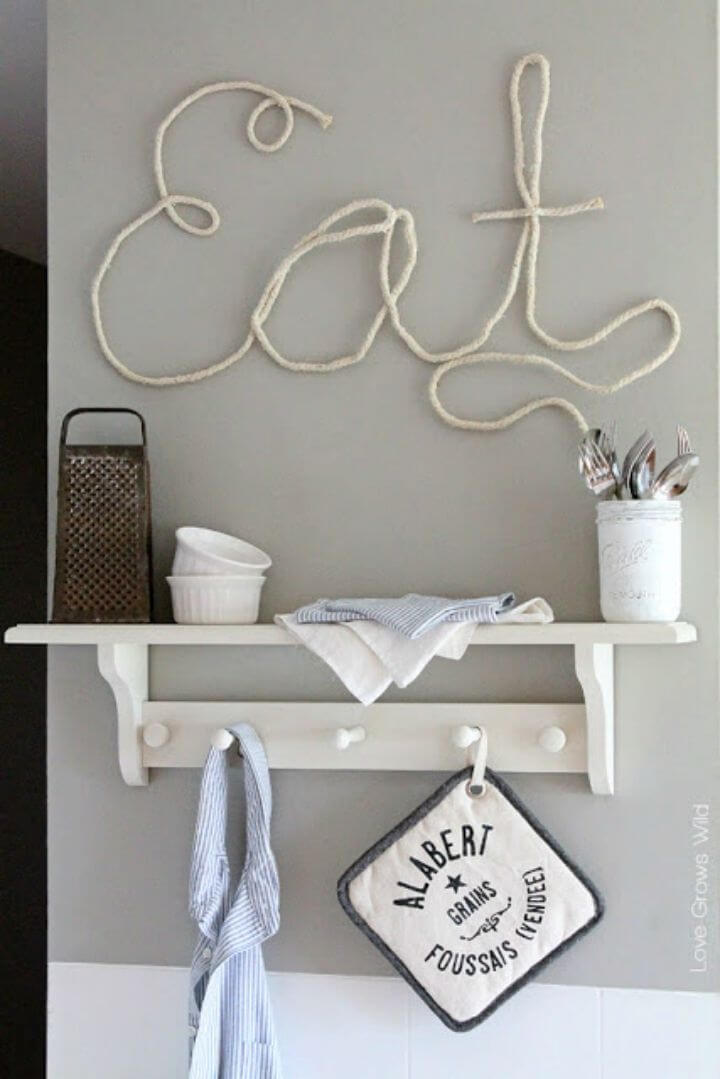 The rope is super easy to mold into custom word or letters, but it will instantly lose the shape if you leave it loose! Dip the rope in the cornstarch solutions then make the rope letters and let them dry for some time so they will dry well hard in that letter art shape! Hang or tape them on the wall to make a quick rustic rope art sign! lovegrowswild
DIY Floral and Wood Welcome Sign: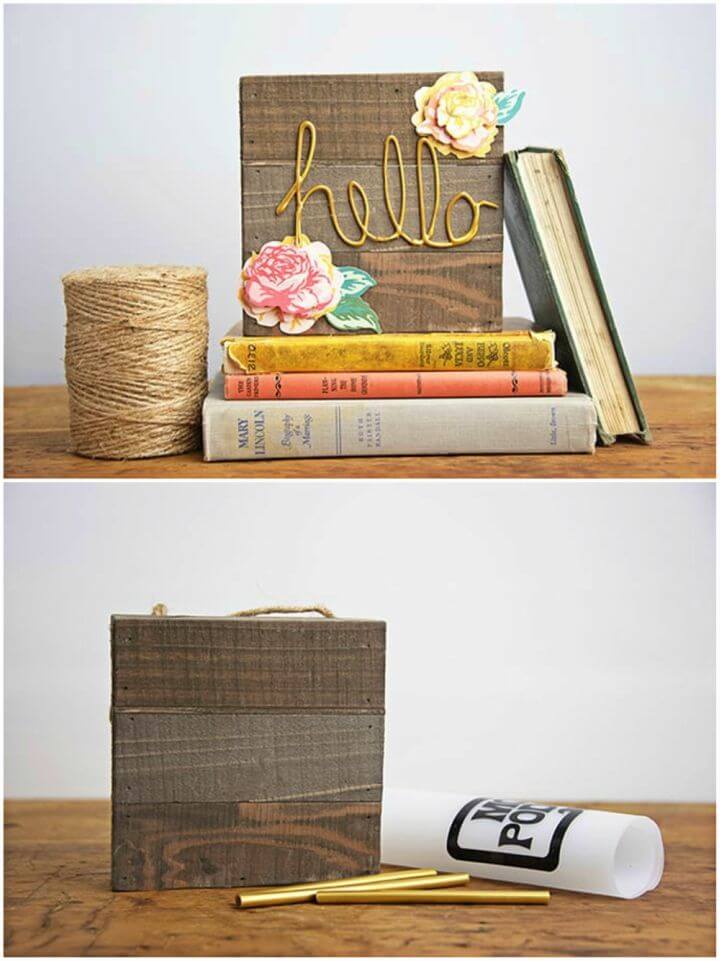 Here is a unique way to make the letter art wood wall signs at home in no time! Make use of gold mod-podge melt sticks and then make use of glue gun to instantly make beautiful gold letters out of them, once they dry well, glue them on a wood board to get a cool gold letter art sign! modpodgerocksblog
How to Make Spring Party Sign: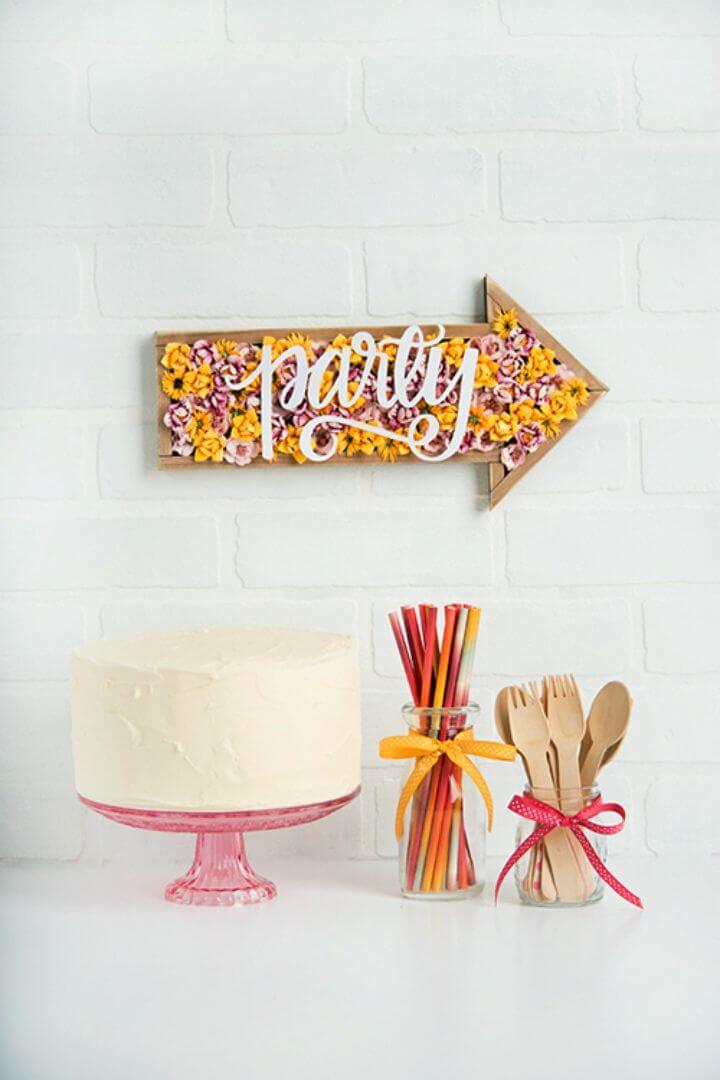 Make also quickly the spring party signs using the wood, custom wooden letters and spring flowers! Make an arrow shape wood box, stuff it up with the colorful spring flowers and then finish it up with the wooden letter art that you can glue at the top of it! It will also show give the direction to your guests! natalme
Easy to Make Distressed Signs: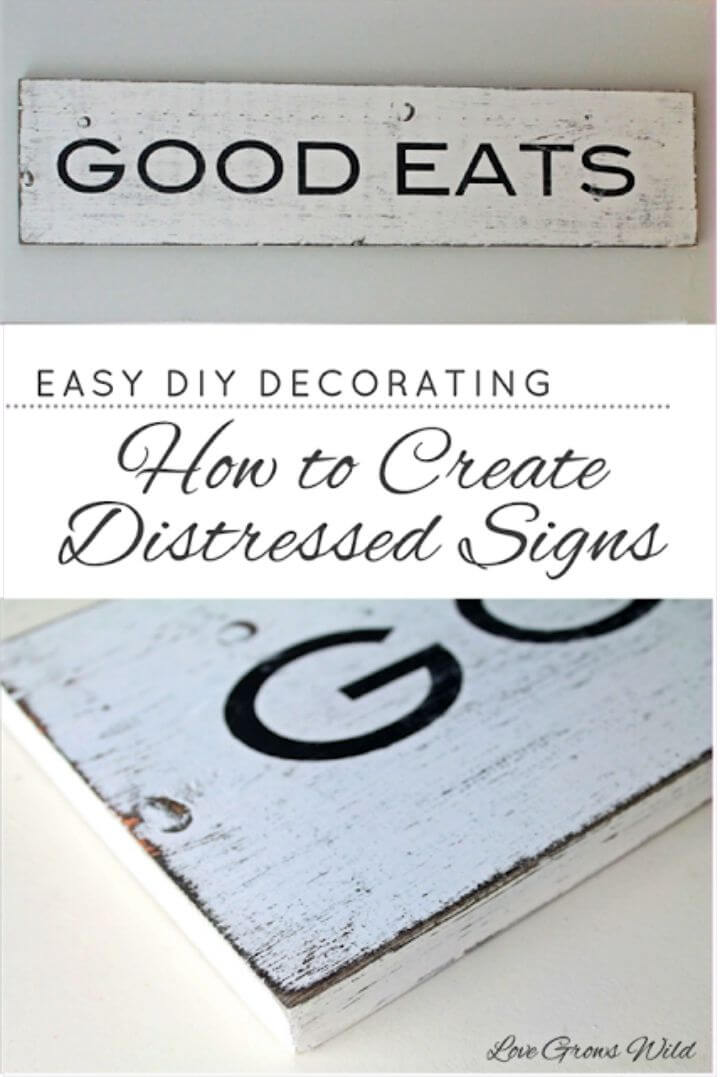 Use also distressing techniques to make rustic and distressed wall art signs at home! Grab a wood plank, give it a base paint coat and stencil custom letters on it! In the end, distress it using the distressing techniques and gain a lovely distressed wall art sign! Stare at the given sample that is to be loved by all! lovegrowswild
How to Make Laundry Sign: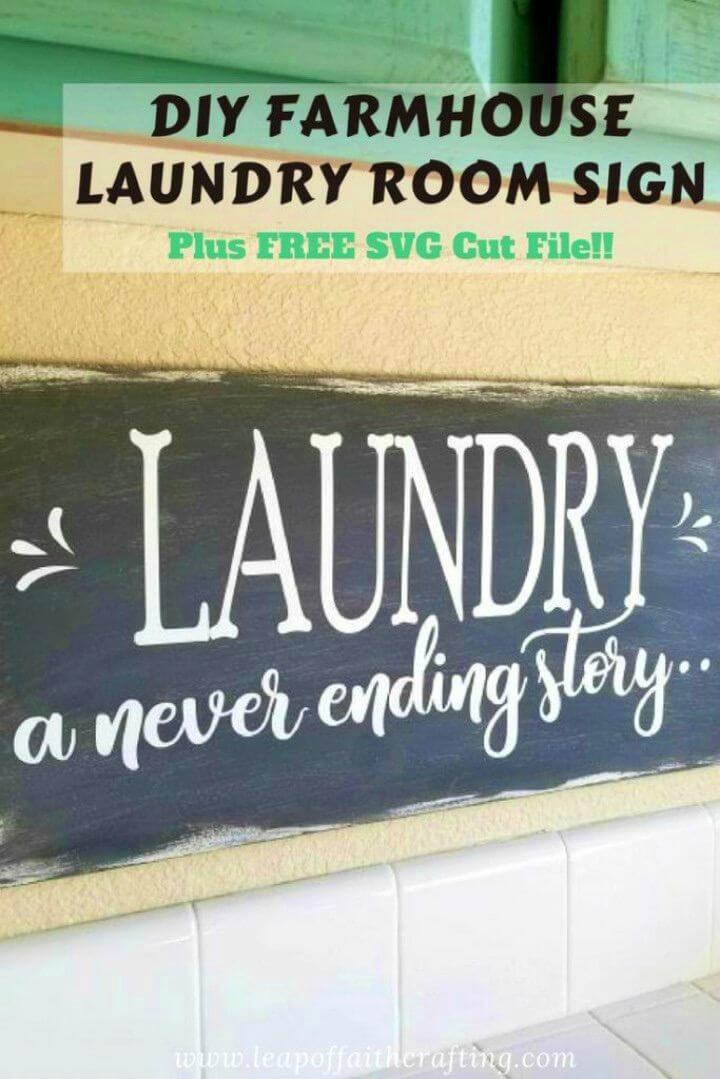 Also, bring a great decorative character to your laundry room making this quick laundry sign that will be super easy to make using even a single wood plank! Use Cricut machine to cut the vinyl letters and laundry quotes and then glue them on the wood and next paint the plank! Peel off the letters to make the sign! leapoffaithcrafting
Simple DIY Large Wood Sign: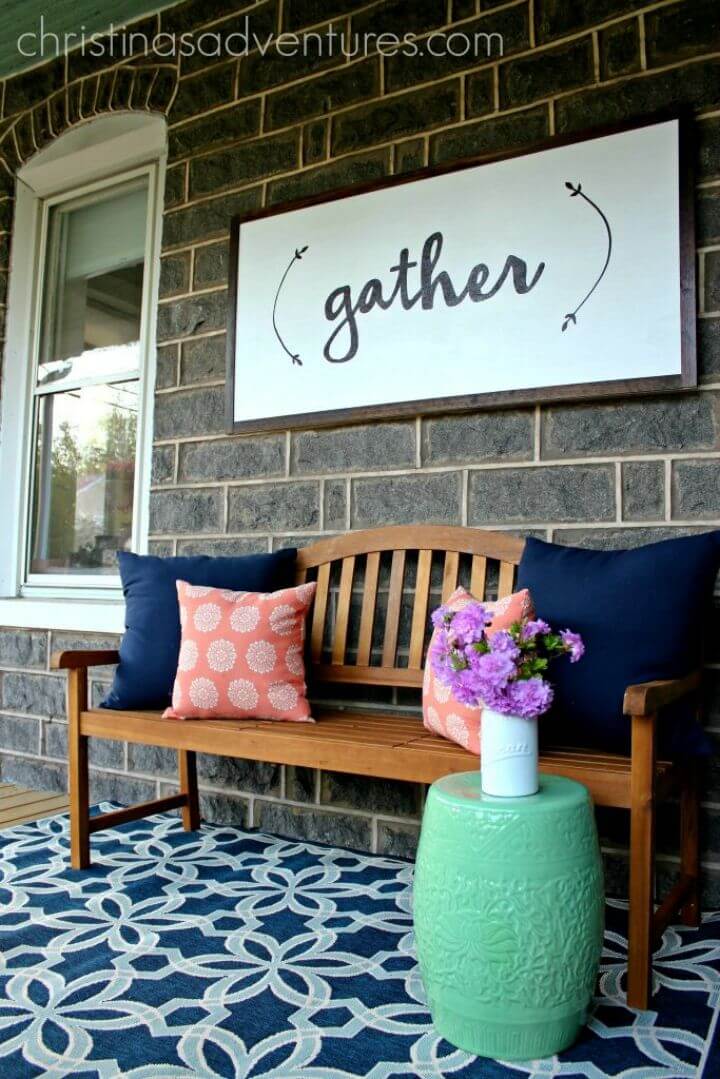 Spruce up your front porch area by making the large wall art sign that will create a big focal point for sure! Peek into design details of this given large wood sign that will be a glam addition to any wall and as it is beautiful as it is easy to make! Grab a plywood board, give a primer coat and then trace and paint the letters on it and frame it up at the end! christinasadventures
Make Industrial Farmhouse Bathroom Sign: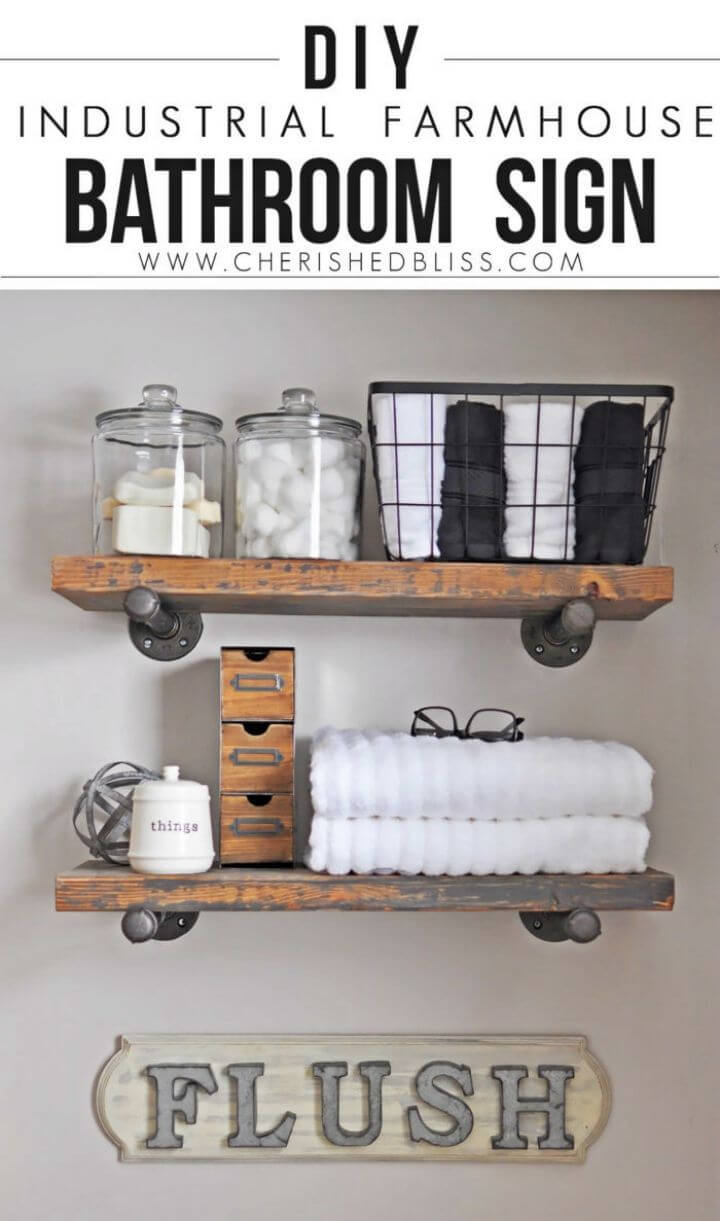 Bring also an industrial rustic touch to your bathroom by adding this very special handmade wall art sign that is made of a wood plaque that has been painted and finish with galvanized metal letters! Here you can also paint the wood plaque in the colors you like so it will fit best to your bathroom decors! cherishedbliss
DIY Rustic Wood Sign: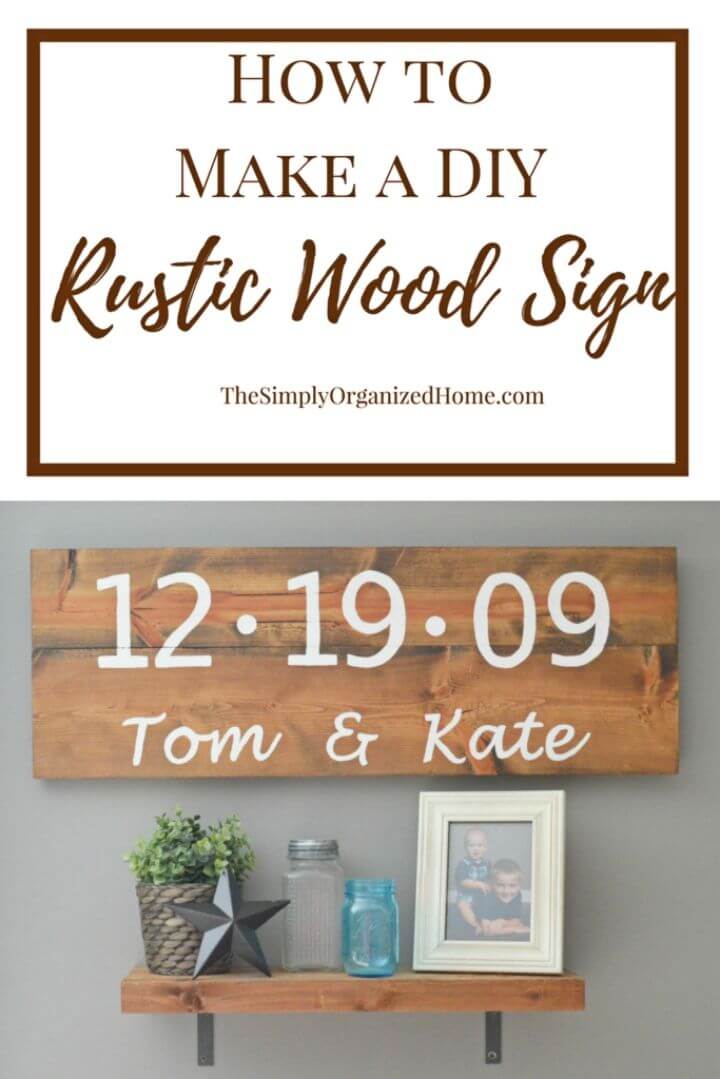 A simple and beautiful rustic wood sign that you can clone to give any space a glam touch of wood and it would not take that too long to be ready! Grab a piece of wood then write or paint custom letters or numbers as per demands of your art and then hang it to a decided location on your wall! thesimplyorganizedhome
How to Make Foam Cactus Sign: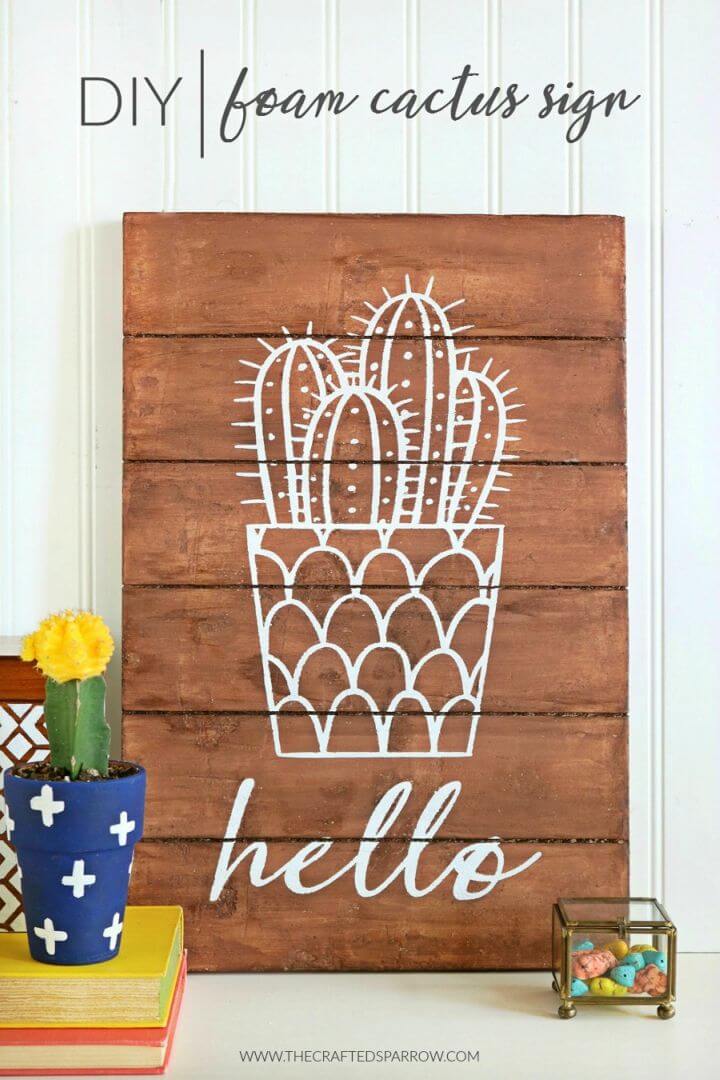 Use stencils, your hands, and creative brain, you can easily transfer your favorite art, symbols, and shapes on a wooden board and hence can make lovely wood wall art signs in no time! Grace up your walls with this beautiful foam cactus sign that is sure to go eye-catching and would be a pretty rustic addition to any wall! thecraftedsparrow
Make Painted Wood Signs Without Using Stencils: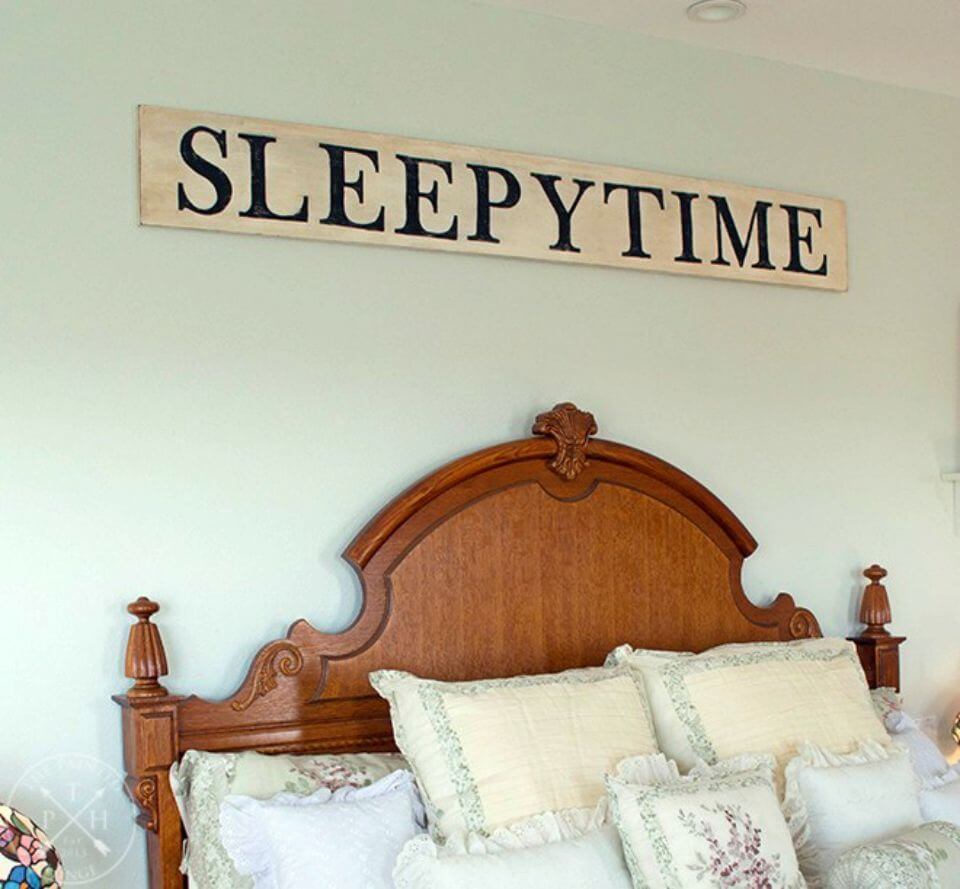 Check out here the hack that will provide you the easiest way ever to make the letter art signs! No need to use the letter stencils here, simply use the print out letter templates and do a little tracing and then easily paint the letter art the wood planks like a pro and gain lovely handmade wood wall art signs! thepaintedhinge