Food is therapeutic! What you eat is going to have a lot of effect on your mood and mental health. That's for a fact. If you are a kitchen person and love cooking beyond anything, we bet that keeping recipes in the handwritten form must be your thing then. With the increased use of tablets, laptops, and smartphones, everything has gone digital. But, for a conventional cook and food lover, keeping the recipe collection, the old school way is still here. We have rounded up 15 amazing DIY recipe box ideas, which comes really handy in keeping your food recipe collection safe, and sound.
Our collection of these DIY wooden recipe box ideas is going to amuse you, big time! And inspire you SO much that you will be forced to jot down your digital recipes too, if any, of course. All these DIY recipe boxes are simple and easy to make. You, Will, add a personal statement to your recipe collection, and you can easily label them too. Instead of maintaining and rambling across the pages of a heavy notebook to find what to cook today. With these DIY recipe boxes, you can easily systematically explore through your collection. And these are very trendy and attractive recipe box ideas.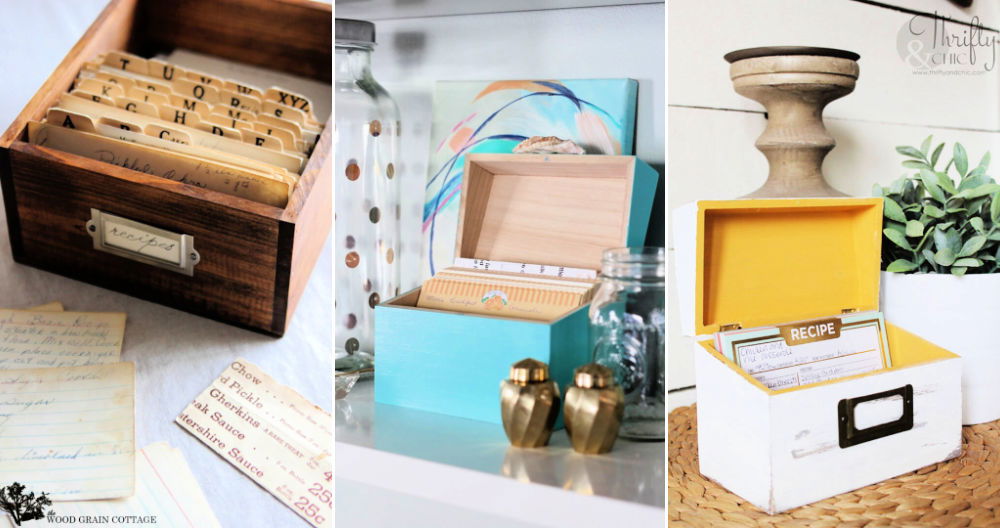 So, let's gather around your favorite recipes and put them in a fancy and trendy DIY recipe box to make them a hit already! Having said that, let's dive in.
1. DIY Wooden Recipe Box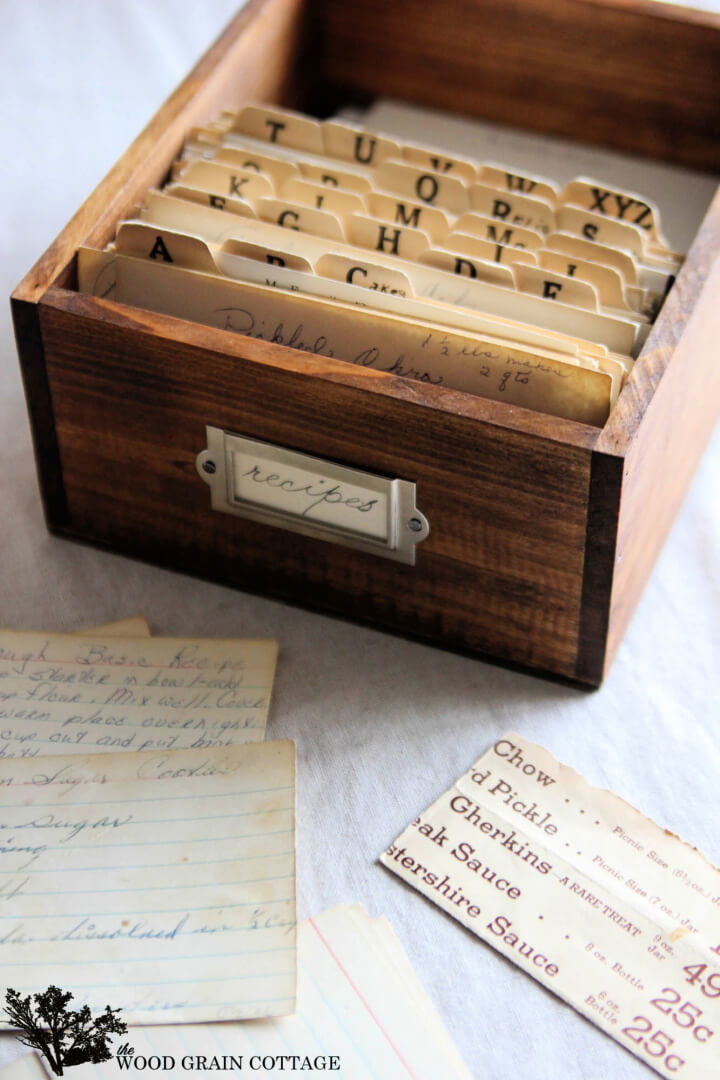 If you are a girl filled with all the homemaking love and passion, this wooden recipe box is going to steal your heart. Wooden boxes have a way of making a style statement and a class out of everything! Please put your favorite recipes in it by seeing your way through the tutorial. thewoodgrain
2. DIY Recipe Box from a Shoebox
Redo your old shoebox into this stately and minimalistic recipe box! Use some wrapping sheets to cover the surface and add up funky and convincing labels on the box to make it look classy. Get full details in the tutorial. sweetteaand
3. How to Build a Recipe Box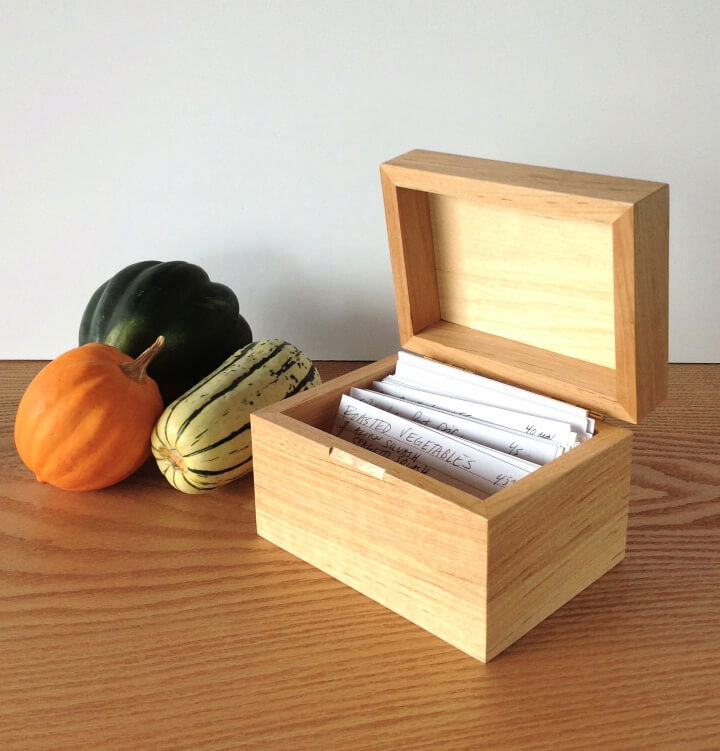 A minimalistic and treasure toned wooden recipe box can add a classy vibe to your décor. It will be like bringing back the pre-internet culinary gems tour house, real-time. Get over to the tutorial now for crafting this beautiful piece of inspiration. wwgoa
4. Recipe Box and Printable Recipe Cards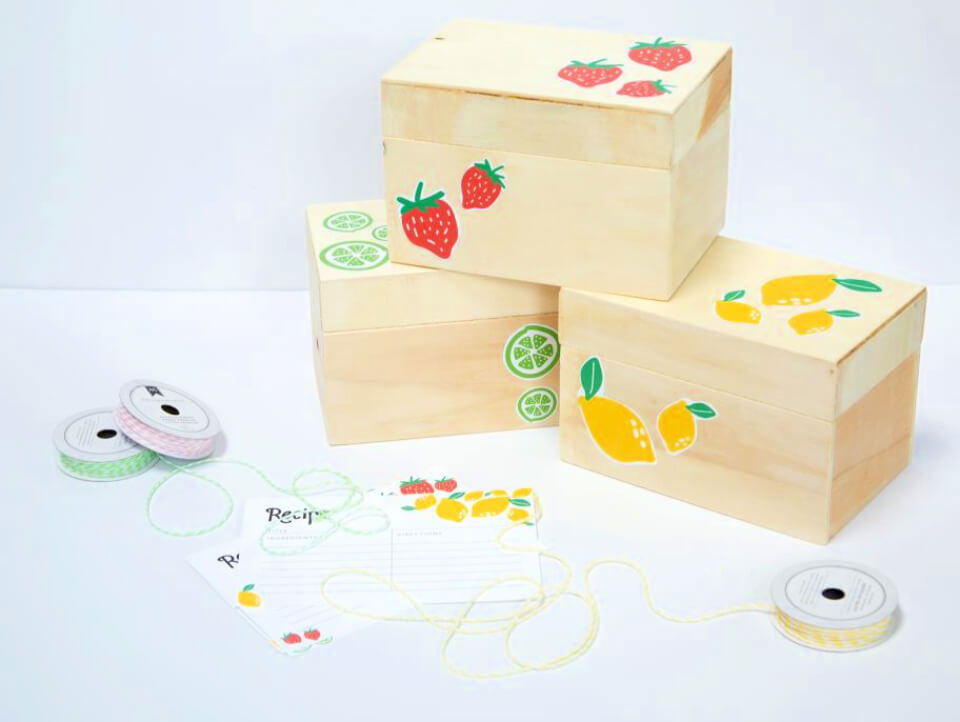 Take up the recipe treasured box game to another level. With this tutorial, you can transform the wooden box into this food, love-filled box laced with tags. The tutorial will walk you through the step by step guide with a FREE printable tag too. Check now! orientaltrading
5. DIY Recipe Box – Gift for Mom's Day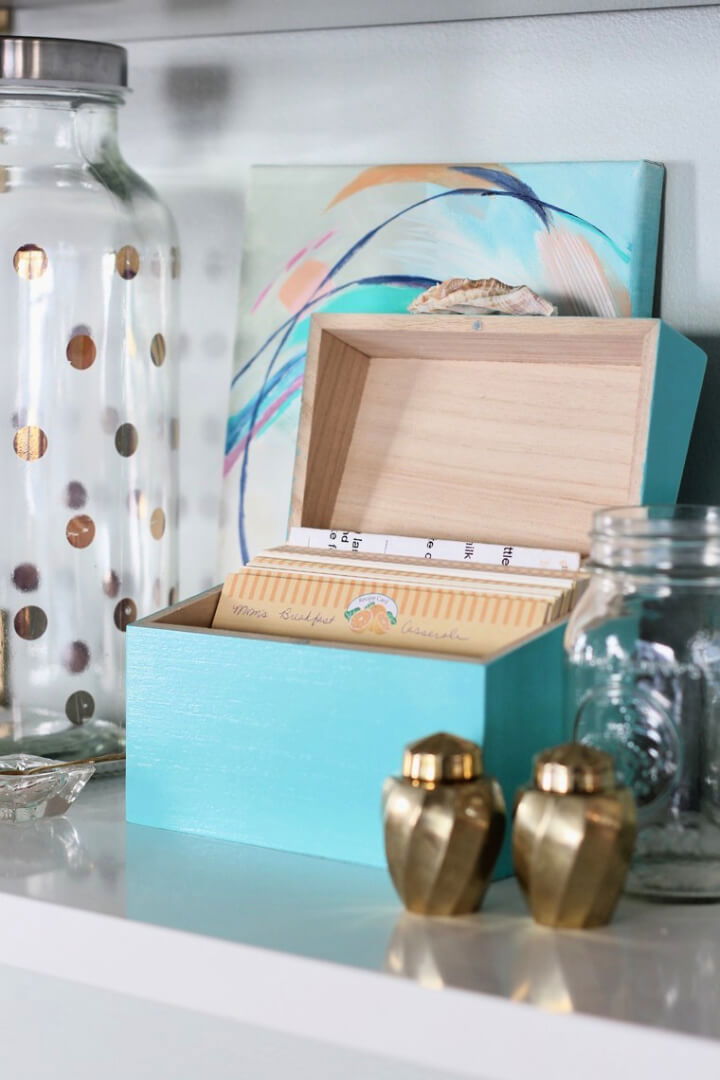 Mom's love is cooking and keeps everyone happily satisfied in the house. Happy tummies mean happy people. Gift your mother this adorable treasure toned wooden recipe box. Another way of appreciating her collection of food! Check details in the tutorial. simplestylings
6. Vintage Recipe Box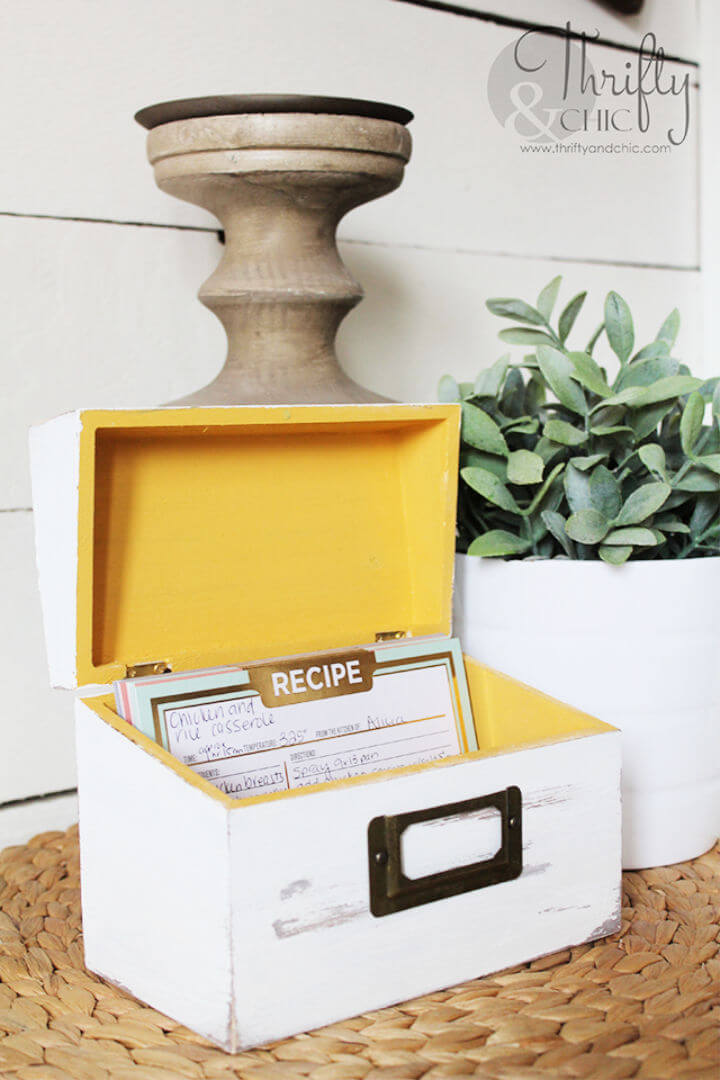 Give an ordinary box a totally vintage and old classy with this tutorial. It will end up making the box a perfect heritage material. You can store your favorite food recipes in the wood recipe box and make a good deal about it in the family! Check details in the tutorial. thriftyandchic
7. Monogrammed Wooden Recipe Box
If you love cooking or baking and you have this urge to make them your own expert statement, this Monogrammed recipe box will be your thing. A perfect way to feel entitled to this beauty. Check details in the tutorial. uncommondesign
8. Craft a Luxe Leather Recipe Box
Make this classy and trendy leather recipe box. It is insanely easy to make. You will need an unstained wooden box, cutting mat, leather, stain, industrial-strength glue, and a few other things to design this beauty. Check details in the tutorial. hgtv
9. Personalized Recipe Box + Recipe Cards
This tutorial will elaborate on how you can make a total style statement out your recipe collection. Make your own personalized and catchy recipe cards for the win! Put them inside this stunning piece of the recipe box. Get details in the tutorial. craftivitydesigns
10. Mod Podge Recipe Box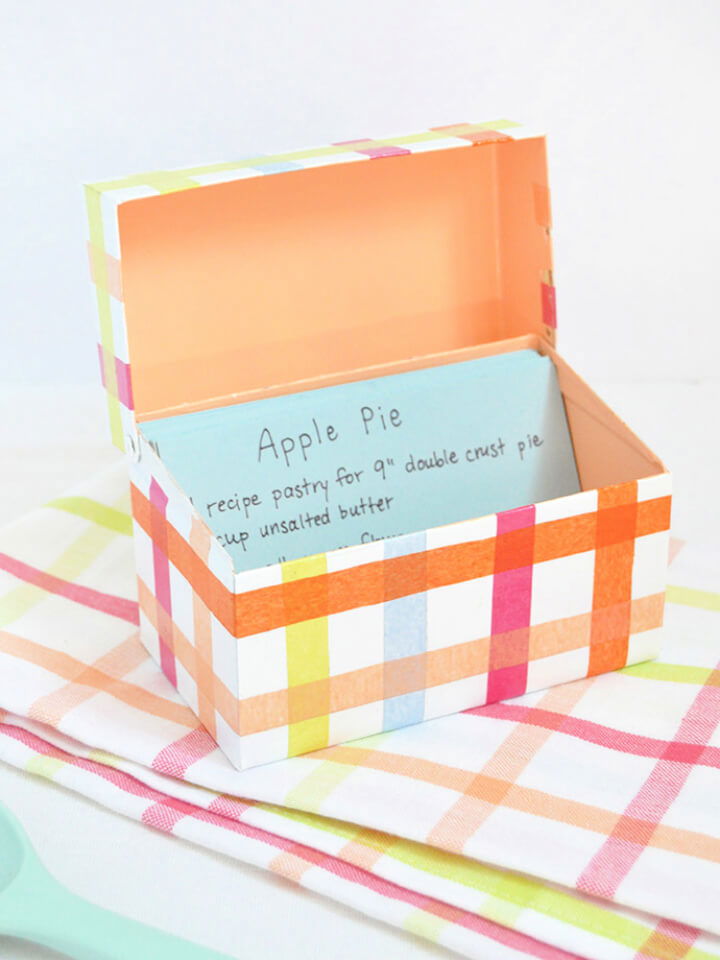 Please keep it simple yet classy! This tutorial is going to share a totally appealing and soothing DIY recipe box idea. Use some mod podge on some pleasantly printed tea towels to make this striking mod podge recipe box! Details in the tutorial. handmadechar
11. Mother's Day Recipe Box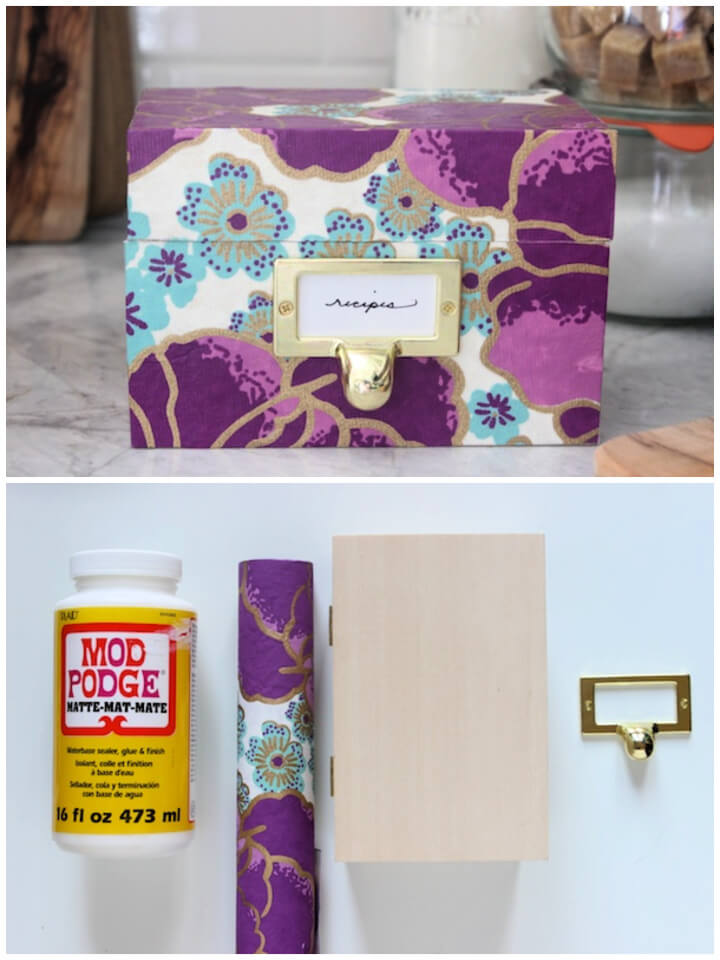 This charming recipe box can be a perfect gift for your mother this mother's day. All you need to make this beautiful box is unfinished wood, pencil, scissors, paintbrush, glue, and a few other craft supplies. Get full details in the tutorial. ohsobeautiful
12. Color-block Recipe Box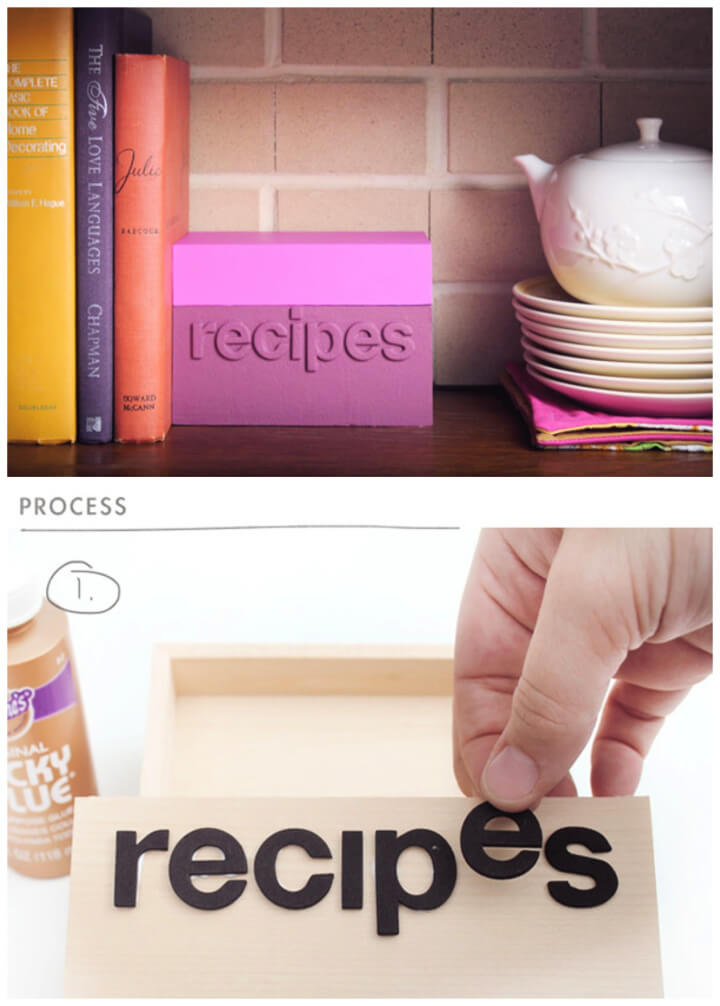 This stunning color block recipe box can flawlessly fit within your décor. And even add an ultimately classy look to it! The tree dimensional letter stickers will do their magic! Get details in the tutorial now. You are going to love this idea. makingnicein
13. Vintage Tin Recipe Box
This DIY vintage tin recipe box can perfectly keep your recipes all in one place by adding an uber classy touch to them. The tutorial will walk you through the step by step guide for making this exquisite piece of art. Check the tutorial now. happytogether
14. Recipe Box for a Hostess Gift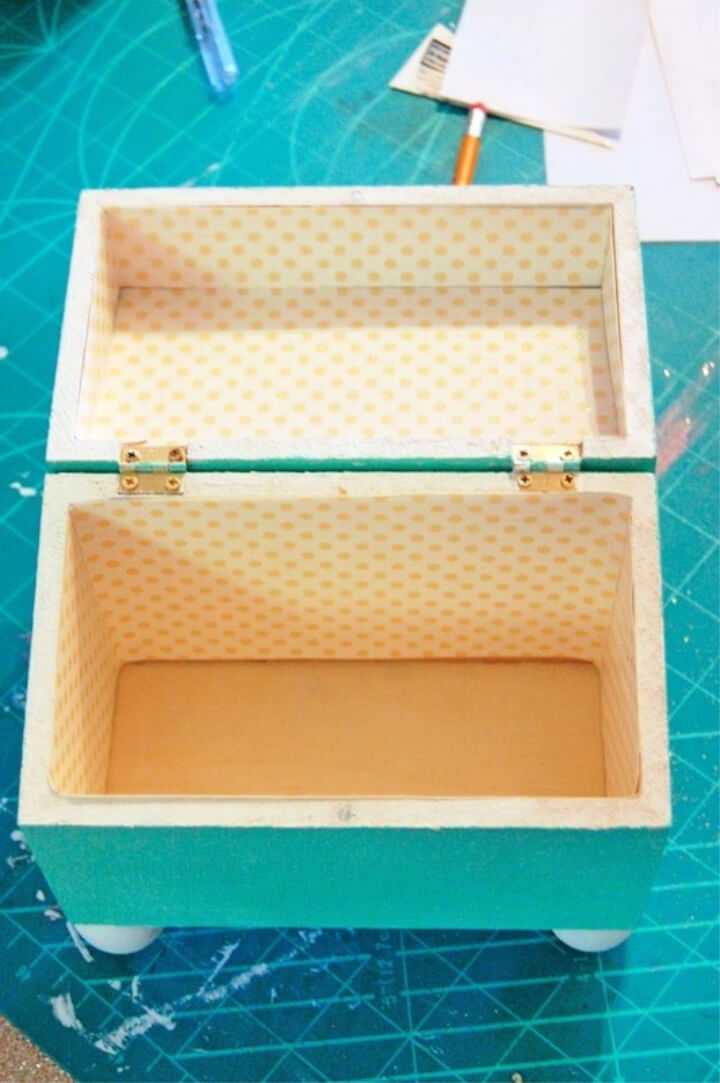 Do people love your cooking? Here's a beautiful and unique idea for a Christmas gift or house warming. Share your most-loved recipes with your favorite girlfriend in this DIY recipe box. Make it customized, and she is going to love it absolutely. cutoutandkeep
15. Recipe Box Makeover With Wallpaper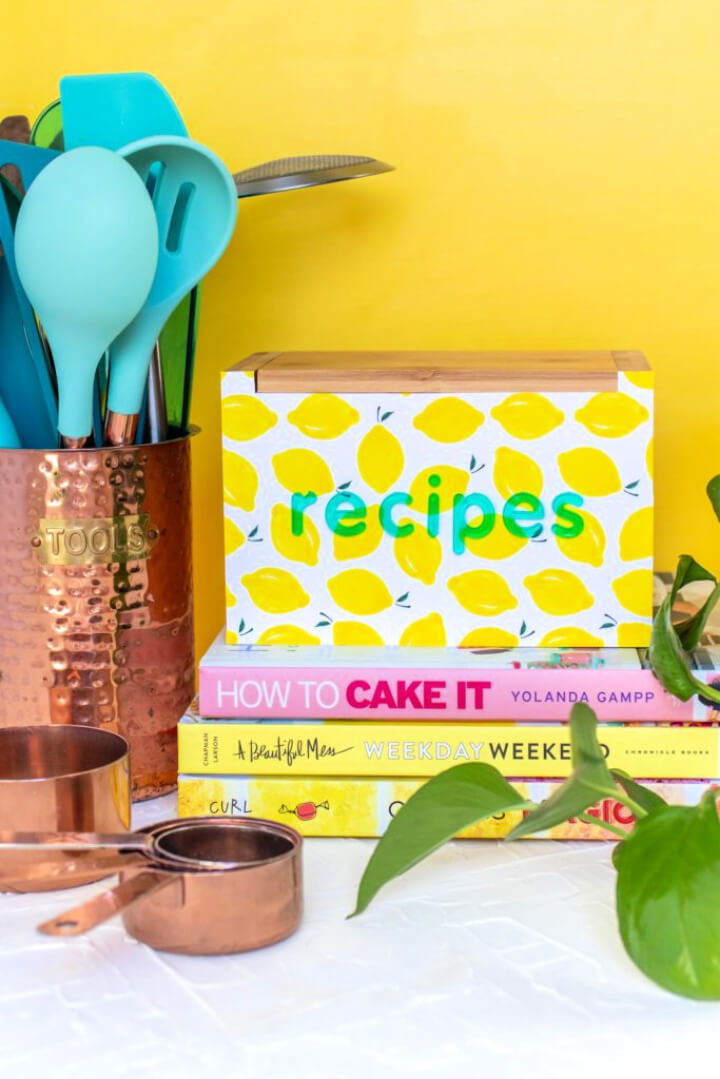 This exciting DIY recipe box tutorial is about putting up a kitchen-ish wallpaper to give it an appealing look. Keep all of your recipes in all place and readily accessible. Check the tutorial mow for details and step by step guide. clubcrafted