If you want to build an l shaped desk that fits your workspace perfectly, these 8 free diy l shaped desk plans are the way to go. With just a few materials and tools, you can easily create a modern l shaped desk without breaking the bank. For those looking for ideas on how to do it yourself, plenty of free diy l shaped desk plans are available below. From simple designs with plenty of storage space to more complex builds with intricate details, there is something for everyone. Whether you're a craft novice or an experienced builder, these free diy l shaped desk plans give you step-by-step instructions on how to build your own homemade l shaped desks.
Do you work from home or need to establish a home office? Sorting out the perfect desk for your home office? This will depend on the type of work you will do in your office and your current home decor theme! Star getting productive outputs from your home office with these 8 DIY L shaped desk plans for the best corner fit! Along with unbeatable stylish designs and stability, they also come with cheap price tags!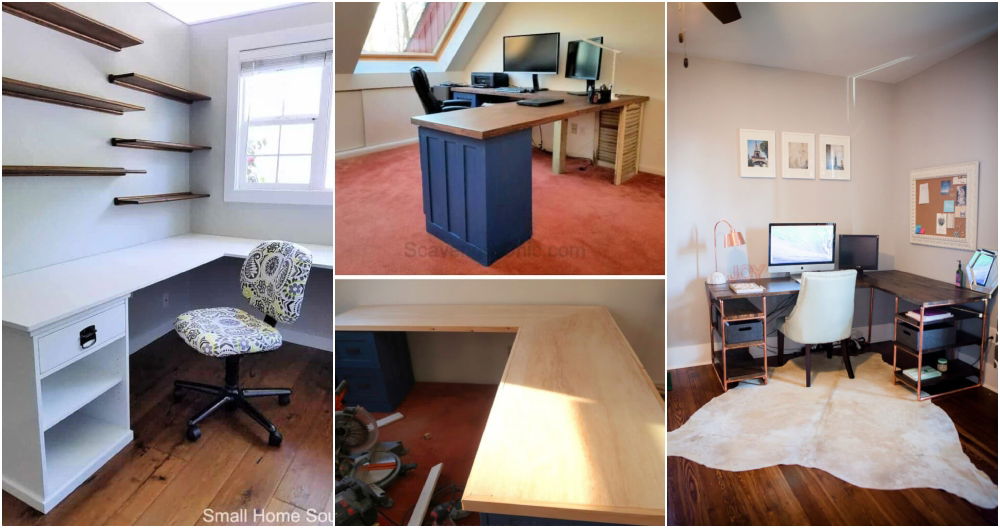 Free DIY L Shaped Desk Plans
Whether you need to organize your home office or make it look bigger, these desks will be the ultimate solution to your home office problems! Plush will provide ample storage space in the form of built-in cubbies, shelves, drawers, and compartments!
Hence, providing you with so many different options to store your office concerns nicely and securely! Hiring furniture builders for your home office space settings will be a matter of investing good fortune! Skip it, be your own boss, build a custom model of a desk with these ideas and save a lot of fortune to spend elsewhere!
Opt for the metallic bases for added stability in the design! Head over to copper pipes, recycled metal pipes and modern metallic legs in this case! Building a desk for yourself will help you build any dimensions fitting best to the space! The paint will be a great option to match your completed DIY L shape desk plan with your room or home decor!
1. How to Build a L Shaped Double X Desk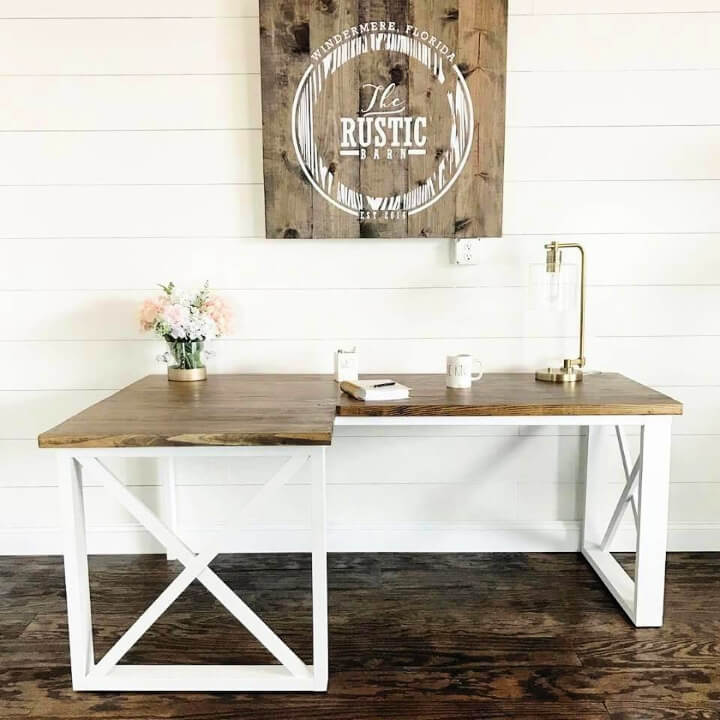 Working from home? You will definitely like this L-shaped desk, gains a unique design due to nicely built X-shape sides! Milky white base and dark choco surfaces create a great appeal of the entire desk! A double L-shape desk, best for your home office built in a corner space! Free plans and tutorial here handmade-haven
2. DIY L Shaped Desk
Spruce up your home office space with this divine chic white L-shape desk built with smart storage options also! It will fit very best to a corner space! The ideal layout of the computer desk for multitasking! It is entirely made of hands, and plywood will be a great choice to duplicate this model! Details here girljustdiy
3. Homemade Copper Pipe Computer Desk
Unbeatable stability and style will be guaranteed if you go with this computer desk! It is a genius combo of metal and wood and will surely wow all the audience! Put together the metal copper pipes with fittings to build base and primary skeleton! Next, add the solid wood surfaces and shelving levels! Full how-to instructions here amandamay
4. Modern DIY L Shaped Desk
Feel like a boss by sitting in the center of this U-shape desk, will provide workspace to multiple users to work at the same time! What will you wow you the most is its handmade design! It is like a big U-shape cubby that can quickly hold things over the built-in shelves or in the storage compartments! How-to details here uncookiecutter
5. Making a Wooden L-shaped Computer Desk:
Choose this L-shaped desk for your modern minimalist interiors, will be extra stable due to butcher block desktop! Stack the wood slats and glue them in place nicely for making solid L-shape top of this desk and next install the super stable wooden legs! Complete plans and instructions here imgur
6. DIY File Cabinet L Shaped Desk:
An ideal desk should be stable, stylish, and storage-friendly, and this L-shape desk has all these features! It stands on file cabinet legs, and corner leg is made of two recycled shutters! To bring stability to this large desk design, the solid 4x4s legs and wooden dowel legs can also be seen in the design! Use solid wood shelving boards to build desk countertop! Free plans and tutorial here scavengerchic
7. Building a L Shaped Office Desk Using 2x4s: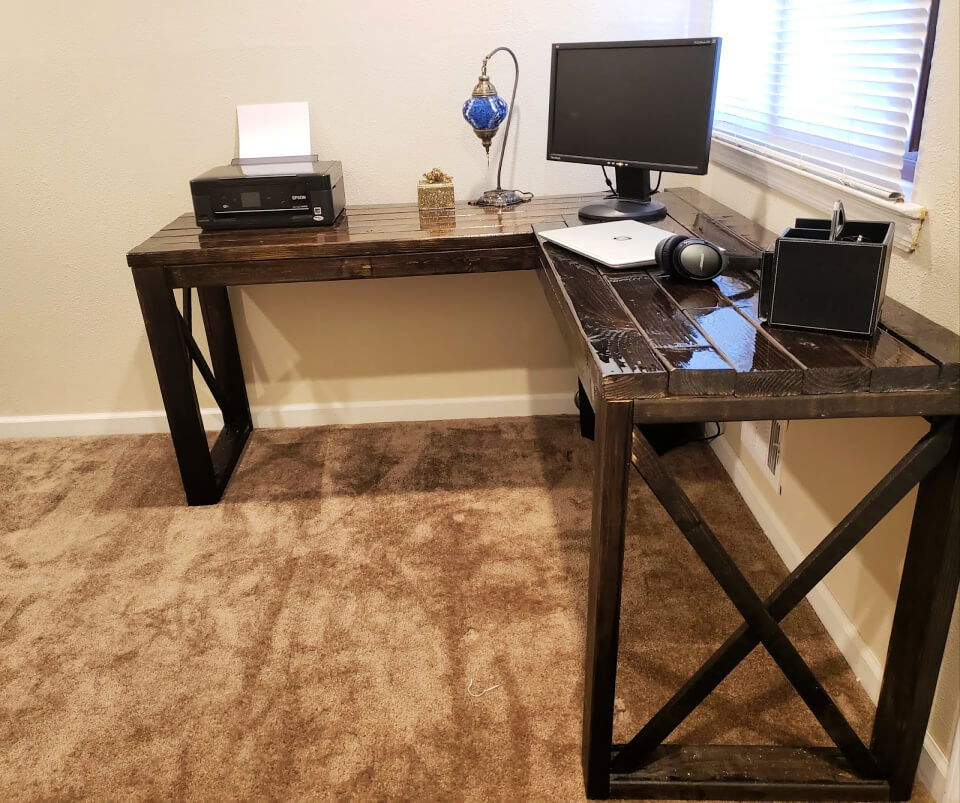 Establish an efficient workspace for productive workdays using this L-shape office desk! Make using 2x4s wood planks and bring a unique farmhouse style by installing x-braces to sides! A nice wood finish brings the shine on the surfaces of this desk that will make your entire home office shine! Details here mandvisdiy
8. Make Your Own L-Shaped Computer Desk: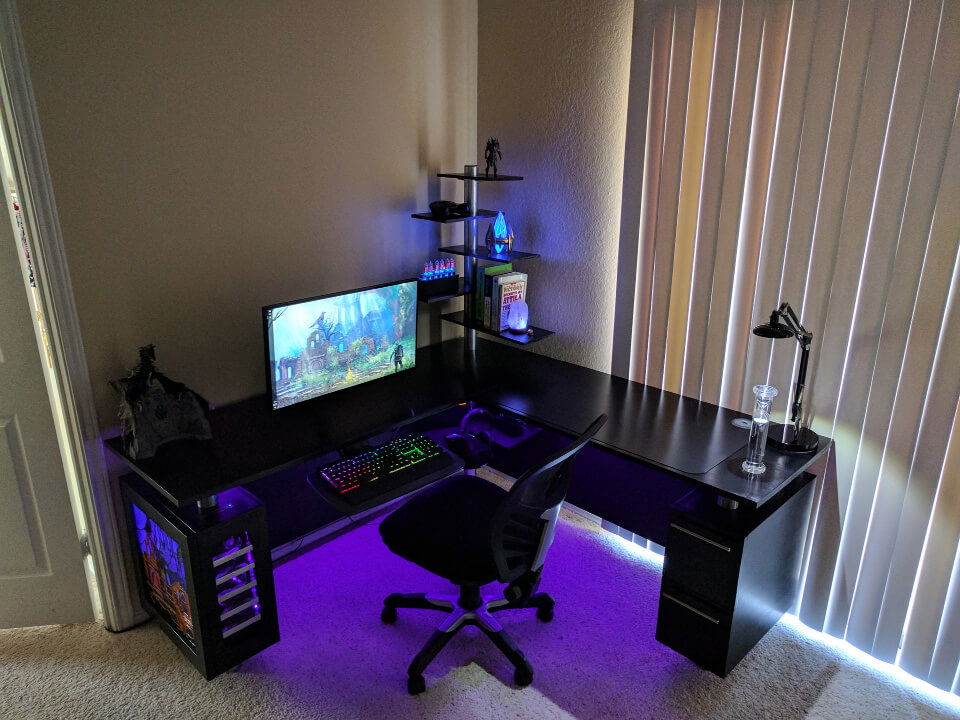 An ultramodern L-shape computer desk to make at home! The alluring black appeal, flawless storage options, an accent vertical shelving unit installed to corners and file cabinet legs are the prominent features of this desk! A superb pro-style computer desk with astonishing features and design dimensions! Full free plans and visual tutorial here imgur
Related DIY Projects and Ideas
DIY Desk Ideas: From small corner desks to large U-shaped desks, these free DIY desk plans are great ideas to add extra work space in your home.
Pipe Desk Plans: When you need an instant desk, but don't want to pay for one, these easy DIY pipe desk ideas will help you out.
Standing Desk Plans: A standing desk is a popular way to work while standing. These free DIY standing desk plans offer a variety of options for those looking to create their own custom stand-up desks at home.
Corner Desk Ideas: From traditional to rustic to modern, we have a free DIY corner desk plans for you. All plans include materials list, step-by-step instructions, and plenty of photos.
Pallet Desk Plans: Get inspired with these easy and cheap pallet desk Ideas and learn how to make a sturdy pallet desk for your home office on the cheap!
DIY Ikea Desk Hacks: Great desk hacks will not only make your desk look amazing, but they'll also give you the perfect workspace. Whether you need a writing desk, an office desk, or a study table, these gorgeous DIY Ikea desk hacks & ideas are perfect for any space.
DIY Furniture Projects: Learn how to make furniture with these detailed free DIY furniture plans. From shelves, to coffee tables and nightstands, you will find a variety of useful furniture items that are perfect for any home.
Conclusion:
Whether you're looking for a traditional L-shaped desk or a more functional diy l shaped desk with storage, we have the perfect free free diy l shaped desk plans for you. These free diy l shaped desk plans are easy to follow and include step-by-step instructions, diagrams, and photos. Plus, they all come with complete materials lists so you can start immediately. Ready to build your dream desk? Check out our selection of free DIY l shaped desk plans and get started today.