To enjoy gathering with family and guests is something that fills you up instantly with great happiness. However, if you are sorting out some great reasons to bring guests and friends to your outdoor often then you can simply up set up your outdoor for some fun feasting, parties, and dinners. Enjoy great dinners at outdoor with these 14 free Farmhouse style DIY outdoor dining table plans that will not cost you big and are all made by the woodworking and DIY furniture experts living around the globe. Building these DIY dining tables is going to be a big fun especially when you will use the recycled materials and items to make your favorite ones. Here you will be delighted with so many different homemade farmhouse dining table plans that will be loved dearly by all the outdoor lovers.
Build the elevated edged top dining table that will super convenient to sit around and can easily be accessed by putting some outdoor benches insides. Build also multi-chevron wooden dining tables that may come with stylish legs and will definitely be a big center of attention. From simple to round to chevron, you are going to find all the lovely DIY farmhouse table in this list that has only been shared to inspire. Use the lumber or pinewood slats to build the lasting longer dining table and also go with the separated apart pallet wood slats to build some nice looking farmhouse table in no time.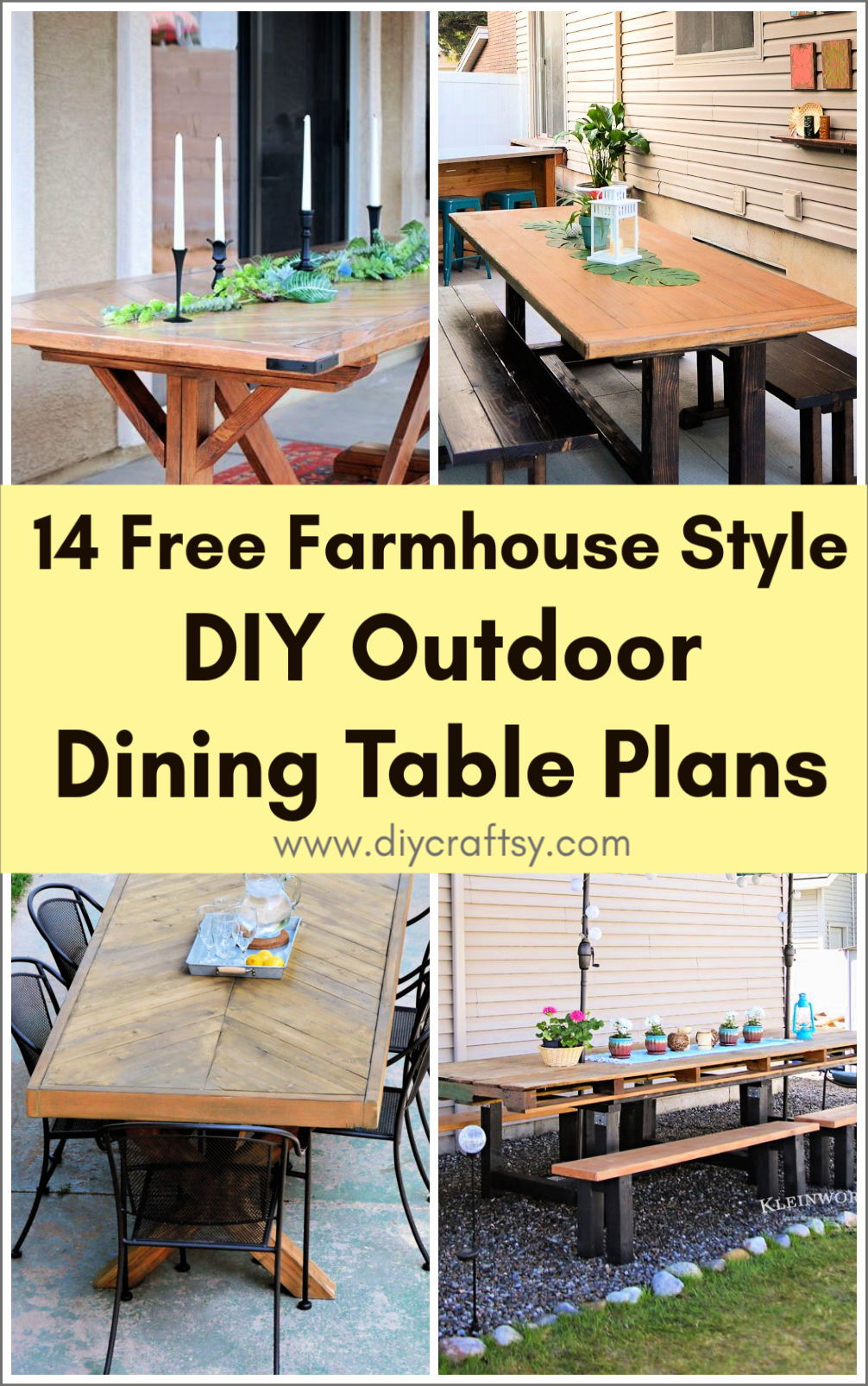 How to build your own farmhouse dining table?
Bring a great style to your patio or garden by adding a chevron farmhouse dining table with criss-cross legs. It will be a big center of attention and also build an extra large outdoor dining table with parasol installed to their centers. This farmhouse table will also rock for party time beverage parties. Not merely the free farmhouse table plans, the list will also guide you to build the matching benches! Hence you can build a whole outdoor dining set at home with great ease using our free woodworking projects that include free step by step plans, instructions, and printable pdf.
Browse the entire collection to see all the interesting free Farmhouse style DIY outdoor dining table plans and click on attached reference links to grab full free farmhouse table plans, tutorials, and step-by-step instructions.
1. Adorable DIY Outdoor Dining Table

Set up your outdoor for fun parties and celebrations by building this great looking DIY dining table. It will be a smart addition to any outdoor. Put together the slats of wood to build the top of the table, finish it up with the durable wooden post legs, and gain a gorgeous dining table for your home. Here is how to build it housefulofhandmade
2. Build an Outdoor Dining Table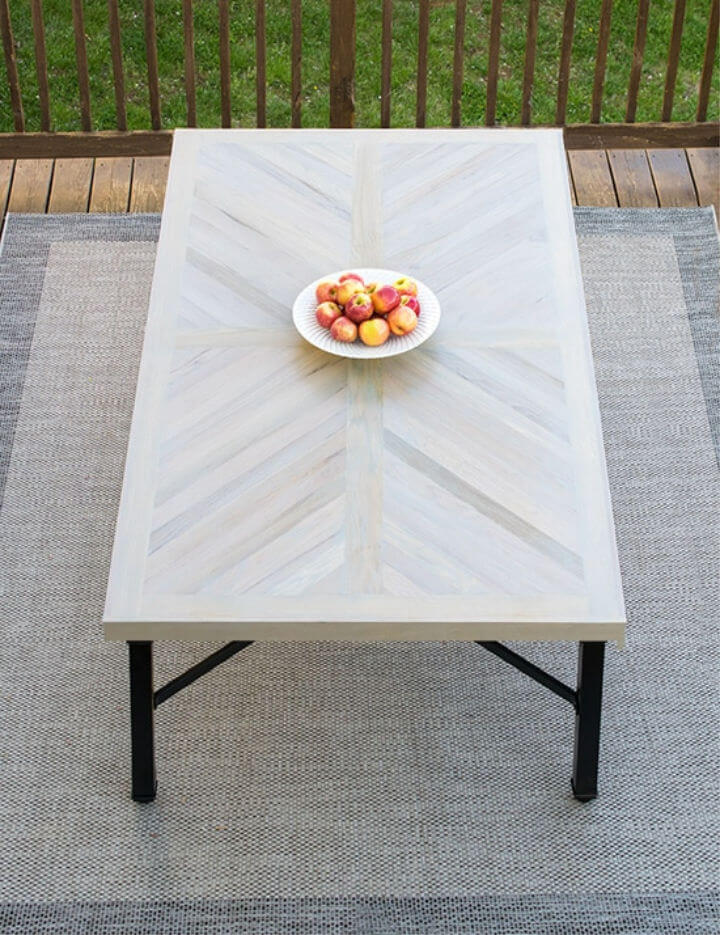 The DIY outdoor dining table designs are just never-ending. And here is another one to grab your attention, this one comes with a multi-chevron design pattern, will be a graceful addition to any patio or outdoor. Put flat the lengths of wood, making an amazing chevron tabletop, finish it up with metal legs. Full how-to guides here cravingsomecreativity
3. How to Build an Outdoor Dining Table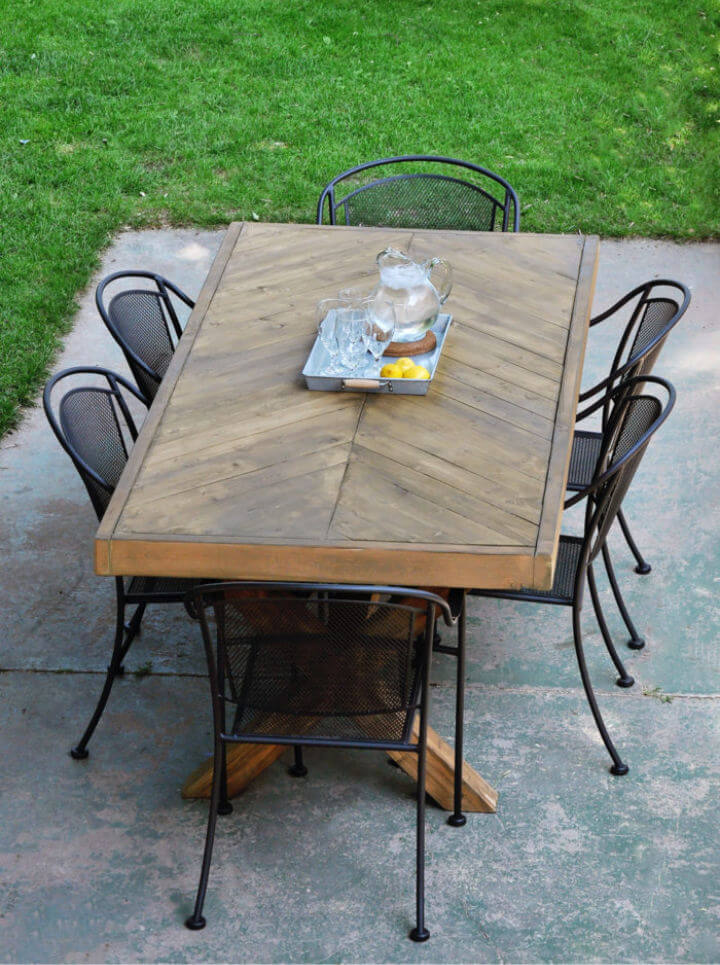 The perfect design of this pallet dining table to bring to your outdoor! And this herringbone dining table with criss-cross legs, will be a highly stable addition to any outdoor. Just put flat the wood planks to build a highly stable chevron top! Next, build the heavy-duty criss-cross base with heavy-duty wooden posts.Full how-to guides and tutorial here cherishedbliss
A super impressive design of the pallet table to make at home in no time.
4. DIY Outdoor Dining Table Under $60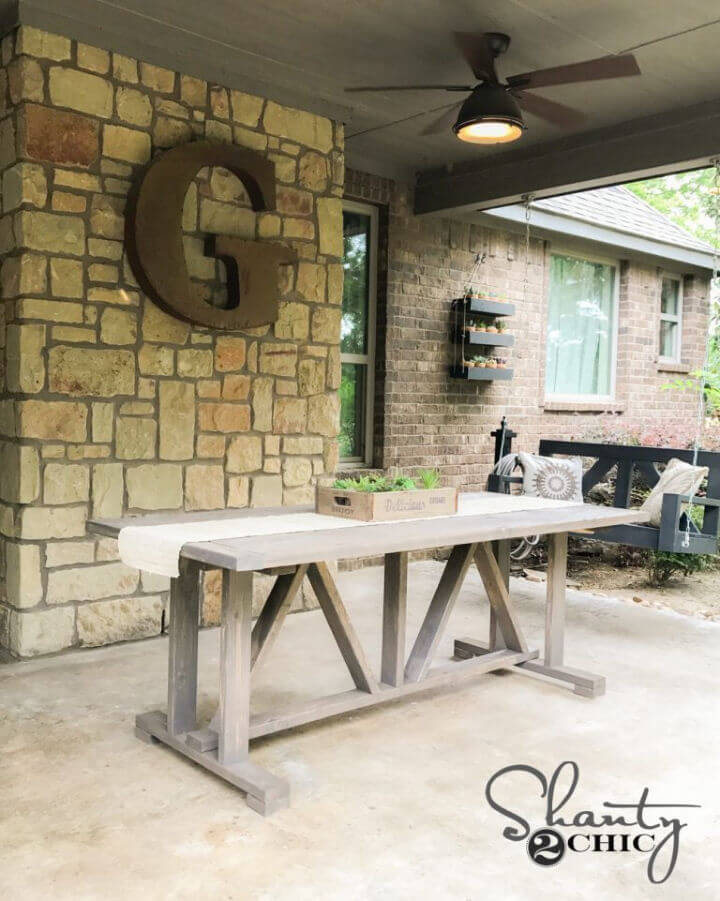 Enjoy the parties, fun feasting and celebrations at your outdoor using this brilliant DIY outdoor dining table will cost you under $60. Here most of the construction is to do with the leftover wood planks and this rustic yet modern farmhouse dining table, will definitely bring a unique style to every patio. Complete tutorial here shanty-2-chic
5. Pallet Outdoor Dining Table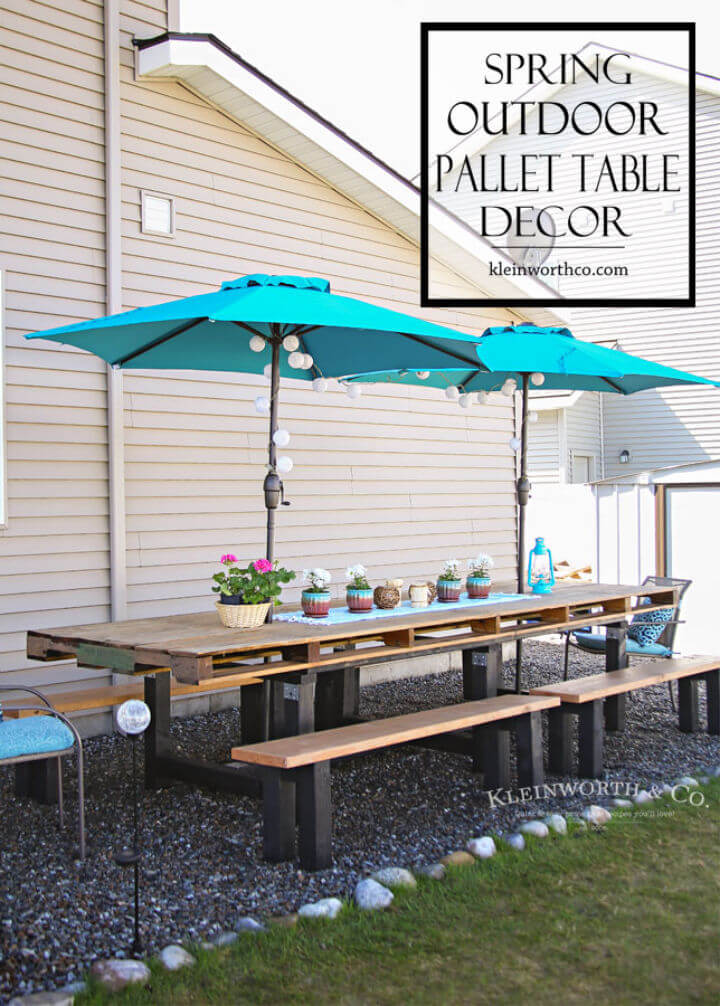 For occasional dinners and parties, do opt for this large wooden pallet outdoor dining table design. It is made to rock and inspire. An extra-large skid of pallets stands on 6 heavy-duty wooden legs to build gorgeous dining. And next to the custom parasols have been fitted in the center for sun protection, also create a stunning visual of the design. Complete how-to instructions here kleinworthco
6. Build Your Own Outdoor Dining Table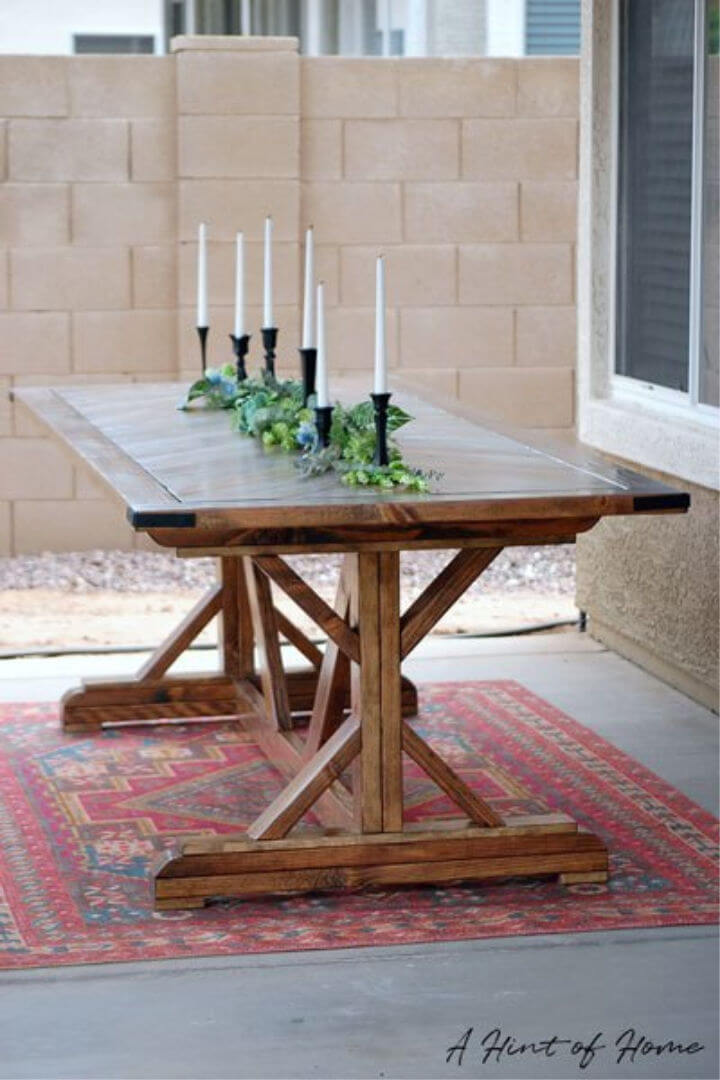 Pick also this fantastic DIY outdoor dining table to clone at home, will be a big treat to look at. Here you only need to build up chevron tabletop that you can raise on a criss-cross base for building an elegant DIY outdoor dining table in just no time. The long flat feet will make it stand in style for sure. Step-by-step instructions here ahintofhome
7. Simple DIY Outdoor Dining Table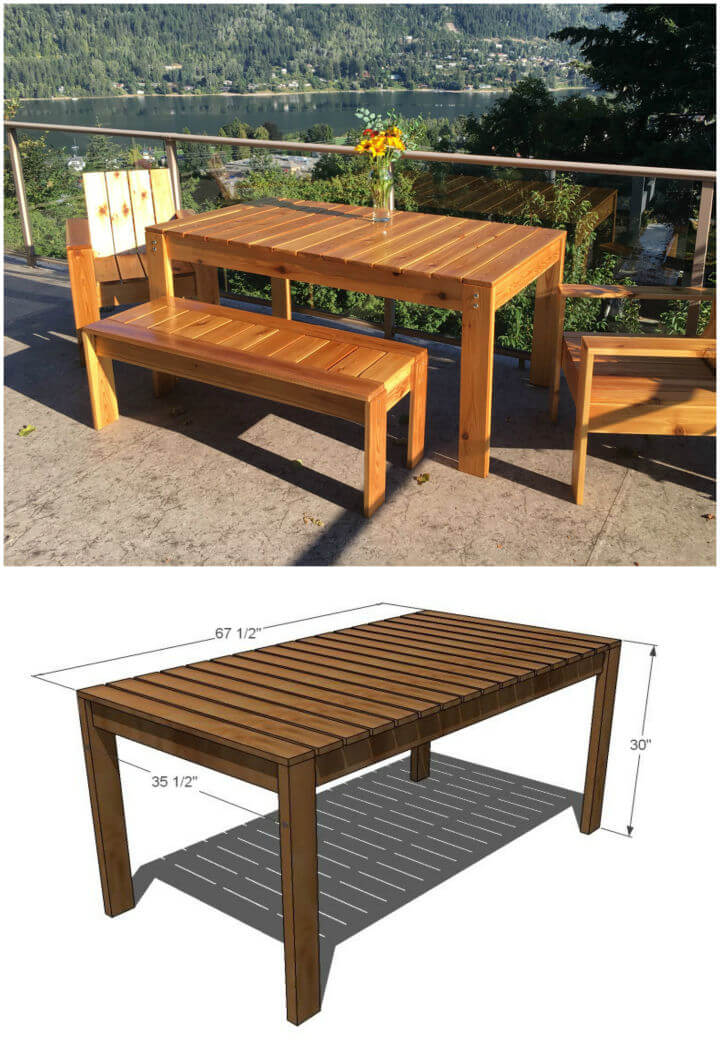 Building a DIY outdoor dining table is fairly easy and inexpensive if you are well known for wood recycling. Upcycle the wood slats of choice to shape up this outdoor dining table, having a matching bench and will be a rocking addition to any outdoor. Building this outdoor dining table will be big fun for sure. Full how-to guides here ana-white
8. How to Make Outdoor Dining Table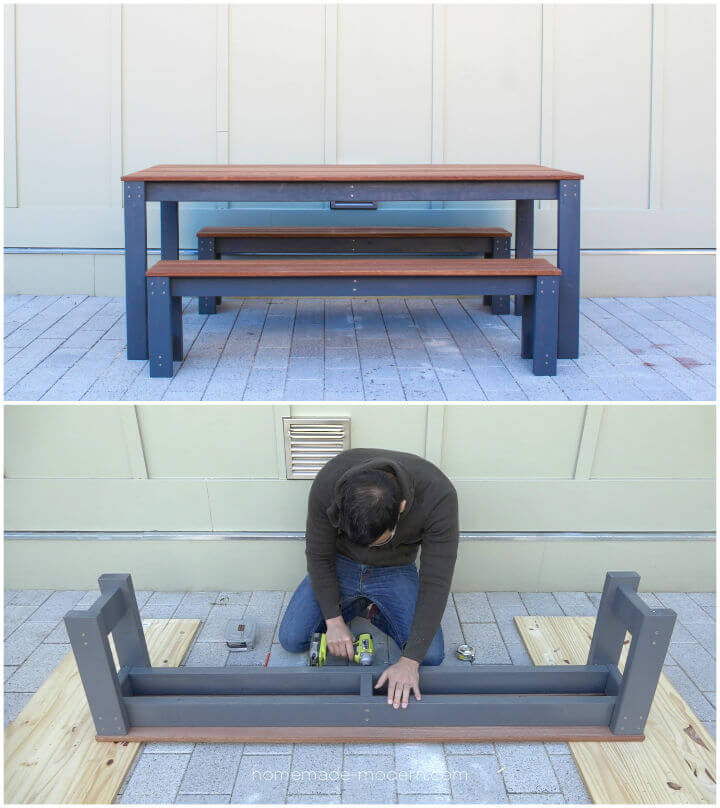 Set your outdoors for enjoying dinners and lunch parties, and the very first thing you need in this case would be a dining table. So, don't spend a lot in buying new dining tables, build your own farmhouse dining table using the wood in hands! A lovely slatted dining table design with custom painted base and slatted top. Here is how to make it homemade
9. DIY Outdoor Dining Table Under $20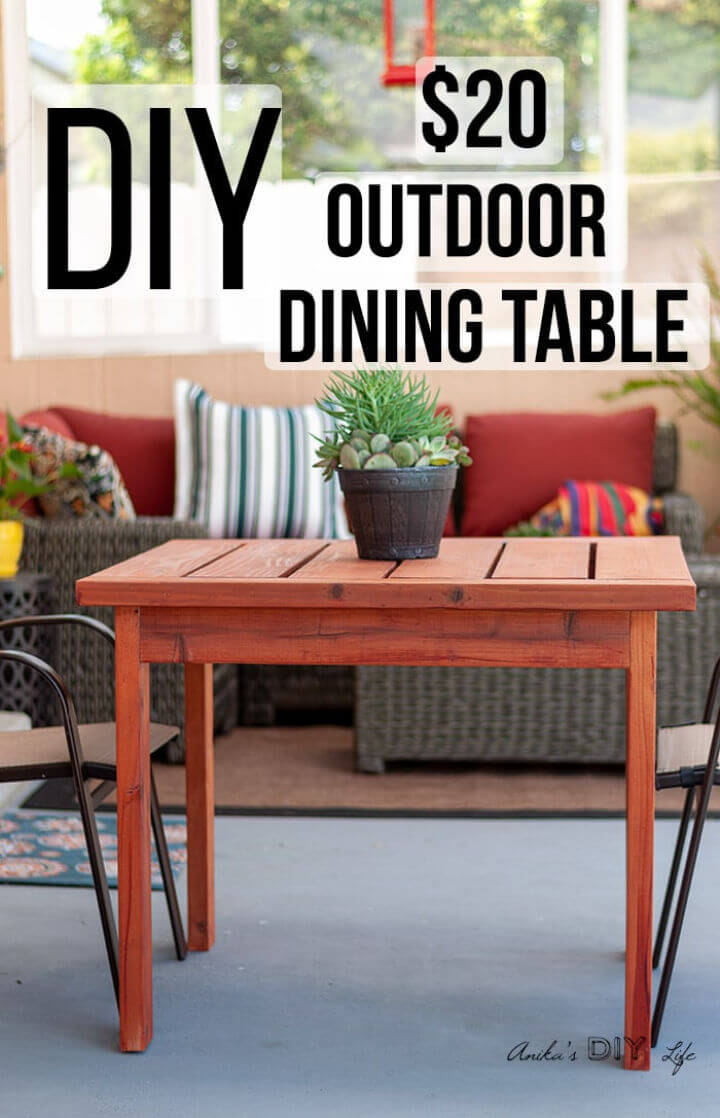 Building this gorgeous DIY dining table will simply cost you under $20, highly impressive design of a simple dining table to make at home without getting a bit expensive. The reddish appeal of the table, makes it look extra adorable and you will love to have it in your dining room. Full how-to tutorial here anikasdiylife
10. Build a $75 Outdoor Dining Table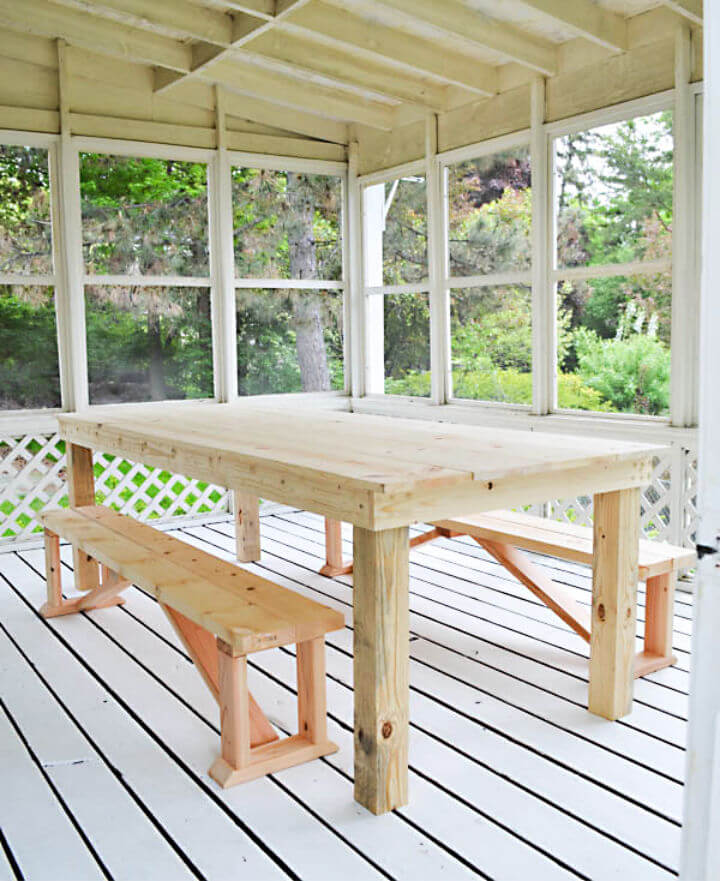 Get your outdoor-ready for amazing summer night dinners by building a whole dining table set at home! It will cost you next to nothing. Look at this brilliant outdoor dining set, looking damn lovely in a natural blank tone of the wood. It can be accessed by adding benches around to enjoy dinners and parties. Full how-to guides here rachelschultz
11. H-Leg Outdoor Dining Table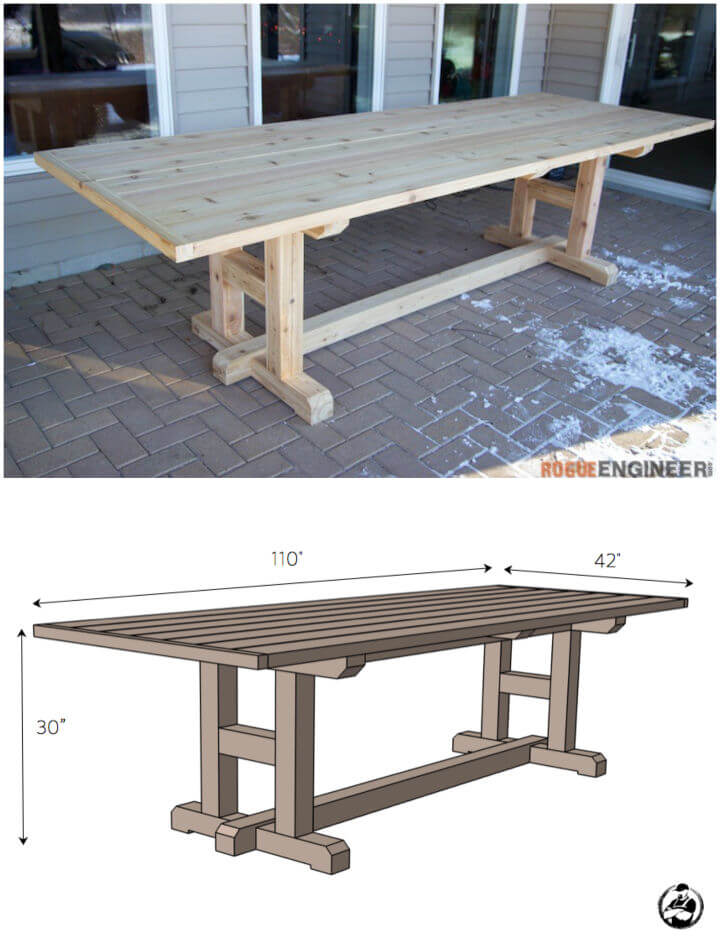 Look at this H-leg farmhouse dining table, has an edged top and stands on a solid wood base. The H-legs have been supported more with a cross beam support that strengthens it more. A coolest dining table design-build with an intermediate skill level. Free plans and tutorial here rogueengineer
12. X Legs Patio Table with Pipe Trestle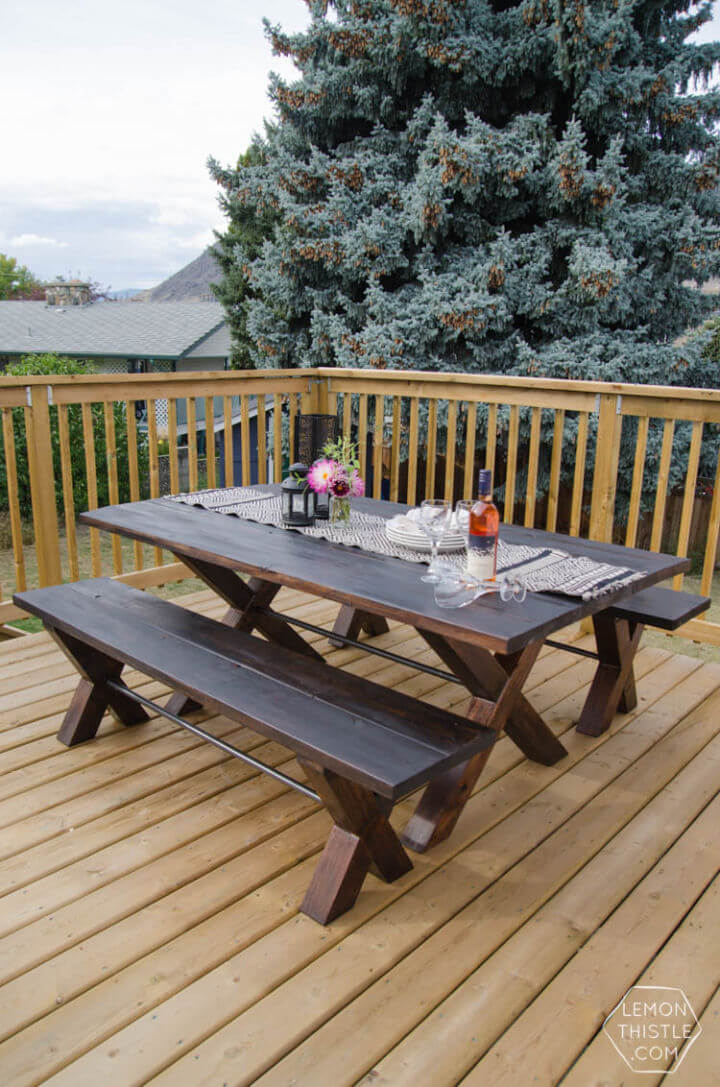 You will love to own this another graceful design of a farmhouse dining table that gains uniqueness from its criss-cross pipe trestle base. The solid criss-cross legs have been strengthened in place using a solid metal rod. The edged top and dark choco appeal are the other unique features of the design. Full how-to guides here lemonthistle
13. Dining Table from Old Wooden Pallets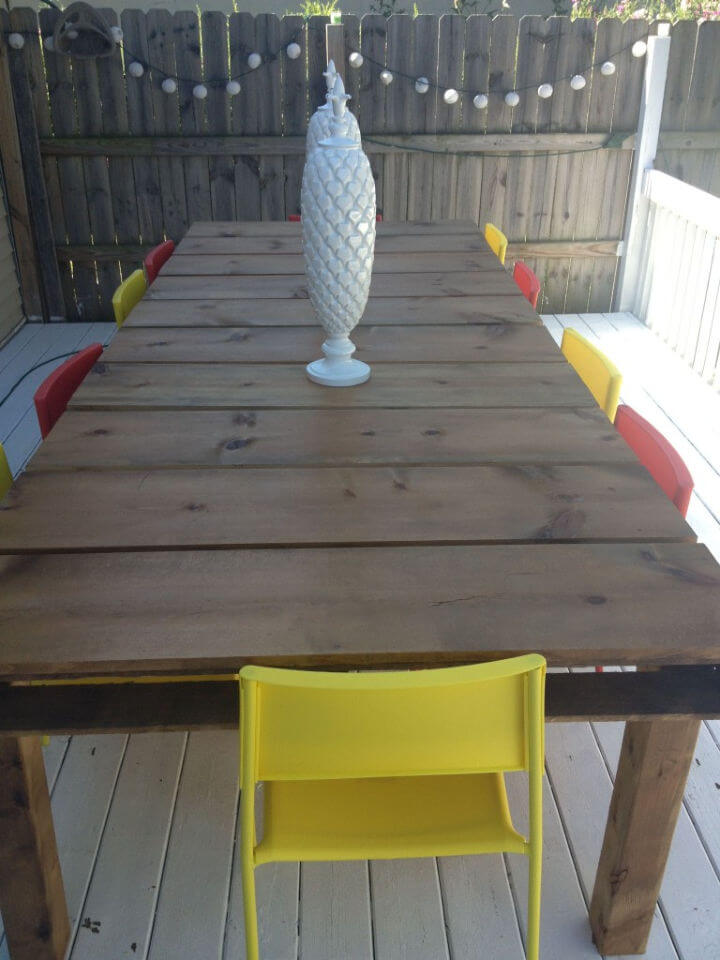 Build also the outstanding outdoor dining tables for free using the free wood pallets. A robust pallet skid can be taken as a readymade top for an outdoor farmhouse dining table. Simply raise it up on durable custom legs and get a lasting longer dining table for your patio. Enjoy family or friend night dinners. How-to details here awortheyread
14. Handmade Dining Table with Bench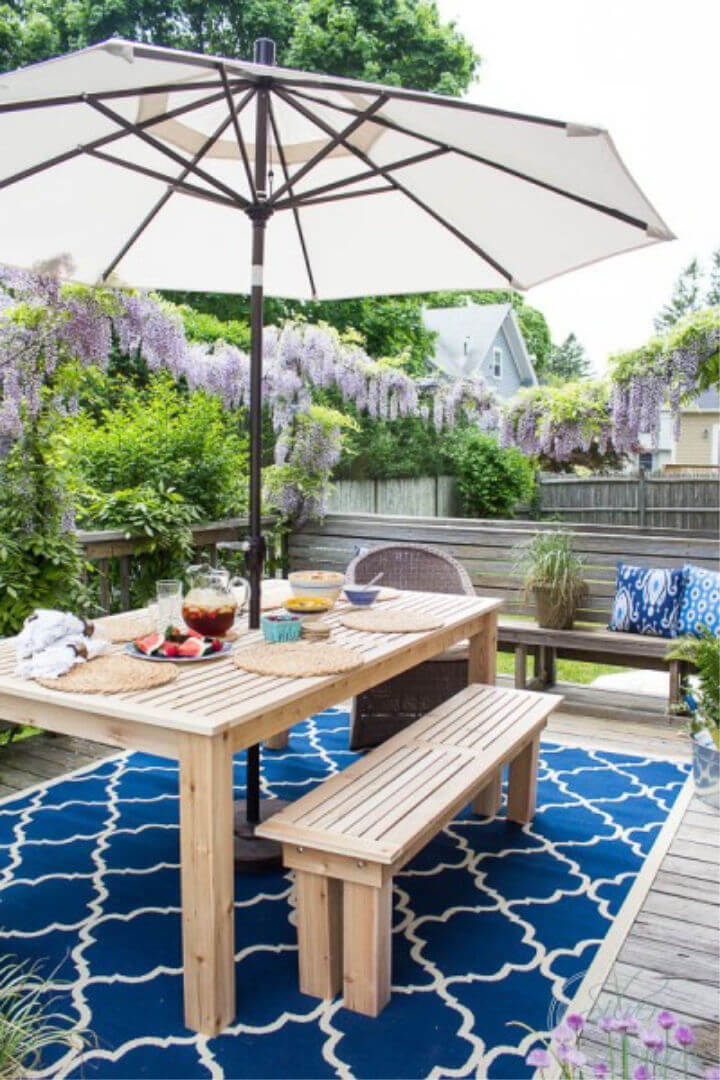 Quickly whip up this more than the beautiful design of the dining table using the wood planks and power tools. A slatted top dining table, assembled through the pocket holes and it is really a sturdy kind of dining table. Two matching benches if put around will give you a mind-blowing outdoor dinner or lunch party setting. Details here findingsilver
You may also like these farmhouse style projects with free plans: