Learn how to build homemade picnic tables easily with these 30 free DIY picnic table plans with step by step instructions for beginners. These free picnic table plans will make a functional and stylish outdoor seating experience. From classic wooden picnic tables to modern designs with versatile features, these free plans provide step-by-step instructions and detailed blueprints to help you build the perfect and cheap picnic table for your backyard or patio.
These DIY picnic tables are a great addition to any outdoor space, providing a comfortable and inviting area for family and friends to gather for meals, games, or just chatting. Whether you prefer a traditional wooden picnic table or something more contemporary like a convertible or pallet wood picnic table, you're sure to find a design that suits your style within these 30 free DIY picnic table plans.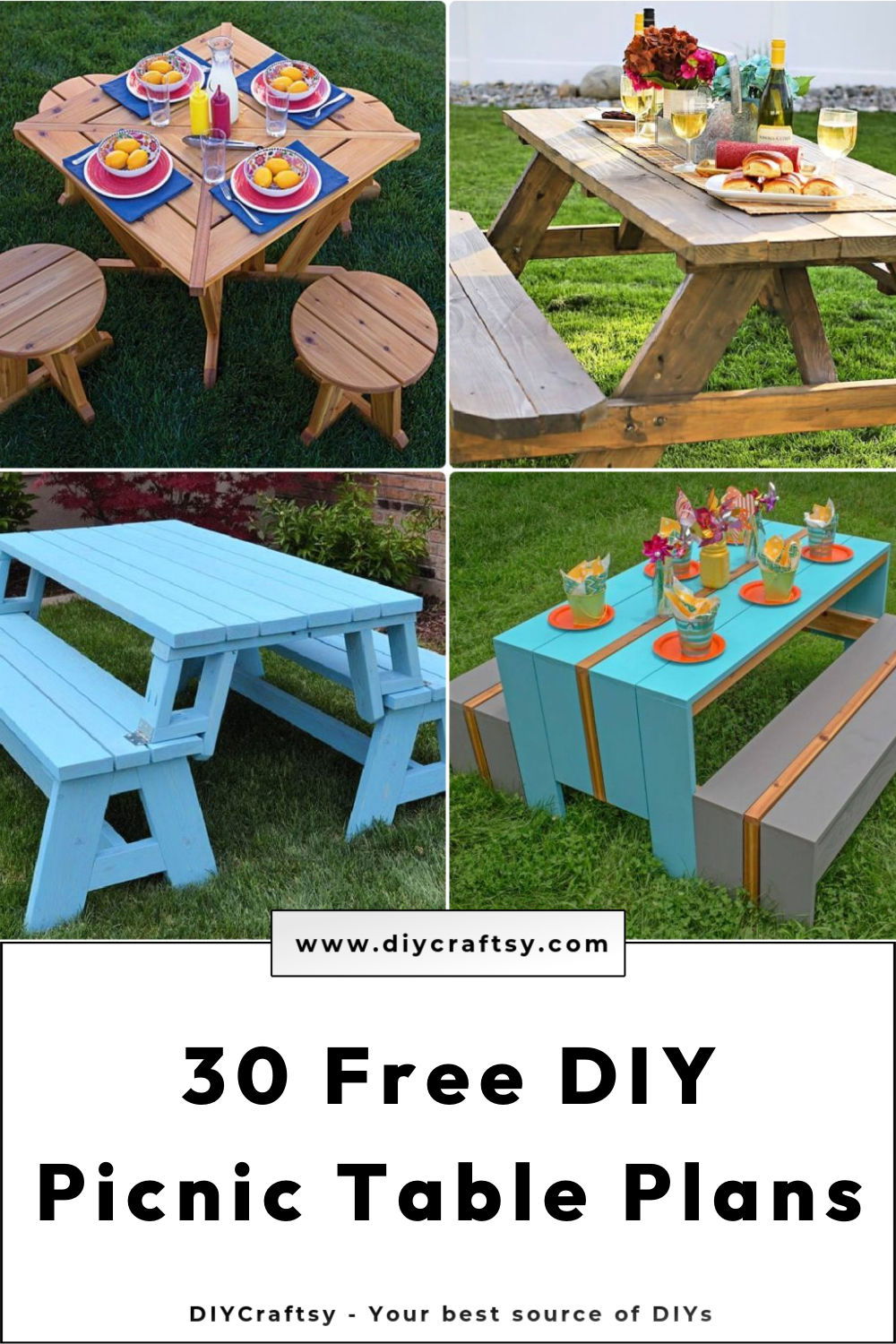 With options such as miniature picnic tables for children, hexagonal and round shapes, foldable designs, and even suitcase picnic tables with built-in speaker systems, these DIY picnic table plans and ideas cater to a wide range of preferences and project levels. Get started today on building your own picnic table and transform your outdoor living space into a welcoming and enjoyable environment with these cheap and practical DIY picnic table plans.
1. How to Build a Wooden Picnic Table
Bring the perfect picnic experience into your backyard with a DIY picnic table! Constructed from composite decking and pressure-treated wood, this table is robust and easy to clean and maintain. The design showcases a practical yet aesthetically pleasing solution for outdoor dining, serving as a creative centerpiece for backyard picnics, bubble-making sessions, and more.
The composite tabletop eliminates concerns related to food safety or staining, making it an ideal choice. Build this elegant picnic table in a day, turning your backyard into a vibrant hub for family fun. Enjoy crafting your outdoor furniture while saving significantly over store-bought alternatives. Time to roll up your sleeves and bring this picnic table to life! justmeasurin
2. DIY Pallet Wood Picnic Table for kids
Get your children outdoors, fostering creativity with a DIY kid's pallet picnic table. This affordable, low-cost project is perfect for young ones to engage in activities such as painting, coloring, or snacking during warmer months. You can easily construct a sturdy and functional picnic table tailored to your child's size using a shipping pallet and basic materials such as 2x4s, screws, and exterior paint.
Follow simple step-by-step instructions that range from dismantling the pallet, and constructing the tabletop and benches, to attaching legs and final assembly. The finished product provides a dedicated space for your kids and adds an adorable aesthetic to your backyard.
Sand and paint the finished piece to ensure it's safe and appealing for your little ones. This project is an exceptional way to recycle pallets into a practical, fun piece of furniture for your children to enjoy instructables
3. Convertible Picnic Table and Bench
Build the perfect gathering spot with these easy-to-follow DIY picnic table plans for all skill levels. Convert your outdoor eating area into a cozy garden with this versatile DIY picnic table and bench project. This dual-purpose picnic table provides a perfect meal spot and easily transforms into two charming garden benches. The table's top conveniently folds down to construct the bench's backrest, offering a relaxing seating option.
With step-by-step instructions, you can assemble the legs and stretcher, attach the bench top, assemble the arms and supports, and finally, assemble the tabletop.
Finish off by sanding the wood and applying your choice of stain or paint and an outdoor polyurethane for added protection. Make a functional and inviting outdoor space with this fun project. kregtool
4. DIY Picnic Table From Pallet Wood
Introduce the joy of outdoor dining to your kids with a personalized DIY pallet picnic table! Made from materials commonly found at home, this fun and functional piece offers a crafting opportunity and a chance to bond with your little ones. You'll need one pallet, a couple of 2x4x8′ pressure-treated boards, 3″ wood screws, and your choice of stain, paint, or water sealer.
Begin by dismantling the pallet and cutting your pieces to the correct size. Assemble the tabletop, secure the legs and seat supports, and then attach the pallet wood seats.
A sanding and a coat of paint, stain, or sealer will finish your project. With creativity, you can transform this simple structure into a vibrant masterpiece. No matter the weather, make outdoor dining a family tradition with this pallet picnic table! needlesandnail
5. Building a Modern Picnic Table for Kids
Transform your backyard into a vibrant playground with a custom-made, DIY, modern kids' picnic table! This beautiful and functional piece is perfect for outdoor fun and can comfortably accommodate up to six children.
Using simple woodworking tools like a miter saw, drill, and sander alongside 1×4, 2×4, and 2×2 lumber pieces, this table promises durability and style. Detailed step-by-step instructions and precise measurements help ensure your project's success.
Building this picnic table does require some woodworking skills, but the end product is worth it! Unleash your DIY spirit, add value to your outdoor space, and make a delightful area for your children to enjoy their picnics and playdates. lovelyindeed
6. Handmade Wooden Picnic Table
This sturdy DIY kid's picnic table will help you build a durable outdoor space for the young. Ideal for larger kids and even small adults, this piece is designed to stand firm against wind gusts, thanks to its 2x construction. The material list includes 2×6 and 2×4 boards and exterior-rated self-tapping star-bit screws.
Follow along with the video tutorial, and see how simple steps transform these materials into a reliable picnic table. This project even includes tips on ensuring your table is leveled correctly to avoid wobbling.
So get ready to assemble this long-lasting piece, and enjoy outdoor meals and playtimes with your kids. Your build project just got more exciting with these easy-to-follow plans. ana-white
7. Making a Picnic Table With Written Instructions
Dive into the DIY world with this robust, easy-to-follow guide on constructing a spacious wooden picnic table. Crafted entirely from 2x4s, this design offers an easily accessible layout without compromising the traditional picnic table charm. Start with our comprehensive cut list, remembering to adjust your miter saw based on the specific angles mentioned.
Utilize m8 threaded rods for sturdy leg constructions, secured further with 80mm wood screws for a solid foundation. Remember, the table legs should align with the 2×4 connections to ensure a level surface.
This guide provides conversion tables for measurements in both inches and fractions for added convenience. With a keen eye for detail and a little dedication, you'll be ready to enjoy your outdoor meals in style and comfort. instructables
8. Build a Boho Pallet Wood Picnic Table
Enrich your outdoor living with rustic charm by building your DIY pallet-style picnic tables. This tutorial illuminates the simple steps to making a picnic table that can comfortably seat 4-6 people.
With about $70-80 for materials and a time investment of approximately 30-45 minutes, you can transform 14 pieces of timber, wood glue, and nails into a charming alfresco dining setup.
This project ensures safety and hygiene as you select materials, eliminating concerns over repurposed pallets. It's the perfect blend of usefulness and style, customizable to your space requirements and preferences. Give it a try and add a personal touch to your outdoor gatherings. connieandluna
9. Reclaimed Wood Flat-Pack Picnic Table
Venture into the reclaimed wood journey with this DIY pallet picnic table with an innovative center trough for storing beverages or planting herbs. This picnic table design is made for quick disassembly and reassembly, conveniently fitting in the back of your compact car.
Using largely reclaimed redwood table legs is a decision prompted by the available wood quality. The reclaimed wood aesthetic provides character, and the table measures 60 inches by 41 inches with a 5-inch wide trough.
Completing this project takes about a week, though this can be shortened using a jointer and planer. A charming way to engage in the ethos of recycling, crafting this picnic table brings a unique and functional addition to your outdoor space. instructables
10. DIY Picnic Table for Children's
Uncover a range of free picnic table plans to suit any outdoor space, style, and budget. Relish the spirit of the outdoors with your DIY picnic table and make lasting memories! Perfect project to make an inviting outdoor space for your children. This functional piece of furniture is economical, costing approximately $22.50 in lumber to construct. Essential materials include a pine board, wood screws, wood glue, a power drill, and various painting and staining tools.
With this comprehensive guide, which includes step-by-step instructions, a cut list, and detailed images for each step, you can seamlessly execute this project at home. Besides serving as a fun spot for meals and playtime, this picnic table promotes creativity and engages children in outdoor activities.
The table's unique finishes – a mix of stains for a Restoration Hardware Grey look and Vintage Aqua – add an appealing touch to your backyard decor. Let's start building and adding a memorable piece to your home today! tinselandwheat
11. Affordable Compact Picnic Table and Stools
Revamp your outdoor space with a unique, compact DIY picnic table and stool set. This DIY project is not your average picnic table; perfectly designed for smaller spaces or gatherings of four. Crafted from cedar, these pieces promise longevity and durability in outdoor conditions.
The project requires a moderate level of skill and a list of materials, including 12 2×4 boards, six 5/4 X 6″ decking boards, an assortment of exterior pocket-hole screws, oil-based exterior toner or stain, and nylon chair glides.
The detailed instructions guide you through building the table and stools with a stylish twist on traditional outdoor furniture. This compact picnic table and stool set adds aesthetic appeal to your yard and offers a unique and personal touch that cannot be found in store-bought pieces. Make your outdoor living space truly yours with this one-of-a-kind project. buildsomething
12. IKEA Mini Picnic Table Hack
Elevate your outdoor leisure time with a novel spin on the typical picnic setup: a DIY mini picnic table from an IKEA Vildapel plant stand. Ideal for those breezy days in the park, this compact, transportable table solves the classic issue of water bottles tipping over on your blanket.
With a unique leather carrying strap, it adds both convenience and style to your picnic experience. This picnic table provides a sturdy base for your picnic goods and an attractive conversation starter.
This crafty project breathes new life into an everyday item, transforming it into functional outdoor decor. So, next time you plan a picnic, do it in style with your homemade IKEA hack mini picnic table! damasklove
13. Easy DIY Picnic Table
Transform your backyard with these user-friendly free picnic table plans, suitable for beginners and experts alike. Enjoy an inviting outdoor dining space with this easy DIY picnic table. In 30 minutes or less, you can assemble this simple yet stylish table and transform your backyard into a cozy oasis. The picnic table kit, available at home improvement stores for under $100, makes the construction process a breeze.
Once assembled, add a weatherproof stain to protect the wood and enhance its natural beauty. The guide recommends using Olympic Maximum Stain + Sealant in One in the Color Coffee, which provides a gorgeous aged look and acts as a protective sealant.
With its weathered appearance and placement among trees, this picnic table creates a charming campground atmosphere, perfect for enjoying outdoor meals and hosting gatherings. kleinworthco
14. How to Make a Wooden Fold-up Picnic Table
Choose from a variety of DIY picnic table plans, including classic, modern, and convertible designs. Immerse yourself in the joy of outdoor dining with a DIY fold-up picnic table! Perfect for compact outdoor spaces, this easily storable and versatile piece functions as a table and a bench, depending on your needs. Its sleek design and robust construction blend with any existing outdoor furniture and stand the test of time.
Make the table yours by customizing the dimensions to fit your outdoor area perfectly. Using reclaimed lumber gives your table a rustic charm and supports an eco-friendly approach by recycling old lumber.
Additional features like a built-in cooler or planter can further personalize your picnic setup. The option to fold it away when not needed provides flexibility and optimal use of your outdoor space. So, why wait? Build your fold-up picnic table and amp up your outdoor fun today! theownerbuilde
15. How to Build a Wooden Picnic Table – Step by Step
Discover step-by-step DIY picnic table plans to create a durable and attractive outdoor seating solution. Upgrade your outdoor living space with this do-it-yourself cedar picnic table. This rewarding project requires just a few materials, including cedar decking and an assortment of screws, bolts, washers, and hex nuts, and only about 4-5 hours of your time.
The sturdy, rustic appeal of this picnic table not only enhances the aesthetic of your yard but also provides an inviting place for family and friends to gather. Constructed with step-by-step guidance, this project proves that experience indeed breeds success, as evidenced by the improved second attempt to build this table.
Don't just enjoy outdoor seating – make it. Make this DIY picnic table and contribute to your outdoor space's functionality and charm today! dunnlumber
16. Free Wooden Picnic Table Plan
Introduce the joy of crafting into your family with a DIY kids' picnic table! This compact, sturdy table fits four children comfortably, making it an excellent piece for family get-togethers or play dates. Crafted from 90mm x 35mm treated pine, these tables are lightweight and strong enough to handle the liveliest kids.
Making these tables might be time-consuming if you laminate the panels, but the effort is worth it. You'll need about 8m of structural pine, a few bolts and screws, and some paint.
The creation of this table is a unique way to foster creativity and hands-on skills, and the end product promises countless hours of fun. So grab your tools and start building this adorable picnic table! thewoodfather
17. Building a Hexagon Picnic Table
Impress your guests with a custom-made picnic table using these detailed DIY picnic table plans. Reinvent your outdoor gatherings with this DIY plan for a hexagon-shaped picnic table. Combining traditional charm with practical design, this table features six spacious bench seats and a hexagonal top.
You can make this versatile piece a part of your backyard with materials including 2×4 and 2×6 feet long boards, self-tapping exterior screws, primer, paint, and wood conditioner. The assembly process is straightforward, with each step meticulously detailed for your convenience.
The beauty of this design lies in its adaptability to any outdoor space, promoting a convivial atmosphere for family and friends. The picnic table is not just a place for food and drinks; it's where memories are created. Enjoy the satisfaction of building your furniture and cherish the moments spent around it. ana white
18. Simple DIY Farm-Style Picnic Table
Delve into the heart of outdoor dining with a robust, DIY picnic table, your perfect companion for warm, lively gatherings. Remember those childhood beach dinners, lingering uncertainty over the warping wooden tables? Embrace an upgrade with this guide.
It's more than just a practical tool—it's a piece of nostalgia, inviting you to make treasured memories with family and friends. Starting from simple materials like 2-by-8 boards, deck screws, and basic power tools, you can craft a robust table that can endure time.
The charm of a wooden picnic table enhances any outdoor space, and building it yourself enriches the value. Follow this step-by-step guide to assemble a versatile picnic table, perfect for any event—an afternoon lunch, evening dinner, or quiet retreat. grit
19. Make a Composite Toddler Picnic Table
With some DIY and some elbow grease, you can assemble a composite toddler picnic table! It's perfect for those sunny days when the grandchildren visit and you want a low-maintenance, long-lasting outdoor furniture piece. Constructed from three 8-foot composite decking boards, this sturdy table is a valuable addition to your outdoor space, costing just around $45.
For materials, you will need three 1x6x8′ composite decking boards and screws suitable for exterior use. Follow this comprehensive guide, including detailed instructions from assembling the sides to the final assembly, with helpful illustrations at each step.
A cut list and plans are provided for convenience. With safety in mind, remember to smooth down any sharp edges before your little ones get to use the table. Now you're ready to surprise your family with this durable, low-maintenance picnic table! rogueengineer
20. Build a Wooden Picnic Table
Enhance your outdoor dining experience by building a handcrafted picnic table to savor meals in the refreshing breeze of the great outdoors. You can construct this sturdy and functional DIY piece of furniture with 12 carriage bolts, nuts, washers, six lag screws, and 3.5-inch exterior screws.
The beauty of this project lies in its flexibility, as you can choose between different screw head types to suit your preference and ease of use. Built from durable materials and designed for comfort, this picnic table is an inviting haven to enjoy your summer meals outdoors while basking in the balmy winds.
This outdoor furnishing is a table and a cozy dining spot that enhances your alfresco experience. So gear up, and let's transform your outdoor space into a dining retreat today! mrlentz
21. How to Build and Paint a Picnic Table
Let's get creative and make some memories that will last a lifetime with this DIY picnic table project! This project offers you a chance to expand your DIY skills while crafting a piece that will undoubtedly bring joy to your little one.
The building process is fairly straightforward, including attaching tabletop pieces to support boards, cutting and attaching the legs, and finally, fitting the seats. While you can follow the original plan, feel free to tweak the dimensions according to your preference.
The project gets even more exciting with the painting part – a Wagner Studio Plus sprayer is used to make a stunning geometric design that adds a unique touch to the table. With patience and creativity, you can construct this fun picnic table that will surely have your child thrilled and engaged. loveandreno
22. Amazing DIY Pallet Wood Picnic Table
This summer, engage yourself in a rewarding DIY project by building a charming, DIY pallet picnic table. This piece not only enriches your backyard aesthetic but also provides a cost-effective solution for outdoor entertaining. Leverage saved pallets and low-cost scrap wood from crafting a table that promises durability and rustic style.
With the key materials, including pallets, pine wood of different dimensions, and basic tools like a miter or table saw, nail gun, drill, and more, you can complete this DIY endeavor within approximately 4 hours. The detailed guide ensures a smooth process, from dismantling the pallet boards to finishing with a personalized stain or paint.
Reap the benefits of this creative endeavor by reveling in a relaxing picnic or festive gathering at your newly crafted table. It's a testament to your resourcefulness and hands-on capabilities, proving that beauty and utility can be achieved through simple, DIY craftsmanship. craftboxgirls
23. 2-in-1 Wooden Picnic Table and Bench
Infuse functionality and craftsmanship into your outdoor space with this DIY 2-in-1 picnic table that transforms into a bench seamlessly. Crafted with readily available 2×4 softwood, the design emphasizes ease of access and efficient use of space, making it an ideal choice for compact decks.
The assembly process includes gluing and screwing, with the added stability of a triangle block fronting the legs. To enhance accessibility, the shorter supports beneath the table are added post-leg assembly.
The seat top, featuring four 12mm steel rods, is attached by drilling three 2x4s, adding glue, and placing 15mm blocks for added strength. This smart, space-saving solution offers a practical dining spot and a comfortable seating. Build yours today and transform your outdoor setting into a versatile entertainment zone. Instructables
24. Quick and Easy DIY Wooden Picnic Table
Encounter the transformative journey of an old tree fort repurposed into a DIY picnic table! This novice-friendly woodworking project involves designing an X-frame picnic table with a distinctive herringbone top. This table is made from repurposed wood, promoting sustainability while providing a unique aesthetic appeal.
You can easily assemble and perfect the design with tools such as a circular saw, a Ryobi nail gun, and a belt sander. The staining and sealing process further preserves the wood and enhances its natural beauty.
A bonus is that you'll likely only use a fraction of your wood supply, paving the way for matching benches or other complementary projects. Enjoy the satisfaction of handcrafting your picnic table for a cozy, outdoor family gathering spot. aturtleslifeforme
25. Turn a Suitcase Into a Picnic Table With Speaker System
Unleash your creative spirit with this innovative DIY suitcase picnic table and speaker system project. With a vintage suitcase as the centerpiece, this portable picnic kit seamlessly transforms into a functional table and a speaker system to amp up your picnic outings.
Using items like a hard shell suitcase, wooden legs, hinges, power drill, screws, and spray paint, you can build a multipurpose picnic companion that holds your essentials and offers entertainment. The speakers operate via a minty boost USB charger, ready to play your favorite tunes when connected to an iPod or similar device.
The process involves repurposing the suitcase, installing retractable legs, and integrating a speaker system – a fun blend of craftsmanship and tech. Make your park visits more enjoyable with this unique Suitcase project. instructables
26. How to Make a Sleek Picnic Table
Uplift your outdoor living space with a custom-made, sleek DIY picnic table with detached benches. This project utilizes a blend of design elements to craft a patio piece that is both functional and stylish. Crafted with 22 Cedar 2x4x8, 2 Cedar 2x6x8, deck screws, and bolts, this 8ft long table can be adjusted to fit your preference.
The detached benches allow flexible seating arrangements, and the overall design provides a sleek aesthetic. While the project might pose a challenge for novices, the outcome is a durable, personalized piece of furniture that boosts the comfort and appeal of your patio. Immerse yourself in DIY carpentry and make a piece that serves a practical purpose and adds elegance to your outdoor space. instructables
27. Build an Adult sized Picnic Table
Add a social element to your outdoor space with a sturdy, DIY picnic table. This is a functional piece that encourages interaction among friends, families, and community members, and it also provides a perfect spot for adults to supervise children at play.
You can make this table using 2x4x10′ boards, 2x6x8′ boards, 2x6x12′ boards, deck screws, galvanized carriage bolts, washers, and nuts. With basic tools such as a miter saw, pencil, tape measure, carpenter's square, safety glasses, drill, screwdriver bit, level, and a ratchet or wrench, you can follow the step-by-step instructions to assemble your table.
This easy-to-follow guide provides precise measurements and cutting instructions, making the process simple and enjoyable. Make this must-have picnic table today, and enjoy countless picnics, conversations, and moments in the heart of your playspace! kaboom
28. Cool DIY Picnic Table for Kids
Make a welcoming outdoor area with versatile and cost-effective free picnic table plans. Boost your children's mealtime experience with this fantastic DIY cool kids' picnic table. It's an easy project that could be set up outdoors or indoors, adding charm to your living space. This picnic table is not just for meals; it also provides a unique space for the kids to engage in art, crafts, or even homework sessions.
The materials needed for this project are mainly wood products, such as five boards of 2×4 (96″), eight boards of 1×6 (96″), and three boards of 1×2 (96″). To ensure durability and stability, you'll need exterior pocket hole screws. It enhances children's social skills as they gather around their designated table, and adults might even be envious of these pint-sized, stylish accommodations.
The term "kids' table" will no longer imply a lesser experience; instead, it'll be a sought-after spot. Make your child's space more exciting and enjoyable with this fun and functional project today! buildsomething
29. Make a Pallet Wood Picnic Table
Transform your child's playtime with a DIY pallet picnic table! This environmentally friendly project breathes new life into an old pallet and creates a charming picnic table perfect for little ones. Despite a tight budget and limited time, craft a picnic table using 2/3rds of a pallet, some scrap 2x4s, and a couple of new 2x4s.
Its dimensions are comfortably designed, with the tabletop being 40″ long and 21.25″ wide, making it a fantastic addition to any backyard or playroom. The build process is simple and does not require an extensive toolset.
You only need a little determination, basic woodworking tools, and creativity. Be inspired by this project's ingenuity and give it a shot – make a unique, functional piece that adds a spark of joy to your child's playtime without burning a hole in your pocket. ana white
30. Square Picnic Table Plan
Enhance your outdoor space with functional and stylish DIY picnic table plans for all occasions. Build your own DIY square picnic table with these free plans. This updated design offers a cozier and more modern take on the classic picnic table. The table features seating on four sides, comfortably accommodating four adults and potentially up to eight. The design is easy to build and has a smaller footprint, making it suitable for various spaces. The plans include a video tutorial that walks you through the building process. You can construct a quality picnic table that will be loved for years with just a few materials like 2×4 and 2×6 boards and exterior wood screws. ana white
Conclusion:
In conclusion, making your own DIY picnic table is an engaging and rewarding project that not only enhances your outdoor space but also provides a perfect gathering spot for family and friends. With 30 free DIY picnic table plans available, there is a design to suit every skill level and style preference. From wooden tables to pallet wood creations and convertible options, these plans offer various designs and sizes for your ideal outdoor dining experience. So grab your tools and start building a picnic table perfect for those fun outdoor get-togethers.