Our collection of these exciting and easy to make free Adirondack chair plans are going to make you capable of making outdoor furniture for your home. Everybody loves a hint of comfort in their furniture! Who says that the outdoor furniture has to be all straight away wooden or plastic that you can just hide off in the store. With these best Adirondack chair plans, you are going to want to brag your comfy recliners to the whole neighborhood.
While the benefit with DIY wood furniture projects is that it is more durable and sturdy in various weather conditions! But who says it has to be all boring and ordinary chairs? With our selection of Adirondack chairs, you can easily set up some classy and functional outdoor furniture and enjoy the summers and beach days in true comfy spirits!
Adirondack chairs always get your first priority when need to gain a perfect sitting angle to make an eye-contact to surrounding nature. Are you need some easy Adirondack chair plans to build one for your garden or backyard? Then you must check out these 20 best Adirondack chair plans that 100% free and easy to make with free printable and step by step instructions!
These free Adirondack chair plans are sure to impress and would make sweet handmade gifts for your friends and family members who are addicted to outdoors. An Adirondack chair is always to come with some certain features that provide a great sitting experience! Like these wooden chair comes with an angled backrest and with a tilted berth. Here you are going to see all these features in these DIY Adirondack chair plans.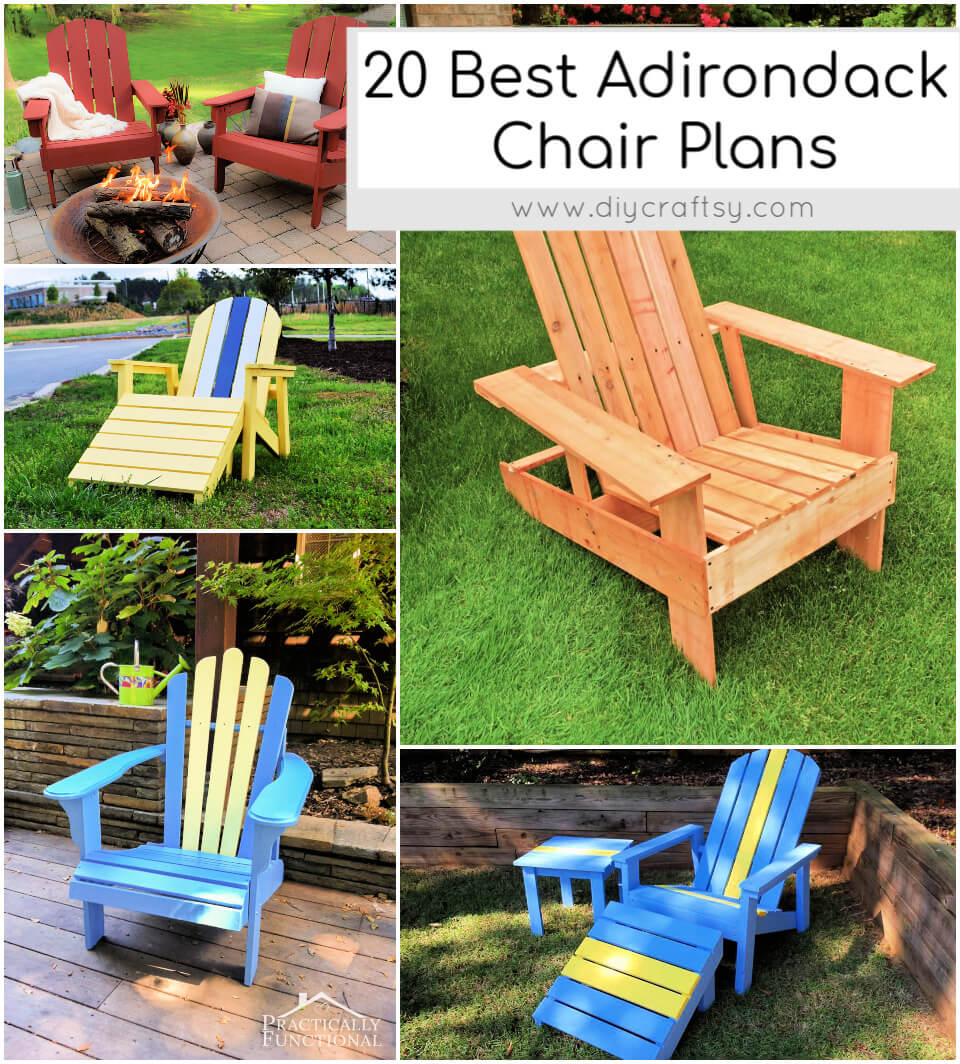 Try these DIY Adirondack chair plans to make your own!
Build the Adirondack chairs with box style legs and then put them together with some matching coffee table and side table! It'll make perfect outdoor furniture that will rock for making gossips at outdoor. Use the heavy-duty lumber slats to make lovely and solid Adirondack chairs in no time. You can also give amazing variations to your handmade Adirondack chairs using paint, look at the given free Adirondack chair plans that are painted in brick color and will rock for sitting around a fire pit.
Build Adirondack chair sets with matching coffee table and side table that will make a great gift for your outdoor garden. Try to build some raised Adirondack chairs with footrests that will make you sit in a super comfortable way to enjoy the outdoors.
Next, build the giant-sized Adirondack chairs that will create a big focal point at your outdoor and make unique Adirondack chairs with upcycled skateboard backrest and armrests. Browse the entire list of these DIY Adirondack chair plans free and check attached reference links to grab full free plans and how-to tutorials.
After you've picked a free Adirondack chair plan from our collection, be sure to peruse our other free woodworking plans including plans on the DIY porch swing, furniture made from pallets, DIY bookshelf, picnic tables, planters, desk plans, TV stands, outdoor bench plans, nightstands, triangle shelf and much more.
How to Build Adirondack Chairs:
Your outdoor furniture has to be as comfortable as your indoor furniture. Why? Because the time you spend outside has to be relaxing and refreshing. Build these classical and functional outdoor Adirondack chairs for having a breezy time in your garden! lowes
DIY Adirondack Chair:
Stuck in indoors while the long, long winter lasts, everybody needs a nice and cozy outdoor Me time! With this Adirondack chair tutorial, you can be sure of that. The thing with Adirondack chairs is you can easily put up a fluffy pillow and use its arms to put your things! thissortaoldlife
How to make your own Adirondack chair?
Our free Adirondack chair plans come in various sizes and versatile designs. If you have already got an Adirondack chair, but it looks boring now, you can even get instructions on how to redo its look by staining it or painting it! With many easy recliner ideas and synchronized tables, our Adirondack chair plans are going to steal your hearts right away!
Oh, and did we mention you might think of these DIY chair plans or construction projects so hard and expect expert skill levels, but guess what folks? That's not the case at all! Almost all of our Adirondack chair plans are either at moderate skill levels or beginners. So happy summers with these comfy recliners spicing up your outdoor furniture game.
Easy to Build Adirondack Chair:
Look at these utterly appealing, flawlessly made, and painted Adirondack chairs! Boy, these could be an utterly comfortable addition to your gardens outside. By using some pretty thick Cedar boards, you can do the magic and make these for a comfy outdoor time. buildsomething
How to Build an Adirondack Chair and Table:
Are you looking for the kind of furniture which will enhance your backyard? Look no more. With these Adirondack chairs and table plans, you can totally spruce up your outdoor furniture game. Trust us, with this serene furniture, you are going to want to show it off each day! popularmechanics
2×4 Adirondack Chair Plans: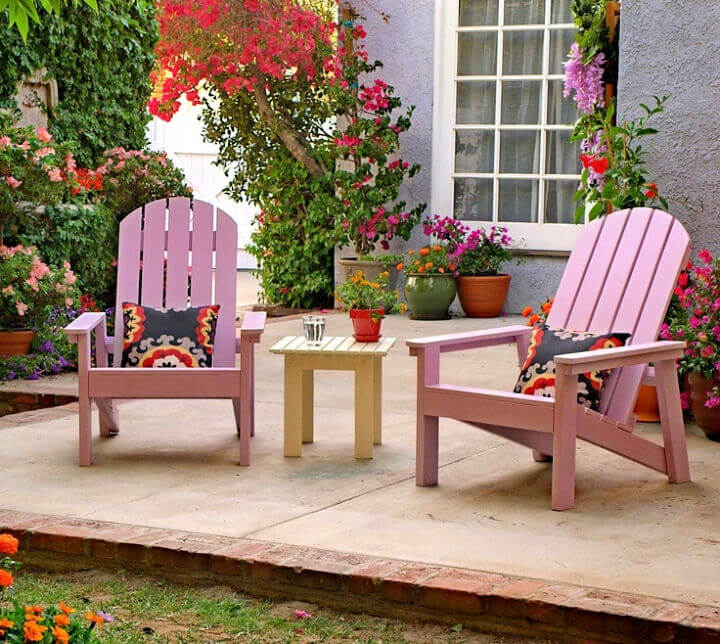 Add these minimalistic Adirondack chairs to your backyard or garden and have a totally appealing time outside! You can synchronize the color of the chairs with your overall décor! Get comfort with deep recline, and you will also find optional footstool plans here. ana-white
DIY Pallet Adirondack Chair:
A totally chic yet uber-comfortable DIY pallet Adirondack hair is all you need to take your summer game to another level, this year. This trendy chair has us all drool-worthy already! With those comfortable steps and arms to enjoy a perfect sunny beach afternoon! Shanty-chic
Simple and Easy DIY Adirondack Chair:
Minimalism at its best! Inspired by plywood furniture, you can easily make these super comfy and highly appealing Adirondack chairs for your patio or your backyard! If you are not much of a construction kind of person, this is the simplest plan you can have at your hands. ana-white
Build Your Own Adirondack Chair: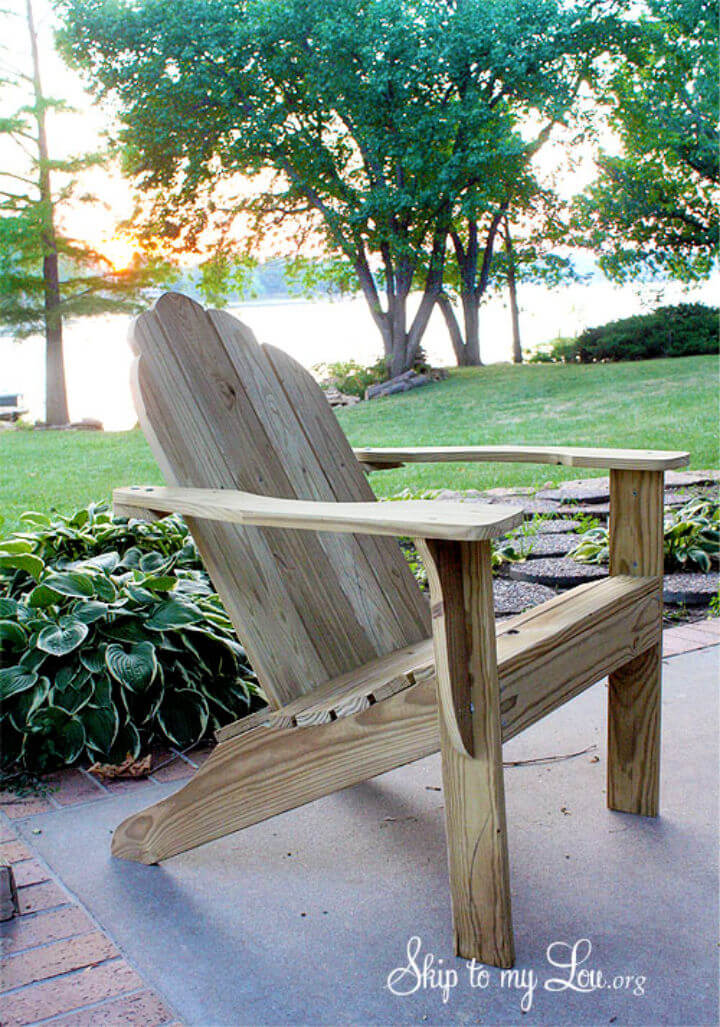 Summers are the perfect time to have some memorable family bonding times. These Adirondack chairs could be one fun-filled family craft afternoon time! Building the chair is fun at one hand and getting an uber-comfy seat is the reward! skiptomylou
How to Make an Adirondack Chair: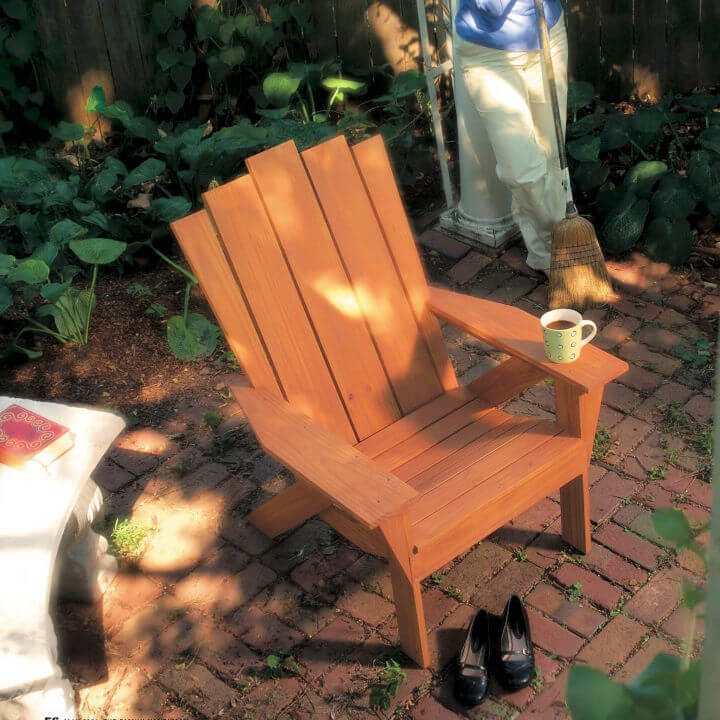 Add outdoor comfort to your life by building this Adirondack chair with a matching and comfy seat! You can use some reclaimed lumber and give it an exquisite look with the final stain round. So gather around your craft supplies and start constructing. familyhandyman
DIY Stylish Adirondack Chair:
Even if you are just a beginner at wood crafts and constructions, you can still easily comprehend and work on this DIY Adirondack chair plan. This one comes with an additional style element added and not just style but comfier seat as well! woodworkersjournal
DIY Scrap Adirondack Chair:
This Adirondack chair can also be called by as an even more appealing and lazing upgrade to an ordinary Adirondack chair! With the rustic look and angled back simple wooden wedge, with those axle arms. Step up your outdoor furniture game with this plan! instructables
How to Build Pallet Adirondack Chair: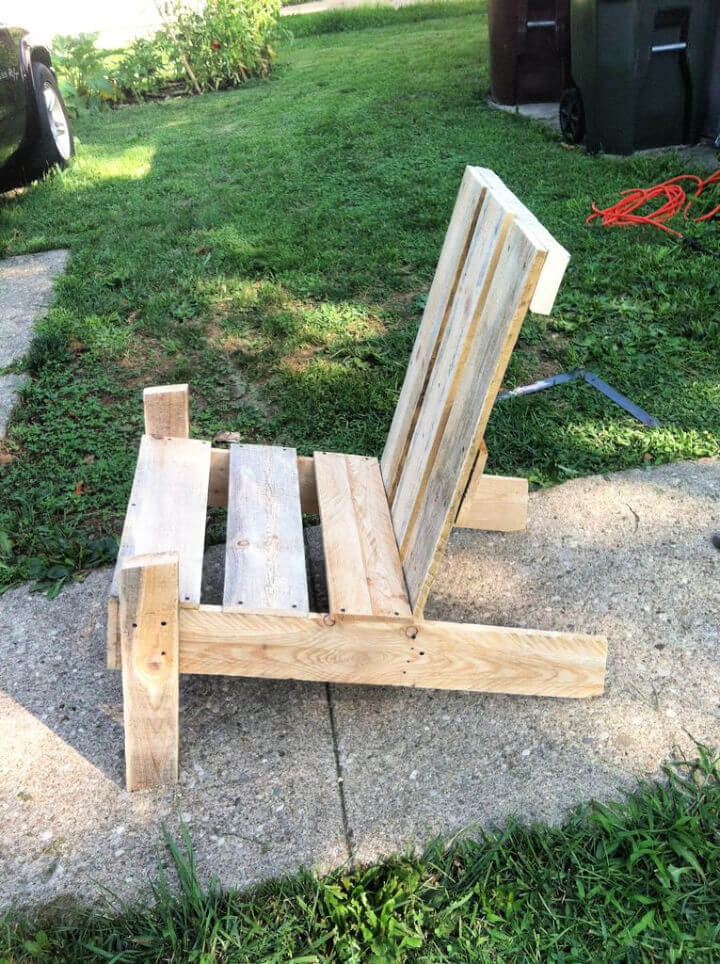 Do you have some old pallets lying around? And are you looking for an exciting and rewarding DIY project to put them to use to? Try out this uber comfy Adirondack chair plan by using pallets, a saw, and a drill! And of course, the DIY adrenaline rush. instructables
DIY Adirondack Big Chair: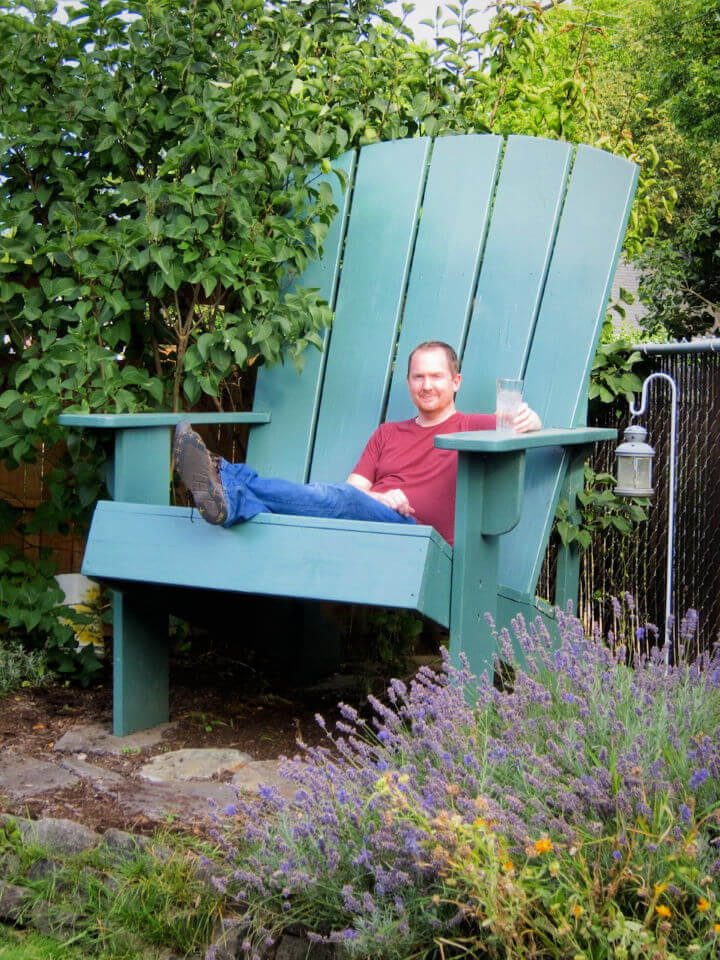 Man, with this huge and gigantic Adirondack chair, looking all super comfy and appealing. You are going to have issues with everyone having their turns relaxing on it! HahaBird is going to elaborate on all detailed steps required to build up this giant beauty! hahabird
DIY Upcycled Adirondack Chairs:
We believe the world of Upcycling is majestic! And the world of DIY is boundless. Now, let's combine these two worlds! And make something totally ravishing like this uber comfy Adirondack chair using deck boards, pine, a jigsaw, and circular saw! diynetwork
How to Build an Adirondack Chair:
Now, that looking at it, don't you feel it looks like the chair of the Kings and the Queens? With those throne-like back cedar decks standing out! And, we believe the amount of comfort it brings, one can automatically feel like a royal while relaxing on it outside! diy.dunnlumber
Painted Adirondack Chairs:
These two-tones, minimalistic Adirondack chairs have our hearts stolen! They could literally spruce up your backyard furniture game to a whole other level. You can easily paint your Adirondack chairs using sandpaper, primer, paint brushes, and exterior paints. practicallyfunctional
Wooden Pallet Adirondack Chair:
Put your old wooden pallets into a trendy outdoor furniture use and create a comfy outdoor seating space! Everybody adores reclining and putting their feet up. While there are SO many pricey recliners in the morning, we are here to help you make them yourself. homestratosphere
Building an Adirondack Chair:
Summers are the most exciting opportunity filled days to get the perfect tan! Why not get to that phase of life with an uber-comfy and giant Adirondack chair to your disposals? We are all drooling over this super comfy design with those super thick arms to hold our lemonades! youtube
2×4 Adirondack Chair Plans:
Using 2*4 pallets, you can build yourself this comfortable Adirondack chair for a totally memorable and classy afternoon tea time! Your outdoor furniture is going to connect you to the mother nature and her wonders. Who wouldn't want a comfy ride to that! youtube
DIY Adirondack Chair:
If you have a taste for DIY, you must always be looking for something extra value to add in the ordinary DIY expedition. This gigantic Adirondack chair is a perfect example of that! Made with long-standing legs and exquisite appeal, have a classy summertime with this one! youtube