Summers have just reached and the days have come when you are to spend most of your time at outdoor! Summer season is great to discover outdoors, and you also enjoy the great family and friend gathering in this season! So, if you are willing to enjoy the summer season more or you are just willing to invite your kids to be outdoors, you must install some fab games to your outdoor so that they will be fun-making and attractive for all! Outdoor games can help your kids to gain better health and immune systems and can make your kids busy for hours at outdoor! Moreover, adults and matures can also live some happiest moments of life by participating in summer outdoor games, and the whole family can play the games! So, if you are willing to install some brilliant outdoor games to your outdoor then here are 68 DIY outdoor games for this summer and spring that will be loved by all the kids and by those who are still a kid at heart! The very good news is that these outdoor games for spring/summer are easy to make and also super easy to install and you will just love making these games at home!
Chop a thicker wooden post or beam into equal square cube slices and just paint them to make dices that can be used to play different games at your outdoor even on your picnic blanket, get inspired of the giant dice game given in the list! Paint the old plastic bottles and grab a tennis ball to make beautiful bowling alley games for your outdoor! Install the beautiful zipper lines to your outdoor and Let your kids fly at your outdoor and also enjoy some fantastic fun moments of life by installing the dunk bucket game that is also a big water fun game!
Win the heart of your kids by installing football toss games for them that are super easy to make using plywood, and custom wood lengths also make the boat race game using rain gutter and some soap bars as sliding ships or boats! Check out amazing sample games are given below in the list and get inspired! Make also giant kerplunk games at home and install them to your outdoor to create bundles of excitement for the kids and even repurpose the garden pavers to make stunning hopscotch games for the kids in just no time! The ideas for outdoor games are just endless!
Next also make the lovely cornhole board games at home using plywood and custom wooden lengths and make also centrifuge sprinkler game using a straw, wooden skewer and a glass of water! Next, you can also paint custom games on your picnic blankets that you can play at outdoor with a whole family and also make the lovely tic tac toe games that all kids would just love to play!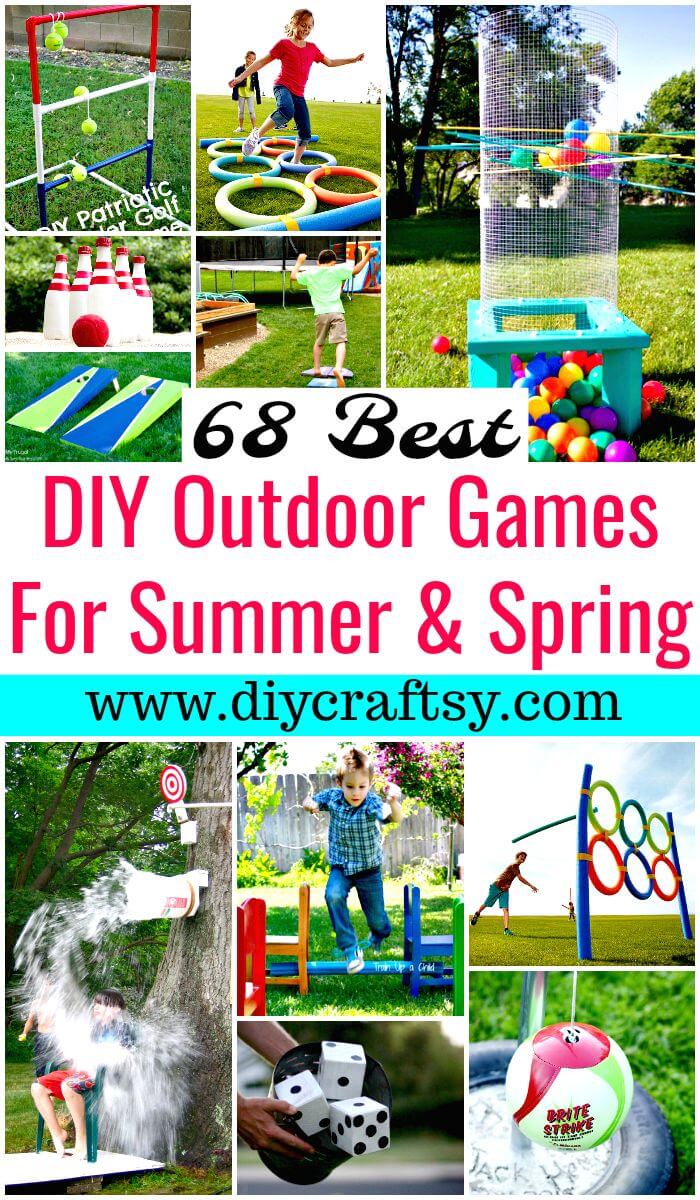 Another cool outdoor game example is the toss ring games, get inspired by the given pool noodle toss ring games, brilliant samples provided in the list! Visit the given links to open the complete free tutorials, visual instructions, and guides for each of your favorite outdoor game project!
More DIY Projects for This Summer & Spring You'll Love:
DIY Outdoor Giant Dice Game Tutorial:
Both kids and matures just become addicted to outdoors more in summers and you can simply install some lovely outdoor games to your outdoor areas to enjoy the free time in pleasure! Enjoy the outdoor game with this giant dice game that comes with chips made of jar lids! Here the dices are made of wood and has been got stenciled using vinyl lettering for custom alphabet and numbers! Lids have also been painted in red for a glam look! Willing to duplicate this game? Grab the full free tutorial from here diyshowoff
DIY Bowling with Recycled Bottles Game:
Are you a big fan of bowling alley game? This is game mostly to play indoor but how about enjoy playing it at outdoor this summer with a couple of friends, family members, and kids? You just no need to break the bank to install this game to your outdoor, just make use of a tennis ball and some plastic bottles to gain a low-cost outdoor edition of this game! Have a look at the sample game that comes with white and red painted plastic bottles and also with the red painted tennis ball and you can also use a big wooden plank for the track if necessary! Another great outdoor game idea! Complete instructions here moonfrye
DIY Zip Line in Your Backyard Tutorial:
This is here the summer outdoor game idea that will make every kid jump with the joy! Just install the cool zip line games in your backyard for kids using a wooden dowel, pulleys and heavy-duty rope! The idea here is first to install the rope track and for this, you can simply fasten the rope around the trunks of garden trees or you can just install it between the two opposite backyard fence walls! After your track is ready then just fasten a pulley above the center of a wooden dowel using rope and then just make it slide on the rope track! Complete project instructions and tutorial here howdoesshe
How to DIY Outdoor Games Tutorial:
If you are willing to raise the water fun at your outdoor to enjoy the summer season more then this dunk bucket game idea would definitely rock! This game will come with a hot seat above which a water bucket has been placed that will drop the water down on the sitting member, this would really be a big fun and a way to beat the summer heat! So, install this game and play the game with the whole family and friends! Complete game rules, plans and tutorial here thehappyhousewife
Simple DIY Football Toss Outdoor Game:
Boost the outdoor fun of your kids also by installing the superb football toss games that can be built at home in quick and easily and most importantly without getting expensive! Check out here the sample game that has been made by getting the two wooden boards hinged and they stand in a chevron shape on the backyard floor! The front wooden board comes with two giant holes through which you have passed the footballs by throwing and hence you will make the scores! Complete project details and instructions here cherishedbliss
DIY Summer Activity Race Soap Boats:
Get inspired by this another fantastic water game idea that will definitely help to make your busy at outdoor in summers! Just install the race soap boat summer game for your toddlers and kids just by using a rain gutter and some water soap bars! Here the rain gutter will be used as racing track while the soap bars will make the boats which can be added with a custom toothpick flags or buntings for a more brilliant look! Just let the water from the backyard hose drip down on the rain gutter track and then slide your soap boats onto the track! Complete tutorial and instructions here iheartnaptime
Easy DIY Giant Outdoor Kerplunk Tutorial:
Are you interested in playing kerplunk game? If yes, then why not pass your summer time having great fun by playing this game on a bigger level at you outdoor! Just install giant outdoor kerplunk games using custom materials from home like the metal lattice, a wooden stand, different colored balls and wooden dowels! Have a look at this given sample that comes with a metal lattice cylinder on the top of the wooden stand and is really looking beautiful! Willing to duplicate this game for your backyard? Grab the full free instructions from here alittlecraftinyourday
Easy DIY Rainbow Paver Hopscotch Tutorial:
Amaze your kids by installing the rainbow paver hopscotch games for them at your outdoor or in the garden! Get inspired of this sample game that is made of garden pavers painted and numbered using paint and have been put flat on the garden ground according to game plan! This is here another fantastic summer game idea that all parents can duplicate to win the heart of their kid! Grab the full free instructions and guides from here happinessishomemade
How To Build a Cornhole Board Tutorial: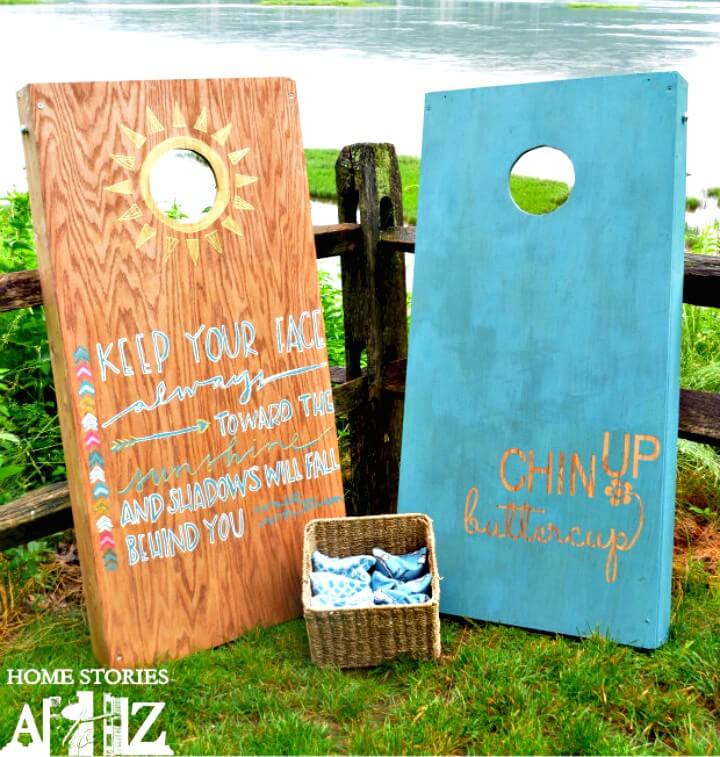 One more exceptional outdoor game idea that you will just fall in love with! Just recycle the old wood from home and build the cornhole board games that will really create bundles of excitement for all the youngers and for those who are young at heart! Checkout here the sample cornhole boards that are made of custom wooden lengths that build the frame and with plywood that gives the flat top with a hole in the center of the top! Personalize your finally finished cornhole boards using paint or stencils and enjoy! Here the bean bags have been made to play this game! Complete tutorial and instructions here homestoriesatoz
Make Your Own Cornhole Game Tutorial:
Looking for some special party or wedding games to play at your outdoors? Just play the cornhole board game at your outdoor and that will really create big fun! No need to buy this game, just repurpose the plywood and some pine wood lengths from home and make the good looking cornhole game boards at home! Just checkout the sample boards here that have beautifully been painted for precious geometrical pattern and are looking just great! Complete project tutorial and instructions here myfrugaladventures
Easy DIY Centrifuge Sprinkler Tutorial:
Checkout here another brilliant and low-cost game idea that will definitely inspire your creativity! Just make the centrifuge sprinkler game for your kids and let them have a great fun with it in summers! Checkout here the sample game that has been done to inspire and you only need a wooden skewer, straw and a plastic water cup to make this fantastic game for your kids! Grab the full free guides and visual instructions from here allfortheboys
DIY Outdoor Classic Board Games:
Reuse also your table runners and just paint beautiful games on it that you and your kids will be playing at outdoor! Check out there the sample classic board games that have been painted on a table runner using fabric paint and next a set of beach shells have been used a pieces of the game as you can see! If you are having a big table runner then you can simply paint different games on it at one time! Complete project instructions and tutorial here kojo-designs
Build Your Own Washers Game Tutorial:
Get inspired of this another outdoor game project that will definitely win your heart! Just make a beautiful washers game at home using custom wooden planks, plywood squares, grass carpeting and a PVC pipe! Here all you need to build a box with inside covered with grass carpeting and having a PVC pipe fixed in the center! Just paint some washers to play this game! Don't forget to add some locks to lock the game box while you or your kids are not playing it! Grab the full free guides and instructions from here amusingmj
DIY Oversized Tic Tac Toe Game Tutorial:
Tic tac toe games always go enchanting to kids and they just love to play this kind of games! So, why not please your kids this summer by building giant size tic tac toe games at home? Get inspired of this lovely tic tac toe game sample that is made of lumber wood and plywood and is really something fantastic to look at! Here square wooden post has been chopped for the wooden dices and the game frame is made of plywood! Stencil the wooden cubes for custom shapes and letters and enjoy! Complete project instructions here hertoolbelt
How To Make Giant Summer Backyard Games:
Want you kids out of the house this summer? If yes, then make these giant wooden dices for them that will really make your kids busy to play at outdoor for hours! Here all you need is to chop a thicker square wooden post for making some wood dices which can then be painted for numbers, dots or for custom shapes! Another easy and cost-efficient outdoor game idea for kids! Grab the full free instructions and tutorial from here dallas.citymom
Simple DIY Pool Noodle Ring Toss Tutorial:
This is going to be the perfect party or wedding game that you can make in just no time! The pool noodle ring toss game that would definitely make the guests and family members to have more fun by tossing the pool noodles rings on the fixed post! Here make a custom post with wood, metal or PVC pipe and just fix it in the backyard or garden ground and next make some pool noodle rings! Pretty easy, quick but super fun-making outdoor game idea ever! Complete project details and tutorial here trishsutton
DIY Yard Dice Step By Step Tutorial:
Once gain the beautiful dices are here to hold the attention of your kids! This time again these dices are made of a thicker wooden post, chopped in equal squares slices! Here these sample wooden dices have been painted n white and comes with black painted dots for a charming appeal! Another mind-blowing outdoor game project that your kids will love! Complete project instructions here myfrugaladventures
Easy DIY Lawn Scrabble Tutorial:
Duplicate this another fantastic game that will definitely go pleasing to your kids and will also help boosting their creative thinking! Just install the giant scrabble lawn games for the kids and let them play with them for hours! Here the lettered game tiles are made of masonite sheet and you can make them in any desired number! This would be the perfect puzzle game also to install to your backyard to enjoy the summers with whole family! Complete project instructions here constantlylovestruck
How To Make Your Own Tree Swing Tutorial:
If talking about the fun summer games that will make your kids enjoy and will also keep them physically healthy then swings would also work great! Just install beautiful tree swings in your backyard and they will make the best outdoor fun games for the kids! Checkout here the sample swing that is a big breeze to build! Here nautical rope, a wood plank and 2 durable metal hardware clamps have been used to build this lasting longer swing for the kids! Willing to duplicate this swing? Grab the full free tutorial from here abeautifulmess
Make Your Own Pastel Horseshoes Tutorial:
Looking for some perfect summer outdoor games that will rock for every occasion? If yes, then here is a brilliant game idea, install the horse shoe game to your outdoor that will be equally fun-making for both kids and adults! Get inspired of this sample horse shoe game that is self-painted for a charming appeal and you need a horse shoe game set and some paint to duplicate this outdoor game project! Grab the full free tutorial from here designlovefest
DIY Backyard Ker Plunk Game Tutorial:
The kerplunk is another brilliant game the kids dearly love and you can also install giant sized kerplunk games in your backyard that will definitely be a big fun station for all kids! Get inspired of this sample game that is self-made and is looking damn beautiful! Want to see this game next in your backyard? Then just grab some metal lattice, a wooden stand, some colorful balls and wooden dowels to duplicate this fantastic big sized kerplunk game! Quick guides and full free tutorial here allparenting
DIY Giant Lawn Matching Game Tutorial:
Make also the cool matching backyard or garden games that will definitely raise the outdoor fun of your kids! Have a look at this sample game that has been done using cork tiles which has been painted nicely in white and then for custom shapes! Put together the tiles equally spaced on your garden ground and let your kids have great fun with them! Complete tutorial and instructions here studiodiy
How To Make Gnome Lawn Bowling Game:
Get inspired of this dual functional garden game that is both a game and the stunning garden ornaments! Here the old plastic bottles have been cleaned and then have been covered in gnome prints which has further been painted for brilliant eyes and lips! Next these gnome lawn bottles have been filled a little with gravel and have been arranged on the garden floor making a cool triangle to hit with a giant ball! Another brilliant outdoor bowling game idea that will definitely inspire your creativity! Complete instructions and tutorial here makezine
Cute DIY Ice Block Gmae For Kids:
Nothing could make you feel great in summer but the cold water baths and the ice fun! So, why not prefer some icing games for your kids that will not only boost the fun of your kids but will also help to beat the summer heat! Checkout here this sample ice block game that is something really interesting and mind-blowing! Here all you need is to make the ice blocks with inside fozen toys and food colored ice cubes frozen in them that would be the hidden treasures that you kid will love to explore using different fun tool like spoons and water guns! Complete step-by-step instructions and tutorial here brandon.macaronikid
DIY Pool Noodle Backyard Games:
Here is a simple and straightforward backyard game idea that will definitely make your kids enjoy the summer more! Just go smartly handmade with pool noodles and make fantastic ring out of them! Now put them together with ending straight lines of a pool noodles and the super fun-making kids backyard games would just be ready to play! Checkout here this sample pool noodle game that has been made with colorful pool noodles and is also a budget-friendly game idea! This game can be played in multiple different ways as you can see! Complete project instructions here parents
Easy DIY Wood Burned Tic Tac Toe Tutorial:
Chop also a wood long and grab the rustic wood slices also to make amusing outdoor games! Just peek into details of this tic tac toe game that has been done using rustic wooden slices that have been burned for different shapes, symbols and patterns! Next you can make a set of burned wood slices and can start playing the tic tac toe game on a paper that should come with 9 or more traced out squares! Complete project instructions here spalvotasdryzuotas
How to Make 3 EZ Summer Outdoor Games:
Are you a big fan of gold and really want to play it at your outdoor this summer? If yes, then check out here the mini golf courses that come with custom obstacles made of rocks, wood logs and other custom materials! The golf courses are made of galvanized building materials and are even flat and bordered! Perfect outdoor games to play during a wedding or party for a fun break and to make the moment memorable! Grab the full free guides and instructions from here nyclq-focalpoint
Hot To DIY Picnic Blanket Game Board:
If you love to enjoy the summer by organizing outdoor picnics and parties then you must include some games to your picnics also to have more fun! Why not turn your picnic blanket into a brilliant game board? Just use the fabric paint and paint your picnic blanket for custom games like for chess and enjoy the picnics more! Check out here this sample picnic blanket game board that has been done to inspire and is really looking beautiful! Grab the full free instructions and guide from here nelliebellie
Easy DIY Picnic Party Games Tutorial:
One more enjoyable game plan is here that will make your kids and siblings have great fun! Just recycle the tin cans and paint them beautifully to make a stack that will make a perfect target hit with custom items in hands of your kids! Here the yarn packs have been filled with rice using a funnel and they make the perfect bean bags to hit the tin can stacks! Perfect outdoor game idea to win the heart of a kid! Complete project instructions and tutorial here twoshadesofpink
Make Your Own Outdoor Tic Tac Toe:
Make also use the cutting board and flat rocks to make outstanding tic tac toe games! Get inspired of this sample game that has been done by painting a cutting board for custom games lines and squares and finally the decoupaged flat rocks have been used as the game pieces as you can see! Use the custom paper cutouts to adorn the flat rocks using paper decoupage technique! Complete visual instructions and tutorial here creatingreallyawesomefunthings
How To Make Bobbing For Donuts Tutorial:
You will just fall in love with this another game project if you are on a mission to make your kids happier! Just install the fun food games to your outdoor that will create bundles of fun for your kids! Check out here this superb bobbing-for-donuts game that is really something to make your kids enjoy the outdoors more! Here all you need to do is to hang the donuts using rope or twine on a height level easy to access by the mount or face of the kids! Complete project details here thechicsite
Easy DIY Cement Dominoes Tutorial:
Grab the ice cube tray mold and just fill it up with quick drying cement! After the cement dries well just take out the cement cubes or bars and then just paint them beautifully for the custom dots and make the eye-catching dominoes that would really be a big fun for your kids to play with! This is here another interesting and adorable kids game project that you will just love to duplicate! Willing to duplicate this amazingly beautiful project? Grab the full free guide and visual instructions from here
How To DIY Cloth Picnic Games Tutorial:
Check out here another epic game that has been done to inspire, this is here the cloth picnic game that all will love to play to make the picnic memorable and enjoyable! Here all you need to do is to add the custom white dots on your fabric and next you can grab some toothpicks to play the game beautifully and nicely! Along with custom white dotting, you can also paint different line games or a chess game on your fabric! Complete project instructions and tutorial here sayyes
DIY Tic Tac Toe Game Perfect For Summer:
Check out here another precious tic tac toe game that has been done to inspire! Here a wooden board has been painted for custom white lines that are according to game plan and finally the river rocks have been painted for custom symbols and sign and make the stunning game pieces! This is here another great and outstanding outdoor game project that you can duplicate in just no time! Complete project instructions and tutorial here tatertotsandjello
Make Your Own Tetherball Set Tutorial:
If you and your kids just like very much the football games very much then you must give a try to this tetherball set that has been done to inspire and is really something beautiful to look at! Just get a metal pole and fix it well in the cemented tire and next just hang a football on the pole using a longer piece of string! Next just hit the ball and it will fly around the pole beautifully! This is here another fantastic outdoor game project that you will love to duplicate! Complete project instructions and tutorial here simplykierste
Easy DIY Ring Toss Game Tutorial:
One more fantastic game plan here that will surely hold your kids attention! Here a round wooden pine disc has been added with vertical wooden dowels glued well in place and hence a beautiful toss ring game has been made that will create too much fun for the kids for sure! Here the rings are also handmade and you can also clone them easily! Just wrap the neon rope in duct tape keep laying glue at the same time and get fantastic colorful rings! This is here another fantastic outdoor game project that all parents can duplicate for their kids! Complete project instructions and easy guides here momendeavors
DIY Backyard Plinko Party Game Tutorial: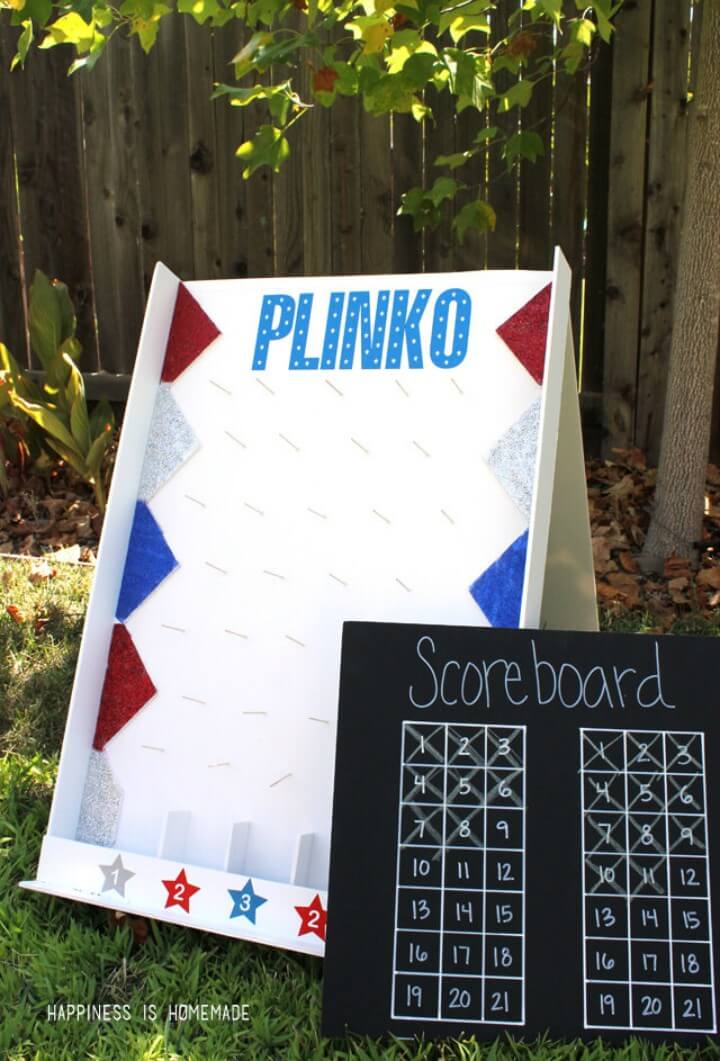 If you are willing to raise the fun of your parties just by adding few fun games then you must try this Plinko party game that is purely handmade and has been made out of Elmer's foam boards! Here the accent boundary lines have been given to entire game that are also made of Elmer's foam triangles and have been made beautiful using different colored glitter! Finally the toothpicks have been fixed vertically on the entire foam board and custom dividers have been added to make cool mini compartments! Just use the painted jar lids as pieces to play this game! Complete instructions and tutorial here happinessishomemade
Adorable DIY Cornhole Board Plans:
You will just fall in love with this another creative achievement that has been done to inspire! Here a lovely cornhole board has been made at home that is just looking adorable cute and fantastic! Just make the rectangular frame using pine wood lengths and then cover it up nicely using plywood sheet! Don't forget to install the rare legs to get the board in tilted position and don't forget to make a bigger hole in the upper center to play the game! Just make custom bean bags to throw on the cornhole board! Grab the full free guide and instructions from here lowes
DIY Pool Noodle Sprinkler for Summer Fun:
Next you can also boost the water fun of your backyard or garden by adding custom water fun games that will also help beat the summer heat! Check out here the pool noodle sprinkler that will be ready in no time and would definitely make a great game for the kids! Complete instructions here ziggityzoom
How To Make Kiddie Car Wash Tutorial:
Enjoy the summer moments more while beating the summer heat at the same with this kiddie car wash stations that is self-installed using the common material like PVC pipes, pool noodle, sponges, nylon rope and plastic table clothes! Installation of this kiddie car will not just take much time as you only have to connect the PVC pipes together using custom joints and connectors! Don't forget to connect a garden house at the end! Grab the full free instructions and tutorial from here momendeavors
Simple DIY Water Blasters Tutorial:
Gift also this water blaster station to your kids so you can see them then mostly enjoying at outdoor with friend and siblings! Here these water guns or blasters are made of PVC pipe, vinyl tubing and with pool noodles and is really something that will be loved dearly by all the kids! Here custom hose barbs and PVC valves have been used inside the blasters to create the water pressure and custom couplings and joints have also been used for overall assembly! Complete project instructions here momendeavors
Easy DIY Backyard Fishing Activity Tutorial:
Duplicate this another fun game for your kids who are striving for some water fun in the deadly hot weather! This is here the backyard fishing game that all kids would just love to play with friends and siblings and all you need a big water tub that will be used as a fishing pond and next you can add some faux fishes into the pond! The creative twist here is the magnets that come on the end of fish catching rod made of a wooden dowel and nylon rope and they stick well to metal paper clips that come connected on the face of the pond fishes! Let your kids enjoy happy fishing! Complete project tutorial and instructions here momendeavors
DIY Patriotic Ladder Golf Game Tutorial:
Make your parties memorable by adding this ladder gold game that will be equally enjoyable by all kids and adults! Here the entire game fame is made of PVC pipe and custom PVC connectors and joints and then the tennis ball bolas have been made using 2 tennis ball and a piece of nylon cord for each! The idea here is to drill holes in the tennis balls and then to connect them using a piece of rope!! Here the game frame has also been painted a little with red and blue for a patriotic appeal! Another brilliant outdoor game project! Complete instructions here momendeavors
Make Your Own Lawn Dominoes Tutorial:
Play also at your backyard or in your garden with handmade giant dominoes that would really create too much for! This can be another interesting outdoor project that you can duplicate in just no time! Just grab the pieces of pine wood cut to custom size and then paint then in custom color and for white dots and just make precious lawn dominoes! Here these sample dominoes come painted in two shades of blue and with white dots! Complete project instructions here ironandtwine
How to Make Ladder Golf Game Tutorial:
Peek into details of this another praise-worthy design of handmade gold game that has been done with 2x4s, plywood and wooden dowels! Here the custom ladder style stands have been made with wooden dowel cross beams or spindles that are the target for your ball bolas! Here these ladder golf stands have been provided with upright and flat supports that bring great visual details and also make them stand in a stylish way! Complete project instructions here twindragonflydesigns
Easy DIY Spring Time Tic-Tac-Toe Game:
Have you ever imagined that a wood log and some river rocks can be your next great inspirations for an outdoor fun game? If not yet, then have a look at this springtime tic-tac-toe game that is a beautiful sample here! Here custom lines have been painted on a tree trunk or wood log and custom river rocks have been painted for custom shapes that make the brilliant game pieces! Perfect game idea to get your kids at outdoor! Complete project instructions here chickenscratchny
DIY Backyard Games Perfect For Summer:
Grab a big stack of yarn bamboo sticks and just paint several sets of bamboo sticks in desired paint colors and make backyard fun games out of them! Have a look at this giant pick-up sticks game that has been done to inspire and is something your kids will to play every time they are at outdoor! This is here the super easy, quick and no-cost idea for outdoor gaming! Complete project instructions here iheartnaptime
How to DIY Backyard Carnival Games For Kids: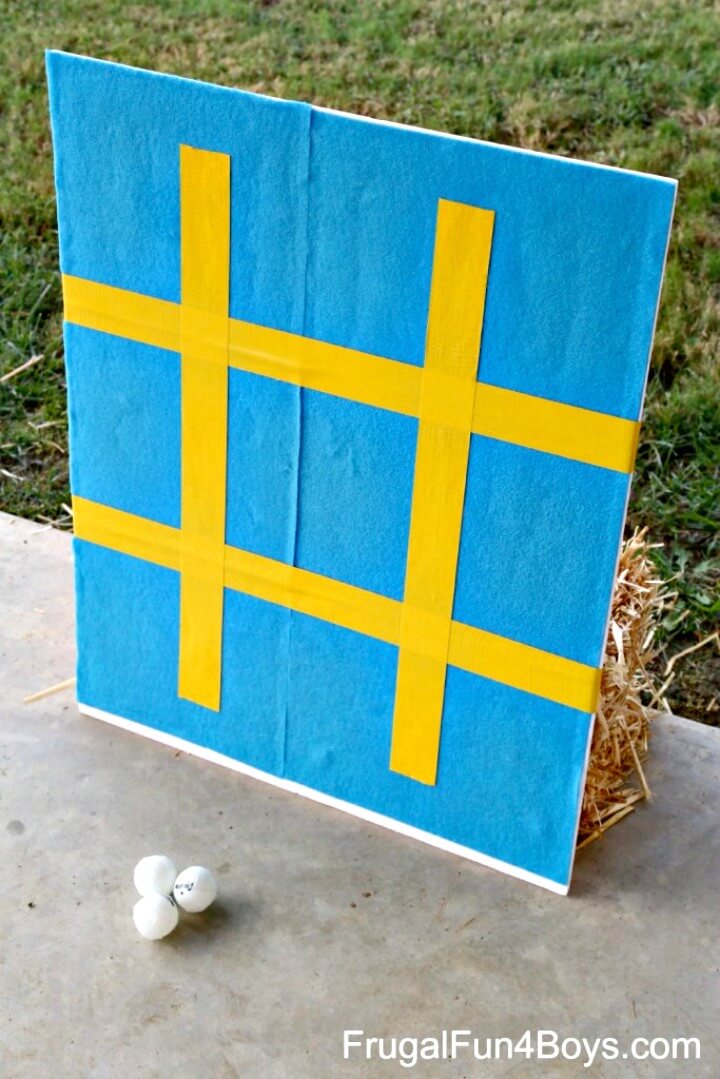 Make your kids respect you more by giving them this nice outdoor game gift, just make this super beautiful backyard carnival game that is super fun-making! Here this brilliant game is made of foam board that has been covered nicely with felt and then the duct tape stripes have been cut and pasted to the board for the tic-tac-toe game design! Next the ping pong balls have been covered with Velcro and make the perfect sticky balls to play the game! Complete project tutorial and instructions here frugalfun4boys
How to Make Bean Bag – Toss Outdoor Games: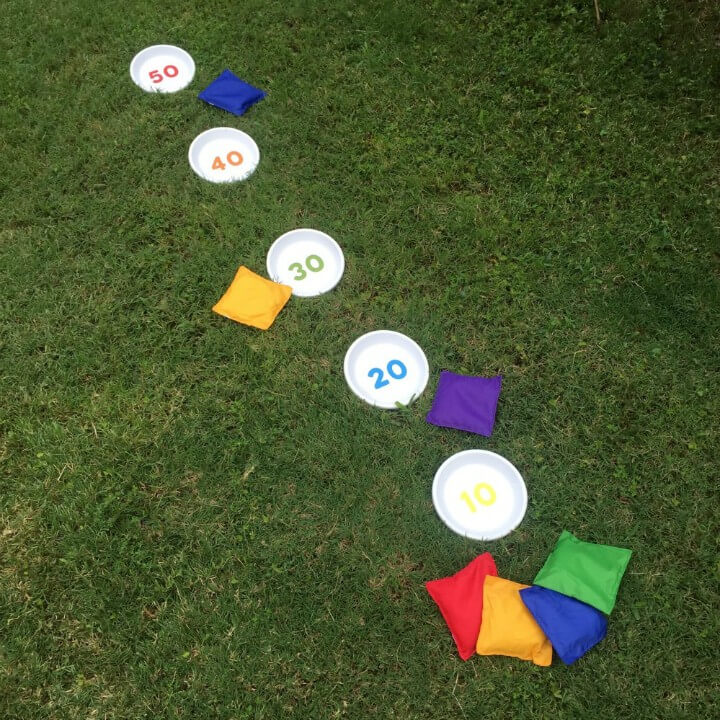 Get inspired of this another brilliant outdoor game idea that is insanely smart! Just give an attractive call to your kids to enjoy the outdoors this summer by installing this bean-bag toss outdoor game! Here all you need some clay pot saucer that can be painted and numbered and then can be fixed in the garden ground to hit by the beanbags you will throw to get points! Use different colored bean bags to give some colors to your game! Complete project instructions and tutorial here modpodgerocks
How to Build Washers Game Tutorial:
Go handmade with plywood and custom wooden planks and make gorgeous washers games for your lawn and outdoor! Here all you need is to build a square wooden frame with a hole in the center that can simply be fixed in the garden ground as a fun stations for your kids! Just grab some washers and throw them onto this wooden board to reach central hole target! Both kids and adults would just love to play this fantastic game! This game will also rock for parties and other fun occasions! Complete project tutorial and instructions here fourmarrsonevenus
How to Up-cycle an Old Pallet Into a Corn-hole Game:
Intending to make some low-cost corn-hole games for your kids? Then why not reclaim some wooden pallets that will be durable and can easily be turned in to corn-hole game boards! Here the idea is just to make a hole in the upper center of the pallet and then just get the pallet into a tilted position by installing custom legs to backside! Grab your custom bean bags and start playing this game nicely at your outdoor! Another brilliant outdoor fun-game project that you will just love to duplicate! Complete project instructions and tutorial here hgtv
Easy DIY Outdoor Games Tutorial:
Maybe your kids the adventures so you can also install the outdoor adventure games for them to make them busy at outdoor in a fun way! Check out here this super spider cave maze game, a beautiful adventurous game ever made for the kids and would definitely make a great summer gift for all the kids! Here all you need to install a bigger spider cave to your outdoor using a big ring and rope! Want to duplicate this another fantastic spider cave maze game? Grab the full project details from here learnplayimagine
Adorable DIY Spider Cave Maze Game Tutorial:
Maybe your kids the adventures so you can also install the outdoor adventure games for them to make them busy at outdoor in a fun way! Check out here this super spider cave maze game, a beautiful adventurous game ever made for the kids and would definitely make a great summer gift for all the kids! Here all you need to install a bigger spider cave to your outdoor using a big ring and rope! Want to duplicate this another fantastic spider cave maze game? Grab the full project details from here adventuresathomewithmum
DIY Tin Can Toss Backyard Game Tutorial: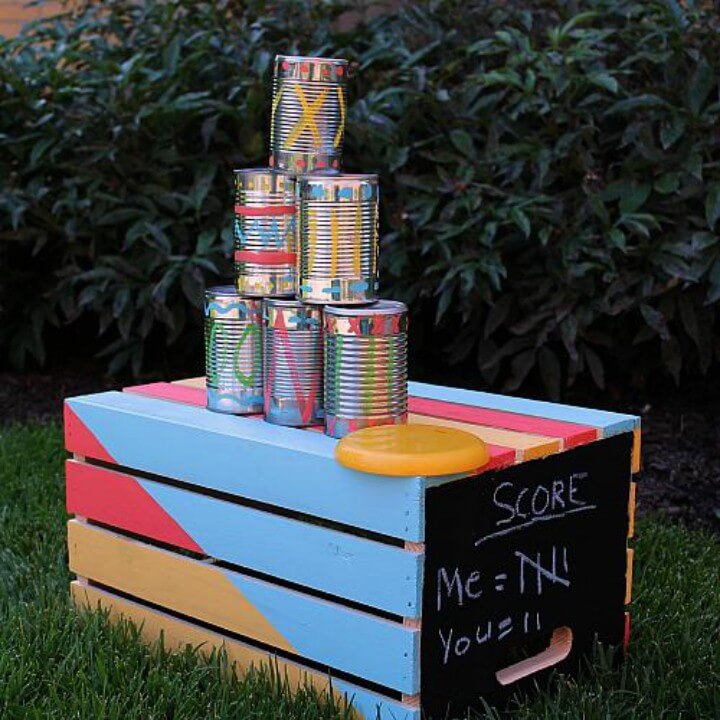 One more super fun-making backyard game project here that will definitely inspire your creativity! This here the tin can toss backyard game that has been done just by stacking a few tin can as a target which are to hit with different items in hand like balls or Frisbee! Paint the tin cans in your own favorite way and using your own favorite colors and also make use of custom crates or supports to set them to a brilliant height level like done in this project! Complete instructions and tutorial here decoart
Simple DIY Outdoor Games For Kids:
Looking for a great outdoor game idea that will be expensive? Then just check out here this simple DIY outdoor game idea that is just to make the beautiful wooden dices in desired number! Just paint the wooden cubes for custom dots on all the sides and start using them as beautiful dices! Here in this game the dices have been put in a big plastic bucket to toss after a little shake! Here the natural looking wooden cubes come with black painted dots but you can go with your own desired colors! Complete project instructions here busycreatingmemories
DIY Outdoor Game For Summer Fun Tutorial:
Check out here some more fab looking wooden dices that are also super quick to build! Here these dices can also be used to play different outdoor games! The very good news is that these dices are super easy to make, just paint the wooden cubes in a custom color and then paste your Cricut white vinyl circles on them for custom dots on each side of the dice! A super quick summer fun game project! Complete instructions here makelifelovely
How to Make Water Balloon Towel Toss Game:
Get inspired of this another fantastic game that you will love to play with your kids and other family members! This is where the water balloon towel toss game that will not take much time to make! Here all you need a big bucket of water balloons and some towels to throw the water balloons! This is the game that will make you enjoy the great water fun this summer! Intending to duplicate this low-cost outdoor game project? Grab the full free guide and visual instructions here loveplayandlearn
Easy DIY Cornhole Game Tutorial:
Cornhole games are always go enchanting to kids and they will just love to play them with siblings and friends! The very good news is that you can make your beautiful cornhole games at home using custom wood! Just go handmade with plywood and make your own beautiful cornhole game in just no time! The idea is just to make a big plywood board with a hole in the center top position and next just bring it to tilted positions by installing custom back legs or support! Have a look at this cornhole game sample that has been done to inspire! Complete project instructions here lovelyindeed
Easy DIY Ladder Golf Tutorial:
Once again a brilliant ladder gold game is here to amaze your senses! Here this ladder gold game has been done using PVC pipes which have been connected together using custom joints and elbows and comes on flat feet to stand alone! After you get your ladder gold game frames, then just paint them in a custom way for a personal look and make also your ball bolas to play the game! Willing to duplicate this ladder golf? Grab the full free guide and visual instructions from here herecomesthesunblog
How to Build a Homemade Mini Golf Course:
Get your outdoors also inviting for friend and family members by installing your own custom golf courses! Check out here the sample mini golf course that has been done to inspire and is something that your kids will to be around all the time with golf sticks in hand! You can make use of custom home materials and even of kids toys to make the good looking golf obstacles that will also make the great garden decors also! Grab the full free guides and visual instructions from here ehow
DIY Ladder Toss Outdoor Game Tutorial:
Dice games are always fun raising like the Yahtzee! So, why not enjoy these games at your outdoor too with a whole family and kids? So, make adorable giant dices at home using custom wooden cubes that can be painted first for an enchanting background color and next with white dots! Check out here the sample painted wood dices that are looking amazingly beautiful and much focally stimulating to eyes! Complete project instructions here makinglemonade
Simple DIY Yard Yahtzee Tutorial:
Whether you are willing for some dominoes games to play at outdoor or you are just willing to play Yahtzee with bigger dices! No matter if you love the pick-up stick games or any other game of this kind! You can make a whole bag of these games at home using custom wooden cubes, boards and wooden round sticks! Check out here this sample DIY game bag that would make a great gift to kids who love to be at outdoor all the time with siblings and friends! Grab the full free instructions and tutorial from here thepinningmama
Beautiful DIY Bag Outdoor Games Tutorial:
Whether you are willing for some dominoes games to play at outdoor or you are just willing to play Yahtzee with bigger dices! No matter if you love the pick-up stick games or any other game of this kind! You can make a whole bag of these games at home using custom wooden cubes, boards and wooden round sticks! Check out here this sample DIY game bag that would make a great gift to kids who love to be at outdoor all the time with siblings and friends! Grab the full free instructions and tutorial from here delineateyourdwelling
DIY Outdoor Games Bag for Kids Tutorial:
Also in the heart of your kids by making beautiful outdoor games bags for your kids! So, you can make custom DIY game bags at home using with kids favorite games like from picket sticks to dice games and also from ball toss games to ring toss games, just fill the bags with any game your kids are interested in! Here this sample bag has been filled with footballs and plastic buckets and is something that your kids will love as a gift! Complete instructions here organizeyourstuffnow
Make Three Hole Washers Game – Outdoor Game:
Just like the cornhole game, you can also make the outstanding washers game at home without getting expensive! Just check out here the sample wooden game that has been done with the plywood and custom lumber or pine wooden lengths and it comes with 3 cut out holes in the top to target with the washers! Just throw the washer to pass through the holes and have lot of fun! Another interesting game project that everyone can duplicate in just no time! Complete project instructions here mycrazygoodlife
DIY Scatter Molkky Yard Game Tutorial:
Repurpose also the old cutting boards to make cool tic-tac-toe outdoor games for the kids! Have a look at this lovely sample in which an old cutting board has been painted for the game design and pattern and next the flat river rocks have been painted for custom letters and signs to make outstanding game pieces! Another quick, smart and low-cost outdoor game project that you can easily duplicate! Complete project instructions and tutorial here hertoolbelt
Easy DIY Tic Tac Toe Outdoor Game:
Willing to develop genius and sharp brains in your kids by means of outdoor games? If yes, then you must make your kids play some Jenga yard games that would make the perfect puzzle games and will also make your kids learn with outstanding balancing techniques! Check out here the giant Jenga yard game that has been made of 2x4s wooden lengths and is something that will make a heart-winning gift for the fun-loving kids! Willing to duplicate this game? Grab the full project details and tutorial from here tinselbox
How To Build Giant Jenga Yard Game Tutorial:
Willing to develop genius and sharp brains in your kids by means of outdoor games? If yes, then you must make your kids play some Jenga yard games that would make the perfect puzzle games and will also make your kids learn with outstanding balancing techniques! Check out here the giant Jenga yard game that has been made of 2x4s wooden lengths and is something that will make a heart-winning gift for the fun-loving kids! Willing to duplicate this game? Grab the full project details and tutorial from here seededatthetable