Building a DIY blanket ladder can be an easy and affordable way to add style and function to your space. Learn how to build a wooden blanket ladder with these 50 free DIY blanket ladder plans, ranging from rustic styles to contemporary designs. Each diy blanket rack plan includes easy step-by-step instructions and detailed material lists to help you make your own decorative blanket ladder. By exploring these DIY blanket ladder plans, you can make the perfect one that matches your home decor.
DIY blanket ladders are versatile pieces that serve two primary purposes. First, they can effortlessly enhance the ambiance of your room with their unique aesthetic appeal. Second, they provide a practical solution for storing your blankets, keeping them organized and within easy reach.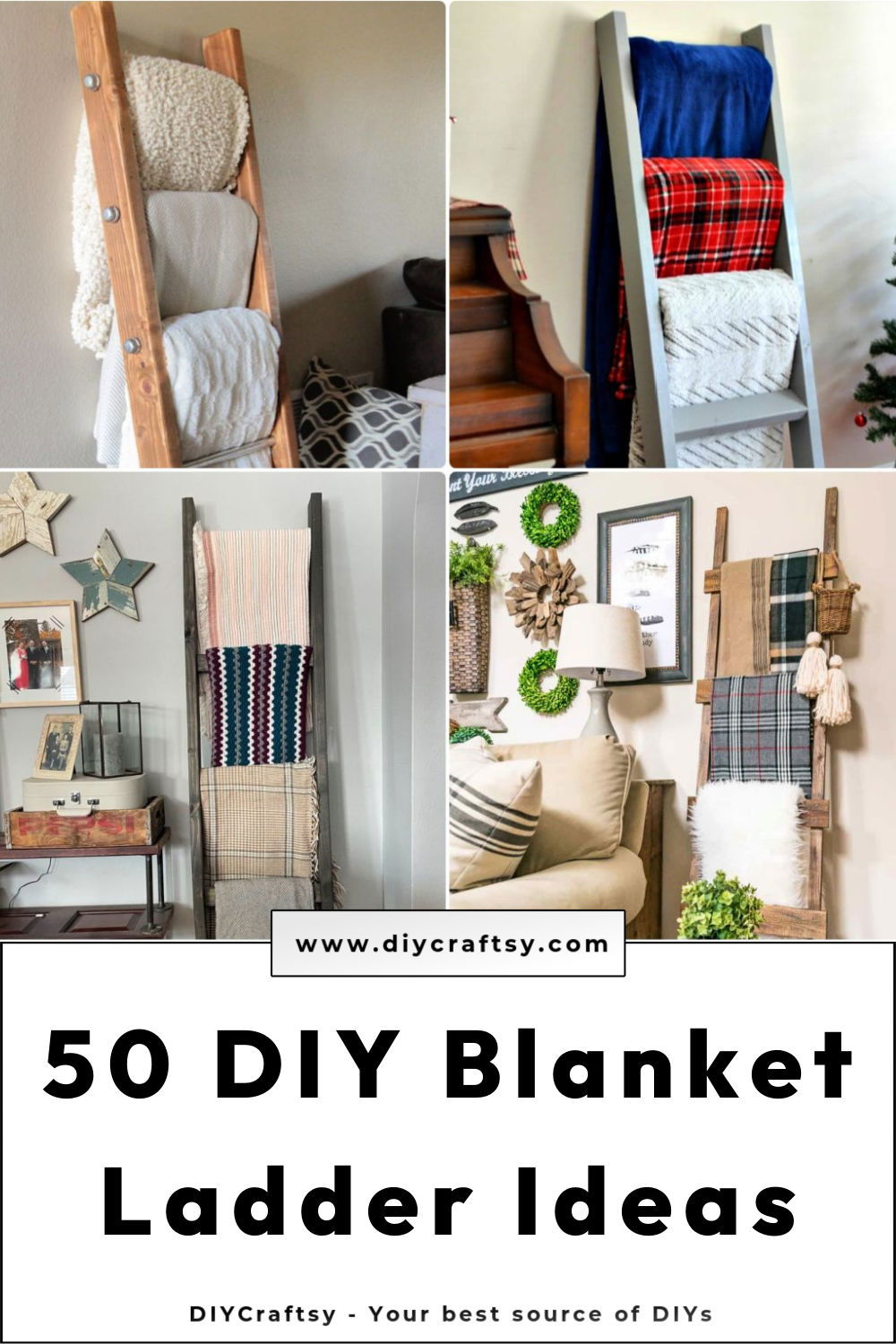 Whether you prefer a rustic wood blanket ladder or a sleek metal ladder, the 50 free DIY blanket ladder plans provide various options to suit your taste. These plans range from ladder blanket holders and quilt ladder racks to small decorative ladders for blankets. You'll find exciting plans like a blanket ladder made from repurposed metal pipes or tree branches.
With time, creativity, and the right supplies, you can build a beautiful DIY wooden blanket ladder to display your beautiful quilts, throw blankets, and even towels stylishly. Explore these free DIY blanket ladder plans, and start making your functional home decor piece today!
1. Easy DIY Blanket Ladder Under $15
Dive into a rewarding weekend project with this practical and appealing DIY blanket ladder guide. This chic, rustic accessory not only offers a creative storage solution for your favorite cozy throws but also serves as an elegant piece of functional decor. Don't worry about breaking the bank; with less than $15 and just about an hour of your time, you'll have a beautiful blanket ladder to display in your home.
This guide offers clear, step-by-step instructions to craft your blanket ladder. Customize it to your liking with distress techniques and your choice of wood stain, making it a truly personal piece of home decor.
Download this tutorial's free, printer-friendly version for a handy reference guide. The guide covers everything from assembling the ladder to styling it for the holiday season, helping you make a cozy corner in your space. joyfullygrowing
2. Make a Blanket Ladder Using Wood and Copper
Enhance your home decor while managing clutter with this innovative DIY blanket ladder. As an aesthetic holder for your multitude of blankets, this project allows you to display your love for textiles fully. With four round wood dowels and six copper pressure tees, among other easily sourced supplies, this endeavor provides a unique and chic solution to storing blankets.
Follow simple steps like measuring and cutting dowels, applying glue to dowels and copper tees, and attaching the copper tube caps, to build a sturdy and functional ladder. Add a touch of zeal to your living space while showcasing your favorite blankets with this do-it-yourself copper detail ladder. foxtailandmoss
3. DIY Blanket Ladder for Home Decor
Embark on an exciting adventure and craft a personalized blanket ladder with this comprehensive guide. This easy and economical home decor project can enhance any room's aesthetic. Constructed from inexpensive materials like 2-6 foot 2x2s and 1-inch dowel rods.
This DIY blanket ladder is an eye-catching display for cozy blankets or unique wreaths. The guide provides easy-to-follow instructions, from preparing the wood to applying the finishing touches.
It emphasizes how careful drilling, hammering, and wood glue can yield a sturdy, rustic ladder that can be an enduring keepsake. Besides being a great conversation starter, the ladder could also serve as a charming testament to your DIY prowess. Start building today and elevate your home decor! ablossominglife
DIY home decor: Give your home a fresh and stylish look with these simple DIY home decor ideas on a budget.
4. Making a Rustic Blanket Ladder Under $15
Add a cozy, farmhouse touch to your living space with a DIY rustic blanket ladder. This ladder offers a practical solution to keep your blankets organized while enhancing your home's aesthetic appeal. Built-in less than a day and with a budget of under $15, this project is an easy way to add a rustic appeal to any room.
This blanket ladder measures 47 inches in height, constructed with two wooden and four rounded sticks. Adorned with a walnut wood stain and a touch of white latex paint for that rustic finish, this ladder brings warmth and comfort to your home.
This guide provides clear instructions, from preparation to the assembly process, making it achievable even for those with no carpentry experience. So, gather your wood, wood glue, paintbrush, sandpaper, and wood screws, and get ready to build this simple yet stunning home decor! thecraftingnook
5. Cool Wood and Metal Pipe Blanket Ladder
Experience the joy of crafting with these DIY blanket ladder plans. Build a functional and aesthetically pleasing accent piece for your home with a DIY wood and metal pipe blanket ladder! This easy project combines 2×4 studs, galvanized metal pipes, metal caps, and some handiwork to make an inviting piece perfect for displaying cozy throws.
The ladder's rustic allure is further enhanced using a wheat-colored Rust-Oleum stain and strategic distressing, lending a vintage finish. You can adjust the ladder's design and overall cost to suit your needs, making it a versatile addition to any room.
With precise measurements and careful assembly, your blanket ladder can be an interesting focal point or a practical holder for your favorite blankets. It's the perfect project to fill your nap time or a quiet afternoon! shanty 2 chic
6. How to Make a Wooden Blanket Ladder
This DIY blanket ladder will enhance your living room decor and tidy your space! This project offers a stylish solution to manage the unruly blankets scattered around the house. A couple of 2x3s, wooden dowels, wood screws, and your choice of paint or stain are all you need to bring this unique home addition to life.
To ensure the safety of young children, it's recommended to fasten the item to the wall securely. This functional ladder adds a chic aesthetic appeal to any room, particularly if you have vaulted ceilings. Try doing this easy project today and enjoy a neat, elevated living space! simplybeautiful
7. Building a Wooden Blanket Ladder
Make your DIY blanket ladder with woodwork and craftsmanship to show off your cozy collection! This farmhouse-inspired ladder made from 2x4s is perfect for the fall season and offers your home a cozy, rustic touch. The construction process is straightforward, requiring standard materials like a miter saw, nail gun, wood stain, and wood glue.
This ladder isn't designed for climbing, and it makes an attractive, functional accessory for holding blankets or decorating with fall items. Craft this charming blanket ladder today to add a warm, homely touch to your space. lifestorage
8. Do It Your Self Blanket Ladder at Home
Elevate your living space while effectively utilizing leftover materials with this charming DIY blanket ladder. Offering a practical solution to blanket storage or easy access for movie nights, this project helps turn leftover wood into attractive home decor. Key supplies include a scrap piece of wood, miter or circular saw, sandpaper, wood screws, carpenter's square, drill, and wood stain or antiquing glaze.
Prepare the wood by sanding and washing it thoroughly, and adding an antiquing glaze for a uniform, rustic look. Assemble the ladder by arranging the long pieces on a flat surface, then eyeballing where the braces or rungs should go. Make use of a carpenter's square to ensure the rungs are level.
After drying, you can position your ladder anywhere in your house as an artful decorative piece and a handy blanket holder. This ladder is a perfect beginner's project and a fun family activity that requires less than two hours to finish. No more blanket clutter and more room for style! notinggrace
9. How to Build a Rustic Blanket Ladder
Get ready to redefine your living space with a DIY rustic blanket ladder, the perfect solution for a clutter-free room and a stylish corner update. With a budget under $5 and only 30 minutes, this beginner-friendly woodworking project will keep your blankets organized and effortlessly add to your room decor.
You need simple tools like a handsaw, hammer, nails, and essential supplies like wood glue, sander, stain, and 1×2 and 1×3 woodcuts to make this. Once assembled, this ladder doesn't only serve to store blankets but also cleverly conceals unsightly cable wires.
Whether you want to keep coziness on those cold pacific northwest days or spruce up your room, this blanket ladder is your go-to project! Build one today and transform your cozy corner into an organized, rustic retreat. homebyjenn
10. Smart DIY Blanket Ladder
Revamp your home decor while adding functional storage with a DIY blanket ladder! Build this stylish and elegant piece using easily sourced materials like 2×2 furring strips, wood screws, and your choice of wood stain. You'll need a saw, drill, and measuring tape to cut the strips to your desired length and some wood glue to attach the rungs.
Apart from being a savvy storage solution, this homemade ladder can also be an incredible housewarming gift. Building a blanket ladder is a budget-friendly and simple project to enhance your living space's ambiance and functionality. So why wait? Start your DIY adventure today and add a personalized touch to your decor. berglundcars
11. Build a Blanket Ladder With Step by Step Instructions
Discover the charm of the DIY $5 blanket ladder, an affordable and functional piece for all blanket lovers. Aesthetically pleasing and easily accessible, this ladder requires minimal materials like a 1x3x8′ board, pocket hole screws, wood glue, and sandpaper.
The process entails measuring and cutting your lumber, arranging your ladder rungs, and assembling the ladder. Tools like the Ryobi Combo Kit, a pocket hole jig, a sander, and a tape measure will be useful during the build. The design includes optional angled ladder legs and felt pads for wall protection, emphasizing its thoughtfulness.
Besides being a beautiful decor piece, the blanket ladder also offers an effortless solution for blanket storage. Use this guide to construct a convenient and stylish blanket ladder that costs less than $5. hertoolbelt
12. How to Build a Blanket Ladder With Wood
Relish the cozy warmth of your favorite blanket without worrying about feline fur when it's not in use with a DIY blanket ladder. It doubles as practical storage and charming decor! This project employs two 5′ 2×4 boards and 4 18″ long 1/2″ metal plumbing pipes to construct a sturdy ladder with four rungs
. Elmer's ProBond Advanced glue ensures a secure bond between the metal and wooden components. The ladder is completed with a touch of wood stain for a polished look.
It's a perfect creation to keep your blankets organized and free from shedding cats while adding a rustic touch to your living space. Ensure you follow all instructions carefully for the best results. Let's get creative and enjoy the process of building our blanket ladder! practicallyfunctional
13. Inexpensive Pallet Wood Blanket Ladder
Want to bring an elegant look to your living space while tidying up? This easy and quick DIY pallet blanket ladder tutorial offers a charming, rustic solution to your blanket storage woes.
Requiring minimal materials like scrap pallet wood, rough-cut pine, and some basic tools, this project delivers a visually pleasing and functional piece to keep your blankets neatly arranged. The design offers flexibility as you can adjust lengths and widths to match your aesthetic preference.
Discover the joy of transforming simple pallet wood into an elegant, rustic blanket ladder, where your cozy blankets can find their perfect home. Transform your living space with a simple touch of DIY charm today! farmhousemade
14. Simple Blanket Ladder for Quilt Display
Spruce up your home decor with this DIY blanket ladder, an ingenious way to display your favorite quilts. Perfect as a gift idea, this project is simple and affordable, requiring just three pieces of wood and a few hours. A blanket ladder can add a touch of elegance to your living space while making good use of your blankets when not in use.
The material of choice for this project is cedar, chosen for its aesthetic appeal and sturdiness. Equip yourself with supplies such as a miter saw, sandpaper, drill, Kreg Jig, and clear sealer, and you're all set. The project is straightforward, with the construction involving cutting boards to length, drilling pocket holes, sanding, and assembling.
The finish with a clear satin sealer adds a luxurious touch, making a stylish ladder ready to show off your quilts. The detailed process ensures your creation is functional, unique, and attractive. lemonthistle
15. Free Blanket Ladder Woodworking Plan
Unlock your inner crafter and build a stunning blanket ladder with this easy-to-follow DIY Free woodworking plan! It is a stylish and functional ladder for organizing your favorite throws and enhancing your living space while keeping your blankets within easy reach. Using common materials like two 2×4 boards, a 2/3 board, nails or screws, wood glue, and stain, this project is feasible within a budget of around $10.
The ladder can be customized to your desired length, and a simple miter saw can build an ideal 10-degree angle for stability. Building a blanket ladder is a cost-effective storage solution and a charming addition to any room.
It adds a rustic appeal and organizes your throws beautifully. Remember, this process might require an extra set of hands during assembly. So gear up for creative fun, reduce clutter, and add a tinge of magnificence to your home with this do-it-yourself blanket ladder project. Enjoy crafting! craftyllamabylonie
16. Adorable DIY Wooden Blanket Ladder
Step up your home decor game with an everyday, multi-purpose DIY blanket ladder! Ideal for holding throw blankets, quilts, or even Christmas stockings, this ladder adds a unique charm to your living space.
Made from pine boards, wooden dowels, and some screws, you can customize it to match your style using the stain you choose. It serves a functional purpose and can display your favorite home decor pieces, enriching your home's ambiance.
With dimensions of 60″ by 19″, the ladder offers ample space for your items. The process is simple and enjoyable, from sanding the parts to assembling the ladder. Make your blanket ladder today and introduce a rustic element to your interior decor! kippiathome
17. Building a Rustic Blanket Ladder
Reinvigorate your living space with a handmade rustic ladder, an eye-catching way to display your cozy throw blankets. This easy-to-follow DIY tutorial demonstrates the process of crafting a unique and appealing decor piece for less than $20.
With simple materials such as cedar boards, wood screws, a saw, black paint, gray stain, and three paint brushes, you can construct a 6ft tall, 18″ wide ladder in the afternoon.
The ladder's rustic charm is achieved by strategically applying black paint for an aged look, followed by layers of gray and wood-colored stains. Embrace the warmth of DIY and add a dash of farmhouse flair to your home with this beautiful, practical ladder. worthingcourtblog
18. Handmade Blanket Ladder Under $20
Elevate your home decor and organize your cozy blankets with this easy under-$20 DIY blanket ladder. This functional yet aesthetic project can be assembled in 30 minutes with tools such as a miter saw, nail gun, tape measure, and drill. You'll need wooden dowels, available in 5/8″ and 1-1/4″ sizes, and some macrame cord and hot glue optionally.
Follow straightforward steps for cutting, drilling, and assembling your ladder. Transform your wood project into a statement piece with beautiful stains or paint. But if you're going for a rustic flair, leave it raw and pure.
The possibilities are endless! This affordable blanket ladder provides a stylish storage solution for your home and serves as a statement piece in any room. So, why wait? Get ready to add an alluring charm to your living space with this unique blanket ladder! sweetteal
19. Trendy DIY Wooden Blanket Ladder
Add a rustic appeal to your home with a budget-friendly DIY blanket ladder! In just one hour, and for a mere $12, you can make an aesthetic and functional piece inspired by the chic designs of Anthropologie. This ladder can grace your bathroom or living room, elegantly displaying towels or throw blankets.
With simple materials such as two 1x2x64″ planks, two ⅞ "x48″ dowels, iron paint, wood glue, and basic tools like a drill, spade bit, sander, and hand saw, this project is quite accessible. The 64″ ladder accommodates five 14.5″ dowels, resulting in a final width of 16.5".
Adding the metallic paint at the bottom gives it an appealing contrast and completes the look of this must-have DIY blanket ladder. It's an uncomplicated yet rewarding project that will elevate your home decor. ifonlyapril
20. How to Build a Blanket Ladder
Experience the charm of DIY blanket ladders that are lovely, cozy, and functional for your space. With their simple construction process and cost-effective approach, you can build your ladder for less than $15 in lumber. You only need basic tools and materials, such as 2×3 lumber, round wooden dowels, wood glue, and a drill.
The guide includes step-by-step instructions from making accurate lumber cuts to finishing your creation with a beautiful weathered, barnwood, gray finish. Notably, this ladder doesn't just hold blankets but can also showcase your quilts. So, embrace your creativity today and enhance your room aesthetics with this versatile DIY blanket ladder. angelamariemade
21. DIY Wooden Blanket Ladder
Boost your home decor with this unique and practical DIY blanket ladder. Simple yet elegant, it serves as storage and decor, enhancing any space with a chic 'shanty' style. You can build this sturdy blanket ladder with free plans and step-by-step guidance for around $15 in lumber and just three basic tools – a miter saw (or hand saw or circular saw), a drill, and a Kreg Jig.
Its chunky, solid look is thanks to the 2×6 boards, while its durability comes from the pocket hole screws. To achieve the perfect rustic feel, finish with a coat of your favorite stain and use a sander for a distressed look.
Beyond blanket storage, this ladder can be repurposed for towels, especially in your bathroom or pool area. With this tutorial, you can enhance your home's aesthetics and improve organization with this stylish, functional piece. shanty
22. How to Make a Wooden Blanket Ladder
Transform your home this winter with an elegant and practical DIY blanket ladder. This unique wooden accessory is ideal for storing and displaying cozy quilts and throws. You can customize this ladder with accuracy and concentration to detail to hold as many blankets as you wish.
This ladder, built from premium boards and dowels, stands 80 inches tall, offering four evenly spaced rungs. The construction process involves careful measurements and drilling, ensuring that each rung is perfectly level. Complete the project by trimming the ladder's feet for a secure stance, followed by a thin coat of wood glue for assembly.
Add a finishing touch with some sanding and staining, and finally, ensure the ladder's stability by attaching small rubber pieces to the bottom of each foot. This handmade blanket ladder will satisfy your organizational needs and enhance your home's decor, providing a charming display. diynetwork
23. Make Your Own Blanket Ladder
Keep your blankets tidy and stylishly on display with a unique DIY blanket ladder! Made from simple materials like two-by-fours and one-by-threes, this ladder adds a functional touch to your living room.
Make it with basic tools and easy-to-follow steps such as cutting and sanding the legs and rungs, pre-drilling holes, and attaching parts. The ladder also boasts a dark walnut stain, giving any interior decor a warm, cozy feel.
Its versatile use isn't just for blanket organization – it can also serve as an original handmade gift. Grab your saw, stain, and wood, and start crafting this blanket ladder that's aesthetically pleasing and solves storage issues! dunnlumber
24. Simple DIY Angled Blanket Ladder
Encounter how to transform your home into a cozy and inviting space with this unique DIY project that combines modern style with charming farmhouse details. By crafting an angled blanket ladder, you can blend fresh, young design and timeless charm into any room in your house.
This project employs basic materials such as framing lumber and wood screws, which come together in a beautifully textured, decorative ladder perfect for draping blankets or hanging festive ornaments.
This DIY blanket ladder doesn't just add height and texture to a room and creates a warm and welcoming atmosphere. Simple yet effective, this blanket ladder is sure to become a favorite addition to your modern farmhouse decor. nickandalicia
25. Build Your Own Blanket Ladder
Experience the charm and practicality of a DIY blanket ladder with this simple yet elegant project. Make an attractive display for your cozy throws using just a few supplies: 2 pieces of 2″ x 2″ pine, two dowels, a saw, a drill, clamps, glue, and nails or screws. The process involves:
Cutting the dowels and pine to size.
Drilling holes.
Securing the dowels to the pine pieces.
Ensure the assembly is well-glued and stapled for durability, then finish with your preferred stain or paint. This ladder serves as a unique decor piece while solving your throw-storage dilemma.
Not just a creative project, it also encourages the use of power tools in a beginner-friendly manner. Step up your interior design game with this blanket ladder today! refreshrestyle
26. DIY 2×4 Wooden Blanket Ladder
With our DIY blanket ladder plans, you'll have a stylish storage solution in no time. Bring a rustic charm to your home decor with a DIY blanket ladder, showcasing your beloved throw blankets. Made from inexpensive materials like 2x4s, carriage bolts, and stains, this homemade ladder blends functionality and style, all under $25.
Step-by-step instructions guide you from cutting wood to sanding, assembling, and staining, ensuring a smooth crafting experience. Armed with basic tools such as a compound miter saw, drill, sandpaper, and measuring tape, you can make this simple yet elegant piece to augment your home decor.
This blanket ladder is not just a piece of furniture, but a creative expression of your style and taste, redefining the aesthetics of your space. homemadelovely
27. Make a Blanket Ladder Under $25
Revamp your home's style and organization with this creative DIY rustic blanket ladder project! It's a fantastic way to store blankets and enhance your home decor without breaking the bank. This blanket ladder is a stylish and practical addition to any room, mimicking designer pieces but at a fraction of the cost.
Made with simple materials like pine boards and dowels and stained to a rustic finish, it's a project suitable for all DIY enthusiasts. The step-by-step guide provides easy-to-follow instructions for making this unique piece of home storage. It's not only useful but also acts as a stunning accent piece. Make a cozy, organized space with this handmade rustic blanket ladder today! joyfulderivatives
28. Build a Blanket Ladder Without Any Nails
You can make a stylish DIY blanket ladder from your home that stands tall without an ounce of nails! A versatile solution for those bulky blankets occupying valuable space, this vertical storage solution is a decor piece and a handy organizer.
With a few basic supplies like wooden dowels, copper fittings, a handsaw, and some glue, you can construct a blanket rack that frees up your linen closet and enhances the look of your living space.
A great thing about this project is its simplicity and speed: the rack is assembled in just a few steps, and the directions are straightforward, ensuring your DIY experience is enjoyable and rewarding. Emphasizing practicality and aesthetics, this project caters to those looking to maximize their space without compromising style. So, why wait? Start building today! bobvila
29. DIY Blanket Ladder Under $10
Update your interior design while adding a functional piece to your home with a homemade blanket ladder. For under $10, you can build this charming, rustic DIY home accessory as a chic blanket storage solution.
This ladder can be built in a matter of hours using three 1″x3″x6′ pine boards; a miter saw, a nailer, and a touch of weathered gray stain. The simple steps to construct this blanket ladder involve precise measurements, cutting, assembling, and staining the ladder for a distressed look.
The final result is a space-saving display for your cozy throws and a budget-friendly, unique piece of decor that enhances the coziness of your living room. Build this blanket ladder today and add an impressive touch to your home decor! domestically
30. Rustic Wooden Blanket Ladder
Infuse a unique rustic touch to your living room with a DIY wooden blanket ladder! This clever project offers a perfect solution for that empty wall space, utilizing organic materials from your yard. Envision two sturdy branches serving as the ladder sides, complemented by 3-4 smaller branches for rungs.
You'll need a chop saw, sandpaper, a wood conditioner, screws, a drill, and clamps. Once assembled, this ladder adds a charming storage option for your throws and blankets, elevating your interior design and enhancing practicality.
Despite its apparent complexities, this project is surprisingly straightforward and customizable to your space. So gather your branches, awaken your creativity, and embark on this fun project to craft your ideal blanket ladder today. domesticim
31. How to Make a Blanket Ladder
Delve into the DIY world with a unique project that combines function and style – a DIY blanket ladder. This simple guide will walk you through making a beautiful, minimalist piece for your home.
In about an hour, you can assemble a ladder with a few readily available materials like 1-inch diameter wood dowels, a hot glue gun, and a right-angle ruler. This ladder, unlike others, requires no hammering or power tools, making it a perfect quick project.
This robust and durable ladder can bear the weight of heavy blankets and adds a chic, cozy vibe to your space. This blanket ladder is a decorative piece and a functional storage solution that can help stylishly organize your home. Dare to try your hand at this unique DIY project! papernstitch
32. Handmade Wooden Blanket Ladder Under $15
Revamp your home with the rustic charm of a DIY wooden blanket ladder! This straightforward project is visually appealing and functional, providing an ingenious solution for blanket storage. The farmhouse-inspired ladder suits any decor style and adds warmth to any room, from the family room to the office.
With basic materials such as 2×4 posts, stain, deck screws, and a miter saw, you can make your ladder for approximately $10. Tailor the ladder to your space, deciding its height and width, and within an hour, you'll have a personalized storage solution.
Add a personal tinge with your choice of stain or paint and even distress it for a more rustic appearance. This project provides an affordable alternative to expensive store-bought blanket ladders. Embrace the DIY spirit and bring a dash of farmhouse appeal to your space with this wooden blanket ladder project. oldsaltfarm
33. Building a Wooden Blanket Ladder
Elevate your home's farmhouse charm with this do-it-yourself blanket ladder! This simple, 30-minute project is perfect for neat blanket storage and display. With less than $10 in supplies – including a pair of 1x2x72 boards for the sides, a 1x4x96 board for the rungs, a drill, saw, wood screws, a ruler or tape measure, wood glue, and your choice of stain or paint – you can make this rustic masterpiece.
Carefully crafted rungs prevent blankets from snagging, while a personalized paint or stain job adds a touch of style. Whether filling a corner of your living room or a cozy nook, this DIY blanket ladder is an affordable addition to your decor. theturquoisehome
34. DIY Contemporary Blanket Ladder
Brace yourself for colder days with a DIY contemporary blanket ladder, bringing utility and a touch of elegance to your living space. This project helps you make an aesthetically pleasing and efficient way to organize your favorite blankets, drawing inspiration from a West Elm design but saving you money by only costing around $17 in materials!
With basic tools like a miter saw, drill press, and jig saw, along with items such as round dowels and painter's tape, you'll have your blanket ladder in no time. The ladder is a beautiful blend of white spray paint and golden oak wood stain, providing a modern and radiant touch to any room.
It is a simple and inexpensive way to add a personalized touch to your home, allowing easy access to your cozy throws during those Netflix and hot cocoa sessions. diyhuntress
35. Rustic Coastal Blanket Ladder
Revive your living space with an elegant DIY blanket ladder, an organization solution that keeps your favorite cozy throws neat. Inspired by the simplicity and beauty of coastal living, this project incorporates unique driftwood collected from scenic beach visits, serving as an artistic reminder of precious family moments.
The ladder's structure combines sturdy 2″x2″ wooden rails and eclectic driftwood rungs, securely fastened with copper tube clamps for a rustic aesthetic. This budget-friendly DIY project requires inexpensive materials easily found at hardware stores.
Whether it's the charm of displaying a crochet afghan or the satisfaction of a clutter-free couch, this DIY blanket ladder offers practicality and style to your home. Build one today and reminisce summer memories with every glance at your handcrafted piece. sustainmycrafthabit
36. Make a 2×4 Blanket Ladder
Recast your living space with a rustic DIY blanket ladder crafted from a couple of 2x4s. With one hour of your time, you can breathe life into old studs, transforming them into an aesthetic and practical piece of home decor. This ladder doesn't just serve as a stunning showcase for your blankets and fills up those bare walls, breaking away from the usual flat picture decor.
An easy-to-follow guide with clear instructions allows you to build your decorative ladder with angled rungs, adding a chic touch to the structure. Moreover, the project is affordable, providing a stylish home accessory for less than $10.
This DIY blanket ladder offers the perfect solution for repurposing your spare wood. So, grab your 2x4s, get creative, and add a charming accent piece to your home today! aturtleslifeforme
37. Quick and Easy DIY Blanket Ladder
Declutter your home this winter with a creative and functional DIY blanket ladder project! You can construct a rustic ladder perfect for storing blankets using minimal supplies like 1×3 and 2×2 boards, a saw, a drill, and wood screws.
Not only does it solve your blanket storage problem, but it also serves as a decorative piece, giving your room an authentic rustic feel. The process includes the following:
Cutting boards to size.
Screwing the ladder rungs.
Sanding the corners and edges for a distressed look.
Applying a wood stain for an aged touch.
With the option of attaching picture hanging brackets, you can securely fix the ladder to your wall, keeping it safe from playful kids or pets. Bring organization and style to your living room with this easy-to-follow guide on making your blanket ladder. sheknows
38. Wooden Blanket Ladder for Your Bathroom
Uplift the charm of your living space with a DIY blanket ladder, perfect for keeping cozy throws close at hand or as a chic towel rack in your bathroom. Made with sturdy 2x2s for the rungs and 2x3s for the sides, this six-foot-tall ladder introduces a rustic touch to your decor.
You can customize the ladder with your preferred finish, such as driftwood, or keep it natural for a raw, minimalist look. With added decorative L-shaped corner guards, you cover the pocket holes and infuse a whimsical touch to the ladder.
A well-planned, budget-friendly project costing only around $6 for wood, this blanket ladder is a blend of utility and aesthetics for your home. Build your own today and bask in the warmth of handmade luxury! sawdustsisters
39. Chic and Versatile Blanket Ladder
Enliven your loved ones' homes with a personalized and versatile blanket holder. This DIY project is affordable and adds a touch of elegance to any living space. The process is straightforward: you'll need a couple of 2x4x10 and 2x4x8 woods, some paint, a drill, and a Kreg Jig.
This handy holder can accommodate multiple blankets, making it a practical addition, especially for those cold winter nights. You can customize it by choosing a paint color matching the recipient's home decor.
Besides its primary purpose, it's a creative way to display cozy blankets and add a festive touch to any room. Crafting this chic blanket ladder is an exceptional gift idea for those who appreciate unique, handcrafted pieces. tastefullyfrugal
40. DIY Farmhouse Style Blanket Ladder
Jazz up your living space this winter with an elegant DIY blanket ladder. With a budget as low as $15, you can conveniently arrange your cozy blankets and add a rustic touch to your decor. The project requires basic tools and materials such as a saw, a nail gun, and wooden pieces – all readily available at your local hardware store. The step-by-step instructions are simple:
Cut the centerpieces.
Assemble the structure.
Finally, give it an attractive finish with Americana Decor Satin Enamels in Pure White and Rich Chestnut.
The result? A practical, cost-effective, and stylish blanket ladder that's ideal for your home, potentially making an excellent housewarming gift. Upgrade your home decor now with this beautiful blanket ladder. craftsbycourtney
41. Building a Wooden Blanket Ladder Under $5
For a cozy addition to your home, try these DIY blanket ladder plans. Make your organizing corner with a DIY wooden blanket ladder – easy to make and under $5! This blanket ladder doubles as a functional storage solution! This customizable project allows you to adjust the dimensions or even upcycle reclaimed wood for added character.
Ideal for beginners, this ladder's assembly relies on precision cuts and pocket hole joints for sturdiness, ensuring it can support your quilts and blankets. Once constructed, finish your piece with a wood filler to cover any blemishes.
Sand it down for a smooth surface, and apply your chosen paint or stain for the desired aesthetic. This blanket ladder is a perfect addition to your living space, providing a decorative touch and a practical storage solution for your cozy blankets. remodelaholic
42. Making a Blanket Ladder for Multi-purpose
A DIY blanket ladder is a perfect solution for organizing and adding a touch of personality to any space! It is a stylish and practical rustic blanket ladder using salvaged pine lumber. This easy-to-follow guide lets you repurpose low-cost materials and turn them into a beautiful display piece that enhances any room's decor.
While this ladder isn't designed to bear weight, its charming aesthetic is perfect for showcasing items like blankets, quilts, or decorative lights. For this project, you'll need two sizes of pine lumber, nails, various painting supplies, and some basic hand tools.
The guide details a nine-step process and showcases using the wood's imperfections to make an authentic rustic look. At last, you'll not only have a show-stopping decor piece and a valuable addition to your lovely home! instructables
43. Wooden Blanket Ladder Under $4
Spruce up your home decor with a DIY wooden blanket ladder, a simple yet visually appealing piece built from 1×3 furring strips. Not only does this project infuse your space with a rustic charm, but it also comes together in under 30 minutes and for just around $4.
This affordable and quick project is ideal for those seeking an easy yet impactful project. It can stylishly display your favorite blankets or be adorned with wire baskets and faux plants for added charm. Moreover, it pairs beautifully with farmhouse-inspired decor, enhancing your living space's warm and welcoming feel.
So, why wait? Set aside 30 minutes, gather your materials, and make your blanket ladder today. It's the perfect, easy-to-follow project for those wanting to add a DIY charm to their homes. Enjoy crafting! gathered
44. Build a Blanket Ladder Under $50
Embark on a DIY journey to transform your living space with this American colonial-style blanket ladder! This cost-effective project requires minimal materials like select pine and pine boards, pocket screws, and Valspar Chalky Finish Paint. You can make a functional and chic ladder to store your blankets on weekends.
Follow the steps, including cutting the boards to size, drilling the pocket holes, attaching the rungs, and applying paint. This rustic blanket ladder adds charm to your decor while offering an innovative solution for blanket storage. This homemade blanket ladder nods to the simplicity of colonial design while adding a modern touch to your home. diywithrick
45. DIY Blanket Ladder for Storage Unit
Our DIY blanket ladder plans can transform your space with a touch of rustic charm. Refurbish your home with a stylish DIY ladder using hanging buckets for additional storage. This aesthetically pleasing, functional design allows for substantial storage with five rungs. The construction is remarkably straightforward, needing only essential woodworking tools and supplies.
You'll need two 2x3x8 wood, two 1″ dowels, a miter saw, measuring tape, a pencil, an angle square, a 1″ Forstner drill bit, an electric drill, wood glue, and a hammer. This project is quite cost-efficient and a great way to upgrade your blanket ladder into a more sophisticated and space-efficient model.
This project offers creative leeway, allowing you to add an extra rung if desired. So grab your tools, and prepare to make a functional and stunning addition to your home. justlikeplaying
46. Rustic Blanket Ladder from Tree Branches
From forest to home – making this DIY rustic ladder from tree branches will add a cozy touch of nature to any room! Revive your living space with this charming blanket ladder that perfectly encapsulates the beauty of nature. This ladder serves as a storage solution for your cozy blankets and enhances your room's aesthetics as a piece of natural art.
The ladder, made primarily from preserved Leland cypress branches or purchasable 6ft birch poles, provides a cost-effective alternative to commercial ladder prices. This detailed guide will aid you in navigating the project steps, which can be adapted based on the size of the wood or limbs available.
Expect practical tips and tricks in the tutorial to aid in crafting your rustic ladder. So, grab your tools, and start building your personalized, nature-inspired ladder today. deeply
47. Modern Farmhouse Nursery Baby Blanket Ladder
Take a journey to add a touch of modern farmhouse style to your home or nursery with a do-it-yourself blanket ladder. This functional piece doubles as a charming decor item, providing an aesthetically pleasing and practical solution for blanket storage. Made from simple materials like wood and sandpaper, the blanket ladder's creation involves an accessible step-by-step process.
This handmade ladder radiates boho vibes and is an affordable alternative to store-bought versions. Costing less than $40, you can enjoy the benefits of a blanket ladder without the hefty price tag.
Experience the satisfaction of building this functional decor piece and transform your living space with a modern farmhouse twist. Enhance your storage solutions and add warmth to your home with a handmade blanket ladder. makingmanzanita
48. DIY Gold Bolt Blanket Ladder
Be the designer of your own home– craft a DIY gold bolt blanket ladder for a truly unique look! It is an ideal accessory for any home decor, using reclaimed wood and some creativity. Perfect for the chilly Wisconsin winters, this functional piece lets you keep blankets within reach while adding a unique aesthetic to your space.
With materials like reclaimed wood, Krylon ColorMaster Paint + Primer in Satin Italian Olive, Krylon ColorMaster Metallic in Gold, and stainless steel carriage bolts, this ladder showcases a beautiful blend of rustic and modern styles.
The ladder is accentuated with green painted wood and exposed gold bolts for a vibrant touch and even includes extra hooks for hanging plants. This creative, easy-to-make blanket ladder adds warmth and fashion to your home. ispydiy
49. Reclaimed Wood Blanket Ladder
Spread a warm, inviting ambiance to your living space with a DIY blanket ladder tutorial. Escaping hefty store prices, this guide gives you all the information to design a rustic blanket ladder from scratch, using reclaimed wood for a touch of sustainable charm. This project uses 1×1 wood, but 1×2 or pallet boards can also be repurposed.
A miter saw screws and sixty-grit sandpaper will bring your vision to life, making a five-foot-tall ladder perfect for showcasing your favorite blankets. Take control of dimensions, customize the steps according to your needs, and add personal touches by painting or staining the wood.
This endeavor adds a cozy feel to your home and allows you to reclaim and recycle materials. With this eco-friendly, budget-conscious project, your room will exude warmth and character in less than thirty minutes! emilyreviews
50. Ikea Iron and Wood Blanket Ladder Hack
Design a rustic and chic iron & wood blanket ladder with this easy-to-follow DIY tutorial. You can make a functional piece that doubles as an exquisite home decor item using 6ft pine boards, Ikea BORGHAMN handles, and basic tools like a drill and measuring tape.
The process includes cutting and sanding boards and skillfully attaching handles to form ladder rungs. The result is a minimalistic, sturdy blanket ladder, bringing warmth and charm into any room.
This Ikea hack is a simple project that needs about an hour of your time and allows for personalization based on your interior design preferences. Perfect your home space with this versatile and trendy iron & wood blanket ladder. alwaysrooney
Related DIY Projects to Try
Discover exciting DIY projects on organizing, storage, woodworking, and home decor. Get inspired to make your own unique spaces!
Conclusion:
In conclusion, these 50 free DIY blanket ladder plans offer various options for building a functional and stylish solution for displaying blankets and quilts. From rustic wooden designs to chic metal accents, these DIY blanket ladder plans cater to different skill levels and budgets, ensuring everyone can find a perfect fit for their home.
With numerous free DIY blanket ladder plans, building a beautiful, versatile, inexpensive blanket ladder has never been easier. So, embark on your DIY journey and craft the ideal accessory for your cozy home!