Learn how to build a simple rabbit hutch with our collection of 25 free DIY rabbit hutch plans. These easy rabbit hutch plans provide step-by-step instructions and tips on how to make the perfect rabbit haven both indoors and outdoors. From wooden rabbit hutches to repurposed furniture turned into charming bunny condos, a DIY rabbit hutch project can be easily tailored to your specific needs and style preferences.
Making your own DIY rabbit hutch allows for customization in terms of size, material, and design, ensuring that your rabbit feels safe, secure, and happy in their new home. Following these rabbit hutch plans will lead you to build rabbit hutches that are sturdy, weather-resistant, and well-ventilated for your bunny friends. With options ranging from a simple rabbit hutch to an elaborate rabbit hotel, these free DIY rabbit hutch plans cater to a variety of skills levels and budgets.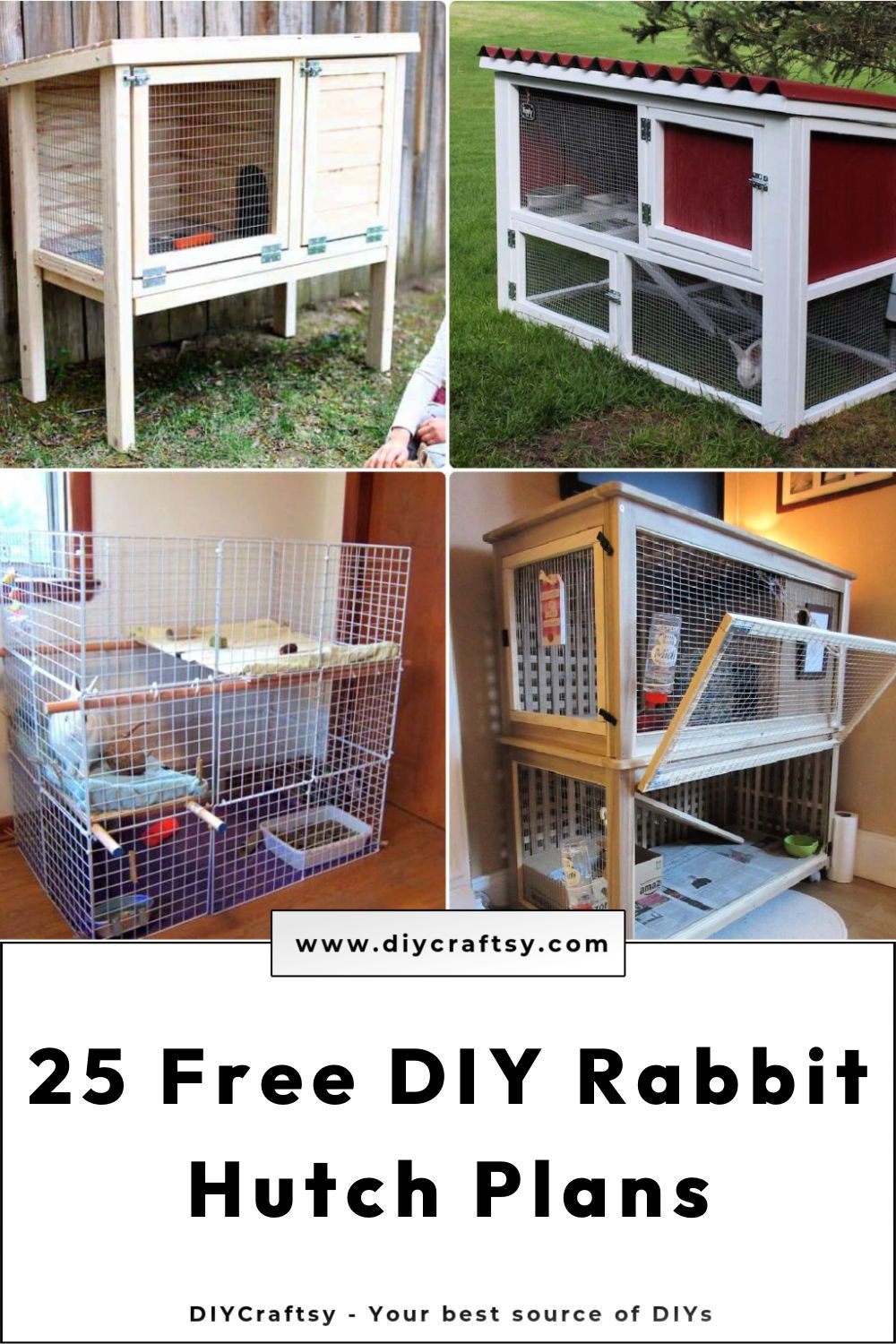 Whether you're a seasoned woodworker or new to the world of DIY projects, these 25 free DIY rabbit hutch plans to provide a range of rabbit house options for you to choose from. So, gather your tools, materials, and some enthusiasm, and start building a beautiful and functional DIY rabbit hutch today. Your rabbits will surely appreciate their new home, custom-made by you with love and care.
1. How to Build a Wooden Rabbit Hutch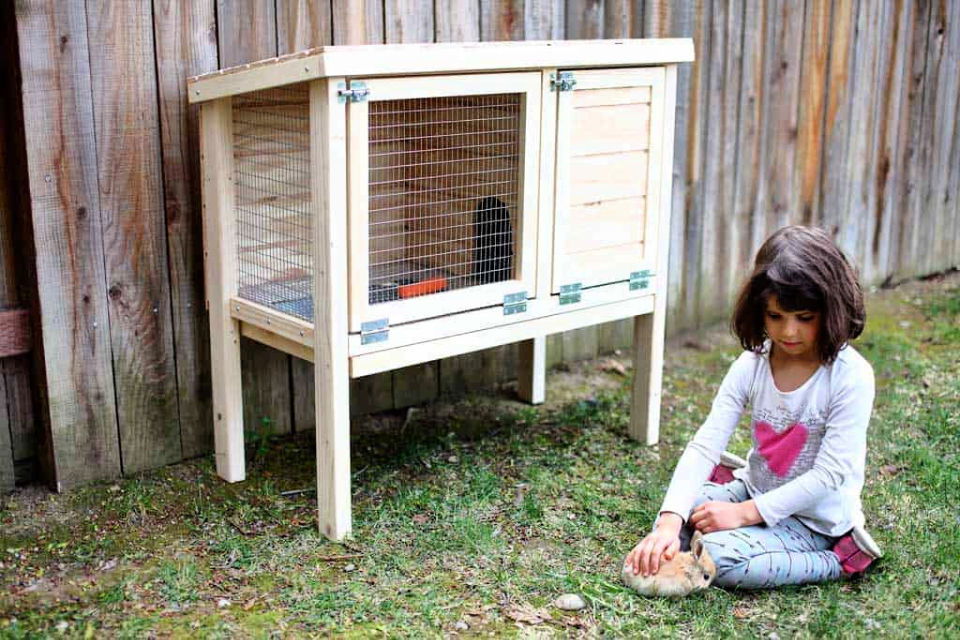 Making a wooden rabbit hutch is an easy DIY project that will provide your beloved pet with a safe, comfortable place to live.
You'll certainly need the right tools for the job, including a tape measure, drill, miter saw, table saw, nail gun, Kreg jig, and more. Once you have all of these items ready to go, you can begin by cutting out pieces using the miter saw or jig saw; use clamps to make sure everything stays in place while you drill holes for screws and nails.
Use an orbital sander or snips to smooth corners and edges before stapling on the fabric lining with your staple gun and riveting it into place with the rivet gun. After adding handles for easy transport, your rabbit hutch is complete! thediyplan
2. Building a Wooden Rabbit Hutch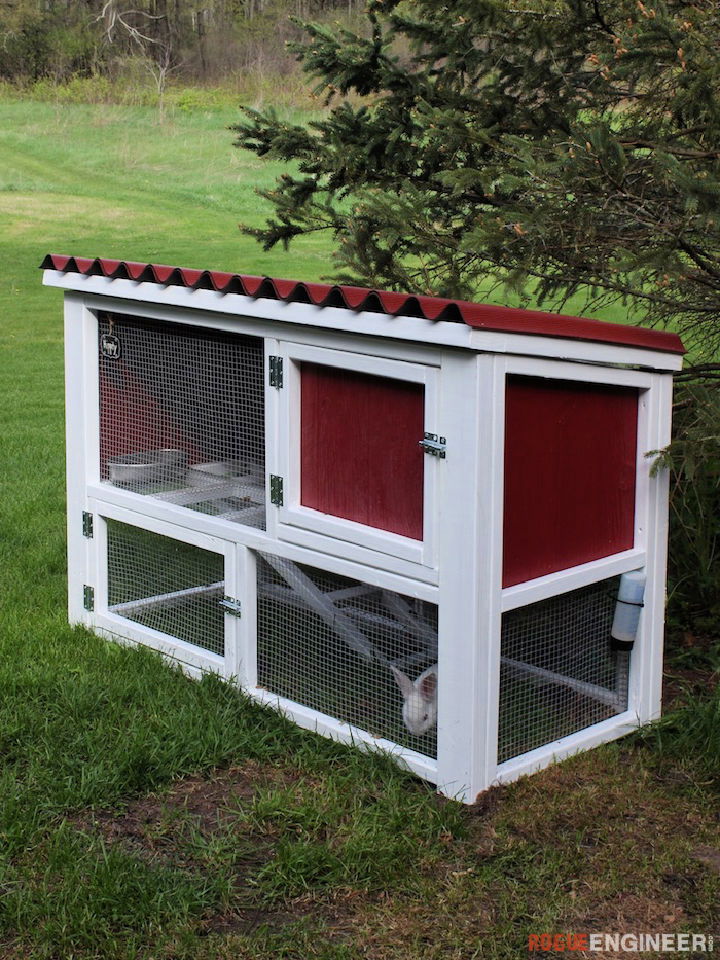 Learn how to build a wooden rabbit hutch with this guide! All you need are the required tools, such as a pocket hole jig, drill, miter saw, circular saw and/or table saw, jig saw, tape measure, pencils, and safety glasses. Materials include 4′ x 8′ textured wood composite panel; 4 – 2x4x8' premium studs; 12 – 2x2x8'; 2-1/2″ blue-kote pocket screws; 1-1/4″ exterior wood screws; 2-1/2″ exterior wood screws; and wood glue. Follow these instructions to make your own custom-built rabbit hutch today! rogueengineer
3. Free Rabbit Hutch Woodworking Plan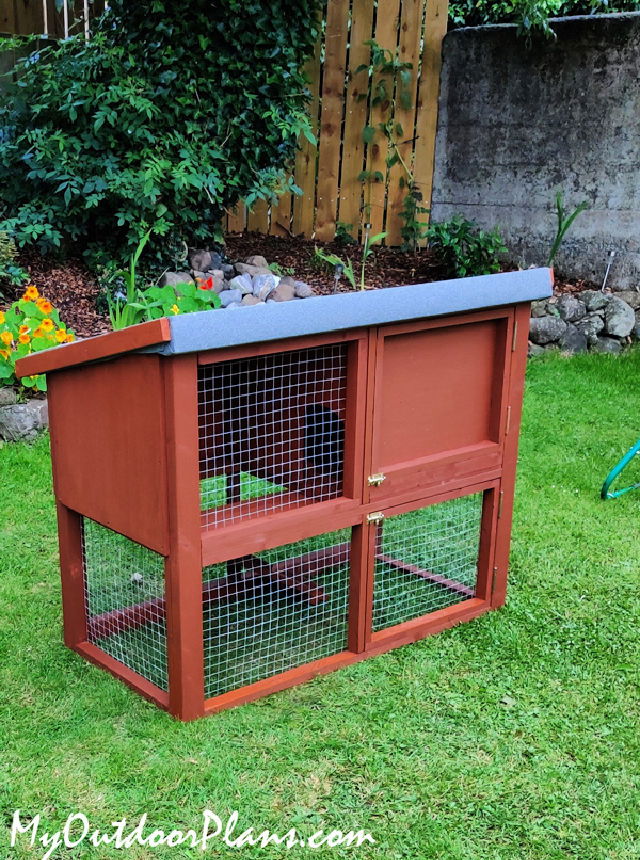 This free rabbit hutch woodworking plan will help you build the perfect outdoor home for your bunny. Start by building each side with 2×4 and 2×2 lumber, then construct a frame and floor from 3/4″ plywood. Finish up by attaching 1/2″ plywood siding to the back and sides of the hutch using 6d nails. Once complete, it's time to let your furry friend enjoy their new home! Get started today on this easy-to-follow DIY project for an adorable rabbit hutch that is sure to provide years of comfort for your furry family member. myoutdoorplans
4. Turn a China Cabinet Into Rabbit Hutch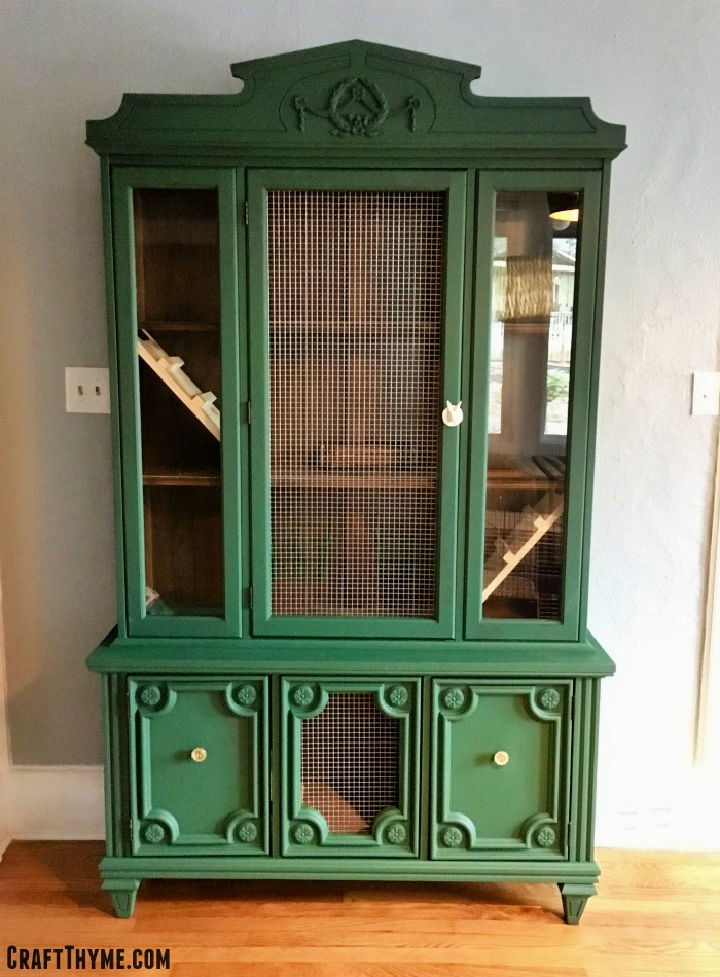 Repurpose a China cabinet into a rabbit hutch with some basic DIY skills. You will need a drill and saw to get started. For more precision, you can use optional tools such as a miter saw, jig saw, skill saw, and hand sander. With the right measurements in place, make an opening for your rabbit to access its den or attach wire mesh on the back of the china cabinet door for ventilation purposes. Once done properly, this repurposed piece will not only give your pet some extra room but also add charm to your living space! craftthyme
5. Handmade Outdoor Rabbit Hutch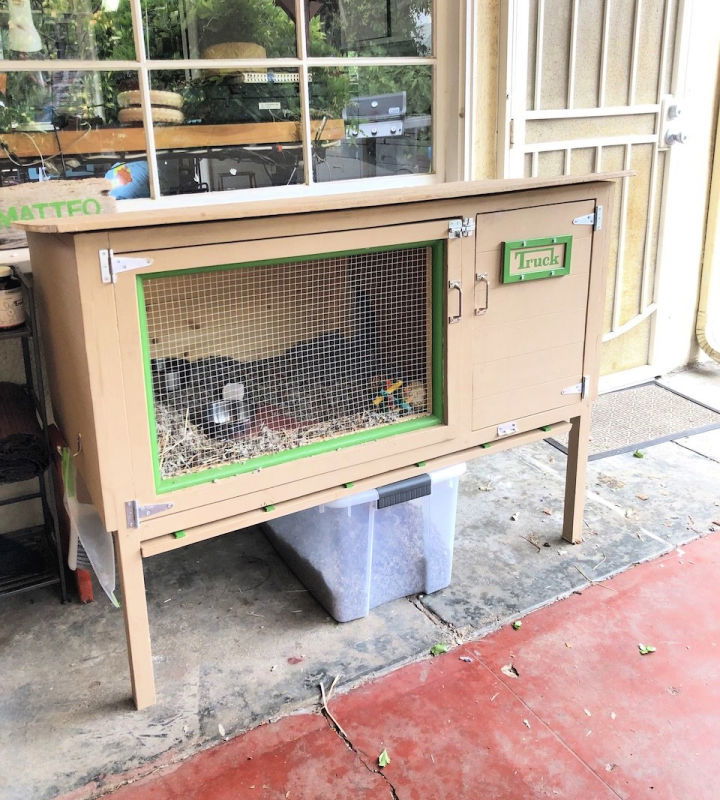 Are you looking for an expertly-crafted outdoor rabbit hutch? Look no further! This handmade outdoor rabbit hutch is made using 2 1/2" galvanized screws and 1 1/4″ finishing nails to lock the wooden components together. The floor has been attached with plywood sheets, followed by attaching 1×4 slats at the back of the hutch. Finally, building up the roof completes this stellar project! Get your hands on this premium quality outdoor rabbit hutch today and provide a safe and secure environment for your furry friends. myoutdoorplans
6. Easy DIY Sectional Rabbit Hutch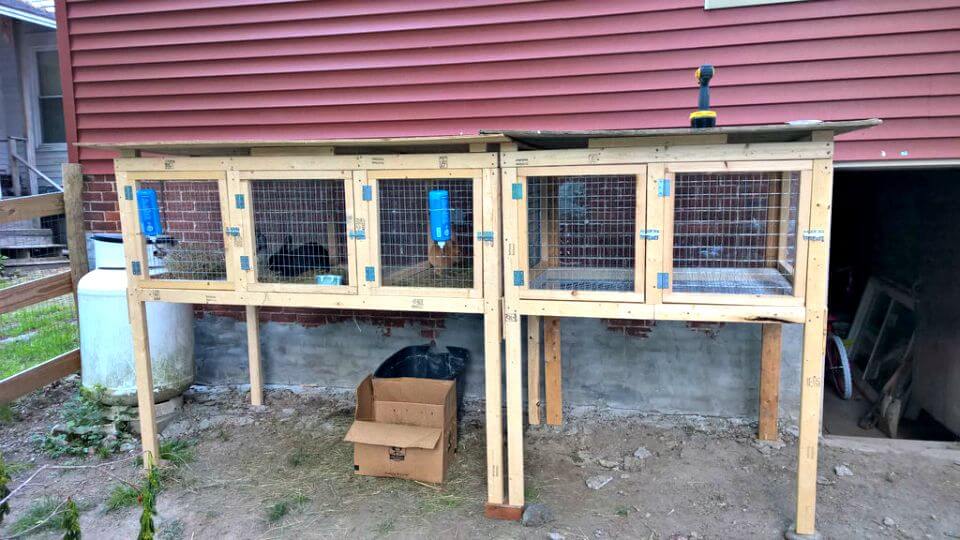 Build your own easy DIY sectional rabbit hutch in no time! Begin by coming up with a plan, then collect or purchase the materials you need. Follow this step-by-step guide to construct the floor, build dividers and ends, mount them onto your frame, face both backs and fronts of the hutches, and build and install doors. The end result? A practical yet stylish home for your furry companions that is sure to last for years to come! instructables
7. How to Make an Outdoor Rabbit Hutch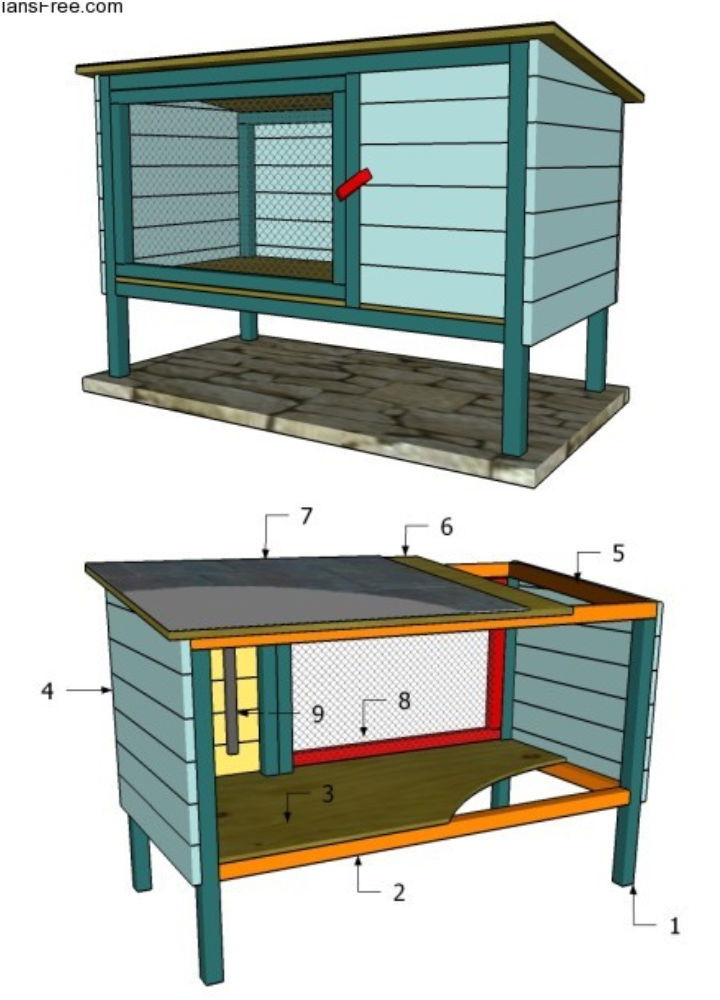 Discover our extensive collection of rabbit hutch plans, featuring multi-level designs, outdoor weather protection, and easy cleaning features. Did you know that making an outdoor rabbit hutch can be a rewarding experience? It requires the right tools and safety equipment.
Start by gathering the necessary items – hammer, tape measure, carpentry square, miter saw, drill machinery, screwdriver, sander, and router. Then don protective gear such as safety gloves and glasses, plus a respiratory mask for sawdust protection. With these essentials in hand, you are ready to begin constructing your outdoor rabbit hutch with confidence! Follow our step-by-step guide for tips on how to make a safe and secure home for your pet rabbits outdoors. gardenplansfree
8. Making a Kid-friendly Rabbit Hotel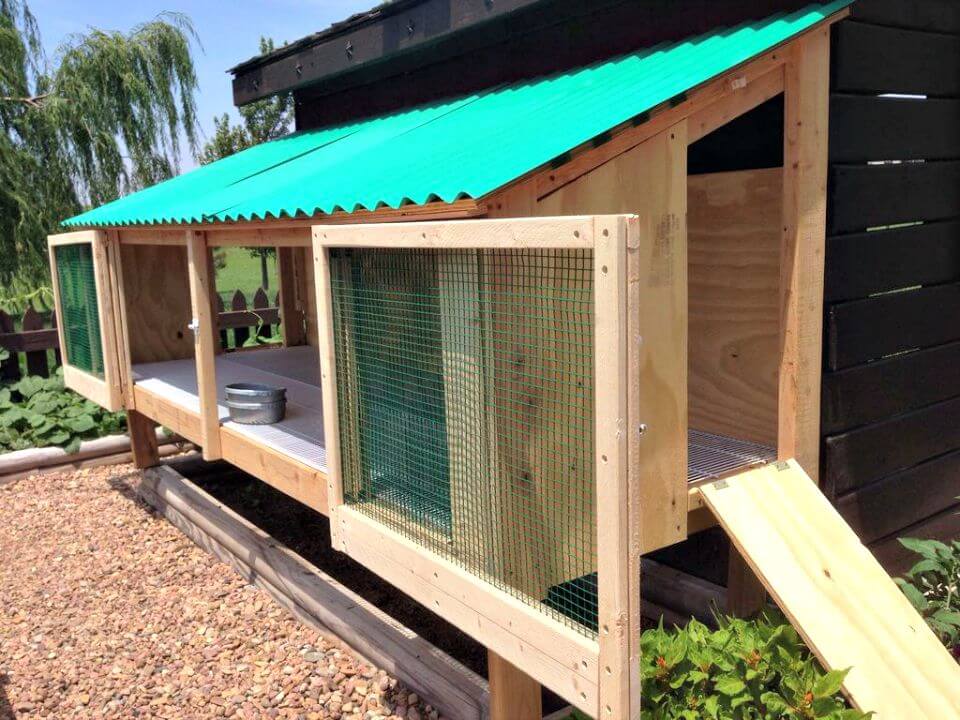 Are you looking for some way to keep your rabbit happy and safe? Explore DIY rabbit hutch plans that incorporate secure, spacious layouts and promote the health and happiness of your beloved pet.
Start by framing the floor, then laying it down, frame the top, and add ramps so rabbits can move from one level to another. Cover the roof with something that will protect them against extreme weather conditions, build front panels, and secure them with clamps, hinges, latches, and knobs. With this kid-friendly rabbit hotel, they can hop around safely while keeping their "fertilizer" in check! instructables
9. Build Your Own Rabbit Hutch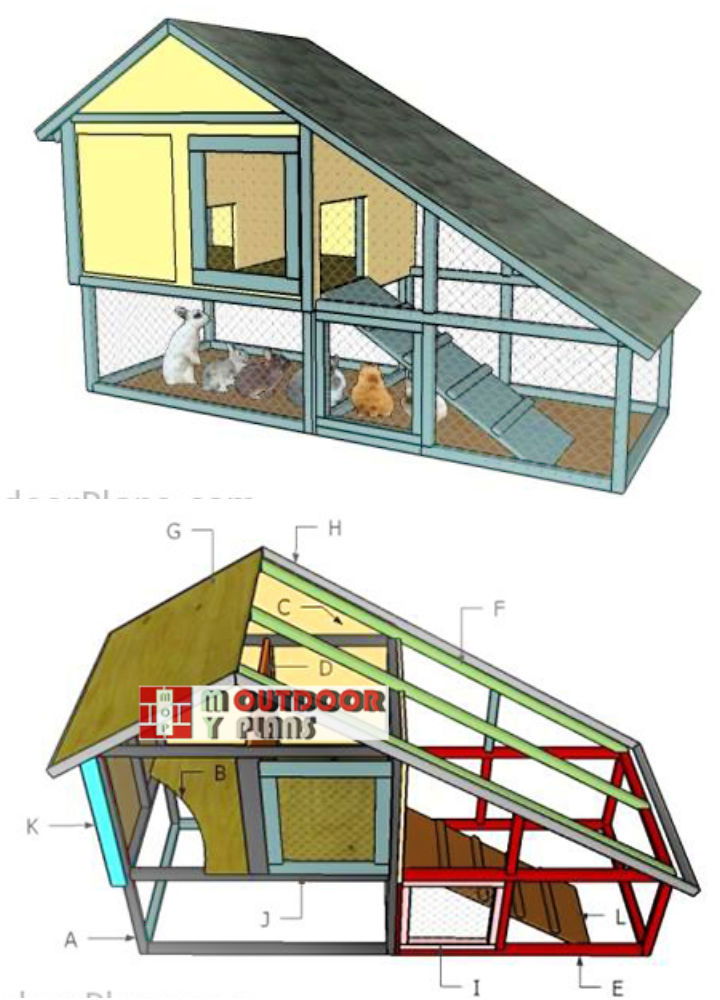 Are you looking to build a rabbit hutch of your own? Look no further! Follow these steps to build the perfect one for your pet: Frame the back wall using 2×2 lumber, then build the front wall in the same manner. Attach side components, and fit floor supports for rigidity. Fit the floor into place, leaving no gaps, then add 1×2 trims with 1 5/8″ screws. With these easy-to-follow instructions, you'll have a secure home ready for your bunny in no time! myoutdoorplans
10. How to Build an Indoor Rabbit Cage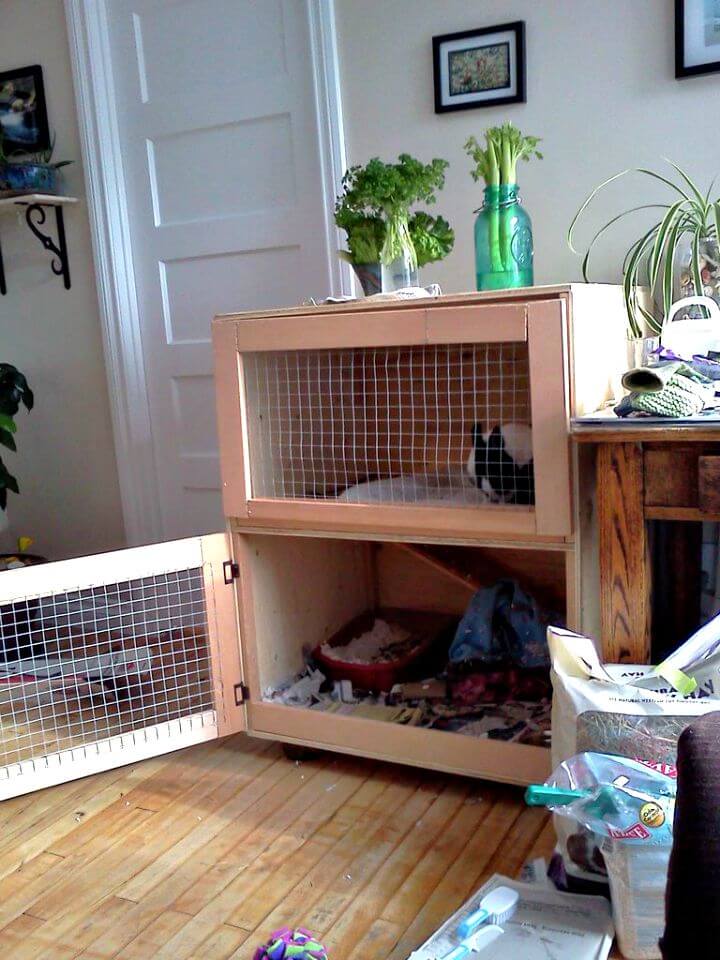 Building an indoor rabbit cage doesn't have to be a daunting task! Here's a guide on how to build the perfect home for your pet.
Firstly, start with the base – this should be wide and sturdy enough to hold all your supplies. Next, add the middle section that will provide space for food, dishes, and toys. Secondly, attach the sides, which will support bedding and give your rabbit plenty of room to move around. To finish off, insert kick plates in order to keep bedding from spilling out, followed by doors so you can easily access their home when needed.
Finally, add a ramp-up top with secure fencing so they can safely climb up or down as desired – then voila! You've successfully built an indoor rabbit cage that'll keep them happy but also safe at all times. instructables
11. Awesome DIY Rabbit Cage for Under $80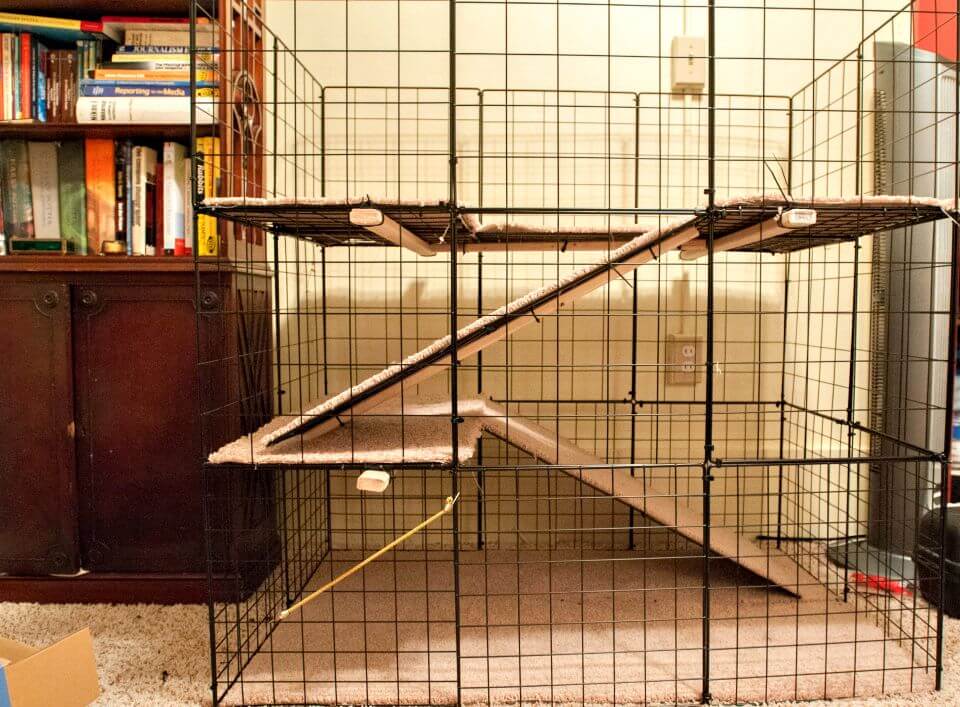 Bring your rabbit cage vision to life for less than $80 with just a few simple supplies! All you need are two packs of wire cubes from Target, two wooden planks from home depot, and some zip ties. First, start by zipping the grids together to make each wall – use four zip ties where four corners come together, and one at the top and bottom when the two grids meet. When you're finished assembling your rabbit cage, you'll have a cozy home for your pet that won't break the bank! bunnyblurbs
12. DIY Comfortable and Roomy Bunny Condo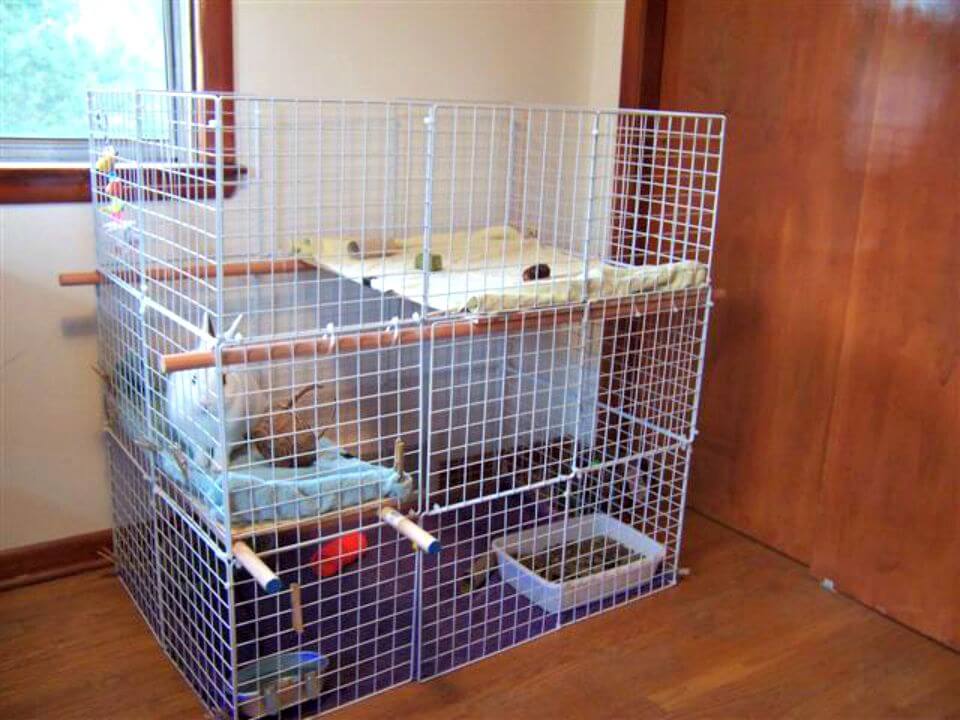 Construct the perfect home for your pet bunny with this DIY comfortable and roomy bunny condo! This easy-to-make two-sided cage will provide an ample living space that is safe, secure, and comfortable for your small pet. The simple design features four walls connected using dowels, a shelf made of plywood, and cable tie strands to hold everything together. With just a few basic supplies, you can easily make this roomy condo in no time at all – perfect for allowing your little friend to stretch out or lounge in style! breyfamily
13. Build a Small Rabbit Hutch at Home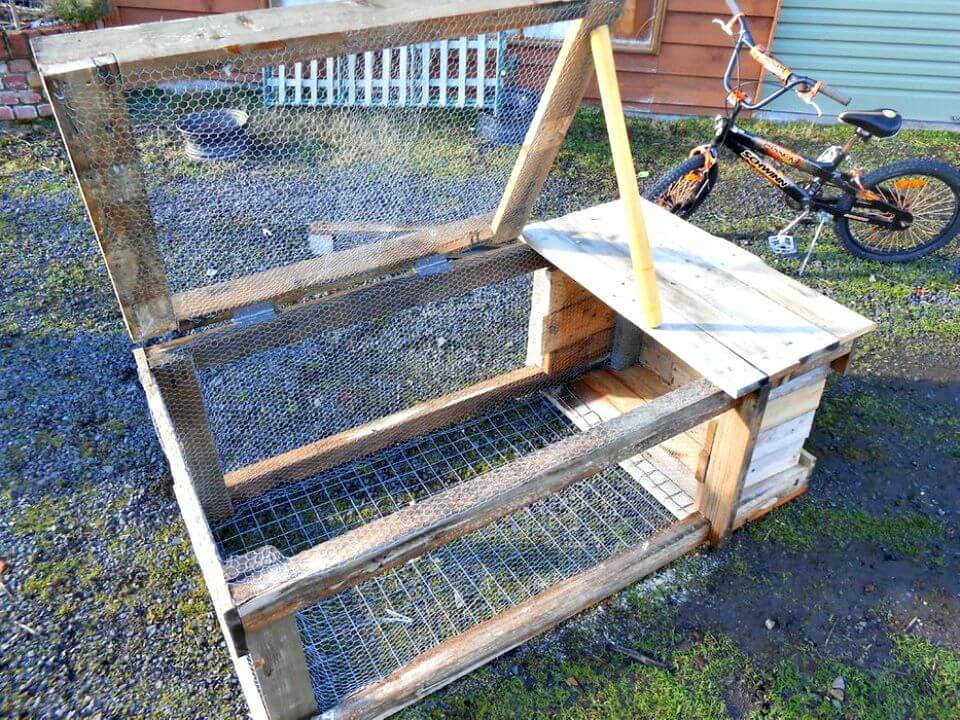 Build your own small rabbit hutch at home with ease! First, cut four lengths of wood to 150cm and 1-meter sections from the structural parts of pallets. And then, use the bottom section as a template to build the top part, then use a staple gun to attach wire for the sides and panels on the roof. With just a few steps, you can have a secure hutch in no time that will provide your rabbit plenty of comfort and shelter. So, start building today! instructables
14. Make a Rabbit Hutch With Step by Step Instructions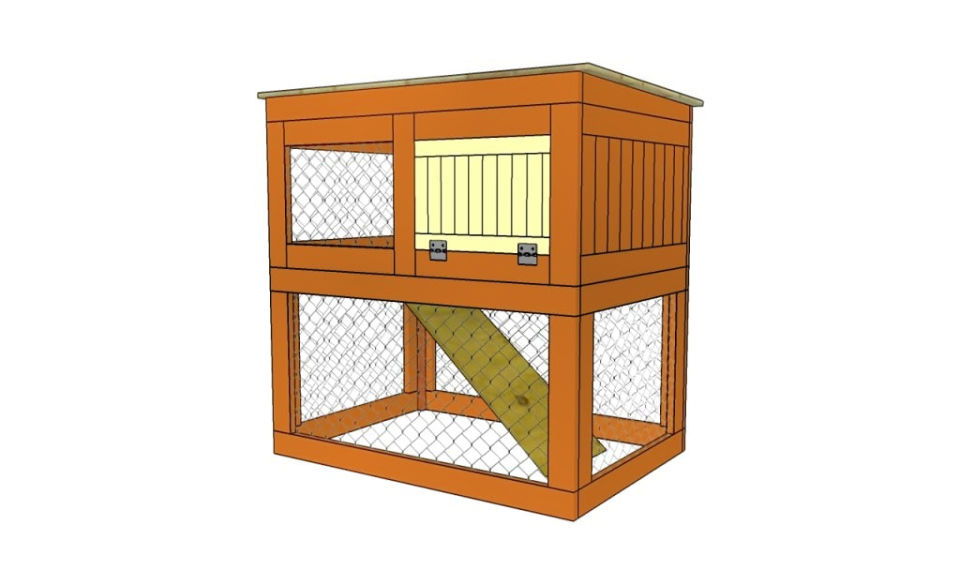 Learn how to make a sturdy rabbit hutch with stepwise instructions. This comprehensive guide on DIY rabbit hutch ideas will walk you through the process of building this project from start to finish. First, construct the frame for the bottom enclosure and attach 1×3 slats on the exterior of it. Then cut and lock 3/4″ plywood to cover the top part. Finally, secure tar paper over the roof area for extra protection against rain and snow. Use quality materials throughout so that your hutch can last many years! Follow our detailed plans now and have your own rabbit hutch in no time! howtospecialist
15. How To Convert End Table Into Rabbit Hutch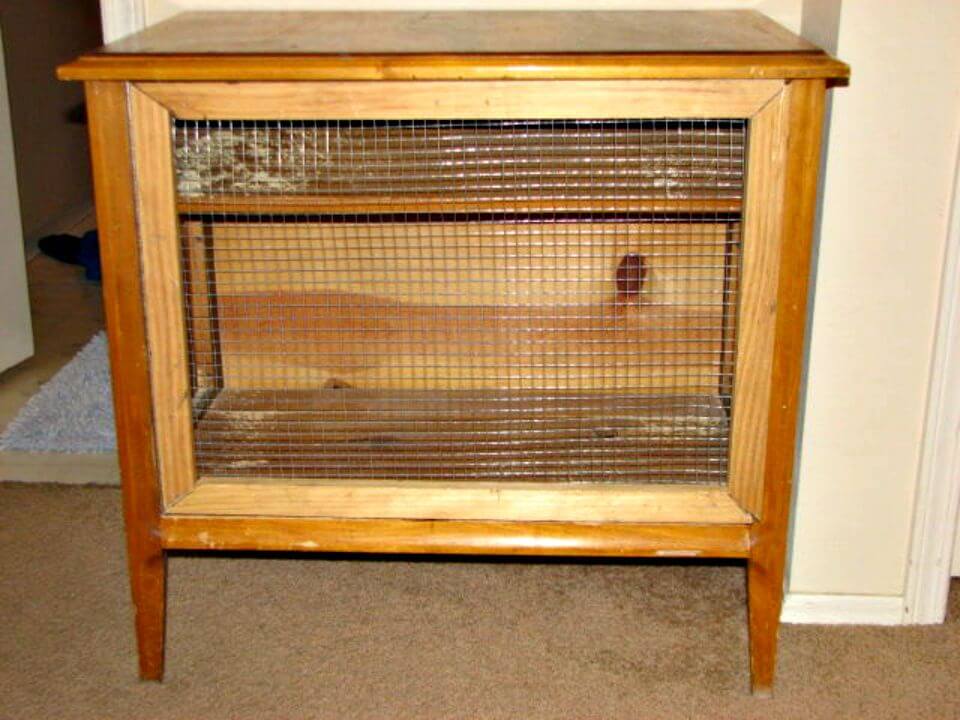 Transform an old-end table, cabinet, or dresser into a bunny hutch with this easy DIY rabbit hutch ideas guide! First, find a good piece of furniture – thrift stores and markets are great places to look. Gut out any extra drawers/shelves, then measure the front frame size for your mesh door. Cut wood strips sized 1″x1/2″ to fit the frame and use 45-degree angles at their ends; drill in the piano hinge. Finally, a staple in half-inch mesh on the inside of the wood strip frame, and you're all set! Enjoy creating this fun DIY project that will give your pet rabbit its own home. instructables
16. IKEA Large Rabbit Hutch Hacks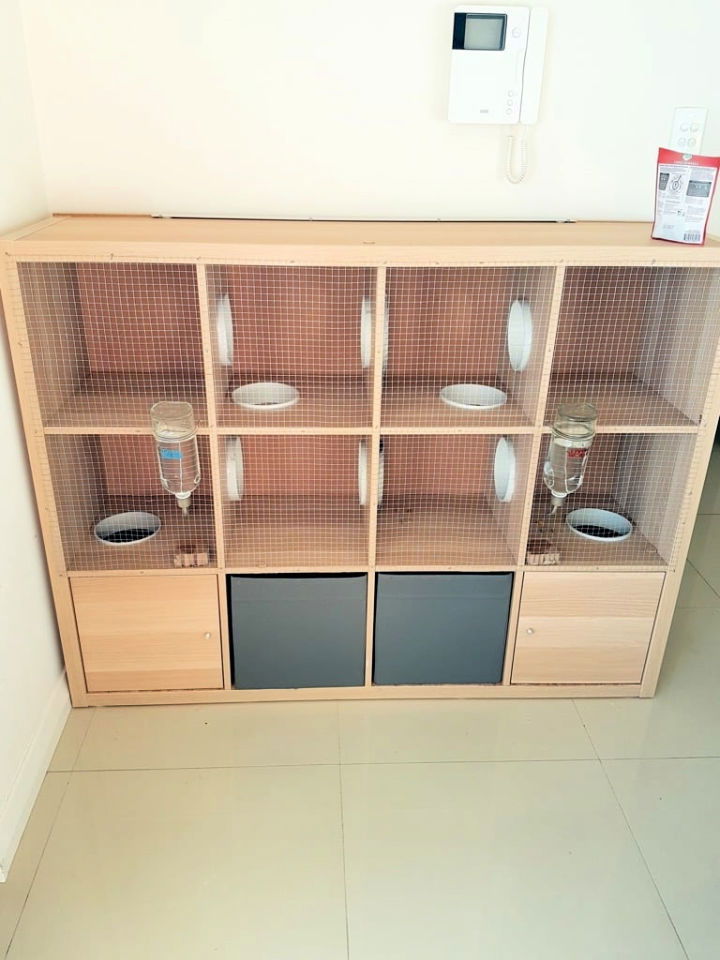 Are you looking for an innovative way to house your large rabbit? Look no further than these large IKEA rabbit hutch hacks! We use a KALLAX shelving unit, white stained oak effect (112×147 cm), PVC pipe, wire netting, nails, angle brackets, and wood board to transform the hutch into a unique home for your pet. With glue and silicone sealant used to secure everything in place, this custom-built rabbit hutch will be enjoyed by both you and also your furry friend. Give it a try today! ikeahackers
17. Cheap Knockdown Outdoor Rabbit Tractor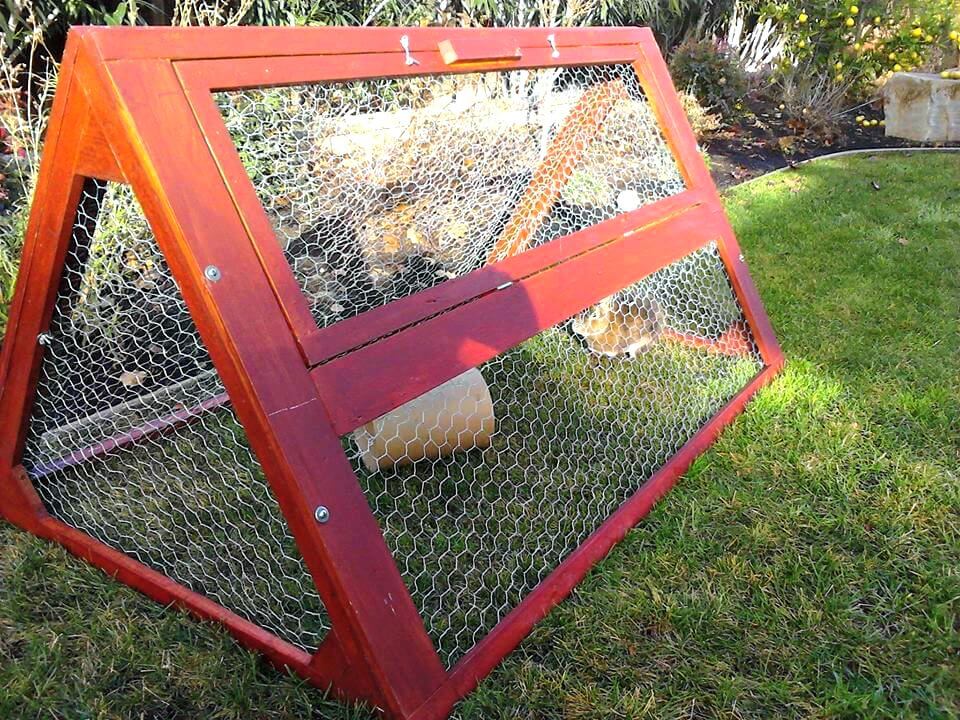 Build the perfect sanctuary for your furry friend with customizable DIY rabbit hutch plans, tailored to suit your available space and budget. A perfect outdoor tractor for rabbits! Romeo's cage has been safely passed on, and now you can have your own with this cheap knockdown outdoor rabbit tractor.
Constructed from 1x2s at 60-degree cuts with added triangular pieces of 1x4s for extra bracing. Make it two rectangles hinged together at the top and finish it off with a hatch to provide easy access. Get yours today and watch your rabbit explore in style! instructables
18. Cool IKEA Bunny Hutch Hack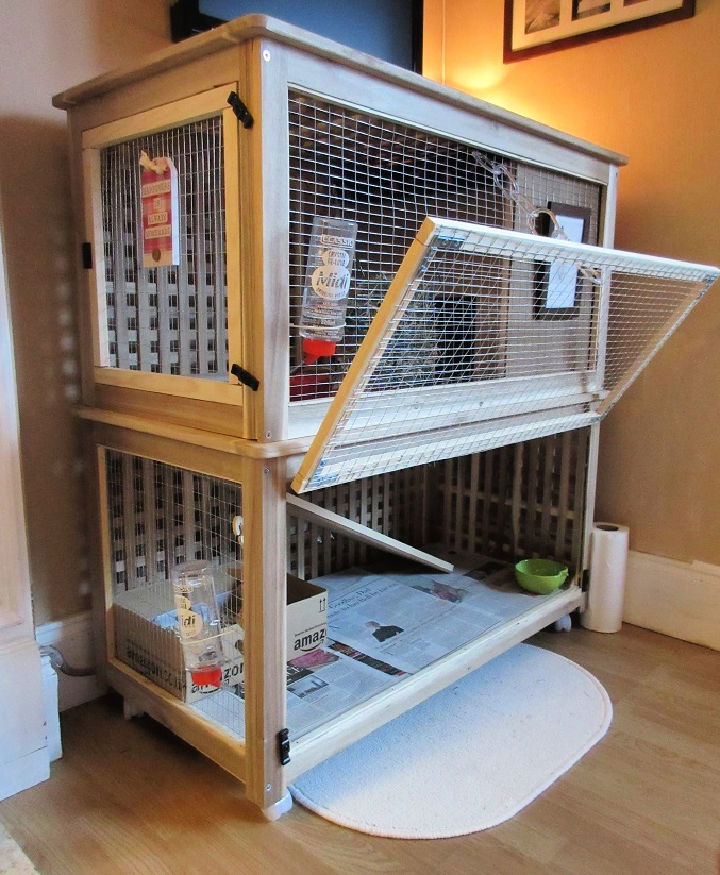 Build a stylish, functional bunny hutch with an IKEA hack! All you need is 2 x Ikea HOL storage tables, 4 castors, wire mesh, and other supplies like staples, hardboard, and panel pins. Use a jigsaw + goggles, hacksaw, and Stanley knife to cut the wood for your hutch. With screwdrivers, hammer, and staple gun in hand – along with pine strips (14mm x 25mm), no more nails adhesive, and lino – you'll have your pet's dream home ready in no time! Get creative with this IKEA hack for a fun DIY project. shonacraven
19. Adorable DIY Frame Rabbit Hutch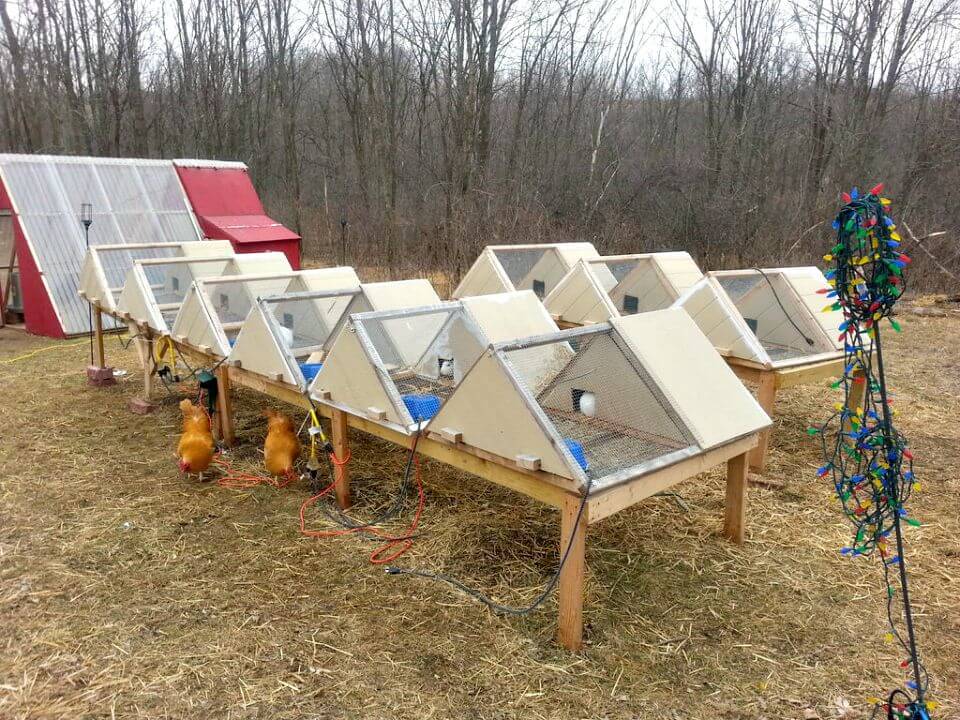 Worry not, and make your pet bunny happy with this ridiculously adorable DIY frame rabbit hutch! Constructed with doors and window walls, the outer shell is sure to make a great addition to any backyard. Personalize it by adding a few decorative touches like paint or decals for extra flair. With easy instructions that are beginner-friendly, this Frame Rabbit Hutch is an ideal project that will have your bunny hopping for joy. Check out this link for more information on how you can build one today! instructables
20. DIY Wooden Rabbit Hutch Tutorial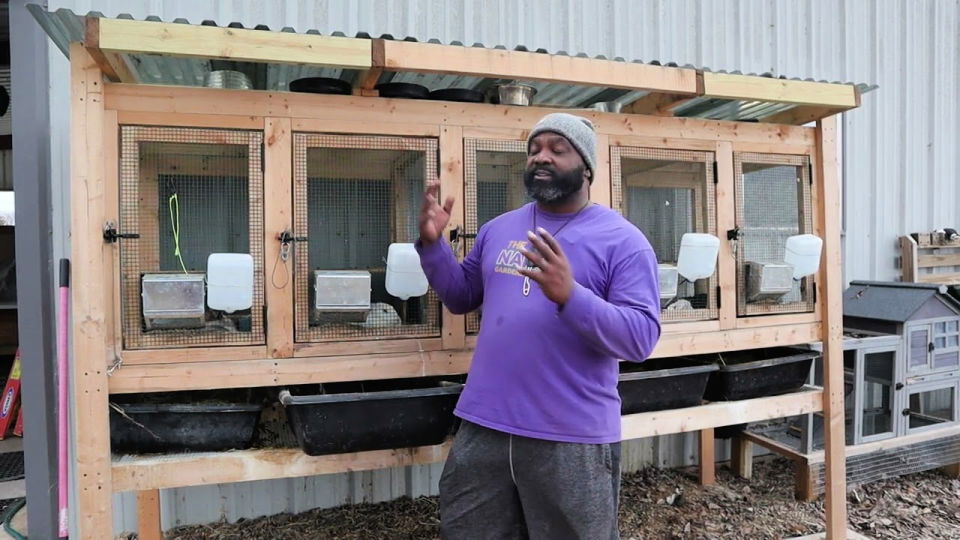 Are you a novice carpenter looking to build your own rabbit hutch? Look no further! This DIY wooden rabbit hutch tutorial provides step-by-step instructions and helpful tips so that anyone can construct their own functional, stylish, and affordable hutch. This video on DIY rabbit hutch ideas takes you on the journey from gathering materials to completing the final product. Whether you're experienced with carpentry or just starting out, this guide is an invaluable resource for creating a comfortable home for your furry friends.
21. Simple Minimalist Rabbit Hutch Using Recycled Material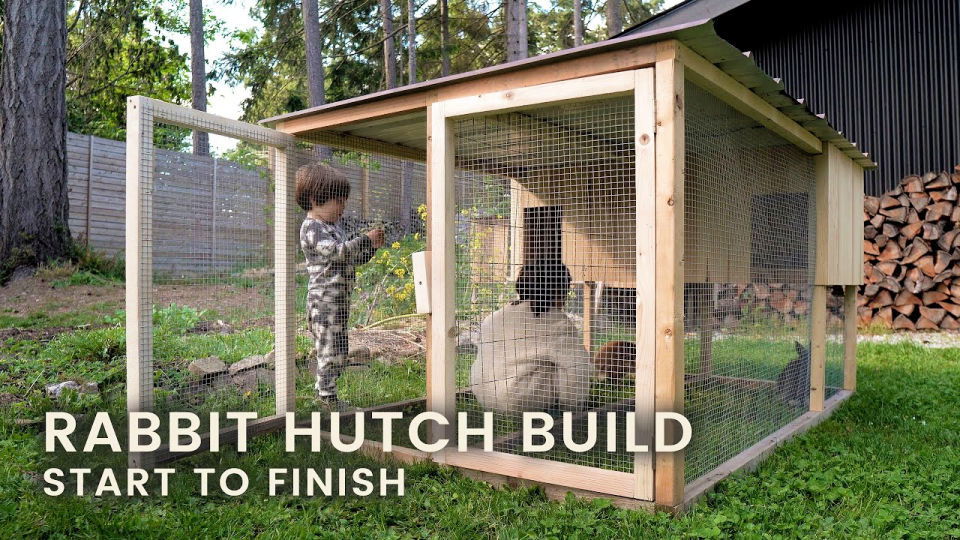 Here's why this simple minimalist rabbit hutch is a great way to offer your rabbits a safe home while reusing recycled materials! Firstly, this rabbit hutch is easily assembled using the existing frame, and you can take out the wooden pieces to sand them down or refashion them into something new. Secondly, But above all, enjoy this eco-friendly way of caring for your pets without sacrificing style or convenience.
22. Homemade Wooden Rabbit Hutch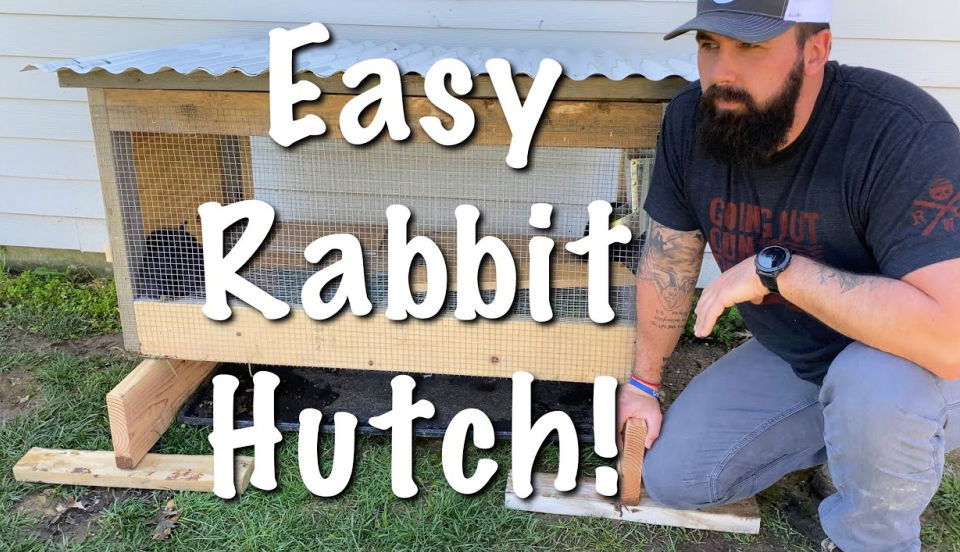 Love your pets? Show them you care by constructing a beautiful homemade wooden rabbit hutch. With simple tools and supplies, including a pocket hole jig, stagger your staples, and the ceramic tile trick, you can easily craft an exquisite enclosure for your pet. You'll love watching them hopping around in their new home! Not only is it fun to build, but you'll also save money on costly store-bought hutches.
Plus, with some creativity and patience, the sky's the limit when creating this DIY project! Get started today on building a wonderful home for your pet rabbit that will last for years to come
23. Making a Large Rabbit Hutch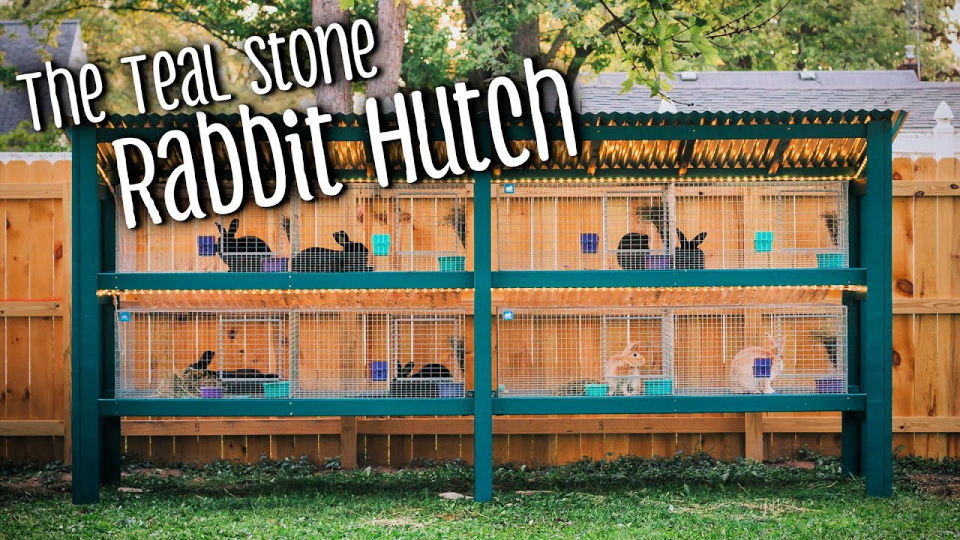 Buckle up and make a large rabbit hutch with ease by following these steps. Gather lumber and paint, and assemble the legs, front, and back of the hutch. Add supports to lift it up, then attach roof pieces and finish painting. Get tired yet? Attach LED lights and KW Cages for extra safety before adding on the roof. Don't forget to make poop slides! After you've finished making your hutch, be sure to leave some gaps so box fans can fit in for ventilation purposes. Now you have a beautiful large rabbit hutch done right!
24. Building a Rabbit Hutch With KW Cages
This guide offers quality building materials ideas for DIY rabbit hutch projects. These products include legs, dimensions, support for the rafters, and feeders that make it easy to build a sturdy and comfortable home for your pet bunny. Using only the highest-quality materials, you can trust that your pet will have a safe and secure environment while enjoying its new home. With KW Cages, you're sure to find everything you need to make an adorable place for your furry friend!
25. How to Build a Rabbits House on Wheels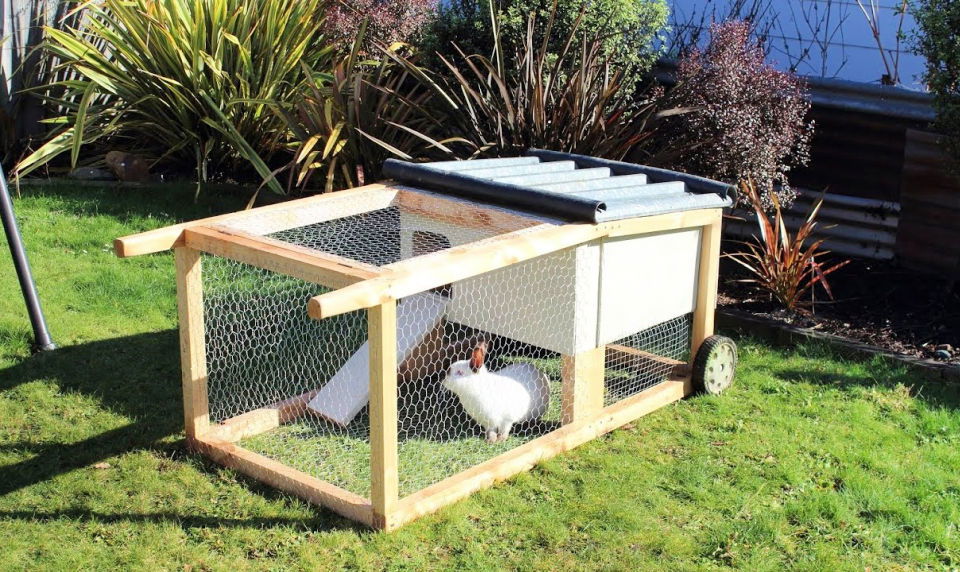 Are you looking for the ideal best way to build a rabbit house on wheels? Look no further! This guide will give you easy-to-understand instructions on how to put your own rabbit house together. You'll learn how to attach the front crossbar square with the rails, use a straight edge and adjustable square for accuracy, secure bottom edges with screws or nails for stability, line up walls, and assemble quickly with drywall screws. Finally, we'll show you how to paint or seal it off so that your furry friend has a safe and comfortable place to hang out in. Follow these steps and make an amazing rabbit house on wheels today!
Related DIY Projects to Try:
Conclusion: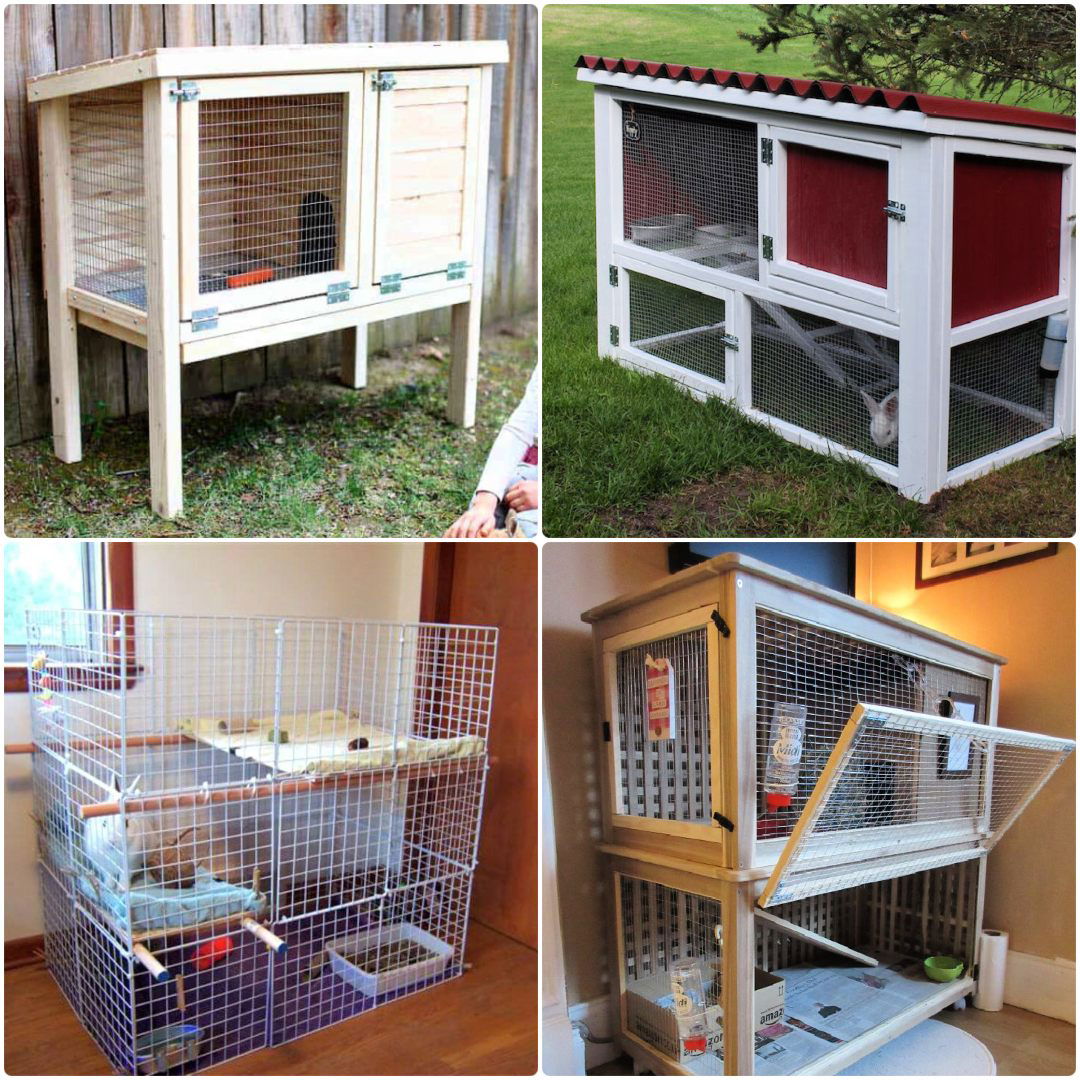 In conclusion, these 25 free DIY rabbit hutch plans provide an excellent range of options for creating the perfect home for your furry friends. From simple rabbit hutches to elaborate rabbit hotels, there is a plan suited to every skill level and budget. Explore various designs, including wooden rabbit hutches, indoor cages, and even creative IKEA hacks. By building your own rabbit hutch, you can ensure a cozy, safe, and comfortable space for your bunnies to thrive. So why wait? Start crafting your ideal DIY rabbit house today.