Making paper flowers is a creative and fun activity that allows you to make your own personal, homemade flowers. Learn how to make paper flowers at home with our 30 easy DIY paper flowers guide, including step by step instructions. From simple and basic paper flowers to more intricate techniques, we provide paper flower tutorials perfect for craft enthusiasts of all levels.
Our guide offers an array of DIY paper flowers varying from accordion-folded flowers to giant crepe roses. Transforming a plain piece of paper into a beautiful flower is not just an enjoyable pastime but also a way to beautify your home. Paper flowers can be used for wall decorations, Valentine's Day decor, gift wrapping, or making a realistic-looking bouquet. Making paper flowers for kids can also become a fun family activity.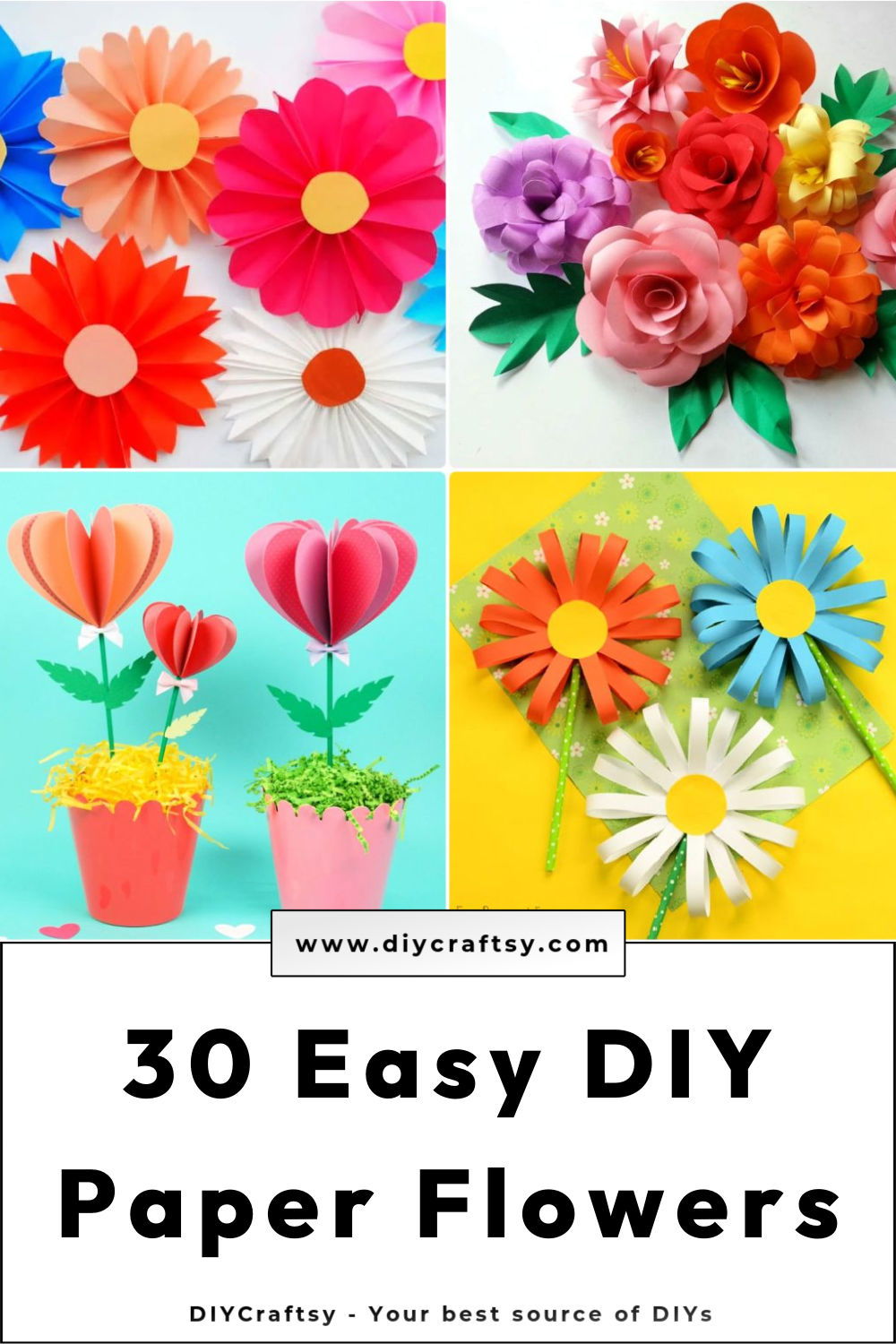 With our step-by-step guide, you will find complete details on the materials required, useful illustrations, and clear instructions to make your own DIY paper flowers smoothly. Whether you're using plain paper, construction paper, or newspapers, the process becomes a breeze with our guide. So let's get crafty, release your imagination, and start making delightful DIY paper flowers today. In no time, you'll be adding a handmade touch to your home with colorful DIY paper flowers.
1. Tissue Paper Flowers – Step-by-Step Tutorial
Bring your imagination to life with beautiful DIY tissue paper flowers! Perfect for brightening up any room in your home or making stunning party decorations, this fun project is the perfect way to unleash your creativity.
With a few simple steps and materials, make these gorgeous blooms that will add a pop of vibrancy no matter the occasion. Follow the step-by-step tutorial and have your unique bouquets ready in no time – all you need is a piece of tissue paper, scissors, and some floral wire. Let's get started on making these cheerful decorations today! mommalew
2. Easy DIY Paper Flowers
Make stunning paper flowers with ease using this easy DIY paper flowers project! You can make beautiful blooms with various pretty patterns with the help of craft paper, scissors, glue, and a round object like a plate or cup. Make stems and leaves to add even more detail, and make unique bouquets to place in vases or use for wall decor.
You can also make wreaths out of these easy-to-make paper flowers for an eye-catching display that will brighten up any room in your home. Get creative and mix different colors and patterns – no matter what look you desire, it's possible with paper flowers! instructables
3. How to Make a Paper Flower Bouquet for Spring
Welcome to an enchanted springtime craft – making a DIY paper flower bouquet! Whether experienced or just starting, making this stunning bouquet is the perfect way to welcome the season. You'll love watching as each layer of paper comes together and unfolds into beautiful blooms – get obsessed with how folding and layering the pieces of these gorgeous flowers make a dimension that mimics the real thing!
Pick a dreamy color palette to take your bouquet to the next lovely level. So don't wait — grab some supplies today and start crafting your paper flower bouquet for Spring! prettylifegirls
4. DIY Paper Flowers With Stems
Need help deciding how to spruce up your living room? Look no further than these DIY paper flowers with stems! Crafted from crepe and green craft paper, you can easily whip up a unique bouquet of beautiful heliconia flowers.
It's the perfect weekend activity for any level of crafter – beginner or advanced – as it requires minimal supplies and is surprisingly easy to make. You only need scissors, craft glue, crepe, and green craft paper. With an extra touch of imagination and creative flair, watch your handmade blooms come alive in no time!
So why not make something that will last long after the petals have wilted away? Give paper flowers with stems a go today – you won't regret it! craftaholicwitch
5. Modern Accordion Folded Paper Flowers
Add modern flair to your next party or event with these gorgeous modern accordion folded paper flowers! This creative and unique craft is perfect for decorating without breaking the bank.
With no skills required, anyone can easily make beautiful accordion-folded paper flowers in bold origami patterns – so easy that even a child could do it! All you have to do is cut, fold, and tape – it's that simple. The impact of this colorful decor will wow your guests, plus you'll save time and money on those pricey store-bought decorations!
Use them as centerpieces for tables or make a backdrop for photos – either way, your modern paper flowers will surely add beauty wherever they're placed. So prepare for an unforgettable gathering with DIY modern accordion-folded paper flowers! diycandy
6. Make Your Own Paper Flowers
Are you looking for an easy, creative way to bring a smile to someone's face this Mother's Day? DIY paper flowers are the perfect solution! You can make stunning faux floral arrangements with simple supplies and tools that look like an expert-made them.
Not only do these blooms make thoughtful gifts, but they're also a fun and fulfilling craft project that even beginners can try their hand at. Whether your taste is classic or modern, there's sure to be a paper flower design that will fit perfectly into your space. Bring cheer into any room with beautiful handmade bouquets – it has never been easier! sugarbeecrafts
7. Homemade Giant Crepe Paper Roses
Looking for an amazing gift that will show your Mom just how much you love her this Mother's Day? Look no further than DIY giant crepe paper roses! This stunning creation will impress and fill any room with personality. Plus, it only takes about an hour to make – perfect for busy Moms needing something special from their loving children.
With these giant crepe paper roses, your Mom will know how much she means to you! So don't wait – surprise her by making the ultimate homemade gesture that looks beautiful and thoughtful. studiodiy
8. How to Make Flowers Out of Paper
Make your own beautiful and intricate paper flowers to use in party decorations with this easy DIY project! You can make stunning blooms lasting for years in just a half hour. Perfect for customizing any occasion, these paper flower creations are super versatile; adjust the size of each bloom to fit whatever project you have in mind.
You'll love playing around with colors and textures to make unique floral arrangements that will wow your guests! Get creative and make something special – start crafting beautiful paper flowers today. tarts crafts
9. How to Make Large Paper Flowers
Delight in the beauty of handmade paper flowers with a DIY large paper flowers PDF template. Transform any room, party, or event into a magical wonderland with these stunning giant flowers that hang together as one beautiful piece.
This special template makes it quick and easy to make your wall-hanging bouquet for a fraction of the cost you'd pay for store-bought floral decorations. Plus, they hold up well – much better than tissue paper versions!
Decorate your walls, add cheerful decor to your home, or make a memorable flowery backdrop for birthday parties and other celebrations with these unique handcrafted blooms. Make something amazing today and get crafting with Large paper flower templates! letsmakestuff
10. DIY Paper Flowers With Free Template
Make stunning paper flowers with our free flower template! Make your own unique DIY paper flower bouquets as a special gift for Mothers' Day, Teacher Appreciation Day, or any other occasion. These wonderful paper flowers look so beautiful and are surprisingly simple to make.
You only need construction paper, PVA glue, scissors, and our free printable flower template. Give these lovely blooms as a thoughtful gift or use them to decorate your home – the possibilities are endless! Get creative today by making your handmade paper flowers with this easy-to-follow guide. redtedart
11. Adorable Paper Flower Craft
Bring the beauty of Spring into your home with an adorable paper flower craft! Whether you're looking for a quick and easy craft to make together as a family or the perfect classroom-friendly activity for all ages, this rustic look paper flower craft is just what you need. Learn how to make an adorable paper flower bouquet that will brighten up any room quickly.
Follow along with a step-by-step guide on making these lovely decorations. With just a few simple supplies, your house will burst with charm and personality in no time. Make something special to be enjoyed all year by making this fun DIY, adorable paper flower craft today! easypeasyfun
12. DIY Paper Flowers for Wall
Transform your little girl's room into a beautiful, blooming paradise with these colorful paper flowers for walls. Crafting these gorgeous decorations is so much fun, and they make such a statement in any space – from bold and feminine to subtle and chic – you can make them whatever you like! Get creative and have a blast playing around with colors, patterns, textures, and more until the perfect look is achieved.
Plus, they turned out just as pretty as imagined – what an accomplishment! So if you're looking for an inexpensive way to spruce up any corner of your home in style, try adding some DIY paper flowers this weekend – trust you won't regret it! littlebits
13. Simple DIY Paper Flowers
Amazing DIY paper flowers are the best way to add color and beauty anywhere without breaking the bank. With colored paper, a hot glue gun, florist wire, a pencil, and scissors, you can make beautiful handmade paper flowers in no time! These simple yet stunning creations make an impressive addition to any room or special event.
Using your imagination, you can combine colors and shapes, making a unique bouquet of colorful blooms that will stay fresh forever! Whether for your wedding decorations or simply as a home decor piece, these realistic-looking paper flowers will surely wow everyone with their lovely presence. puresweetjoy
14. How to Make Real Looking Paper Roses
Transform your home, office, and special events into something magical with this DIY, real-looking paper roses. This free template allows you to craft beautiful pastel pink paper roses in no time – the best decor item for any occasion!
You can make realistic-looking roses that add elegance and beauty to your space with simple steps. Not only are they easy to make, but they also require minimal supplies, which makes them perfect for crafters of all skill levels. So let's make an eye-catching decoration piece that will brighten any atmosphere! craftaholicwitch
15. Cute DIY Heart Paper Flowers
Show your love with these adorable DIY heart paper flowers! These heart-shaped paper flowers are so cute and easy to make, perfect for a last-minute Valentine's Day gift.
With a step-by-step tutorial, you can make a stunning centerpiece in about 20 minutes. Show someone special how much they mean to you by making one of these cute and unique creations, sure to add that extra special touch on the most romantic day of the year.
Make it an eventful evening with heart paper flowers as part of your decoration – perfect for date night or any other celebration! Get creative and express yourself through this beautiful craft project today! homemade
16. Best Tissue Paper Flower Tutorial
Do you want to make a stunning centerpiece for your upcoming fall party? Then look no further than this DIY best tissue paper flower tutorial!
All the supplies you need cost only $17, and it takes just 15 minutes to complete so you can knock out your fall party decor quickly. With this amazing tutorial, you can make one giant tissue paper flower that will look perfect for any autumnal celebration. And best of all, even if you've never tried making tissue paper flowers, the easy-to-follow instructions will make it straightforward.
So why not add a touch of flair to your party with this gorgeous homemade decoration? Get crafting now with tissue paper flowers and make an impressive centerpiece that will wow everyone at the event! thecraftedlife
17. How to Construction Paper Flowers
Bring the beauty of a sunny flower garden indoors with this DIY paper flowers tutorial! Perfect as a homemade gift on Mother's Day or any special occasion, these construction paper flowers take less than 10 minutes to make and can be customized in your favorite colors.
You can transform the plainest space into something more beautiful with simple craft materials like cardstock and crepe paper. Whether it's Spring, summer, or any other time of year, this pretty paper heart craft will give you an elegant decoration that will impress at home or even as a centerpiece at events. Make your unique bouquet today with a step-by-step guide! littleproject
18. How to Make Beautiful Flower with Paper
If you're looking to add some character and color to your home decor, why not try your hand at making some beautiful paper flowers? With just a few materials and this easy-to-follow guide, you'll be able to make vibrant blooms that are sure to bring a touch of charm to any room.
For this fun and creative project, you'll need some colored paper, scissors, glue, and a ruler — all of which can be easily found at your local craft store. We recommend selecting some yellow paper measuring 10×10 cm and green paper measuring 7×12 cm for this particular design. Of course, feel free to experiment with different paper colors and sizes to make your own unique flower creations!
As you work through the guide's step-by-step instructions, you'll learn all sorts of valuable crafting tips and tricks. And best of all, you'll feel a sense of pride and accomplishment when you see your finished product on display in your home.
19. DIY Paper Flowers for Valentine's Day Decor
Unleash your inner creativity and craft an unforgettable gift with paper flowers. These easy and inexpensive paper flowers are perfect for crafting with your kids, sending love to a friend or family member, or simply decorating your home this Valentine's Day.
You can make beautiful spiral roses that look complex but surprisingly fun with simple supplies like paper, scissors, and glue. Show someone special in your life how much they mean to you by giving them something unique handmade with love. Get crafting today and see what beauty awaits when you set out to make DIY paper flowers! cardsandpockets
20. How to Make Small Crepe Paper Flowers
You are adding a touch of beauty and color to your home this Spring or Summer with small crepe paper flowers! These pretty cosmos flowers will turn out beautiful and neater with crepe or tissue paper, making easy-to-make small paper flowers in no time. You only need a few supplies, such as colored crepe papers, scissors, glue, and pipe cleaners for stems.
With some creativity and patience, you can craft attractive decorations to make your spaces blossom with joy! The vibrant colors of these gorgeous blooms put a smile on everyone's face during the cheerful Spring and Summer seasons. Get inspired today by crafting DIY small crepe paper flowers! craftaholicwitch
21. Making Paper Flowers for Kids
A rainbow of paper flowers for kids – making memories that will last a lifetime! Your children will be thrilled and exuberantly when they make beautiful bouquets.
Not only is it a wonderful way to bond with your kids, but it's also an engaging craft activity that's very suitable for young ones. Making paper flowers was challenging – it's an extremely easy process that requires no prior knowledge or experience in crafting.
The step-by-step instructions provide all the guidance you need to make stunning results; with a super easy DIY paper flower kit, you can assemble gorgeous flowers quickly! Let your kids unleash their creative side and explore new abilities while having fun – get them making paper flowers today! stillnomore
22. 3D Paper Flowers Tutorial
Make your holiday season even more special with DIY 3D paper flowers! These accordion-style paper flowers can be made in all sizes, from small to giant flowers for wall decor. They look gorgeous as a garland and bring springtime beauty into your home.
With simple instructions, you'll find that crafting these easy 3D paper flowers is a breeze. So get creative and start making great 3D paper flower gifts for Christmas today! Your friends and family will love them! redtedart
23. How to Do Paper Flowers for Gift Wrapping
Show your love and appreciation creatively with DIY paper flowers for gift wrapping! These gorgeous paper flowers are a decorative addition to any gift wrap, offering stunning visuals without breaking the bank. They require only a few sheets of cardstock that you can easily purchase at the local craft store.
You can customize these pretty blooms with colorful markers and scissors to match any style or color palette. Plus, they take very little time to make – so making them will make your gift-giving plans on time! frogprincepaperie
24. DIY Paper Flowers With a Cricut
Transform your ordinary home decor into something extraordinary with DIY paper flowers made using a Cricut machine! Make beautiful 3D paper flowers with card stock and glue in just a few minutes.
It's easy to make and even easier to enjoy the creative results of this awesome craft project. All you need are basic materials such as cardstock, scissors, a ruler for measuring, and whatever additional embellishments you add. Step-by-step tutorial on assembling these stunning paper blooms for any occasion, from simple bouquets to making an entire paper gift card wreath!
Put your spin on every creation by choosing unique colors, patterns, and textures that match your style best – creativity is unlimited with paper flowers made with a Cricut machine! providence
25. Easy Paper Flowers – Step by Step Instructions
Make Mother's Day special this year with DIY, easy paper Flowers! These gorgeous, handmade blooms are perfect for adding color to any celebration. With the step-by-step guide, making beautiful flowers that last for years only takes minutes.
Whether you're looking for something small yet thoughtful or large and extravagant – these easy paper flower projects can be tailored to fit any style or budget. Make sure and get creative when designing the petals so they match the vibrant colors of Spring! This year, make a special gift for Mom with these unique DIY easy paper flowers – she will cherish them forever! redtedart
26. Fun and Easy DIY Paper Flower
Let your creativity blossom with DIY paper flowers! These beautiful blooms are amazing for any occasion – add them to a special event, such as a wedding, or just around the house as decor.
Choose from various colors and paper types to make stunning floral arrangements that will last forever. With just a few steps, you can have flowers that look amazing but are so simple to make.
Get creative and show off your talents with these unique handmade creations – they're sure to be eye-catching no matter where you display them. Don't let these pretty paper petals pass you by – get crafting today and explore the endless possibilities of paper flower projects! crazymom
27. Handmade Giant Paper Rose Flower
Make a showstopper DIY flower backdrop with these giant paper roses! In easy steps, you can craft beautiful large paper roses in an ombre effect that looks gorgeous – perfect for weddings or parties. The free templates allow you to make giant paper roses out of cardstock and make your event decor stand out.
And if you're looking for something special, why not hang up a single rose as a wall ornament? Get creative; impress everyone with your giant paper rose flower skills! countryhill
28. DIY Crepe Paper Flowers
Bring the beauty of summer indoors with crepe paper flowers! You can make long-lasting homemade gifts and stunning centerpieces in less than an hour with just a few simple household items.
Choose your favorite colors and make realistic-looking blooms that won't wilt or fade – no green thumb required! Get creative while exploring the possibilities of using party streamers to craft beautiful flowers. It's surprisingly easy to do so. Grab some scissors, get ready to unleash your inner florist, and start crafting these gorgeous paper blooms today!
Brighten up any room or event space with handmade decorations that impress everyone with how real they look – all without spending a fortune at the florist. When making effortless elegance with minimal time and expense, nothing beats crepe paper flowers! littleproject
29. How to Make Paper Rose Flower
Are you looking for a way to add beauty and elegance to your next special event? Look no further than this DIY paper rose flower! These easy-to-make paper roses will have your guests admiring their craftsmanship in no time.
With very simple instructions, you'll be able to make beautiful paper roses with ease. Whether it's a birthday party, wedding, or any other special occasion, these exquisite paper flowers bring the extra touch of class and sophistication that every event needs.
You don't need any fancy tools either– just some basic supplies such as scissors and glue are all you'll need for making these one-of-a-kind decorations! Give yourself an afternoon away from planning stress, and start crafting your handmade paper rose flower today!
30. Paper Flowers Wall Decoration Idea
Turn any plain wall into a masterpiece with these DIY paper flower wall decorations. Made from simple yet beautiful materials, you can make handmade paper flowers that will add an amazing touch to your living space and instantly change the look of any room.
Whether you're a novice or a crafty pro, this project is easy enough for everyone to accomplish. With just a few basic supplies and creativity, you can make vibrant paper flowers that bring color and life into your home decor. So let your imagination run wild!
31. How to Make Newspaper Rose
A stunning, unique bouquet of roses with just paper and scissors! Make these beautiful DIY newspaper roses that make the perfect gift or decoration. Not only are they easy to make with minimal supplies, but they also make a great craft project for all ages!
From kids to adults, this is one of those projects where everyone can join in on the fun. These handmade creations offer endless possibilities – from elegant centerpieces to charming table decorations – so have fun crafting newspaper roses today.
Related DIY Crafts to Try
Explore new DIY crafts by trying out these fun projects!
Related DIY Paper Crafts
Explore our collection of fun and easy DIY paper crafting ideas for all ages!
Conclusion:
In conclusion, learning how to make paper flowers is an enjoyable and creative way to add a personal touch to your home decor or gift-giving. With various DIY paper flowers techniques and materials, such as tissue paper, construction paper, and crepe paper, you can craft beautiful DIY wall flowers, bouquets, and more. Delight your loved ones with DIY paper flower decorations, or elevate your living space with custom paper flower designs. Follow our easy tutorials and embrace the satisfaction of making stunning paper blooms from scratch.