Nobody can reject the beautiful colors of spring with all the vibrant flowers in the blooming and color-enriched enchanting vibes all around. Now, that spring is just around the corner with these beautiful 15 easy 3D paper flowers to make for you and your kids to have a memorable spring afternoon. Celebrate the breezy beginning of spring with these fun and colorful DIY 3D flower crafts. They are exciting for both kids and adults.
The beauty of these DIY 3D paper flowers crafts is just amazing and you can make them as per your requirements! And make adorable gifts for your loved ones in no time. We have got ideas from decorating your picture frames with a flair of 3D flowers added to making exquisite 3D flower cards for mother's day, teacher's day, or any other adorable people's appreciation day!
Our collection of these 3D paper flowers is absolutely drool-worthy, and especially your kids are going to have plenty of creative and productive time while trying out these paper crafts. A perfect way to keep your kids happily occupied. Let's gather around your craft supplies and dive in.
1. DIY 3D Flower Photo Art

This idea can make your wedding day decor way more pretty! Say, for example, gather around your old photos and add a flair of liveliness in them by putting up these 3D flowers as pretty head garlands! Check details in the tutorial. bespoke bride
2. DIY 3D Paper Flower Magnets with Cricut

These gorgeous 3D paper flower magnets with Cricut are a perfect way to welcome spring! Hang it up to your wall and get the true spring feels. All you are going to need is scrapbook paper, Cricut explores, a hot glue gun, scissors, magnets! Get full details in the tutorial. everydayjenny
3. Beautiful 3D Paper Flower Bouquet

Add an affection oozing and personal touch to your gifts with this handmade 3D flower bouquet card. The pop-up flowers are brightening up the whole aura around the card like magic! Plus, GREAT news. The tutorial comes with a free printable template! momsandcraf
Flowers Making Ideas:
Burlap Flowers: Making burlap flowers is simpler than you may think. Burlap flower wreaths are very popular so why not make a burlap flower for every season? These burlap flowers are perfect for hanging on the front door.
Fabric Flowers: DIY fabric flowers are easy and fun to make: All you need to have fabric scraps and basic tools to make simple flowers.
Crepe Paper Flowers: With just simple techniques paper can be altered into unreal flowers of all types. Learn how to make crepe paper flowers without a cutting machine!
Felt Flowers: These felt flowers will bring a pop of color to any home. Follow these easy DIY directions to create a bouquet of colorful felt flowers.
Origami Flowers: Some of the most beautiful origami models are origami flowers. They look so attractive when made with either plain or patterned paper.
Flower Balloons: This is the simple design of the flower made by most balloons. You just need to learn the basic technique to make flower balloons.
4. 3D Paper Flowers for Spring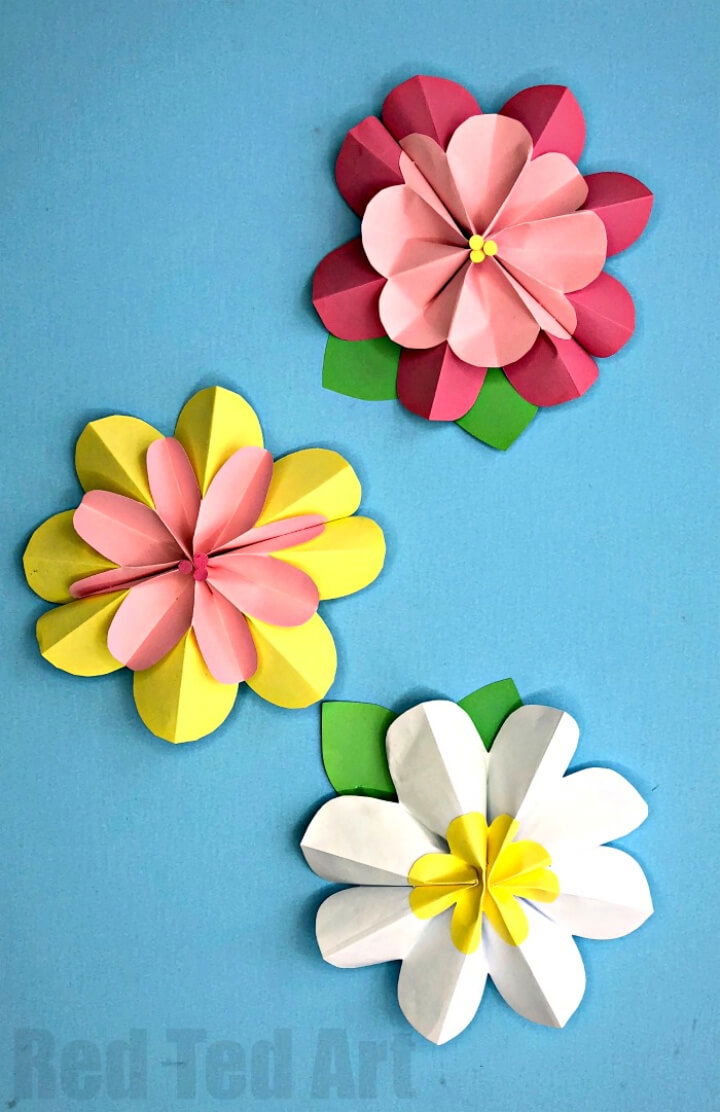 These 3D paper flowers are not just all colorful and cheerful! But, guess what, they can also be an excellent activity for strengthening your kids motor muscles in hands and fingers! These are insanely easy to make using a stapler, paper scraps, and glue. redtedart
5. How to Make 3D Paper Flowers

Have you been wondering how to make these intricate and enchanting paper flowers? All you are going to need is cardboard stock, quick-dry tacky glue, Cricut and Cricut tool kit. These are very easy to make, and you can have a nice to do thing. prettyprovide
6. DIY 3D Paper Flowers Craft

Has a rainy day got your kids down? We have got just the perfect three dimensional and serene DIY 3D flowers papercraft for them. This could be a fun afternoon spent welcoming spring or making teacher's appreciation cards. See details in the tutorial. orientaltrading
7. Easy 3D Tissue Paper Flower

Enhance your kid's motor skills with this productive and appealing 3D tissue paper flowers craft! With these gorgeous paper flowers crafted with tissue paper, they can make an uber-sweet mother's day bouquet! Check full details in the tutorial. artycraftykids
8. Make Your Own 3D Paper Wall Flowers

Let's just bring the ultimate serenity to your home walls with these super cute and enchanting DIY 3D paper flowers! You are going to need some colored cardstock, scissors, an image or a template, hot glue gun, liquid glue, and decorative beads! positivelysplen
9. Letterboard 3D Flowers With Cricut

Mother's Day gift has to be special and well thought! And in our opinion, a personally customized letter board laced with some whimsical 3D paper flowers could just do the magic right. The tutorial will walk you through the step by step guide. doodlecraft
10. Colorful 3D Flower Card for Mother's Day

Make these beautiful and lively single tone 3D paper flowers with those appealing holes in the petals. These are exceptionally easy to make using cardstock paper, hole punch, buttons, glue stick, and scissors. Get full details in the tutorial. thejoysharing
11. Simple DIY 3D Paper Flowers

Did you know the four strips of construction paper can do all the magic to make these cheerful spring flowers? Add up some glue to hold the ends together and make stylish three-dimensional petals. Head over to the tutorial now for details. howweelearn
12. 3 Ways to Make 3D Paper Flowers

Make versatile 3D paper flowers using three trendy design like rolled, peony, and camellia flowers. All these different designs and SO many decor options you can get yourself in just under 20 minutes. Get full details in the tutorial. simplymadefun
13. 3D Pop-up Flower Cupcake Box Toppers

Everybody loves cupcakes and the cute little boxes with pop-ups. In this tutorial, you are going to be able to add up cute and cheerful 3D flowers as the pop-ups! This DIY 3D Pop-Up Flower Cupcake Box topper is going to bring back all the happy childhood memories. dreamgreen
14. 3D Paper Flowers for Window Decor

With this tutorial, you can bring the true spring feels in your rooms or your kitchen! Take your decor game to a whole new level with these DIY 3D paper flowers for window decor. Don't they look just absolutely stunning? Get full details in the tutorial thecraftpatch
15. DIY 3D Cricut Cardstock Flowers

Make these adoring peony flowers with the complete touch of green leaves and add a flair of spring and fresh appearance to your decor. The tutorial is going to elaborate in detail on how you can make these cute 3D Cricut cardstock flowers! heyletsmakes
These cute DIY paper flower crafts are all very inspiring and appealing. They can make some fantastic darling gifts for mother's day or teacher's day. Plus, you can get your kids some ultra-productive activities by enhancing their motor skills. Introducing creativity, crafting, and patience in them. Paper is one of the most versatile craft supplies, and it is available in plenty of amounts ! If you or your kids love origami, we bet you are going to have some memorable fun days trying out these DIY 3D paper flowers crafts. Happy Paper Crafting!