The burlap fabric is another amazing secret to feature a rustic style in your home. Doing this in a pretty way will call for these DIY burlap flowers, the most gorgeous antique beauties, to add to your decoration to have antiqueness and vintage vibes. The neutral hues of burlap flowers will rock for fall decorations. Learn how to make burlap flowers and roses at home by following these 20 simple DIY burlap flower ideas, sharing the detailed guides, instructions, and tutorials too added with pro tips. Looking at the readymade samples will provide tons of inspirations to go ahead with a unique burlap flower concept. The list is sharing the cheap hacks for making burlap flowers with and without the sewing machine.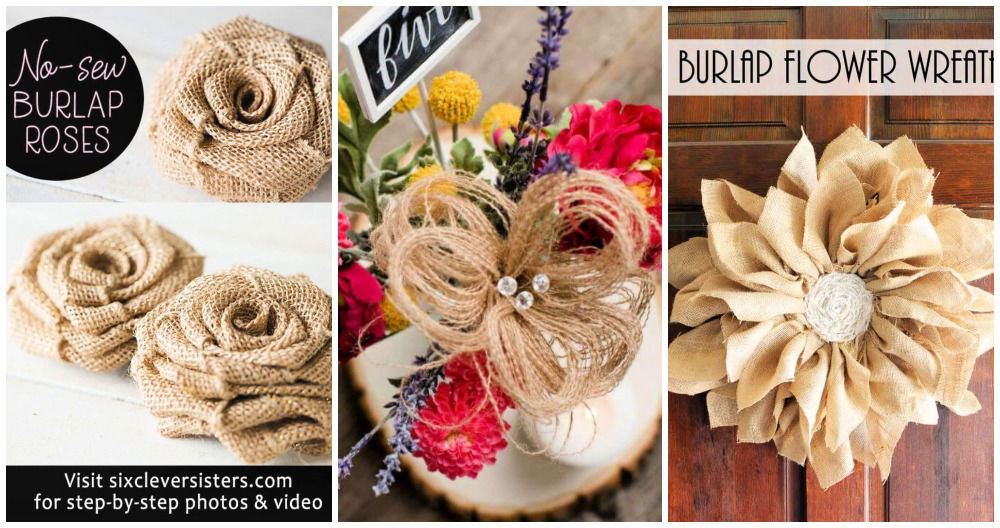 Make accent rosettes out of burlap with button centers, the coolest embellishments to adorn your accessories. Cut big and small burlap petals, stack them on the fall as flowers to get a 3D rustic flower wall art. Put also the rustic burlap flowers in the jars, for making adorable centerpieces for weddings decorated on a rustic theme. Make burlap roses to use as embellishments for your fall wreaths.
These DIY burlap flower ideas are relatively quick to make and are for every skill level. The best way to use burlap for home knickknacks. Make also burlap flower pillows, flower pots, and brooches.
DIY No-sew Burlap Rosette: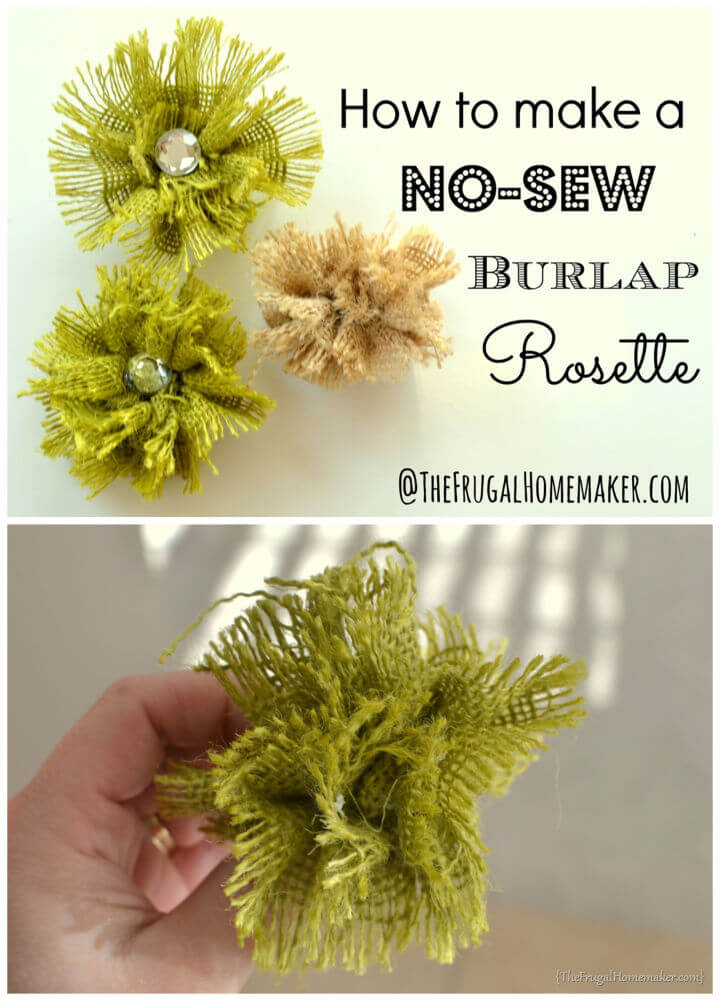 Making flowers is not so unique but with what material you make them really brings out the quirk out of them. So this time make these adorable and now sew burlap rosettes in multiple colors. You can use them for a lot of embellishing purpose in the house. So make and enjoy! thefrugalhomemaker
Make Burlap Flower for Wall Decor: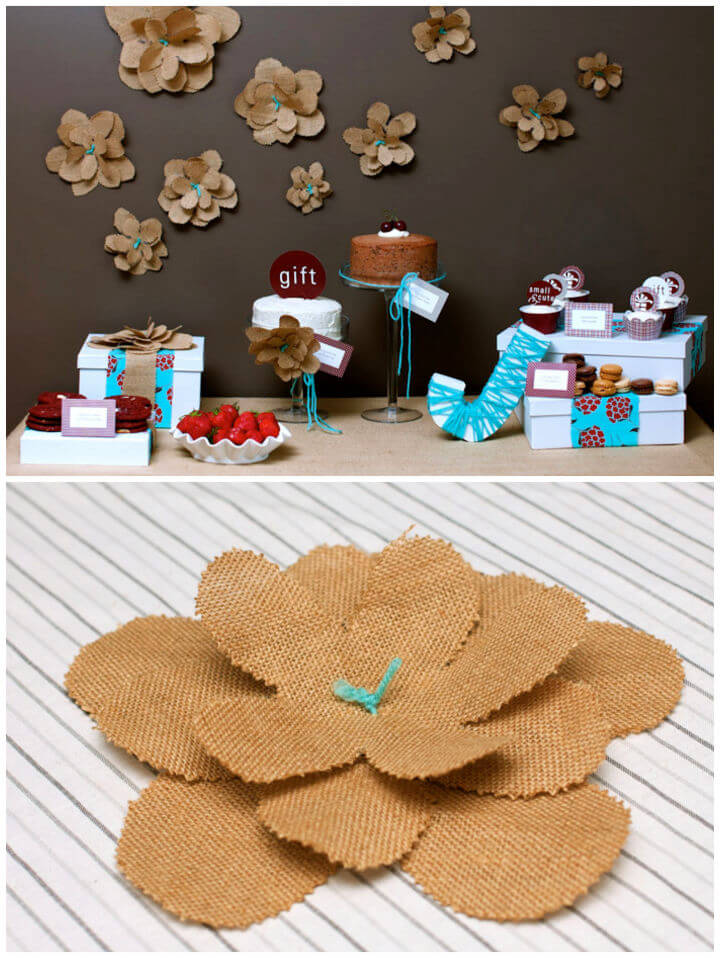 Bring some burlap charm on your walls this season of fall with this exquisite burlap flower wall décor. The five-petal flowers in multiple sizes have been cut out of the burlap and then adorned over the wall. The dark background of the walls really makes the flower turned out so exotic. How to here amyatlas
DIY Burlap Wedding Flowers: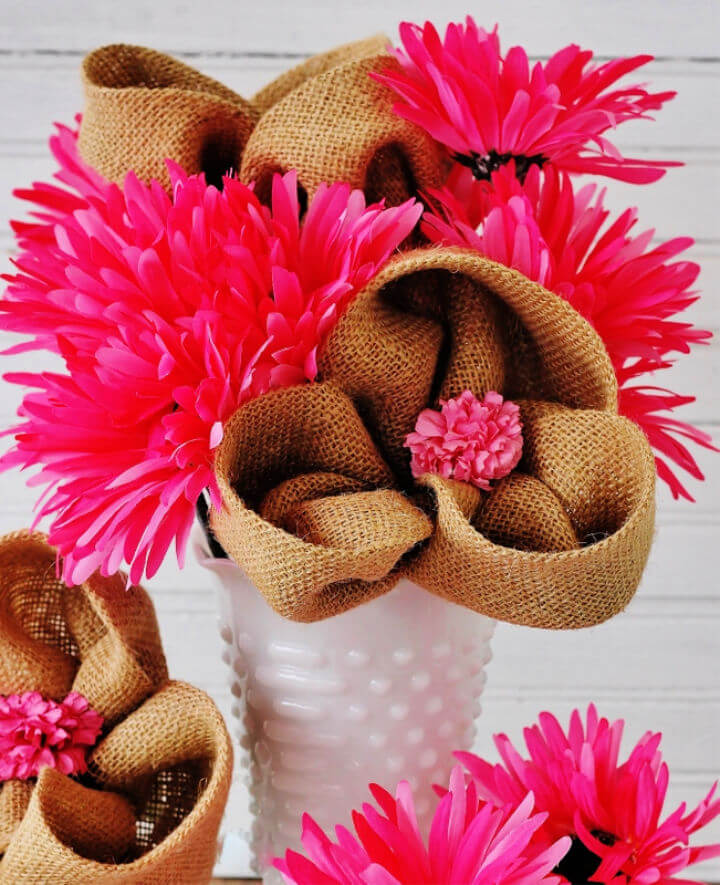 Here is another amazing project for your wedding to get the best décor ever. These pretty burlap wedding flowers would surely add oodles of charm to your wedding tables. With little rolls and curls in the burlap pieces you can easily make these giant burlap flowers to rest in the vases. thistlewoodfarms
DIY Burlap Flower Bouquet: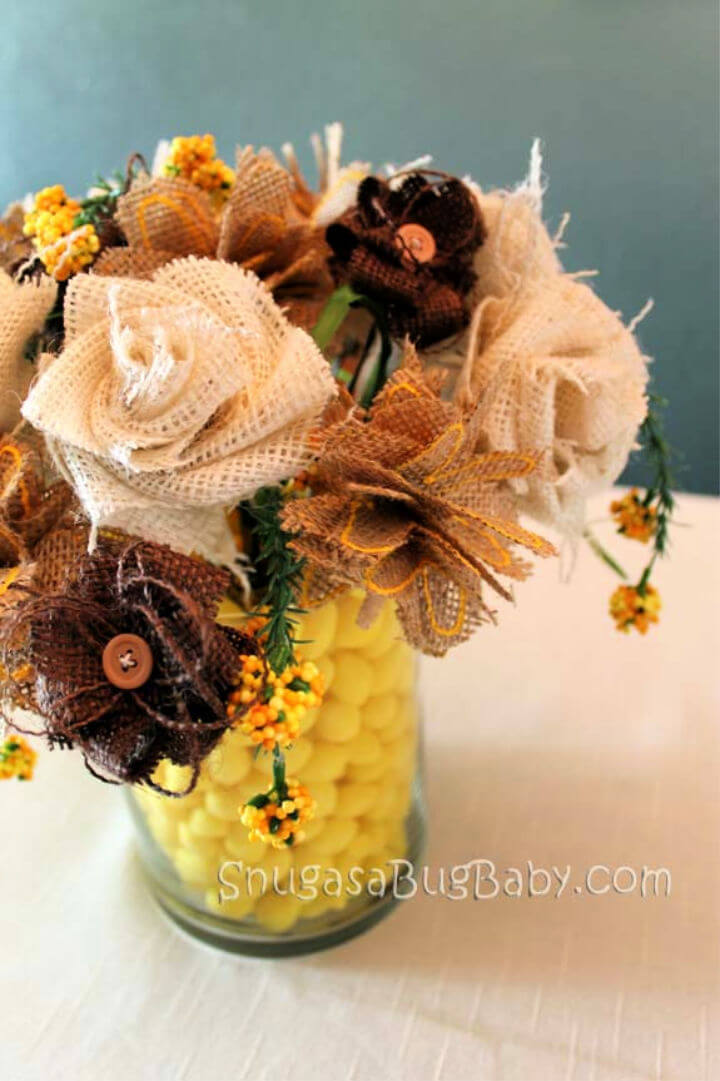 The flowers in the vases get changing according to the season and its décor demands. For the fall festivity, you can use these adorable burlap flowers in the form of the bouquet to beautify your vases with. They would also make a pretty gift for your neighbor, friend or the teacher. rusticsunshine
Find Easy DIY Flowers Making Guide:
Crochet Flowers: Find these Crochet flower patterns are perfect for a diverse array of projects. they can be used as appliques on everything from hats to shoes.
Fabric Flowers: Learn how to make fabric flowers at home with these DIY fabric flowers include how to make fabric rosettes, rolled fabric flowers, roses, and even felted flowers.
Tissue Paper Flowers: Making paper flowers out of tissue is a fun and easy craft idea for kids. Learn how to make paper flowers with this step-by-step guide.
DIY Paper Flowers: See these DIY paper flowers tutorials that include free templates, color photos, and instructions so you can create peonies, roses, dahlias, anemones, and more.
DIY Burlap Sunflowers: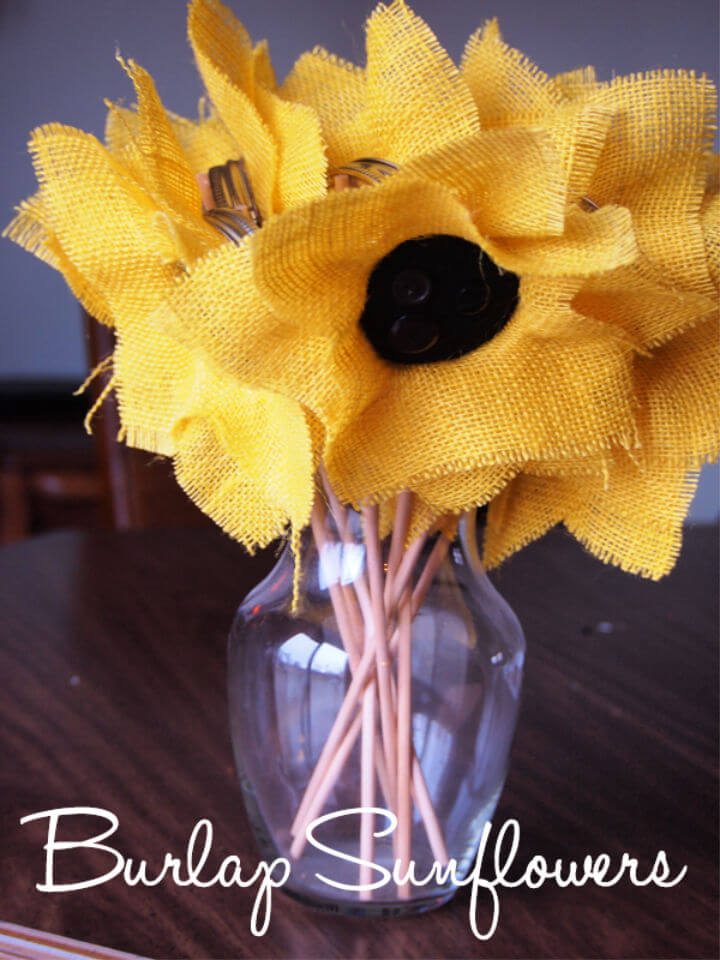 It's time to brighten up your home décor by adding these burlap sunflowers to your specific vase spots in the house. These adorable and totally eye-catching flowers are so damn easy to make with yellow burlap, black button, and the wooden skewers. Easy how-to here clumsycrafter
DIY No-Sew Burlap Roses:
If you are also the kind of crafter who is in love with making flowers then these now sew burlap roses are a perfect project for you to do next. All you need to so is just cut out strips out of the burlap and then roll them up. Follow the details of these no-sew burlap roses here sixcleversisters
How to Make Burlap Flowers: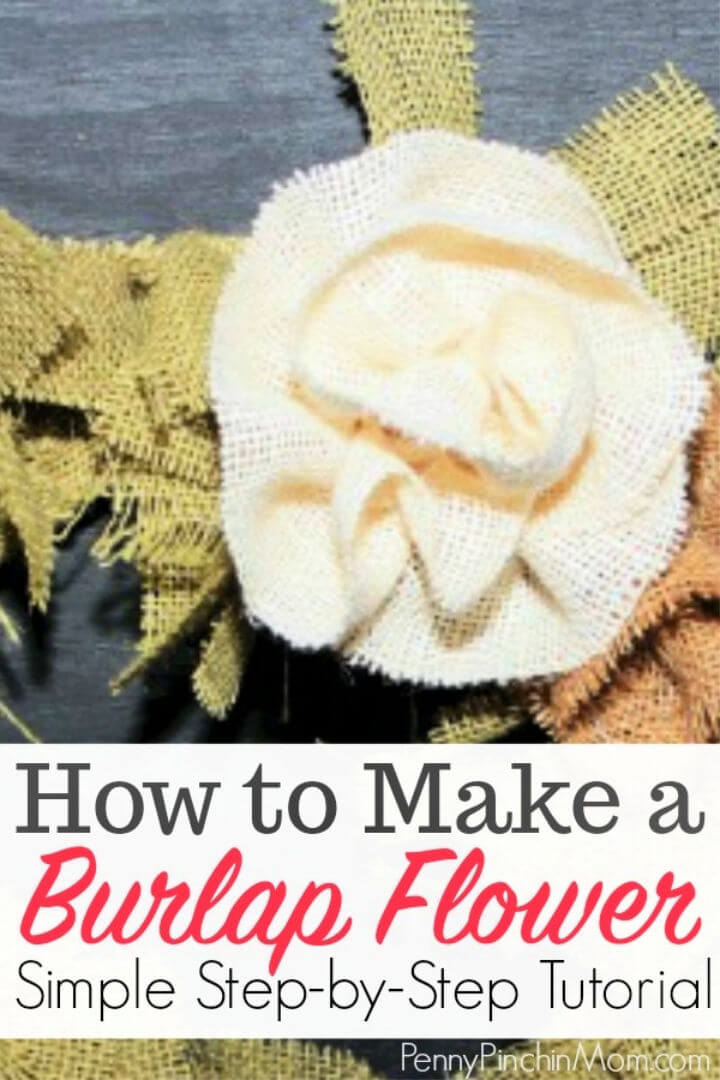 Summers are fun to craft the cute and colorful paper flowers and for the fall and winter, you can switch to these gorgeous burlap flowers. They are so easy to make with a few cuts, folds and twists and you can use them to adorn a lot of things around you like cushions, walls, wreaths and more pennypinchinmom
Make Burlap Flowers for Wreath: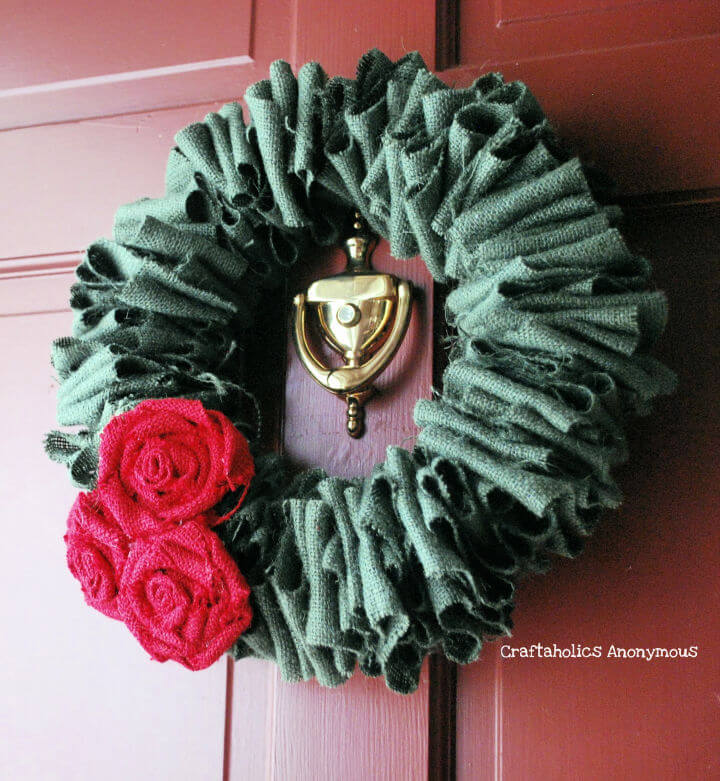 Drop the idea of buying a wreath when you can make a perfect one at home and that too so cheaply. Yes, this burlap flower wreath is just perfect to make for your fall or winter festivals and celebrations. The green burlap ring and the vibrant pink roses really bring the beauty and quirk appeal to the wreath. craftaholicsanonymous
Easy DIY Burlap Flowers: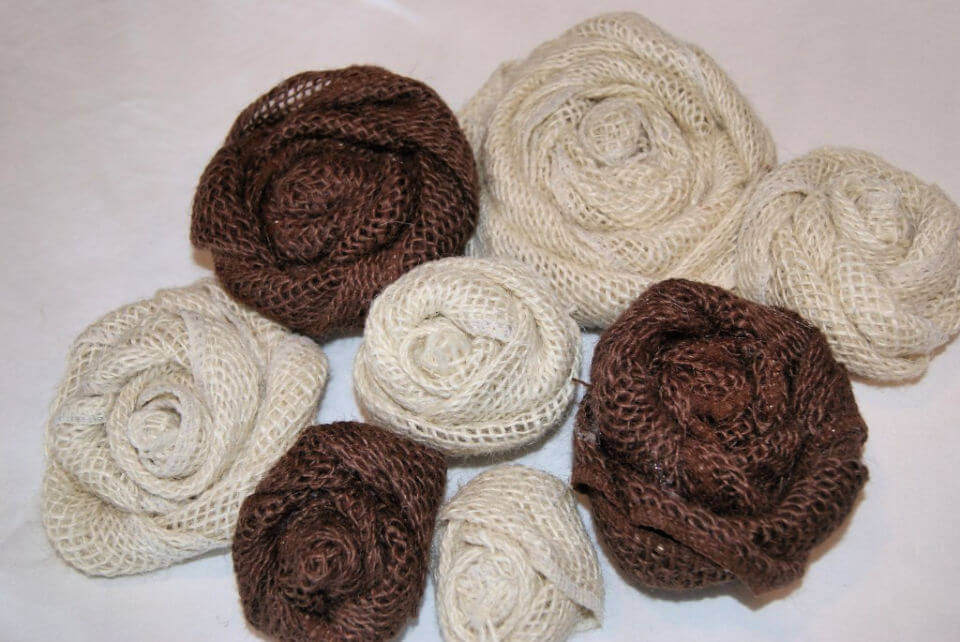 Burlap is one of our favorite materials to work for the winter home décor. This time you can get your hands on these lovely and simple DIY burlap flowers which are quite easy and fun to make at home. You can use them for a lot of projects where you need to charm up the looks and enhance the winter glam and beauty. canarystreetcrafts
DIY Burlap Flower for Card: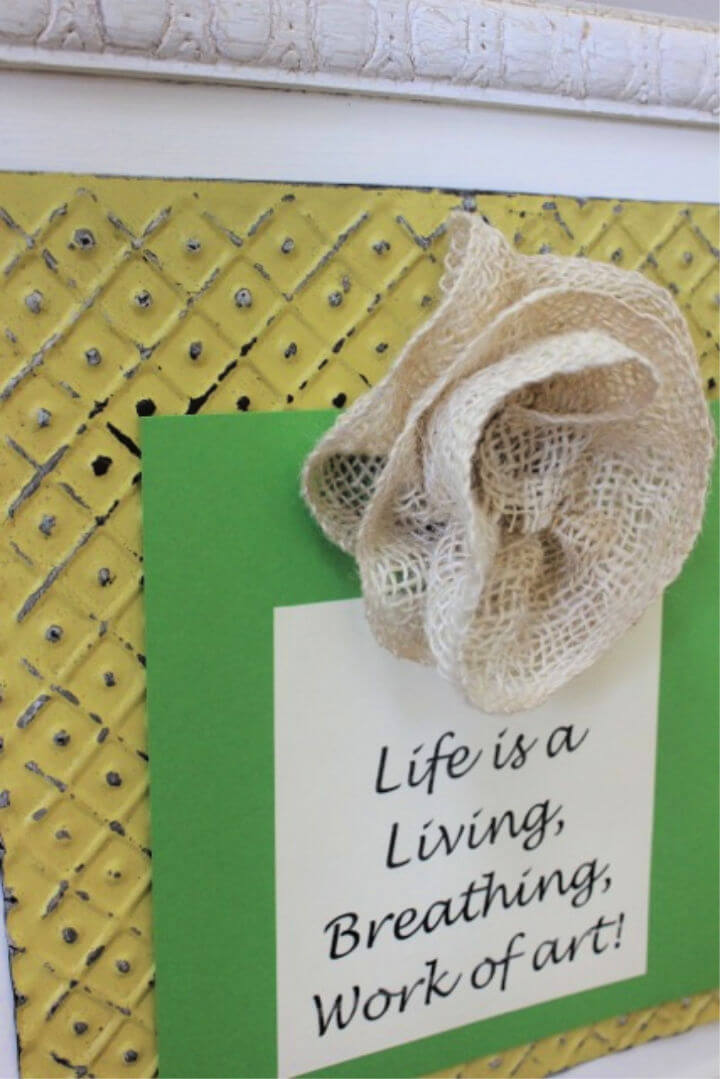 Making cards with our own hands would be probably the best gift especially in the era of technology. To make your cards look even more special and fun you can adorn it up with this DIY burlap flower. The flower is super easy to make with some burlap pieces being twisted and rolled up. daisymaebelle
DIY Burlap Flower Centerpiece: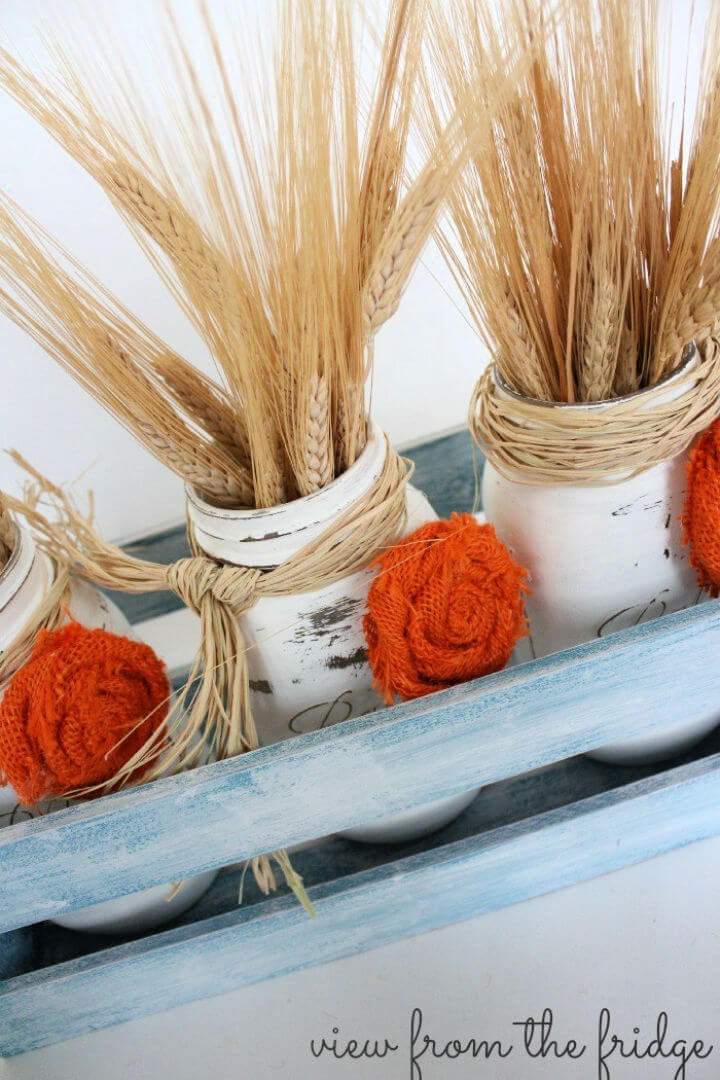 Need a centerpiece for your fall dinners? This burlap flower centerpiece is the perfect beauty to bring on your dinner tables. The mason jars have been painted white adorned with orange burlap roses and embellished more with raffia and wheat hay. The wooden basket holding these jars forms the perfect centerpiece. ohmy-creative
Make Your Own Burlap Rose: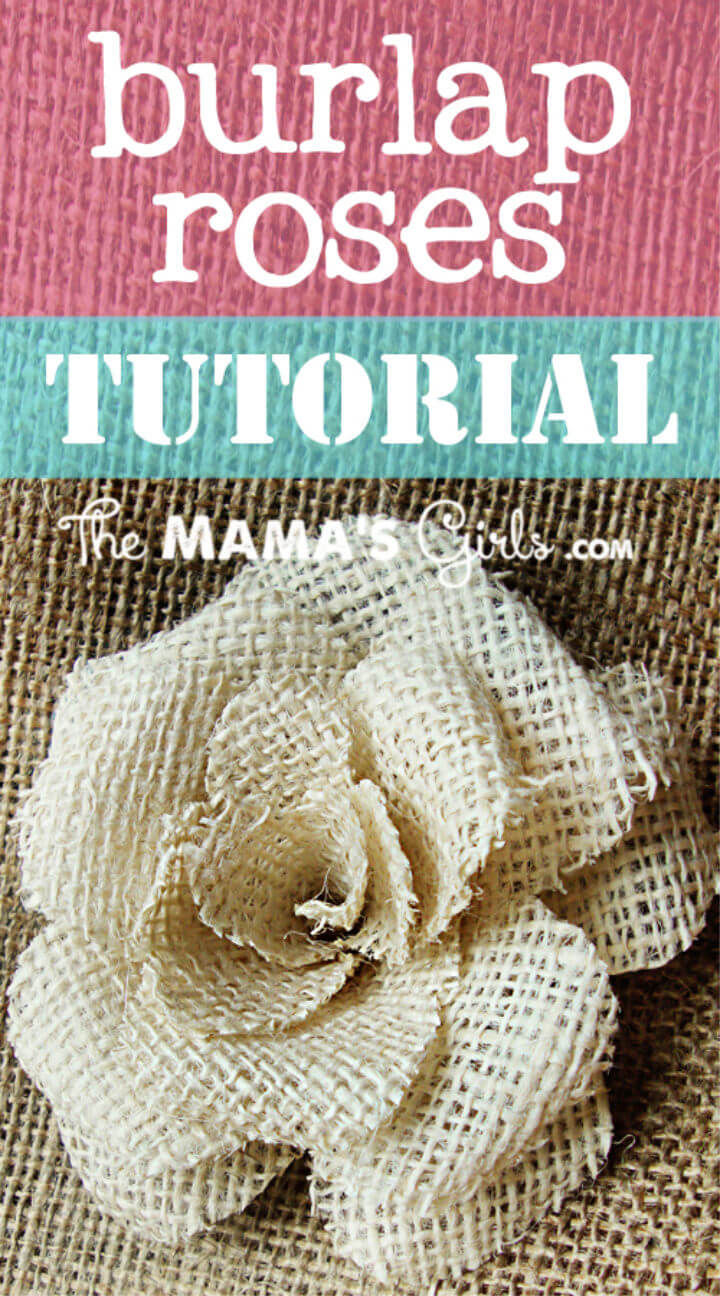 It's time to indulge in the flower craft this fall and that too with our favorite fall material which is the burlap. Using the templates of the roses you can cut them out of the burlap and then join together to shape up the roses and use them around for the décor and beauty purposes. themamasgirls
DIY Burlap Brooch – Refashion: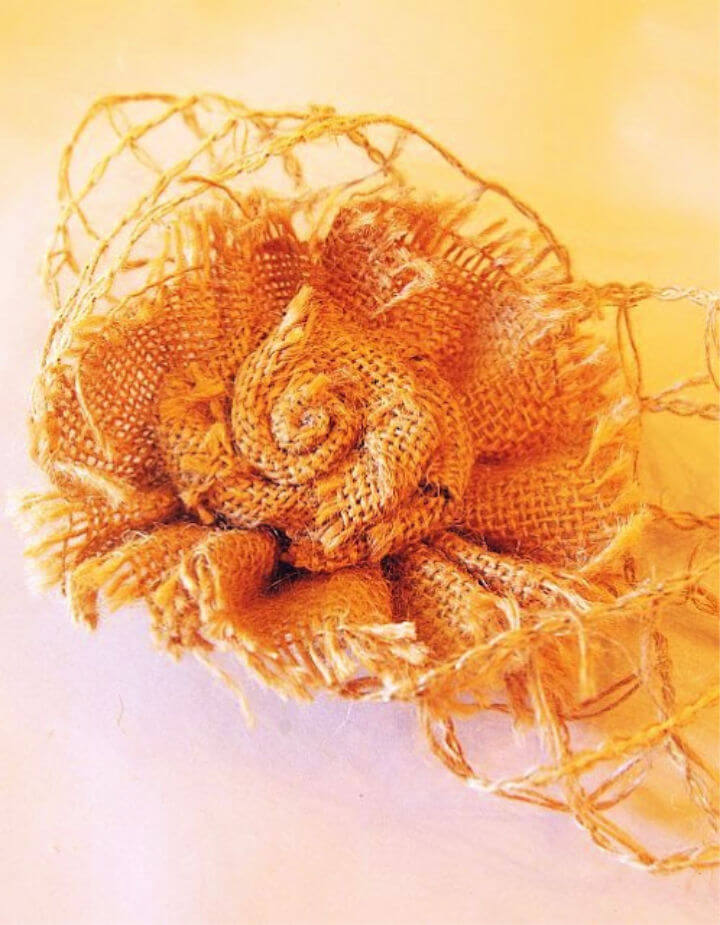 Want to look chic and different on your next gathering? Then try your hands on this exquisite and charming DIY burlap brooch having been made out of the burlap ribbon and the burlap pieces. This would look so rustic yet totally unique and fun by clinging to your jackets and other dresses. Learn the making here brassyapple
Create Burlap Flowers for Decoration: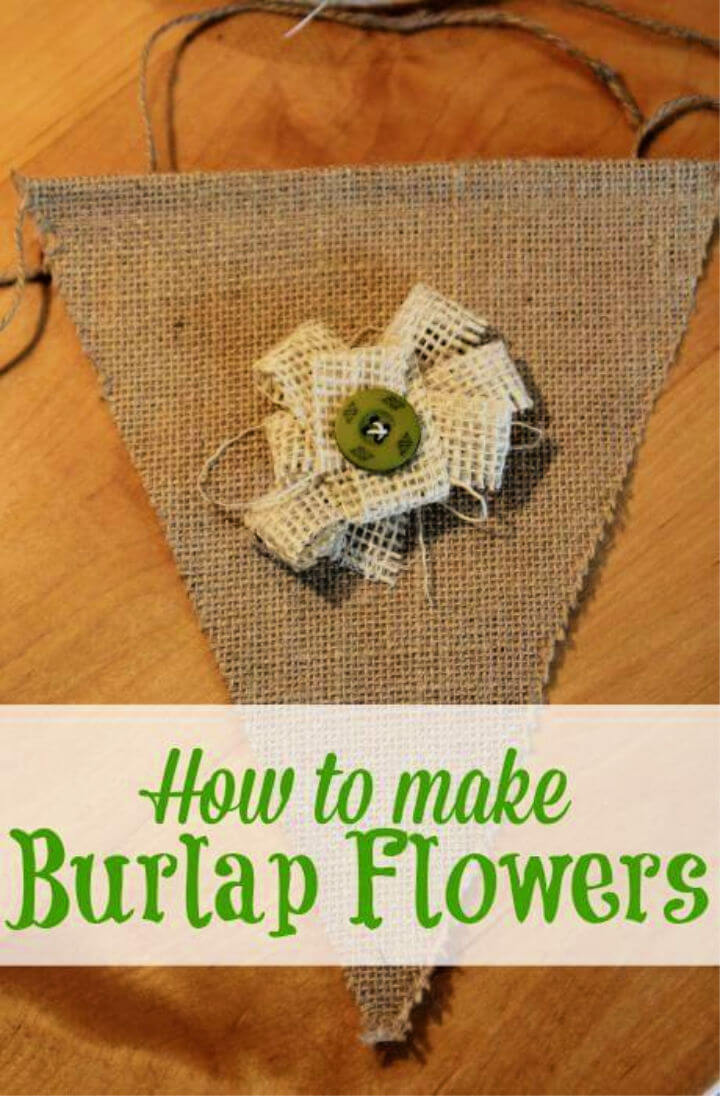 Fall is coming and the burlap would be all over to use for the pretty home décor and more. So get some burlap and make these pretty and cute little flowers that you can use for a lot of fun purposes. Either use them on your wreaths, gifts or the headbands they would create a perfect style statement. Details here madamedeals
DIY Burlap Flowerpot: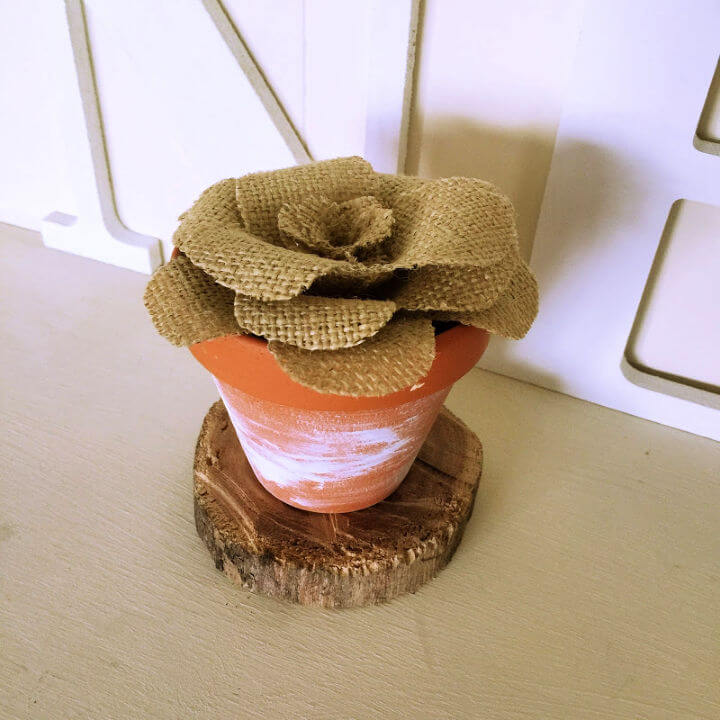 You can create a perfect table décor and that too with the cheap things lying around. Get your hands on some burlap to great this big and cute flower out of it. Place this flower in a terracotta pot and place that pot on a wooden log piece. Thus so nice and easily you can get a perfect rustic décor possession. adelemamabrown
Fun and DIY Pretty Burlap Flowers: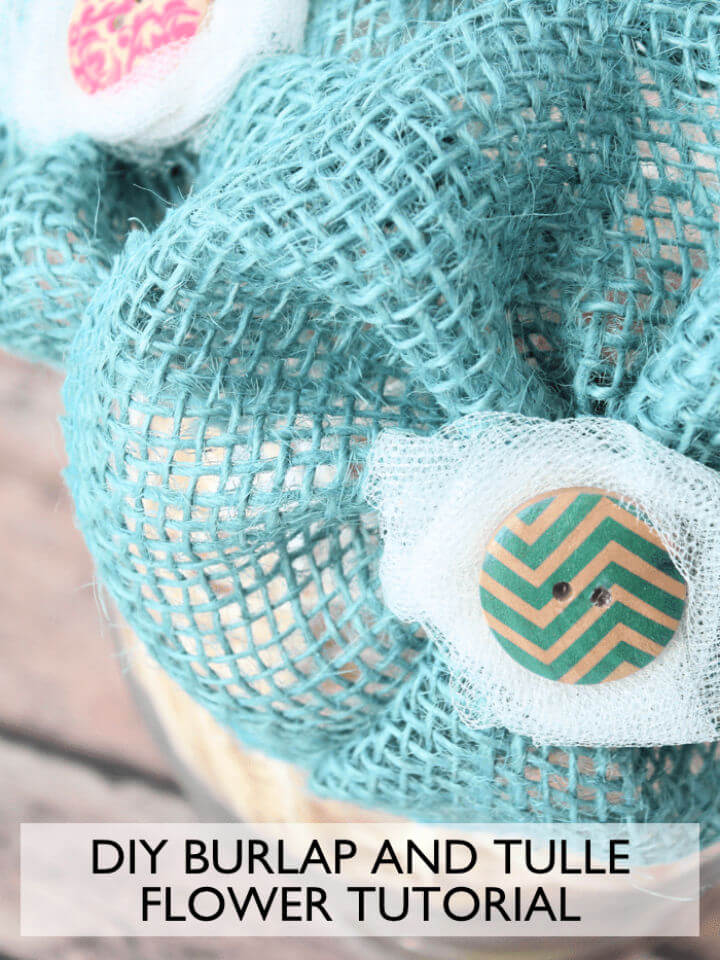 These white burlap flowers look just so tempting and cute with the button center. You can make them in a bunch to use around over multiple décor projects like wreaths, headbands, wall arts and more. The bouquet can also be made with these burlap flowers to use in your vases. Details here messestomemories
Burlap Flower Centerpiece for Weddings: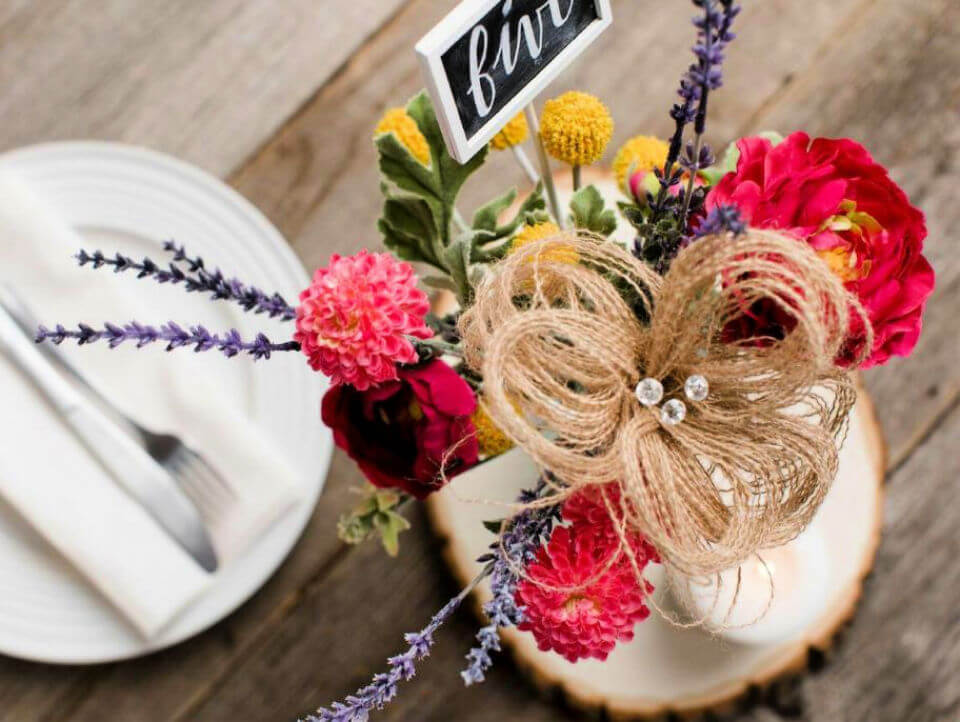 Here is how you can add the perfect boho-chic look to your wedding table décor with these adorable burlap flowers. With the burlap strands being pulled out you can easily shape up these adorable flowers to be a part of your wedding bouquets and centerpieces. Details here orientaltrading
DIY No Sew Burlap Flower Pillow: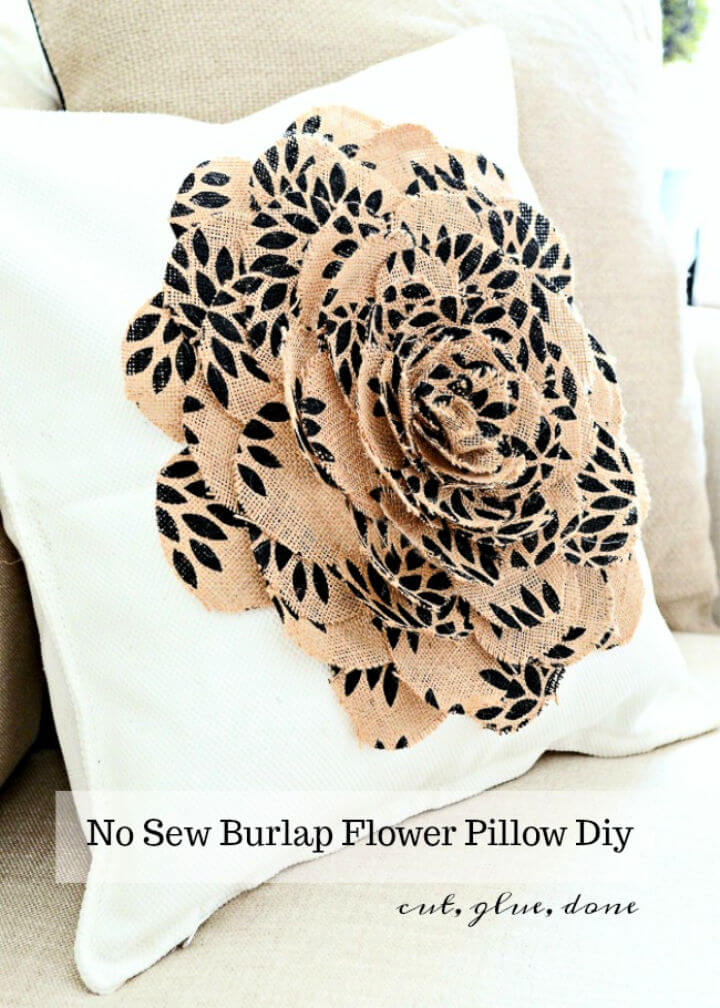 This gorgeous burlap pillow would be your perfect bedroom décor for the fall. With the cut-out leaves and petals, this giant black stamped burlap flower has been made and adorned over the white pillow. You can make these pretty now sew burlap flower pillow for your sofa or the bed. How to here stonegable
Quick and Easy DIY Burlap Flowers: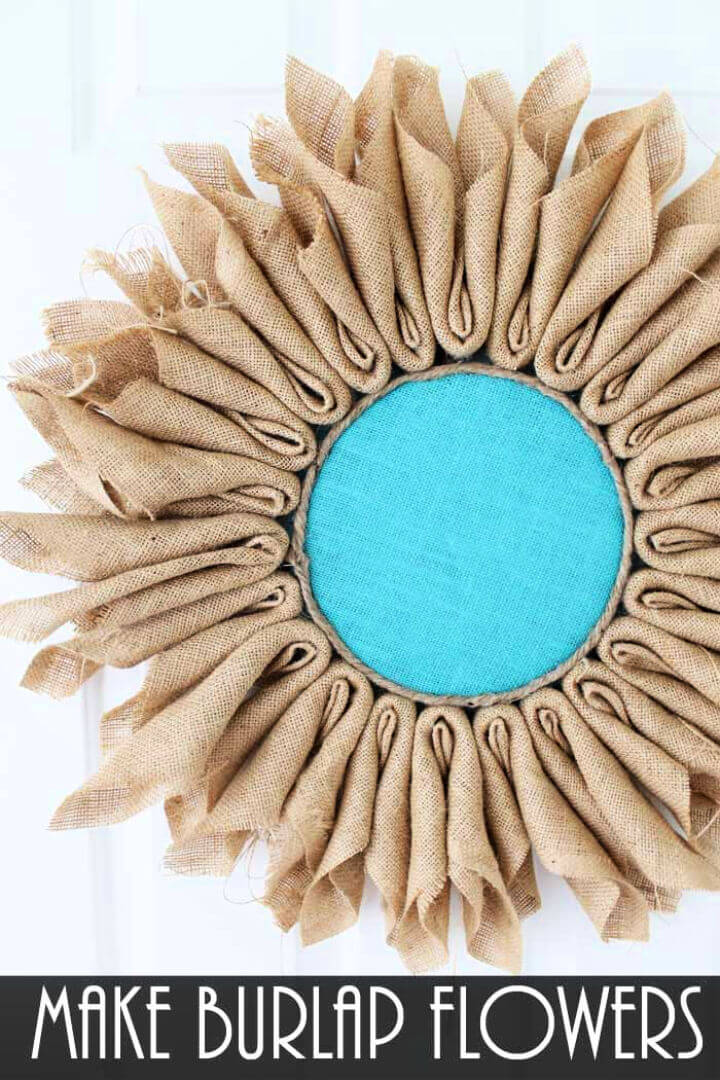 You would surely skip y our idea of buying a wreath when you have looked at this gorgeous burlap flower of huge size. The pretty quick and easy DIY burlap flower is made out of the colored burlap as the center, brown burlap for the rolled leaves around an embroidery hoop. Tutorial here thecountrychiccottage
Make a Burlap Flower Wreath for Porch: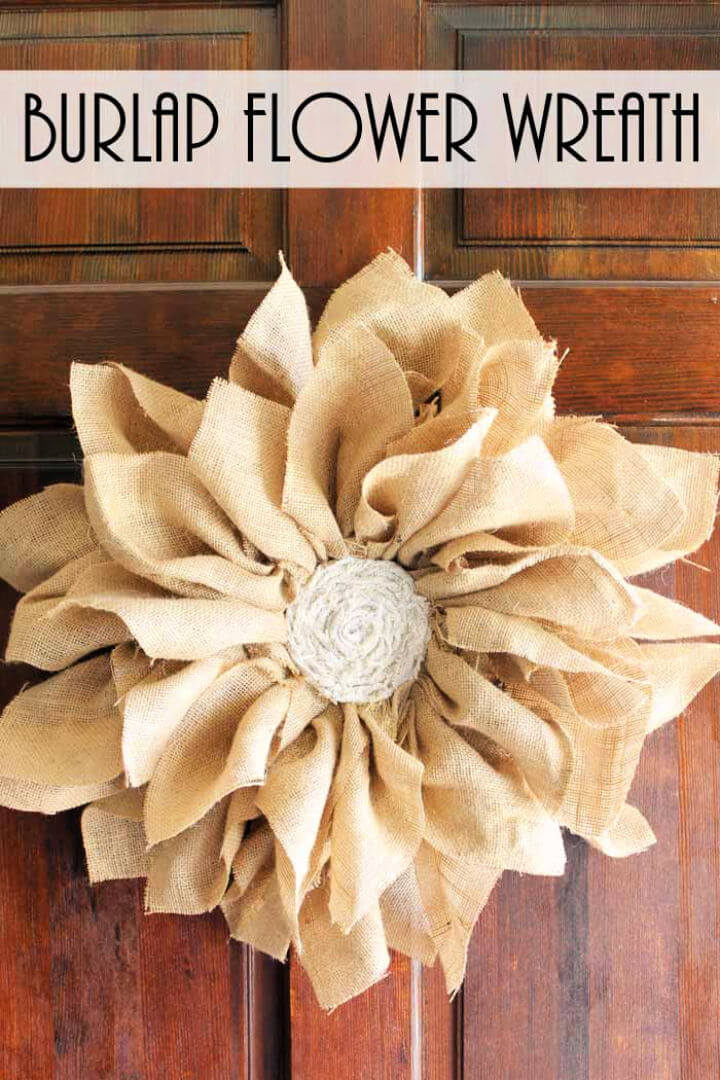 Get your doors ready for the fall season with this gorgeous burlap flower wreath to be nicely displayed over your doors. Using white burlap on a coaster the center of the flower is made. The floral leaves have been done around a wooden plate and thus yielding a really chic yet cheap and simple wreath. oldtimepottery