A man just loves nature; it can be proven by doing a simple experiment! Why it fills you up with joy and happiness, just looking at the greenery and colorful flowers all around? Flowers are a big visual delight, and that's why they are mostly to incorporate into home and party decor plans. If you are concerned with the decorations, opt for the artificial flowers that will live longer than the fresh flowers, but it may be costly to buy a bunch of faux flowers. So, why not make your own beautiful tissue paper flowers at home in dozens and without getting a bit expensive?
Yes, you can get crafty with the tissue paper to make some lovely tissue paper flowers. If you need some paper flower templates or you want to look at some DIY paper flowers to get inspired then browse this list of 40 tissue paper flowers for beginners with step by step tutorials that are colorful and comes in all sizes and will be super quick and easy to make. These paper flower ideas will reveal all the hidden tricks to make outstanding flowers out of tissue paper like a pro! Which you can use to decorate your home and party for baby showers, bridal showers, and weddings.
How to make tissue paper flowers for home and party decorations?
Make the giant tissue paper flowers that will be a more attractive replacement to front door wreaths and will add a lot in your home decorations! It also makes the tissue paper Cajun hibiscus flowers that you can add in the vases and jars to make quick lovely flower vases. Make this large tissue flowers that can be added to the back of your party chair! And also string up your tissue paper to make lovely garlands for your home and party decoration. Get these lovely decorations by putting the tissue flowers on the top of ice-cream cones and add them on a canvas frame to make beautiful wall art frames.
Along with adding in the jars and vases, you can also put together the paper flowers to make lovely bouquets that can be given as sweet handmade gifts to friends. See the entire list of these DIY tissue paper flower ideas to see all the designs and attached links to grab full free instructions, accordion fold, and patterns.
DIY Giant Tissue Paper Flowers:
This giant tissue paper flowers look like a natural one, will be a great choice for party and festival decorations. Cut fringes in a crumpled tissue paper circle to make the center of the flower. Next stack the tissue paper petals to make lovely big flowers. The whole process will take much less time. How-to details here countryhill
Pretty DIY Tissue Paper Flower: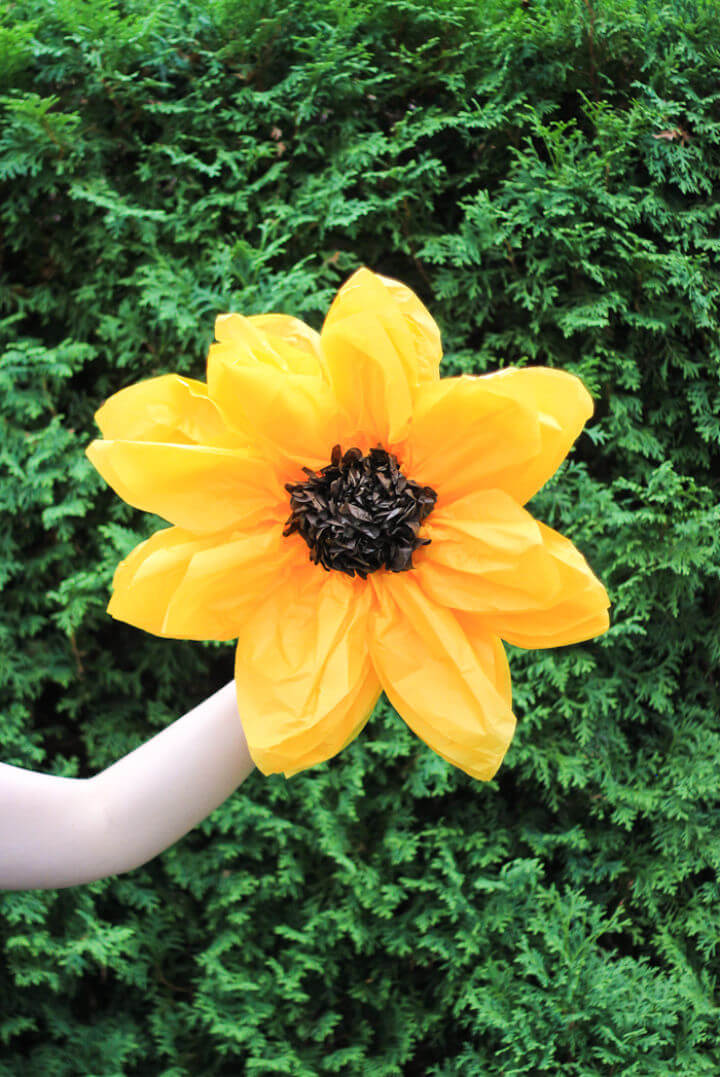 Natural flowers do smell pleasant and look amazingly beautiful, but they are always a short term part of our decorations. So, opt for these DIY flowers will last longer. Again simple stack the tissue paper petals to make this giant yellow flower, don't forget to add a brown tissue paper center, a cool sunflower to make with tissue paper. Details here thecraftedlife
DIY Tissue Paper Cajun Hibiscus Flower: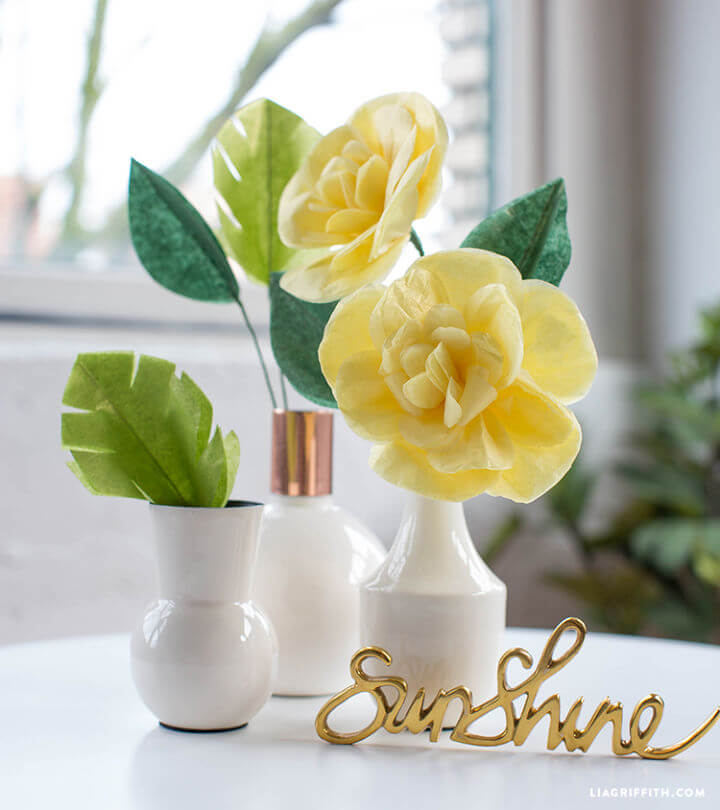 Willing to add some colorful hibiscus flowers to your wedding decorations? They will droop soon. So, opt for these tissue paper Cajun hibiscus flowers that will not wilt and will stay as beautifully throughout the wedding ceremony. Here is how to make them liagriffith
How to Make Oversized Flowers:
These DIY oversized tissue flowers can be added to home, parties, weddings, and different occasions as an enchanting decoration. The blasting news is that they are super quick to whip up in dozens and will dazzle the audience. Here you only need to stack the tissue paper sheet cutouts around a handmade flower center, and here you go. Details here ablissfulnest
Make Tissue Paper Flower Garland:
Raise the paper flowers game to the next level by making further cute and enticing decorations out of them. String them up and make cool floral garlands for parties and home decoration will never go out of style. Stack the colorful pleated tissue paper circles to make these given flowers. Full tutorial here hearthandvine
Easy Paper Flowers: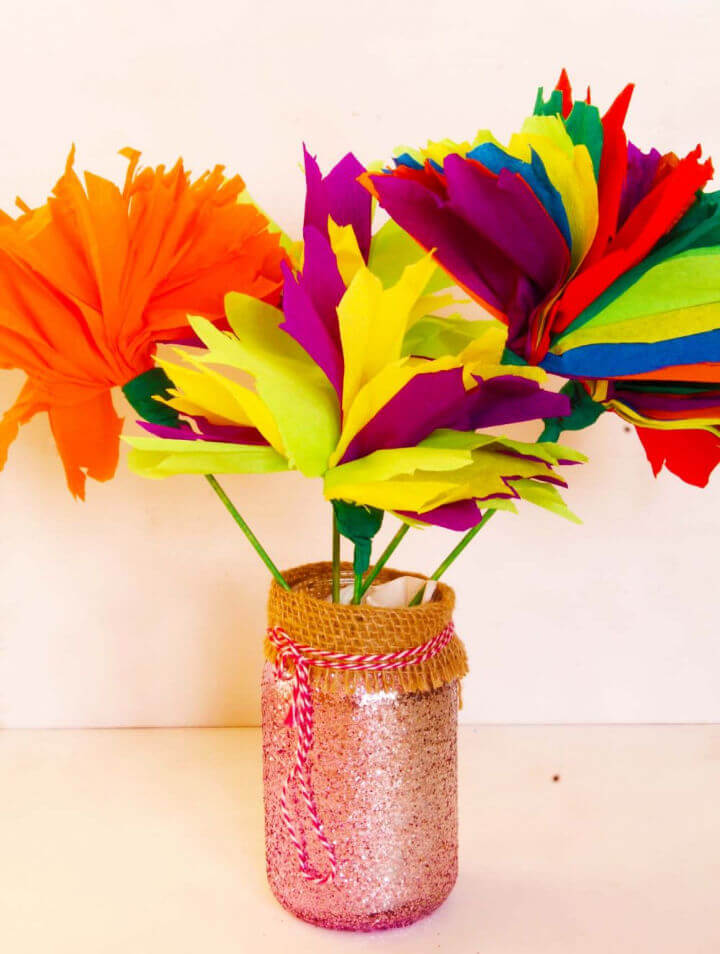 Get busy with the tissue papers in all colors and also with bamboo skewers to whip up these super colorful floral decorations. The easiest but beautiful flowers to make with the tissue paper, add them up with the bamboo skewer stems and then put in the jar to make lovely floral vases. Details here theseamanmom
DIY Tissue Paper Ice Cream Cone Flowers: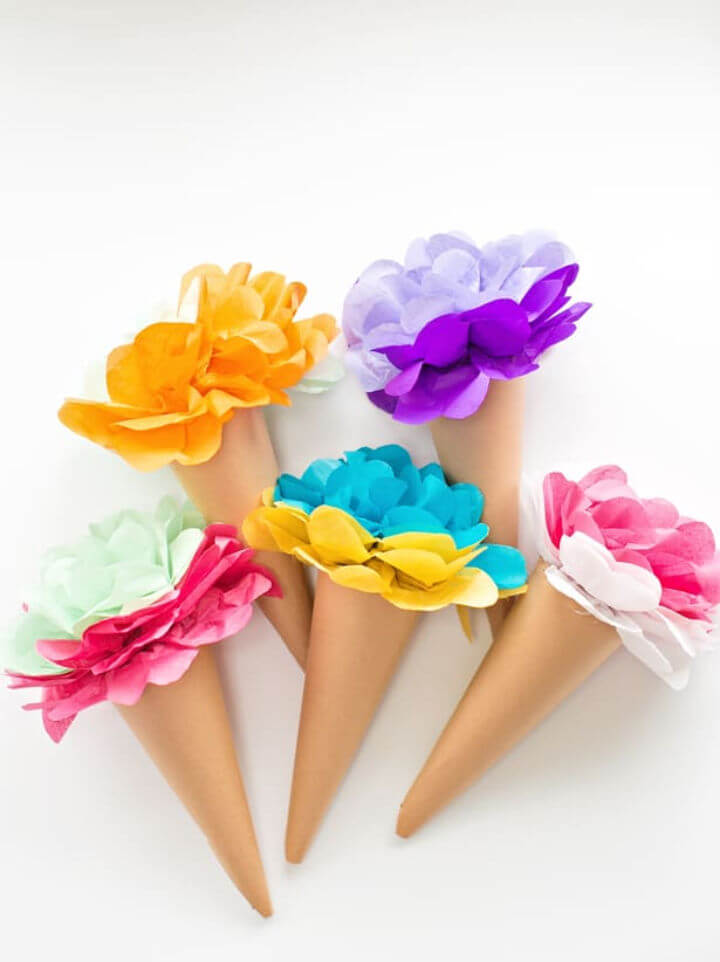 The best decorations for Valentine's Day and for all happy occasions you will love to celebrate, the tissue paper ice cream coneflowers, quite easy and timeless to make even in dozens. Make cones out of brown construction paper and add the DIY paper flowers at the top. How-to details here hellowonderful
Make Your Own Paper Flowers:
Looking for the best accent to adhere to the top of your gift box? Then choose these DIY tissue flowers, will make a great accent for all gift wraps include it also to your party and festival decors. The quick, inexpensive, and easy-to-make flower decorations to make at home. Tutorial here creativelive
Tissue Paper Flower Bouquet Canvas:
Add flowers with tissue paper and green pipe cleaner stems so you can easily hold them in hands to give someone special. Also, tie the tissue flowers with stems together to make flower bouquet that you can mount on a canvas for a 3D floral art frame. Full how-to instructions here youngatheart
DIY Spring Tissue Paper Fringe Flowers:
Welcome the spring season with these colorful paper flowers, will give a warm welcome to the spring season. Layer or stack the tissue paper strips and cut fringes in them, next roll them up around a stem making a cool and colorful flower decoration. Another great way to make a tissue paper flower. How-to details here hellowonderful
Easy to Make Giant Tissue Flowers:
Make this giant paper flowers in minutes, will perk up any space if used as a glam decoration. It will be a jazzy addition to party decors and is quite really simple to make. Stacked the crumpled or pleated tissue paper sheets or circles to make these giant flowers, add stems at the end. Details here gina
Beautiful Tissue Flowers:
This floral decoration centerpiece will get ten out of ten from you; it is a lovely tissue paper flower vase that involves three different types of tissue paper blooms. Finish the blooms with green floral wire stems and then put in an enchanting vase. How-to tutorials for making blooms are here attagirlsays
Tissue Paper Bouquet: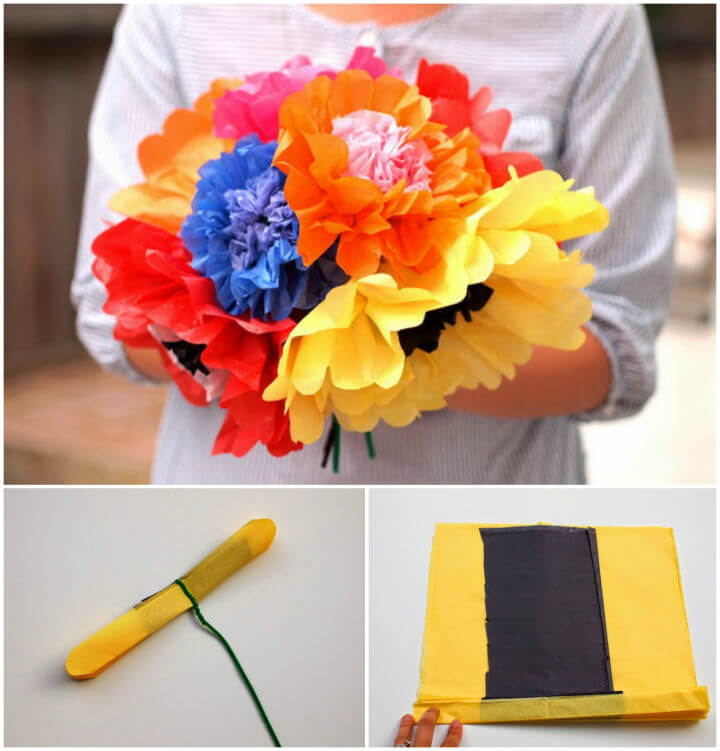 Make the tissue papers, pleated, crumpled, and creased and then again fold them into custom shapes to make beautiful flowers. Add those flowers with decorative stems and then tie together using a decorative ribbon making lovely flower bouquets, will make epic wedding gifts and presents. Details here pinkstripey
Fiesta Flowers: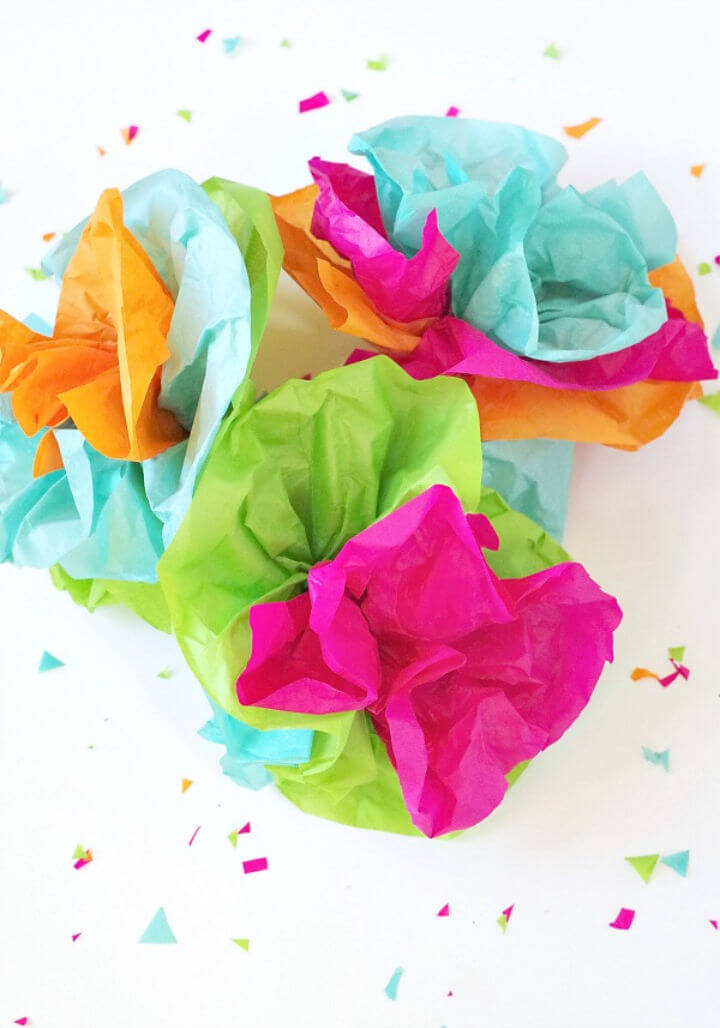 Make a tissue paper version of every flower you like, get inspired by these tissue paper fiesta flowers, made by stacking pleated tissue paper sheets. Choose these flowers for curtain rod decorations, and they will rock for home and party knickknacks too. How-to details here valeventgal
Colored Tissue Paper: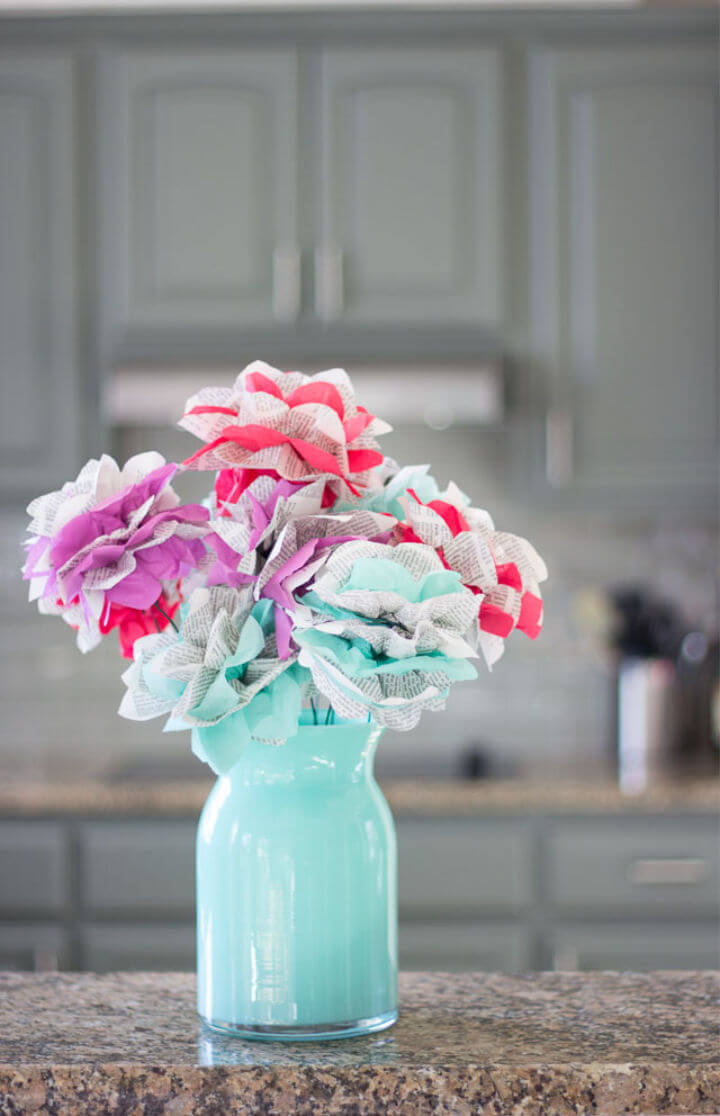 Take the origami flower game to the next level by making these colored tissue flowers. They are more graceful, colorful, and lasting longer, and they are easy to customize too at the same time. String up these easy to make flowers, to make garlands and also put them in a vase with added stems for a lovely floral centerpiece. Details here designimprovised
DIY Spring Tissue Flower:
Celebrate the season of flowers with these artificial flower decorations, made of tissue paper. This is here an enchanting spring flower vase, make the flower with tissue paper and gold leaf and next add them up with a bamboo skewer stem. How-to details here hellolidy
Mini Tissue Flower Tutorial: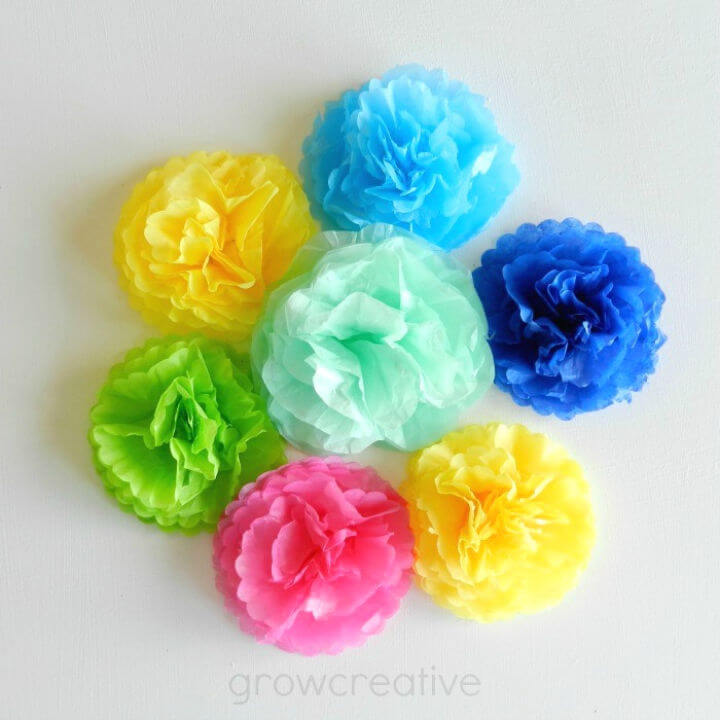 Stack up the little circles of tissue papers and then fold their sides or edges slightly to make mini tissue flowers, will go divine to every wedding, party or home decorations. A super easy-to-make paper flower idea. How-to details here eliseenghstudios
Tissue Flower: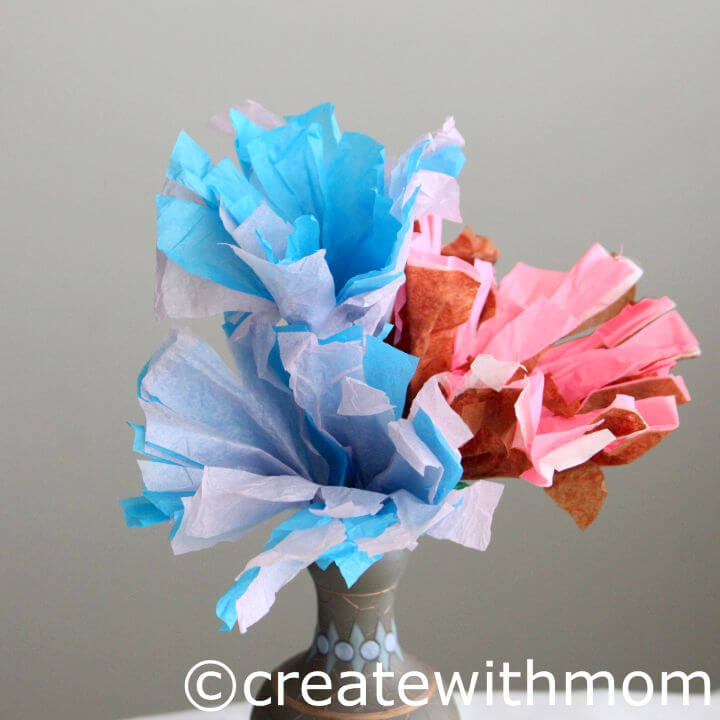 It will be big fun to cut fringes in the colorful tissue paper strip stacks, and you can make a glamorous flower decoration. Fold the fringed tissue paper strips around a wood dowel and make a colorful tissue paper flower with the stem. Put it in a vase then. Complete details here createwithmom
Book Page and Tissue Paper: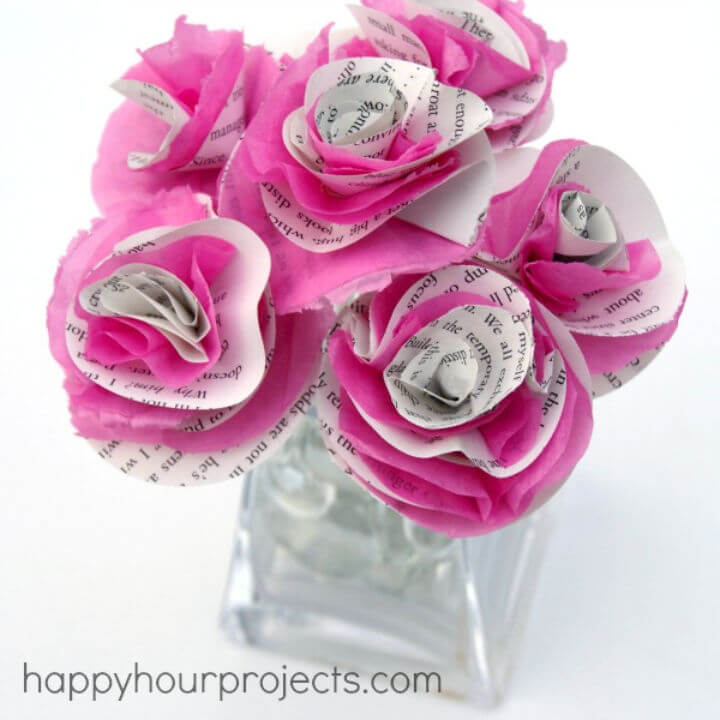 Tissue papers are soft, and they are super delicate to tear into pieces. So, mix them also with the book pages for an added hardness and then start making flowers with them. This type of artificial flowers would be extra hard and durable. Get inspired by these book pages and tissue paper roses. Details here happyhourprojects
Quick Paper Flowers:
This paper flower project is only for you if you need dozens of faux flowers for your home and party ornaments. Just cut out the lovely double petals out of tissue papers with slim centers and then pin their centers together making a lovely flower. A timeless way to generate dozens of flowers out of tissue papers. Details here craftinomicon
Paper Flowers Vase: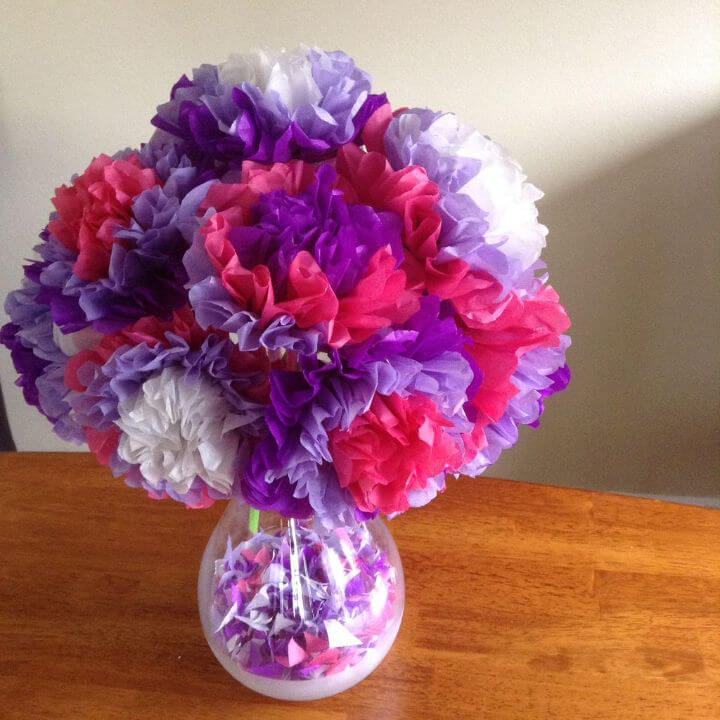 Grace up your interior home tables and shelves by placing this paper flower vase on them. Add pleats in the colorful tissue papers and then take them into a round shape, making a gorgeous flower. Finish the also with green pipe cleaner stem if you want to add them in a vase as cut flowers. How-to instructions here instructables
Gorgeous Paper Flowers: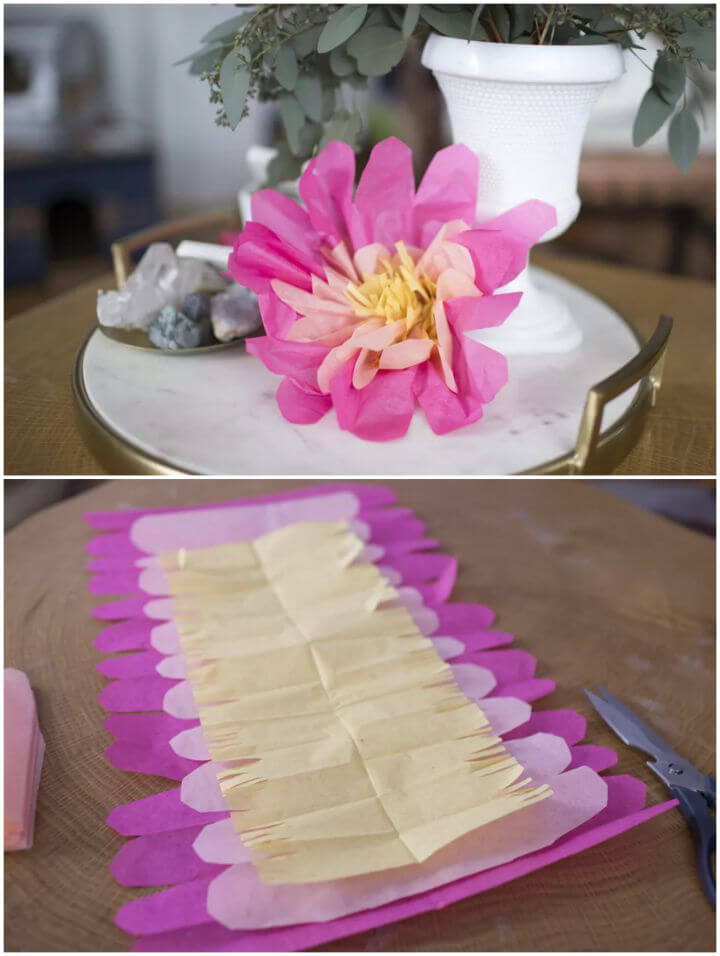 Layer the fringed and pleated tissue paper strips together to make these tissue paper flowers. Will make an amazing gift topper, party decoration and can also be arrangements nicely for amazing flower arrangements in your home. Full how-to instructions here thesprucecrafts
Inexpensive DIY Tissue Paper Cosmos Flowers: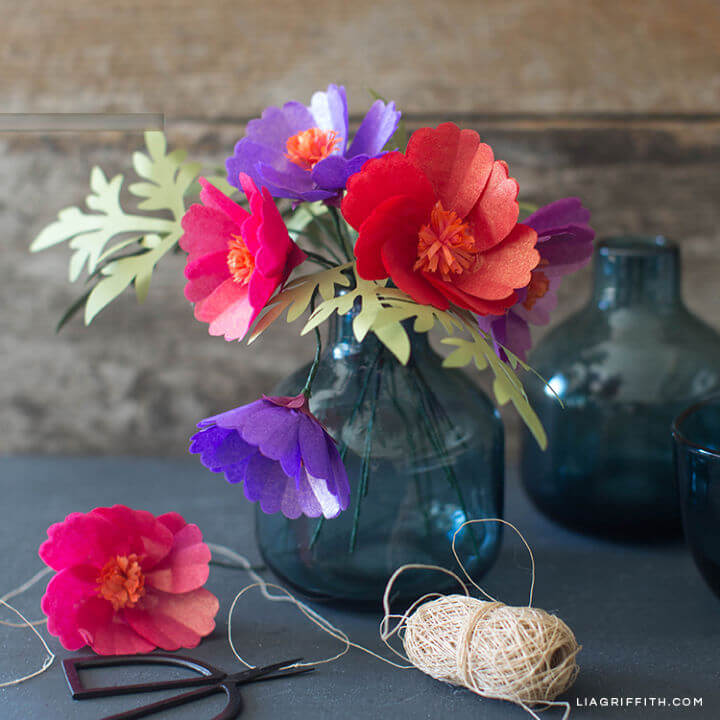 It is the whole game of time and creativity to make every easy or complicated type of flower out of tissue papers. Stare at these cosmos. They are impossible to guess if they are handmade but are a total tissue paper creation. They will not droop and hence will make a lasting longer home decoration. Details here liagriffith
DIY Tissue Flower Craft for Kids: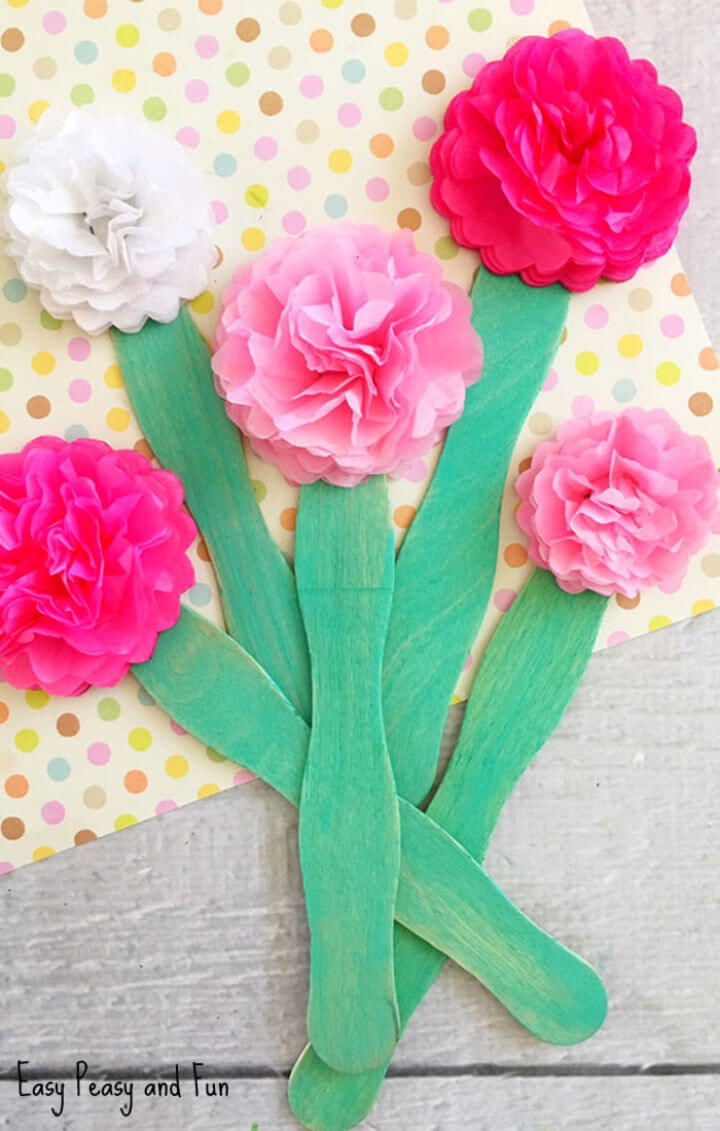 Give tons of variations to your paper flowers that you are going to make at home. Like stack crumpled tissue paper circles to make miniature flowers that you can add on the top of a giant Popsicle stick stem. Paint the stick in green for a near to real looking stem appeal. How-to instructions here easypeasyandfun
Colorful DIY Paper Flowers:
Another great paper flower hack will help you make a giant paper flower instantly. Again layer, together with the creased strips of colorful tissue papers and then compress their centers and decompress the outer parts. Soon, you will get a giant flower in your hand. How-to details here diyncrafts
Quick and Easy DIY Tissue Flower: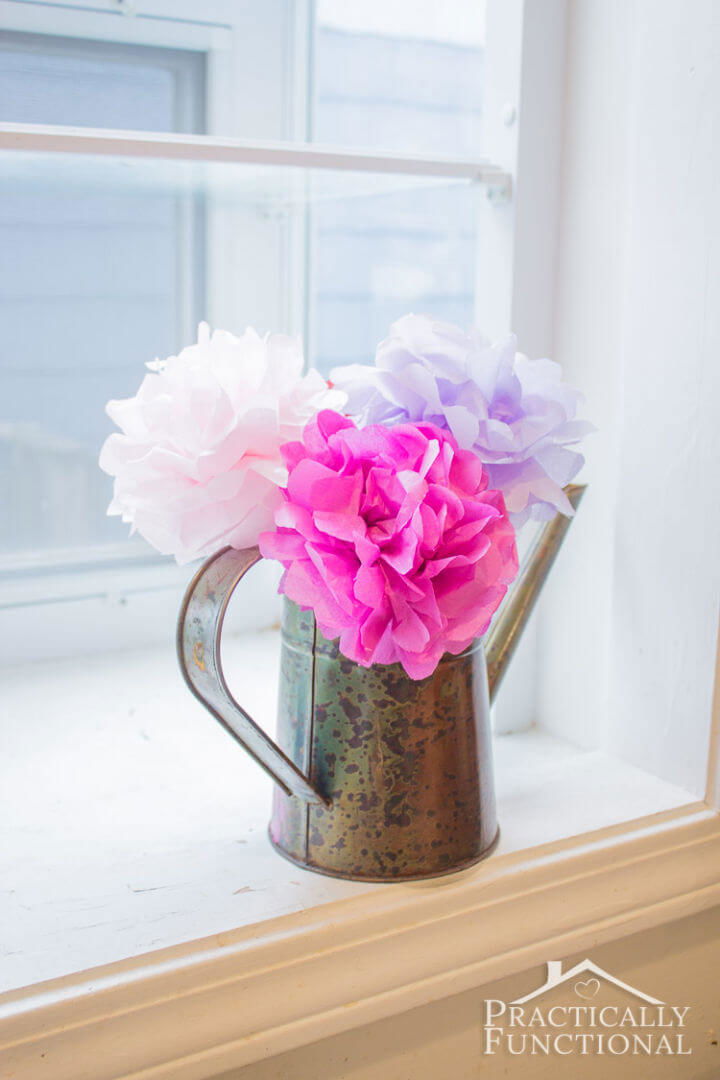 One more amazing addition to paper origami flower art, the tissue paper blooms, nicely added with stems and then in a vase and that's it. Another easiest kind of paper flowers to make at home. Full how-to instructions here practically
Adorable DIY Paper Flowers:
Bring tons of colors to a party environment using these paper flowers, are a great pleasure to make. Again you have to pleat the tissue papers and then to cut the edges of the pleats round to make these flowers that can be stuck on the wall too. Compress and tie the center of folded tissue papers and then unfold their ends to make these flowers. How-to details here projectnursery
Make Paper Flowers:
An instant beautiful gift to give someone special will make a face shine of the receiver, a cute paper flowers that have a short little stem. Make the stem of the flower using a pipe cleaner. Full how-to instructions here tigerlilyloves
Tissue Flower Bracelet Craft for Kids: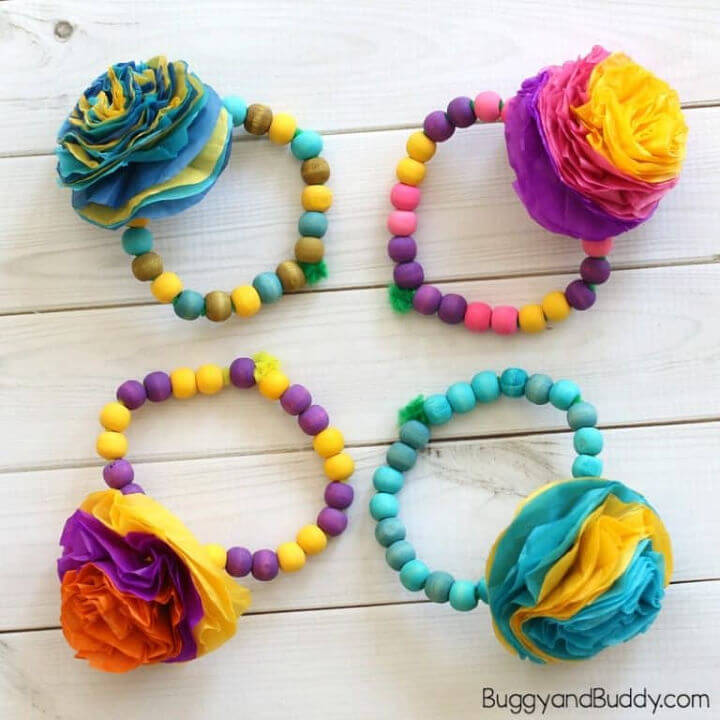 Incorporate the tissue flowers also in making beautiful jewelry. Check out here these tissue paper flower bracelets, will get your appreciation, and will make impressive gifts. The colorful beads and colorful flowers mix to make the colorful bracelet. Full how-to instructions here buggyandbuddy
Tissue Paper Vase: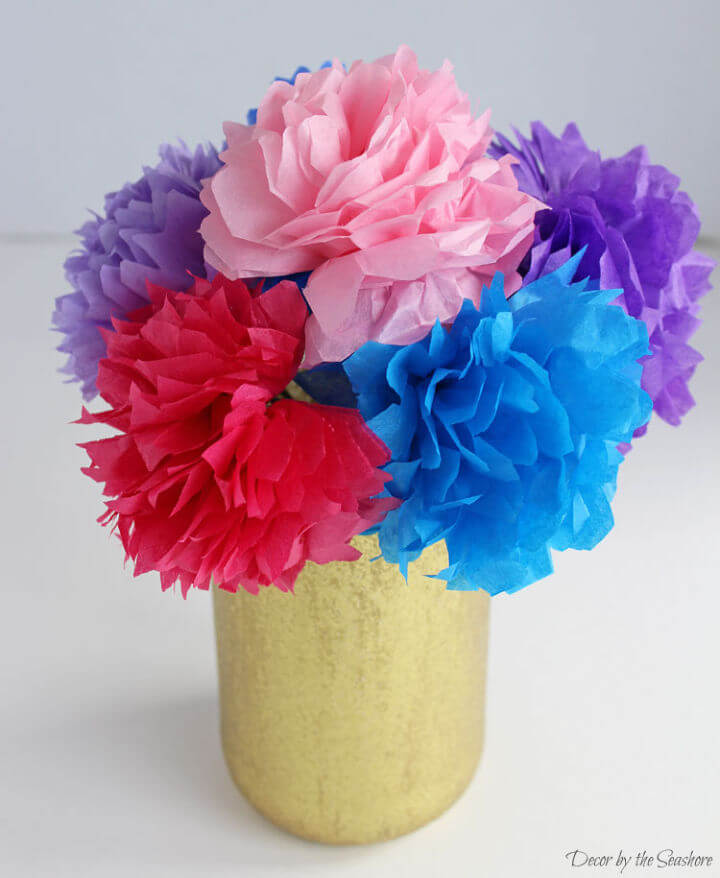 You will love the way these paper flowers vase will serve in your home. Again make some lovely tissue flowers and put them in a reclaimed jar as cut flowers and gain a flawless decorative vase in no time. A quick paper flower ideas for making wedding decor centerpieces. How-to details here decorbythese
Mexican Flowers:
Use your creativity and make all sorts of tissue papers out of colorful tissue papers. Peek into lovely folds of these Mexican paper flowers, will make an ideal choice for party decorations. Just tweak your hands on colorful tissue papers and make these DIY tissue flowers. Full how-to guides here clumsycrafter
Cute Paper Flower Letters:
Looking for perfecta floral accents? Go with the tissue flowers, will serve as mind-blowing embellishments for every of your decor project. Look at these paper flower letters, will make an amazing floral monogram on any interior wall. A great project to do with tissue papers. Full how-to instructions here makeit
DIY Tissue Flowers:
Fold also the tissue paper strips around different surfaces and objects to make near to real looking flower petals. Put together those petals to make lovely looking flowers in no time. Check out here another handsome flower creation, done to inspire. Full how-to instructions here onelittleproject
Giant Tissue Paper:
Honor your parties with these tissue paper ornaments will be a big show stopper there. Layer the paper flower petals to make these giant flowers. Make the flower centers separately using fringed tissue paper pieces. Full how-to instructions here uncommon
Snowdrop Flowers:
Award a new look to your home decorations with these snowdrop paper flowers, simple yet elegant. Get crafty with the white and yellow tissue paper to make these flowers and use the green bending pipes to make awesome flower stems. Full how-to instructions here kidscraftroom
Tissue Flowers for Mother's Day:
Give this bouquet or vase gift to your mother on Mother's Day. It has flowers that will not droop. Fold the colorful tissue papers smartly for some cool flower shapes, add them in a vase with added stems and here you go. Full how-to instructions here theimagination
Paper Flowers for Mother's Day: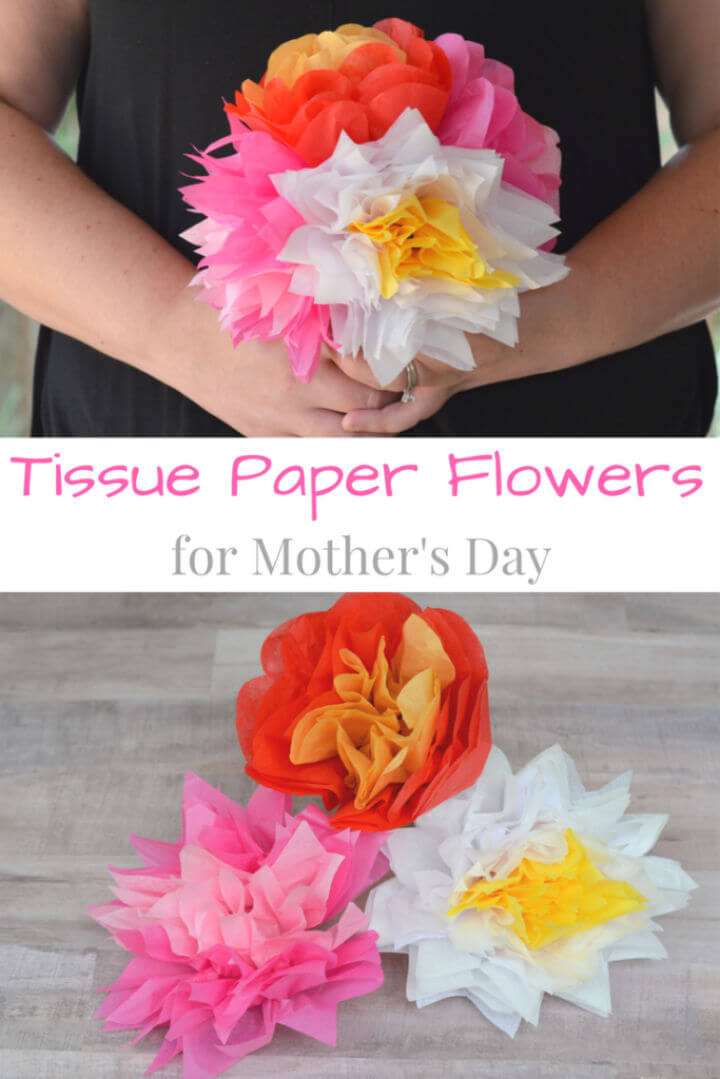 Flower based gifts always make a great choice for the Memorial Day gifts. Please your mom also with this paper flower bouquet, quite easy and budget-friendly to make. It will cost you only some colorful tissue papers. Stack pleated tissue to make these flowers. Cut the folded tissue paper sides for making dahlia, roses, daisy, and peony flowers differently. Visual tutorial here mybigfat
DIY Tissue Paper Letters:
Make also floral letter decorations using tissue paper that will rock for the weddings and home knickknacks. Make dozens of miniature paper flowers and cover the paper mache letters with them, just glue them in place, and here you go with the floral monograms. Full how-to tutorial here thebudgetsavvybride
Quick to Make Paper Flowers:
You will find nothing more beautiful to hold in hands but these tissue paper roses, added with green pipe cleaner stems. These are also quick and inexpensive to make paper flowers, use them also to make flower bouquet gifts. Full instructions here mommalew
Tissue Paper Teacher Appreciation Gift: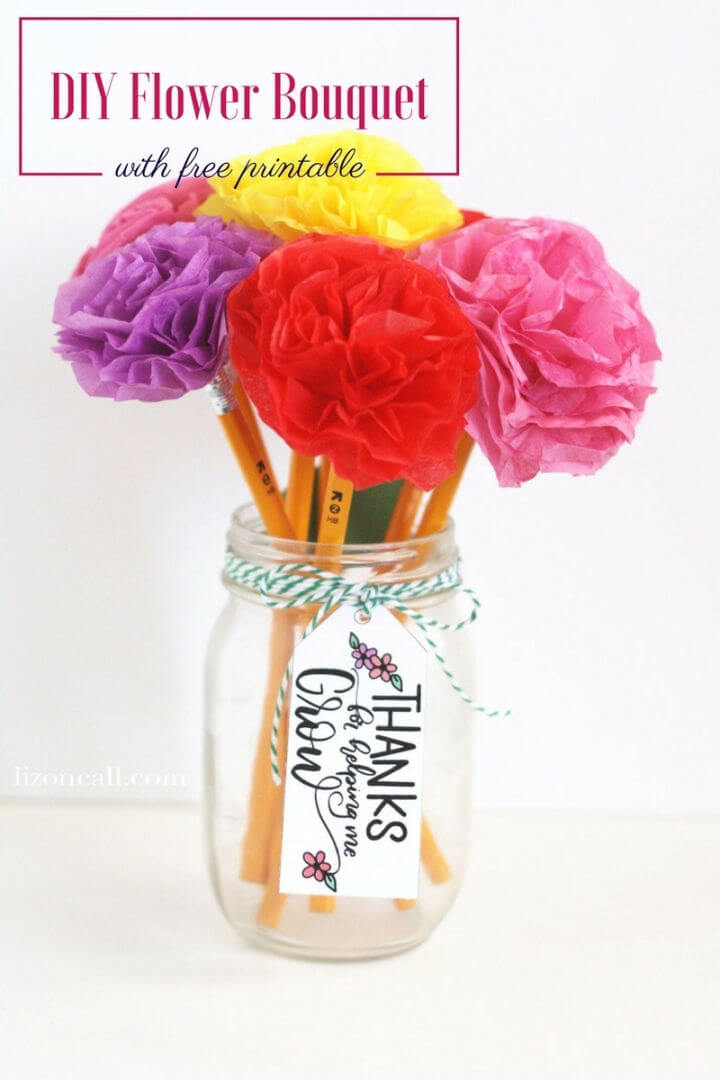 Here is what you need to please your teacher on the Teacher's day, a floral based appreciation gift. Make tissue paper flowers, and add them up with the pencil stems, put them in a jar and decorate in your own way. Look at the given below sample to get yourself inspired. Full how-to instructions here lizoncall