Make the best faux paper flower with these 35 easy DIY crepe paper flowers that come with free patterns and instructions. These crepe paper flowers will be hard to guess if they are real or handmade. Make enchanting crowns, bouquets, wreaths, and fantastic home flower arrangements with these artificial paper flowers that are no trouble to make. The crepe paper is much like simple tissue paper and is available in every color under the sun. So you can craft every kind of flower with crepe paper you are missing out for decoration. Want to have a peek at the flowers that you are quick to make out of crepe paper? Then browse this list of 35 easy crepe paper flowers with detailed free patterns that will never drool or wilt. And will be a long-lasting party of all your flower-based home or party knickknacks. Add the crepe paper flowers on the green floral wire stems to add in the vases as cut flowers or to tie together as a bouquet.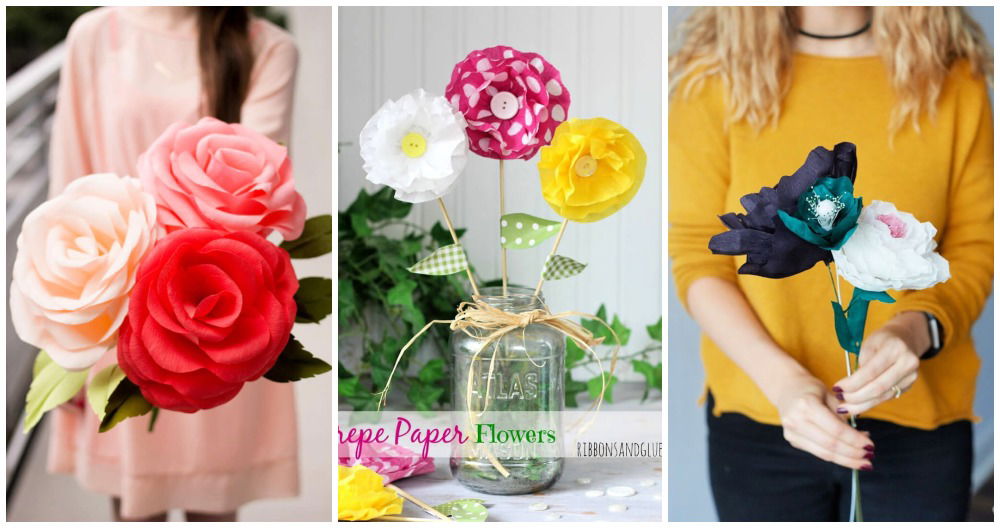 With the provided instructions, step-by-step tutorials, and visual guides, you will learn to make all sorts of flowers out of crepe paper. Get them to add beautiful flower backdrops, party ornaments, and precious wedding decor. These DIY crepe paper flowers will open a whole bag of tricks to make you an expert in making paper flowers.
Pretty DIY Crepe Paper Flowers: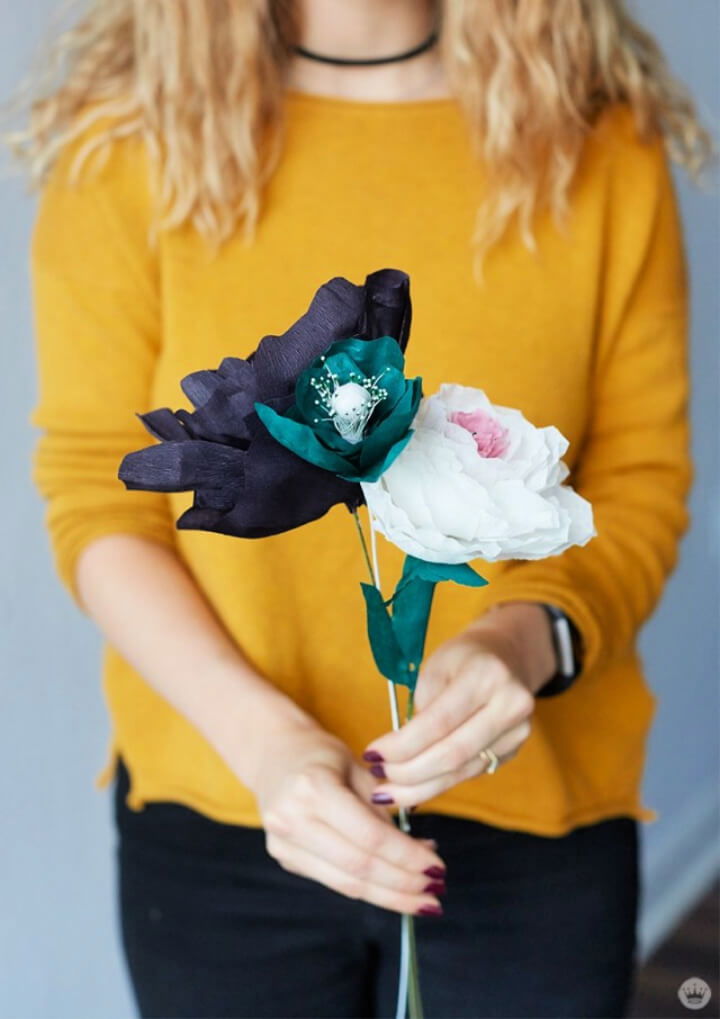 The best way to rejoice the spring is by making some cute and colorful flower projects. These pretty DIY crepe paper flowers are the perfect pick up if you want some gorgeous and life-like flowers. Using the colorful paper and wire you can easily shape them up and use them around your decor. thinkmakeshare
DIY Burlap Flowers: These DIY burlap flowers are very easy to make and make a beautiful addition to your rustic style decor or wedding.
How to Make Crepe-Paper Flowers: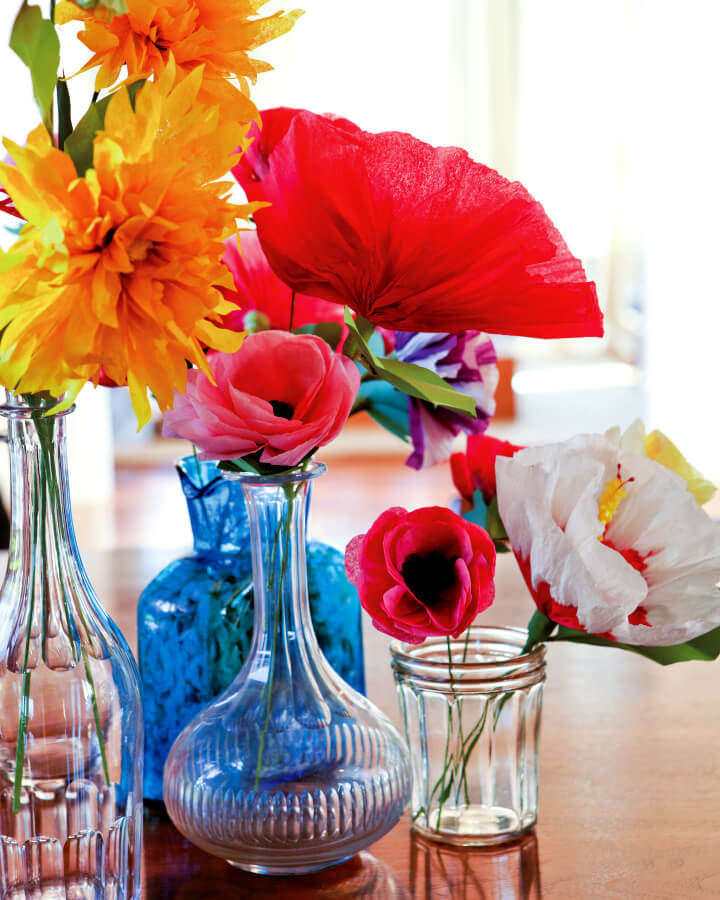 Get your vases and glass jars filled with these lovely and colorful crepe paper flowers and charm up your summer home decor. The crepe has lovely color texture and is delicate as the real flowers. So grab your favorite hued paper to make these adorable flowers and flaunt them around. marthastewart
DIY Crepe Paper Flowers for Any Celebration:
A party decor for any of the celebration is so undone without the flowers. Now you can add handmade flowers to your festive. These bright and colorful crepe paper flowers are so damn gorgeous to make and bring some cute appealing touches in the decor. Get the details here honestlywtf
Create Crepe Paper Flowers:
The fresh flowers would wither away in a day so replace them with these gorgeous and long-lasting crepe paper flowers. The crepe paper has the texture of the real flower like so these flowers are going to add the perfect beauty to your vases and flowers holders. hgtv
DIY Crepe Paper Flower Garland:
The doors, windows, and walls are adorned with floral garlands whenever there is a festive. So this time you can get your hands on these handmade crepe paper flowers. They would have the delicacy of real flowers but the freshness of the faux ones to last super long. Details here abeautifulmess
DIY Crepe Paper Peony Flowers: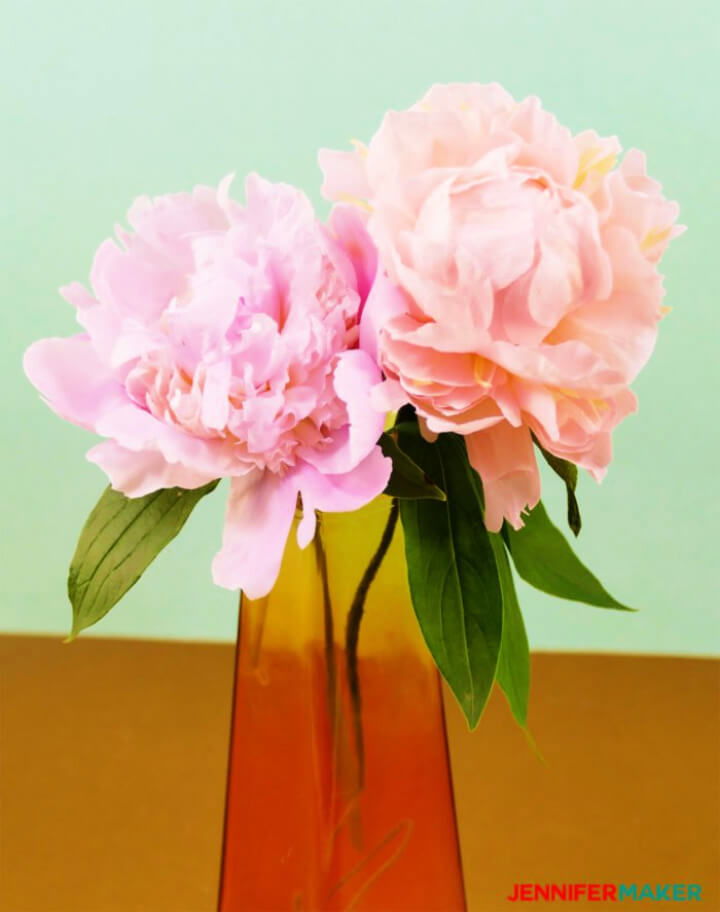 Here is how you can make your home decor look wow with a bunch of gorgeous peony flowers to be a part of your vases and jars. These adorable and beautiful peony flowers have been made out of the crepe paper of multiple hues. Follow the details right here jennifermaker
DIY Perfect Crepe Roses Paper Flower:
Roses are our favorite flowers and you can make them at home in so many adorable shades now. Using the crepe paper of different hues you can make these lovely roses and flaunt them in your home decor. They would look so gorgeous sitting in your vases and flowers jars.
How to Make Crepe Paper Flowers: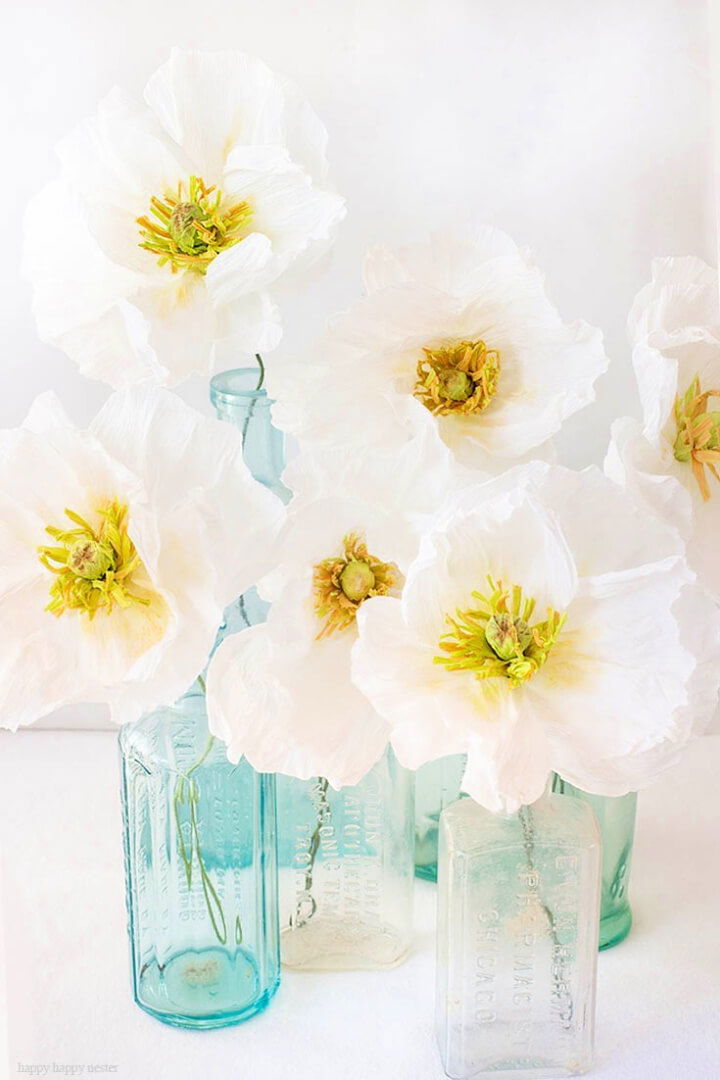 Add four moons of beauty and elegance to your wedding day decor with these white paper flowers. The gorgeous flowers are made out of white and yellow crepe paper. Blue and white bottles are serving the roles of flower holders for a more appealing look. The idea is easy and budget-friendly to work on. happyhappy
DIY Crepe Paper Flowers – Handmade Gifts: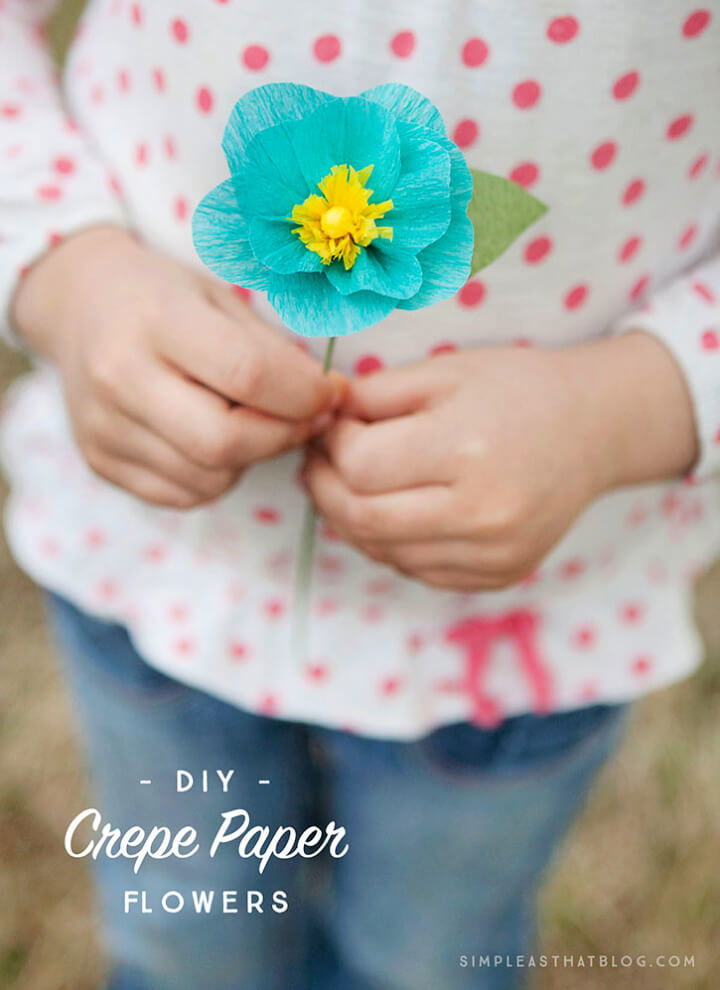 Why should buy an expensive bouquet that would last only till the evening? Get your hands on these DIY crepe paper flowers that you can easily make at home using the pastel hues and create a bouquet. Either for a bride on her big day or for your mother on her birthday these flowers would make a lovely gift. simpleasthat
DIY Crepe Paper Hibiscus Flowers: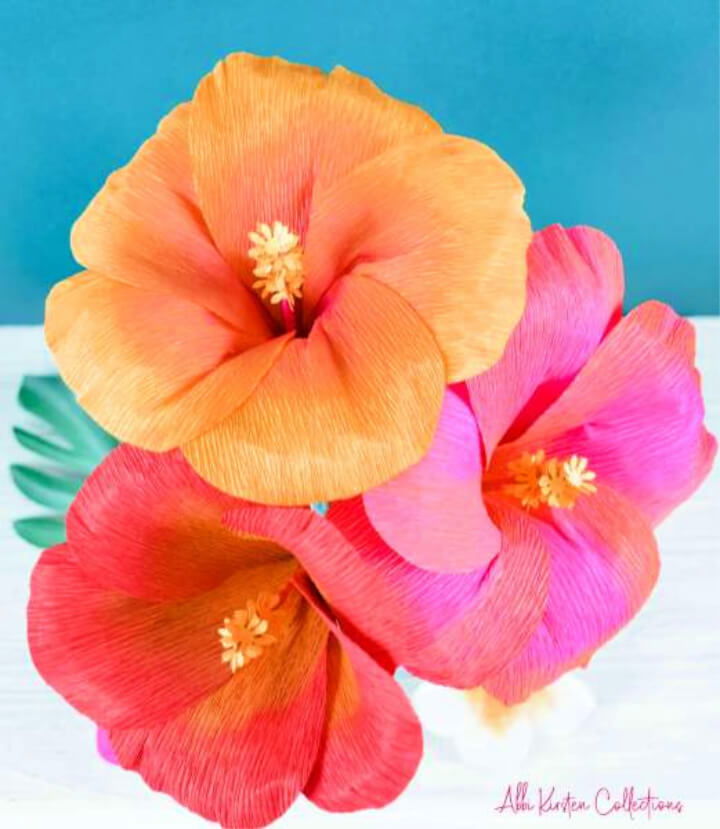 If you are intending to add some nice colors in your home decor then make these hibiscus flowers. The crepe paper has been used to shape up these lovely flowers. You can choose the vibrant colors of your choice to make the flowers look so tempting and fun. Details here abbikirsten
DIY Mini Crepe Paper Flower Favors:
Make your party favors look more stunning and cute with these adorable and cute mini crepe paper flowers. With the help of the toothpick, these lovely and mini-sized flowers have been added to the gift bags. They really jazz up the charm and value of the party favors and here are the details. ohhappyday
Make Crepe Paper Flowers for Decorate On a Budget:
Decoration is no more going to burn a hole in your pocket if you crepe paper flowers. They are so damn easy and fun to make with crepe paper of your desired hues. You can use either plain crepe paper or the dotted one or use the both. Skewers have been used as the perfect flower stems here. ribbonsandglue
DIY Crepe Paper Flowers – Centerpiece Craft:
Not only spring or summer you can make the fall friendly flowers too.  So get your hands on the fall colors while choosing the crepe paper to make this lovely bunch of flowers. Hold your flowers in something like a wicker basket and your fall table center piece is ready to rock. womansday
Easiest DIY Crepe Paper Flowers:
Flowers give us instant pleasure and here are these easiest DIY crepe paper flowers to make and enjoy. The combination of multiple colors of crepe paper really makes this bunch of flowers so eye-catching. Styrofoam ball has been used to shape up these adorable flowers easily at home. countryhill
How to Create Crepe Paper Flowers:
You can make your Easter table look the best with these crepe paper flowers. The adorable and colorful pastel flowers can be put to rest in the egg holders to look so graceful on your tables. The flowers are so much fun to make and here you can find all the details. brit.co
DIY Crepe Paper Flowers for Wedding: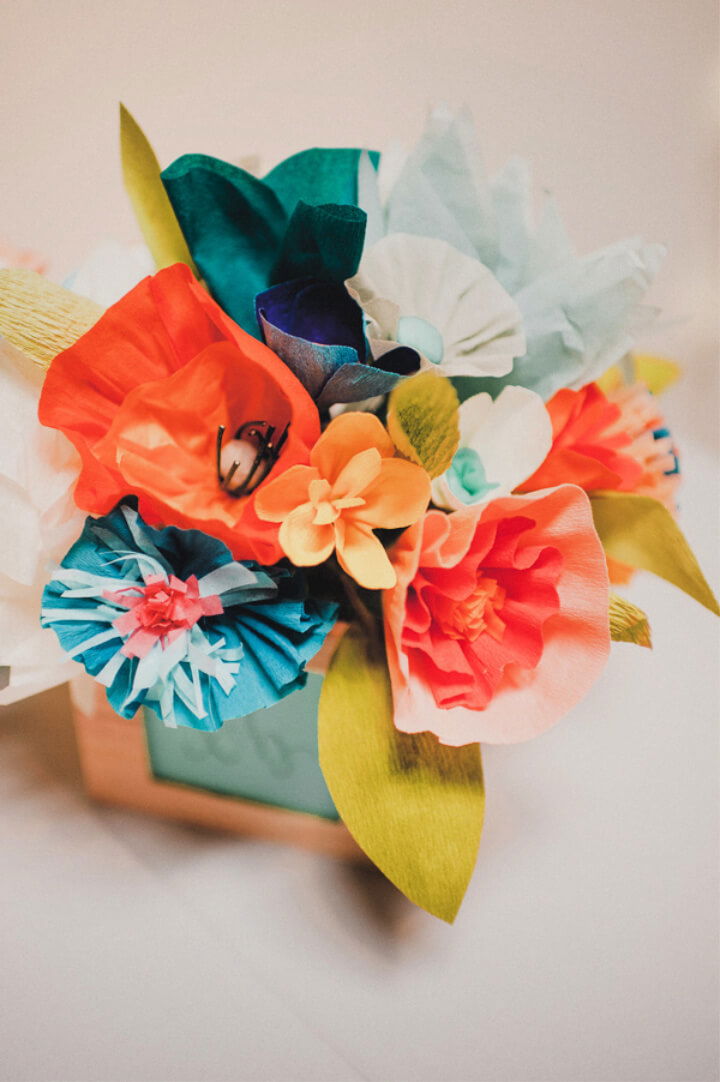 If you need flowers for a wedding then make some on your own. Instead of fresh flowers who will be dying in hours these DIY crepe paper flowers are going to last so much longer. You can use as the gift or on the gift wrap to charm it up. ruffled
Crepe Paper Flowers for An Elegant Craft Idea:
Making paper flowers is the best way to get yourself busy with some cool and fun crafts. So as the valentine day is approaching you can learn to make these adorable pink rossets. Make them in a bunch to cover a foam ball and then flaunt it over your gorgeous vase. Follow the details here creativelysouthern
Beautiful DIY Crepe Paper Flower:
Give your little girls a gift that is totally unexpected by her just like this beautiful DIY crepe paper flower. The giant size flower in peach hues look just so beautiful and your little princess would fall in love with it. Also, it would last long to be a memorable keepsake in her box of memory collection. designimprovised
Crepe Paper Cosmos Flower With Lia Griffith: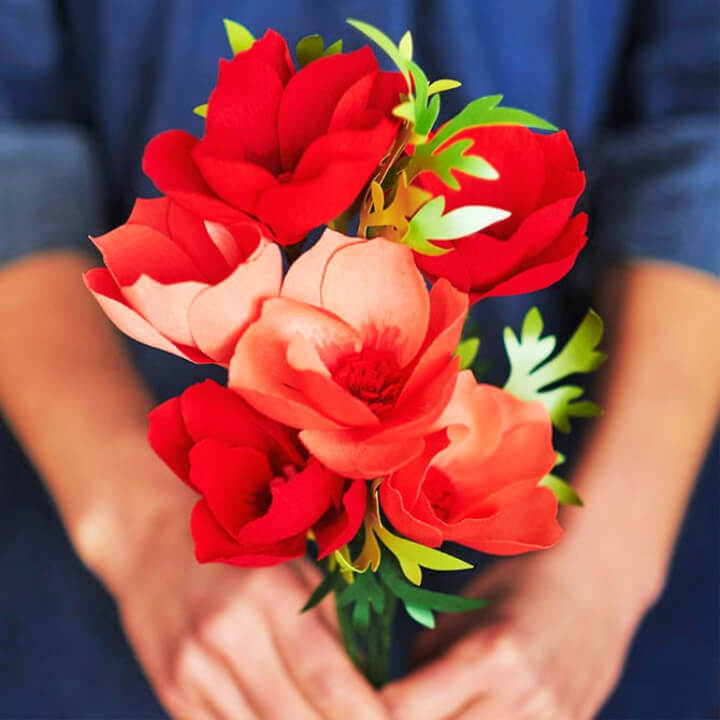 These gorgeous cosmos flowers look really soothing to our aesthetic sense for their wild flowery beauty. Also, the red and green combination of the crepe paper makes these cosmos flowers look more attractive and catchy. Learn to make them here walmart
DIY Crepe and Watercolor Flower:
Making crepe paper flowers is so much fun and the watercolors can add more richness to their beauty. Yes, these crepe paper flowers have been adorned more to look so lively and fresh with the watercolors. So if you want to paint and craft this project is perfect for you. craftberrybush
DIY Crepe Paper Fritillaria:
Here are the kinds of flowers which can be a perfect part to your Halloween home decor this year. Yes, the fritillaria flowers are dark-colored and bell-shaped and thus can be perfectly used for the Halloween. Instead of finding them you can make them out of the crepe paper so get it started. designsponge
Creating Crepe Paper Flowers: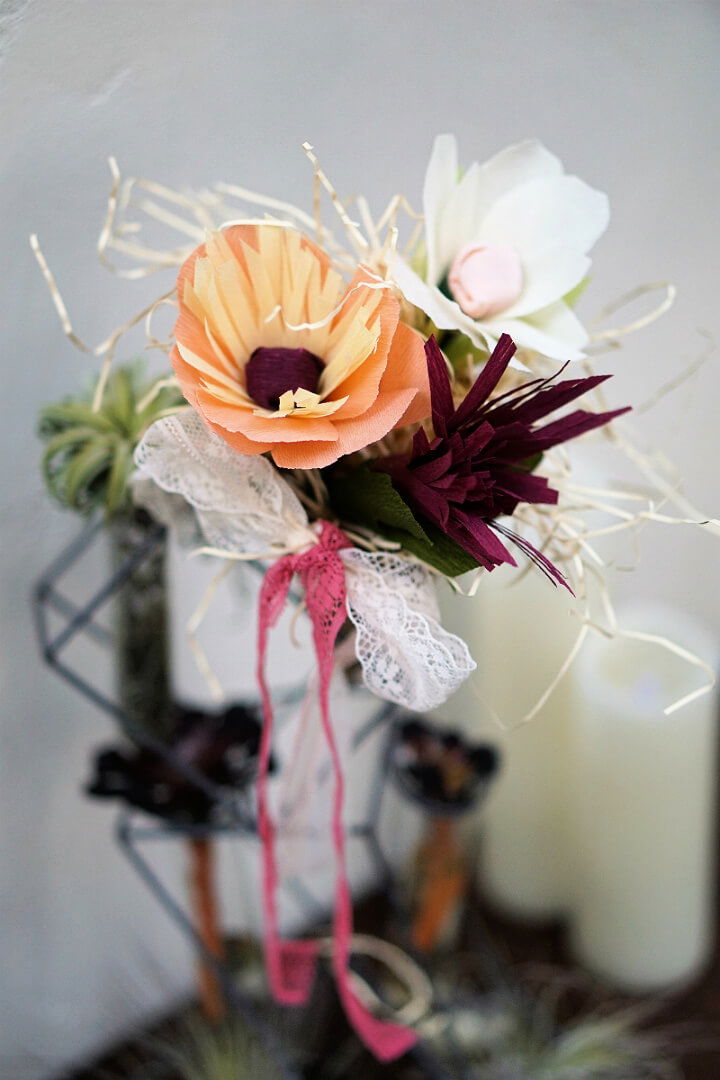 Making flowers is the best thing that you can do to satisfy your creative urges for the weekend. Also, these gorgeous handmade crepe paper flowers would add oodles of charm to your home decor too. The best thing is that you can make them in any of the colors you like and adore. inspirations
Make Your Own Crepe Paper Flowers:
It would be like adding icing on the cake if you make a gift and wrap it with your own hands and ideas too. The simplest yet the most exquisite way to make your gift look super impressive is to add this adorable flower to it. So wrap it up, tie a ribbon and top it off with a crepe paper flower and you are done. consumercrafts
DIY Big Crepe Paper Flower:
Planning to give out a bouquet to your best friend, mother or colleague on any of her big days? How about replacing the bouquet with this giant-sized crepe paper flower? The flower is super easy to make with big size cut out petals and the leaves and look just so tempting. offbeatbride
Giant DIY Crepe Paper Roses: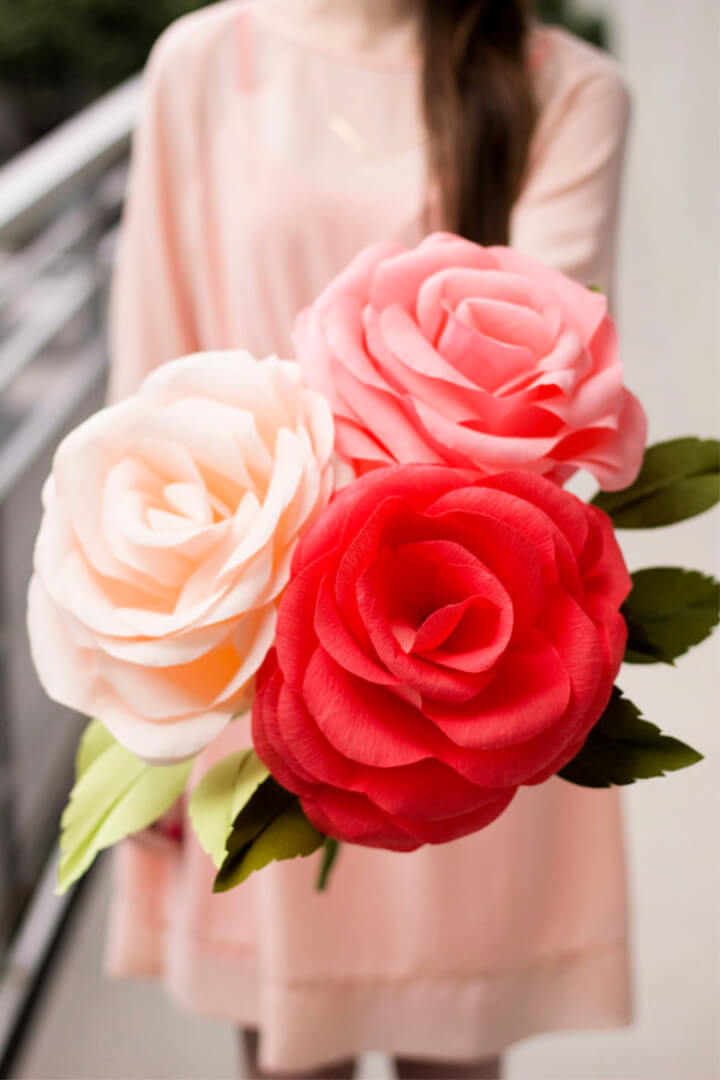 There is a cost-efficient idea of making these giant DIY crepe paper roses for your budget wedding. Either for the bride or for the bridesmaids, these lovely and cute paper roses are going to be the perfect bunch of blooms. With easy supplies and technique, you can easily work up these handmade crepe paper flowers. studiodiy
DIY Crepe Paper Flowers and Fluffy Bunny: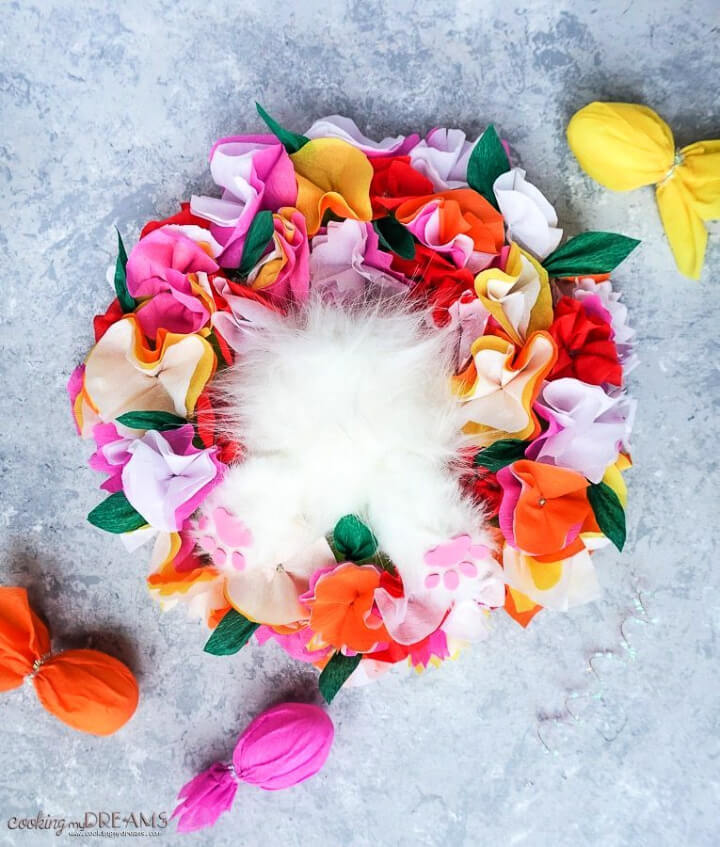 Give your Easter dinner tables a totally enchanting and quirky look this year using this fun centerpiece idea. Yes, you can make this lovely DIY crepe paper flowers and the fluffy bunny as the table centerpiece. The flowers are so much fun to make and combined with fluffy stem makes them more adorable. cookingmy
DIY 5-minute Crepe Paper Flowers:
Either you want to freshen up your home decor or prepare for a party, these crepe paper flowers are fun for both. These cute and colorful crepe paper flowers are so easy to make that you can do make one in just five minutes each. An hour would yield a bunch of the flowers to rest in the vases and jars. diycandy
DIY Oversized Crepe Paper Flowers: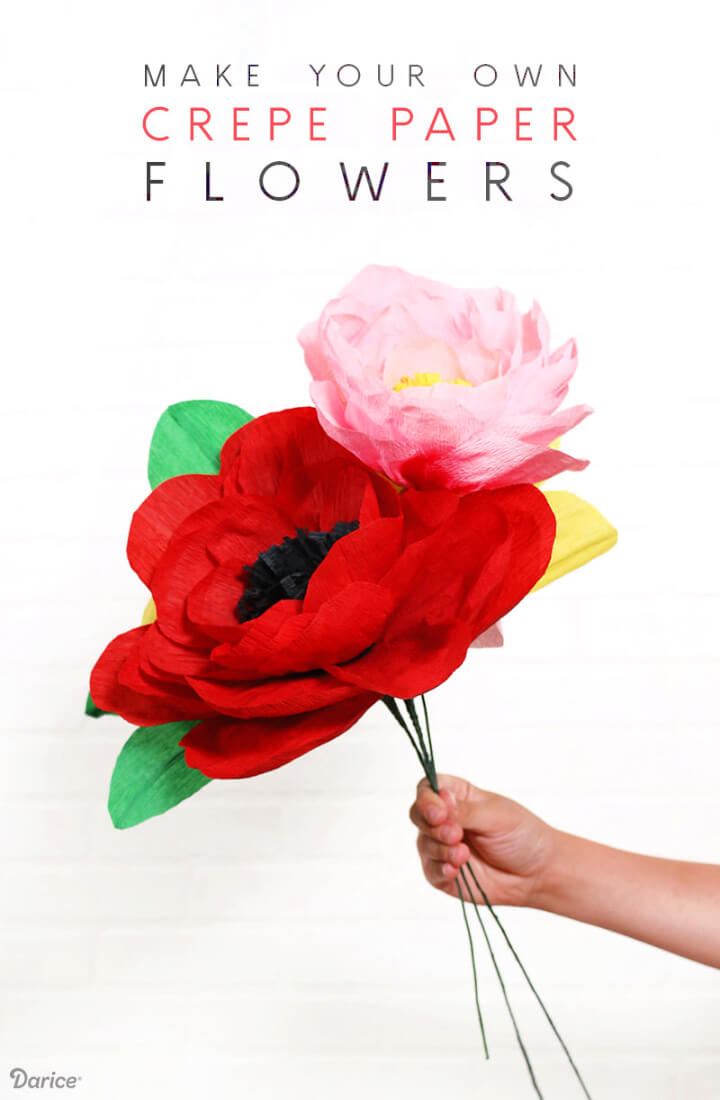 Flower crafts for kids are the most fun and give your kids a chance to improve their crafting skills. So no matter for what purpose you need the flowers next making these oversized and cutely colorful crepe flowers is just perfect. Details here darice
How to Make Crepe Paper Ranunculus:
The ranunculus flowers have that pretty look for the multiple layers of the petals and now you can create one at home. This one has been made with multiple colors of the crepe paper so that the flower turns out to be so gorgeous and textured. craftingintherain
DIY Crepe Paper Flowers for Summer:
The outdoor summer parties are huge fun and these DIY crepe paper flowers of giant size would make them more fun. The bright, colorful and the biggie flowers of the paper are just so damn easy and fun to create. You can hang them around your trees, walls and even use them instead of the piñatas too. Details here
DIY Crepe Paper Flower Girl Crown:
The little girls love things like tiaras and crowns and now you can make them on your own. This totally gorgeous and colorful crepe paper flower crown is the perfect thing to enhance the charm of your girl's dress up. Details are here thehousethatlars
How to Make Giant Crepe Paper Flowers:
It's time to charm up your summer garden home with these adorable crepe paper flowers of the huge size. Make these giant size flowers in some bright colors of the crepe paper and then put them on the ground for a perfect appeal.  They are perfect for the outdoor party decor too. consumercrafts
DIY Ombre Crepe Paper Flowers:
These copper stained flower vases and jars look just so tempting with the ombre paper flowers in them. This fall season you can rock all your festivities and the party decor using this gorgeous idea of home embellishing.  The vases and the flower making can be viewed in detail here. greenwedding
Crepe Paper Flowers Using Sewing Machine:
Going to a party with some eatable gift? Here is how you can make your gift look gorgeously presentable for the hostess. So grab some rolls of crepe paper in various colors and then sew up this amazing bunch of flowers to decorate your gift basket with. Details here thecottagemama
Delicate Crepe Paper Flower Headband:
Little girls just love headbands, especially the flowery ones. There are so many things that you can choose to make the flowers. Getting your hands on the crepe would be perfect as it is delicate and super easy to work with too. They would to wear these dress matching headbands. Details here craftaholicsanon