The Mason jars are a big crafting staple, and every crafting lover just messes up with the Mason jars in life! There are lots of factors that make the Mason jars a perfect material in the crafting world! The Mason jars are the empty, glassy food containers in which you again store different items so they can easily be planned for some amazing crafting storage projects! Another great plus point is their glassy appeals, so everything stored inside will be visible from outsides, this generates tons of possibilities to get crafty with the mason jars like your put some lights in them to make lovely lanterns and also the greenery, gravel and moss to make the terrariums and next you can also fill them up with the water and glitter to make enticing snow globes and wedding centerpieces in no time and without getting expensive!
Moreover, you can also put a set of your favorite items like custom treats, beauty products, and various other materials to make lovely gifts-in-a-jar! Furthermore, you can also paint the Mason jars to do tons of more crafting projects that you have never thought before! In short, the Mason jars the perfectly versatile, cheap and easily available crafting materials!
So, are you also willing to get crafty with the Mason jars that are having in your home? Need some new Mason jar craft inspirations? Then just have a look at these 37 Easy DIY Mason jar Gifts and Fun Ideas in a Jar that will new and genius and would definitely bring your Mason jar recycling game to next level! Here you will get tons of more genius hacks to turn the upcycled Mason jars into precious gifts, and you will also learn here the great tricks to make stunning decors and other fun things with the Mason jars! This new collection of Mason jar gifts is really going to be special for all crafting lovers!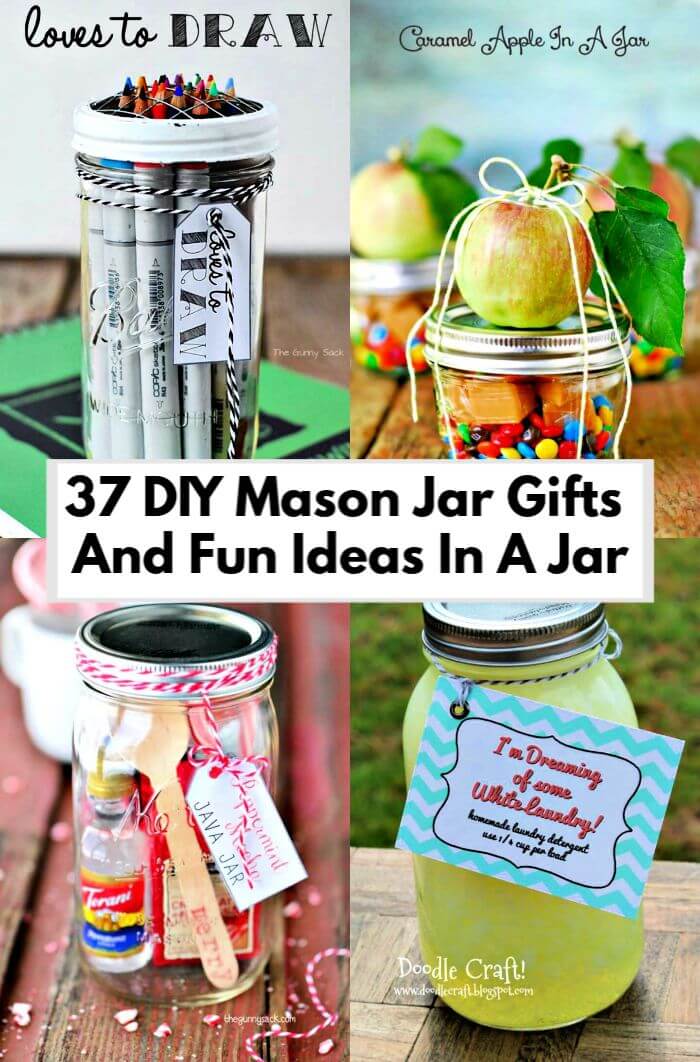 Fill the Mason jars with mint candies and give a ribbon gift wrap and make outstanding wedding favors out of them! Make custom scrub recipes in the home and fill them in the Mason jars to make lovely gifts for the beauty lovers! Repurpose also the Mason jars to make lovely sharpie holders that will also great as desktop organizers and also fit the straws in their lids to make perfect tumbler gifts!
DIY Gifts:
Fill the mason jars with custom treats, pampering stuff, with mommy survival kits, with sewing kits, with scrapbooking kits, with coffee making kits and also with summer skin care kits to make Thanksgiving jar gifts for your beloved ones! Install pumps to jar lids and make stunning soap dispensers and also add cut flowers in the jars to make eye-catching home décor centerpieces! Just checkout the entire list to see some more amazing things to make with the recycled Mason jars! Also click on the attached links to open complete project tutorials, visual instructions and step-by-step guides for your selected projects!
DIY Caramel Apple In A Jar: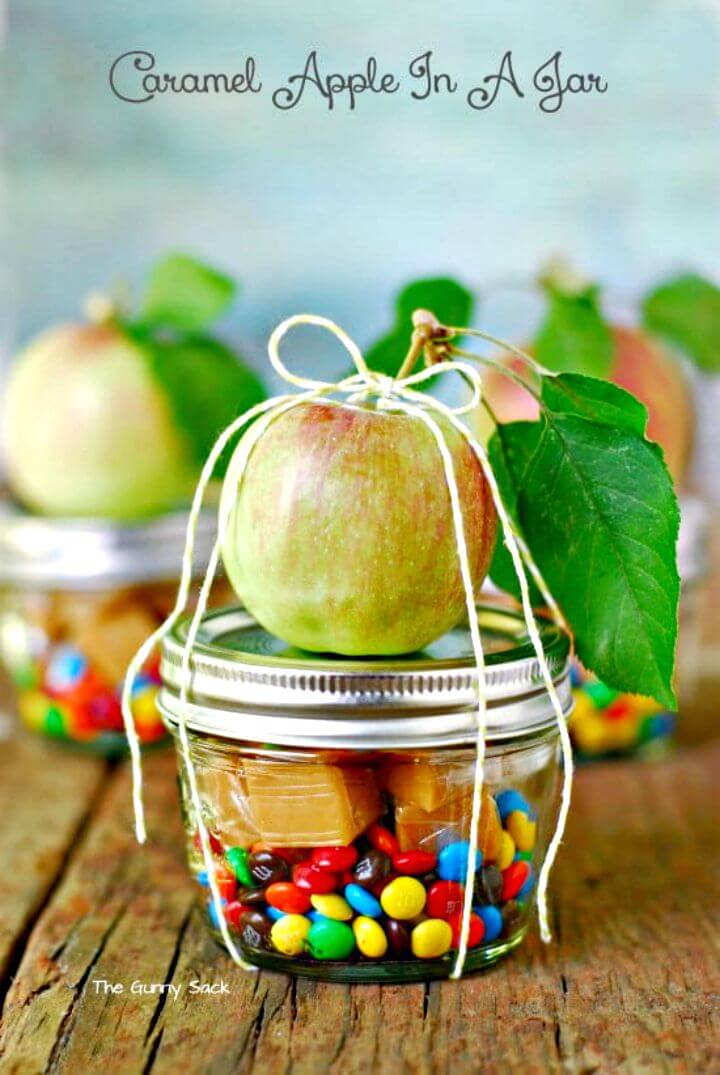 The gift ideas for the kids are like enormous, and the with the caramel and the M&Ms is just the sure hit and here is the idea of making one on your own for the next party to use as the perfectly cute favors. Grab a small mason jar and fill it with colorful M&Ms, wrapped caramels and tie an apple on the top of the lid and your lovely kids' gifts are ready at the lowest of the cost. thegunnysack
How To Loves Draw Gift In A Jar: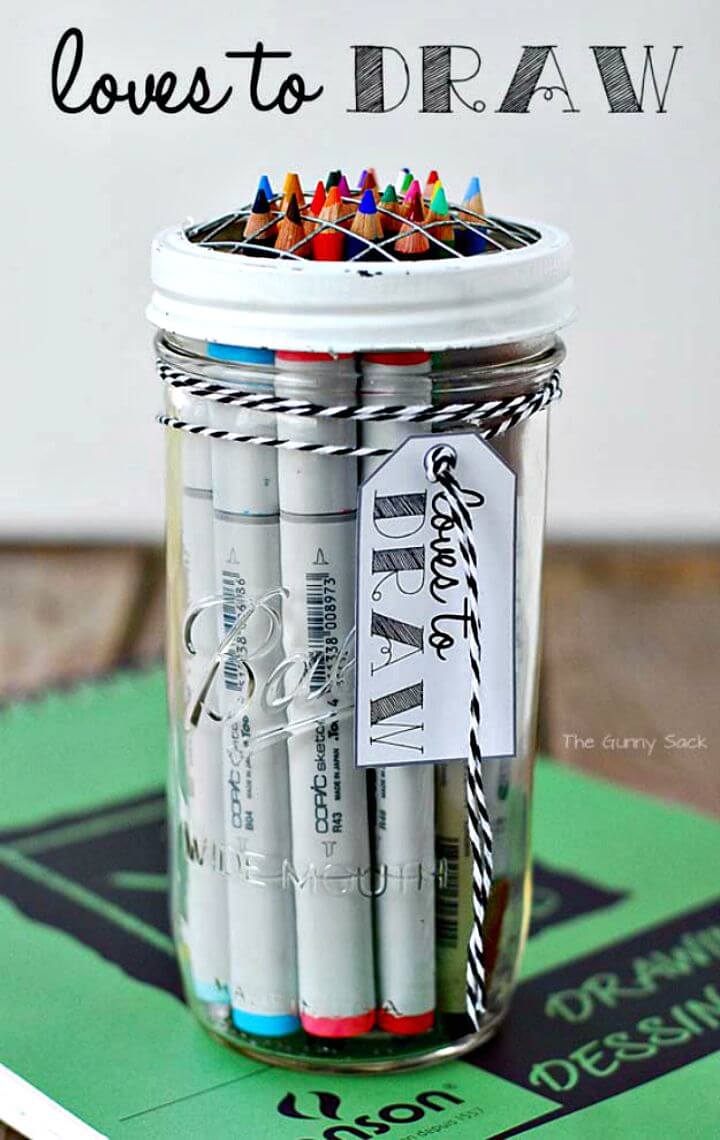 When you know the hobbies and the interests of the kids around, then you know how to please them with the handmade gifts based on their likes and dislikes. So for a kid who loves to draw you can make this lovely draw gift for them by filling the mason jar with the drawing colors and crayons and styling it up with a custom label. Complete details here thegunnysack
DIY Coffee Lovers Gift in a Mason Jar: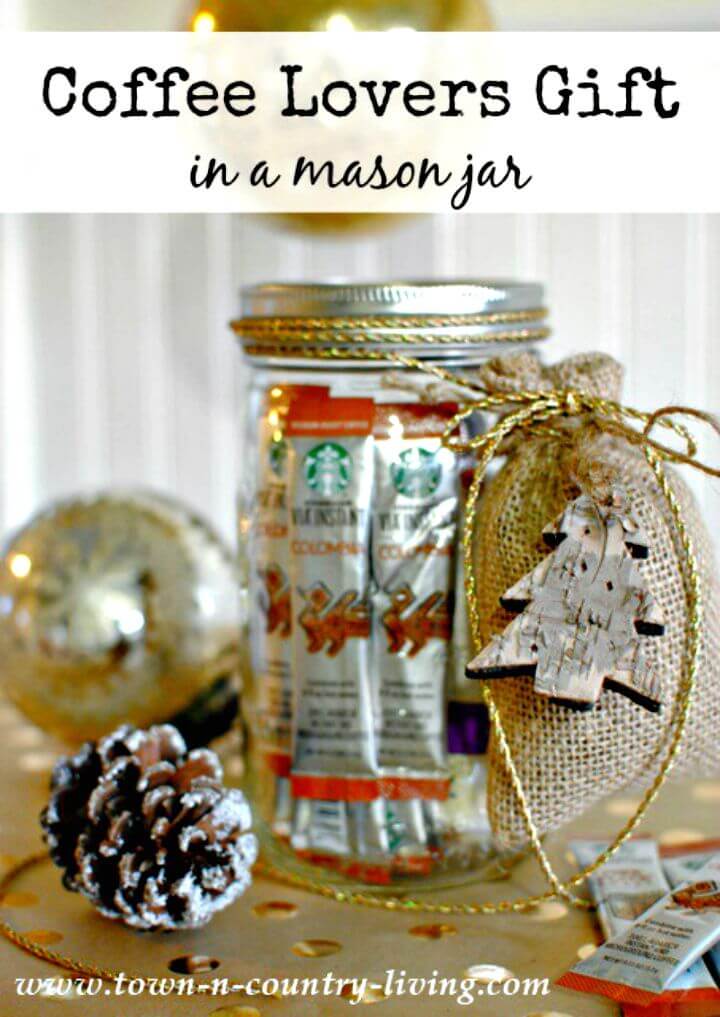 Making interest based gifts is the best idea to work on the handmade presents and here is the gift idea for a coffee lover. You can fill up a mason jar with coffee sachets and decorate it with a burlap bag full or beans and a wooden star would add more to the beauty and embellishment of the mason jar gift. country
How To Make Mommy Survival Kit in a Jar: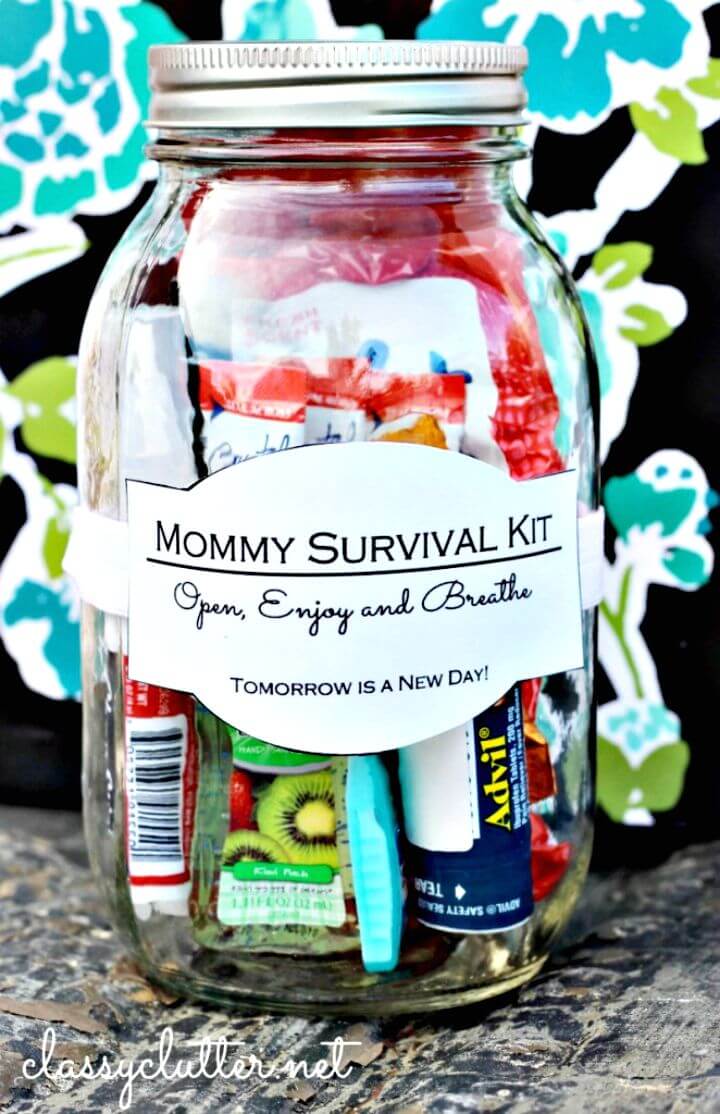 This survival kit for the mommy is just the right gift idea for the ladies you love like your mom, best friend, sister or the aunt too. It got some basic but delightful goodies they need on the daily bases like hand sanitizes, lip balms, chocolates, eye cream and get everything poured in the mason jar. Make a Mommy's survival kit label and your gift is ready to go. classyclutter
Easy DIY Bee Beautiful Beauty Gift Jar: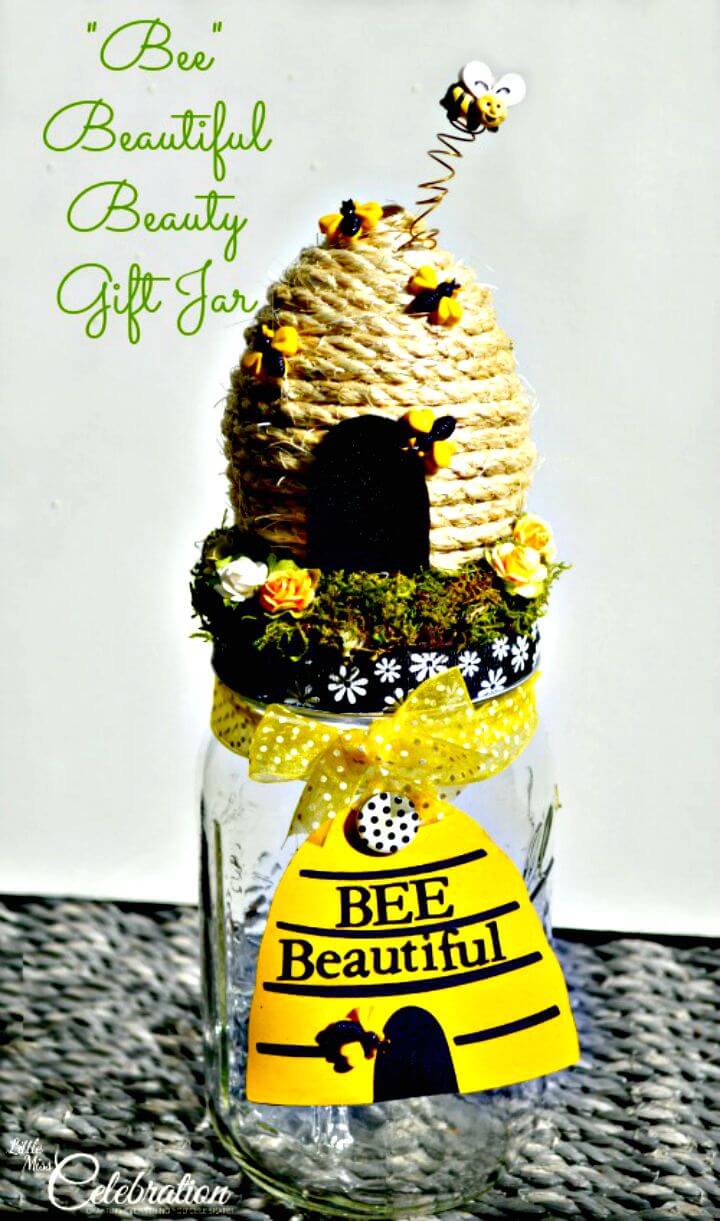 The mason jars are the great things to let you make the cheapest yet the most fun and cutest gifts ever and here is the idea of making this beautiful and whimsy bee hive on a jar and create an awesome decor display for your kid's room. The Styrofoam ball has been covered with the rope, and place over a gorgeous layer of moss and flowers over the jar lid with faux bees to top on. Tutorial details here littlemisscelebration
DIY Teenage Boy Gift In A Mason Jar Idea: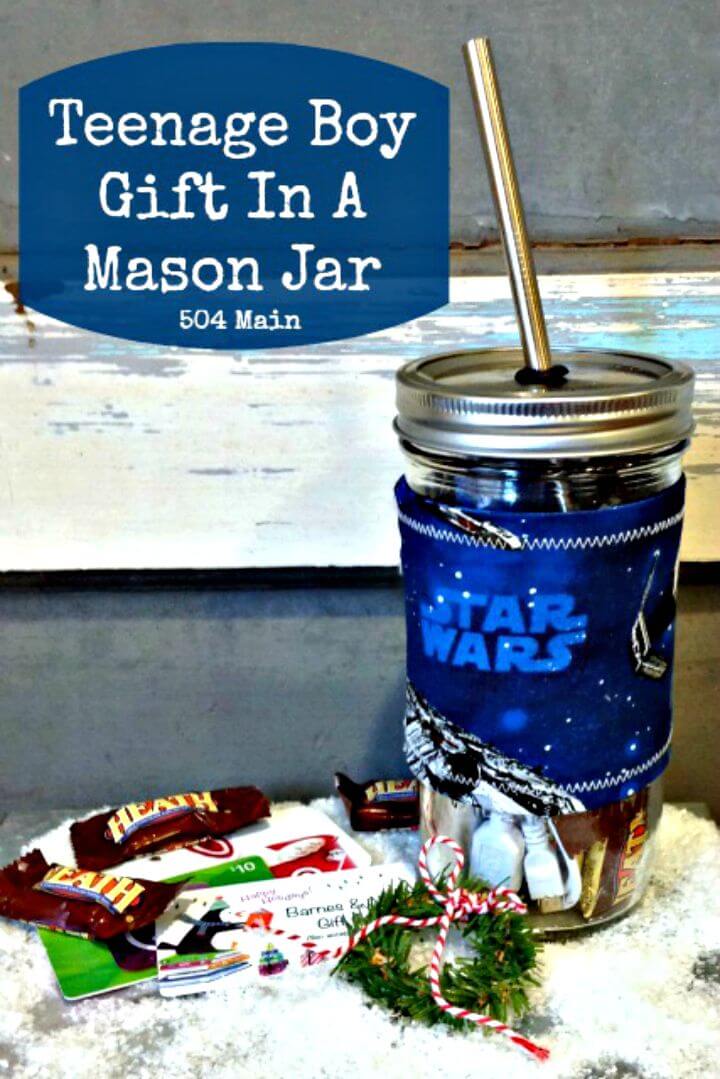 We should be really careful about the gifts for the teens as its not easy to please them but unless until it is related to and inspired by their favorite movie like the Star war for the boys. Fill up the jar with the boyish goodies like the watch, grooming kit, money clip, coffee card and then adding a coffee cozy to it that has the star war theme being printed on it. 504main
DIY Gift In A Jar Idea For Scrapbookers: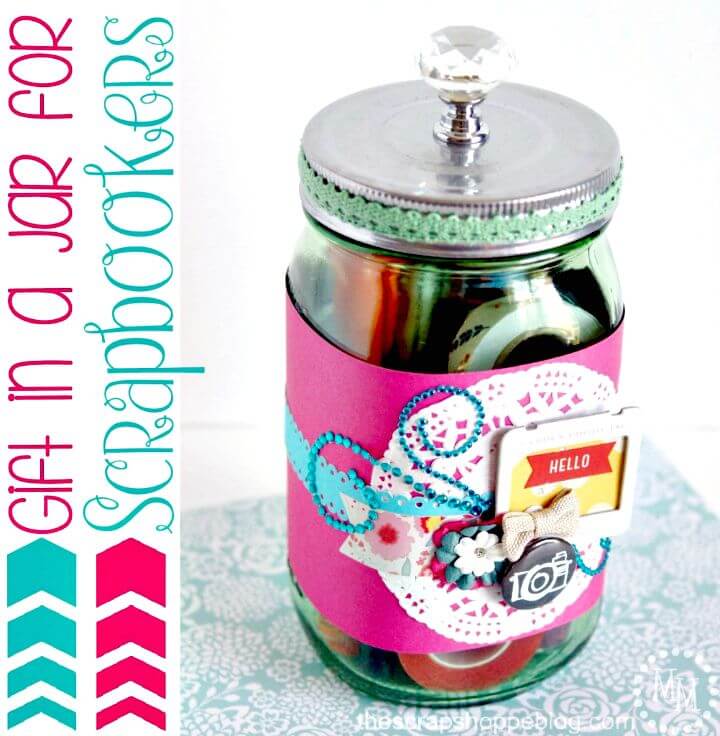 If one of your familiar persons love to craft and work on the scrap books then here is the idea of gifting them the right present on the next give away and that too in a really cheap and fun way. Just fill up the jar with the tapes, bows, scissors, pencils, ribbons and stickers and then decorate it a bit with your perfect gift is ready. thescrapshoppeblog
DIY Spa And Pampering In A Mason Jar Gift: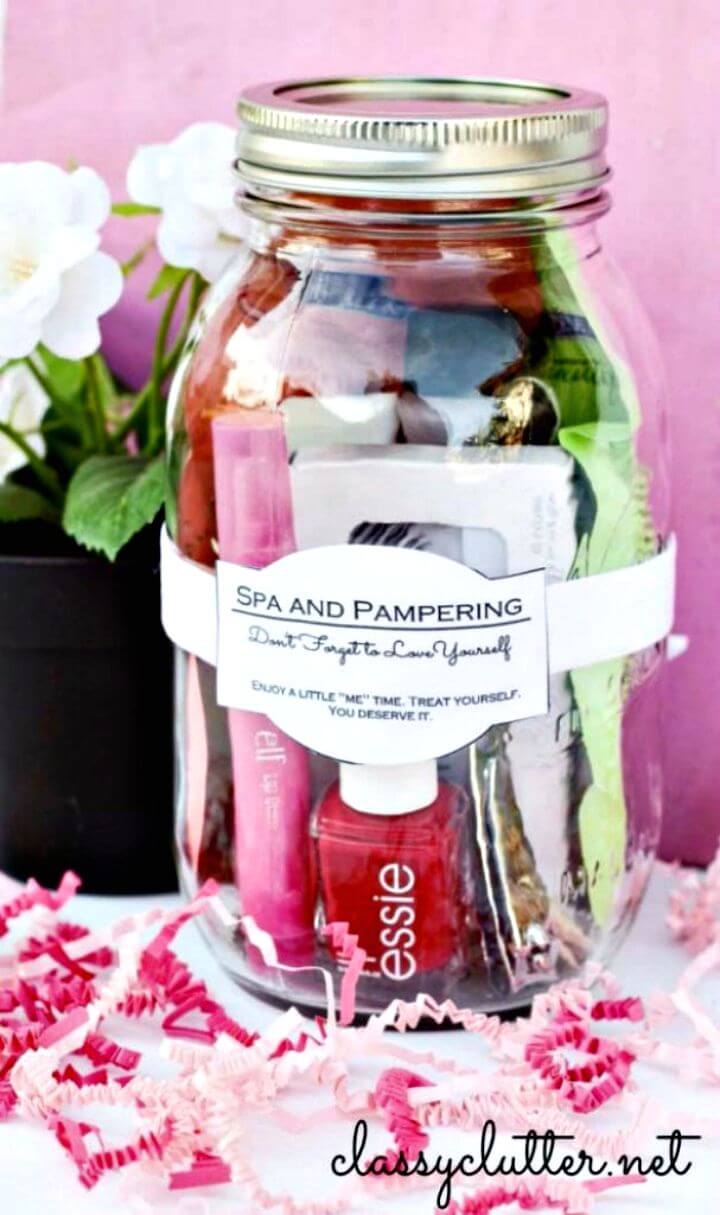 Mothers really need to take a day off and pay some attention to them selves and here is the idea of a great spa mason jar gift for the coming Mother's day. ALl you need to do is just fill a mason jar with some pampering thing of a spa in it like nail cutters, lashes, nail polish, lip colors, liners, face masks and more and decorate it a bit and the gift is just ready. classyclutter
DIY Summer In A Jar Tutorial: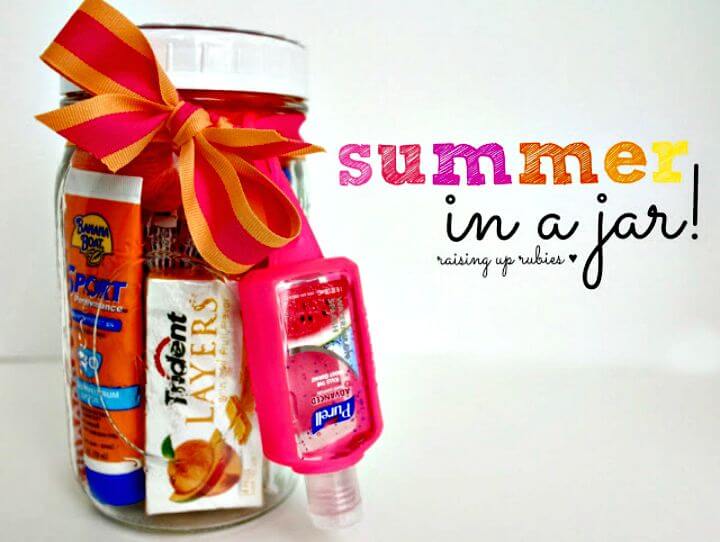 Handmade gifts are the best ways to show someone you love that they really are a blessing and you really care about them. So grab a mason jar and fill it up with the summer skincare items like face washes, packs, lip balms, sun blocks and more and surprise your lovely ladies with so much love and care from your side in the form of this lovely gift. raisinguprubies
DIY Home Made Laundry Soap Neighbor Gift In A Jar: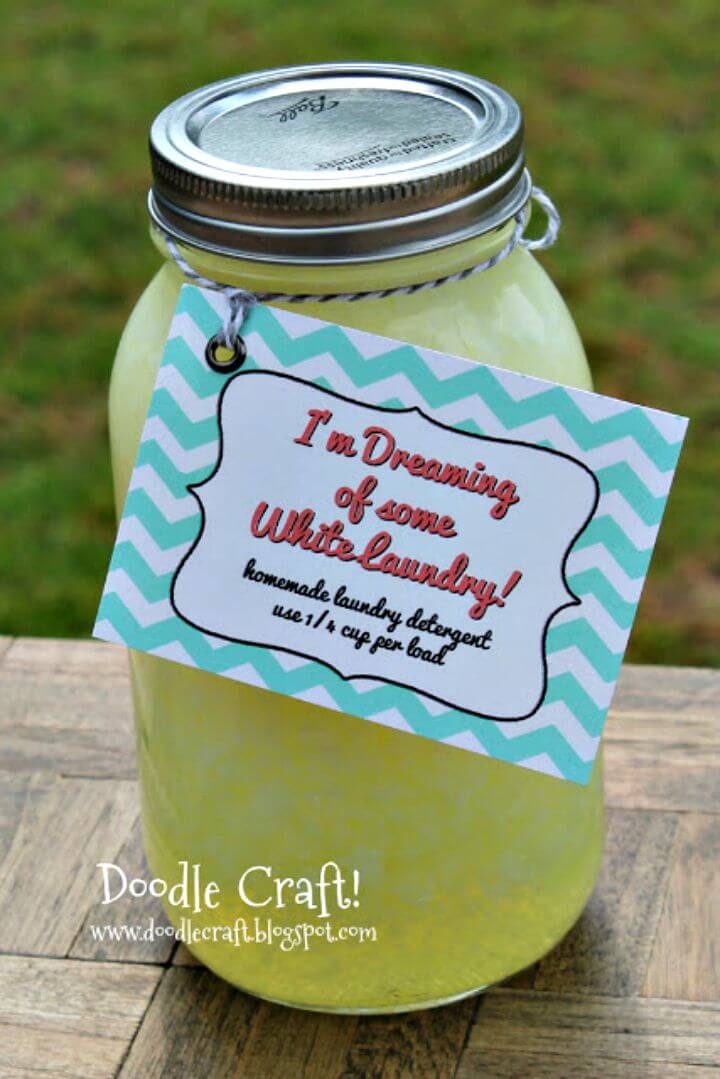 Neighbors also need to be treated specially at times to make your bonding more stronger, and the gifts are the best way to do that and here is the idea of making another awesome gift to give away. You can make this laundry soap on your own and fill in up in a mason with a hand printed tag on it and its ready to be delivered to the neighbor next door. doodlecraftblog
How To Make A Mini Golf Date In A Jar: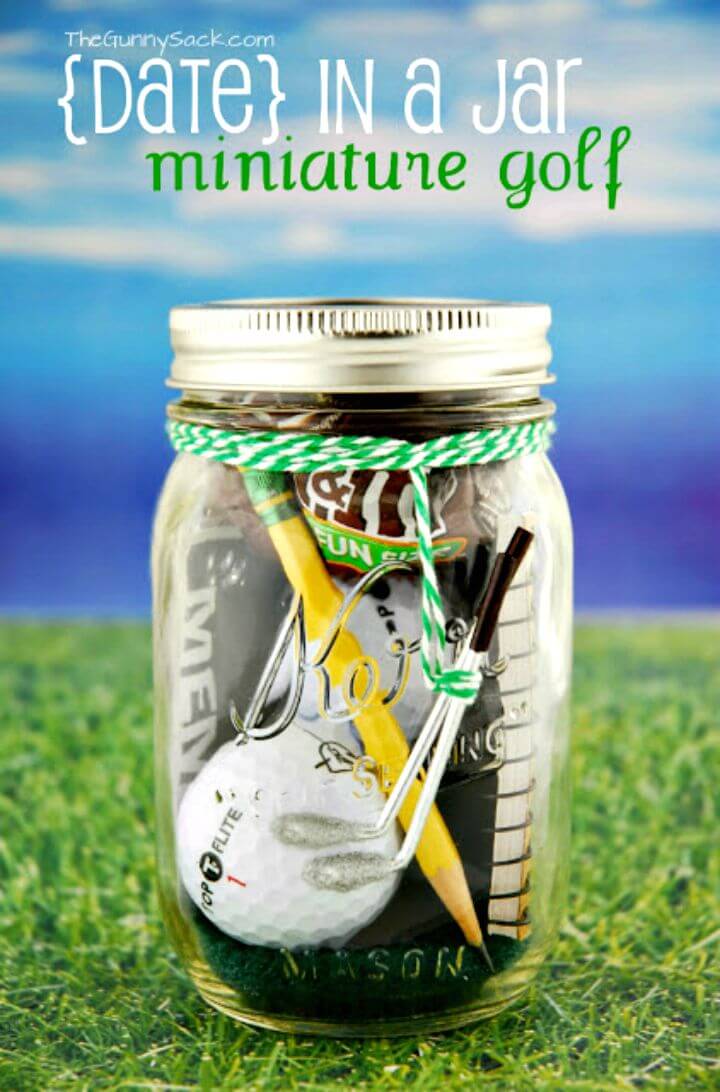 If your little boy also loves golf just like his dad, then we know what should you make him for his next birthday as the most drool-worthy present. This is a mini golf club having been packed up in a mason jar with the the cute and tiny possessions like the golf sticks, balls, pencil, score book and a pack of M&Ms to add icing on the cake. 504main
DIY Mini Bar In A Jar Gift: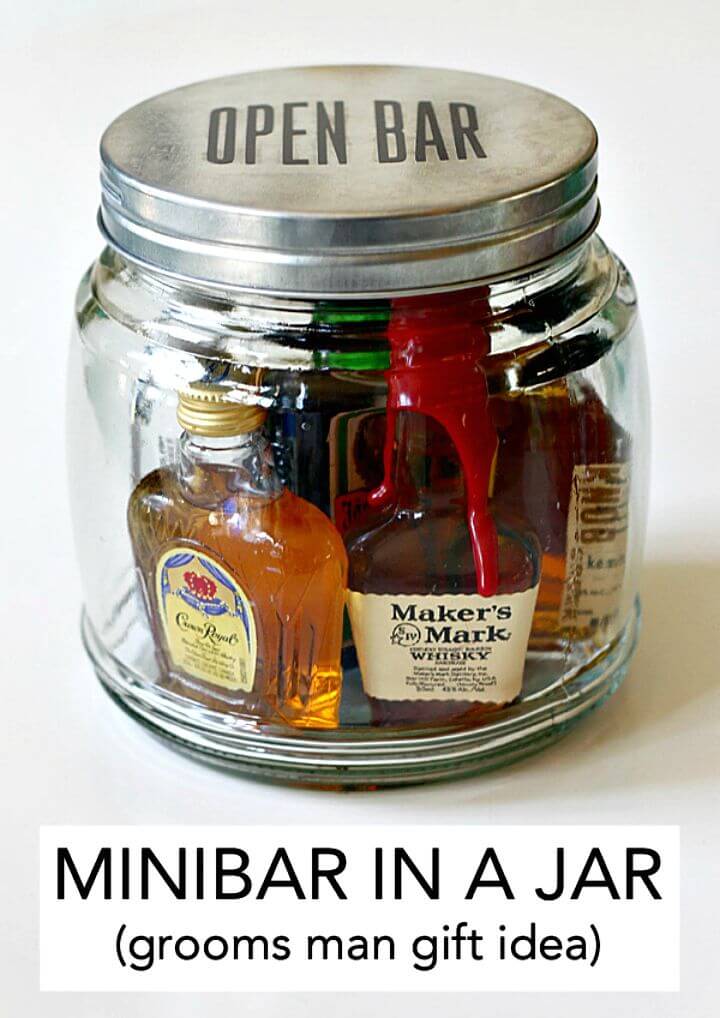 Father's day is coming, and we know you are worried about a really nice gift idea to surprise your dad, and we got you the awesome one. Yes, you can create a mini bar in a mason jar by putting some small liquor bottles in it and then adding some silhouette words on the top, and your perfect gift is ready to rock your dad's day. theshabbycreekcottage
Beautiful DIY Beginner Sewing Kit Gift In A Jar: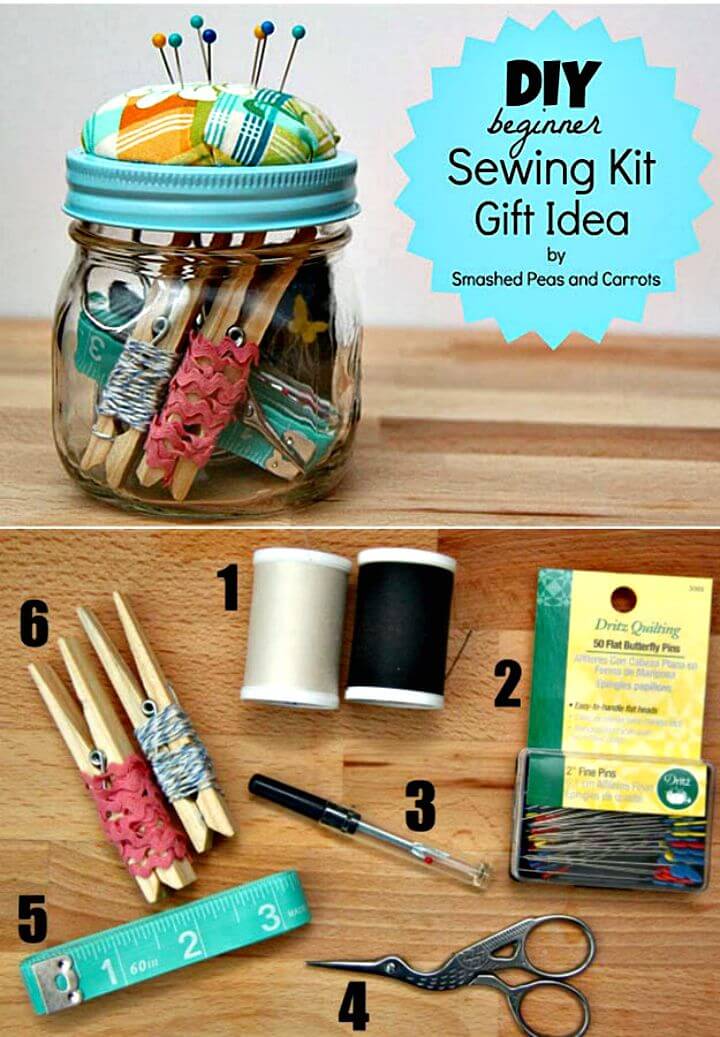 Wishing some good luck with a cute a little gift can really be hugely motivating and inspirational for the new learners no matter what ever the field may be. So fort he sewing beginners you can create this lovely gift by pouring some basic sewing stuff in the mason jar and adding a cute little pin cushion in the lid. smashedpeasandcarrots
DIY Perfect Mason Jar Gift: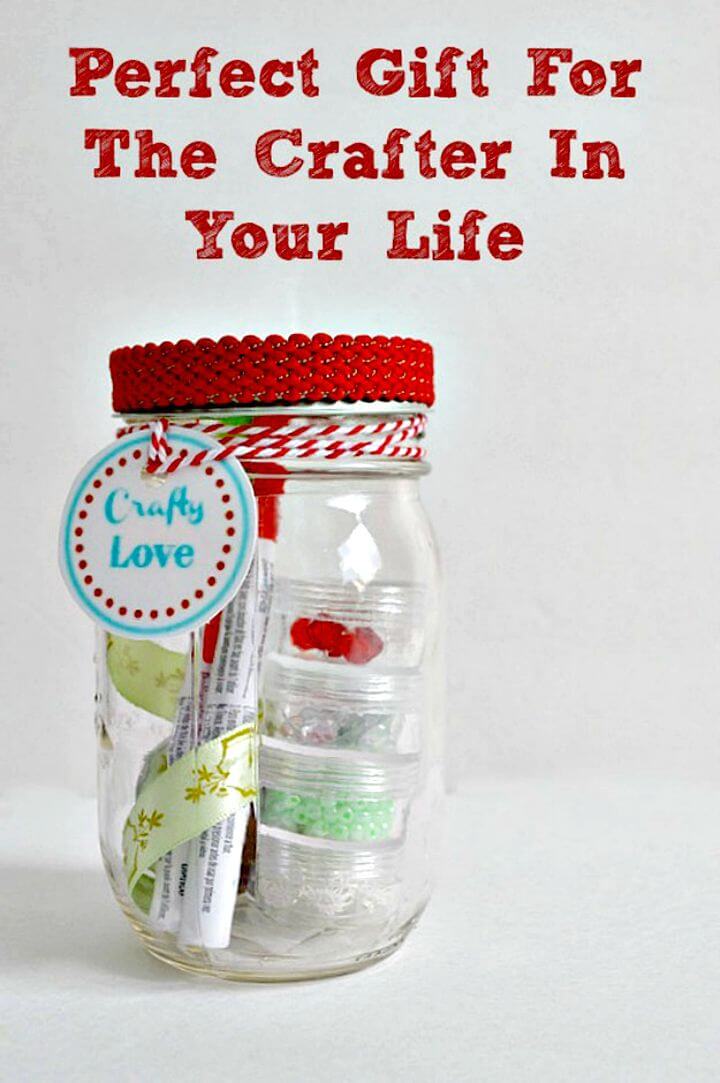 If there is a craft lover in your family or among your friends then here is the idea of creating this lovely craft love gift idea for them for any of the special days that is coming. All you need to do is just grab a mason jar and pour some crafty possessions inside like sharpie markers, some bread, stones and so much more, and the gift is ready. myuncommonsliceofsuburbia
DIY Ginger Bread Play Doh Gift: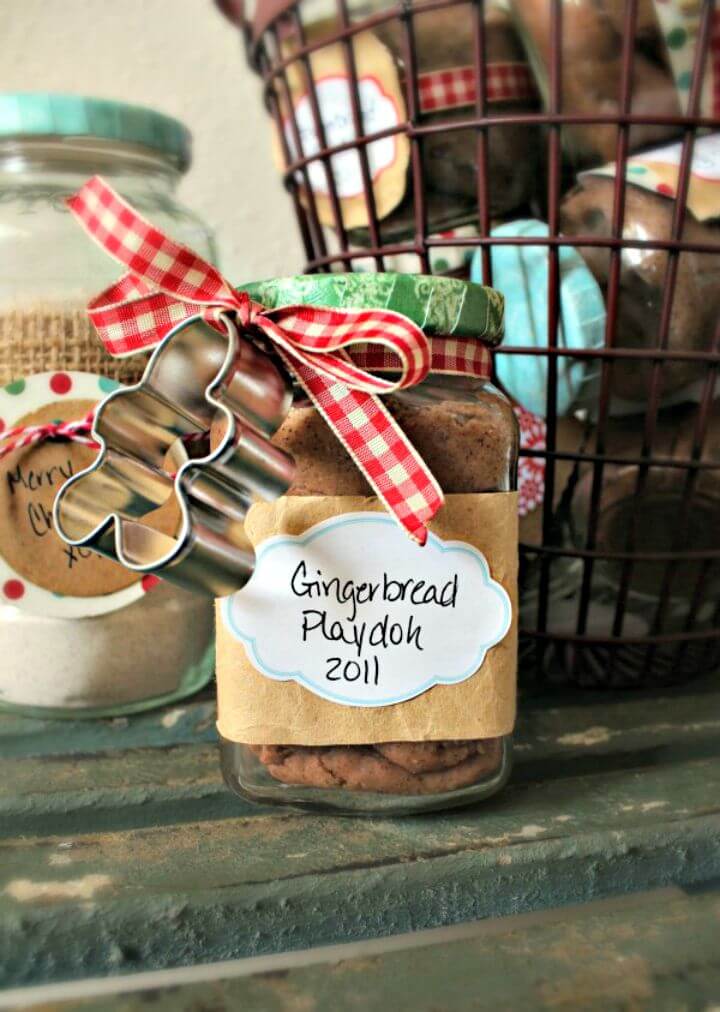 Girls love to play the kitchen and the chef, and you can add more fun to their fun pursuits of kitchen playing by gifting them this fun gingerbread play dough gift for the next celebrations on the house. They can play with the gingerbread by making so many cute shapes out of it and then baking it, and you can add the molds to the gingerbread mason jar. sweetsugarbelle
Easy DIY Home Made Bath Bombs Gift In A Jar Ideas: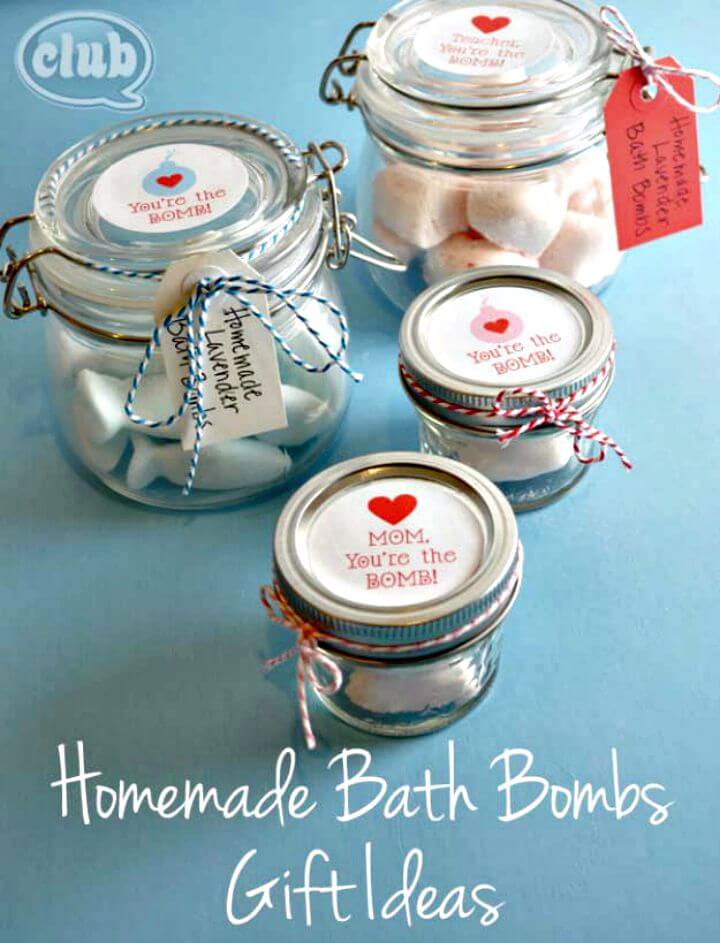 The handmade bath bombs are just great to add so much fun, and relaxation to the bathing and they make the lovely gifts for all the girls and ladies next doors. Using some baking soda, citric acid and the massage oil you can easily create the bath bombs and that to in so many exciting shapes using the fun molds and pack them up in a mason jar for ready to go gift. chicacircle
Dr. Seuss Gift In A Jar For Teachers: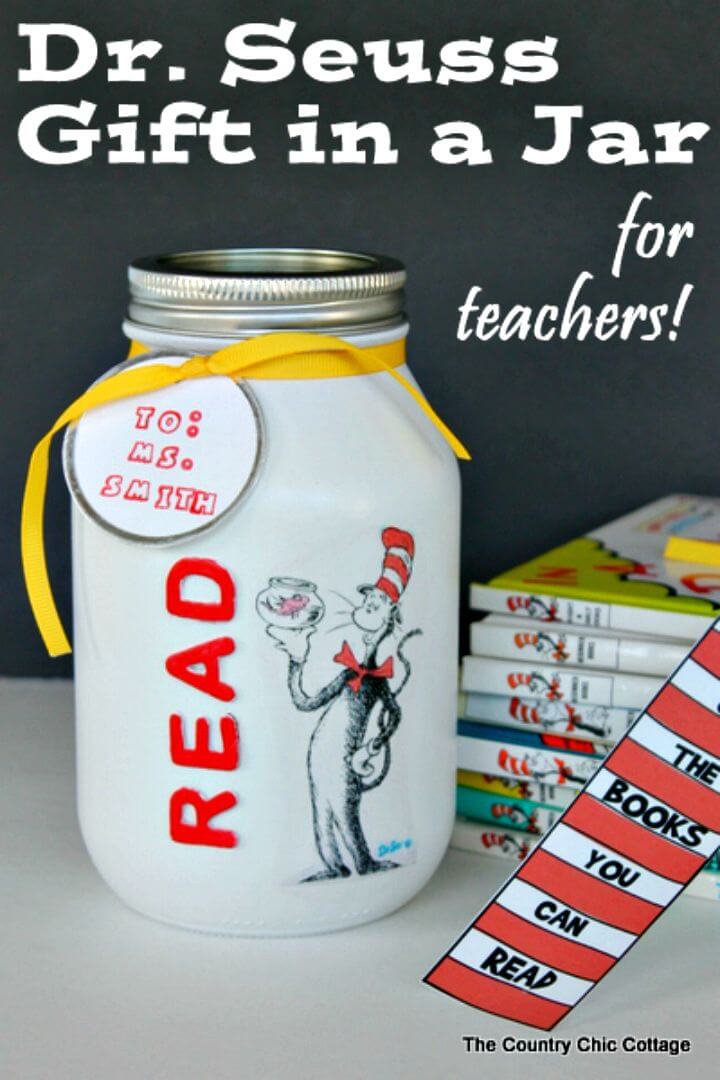 Teachers should really be treated specially at some special points and days and making handmade gifts for them would be the best thing to opt for. This time you can make this lovely gift with the READ foam letter cut and paste on the jar that is being already painted and put up with the list of books that the teacher can read. thecountrychiccottage
DIY Hand Soap In A Mason Jar Dispenser Gift: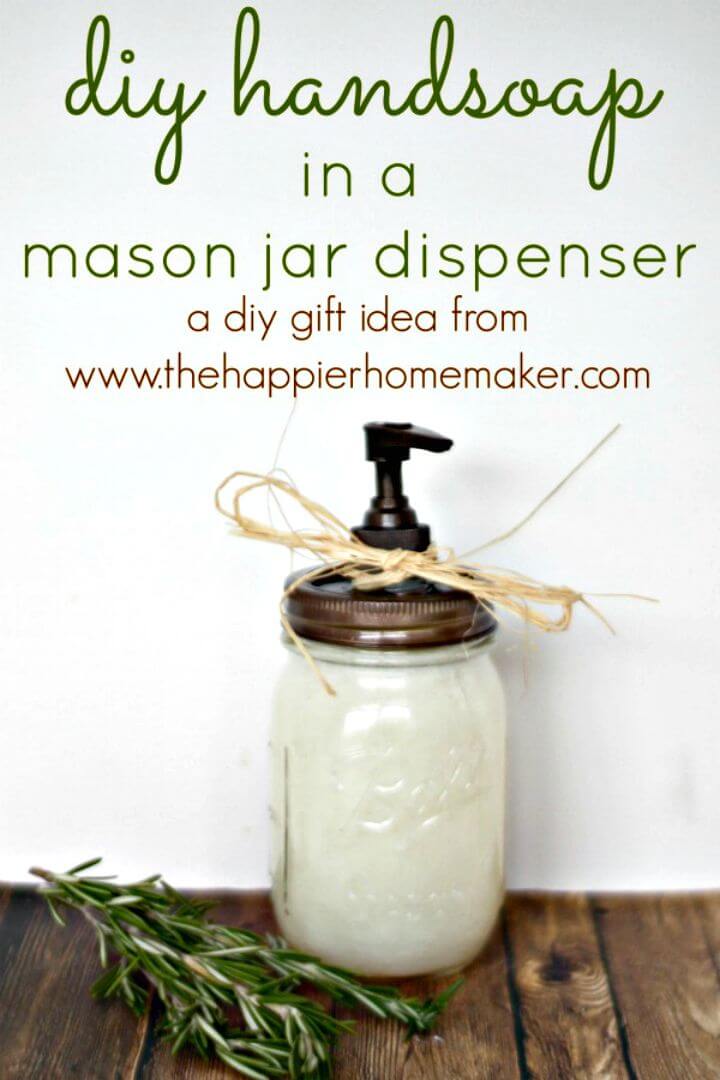 You need to keep everybody happy around and giving away gifts is the best way to spread the joys and happiness, and your neighbors really deserve the most of it. So for the next festive you can make this handmade soap dispenser in a mason jar and use it as the perfect gift for the neighbors, and they would really love it. thehappierhomemaker
DIY Candy Cane Hot Cocoa Bar Gift: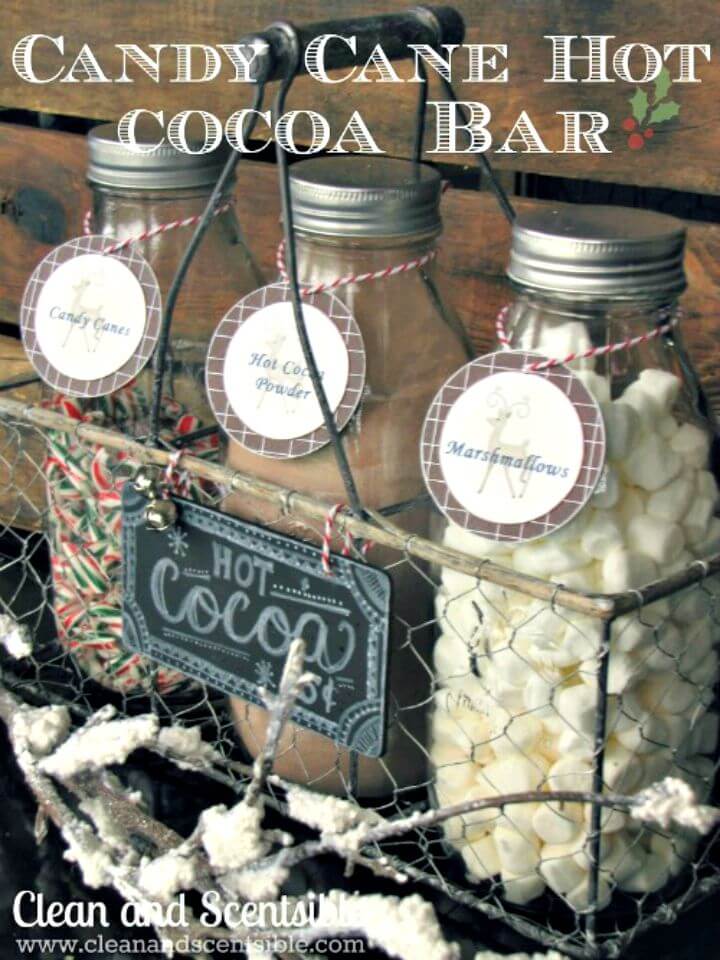 Hot chocolate is the best drink for the summer to keep ourselves warm and tasty in the cold, and that is why the ingredients packed in the mason jars make the best gifts for the lovely people around. So grab three mason jars and fill them up with the marshmallows, chocolate powder and the third one with the candy canes and put them in a basket and your gift is ready. cleanandscentsible
DIY Gift In A Jar Peppermint Sugar Scrub: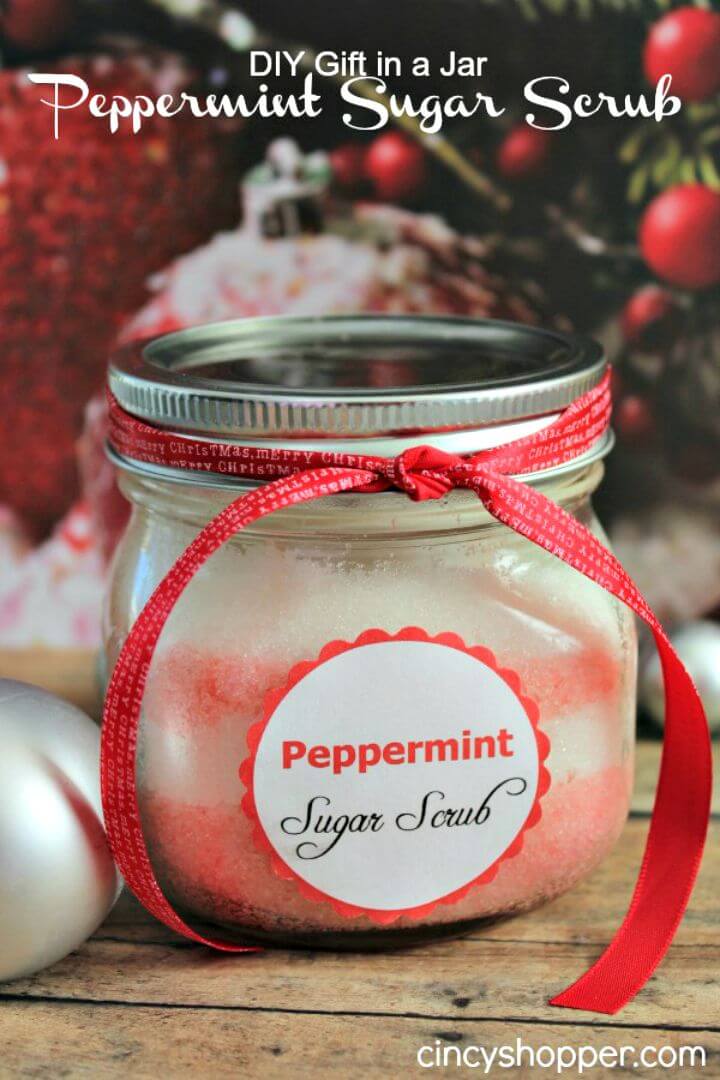 The handmade scrubs are the best to make your skin so much fresh and healthy, and that is why they really make a really cute and fun gift for the lovely friends of your circle. The scrub is so much lovely and scented to make with sugar and the peppermint and decorating it with the ribbons.Here are the details of the idea cincyshopper
DIY Gift In A Jar Pork Rub Recipe Free Printable Labels: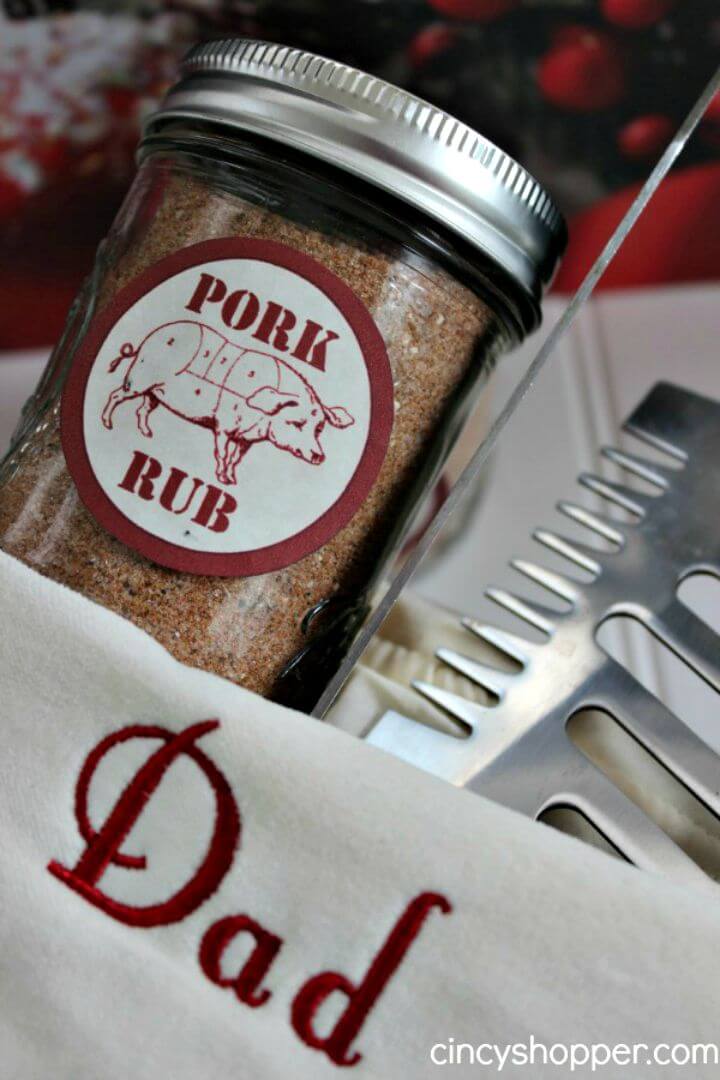 It is so much fun when the fathers are cooking in the outdoors and make so much grill stuff to enjoy with the family and the friends. So it really gives you a hint to make the lovely gift for his birthday or the father's day then making this pork rub recipe so that they have all the things ready to create a fun grill night in the summer. cincyshopper
DIY Keep Warm Kit Gift In A Jar Tutorial: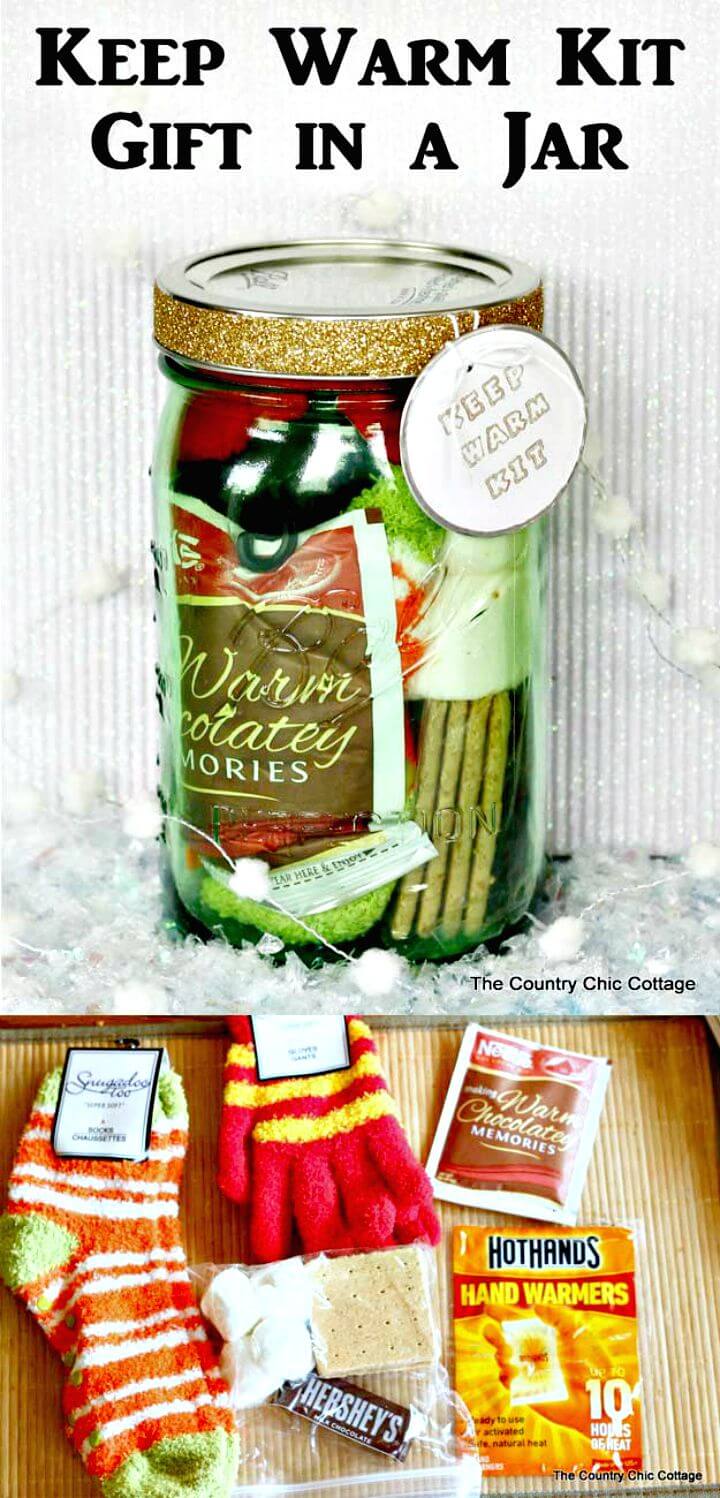 The winter gifts should really be warm and cozy so that the person who receives the gift not only feels warm physically but warmth in the heart too. So take a mason jar and fill it up with the warm stuff like hand warmers, gloves, socks, marshmallows and so much more. You can check out the details of the idea right on the link here thirtyhandmadedays
DIY Girls Weekend Gift In A Mason Jar: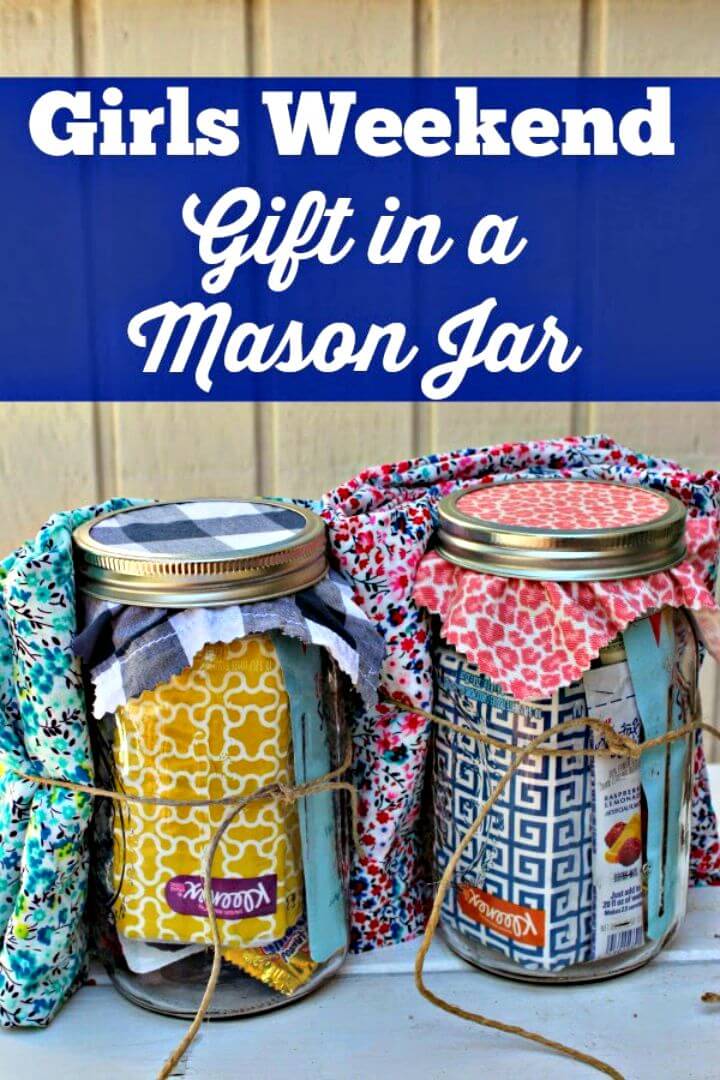 A lovely gift can really make a day for any of the people and here is the idea of creating a lovely handmade gift with easy and fun things lying around. Just grab a mason jar and fill it up with the things one can use on a regular basis like hand sanitizer, chapstick, gums and candies and more. You can check out the details of the idea right here southernstateofmindblog
Easy DIY S'mores Mason Jar Gifts: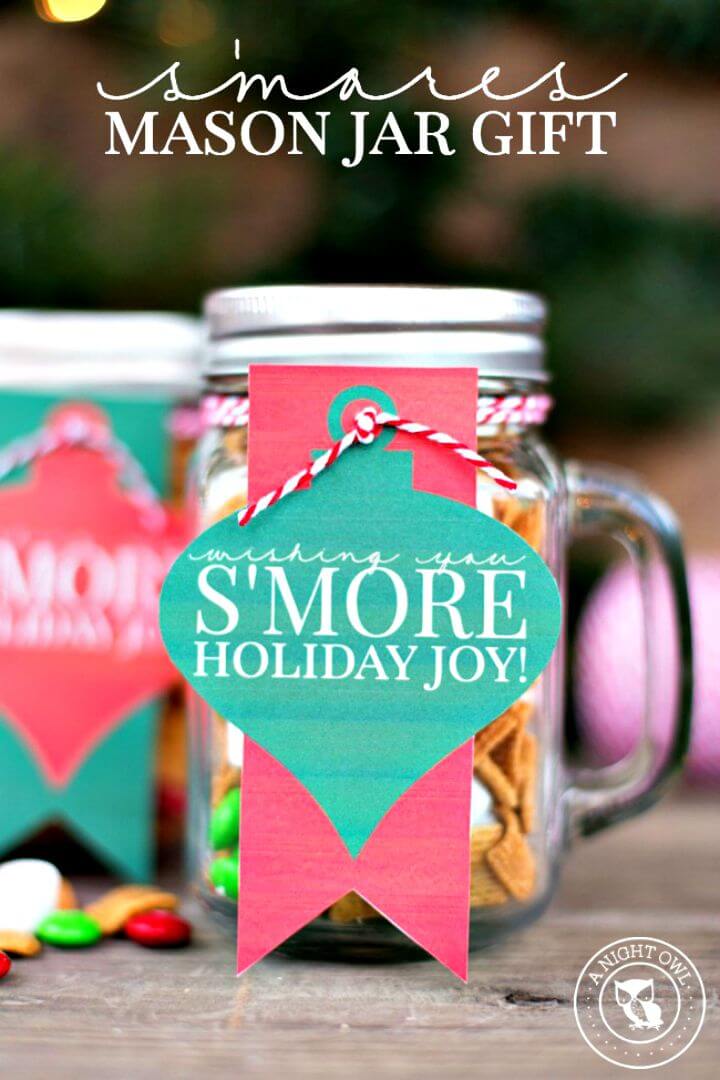 A Yummy snack can work as a great mood up-lifter for anyone around so if you want to make up a mood of your teenage kid, then you can make this snack mix S'more gift for them to enjoy at so many times. Even while watching a movie you can munch on these lovely mix snack and enjoy a really good time. Details here anightowlblog
DIY Homemade Sock Puppet In A Jar Gift For Kids: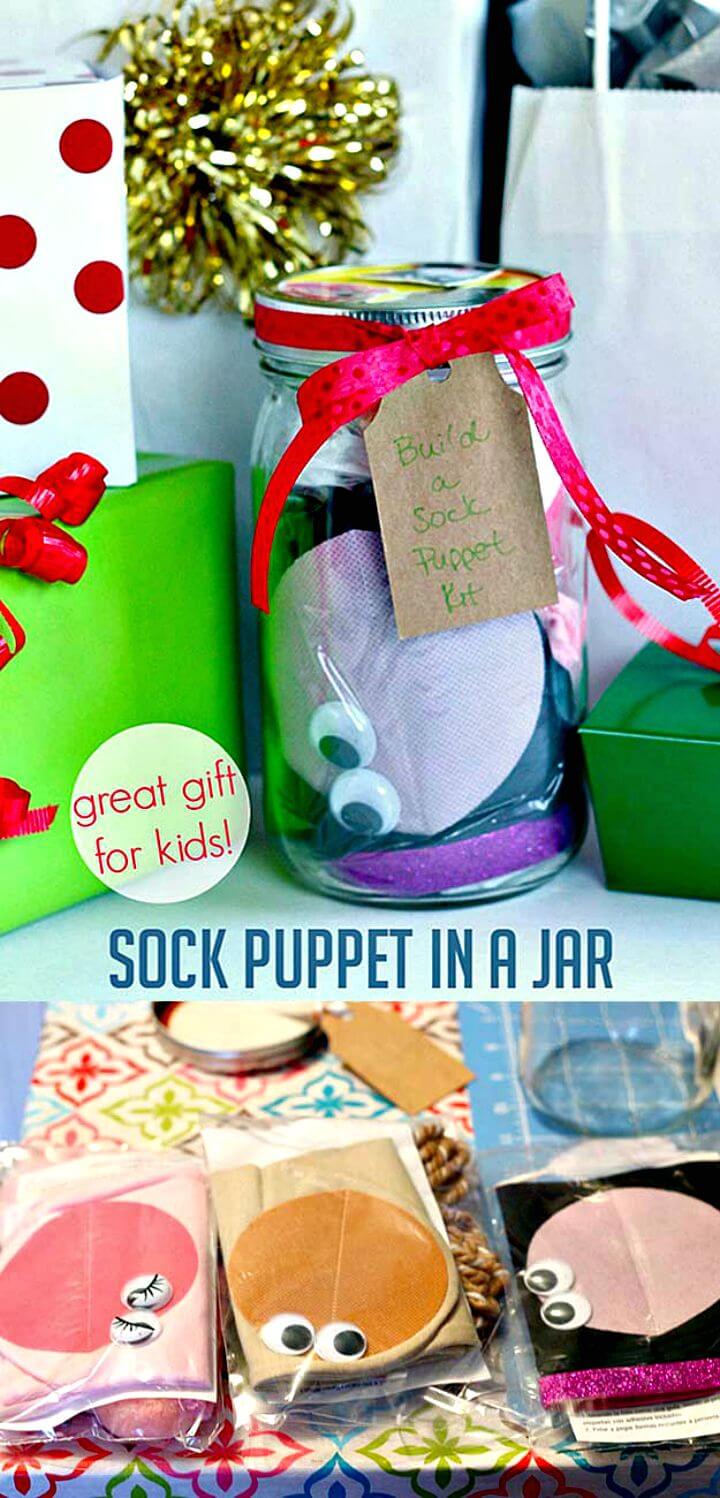 Kids love so many fun things to play with and if they could learn things from their playing its like icing on the cake and there is the idea of a handmade gift for them. All you need to do is make some cute sock puppets and then pack them in your mason jar and tada your lovely gift is ready. consumercrafts
Free DIY Funfetti Candles Tutorial: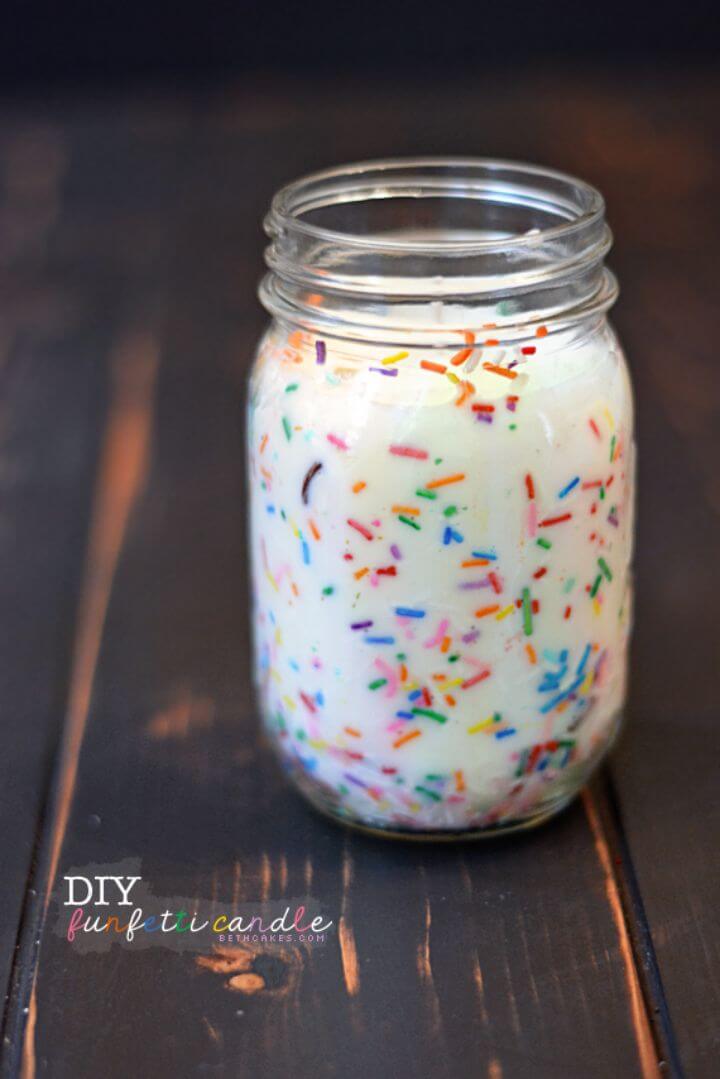 Making a candle at home would be a great idea to make a lovely handmade gift for anyone around. There are so many fun kinds of candles to make, but this one is really cute and colorful and would make a lovely presence in the home decor. So make a candle in the mason jar with confetti included, and you are done. bethcakes
DIY Cake Batter Snickerdoodles Gift With Gratitude Blog Hop: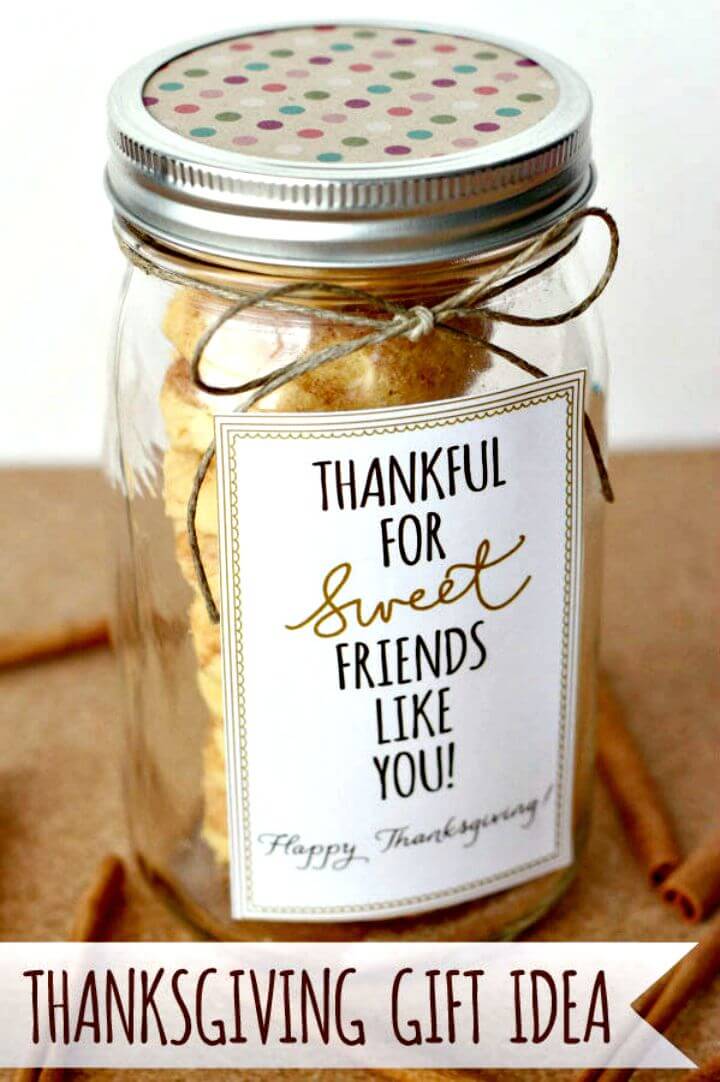 There are so many gifts, but nothing can beat a handmade pack of cookie idea for the Thanksgiving for everyone around be it neighbors, friends, and family. Just make the yummy cookies from the cake batter and let the people enjoy so much fun eating them taking out of the mason jar and munching on them on an ever or a with a coffee breakfast. lilluna
How To DIY Mason Jar Teacher Gift Tags: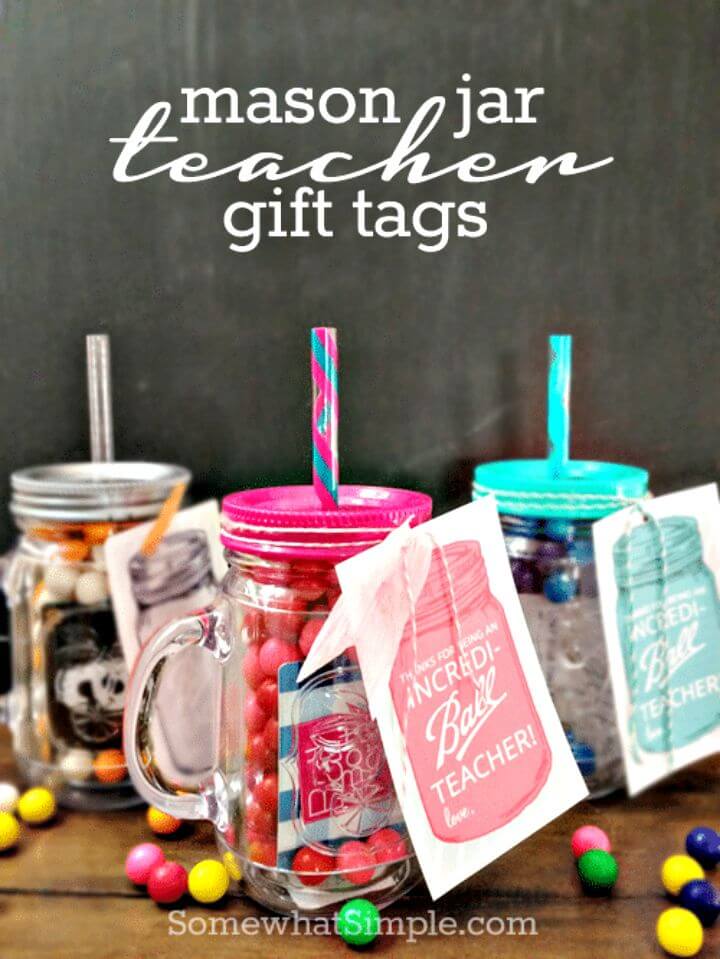 The teacher should be awarded the best of the gifts and it's not only should be filled with some fun goodies but it would be decorated in a really cute and fun way too, and there are so many ways to do it. Yes, you can make a cute teacher print card to go it with some pretty ribbon and other such pretty things to style them up. somewhatsimple
DIY Snowman Mason Jar Craft Idea: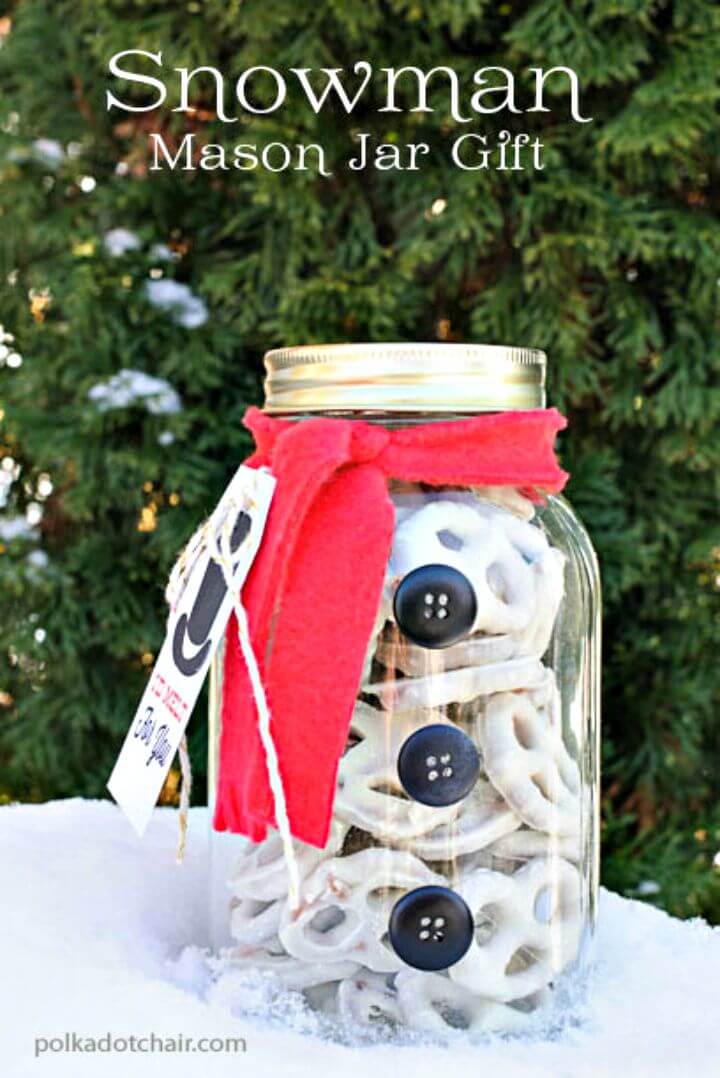 Christmas is full of so much fun from making home decorations to tasty food and creating gifts for the dear and near ones around. Just make white-coated pretzels and fill them in the jar and decorate it with complete Christmas theme. You can make a Christmas card and the buttons to go on it for the decor and cute styling of it. polkadotchair
Easy DIY Homemade Milk Bath Recipe: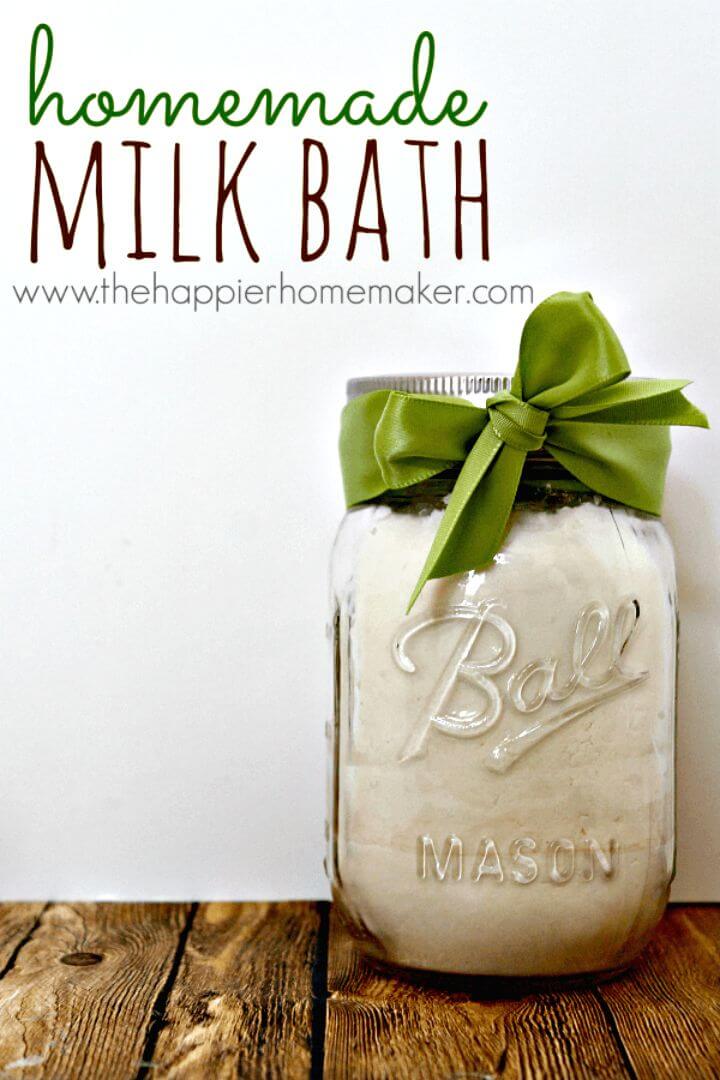 Anything can go in the mason jars to make a cost-efficient and nice gift for the people around and make them. So if you are thinking for a gift to make for a special lady in your life then here is the idea of creating a bath salt or milk scrub to make and make them feel so much special every time they take out some scrub out of the jar and use it on their body to feel so much fun and care. thehappierhomemaker
Easy Golden Pampering Mason Jar Gift: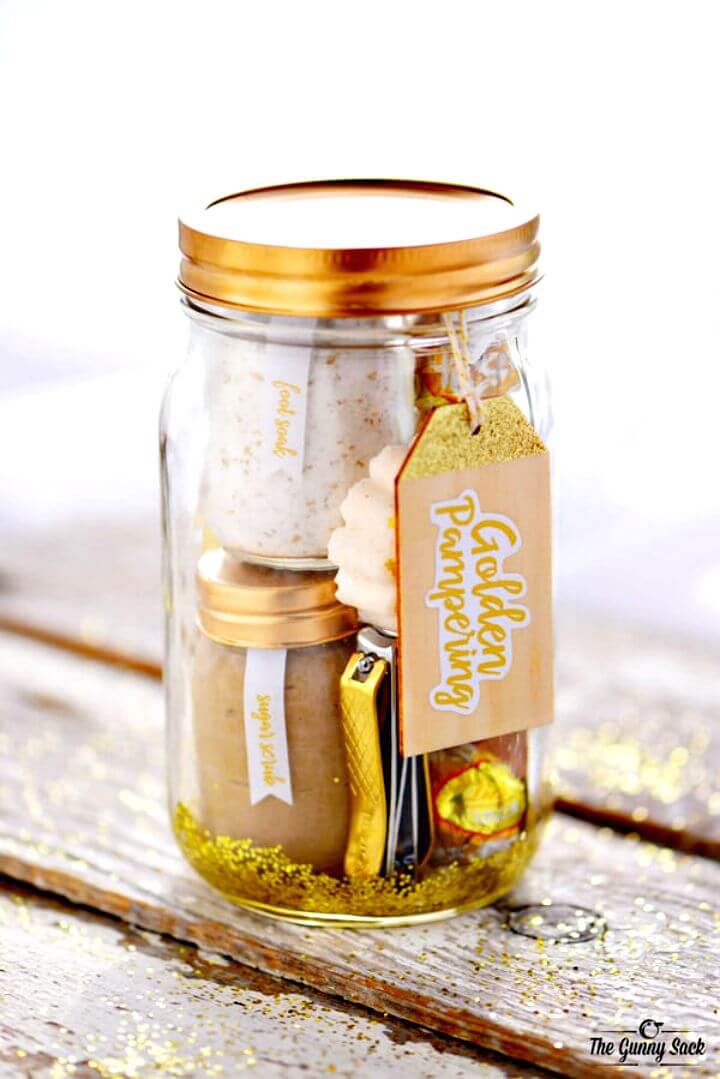 The mason jar gifts are so much common, and they are super cute and fun to make too and also so reasonable to get your hands on. To add more beauty and fun to your mason jar gift, you can work up a theme like this one has been made with a Gold theme where everything is in gold be it decoration of the gift or the things going inside it. thegunnysack
DIY Gel Air Freshener In A Mason Jar: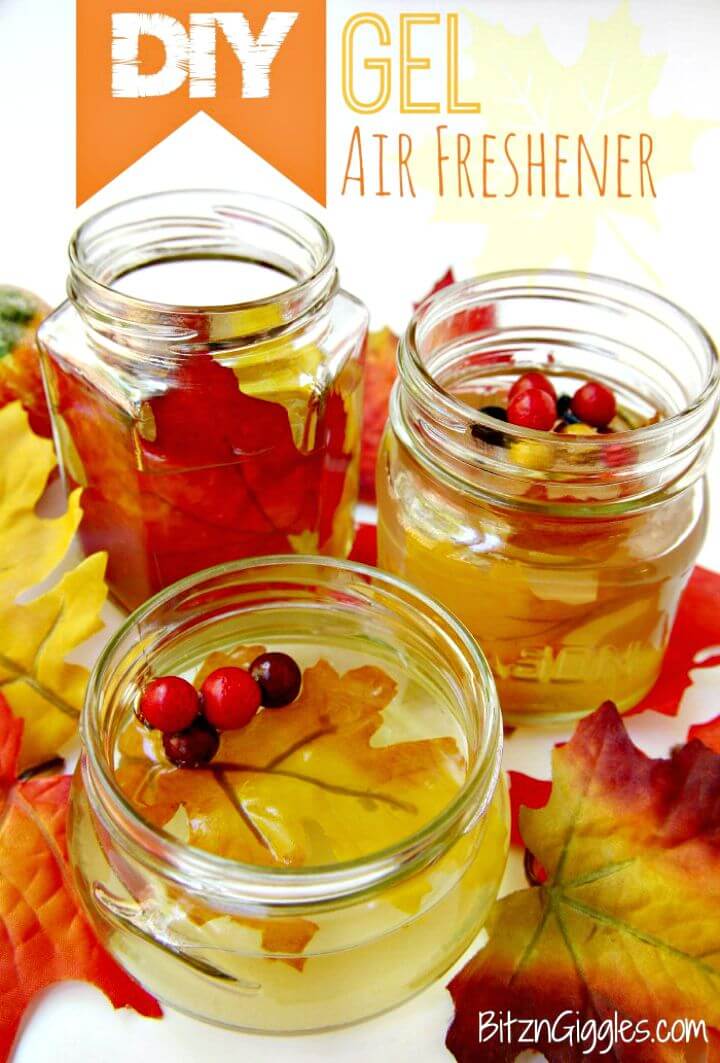 A neat and clean house is not an accomplished place until it gives out a nice and refreshing smell to delight up your senses. And the good thing is that you can make a handmade room or house air freshener that would make a lovely gift for the ladies around. You just need to fill a mason jar with water, herbs and flowers and the complete recipe is here bitzngiggles
Easy How To Make A Sew Apron In A Mason Jar Tutorial: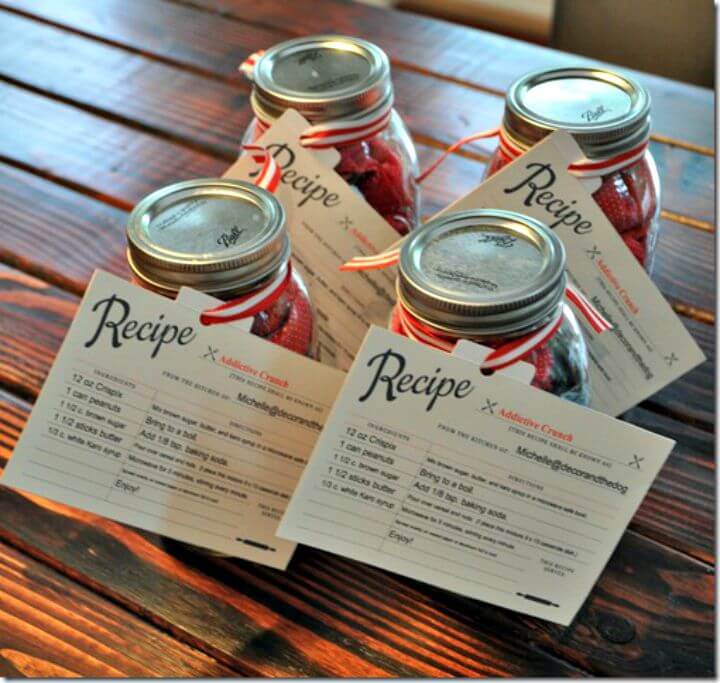 If there is a new chef in the process be it your family or the friends then here is the idea of wishing them all the good luck with a nice and handmade gift that would give them a helping hand in their learning process. Its an apron in a mason jar and a lovely recipe written on a card to go on it. You can check out the details of the idea here decorandthedog
DIY Peppermint Mocha Java Jar: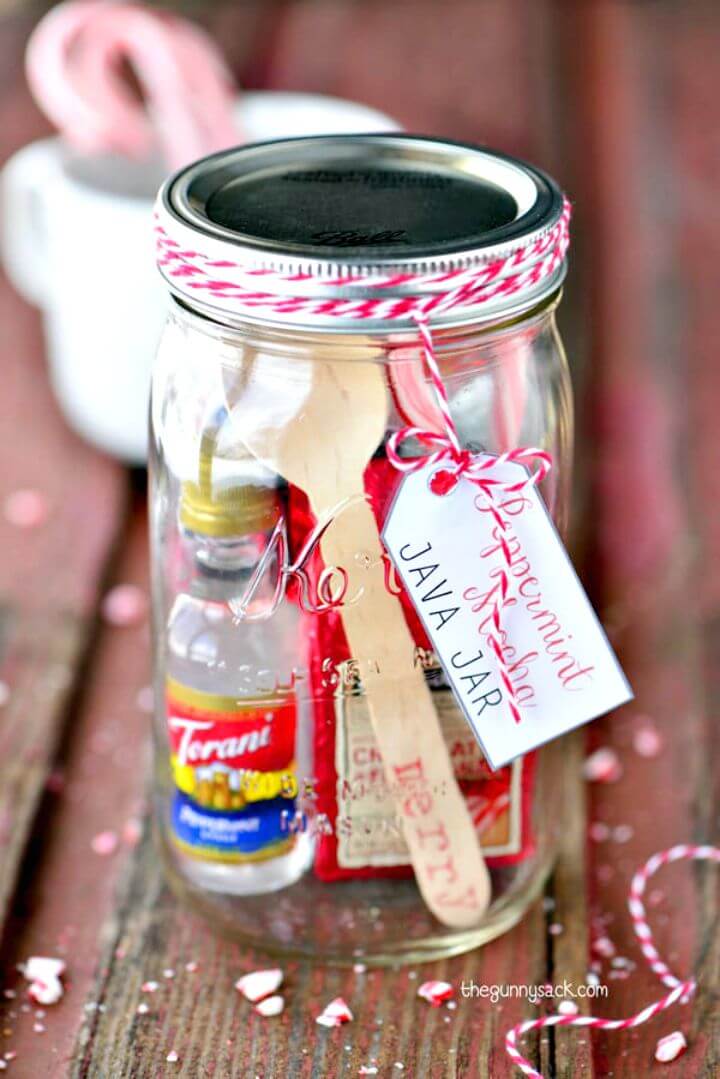 Kids enjoy the mint mocha java drink, and that gives you the idea to make a really fun gift for your little ones to please them for a special day. So all you need to do is just grab all the things that you need to make mocha java drink and put them all in a mason jar and decorate a bit, and the gift is ready. thegunnysack
DIY Cupcake Gift Jar Ideas: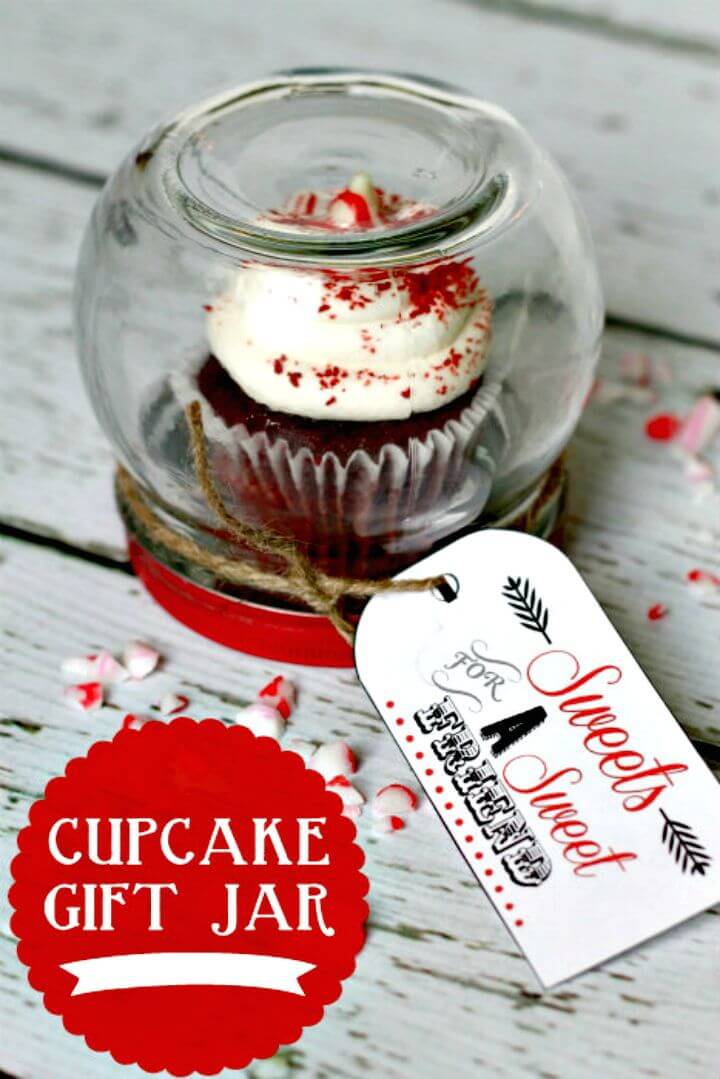 If you really need an instant gift for anyone around to cheer them up and bring a big curved smile on their face is a cupcake and to give it a shape of proper gift you need a few things like a mason jar to get the cupcake inside and make a cute printable card and some ribbon for the instant ribbon. Get the details of the idea here lilluna
DIY Rosemary Pressed Herb Candles: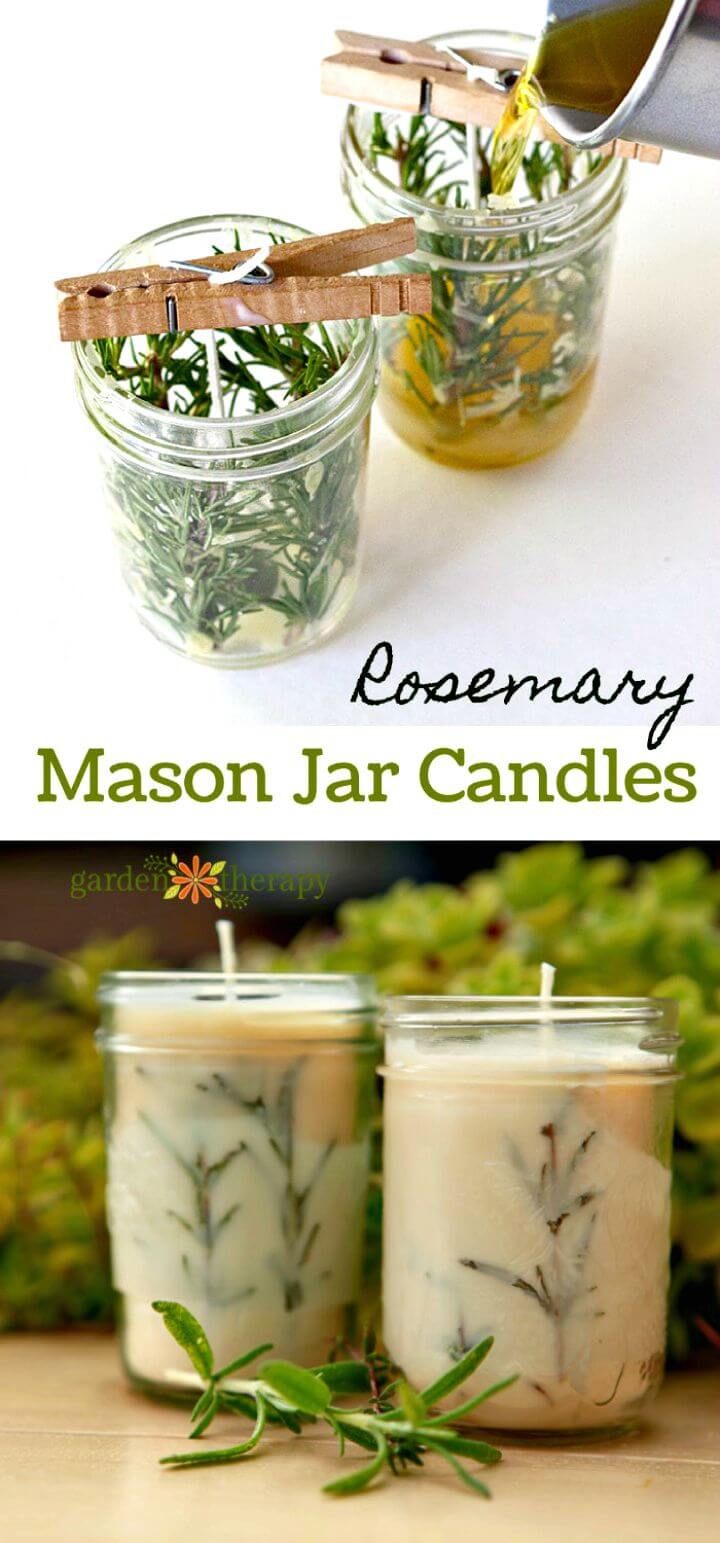 How about making the handmade candles that would give out so much nice and lovely smell too, it would be like the best thing you can give to someone as the gorgeous gift. You can get the herbs in the candle wax so that when it burns, it gives out so much smell to create so many romantic vibes in the spaces. gardentherapy
DIY Wedding Favors Gift In A Jar Tutorial:

You do not need to burn a big hole in your pocket to buy a gift for the wedding you are going to attend as you can make a cheaper yet much valuable gift with the mints and the mason jars. Just fill the jar with individually wrapped mints and then add a pink ribbon to the top with a hand wrote and printed label on the top and your gift is done. thefrugalgirls