If you're looking for some easy crochet gifts to make, look no further! We've got 25 cute crochet gift ideas for you, including crochet blankets, trendy scarves, and so much more. Whether you're a beginner or an experienced crocheter, you'll find cute crochet gifts on this list that are perfect for your next gift-giving occasion.
Finding a perfect gift can be difficult, but with a little creativity, you can find the perfect crochet gift for anyone on your list. Whether you're looking for a last-minute gift or something handmade and unique, these 25 quick and easy crochet gifts are sure to please. So get out your crochet hooks and yarn and get ready to make something special from these quick crochet gift ideas!
1. Toffee Apple Pompom Beanie Crochet Pattern

You can crochet up so many things to gift around and save yourself a lot of time and money. So, here is this adorable and free crochet toffee apple pom pom beanie that would make a perfect present for your mom, sister, aunt, or friend. Catch its free pattern right here! hopefulhoney
2. Spike Stitch Crochet Handwarmers Pattern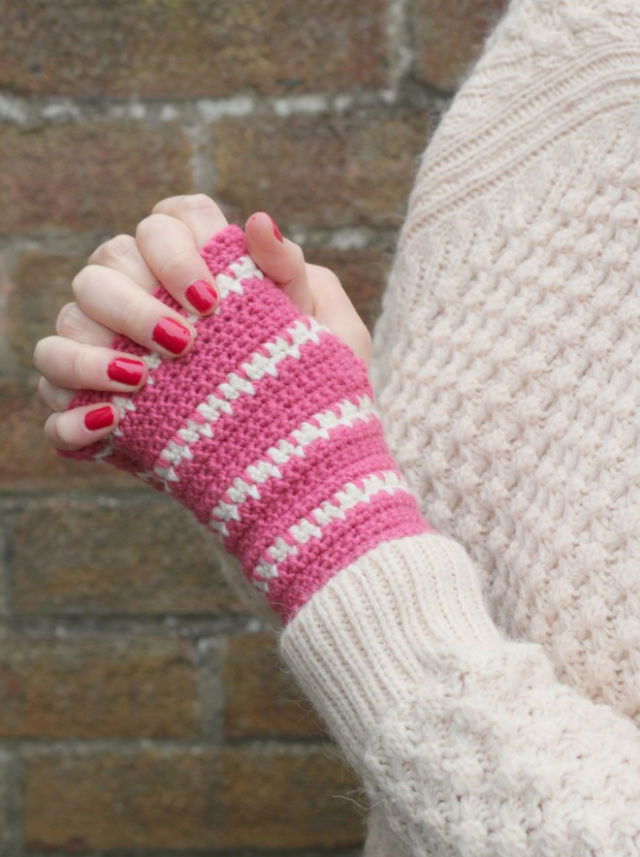 There are so many gift options for the girls around when you are a skillful crochet person just like this cute and adorable pair of crochet spike stitch hand warmers. The pretty pink hand warmers with white spikes are just too girly and fun to use as pretty gifts for your beloved ladies. Catch the pattern and details here! claireabelle
3. Crochet Heartstrings Slouch Hat – Free Pattern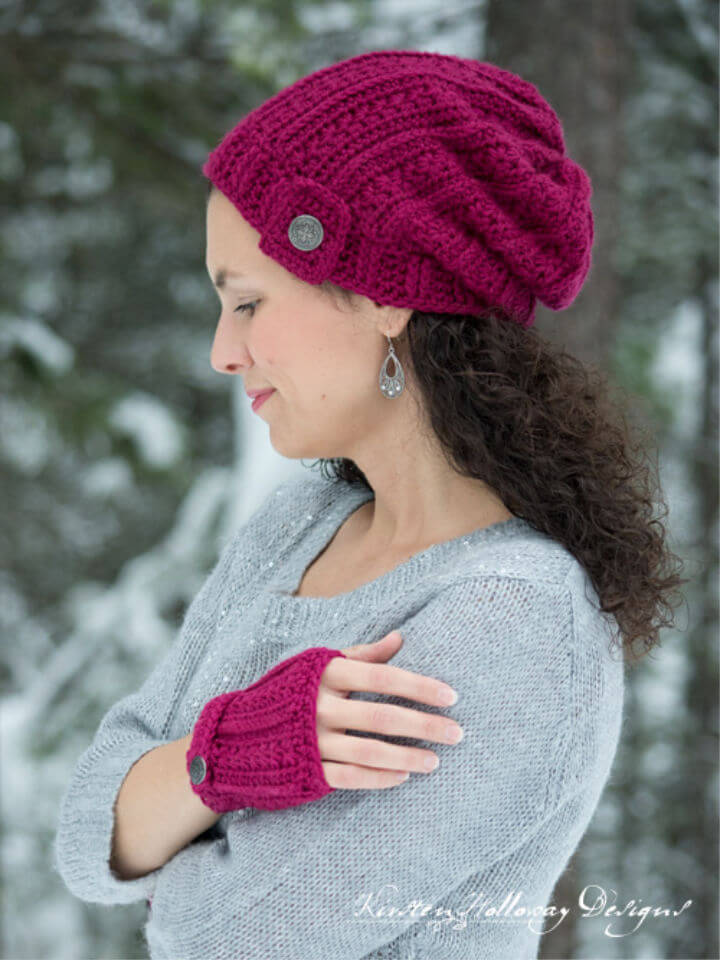 Make your favorite girl feel the prettiest and stylish this winter by giving her this lovely crochet heartstrings slouch hat as the perfect Christmas gift. Get the free pattern here to crochet up this adorable slouch hat and get so much of your money saved! kirstenhollo
4. Crochet Moustache Coffee Sleeves Pattern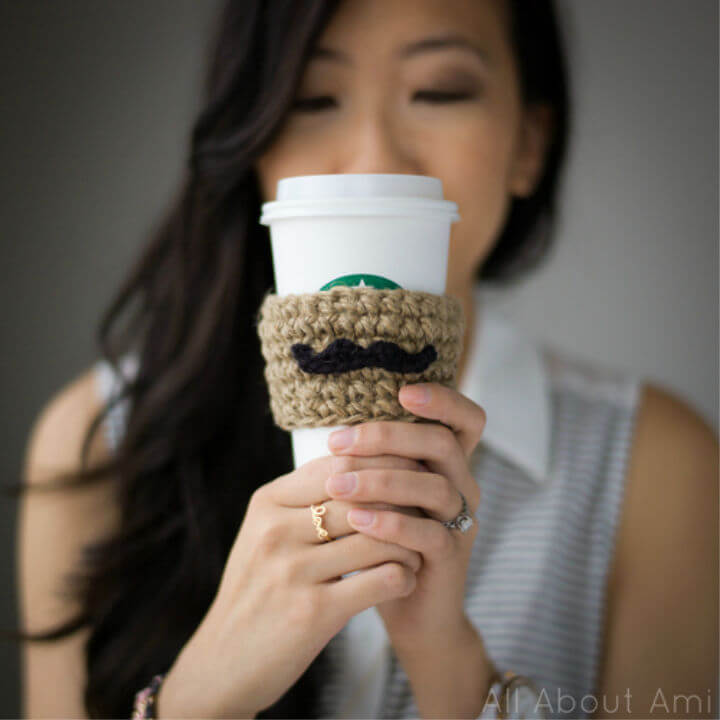 A little exchange of gifts with your partners would enhance love in your relationship, so crochet up these lovely and simple coffee sleeves that too with a mustache on them. It would also be perfect to crochet for your father, brother, and a guy friend. Catch the easy and free pattern here! allaboutami
5. Glencoe Tartan Poncho Crochet Pattern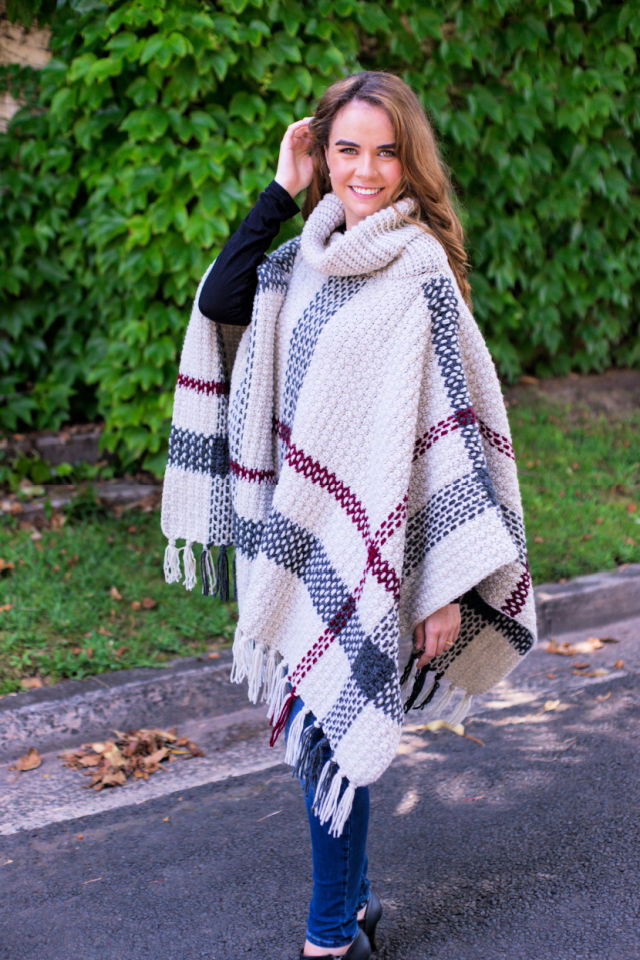 Just like its name, this crochet Glencoe tartan poncho is super elegant and gorgeous. You can crochet it up for your own self and also make one for your dear and near ones around, and it would make the best gift ever. Free pattern with details here! hopefulhoney
6. How to Crochet Shawl Scarf for Gift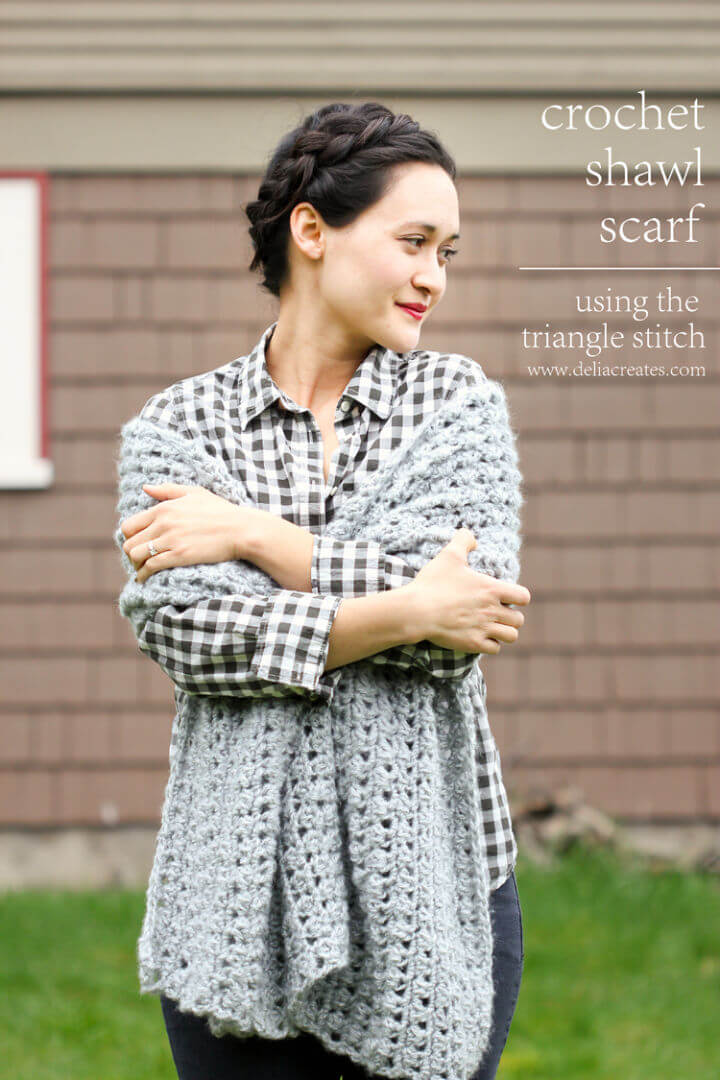 Here is this double functional and two-in-one crochet shawl scarf to be a perfect gift for the winter days. This crochet shawl is really a simple crochet design and can be wrapped around the shoulders as a shawl or used as a stylish scarf to cover the neck area. The easy and fun pattern here! deliacreates
7. Crochet Sands Of Time 1 Hour Bracelet Pattern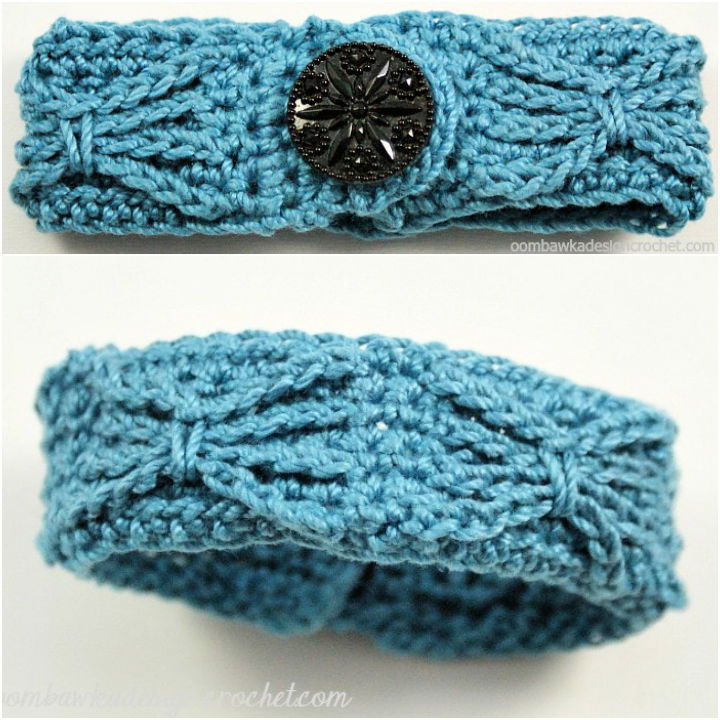 You can crochet up this pretty and simple bracelet and add oodles of charm and style to your dress-up. You can easily crochet up this lovely and cute bracelet in an hour, and thus you can make a bunch of them and use them as the perfect gifts around. Free pattern with details here! oombawka
8. Whispering Birch Bohemian Vest Crochet Pattern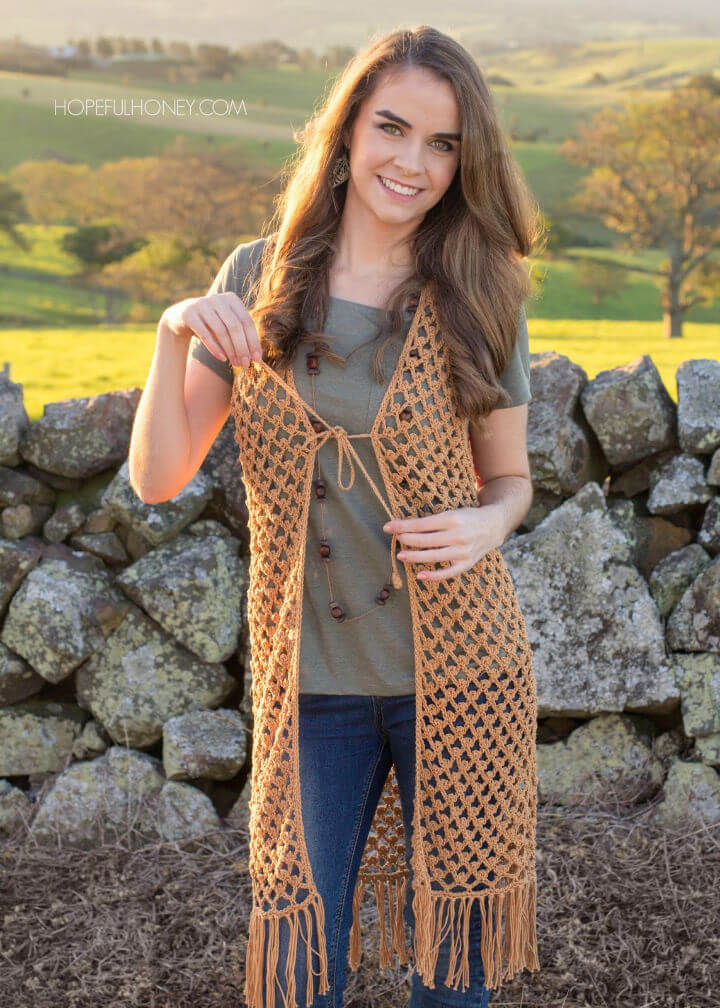 Make your summer evenings much more stylish and fashionable for your outdoor visits by wearing this super gorgeous whispering birch bohemian vest. The lovely vest has a breezy pattern, stylish length, and fringes at the end to look just so hot and tempting. Check out the details of the pattern here! hopefulhoney
9. Crochet Face Scrubbies – Free Pattern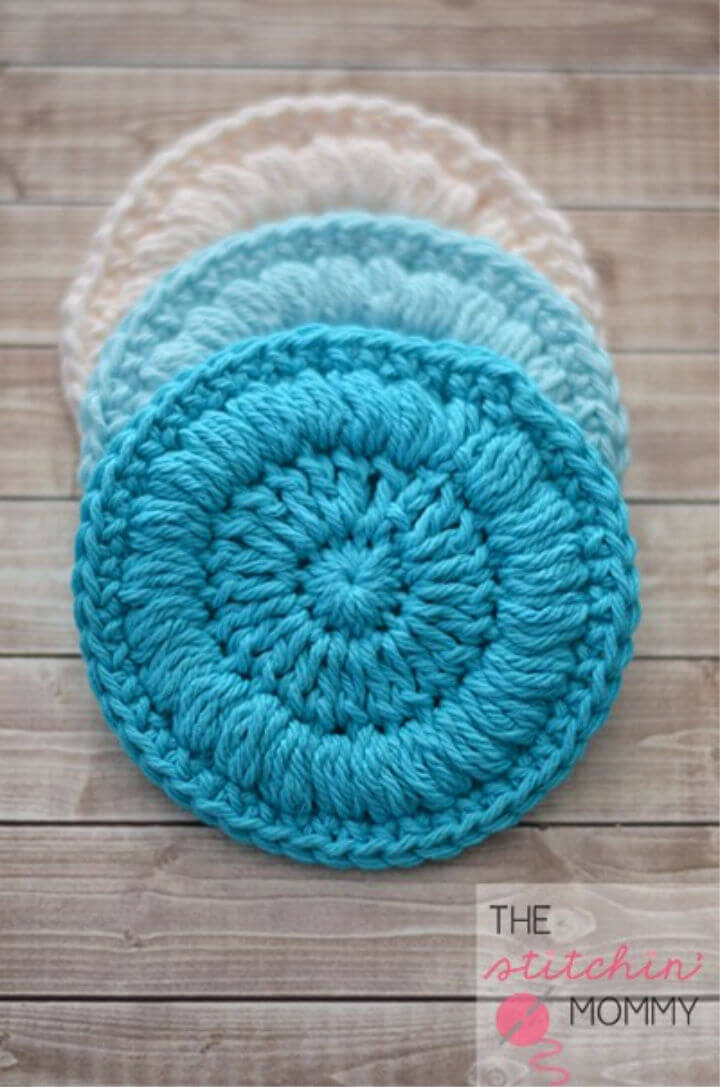 Save yourself some more money by crocheting up these adorable scrubbies in a bunch and use them nicely in your kitchen. Not only for your own self, but a pack of these crochet face scrubbies would be just perfect to use as a hostess gift too. The easy and quick pattern for the scrubbies here! thestitchinmom
10. Crochet Universal Yarn Citron Scarf Pattern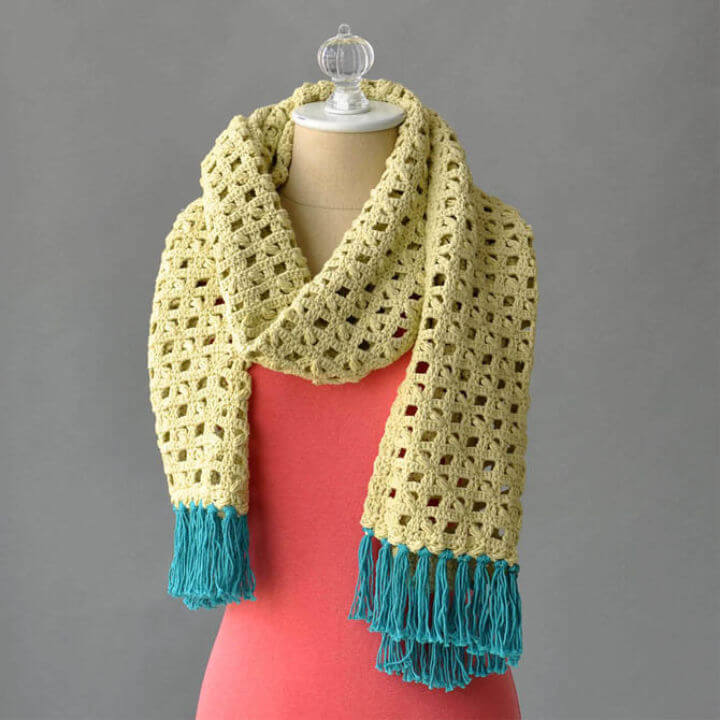 Here is another stylish scarf that you can easily crochet at home and bring some fun fashion being added to the summer wardrobe. The light textured and fringed scarf is just perfect for wrapping around your neck and charm up your summer dress up with. This lovely scarf would make a great gift idea, too so grab the details here! yarn
11. Fringe Clutch Crochet Gift Pattern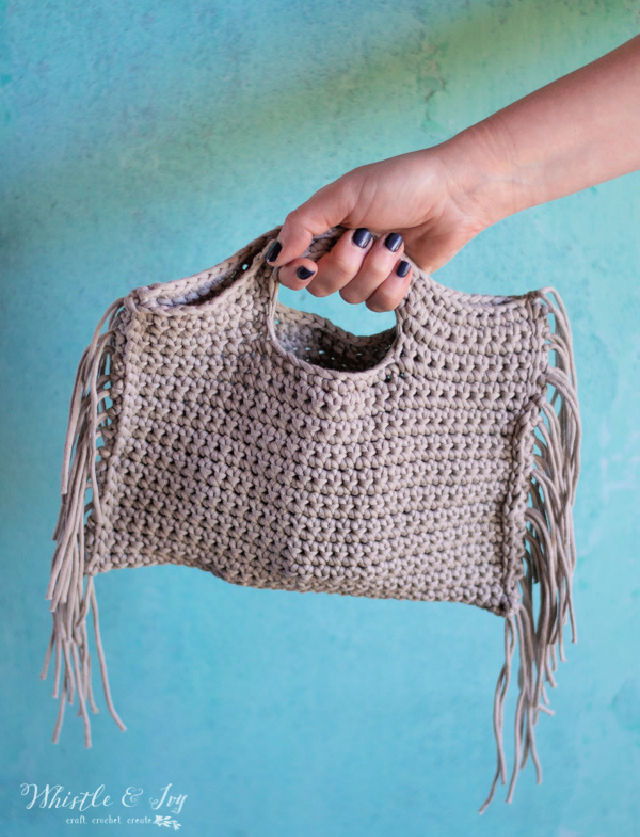 The girls are going to fall in love with this super cute and stylish crochet fringed clutch, and it's super easy to crochet yourself at home. The pouch has fringes all over and would look so pretty with jeans and a top look. You can use this cute crochet fringe clutch as the perfect gift for the girls around you! Free pattern here! whistleandivy
12. Crochet Mini Bow Hair Clip Pattern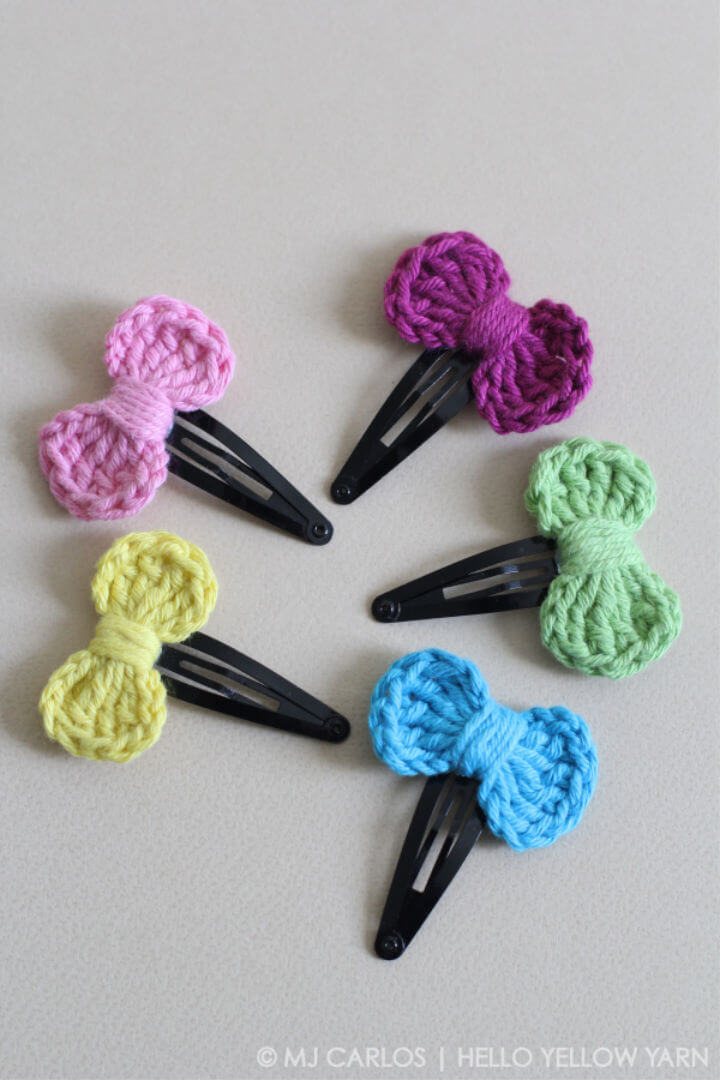 This bunch of colorful bow mini hair clips would be the perfect handmade gift for your little girls. They can match their clips with each of their dress and look so cute and stylish daily too. Learn to crochet up the cute bows right here on the link with a free pattern! helloyellowyarn
13. Easy Crochet Bow Headband – Free Pattern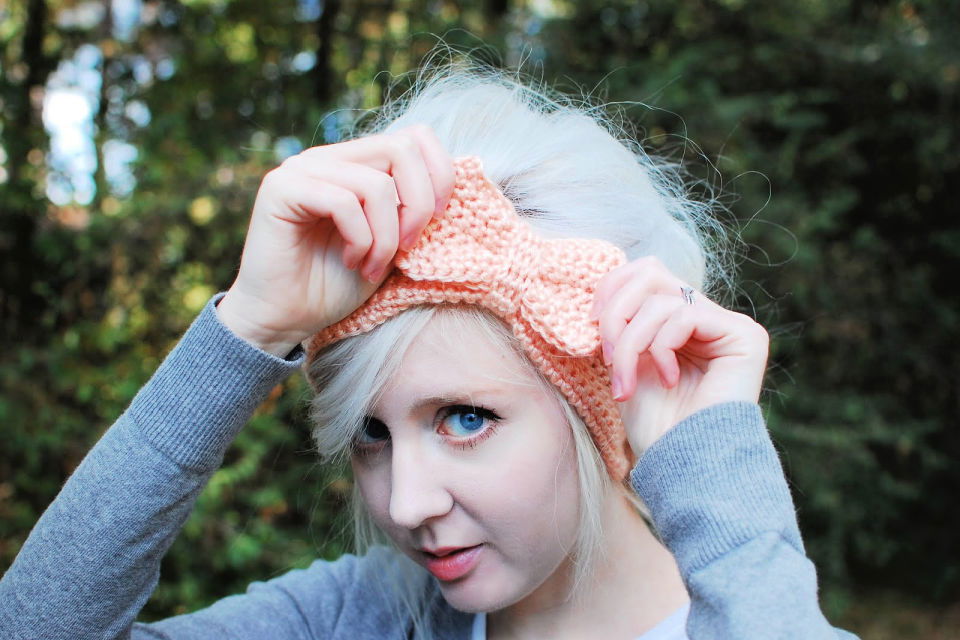 Summers are for fun hairdos and now you can add some fun charm and cuteness to your hairstyles, especially the hair buns with this easy crochet bow headband. You can make it in any of your favorite colors and the size and the free pattern is lying here! peopleweb
14. Crochet Popsicle Poncho Pattern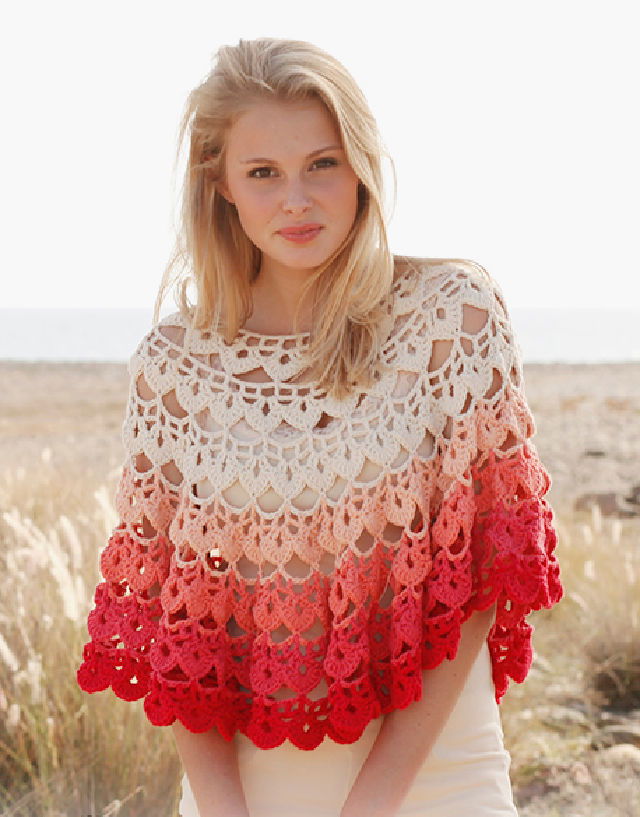 This awesome Popsicle crochet poncho is sure to turn any of your dresses for the summer to look super stylish and hot. The gorgeous and totally breezy pattern of this Popsicle poncho and the adorable colors really make it a whimsical piece and it can be passed on as a lovely gift too. Free pattern here! garnstudio
15. Patons Striped Crochet Tote Bag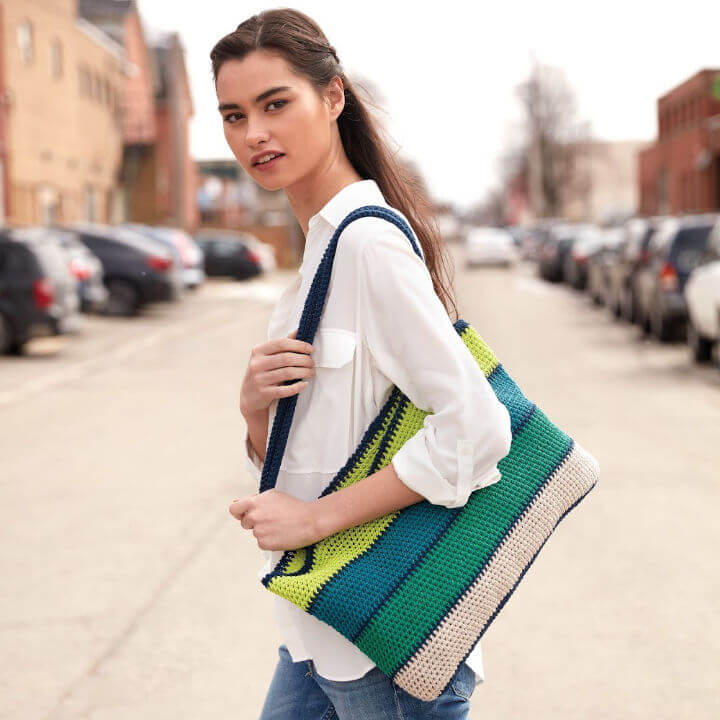 Our collection of crochet bags is just so not complete without a useful and catchy tote bag. You do not need to buy one as you can easily crochet up one at home using your favorite yarn hues. If you have some spare time you can make this tote bag for any of your favorite girls around to use as the perfect gift. Free pattern here! yarnspirations
16. Mulberry Shadow Pocket Scarf Crochet Pattern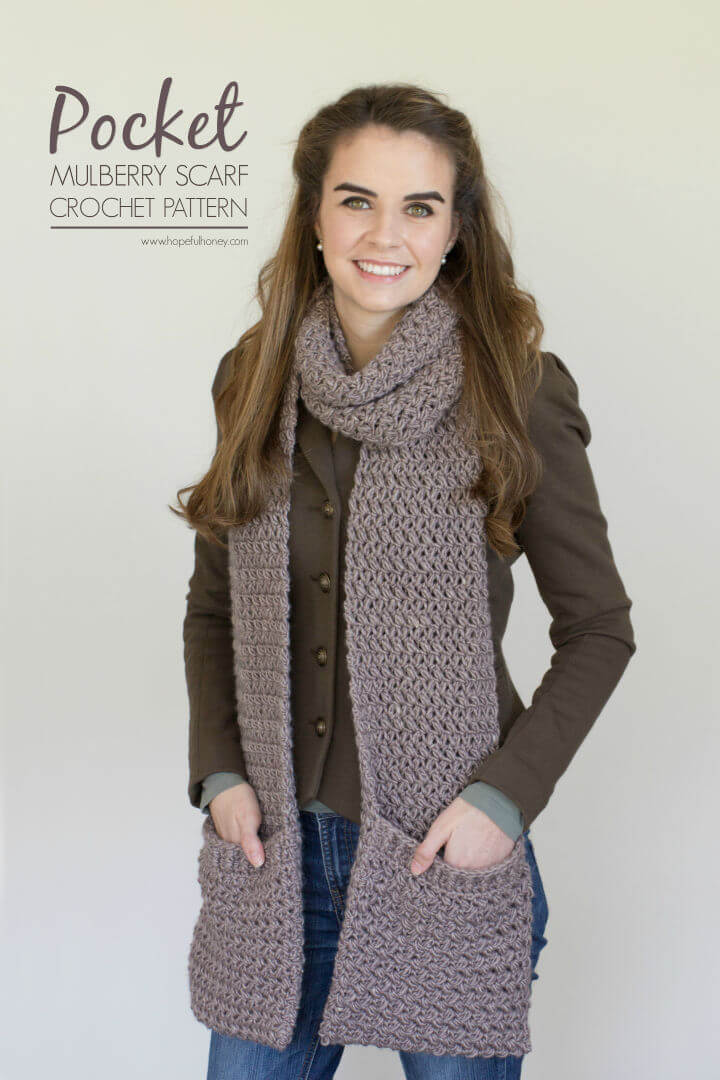 This thick textured and neatly done mulberry crochet shadow pocket scarf should be a part of your winter wardrobe. The Heavy yarn feel of the scarf makes it really cozy and warm and the pockets really add to the fun and easiness of the scarf and its lovely design. Follow the free pattern with details here! hopefulhoney
17. Crochet Chevron Zipper Pouch Gift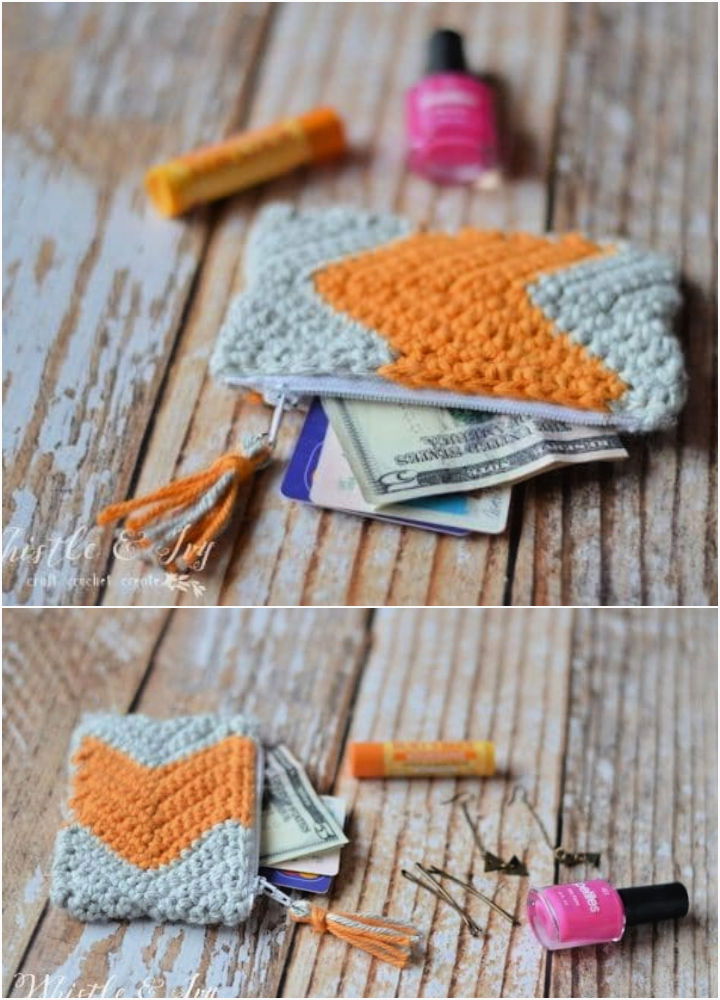 The combination of soft and subtle color and some bright hue really comes out great and this crochet chevron zipper is the proof. The gorgeous chevron lines in white and orange look just so catchy and cute and you can use this pouch as the perfect gift for your teen girls and they would love it. Get the free pattern here! whistleandivy
18. Simple Crochet Flower Hair Combs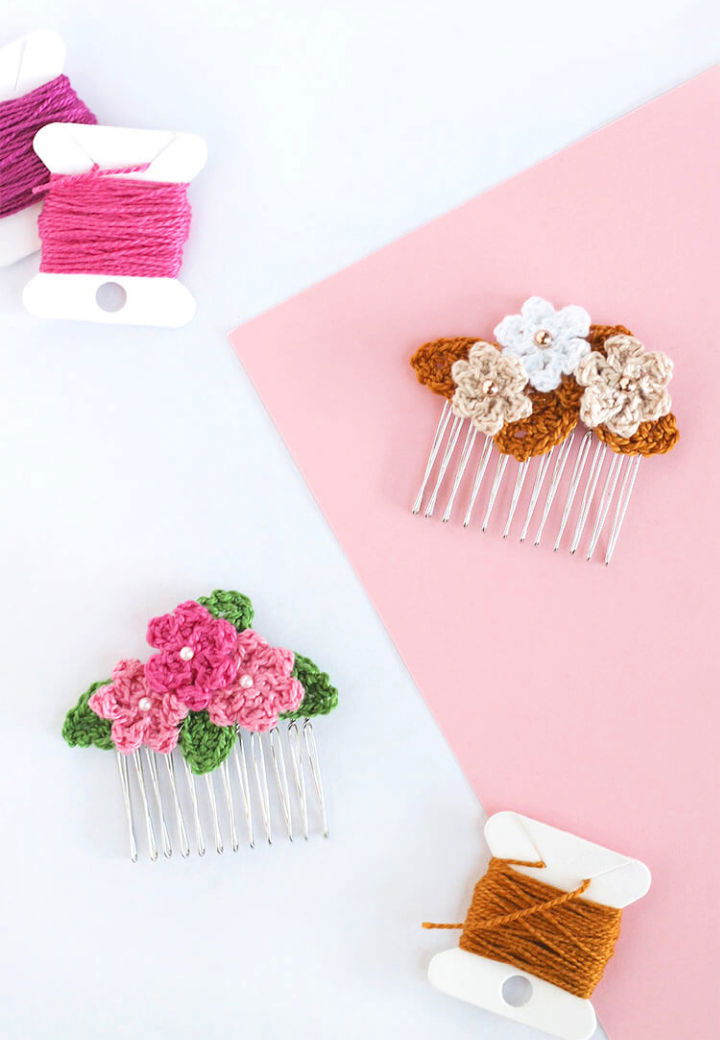 Make your simple plastic combs look just the stylish and gorgeous pieces of your dress-up accessories by just adding some crochet flowers to the hair combs. You can use any of your favorite color combinations of the yarn hues to get the custom favorite hair combs. Details and free pattern here! persialou
19. House or Dorm-Warming Crochet Pillow Pattern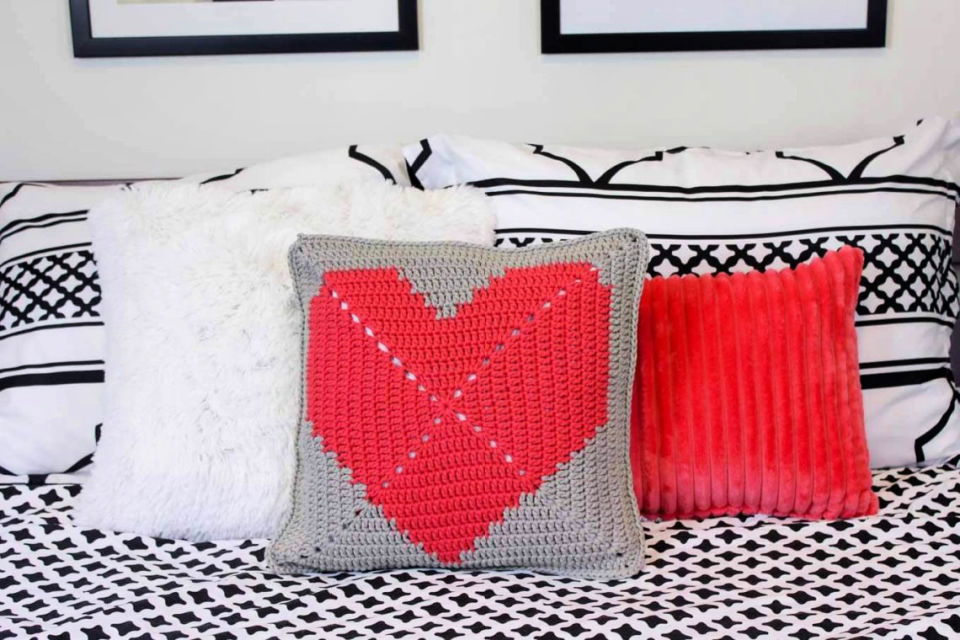 Bring some crochet charm to your bedroom decor too and this gorgeous piece of the crochet heart pillow is absolutely the right thing to get your crochet hooks on. On a soft and subtle base of the pillow a vibrant red heart has been crocheted and it looks just too adorable and cute. The free pattern of this gift-worthy crochet heart pillow is here! makeanddocrew
20. Free Crochet Mason Jar Gift Cozy Pattern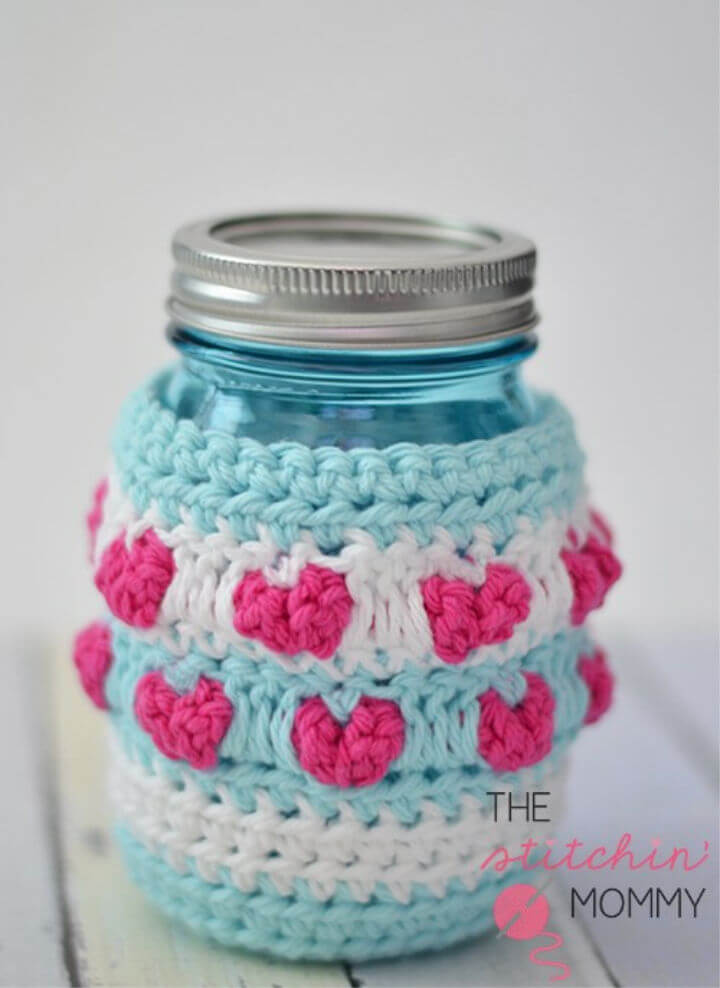 There are two things that really make this Mason jar gift cozy that much pretty and gorgeous. The first thing is the heart-melting color combination of the yarn and the second thing is the heart shapes being introduced in the pattern and that too with a bobble effect. Get the free pattern of this mason jar gift cozy here! thestitchinmom
21. Crochet Celtic Bottle Bag for Gift – Free Pattern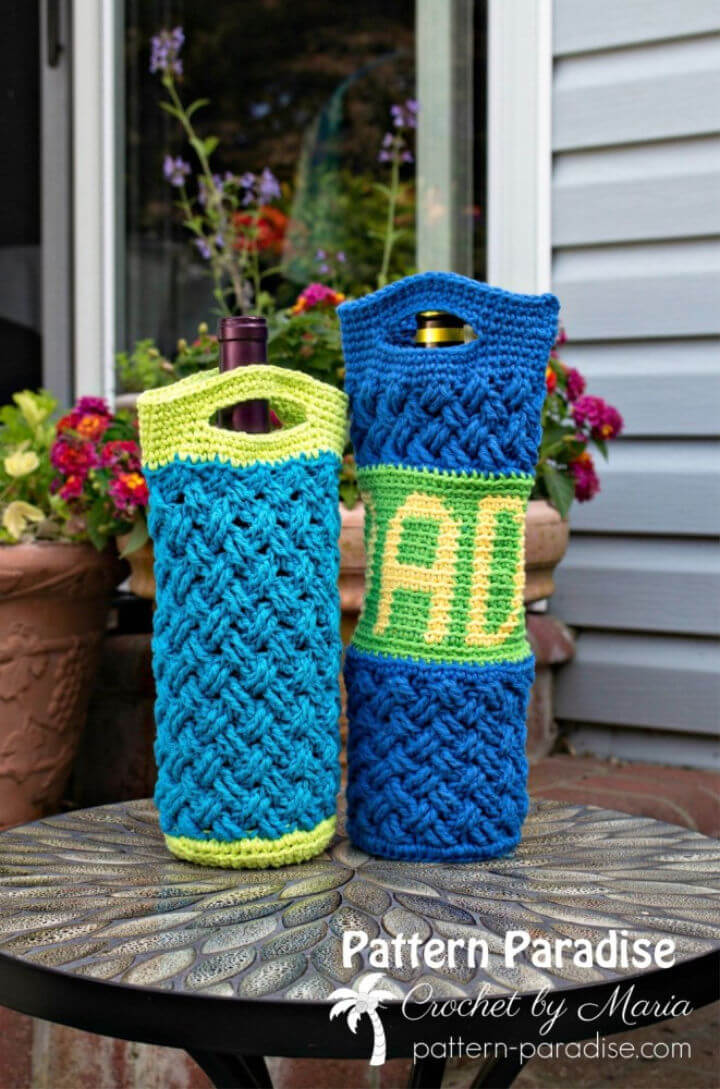 It's time to get your dads some nice and handmade gifts because father's day is approaching and this lovely crochet Celtic bottle bag is the best thing to make and gift. The gorgeous-looking bottle bag has been crocheted in a graphic pattern and that too using two colors and the results are just awesome. Get the free pattern for these wine bottle bags here! pattern paradise
22. Free Crochet Masquerade Mask Pattern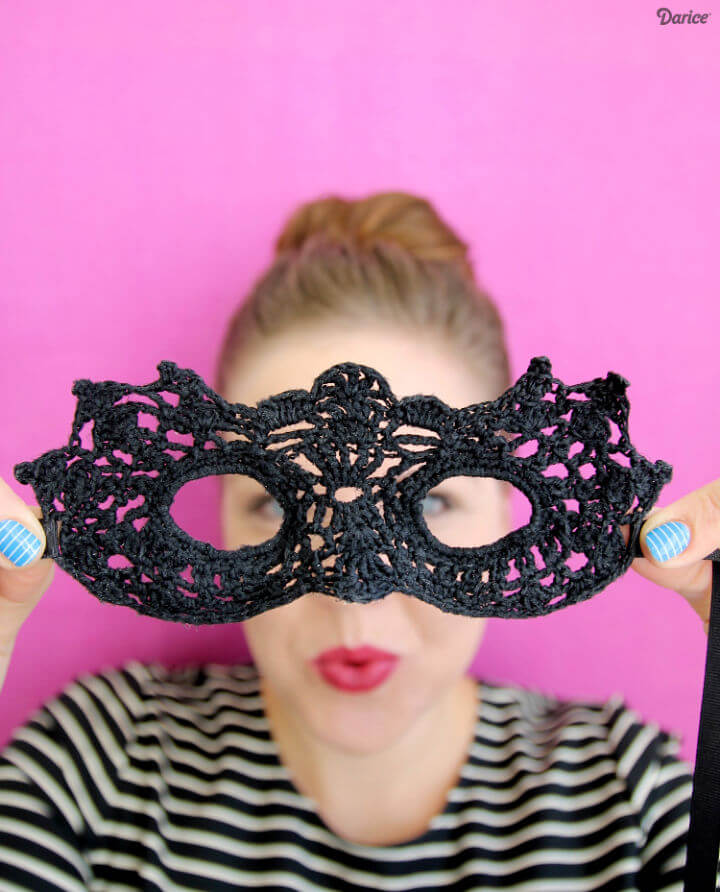 If your Halloween dress includes a masquerade mask then you can make it yourself instead of buying one from the market. Here we have brought to you this gorgeous and intricately crocheted masquerade mask in black to let you rock your Halloween look. Free pattern for the masquerade is given here! darice
23. Chunky Fingerless Gloves – Free Crochet Pattern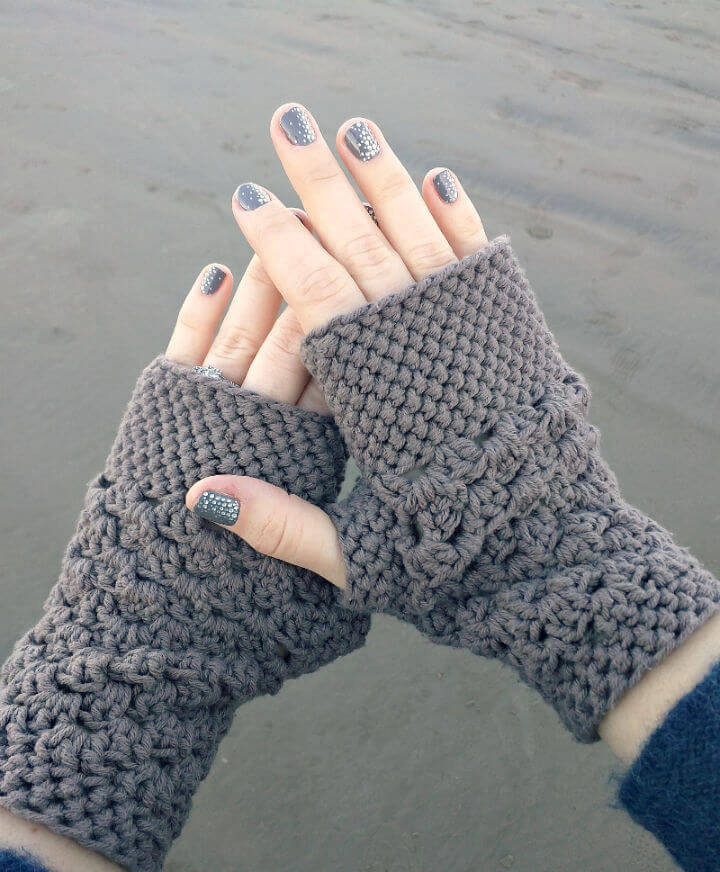 Add more comfort and warmth to your winter dress up with these adorable and super stylish chunky fingerless gloves. Use any of the dark-hued yarn while you are crocheting up these fingerless gloves for the winters. A pair of these chunky fingerless gloves would make a great gift idea too. Free pattern here! domestic
24. Crochet Copacabana Espadrilles Gift Pattern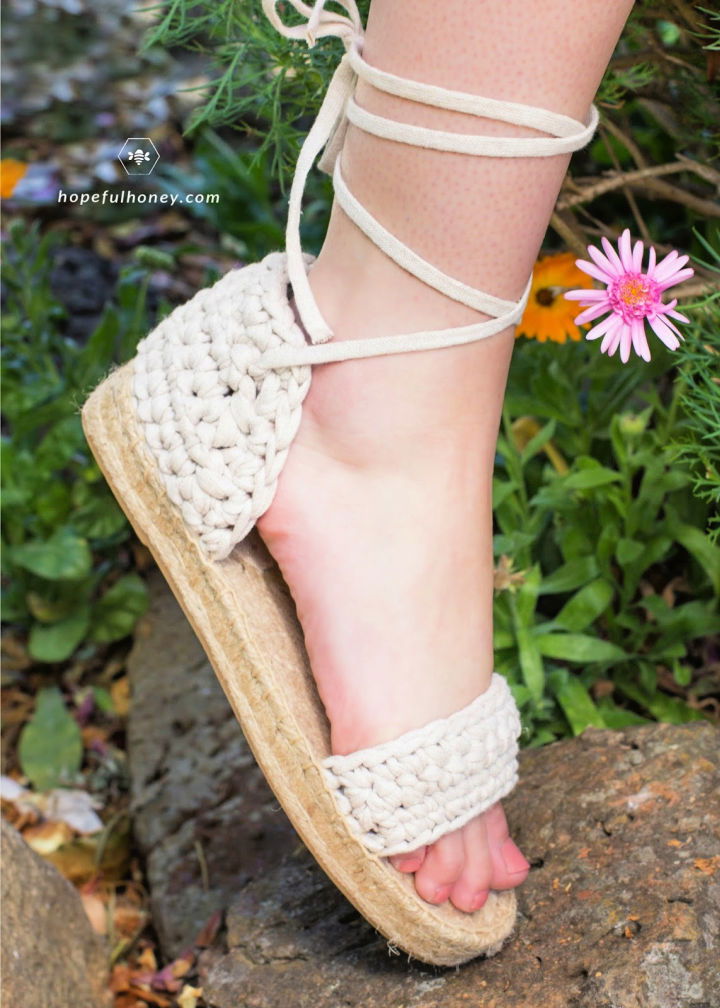 We love summers for letting us wear those comfy, cute, and stylish pairs of sandals with our cotton dresses. Here is this simplest and most elegant style of crochet Copacabana espadrilles that would look just so adorable with your shorts, tops, and tanks. Catch out the easy and free pattern of the sandals here! hopefulhoney
25. Crochet Fish Scrubbie Washcloths for Gift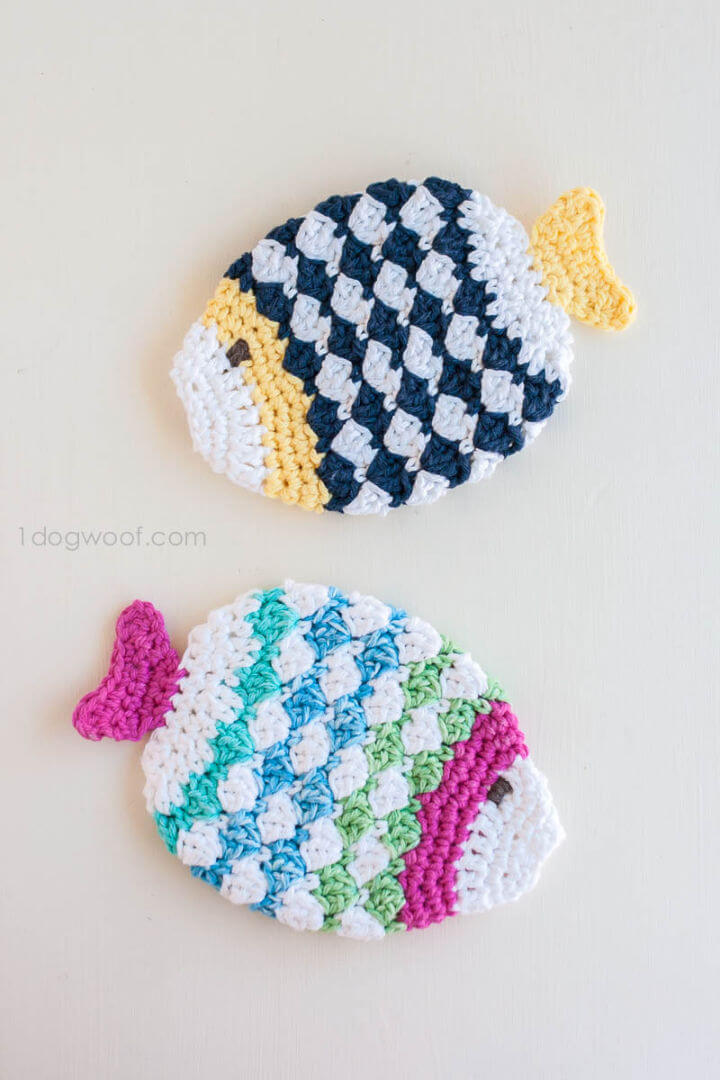 These gorgeous and colorful crochet fish are not the crochet toys for the babies or the piece of decor but the gorgeous yet useful pieces of the scrubbies to use in the kitchen. A pair of these lovely fish scrubbies would definitely make a perfect hostess gift too. Grab the details of the idea here! 1dogwoof
Conclusion:
There are so many great crochet gift ideas out there, that it's hard to know where to start! If you're looking for some crochet gifts inspiration for your next crochet project, check out this list of 25 easy crochet gifts. From cozy scarves and hats to cute home decor items and plush toys, there's something for everyone on your list. So grab your hooks and get started on one of these fun and cute crochet projects today!