DIY anniversary gifts are a great way to show your significant other that you put in the extra effort just for them. From homemade puzzles to personalized wall art and decorations, there are DIY anniversary gifts for every style and taste. Plus, making your gift instead of buying one guarantees it will be unique and special, creating memories that will last long past the celebrations. Creating something meaningful together with your partner also helps to strengthen your relationship and can add some extra sparkle to the occasion. Find these 20 homemade DIY anniversary gifts for both him or her so everyone can find something perfect for the special day. All these homemade anniversary gifts include easy-to-follow tutorials and step by step instructions.
You can't miss out on the romantic factor when making special diy anniversary gifts for newly married couples or your own wedding anniversary! You can think a little before starting your project to bring the love vibes to your finally finished gift. If you need to get all the hacks then just explore these 20 cute DIY anniversary gifts for him or her that are sure to please your love! What is special in these diy anniversary gift ideas is that they are sure to impress your lover, hubby or wife! All these handmade anniversary gifts are sure to be romantic, and they are all well thought one!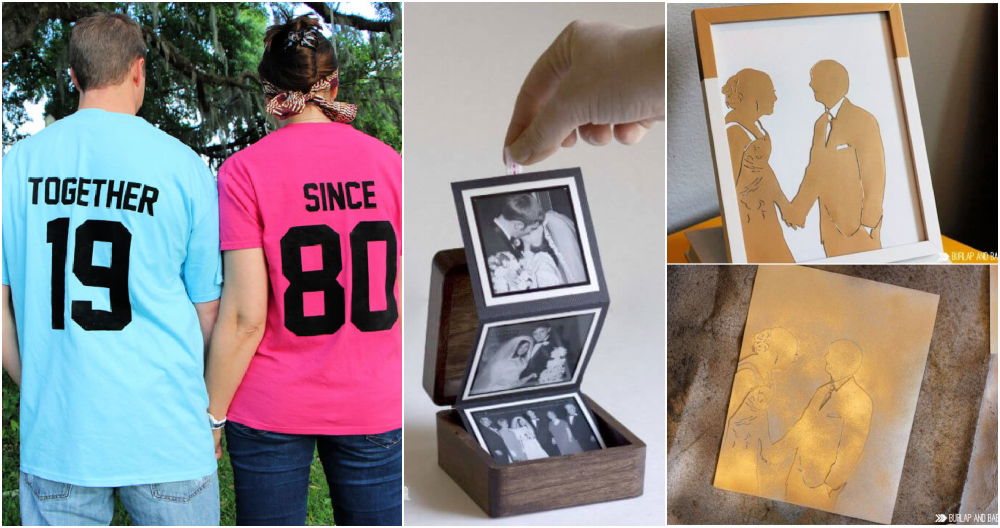 Homemade DIY Anniversary Gifts for Him or Her
Make love quoted and stamped keychains for him, it will speak for your never-ending love for him. Also, please your hubby by creating a travel photo album, it will make a great keepsake for sure! Please your wife or hubby by making message-in-a-bottle gifts, which will be super easy and quick to make. Also, your scrapbooking art to make wedding anniversary scrapbook gifts that will be loved dearly by your love for sure! See the entire list to check out all diy anniversary gift ideas and grab full free tutorials!
1. DIY Stamped Textured Keychain Anniversary Gift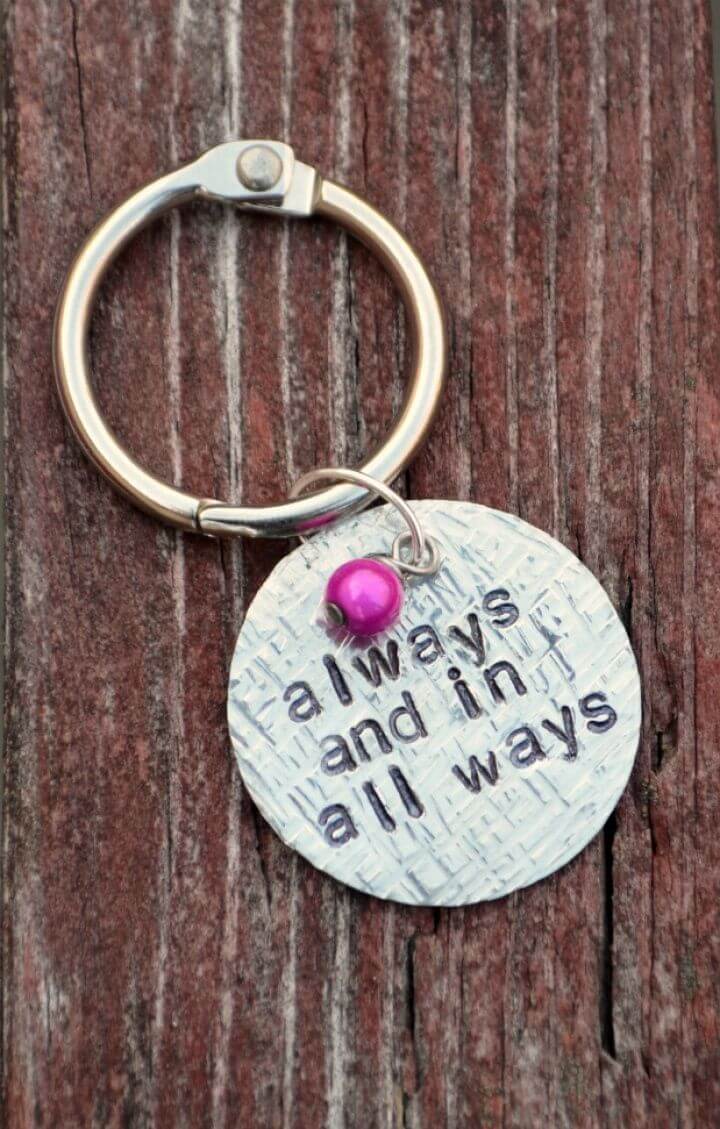 Please your hubby with this sweet handmade gift, a stamped textured keychain, comes with lovely stamped love quotes. Use the metal stamping tools and kit to stamp custom words on a blank Alkeme circle and next add it up with a keyring by punching a hole. Complete tutorial here amylattacreations
2. Homemade Travel Album Anniversary Gift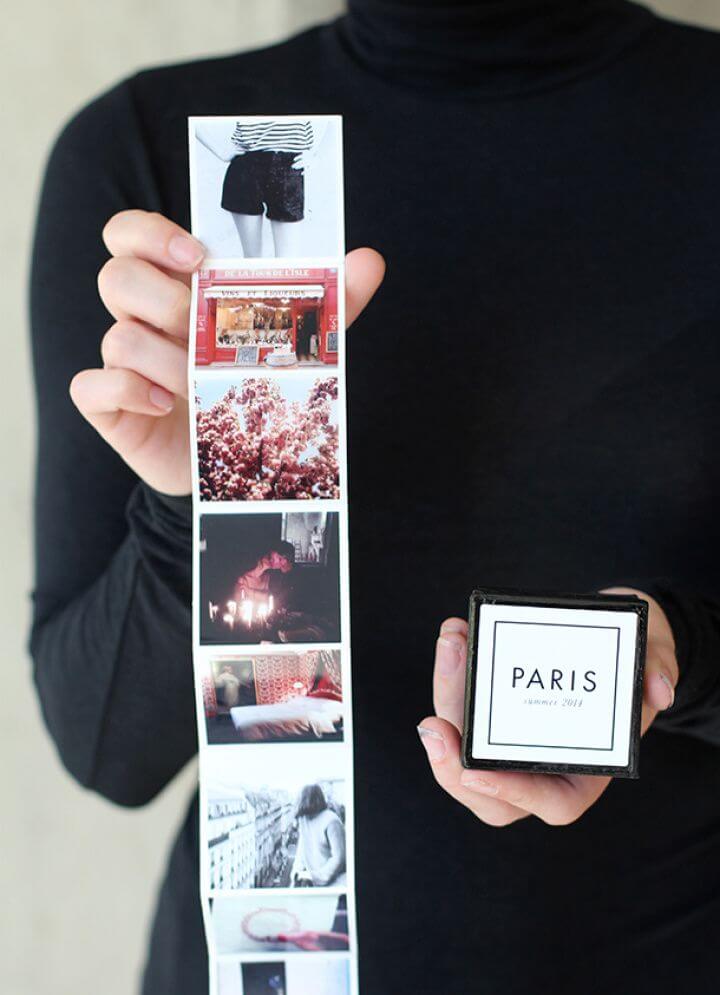 The best sweet memory gift to give at this anniversary to your wife/hubby. The tiny travel album in a box gift, is quite easy and inexpensive to make but will get more love of your beloved one for you. Just make an album of photos by combining the life event photos, next fold them as a book and enclose in a mini box. How-to details here camillestyles
3. Homemade Anniversary Date Driftwood Sign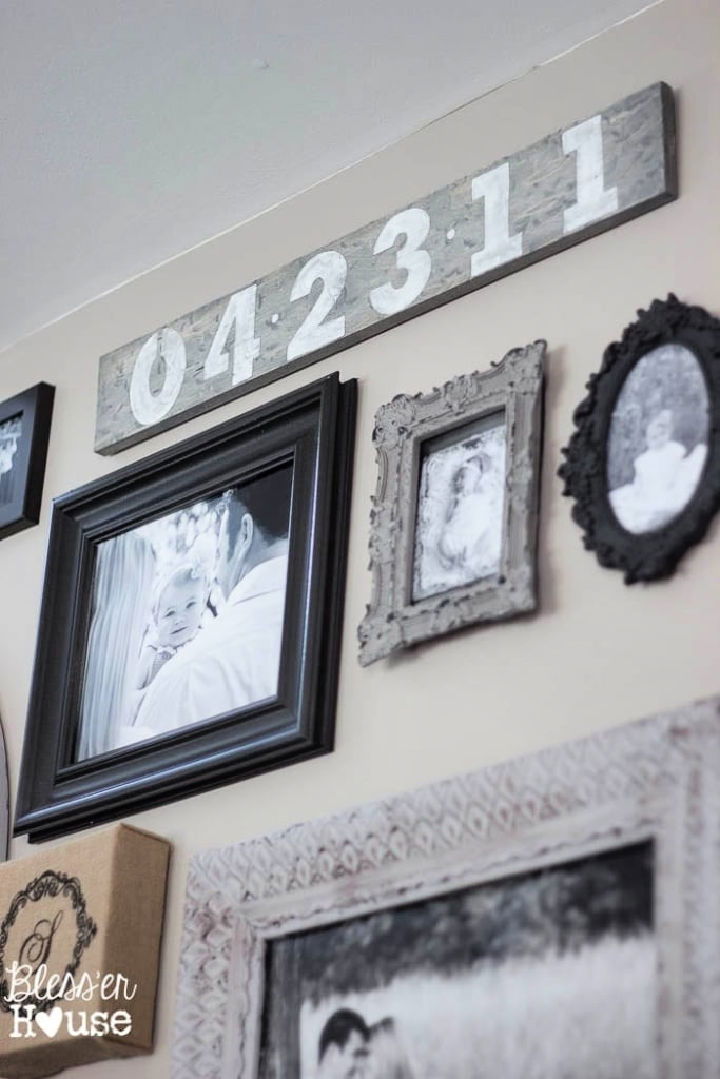 If you want to keep an eye on the lucky day of your wedding every day then do make this anniversary date driftwood sign. One more brilliant anniversary gift to build with a single wood slat. Use paint and number stencil for painting the date. Full tutorial here blesserhouse
4. Easy DIY Wedding Picture Silhouette Gift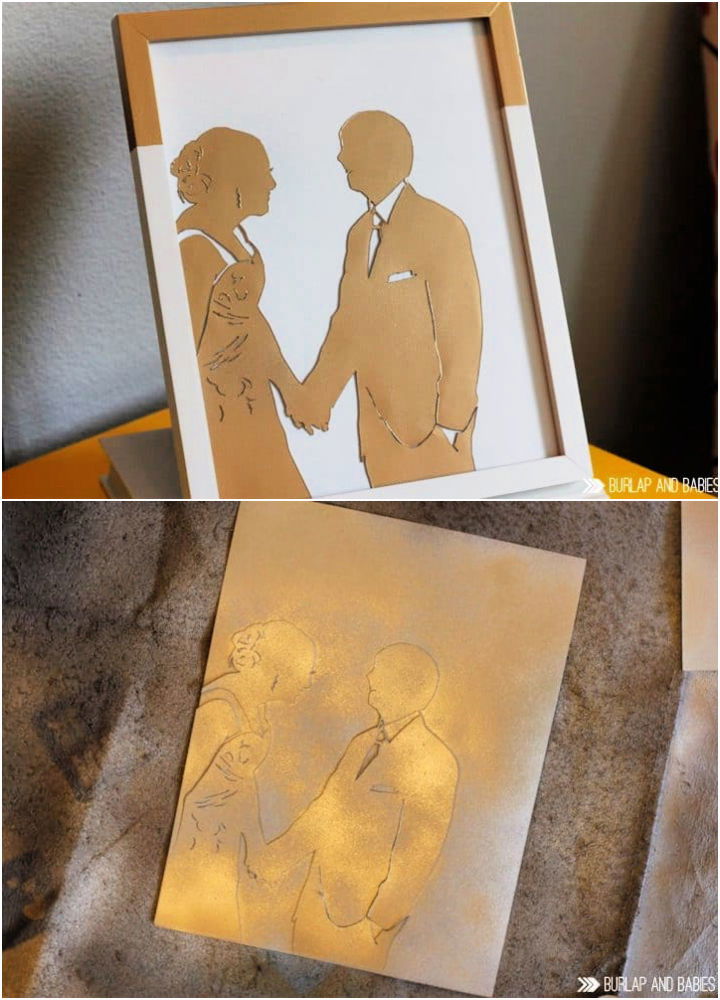 If you are a man of traditions then here is a traditional anniversary gift idea. Make use of silhouette machine, picture frame and paint to make this wedding picture silhouette. A sweet gift to give to your hubby or to any newly married couple. Here is how to make it acraftedpassion
5. Create Tiny Message-photo in a Bottle Anniversary Gift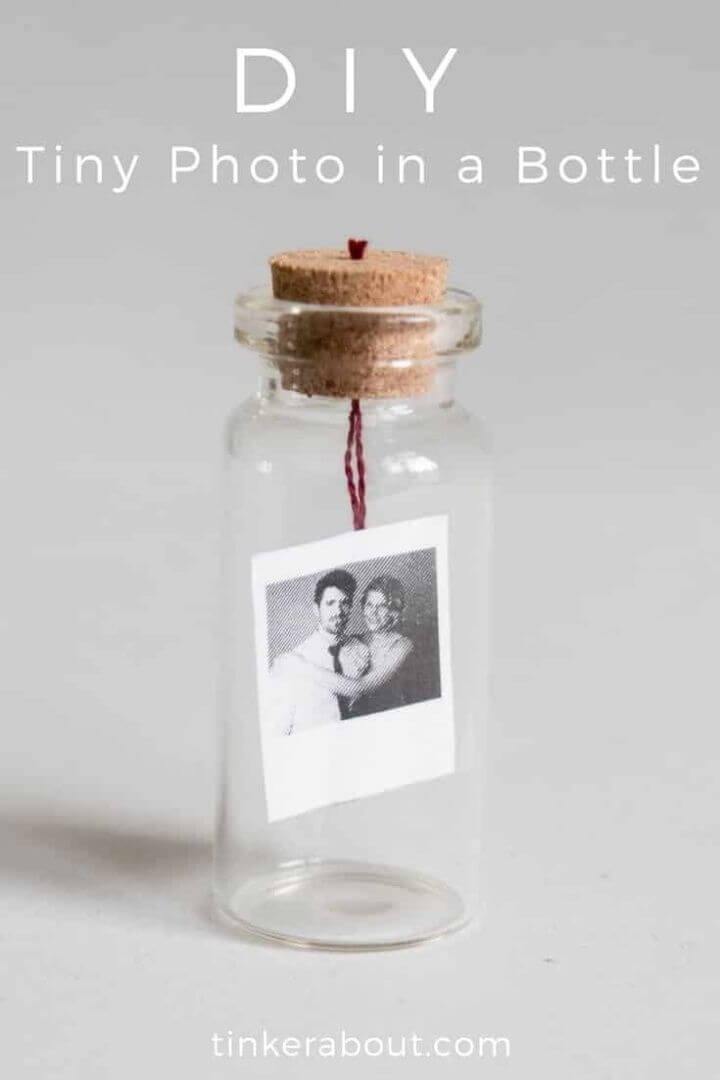 Produce also fantastic and cute mini wedding gifts using recycled materials like the mini glass bottles. Use twine and hang message-photos in them and make sweet tiny gifts out of them for the anniversary. Look at the given decent sample, has a cork stuck in the opening. Complete how-to guides here tinkerabout
6. DIY One Year Anniversary Scrapbook Gift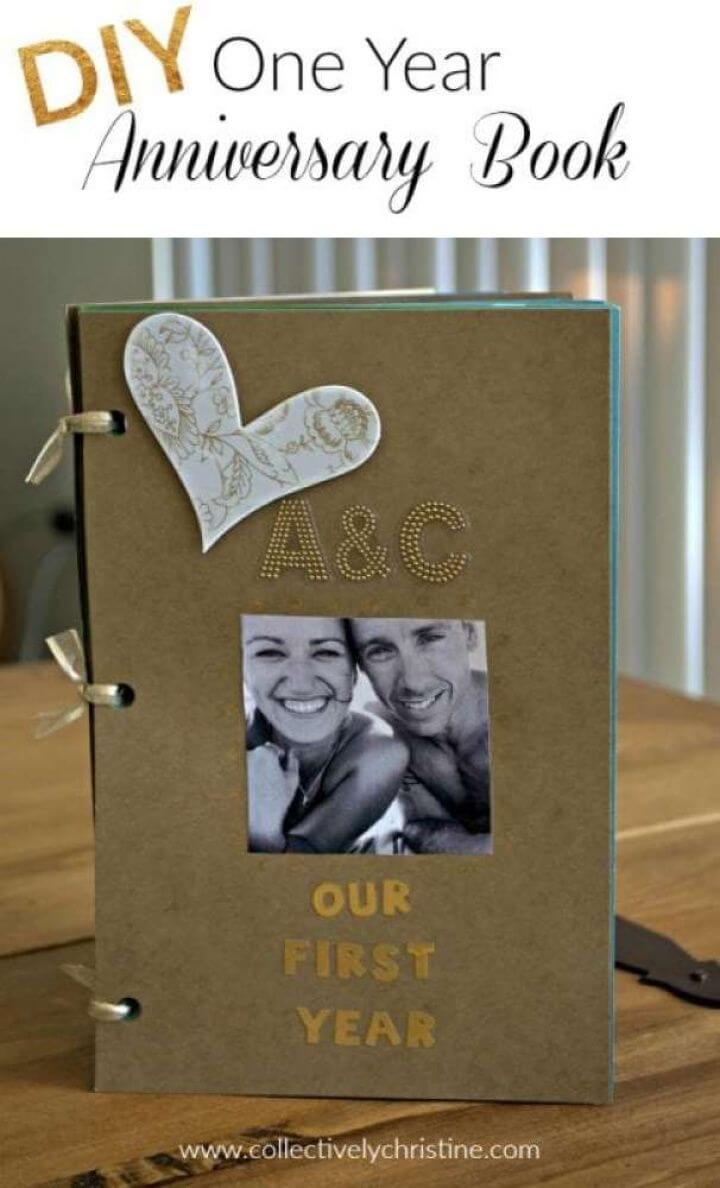 Celebrate one year of an anniversary by making this scrapbook, another sweet anniversary gift idea. Make a scrapbook of all the past year events and celebrate the one year journey of your wedding. This book comes with a couple of photo front cover and a heart symbol bring big romantic value to it. Full tutorial here collectivelychri
7. Handmade Conversation Heart Macarons – Gift for Anniversary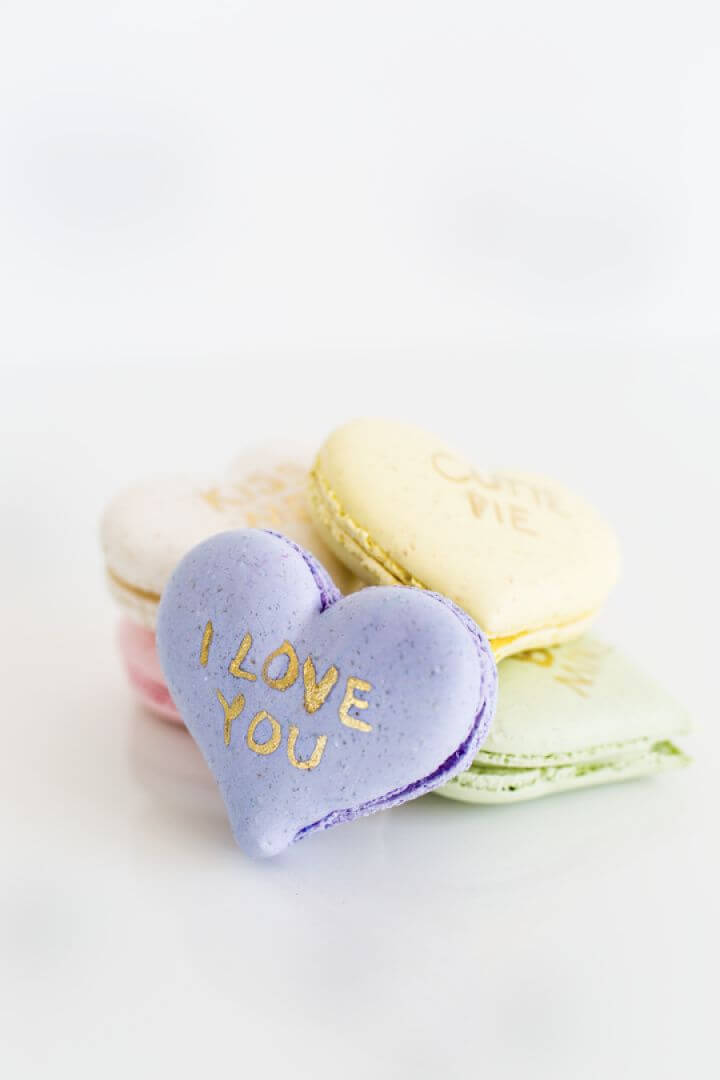 Make also epic treat anniversary gifts that can be eaten for a boosted fun of the celebration. Make these conversation heart macarons, having custom love quotes and messages written over them. The sweetest treat gifts ever to make for an anniversary, the conversation heart macarons. Tutorial here sugarandcloth
8. DIY Together Since" T-Shirts Anniversary Gift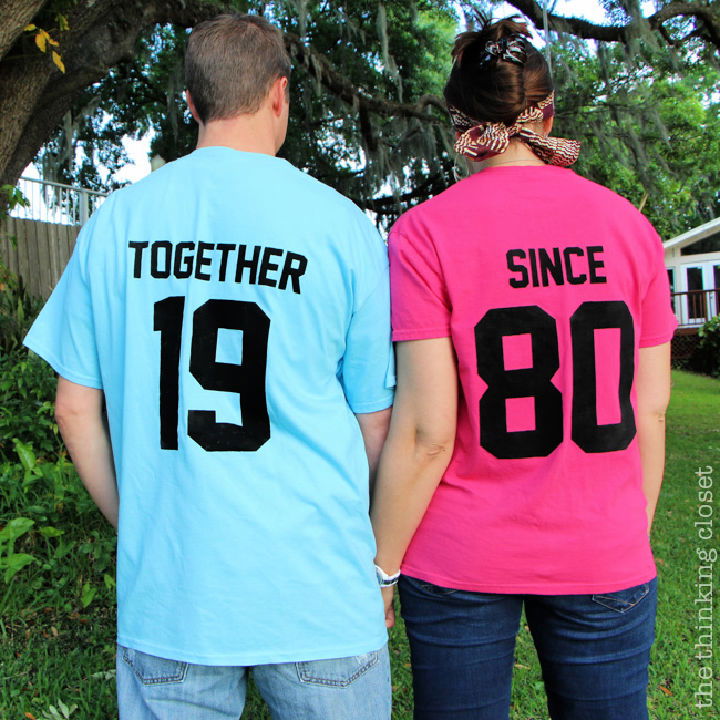 Make also epic treat anniversary gifts that can be eaten for a boosted fun of the celebration. Make these conversation heart macarons, having custom love quotes and messages written over them. The sweetest treat gifts ever to make for an anniversary, the conversation heart macarons. Tutorial here thinkingcloset
9. Make Your Own "Today I Have Loved You For" Card
Build also stronger love bonds between you and your hubby or wife by making these lovely t-shirts. They show "Together Since Date" and will be the best anniversary gift to make at home. Make your number and letter stencils and use paint to stencil your t-shirts with them. How-to tutorial here somethingturquoise
10. How to Make Glitter Love Sign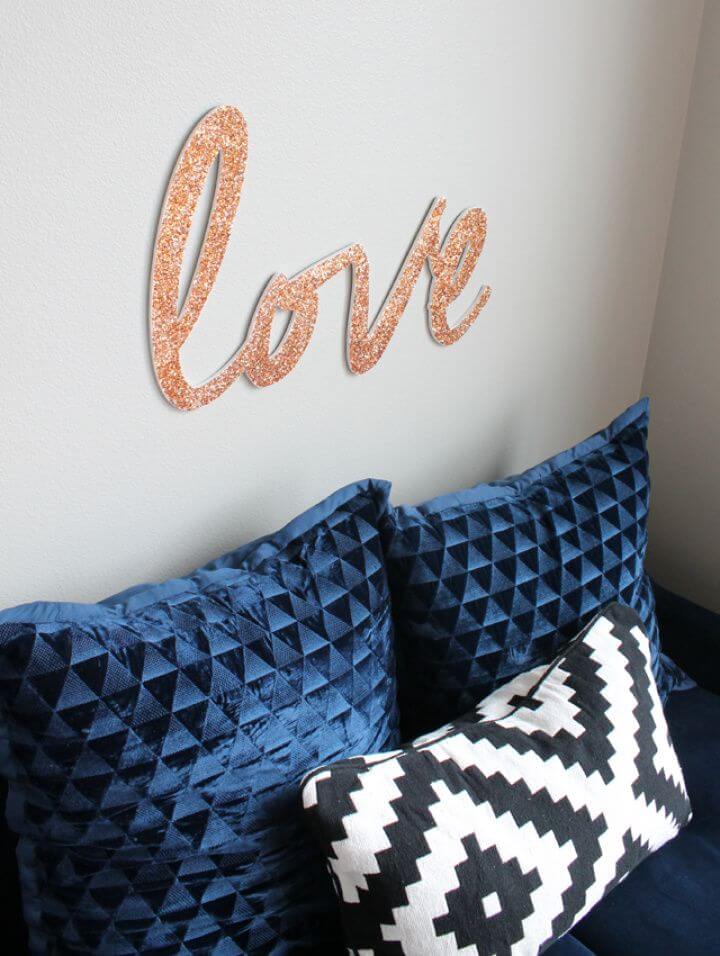 Want to give some epic gifts on the anniversary that will express openly your love for your better half? Then nothing will work great but this brilliant "Today I Have Loved You" card that clearly the mentions the wedding date too. A cute and cool gift to make at home for the upcoming anniversary. Full how-to guides here sisterssuitcase
11. Cheap DIY Pop-up Photo Box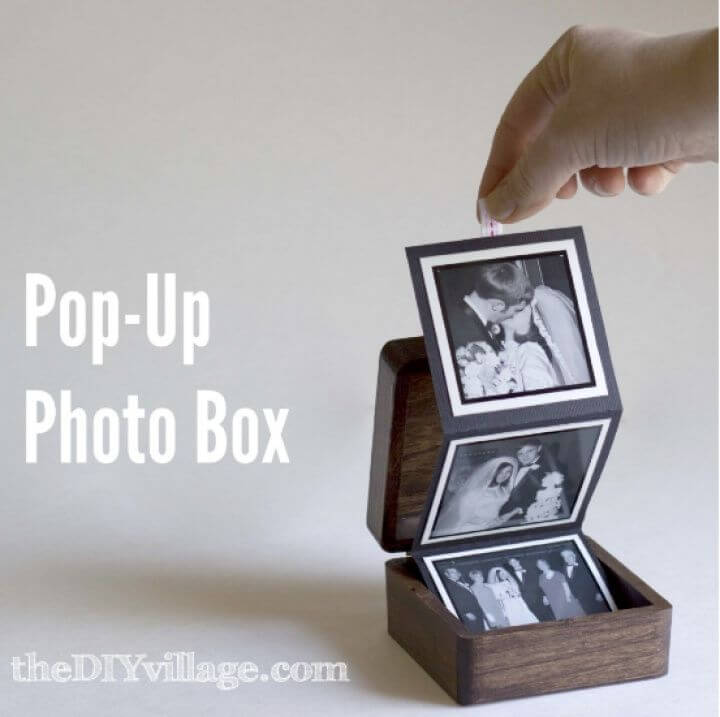 This anniversary gift should definitely be added in the bedroom, the glitter love sign, a symbol of couple togetherness and is something describing your love more. Grab an unfinished wooden love sign, give a paint base coat to it and next make use of mod-podge and glitter to fancy it up. Full tutorial here thediyvillage
12. Cute DIY Copper and White Succulent Planters Anniversary Gifts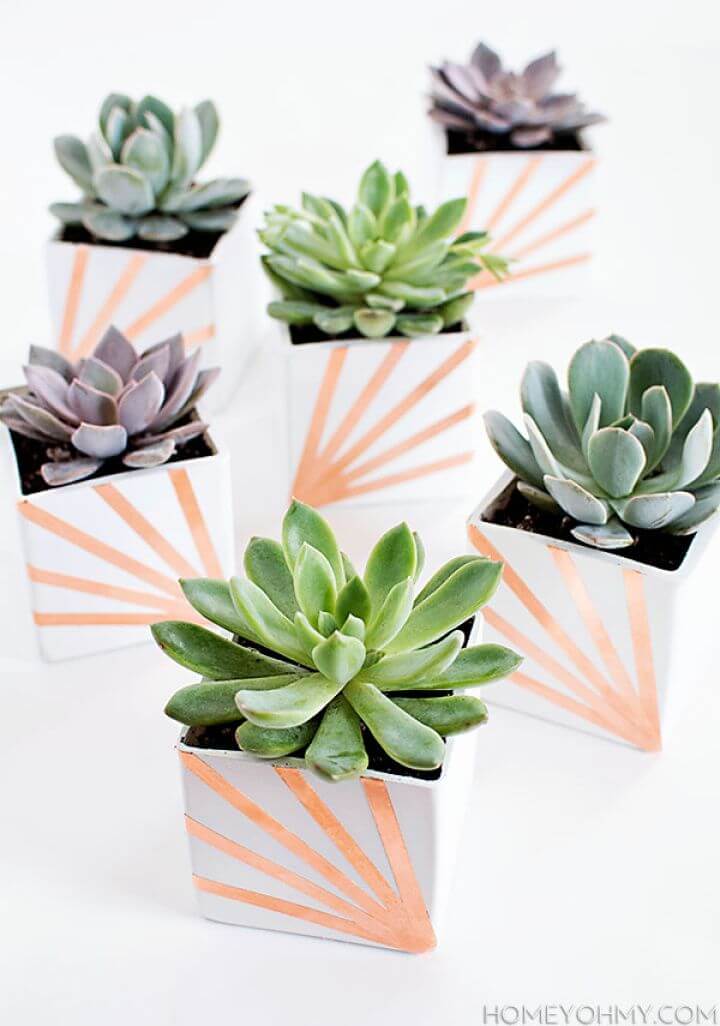 Make a folding album of your wedding photos and save them nicely in a mini decorative box. Make the smart connection of photo album to the box lid, so photos will be pop-pup when the receiver will open the box. A one of the smartest anniversary gift to make in no time. Full tutorial here homeyohmy
13. How to Make Chocolate Bouquet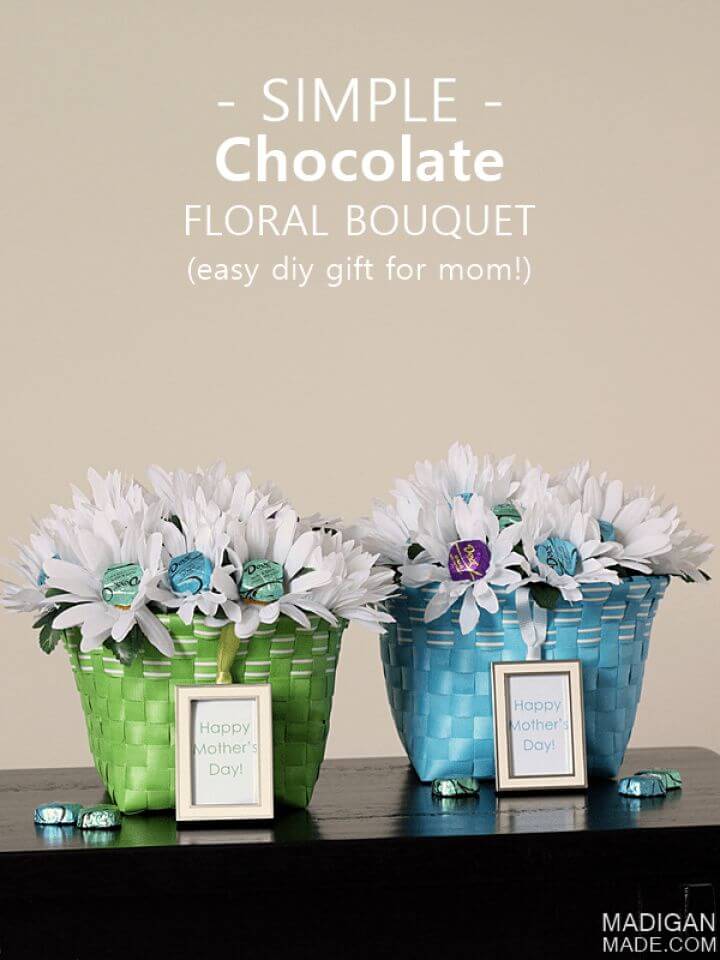 Make your anniversary evergreen with these green succulent gifts, the copper and white succulent planters. Grab the square glass vases and plant your succulents in them, spray paint them in white and next adorn with copper foil strips. Full tutorial here rosyscription
14. Beautiful DIY Lace Vase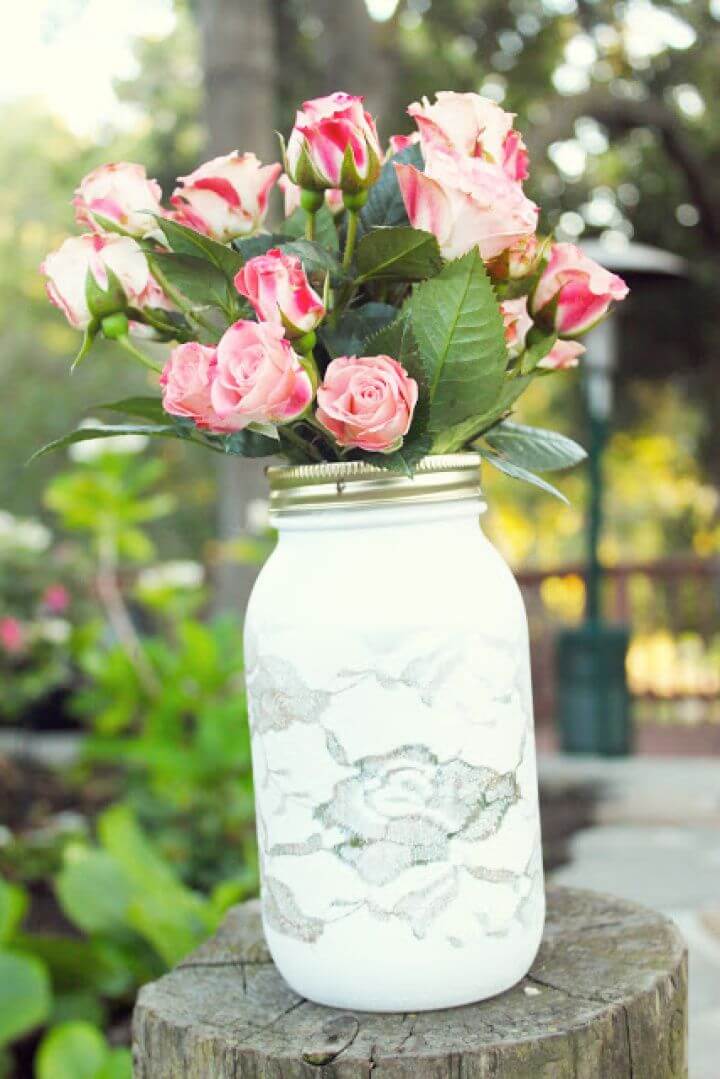 Nothing would "I LOVE YOU" more beautifully but this beautiful Mason jar handmade vase, it is truly a divine gift to give on an anniversary. Wrap lace around a recycled Mason jar, paint it in white for a brilliant lace pattern, next put a candle inside or cut flowers. A lovely flower bouquet, perfect to give on any Memorial Day too along with on an anniversary. Full how-to guides here michaelanoelledesigns
15. Make Instagram Photo Box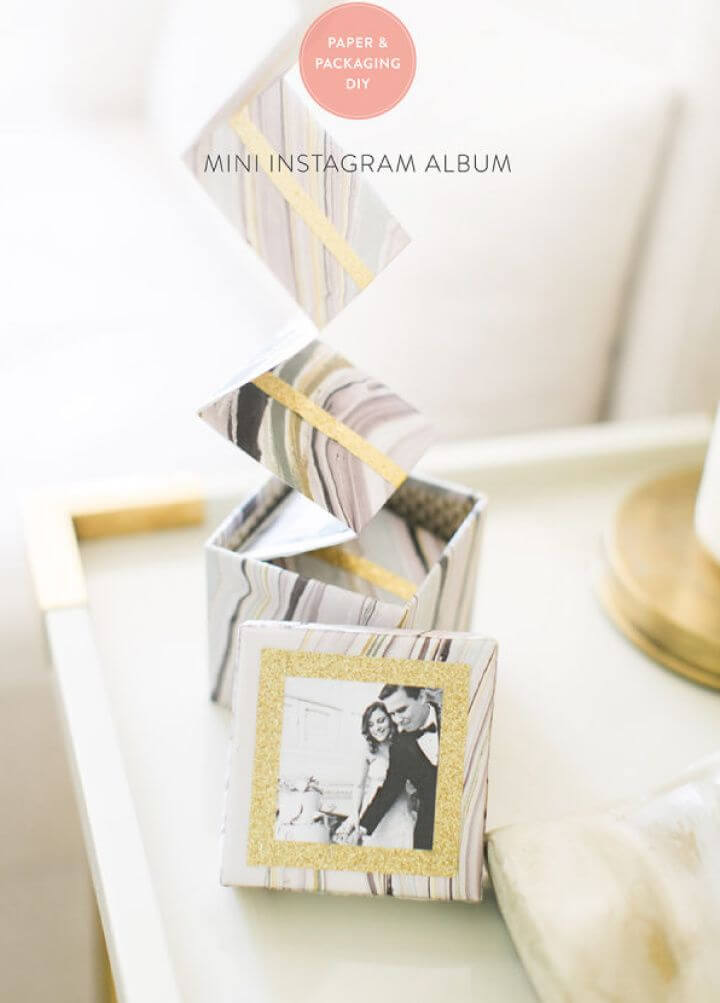 This is the age of social media, so do bring a touch of it to your decided anniversary gifts for getting them more impactful. If you are going to make a photo box gift for anniversary then making it like this Instagram photo box is recommended. Grab a box, decorative paper, glitter paper, some string, glue and of course your favorite photos to make it. How-to details here stylemepretty
16. DIY Photo Cube Anniversary Gift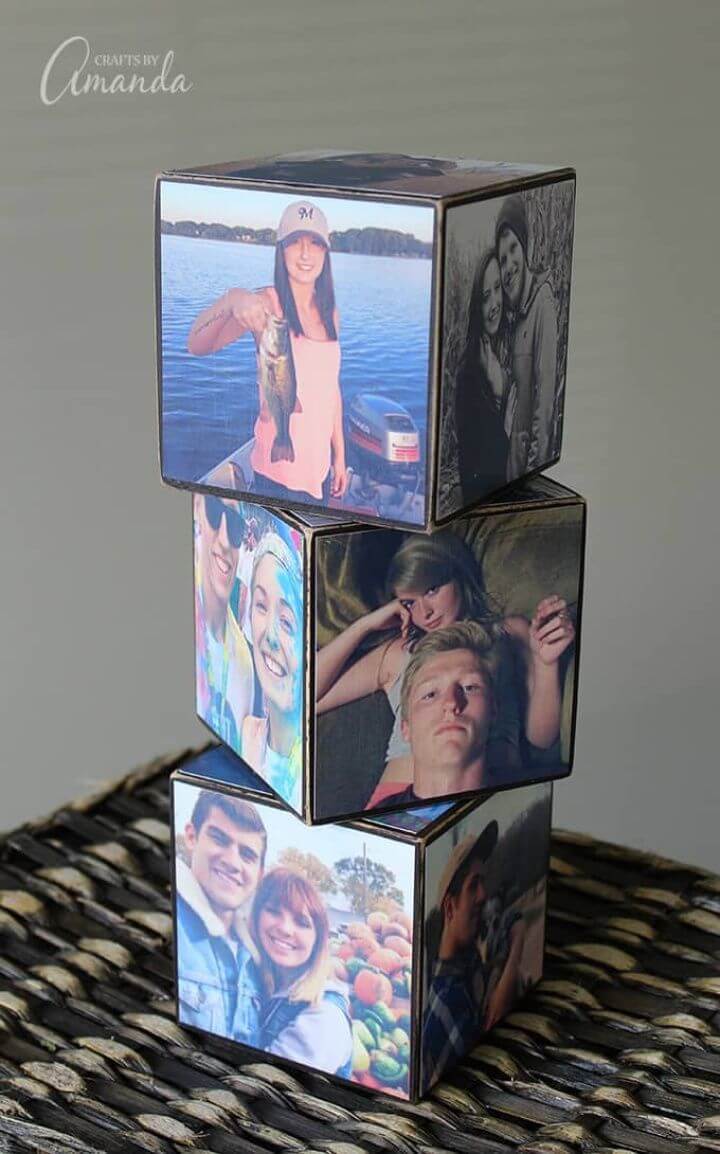 The solid wood cubes can be your next inspirations for producing epic anniversary gifts. Cut your favorite photos to size, adhere them on all sides of cubes and your anniversary photo gifts are ready to impress. This handsome anniversary gift will cost you next to nothing. How-to tutorial here craftsbyamanda
17. Simple DIY His and Her Mugs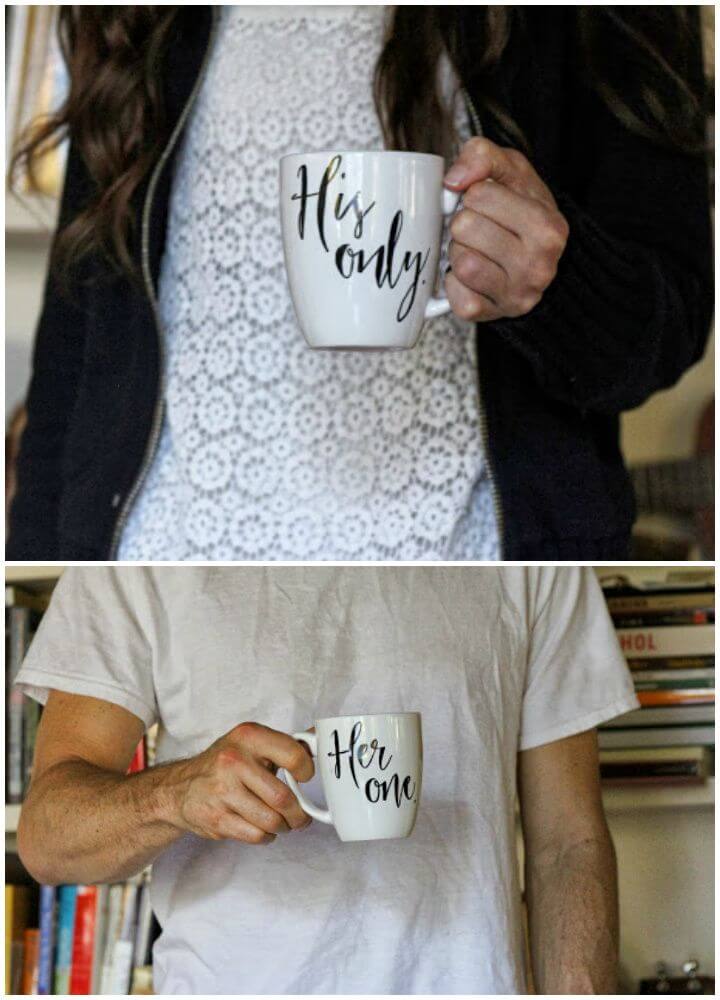 All the hubbies and wives are definitely going to love these gifts, his and her mugs will be a reminder of your love at every time taking coffee. Use a template to trace the letter and next fill them using permanent markers. Give also an oven bake to turn the sharpie letters into a permanent print. Full how-to guides here dreamstateinsp
18. How to Make Spoon Ring Anniversary Gift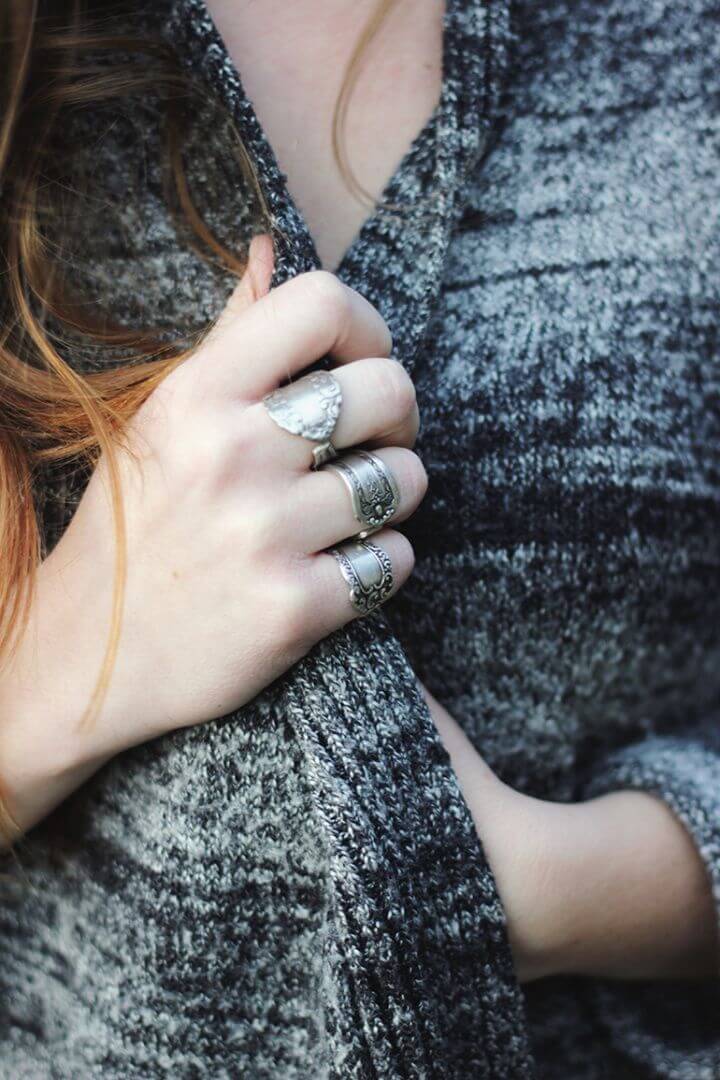 This is something really cool to make for an anniversary gift, the brilliantly beautiful metallic rings made of metal spoons. Grab the spoon with artistic swirls and patterns all around the sides, next cut its handle to side and bend round to shape up a ring. Complete how-to guides and tutorial here themerrythought
19. DIY Candle Carved with Initials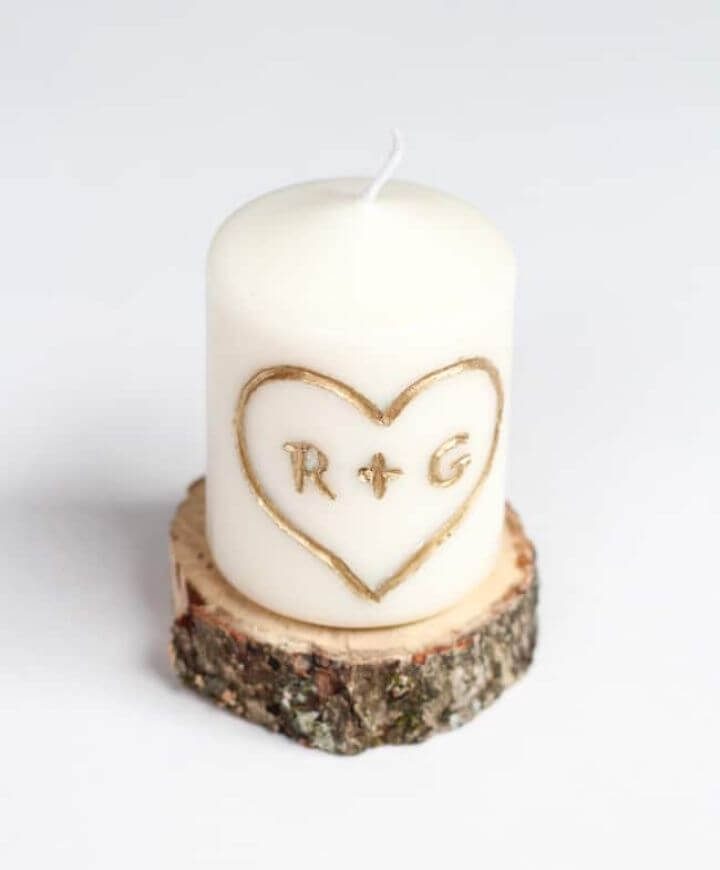 One of the most cutest, cheapest and romantic type of gifts to make for a newly married couple. The candle carved with initials, made of a pillar candle embroidered for a heart shape enclosing name letter initials. Use a linoleum tool to carve your art in place and then make use of gold leaf to get your carved out art gilded. Full how-to instructions here helloglow
20. Creative Glitter Shaker Card Anniversary Gift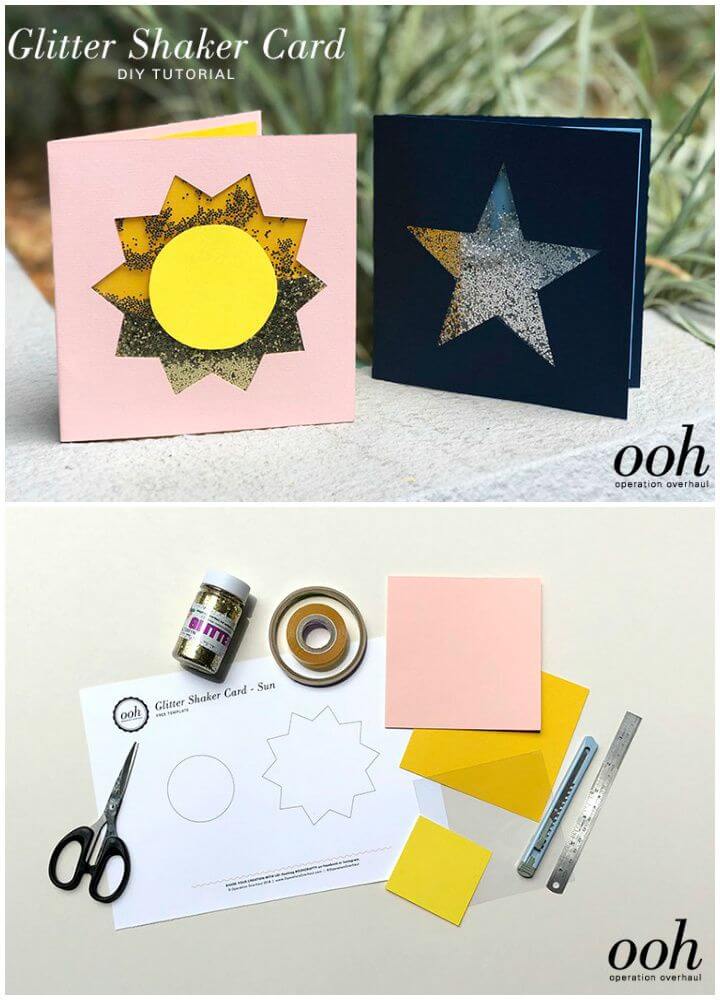 Make prominently impressive gifts for the Anniversary with a special touch of glitter. If you are highly inspired by the decorative cards, then do make these glitter shaker cards to give to a couple celebrating an anniversary or to your hubby or wife. Pretty simple to make gift cards, full how-to guides here operationover
Related DIY Projects and Ideas
DIY Gifts for Boyfriend: Find the perfect gift for your boyfriend with these cute DIY boyfriend gift ideas. These romantic gifts will make him fall in love all over again.
Mason Jar Gift Ideas: These creative DIY gifts in a Jar are perfect for birthdays, Valentine's Day, Thanksgiving and many more occasions. The best part is that they're easy to make!
DIY Teacher Gifts: Looking for a last-minute DIY gift for the teacher in your life? These best DIY teacher gift ideas are perfect for back to school and thank you gifts.
DIY Gifts for Men: Surprise your favorite guy with a homemade gift this year. Whether you're a wife, girlfriend, son, or daughter these unique DIY gift Ideas for men will be loved by any guy.
Wedding Gift Ideas: Looking for a unique wedding gift idea? These easy DIY wedding gift ideas for bride and groom are perfect for her, for him, for a couple, or to be given as a group.
Gift Basket Ideas: Do you need the perfect gift idea to give someone a little pampering? With these cheap DIY gift basket ideas, you can make your own personalized gift basket in an afternoon.
Valentine's Day Gifts: From the crafts to the gifts, we have you covered for Valentine's Day. Explore these romantic and sentimental DIY valentine's day gift ideas for your loved one.
Photo Gift Ideas: Find the perfect photo gift for your loved ones. Here are thoughtful DIY photo gift ideas that are easy to make and will make your friends and family feel special.
Gift Ideas for Friends: Here is a list of gift ideas that you can make yourself. No need to spend money and put in a lot of effort, these delightful DIY gift ideas for friends are all affordable and easy to make!
Gift Wrapping Ideas: Looking for last minute gift wrapping ideas? Get inspired with these unique gift wrapping ideas with step-by-step photo tutorials.
Conclusion:
Whether you're looking for a DIY anniversary gift for your husband or wife, we hope this list of diy anniversary gifts for him or her will make a unique piece. We wish you all the best in creating a memorable and meaningful handmade anniversary gifts for the one you love.