Mothers are the most special gift that one can ever yearn for. They are the ones who can suffer through any miserable plight only to see their kids happy. Even on the regular basis, they do a lot for us like cooking food, washing our clothes and pressing, guiding us like a mentor, always standing as a sturdy support when the whole world is against us. So the mother's day is coming soon and she really deserves to be treated especially this day with only delights, laughs, and happiness around her. And you don't need to buy some expensive stuff from the market or arrange a big rocking party for her. She would be more than merrier by receiving a handmade DIY gift from you infected with sheer love and warmth. To make it easy for you we have brought 100 DIY Mother's Day gifts and Crafts that you can make for your lovely Mom so look into and choose one that is best and apt for your lovely mom. We have also published a post on 70+ Inexpensive DIY Gift Basket Ideas that can help you more to decorate your gifts.
As she is all day busy in the house chores or job, on her big day you can take all her responsibilities on your shoulders to let her enjoy it with so much fun and relaxation at home. Add icing on the cake by gifting her some handmade scrub, soaps, bath lotions so that she refreshes herself with long warm baths and adds oodles of charm to her beauty. Not only these cosmetic items there is a huge variety of things you can make and gift her depending on what she likes and adores.
For example, if she loves collecting bags, you can craft a few at home with some fabric and decorate it with stripes or give it an Omber dye. If she is having a big jewelry collection you can make her a cute wooden jewelry organizer or jewelry holding dishes. Same goes for cooking and a recipe holder would be the perfect idea to please your chef mom. There is plenty of more gift ideas right below in the DIY mothers day gifts collection, that would be so cheap, effortless and easy to make yourself and bring a big curved smile on your mother's face and you would feel like your whole world has been lightened up with that smile.
And if your moms are crazily in love with the DIY home decor, styling, and designing, you would find a big row of the DIY projects of the decor stuff and use them for mother's day gifting. Wall art pieces, DIY picture frame, Monograms, cute vases and pots everything is available in the collection below to surprise your mom with on the mother's day which is around the corner now.

Just visit the DIY Mothers day gifts and you would find a huge bunch of diy mothers day gifts delights to jazz up the mother's day celebrations and make this day immensely colorful and fun for her.
Here are some Free Crochet Patterns you can choose for your Mom Gifts:
Mom I Love You Pop Up Cards with Free Silhouette Cut Files:

How about making a pop out silhouette card for your mother on her big universal day and it would be more than just delightful for her. These adorable cards when opened up would pop out the words I Love Mom and you would notice a big curved smile on her face for that which would be priceless. Here is the link to know the instructions to make these diy mothers day gifts yourself 1dogwoof
DIY Lemonade Buttercream Bouquet Mother's Day Gift: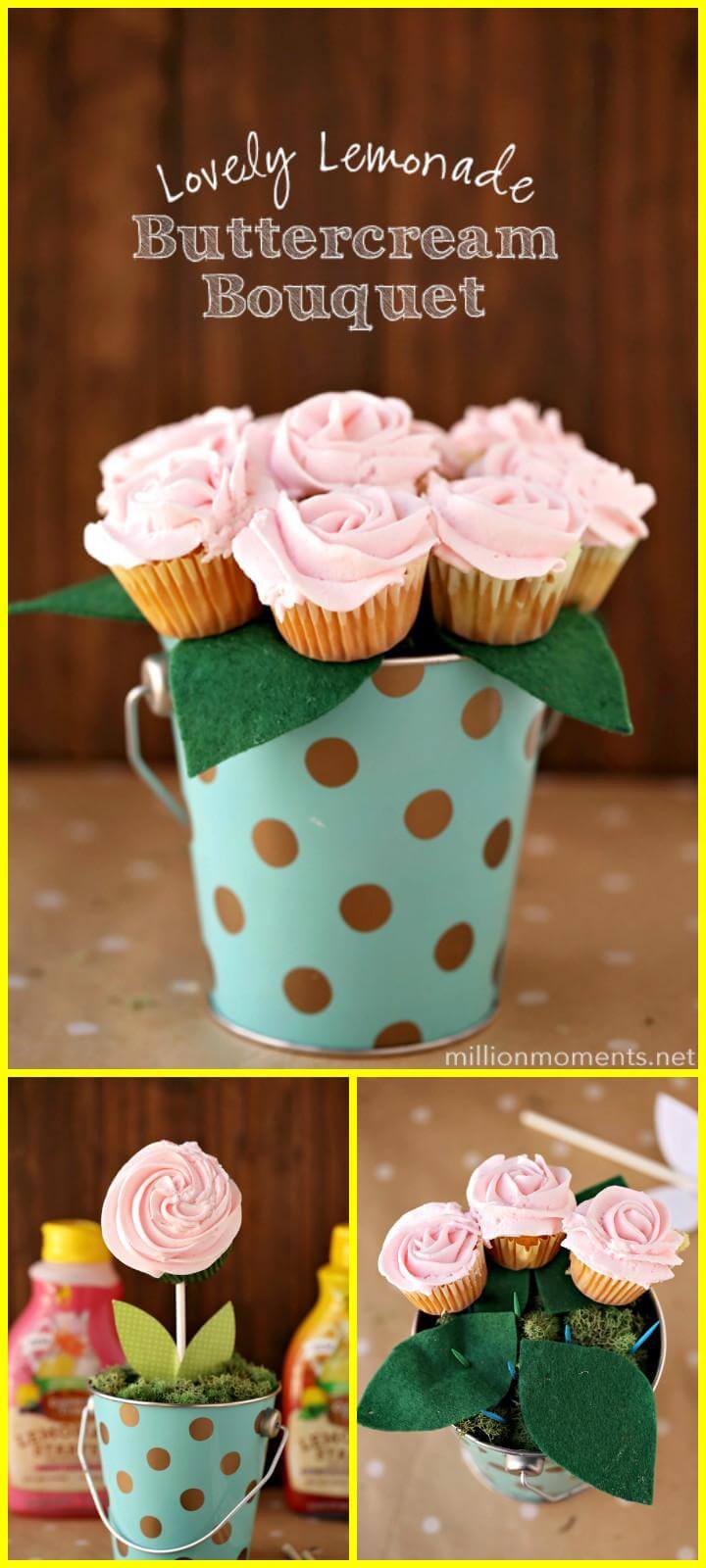 Take a small ice bucket, paint it all in blue and then lend it some nice and round golden polka dots and it would be ready yo make a perfect planter idea for the mother's day gift which would be too nice, feasible and cheap to make yourself at home. Here is the step by step directional tutorial of it millionmoments
Flower Wreath DIY Mothers Day Gifts:

These subtle in color flowers has been made out of paper and then roped in a wreath ring to make a cutest mother's day gift idea for your mom and a little three stranded Happy Mother's Day banner in the center makes it look more lovely and adorable. Full details and tutorial is here findingtimetocreate
One Hour DIY tote (in two sizes) – DIY Mothers Day Gifts:

If you are good at sewing stuff then there are lots of possibilities for lovely mother's day gift like these absolutely gorgeous and fun looking totes made out of some home lying fabric with those big cute bows used as the tote styling and decor. Here is the complete sewing tutorial elmstreetlife
$10 DIY Glass Bottle Wood Vase – DIY Gift: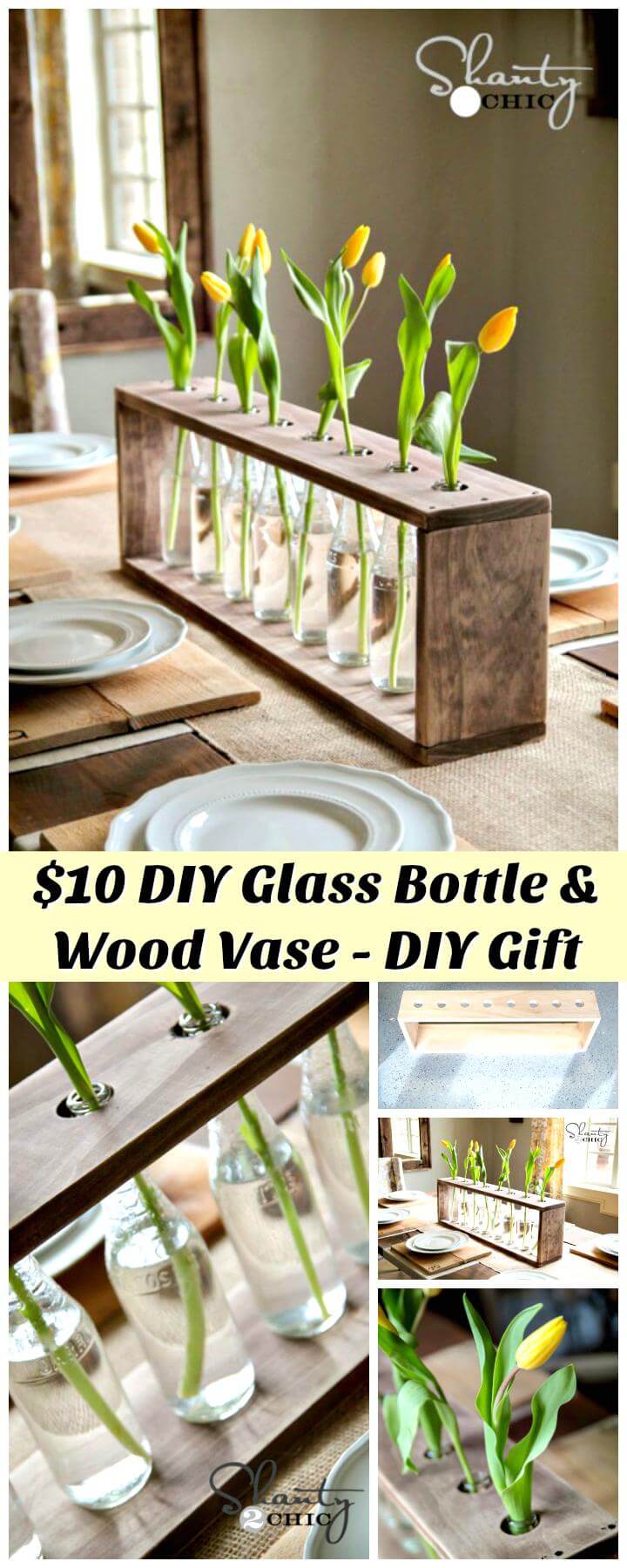 With DIY ideas you can make totally simple and cheap gifts for your mom and bring her much delight which is priceless. So this wooden vase holder can be great idea to go for mother's day as it can be simply made out of four wooden slabs and some empty glass bottles. Grab step by step directions right here shanty-2-chic
DIY Gold Leather Heart Pillow Set: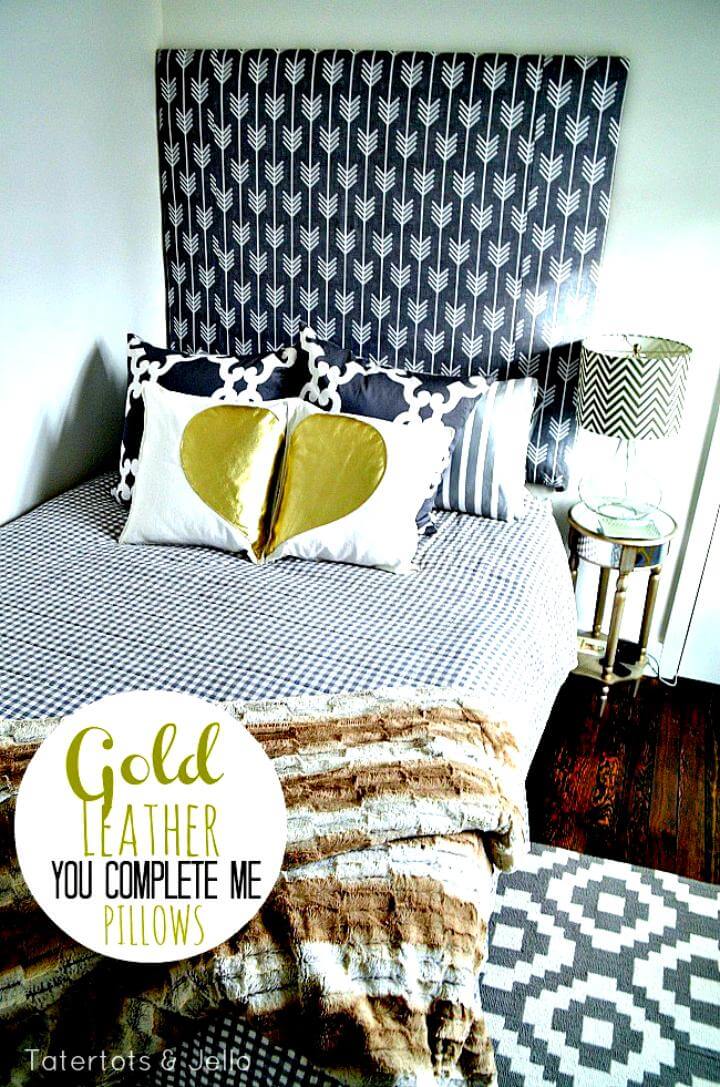 Make your mom sleep more comfortably after the long tiring day on these lovely and cute You Complete Me pillow  pair having half heart on them which is in gold leather and turns out to be super glimmerish and shiny to make a perfect mother's day gift idea. Know here how it was made tatertotsandjello
DIY Mala T-Shirt Necklace: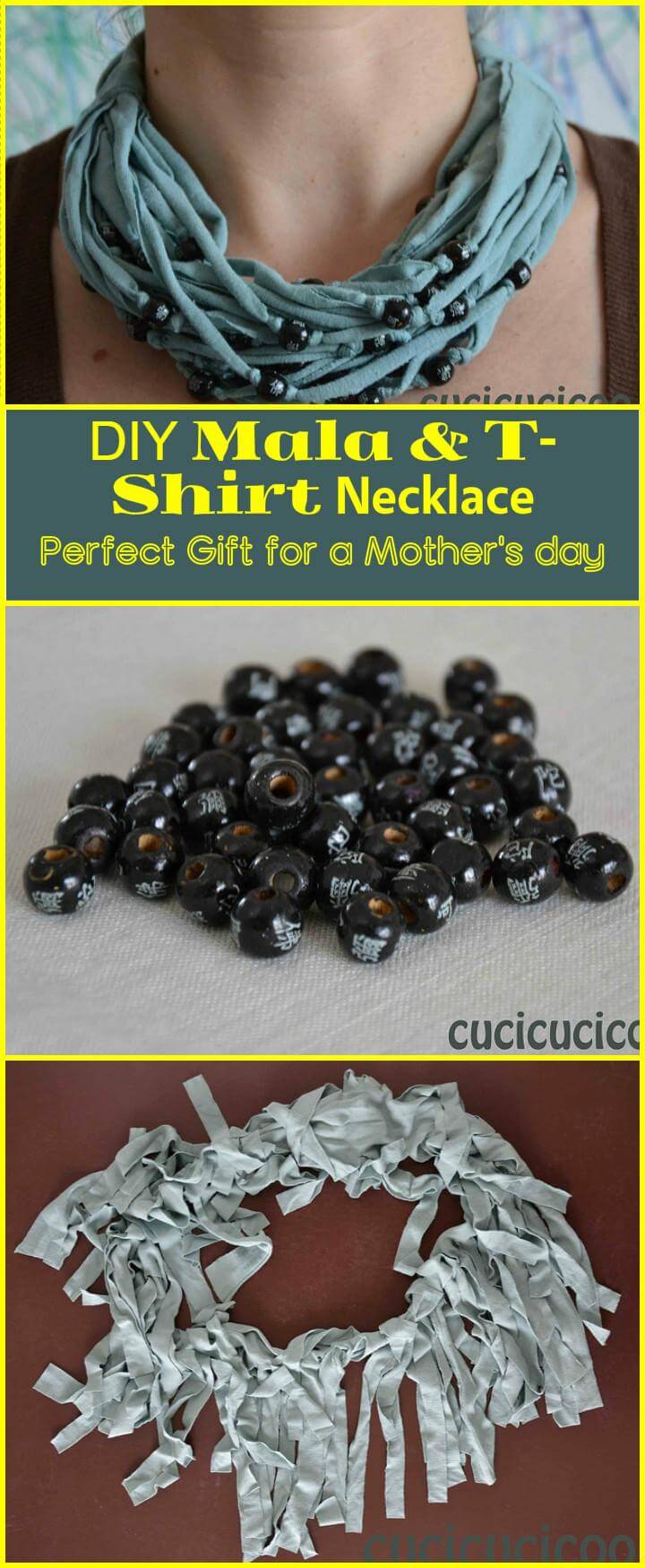 Using some beads and an old t shirt cut into fringes this lovely necklace has been yielded and so you can make it easily yourself at home and gift it to your mom on the mother's day special and let her flaunt it in style and feel young again. Here is the full tutorial of it cucicucicoo
DIY Butterfingers Dip Recipe – A Mother's Day Gift:

Doing something really small and cute for your mom would win her heart instantly and this mother's day is the best time to show her the peak of your mother love emotions with this absolutely yummy and tasty butter finger dips. The full recipe details are here to catch the36thavenue
DIY Fabric Scrap Key Chain Tutorial: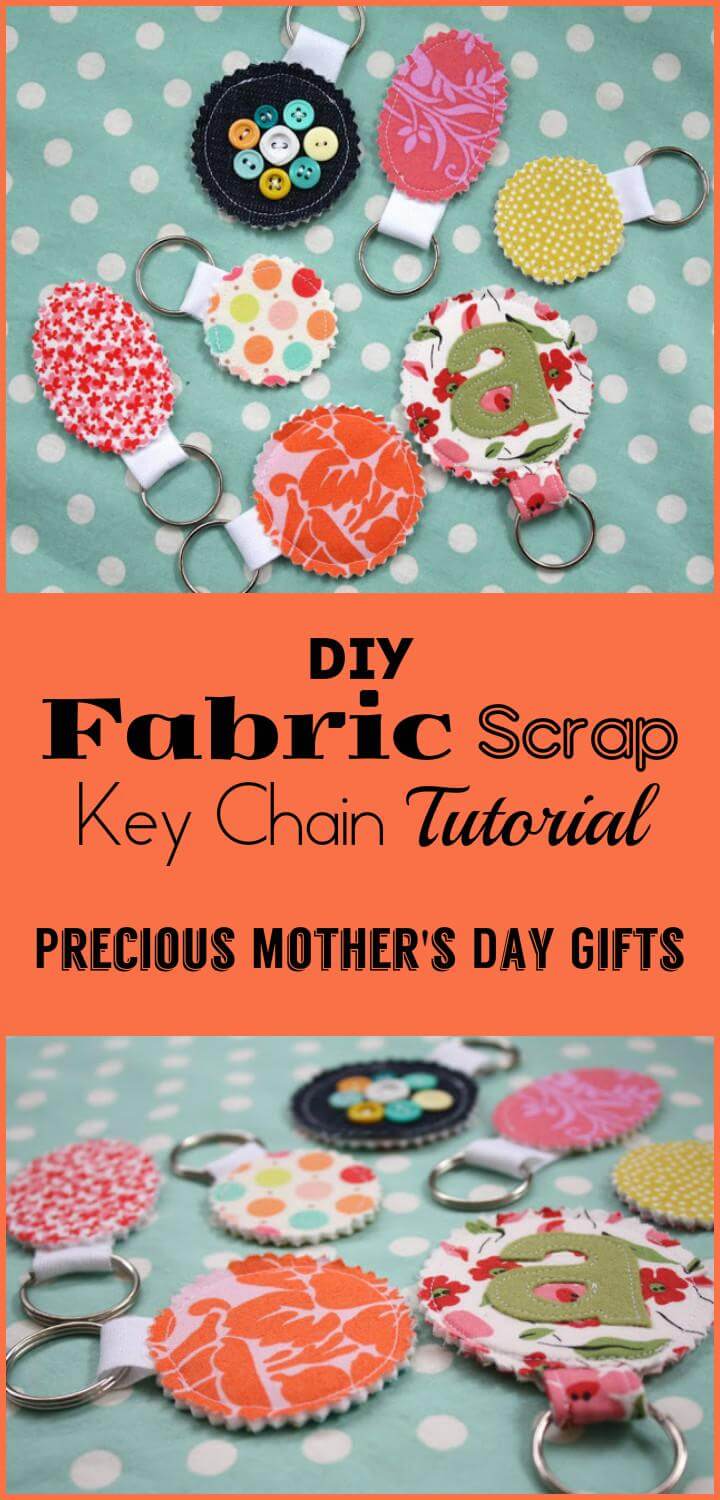 If you have not planned anything yet for the mother's day gift and need something really quick to make then these fabric made key chains are the prefect last minute gift idea. You can make many of them to hold each key separately. Here is the easy tutorial of these fabric key chains craftinessisnotoptional
DIY Sizzix Cut Embossed Painted Can Flower:

Create a treasure worth gift from the trash. Yes you heard me right as this totally adorable and pretty flower pendant has been easily made out of the tin cans and with some acrylic paint on the tin cut flowers and that is it. So here we give you the detail of this project so that you can hack it as a mother's day gift idea savedbylovecreations