Mothers are the most special gift that one can ever yearn for. They are the ones who can suffer through any miserable plight only to see their kids happy. Even on the regular basis, they do a lot for us like cooking food, washing our clothes and pressing, guiding us like a mentor, always standing as a sturdy support when the whole world is against us. So the mother's day is coming soon and she really deserves to be treated especially this day with only delights, laughs, and happiness around her. And you don't need to buy some expensive stuff from the market or arrange a big rocking party for her. She would be more than merrier by receiving a handmade DIY gift from you infected with sheer love and warmth. To make it easy for you we have brought 100 DIY Mother's Day gifts and Crafts that you can make for your lovely Mom so look into and choose one that is best and apt for your lovely mom. We have also published a post on 70+ Inexpensive DIY Gift Basket Ideas that can help you more to decorate your gifts.
As she is all day busy in the house chores or job, on her big day you can take all her responsibilities on your shoulders to let her enjoy it with so much fun and relaxation at home. Add icing on the cake by gifting her some handmade scrub, soaps, bath lotions so that she refreshes herself with long warm baths and adds oodles of charm to her beauty. Not only these cosmetic items there is a huge variety of things you can make and gift her depending on what she likes and adores.
For example, if she loves collecting bags, you can craft a few at home with some fabric and decorate it with stripes or give it an Omber dye. If she is having a big jewelry collection you can make her a cute wooden jewelry organizer or jewelry holding dishes. Same goes for cooking and a recipe holder would be the perfect idea to please your chef mom. There is plenty of more gift ideas right below in the DIY mothers day gifts collection, that would be so cheap, effortless and easy to make yourself and bring a big curved smile on your mother's face and you would feel like your whole world has been lightened up with that smile.
And if your moms are crazily in love with the DIY home decor, styling, and designing, you would find a big row of the DIY projects of the decor stuff and use them for mother's day gifting. Wall art pieces, DIY picture frame, Monograms, cute vases and pots everything is available in the collection below to surprise your mom with on the mother's day which is around the corner now.


Just visit the DIY Mothers day gifts and you would find a huge bunch of diy mothers day gifts delights to jazz up the mother's day celebrations and make this day immensely colorful and fun for her.
Here are some Free Crochet Patterns you can choose for your Mom Gifts:
Mom I Love You Pop Up Cards with Free Silhouette Cut Files:


How about making a pop out silhouette card for your mother on her big universal day and it would be more than just delightful for her. These adorable cards when opened up would pop out the words I Love Mom and you would notice a big curved smile on her face for that which would be priceless. Here is the link to know the instructions to make these diy mothers day gifts yourself 1dogwoof
DIY Lemonade Buttercream Bouquet Mother's Day Gift: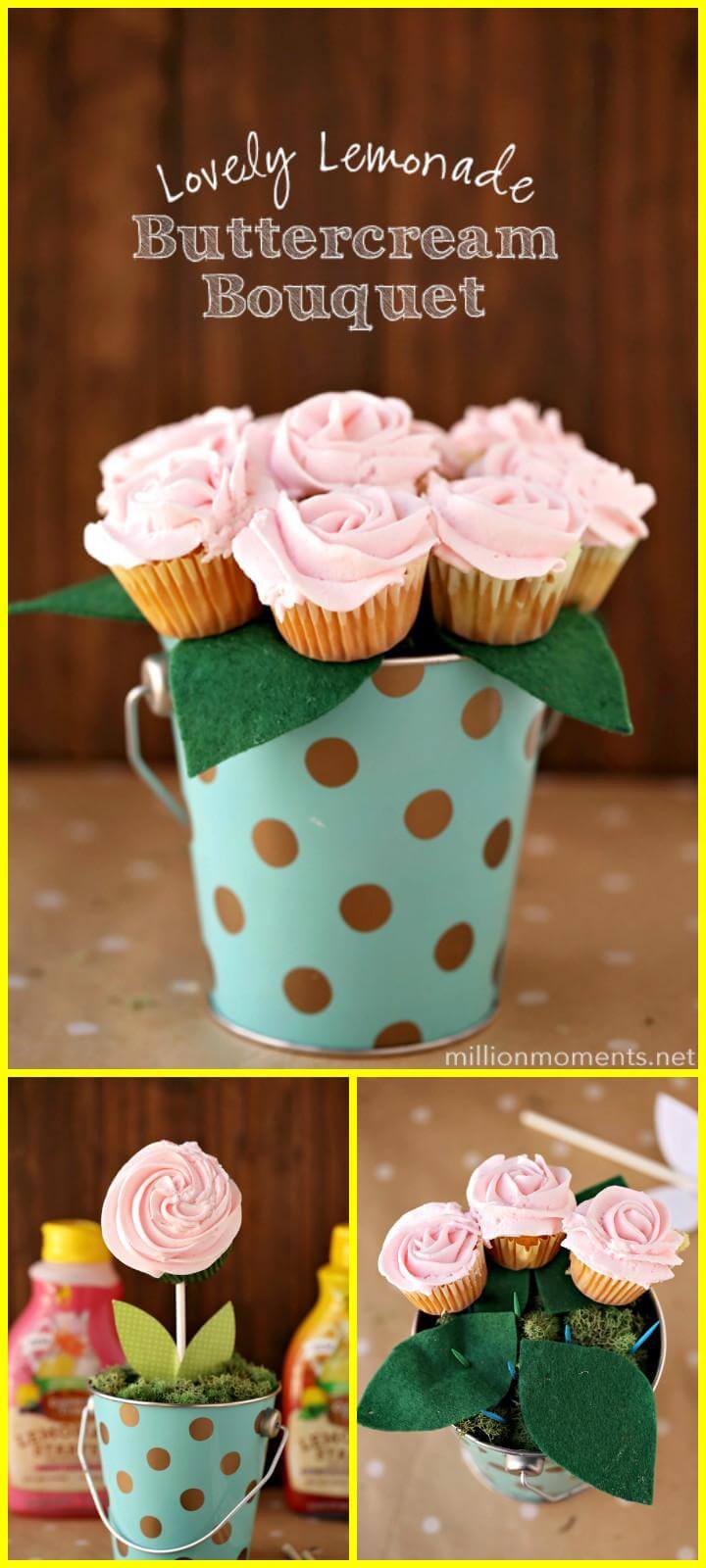 Take a small ice bucket, paint it all in blue and then lend it some nice and round golden polka dots and it would be ready yo make a perfect planter idea for the mother's day gift which would be too nice, feasible and cheap to make yourself at home. Here is the step by step directional tutorial of it millionmoments
Flower Wreath DIY Mothers Day Gifts:

These subtle in color flowers has been made out of paper and then roped in a wreath ring to make a cutest mother's day gift idea for your mom and a little three stranded Happy Mother's Day banner in the center makes it look more lovely and adorable. Full details and tutorial is here findingtimetocreate
One Hour DIY tote (in two sizes) – DIY Mothers Day Gifts:

If you are good at sewing stuff then there are lots of possibilities for lovely mother's day gift like these absolutely gorgeous and fun looking totes made out of some home lying fabric with those big cute bows used as the tote styling and decor. Here is the complete sewing tutorial elmstreetlife
$10 DIY Glass Bottle Wood Vase – DIY Gift: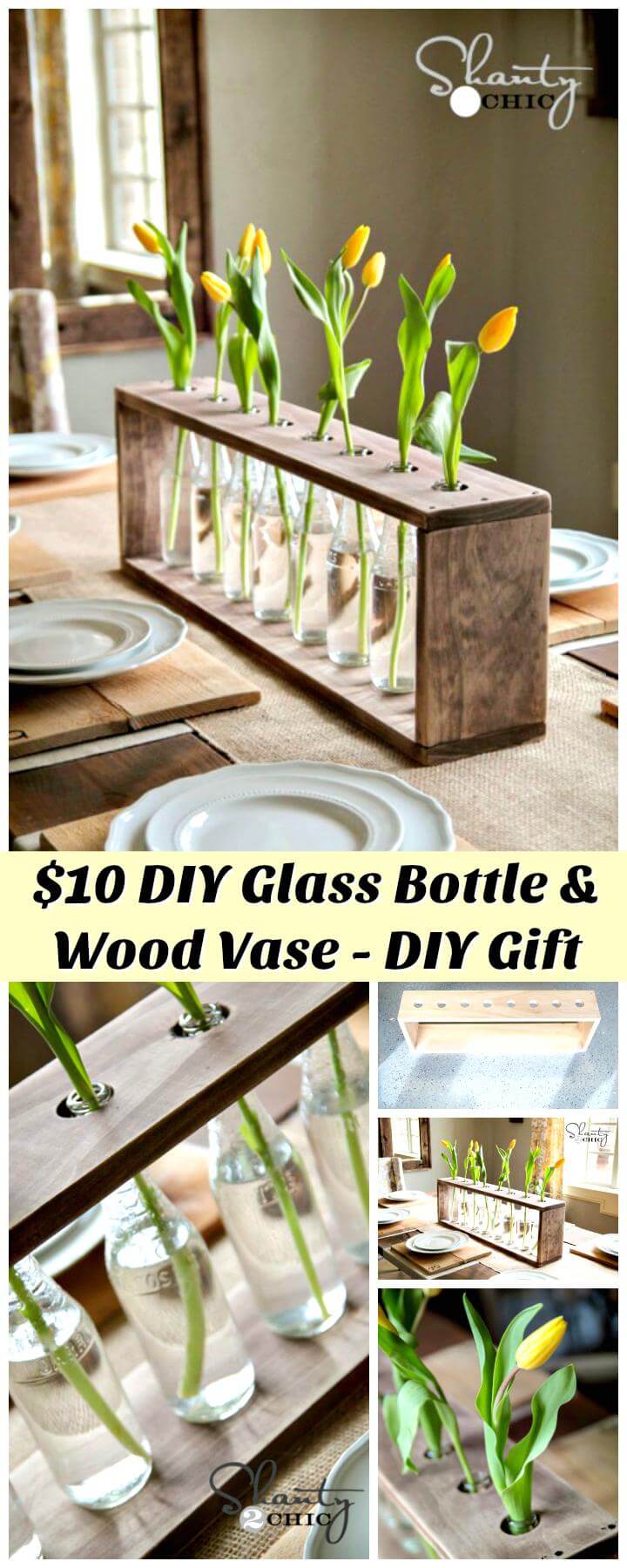 With DIY ideas you can make totally simple and cheap gifts for your mom and bring her much delight which is priceless. So this wooden vase holder can be great idea to go for mother's day as it can be simply made out of four wooden slabs and some empty glass bottles. Grab step by step directions right here shanty-2-chic
DIY Gold Leather Heart Pillow Set: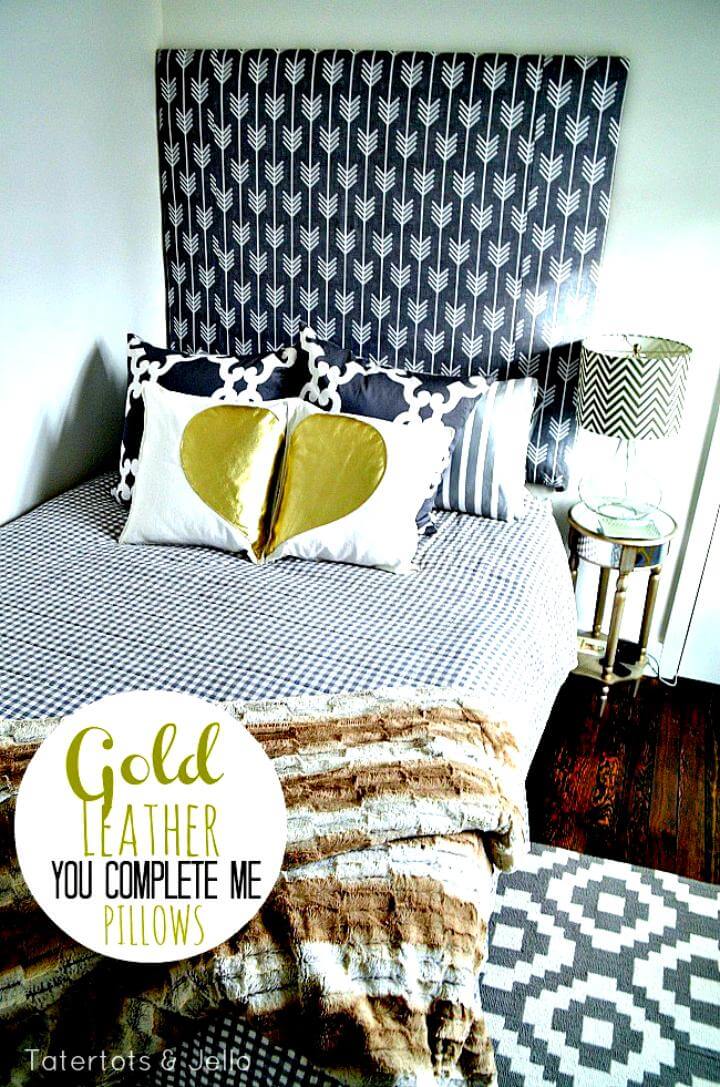 Make your mom sleep more comfortably after the long tiring day on these lovely and cute You Complete Me pillow  pair having half heart on them which is in gold leather and turns out to be super glimmerish and shiny to make a perfect mother's day gift idea. Know here how it was made tatertotsandjello
DIY Mala T-Shirt Necklace: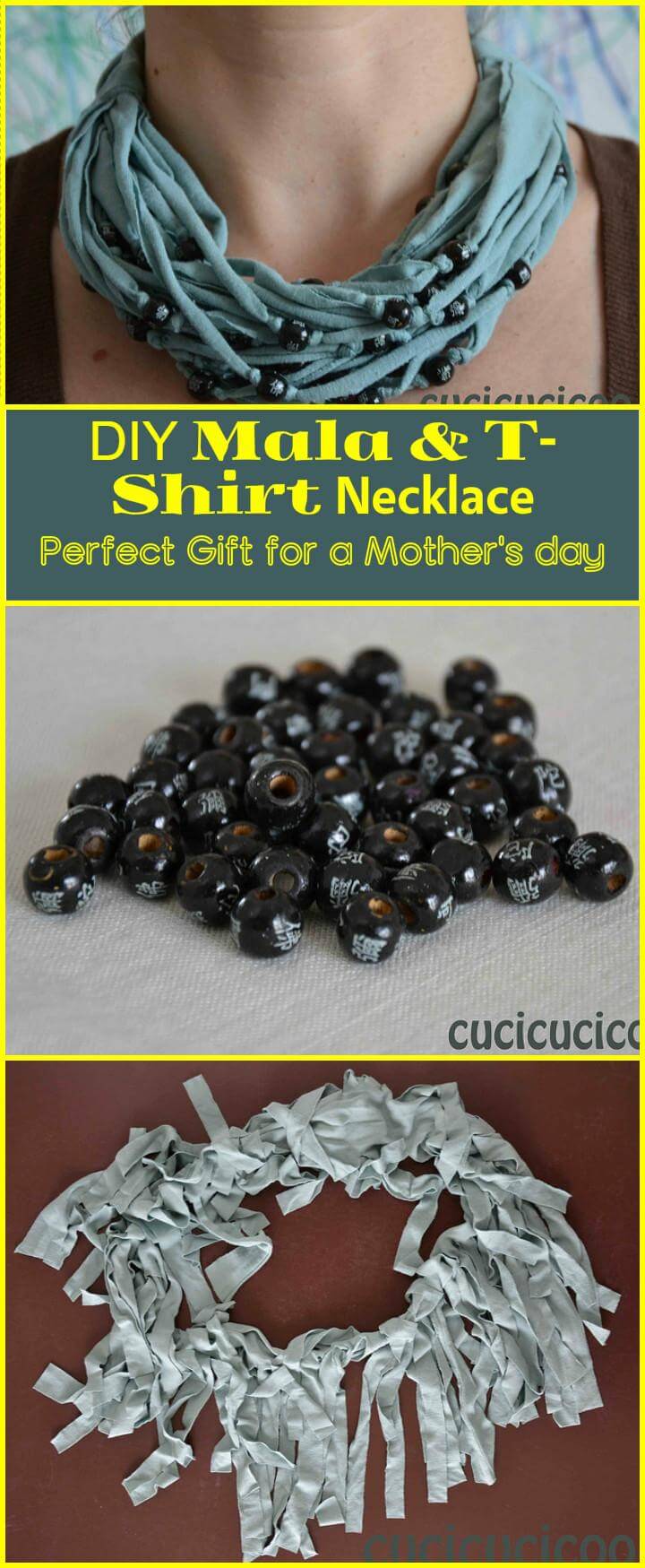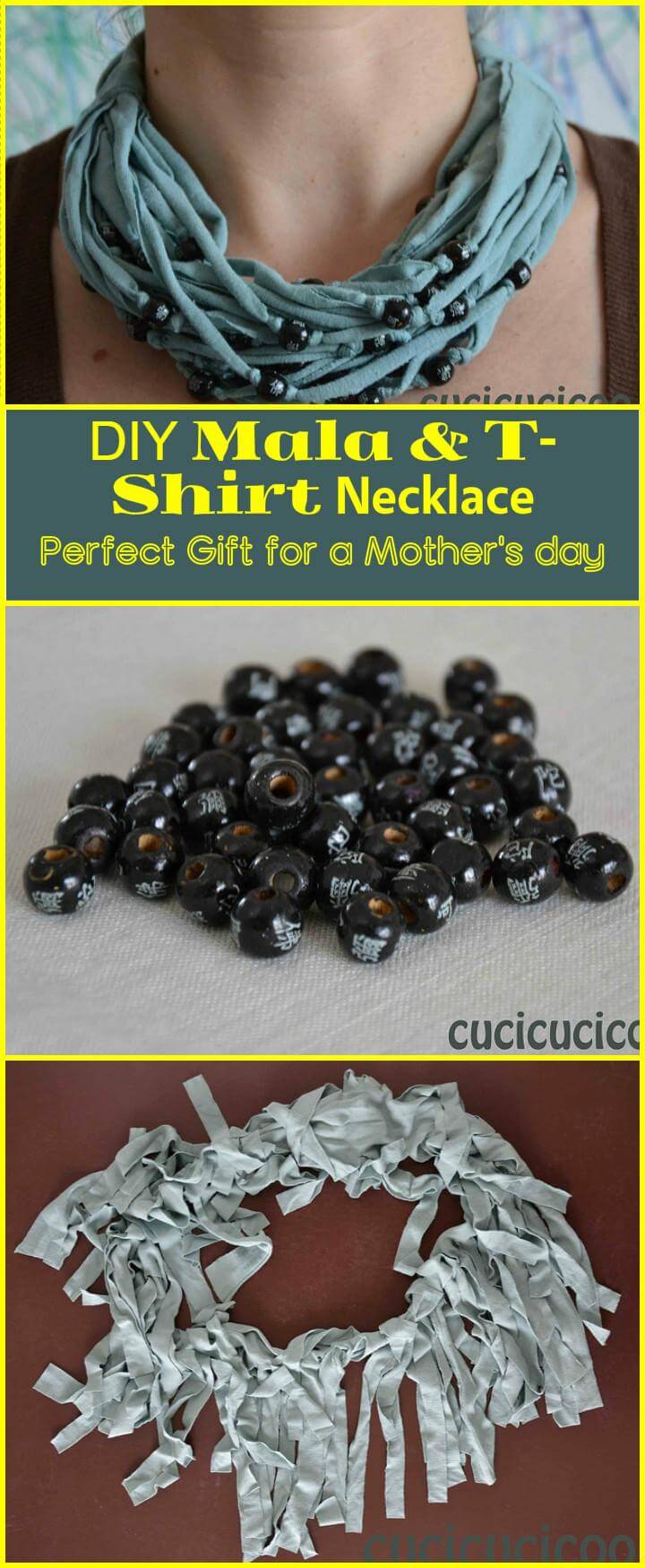 Using some beads and an old t shirt cut into fringes this lovely necklace has been yielded and so you can make it easily yourself at home and gift it to your mom on the mother's day special and let her flaunt it in style and feel young again. Here is the full tutorial of it cucicucicoo
DIY Butterfingers Dip Recipe – A Mother's Day Gift:

Doing something really small and cute for your mom would win her heart instantly and this mother's day is the best time to show her the peak of your mother love emotions with this absolutely yummy and tasty butter finger dips. The full recipe details are here to catch the36thavenue
DIY Fabric Scrap Key Chain Tutorial: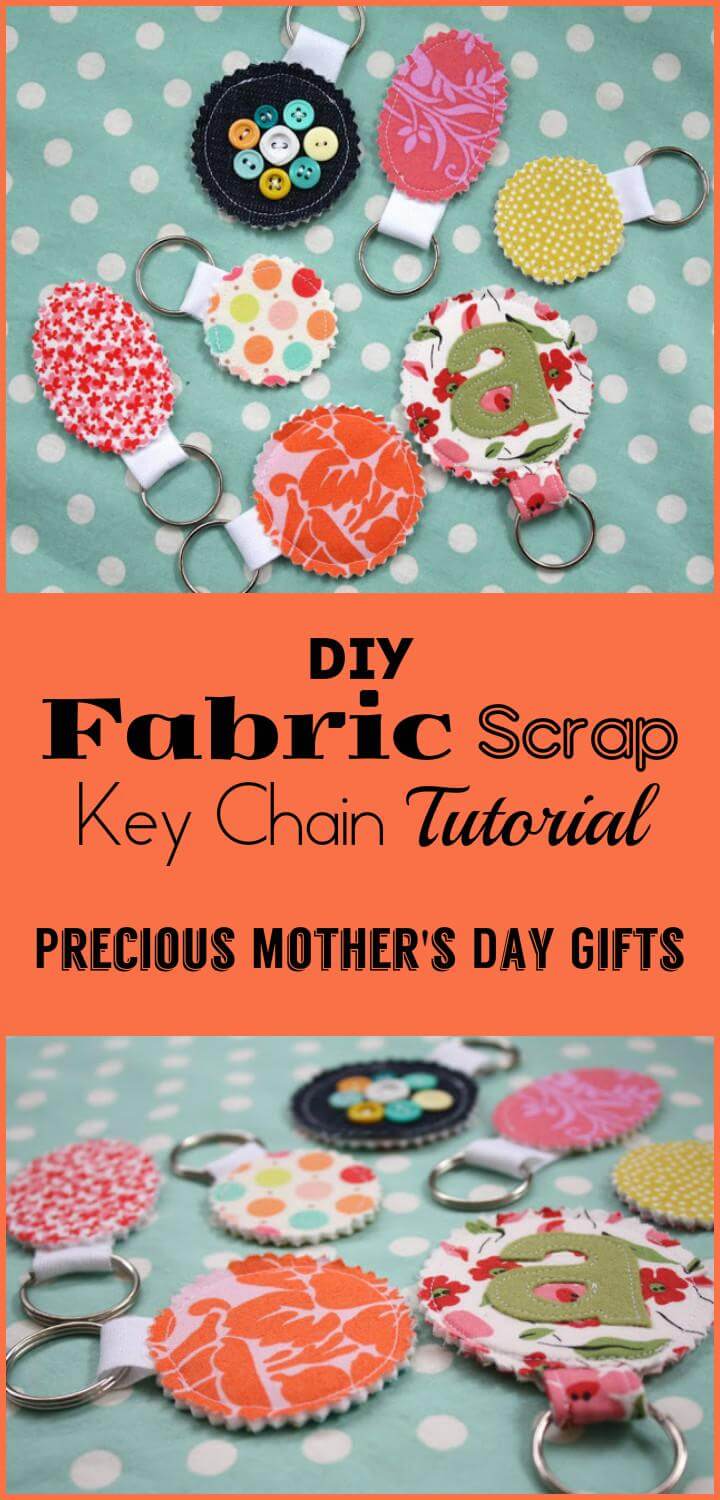 If you have not planned anything yet for the mother's day gift and need something really quick to make then these fabric made key chains are the prefect last minute gift idea. You can make many of them to hold each key separately. Here is the easy tutorial of these fabric key chains craftinessisnotoptional
DIY Sizzix Cut Embossed Painted Can Flower:

Create a treasure worth gift from the trash. Yes you heard me right as this totally adorable and pretty flower pendant has been easily made out of the tin cans and with some acrylic paint on the tin cut flowers and that is it. So here we give you the detail of this project so that you can hack it as a mother's day gift idea savedbylovecreations
DIY Embroidery Hoop Clock Tutorial:


You have earlier seen the hoop and fabric made wall art and frames and here is another fun addition in this regard with these lovely DIY hoop and fabric made clocks that you can gift to your mom and she can nicely make them display on her room wall or in any area of the house and bring some fun vibes there brit.co
DIY Leather Tassel Tutorial: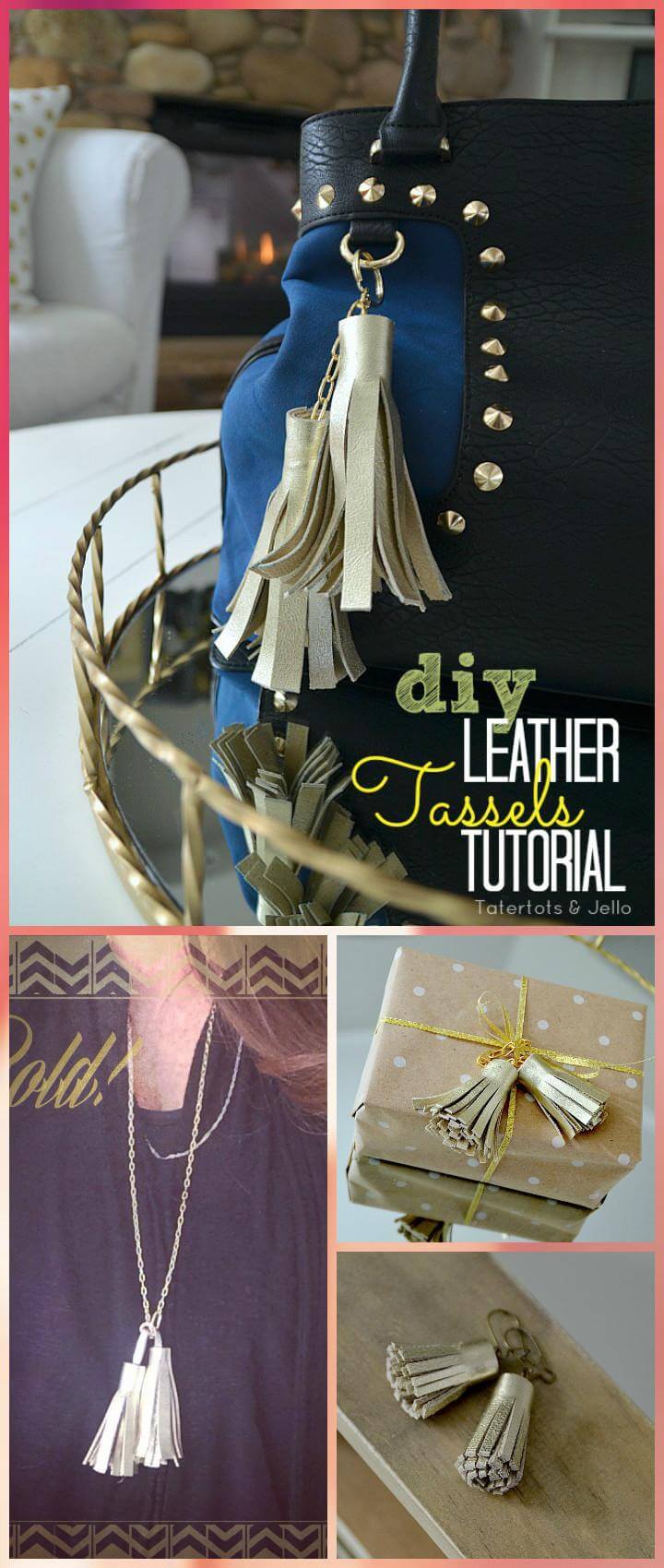 Making a leather tassel would be a multi functional project or a gift as well as it can used on your bag, as a neck lace for a funky look and also as the cute key holders. They are just too quick and easy to make just give them a try with the details lying here to make a simple yet pretty mother's day gift tatertotsandjello
Stenciled Stretched Burlap with Michaels and Hometalk – DIY Gift: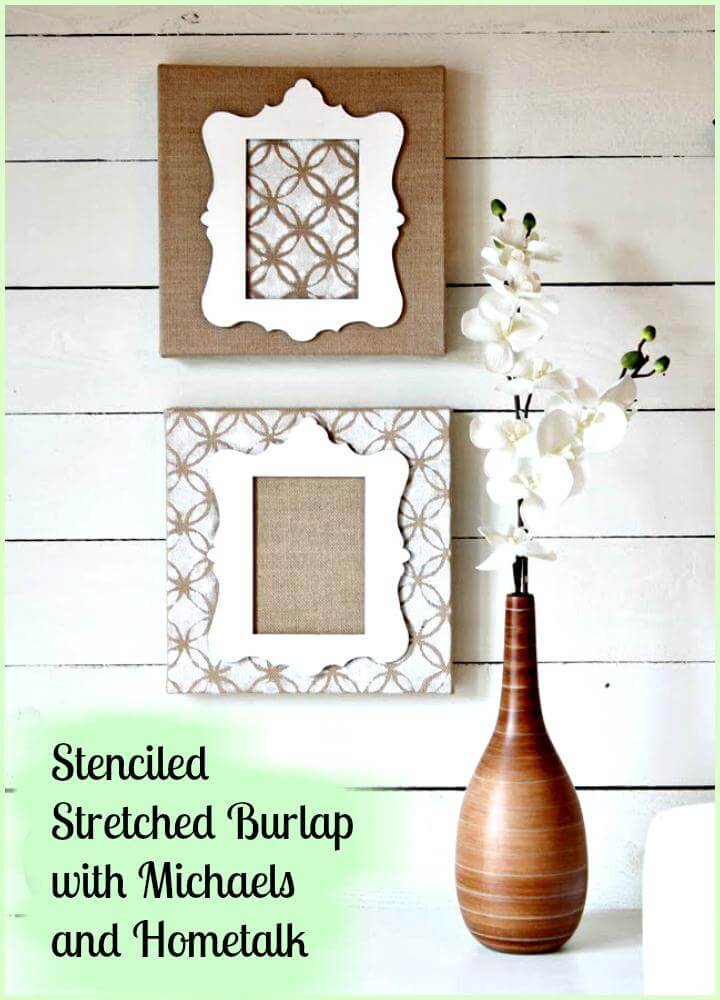 Have ever saw your mother getting drool over some IKEA decor piece but it could not fit in the budget. With this lovely DIY stenciled stretched burlap frame for the walls, you can give a sheer joy on the mother day as her special gift which she can use to style up the walls of the house and thank u much for it. Its simple to build so have its details here thriftyandchic
DIY Cute Cross Body Tote Bag Tutorial:

Bags are the weakness of every woman on earth so surprise your mother on this mother day with this absolutely chic, colorful and fun looking cross body tote bag by keeping it in her closet so that when she opens up the this lovely gift pops out as a delightful surprise. The sewing details of this cute bag with flower are given right here crazylittleprojects
DIY Bag Gift – DIY Tutorial:

This adorable and colorful flower would steal anybody's heart as a cute and chic gift so it would melt your mother when she would have it from your side. So here is the link this absolutely stylish and chic bag comes from to know more details of this weekender bag mommybydaycrafterbynight
DIY Painted-Citrus-Boxes – GIFT: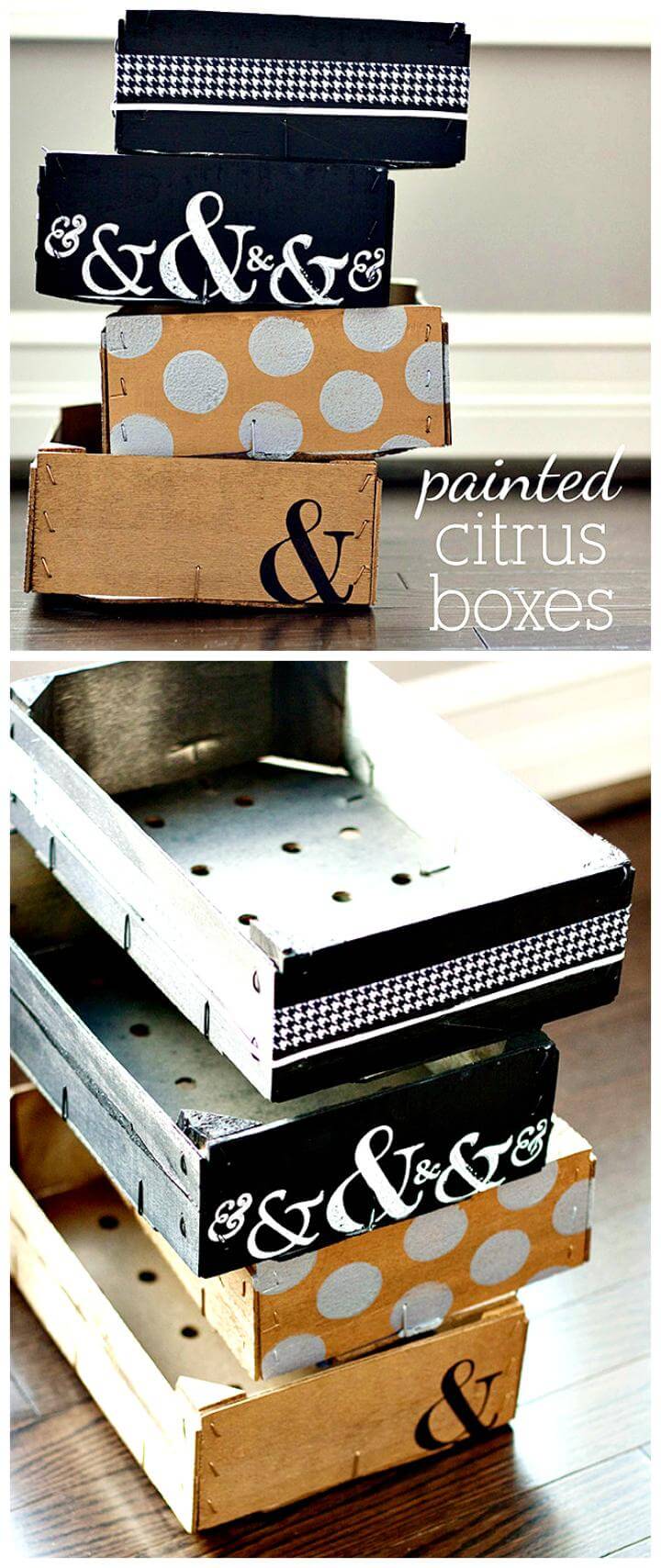 Citrus fruit boxes are found in homes so abundantly so here we have a recycle idea for them and that is cute and functional enough to be used as a mother day gift. Here is the tutorial to know you can paint them, stencil them and turn into a lovely mother's day gift so that your mom can use them for organizing lots of hew sewing, crafting and other such stuff  circusberry
DIY Mason Jar Apothecary Jars:

Your mother would accept anything on mother's day as a gift that would help her in her home chores and that too with a big heart and much appraise. SO how about creating these absolutely easy and thrifty mason jar made apothecary jars that she can use in bathroom to organize and sort certain things there. Here is the full tutoiral thriftyandchic
DIY Jewelry Tray Display: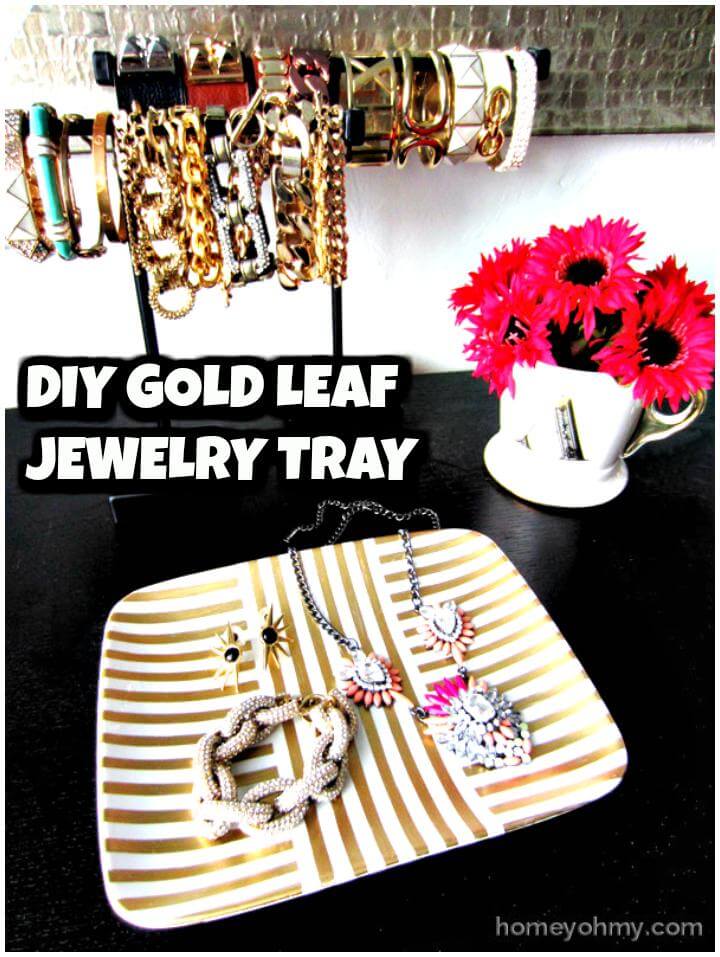 Embroidery hoops are now widely used for the wall decor with some fabric styling on then and if your mother wants one you can make her and give her as a nice, cute and vintage inspired wall decor piece that would be so much cherished and adored by her for sure. Its too feasible to make and with tutorial it would be more easy so check it out here thecasualcraftlete
DIY Paper Embroidery Hoop Gift Card Holder:

Giving a simple ceramic tray some leafy gold stripes you can turn it into a cute and nice jewelry holder tray and you can gift it to your mother so that she can put her jewelry in it and make it gorgeously display on her dressing table. So now you know a nice and easy mother day gift idea with all the details right here homeyohmy
DIY Mint Chocolate Body Butter Mother's Day Gift: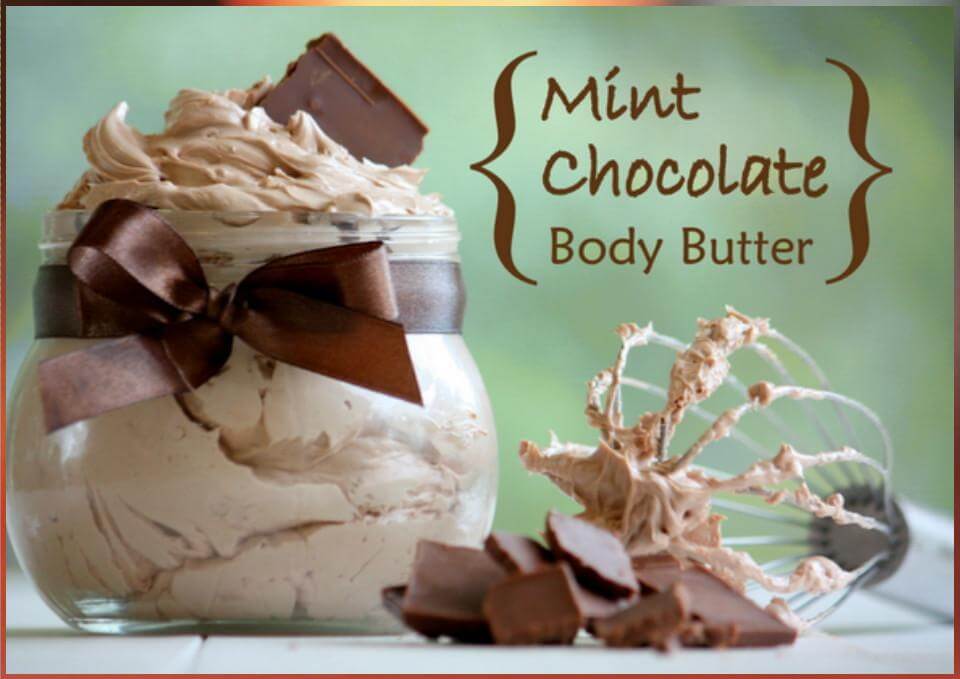 Busy mothers have less time for themselves to spend in some beauty sessions so here is this cocoa body butter recipe for you to make and gift your mom on mother's day special so that she can rinse herself with it and feel totally soft, fresh and yummy at skin. Here are ingredients and making method detail of this body butter mommypotamus
DIY Birch Bark Candles:


You must have seen your mother looking up for some gorgeous candle holders for the dining table center pieces and what if you make her some on this mother's day? She would be just more than joyful and happy to receive rustic candle holders from you and they can perfectly these birch bark ones given with tutorial here justasmidgen
Mint Lime Foot Soak with Free Printable Mother's Day Gift Idea: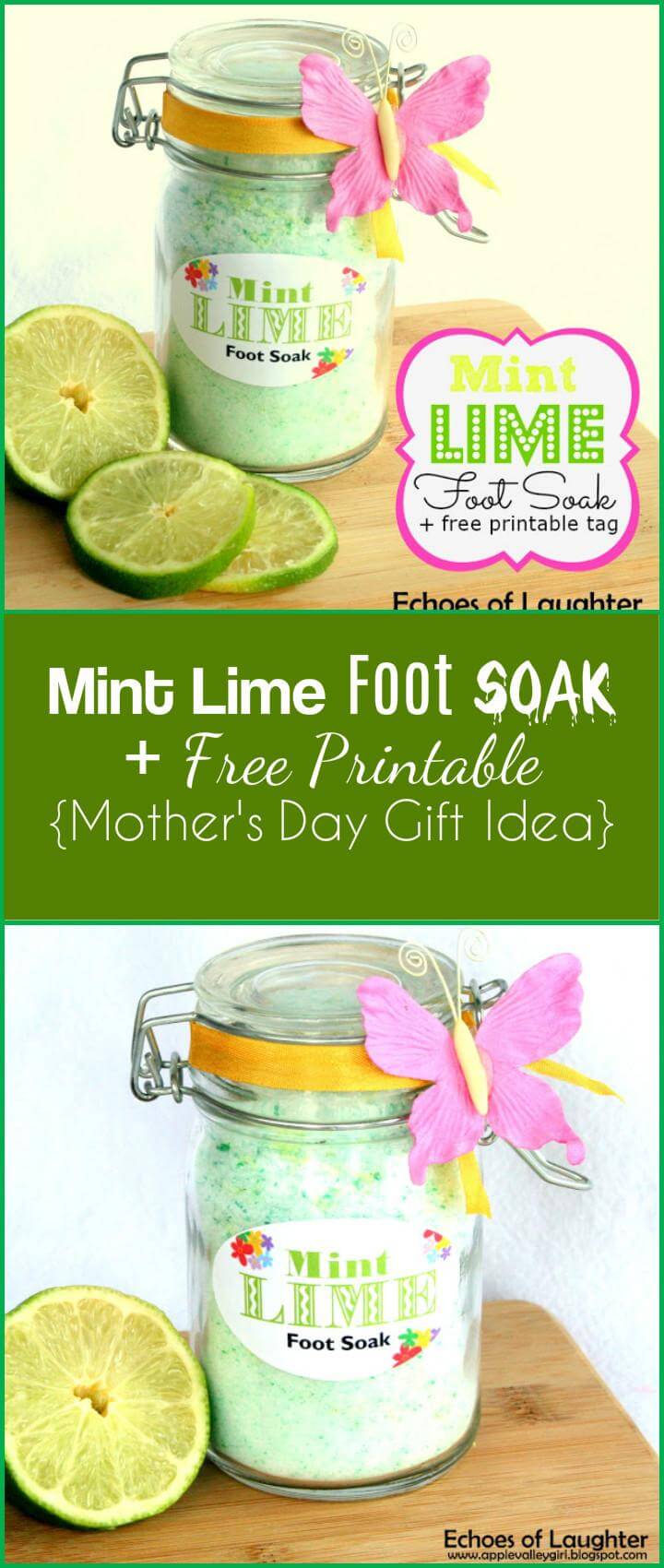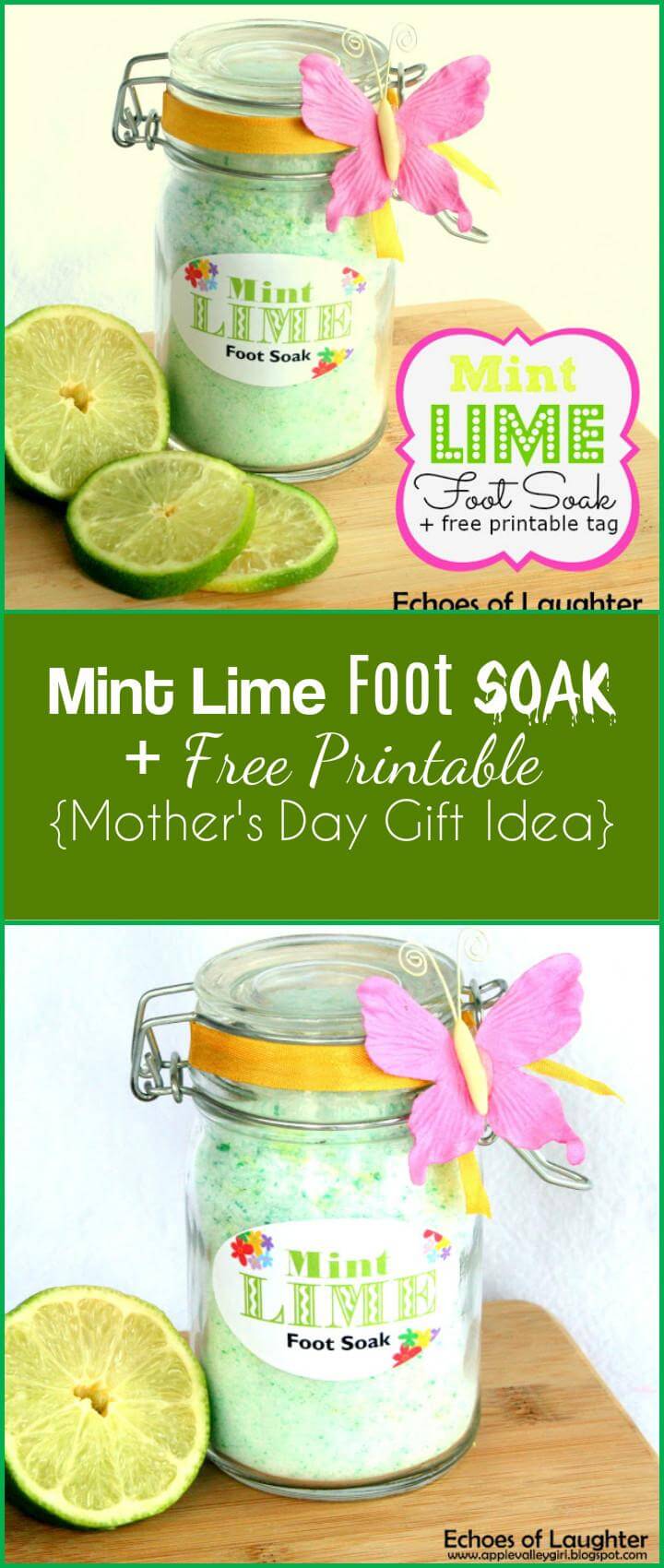 when your routine is so much tiring and you need some relaxation foot soaks are the best way to keep yourself relaxed because resting your feet is like resting your whole body. So how about making and gifting a mint lime foot soak to your mother this mother's day and let her have sheer relaxing and refreshing experience on her day. Here is the full recipe and the tutorial web.archive
DIY Scarf Camera Strap: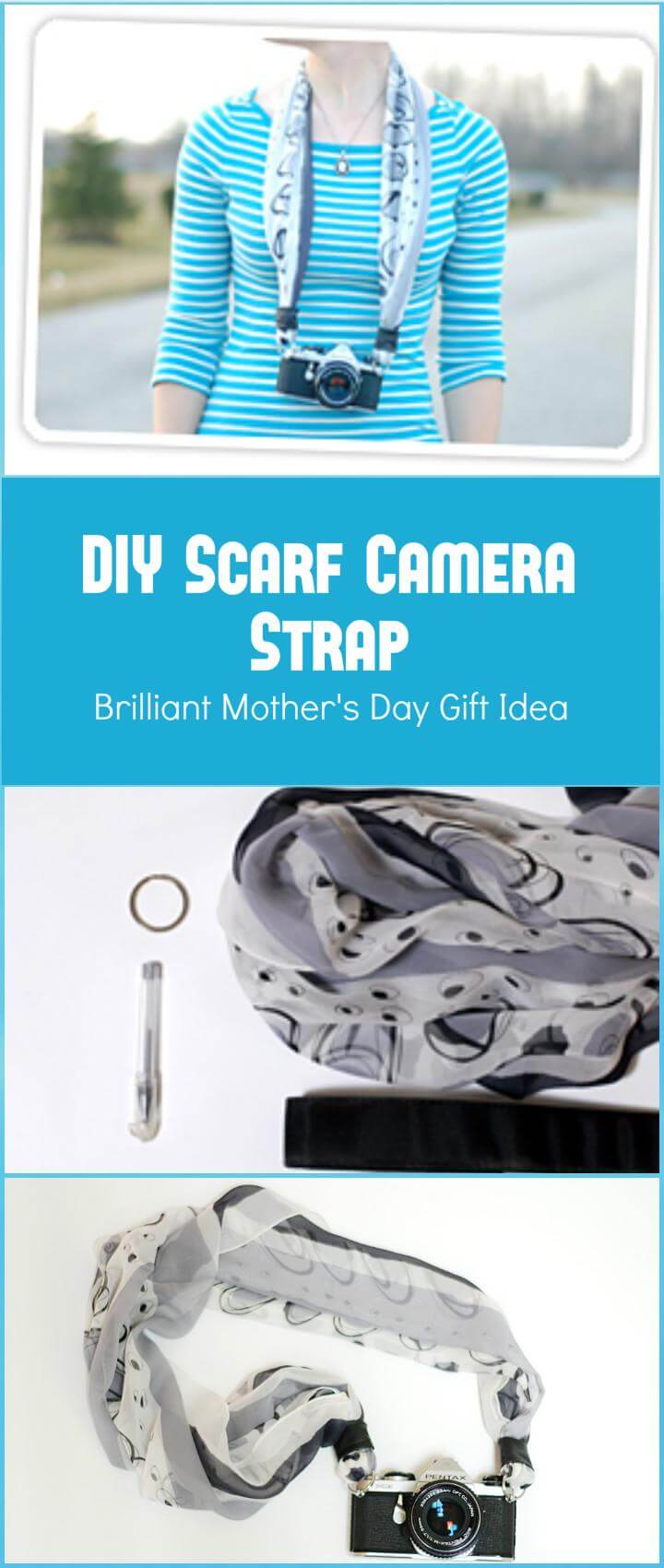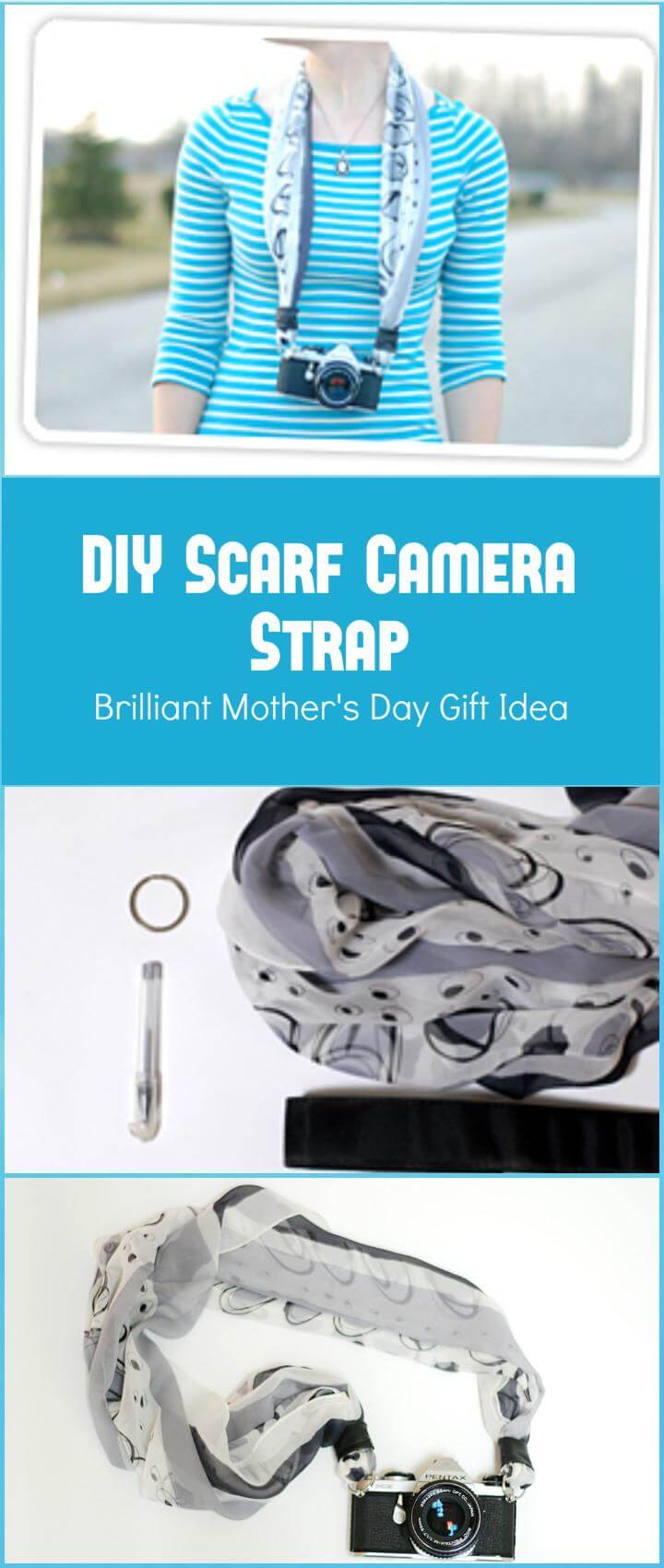 You can also celebrate mother's day with those who are new mothers in order to rejoice their motherhood. So her is a cue gift idea with this scarf and camera strap project that you can make easily y yourself from a fabric piece and gift it to your mothers or the new mothers in your friend circle as well.See the full tutorial here content.photojojo
DIY Bird Nest Necklaces Easy but Creative Mother's Day Gift Idea: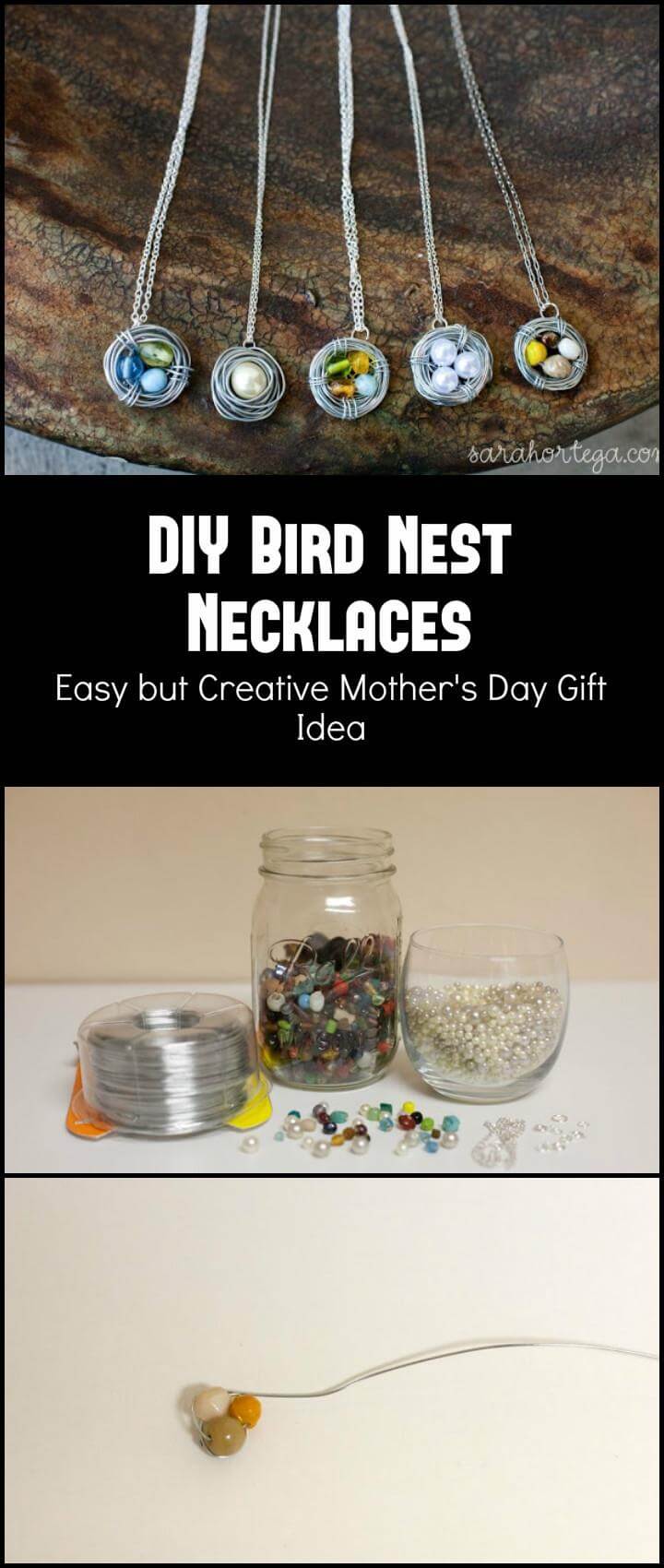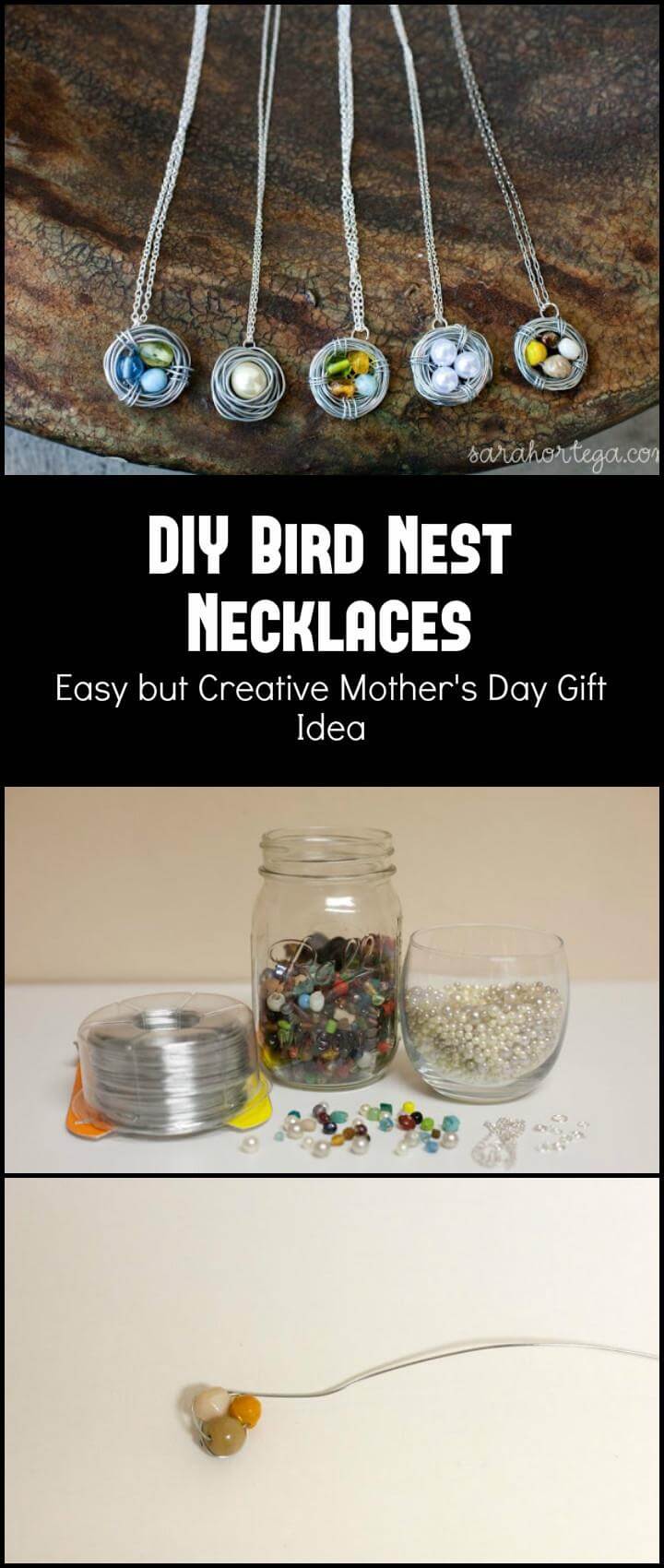 Using a metal wire and some glass beads these totally adorable and cute bird nest necklaces have been crafted and they form the best ever gift for any lady so why not make them especially for the mothers for being the most important lady in everyone's life and that too on the mother's day which is just around the corner.Tutorial here sarahortega
DIY Mother's Day Gardening Gift:


If your mother is in love with her gardening hobby then you can pull off this idea of gifting gardening tools and seeds on the mother's day special. Just grab an old bucket and fill it with your gardening gifting goodies long with some handmade cards and its ready to rock your mother's mother's day. iheartnaptime
DIY Mother's Day Plastic Soda Bottle Gift Idea: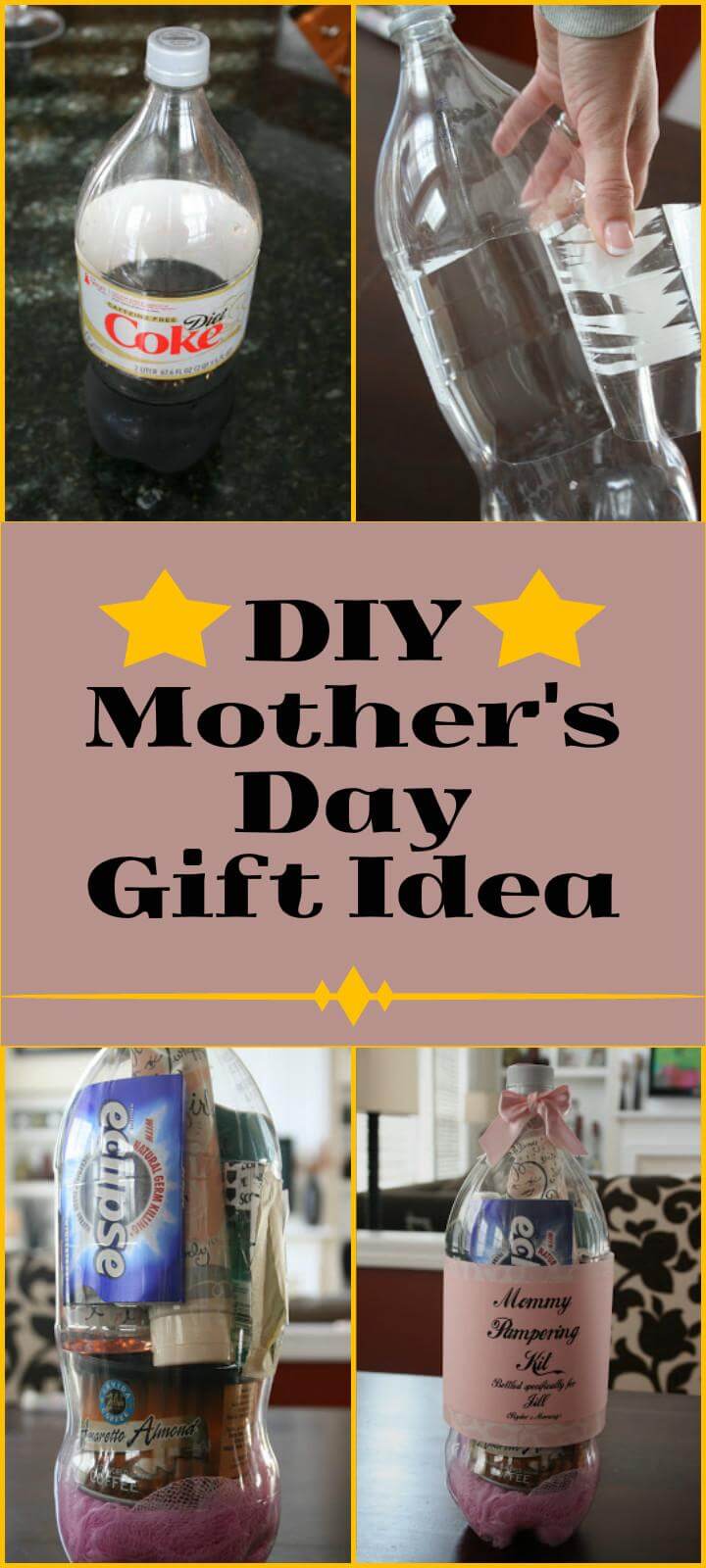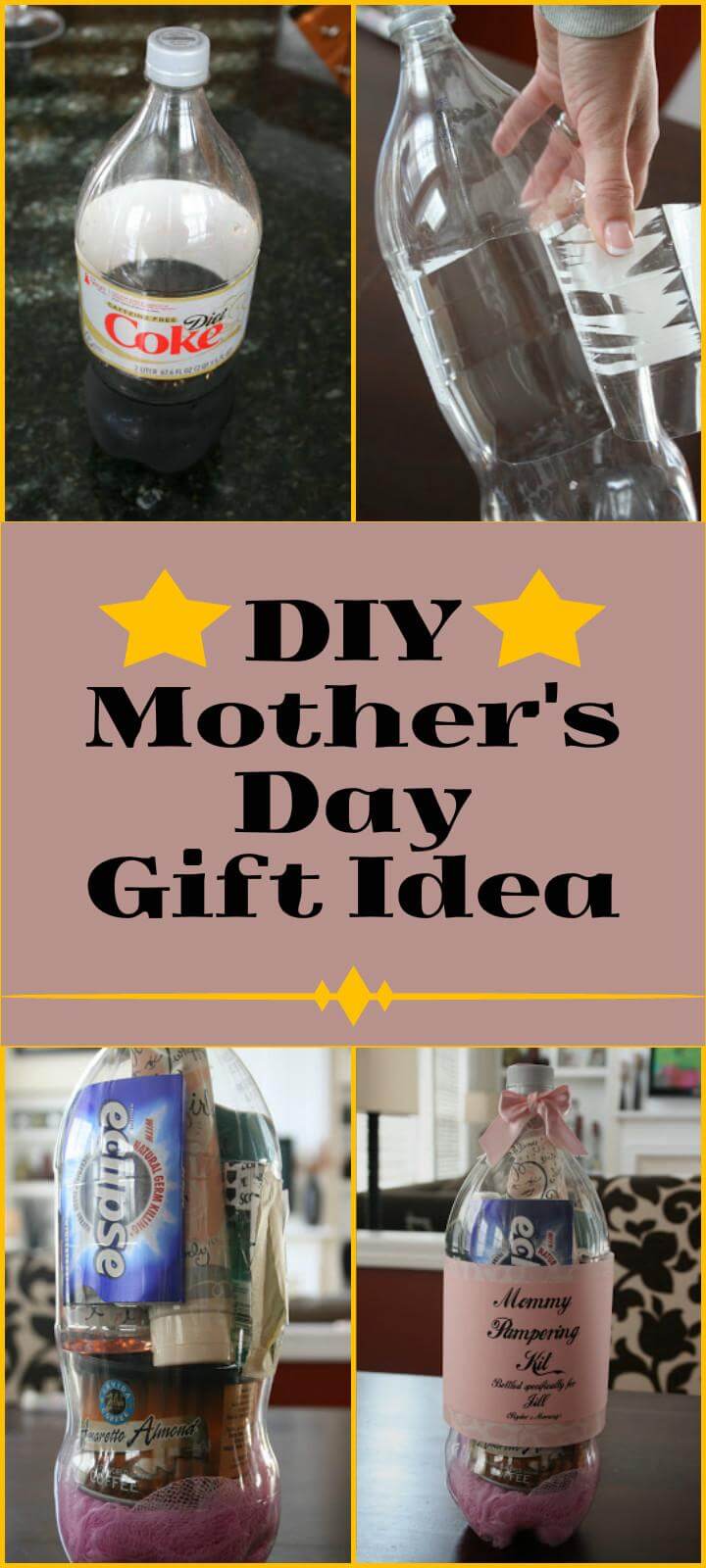 You can get a an empty coke bottle and fill it with the fun goodies inside that you know your mom would love and then paste a cute Mother's day printable on it and its ready to go as a unique and cute gift idea. Just a few minutes and a few supplies and this gift would be ready to please your lovely Mom ande+verythingsweet
DIY Upcycled Glass Flower Vases:


Anything bottle or jar like which is empty and lying uselessly in your kitchen can be used to lots of crafting projects like here they all have been painted in white and turned in to the lovely flower pots to hold the flowers in and get displayed on tables, shelves and night stand and perfectly used as the mother's day gift.busy-mommy
DIY Scrap Book Paper Square Tile Coasters:


Using the tiles as the coasters is the new idea in the gift crafting and here we have brought to you a sample and example. The simple and plain white tiles have been covered with the paper of lovely prints and designs and thus these lovely and enchanting coasters have been instantly turned into delightful mother day gift pack thecottagemama
DIY Mother's Day Gift Project and Tutorial: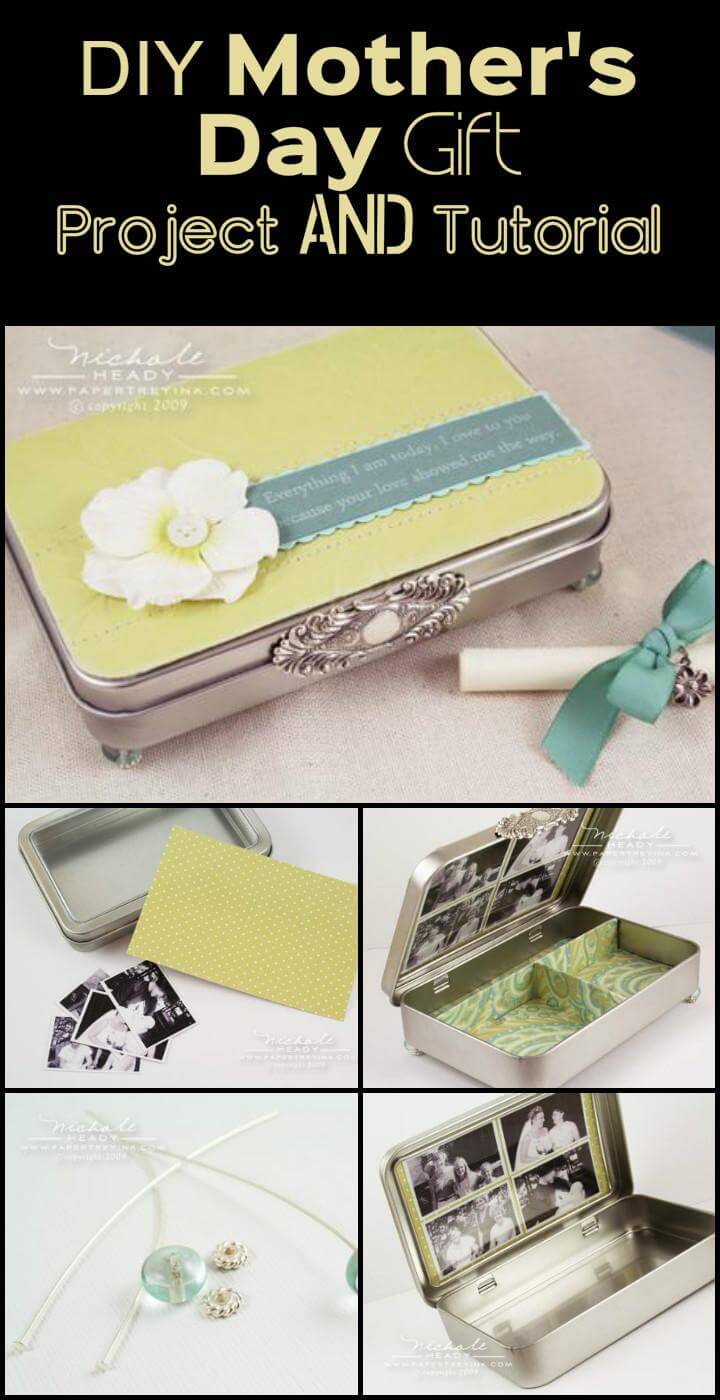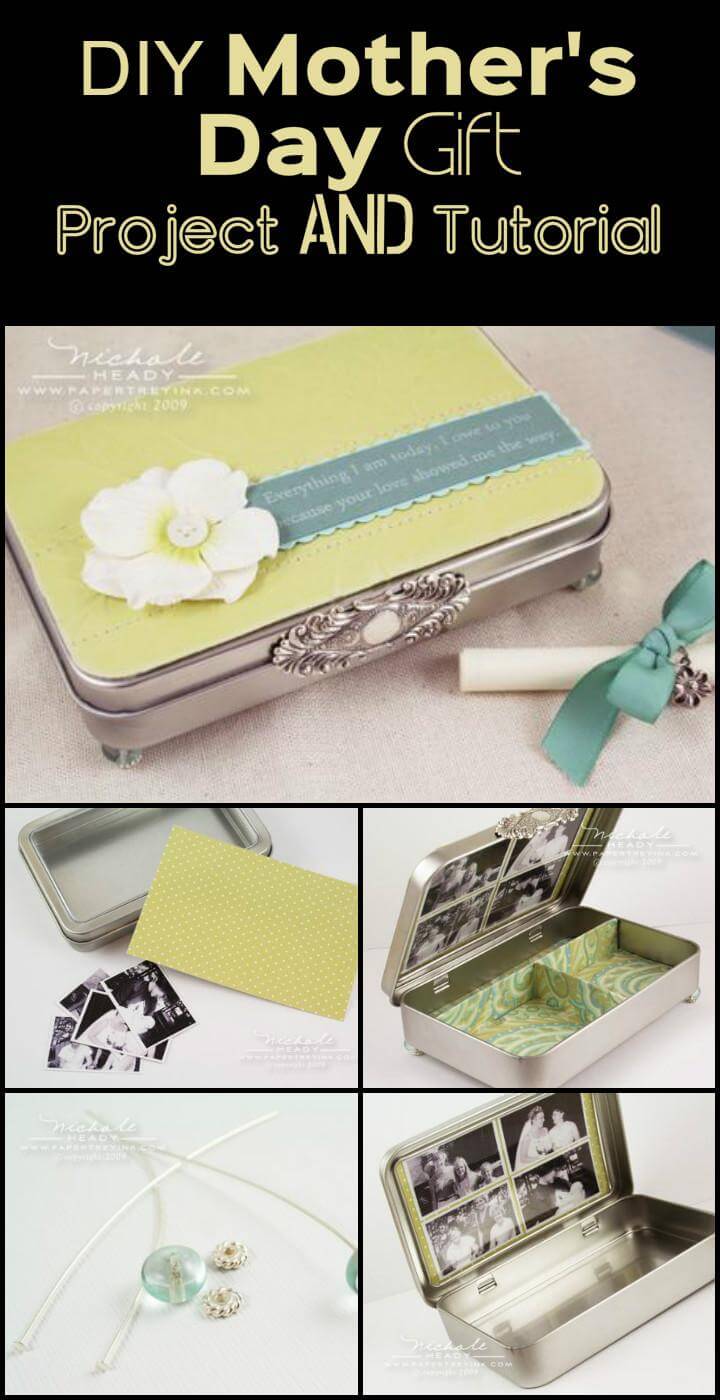 Using a simple geometry box with pictures and some crafting paper wrapping on it would make it really a cute gift for the mothers day and some added beads would extra cuteness, love and beauty to it.here is the full tutorial of its making of your own and that too hurriedly onedaywhenihavetime
DIY Mother's Day Doily Canvas Bag Tutorial:


If your mothers is the one who shops for the house then you can make this lovely and cute canvas bag for her with the M letter printed on it and making it look really a heart warming piece for the mother's day gift idea. So know it more here to make it yourself at home ashleyannphotography
DIY Mother's Day Free Printable Subway Art: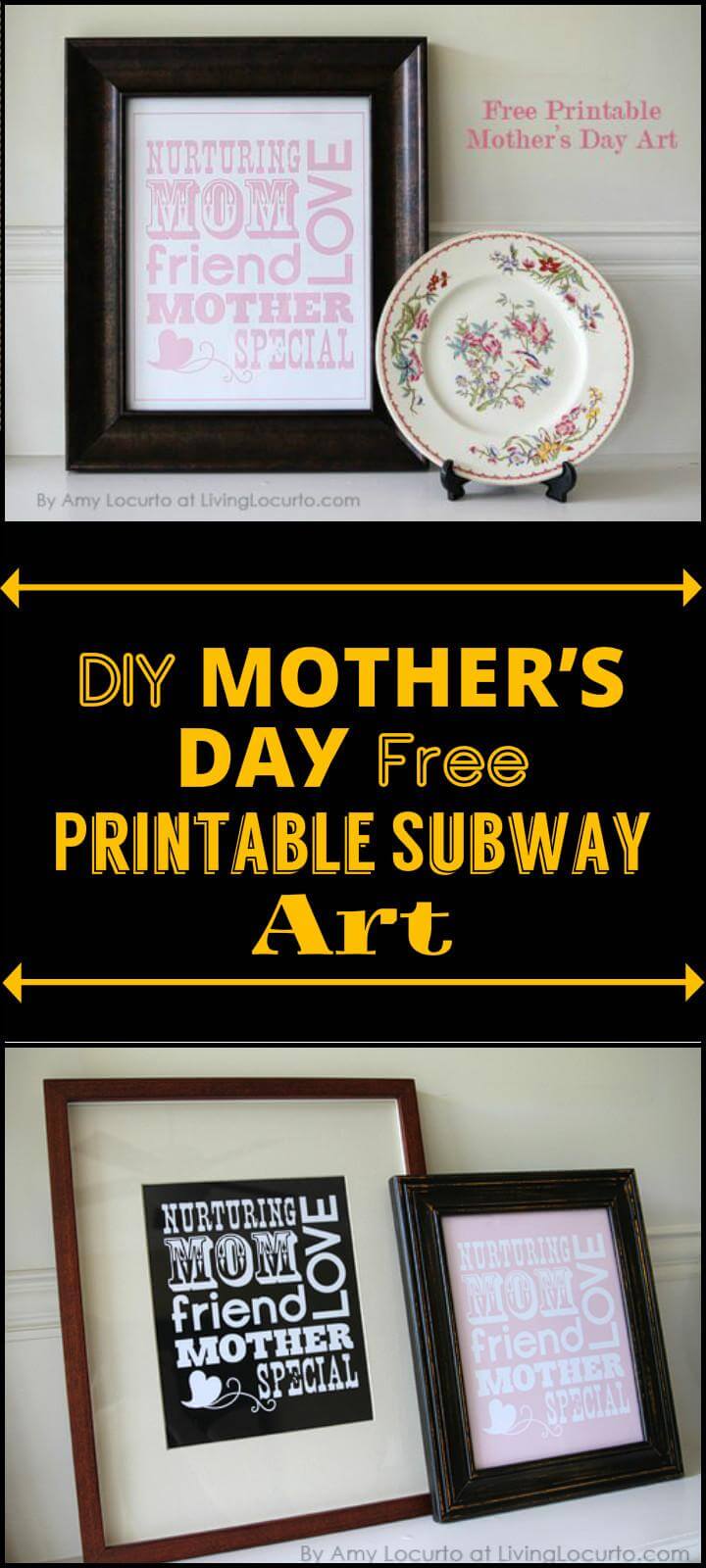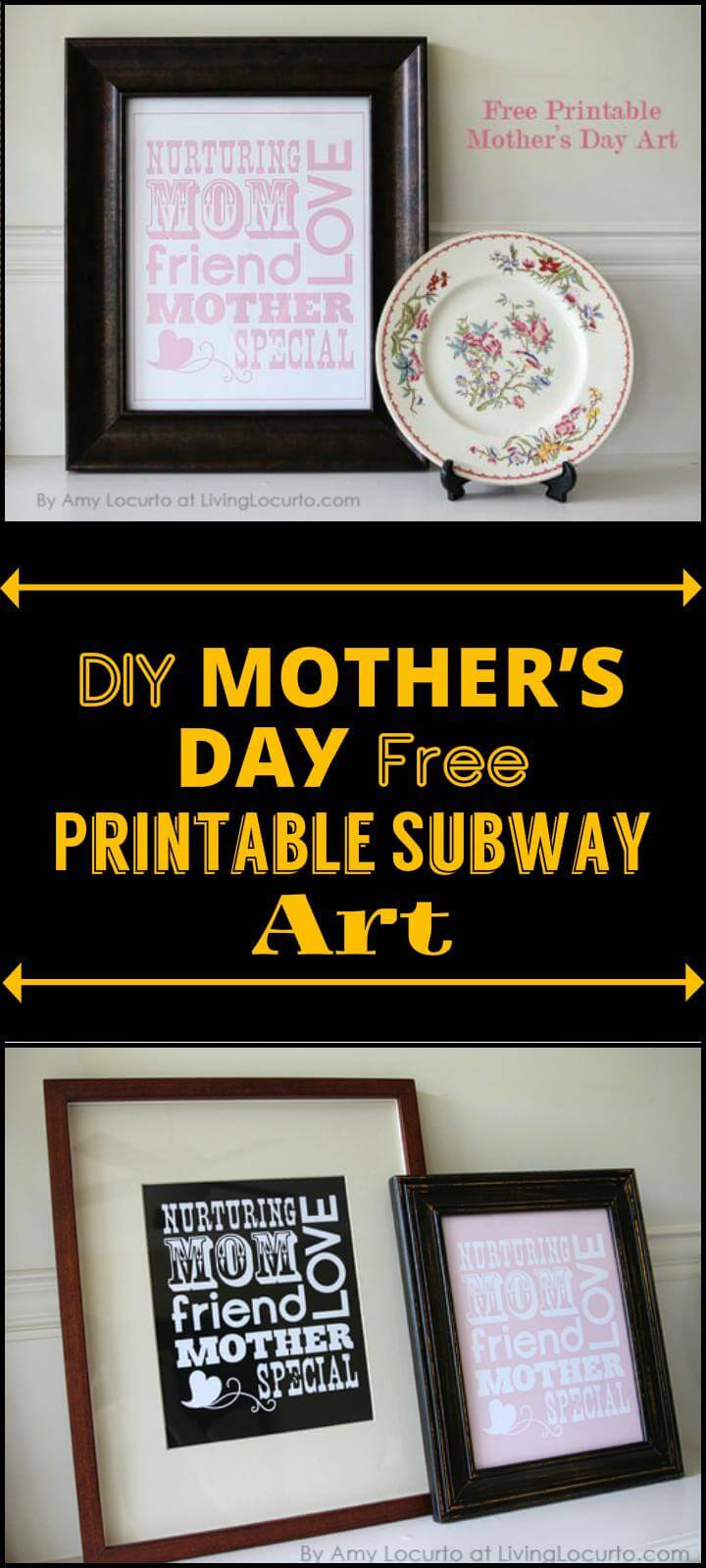 For someone her mother is the most special on earth and for the other she is her best friend so here a lovely idea to show it in the fun crafting and creative way through these lovely quoted printable being framed up and displayed nicely on the night stand or side table of your mother's room livinglocurto
DIY Shredded Paper Seed Starters: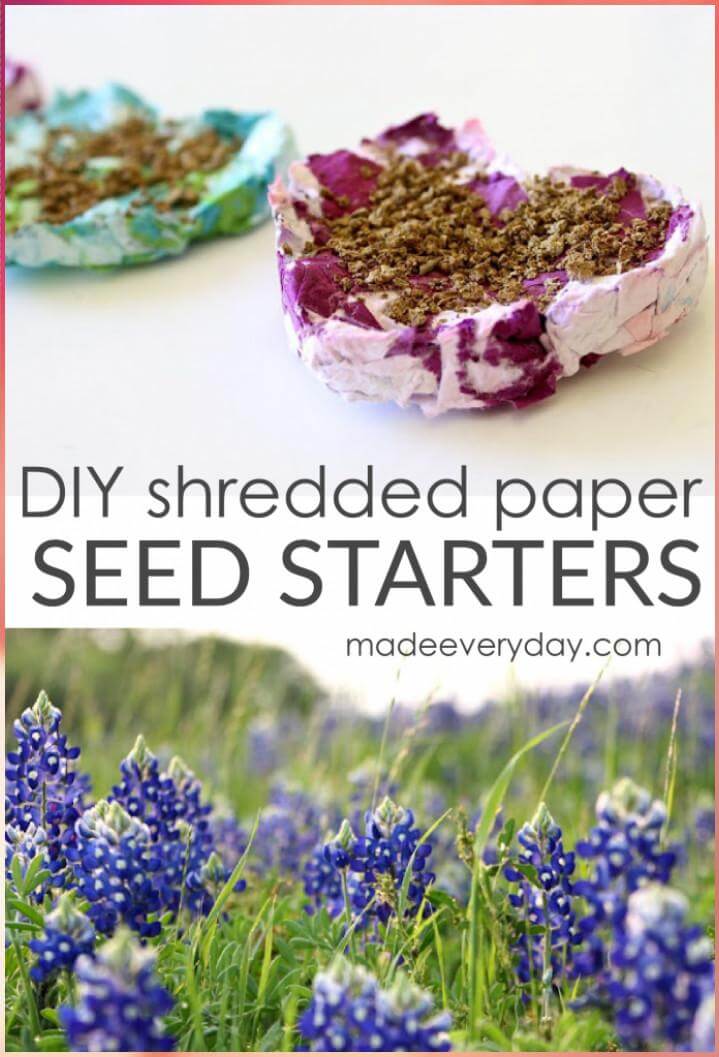 Instead of using the seeds directly for the planting you can use them in the form of these cute and lovely shredded paper seed starters and thus convert them into the cutest gift idea for your mother on the mother's day. Here is the full tutorial to make them nicely and cheaply at home madeeveryday
DIY Silhouette Mother's Day Gift Idea and Tutorial:


Cute and little silhouette faces are the new rage in the world of art and craft and can be seen on so many projects so here we give you the cutest and loveliest idea to use those silhouettes for the mother day gift to make these pretty pendants for your mother on the mother's day which is approaching so soon. jonesdesigncompany
DIY Mason Jar Sewing Kit Mother's Day Gift Idea:

Sewing is the hobby of so many moms so gifting them a cute and nice functional sewing kit is the best idea to surprise your mom on her big universal day the mothers day and you need some sewing stuff going int o an empty mason jar with the lid being padded to hold the pins in it and its to rock on. Here are complete details of it waittilyourfathergetshome
DIY 5 Minute Scarf Mother's Day Gift Idea:

If your mom is stylish and fashionable personality then giving her this lovley and cute infinity scarf on the mother's day would be a perfect idea and wold be so light on your pocket too. So here we have this absolutely easy and fun five minute infinity scarf idea that you can easily do yourself gift her sweetcsdesigns
DIY Herb Chalkboard Pots:

Here is a lovely idea for the mother's day gift with these lovely painted and named pots that would be a fun addition to your mom's herb garden and she is gonna love them to the core. Check out the whole tutorial right here designdininganddiapers
DIY Living Room Gallery Wall:

bigger efforts would be more fruitful like you can estimate the joy and excitement your mother can experience after waking up to this absolutely chanting and exquisite gallery wall filled with lovely frames, monograms and a cute wooden arrow on the hall or living room wall. It looks tough but it too easy and you can check it out with the details here lovegrowswild
5 Easy DIY Pillow Designs That Anyone Can Do:

When it comes to mother's day gifts there are like endless possibilities to do yourself at home and we have them all here. Like this lovely set of round and square pillow that you can create as a set with lovely prints, flower styling and quotes and use as mother's day gifting. See the tutorial here  lovegrowswild
DIY Foam Laurel Wall Decor Mother's Day Gift:

Give your mom something that would be always with her and in front of her and I think this lovely DIY monogram on wood with flowers for the walls would make a perfect gift idea for the mother's day. Your mom would display on the walls of her room and smile whenever sees it. Know how to create it right here lollyjane
DIY Handwarmers Mother's Day Gift Idea:

Mother's day also celebrates the motherhood so all the mothers out their can make these lovely , cute and small hand warmers for your kid as a pure gesture of mother love on mother's day so that they can have a comfortable and warm journey to their schools in winters. Easy to make details are here raeannkelly
DIY Lemon Bath Bombs Mother's Day Gift Idea:

Mothers always pampers us through lots of things at least on the mother's day she deserves to be pampered by the kids and for that you have to come up with some really cool and functional idea like this one suggesting you to make handmade soaps, bath bombs and scrubs for her and she would be more than happy to receive them apumpkinandaprincess
A Mind-Blowing Mother's Day Gift:

If you have some nicely colorful and striped pattern fabric in your house you can use it for this lovely project of mother's day gift. All you need to do is just wrap that fabric around he vases and tie with a thin yarn in the center and they are ready to make your mom smile by refreshing the décor to some extent iheartnaptime
DIY Vanilla Mother's Day Gift Project:


The mothers love cooking and having their favorite ingredients on the spice racks is always in their priorities and they can know well how much a vanilla essence is necessary for tasty cooking of various dishes. So here is shown the complete tutorial how you can make vanilla essence of your own and use for mother day gifting. brepurposed
DIY Wristlet Key Fob Mother's Day Gift:


If your mom always forgets where she had put the keys, just make this cute and lovely belt at home and it would also be a great idea for the coming mother's day too so she can put the keys in and wear it around so that she does not lose the keys ever again. Here is the tutorial of it prettyprudent
DIY Mason Jar String Art Mother's Day Gift Idea:


Get your artistic hands busy this mother's day by gifting your mother this beautiful artistic piece to proudly flaunt in her home decor. This is DIY string mason jar at on a wooden log piece with some added flowers in it to give an illusion of a mason jar flower vase and it looks superbly cute and unique. Know to make it here with complete directions dearparadise
DIY Reclaimed Wood Salvaged Junk Heart Gift:


heart, word love and pictures are the most emotional and expressing things to use for someone special and here we have combine them all to turn out the great gift idea for the most important person in every one's life which is the mother. So make this lovely wooden heart with LOVE letters and hanged picture in it funkyjunkinteriors
DIY Metallic Rope Throw Basket:

Throw basket is one of the important home possessions so here we are showing you the easiest way to please your mom on mother's day and this involves a throw basket. SO all you need to do is give this throw basket a lovely makeover with metallic rope and that is it. Complete details are here  lydioutloud
DIY Mason Jar Sewing Kit Mother's Day Gift:


Make your mom's stitching activity more fun and easy with this lovely and easy yo make mason jar sewing kit and its like the quickest thing you can make even on the very last minute and get yourself something useful to offer on the mother's day as a special gift on your part. Know more its details here  polkadotchair
DIY Vine Cork Mother's Day Vases:

Wine corks are just trash for normal people but for a crafty person its a treasure as it can be used for lots of fun and valuable gains for some special days too.Like you can create this adorable and simply gorgeous DIY cork vase which she can proudly display on her night stand or the shelves in her room.  designimprovised
DIY Distressed Wood Word Art Mother's Day Gift: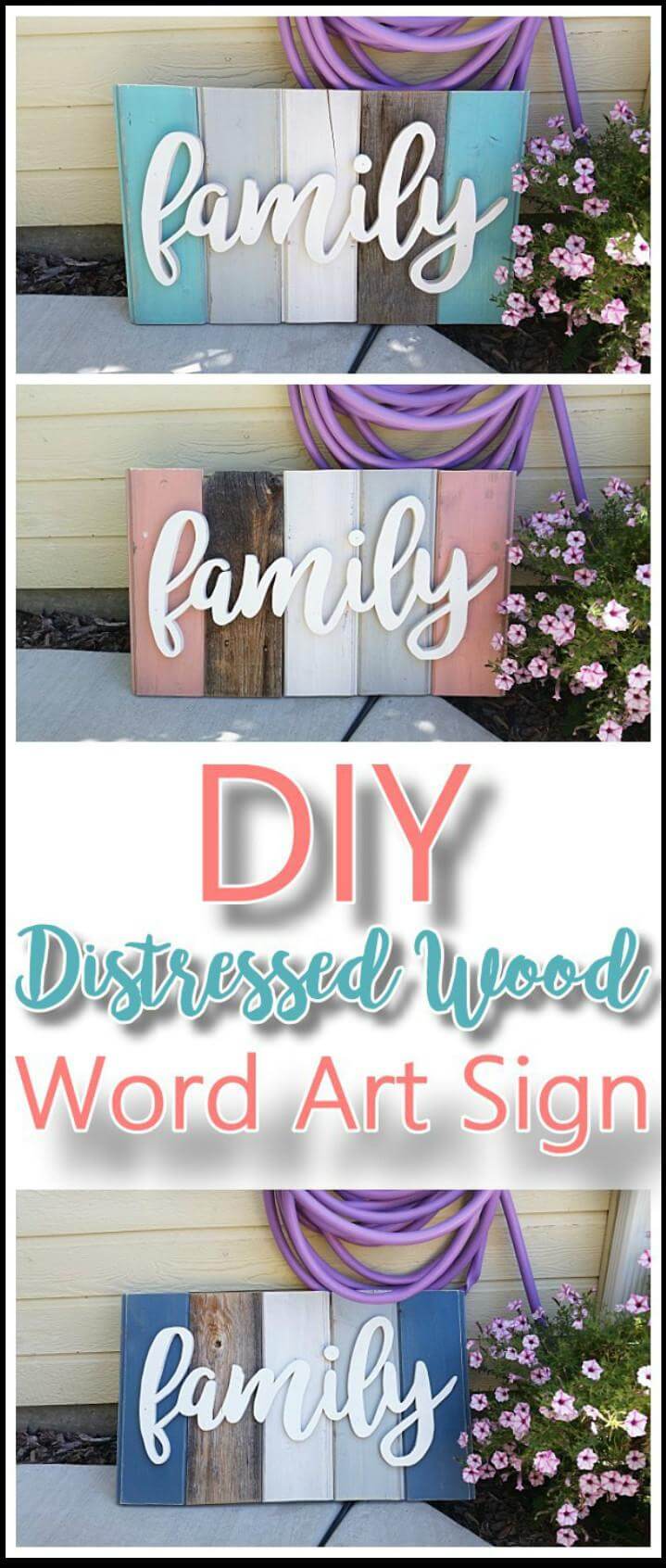 This lovely wooden word art is just too exquisite and enchanting to win someone's heart with the very first glance over it. So here we offer you to make this this mother's day and its too easy to do it with some painted wooden slabs and the Family word written and then drilled out to paste on the slatted board. here is the full pictorial guide of this project dreamingindiy
Egg Carton Roses DIY Lamp Shade Mother's Day Gift:


using the egg carton for the crafting of roses and then using those roses to glue up on the lamp shade would the perfect idea to revamp a lamp and let it make some chic style statements in your room. And this DIY egg carton rose lampshade would be a great idea for the mother's day too. Know it all here in details godzgear
DIY Wisconsin State String Art Mother's Day Gift:

String art is getting really popular these days and its to easy to do yourself at home and get some admiration from your close ones. So as the mother day is approaching you can try your hands on this state string art and give a really artistic surprise from your side. The details of the supplies and directions is right here craftsbyamanda
DIY Polka Dot and Leather Fold Over Clutch – Mother's Day Gift Idea:

Anything in dress up accessories is most loved and adored by the ladies of all ages so if you are good at doing crafting stuff you must make this totally gorgeous and cute polka dot leather clutch that you mom can carry with her lots of dresses and remember you every time while carrying it with her. Its simple to make yet the tutorial is here  polkadotchair
DIY Recipe Holder – Perfect Mother's Day Gift:

There is a special recipe behind every successful dish of your mom so here is a great idea to cheer her up this mother day which is related to her cooking and would make it really easy and fun to try to new recipes in future. This is DIY recipe holder that has been so cheaply and feasibly made out of wood pieces and dowels at home and so you can with instructional help here lilluna
DIY Blooming Monogram Mother's Day Gift:

Make this lovely monogram or name initial with simple crafting supplies and some faux flowers and let it be on your mother's room wall on the mothers day and she would be overwhelmed to receive this cute gift from your side.Catch all the directions of this plan right here lulus
DIY Mother's Day Gift Free Printable:


Here is another lovely idea for the mother's day that seems to carry lots of sentimental value for having pictures and a lovely printable mother day quote nicely displayed on a wooden board which has been rustically painted in brown hues to bring that prefect touch it while displayed on the walls of the house shanty-2-chic
DIY Mother's Day Vase Gift: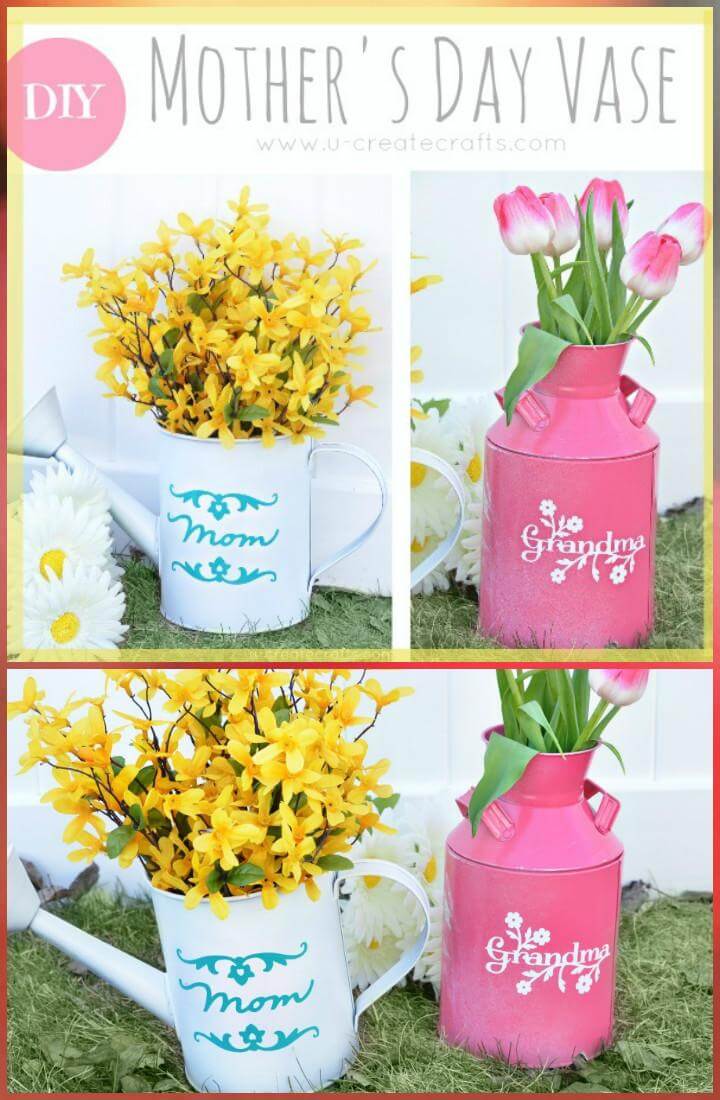 Need a mother day idea that would be a great hit? so here it is being totally unique and so cheap. All you need to do is just paint some garden watering cans from your garden and put some lovely flowers in them and they are ready to be gifted with a mother's day tag on it. Get the whole plan with details right here u-createcrafts
DIY Easy Beaded Candle Holders and Vase:

Moms put lots of efforts to make gorgeous decor on the festival dinners and holiday home styling and this mother day you can gift them something that would help her in both of these tasks,. And these lovely glass painted and dotted vases and candle votive are the best gift to present in this regard and make her truly glad  homeyohmy
DIY Heart String Art Mother's Day Gift Idea: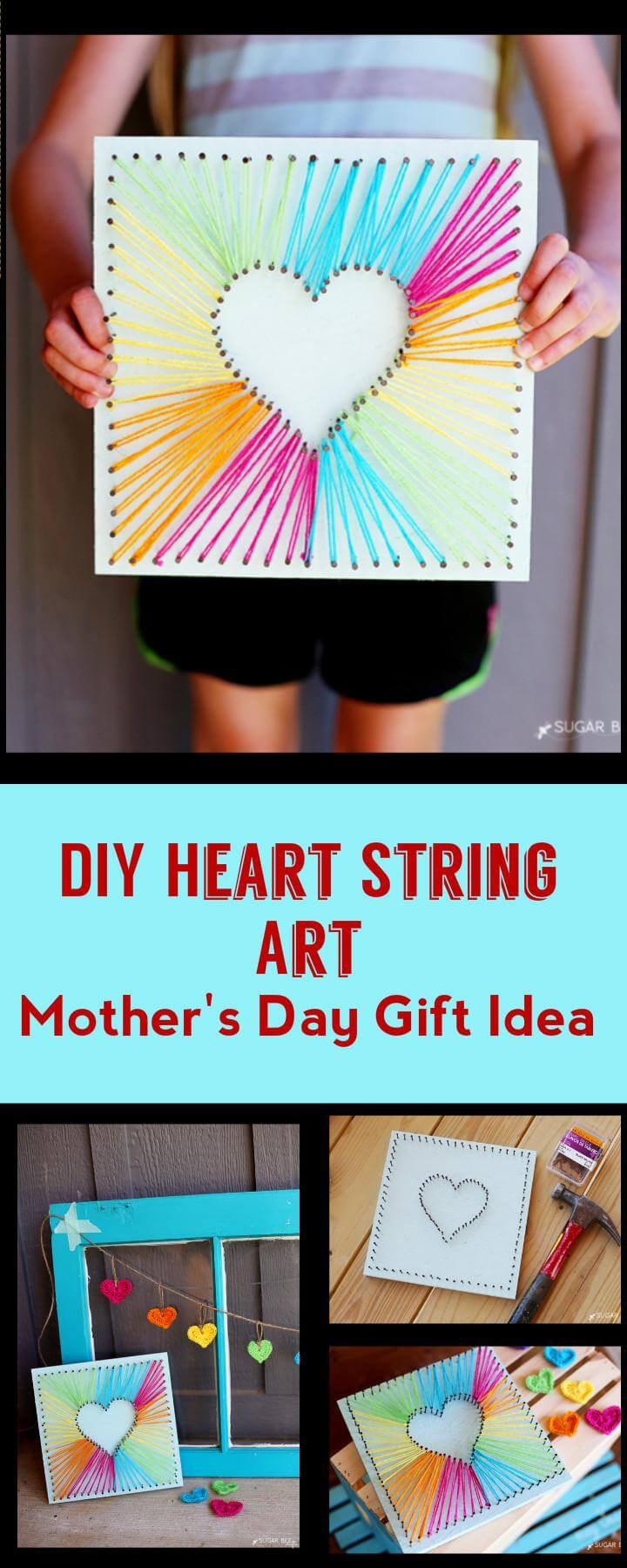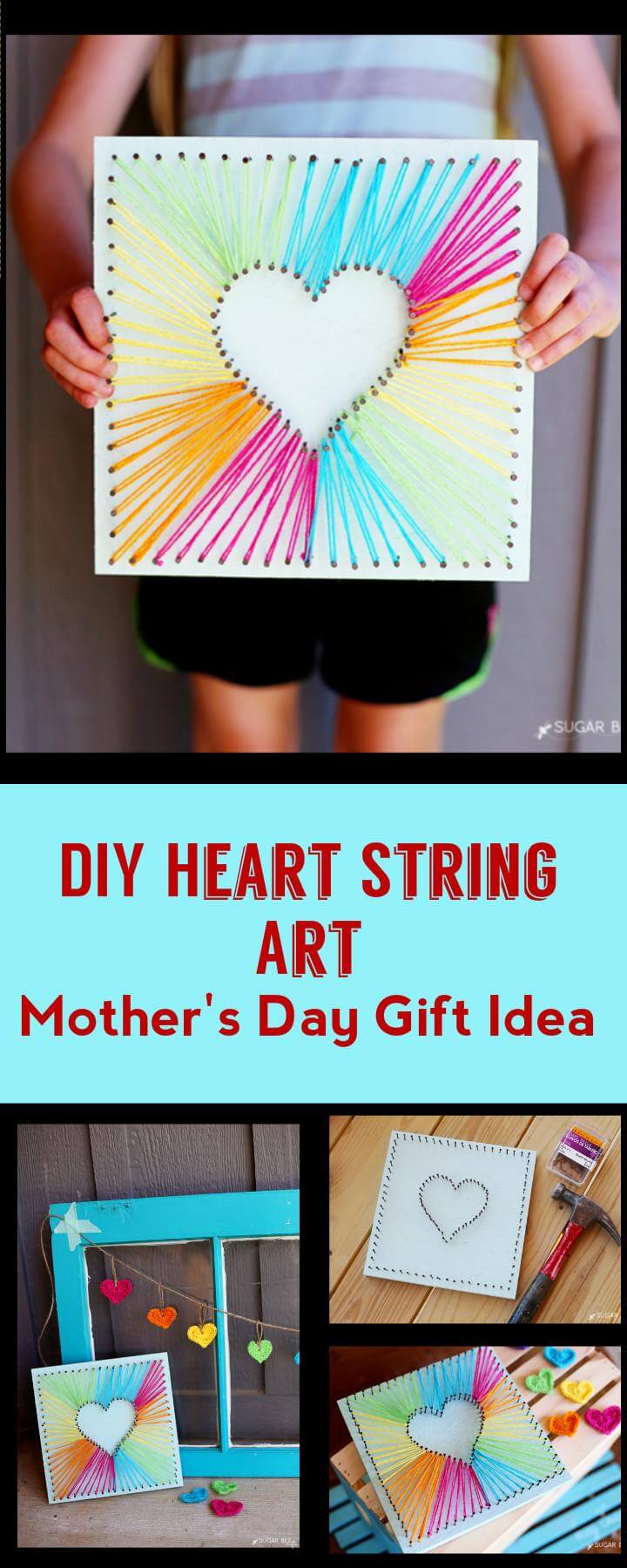 Art is getting really wider and bigger and this string art is really getting famous these days.So srurpise your mom with this lovely and colorful heart created with string art on a lovely wooden frame. She would not like it but totally love it for being so cute and adorable for her room walls to uplift the decor there sugarbeecrafts
DIY Gemstone Soaps Mother's Day Gift: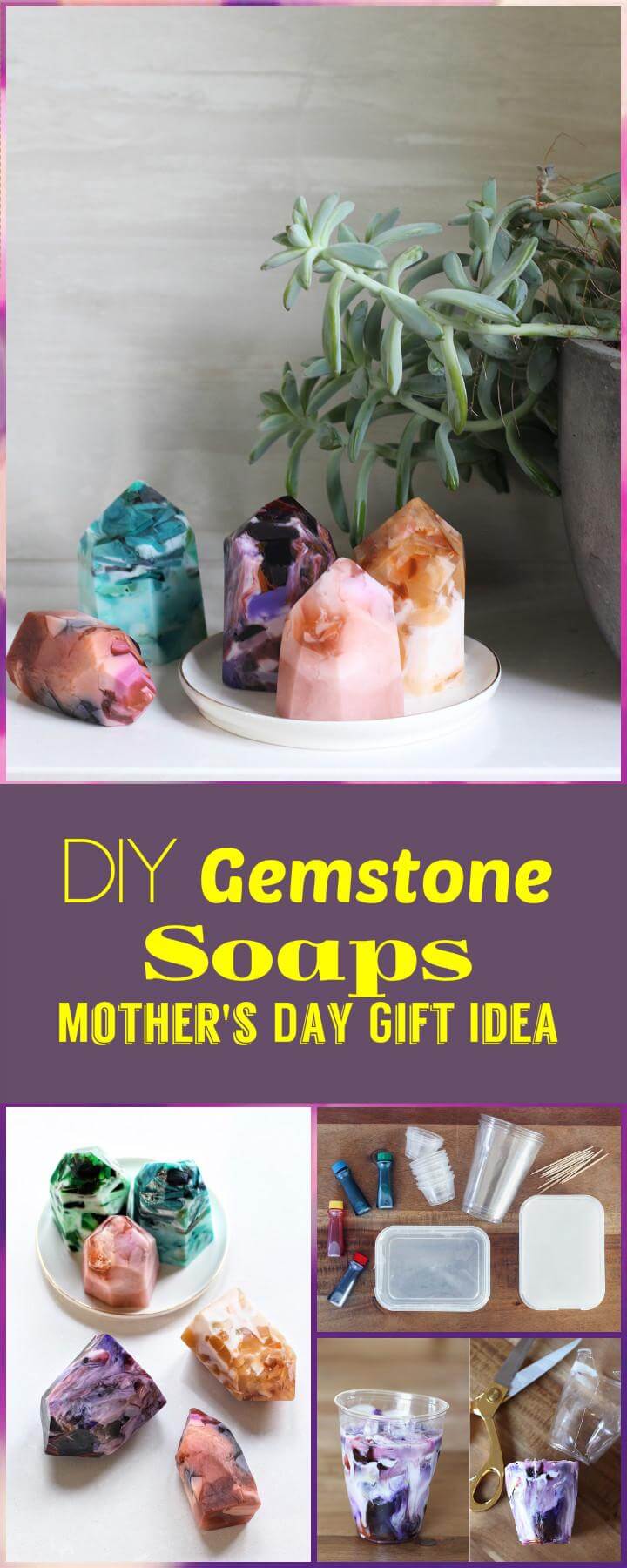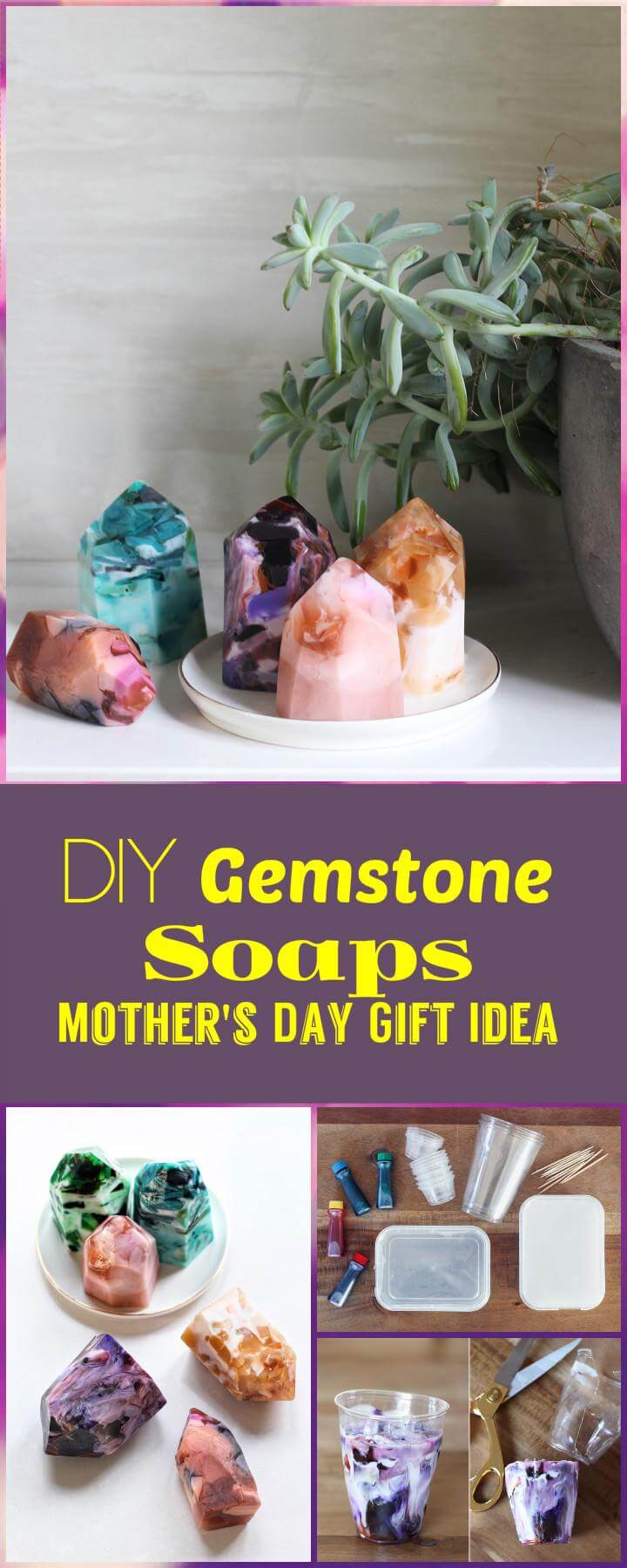 Handmade soaps are the perfect ideas for the mother's day gift, friendship day, birthday gift for girls etc but as the mother's day is approaching soon so you should pick up this idea to please your mom as you would be really over joyed to see these immensely cute gem shaped soaps in her room. Get the details here honestlywtf
DIY  Floral Tea Bags – A Mother's Day Gift Idea: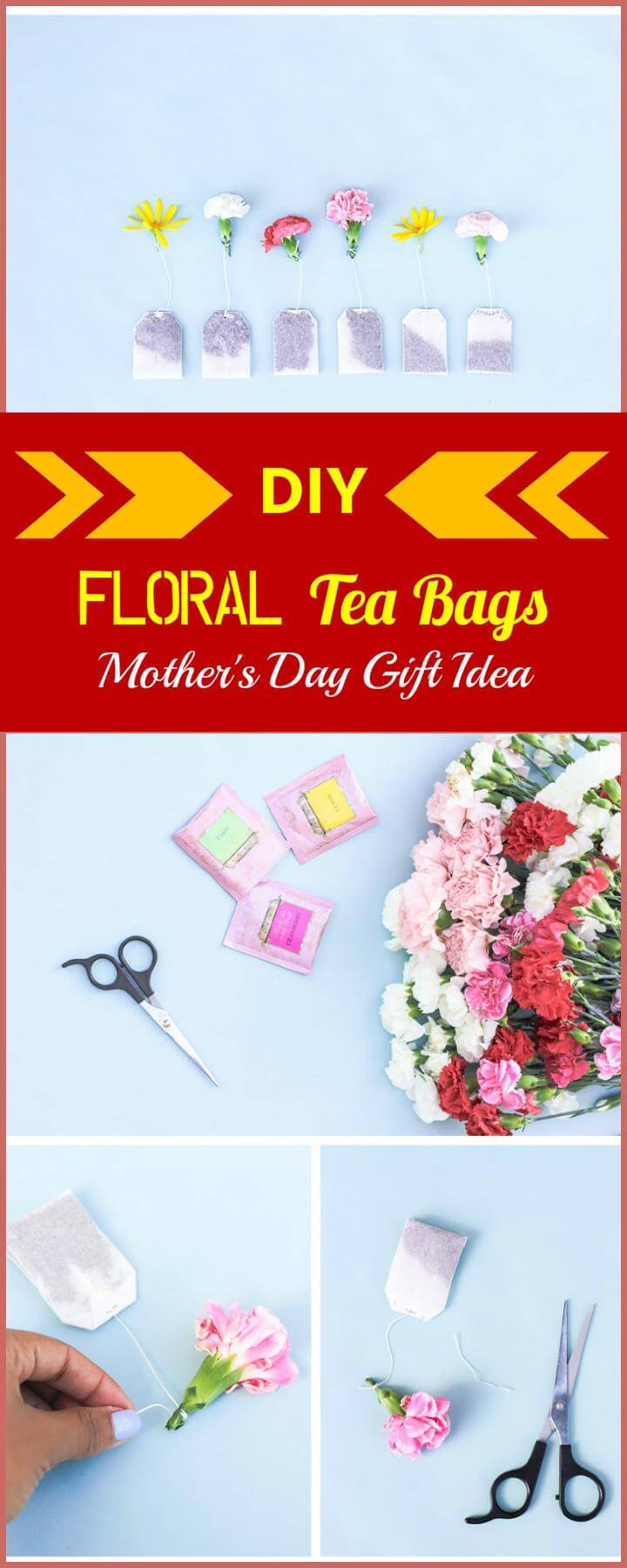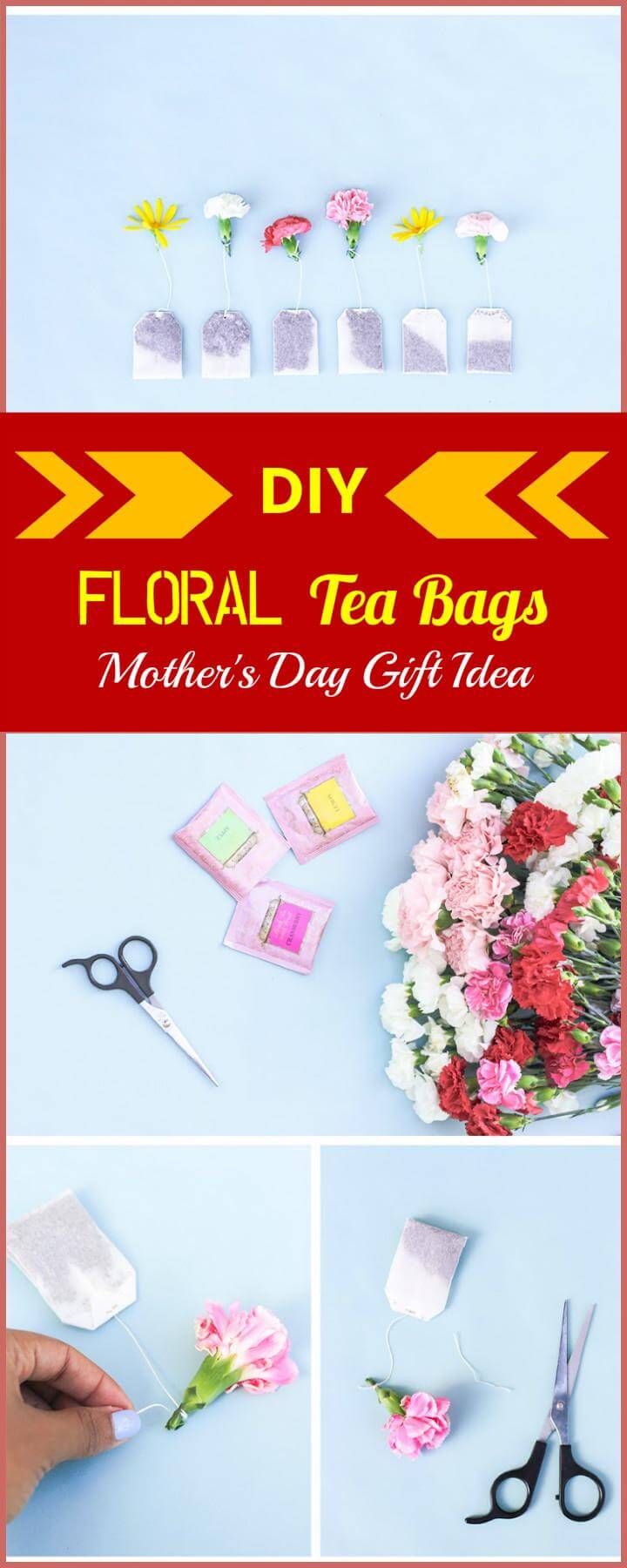 Many mothers are addictedly in love with the tea and if yours is also the one then you can surely try this floral tea bag idea on this mother's day and give a cute gift delight.Just make some easy paper flowers and add them to the end of the tea bag string and that is it.Though totally feasible and simple yet the details are here to explore it more thekipiblog
DIY Dip Dyed Ombre Bag Mother's Day Gift:

If your mom has an old white bag that that she is not using you can restyle and revamp its look by dying it in omber through easy dipping technique. The idea would work really nicely this mother's day as a cute and simple gift for your mom See the full tutorial here hisugarplum
DIY Vintage Tea Cup Candles for Mother's Day:


Pleasing your mom on the mother's day is not so tough with a simple and cute gift idea. Like these lovely tea cup candles made at home with vintage tea cups and some wax in them. No money, no hassle but the result is absolutely a cute and pretty gift. Chekc out the turorial here heygorg
DIY Ombre Tassel Necklaces – Perfect Mother's Day Gift:


Next day is mother's day and you have not prepared any gift for your mother? Don't you worry at all as we have this lovely, totally cost free and immensely quick to make mother's day gift idea and this is the cute tassel necklace for her. Just grab the tassels in omber and get its details here to make it damn easily and quickly of your own homemadebanana
DIY Zippered Washbag Mother's Day Gift:

The mothers who have busy outdoor schedules need a personal bag full of some refreshing accessories like faces washes and some touch up things in it and you can make this cute and simple zipper wash bag for with from your cloth stash at home and filling it with the relevant would be enhance its value more. Know the stitching pattern right here mypoppet
DIY Gilded Edge Agate Coasters – Brilliant Mother's Day Gift Idea:

These agate glided edged coasters are the kind of you would only see in magazines and catalogs with hefty price tags but now you can make them of your own and offer you mother a full pack as an awesome mother's day gift and she would be over the moon to receive them. Here is full detail of this amazing porject makinglemonadeblog
DIY Lavender Sachet to Gift on Mother's Day:

Lavender sachet idea is perfect to go for any event and so are they apt for the mother's day and now instead of buying them from the market you can make them of your own in any desired style be it chic, modern or rustic choosing the type of fabric for it from your home fabric stash. Here is the detail of the supplies and the whole tutorial to make it of your own kimberlylayton
DIY Marbled Clay Ring Dishes Mother's Day Gift:

jewelry organizing is really a hassle for all the ladies so it would be for your mom, so gifting these absolutely chic and unique marble clay made ring dishes in which she can so stylishly and proudly hold and store her jewelry pieces and that too in the sorted way. They are too quick and easy to make so learn the tutorial here abeautifulmess
DIY Mother's Day Planter: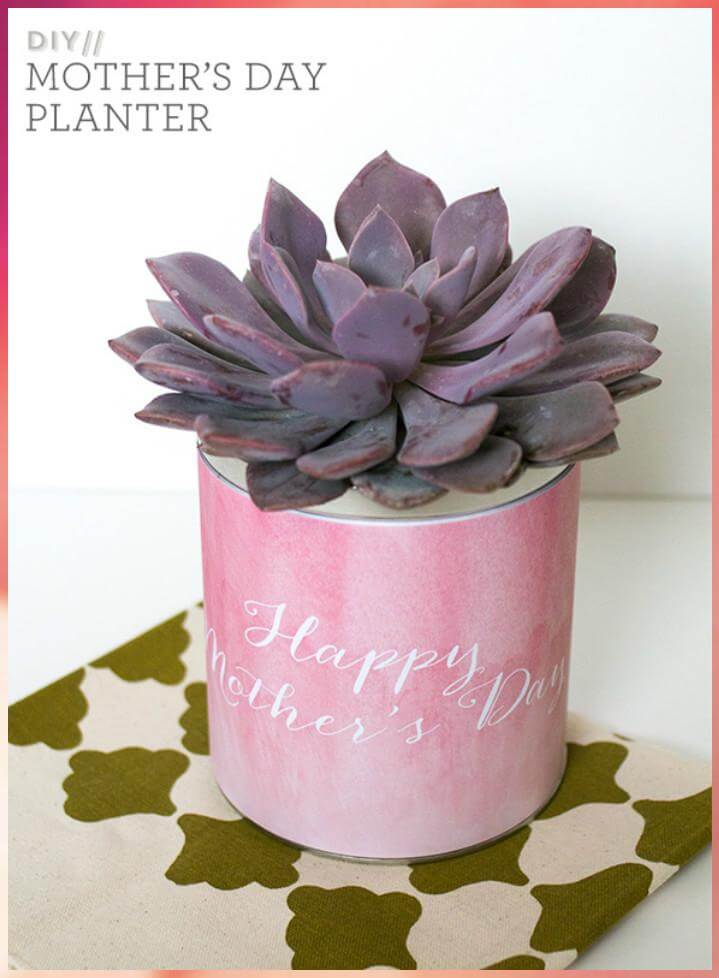 A planter can be a good idea if your mom has a love for plants, herbs and flowers to give away a nice gift on her universal day. So here have been shown a cute DIY planter made out of painted tin can and with stenciled Happy Mother's Day words on it sarahhearts
DIY Soap gift Mother's Day Gift Idea:


Soap gifts are the first one to opt for whenever we need a gift for a lady in our life. So here we are showing you a lovely way in which you can make these soap idea a bit creative and unique and that is using lovely and cute shape molds for the soaps like heart, stars and flowers. Here is the complete tutorial for this lovely mother's day gift idea latikasoap
DIY Handmade Bookmarks Mother's Day Gift: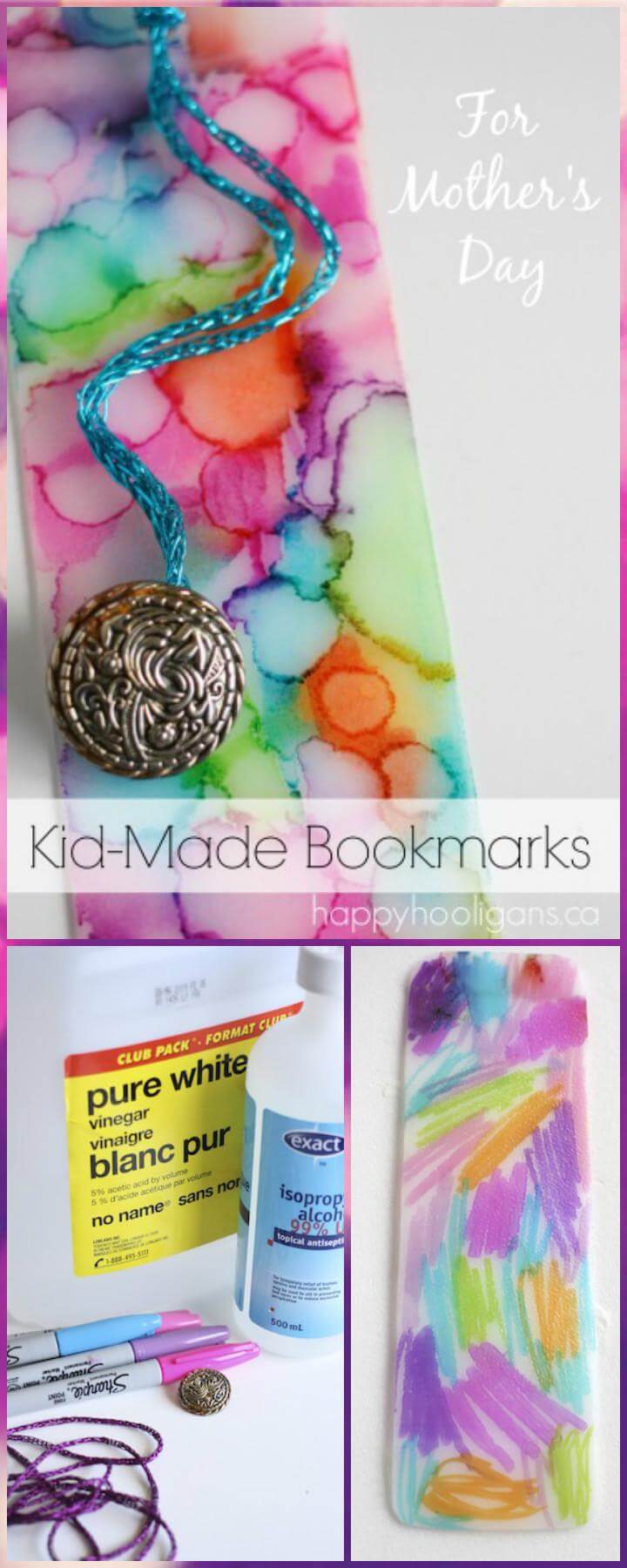 Cute and lovely bookmarks are the easiest things to opt for make at home and turn them out as a lovely and nice gift idea for so many events and special days so as the mother's day is just around the corner you can choose as a gift for your mom and let her not forget the page of her novel ever again. Here is the tutoiral happyhooligans
DIY Hancrafted Coffee Filter Flowers for Mother's Day: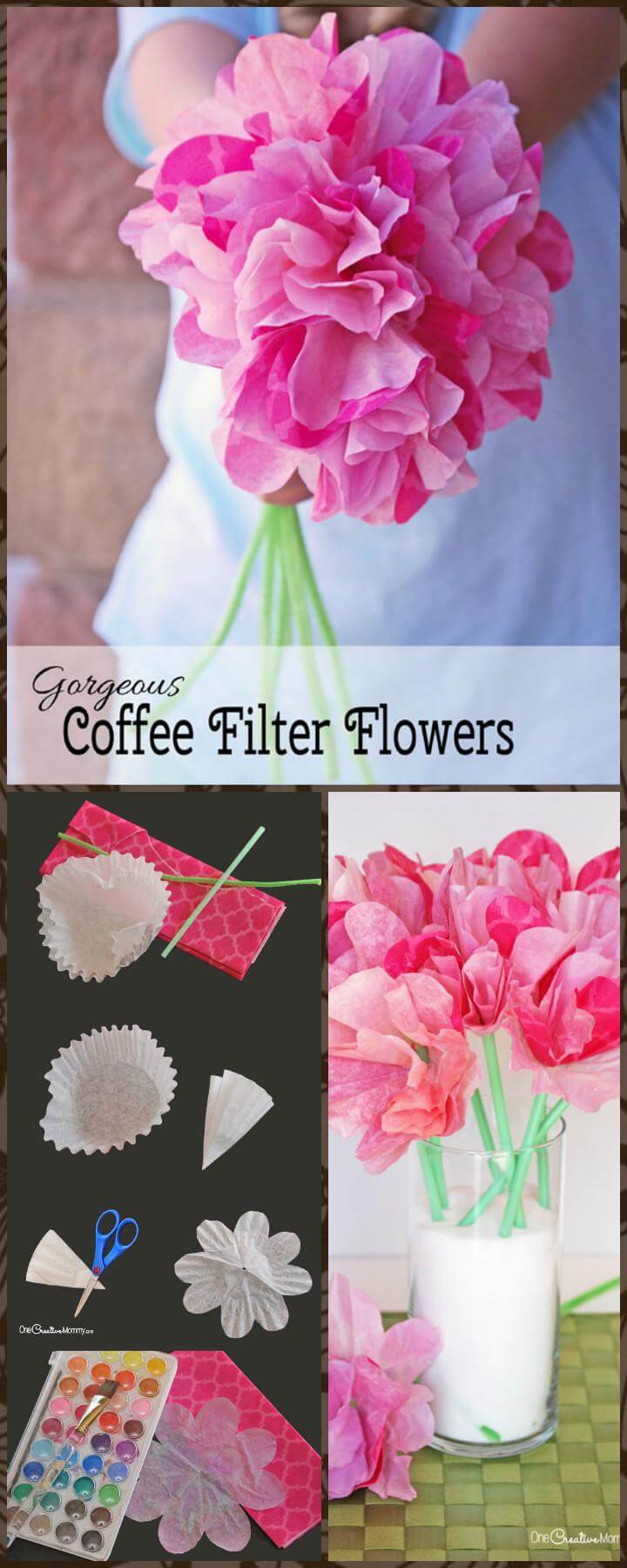 Coffee filters are available in every kitchen so pick them up, dye them in a nice color like pink, make cute flowers out of them and a lovely and the most heart warming gift is ready to give away at any special day of your dear and near one like for your mom on the mother day special.  Learn the complete instructions for it right here onecreativemommy
DIY Happy Mother's Day Photo Magnets:

Making these lovely and too cute to handle picture handle is one of the innovative mother's day gift idea and it would be best to surprise her with it as she would be expecting a boring coffee mug or a book gift. They are too simple to make and with directions and instructions you can make them more feasibly yourself at home sundaesins
DIY Balsa Wood Planters for Mother's Day:

These balsa wood made planters are too cute to die for and so it would melt the heart of the receiver when you would use them as a gift for anyone. So if you are going to make them for the first time make them for the mother for being the most important person in your life on this mother's day. They are literally too simple to make and you can know it here brepurposed.porch
DIY Party Skirt Tutorial – DIY Mother's Day Gift: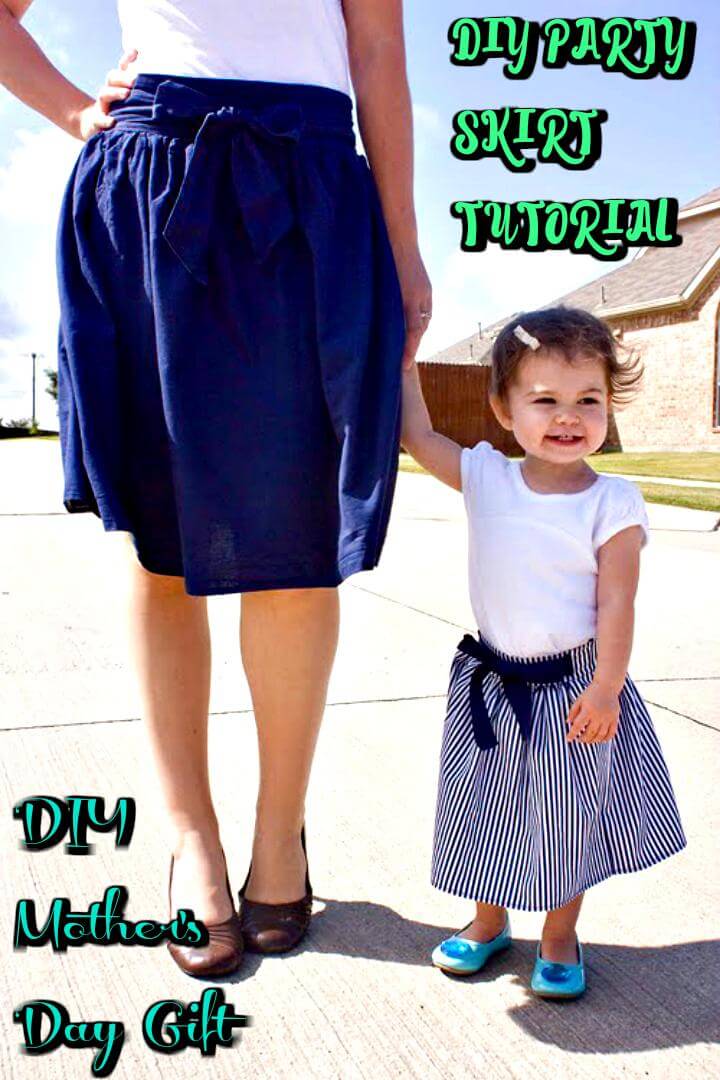 Let your mom feel young and a fun girl on this mother's day with this cute and pretty skirt that you can easily sew of your own and present her as a mother's day gift. It would be a priceless sight to see your mother twirling in your handmade skirt so do make it and here are the details for much help u-createcrafts
DIY Ruffle Wreath with Rope & a Drop Cloth Tutorial – DIY Mother's Day Gift: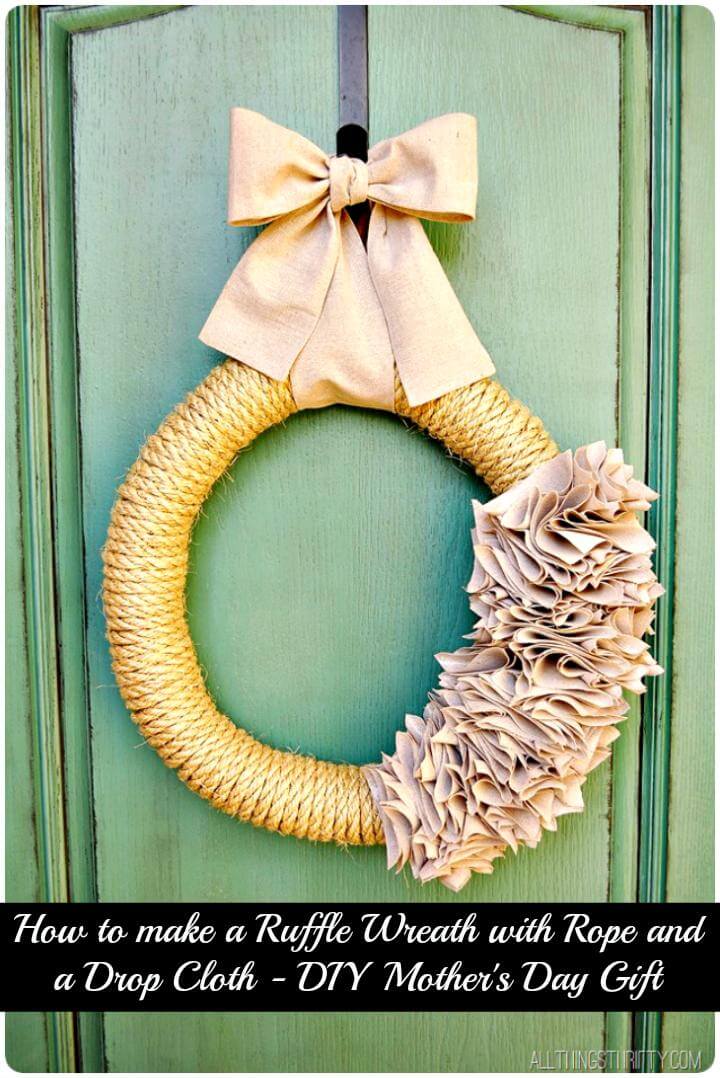 With five basic and easy to find supplies this lovely wreath has been handmade at home as an exquisite mother's day gift. Just get a thick pipe, cover it all with rope and use a drop cloth to make the ruffles and bow to add extra style. beauty and decor to the wreath. Get its every bit detail right here allthingsthrifty
DIY Biscuits & Gravy Cutting Board Sign – DIY Mother's Day Gift: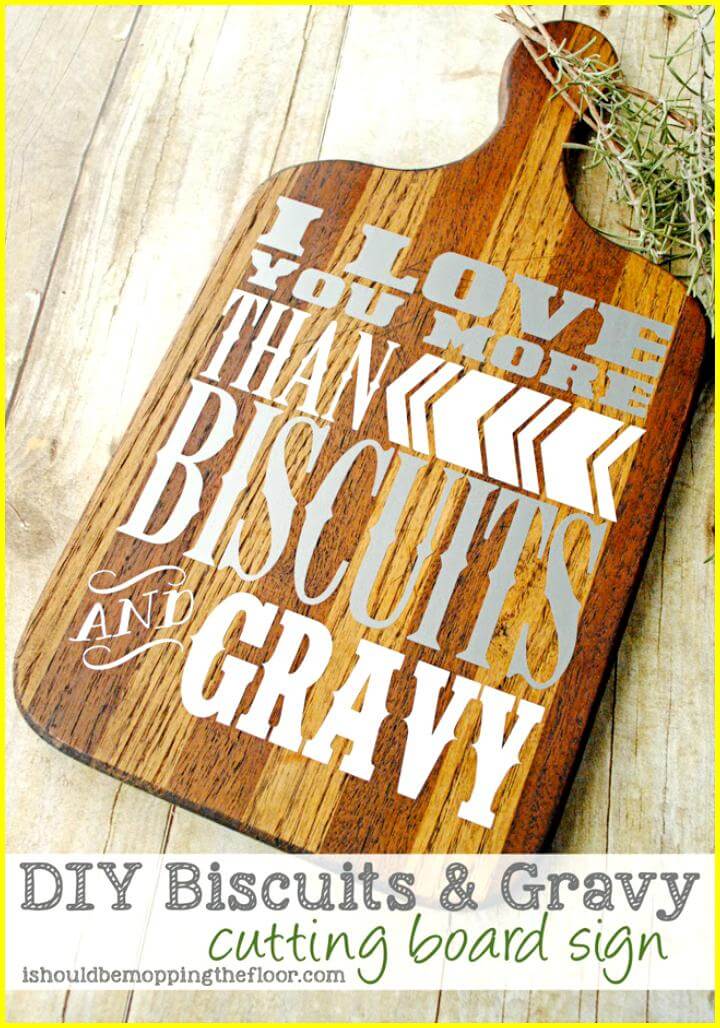 If your mother loves cooking then she would like anything as a mother day gift that would really help her in the kitchen so here is a great idea for the mote hrs day to bring her this lovely cutting board which can be made to look special and worthy with some stencil work on it. Know it here how to do ishouldbemoppingthefloor
IPad Sleeve Case Tutorial – DIY Mother's Day Gift: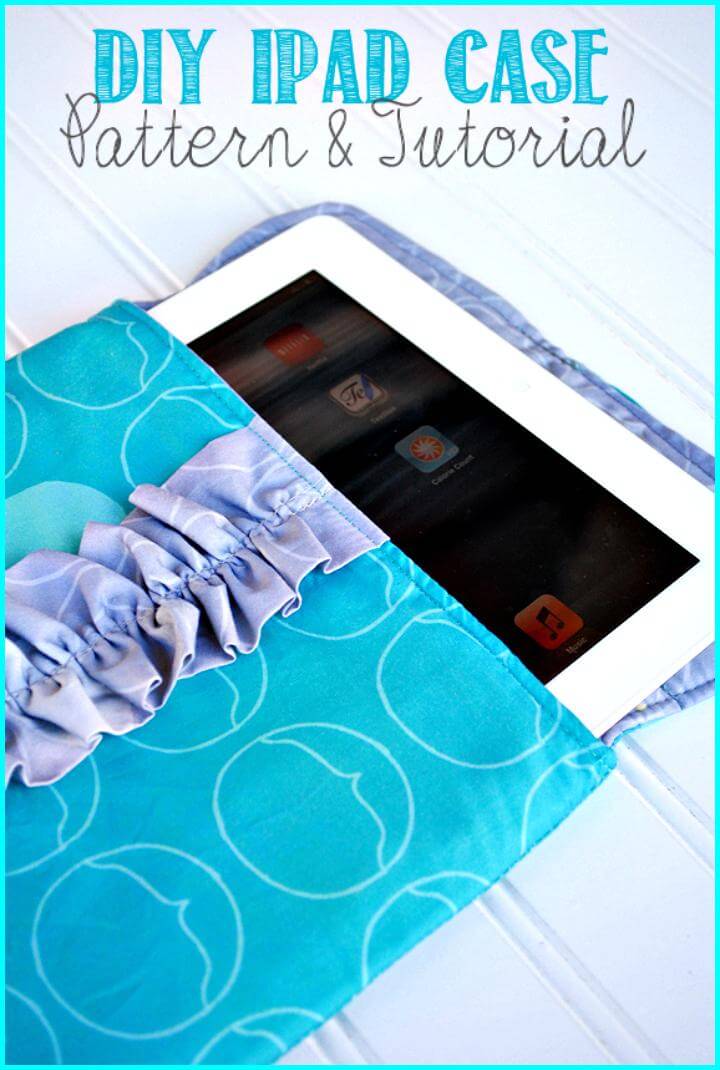 Even the simple things can make really a valuable gift when made with your own hands with sheer love and affections. So as the mother day is approaching you can make this simple and cute I pad holder for and she would be so happy receiving it for sure. Here is the link for tutorial crazylittleprojects
DIY Industrial Pipe Jewelry Organizer – DIY Mother's Day Gift: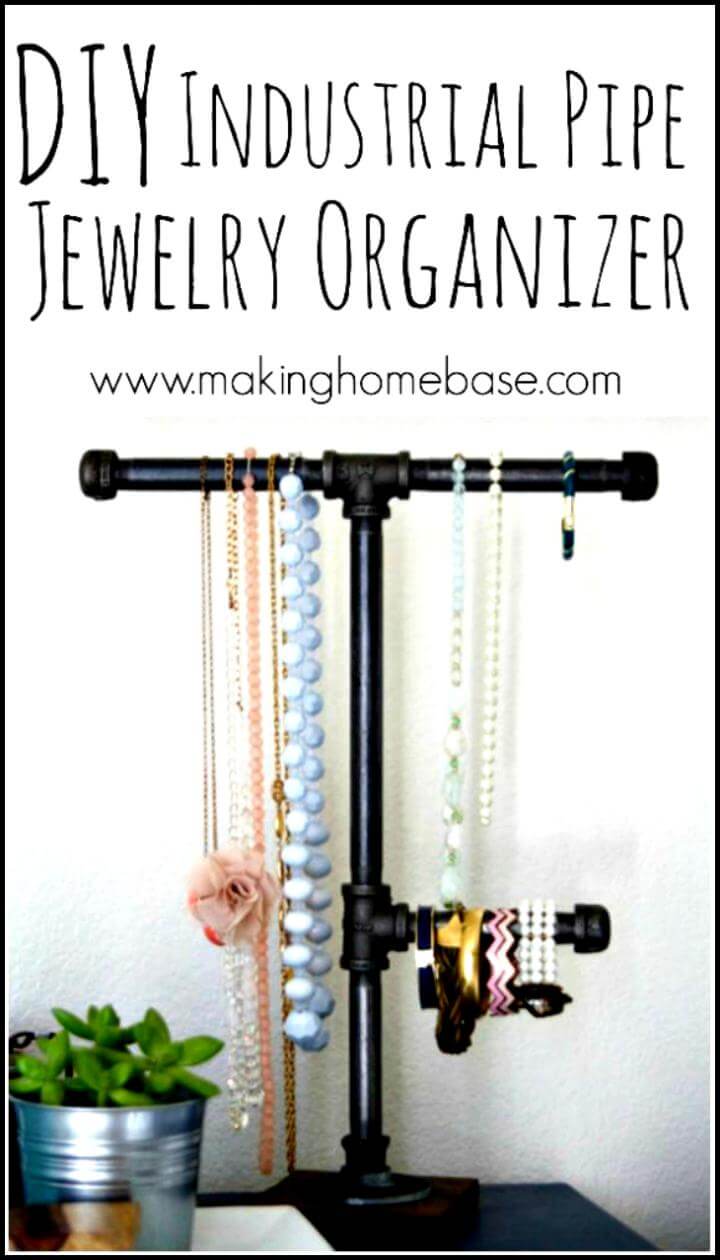 If you good at working with pipes then you can bring this ability in use to make a lovely mother's day gift. This is industrial DIY jewelry organizer that you can easily make at home and make your mother feel really easy while organizing her necklaces, bracelets and bangles. Here are the instructions makinghomebase
DIY Wood Star Art:

Mothers are just crazy for the home styling and decor and now you can help them in this regard by gifting her this totally rustic and natural in feel, wooden star art on the mother's day. Its is so easy and fun to craft yourself at home with some free pallet wood and some rustic brown stain hues. Tutorial here thehappierhomemaker
DIY Outdoor Marquee Letter – DIY Gift: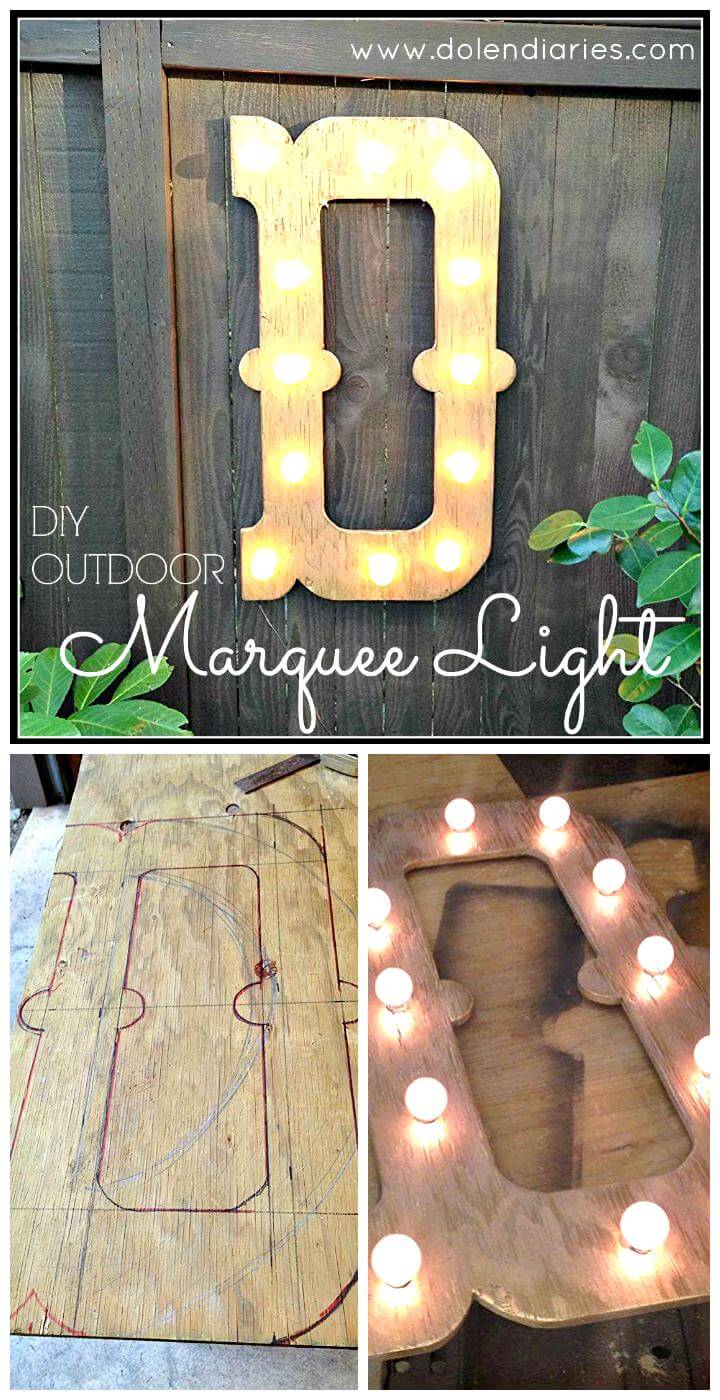 Want a mother's day gift that would make your mom jump with joy? here is one! you can make this lovely wooden marque letter, lighted up all with bulbs for the yard walls or doors to spruce up the decor and style of the outdoors hugely. This would be more awesome if the marque letter is your mom name initial dolendiaries
Embroidery Hoop Bulletin Board – DIY gift: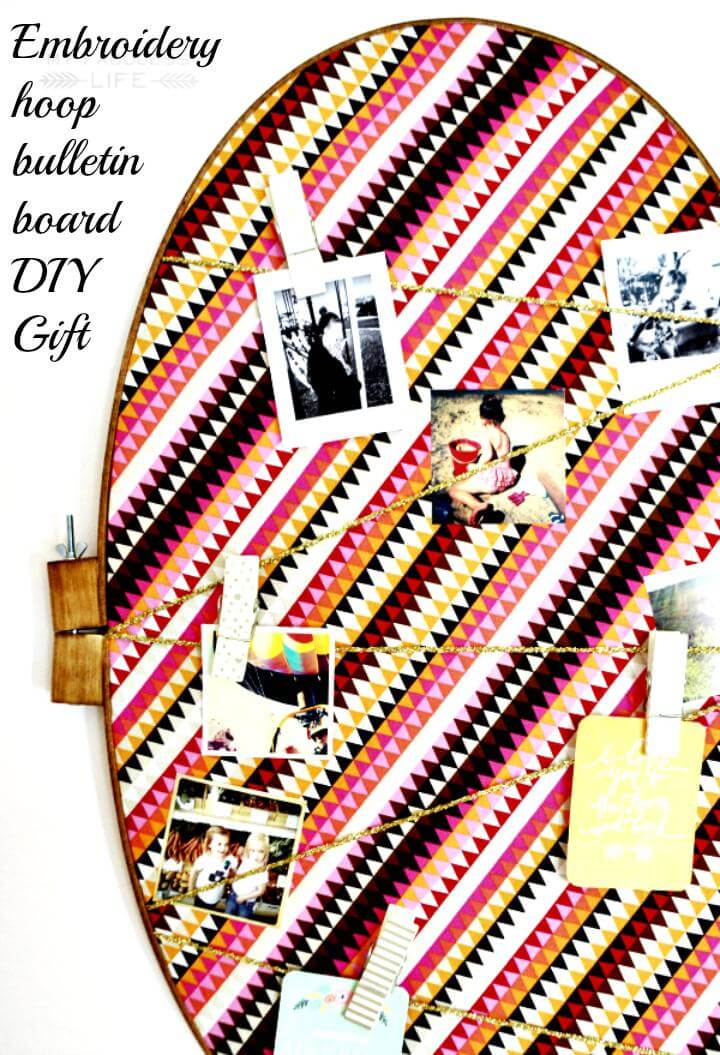 Handmade gifts are not only cheap and easy but totally custom and personalized so as the mother day is coming soon you can choose this embroidery hoop bulletin board as a perfect gift idea and give your mom something really worth remembering. Its simple to do with a printed fabric a hoop and some pics whipperberry
DIY Knock-off Bag – Perfect for Mother's Day Gift: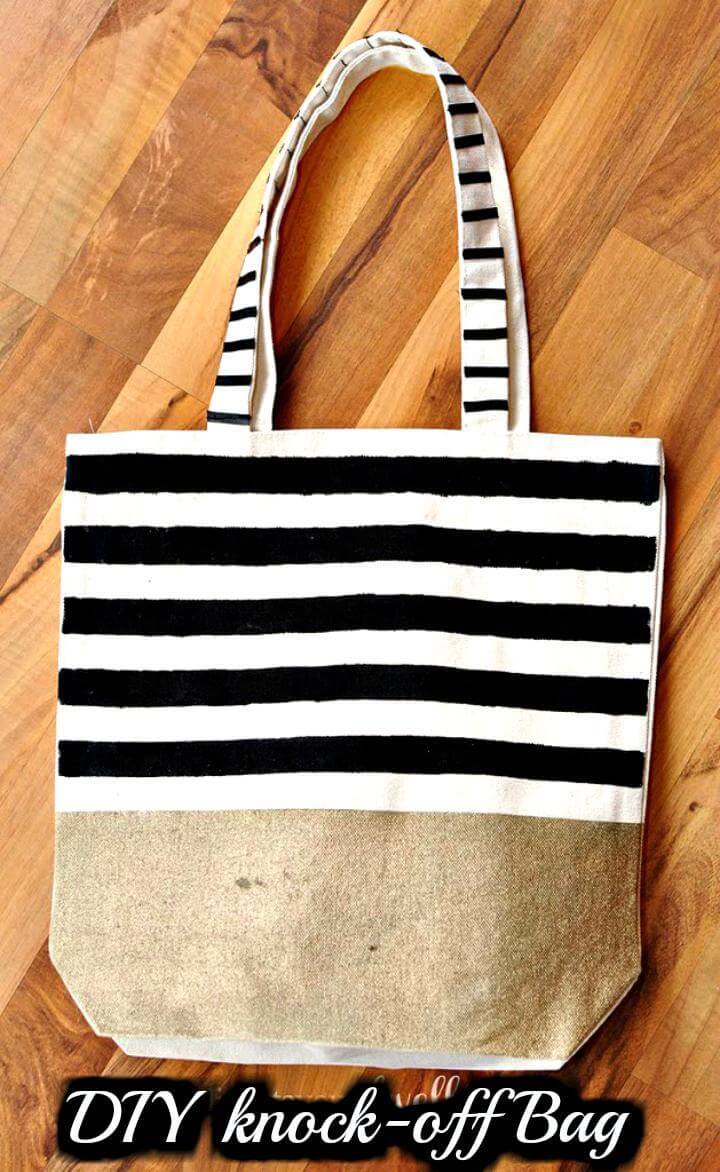 If you have noticed that your mother carries the same old bag to market then this mother day you can gift her anew one and making it of your own would be a great idea and to and inspire you we have this really pretty and stunning DIY knock off bag with us having the detailed tutorial here delineateyourdwelling
Quick and Easy Embroidered Coin Purse: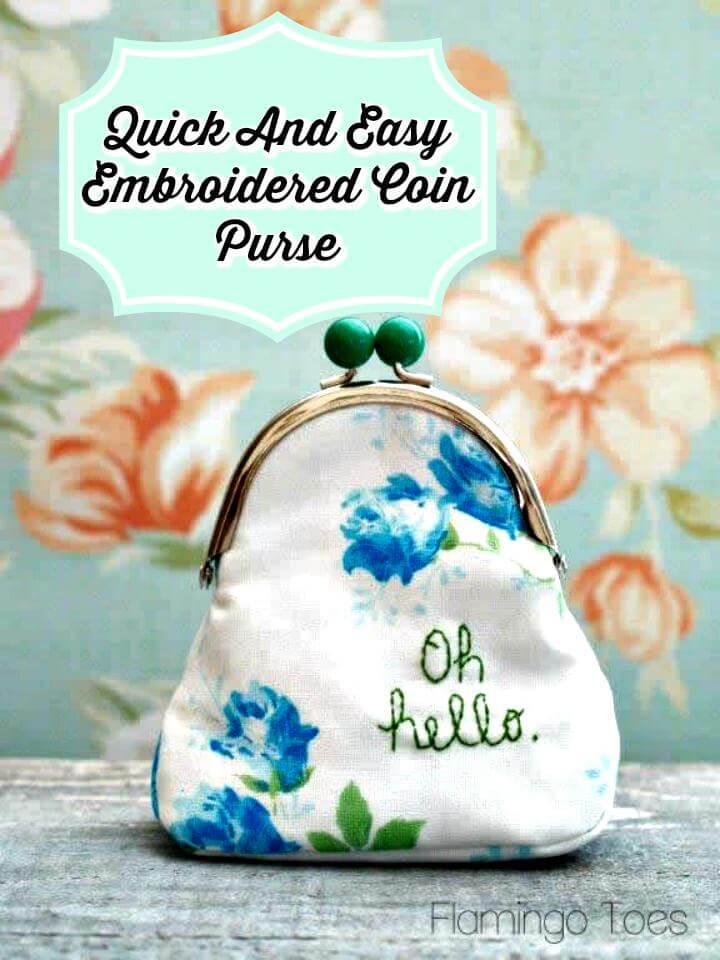 Every mother has a cute small coin purse with her so if your mother misses to have one you can make one and gift her on her big day. Making this cute and pretty coin purse from a fabric piece and hand embroided Oh Hello words would be heart winning gift idea for sure. Get all the details of it here flamingotoes
DIY Burlap Monogram – DIY Gift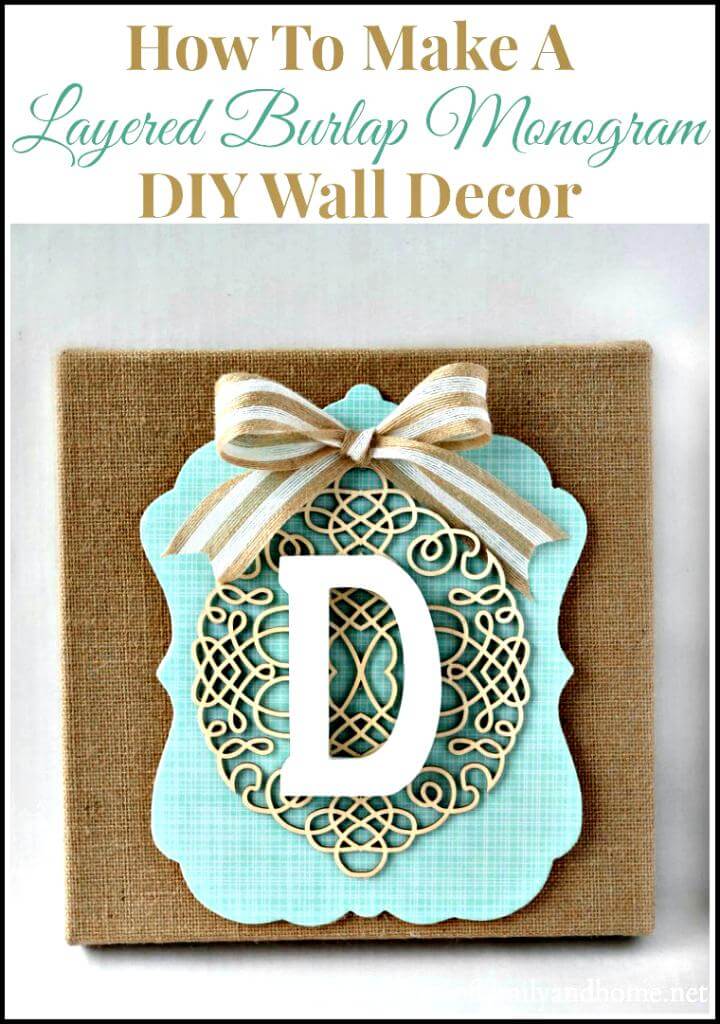 Monograms are adored for decor and decor is adored by moms. So make her this lovely burlap monogram as a mother day gift which she can use to elevate the decor level of the house particularly of the walls and give you the credit and praise till it get replaced. Here is link for the details of this stunning project loveoffamilyandhome
DIY Painted Photo Bottles A Mother's Day Gift Idea:


Empty bottles have been always used for the making of vases and lights mostly in the crafty projects but here is another more meaningful recycling purpose to them. You can turn these simple empty bottles into the picture holders for your mom as a lovely and unique gifting idea on the mother's day. With simple supplies it is too simple to make at home and here is the full tutorial of it eighteen25
DIY Easy Silhouette Mother's Day Gift Idea: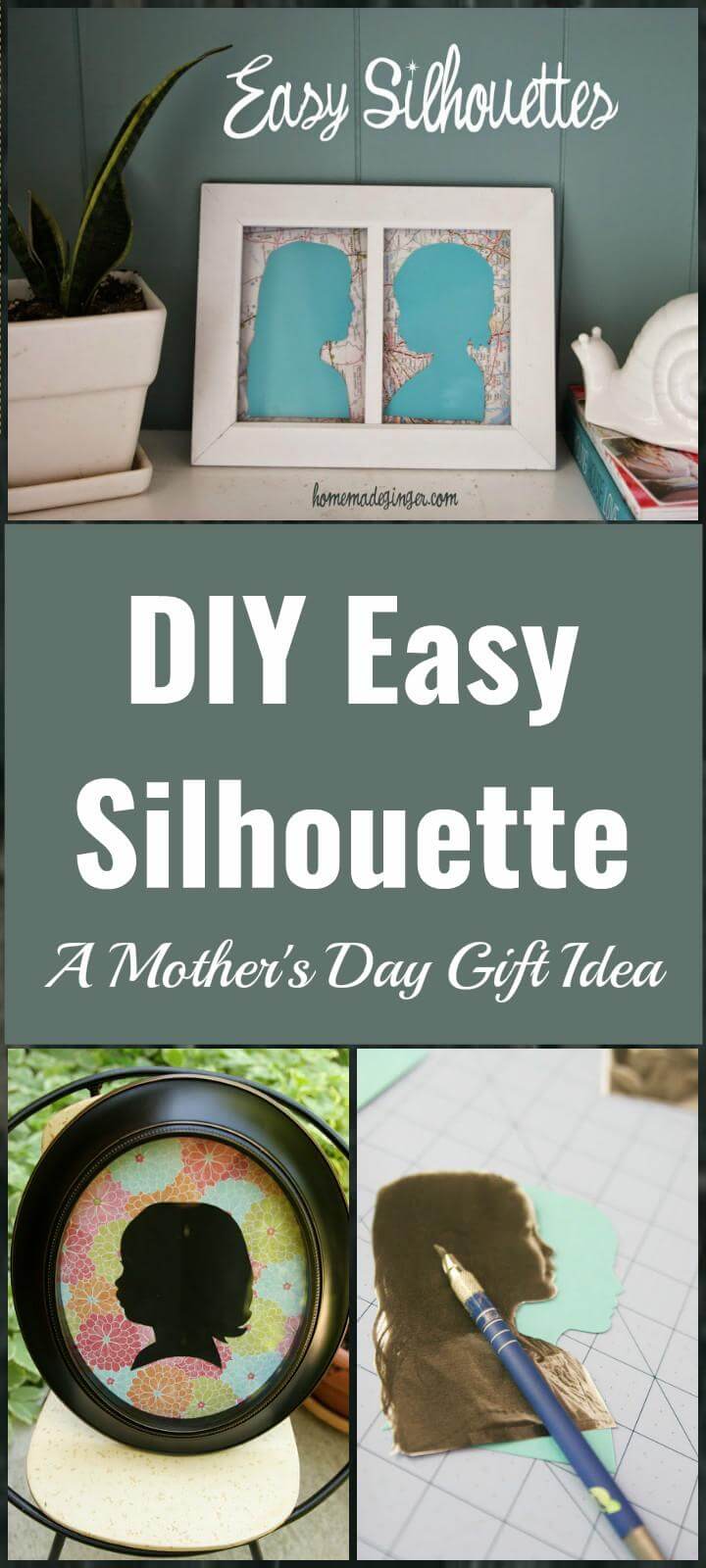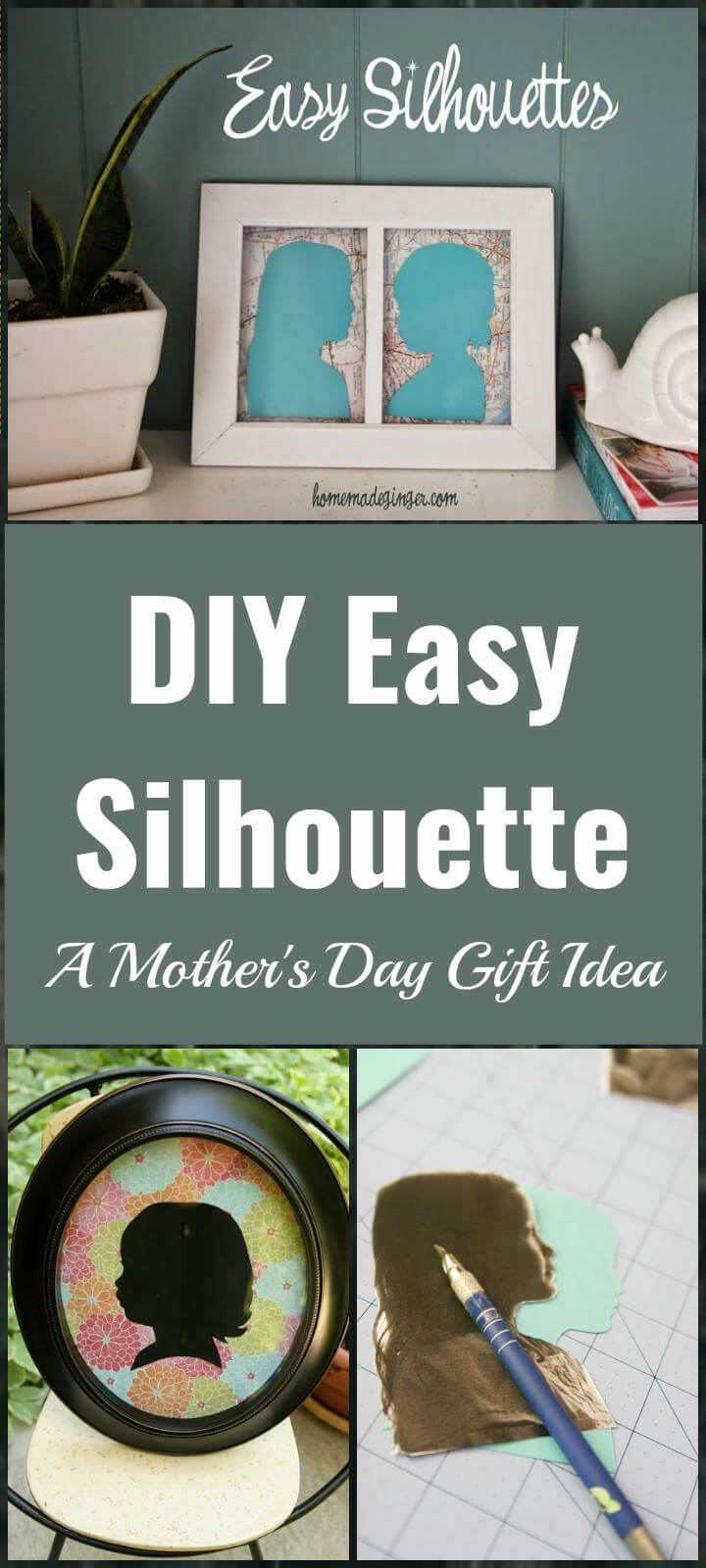 This one mother's day gift idea is surely going to relish your mom for being super captivating and full of immense emotional value. The shadows of the small girls has been traced out o the frames using the pictures and it is nothing then the exquisite DIY silhouette is ready to get wrapped withe mother's day gift tag on it. homemadeginger
DIY Lavender Lotion Bars for Mother's Day: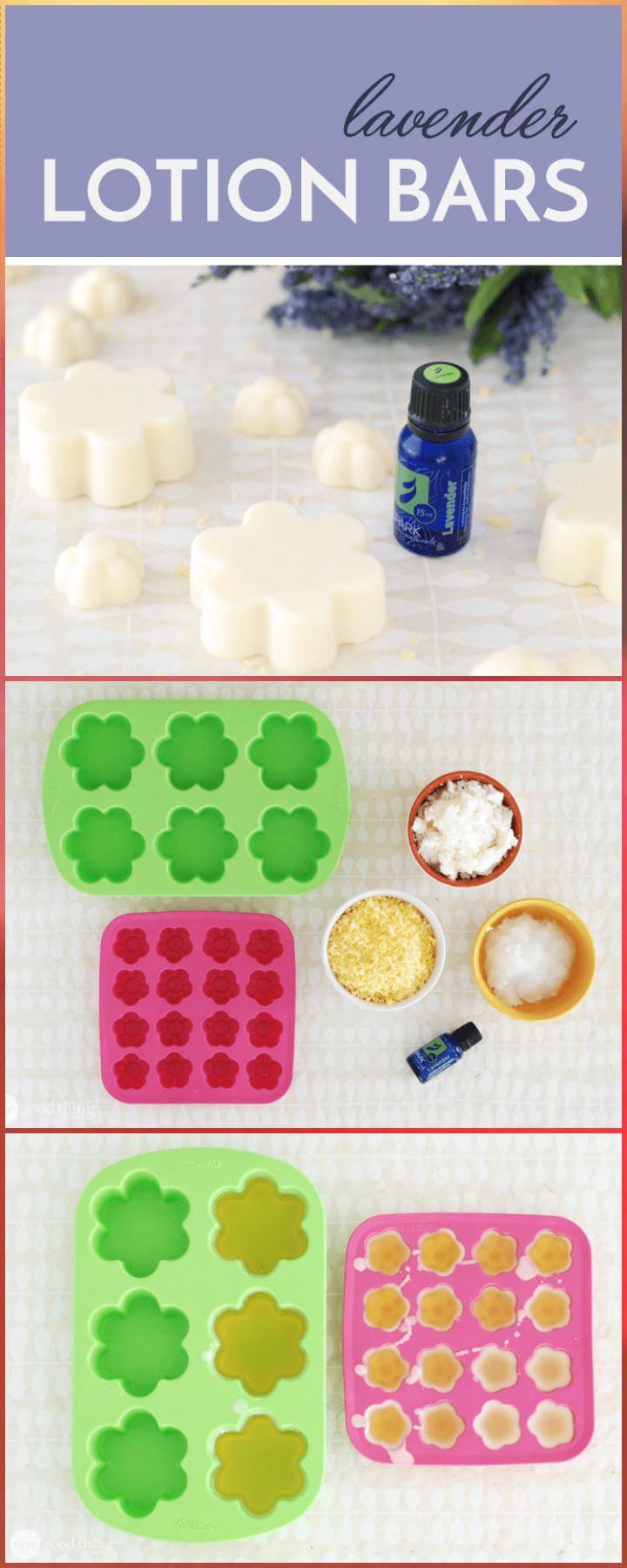 How about making your mother rest, take long baths and just relax on the mother's day? and to add icing on the cake you can make these lovely shaped lotion bars with lavender scent to make their show experience really relaxing, fun and refreshing. They are quick and simple to make with molds and shown in detail right here onegoodthingbyjillee
Easy DIY Butterfly Specimen Pendants: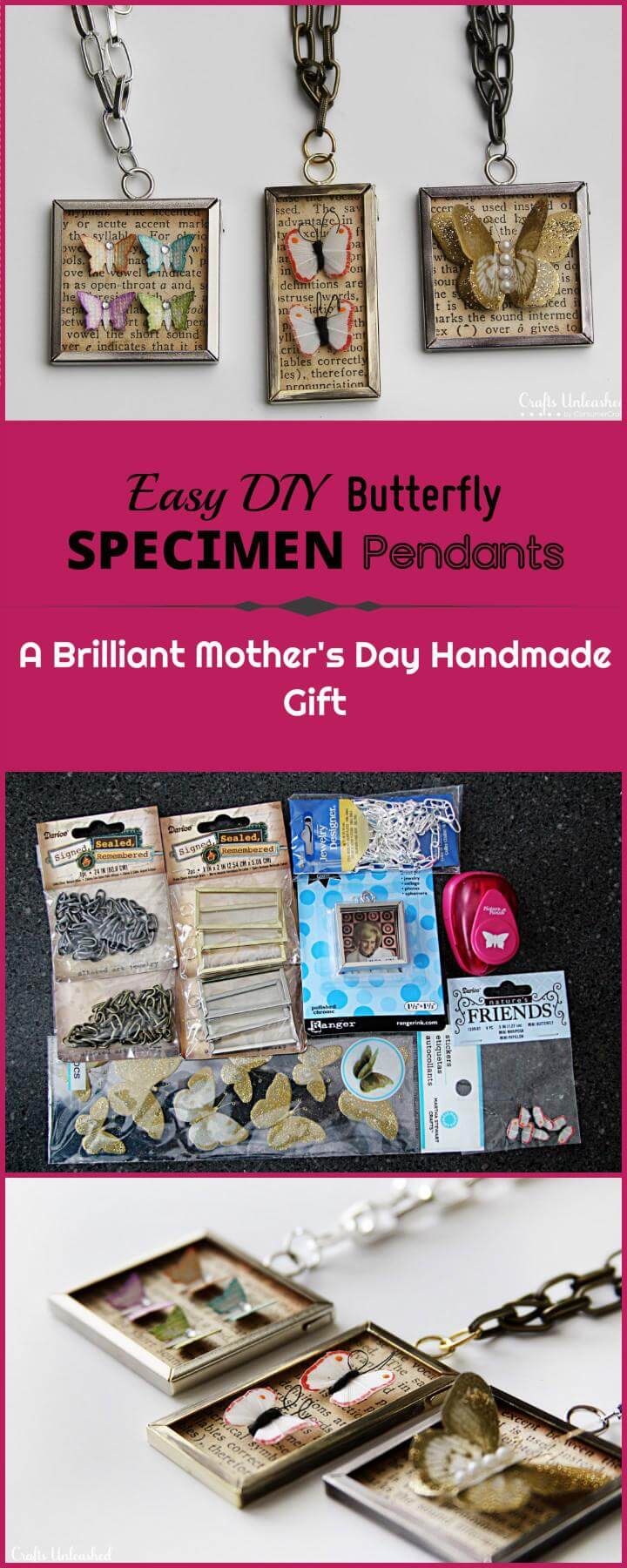 Pendants are the symbol of love be it for your special one or be it any other person in your life who is really important to you and mothers come first in this list. So make them these immensely gorgeous and totally adorable butterfly specimen pendants for her on the mother's day which is about to knock at the door in a few days. Check out the tutorial here consumercrafts abeautifulmess
DIY Polka Dot Nail Polish Mug:

Need a five minute mother's day gift idea for your mom this one is perfect for all the lazy carfters out there. Just take a simple coffee mug and and your pink nail polish and make some polka dots all over the mug and its ready to rock your mom's big day.Here is the full tutorial to turn it more perfectly woodsofbelltrees
DIY Printed Fabric Decorated Terracotta Pots for Mother's Day:


Making the terracotta pots covered with the fabric and thus totally making them look restyled and revamped is the cutest and the cheapest idea for any occasional gift as the mother day is coming soon in  a few days so you can use it for the gifting on that day.Here is the tutorial to show the complete method their fabric wrapping  shelterness
DIY Strawberry Roses for Mother's Day:

Strawberry roses are so fun to hear and so they are fun and easy to make as a lovely and ready to go gift for any one in the family and you can aptly use it as a mother's day gift idea by cutting the strawberry in rose style and the poking the skewer sticks at the bottom. Yes this is all that you need to do and to know it step by step you can log into this link onelittleproject
DIY Mother's Day Perler Bead Tray:


Yes we know that the perler beads are the fun game for the kids to play with but coming in the hands of the crafting persons they are now so much valuable for the crafting of so many valuable projects like this lovely mother's day perler tray. Here is the full tutorial to explore this totally unique project of your own triedandtrueblog
DIY Passion Tea Sugar Scrub:

This mother's day give your mother a relaxing experience with no job at home but a hot long bath with this handmade body scrub that you can use as the mother's day gift. Want to know how to make this scrub and how to make it re presentable of your own. Here is link to know this all apumpkinandaprincess
DIY Patterned Notebook Tutorial:


Mothers mostly have a notebooks for the recipes so now you can gift her one but with a twist and that is covering the notebook with the pattern and glittery paper and in a few minutes your special gift would be ready for your mother to give her some cute gift surprise on the mother's day. Here is the full tutorial sisoo
DIY Paper Plant Mother's Day Gift idea:


Paper crafting is like the mother of crafting projects so use it for the mother day special gift by creating these lovely and pretty kingdom of flowers with the colorful papers and then plating them in cute and simple planters. Its the simple, sweet and cute gift idea for mother's day so explore it here thehousethatlarsbuilt
Easy DIY Photo Monogram: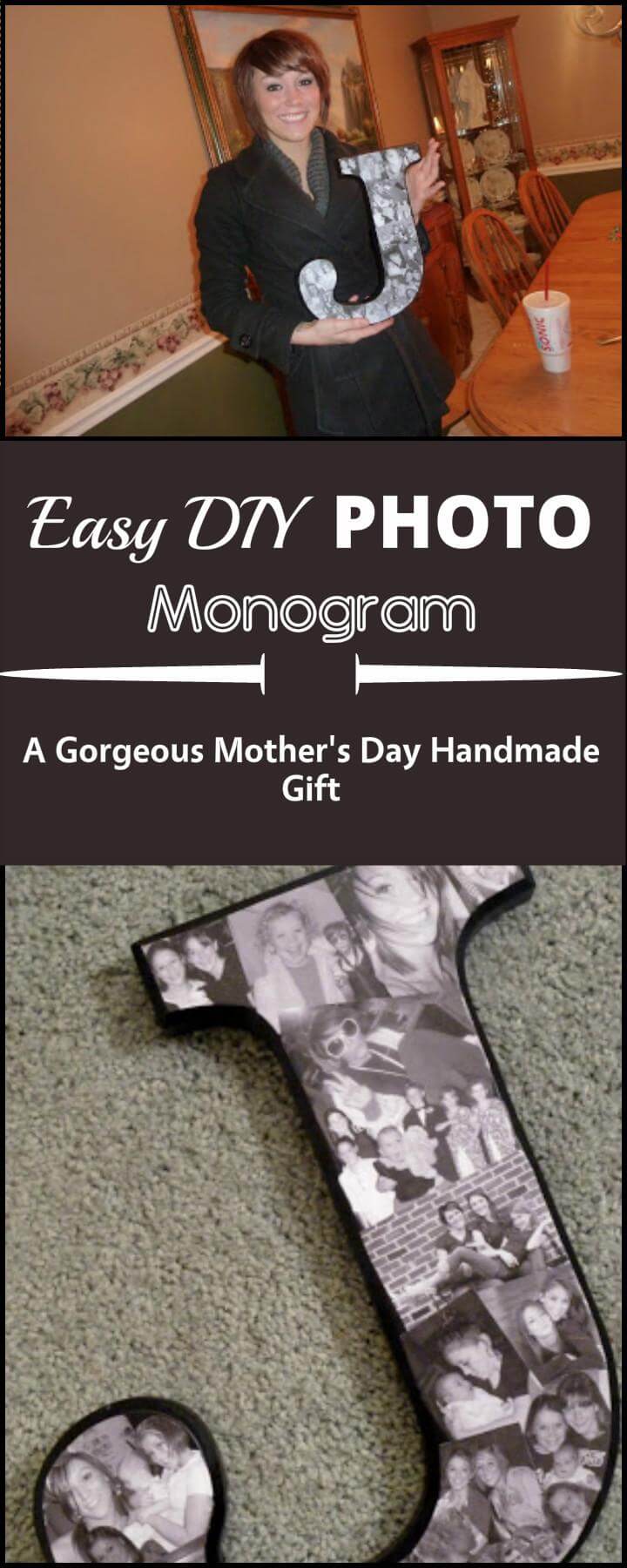 Using a wooden letter for the mother's day gift would be the best idea with spray paint and glued pictures of her on it. The letter is her name initial it would be like icing on the cake to present the most special gift ever. Here are more details of it sometimescreative
DIY Necklace Stand – Upcycled Craft Project: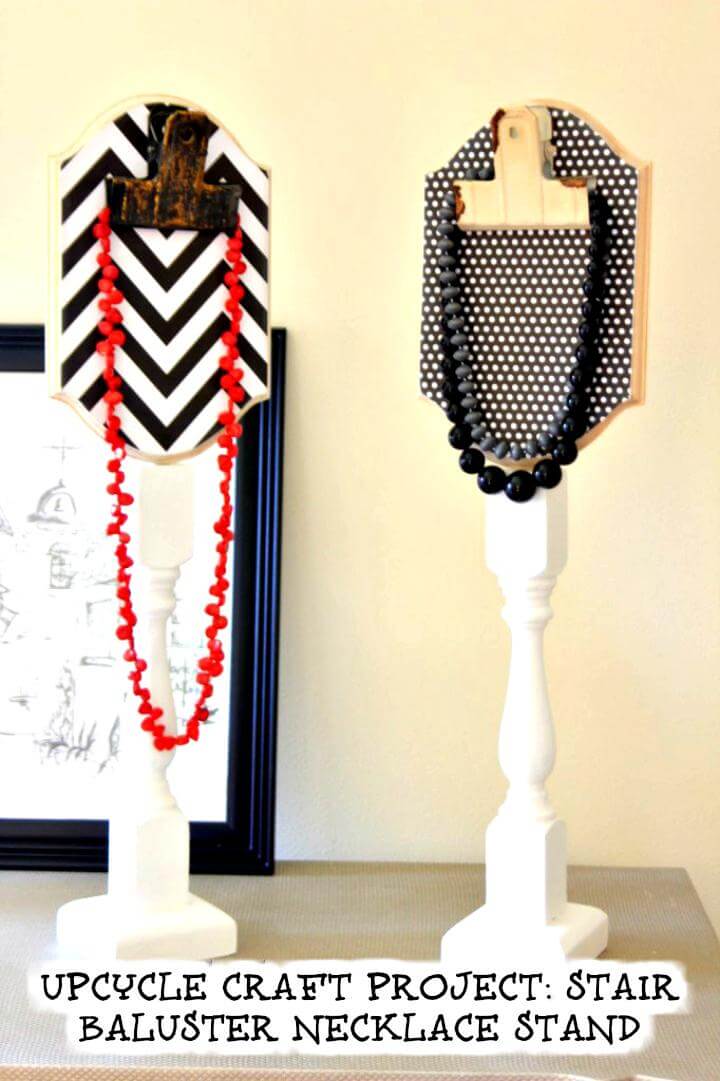 Getting her the useful thing as gift on the mother's day would be the best idea like this utterly functional necklace organizer which has been cheaply and feasibly made out of the stair balusters which can be easily attained from a thrift store. Get more details of this project here thesalvagedboutique
DIY Tea Cup and Saucer: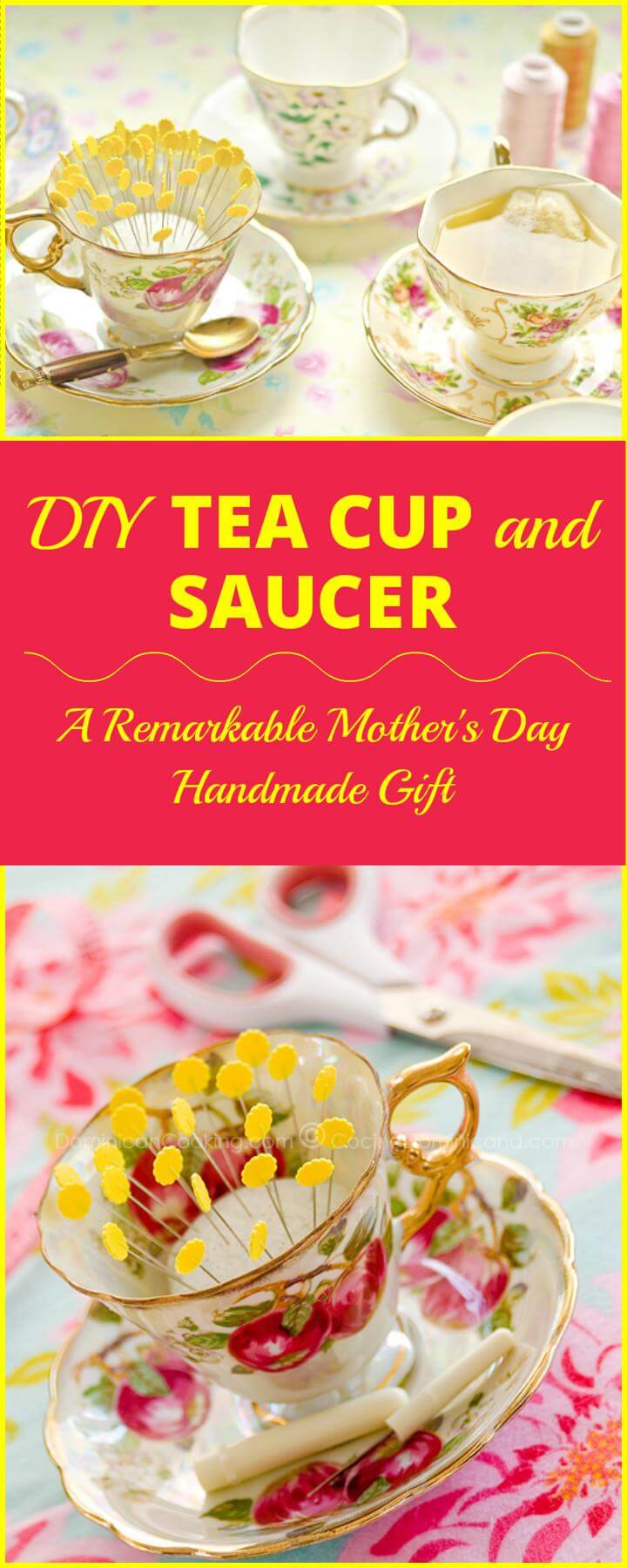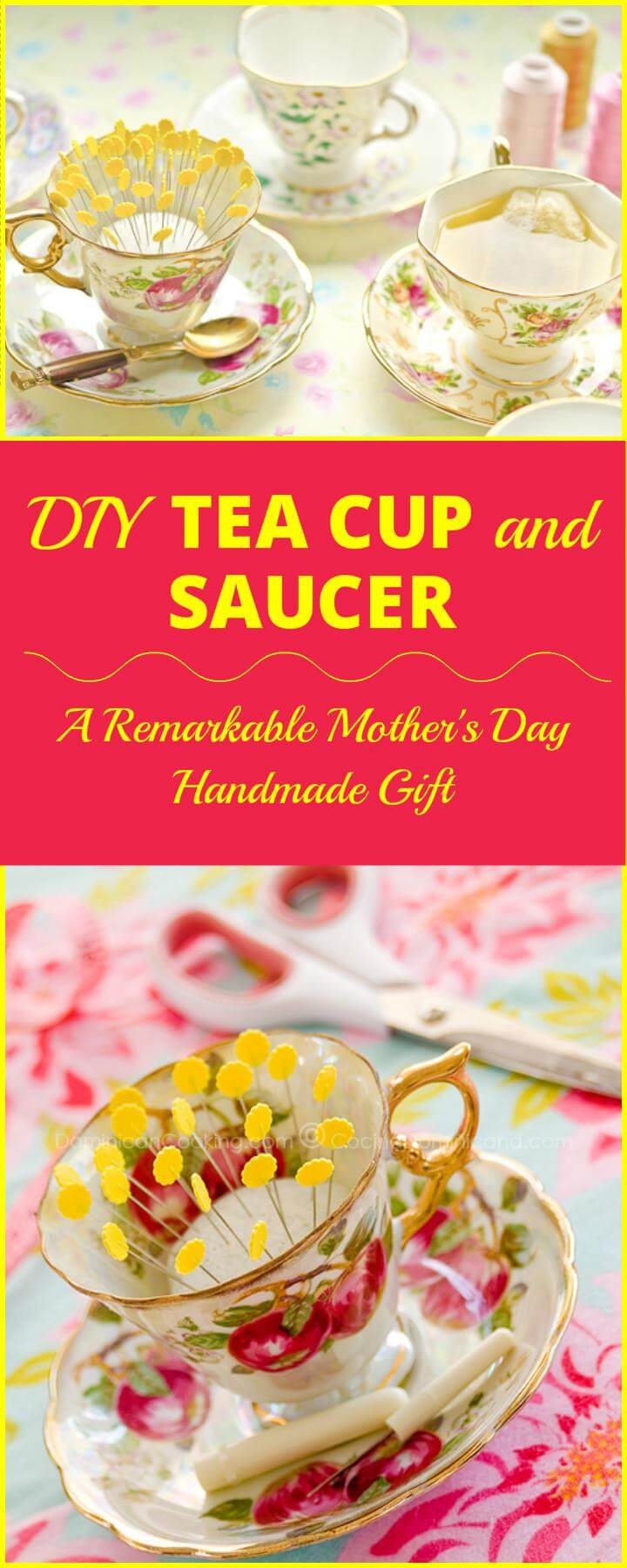 You can use the broken or cracked tea pots again and that too for a mother's day gift idea with a little guidance and help. With this detailed project of tea cup and saucer you would know how o make a lovely and cute gift from these old vintage cups. dominicancooking
DIY Pomegranate Facial Scrub:

It's too easy to make a gift for your mom on the mother's day when you are good at crafting and that too with home lying supplies. Like this lovely necklace has been made up with the buttons of different colors and designs and it turned out to be really fancy and fascinating and totally retro inspired. Here is the tutorial carolynshomework
DIY Retro Button Necklace Tutorial:


Stenciling and painting can be a great technique to make some fun and unique gifts for your dear and near and that too with personalized touches in them. So here are these lovely tea towels being stenciled and hand painted to look really stylish, groomed and credible as a mother's day gift. Tutorial here yellowblackbird
DIY Stenciled Tea Towels:

You can really make a nice and easy mother's day gift idea with totally cheap things available near you like the tissues having patterns and designs can be used to cover up the photo frames and some tissue made flowers at a corner and that is just it, the gift is ready. Full easy tutorial here number-2-pencil
DIY Tissue Paper Picture Frame:

Make your mother feel the presence of you all the time and that to near her heart with this adorable and emotional gift of finger print necklace of your thumb impression as a mother's day cutest and the most unique gift idea ever. See tutorial here scatteredthoughtsofacraftymom
DIY Thumbprint Necklace Mother's Day Gift Idea: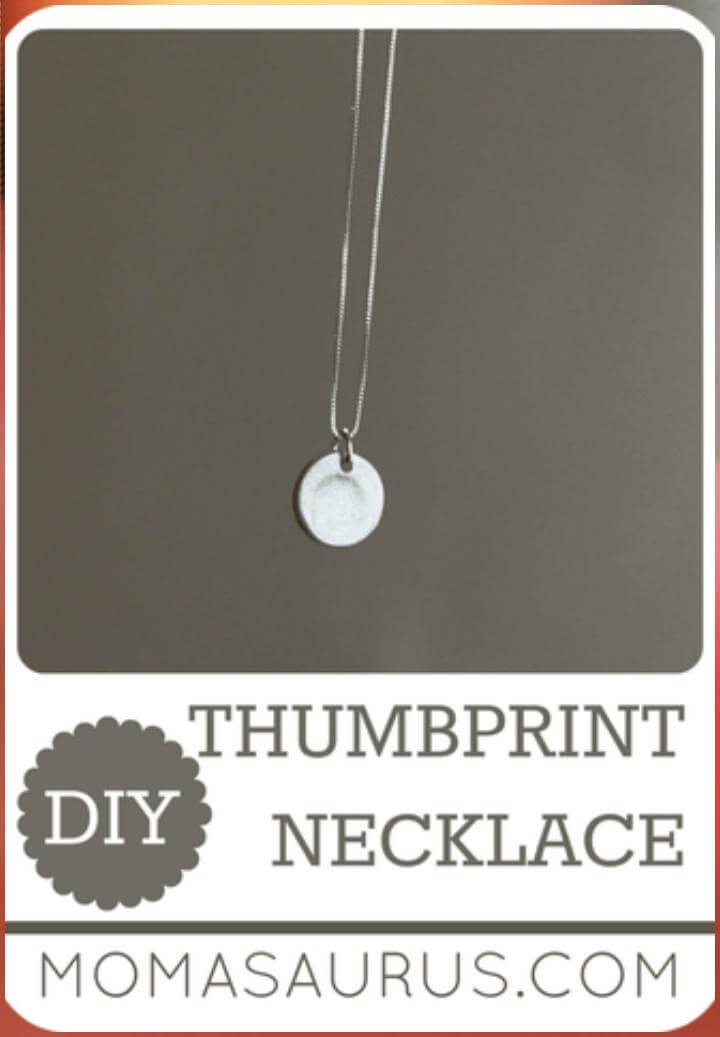 There is just a little creative approach involved behind every successful handmade gift idea like this totally simple vase holder is made out of the jars and a small wooden crate having been nicely painted and some cutely painted words. You can write Happy Mother's Day on it and use for the respective day gift idea for your mom. Tutorial here momasaurus
DIY Stenciled Mason Jar Planter Box:


Using a dessert jar from your kitchen and stenciling it with anything personal and customary would be the nicest idea to create some fun handmade gifts like this glass jar with perched birds on a branch would be used as a perfect mother's day gift idea. Do it with this tutorial here burtonavenue
DIY Stenciled Mason Jar Planter Box: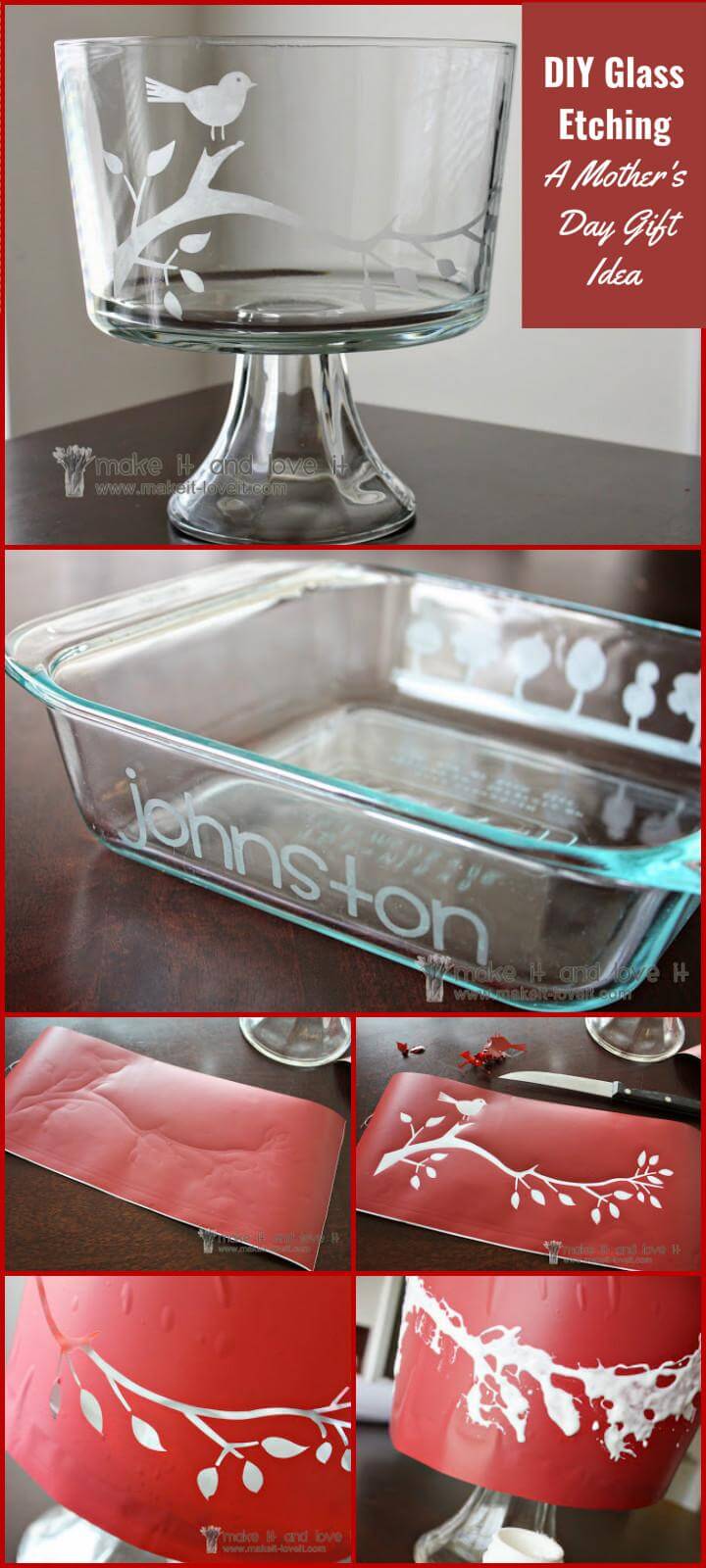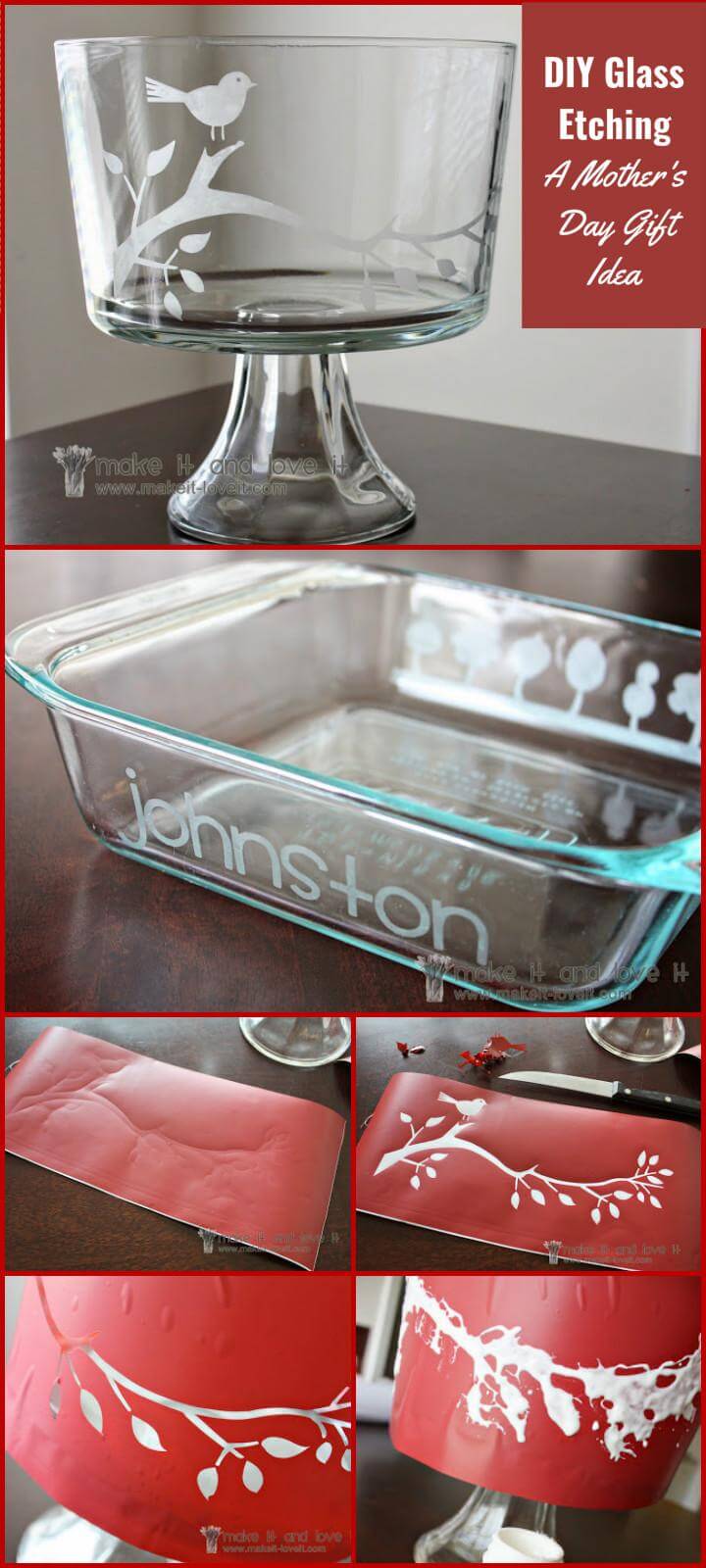 Making personalized pendants is the nice idea for a gift and that too for any one and for any event. So this mother's day you can make these lovely and totally cute pendants with the washers with the name of your mom being stenciled on it. Grab the whole tutorial here makeit-loveit
DIY Glass Etching – A Mother's Day Gift Idea:

For more details: eatsleepmake
DIY Faux Stamped Necklaces (Using Vinyl):


Gone are the days when trays were only the part of the kitchen as now they are the part of the home décor and used for the fun display of your photos and other décor keepsakes in it. So gift one your mom and give her a cute as you can easily make it yourself with the tutorial guide here viewalongtheway
DIY Threaded Washer Pendant For Mother's Day:


A simple gift when is made with our hands becomes totally special and extra ordinary for the receiver so here is this cute washer and thread pendant idea for the mother's day gift that even a non crafter can do and delight up the moms. alspolkadotsandpaisley
DIY Knock-off Bag with Printable Pattern:

The lovely and stylish bags that you have seen on the boutiques can be copied so nicely t home and thus we can save much our money and time. Here is a cute gift knock off bag made with plain and printed fabric and it would make an adorable gift idea for the mother's day too. Full sewing tutorial here thelittleappleseed
Seersucker & Leather Fold Over Clutch DIY: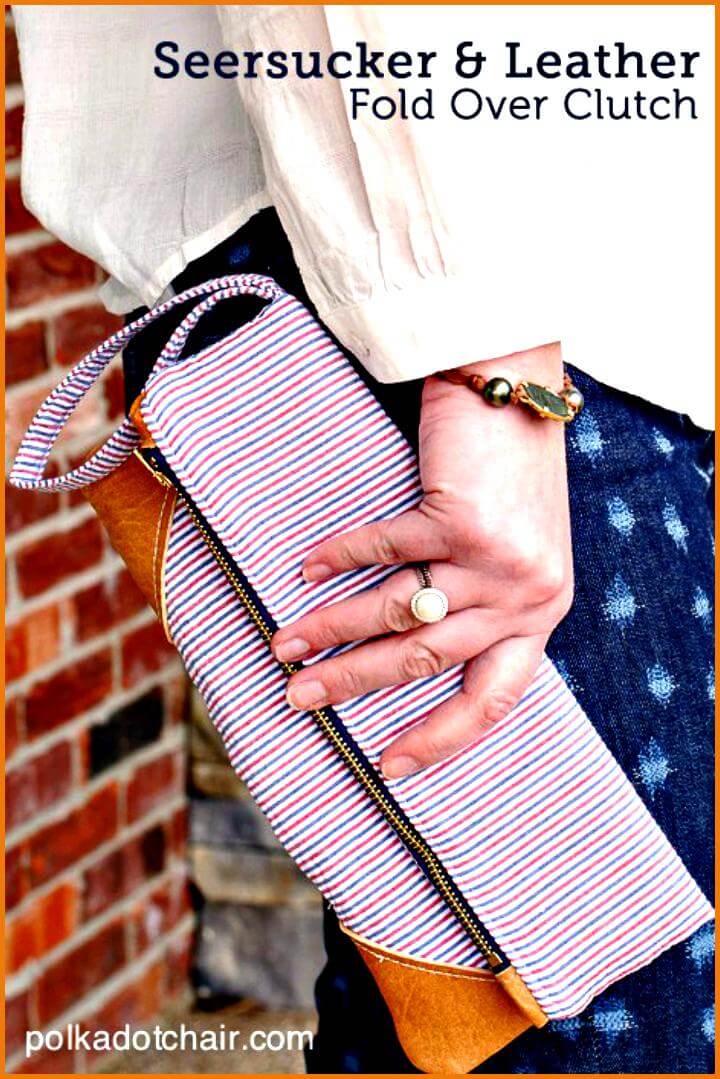 Bags and clutches are the second love of the women so it would be for your mom. That is why we have brought this lovely seersucker and leather made clutch bag that you can sew  using some nice fabric and some leather on the corners adding grace and shine to it. So now you know what is your mother's day gift idea? so explore it more here tatertotsandjello
DIY 15 Minute 15 Dollar Wreath Tutorial:

If due to the lack of time you can not go and buy a gift for your mom from the market, we have a perfect time saving and money saving idea for you in this regard. Yu can make this too cute and adorable 15 minute wreath for her with a wreath ring and some swaggy greenery with a ribbon bow on it thehowtomom
DIY Strawberry Lemonade Mix: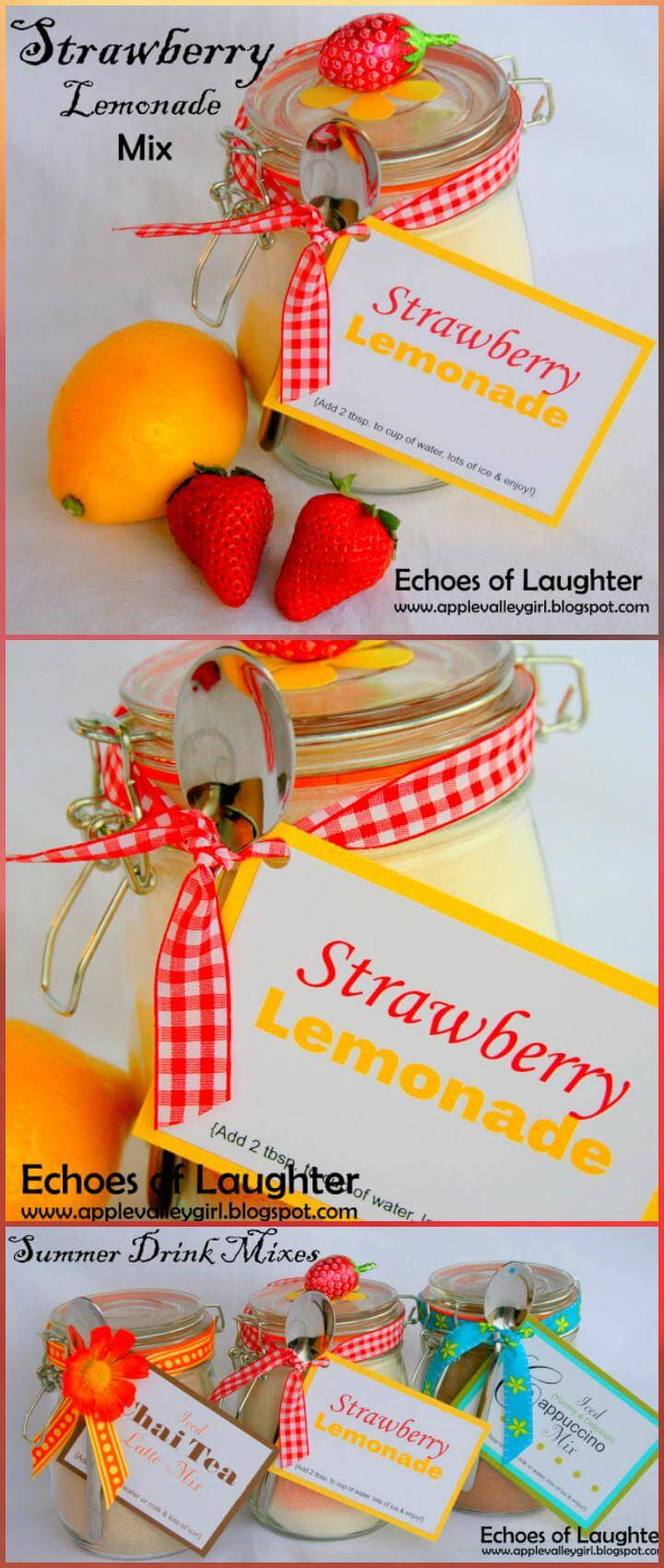 Get your mom relaxed with this strawberry lemonade as a cute and simplest mother's day gift. Though its ordinary yet you can make it look lovely and cute gift with that gorgeous packaging of ribbons and printable tags on the mason jar in which the lemonade is resting.web.archive
DIY Mod Podge Lace Vases Mother's Day Gift Idea:

You can go crafty with the white laces and some jars or vases at home and create one of the decent and elegant vase pieces by wrapping the jars with the laces which would also make a nice mother's day gift too. Full detailed link here dreamalittlebigger
DIY Hand-Painted Wooden Bracelets Mother's Day Gift:

Here is a cute and fun idea for the mother's day gift that is especially for the smaller kids to adopt and make the prettiest mother's day gift ever. And the idea is to paint the wooden bracelets of different sizes with stripes, dots and even the fingerprints in various paint colors. More details are here hgtv
DIY Floral Mother's Day Centerpiece Tutorial:

If there is an ordinary or routine like dinner on the mother's day, you can make it special for your mom by making this exquisite center piece for the dining table giving her a big gifting surprise and that too of your own. Here is the tutorial to create a center piece with wooden crate here hgtv
DIY Mom Centerpiece for Mother's Day:


Here is another dining table centerpiece idea for the mother's day celebrations with these cute and stenciled vases having M O M letter on each and thus paying a cute decorative tribute to the mothers in a simple and adorable way. Tutorial is here hgtv
DIY Mom Banner for Mother's Day:


Even if there are small celebrations the mother's day totally worth some special décor and as the banners are like customary to use for a party or celebration you can make this cute and personalized MOM lettered banner and display it in the dining room or the living so that the mom smiles whenever puts a glance over it. Tutorial is here for complete details hgtv
DIY Artwork Candle-holder for Mother's Day:


The small kids are just in love with the art projects and they are seen busy in cute drawing mostly so here is here how you can help them to create the lovely and pretty mother's day gift by gluing their art on the jars or candle holders. Complete tutorial is here hgtv
DIY Mother's Day Kids' Craft Fingerprint Frames:


If your kids are too small to make a mother's day gift of their own then you can make some of your own and make them contribute in some way or other. Like this plain picture frame has been made to look instantly a mother's day gift with the baby's or kid's painted fingerprints all around. See the details here hgtv
DIY Pressed-Flower Coasters for Mother's Day:

You do not need to repeat the ideas of the last years to gift your mom on the mother's day as there is lot to try and make a new gift every time like these cute and pretty pressed flower coasters of your own and believe me she would adore them to the core of her heart.  hgtv
DIY Printable Flower Garden Mother's Day Card:

Cards always hold their special traditional value when it comes to gifting and they are just apt for all types of festivals and events so here we have a special printable card for the mother's day that can be made by the small kids too to show the love for mother in the most heart touching way. Details here hgtv
DIY Mother's Day Fingerprint Table Runner:

Simple love gesture can be made though the gifts as the mother love can be shown with this cute and touching craft of table runner painted with the cute and small fingerprints of the kids all over on it. Know its details here hgtv
We will add more 200 DIY Mother's Day Gifts soon…..