Welcome to the world of a DIY kinetic sand recipe to make a homemade sensory play! If you're wondering how to make kinetic sand or looking for a moon sand recipe, we got you covered. Let's explore what's in kinetic sand and how you can make this fascinating sensory material from scratch. Learn how to make kinetic sand at home with these 25 homemade DIY kinetic sand recipes, providing simple and easy step-by-step instructions.
Make your own sandbox adventure with homemade kinetic sand! Offering tactile and sensory fun, kinetic sand captivates both kids and adults. With our DIY kinetic sand recipe, you can craft your very own batch of kinetic sand in no time. With simple and easily accessible ingredients, you're just a few steps away from making magic.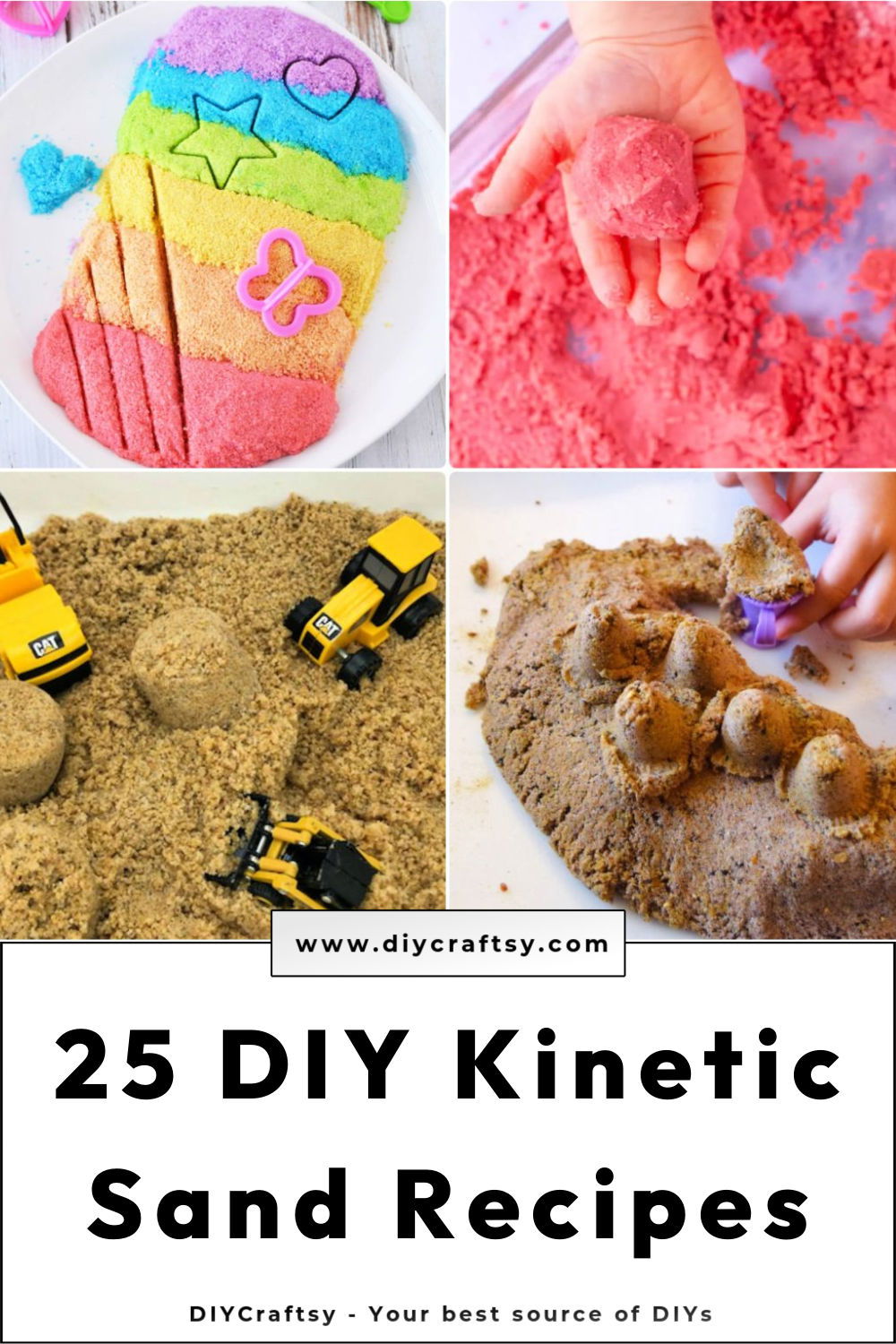 Here, you'll find everything from a Green Kinetic Sand recipe to more unique offerings like Unicorn Kinetic Sand. With only 3 ingredients needed and environmentally-friendly options available, you'll be able to make safe and non-toxic kinetic sand for endless fun. Take your creative play one step closer to nature, and even get your kids engaged in the kinetic sand-making process. With this DIY effort, bring out the child in you and start recreating your very own sandbox fantasies today with your homemade kinetic sand!
1. Best Green Kinetic Sand Recipe
Looking for a fun educational activity to engage your pre-K learners? Make DIY kinetic sand with pre-k pages!
Start by gathering 2 cups of craft sand from your local craft store, 1 TBSP Corn Starch, and 1 tsp Dawn Dish Soap. Add water (start with ¼ cup) and mix ingredients until desired consistency is reached. To make the sensory bin even more exciting, add plastic dinosaurs, glass gems (from Dollar Store), and aquarium grass (from the pet store)!
Get creative with colors and items added! Making DIY Kinetic Sand is an amazing way to provide hands-on learning opportunities in a safe environment. With Pre-K Pages' easy instructions, you can make this fun activity today! pre kpages
2. Kinetic Sand Activity for Kids
Check out this DIY kinetic sand idea. Mix 1/2 cup of colored sand with 1.5 cups of cornstarch or cornflour in a bowl. Add 3 tablespoons of the vegetable oil and mix until the ingredients are well combined. Slowly add 2 teaspoons liquid dish soap or washing up liquid, mixing to combine as you go along.
Finally, stir in 2-3 tablespoons PVA glue and knead the mixture for 10 minutes until it's smooth and malleable like clay. Place your finished kinetic sand onto a flat surface (like baking paper on top of a tray) to play with – enjoy! wemadethislife
3. Homemade Kinetic Sand
Mix a little bit of magic with this easy kinetic sand recipe! Just follow these steps using the colors neon pink (5 drops), neon blue (4 drops), neon purple (3 drops), orange (combining 4 yellow and 1 red drop), green (mix 4 neon green and 1 regular green) and yellow (6 regular yellow drops).
You will need 1/2 cup white sand, 1 teaspoon corn starch, 1/2 teaspoon clear or white hand soap & a teaspoon of water. Start by mixing sand with the corn starch until well blended, then add in the hand soap. Slowly add your chosen food coloring while stirring continuously – adding more as needed to get your desired shade.
Finally, stir in a teaspoon of water at a time until you achieve a good consistency – like wet beach sand. Mix it all together for an awesomely magical Kinetic Sand – perfect for indoor Fun! momdot
4. How to Make Sensory Sand
Make your own sensory wonderland with this easy DIY kinetic sand recipe! This moldable and soft sand is perfect for hours of playtime. Using just three ingredients – sand, cornstarch (or flour), and oil – you can make a batch of kinetic sand that will provide endless entertainment. The simple 5:3:1 ratio ensures the perfect texture. Customize your kinetic sand with colorful sand variations to enhance the sensory experience. Get creative with molds and containers, and let the fun begin! Discover the joy of homemade kinetic sand and make memories with your little ones today. eatingrichly
5. Homemade Kinetic Sand With 3 Ingredients
Whip up your own DIY kinetic sand with these easy-to-follow instructions and ingredients! All you will need is 2 1/2 cups colored play sand or craft sand, 1 1/2 cups corn starch, and ½ cup olive oil. First, mix the two sands together to combine, then slowly add the olive oil while stirring.
Once it gets too difficult to stir with a spoon or spatula, finish kneading together by hand for a super fun and creative experience that will keep kids entertained for hours! Get your supplies today for a hands-on craft activity that everyone will love. thesoccermomblog
6. How to Make Your Own Kinetic Sand
Looking for the perfect kinetic sand recipe? Look no further! This tried and tested recipe is easy to follow, with ingredients you can find right at home. All you need is 1 cup of play-colored sand, 1/4 tsp dish soap (we recommend Dawn), 1 Tbs Elmer's clear glue, and ½ tsp "liquid starch Sta-Flo."
Simply mix all these together in a large bowl until it forms a sticky slime – it's ok if it sticks to the bowl. Then add ¼ of a cup of sand into the slime mixture and mix with a spoon or hands until blended. You'll have your own homemade kinetic sand that will keep little ones entertained for hours! kidactivitieswithalexa
7. How to Make Kinetic Sand at Home
Spruce up your own kinetic sand at home with this easy-to-follow recipe! All you need is 1 cup of play sand or craft sand, 1/2 cup of school glue, 2 teaspoons of dish soap, and 2 tablespoons of cornstarch. Combine all the ingredients together in a bowl and mix until it's well incorporated.
Use your hands to knead the mixture for a few moments before enjoying your one-of-a-kind kinetic sand creation. With this DIY option, you can use colorful craft sand to make unique colored variations too! Try it out today and get creative with Kinetic Sand! littlebinsforlittle
8. Make Your Own Kinetic Sand
Unlock the secret to crafting ideal kinetic sand with this simple guide! Start by gathering slime, disposable containers, utensils, a sifter, and play sand. Stir your slime together in its container until it forms a cohesive mixture.
If using natural beach sand, you can use a kitchen sifter to remove any tiny pebbles for a less gritty texture. That's all there is to it – in no time, you'll have homemade kinetic sand that can be played with again and again! kidsactivitiesblog
9. DIY Taste Safe Kinetic Sand
Now, make safe and delicious kinetic sand for playtime that the kids will love! All you need is baking soda, cornstarch, sugar, cream of tartar, food coloring, and water.
Simply combine dry ingredients in a mixing bowl, then add a few drops of food coloring to the water. Gradually add 1-2 teaspoons of water at a time while stirring until it's light and fluffy – not too much, or it won't stick together properly! Enjoy hours of sensory Fun with your homemade taste-safe kinetic sand. happytoddlerplay
10. Easy Edible Kinetic Sand Recipe
Help your children have Fun and keep their play area clean with this easy-to-follow kinetic sand recipe! Just mix 4 cups of all-purpose flour, 1 cup of vegetable oil, and 4 tablespoons of hot chocolate powder. For added fun, add food coloring to the oil before mixing it in.
Store the finished sand in an airtight container for safekeeping. Everyone will love playing with this colorful and delicious edible kinetic sand – both parents and kids alike! raisingveggielovers
11. Homemade Kinetic Sand
Unleash your inner artist and craft your own magical kinetic sand right in the comfort of your home with this convenient tutorial! All you need is a few simple ingredients and some basic kitchen tools like a large bowl, baking pan, measuring cup, and teaspoon.
Start off by preheating the oven to 200°F (93°C) and measure 2 cups of fine sand into the baking pan. Next, mix 1 tablespoon of dish soap, 1 cup of water, and any food coloring you'd like in the bowl before combining it with the powdered cornstarch. Finally, pour everything into the baking pan before putting it in the oven for 15 minutes or until hardened. Your homemade kinetic sand is now ready to play with! instructables
12. DIY Kinetic Sand Step-by-Step Instructions
Take your sand play to the next level with this easy recipe for kinetic sand. All you need is 2 ½ cups fine sand, 1 ½ cups cornstarch, and ½ cup baby oil! First, mix together the sand and cornstarch in a large container until completely combined.
Then add the baby oil and mix again until everything is mixed well. Voila – your very own homemade kinetic sand ready for your kids to enjoy (and make a huge mess!). Great for sensory play, building castles, or just pretending – they'll love it! thebestkidscrafts
13. Kinetic Sand Recipe for Kids
Want to learn how to make kinetic sand? Then look no further! You just need three ingredients: sand, baby oil, and cornstarch.
Measure out the right amount of each ingredient, then mix them together for a sensory experience that's Fun for everyone. Finally, add in some sand molds and building toys for hours of creative playtime pleasure. Making kinetic sand has never been so easy – get started now! lookwerelearning
14. Easy DIY Kinetic Sand
This simple kinetic sand recipe will provide hours of Fun and mess-free play time for your kids! All you need are 2½ cups play sand, 1½ cups corn starch, ½ cup cooking oil, and some blocks or cookie cutters.
Just mix all the ingredients in a large bowl until there are no wet spots left. Now you're ready to build castles, make shapes with the cookie cutters and let your children's imagination run wild! This is a perfect activity to keep them entertained on rainy days or holidays while also providing some educational benefits like problem-solving skills and creativity. funcheaporfree
15. How to Do Kinetic Sand at Home
Put together your very own homemade kinetic sand with just 4 ingredients – sand, flour, vegetable oil, and some patience! All you need to do is measure out the four ingredients, add them to a large bowl, and mix. Then stir in the oil until combined well. You'll be able to play with it for hours of Fun right from your home. Get creative and experiment with this recipe for endless amounts of DIY entertainment! thechaosandtheclutter
16. Kinetic Sand Educational Activity for Kids
Learn how to make your own kinetic sand with just a few simple ingredients! All you need is 1 cup of colored play sand, 3 tablespoons of cornstarch, 2 tablespoons of dish soap, and 1 tablespoon of water.
Mix the sand and cornstarch first before adding the liquid for best results – this will help prevent any lumps from forming. Once all the ingredients are combined, enjoy playing with your homemade Kinetic Sand in Fun and creative ways! It's perfect for sensory play and hours of imaginative Fun. teachbesideme
17. Best DIY Unicorn Kinetic Sand
Spruce up your own unique kinetic sand using unicorn kinetic sand! This Fun, easy-to-make craft requires only a few basic ingredients: white sand, cornstarch, fine glitter, dish soap, water, and food coloring.
Mix the dry mixture of 1 cup of sand with 1 tablespoon of cornstarch and glitter to match the desired color of kinetic sand. Then mix the wet ingredients, including 1 Tablespoon of water, dish soap, and some food coloring, for a great color payoff. Add in essential oils to add delightful scents if you wish! Get creative making all sorts of unicorn colors and shapes with this DIY kinetic sand guide. mamaplusone
18. How to Make Sustainable Kinetic Sand
Introducing the perfect homemade kinetic sand recipe for kids! This easy-to-make and taste-safe recipe incorporates simple ingredients like baking soda, sugar, cornstarch, cream of tartar, and spirulina powder.
To make naturally colored sand, simply mix 1/4 tsp spirulina powder with 1-2 tbsp water. Stir in your bowl until mixed well, then finish by combining with your hands. Kids will love playing with this appealing blue hue that is also safe to eat! Follow these instructions and unleash the splendor of kinetic sand today! brightly
19. Simple Kinetic Sand Recipe
Bring the beach to you with this simple homemade kinetic sand recipe! This tutorial includes instructions for using various kinds of sand, along with simple ingredients such as cornstarch, liquid hand soap, and water.
All you need is a plastic or metal bowl, spoon, and measuring tools like a tablespoon and cup to get started. Get creative by experimenting with the color of the soap for fun results. Then adjust the amount of water to achieve your desired consistency. In no time, you'll have 3 cups of fun kinetic sand that can be used in playtime activities or crafts! babysavers
20. DIY Kinetic Sand in Just 3 Ingredients
Here's how you can make your own DIY kinetic sand in just 3 simple steps! Start by combining 1 ⅔ cups of fine blue art sand and 1 cup of flour (or cornstarch) together in a medium-sized bowl or tub. Then, add ⅓ cup of baby oil (or other oil like mineral oil). Finally, get your hands dirty and work the ingredients together until it forms that iconic kinetic texture.
Store leftover/unused sand in an airtight container for future playtime fun! With this easy recipe, you can make sure the kids are playing with clean, safe materials right at home. Get creative; Have Fun! adayinourshoes
21. Taste Safe Kinetic Sand for Kids
Introducing the perfect gift for kids: Taste-safe kinetic sand! This magical sand is easy to make and Fun to play with. Simply combine 1 cup baking soda, ½ cup cornstarch, ½ cup sugar, and 1 tbsp cream of tartar, then add 3-4 tbsp of water mixed with food coloring.
Adjust consistency as needed until you have your own unique kinetic sand that's safe enough to eat! A great activity for children of all ages – get making today! thecraftathomefamily
22. Kinetic Sand Activity for Kids
Have Fun with your kids while making kinetic sand at home. It's an easy, mess-free way to make custom play sand for use in sand castle molds or shovels. All you need are 4 simple ingredients: 3 cups of sand, 1/4 cup of cornstarch, 1 tablespoon of dish soap, and some water – plus a few drops of food coloring if desired!
Just mix the dry ingredients together, then slowly stir in the wet mixture until you reach the ideal consistency. Get creative and have a blast playing with Kinetic Sand! craftcornerdiy
23. Make Non Toxic Kinetic Sand
Looking for a fun DIY that's safe and non-toxic? Make your own kinetic sand at home with just salt, toothpaste, and water! This homemade Kinetic sand is an interesting texture – it flows like wet beach sand but still sticks together when you shape it.
Your kids can play with it in creative ways, as the sand will move around without being sticky. Don't worry about messes either; this no-glue kinetic sand is easy to clean up afterward. Get creative with your homemade Kinetic sand today!
24. Cheap DIY Kinetic Sand Without Sand
Spruce up unique homemade kinetic sand without using sand, slime, or glue! This amazing DIY project is both simple and fun to make with everyday items found in the home. It has a texture similar to traditional play sand but retains its shape when squeezed in your hand.
Perfect for creative indoor activities for kids of all ages! Make endless shapes and molds while developing fine motor skills. Its mess-free nature makes it ideal for sensory bins, too. Let your imagination go wild as you make something special that will last indefinitely!
Related DIY Fun Crafts and Activities for Kids
Engage your child's creativity with these fun crafts and activities – perfect for a fun-filled day at home!
Conclusion:
In conclusion, making a DIY kinetic sand recipe provides endless entertainment and educational opportunities for children and adults alike. With 25 homemade kinetic sand recipes, you can find simple, eco-friendly, and even edible options to suit your needs. Explore the world of sensory play and creativity with these engaging recipes and activities, perfect for promoting motor skills and imaginative learning. So, gather your ingredients and start making your own custom DIY kinetic sand today!