Homemade bubbles are the favorite activity of little kids. Making DIY bubbles, blowing bubbles, and playing and chasing after bubbles! For the love of that, we have rounded up these 20 simple ways to make bubbles at home. If anything, we assure you with our homemade bubble solution recipe, your kids will never find time to get bored! Making bubbles at home is not way too easier, but it can also be a great way to keep little hands and mouths occupied happily! As with all other benefits of homemade things, these bubbles will last much longer in the air than the market solutions would usually do.
In these DIY bubbles recipes, you can find many easy and fun ways to make DIY bubble solutions at home using just a few ingredients! In return, your kids can have the time of their lives with giant, huge, and popping bubbles. You can keep the DIY bubble solution in tight containers for later use, as well. They can be a great help to spruce up the picnic time, a family event loaded with kids, or let alone just enjoying a beautiful sunny day outside! Since you will be sure of the natural ingredients you will be using to make these, you won't even have to worry about your kids getting any harmful chemicals inside. So, let's DIY bubble things up already!
1. Homemade Giant Bubbles
Planning to arrange a BBQ Party with friends and family this weekend? Do you want to make sure that kids also have an excellent time at the event? This recipe on Giant Bubbles is a perfect way for the kids to have some fun of their own. spaceshipsand
2. Easy Homemade Bubbles Recipe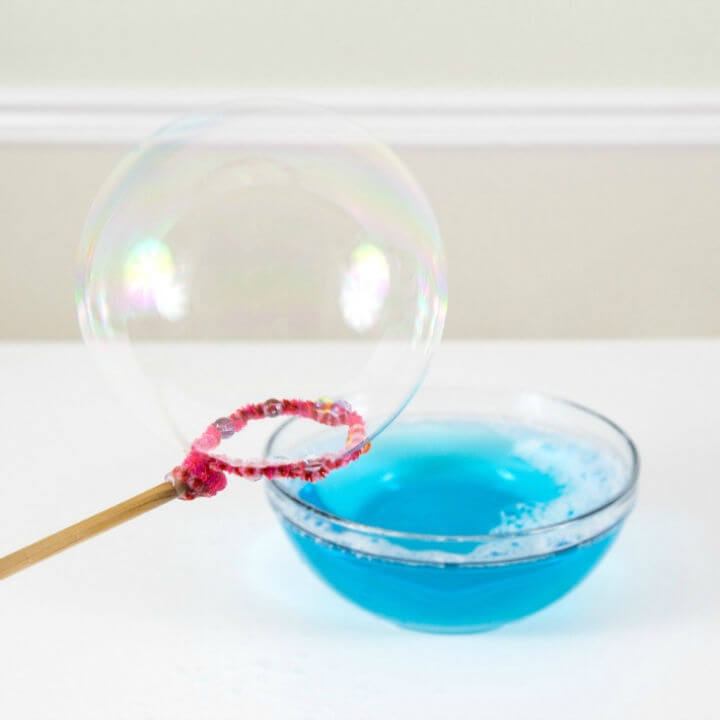 Everyone loves to play with giant Bubbles, be it kids or adults. It's always fun to blow and pop bubbles. It's one cool, fun DIY activity involving kids and having a perfect weekend at home. Create your own DIY Bubble solution, as done here. artfulparent
3. How to Make Giant Bubbles
If you plan to spend the weekend with kids in a fun and interactive way, blowing giant bubbles with them is an excellent idea to go for. This recipe will help you create your own giant bubble mixture that you can play in the backyard with kids. happyhooligans
4. Simple DIY Bubbles
Check out this fantastic, fun DIY project with kids that involves creating your own Giant bubbles at home. It's perfect DIY Crafts to play with during the holidays, or it can also be an ideal party favors for all kids to enjoy. redtedart
5. 3 Ingredients Homemade Bubbles
Kids love blowing bubbles, regardless of any season, it is. Just give them a bubble-blowing mixture, and they can spend all day blowing these colorful bubbles. To create one solution for your kids at home, all you need are three things: 5 cups of water, 2 cups of dish soap, and ¾ cup of corn syrup. livingwellmom
6. Best Homemade Bubbles
Store-bought bubbles are expensive, and mostly they get spilled by kids! To help kids get enough supply of DIY Bubbles at home, this tutorial will help you a lot. With this recipe now kids can have a good time at home without worrying about them getting finished before the fun starts. instructables
7. Homemade Bubbles for Kids
Creating homemade bubbles for kids is always an excellent idea when you don't have the energy to rush to a craft store nearby. This tutorial will help you create your own bubble mixture by using supplies like water, dish soap, sugar, a bubble blower, straws, and pipe cleaners. funwithmama
8. Make Bouncing Bubbles at Home
Blowing and popping bubbles at home is always a fun activity for kids! It is more fun to create the bubble solution at home by using some basic readily available supplies at home. These supplies include water, some sugar, dish soap, and bubble wands. alittlepinch
9. Scented Rainbow DIY Bubbles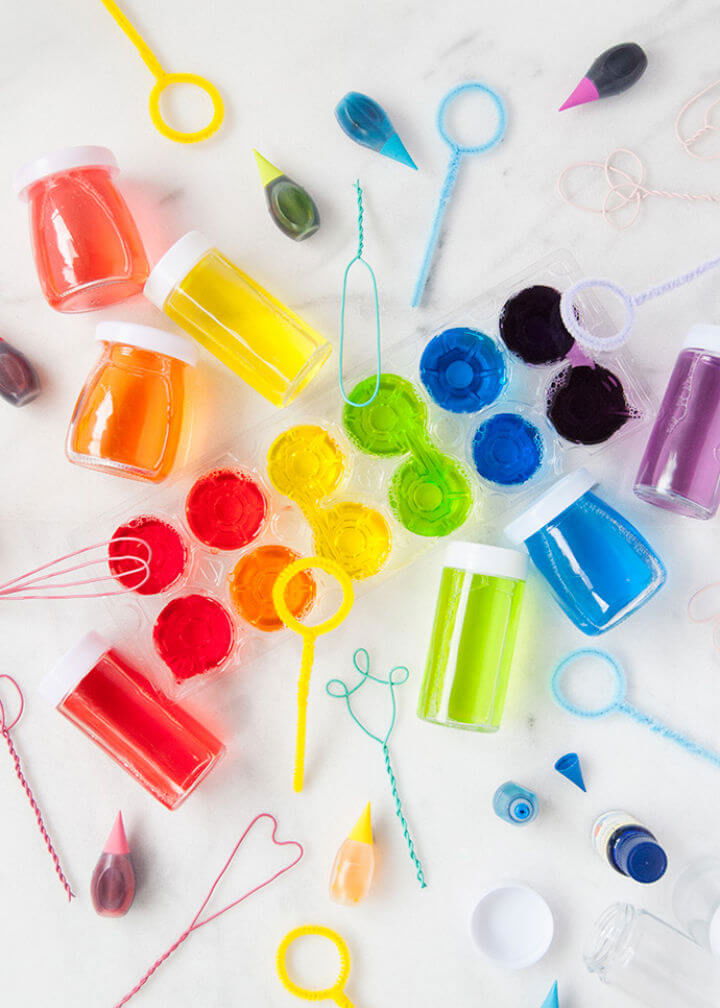 Create a fun, playful bubble station at home for kids this summer break. With their rainbow-hued feel, these bubbles are always a playful craft that they love to blow and pop. Make them scented with some essential oils so kids can have the fun of their own. handmade
10. Giant Homemade Bubbles
You might have come across lots of making DIY bubbles and popping tutorials on the internet that can help you create a beautiful bubble for kids at home. Still, this recipe on Giant bubble solution making is all you need to work on this weekend. It's the perfect craft for kids to have some summer afternoon fun at home. livingwell
11. Make Unpoppable Bubbles
It's like a bubble to pop. For kids blowing bubbles is a fun task that they can play with all day long. This tutorial right here will make sure to keep them busy all day with bubbles popping! They are going to love this craft, and you can be their favorite person. learningre
12. Super-Duper Homemade Bubbles and Wands
Spring is a perfect season for kids to have some backyard fun of their own, their giggling, running, and laughing is all that looks and sounds adorable. And there's nothing like bubbles to inspire delight. Making bubbles solution at home will help you to make your kids happy. This bubble recipe can make cute wands to blow these bubbles from. honest
13. Easy DIY Homemade Bubbles
Create your own bubble blowing mixture at home with readily available home supplies, like water, dish soap, and some glycerin. An ideal way to spend some fun time with adorable kids is to make endless bubbles solution mixture that kids will love to play with. dontwaste
14. Epic Gigantic Bubbles
Kids love to play with bubbles. Give them a bubble container, and they can play with it all day long. This gigantic bubble recipe will be loved among all the kids around you! All you need are some supplies like water, dish soap, and some glycerin to go with to create a gigantic epic bubble for kids. aninspiredmess
15. Make Giant Homemade Bubbles
If you plan to spend some quality time with kids this summer break, making some giant bubble solution for them would be a fantastic DIY Project to work on. This bubble solution recipe will help you to blow some gigantic bubbles that kids will love to blow. playgroundpark
16. Homemade Bubble Recipe for Kids
Outdoor fun with kids is always an excellent option to have some quality family time. This homemade tutorial on making your own bubbles for kids is the best idea that kids will love to play with. It's one of the safe outdoor activities that no one can hurt in, and you would like to blow some bubbles too. crystalandcomp
17. DIY Glow Bubbles
Planning for an indoor blacklight party with kids, use glowing bubbles to have your own fun with kids. This tutorial on DIY glow bubbles is a pretty impressive task to work on. Kids will love to blow these bubbles in the dark and have some fun with it. pagingsuper
18. Homemade Scented Bubbles
Bubbles are fun to play with. You can blow them and have some fun kids and parent's time. To add a more personalized touch to your craft, add some scent to it. This DIY bubble solution will help you as to how you can make your own homemade scented bubbles in no time. madincrafts
19. Giant Kiddie Pool Bubbles
Kids love playing with bubbles, blowing, and popping is their favorite thing to do with bubbles. It's more fun when they are put inside a bubble. This tutorial right here with a giant kiddie bubble pool will help you make something exciting for kids. They will love to be inside a giant bubble. nobiggie
20. Giant Bubble Solution Recipe
Who doesn't like to blow giant sized bubbles? If you are facing a hard time finding some excellent bubble solution in stores near you, all you can do is create a solution yourself. This tutorial right here will help you how to make one giant bubble using a portion of water, dish soap, and glycerin. frugalfun4boys
From giant bubbles to colorful splashes of rainbow bubbles, these 20 ways to make bubbles at home can really be a great way to keep your kids happily occupied! And as well as away from the digital fever out in the open air! Soaking some fresh air or vitamin D all the while enjoying popping up some bubbles!