Learn to make your own homemade baby wipes that are natural and chemical-free. These 20 simple DIY baby wipes share different recipes from natural to organic to non-toxic ingredients you probably already have in your kitchen.
For all mothers who are afraid of baby skin rashes, these baby wipes are a big gift, will help clean baby bottoms more safely while changing the diapers. By adding custom essential oils, extras, and other ingredients, you can cook so many effective solutions for baby wipe dispensers, and these ideas are sharing all details in this case.
Furthermore, doing these diy wipes is going to be the best to smartly recycle fleece, flannel, and other fabric scraps. Grab a container, fold your fabric wipes accordingly to fit nicely in the jar for easy dispensing. Next, add the cleansing solution you will make at home.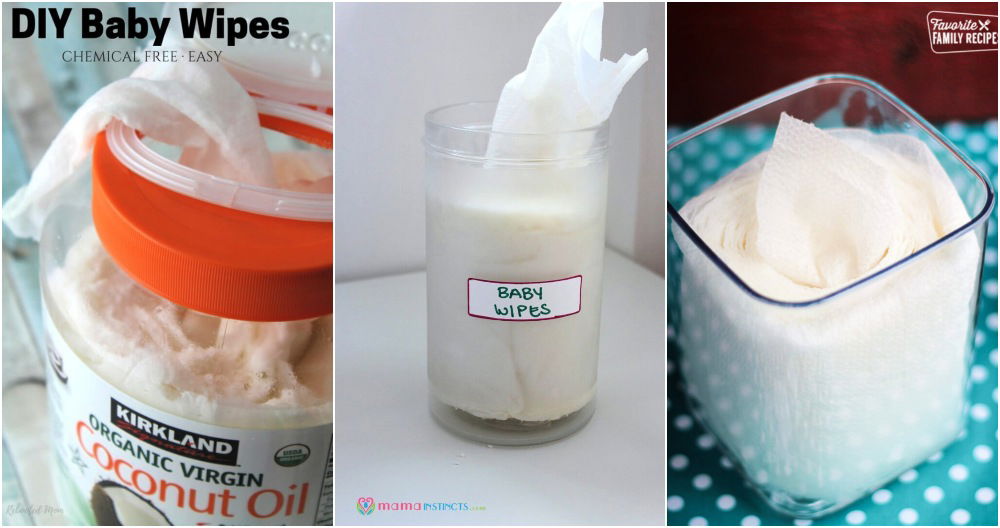 Market bought baby wipes often come with toxic and dangerous materials, and due to getting plastic in them, they can't be left to decompose in soil affecting badly to natural and healthy ecosystems. Homemade baby wipes are inexpensive, safe, and quick to make, some can be reused again. On the contrary, the market bought baby wipes contain unknown toxic chemicals that aggravate the delicate baby skin.
Having these DIY baby wipes at home can be good for several different reasons. They help in removing eye makeup and nail polish. Use them to say bye to hair stains, and they are also a great alternative to toilet paper rolls.
1. DIY Baby Wipes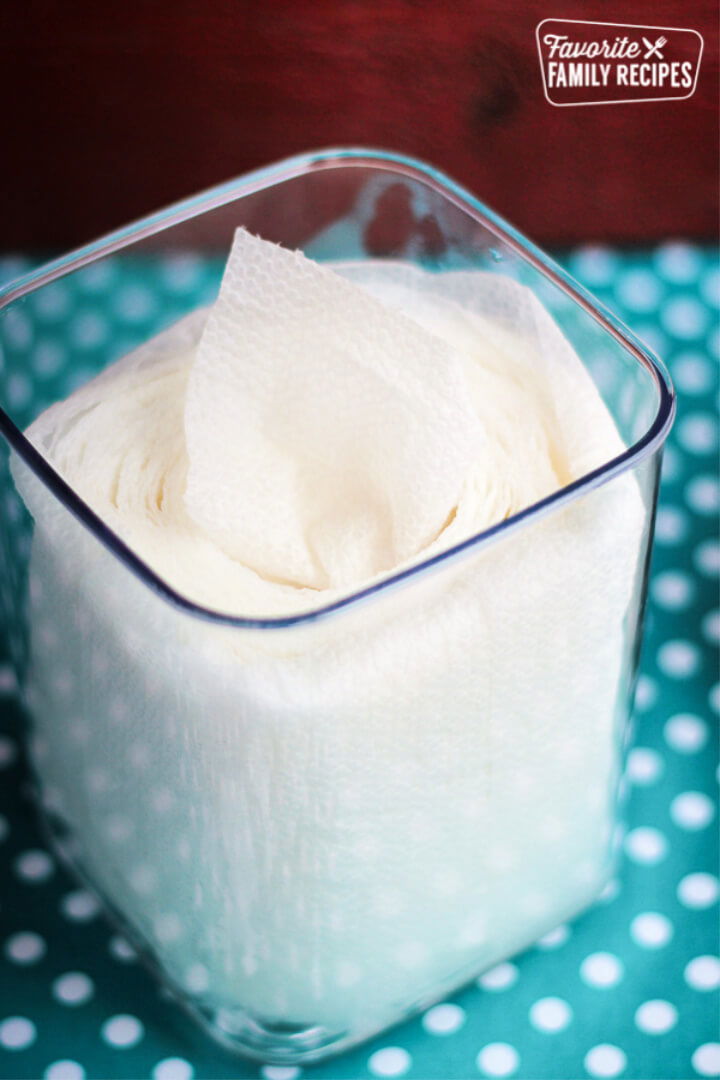 The baby wipes are a big must=have in baby care stuff, especially for cleaning the baby bottoms while changing diapers! Make baby wipes in bulk inexpensively using this free hacks, shared to inspire! Grab a set of baby towels and treat them with the baby bath soap and baby oil to get these baby wipes made! favfamilyrecipes
2. 3-Ingredient Zero Waste Baby Wipes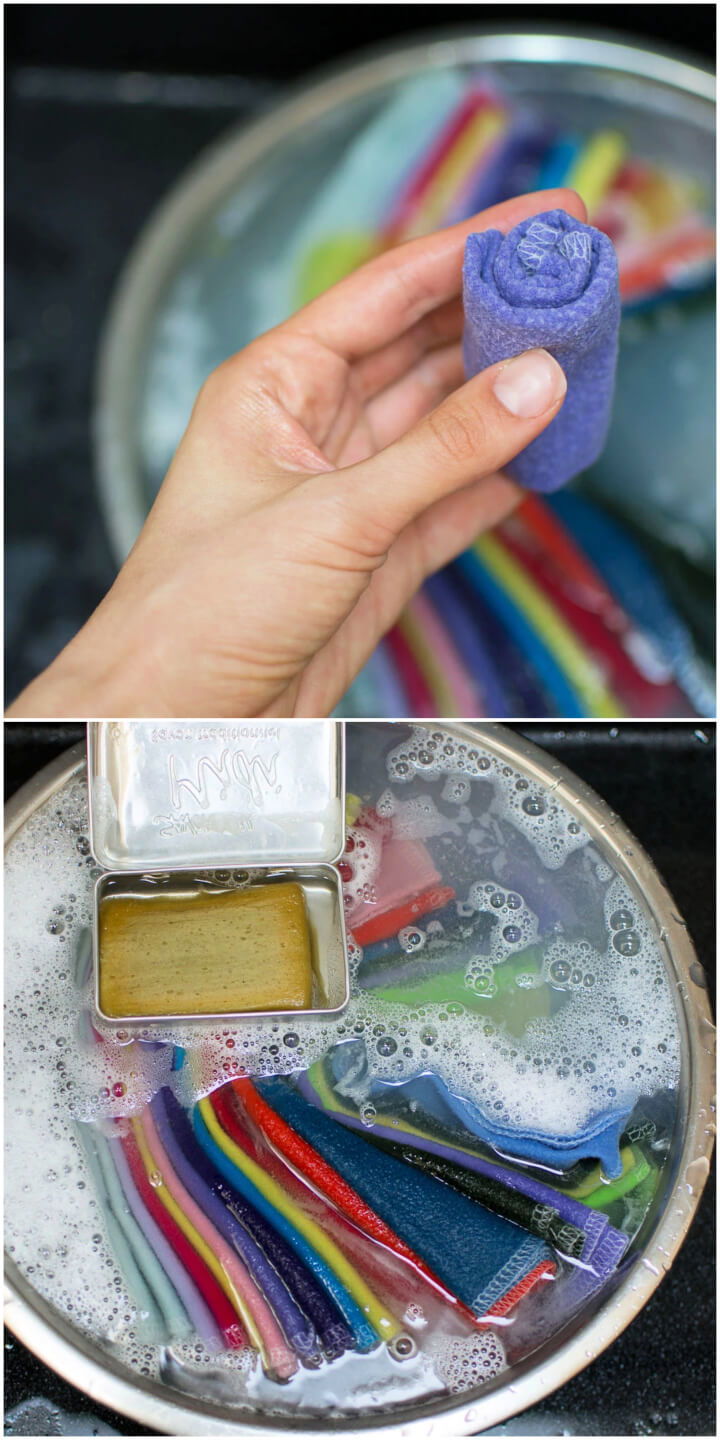 Dipping the wipes in the baby care cleansing agents and then to take them and dry is the whole process for making gorgeous and zero waste baby wipes! Mix the castile soap, olive oil, and tea tree oil to prep the solution to soak the wipes in to make no-irritation baby wipes in no time! Complete guides here wildminimalist
3. Homemade Baby Wipes – 3 Different Ways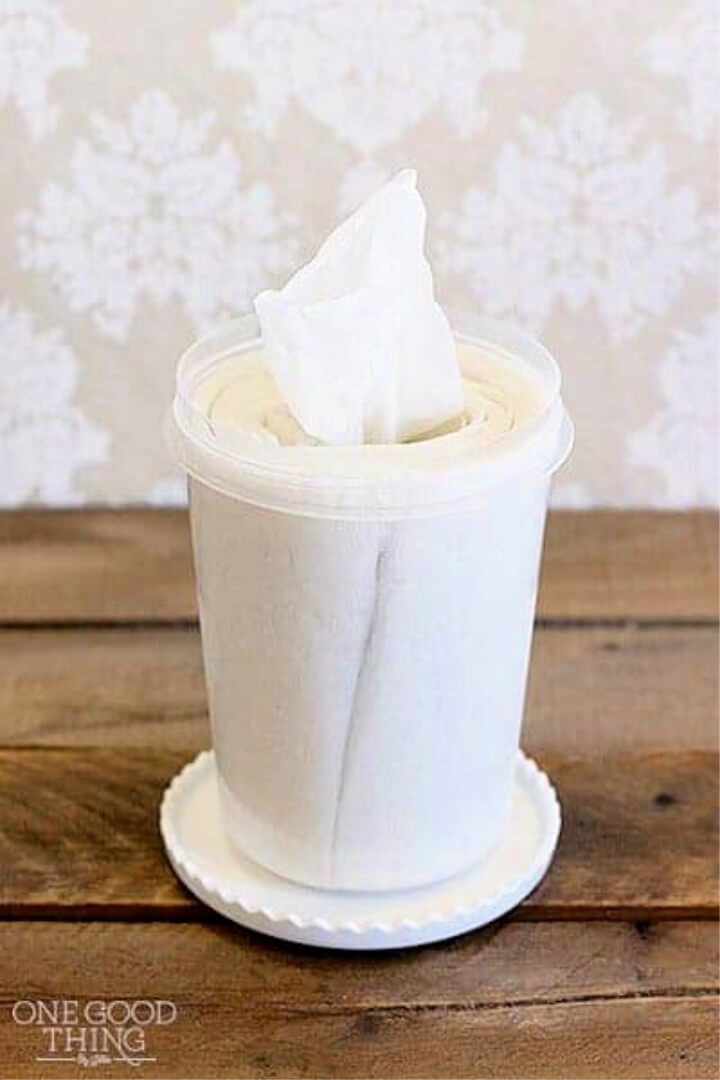 Make the best baby wipes by treating the disposable clothes or baby towels with the cleansing agents! So, they will rock to clean the baby during diapering! Get here the 3 different hacks to build baby wipes quickly and cost-efficiently, no more irritation and itching will be guaranteed! Complete project details here onegoodthing
4. DIY All-Natural Baby Wipes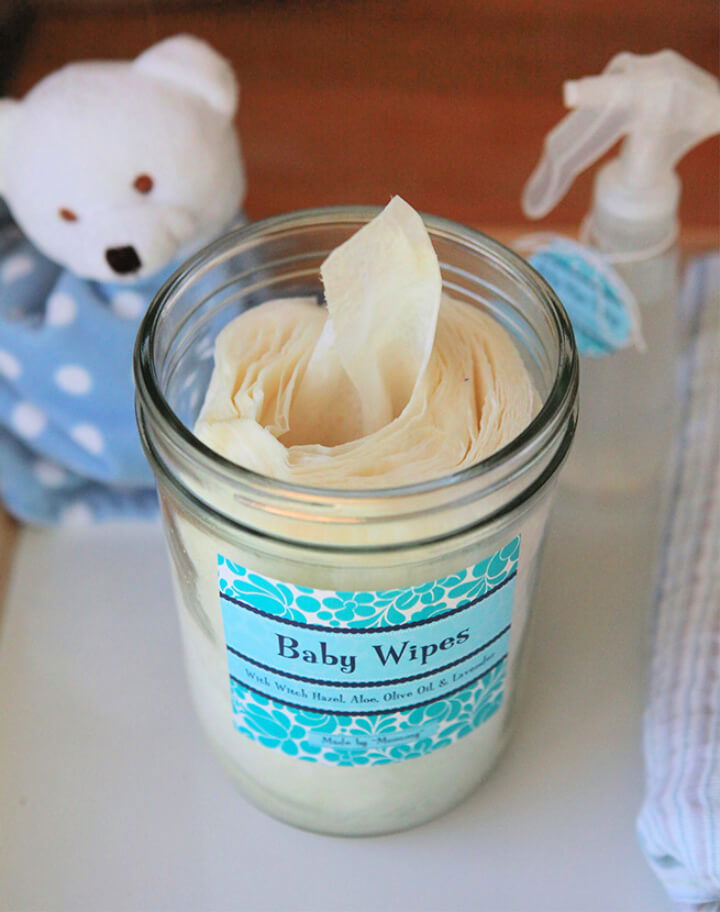 Check out here another innovative concept to make baby wipes that will cleanse the baby's skin without causing any irritation! You need here the paper towels to put in a glass jar that can be filled then with the custom cleansing agent and solution! Make the solution using water, baby soap, olive oil, pure witch hazel, and lavender essential oil! These baby wipes will also smell pleasant! evermine
5. Chemical Free Baby Wipes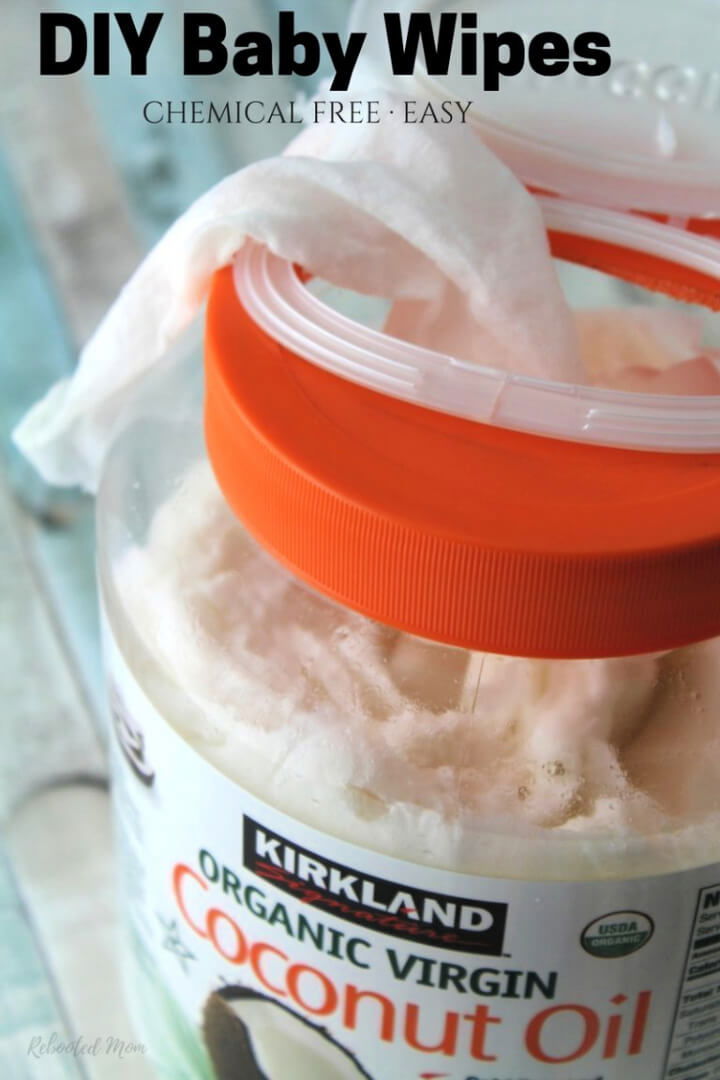 Protect the sensitive baby skin from the allergic reactions using the baby wipes! These wipes contain no dangerous chemicals and are total cost-efficient to make! Prep the solution using baby soap, lavender oil essential, olive oil, tea tree coconut oil, and vitamin E! Fill the solution in the jars with the paper towel rolls placed inside! Complete how-to guides here rebootedmom
6. Easy and Organic Herbal Baby Wipes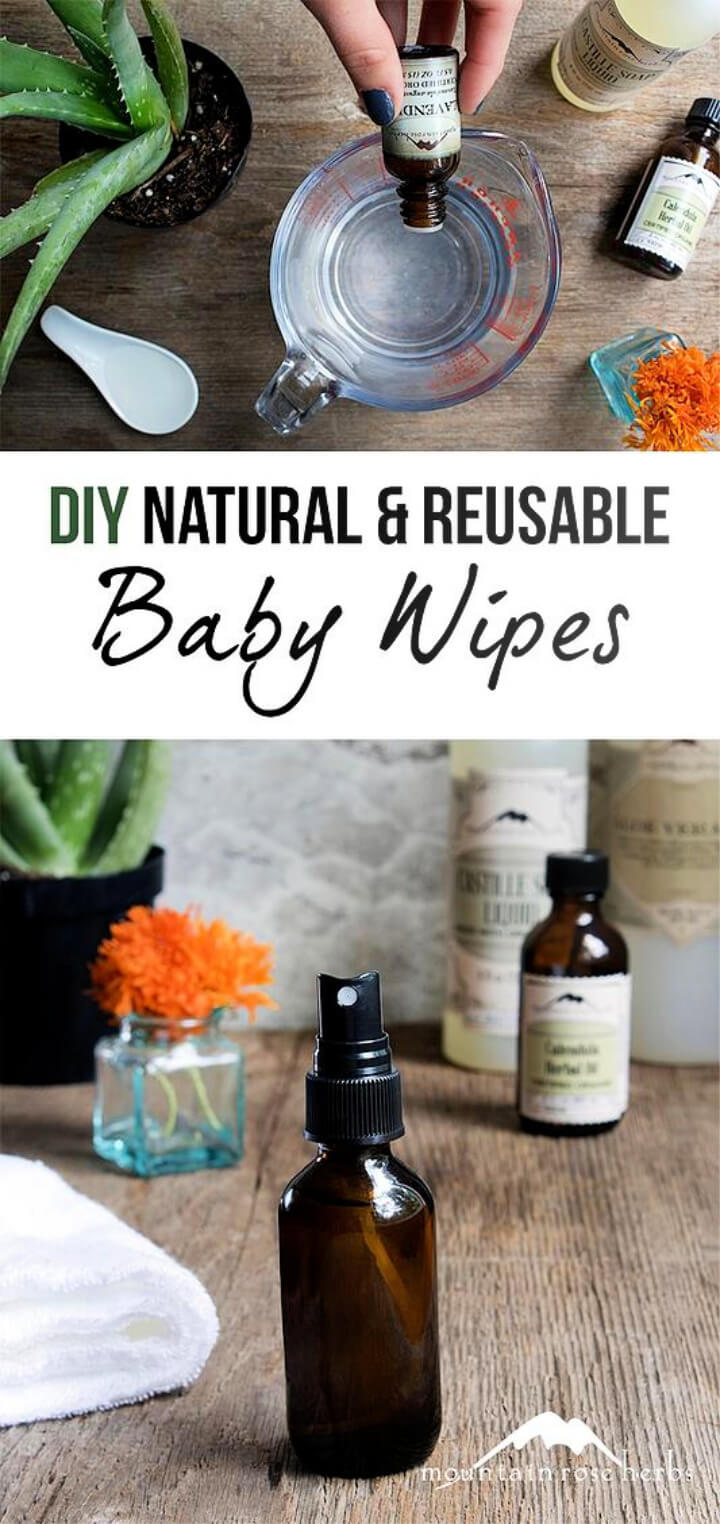 There are lots of baby care stuff out there, but changing the diapers in a happy way will demand these organic herbal baby wipes! Packing them beautiful in the jar as a baby wipe dispenser, will be quite easy to use and will have several health benefits for it! The special ingredient here is the organic calendula herbal oil that makes is baby-safe and natural! mountainrose
7. Homemade Flushable Wet Wipes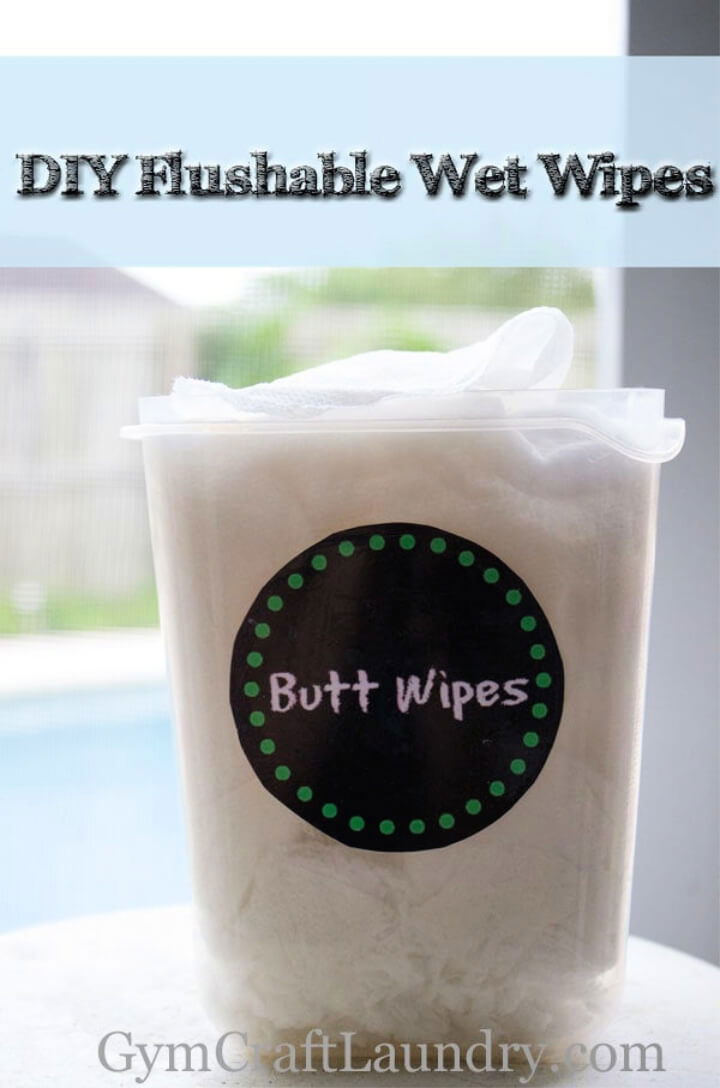 Another one of the best personal hygiene babies wipes recipe, quite something easy to make! Mix the head-to-toe baby wash, olive oil, tea tree oil, and distilled water! Give it a nice gift-wrap and also give as a gorgeous handmade gift, will be irresistible! Here you can experiment with these projects with so many different types of paper towels! Complete guides here gymcraftlaundry
8. Wipe Solution for Cloth or Paper Towels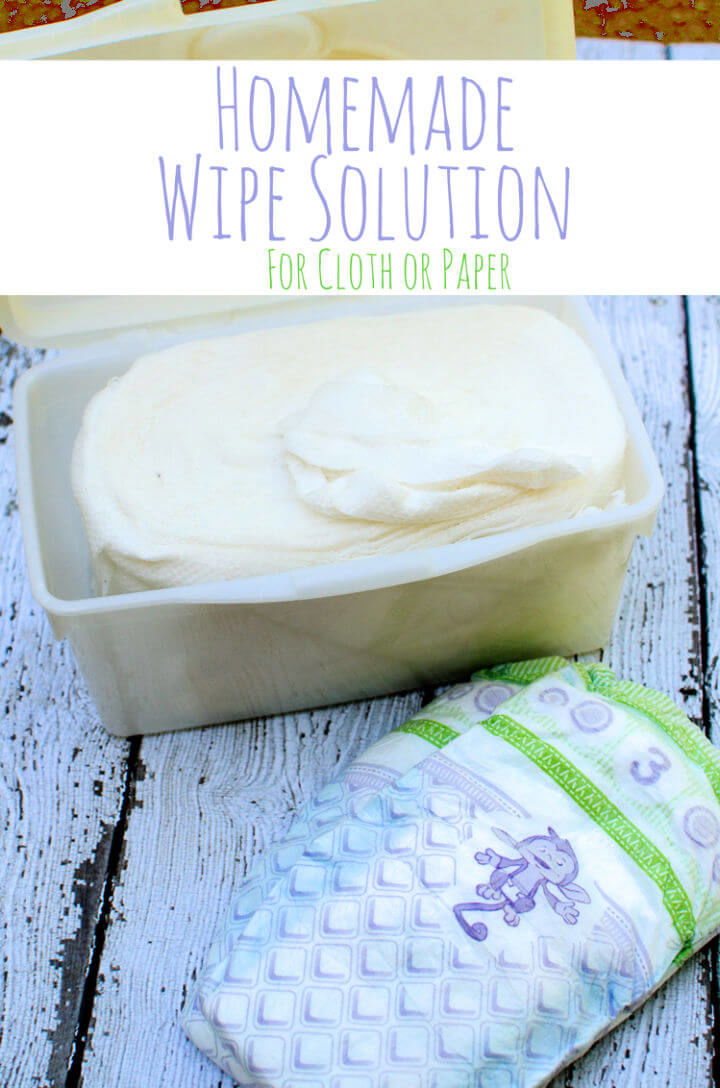 Reuse also the remaining clothes from home to make the best baby wipes and going this way will help ear lots of dollars! Prep the solution for the cloth and paper towel s using coconut oil, baby castile soap, witch hazel, vitamin E, aloe vera and coconut oil to mix this wipe solution for both paper and cloth towels! Complete baby wipe tutorial here reallyareyou
9. How to Make Decomposable Baby Wipes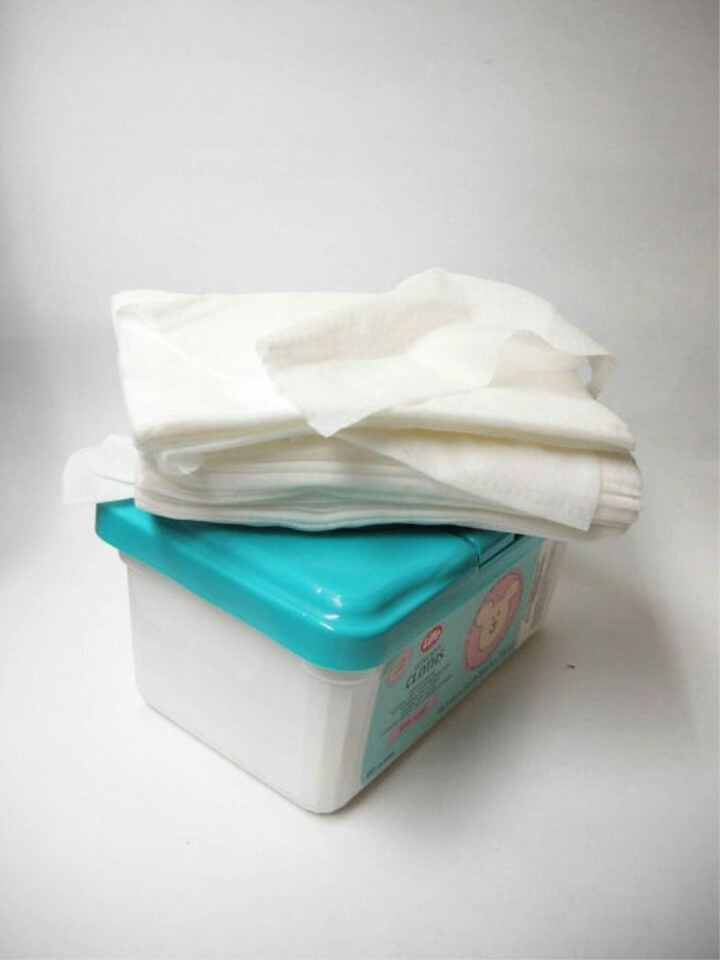 Do you destine the baby wipes to landfills after use? This will make the environments dirty, so make the decomposable baby wipes that will not affect our ecosystems severely and can quickly decompose! Grab the paper towels and mix them up with the solution by putting them in the container filled a little with cleaning or moistening solution! Full recipe here instructables
10. 3 Ingredients Baby Wipes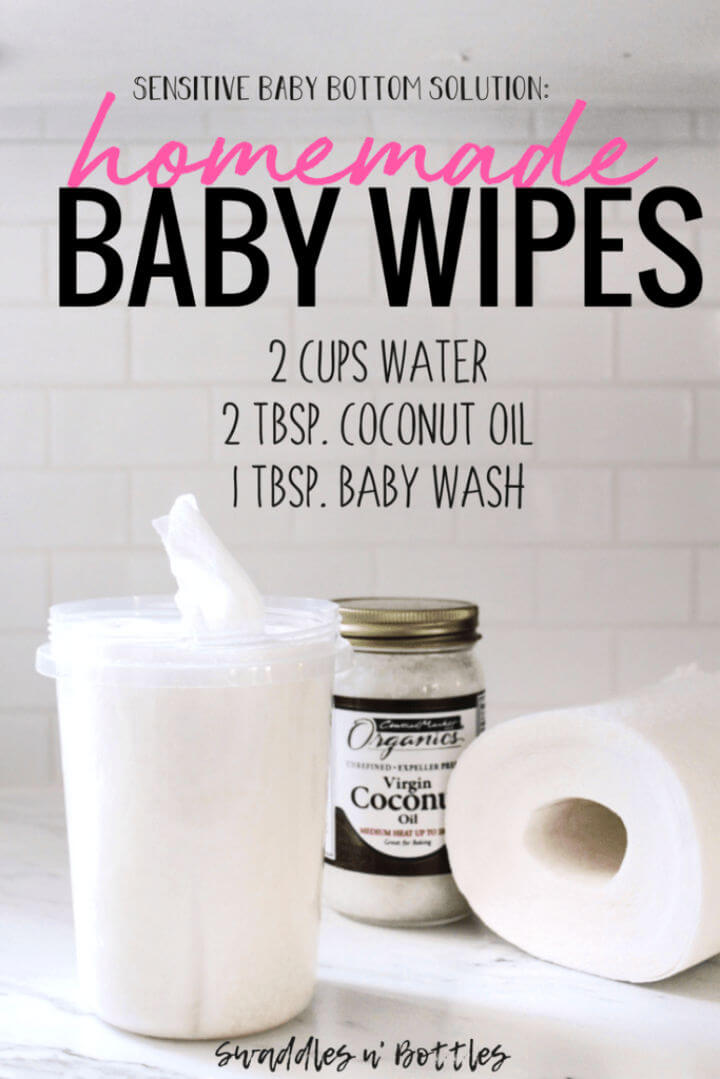 The best baby wipe dispenser to make out of recycled Mason jars, set the rolls of paper towels inside a jar and then to fill it with a cleaning solution, can quickly be made using water, coconut oil, and baby wash! One of the best baby wipe recipes that involve simple ingredients! swaddlesnbottles
11. Homemade Baby Wipes with Coconut Oil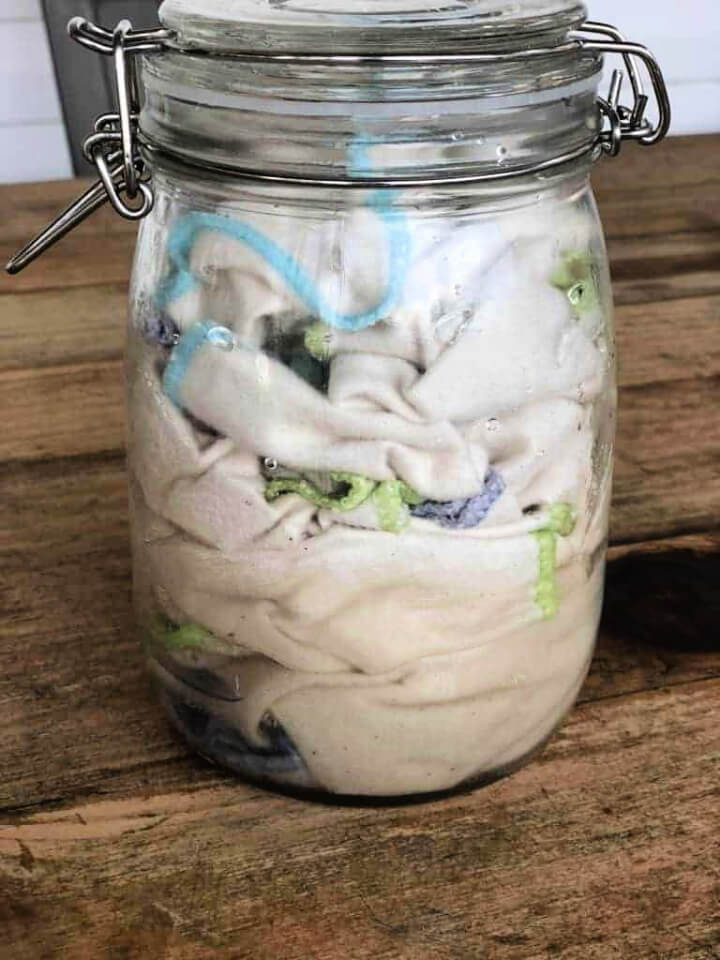 The market bought baby wipes are expensive and often result in itchy rashes on the baby's skin. So bring comfort to your baby and diaper changing routines with these baby wipes with coconut oil. Fill a handful of cloths in the Mason jars, fill the Frankincense and lavender essential oil in the jar along with a measured amount of distilled water and coconut oil to make this baby wipes. naturallymade
12. Homemade Natural Baby Cloth Wipes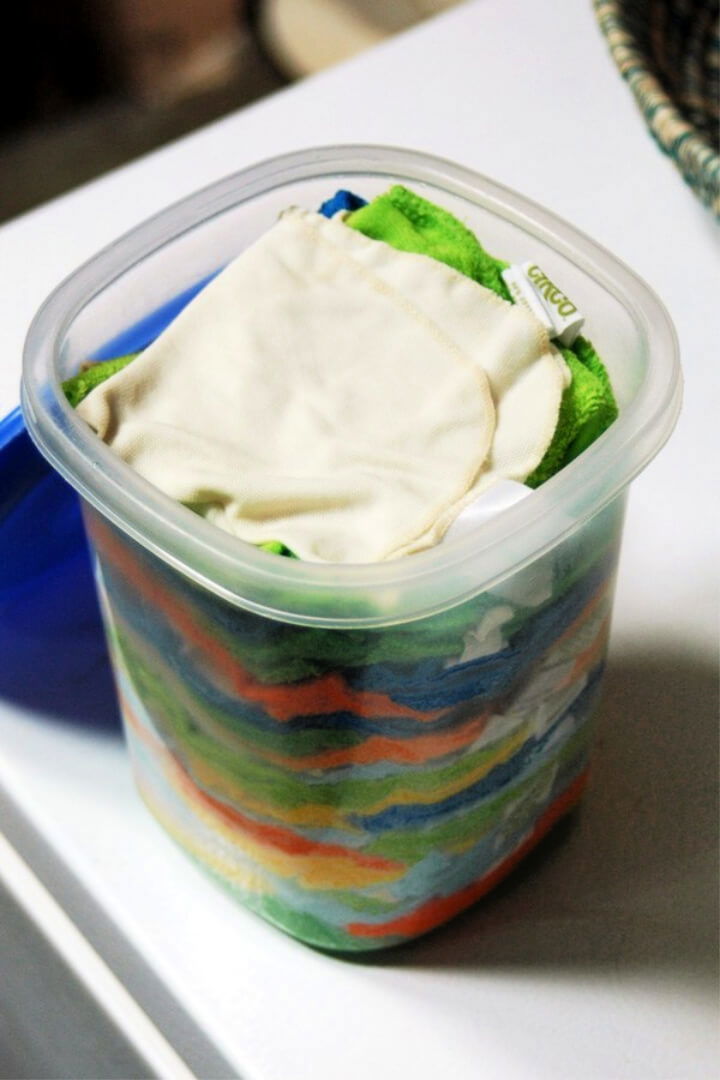 Homemade natural baby wipes ensure to clean the sensitive baby skin safely. Make both a baby wipe dispenser and wipes at home using the materials lying around. Check out here more gorgeous baby cloth wipes that come in a plastic container. Along with distilled water, Castile baby soap, essential oils, and witch hazel, the solution also contains the aloe vera juice. just making noise
13. DIY Non-Toxic Baby Wipes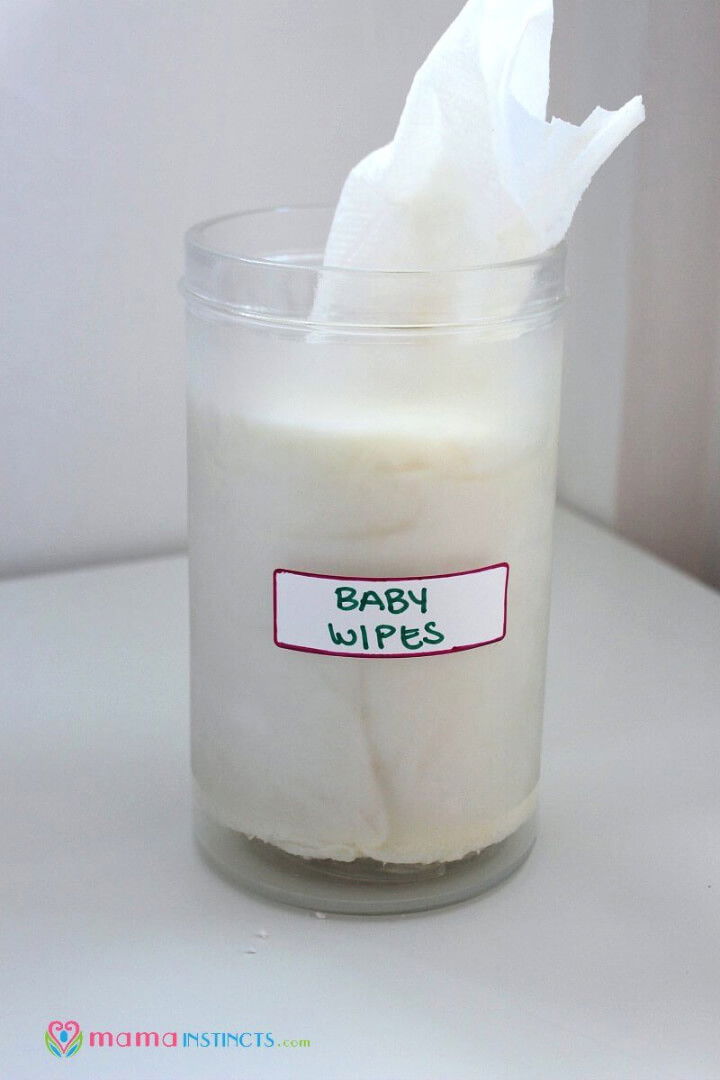 You can put the delicate skin of your baby at risk of rashes by using low-quality baby wipes that often come with plastic in them. So, make non-toxic baby wipes by mixing your cleaning solutions smartly. For making this non-toxic solution, use the castile soap, distilled water, roman chamomile essential oil, olive oil, vitamin E and witch hazel. Get this solution in a jar in which you can put the paper towels. mamainstincts
14. Make Reusable Baby Wipes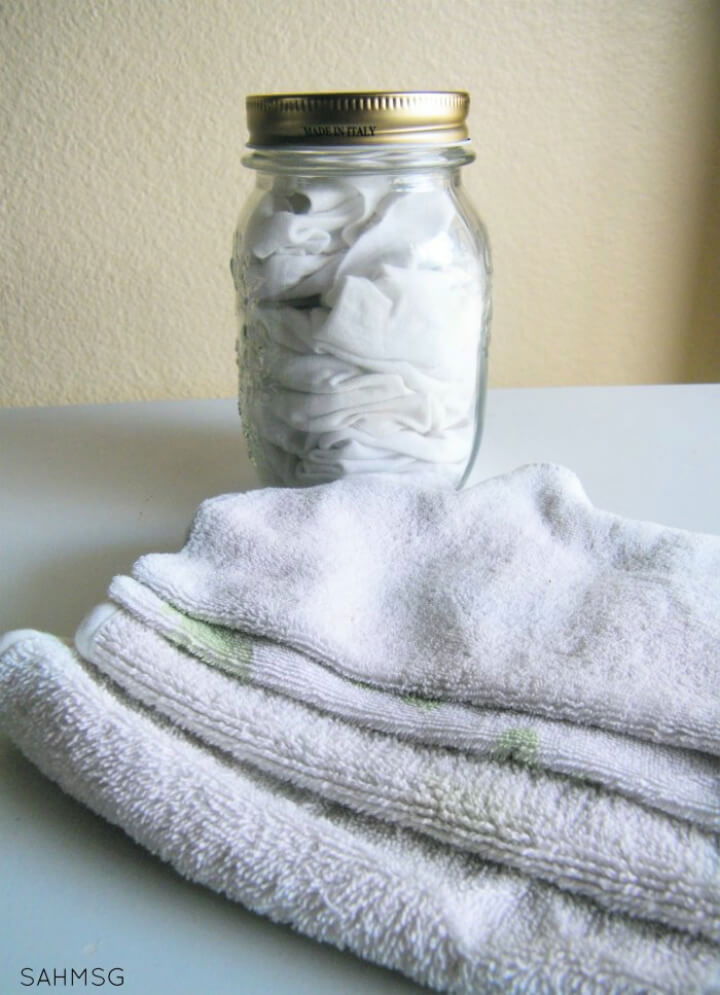 While getting the quality stuff for baby care? You should not miss out on these reusable baby wipes. The making involves mixing almost the same ingredients for the solution that you can pour in a jar containing baby washcloths. The baby wipes will make an excellent gift for a mother-to-be too. Clean the washcloths to use again. thestay at home
15. How to Make Baby Wipes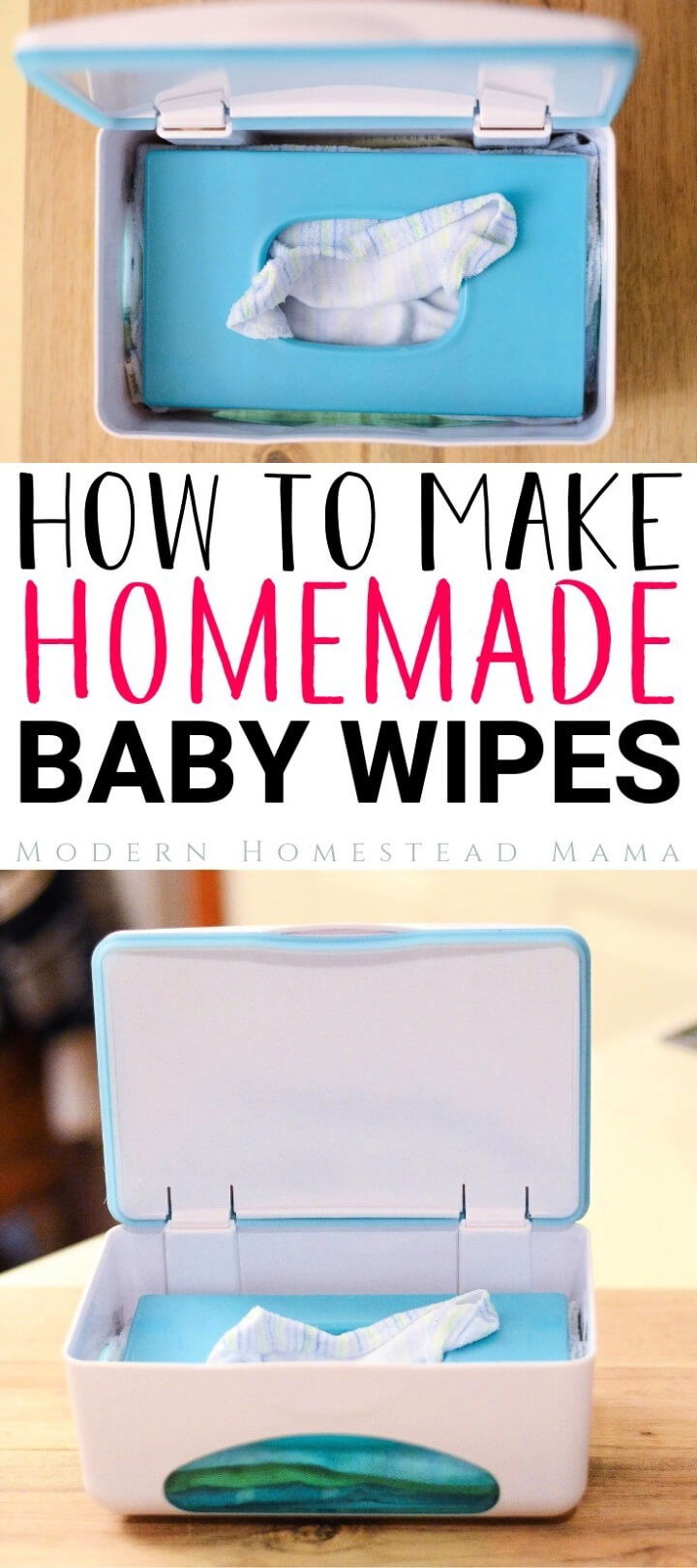 Create also lovely baby wipes in the boxes, which will provide an easy to dispense baby wipes. All you need a baby wipes container, soft washcloths and other essential oils, baby oils, vitamin E, and Castile baby soaps to make the solution. You should make these baby wipes if you are afraid of baby rashes. modernhome
16. Homemade Natural Baby Wipes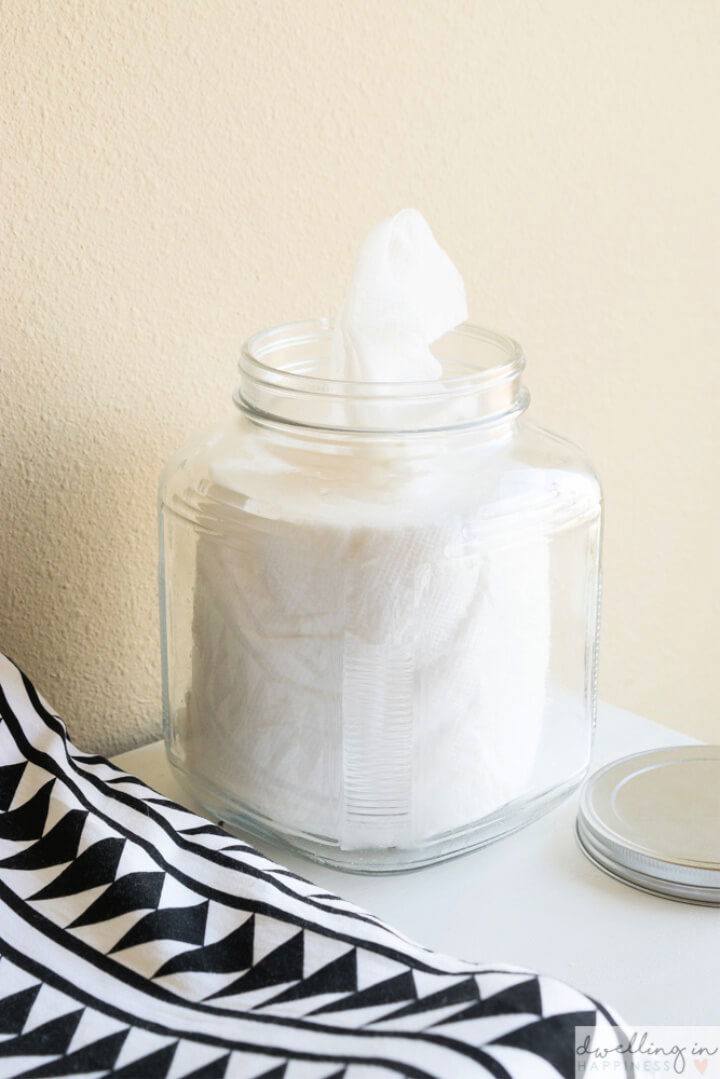 Say bye to toxic chemicals in the market-bought baby wipes that often cause irritating skin rashes on baby skin. Here these natural baby wipes container different but non-toxic solutions for making the solution. Coconut oil, unscented bath gel, and lavender essential oil for making the natural baby wipe solution. Further guides here dwellinginhap
17. Make Flannel Baby Wipes at Home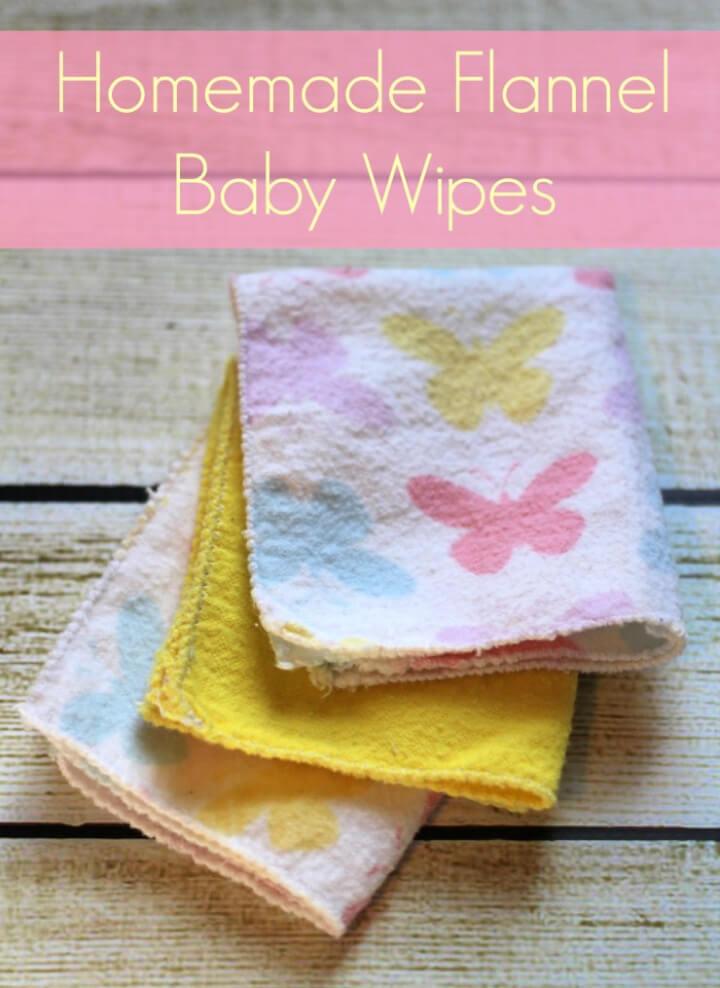 Flannel fabric can also be a smart choice to make baby wipes. Put the flannel square piece in a jar as miniature soft towels and then pour your cleansing solution inside can be made with your favorite ingredients. Use scissors and a sewing machine to cut and sew the mini flannel squares. frugalmomeh
18. DIY Reusable Baby Wipes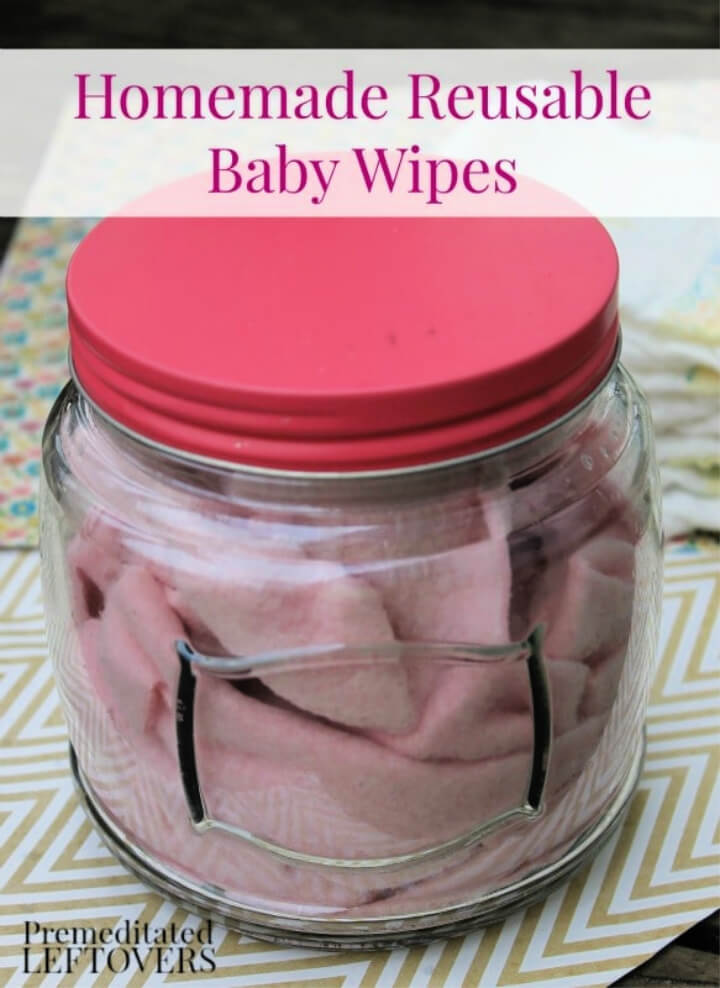 After using custom oils and ingredients, varying your fabric will be an excellent way to vary the baby wipes. Make these reusable baby wipes using fleece fabric, can be taken into square pieces and sewn as mini baby towels. Make the 3-ingredient solution using castile soap, essential oil, and coconut oil. Complete guides here premeditated
19. Make Your Own Baby Wipes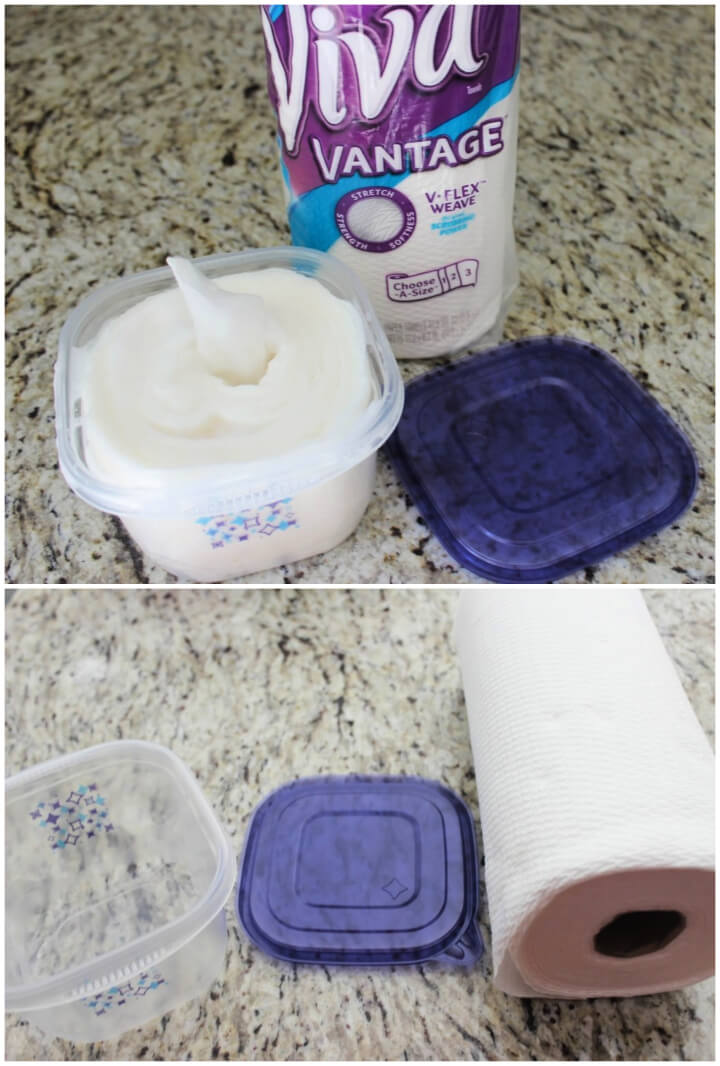 One more 3-ingredient baby wipes idea, the best care to provide to your babies while changing the diapers. Fold a roll of viva to fit in a container of choice and fill it up with a solution made of bath wash, coconut oil, and water. Cut a slice of a roll to fit in the container and then pour the solution. Complete guides here casualclaire
20. DIY Baby Wipes for Less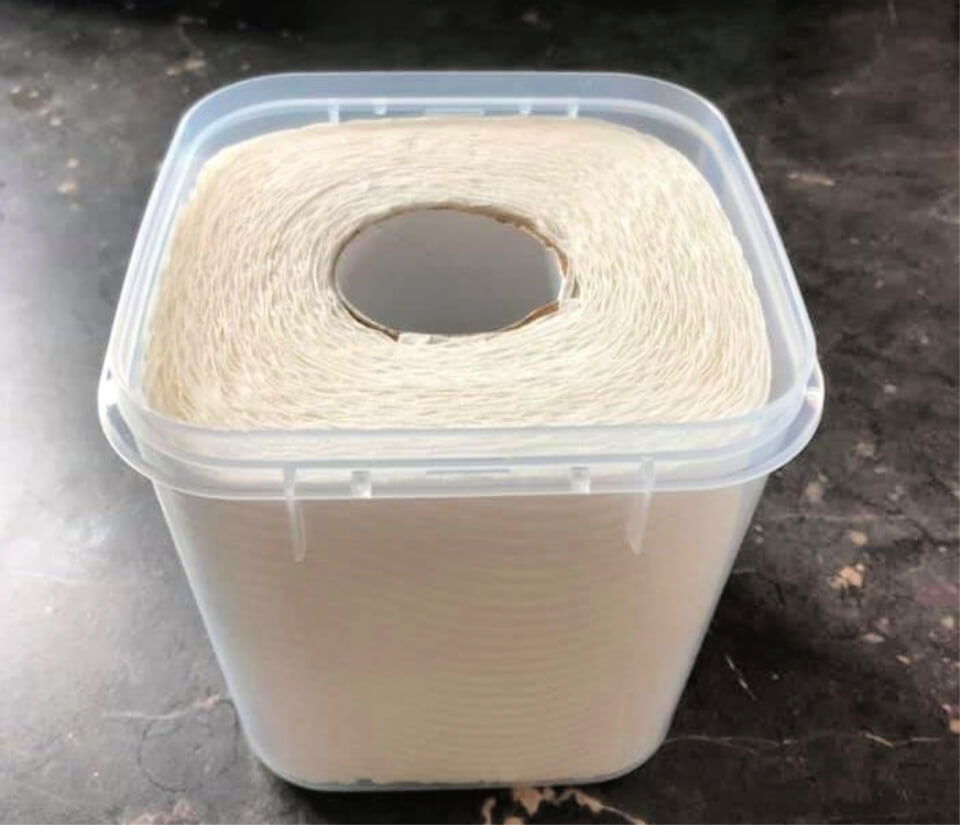 Take the viva paper towel rolls into any desired size to fit in your container, next prep the solution with simple ingredients like coconut oil, baby wash and water in measured amounts! These baby wipes are what you need for easy and fast cleaning of your ways in a safer and rash-free way! babyhintsandtips
How do you make homemade baby wipes?
Homemade baby wipes can be made out of various materials, including cloth, toilet paper, and fleece. You can either use a wipe solution or just water. To make your own baby wipes, you will need:
wipes material (cloth, TP, fleece)
wipe solution or water
container for storing wipes (a container with a lid works best)
marker to label the container
If using cloth wipes:
sewing machine (or fabric glue)
snaps or Velcro (optional)
If using toilet paper:
cutting board
sharp kitchen scissors
zip top baggies (quart size)
To make cloth wipes:
1. Cut a piece of fabric the size of a washcloth. If you are using fleece, you can just cut squares. If using cloth, you will need to sew the edges together to make a washclothsized wipe. You can also use fabric glue instead of sewing if you prefer.
2. Once the fabric is cut, fold it in half and then in half again so that it is now folded into quarters.
3. Pin or glue the edges together (if using fabric glue, wait for it to dry before moving on to the next step)
4. Sew or glue around the edges, making sure to close up the open end so that liquid doesn't leak out.
5. If you want to add snaps or Velcro, do so now. This will help keep the wipes together when you are using them.
6. If you want, you can also make a small hole in one corner of the wipe for easy dispensing.
To use cloth wipes:
1. Wet the wipe with warm water or wipe solution and ring out any excess liquid.
2. Gently wipe your baby's bottom until clean.
3. Throw the wipe away or place it in a zip top baggie to reuse later.
If you are using fleece wipes:
1. Cut squares of fleece that are about 8×8 inches.
2. Place a drop of wash solution or water in the center of the square.
3. Fold the fabric's sides into the middle, making sure that the wetness is contained inside.
4. Optional step: you can sew or glue around the edges to keep them together.
5. Use as described in the above instructions.
How do you make wipes Out of toilet paper?
1. Cut a piece of toilet paper that is about 8×8 inches.
2. Fold it in half so that it is now folded into quarters.
3. Cut each quarter diagonally so that you now have 8 triangular pieces of TP.
4. Wet one triangle with warm water or wipe solution and ring out any excess liquid.
5. Gently wipe your baby's bottom until clean.
6. Throw the wipe away or place it in a zip-top baggie to reuse later.
If you are using homemade wipes, it is important to label the container that they are stored in so that you don't use them for anything else. You can use a marker to write on the side of the container or use adhesive labels. It is also good to keep a stash of disposable wipes on hand for when you are out and about and run out of homemade wipes.
What can I use instead of baby wipes?
There are a few different things you can use in place of baby wipes. A damp cloth or cotton ball can be used to clean the skin, or you can make your own homemade baby wipes. For homemade baby wipes, you will need a container, paper towels, and a solution of water and baby soap. Soak the paper towels in the solution, and then place them in the container. You can use these wipes to clean your baby's skin.
How do you make natural wipes?
There are a few different ways that you can make natural wipes. One way is to use a mixture of water and vinegar. Another way is to use a mixture of water and olive oil. You can also use a mixture of water and lavender oil. whichever way you choose, simply soak the wipes in the mixture, then wring them out before use. Enjoy your fresh, natural wipes!
How can I clean my baby's bottom without wipes?
There are a few different ways to clean your baby's bottom without wipes. One way is to use a warm, wet cloth. Another way is to use a water and vinegar mixture. You can also use a saline solution. whichever way you choose, make sure you rinse the area well afterward.
What material is used to make baby wipes?
Baby wipes are typically made from either a cloth-like material or paper. Some brands also include a moisturizing agent in their wipes.
Can you wash baby wipes?
Yes, you can wash baby wipes. You can either throw them in the washing machine or hand wash them. Just be sure to follow the instructions on the package.
How do you make washable baby wipes?
There are a few different ways that you can make washable baby wipes. One way is to use cloth diapers. You can either cut them up into smaller pieces or just use them whole
Another way is to use baby washcloths. Just wet them with water and then add some baby soap. You can also make your own wipes solution by mixing equal parts of water and vinegar. Then just store the wipes in a container or a reusable bag.
Can you use fleece for cloth wipes?
Yes, fleece can be used for cloth wipes. It is soft and absorbent, making it a good choice for this purpose. However, it is important to make sure that the fleece is 100% wool to avoid any irritation.
How do you make flannel baby wipes?
To make flannel baby wipes, you will need:
1/2 cup of baby shampoo or soap
1 cup of water
1/4 cup of white vinegar
flannel fabric cut into 12″x12″ squares
Instructions:
1. In a small bowl, combine the baby shampoo or soap, water and vinegar.
2. Pour the mixture over the flannel fabric squares.
3. Let the fabric sit for about 5 minutes until it's completely saturated.
4. Ring out any excess liquid and store it in an airtight container.
To use, just wet the wipe and wring out the excess liquid. They are great for cleaning up little messes!
Conclusion:
To wrap things up, homemade baby wipes are definitely a great option for keeping your little one clean. They're natural, chemical-free, and easy to make. Plus, they can be stored in a travel-sized container for on-the-go use. If you're looking for an alternative to store-bought baby wipes, give this DIY a try!