There are various fun games and toys that can provide hours of fun and fascinations to your kids but the "I Spy" games are always something that provides the ultimate fun to your kids as they are often to come with a little mystery involved and your kids really just love it to play detective in this type of game! Like the hide and seek there are various "I Spy" games that your kids can play while sitting with friends and siblings and the I spy bottles are one of those brilliant games the kids like and enjoy the most! Here the ideas are to grab some bigger plastic bottle which you can fill up with rice, grains and glitter, bounties, candies, and various other grinded items and final step would be to hide the gifts, trinkets and other fun things in the material that has been filled in the bottle! Next, the bottles can be given to kids to play the game that is all about to discover the hidden treats, toys, and gifts!
Your kids can shake, twist and flip the bottles to explore the hidden objects and hence can make higher scores to win the prices and also the competition! There can be tons of different ideas to make the I spay bottles at home, and you can go versatile with the filling! If you need to look at some samples or need some inspirations a then we have laid them here for you, have a look at these creative DIY I Spy Bottle Projects that are smart and creative and would definitely make your kids busy for hours for the sweet little discoveries! Here all these I spy bottle ideas would make an excellent gift for the parents who want to please their kids with some handmade toys and gifts!
The first thing you need here is the transparent glass or plastic bottles so that your kids can easily see the inside hidden stuff from the outside! Next, you can choose a nice filling that will beautifully hide the objects! Here the possibilities are just endless for the filling! Just make use of the rice, glitter, sand, salt and all other kids-safe items of this kind to fill up your I spy bottles! Next, you can also fill the custom transparent liquids in the bottles like the water that will also rock!
Crafts for Kids:
Moreover, you can also fill the lego components, rubber bands, sequins, straw pieces, crayons, foam pieces, pony beads, pipe cleaners in the bottle that will also rock to make the cute I spay bottles in no time! These I spy bottle will also make the perfect toy to boost the cognitive skill of the kids, and you can make a few ones for your kids! Just browse the entire collection to see more interesting I spy bottles and also hit the attached links to open the complete project tutorials and step-by-step visual guides!
Pretty DIY I Spy Bottles:
You can make your little ones so much busy and have so much fun with this super fun. I Spy bottles which are easy to create on your own at home. Grab the bottles, fill them up with the rice and hide some toys in them and then ask your kids to find them up and have fun. pacountrycrafts
Cute DIY Shake and Search I Spy Bottle:
The little ones love to detect the things lying around, and now you can satisfy their curiosity with these super fun I Spy jar or bottles which are so much fun to make at home. Just grab a bottle or jar, fill it up with the colorful pearler beads and hide the toys in them and hand it over to your kid. mamapapabubba
DIY I Spy Bottle Seek and Find for Toddlers:
There is a huge sense of curiosity in the kids, and that is why they are always searching the things around and this fun I Spy game would be their favorite. They would have to find out the hidden candies and the toys from this rice-filled bottle, and they would love it. artcraftsandfamily
How to Make I-spy Bottles for Kids:
Kids love to play with sand, and they are so much attracted to the colors and here is the idea of creating this lovely and cute bunch of the I spy bottles for the kids to play with. The bottles are filled with the colored sand, and the multiple toys have been hidden inside to let the kids find them and enjoy them. sixtimemommy
Easy DIY I Spy Bottles: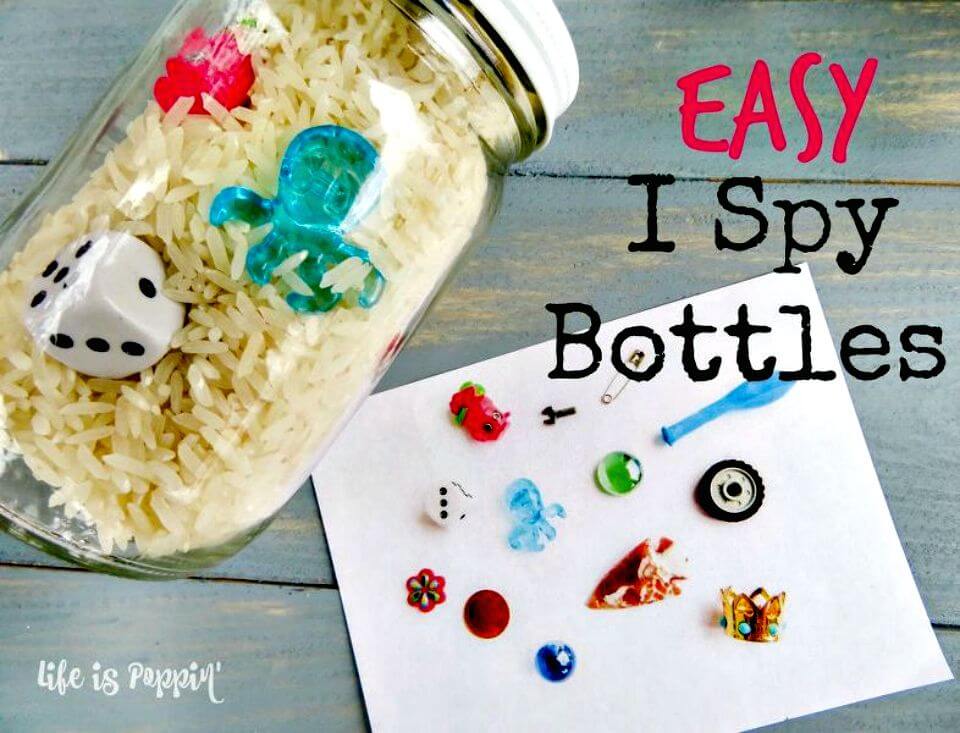 Kids are so much attracted to the colors, so when they would see these cute and colorful toys being hidden in the bottle full of rice, they would try to get them all out in the urge of curiosity and thus have so getting so much busy and having so much fun. Here is the idea of making this lovely I Spy bottle on your own. hometalk
How To Make Rainbow Rice I-spy Bottle:
You can make your kids learn the alphabets through this activity of the I Spy bottles by filling it up with the colorful rice and then hiding some of the hidden alphabets in the bottle and let your little ones find them and have fun and learning at the same time. Follow the tutorial here youclevermonkey
Gorgeous DIY I Spy Bottle: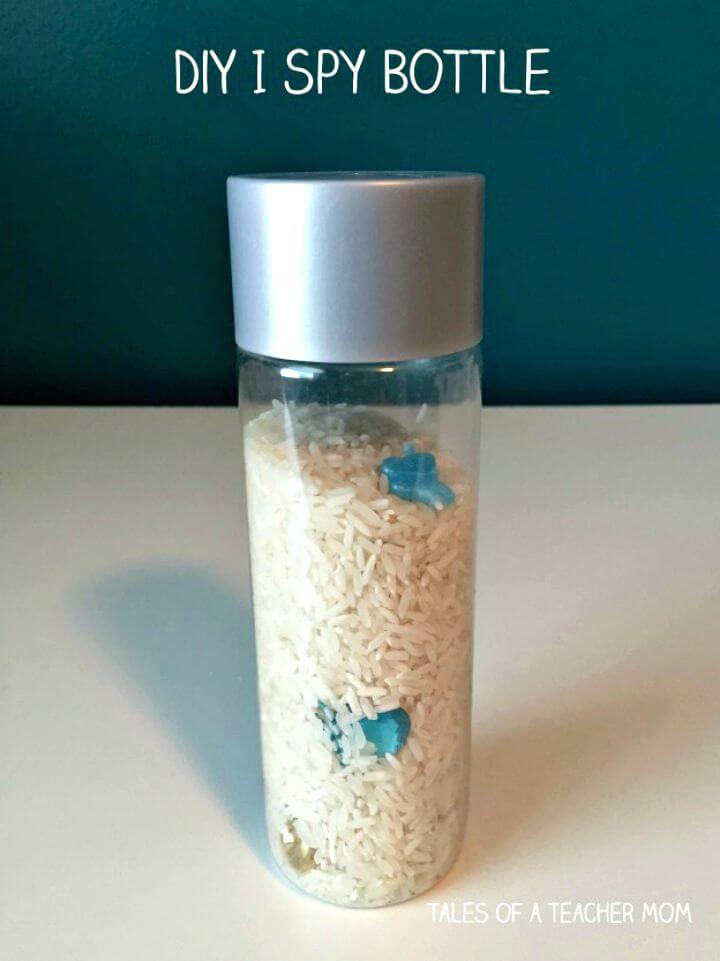 Here is another cute idea of making this fun I Spy game for the little ones to stay busy for a while and let yourself complete some of your home chores. Take an empty bottle and fill it up with the rice and hide some cute and colorful toys between them to let the kids find them and play with them. talesofateachermom
Make Your Own I Spy Bottle: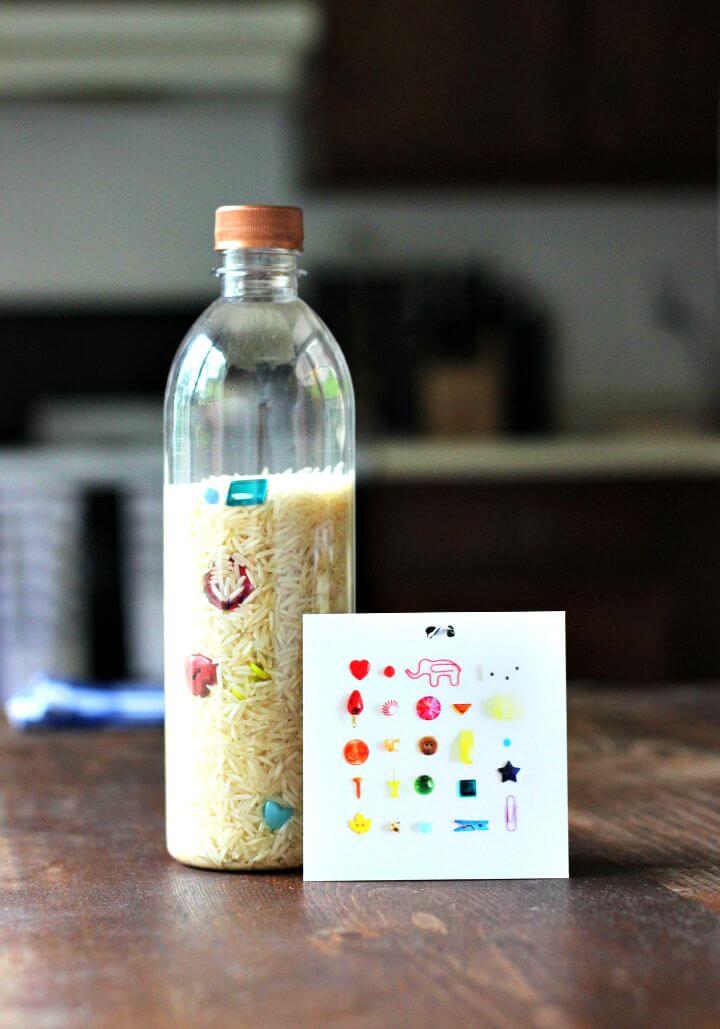 One of the fun games that the kids love and learn through also are the I Spy games, and you can now easily create them on your own at home. All you need to do is just fill up the plastic bottle with the rice and hide some colorful and cute toys possessions between them and let the kids find them and have fun. mckenziesuemakes
DIY I Spy Bottle with Uncooked Rice:
Getting some of the supplies out of your kitchen you can make some super cool playing games for the kids, and they would love to spend some time with this handmade I spy bottle. A plastic bottle, about half kg of the uncooked rice and a bit of the colorful toys are the things you would to create this super fun game. feltmagnet
Make Your Own I Spy Bottles: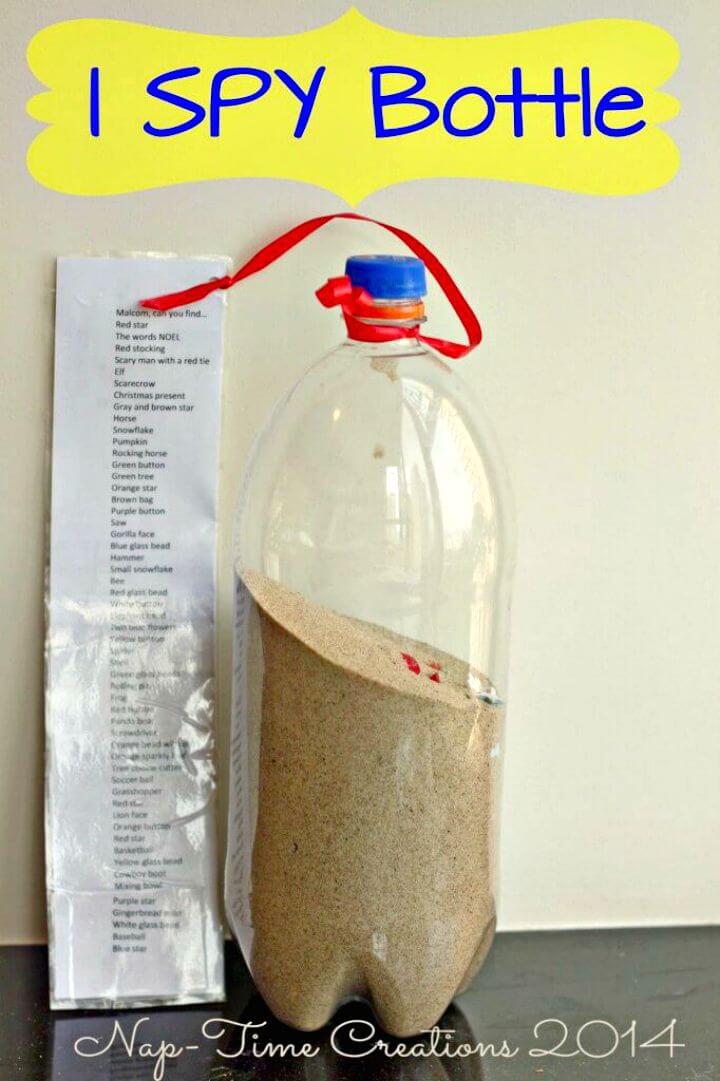 Kids are so much curious about the things lying around; that is why they open all the drawers and take out things from them. So this is the I Spy idea for the kids to let them search out for some hidden toys out of the sand having been filled up in an empty soda bottle so do try it. lifesewsavory
Pretty DIY I Spy Bottles:
The tiny little toys are so much easy and fun to play and here is the idea of creating this super fun game for your toddlers to find the little toys out of the rice filled bottles. The idea of this I Spy bottle has been given here in complete details to make and use as the perfect gifts for the kids around. nannyshecando
Cute DIY I-spy Bottle:
If you are looking for some cool gift ideas for the one or two-year-old kid in the family or the friends then here is the idea of creating this fun I Spy bottle for them to play with. Just grab a plastic bottle, fill it with rice and layers some toys between the rice and the kids find them out and have some fun. fromabcstoacts
DIY Colored Rice I-spy Bottles:
Making the I Spy bottles with the rice and toys is super fun and trendy these days and now you can twist it up more by coloring your rice and then layering them up in the bottle and hiding the toys between them. Follow the complete details of the idea right on the link here 123homeschool4me