Looking for fun and creative activities to do that involve rubber bands? Then look no further! Rubber bands are a great material for games, crafts, activities, and more. Find fun things to do with rubber bands by following these 20 easy rubber band games and crafts to make for kids. From conducting simple experiments with elasticity and tension to making rubber band jewelry and toys, these 20 easy DIY rubber band games and crafts will keep your kids entertained for hours.
These rubber band activities are perfect for family game nights or just as a way to make some cool things from the comfort of your own home. Get creative and get crafting with these unique rubber band projects today!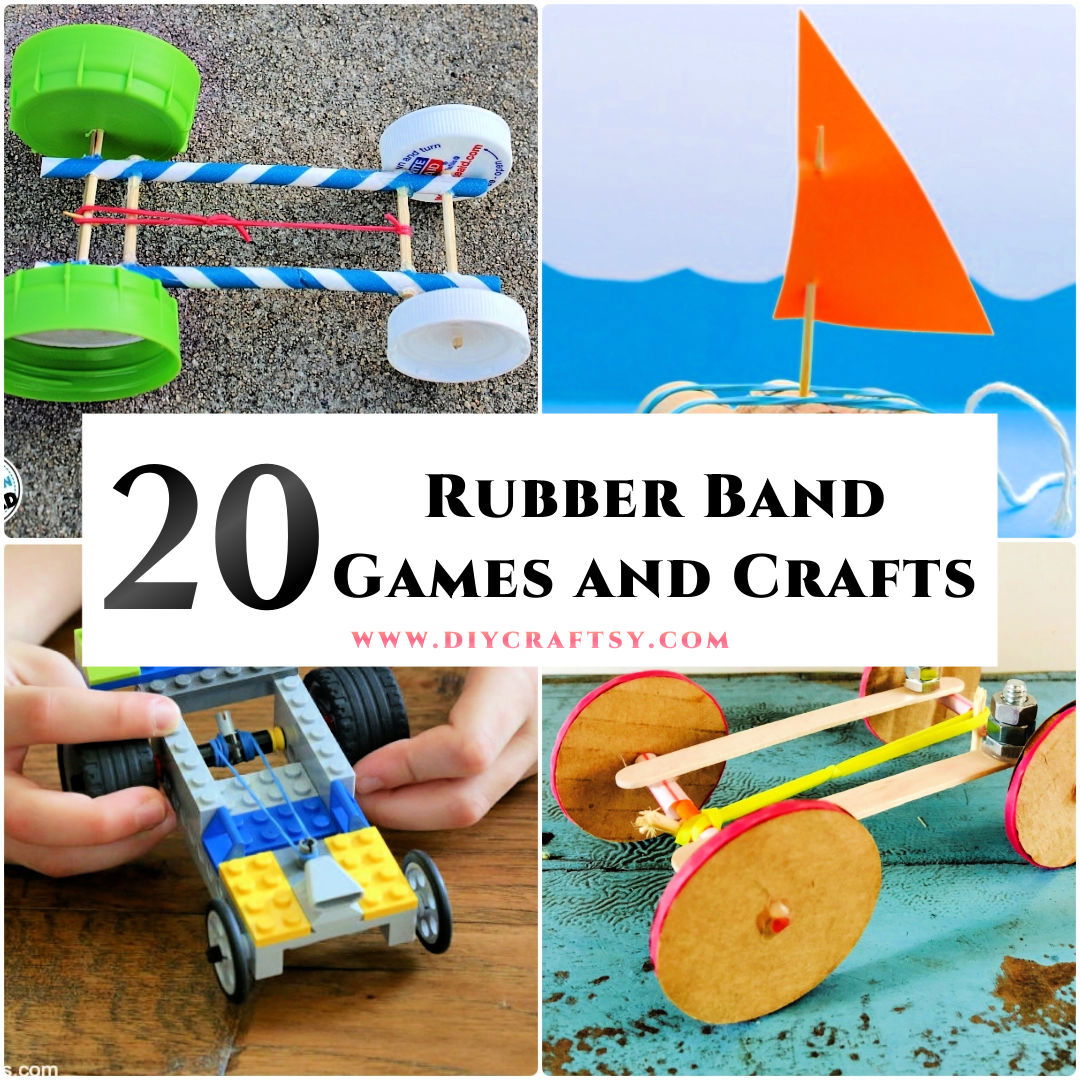 Fun Rubber Band Games and Crafts to Make
This article provides 20 creative and fun rubber band games and crafts to make with your kids. From DIY games to building a catapult, these activities will entertain the whole family! With simple instructions for each project, you can easily customize them for different age groups or levels of difficulty. Get ready for hours of interactive playtime with our selection of rubber band games and crafts that will keep everyone busy!
1. How to Make a Rubber Band Racer Game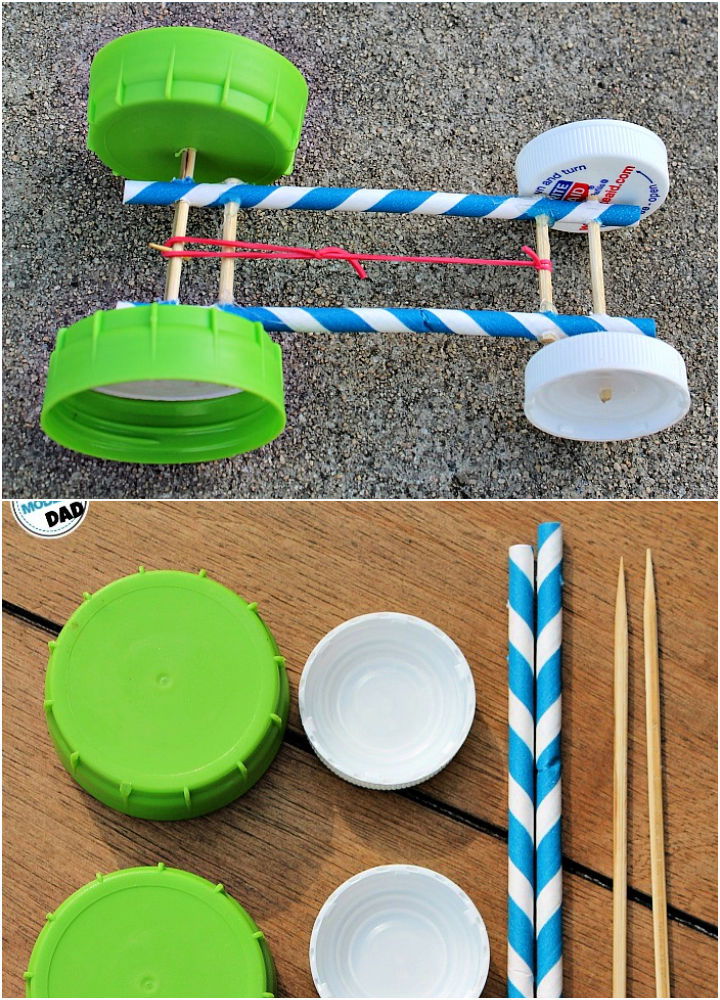 A perfect fun toy to make for your kids using the trash items! Use the straws, plastic bottle caps, wooden skewers, and rubber bands to make this love racer car that will provide hours of fun to your kids! Here is how to make it yourmoderndad
2. DIY Rubber Band Toy Boat Game
Grab also the wooden corks and tie a pack of 3 flat making a lovely toy boar and then finish with a lovely flag and let it sail in the water! Make the flag using paper and a baby skewer! Full how-to instructions and tutorial here innerchildfun
3. How to Make Rainbow Bubble Snakes Game
A perfect summer fun projects for the kids to do with the rubber bands! Cut the bottom of a plastic bottle, cover it up with a sock and hold it in place using a rubber band and gain a lovely rainbow bubble snake toy for the kids! Get inspired by the lovely given sample! Full how-to instructions and tutorial here housingaforest
4. Easy DIY Crash Test Car Games with Rubber Bands
Another lovely car toy to make for the kids using the rubber bands, plastic wheels, dowels, straws, plastic eggs, and tape! This is here a crash test car that comes loaded with a big egg and is mostly made of craft sticks and come with colorful wheels! Another handmade toy gift for the little kids and boys at home! Full instructions here instructables
5. How to Make Catapult Paper Airplane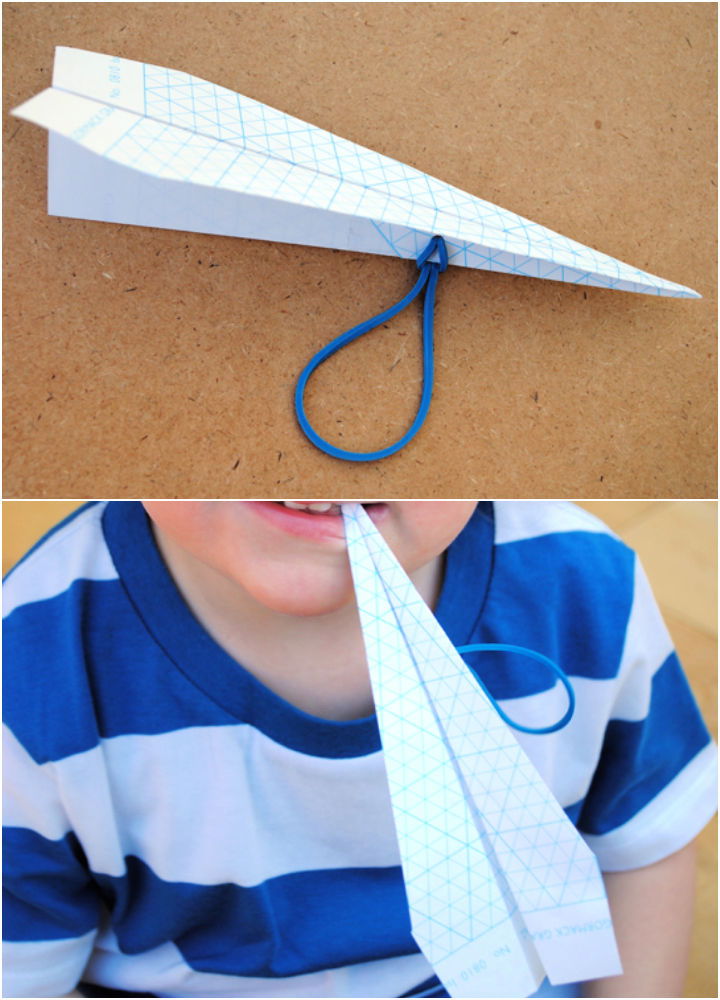 You are going to praise the rubber bands again after taking a look at these catapult paper airplane craft that will also create too much fun for your kids! Make the paper plane and add it up with a rubber band as you can see! A quick and easy paper craft to make for the little boys at home! Full how-to tutorial here minieco
6. Easy Rubber Band Car Tutorial
This is here another racer to make with rubber bands and recycled items like old CDs, wooden skewers, corks, straws and cardboard tube! Use the CDs, cork and wooden dowels to make the wheels of the chair as you can see! Full how-to instructions here craftsbyamanda
7. Rubber Band Catapult for Kids
Avail the elasticity of the rubber bands and make lovely shooting guns and games for the kids, look at this brilliant rubber band catapult that will create too much for the kids and is super quick and easy to make also! Grab the cardboard tubes, rubber bands, and a wooden spoon to make this game! Full instructions here kidsactivities
8. DIY Pool Noodle Rocket Flinger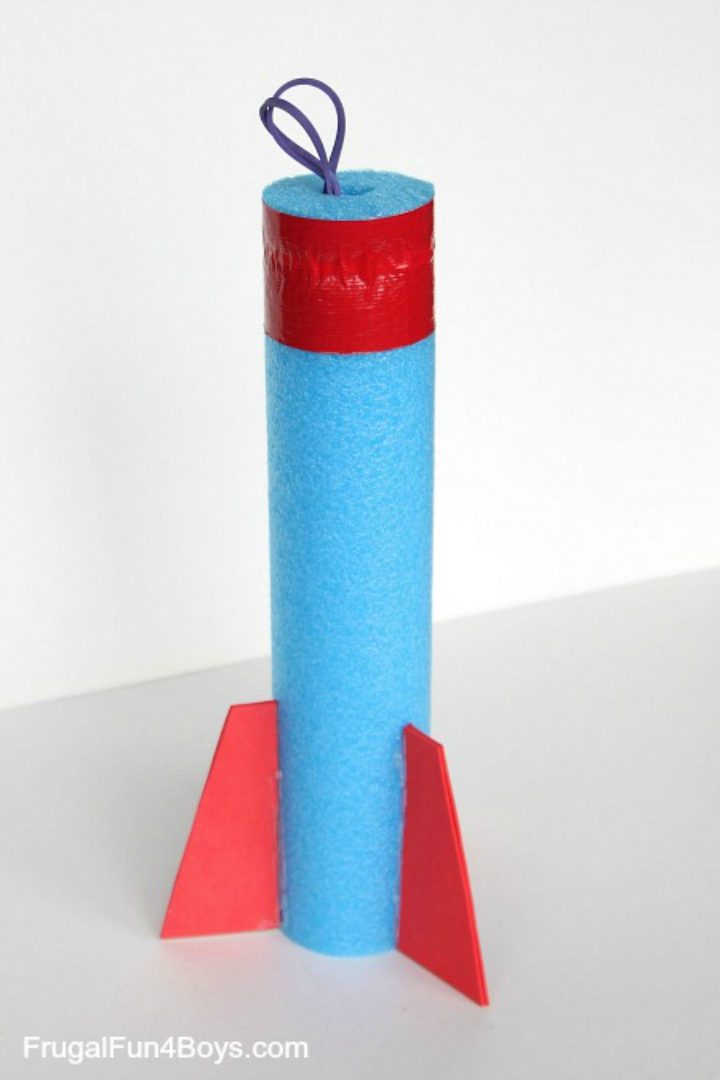 Another great and rocking fun toy to make for your kids using the rubber band, a lovely pool noodle rocket flinger that is sure to hit soft and will make a great finger gun! Just cut a pool noodle to size and create a rocket avatar of it using the craft foam and tie a rubber band at the top! Full details here frugalfun
9. Easy DIY Rubber Band Launcher
Boost also the fun of your kids by making this precious launcher toy for the kids, Just flip over your stool and add a rubber band across the legs and gain a lovely rubber band launcher! Look at the given one that will rock to launch the paper airplanes! Full how-to instructions here housingaforest
10. Cardboard Roll Rocket Launcher Toy
Using elastic rubber bands, you can easily throw the things with a great push and speed, and in the same way, this cardboard roll rocket launcher toy has been made that is looking great! Make using two cardboard tubes and rubber bands and use a hole punch to punch holes for rubber band connections! Instructions here pinkstripeysocks
11. How to Make Rubber Band Car
Grab also the craft sticks, rubber bands, cardboard wheels, straws, toothpicks, nuts and bolts to make this fantastic rubber band car that will definitely make your kids busy in racing and will create too much fun for sure! Another great car design to make using the rubber band will make an exciting gift for a kid! Details here figmentcreativelabs
12. Handmade Rubber Band Racer Toy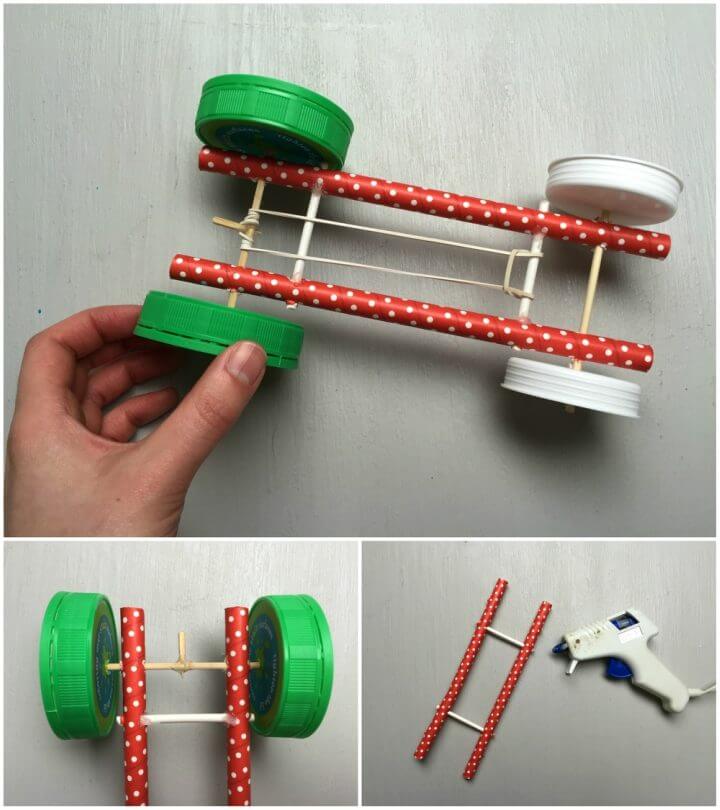 Bring a great smile on your kid's face also by giving this racer toy gift that is also made of rubber bands and recycled materials like plastic bottle caps that make the wheels and with the straws and toothpicks! Another rubber band powered racer to make at home! Grab the full tutorial from here kiwico
13. DIY Rubber Band Powered Lego Car Game
No fuel, no battery, again a rubber band powered car is here that is made of Lego blocks and is looking nice and lovely! Use the straws, old car wheels, rubber bands, and Lego blocks to make this precious car toy, will also impress creativity lovers! Full instructions here frugalfun
14. Easy DIY Propeller Plane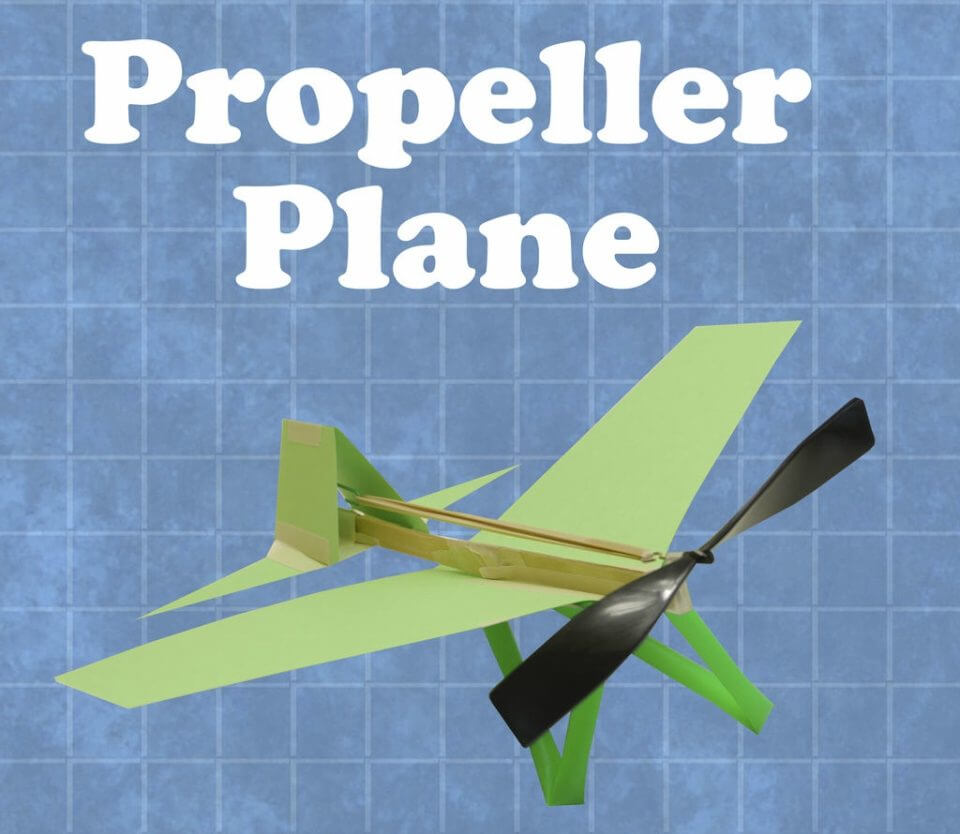 You will love to duplicate this another amazing design of plane toy that kids will love to play with for hours to come! Here all you need to make a plane using the craft sticks, straws and paper and next you can add hooks for rubber band power connection! Finish the plane with a propeller also! Full how-to tutorial here instructables
15. DIY Cardboard and Rubber Band Guitars
Boost the passion of little guitarists in the home by making the lovely fun guitars at home using the rubber band strings! Trace and out the perfect guitar out of the cardboard and layer the cardboard pieces to gain the guitar thickness and next install the hooks and then the rubber bands to make a near to real looking guitar! Full how-to instructions and tutorial here makeit loveit
16. Make Harmonica Using Rubber Band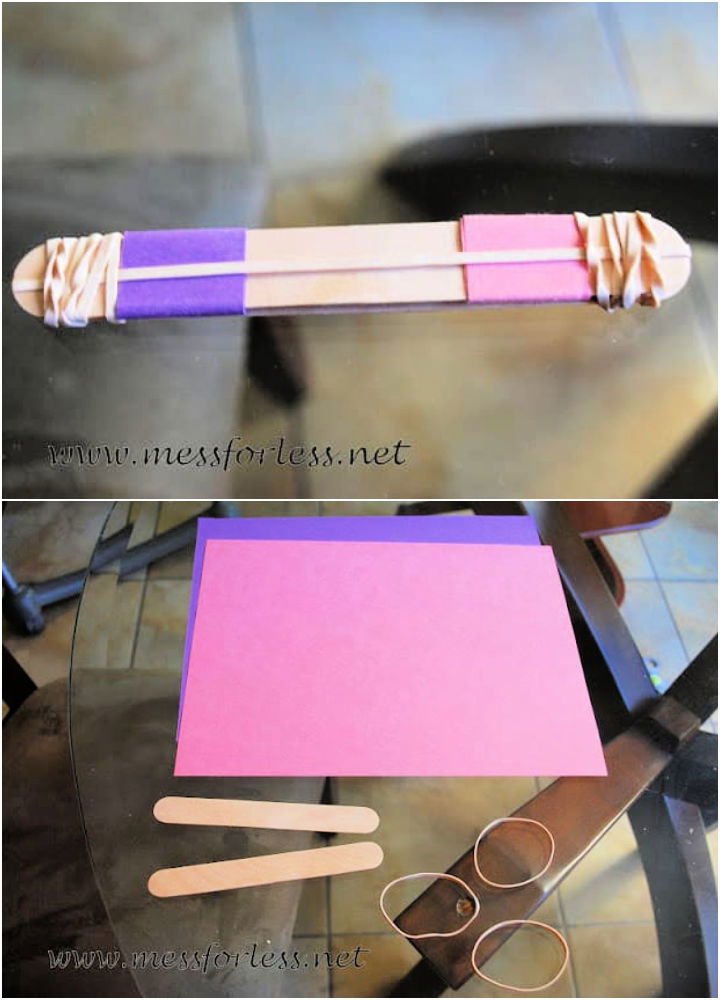 You can make various fun musical games with rubber bands and recycled materials that will be loved by all the kids who love to play musical instruments! Look at this lovely harmonica made using a rubber band and is sure to be loved by all! Make it using craft sticks, rubber bands, and construction papers! How-to tutorial here messforless
17. DIY Musical Instruments Game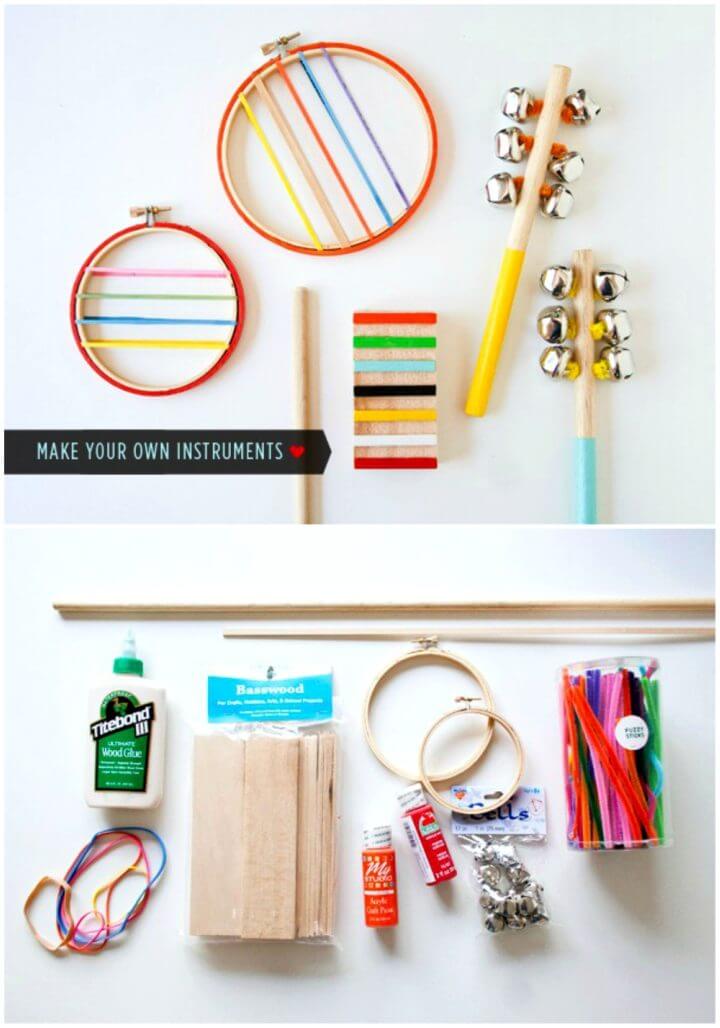 There is a lot to achieve with rubber bands when talking about homemade kid's toys and games! Check out here some more musical instruments like a little piano, guitar, bell shakers and mandolins that are made of embroidery hoops, wooden shims, and wooden dowels and with rubber bands! Full project details and tutorial here hellobee
18. Make Your Own Cardboard Rubber Band Car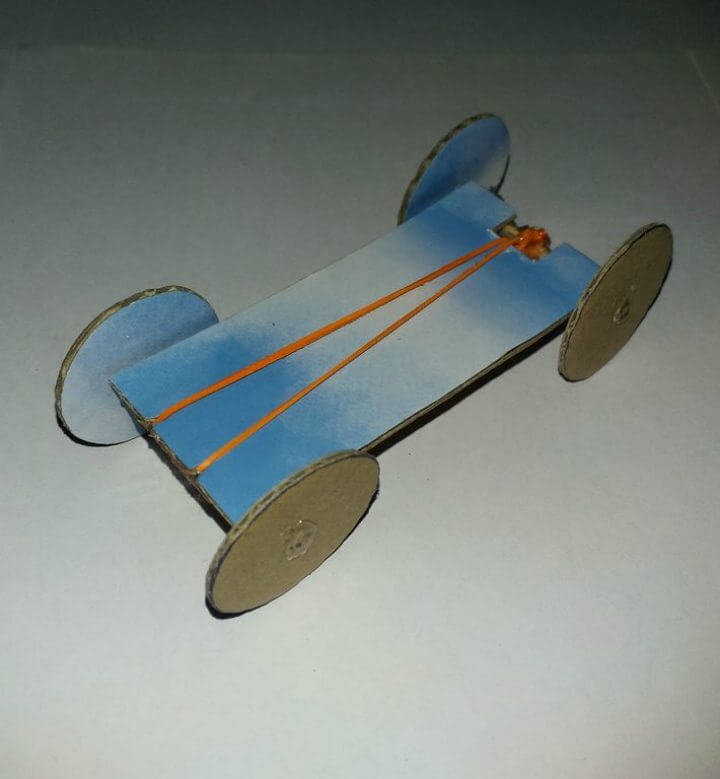 One of the easiest car toy to make at home without getting a bit expensive and using the rubber band! Cut out a rectangle and wheels out of cardboard to make a car and use toothpicks for wheel installation! Add the rubber band at the end that will also give power to the car! Full instructions here instructables
19. Quick and Easy DIY Rubber Band Vehicle
A super cute and lovely model of car toy to make at home without getting a bit expensive! This is here another lovely rubber band powered car toy that you can make with a cardboard box, juice can lid wheels and with rubber band power engine! Decorate your car with googly eyes, painted craft sticks, and with other decorations! Full instructions here ssinspirationl
20. Amazing DIY Rubber Band Ball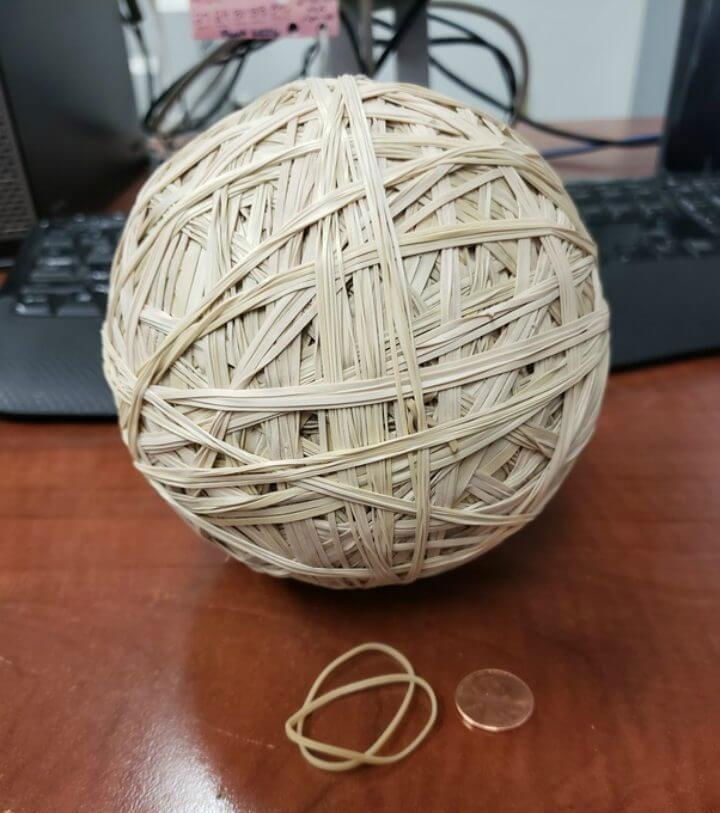 Put together also the dozens of rubber bands and make lovely bouncing balls that will start a never-ending fun for the kids and would be super quick and easy to make also! Look at the given sample ball that is made of one colored rubber bands! Instructions here quora
21. DIY Rubber Band Bouncy Balls Game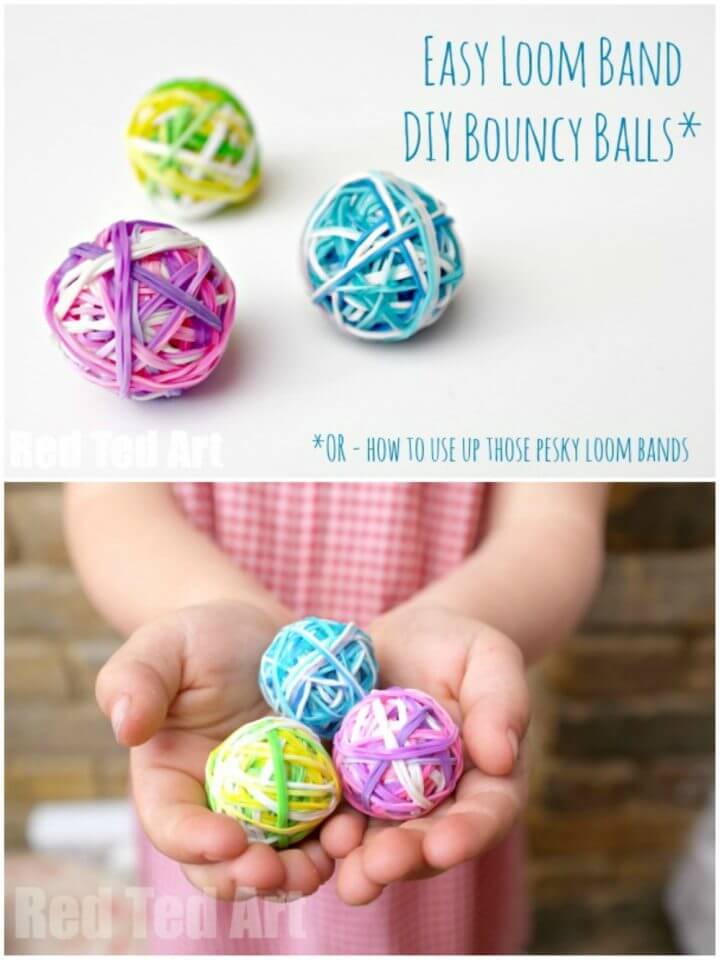 Win also the heart of your little kids by providing these super colorful and enchanting bouncy balls that one can quickly make with colorful rubber bands! One of the easiest rubber band games project that will be a breeze to make! Full how-to instructions and tutorial here redtedart
Related DIY Projects and Ideas
DIY Toys: Making your own toys is a great way for kids to express their creativity. From dolls and dinosaurs to cars and action figures, these easy DIY toys are perfect projects for any maker!
Popsicle Stick Catapult Ideas: Build the best popsicle stick catapult to launch marshmallows, plastic golf balls, and more. These creative popsicle stick catapult designs are easy to make and will have you hurling stuff in no time!
DIY Slingshot Ideas: If you're looking for a fun project with your kids, these homemade slingshots are a fantastic idea. They're easy to make and use, giving the kids hours of fun.
Fidget Toys for Kids: Fidget toys are a great way to reduce stress and anxiety in your kids. These super simple DIY fidget toys are perfect for children of all ages.
DIY Bubbles: Learn how to create your own bubbles at home with these simple bubble recipes. You'll need just a few ingredients, and the kids will love helping!
Spy Bottle Projects: Spy bottles will entertain your kids for hours. This list of cool DIY spy bottle projects will provide you with a handy resource of materials and ideas to use in your home.
DIY Paper Airplane Ideas: Find creative paper airplane designs that are easy to make and fun to fly. These planes are perfect for family time, school projects, and party favors!
Conclusion:
Overall, the above 20 easy rubber band games and crafts are an excellent resource for people of all ages looking for ways to have fun with rubber bands. It contains game craft ideas that can be used in various settings, from the classroom to family game night. Whether you're playing rubber band games or crafting something creative with rubber bands, this guide provides plenty of easy-to-follow steps and a materials list so anyone can get started right away. Furthermore, these rubber band activities help develop important skills such as problem-solving, strategy building, fine motor coordination and creativity – making it a great way to engage both children and adults alike!