With summers in the picture and all that scorching heat outside, your lawn needs special care and attention. With a tough work schedule and a blazing hot sun outside, you cannot possibly opt for spending a huge amount of time watering your lawn. But then again, losing the lush green look from spring is not an option either. Water Sprinkler system for lawns is not unknown to anyone. People have long been putting up sprinklers to keep their lawns all green and lush. But why go the expensive way when you can have exceptionally low budget DIY PVC sprinklers to keep your lawns lush with ample water supply whenever needed.
How to make a sprinkler system out of PVC pipe? We have rounded up 15 insanely cheap DIY PVC sprinkler for your lawns. These PVC sprinklers will not only keep your lawns gorgeous green, but you can easily set up some fun water sprinklers play dates for your little kids! Setting up an entire sprinkler system can go heavy on your pockets and not just that. When it stops working, you have got to do all that huge work and pay labor and help to get it fixed. Why not put up something all by yourself and manage it like a pro!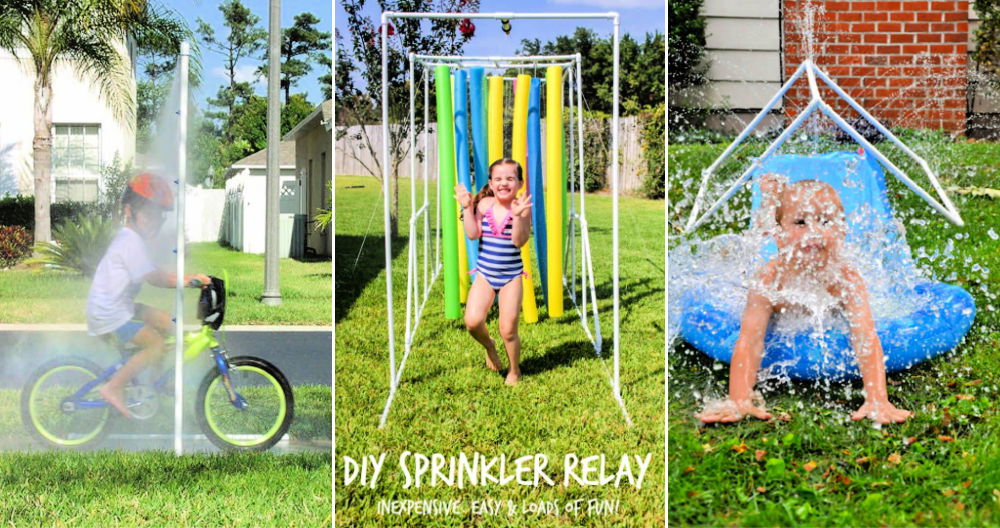 Get your hands on some PVC pipes and some other Home Depot stuff, and let's get on the train to making DIY PVC sprinklers.
1. DIY Sprinkler Made from PVC Pipe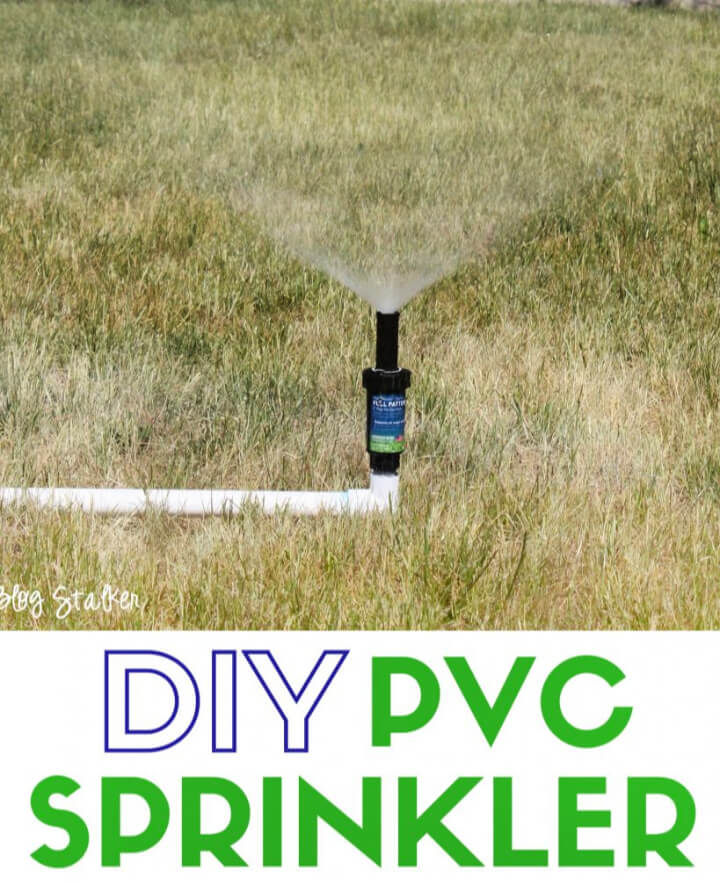 This tutorial will help you build an easily manageable and inexpensive DIY PVS sprinkler to keep the green in your lawn intact! The tutorial will walk you through the materials required and the complete step by step guide. Hit tutorial now. thecrafty
2. Make PVC Sprinkler Water Toy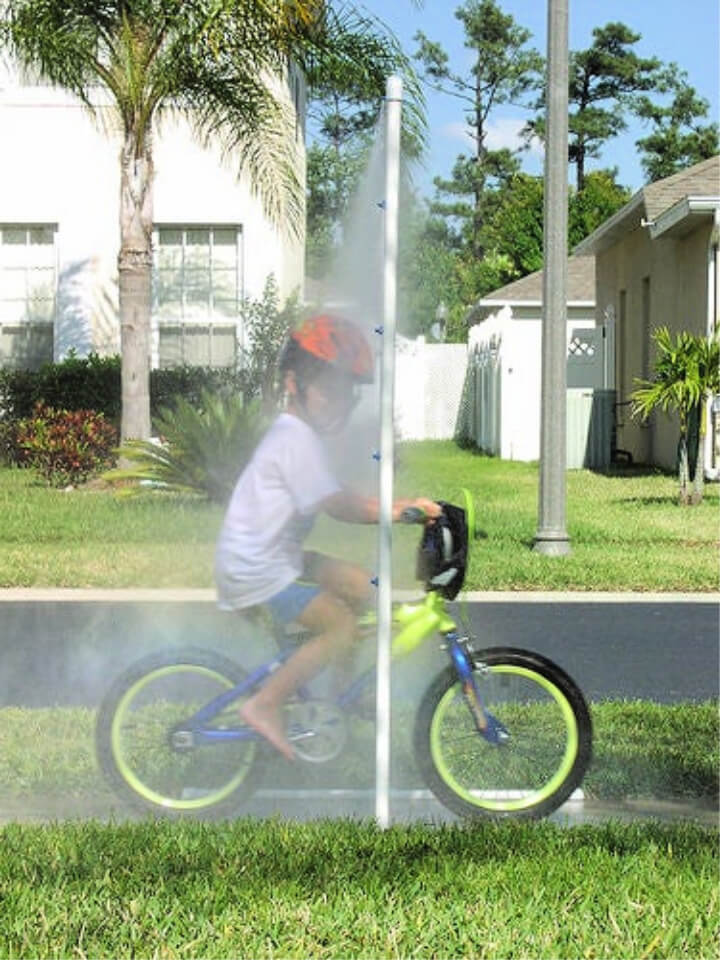 Make summers way more fun and exciting with this PVS sprinkler toy! Beat the summer heat by setting up some mister jets to add fun to your kid's boring summer days. All you need is a Kid wash with mister jets! Get details in the tutorial. instructables
3. How to Make PVC Sprinkler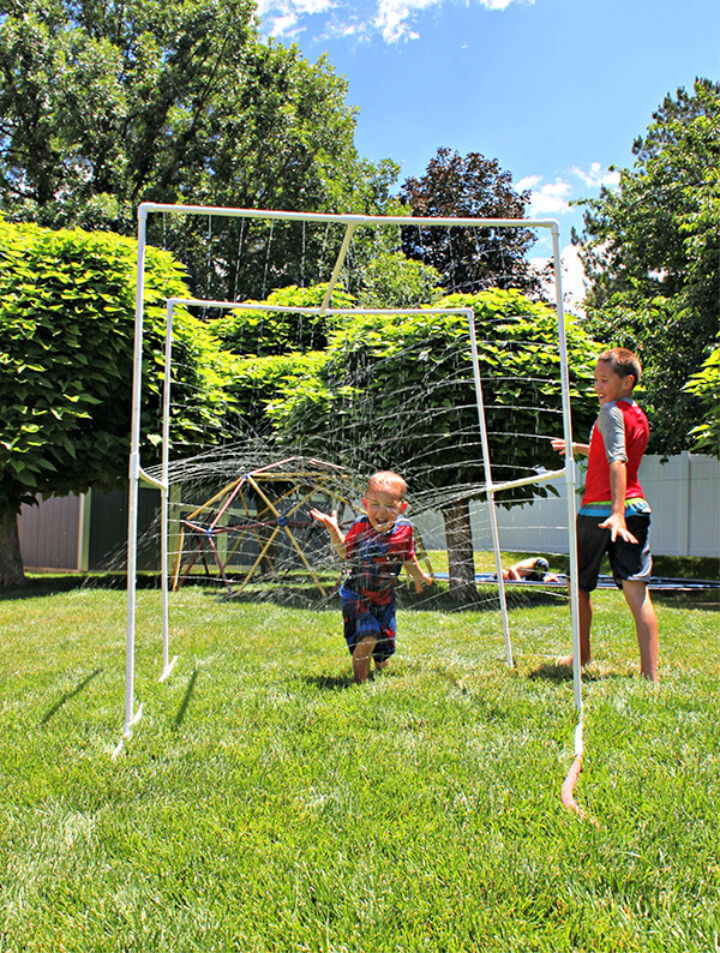 Water is each kid's favorite buddy to play around summers! This PVC sprinkler system is going to make their buddy even more accessible with this run-through PVC sprinkler! That's right. A complete fun way to water your lawn and amuse your kids. homedepot
4. Sprinkler Relay Using PVC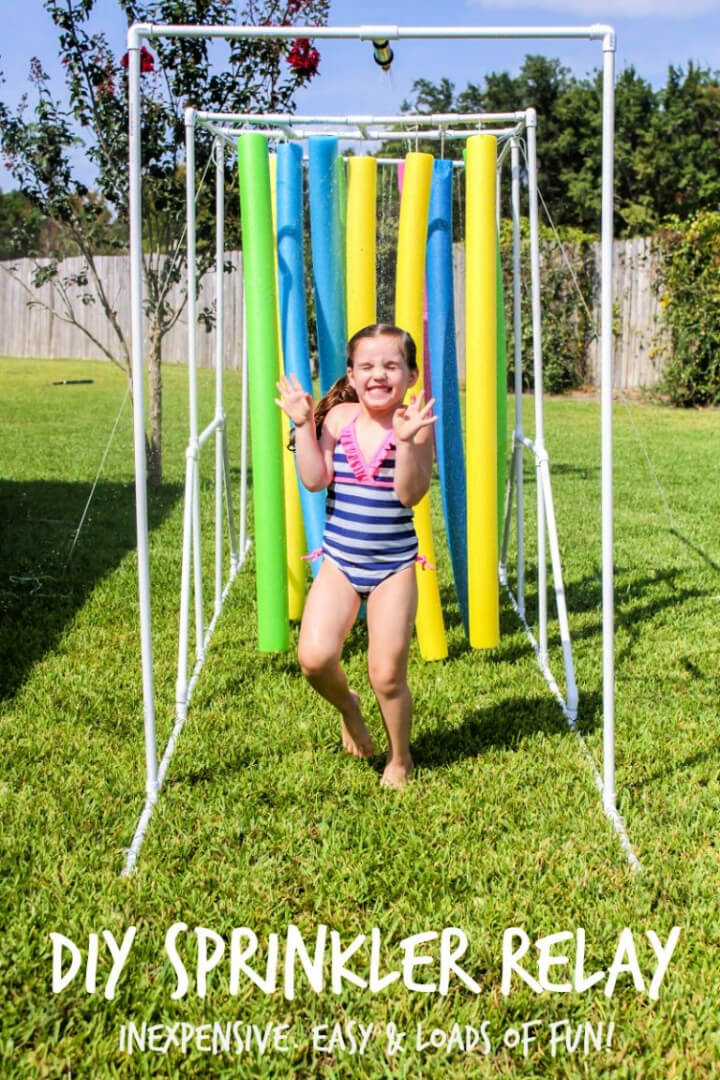 If you are looking out for fun, cheap, and easy to make summertime activities. You have landed in just the right place. With this tutorial, you can set an insanely cheap but ultra-fun oozing DIY sprinkler relay! Get details in the tutorial. lilluna
5. Simple PVC Pipe Sprinkler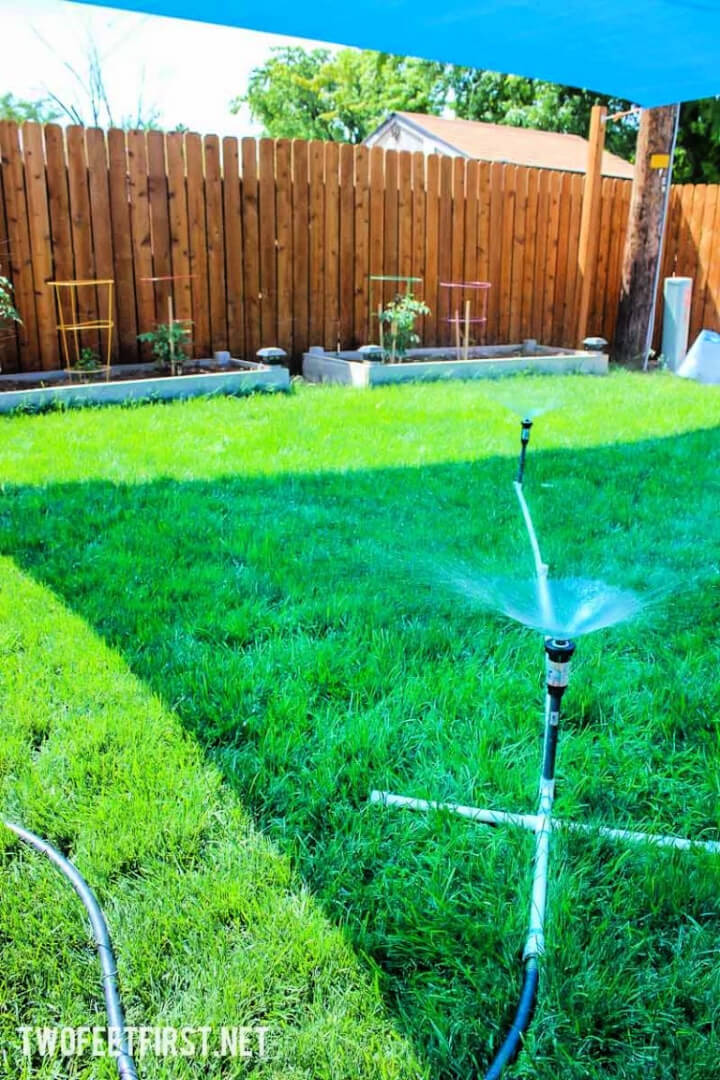 Digging up a hose for a thoroughly set up sprinkler system is tough on the pocket and requires a lot of patience to get the work done. Even if you have hired help. With the help of this tutorial, set up an easy to make and simpler DIY sprinkler. twofeetfirst
6. PVC Pipe Car Wash Sprinkler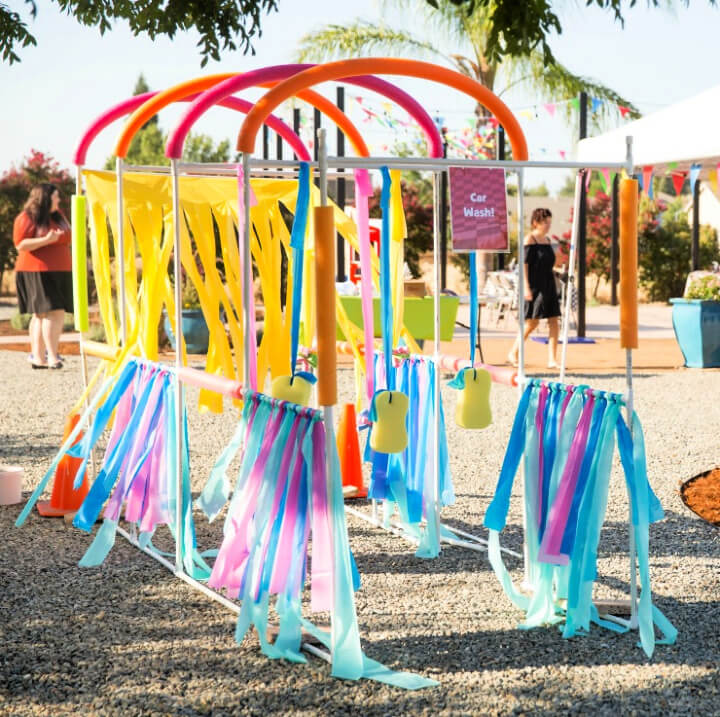 Beat the summer heat with this uber exciting DIY PVC pipe car wash sprinkler! It can be the ultimate fun zone for kids, and they can have some real-time fun washing off their bikes, tires, or just playing around. Get details in the tutorial. thesitsgirls
7. PVC Backyard Water Park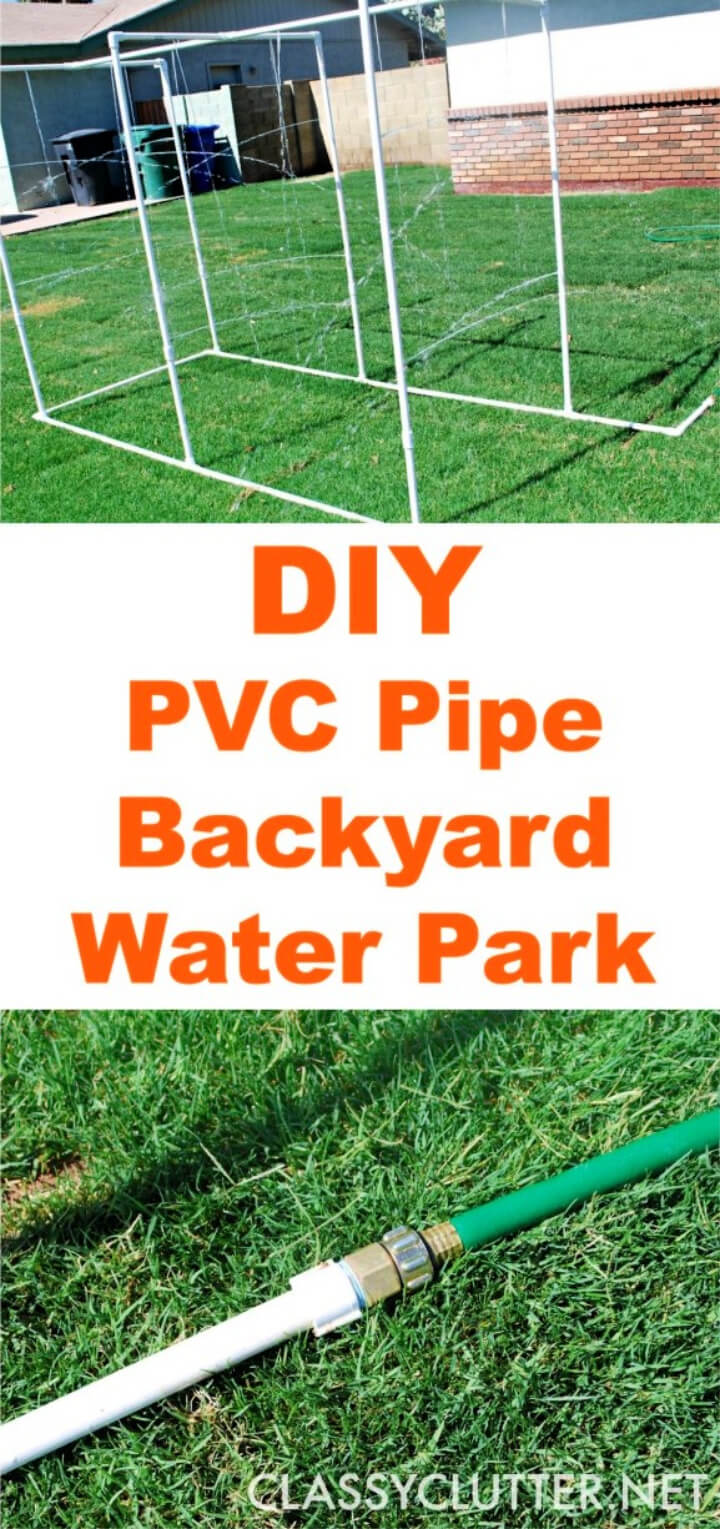 Now, this is huge. Set up your won exciting PVC water park in your backyards. Keep your lawn fully fresh and green with an ample water supply and set up an entertaining area for your kids to have a crazy outdoor day. See the full details in the tutorial. classyclutter
8. Easy DIY PVC Sprinkler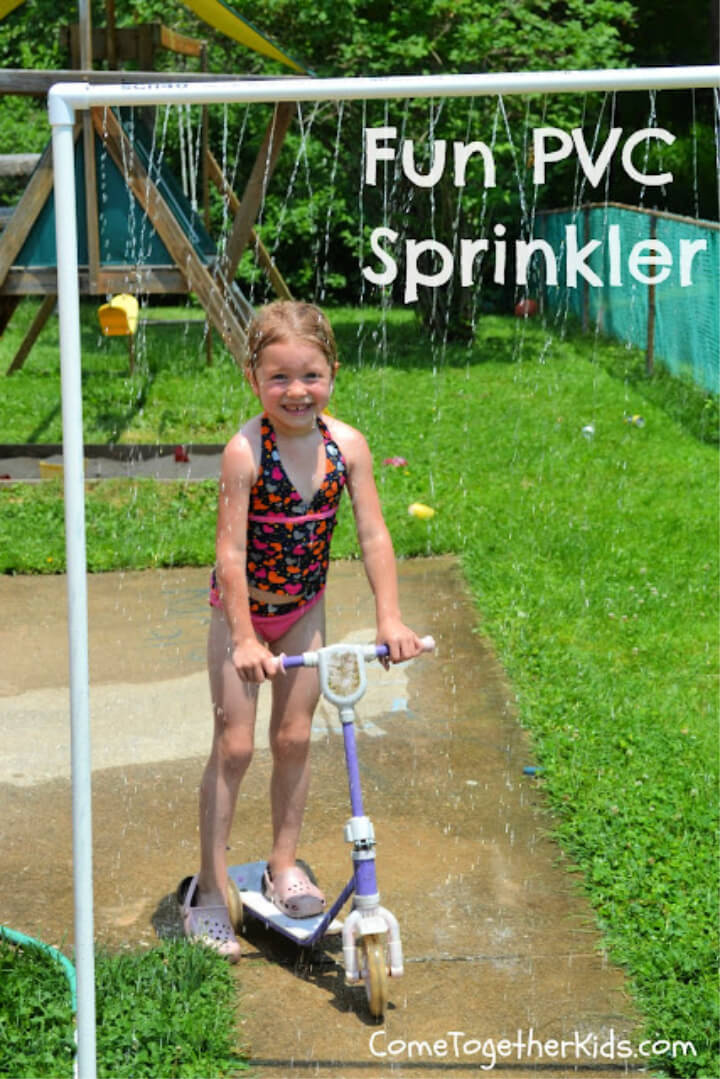 Summers should be all fun and exciting! When you are off from school, and there is nothing more left to play indoor, now and then, your kids deserve a fun-filled outdoor day. This could just be it! Get details in the tutorial. cometogether
9. PVC Pipe Sprinkler and Kid Wash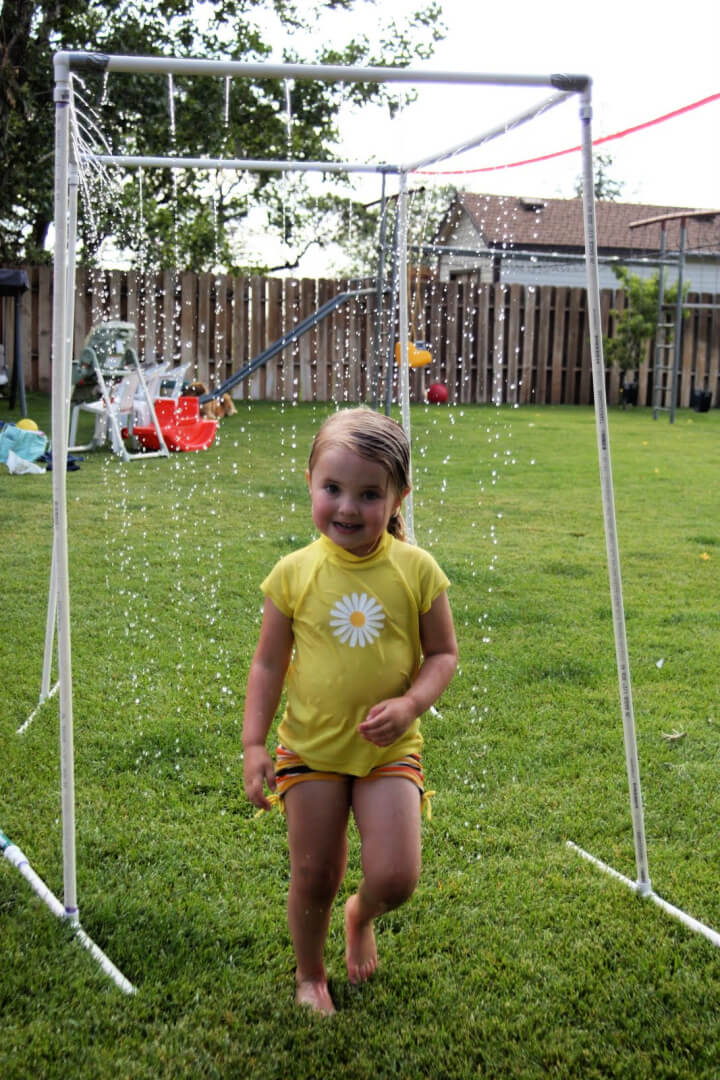 This PVC pipe sprinkler above ground tutorial will elaborate on how using PVC pipes, and you can set up an incredibly exciting kid wash along with a water sprinkler for your lawn! Get your kids the ultimate dose of fun. Could you give them a free fun hand? Check the tutorial for details. sixsistersstuff
10. Sprinkler Out of PVC Pipe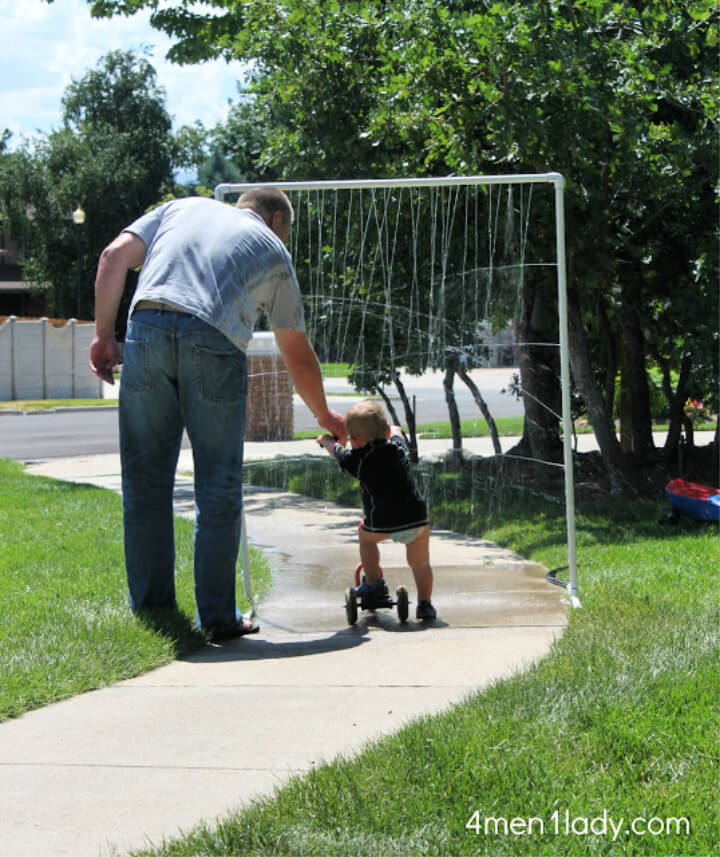 If your toddler is getting on his knees and walking around the house, summers a perfect time to get him an exciting outdoor visit. Why not have a multiple usage DIY PVC pipe sprinkler, which also can be used as a thrilling kid wash?! 4men1lady
11. Tunnel-of-fun Water Sprinkler with PVC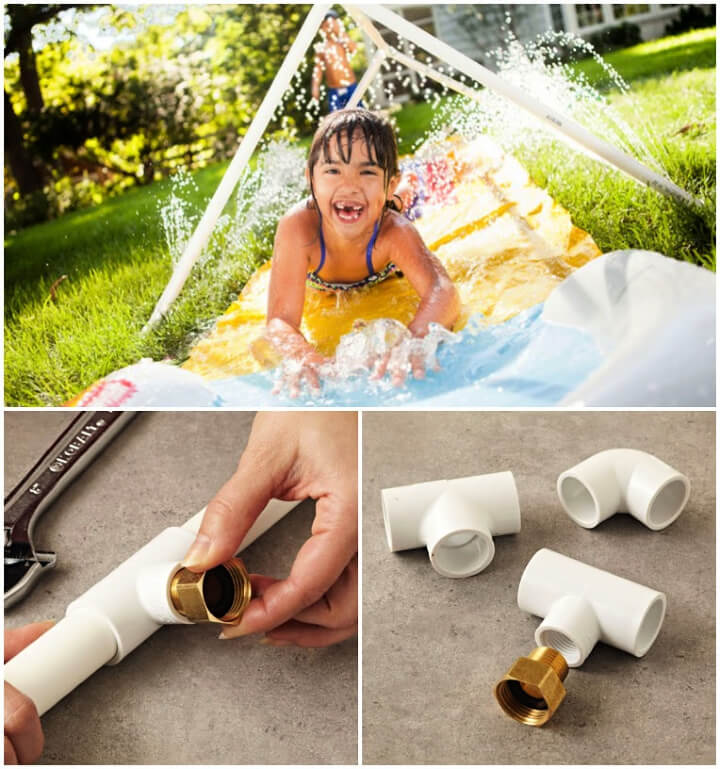 Take the summer pool game to an entirely next level! With this DIY water sprinkler tunnel full of fun and water splashing on the way, transform your PVC sprinkler into this fun-filled sprinkler tunnel. Head over to the tutorial now for details. lowes
12. Homemade PVC Sprinkler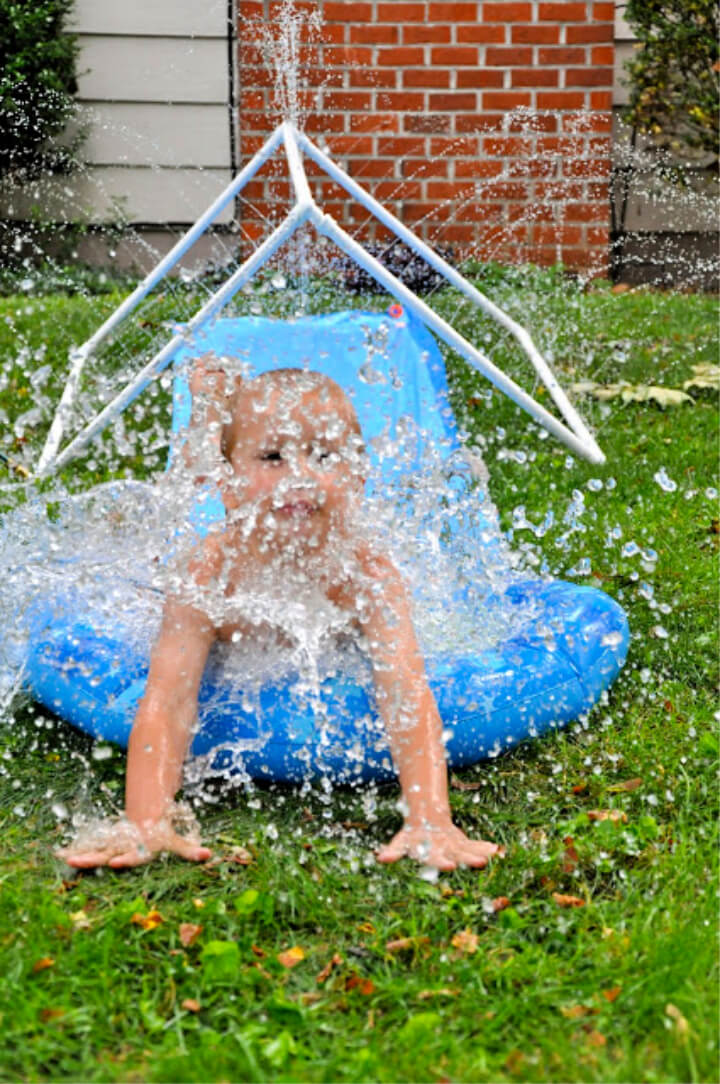 Check out that breezy and exciting photo that you can have too on a boring summer day! Make a funky water sprinkler out of a PVC pipe and keep your kids happily occupied in summers. Add a slip and slide piece to make it even more fun! littlebitfunky
13. PVC Sprinkler for Kids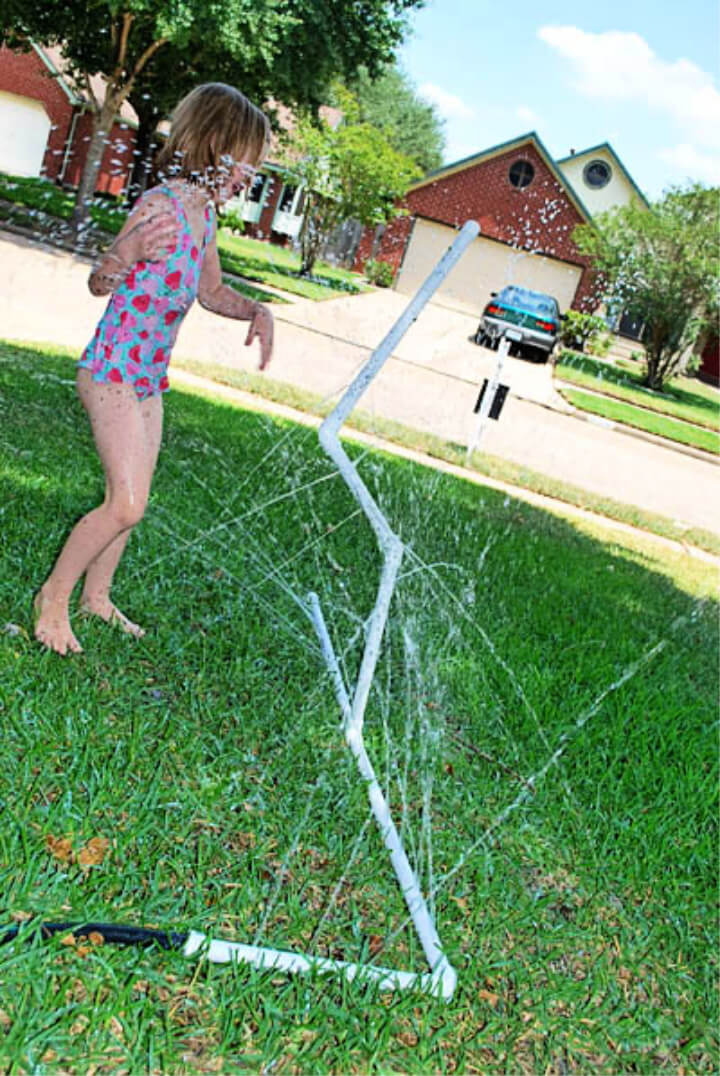 Beat the heat and clumsy summer afternoons with this fun-filled PVC sprinkler. Your kids are going to have an adorable memory of them playing outside! Head over to the tutorial to get hold of the supplies required and the step by step guide to making this fun-day! clumsycrafter
14. Affordable DIY PVC Water Sprinkler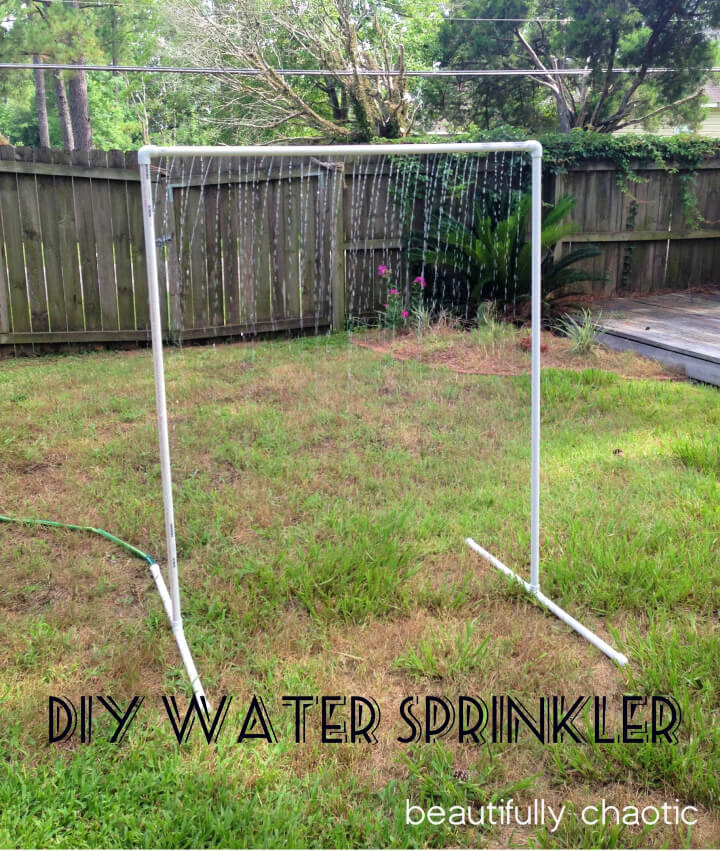 The water sprinkler gateway! You can literally become the most popular and adored household in the neighborhood with this hit DIY PVC sprinkler. Spice up the summers with this fun idea. Check the tutorial for all the details you need to make this. thebeautifully
15. PVC Water Sprinkler for Kids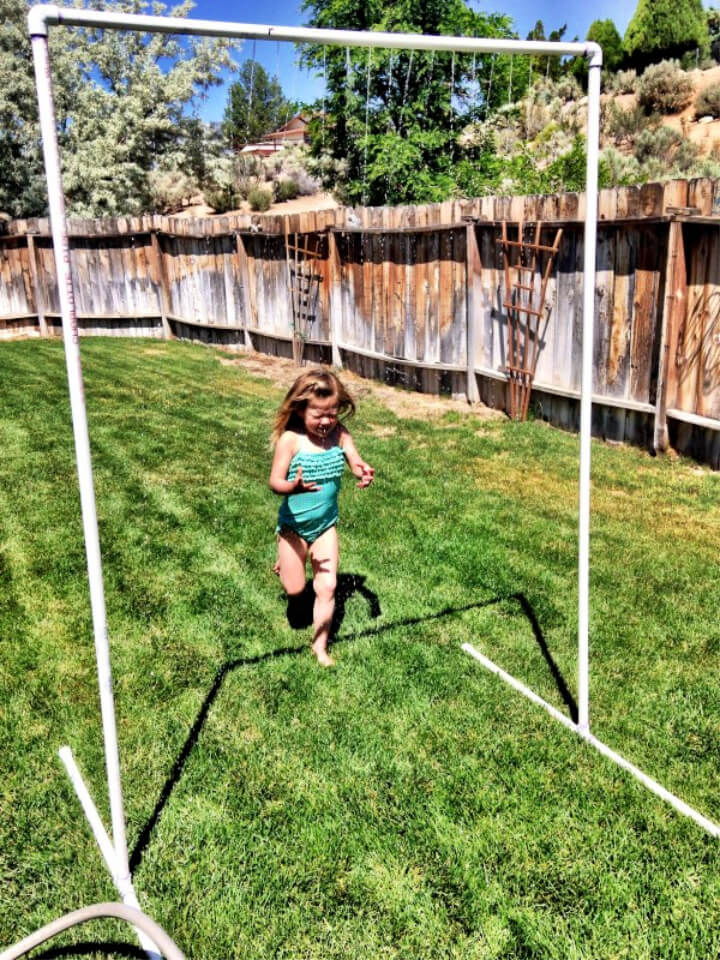 You have got to keep you healthily busy and occupied in the summers with a homemade above ground sprinkler system! Cartoons, fun movies, video games, and exciting indoor games are just not enough. With this PVC water sprinkler idea, you can make that come true. Easy to set up an extra dosage of fun added.
We bet after exploring through our exciting DIY PVC sprinklers' collection. You can't wait to make your summers exciting and thrilling. All these DIY PVC pipe is straightforward to make and insanely cheap too. With them, it's pretty obvious to say, Happy Summers, folks!