There will be nothing better than picking your own fresh herbs to cook delicious food. Some herbs are expensive to buy, and others are hard to find organic, so go with these 40 cheap DIY herb garden ideas with step by step instructions, which will allow you to grow all of your favorite herbs inexpensively. These easy herb garden ideas will leave you with no excuse to grow your herbs, and there are free plans and instructions for building an indoor and outdoor herb garden.
From portable herb garden to the tiered herb garden to wall mounted herb garden, see readymade designs to build one for your kitchen. This list of 40 inexpensive herb garden ideas is shared to amaze. They are a smart way too to get enchanting greenery and pleasing herb aroma anywhere around you too. These self-made DIY herb gardens will allow you to enjoy a garden where you do not have an outdoor garden space like apartments, rental flats, and small homes.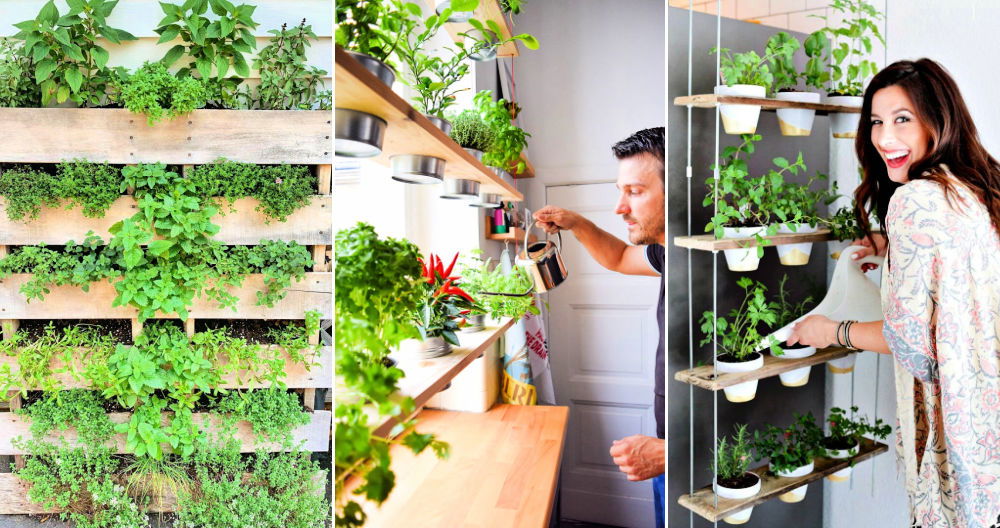 Easy DIY herb garden ideas:
If you are willing to build the herb garden, that will be great from a decorative perspective. Then tiered, wall-mounted, vertical herb garden will be a smart choice. Use ladders, lattice panels, old doors, wall mounted tension rods, metal pipes, wood, and rope to install the enchanting hanging and vertical herb gardens!
There are tons of material choices like an old tin can, wood drink bottle boxes, old drawers, Mason jars, milk containers, and even the IKEA planter boxes for making an herb garden. Visit all the DIY herb garden ideas to see various projects that come with detailed free instructions.
1. Pallet Herb Garden
Find some free pallets in your area, then you should use pallets for DIY projects. For a perfect plan to get your hands dirty with, is this pallet herb garden that is super easy and quick to build by yourself at home using a wooden pallet, and your design herbs. Get this pallet planter mount over your walls for a complete visual boost of your spaces.
2. Industrial Style Herb Garden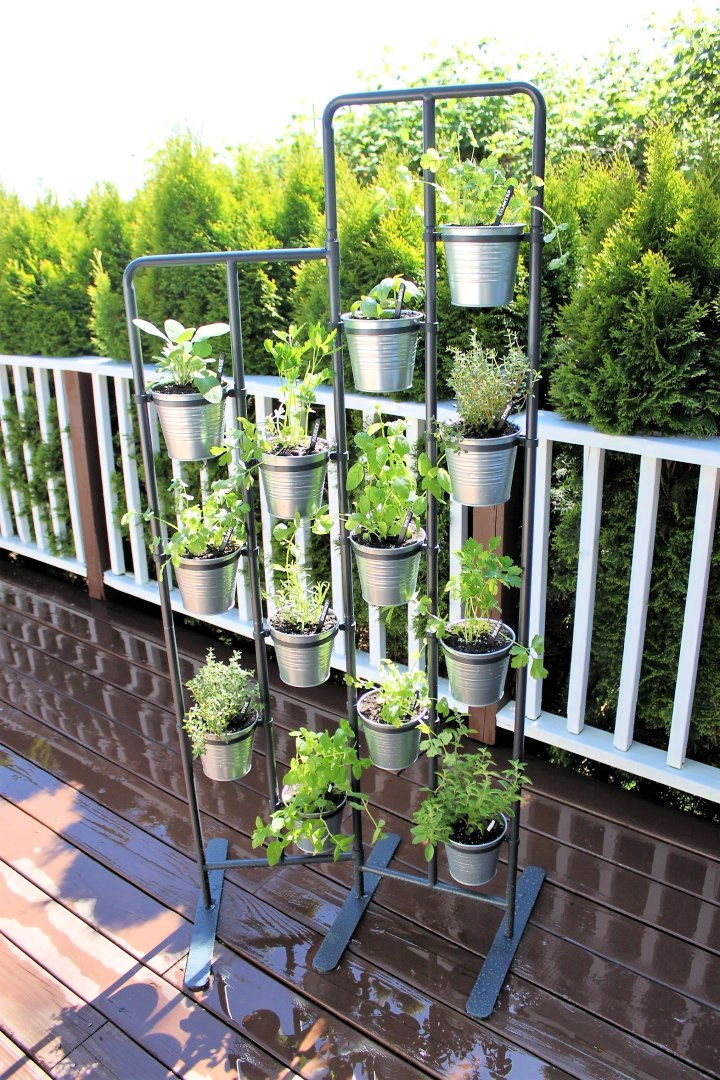 Wishing to build a lasting, longer design of herb garden? Then opt for this industrial herb garden that is super quick to whip up. Build the self-standing pot holding frame using the metal pipe and hardware pot hangers. Next, make them hold your herb planters and gain an industrial style of herb gardening. Details here justlikeplaying
3. DIY Hanging Herb Garden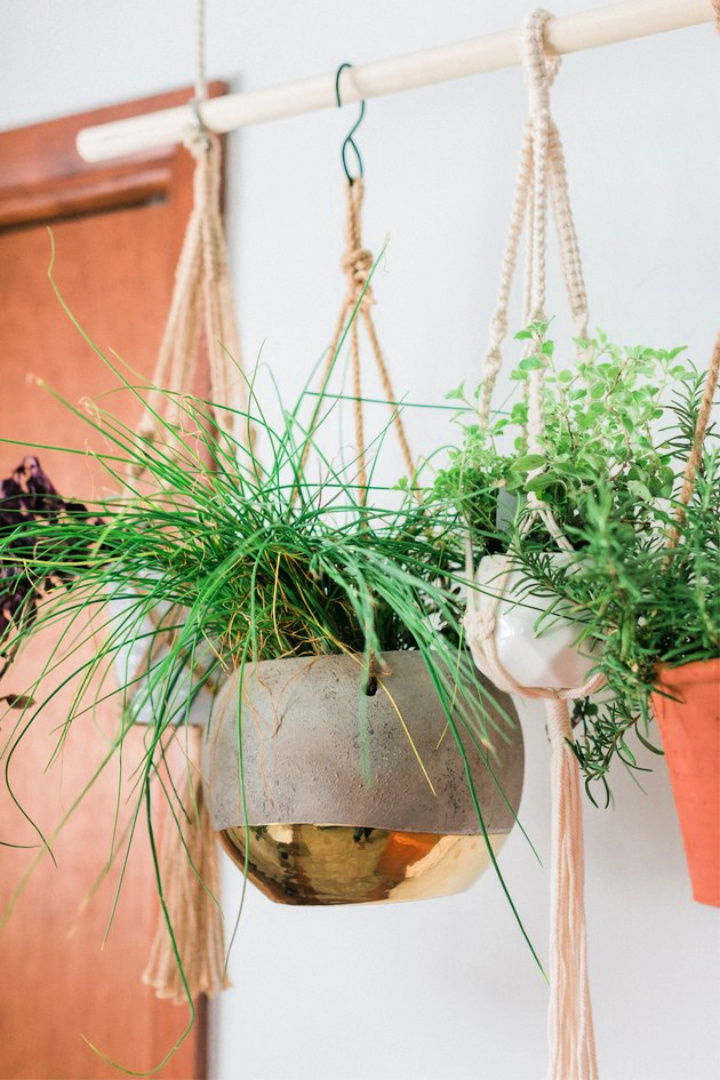 Build a fantastic looking hanging herb garden using the macrame plant hanger. So, install a towel rack or curtain rod on the wall and make it hold the macrame plant hangers to build a gorgeous vertical hanging herb planter. Use the hooks for hanging purposes. Details here hunker
4. DIY Plant Pot Herb Garden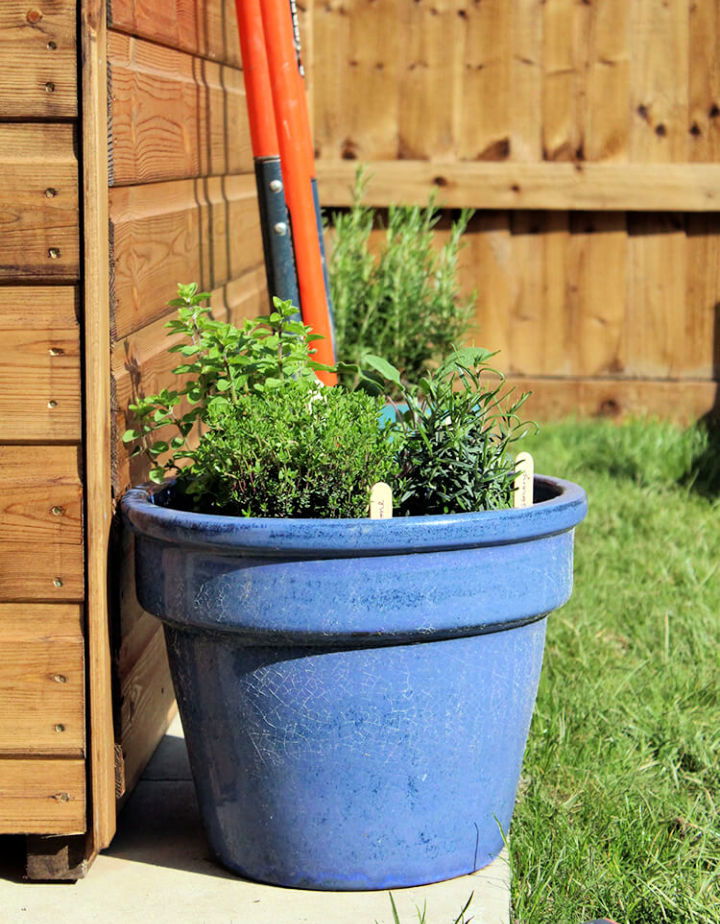 Make this another great pot herb garden using inexpensive supplies. It will whip up super quickly and will be a pleasure to build. Grab a large ceramic plant pot, gravel, plenty of soil, outdoor plant fertilizer, a trowel, herbs, and outdoor plant markers to build this lovely plant pot garden. Details here thecraftygent
5. Make A Colorful Indoor Herb Garden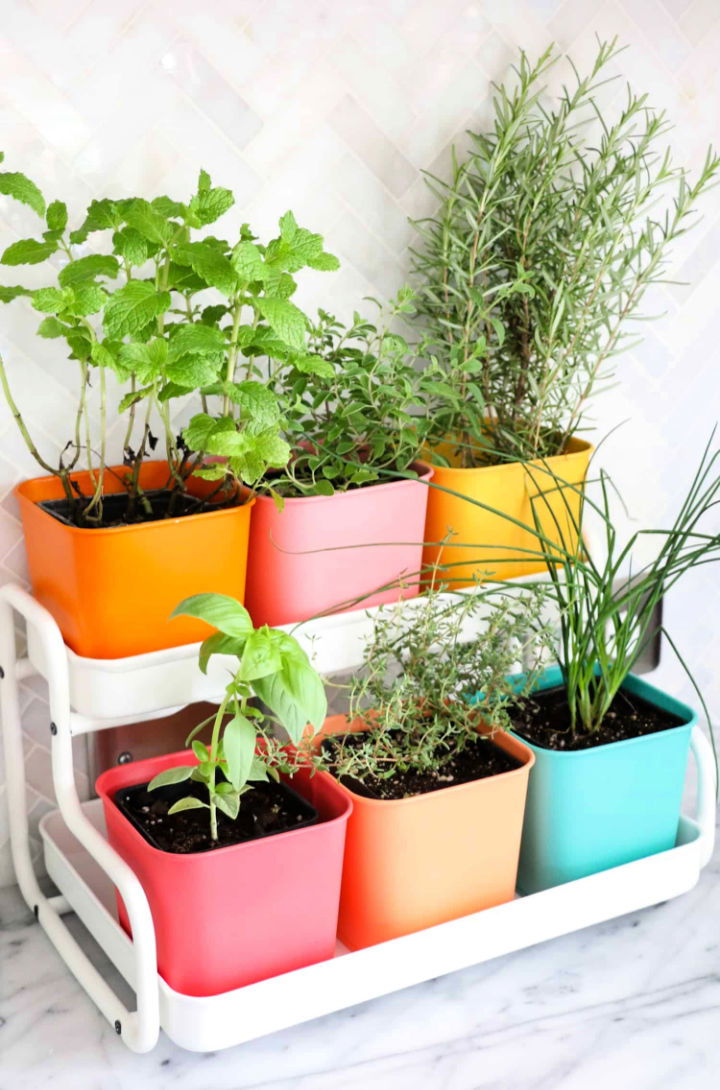 Willing to grow herb indoor? You must make this colorful indoor herb garden and bring both colors and natural decor vibes to your spaces. Grab the IKEA socker plant pot with stand, spray paint in color choice, spray shellac sealant, herbs, and potting soil to make this lovely indoor garden. Details here abeautifulmess
6. Balcony Herb Garden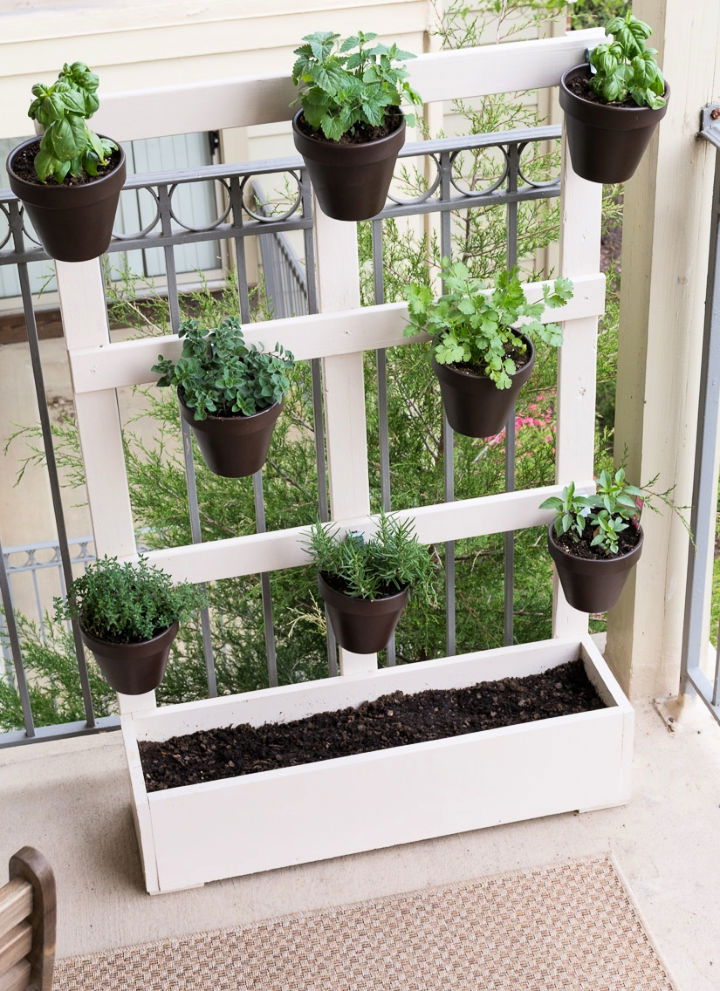 Start growing your favorite herbs on the balcony too. Look at this balcony herb garden that is sure to fancy up your balcony. You need wood, primer, flower pot clips, nail gun, screws, and custom clamps to build this super beautiful balcony gardening. Building the standing frame with wood and then make it hold your herb pots. Details here bybrittanygo
7. Galvanized Wash Tub Herb Garden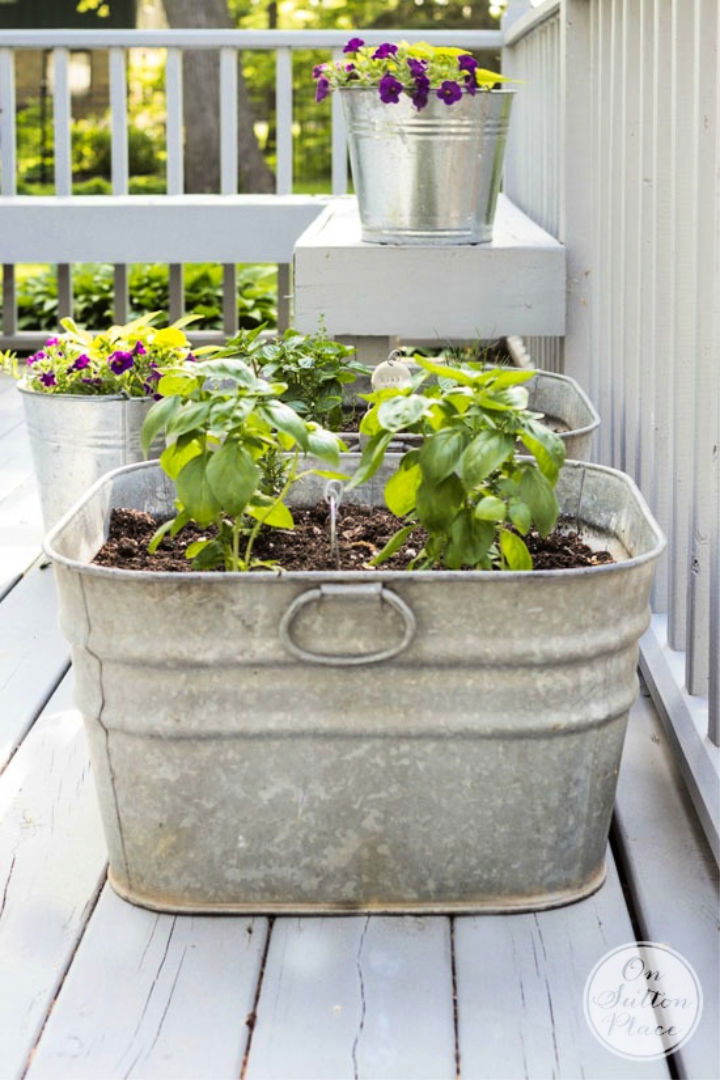 Repurpose your old galvanized washtub to make a new inexpensive herb garden. It will be an economical way to satisfy your love for growing vegetables, herbs, and flowers. So, fill the washtubs with pebbles, potting soil, and fertilizers, and then start planting the herbs in them to make the quick herb planters. Details here onsuttonplace
8. Outdoor Hanging Herb Garden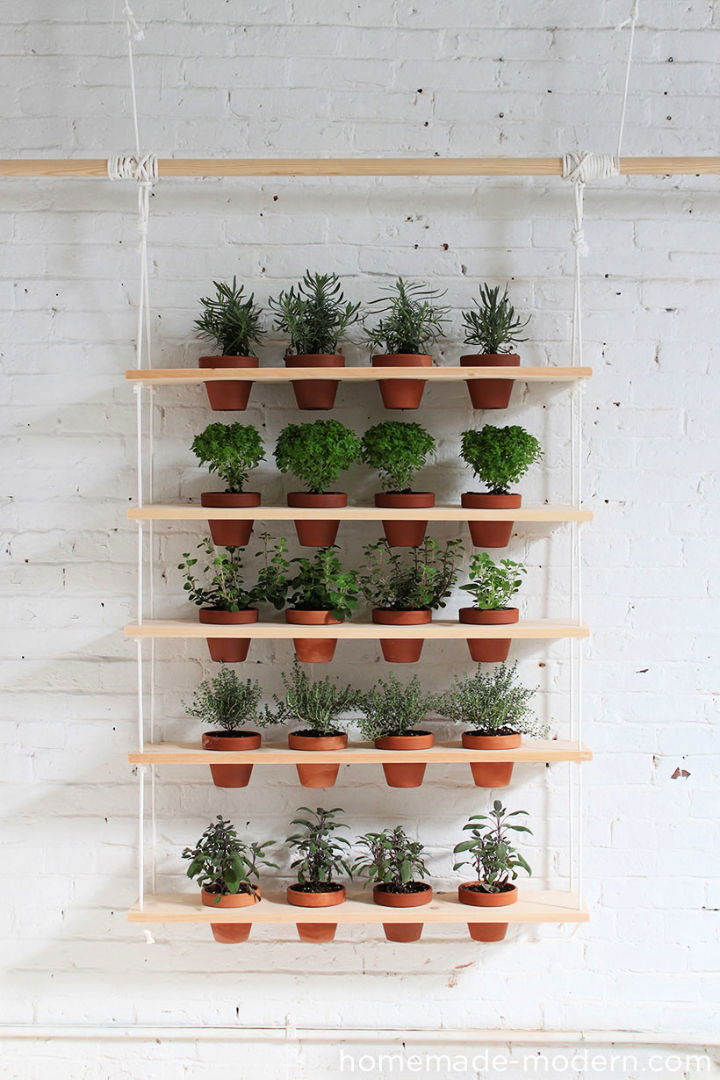 Growing herbs was never so amazing and easy. Build this outdoor hanging herb garden, an easy and cost-efficient way to grow your favorite herbs, plants, and flowers. This garden can be built on any wall around the home. You need terra cotta flower pots, pine boards, rope, and zip ties to build this garden. Details here homemade modern
9. Portable Mini Herb Garden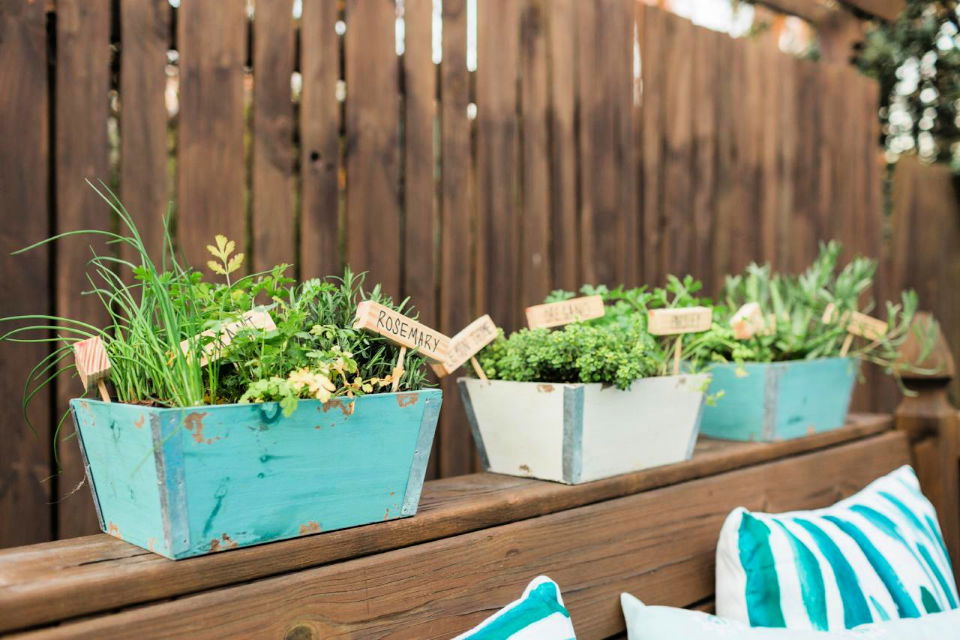 Start making your porches green while having the pleasure of growing your favorite and hard-to-find herbs there, using these portable mini herb garden. You need a planter box, scrap trim, wood dowel, potting soil, drill with a bit, soil, and markers to whip up this lovely mini herb garden. Details here hgtv
10. DIY Hanging Herb Garden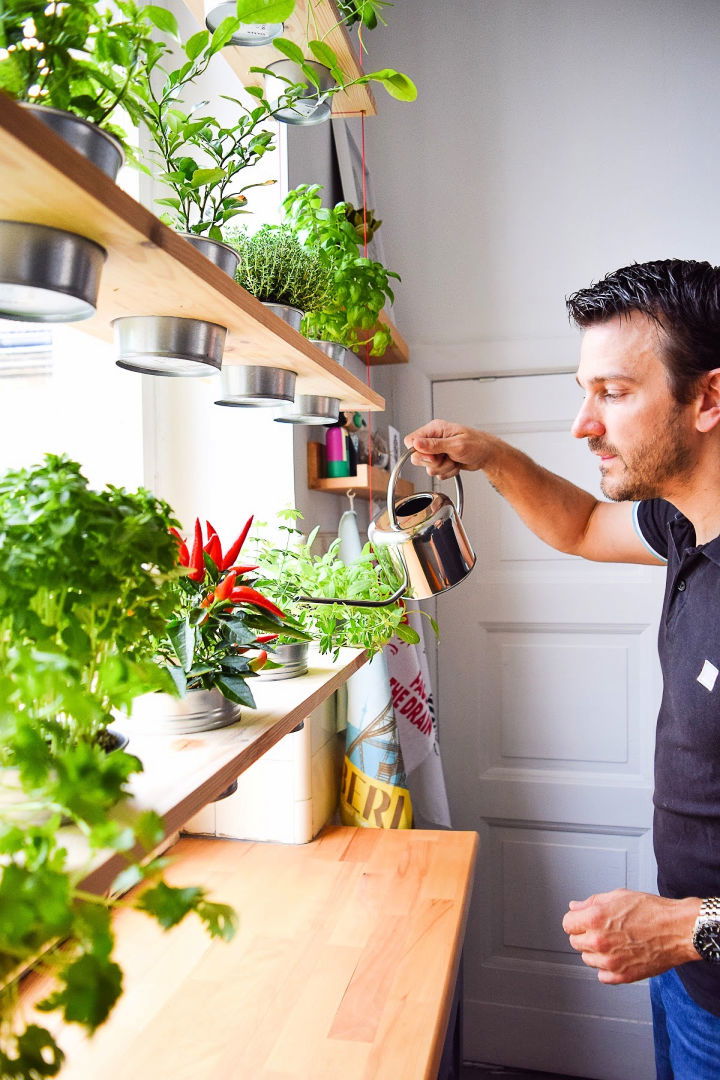 Get here free herb garden ideas and instructions about how to build a unique and fantastic hanging herb garden super quickly. You need a timber board in which you can make bigger holes to fit the plant pots. Next, start potting your herbs in them and gain a lovely hanging garden. Further, you need wire and cable clamps, wallplugs, and hooks to make it. Details here littlehouseon
11. Backyard Kitchen Herb Garden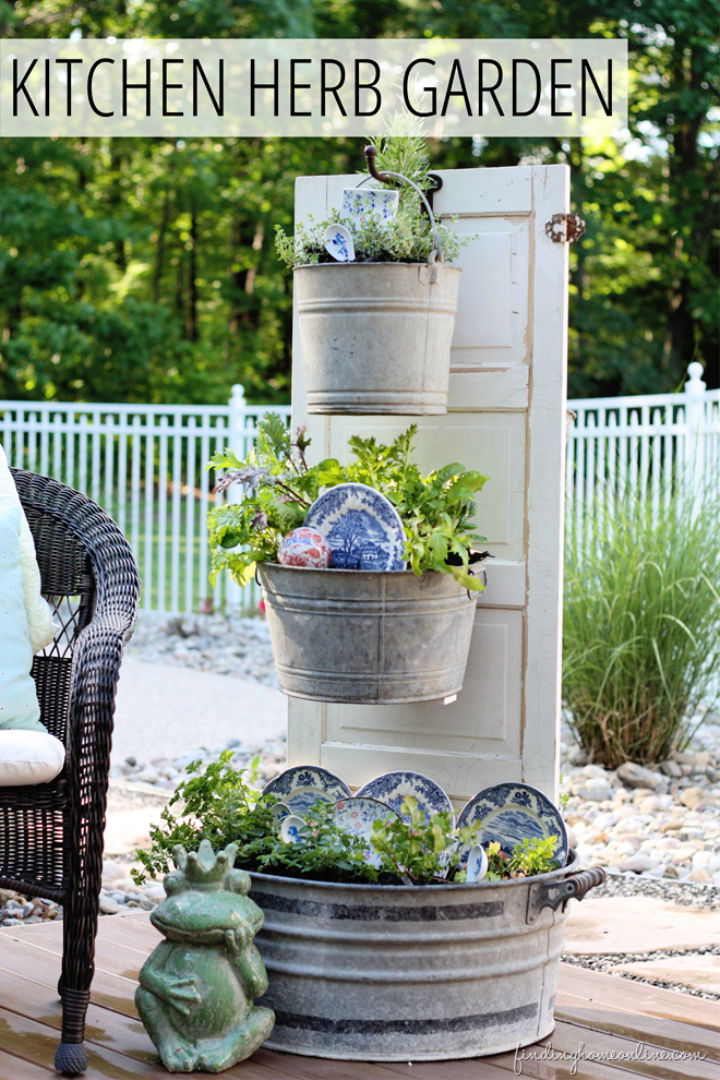 Get a fresh supply of herbs for your backyard kitchen by building this backyard kitchen herb garden. Make it with the recycled old door or with plywood. Next, you need 4 containers, wood braces, rocks, empty bottles, potting soil, and your favorite herb plants to make this kitchen garden. Details here findinghome
12. Tiered Herb Garden Plan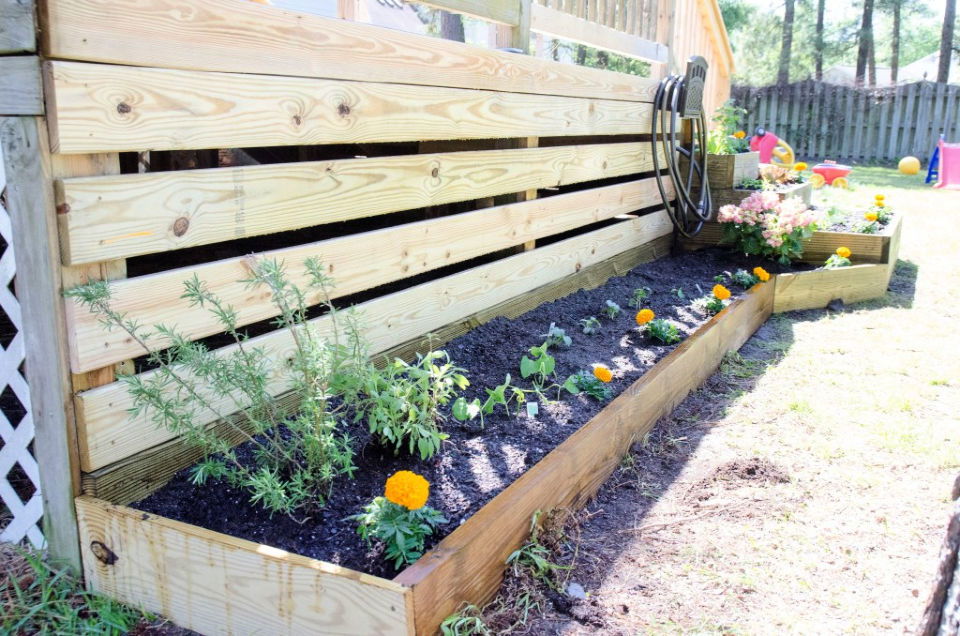 Renew your landscaping problems and patterns by making this tiered herb garden, which will require much less maintenance. The bottom box is 3′ deep and 4′ wide, while the upper ones are less deep and less wide. Build the boxes using 2x12s and 2x8s and use the 2x4s for the cross-bracing. Details here borkwood
13. Indoor Mason Jar Herb Garden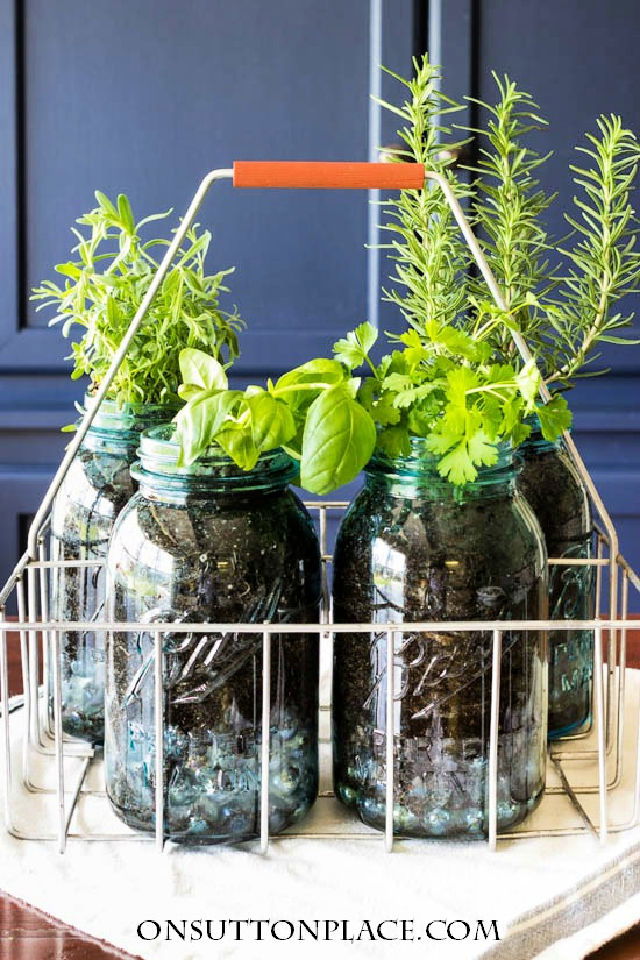 Grow your hard to find herb using this fantastic Mason jar herb garden, highly frugal garden plan! You need a set of Mason jars, a metal bottle carrier, potting soil, pebbles, and your favorite herb plants to build it! It can be hanged or dragged to any suitable home location where you want to spread that greenery love! Details here onsuttonplace
14. DIY Herb Garden Planter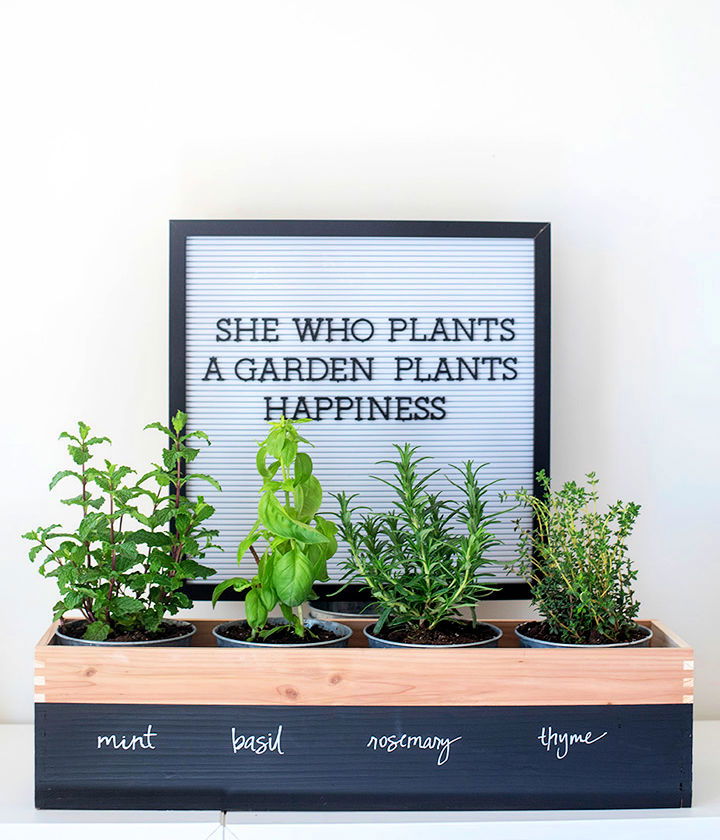 These herb garden ideas are the best ways to grow your herbs indoor or outdoor! The herb planters come with a chalkboard painted front to write the herbs' names on the front side! Build the big wooden box to hold the herb planters, to build this fantastic mini herb garden! It can hold 4 planters at the same time! aliceandlois
15. Vertical Herb Garden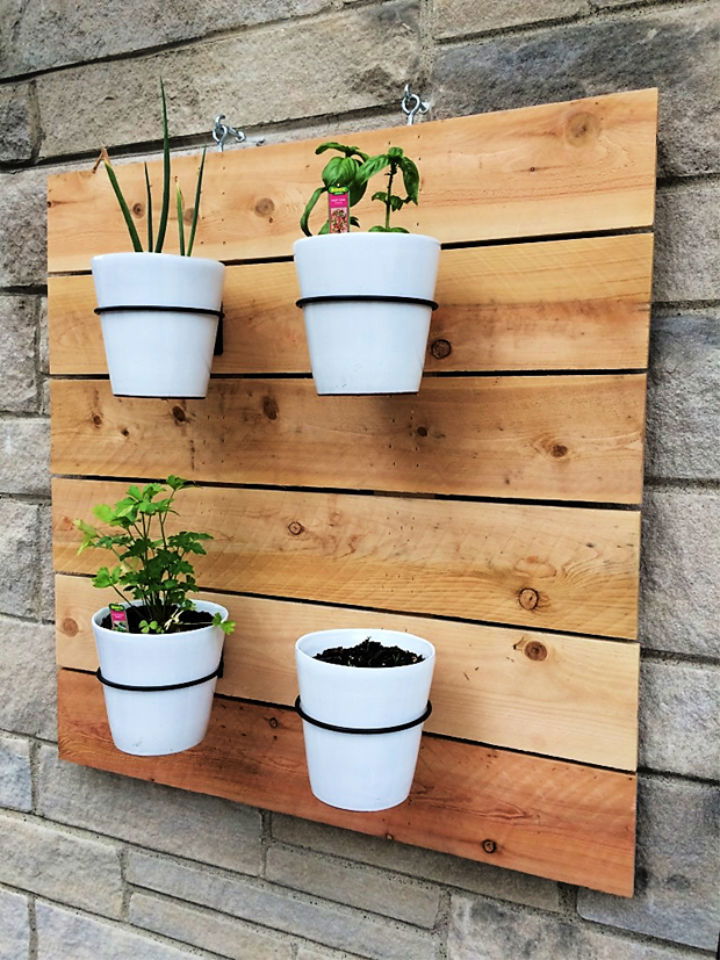 Create a big focal point on an exterior garden wall using this vertical herb garden, which will be a great pleasure to build. First, you have to build a wooden slatted background using cedar fence pickets. Next, make it hold the white planters using planter hooks. Further, you need wall planter hooks, eye hooks, screw eyes, and 1×3 cedar boards to complete this project. Details here mysimplysimple
16. Herb Garden with Vintage Boxes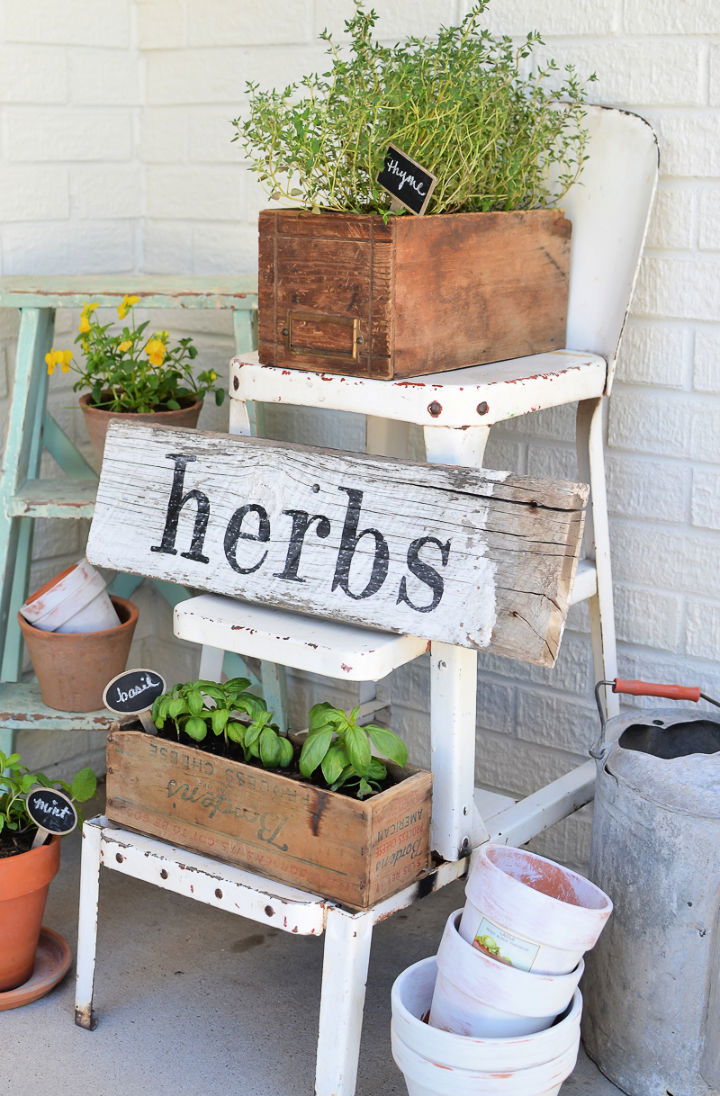 Build an instantly beautiful and graceful garden using vintage boxes too. It will be a nice and elegant way to grow your herbs while bringing the vintage decor vibes to your home. Repurpose the vintage drink bottle boxes to make rustic herb planters and then display them onto a vintage stool. Details here sarahjoy
17. Trellis Herb Garden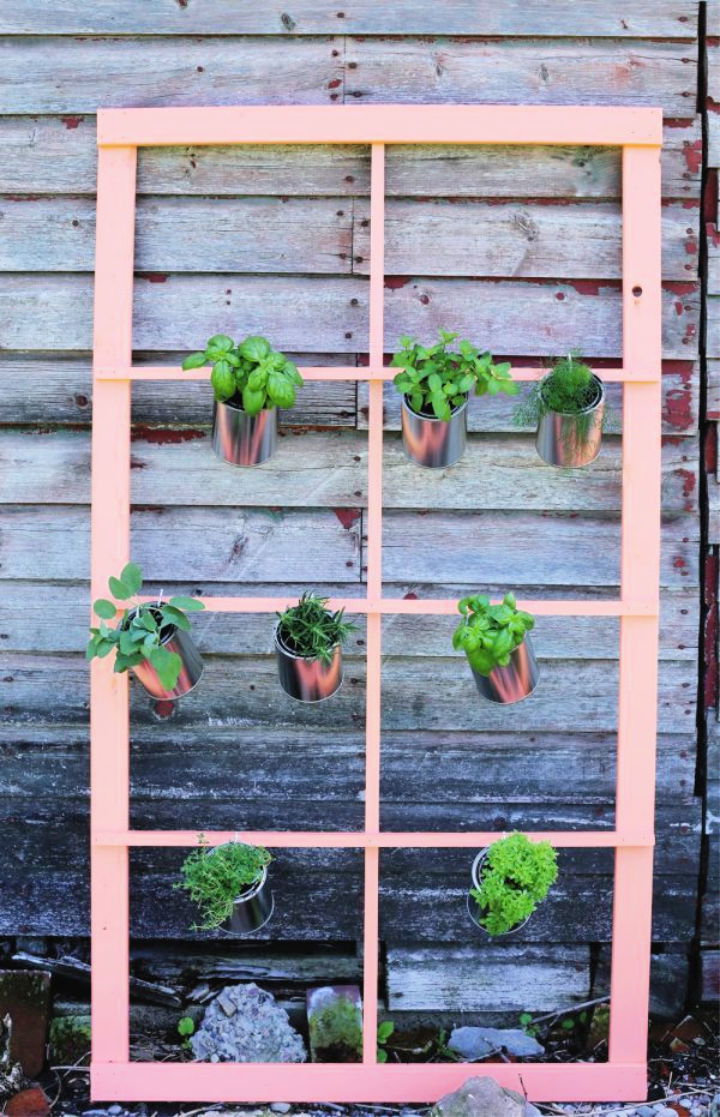 Build also the custom trellis panels using wood of choice. Next, hang your planters on it and gain a graceful trellis herb garden, which will work up super quickly. Go handmade with 1×3 and 1×1 to build this elegant looking trellis garden, which will surely wow the audience. Use the heavy-duty cup hooks to hang the herb planters. Details here thesweetest
18. Milk Container to Herb Garden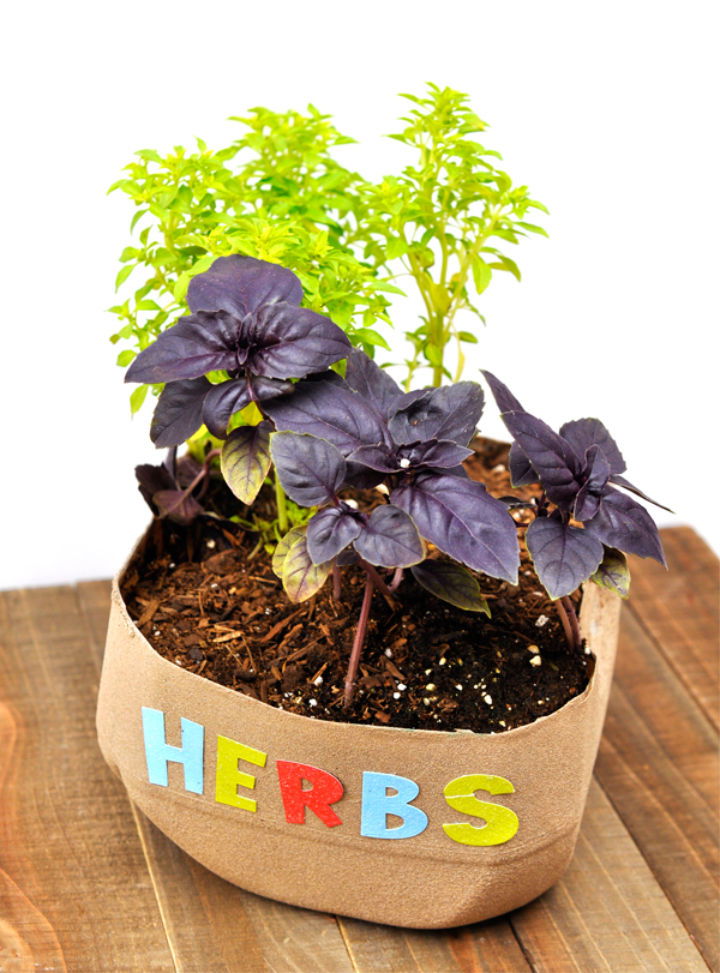 Wishing to build a no-cost herb planter? Opt for this milk container herb garden, which will allow you to grow your expensive herbs inexpensively in minimal space. You need a 1-gallon milk container, sharpie, spray paint, potting soil, herb planters, and custom stickers to build this herb garden. Details here rockinmama
19. DIY Vertical Herb Garden Using 2×4 Lumber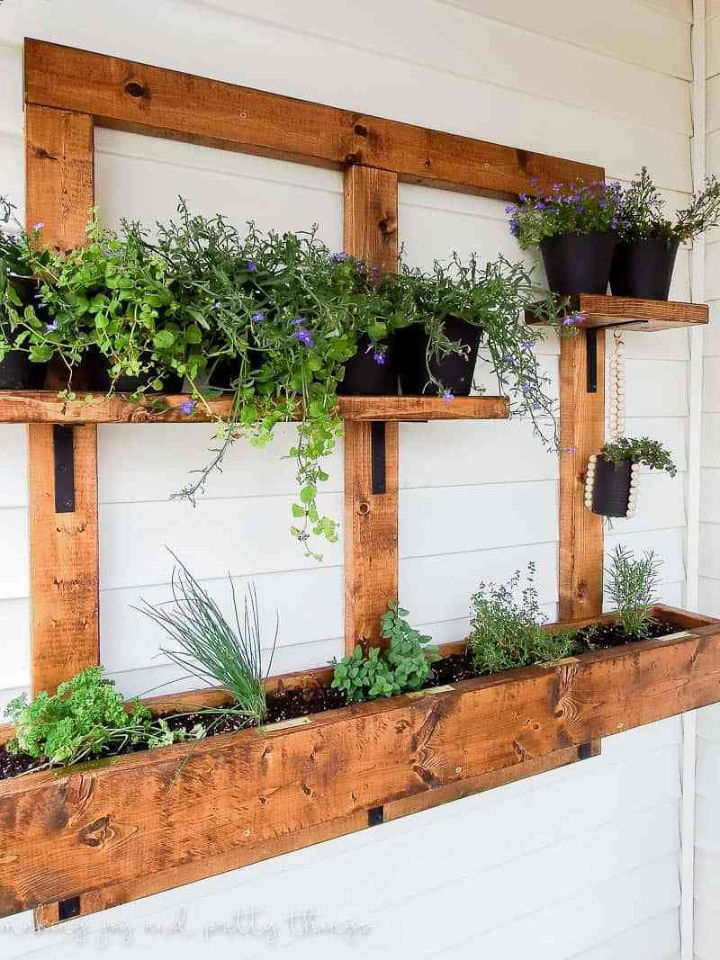 Living in small homes or apartments or having a small patio does not mean you can't have a garden. Follow our beautiful herb garden ideas to grow herbs at home. Learn how to build a vertical herb garden using 2x4s, rock for small patio, apartment balconies, and even small gardening spaces. This hanging herb planter comes with built-in planter boxes and custom shelves to display your herb planters. Details here makingjoy
20. Painted Mason Jar Herb Planters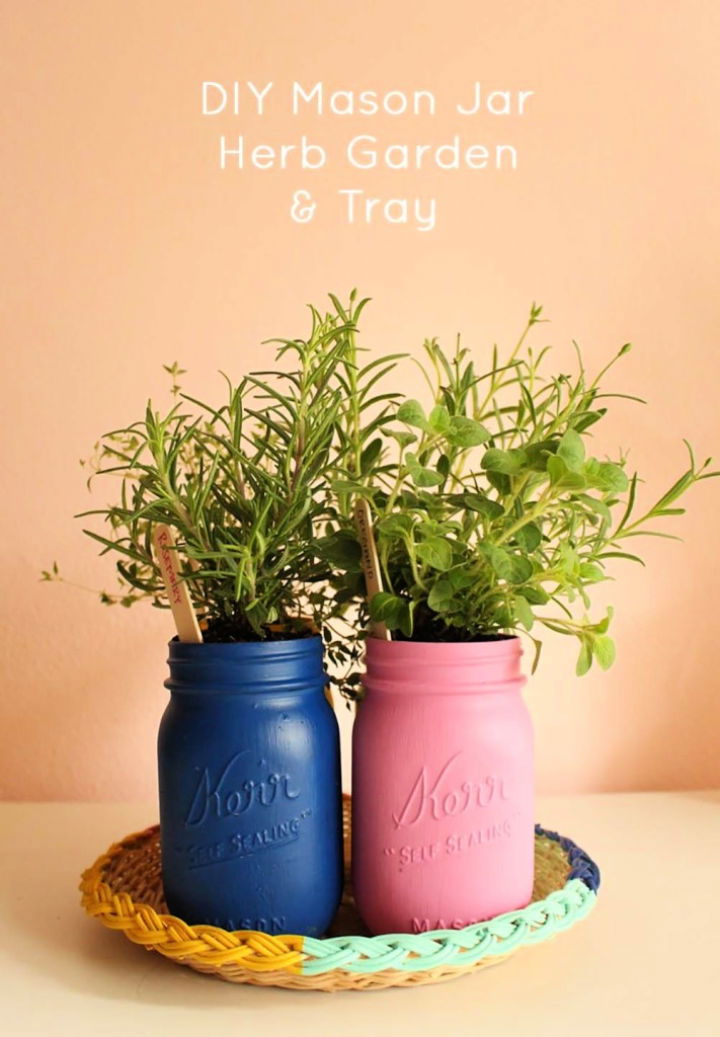 Build lovely and low-cost herb gardens using the recycled free Mason jars too. Paint the Mason jars jar an enchanting appeal and then fill with potting soil to grow the herbs in them. Decorate your Mason jars planters more and then place them in a wicker tray. They should be painted well too. Details here goldstandard
21. Easy DIY Indoor Herb Garden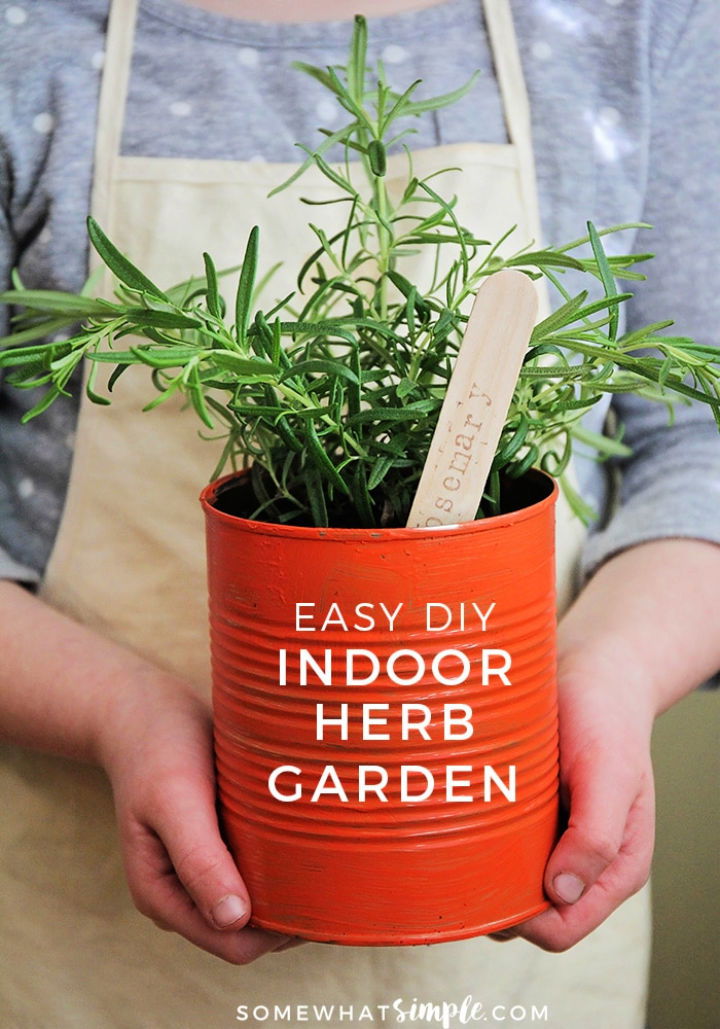 Many of us don't get the chance to cherish the greenery indoors. Bringing the natural decor vibes to your home by building this indoor herb garden will help display the greenery all around the home. Paint the recycled tin to build the indoor herb planters and then add them up with craft stick stamped markers. Details here somewhatsimple
22. Renter-friendly Hanging Herb Garden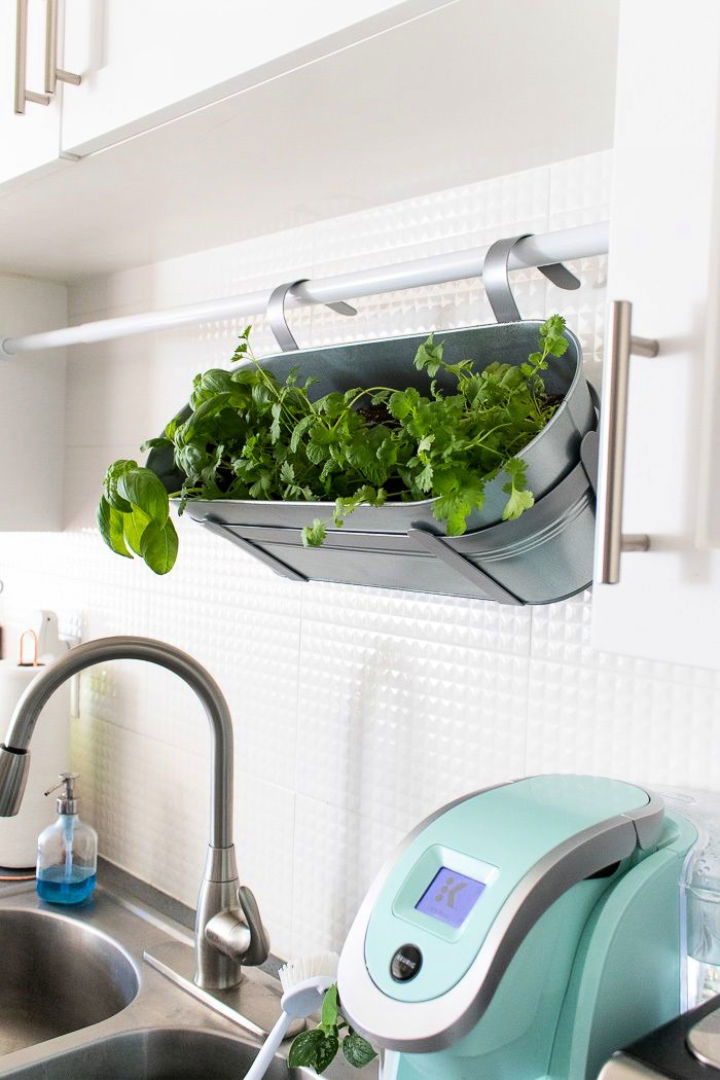 Are you addicted to greenery and not enjoying those natural scenes of your garden while living in a rental property? Then, learn how to build a renter-friendly hanging herb garden that is to make with hanging flower IKEA boxes and hang on a wall-mounted tension rod. Fill the flower boxes with lightweight boxes and potting mix, and then plant your fresh herbs in them. Details here curbly
23. Mod Podge Herb Ladder Planter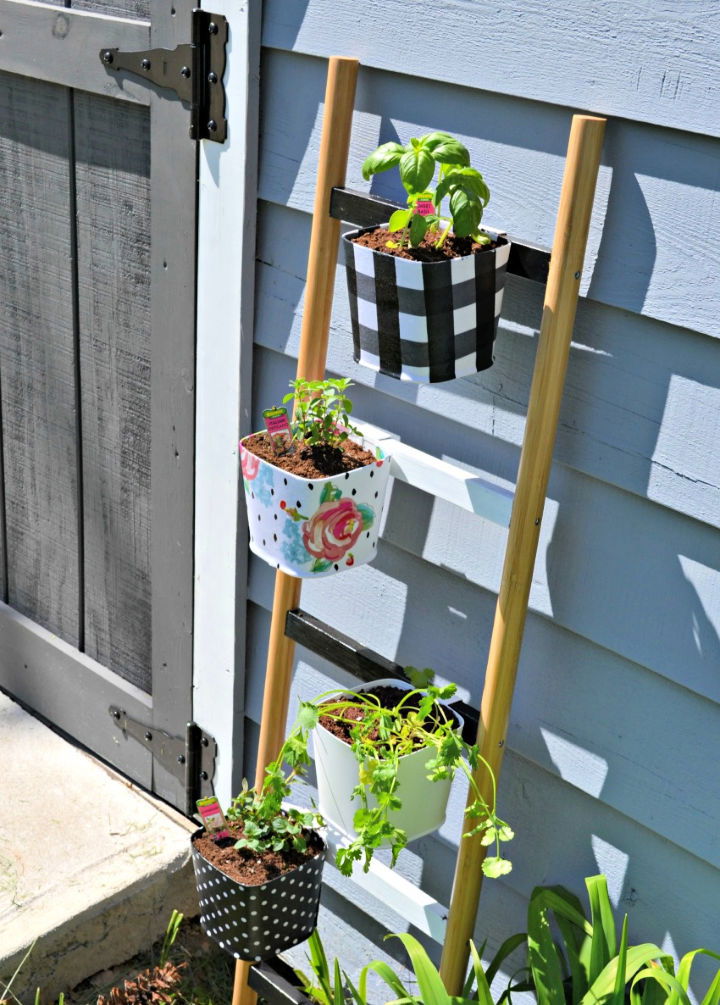 Check out the great IKEA herb garden hack. These outdoor herb garden ideas are again to wow you. You need IKEA Satsumas Ladder and planters, multisurface paint in titanium white and charcoal black, the fabric of choice, mod-podge, and brushes to make this mod-podge herb ladder planter. Details here thecardswedrew
24. Table Top Herb Garden from Pallet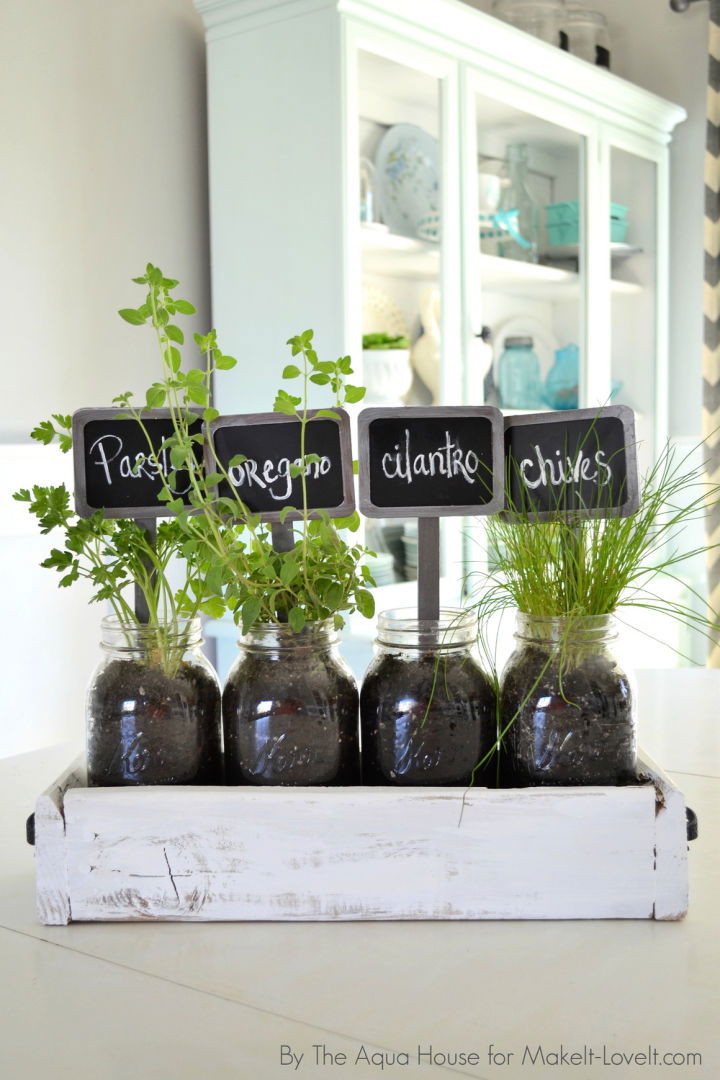 Looking for a bewitching centerpiece for your central coffee table? Then do build this tabletop and herb garden from free pallets. Place it right over the coffee table to enjoy the coffees more with the natural freshness of herbs. This pallet-made planter box can hold 4 Mason jar herb planters. Don't forget to add the markers. Details here makeit loveit
25. Spice Rack to Herb Garden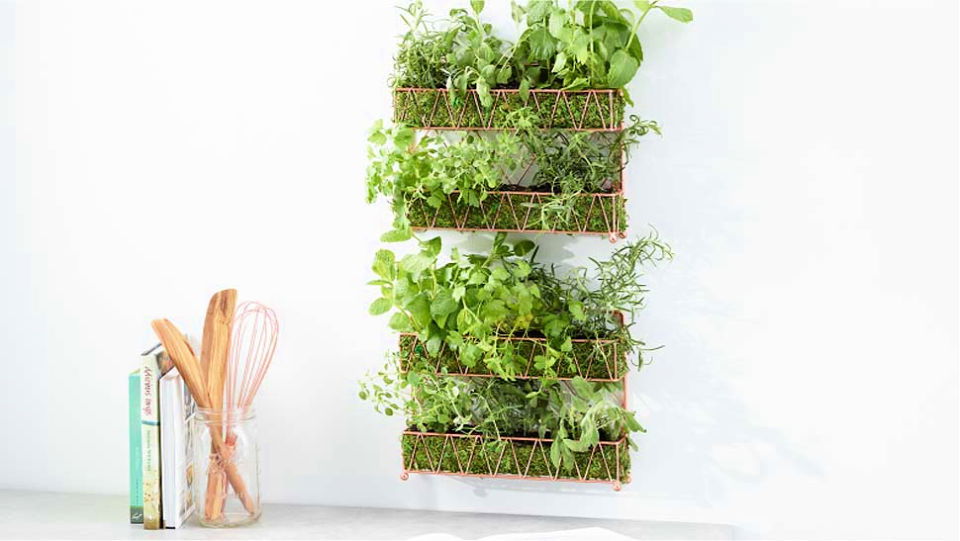 Upcycle your old spice racks, too, for building a glam model of herb gardens. This wall-mounted spice rack will get ten out of ten from you and is a creative remake of a spice rack. You need a spice rack, gardening tools, soil, herb seeds, watering can, grass paper or liner and custom markers, etc., to build this herb garden. Details here worldmarket
26. Vertical Herb Garden From A Fence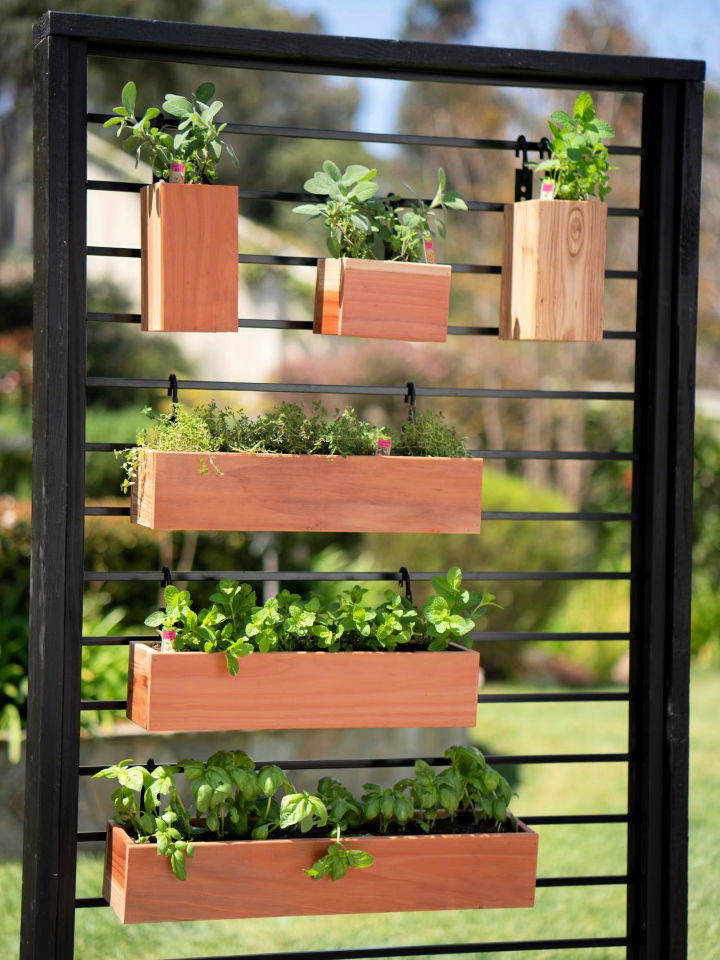 Having a garden short on space should not be matter. You can add the vertical potting space to grow more, and you're favorite in a custom yard space. Build this vertical herb garden with the basic metal fence sections, and further, you need the redwood planter box and lumber. Details here diynetwork
27. How to Build Vertical Herb Garden
A vertical herb planter not only saves you a lot of space but adds a lot of styles and decorative touches to the walls of your house. With some wooden boards, you can easily shape this lovely vertical garden with the desired number of planting shelves. Check our all herb garden ideas to spruce up a patio or backyard space. gingersnapcrafts
28. Create Hanging Herb Mason Jars
Plants can breathe life into any dull and dead space of the house, and here is how you can do it in your kitchen. Yes, using the colored mason jars, you can plant your herbs in them, and with the help of the hook, you can easily hang them over your cabinet spaces and charm up your kitchen in such an easy and fun way. domestically-speaking
28. Build A Tiered Herb Garden
Here is what you need to create a focal point to any green space or patio area! This tiered herb garden is really looking handsome and much focally stimulating! Here the L-shape wooden box style planters have been tiered to 3 levels and have been set to a corner space to make a precious herb garden that is a big center of attention! Here is how to make and install this herb planter and add oodles of charm to the garden decor decorandthedog
29. How to Build Herb Garden
Another great and extra beautiful herb planter is here to amaze your senses! Here it is, the metallic 2 tiered herb garden that hangs on the wall! All you need some metal pipes and elbows, and floor flanges to install the curtain rod style support on the wall where the planters will hang! Next, the metallic planters with rope loops have been hanged on the wall-mounted metal pipes using s-hooks! Here the holes have been drilled in the sides of planters, and the rope lengths have been threaded into them to make beautiful loops, as you can see! suburban-bees
30. Cute DIY Painted Can Herb Garden
If you are intending to grow some hard find herbs then you will definitely like these good-looking herb garden ideas. that is made of painted cans and wooden planks! Here the painted cans hang on the cleat hooks well mounted on the wooden planks and hence a two-tiered herb garden has been achieved that comes with 6 painted can hanging planters! This is here the cheaper but adorable herb planter idea that has been done to amaze and inspire! Grab the full free tutorial and instructions from here simplestylings
31. DIY Floating PVC Window Herb Planter:
If you do not have enough space in your home to plant the herbs, then here is another great window herb planter that has been done to rock and inspire and is really looking beautiful! Here again, a PVC pipe length has been cut out for some brilliant looking holes filled with pebbles and soil, and hence a beautiful floating window herb garden has been achieved that hangs in the air using metal chain lengths! Grab the full free tutorial from here abeautifulmess
32. Quick DIY Indoor Herb Planter:
You will definitely fall in love with this another great and exceptional looking herb planter that has been made for indoor and would really bring green garden decors vibes to your space! Here a baking tin has been mounted on the wall and then has been filled with pebbles and potting soil and hence has been turned into a flawless indoor herb garden! Here, this herb planter also comes with the front half-covered with the plastic sheet and is looking handsome! Grab the full free details and instructions from here grillo-designs
33. Make Your Own Mason Jar Herb Garden:
You can also make various outstanding herb planters at home using recycled materials! Use the mason jars to build this planter. Filled the mason jars with pebbles and then with potting soil. And plant your desire herbs! The finally finished mason jar herb planter has been put inside a metal holding stand, and hence a precious herb garden has been achieved that can stand alone on any flat surface! Willing to duplicate this herb garden? Grab the full free guides and visual instructions from here servingupsouthern
34. DIY Upcycled Indoor Herb Garden:
If you are willing to make your interiors eye-catching by giving a touch of green garden decors then you can just duplicate this indoor herb garden that has been done to rock and inspire! Here the lotion and shampoo bottles have been cut in halves and then have been painted for an alluring appeal! Finally, the half-cut lotion bottles have been filled with potting soil and hence the lover indoor garden has been made that is just looking damn beautiful! Another smart herb garden project that will cost you nothing big! Grab the full free guides and visual instructions from here lovelyindeed
35. Amazing DIY Copper Herb Garden:
Fall in love with this another charming potting station that is modern and is sure to grab the attention of every garden and greenery lover! This is here an enchanting herb garden with a holding frame made of copper pipes and custom fittings, and it beautifully holds the herb pots in the built-in sections! Here this self-standing metallic herb planters offers 3 tiered herb planter levels or pot shelves, and hence it would make an outstanding indoor garden décor centerpiece! Willing to duplicate this vertical herb garden? Grab the full project details and instructions from here homemade-modern
36. How to Create Herb Garden Coffee Table:
Check out the way to grow your hard to find herbs! Just build the precious looking herb garden in your living room coffee table tops, or build the new wooden tables with installed planter boxes in the top! Check out this precious white coffee table made of plywood and metal sheet, and it offers a planter box filled with planter stones and soil to grow the herbs! This is here another great and outstanding garden coffee table that has been done rock and amazing! Grab the full free tutorial from here abeautifulmess
37. Make a Herb Garden from Kitchen Recyclables:
If you are intending to grace up your modern kitchen interiors and window sides with natural décor touch then you can easily duplicate this herb garden that is made of kitchen recyclables! Here the custom lumber lengths have been put together to make the wooden unit with 2 built-in shelves and then the holes have been drilled in the shelving levels to fit the half-cut plastic bottle planters in the shelves! Here the plastic bottle halves with plastic lid or cap have been painted in white and they have been inserted into the holes to make a gorgeous looking herb garden! Grab the full free tutorial and instructions from here bobvila
38. DIY Custom Potted Hanging Herb Garden:
This DIY hanging herb garden to spruce up your indoors beautifully by bringing their amazing garden décor vibes! Check out here the vertical herb garden that comes with multiple built-in herb planter shelves! Here the herb planters have been fixed in the wooden shelves that come with bigger holes in them! Here the tiny holes have also been made in the wide wooden plank shelves, and then the metal rods have been threaded into them to make a charming hanging herb garden frame! Next, the shelving levels have been secured in place using the crown bolts, nuts, and washers! Complete tutorial here freshmommyblog
39. How to Make Vertical Herb Garden for Your Kitchen:
Bring some natural beauty to your kitchen with this gorgeous and simple vertical garden created nice and easily at home. Take plastic pots, paint them in the shade of terracotta colors and then add your cute succulents in them and they are ready to be hung over the walls and make your kitchen decor look so stunning. happinessiscreating
40. DIY Mason Jar Herb Garden
Herbs are so expensive to buy from the market that they should be grown at home for cheap and easy availability. So here we are sharing with you this genius and smart idea of creating a herb planter with mason jars and a wooden board, and here is the tutorial to create this little cute DIY herb garden on your own camillestyles
Conclusion:
Not getting the fresh herbs for daily intake? Then why not grown them your own? These outdoor and indoor herb garden ideas will help save a lot of your herb costs, and you will get a fresh supply of them daily. Puzzling at how to grow them nicely, especially when not having a large outdoor garden space? We have already done it for you. Browse this collection of DIY herb garden ideas sharing all the hacks to grow the herbs properly. From rustic to vintage inspired to modern, these DIY herb garden designs come in all styles to choose from. Most of the projects involve using recycled materials and items.