Learn how to make a headboard with these 30 cheap DIY headboard ideas and plans that are certainly super stunning, and you're going to adore them! As the New Year is just around the corner, which means that it's the perfect time to let go of the old energy and change up your home decor! So what's the place you spend the most time in? Your bedroom! Why not start off by changing up the energy and vibe in there? As your headboard plays a huge role in the overall style of your room! So, if you're looking for some stylish, fun, and creative ideas – definitely take a look at these 30 amazing DIY headboard ideas! However, beginners might feel intimidated by these plans, but these headboards are actually super easy to re-create as long as you follow the instructions!
This article has a range of 30 unique DIY headboard ideas and plans, from storage headboards to light ones; from edge wood to upholster headboards; or from diamond tufted to rustic ones; and from twin-sized bed to king-sized bed ones; tufted to vintage ones; also from leather to wingback ones; then minimalist to fancy ones; from plywood to cedarwood ones; lastly from cane to pallet headboard; reclaimed wood to padded ones; mirrored to wall-mounted ones; cushion to wood dowel ones. As you can tell, there are SO many different headboard ideas for you to choose from! Your final decision should depend on the headboard that you like the most! So, let's get started to choose and make a headboard for your bedroom.
1. DIY Wood Headboard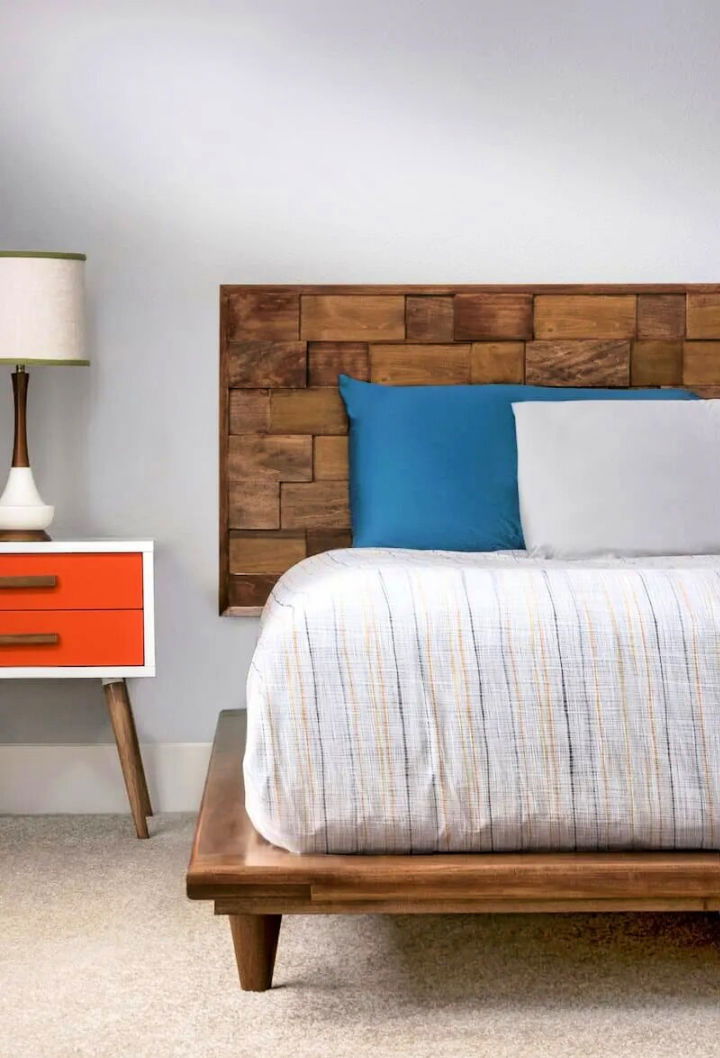 The mid-century modern DIY wood headboard is an easy-to-follow project for you to work on. Why buy an expensive king headboard while you can DIY your own? Yes, you can make it a lot better, cheaper, so customize it according to your need, and in any color you desire! Also, it will go with your modern room decor perfectly. diycandy
Materials:
Wood
Support pieces
(1) – 1″ x 6″ x 8′ board
(2) – 1″ x 2″ x 8′ boards
(1) – 1″ x 2″ x 8″ board
(2) – 1/4″ x 2′ x 4′ pieces of oak plywood
Boards for the mosaic area – (5) 1″ x 4″ x 8′ boards
(3) – 2 ½" x ¼" x 24" pieces of the finished oak
Tools:
Miter saw
table saw
belt sander
router with bits
drill
planer
wood glue
wood screws
clamps
measuring tape
Instructions:
Firstly, start by making a support piece for the back
After that, cut plywood that you will glue within the frame as your backer
Wood pieces are also cut and glued to make the front mosaic for the headboard.
2. DIY Upholstered Headboard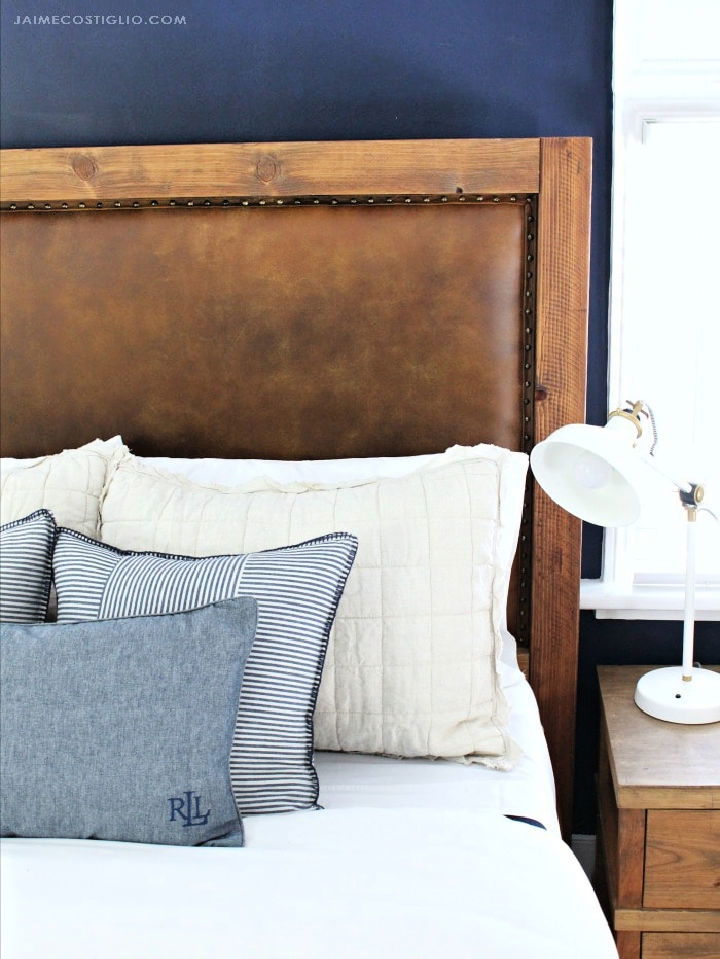 Give your bedroom a very personal touch by making this long-lasting, soft DIY leather upholstered headboard. The best thing about leather beds is that they are certainly quite durable because the leather, also known as hardwearing fabric, is resistant to cracking or fading in the sunlight. Leather upholstered headboards are certainly a perfect companion for your bed. jaimecostiglio
Materials:
Quilt batting
Leather
wood headboard
upholstery foam (2″ high-density)
rotary cutter
exacto knife
self-healing mat
hot glue gun
sewing machine with needle
scissors
drill and drill bit
nail punch
hammer
carpet thread or quilting
Instructions:
Build the wood headboard. (follow our list of DIY headboard ideas for more design)
Apply 2″ high-density foam. Use a spray adhesive so the foam won't slip.
Use quilt batting for the foam. It will soften the foam edge and cover any seams in the foam.
After that, layout leather over the foam, start at the center by using some staples for the wood edge.
Staple the leather over the foam at each side until you have reached the corners.
Trim off any excess leather by using the Exacto knife.
Now, fold the leather pieces in 1/4″ and stitch for a 1/8″ fold.
Use hot glue for covering the wood edges with leather to cover the staples.
Finally, make evenly spaced marks using the sharpie for inserting the nailheads.
3. DIY Tufted Headboard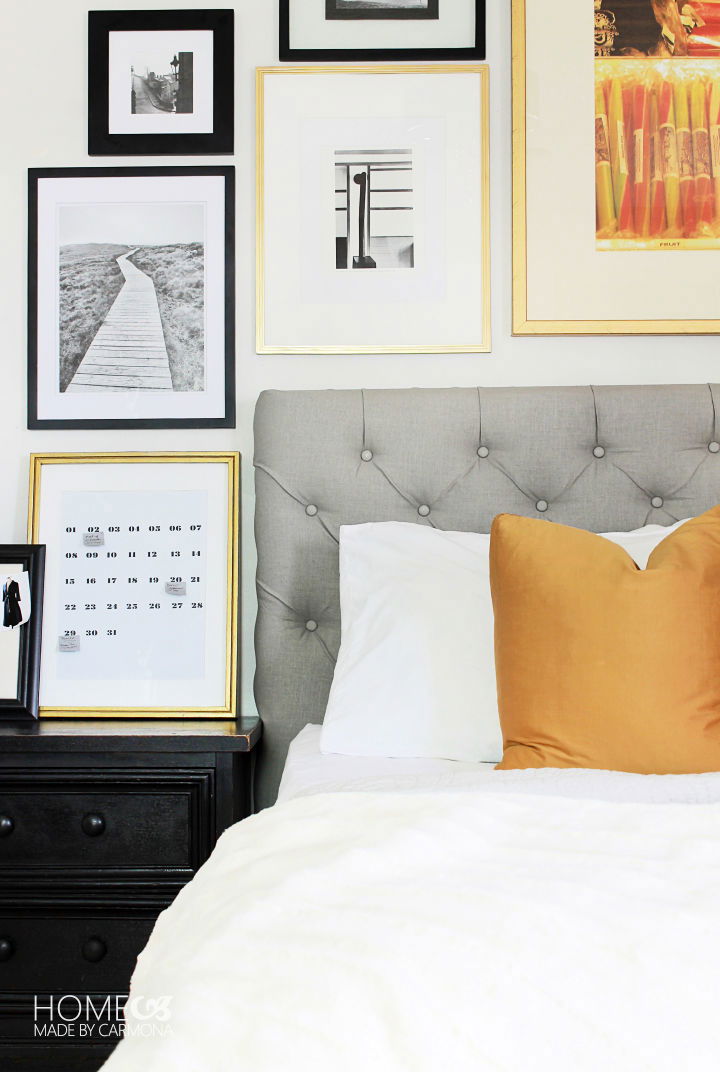 Have you ever fancied one of those stylish diamond tufted headboards but couldn't afford one? Well, worry no more. Now you can make your own diamond tufted headboard with the given DIY tutorial. As it wouldn't cost you your inheritance to make this beautiful headboard as the supplies are fairly affordable as compared to the readymade headboard. homemadebycar
Wood:
Old headboard frame & salvaged boards
Materials:
Egg crate foam mattress topper (Twin sized)
The fabric of your choice
Button covering kit with 5 or 18
Regular buttons
Upholstery twine / hemp cord / waxed button thread
Gorilla glue
Instructions:
Start off my measuring and marking the center of the headboard.
Using a sharpie, put dots on the headboard.
Start working along the rows, likewise following horizontally and vertically along each row.
Create a diamond shape by staggering the second row.
In case you run short of pegboard, line up with dots till where the headboard is marked.
Place two pieces of egg carton mattress foam on the top of the headboard, put the egg carton side down. Staple the sides and bottom.
Drape on the fabric and keep an extra 10-12 inches of material on all sides.
Prop the headboard against the wall.
Use a long needle with a fat eye, regular buttons, and upholstery twine for tufting. Thread the covered button in the front.
Lay your headboard face down on the ground and secure the fabric.
Just fold and tuck the top sides down, pull across to create a perfect top-to-side seam, then staple in place. Lastly, continue down both sides, pulling the fabric taught as you go.
4. DIY King Headboard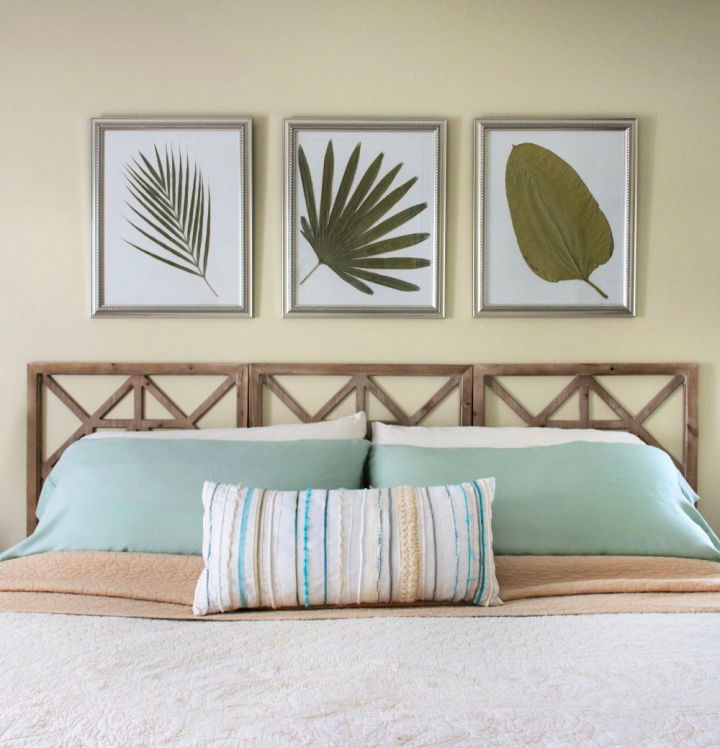 This DIY King Headboard plan will certainly add all the vibes to your room! It will give it a vintage yet, mature look that will definitely go perfectly with your modern room decor and compliment the overall look uniquely. Most importantly, it is an easy, budget-friendly home project to work on, which will be finished in the time of an hour or so. scratchandstitch
Materials:
3 25" decorative wall square panels
Tools:
screws
sheetrock screw anchors
painters' tape
level
pencil
measuring tape
drill
drill bit
stain or paint
Instructions:
Make marks between the squares on the hangers of the wall panels where the screws will hang using the tape.
Place a vertical tape at the center of the bed where the headboard will be centered to use as a guide.
Use a level to ensure the height of the panel where it should hang on the wall and place tape.
Drill holes in the wall where you marked on the tape
Now hang the first panel on the screws
Repeat the same steps as mentioned above for the rest of the panels
Also, make sure to line the panels right next to each other.
Slightly nudge the panels to make them perfectly level to one another.
Lastly, stain your panels if you wish to and let dry before proceeding with any other work.
5. How to Make a Headboard Rustic Queen Headboard Out of Shiplap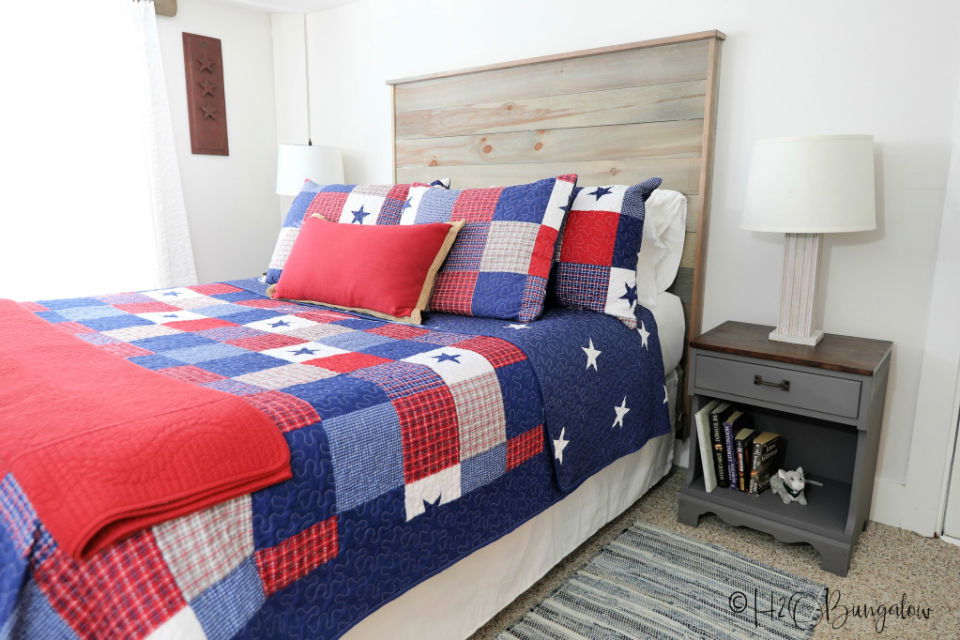 how to make make a queen size DIY modern rustic headboard out of shiplap? This headboard design is super easy to make and doesn't need advanced woodworking skills. You can adjust the size of the headboard as per your preference and requirements. This headboard can also make it to your master bedroom.
Materials:
Shiplap pine planks cut to 60″.
Pine boards cut to 60″ (sides of the headboard)
(1) – 1 x 4″ pine board cut to 64″ (for the top of the headboard)
(4) – 2 x 4″ pine boards for braces of the headboard, cut them to 57″
HomeRight Finish Max Super Paint Sprayer
Varathane Weather Accelerator
3″ screws
2″ brad nails
Brad nailer
Drill
Liquid Nails
36″ Long level
Compound miter saw
Table saw
Sawhorses – these are what I use
Plastic drop cloth
Instructions:
Firstly, cut all the wood to size using a table saw.
Give them a weathered reclaimed wood look by s
praying all the pieces with a Finish Max Super Paint Sprayer to.
By using 2x4s, make four wall braces, then add the, to the wall. Make sure to use a leveled surface so that everything is vertically straight.
Now add shiplap by lining the cut side of the board up at the top of the 2×4's and attach with the brad nailer.
After that add the sides of the headboard. Use liquid nails first and attach them with the brad nailer.
Lastly, by using liquid nails, add the top of the wall braces.
6. DIY Headboard With Lights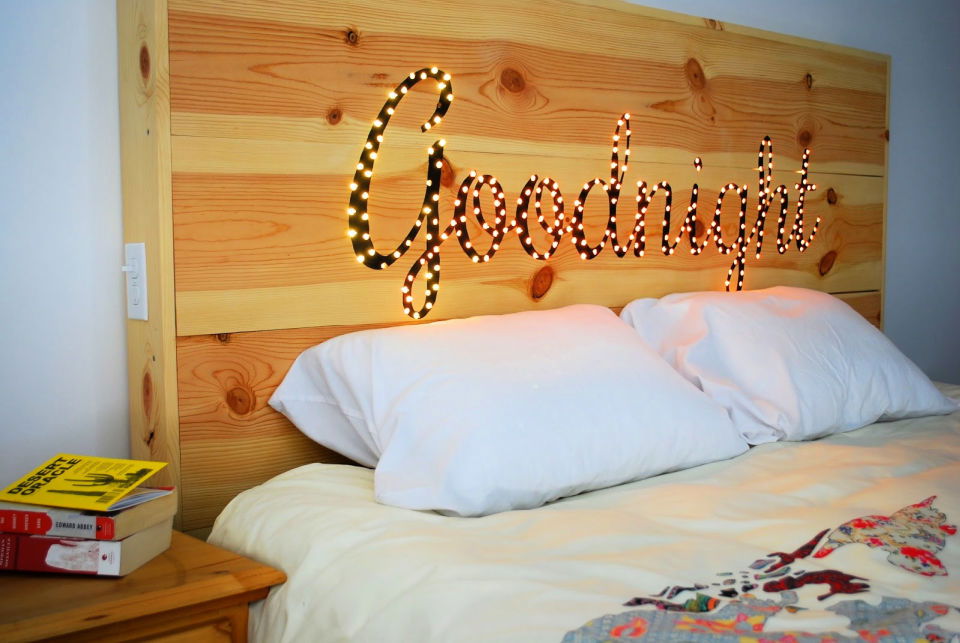 This adorable DIY headboard with lights is perfect for you if you are looking to give your room a dreamy look. It will certainly compliment your room decor fabulously and will make it come to life. Also, this DIY project is very time efficient and requires only 6-8 fun-filled hours, leaving you with a whimsical, unique, and creative headboard. callmefudge
Wood:
(3) – 6 foot 1×10″ alder boards for the front
(1) – 6 foot 1×4″ alder boards for the top
(2) – 5 foot 1×4″ alder boards for sides
(2) – 29.25x1x6″ alder boards for legs
(6) – 1 foot 2×4″ any type of wood
Materials:
2″ screws
polyurethane or stain
black paint
1 light switch/outlet and faceplate
3-5 strands of white Christmas lights
1 extension cord
2 carriage bolts
Instructions:
How to build a headboard? Start by lining up your 1×10″ boards and brace the back with the 2×4's to hold them together.
Screw both sides of the headboard onto the assembled front.
Then screw the 6 foot 1×4″ board on top of the frame.
Attach 1/4 inch 1×6″ boards to the front of the legs.
Once done, now stain the headboard or seal it with polyurethane.
Trace the word(s) you want on your headboard by using a projector.
Drill evenly spaced holes around the circumference of your word
Paint the wood with black paint.
Once the paint is dry, press the lights through each hole and use tape to fix them in place.
Use the extension cord to attach the headstand to the wall or install the light switch.
Lastly, with the help of carriage bolts, attach the headboard to the bed frame.
7. DIY Storage Headboard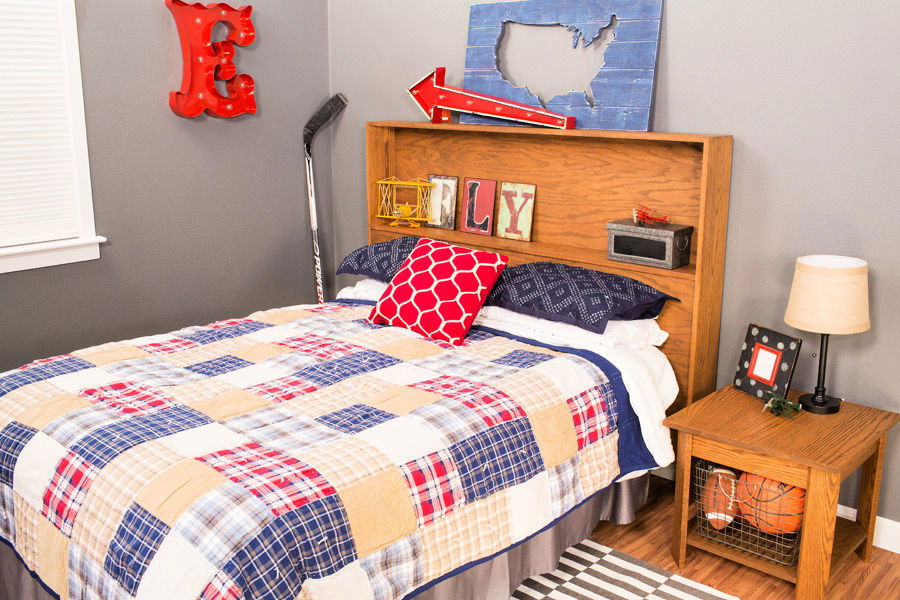 Are you like one of those storage freaks who just love to have as many storage options as there could be? Then you are definitely going to absolutely adore this DIY storage headboard idea. You get to enjoy the full liberty of making it look contemporary or traditional, based on what kind of wood and materials you use. buildsomething
Wood:
(1) 1×4 96″ Board
(4) 1×8 96″ Board
(1) 3/4″ Thick, Full Sheet, Plywood
Materials:
fine-thread pocket-hole screws
Kreg Pocket-Hole Jig
Porter-Cable Circular Saw (corded)
Ridgid Miter Saw
Bosch Sander
Stanley Tape Measure
Stanley Tape Measure
Instructions:
Create the Legs, Top, and Shelf by cutting two Legs, one Top, and one Shelf to length from 1×8 boards and then drill pocket holes in the Top and Shelf.
Make the lower rail by cutting one Lower Rail to length from a 1×4 board, and then drill pocket holes in the Lower Rail.
Install the Top and Shelf and assemble them.
After sanding the Rail, attach it using 1 1/4″ fine-thread pocket-hole screws.
Cut the Upper Panel to size from a sheet of 3/4″ plywood and then drill pocket holes in the Upper Panel.
After sanding the Upper Panel, attach it such that the panel's back face.
Finally, after sanding the Lower Panel, attach it using 1 1/4″ fine-thread pocket-hole screws.
To finish, do any touch-up sanding that's needed, and then apply the stain, finish, or paint of your choice
8. Live Edge Wood Bed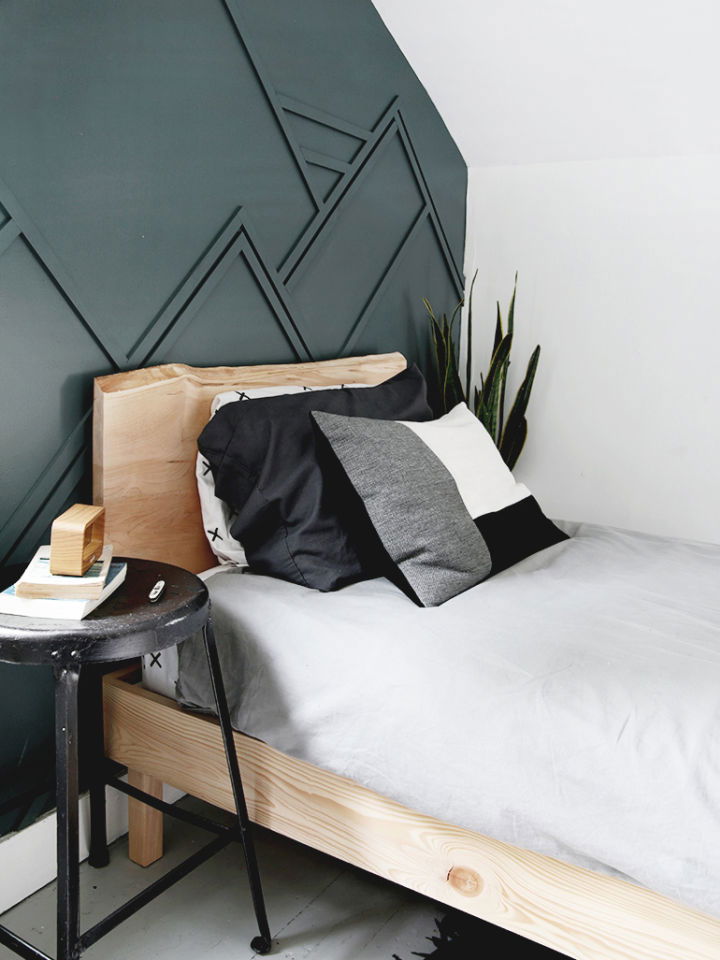 Are you looking to add a rustic vibe to your room? Do you prefer outdoors? This DIY live edge wood headbed has got you covered. This DIY bedroom headboard is not an all-out cabin-style bed and is coupled with a simple wood frame to give it a modern look. Also, this cozy bed will contribute to the sophistication of your room decor. themerrythought
Wood:
2 -10' 1×6 boards
3 – 10' 1×5 boards
4' x 8' sheet of plywood
3' long piece of 2×4
Materials:
Screws
pocket hole jig
pocket hole jig screws
wood glue
live edge wood for headboard
4' 1 x 4 board, circular saw
speed square
table saw
compressor and nail gun
clamp
sandpaper
clear polyurethane finish
Instructions:
Cut 45-degree angle on one end of both of your 1×6 boards. Measure 76″ starting from the tip of the angle, return the saw to a 90-degree angle, and cut the boards to length. Set the boards aside.
Cut a 45 degree on one of the remaining boards. Make a mark so that you have a board measuring 39″ with a 45-degree angle at each end.
Cut a piece 37-1/2″ long by returning the saw to 90 degrees; using the other board's leftover piece.
By using pocket hole jig to drill 4 pocket holes into the back of this piece at ends.
Now, lay the piece on a flat service and nail the pieces together using a nail gun.
Secure the pocket screws with claims.
Cut the other pieces likewise.
Now, your live edge board will be cut to 39″ long for the headboard.
Finally, use the sander and apply the final finishes.
9. How To Upholster A Headboard For Beginners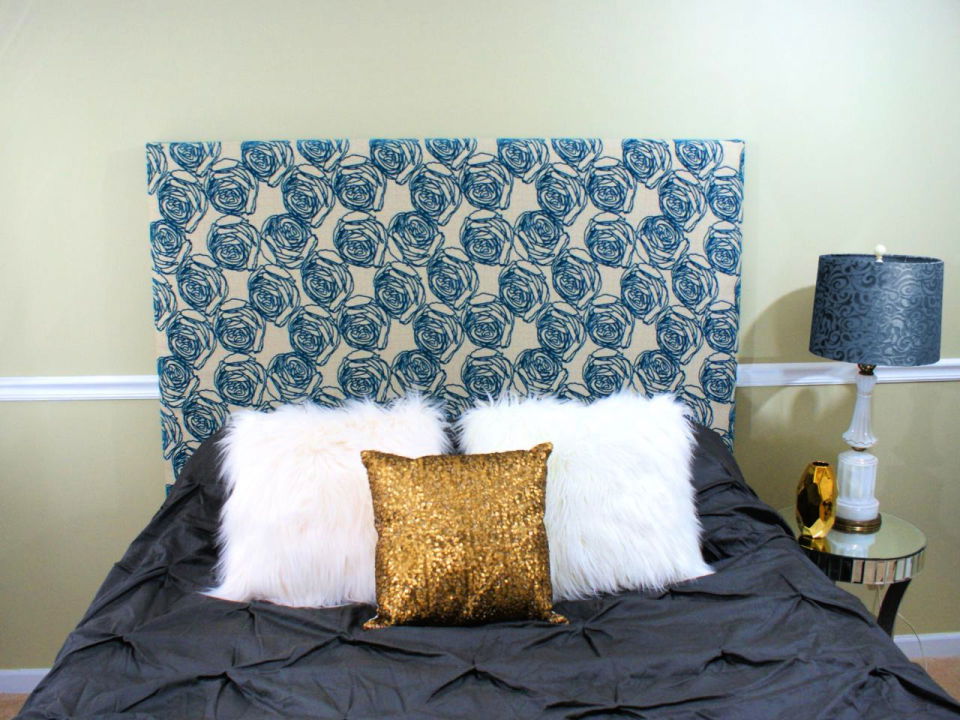 Are you new to making DIY furniture and want to experiment with something new? You are certainly in the right place. With this tutorial, you don't need to be intimidated at all. Because this headboard is easy to make and is beginner-friendly. You can also change the size of the headboard as per your individual needs. hgtv
Wood:
Sheet of 1/2″ plywood
(2) 2×2 8′ boards
(1) 2×6 8′ board
Materials:
22- wood screws
framing square
tape measure
clamps – 3″
Staples and staple
gun
foam batting
drop cloth
fabric (white or cream-colored)
Instructions:
Determine the size of your headboard.
Using the 2×6 board, cut the support legs.
By using clamps put the wood pieces together by placing the 2x2s on the top.
Follow the same process and attach 2x2s on the other side of the plywood.
Attach Legs by applying wood glue to legs and aligning on each end. Insert two wood screws on the back and secure the legs by inserting four additional screws in the front.
Make sure that the legs and the frame are on the bottom by flipping over the headboard.
Line up your fabric for layering. Start with fabric, then cotton, frame, and then put the foam facing downwards.
Follow the same steps for the fabric. Trim any excess fabric.
10. DIY Rustic Headboard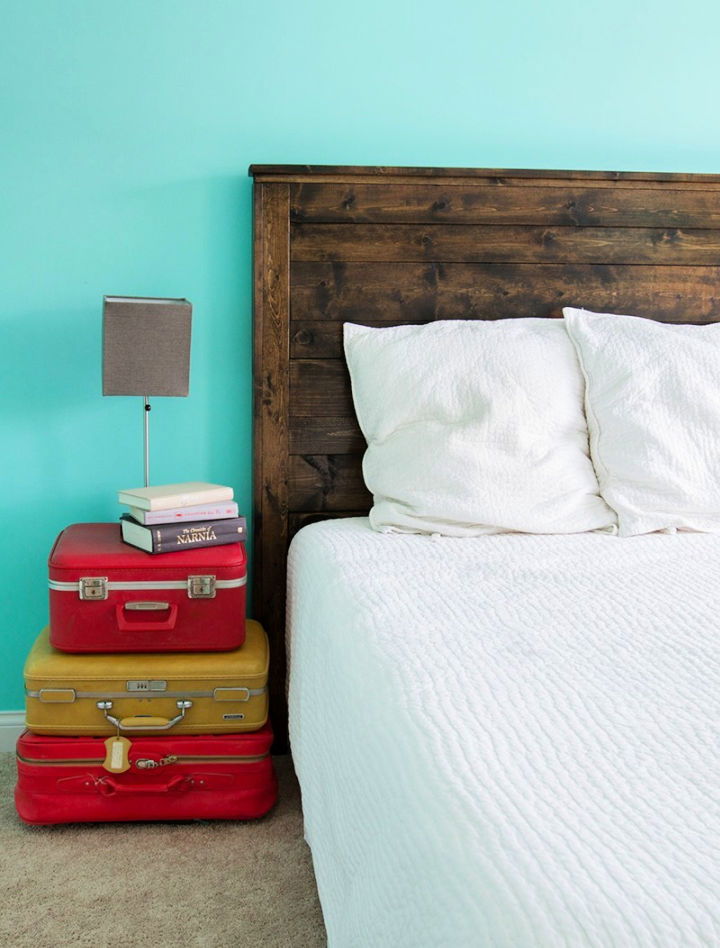 Here is an easy yet phenomenal DIY rustic headboard tutorial for you to upgrade your bed. No exceptional skill in woodwork is required of you to make this headboard, and it's pretty straightforward and simple. So, enjoy your sound sleep in your bed with this traditional looking and durable headboard. andreasnotebook
Materials:
Pre-stain wood conditioner
Minwax Wood Finish in Dark Walnut (2 coats)
fast drying polyurethane coat.
Instructions:
Firstly, choose ideally the straightest pieces of wood you can find.
Add an extra brace between the top and bottom of the headboard and nail from the back to keep boards a bit more stable and flat.
As stain is stinky. So, keep it in a well-ventilated place for as long as you can before bringing it inside.
11. Build A Barn Door Headboard For $50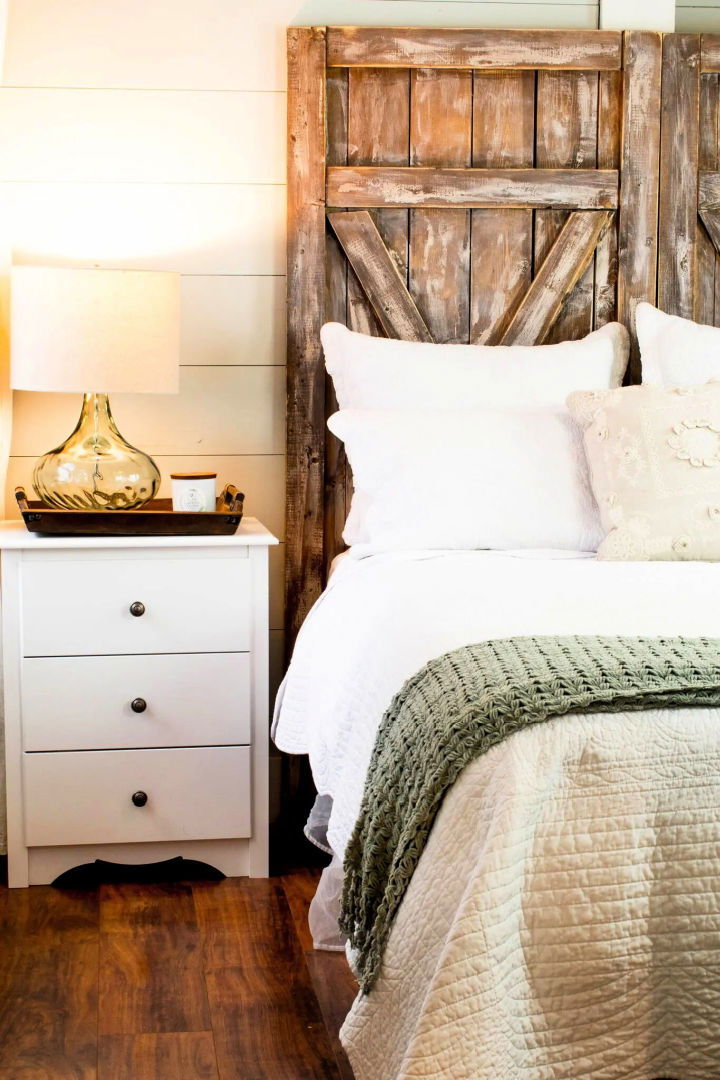 As you may have guessed from the title, here is another fairly economical and affordable DIY barn door headboard. Firstly, you do not need an extraordinary amount of time or savings to make and own this barn door headboard. Secondly, make two barn doors and join them to make a headboard, using our step by step instructions. littleyellow
Wood:
1×4 @ 72in x 4
1×6 @ 72in x 12
1×4 @ 26.25 x 8
1×4 @ 50in (or longer) x 4
Materials:
Mitre Saw
Electric Drill
Air Nailer
Carpenters Glue
1 1/4 inch screws
1-inch finishing nails for the air nailer
A set square or a straight edge
Instructions:
Layout 6 1×6's @ 72 inches. Keep the sides of your headboard face up.
Lay 1x4s on top of 1x6s around edges.
For each 1×4, flip one 1×4 over, apply glue, and press firmly.
Lay one 1×4 diagonally across the inside frame of 1×4's
Then lay the other one diagonally across each frame.
Repeat steps 1- 5 and builds the second half of your headboard.
Use 2 60 inch lengths of 1×4 and add each on the top and bottom of each barn door.
Lastly, paint the headboard any way you like.
12. Girls Twin Size Headboard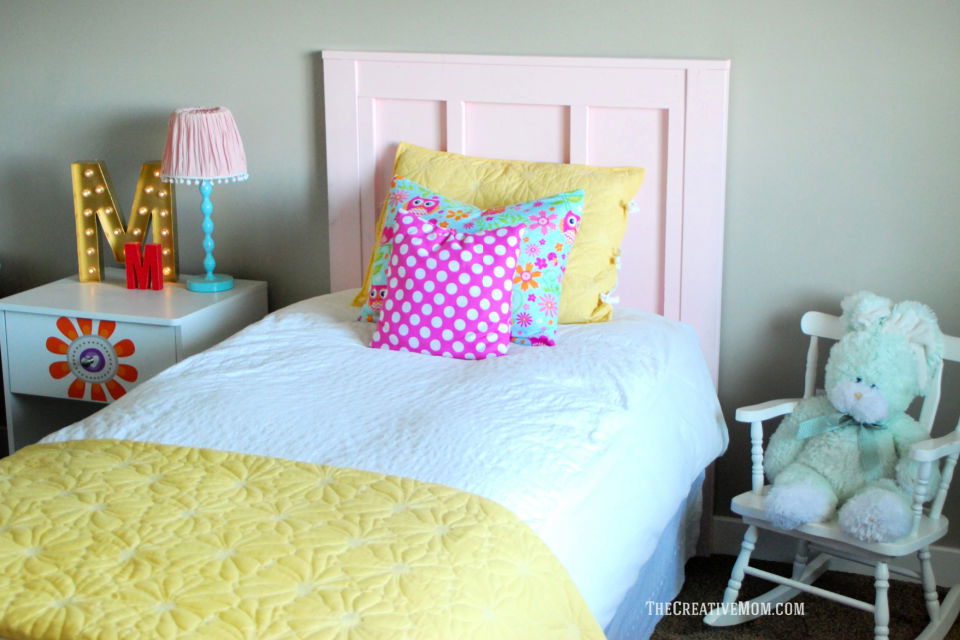 Spend an afternoon and 20 bucks, and you can have this simple yet elegant girl twin size headboard. You can also change paint colors for this headboard as per the liking of whoever's room it is making its place in. You also enjoy greater control as this one gives you the flexibility to add additional molding to further customize it. So, let's dive in. thecreativemom
Wood:
1 – 2×4, 96" , Board
1 – 1×4, 72" , Board
2 – 1×2, 96" Board
1 – 1/4" Thick, Half sheet plywood
Materials:
50 – 1" pocket hole screws, 50 – finish nails, Kreg Jig, drill
Instructions:
Cut 2 – 1×4 boards 32″ long using a Kreg jig and drill pocket holes in both ends of boards to prepare horizontal rails.
Cut 5 – 1×2 boards 23 1/2″ long and drill pocket holes at each end of them to prepare vertical rails.
Build the headboard frame by spacing 1×2's 8 1/2″ and 8 3/4″ apart, use 1″ pocket hole screws and apply wood glue at the joints and attach the 1×2′ boards to the 1×4's
Attach the legs using 1″ pocket hole screws and wood glue.
Then attach the top and bottom 1×4's of the frame.
Complete the frame with sturdy frame and legs
Using finishing nails, attach a 32" x30 1/2" 1/4" plywood to the back of your headboard to add backing
To add top board, finish the headboard off by attaching a 60″ long 1×2 to the top of the headboard with brad nails
Finally, to finish, fill any holes and edges with wood filler, Sand and finally stain or paint your headboard!
13. How to Build Kids Headboard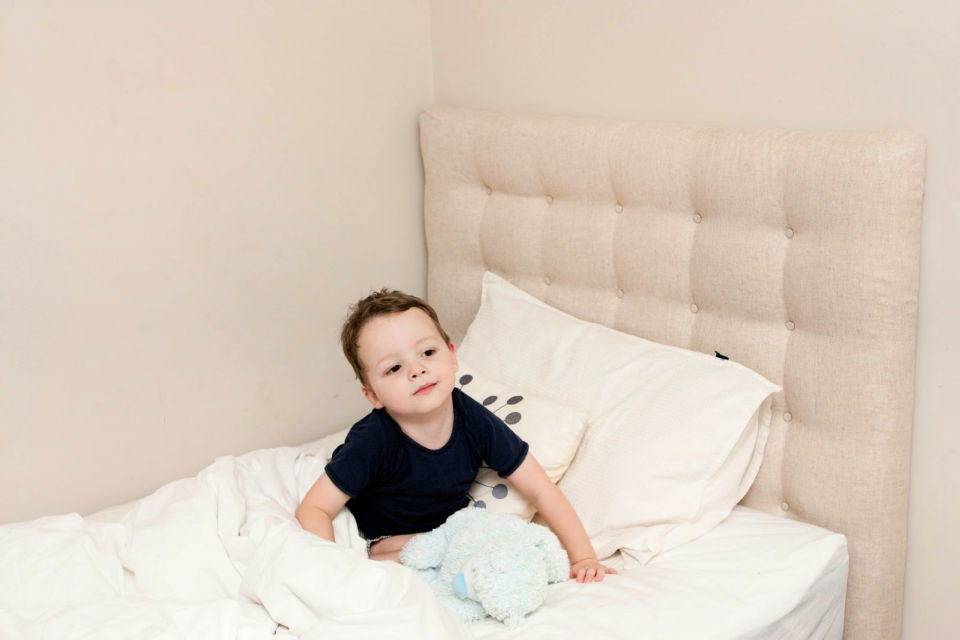 Makeover your kid's old and boring looking bed by adding this cute headboard, giving it a whole new look. Most importantly, you can make this headboard within a span of two days. This DIY project will transform your old bed into something you'll find hard to resist calling your new bed! We guarantee you that your kid will certainly love this one. maxandme
Materials:
Linen
Cheap white poplin
Batting
2inch thick foam
MDF board
Button covering kit
Furniture legs
Screwdriver
Drill bit
Staple gun and staples
Embroidery needle
Embroidery thread
Nails
Plyers
Hammer
Instructions:
Start out by covering the base of the ensemble. Pin each strip in place, and then go around with your staple gun to secure it at the underside and also the top of the base.
Also, repeat the same with linen.
After that attach the legs and move on to the headboard
Now, measure around where you would want your buttons and then drill holes through the MDF
Moreover, use fabric glue to stick the foam to the board
Then cover the board and foam with batting, then el-cheapo lining and finally linen
Finally, cover the buttons and sew them onto the headboard to get a tufted look
14. DIY Tufted Headboard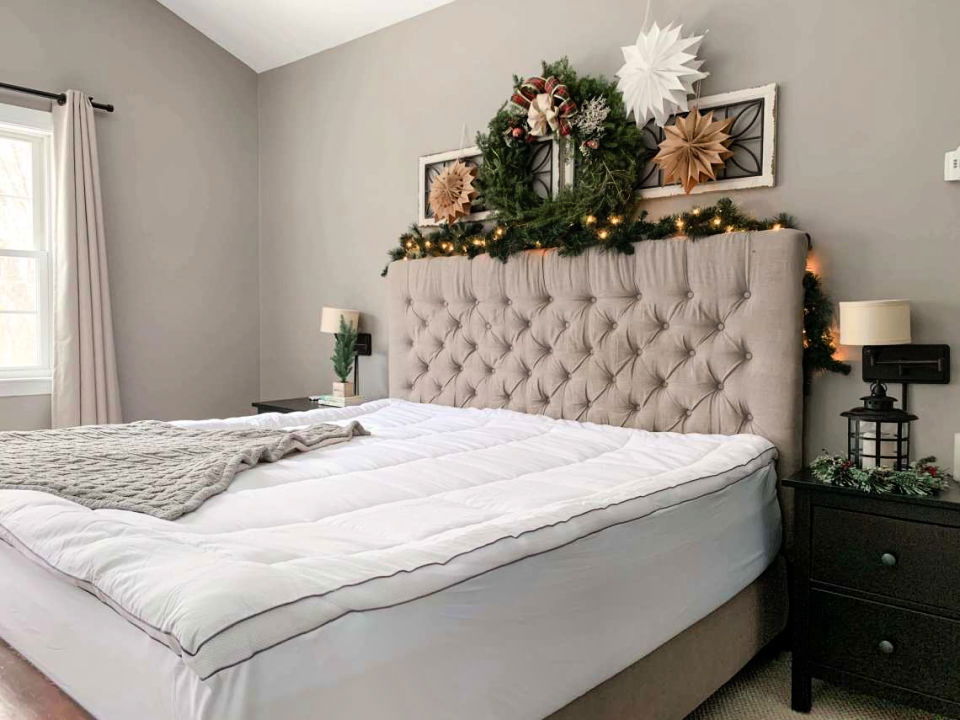 Your room is your ultimate comfort zone. It is where you go to relax at the end of the day, and perhaps it is the place you spend most of your leisure time. This DIY diamond tufted headboard will add more personalization to your room and will enhance its beauty for you, ultimately making you fall in love with this little space that is all yours! rockycanyon
Materials:
1/2″ plywood or MDF
2×2 board (for legs)
2″ foam
Spray adhesive
Batting
Fabric
Button cover and kit
Instructions:
Start with a piece of 1/2 inch thick plywood the same width as your mattress.
Add padding by placing 2-inch foam over the top of the plywood.
Using a marker, measure out and mark the spots for all of your diamond tufts.
Drill directly through the foam and through the wooden backing using a drill bit.
Now add fabric and tuft buttons using a long needle threaded with strong thread (upholstery.
Lastly, staple all edges of the fabric to the backside of your plywood board
15. DIY Vintage Shutter Head Board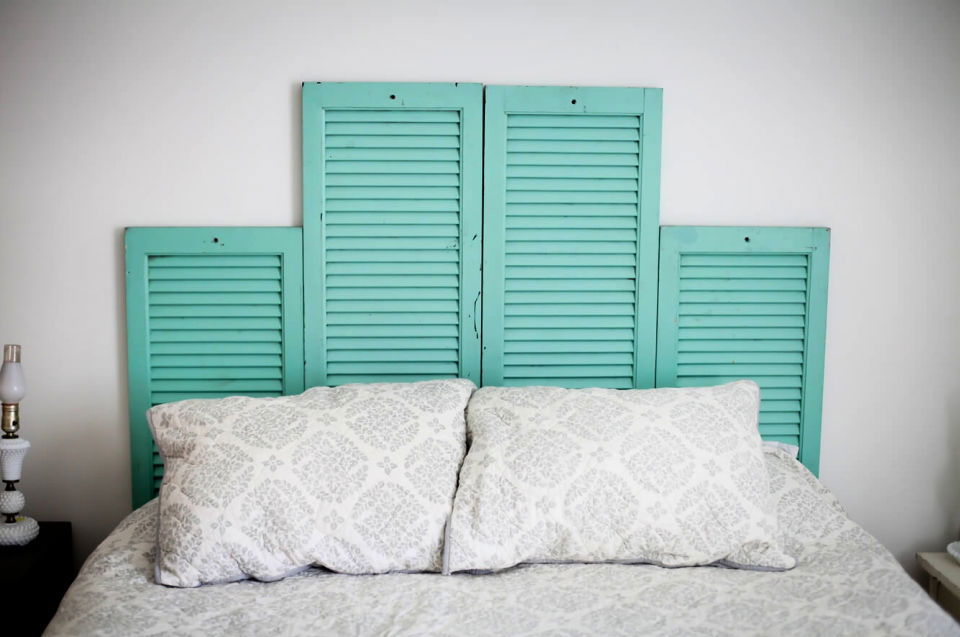 Have you been trying to get your hands on something fun, rustic and that would bring a pop of happening color to your cozy bedroom? We have got you covered. This DIY Vintage Shutter Head Board uses shutters and chalkboards. You can write absolutely anything you want on these chalkboards. So, let's get the ball rolling! samanthaeliz
Materials:
Shutters: Barn Wood Rustic Decorative Shutter Set of 2, Alpha Open Louver, White, 2-Pack,
Barnwood Rustic Window Shutters – 100% Up-cycled Reclaimed Wood,
Pinecroft Louvered Wood Shutters
Crackle Spray Paint
Sawtooth Hangers
Small Chalk Boards
Chalk
Chalk paint
Utility cleaning brush (scrub brush)
Paintbrush
Sanding sponge
Hammer
Screwdriver set
Instructions:
Firstly, start by looking or hunting for any old shutters available.
Now, clean those shutters by using disinfectant soap.
Put saw-tooth hangers at the back to make sure the shutters don't fall off.
Now, finish off the look by using chalk paint or crackle spray paint.
Finally, hang them behind the bed and on the wall.
16. Wingback Headboard With Free Pattern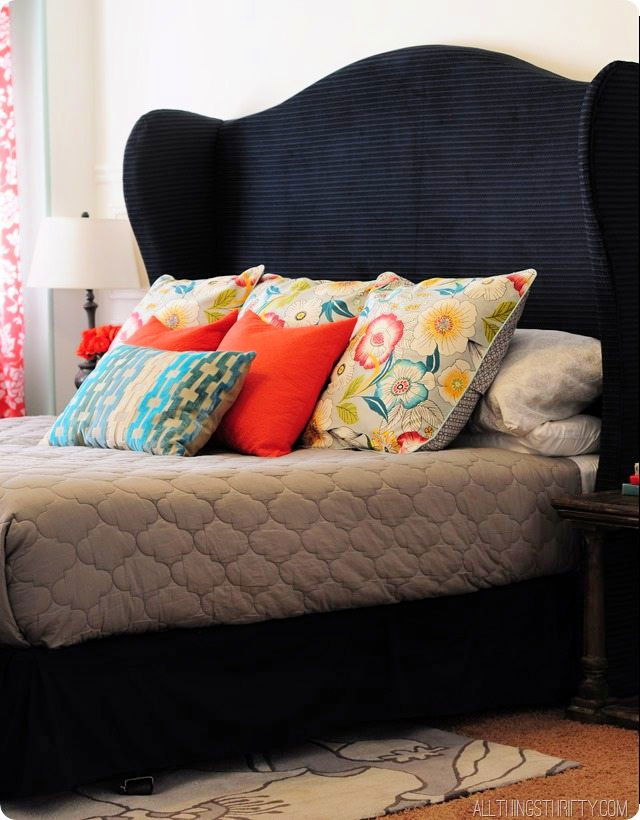 Once you start working on this wingback headboard, you'll find yourself obsessed with it! Once you have gotten your hands on all the supplies needed for this project, it will not take more than 24 hours or at max a weekend to make this freaking bomb dot com headboard. So, just collect your supplies, and let's dive in! allthingsthrifty
Materials:
78" x 48" sheet of plywood
Pencil
Jigsaw
220 grit sandpaper
Projector
Adhesive glue
Electric carving knife
Foam
Instructions:
Project the E pattern on a 78" X 48" sheet of plywood and trace it with a pencil. Cut it out with a jigsaw
Sand the edges of your plywood with 220 grit sandpaper. It goes much faster with an electric sander.
Glue together three outdoor foam pieces.
Then, glue the foam to the board by using spray adhesive. I sprayed the board and then placed it on top of the foam.
Make sure to cut the foam to the exact size of the board. A quick tip: If you use an electric carving knife, it cuts like butter.
Glue two more foam pieces to the wings. Upholster those bad boys.
After the three pieces are upholstered on the foam side, turn the wings over and staple piping along the outside edge. I bought the piping at the local fabric store.
Staple curve ease/ply grip to the inside edge of the piping.
Take your thumb and push the hardware down about halfway.
Use a flat-head screwdriver and push the fabric into the jaws of the ply grip, then push it down with your thumb.
After your fabric is pushed into the ply grip, use a rubber mallet to tighten it down.
Now, screw the wings to the middle piece with large L metal brackets.
Finally, staple the side fabric around the back and pull the fabric and staple it along the bottom also.
17. Minimalist Plywood Shelf Headboard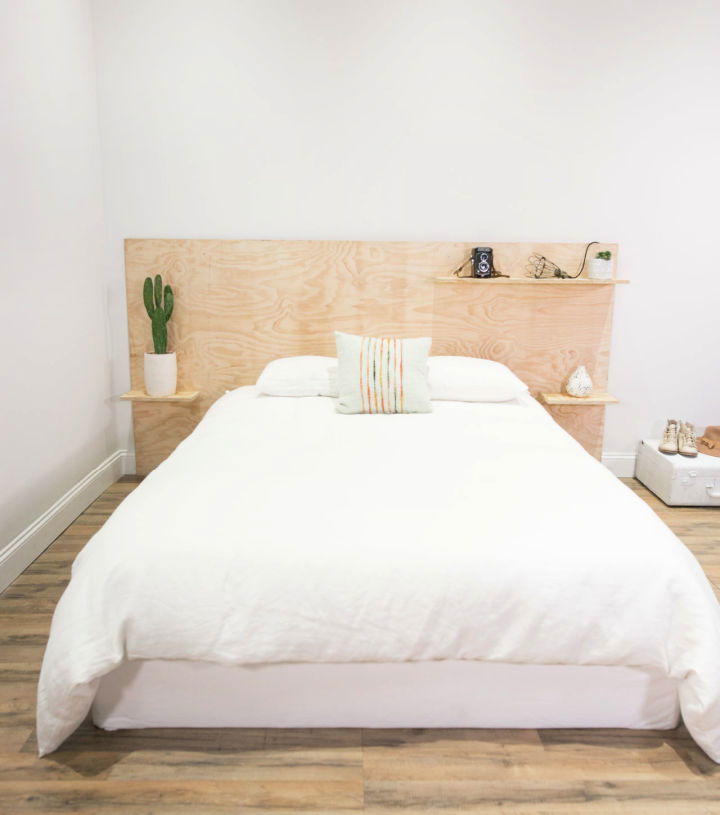 Simplicity has certainly its own attraction! Although the minimalist plywood shelf headboard is simplistic, it comes with a modern and unique touch, which definitely makes it stand out amidst a plethora of lush and ornamented headboards. Also, these simple and unique headboard ideas rely on natural wood to give an industrial design look. mrkate
Materials:
4'x8′ plywood board
3/4″ thick plywood board
Power saw
Structural wood screws
Power drill
Instructions:
Just use a smaller piece of plywood and measure the size of the shelves.
By using the power saw, cut the pieces.
Now, think of this step as a map-making one. Start by measuring 3 holes at equal distances.
Also, use these measurements for larger plywood pieces.
Finalize placement of your shelves by considering the position of the bed position and height!
Now, use structural wood screws for attaching the shelves, through the holes in the board and into the length of the shelves.
Finally, make sure that all of your screws are absolutely tight and in the right place. Now, prop your headboard up against the wall, and enjoy your new set up!
18. DIY Farmhouse Headboard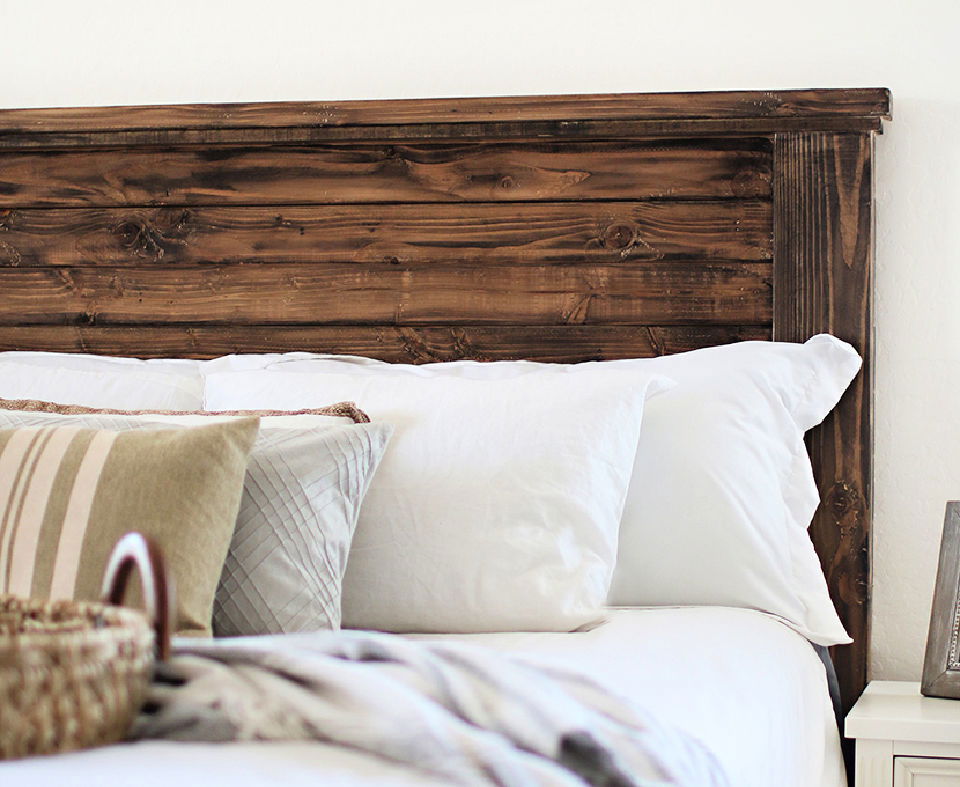 This DIY farmhouse headboard tutorial will help add a rustic, cozy, and nice vibe to your bedroom! A headboard like this one will certainly be perfect for a farmhouse or a barn house as it will match the vibe there! Furthermore, around $65 dollars and 6 hours are all you need to make this wooden headboard a success! Notably, it's a very simple design in comparison to other headboard ideas, so you can easily adjust the size. karalayne
Materials:
Wood:
8 – 2 x 4's – 75″ long
2 – 2 x 6's – 53.5″ long
1 – 2 x 4 – 77″ long
1 – 1 x 3 – 76″ long
2 – 2 x 4 – 19″ long to support the legs
Tools & materials list:
2 1/2″ screws
1 3/4″ screws
Drill but
Sandpaper
Electric sander
Wood filler
Putty knife
Wood stain
Scrap cloth
Sponge
Anchors
Instructions:
First, layout the pieces of your headboard on a flat surface.
Drill your 2 x 4's into the base.
Drill the 1 x 3 and then 2 x 4 into the top. In order to hide the screws, fill them with wood putty and sand them down until flawless.
On the bottom side of the headboard – add two 2 x 4 scraps of around 19″ – to provide better support.
Fill in the spaces between the planks using wood filler to make it look flawless.
Also, sand everything with a 60 grit sandpaper and then go over it with 100 grit sandpaper.
Now wipe everything down with a sponge to get rid of any dust.
Add light strokes of stain and remove any excess with a cloth to make sure that it doesn't end up looking too dark.
Lastly, use furniture anchors that can be found at a hardware store to attach the headboard.
19. DIY Metal Headboard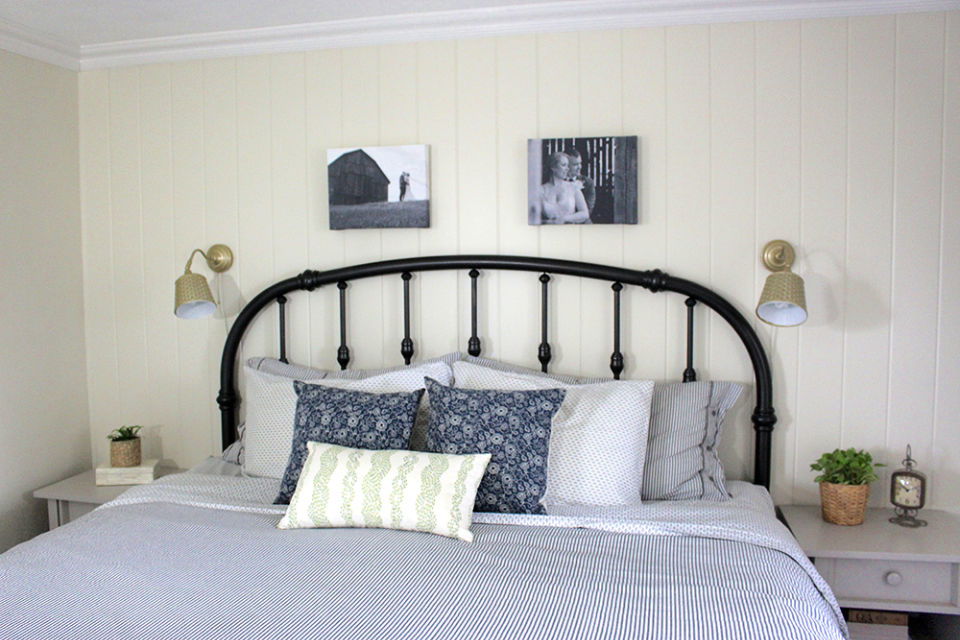 Here's a beautiful DIY wrought iron headboard for you to try out! Wrought iron has a really nice and vintage vibe to it – it certainly adds the perfect touch of retro to furniture! This original brass king-sized headboard was found for around $20! So, instead of spending a ton of money on store-bought expensive iron frames, just make your own by following this amazing guide! lifeatcloverhill
Materials:
Old headboard
Rustoleum Universal Metallic Paint
PVC pipe
black zip ties
Instructions:
Firstly, find an old inexpensive iron bed frame – the one in the project for around $20!
Place the iron bed frame on a cloth in an outdoor area.
Use the Rustoleum Universal Metallic Paint in ribbed bronze to give this bed frame a wrought iron effect!
Also wipe down the excess and then give it two light chats if oil rubbed bronze.
Once it's dry, use a PVC pipe and zip ties to fit the headboard perfectly on top of the bed – hide the pipes behind the bed.
Lastly, use a brown felt sticker on the backside of the headboard so prevent it from staining the wall.
20. The Ultimate DIY Panel Headboard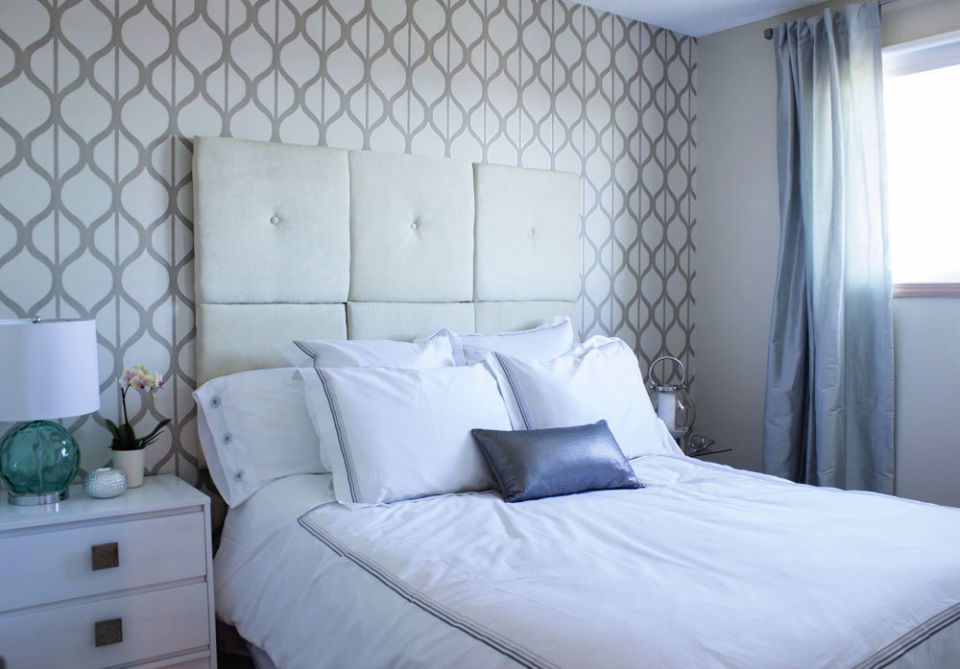 Are you looking for the ultimate guide on how you can get a new headboard without putting in much effort? Well, here's an amazing plan which will cover all three ideas – reupholstering an old headboard, building a panel headboard, or a DIY corner headboard! You can also choose the one that will be the most useful and functional for you! simplehome
Materials:
Wood:
6 – Plywood squares of 21″ x 21."
Tools:
Spray glue
repurposed stuffing
foam
fabric
staple
button kit
scrap fabric
drill
bent tufting needle
picture hooks
Instructions:
Firstly, make sure that you and your hardware to cut the plywood planks to the thinnest.
Start off by covering the plywood squares with repurposed stuffing and spray glue.
Now you can place foam and fabric on top of your plywood squares and work each side – from the middle to corners.
Use a button kit and scrap fabric to do the tufting.
So, drill one hole in the center of each panel board.
Also a bent tufting needle will be used to thread in the buttons – through the hole in the back and through the buttonhole.
Repeat the same process with dive boards.
Finally, attach the boards to the wall using picture hooks or a french cleat.
21. DIY Foam Headboard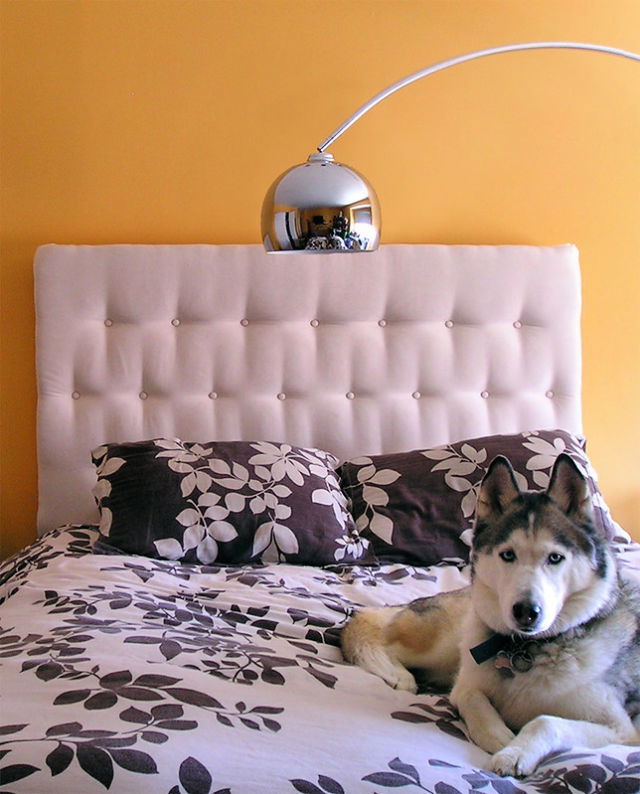 Tufted headboards are certainly just the cutest as you can easily fit them into almost any theme and style! Here's a minimalistic, simple, and feminine design for you to try out! So instead of getting one for around $400 from the market, you can just make one at home for much less! Also this whole project can be completed in one day and can be made for around $100! remodelaholic
Materials:
Wood:
1/2″ plywood
Tools:
Foam
polyester batting
upholstery fabric
thread
needle
cover button
scissors
spray adhesive.
Staple gun
tape measure
drill
hammer
rubber mallet
electric knife.
Instructions:
Look for inspiration so you can really make something that you like!
Now, measure the width of your bed – the headboard should be 1 to 2 inches larger than your mattress.
Then plan out exactly how many buttons you want.
Layout the plywood and spray one side with adhesive and use foam to take off excess.
Push the needle through the holes you foamed and make shallow cuts into the foam.
Also, spray the foam with adhesive and do the batting on one side, which the other is being pulled taut.
Flip the plywood and then foam and bag in the other side – a staple in place, as well.
After that, attach the fabric on top of the plywood and batting side, and then secure the fabric loosely with staples.
Now you can button the covering kit and then double thread through one of your pre-drilled holes from back to front.
Finally, tuft all of the holes and then secure the fabric in place.
22. Wooden Plank Headboard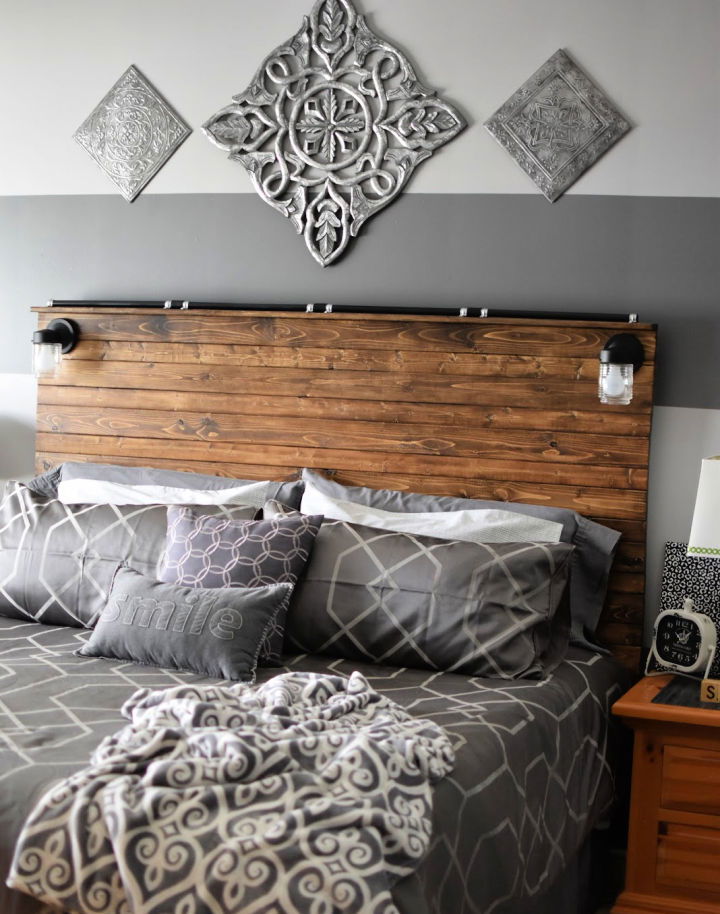 There is certainly nothing like a good quality wooden plank headboard! It just looks so luxurious, vintage, and beautiful! Here is a dark stained wood plank idea that you can try out! You can add legs to the headboard or just mount it onto the wall – that's up to you! This will turn out to look absolutely stunning and will go really well with the minimalistic decor. itsybitsypaper
Materials:
Wood:
1 x 3's boards
1 x 4's boards
Scrap wood
Tools:
Drill
wood screws
wood conditioner
Dark Walnut Wood Minwax Stain
Polyurethane
Ledge
plastic pipe
joints.
Galvanized clamps
black stain spray paint
studs
hooks
outdoor jelly jar lights
Instructions:
First, Drill pocket holes into the boards in 3 places – 2 in each end and 2 in the center of the boards.
Moreover, use scrap wood to make braces – make 10 braces and make sure they are about 14 inches long.
Now drill the headboard with basic wood screws, and then add the braces to make it sturdy.
Add 1 x 3-inch board across the top to make the pocket holes on both sides of the top plank.
Line up the back of the board with the ledge.
Now you can stain the headboard using Dark Walnut Wood Stain from Minwax! Do two coats and wipe off the excess.
Use polyurethane to seal everything together once the again is dry – this is going to make cleaning it a lot easier.
Incorporate any industrial elements into the headboard if you want – a lip ledge is attached in the plan.
Use the hook and eyebolt method to wall mount this amazing piece! Use studs and hooks – make sure that all of your studs are marked in place!
Lastly, add lights to the headboard to make it look beautiful.
23. DIY Cane Headboard IKEA Hack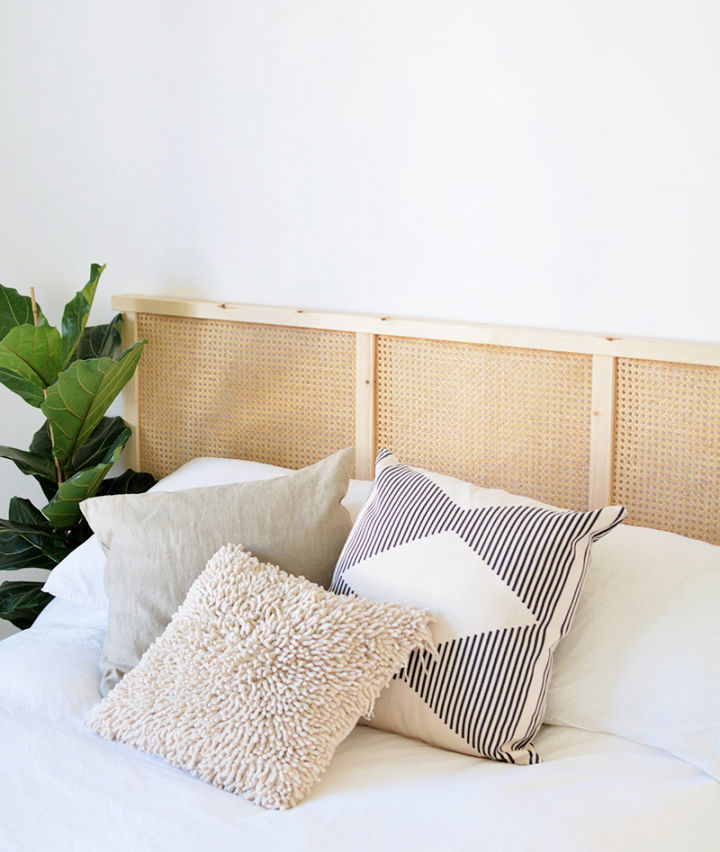 Are you into the latest bohemian and beachy vibes? Well, then here is the perfect Ikea back headboard for you! It has a very modern and minimalistic feel to it. The best part is that you can absolutely almost choose any neutral color to match it perfectly to your furniture. Furthermore, this is a very affordable plan in comparison to the big cane headboards found on the market. burkatron
Materials:
Cane webbing
Ikea avar panel
staple gun
hanging plates
hand saw
measuring square
and scissors
Instructions:
Start off by removing the end of the legs from the Ivar – like side has to longer, so don't cut both ends – use a pencil to cut off 2 1/4 inches off.
Use a handsaw to cut the line.
Now attach the cane webbing into the crossbars using a staple gun!
Firstly staple the ends and then staple the middle part as it will prevent any folds.
Shake along with the sidebars and tuck any extra webbing to make it look nice and level.
Also, cut off the excess cane webbing by using scissors.
Now, screw the hanging plates into the back ends of the headboard and just drill the headboard into the wall.
24. Reclaimed Wood Queen Size Headboard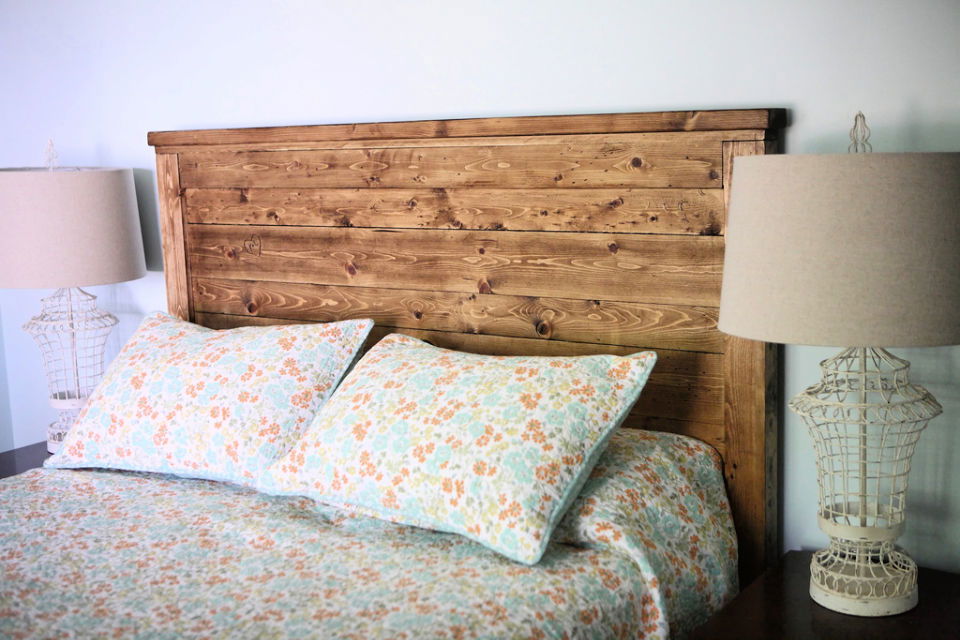 Reclaimed wood queen size headboard is an easy and fun DIY project to work on over the weekend! Most importantly, it will take you just a few hours and will totally transform your room, leaving it more beautiful than ever. It would literally cost you less than $50 to add this simple beauty to your bedroom! ana white
Wood
2 – 1×2 – 8' length
7 – 1×3 – 8' length
4 – 1×4 – 10' length
1 – 1×4 – 6' length
1×6 – 16' length (one)
1 – 2×4 – 8' or stud length
Tools:
1 ¼ inch finish nails
2-inch finish nails
wood glue
wood filler
sandpaper
tape measure
speed square
pencil
circular saw
brad nailer
sander
Instructions:
Work on a clean surface and make sure to use necessary safety precautions.
Measure and cut your boards to fit your piece, use to glue and check for square after each step
Begin by building the legs by fastening the 1×2 middle piece to the 1×3 front leg piece
To hide nail holes, fasten the 1×2 board into the backside of the 1×3 board.
Also, keep the outside edges flush.
Fasten the panel pieces starting from the top using 1 ¼ "nails and glue, check for square and hide holes accordingly
Moreover, use glue and 2″ nails to fasten the back of the legs in place, fasten to the panel pieces and the middle leg piece
Above all, trim the pieces to hide the holes both front and back
Also secure the sides using glue and 2″ nails all the way down and keep front edges flushed.
25. How to Make Padded Headboard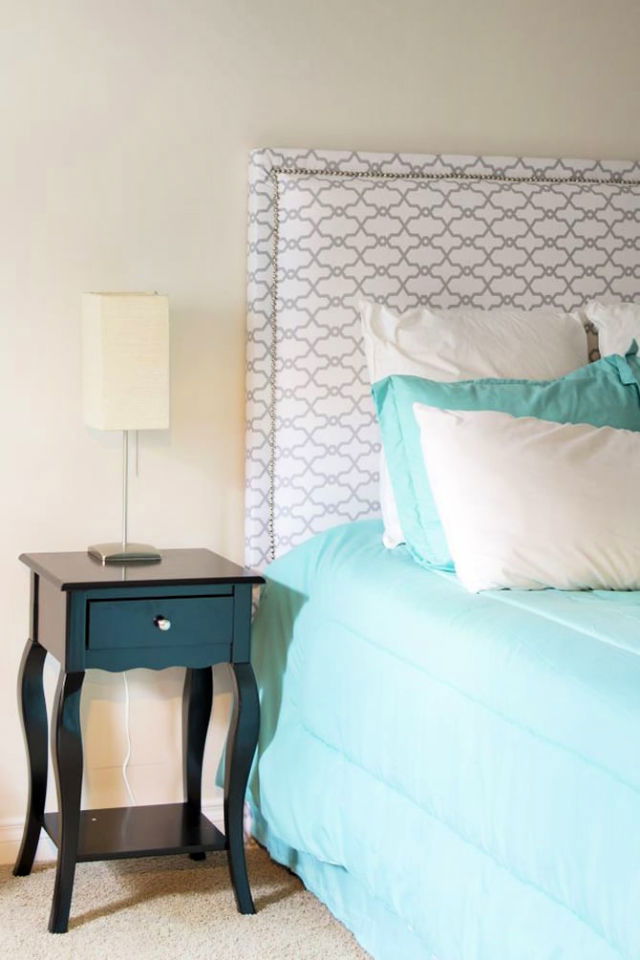 Here's how to make a padded headboard to flourish your rooms' look! This beautiful yet, simple-looking bed headboard will be a statement piece for your room, which will give it a whole new vibe. A fabric headboard is certainly a classy and exquisite addition to spark up any room. Go with pastels or bolds to perfectly enlighten your room. jennifermeyering
Materials:
7/16" plywood
3 – 2 x 4's
1 old memory foam mattress
twin size batting
1 ½ yards fabric
glue or spray adhesive
nailhead trim
#8 1 ½ inch wood screws
Tools:
stapler and staples
hammer
chop saw
Instructions:
Measure the height for the headboard and buy the cut plywood and 3 2 x 4's
Cut the wood with a chop saw according to how high the headboard will be
Attach the 2 x 4's to the back and top of the bed headboard with wood screws
Cut to fit and glue the old foam mattress pad and leave about a few inches from the edges.
Lay the batting over the mattress, so it hangs over and has enough space to go around the sides of the headboard
Likewise, layout the fabric over the batting and staple to the plywood while standing it up against the wall
Also, make sure it is tight, and trim the sides for a perfect finished look.
About 2 inches from the edge, begin nailing the trim edges head down in straight lines.
Finally, hang it to the wall and also attach it to the bed with bolts to ensure it does not fall over.
26. DIY Mirrored Headboard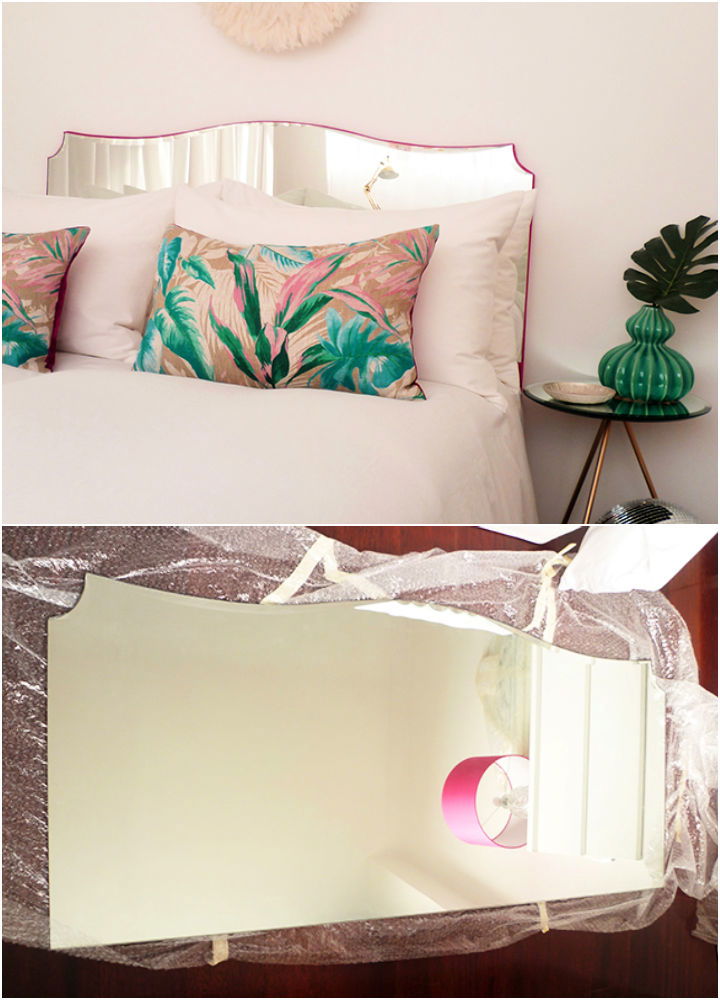 This DIY mirrored headboard is a unique and pretty addition to a girls' room! Above all, it is like a fairytale come true, which will add the loveliest look to your modern themed bedroom. Also, a tip is to use a wooden board to base your mirrored headboard for maximum strength. So enjoy waking up every day to the sight of your beautiful bed mirror! preciouslyme
Materials:
a recycled mirror
a wooden board
velvet fabric
Tools:
primer
jigsaw
mirror mate glue
nails
screws
clips
scissors
Instructions:
Put primer on the wooden board for better adhesion and let dry overnight
Draw the shape on the board while using your mirror as a template and cut the board accordingly with a jigsaw
Fix the mirror on the board with mirror mate glue, put some clips to hold in place and let dry overnight
Nail the wooden planks beneath and at either side of the mirror to add support
Drill six holes on the board for hanging onto the wall
Put the bright colored fabric to give the headboard a stylish look using a double-sided tape
Finally, screw the headboard onto the wall.
27. Wall Mounted Headboard DIY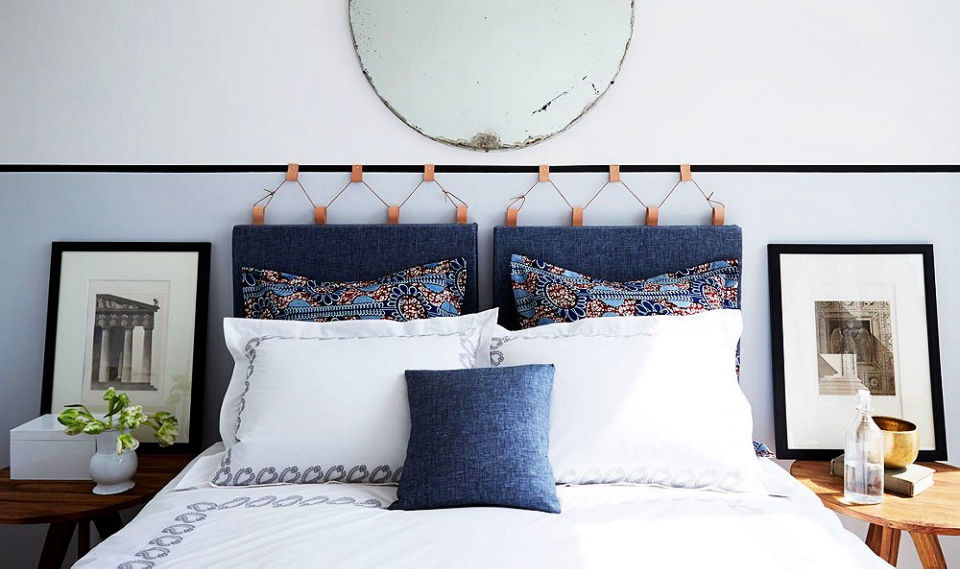 DIY wall mounted headboard project is a crafty fun project to work on for giving your room a classic new makeover. Go with your best-liked fabric shades and design your room to another level by adding this unique headboard. It will not take you more than a couple hours to be done! onekingslane
Materials:
2 pieces of 22" x 30" x 2" upholstery foam
2 yards of cotton fabric
4 22" and 4 30" wooden stretcher bars assembled to create tow 22" x 30" wooden frames
Tools:
staple gun
drill
screwdriver
screws and wall anchors
1" wood screws
2 yards of inch-wide belt leather
3 yards of leather cord
scissors
Instructions:
Lay one yard of fabric face down on the flat surface, create two frames by neatly locking your stretcher bars together
Then assemble into a piece of frame, center one of the cut foam pieces on the fabric, and top off with one of the assembled stretcher bar frames
Fold the fabric along each side, wrap it neatly around the foam and frame, and secure to the wood on the back with a staple gun.
Also, trim the excess fabric about one inch from the staples
Create 8 loops of 6″ lengths of leather to attach at the top of the headboard, 4 at each side. Fold in half and use a wood screw to attach to the back of the headboard.
Consequently, attach the loops to the wall by using pencil and tape measure to ensure the right placement, drill holes and screw directly through the leather into the wall
Most importantly, then hang the headboard cushion to the wall with a leather cord alternating between the loops and finish by giving a tight knot.
28. DIY Cushion Headboard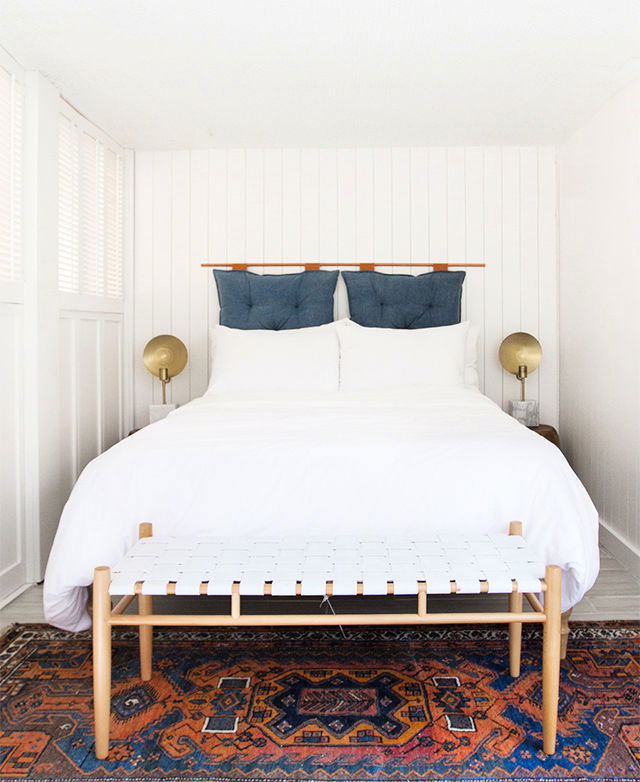 This DIY cushion headboard is an easy win-win project for you to work on! By just simply adding a few floor cushions as your headboard, your room will certainly get the cozy vibe that will attract you, even more, to lay down on your bed. Also, it will compliment your rooms' modern decor to the full! sarahsherman
Materials:
2-floor cushions
¾ 'copper pipe
Faux leather
Tools:
Needle and thread
Exacto knife
hammer
nails
tape measure
Instructions:
Cut 4 strips of 3.25′ x 7′ leather and fold into halves; hand stitch to sew the strap onto the edge of the cushion
Repeat the same step for the other side of the cushion and the second cushion
Loop the copper pole to the leather straps and secure to the wall by using small finish nails into the wall
After that, set your bed in your favorite-colored sheets, and it is ready!
29. DIY Wood Dowel Headboard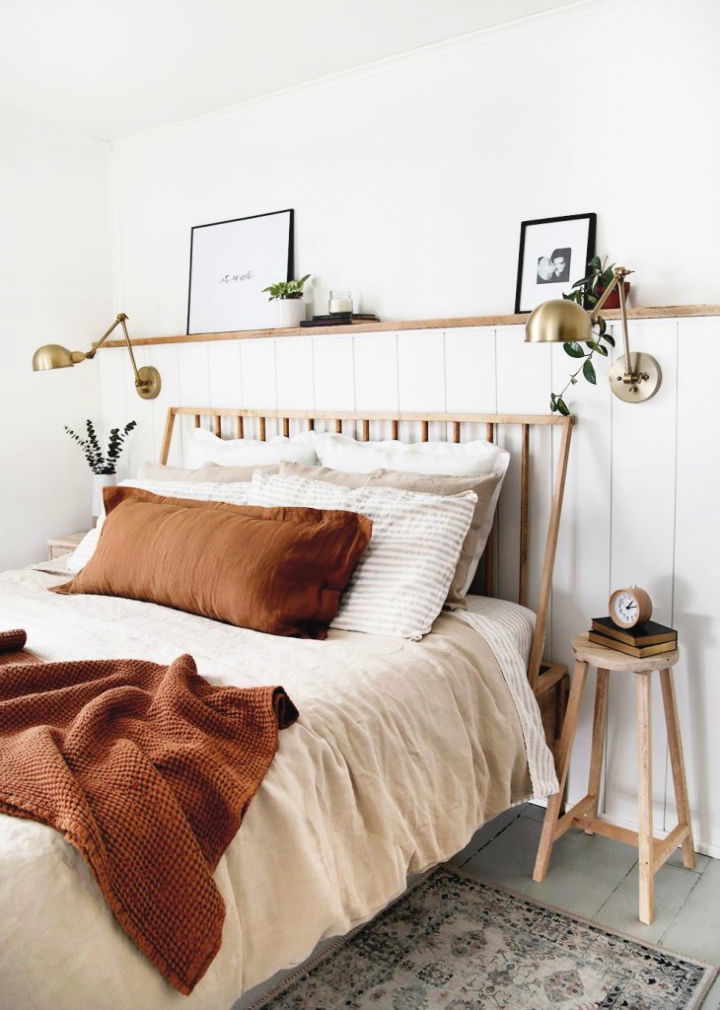 DIY wood dowel headboard is an easy yet, fun project to work on! This headboard will certainly add a rustic vintage feel, which will upgrade the overall look of your bedroom. Also, it will perfectly complement your rooms' simple modern decor as well. Moreover, this blend of classic and old-style will make you fall in love with your room all over again! themerrythought
Materials:
6 feet long maple wood board
¾" dowels
Tools:
Table saw
miter saw
power planer
square tool
drill
drill bits
screws
hardwood plugs
hammer
clamps
2 x 4's
small ruler
Instructions:
So, cut two pieces of the board 1 – ¼" wide by 72" long and clean up the saw marks with a power planer
Cut two 62″ long pieces from these two pieces for the width of the bed
Place the upper rail and bottom rail before installing dowels, glue and clamp short side rail pieces to the bottom rail
Set your angled end piece in position and mark holes to screw to the rails
Glue and screw these to the headboard and let dry
Put in the hardwood plugs, use the sander, and apply finishing
Finally, attach your headboard to the bed frame, and you are done!
30. DIY Floating Headboard From One Sheet of Plywood
DIY this floating headboard from just one sheet of plywood! This gorgeous piece will add just the modern look your room needs. You may also like to stain your headboard in any beautiful shade you desire or leave it to scrap for a rustic well-finished look. To sum up, this project is a fun yet, easy way to enhance your building skills! This is the simple project ever from all of the DIY headboard ideas.
Materials:
Plywood sheet
Tools:
Miter saw
jigsaw
drill
tape
clamps
sander
iron
screws
nails
Instructions:
Rip a portion of the plywood for cubbies
Now rip a piece for the struts and two for the cleats
Cut the cleats and struts to length and miter the edges
Lay the cubby pieces end to end and tape the seams
After that, glue the joints together and fasten the cubby cleats
Attach one cleat to the cubby and attach cubbies to the headboard
Moreover, apply edge bandings to the unfinished edges
Lastly, fasten the cleat to the wall and hang the headboard!
How do you make a wood plank headboard?
This rustic headboard can be made from reclaimed wood or new lumber. Cut the boards to size and screw them together. Add some trim for a finishing touch, then paint or stain the headboard to your liking. This project can be completed on the weekend.
How do you make an upholstered headboard?
Upholstering a headboard is a great way to add color and pattern to your bedroom Start by cutting out the shape of your headboard from plywood. Then, use batting and fabric to upholster the headboard stapling the fabric in place. Finish by trimming away excess fabric and attaching the headboard to the wall.
How to make a headboard out of pallets?
This headboard has a rustic yet modern look. Start by disassembling a pallet and cutting the boards to size to make it. Then, screw the boards together and finish by sanding and staining the headboard to your liking.
How do you make a headboard with lights?
This headboard is perfect for reading in bed. To make it:
Start by cutting out the design of your headboard from plywood.
Use batting and fabric to upholster the headboard, stapling the fabric.
Add LED lights to the headboard, stapling the wires in place.
Finish by trimming away any excess fabric and attaching the headboard to the wall.
How do you make a tufted headboard?
A tufted headboard adds a touch of luxury to any bedroom. To make one:
Start by cutting out the shape of your headboard from plywood.
Use batting and fabric to upholster the headboard, stapling the fabric in place.
Add buttons to the headboard and tuft them in place.
Finish by trimming away any excess fabric and attaching the headboard to the wall.
How do you make a simple headboard?
You might be little surprised to find that it's easier than you think. With a little creativity and some basic supplies, you can make a stylish and unique headboard.
Here are some homemade headboard ideas to get you started:
Use fabric to create a headboard that's both soft and stylish. You can use a quilt or even a large piece of fabric to create a one-of-a-kind headboard.
Get creative with paint. You can use stencils or freehand designs to build a truly unique headboard.
Incorporate lighting. Add some fairy lights or string lights to your headboard for a soft, romantic glow.
Use wallpaper. Create a headboard that's both stylish and unique by using wallpaper. You can even use wall decals to create a truly one-of-a-kind headboard.
With a little creativity, you can easily create a DIY headboard that's both stylish and unique, So get little creative and start thinking about what you can do to make your own headboard today.
How do you make a good headboard?
No one answers that question, as the best way to make a headboard depends on your specific style and needs; however, we can give you some general tips on how to make an amazing headboard.
First, consider what kind of headboard look you're going for. Do you want something rustic and chic? Or maybe you're aiming for a more modern aesthetic. Once you have a general idea of the style you're going for, you can start narrowing down your options.
If you're looking for a rustic headboard, try using reclaimed wood or an antique door. For a more modern look, use metal or mirrored panels. You can also get creative with upholstery, using anything from velvet to leather.
Once you've decided on the materials you want to use, it's time to get creative with the design. If you're crafty, you can DIY your headboard from scratch. Otherwise, there are plenty of great DIY headboard ideas online or in-home decor magazines that you can use for inspiration.
Whatever way you decide to go, remember that the headboard is one of the most important pieces of furniture in the bedroom. It's what makes the space feel complete and pulled together, So take your time, be creative, and have fun!
How can I make my bed look good without a headboard?
This is a common question for people looking for a way to update their bedroom without spending a lot of money. Luckily, plenty of DIY headboard ideas can help you achieve the look you want without breaking the bank.
One of the simplest decorative ways to make your bed look great is to add a headboard. Modern headboards can be expensive, but you can save a lot of money if you DIY them. There are plenty of cheap DIY headboard ideas that will help you achieve the look you want without spending a lot of money.
If you want a more rustic headboard look, consider using reclaimed wood. You can find reclaimed wood at most hardware stores or online Once you have the wood, you can stain it or simply paint it to match your bedroom decor. Consider using metal or PVC pipes if you want a more modern look. You can find all these at most hardware stores as well.
If you want to add some personality to your headboard, consider adding some fabric. You can either sew or glue fabric to the headboard. Consider stapling the fabric to the headboard if you want a more permanent solution.
We've shared plenty of inexpensive DIY headboard ideas to help you achieve the look you want without spending a lot of money. With a little creativity and effort, you can have a great headboard that will make your bed look great.
Is it OK to not have a headboard?
We say no! Having a headboard is a great way to add a personal touch to your bedroom, But what if you don't want to spend the money on a new headboard? Or maybe you're just looking for little more unique than what you can find in stores?
Well, never fear! We've just got you covered with this list of clever DIY headboard ideas.
What is the purpose of a headboard on a bed?
A headboard can serve many purposes. It can be purely decorative, it can be functional, or it can be both. A headboard can add a unique style to a bedroom, and it can also help make the bed more comfortable to sleep in. If you are looking for a way to add a little extra something to your bedroom decor, then you may want to consider making your own headboard.
There are many different ways that you can make a headboard. You can use old pieces of furniture. You can repurpose other items or start from scratch with some new materials. No matter what step you take, there are sure to be some amazing DIY headboard ideas that are perfect for you.
To help you find the perfect headboard idea for your bedroom, we have collected a list of some of the cool DIY headboards around. These headboard ideas come from all different styles and levels of difficulty, so you will find something perfect for your own bedroom.
What is a free-standing headboard?
A free-standing headboard is a great way to add both style and function to your bedroom. Not only do they just look fantastic, but they can also be a great way to improve the comfort of your bed. Here are many headboard ideas to make your own free-standing headboard, and the best way will depend on your own personal style and preferences.
Can you get a free-standing headboard?
One of the simplest ways to make a free-standing headboard is to simply purchase one that is already made. You can find these at many different retailers, and they will usually come in a variety of different styles and colors if you want something that is truly unique. However, you may want to consider making your own headboard.
There are a number of different ways that you can make your own DIY headboard.
One popular option is to use old doors or windows as the base for your headboard. You can. You can simply leave them as-is for a more rustic look. Either repaint these items to match the rest of your bedroom decor.
Another popular option for making a DIY headboard is to use old pieces of furniture. You can often find old dressers or nightstands at thrift stores or garage sales; Simply sand down the surface of these pieces and then paint or stain them to match the rest of your bedroom. Then, all you need to do is add a few cushions or pillows to the top of the dresser to create a comfortable and stylish headboard.
Creative and Unique DIY Headboard Ideas
If you are looking for something a bit more unique, you may want to consider making your own headboard out of cork tiles. Cork is a natural material that is both durable and attractive. You can find cork tiles at most home improvement stores, and they are relatively easy to install. Simply glue the tiles onto a piece of plywood or MDF and then cut them to fit the desired shape of your headboard. Once the tiles are in place, you can either leave them as-is or paint them to match the rest of your bedroom.
No matter what is the style of headboard you choose, be sure to measure the bed and the wall space before you begin. This will ensure that your headboard fits perfectly in its new home. Also, be sure to take into consideration the thickness of your mattress when choosing a headboard, as this can impact the decoration and overall look and feel of the headboard. With a little bit of planning and creativity, you can easily create a beautiful and unique DIY headboard that will transform your bedroom into a stylish and comfortable retreat.
Can I attach a headboard to any bed?
Most headboards can be attached to any bed frame with the help of some basic hardware, but it's always best to consult your bed's manufacturer first if you don't have a headboard or are looking for a unique option, our big list of DIY headboard ideas that can be adapted to almost any bed.
How do you convert a headboard to free-standing?
There are a few ways to make your headboard free-standing One way is to simply place it against the wall and secure it with large nails or screws. Another way is to build a frame around the headboard using wood or metal. You can also attach legs to the headboard, which will give it a more sturdy, free-standing appearance. Whichever method you choose, be sure to securely fasten the headboard so that it doesn't tip over or fall.
Can you put a bed in front of a window?
Yes, you can put a bed in front of a window. There are a few things to keep in mind when doing so.
However, First, you'll want to make sure that the bed is not too close to the window. You don't want your bed to be blocking the natural light from coming in.
Second, you'll want to make sure that the bed is not too close to the window so that you can still open and close the curtains or blinds.
Third, you'll want to make sure that the bed is not too close to the window so that you can still reach the window in case of an emergency. Fourth, you'll want to make sure that the bed is not too close to the window so that you can still get out of bed easily.
Lastly, you'll want to make sure that the bed is not too close to the window so that you can still have a view of the outside.
How do I keep my pillow from falling behind without a headboard?
If you're looking for a quick and easy solution to keep your pillow from falling behind your bed, consider making your own DIY headboard. With a little bit of creativity and some basic supplies, you can make a functional and stylish headboard.
Follow our list of cheap DIY headboard ideas that will help you keep your pillow in place.
What are beds without headboards called?
Unmade? Unkempt? Incomplete? No matter what you call them, they just don't look right Headboards serve many purposes; they provide a backrest for sitting up in bed reading or watching TV, and they help frame your bed and make it look more polished put-together. They can even add a bit of storage to your bedroom if you need it. Still, modern wood headboards can be expensive, and sometimes they just don't match the rest of your bedroom's style. That's where DIY headboards come in.
What is Bedboard?
A bed board is a piece of wood or other material placed at the head of a bed to support the pillows and mattress. Headboards are often used to create a focal point in the bedroom and can be crafted from a variety of materials, including wood, metal, upholstery, or even recycled materials.
How do you use a pillow as a headboard?
Looking for a unique and creative way to make your own headboard? Look no further than using a pillow! A pillow headboard is a great way to add some extra comfort and style to your bedroom. Plus, it's a relatively easy project that can be completed in just a few hours Here's how you can make your own pillow headboard:
Start by finding a pillow that you like the look and feel of. You can use a regular bed pillow or opt for a decorative pillow that matches your bedroom decor.
Measure the width of your bed and cut the pillowcase to fit. If you're using a decorative pillow, you may need to sew the edges to create a finished look.
Place the pillowcase over the pillow and position it against the headboard of your bed Use push pins or small nails to secure the fabric in place.
That's it! Your new pillow headboard is ready to use. Enjoy adding some extra comfort and style to your bedroom with this easy DIY project.
Should you put a headboard in front of a window?
Ideally, you should avoid placing a headboard in front of a window. This can block out natural light and make the room feel smaller. Instead, try to position the headboard against a wall or in a corner. If you absolutely must put the headboard in front of a window, be sure to leave some space between the window and the headboard so that natural light can still enter the room.
How do you secure a free-standing headboard to the wall?
You will need to use screws or nails to secure your headboard to the wall Use at least two screws or nails per foot, placed into studs whenever possible You can also use drywall anchors if necessary, predrill holes and use washers for the best results. Be sure to level your headboard before attaching it to the wall.
Do you have to attach the headboard to the bed frame?
Most headboards can be attached to a bed frame using screws or hooks, but some headboards are free-standing. You can also buy special headboard brackets that allow you to attach your headboard to the wall. If you're not sure how to attach your headboard, consult the instructions that came with it.
When attaching a headboard to a bed frame, it's important to use the correct type of screws or hooks. If you're not sure what type to use, consult the instructions that came with your headboard or bed frame; In general, you'll want to use screws rather than nails so that the headboard is more securely attached.
If you're attaching a headboard to the wall, you'll need to use special brackets. Headboard brackets are available at most hardware stores. Once you have the brackets, simply follow the instructions that come with them.
With a little bit of effort, you can easily attach a headboard to a bed frame or the wall. This will add both style and function to your bedroom.
How do you build a wall mounted headboard?
You will need:
1×4 lumber
Construction adhesive
Cordless drill
1-inch hole saw
Paint or wood stain
Polyurethane
Instructions:
Cut the 1×4 lumber into four equal pieces using a miter saw. These will be your headboard uprights.
Apply construction adhesive to the back of each upright and then position them on the wall to be evenly spaced. Use a level to make sure they're straight, and then let the adhesive set for at least an hour.
Once the adhesive has been set, drill pilot holes through the uprights and into the wall. Then, use the 1-inch hole saw to cut holes in the uprights for your headboard buttons.
Paint or stain the uprights as desired, and then apply a few coats of polyurethane to protect them. Let the polyurethane dry completely before proceeding to the next step.
Cut foam board or upholstery batting to fit the back of the headboard, and then staple it in place.
Finally, cut your fabric to size and staple it to the back of the headboard. Be sure to pull it taut so that there are no wrinkles or bumps.
That's it! You've now built a wall mounted headboard that is both stylish and functional.
If you're not up for the challenge of building your own headboard, you can always buy one that's already made. But where's the fun in that? DIY headboards are much more unique and personal, and they'll definitely make a statement in your bedroom. So go ahead and give a homemade headboard a try! You might just surprise yourself with how easy it is to build a headboard.
Bed with No Headboard Ideas
Want to update your bedroom without the headboard? A bed without a headboard can still look polished and put together. Plus, it can be a budget-friendly option if you're looking to save money on your bedroom makeover.
Here are 10 unique bed with no headboard ideas:
1. Hang a tapestry, scarf, or piece of fabric behind your bed as a headboard alternative.
2. Attach curtain rods to the wall and drape fabric or curtains from them.
3. Prop up a large mirror or piece of artwork against the wall behind your bed.
4. Install shelving above your bed and use it to display books, plants, or other objects.
5. Lean a ladder against the wall and drape a blanket or quilt over the rungs.
6. Hang string lights or fairy lights around or above your bed for a magical look.
7. Place a row of mirrors behind your bed for a glamorous headboard alternative.
8. Stack a few cinder blocks on top of each other and drape a piece of fabric or moss over them.
9. Install sconces on either side of your bed for a modern headboard look.
10. Get creative with wall decals and apply them directly to the wall behind your bed.
How to decorate a headboard?
One way to decorate a headboard is to add fabric. You can sew or glue fabric to the headboard. This can add color and pattern to the headboard. Another way to decorate a headboard is to add the trim. You can glue or sew trim around the edges of the headboard. This will add interest and detail to the headboard. You can also paint a headboard. So, you can use a brush or spray paint to add color to the headboard. You can also add stencils or decals to the headboard for added interest.
Conclusion
So, are you ready to give these DIY headboard ideas with step by step instructions a try? However, it's recommended to take note of a few things before you get started. Above all, if you're at an intermediate or advanced level, you might already know about these tips. Moreover, all the beginners should follow these tips! Firstly, you don't really need to buy all the tools in the plan – burrow the ones that you don't think are worth investing in! Secondly, you should also visit the best carpenter and hardware store to find the best discounts and low prices. Lastly, you're also free to add your own customizations – for instance change up the hardware, size, stain, etc. To conclude, we believe now you're ready to start building your own DIY headboards!