Need to make an affordable room partition? Make a DIY room divider to transform any space instantly into a cozy and visually appealing layout. Learn how to make room dividers with these 30 cheap DIY room divider ideas, including IKEA designs, temporary solutions, and wall partitions. With these creative and cheap room divider ideas, you can easily have a chic and functional room divider in your home or office.
From modern wooden room dividers and bifold door transformations to fabric screens and decorative folding shoji screens, our DIY room divider ideas offer stylish and practical solutions for dividing and organizing your living space. Many of these ideas feature step-by-step instructions and the necessary materials to start your project without any hassle. Besides providing privacy, these innovative partitions can enhance the aesthetics of your interiors, making them perfect for any living arrangement.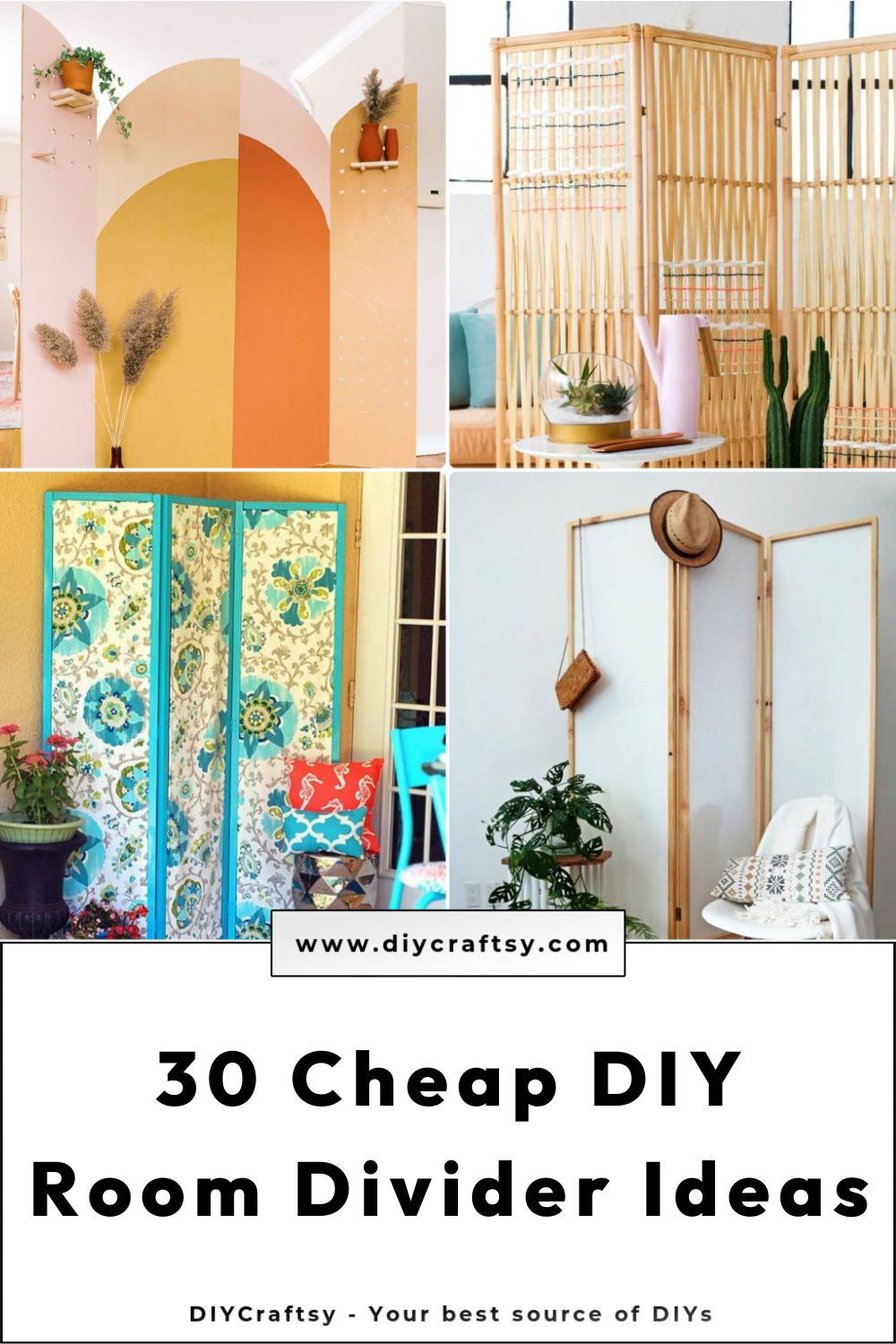 Explore our list of 30 easy and affordable DIY room divider ideas and discover the perfect design to revamp your space. With these creative and functional solutions, you can effortlessly transform your home or office into a haven of style and comfort. Begin your DIY room divider journey today and make a seamless, stylish, and functional space that perfectly complements your unique taste and lifestyle.
1. Modern DIY Wooden Room Divider
Refresh your living space with a modern DIY room divider! This transformative project brings new life to any ambiguous area in your home. An innovative solution to open floor plans, this divider brings structure while maintaining a light and airy ambiance.
Tools required include a saw, a pocket hole jig, a drill, and a sander. A thickness planer and table saw can fine-tune the slats for a more polished look. This uncomplicated project can be completed with minimal tools and is a creative interior design approach. Let this modern room divider redefine your space today! awesomeorange
2. How to Make Room Dividers
Unleash your creative spirit and redefine your living space with an exquisite DIY room divider, a bold idea inspired by the Hallmark Channel movie "Hearts of Winter." Make the most out of your space today with our easy-to-build and cheap room divider ideas.
This project demands basic supplies like a 24″ wide hollow closet door, self-adhesive wallpaper, paint, masking tape, hinges, lock casters, and tools like a power drill and screws. Crafted for fashion-forward individuals, this room divider will infuse your space with a unique and refreshing vibe while making an emphatic style statement.
The process involves painting the door edges, applying the wallpaper, connecting the doors using hinges, and finally, standing up your divider to bask in the charm it adds to your room. hallmarkchannel
3. How to Build Room Divider Using Bifold Doors
Relish a more private and appealing space in your home with this ingenious DIY folding screen room divider. This simple project can transform unsightly corners and lend an artistic touch to any room. This divider can be easily constructed from hollow core bifold doors, turning them into a light, portable folding screen.
To add a dash of creativity, these doors can be decorated with the contact paper of your choice. The best part is you can even switch patterns and colors.
This project is not just for aesthetics; it's a practical solution to hide less attractive features of your home, like exposed valves or electrical panels. With a razor blade knife, screwdriver, and smoothing tool, you can give a fresh look to any room, offering an easy and affordable alternative to major renovations. handymansdaughter
4. DIY Room Divider Closet
Upgrade your large bedroom space with this innovative DIY room divider closet, constructed using basic tools and accessible materials like plywood, paneling, and trim. This semi-permanent solution, featuring a chic facade and a concealed closet area, can enhance your room aesthetics while providing a practical storage solution.
By investing around $150 and following this detailed guide, you can build two closet towers and connect them with 2x4s. Adding a layer of paneling and some trim creates an attractive accent wall that can serve as a furniture backdrop.
What makes this closet truly appealing is its easy access and concealment, making it a perfect fit for those who prefer their wardrobes a bit messy. It's an ingenious addition to any room, especially those with peculiar spaces or slanted ceilings. Follow this free plan and accompanying video tutorial for detailed instructions. ana white
5. Make Your Own Woven Room Divider
Boost your interior decor with this captivating woven DIY room divider! Easy to assemble, this addition will enhance your home's aesthetics and serve as an efficient space partition. Crafted with a rattan divider, yarn of diverse colors, and optional textured yarn, the divider adds a unique touch to any room.
This project offers ample room for customization – you can explore various design patterns, shapes, and color combinations. An effective solution to keep a semblance of order during entertaining sessions or to conveniently conceal laundry when short on time.
This woven room divider is the perfect solution for those seeking innovative ways to revitalize their living space. Bring out your creativity and embrace the satisfaction of making a beautiful and practical piece of home decor. Make your room divider today, and feel the joy of a redefined living space. sugarandcloth
6. Handmade Wooden Pegboard Room Divider
Discover unique ways to divide your space with our inexpensive DIY room divider ideas. Make your multi-purpose backdrop with a DIY wooden pegboard room divider! This versatile divider is customizable and easy to move around, ideal for filming YouTube videos, Zoom meetings, or even as a unique feature at a wedding. The divider has arches for aesthetic appeal and pegs to hold items. It can be decorated to fit any season and repainted for a fresh look.
You can craft this divider at home using basic tools and materials like plywood, dowels, paint, pegboard, and hinges. Begin with planning the design, determining the size, drawing arches, and drilling holes. Then, assemble the panels and make shelves using dowels and a 1×4″ board.
The finishing touch involves painting with your preferred colors. This project offers a stylish backdrop for your needs and stimulates creativity, serving as a testament to the power of DIY innovation. Get started today and enjoy a beautiful, multi-purpose wooden pegboard room divider in your space. ifonlyapril
7. DIY Kitchen Wall Divider
Elevate the ambiance of your kitchen with a tasteful, custom room divider. Deriving inspiration from mid-century architecture, you can craft this elegant piece while facing the constraints of rental properties, such as avoiding wall drilling.
The simplicity of this project lies in its use of vertical and horizontal 2x1s, assembled with liquid nails and designed with a gap of approximately 1″ between each vertical slat.
Although this may be a time-consuming task requiring precision and patience, the outcome is well worth it – a budget-friendly, minimalistic divider that not only conceals appliances but also adds a sophisticated charm to your kitchen. Enjoy the satisfaction of a well-done DIY, resulting in a more inviting space for your guests and yourself. moreandmerrier
8. How to Build a Room Divider
Get a jumpstart on your office renovation project with a versatile DIY room divider. Infuse a unique touch into your workspace while maintaining boundaries between your work and play areas. This task requires easily accessible supplies like plywood, wood lumber, hinges, and paint.
A little glue, some nails, and a few handy tools like a drill and screwdriver will quickly prepare this room divider. Personalize the room divider by painting or decorating it in your favorite color or pattern.
This foldable and removable feature provides an easy way to manage space in your office, ensuring that your workspace stays separate from the children's play area. It's a stylish solution to keep toys from invading your workspace. With this room divider, your office will surely achieve an upgraded look while providing practicality. ohohdeco
9. DIY Wall Divider for Studio
Improve your studio space with an impressive DIY wall divider, perfect for adding a touch of loft vibes! By incorporating a large plexiglass sheet and wood, you can make a sizeable wall divider that not only sections your room but also complements the industrial aesthetic of your space. The process involves securing the plexiglass with wooden beams and plywood, then attaching it to the ceiling with taut wires.
To further blend with your studio's design, paint the wooden parts black for an overall industrial feel. This functional divider effectively contains sawdust and reduces noise during filming, making it an optimal solution for studios with limited room segmentation options.
Bring new life into your studio with this significant makeover, offering versatile filming backdrops and an innovative storage solution. Your studio will indeed be an inspiring hub for future creations! thesorrygirls
10. Folding Three-panel Room Divider Design
Discover how to make a stylish and functional room divider with this detailed DIY guide. Whether you're looking to separate your home office from your bedroom or add a touch of creativity to your space, this project is perfect for you.
Gather the necessary materials, including wooden panels, paint, fabric, saw, sewing machine, and more. With a few hours, you can build a sturdy frame, choose a fabric of your liking, and attach it seamlessly. Enhance the energy flow in your room and enjoy the benefits of a well-designed space. Get started on your unique room divider project today! decobymado
11. DIY Mid-Century Walnut Room Divider Ideas
Enhance your room's functionality and style with our cheap DIY room divider ideas. Introduce a stunning transformation to your living area with a homemade walnut room divider! This DIY project breathes life into a family and dining room, replacing a 60s iron rail with a warm and stylish wooden partition. Adding a new step makes the transition into your sunken family room intentional and chic.
This divider, crafted from hand-milled walnut posts, is durable and sturdy enough to withstand a lively household, proving to be more than just an aesthetic masterpiece.
Its natural color lends an authentic charm, making harmony with your existing decor. Dive into this transformative project and make this walnut room divider a delightful addition to your space! suburbanpop
12. Fabric Screen Divider Makeover
Learn how to make a unique DIY fabric screen divider that serves as a functional space separator and adds an artistic touch to your room. This room divider can be reinvented with creativity and basic materials like white fabric, acrylic paint, paint brushes, and a staple gun or hot glue.
The design is outlined on the fabric with a pencil, then filled in with various shades of paint, utilizing an Impressionist style to make the illusion of cherry blossoms. This strikingly beautiful screen divider infuses a personal touch into your living space.
This project is an exercise of creativity and an excellent way to repurpose an otherwise ordinary room divider. No expensive materials are required – just imagination and patience to bring this fabric screen divider to life. A rewarding endeavor, it will undoubtedly inspire compliments from guests while enhancing the ambiance of your room. bestfabricstore
13. Hanging Room Divider Plan
Heighten your living space with a DIY room divider screen that offers a stylish yet flexible solution to segregating areas within an open-plan layout. By employing creativity and easy-to-acquire materials, you can transform your living room and dining room into distinctive zones without losing the openness that unifies them.
With this project, prefab decorative panels serve as the centerpiece. When hung, these panels produce a visually arresting partition, contributing a dose of architectural flair to your interior. They are simple to set up and easy to remove should your style or needs change. So, if you're searching for a low-effort, high-impact project, this room divider screen could be your answer. rainonatinroof
14. Make Your Own Folding Screen
Upgrade your space with an alluring, DIY folding screen! This functional yet fashionable piece serves as a room divider, privacy shield, or aesthetic cover for storage areas. The project employs simple bi-fold doors, patterned wallpaper, and various tools – think screwdriver, foam brush, utility knife, and more.
After painting the doors, you'll apply your chosen wallpaper precisely and carefully. Adjustable leveling feet ensure the screen stands evenly, safeguarding your floors. Add personality and color to your space with this handcrafted folding screen, no need for a full room makeover! onekingslane
15. How to Make a Geometric Room Divider
Planning to revamp your living space? Check out these DIY room divider ideas. Enjoy the fusion of functionality and aesthetics with this incredible DIY geometric wood art room divider! Tailor-made for your space, this piece is a perfect addition to your home office or guest room. Crafted from premium wood, this geometric marvel can be built to your specific measurements, truly embodying the essence of DIY.
This project utilizes tools like an orbital sander, miter saw, corner clamps, and materials like wood boards, glue, painter's tape, and wood stain. Following the easy steps in the tutorial, you can effortlessly transform simple 1×2 wood boards into an impressive work of art that doubles as a room divider.
Dabble with angles and measurements, and push through the complexities to make a masterpiece that is not just a piece of wall art but a striking room divider that adds character to your space. danikoch
16. DIY Compression Shelf Room Divider
Maximize the functionality of your living space with a DIY compression shelf room divider that combines storage and style seamlessly. This divider has compression poles as its structural element and rustic shelves for storage and display of belongings – from antiques to plants.
A key highlight is the ability to place shelves at any height, catering to your needs. A cost-effective pine wood choice and multi-layer staining give this piece a rich, rustic look that blends easily with various home decor styles. Store and display items while partitioning your space with this ingenious solution.
Additionally, it can function as a workstation or an eating bar, adding another layer of versatility. Whether you organize, partition, or add an artistic touch to your living space, this compression shelf room divider proves an optimal choice. instructables
17. DIY Privacy Screen With Salvaged Closet Doors
Make an elegant DIY vintage-style privacy screen with salvaged closet doors to add a unique charm to your living space. This project repurposes three old closet doors and four vintage hinges found at a local salvage yard into an artistic privacy screen.
Begin thoroughly cleaning the doors and marking accurate hinge placement with a pencil. Following this, predrill holes for the screws and attach the hinges to the middle door. Stand the middle door up, align the outer doors, and mark the screws' placement, repeating the predrilling process.
The result is a bespoke, vintage privacy screen that offers practical functionality and acts as a statement piece, enhancing the aesthetic appeal of your interior. familyhandyman
18. Build Your Own Room Divider
Uplift your living space with a unique DIY room divider that's both functional and stylish. This project involves constructing a room divider from 2x2s lumber, cut to size, with each panel measuring 21 1/4″ x 75 1/4″. Using screws and angles, the frames are firmly pieced together, ensuring durability.
To add a touch of elegance, the frames are covered with quilt batting and Ikea Stockholm Blad curtains for a plush feel. Final touches include a brown satin ribbon edging with fabric glue or iron-on seam tape. Despite its simplicity, this handcrafted room divider exudes sophistication, transforming any room into a cozy nook. cuckoo4design
19. Free Macrame Room Divider Pattern
Get a great DIY macrame room divider that not only separates space with style but also allows ample light to filter through, elevating your interior decor game. With good-quality cotton rope and a wooden dowel, the art of macrame is not as daunting as it may seem.
This room divider offers a subtle bohemian charm while serving as a functional piece. It even doubles as a spot to add some greenery, like air plants.
Use this macrame divider in your studio, office, or any large room for a laid-back and welcoming vibe. Embrace the joy of DIY and add a personal flair to your living or working space today. abeautifulmess
20. DIY Multipurpose Wooden Partition
Refurbish your wardrobe with an aesthetic and sturdy backing using the DIY method! If you're tired of looking at the mundane backside of your IKEA wardrobe, this detailed guide is your perfect solution. Embarking on a quest to enhance the visuals and ensure safety, this post presents a cost-effective ($249) alternative to the phased-out IKEA Mandal headboard.
A detailed to-scale sketch, IKEA's Stolmen posts and brackets, Sultan Lade, wood, L-brackets, screws, bolts, nuts, and some common tools are all you need. Assemble the frame with specific instructions, hide screws for a clean look, and attach the panel to your wardrobe for an appealing, secure structure. Customize further to match your style! ladyexplorer
21. How to Make Folding Room Screen
Exalt your space's aesthetics and function with a bespoke DIY privacy screen. This versatile masterpiece functions as a buffer between outdoor spaces, diffuse sunlight, and indoor sectioning, conceals clutter, and even serves as an artistic headboard.
With a mix of materials such as removable wallpaper, hollow-core doors, and narrow brass hinges, we can quickly create your custom screen. The process involves securing the wallpaper on wooden panels and attaching the panels with hinges to make an accordion-fold effect.
Elevate your decor with a trendy privacy screen – add a personal touch by selecting your favorite wallpaper or painting the backside for a polished look. A cost-effective way to impress your guests! apartmenttherapy
22. Decorative Folding Screen With Bifold Door
Decorate your interior space with a vibrant DIY decorative folding screen, offering a versatile solution for adding style and functionality to any room. These screens are stylish and versatile. They can substitute for a headboard, fill empty corners, divide rooms, or provide privacy!
With three bi-fold doors, hinges, paint, and a bit of your time, you can craft a reversible screen that fits your decor and mood of the season. One side can be serene white, while the other brings in a pop of color, in this case, a joyful pink.
This easy-to-make, portable, and cost-effective project offers the perfect way to rejuvenate your living space, promising instant impact and a splash of creativity to any room. inmyownstyle
23. How to Build a Room Divider
Refresh your living space with a personalized DIY upholstered room divider. Using everyday materials like bifold doors, polyester batting, fabric, and ribbon, you can craft an elegant and functional piece that enhances your room and provides privacy.
Follow the simple steps to cut and attach your chosen fabric and batting to the door, using a staple gun for secure, clean edges. Add a dash of design flair by covering the staples with a chic ribbon trim or other adhesives.
Remember to join them using metal hinges if you're working with multiple doors. Voila! You've built a stylish and practical feature that breathes new life into your space. Make this elegant addition to your home decor today. kovifabrics
24. DIY Hanging Divider for Front Porch
Get inspired by these budget-friendly DIY room divider ideas. Enliven your living space with a handmade hanging divider, a decorative element that adds character and provides a sense of separation within your home. Crafted from a 2'x4′ piece of hardboard and wooden dowel rods, this hanging divider is a testament to DIY creativity.
Using simple tools like a table saw, drill, and paintbrush and assisted by materials such as s-hooks and chains, this project allows for limitless customization. Make a unique pattern using different shapes and colors or mixed materials for an outstanding result.
This hanging divider is versatile: use it outdoor with reinforcement, or indoors as decor sans extras. Elevate your home decor with this personal touch today! makingitlovely
25. Making a Cardboard Shoji Screen
Boost your living or study space with an elegant DIY cardboard Shoji screen room partition. It's an affordable, inventive solution, particularly for those on a budget, such as college students. Using readily available materials, including cardboard, onion-skin paper, and cable ties, you can make an attractive two-panel, 36″x18″ screen that is an effective room divider. The semi-transparent nature of the onion-skin paper diffuses light, generating a warm, inviting glow. You can breathe new life into discarded materials using a ruler, markers, pen, clear tape, and a box cutter. With the right tools, repurposing has never been so stylish and purposeful. instructables
26. Tropical Style Room Divider Tutorial
Get ready to recast your living space with a DIY tropical style room divider! This fun, quick, cost-effective project uses natural decor and air plants for a unique touch.
The necessary supplies include reed fencing, craft scissors, four 1 "x4" boards, a staple gun and staples, Gorilla glue, a chain, ceiling hooks, eye screws, U-links, wood screws, and a drill. Cut the reed fencing and boards to size, assemble an 8′ divider – perfect for privacy or decor.
Gorilla glue and staples' application ensures durability, while the chain and hooks provide easy installation. Enjoy this creative process and be inspired to start more DIY projects! veryirie
27. Moveable Room Divider Tutorial
Add versatility to your living space with a DIY movable room divider, an ingenious solution to customize open concept areas, make clear zones, and give privacy for online meetings. This portable partition adds an appealing aesthetic element, harmonizing with your home decor.
To undertake this project, you'll need essential tools like a drill, screws, paint, and the main material: wooden panels. You can assemble this moveable divider swiftly and efficiently with careful preparation and precise instructions.
Not only does this divider bring a unique touch to your home, but it also offers functional benefits, including easy repositioning and space management. Enjoy the process of making your movable room divider and reap the rewards of a more structured and stylish living environment.
28. DIY Foldable Japanese Divider
Enhance the look of your living space with a DIY Japanese foldable divider, an aesthetically pleasing yet practical solution that also serves as a unique Zoom background. With a little effort and creativity, you can turn simple materials like wooden sticks, rice paper, and hinges into a multifunctional divider.
This handcrafted folding partition adds a touch of Japanese-inspired interior design to your space, provides privacy, and defines areas in your room.
As a bonus, it can also double as a personalized backdrop for online meetings, making Zoom sessions more professional and appealing. Dive into this project and bring an artistic flair to your space today.
29. IKEA Room Divider Hack
Delve into this exciting DIY project that transforms an old dresser into an ingenious room divider, perfect for delineating bedroom closet space. Learn how to disassemble a dresser and reassemble it into a unique shelf unit that serves as a chic room divider.
Materials you'll need include the dresser you wish to upcycle and a trip to your local hardware store for essential tools and supplies. The process requires carpentry skills, including building, staining, and painting shelves.
Still, the result is a functional and aesthetically pleasing piece that elevates your bedroom decor. Furthermore, the project offers an excellent way to breathe new life into old furniture while adding a personalized touch to your living space.
This project is an opportunity to unleash your creativity and contribute to a more sustainable living by upcycling old furniture. So, grab your tools, and let's get started!
30. DIY Bling Wrap Room Divider
Transform your space with these creative DIY room divider ideas. Let's inject sparkle into your home with a DIY bling wrap room divider and accent curtain. This innovative project shows you how to transform ordinary materials into a dazzling conversation piece. Make a unique room divider with Bling Wrap, wood, a staple gun & silver spray paint. This functional division adds charm to your space.
The remaining Bling Wrap can be used to decorate your curtains, adding a glamorous touch to your home decor. This creative and budget-friendly idea turns everyday items into unique pieces, allowing you to display style and elegance without breaking the bank. Ready to make a glamorous statement in your home? Get started on this project today!
31. How to Divide a Room With Floor Mats
Reimagine your living space with a DIY room divider made from floor mats. This creative project allows you to transform your area with a floor-to-ceiling divider, offering privacy and style in a rental home. The process involves using readily available materials like IKEA floor covers for decking, silver spray paint, PVC lattice, and mirror reflective paper.
With just a simple angle cutter and a bit of creative flair, you can craft a unique and budget-friendly decor piece that adds a touch of sophistication to your space.
Beyond its aesthetic appeal, this project enables you to redefine your living area according to your needs and personal taste. So, gear up to craft a chic and elegant decor piece that enhances the overall presentation of your home without breaking the bank.
Budget-Friendly DIY Room Divider Ideas for Your Home
Making a DIY room divider wall is a perfect way to separate a room while still maintaining its visual appeal. If you're on a budget and want to use recycled materials, here are some creative ideas that can be completed within a day without advanced carpentry skills.
Bookcase Room Divider: Convert a bookcase into a beautiful room divider by adding fabric panels to the back of each shelf. You will need a bookcase, fabric panels, cotton batting, spray adhesive, and a staple gun to complete this project. Arrange your books and decorative items on each side of the bookcase to create a unique and stylish look.

Hanging Beaded Curtain Room Divider: Hang a beaded curtain from a curtain rod or ceiling-mounted track to create a beautiful partition. You will need beads, string, a curtain rod or track, and hooks to complete this project. Choose beads that match your room's color palette to optimize natural lighting.

DIY Macrame Room Divider: Create a macrame room divider using natural rope or recycled T-shirt yarn. To complete this project, you will need rope or T-shirt yarn, a dowel rod, scissors, and a tape measure. Macrame is a great way to add texture and visual interest to your space.

Pallet Wall Room Divider: Repurpose wooden pallets into a rustic room divider. To complete this project, you will need wooden pallets, a saw, sandpaper, screws, and a drill. Paint or stain the pallets to match your room's color palette.

Folding Screen Room Divider: Create a folding screen room divider using old shutters or bi-fold doors. To complete this project, you will need shutters or bi-fold doors, hinges, screws, and a drill. Painting or staining the shutters or doors to match your room's color palette is optional.

How to Save Money on Divider Wall Ideas
By following these step-by-step instructions and using the necessary tools and materials, you can easily make a DIY room divider that achieves your desired room separation goals, makes a unique and stylish look, or fulfills specific functional purposes. These cheap room divider ideas are perfect for those who want to save money and maximize their space's potential.
Conclusion:
In conclusion, these DIY room divider ideas offer an affordable and creative way to transform your living space while adding function and style. From modern wooden designs to upcycled bifold doors and woven screens, many cheap room divider ideas and techniques suit various skill levels and preferences.
Explore the vast array of diy room divider ideas, including fabric screens, macrame patterns, and multipurpose wooden partitions, to customize your space effortlessly. Embrace the challenge, and make a unique DIY room divider that reflects your personal taste.