Bullet journal ideas are a dime a dozen on the internet. But if you're looking for simple bullet journal ideas that are easy to implement, you've come to the right place. In this article, we'll share 50 unique and simple bullet journal ideas to help you get the most out of your bullet journal. From simple bullet journal layouts to bullet journal tracking pages, we've got you covered. So whether you're a bullet journal beginner or a seasoned pro, there's sure to be something here that inspires you. Learn things to track in the bullet journal and find bullet journal examples to get started!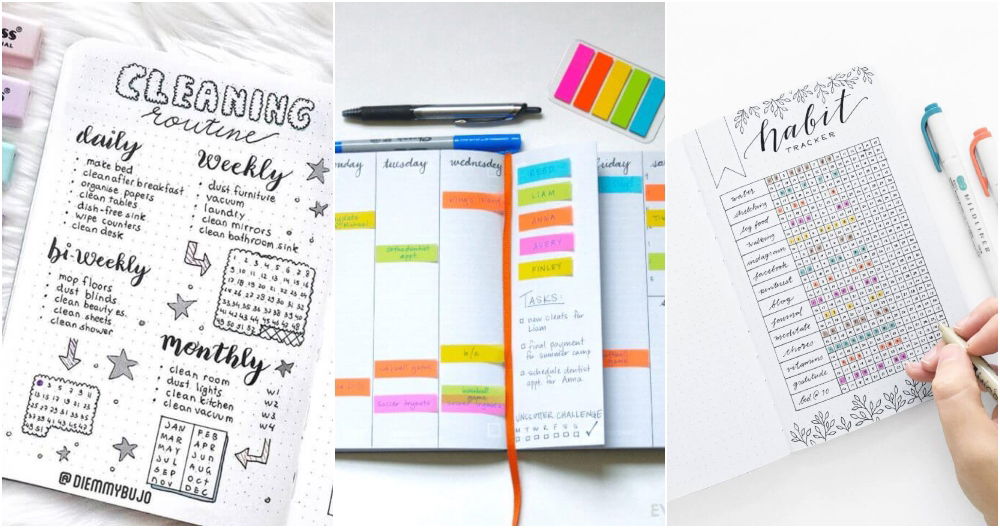 Simple Bullet Journal Ideas
Bullet journals are robust, flexible, and adaptable to any life situation. These easy bullet journal ideas will help you stay organized and on top of your goals this year. If you are a newbie with bullet journals, also known as Bujo, you might be confused as to what it actually means or refers to! To keep it simple and understandable, a bullet journal is a record-keeping journal or collection of data on any related topic!
Are you looking for some fun ideas to add to your bullet journal? We have shared below some amazing and totally fun, perfectly decluttering, and best 50 bullet journal ideas! Each of them comes with detailed explanations, and you can quite easily nail the art of keeping a bullet journal! But before moving any further with the bullet journal ideas, let us take you through some basic steps for a bullet journal setup. Let's make you familiar with the things and words of the Bullet Journal realm!
Bullet Journal Key
A bullet journal key makes things easier to understand and keep track of! These are not some secret signs or magical symbols, but merely simple indicators to keep track of your goals, to-do lists, wish list, and everything else! Created by Ryder Carroll, the key ingredient for rapid logging in your bullet journal is the Bullet journal key! Keep information concise and use more visual demonstration. The fun part is you can develop your optimized bullet journal key.
Bullet Journal Index
A bullet journal index is the same thing as the contents of a book. You write down the things your bullet journal includes and where you can find that certain topic. But, a bullet journal index doesn't have to be in chronological order! Like, if you run a blog and you need to keep track of brain dumping any ideas all day. You can index the Brain Dumping part as;
Brain Dump: 10,15,17
If you are using a dot-grid journal, you can find a printed index page already, but you can always do it manually too!
Bullet Journal Future Log
We are sure everybody likes to have at least some control or idea for their future planning! A bullet journal future log is the first and most important thing you need to include in your bullet journal layout! It is actually just a calendar spread to add relevant things for the coming year. Like birthdays, important appointments, wedding dates, etc. Usually, the future log is kept in the first pages, so when you quickly want to see the plans, goals, or success so far, it's right there! Plus, the future log's layout depends on you entirely!
You can have 3 months per page future log, or a whole calendar spread on one page. Another important thing, if you are just entering the world of bullet journal keeping, you don't have to wait for next year to start your future log! For instance, you are starting in September, you can set your future log from October.
Bullet Journal Monthly Spreads
Now, let's make it, even more, easier and decluttered! A bullet journal monthly spread is now you set your monthly goals, tasks, or plans. It is usually set using 2 pages! On one page, you can mention the tasks, to-do lists, and maybe any special events or dates. On the 2nd page, you can keep yourself inspired and motivated by jotting down plans or goals and mainly Focus for the coming month!
For instance, you have been delaying weight loss or maintenance for a long time, but mention it in your monthly spread and walk with us to see how we can actually make it happen! Another fun part with monthly spreads is that you can theme the months like Fall, Halloween, Christmas, anything to brighten up things even more.
Bullet Journal Weekly Spreads
Remember how, in the monthly spread, you added the weight loss goal to your bullet journal! In the weekly spread, now you can actually make that whole idea break down into little and achievable goals. See how! But, first, let's clear one thing, in the realm of Bullet journal, the terms weekly and daily are used quite interchangeably! The only difference in them is the layout of the spread. In the weekly spread, you can make boxes for like the whole week in one or two pages, whereas, in a daily spread, you can only one page is used with the entire focus on that one day!
Now, let's go back and explain our "weight loss" goal!
For instance, in a weekly journal spread, not to make things too intimidating, you can start off say the first week of October to search for gyms around the area. In the second week, you can add leaving soda for the whole next 2 weeks or one week. Moving to the third week, you can add taking trail classes at the gym and so on and so forth! In just a quick glimpse, over your week, at the end of the week, you will feel more delighted that you have been doing something about it all this time! Slowly but on it.
Bullet Journal Daily Spreads
Now, it all comes down to the bullet journal daily spreads! If you have more time on your hands or you are a beginner at journaling, enter the bullet journal daily spreads! Here you can easily write down your tasks, goals, plans, or record important ideas. For rapid logging, let us share with you these simple must-haves for a daily spread:
The date
Tasks that are due that day
Your important meetings, assignments, appointments, etc.,
Any goals you want to assign to yourself, like water intake, etc.,
An empty space for any other ideas or notes
There are just so many things that you can add to a daily spread, but it all really comes down to a person's personal choices! However, we have added quite many great bullet journal examples for daily spreads below. Just know one thing though, it is not a hard and fast rule or a science. It is an ever-evolving and changing process.
Bullet Journal Collections
Now, that we shared with you the main key points and things you need to know for keeping a bullet journal! We have gathered below some amazing bullet journal examples, some classic bullet journal pages' ideas for yearly, monthly, weekly, or even daily spread! Bullet journal collection is just a collection of your ideas related to each other, and these are all grouped together. Every log and each entry that you record, is basically your bullet journal collection. To name a few bullet journal collections ideas or examples, there are;
Productivity bullet journals (tasks, to-do lists, assignments, exams preps, job searches, etc.)
Mental, emotional and physical health bullet journal pages' ideas (weight trackers, mood tracker, sleep diary, workout routine, self-care ideas, doodle spreads, etc.,)
Personal care and growth bujo pages (future log, wish list, travel bucket, brain dump, health tracker, brain dump, skills to learn
A household bullet journal (grocery list, home décor redo, etc.)
Family life and important events bullet journal (family meal planner, shopping lists, kid's routine, etc.)
Favorite interests or inspirations bullet journal (movies to watch, books to read, etc.)
A financial bullet journal (budget tracker, expenses tracker, savings tracker, etc.)
A travel bullet journal (travel plans, travel wishes, travel take homes, etc.)
Bullet Journal Supplies
Here come some bullet journal supplies ideas that can make journaling quite fun for you! If you are looking for fun and useful supplies to keep your bullet journaling fun and sensational, you will need these basic supplies;
Notebooks
You can use any blank paper, dot grid paper, or lined paper notebook. With spirals, hardcover, or a journal specifically made for journal purposes. To name the most famous ones, there is Rhodia Bullet journal dotted notebook, Scribbles That Matter, and Leuchtturm1917.
Colored markers
If you would like to keep your bullet journal creative with doodles and art, you can add a few markers to your supplies. Including highlighters and brush pens too. One of the best is erasable Pilot Frixion colors and Crayola markers.
Pens
Using colored pens is always a plus point when you are writing your journal, it helps you have a quick glance at the information later. There are Paper mater inkjet gel pens, Sacura Pigma Micron fine liners, etc.,
Bullet journal supplies storage case
Other accessories
Some other bullet journal accessories include a ruler, washi tape, binder clips, whiteout, cute stickers for journals. You may also call them some quick on hand bullet journal embellishments.
Bullet Journal Ideas
Now that you have got some idea about what is a bullet journal, and how to start a bullet a bullet journal. Let's move on to our bullet journal examples, bullet journal pages' ideas, and different and exciting bullet journal layouts below. You may even find some inspirational bullet journal pintables, as well.
1. Weekly Layout & Template Bullet Journal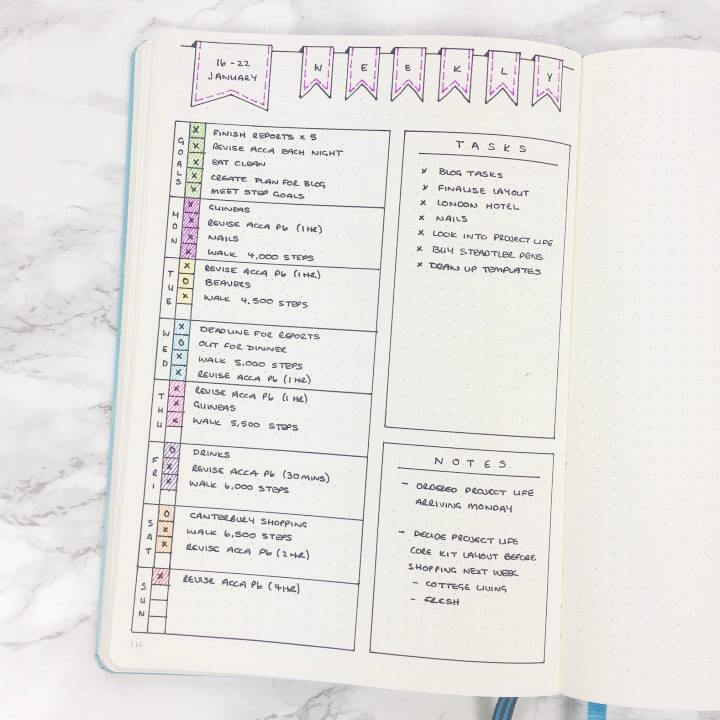 Organizing your routine to manage your days effectively is the key to a happy life! Kate Louise has got the best weekly planner to share with us that can make our days much easier! You can get a quick review over your week and adjust the to-do lists accordingly to save yourself the last moment hustle. katelouise
2. Perfect Bullet Journal Key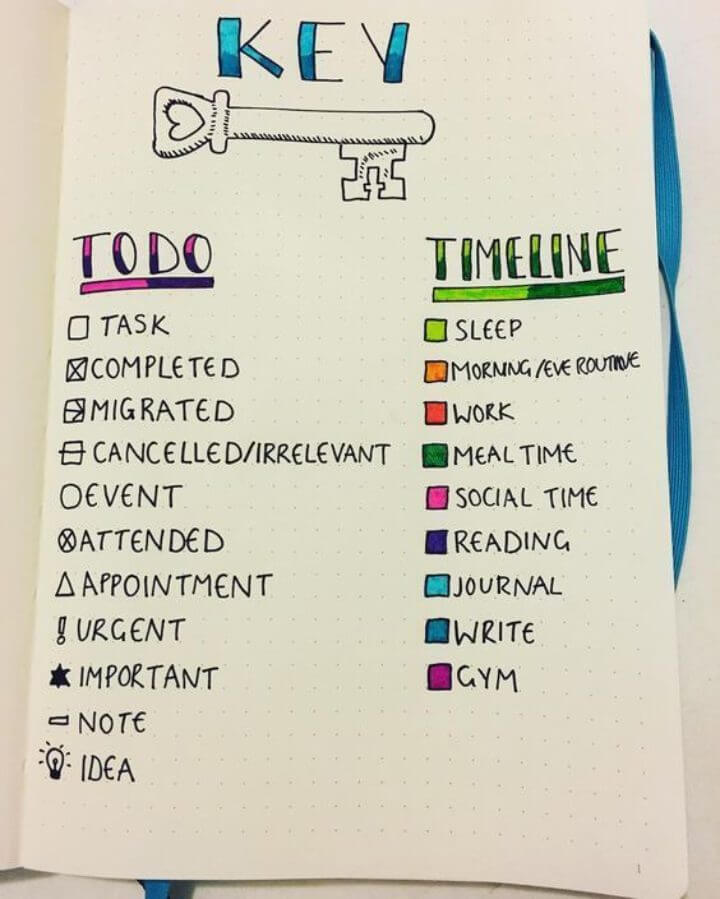 Check out this perfect bullet journal key for you to keep a close check on your healthy and happily manageable life! Just having a bullet journal or planner is not enough, sometimes things might get jumbled up! Remedy that with this imperative bullet journal key. You can keep it simple using colors or symbols to indicate the status of the task in a quick glance. zenofplanning
3. Lessons Learned in 6 Months – Bullet Journal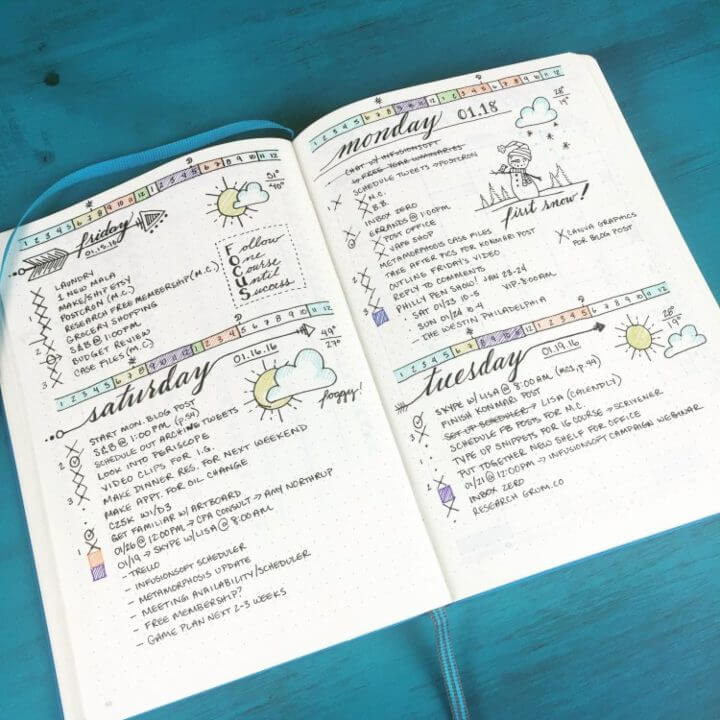 Now, this is a beautiful example to keep yourself spiritually, emotionally, physically, and mentally healthy and happy! Almost every day, we are learning new and valuable lessons in our lives. The key is to remember those learned lessons and make your life more heavenly! Develop a system for your life and get inspired by this 6 months' lessons learned by bohoberry. bohoberry
4. Simple Bullet Journal Daily Layout
If you are looking for a super simple and just jotting things down kind of journal, check out this uber promising bullet journal by Rebecca. As sometimes, the detailed spreads could be really overwhelming for some people, and you might end up getting intimidated! For those fellows, this sweet and simple bullet journal is here for the rescue. homeschoolon
5. Make Your Own Creative Bullet Journal
This creative bullet journal is #goals for our creative fellas! Along with keeping track of your habits, goals, and success or project status. Keeping your random creative thoughts, ideas, characters, and story twist are also fun and important! You can totally make that happen with this super cool creative bullet journal. littlecoffeefox
6. Bullet Journal Weekly Spread for Busy Moms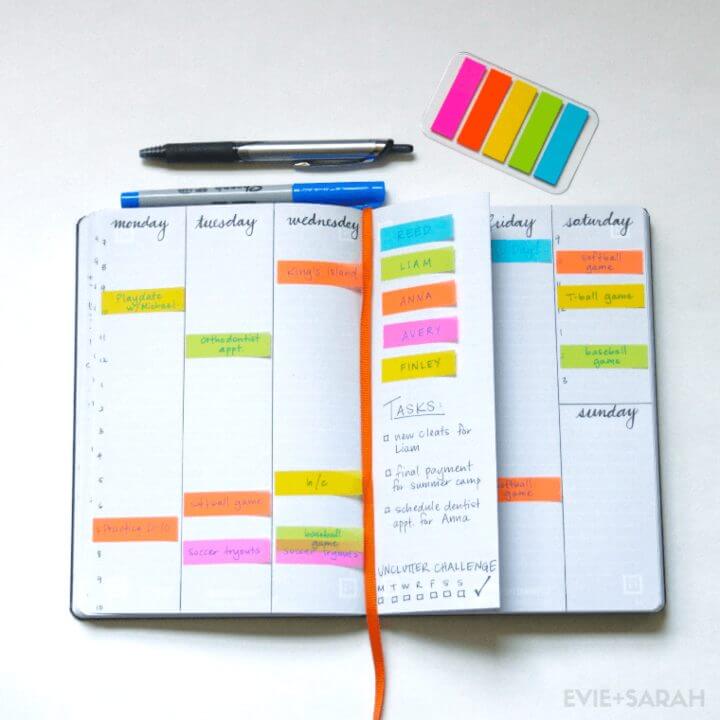 Bringing a kid up is a full-time job itself! And you need one entirely separate journal for that to keep track of all the music class days, the doctor's appointment, bake sale day, play dates and etc., etc., This journal spread will not only help you keep track of all these things but it will also make it quite easier for you to manage your family's weekly schedule and routine. evieandsarah
7. 100 Things to Put in Your Bullet Journal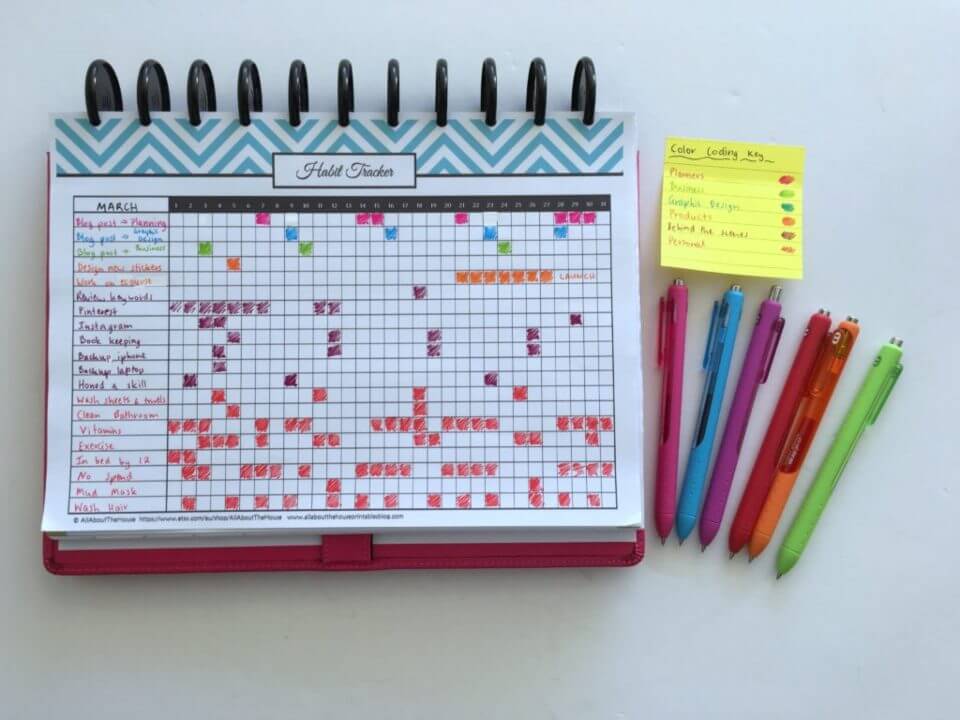 Using multiple pages over and over again for keeping track of the same habits is quite a time-taking and to be honest page wasting kind of thing! You can easily make a habit tracker for over 100 days and keep track of things there and then instead of jotting down the same things. Grab this project workflow template and make your life as easier as it could get. allaboutplanners
8. Create Weekly Spreads in Your Bullet Journal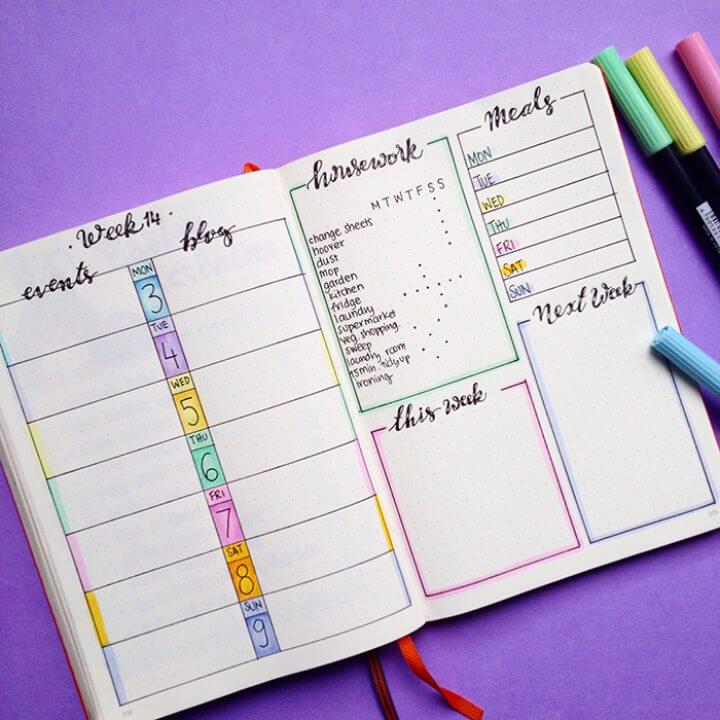 Manage the page wisely and have a quick glimpse of your week without going through multiple pages! By any chance, if you are a fan of weekly spreads, you are going to adore this one! It almost covers all the important things from events, meals, work schedules, things to do, and also adds an extra space to give a heads up about the next week's tasks or things! squarelimede
9. Free Printable Daily Habit Tracker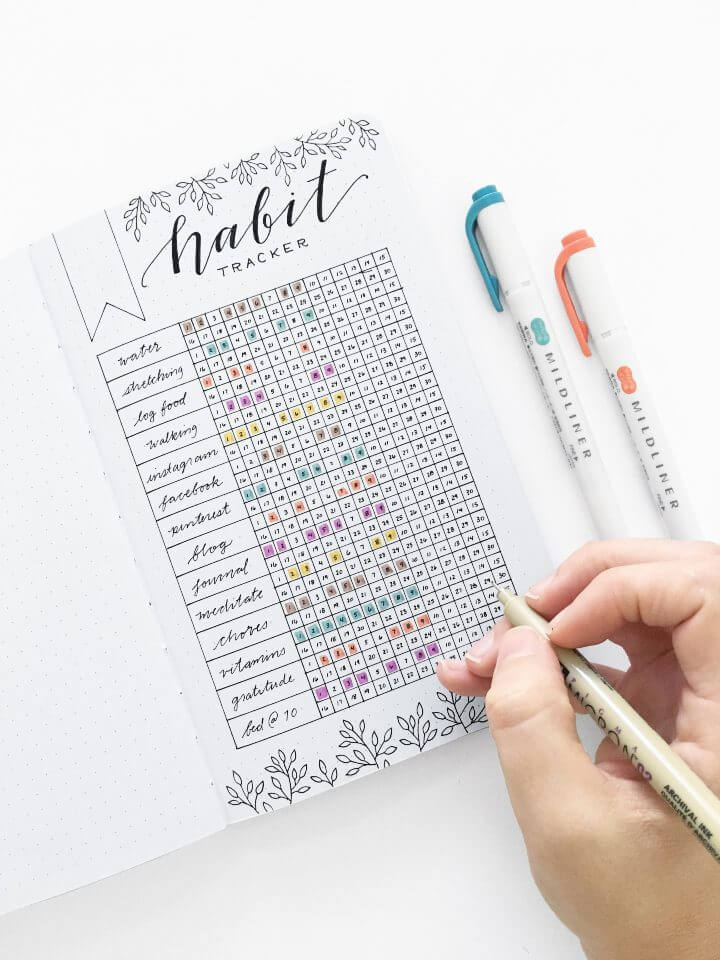 This daily habit tracker is nothing less than Love or a darling way to remind you to be the best version of yourself! If you have or you wish to add these amazing habits to your days like meditation, blogging, exercise, water check, or more, you can grab a printable copy of this here! Add more meaning to your days and make each day a better version of yourself! archerandolive
10. Travel Bullet Journal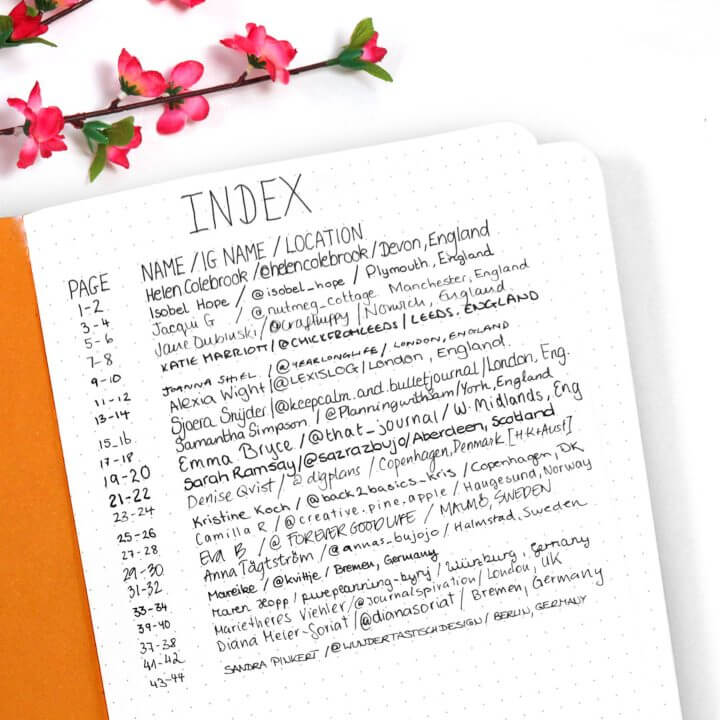 This travel bullet journal is a beautiful way to keep a close check on your routine while you are traveling, make sure you got to your dream destinations. And to keep track of the friends you made on your way, or you have been waiting to meet all along! This one is going to be a beautiful speaking travel blog in itself. wundertastisch
11. Bullet Journal Self-care Spreads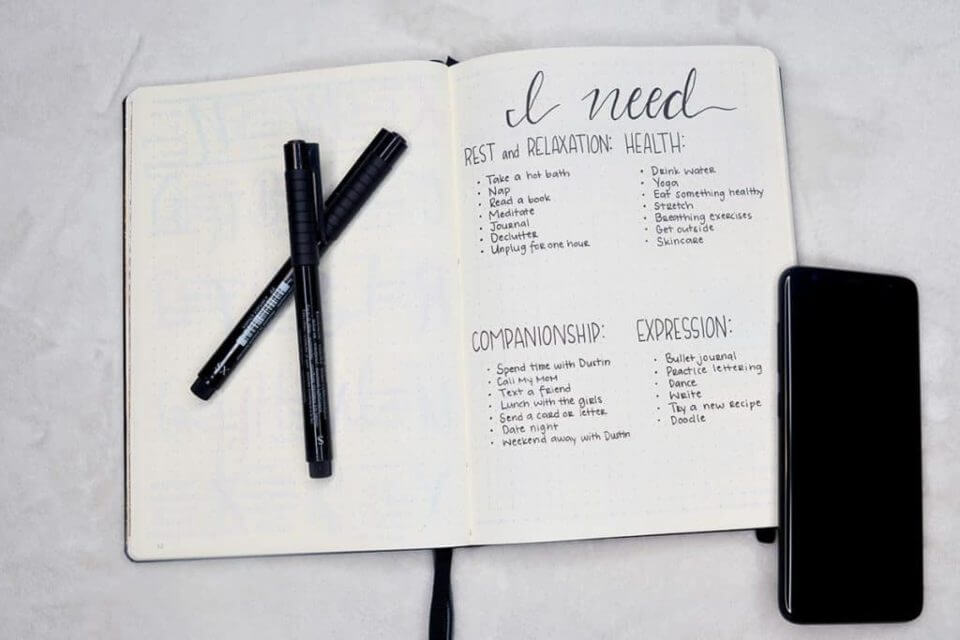 As much effort and energy as we invest in managing the work and office things in time, we need the same time investment and energy for our self-care! This self-care bullet journal is a keeper! The key to a happy and successful life is to love yourself first! Especially if you are a workaholic, you need to take better care of yourself, and this bullet journal will make sure of that! littlecoffeefox
12. Master Plan Bullet Journal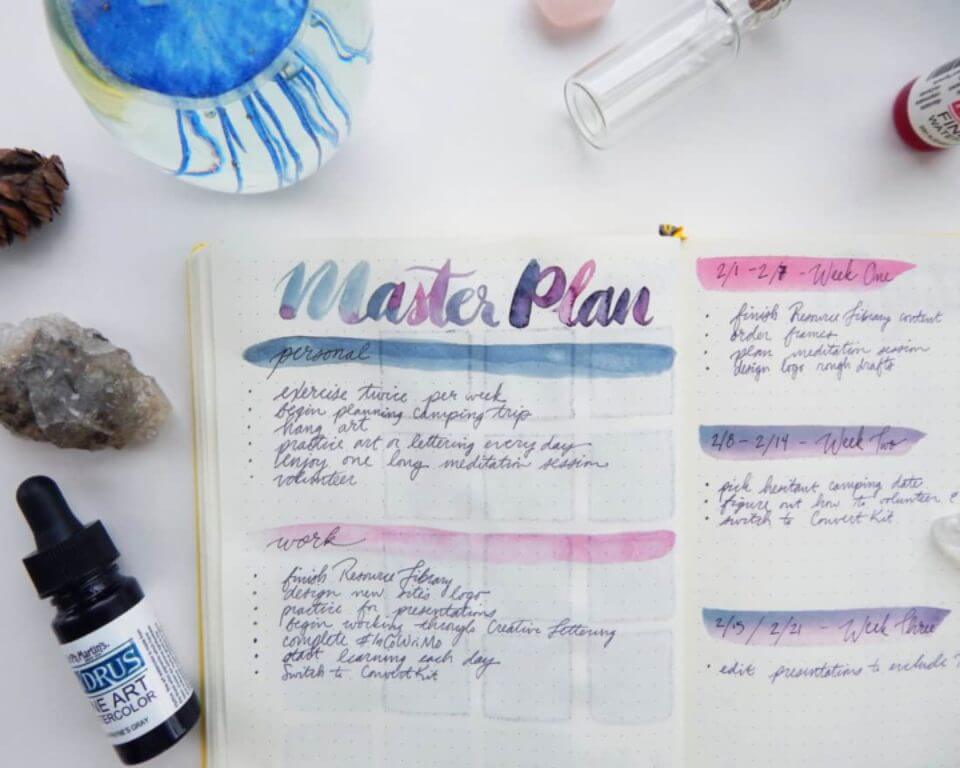 Writing goals and assigning tasks to yourself is sure a great way to keep track of things! But the thing with monthly logs is that sometimes you feel like migrating those tasks to next month or next week. With this Master Plan, bullet journal, you can make bigger things look quite easy by distributing a monthly task per week! Like if you are going for a trip, start by week 1 like laundry, ticket booking, travel plan, pack, and cash! littlecoffeefox
13. Unicorn Bullet Journal Theme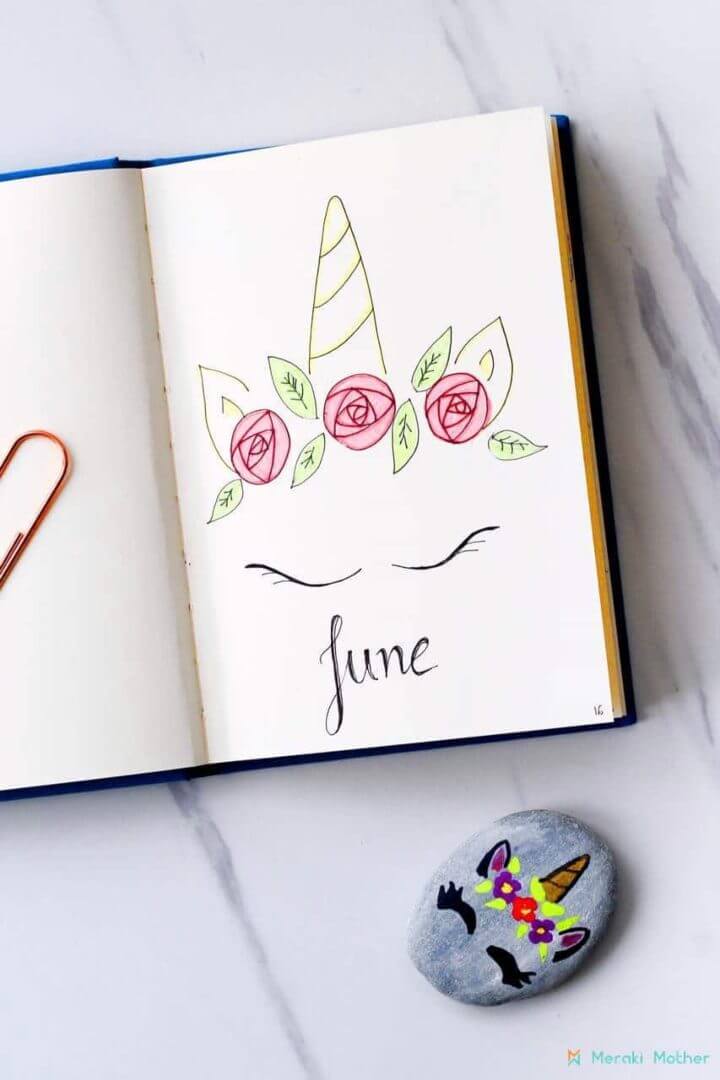 Make your months magical with this unicorn bullet journal theme! By adding a little bit of art and magic to your journal, you can surely invite the all positive vibes. You can make these adoring unicorn journal doodles using a pencil, black gel pen, or a color felt tip pen! Get the step by step details here and amuse yourselves. merakimother
14. Mindful Coloring Pages for Your Bullet Journal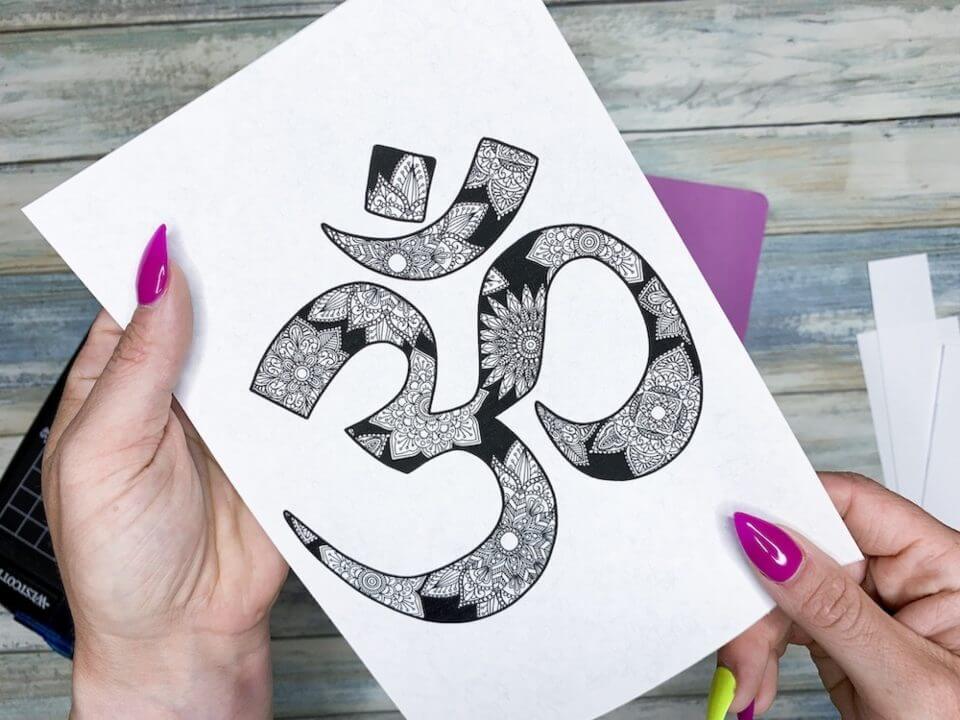 Your bullet journal is that time of the day which you give to yourself! Add these mindful coloring pages to it and see the difference yourself that coloring brings to one's life! It is therapeutic as anything. You can get some lovely and spiritually soothing mindful pages here. These are the little things that can make a meaningful difference in your life! thepetiteplanner
15. Easy Setting Up Your First Bullet Journal
Are you new to the world of Journaling? And just beginning to understand how this works? Well, we have got here an entirely simple guide for making journal keeping fun and easy for you! Your bullet journal can be anything that you want it to be! Just two things are important, assigning the symbols or signifiers to your bullet points. thepurplepum
16. Blog Plot Bullet Journal
If you are a blogger by profession or by passion, mostly the grief that takes over a blogger is the sadness of not writing more! Or not posting more often. Remedy that with this brilliant blog plot bullet journal! You can start this today even if you have been blogging for a yearlong now. Start by roughly marking how much have you posted as of now then improvise it just the way you want it! tinyrayofsun
17. Free Bullet Journal Printables
Maintaining a home with work can be a toughie! If you are going through the same pain, here's some crazy fun bullet journal printable for your house projects! You need more than just a bullet journal but also a happy planner along with it! For your tasks chart, add title at the top and signifiers at the top left side and tasks in the right. momenvy
18. Bullet Journal Meal Planning
As the name suggests, you can really get Productive and Pretty with this meal planner! It can help you with two things. One, you can manage your grocery quite efficiently a week before. Two, you can keep track of your diet intake. With the daily meal log, you can get a précised idea what should you miss on for instance if you have gained weight or extra lost, etc. productive
19. Bullet Journal Budget Layouts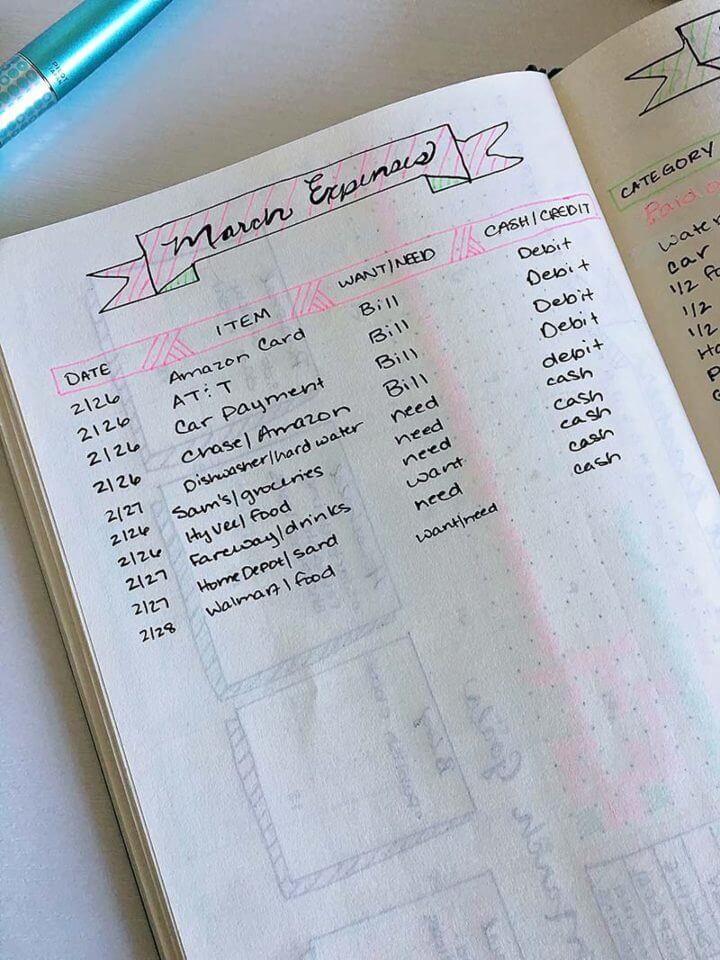 Financials are the MOST important to keep track of! We totally love and vote for this Want and Need-based identified bullet journal. This can really help you manage your expenses efficiently and save more money or save smartly over the time! Especially the expenses monthly snowball can give you a quick glance over your financials! plaidfuzz
20. Bullet Journal for Goal Planning
Do you ever feel this way that despite that how you have got so many things planned, hardly some of those goals get achieved? It might be because you don't have a Sound goal tracking system in check. Organize your goals and get them done, but don't forget to set your goals working on the SMART approach. bohoberry
21. Habit Tracker Bullet Journal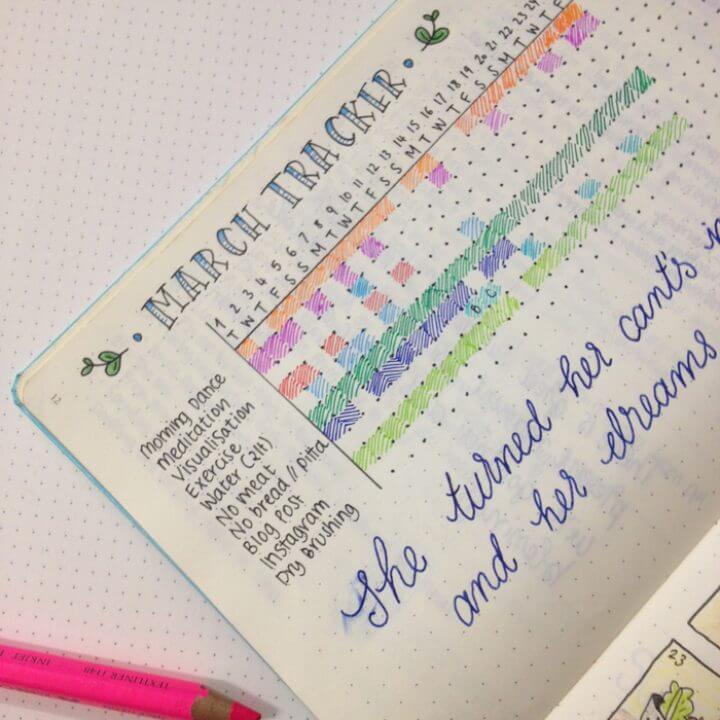 Here's another exciting bullet journal idea for you to make your life more functional and easily manageable. If you have a thing for enhancing your well-being and personality with the time passing! This habit tracker can be one effective addition to making this thought actually work. You can set up maybe a monthly or 100 days' habit tracker and see if you have been missing on any of these things. squarelimede
22. Perfect Bullet Journal to Organize Your Life
It won't be wrong to say that bullet journals can be a person's true friend! If you are having a hard time keeping your home organized with the kids all grown up, the workload of job or anything. This bullet journal organizer can actually make things quite clear, decluttered, and do-able. Get some really helpful hacks to a happy and organized life here. diycandy
23. Monthly Bullet Journal Layouts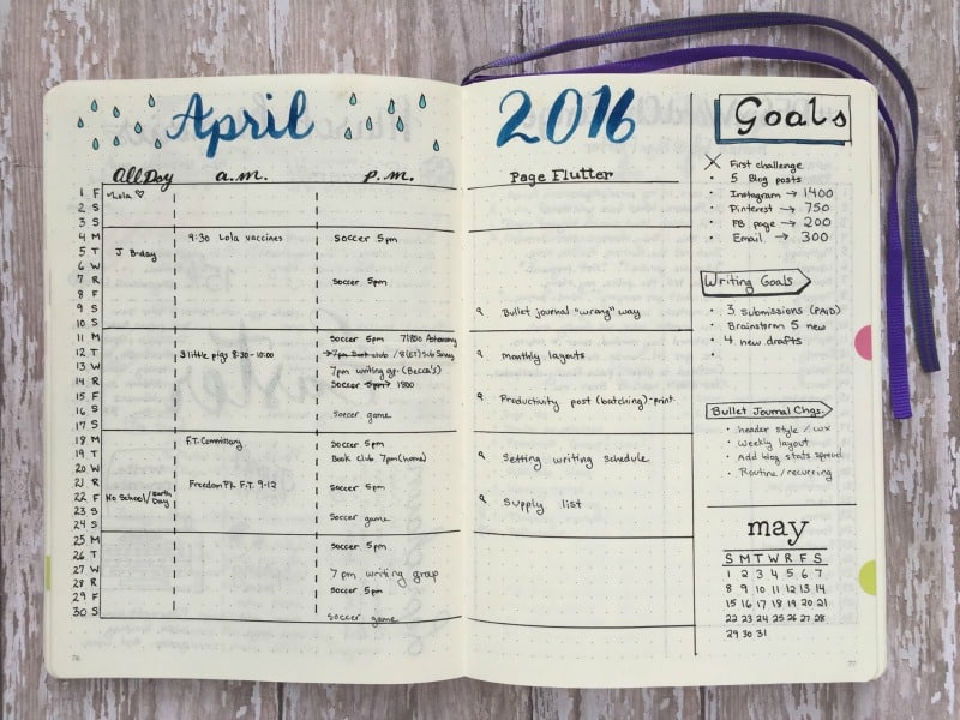 Monthly journal pages are helpful to keep your life more organized and more manageable! If you are looking for a clear, clean, and minimalistic journal system, you can opt for The Ryder, it is all of these things to keep journal keeping easy and neat! But if you are looking for more details, The Page Flutter has got about 10 perfect journal styles. Choose as per your needs! pageflutter
24. Budget Tracker for Your Dream Vacation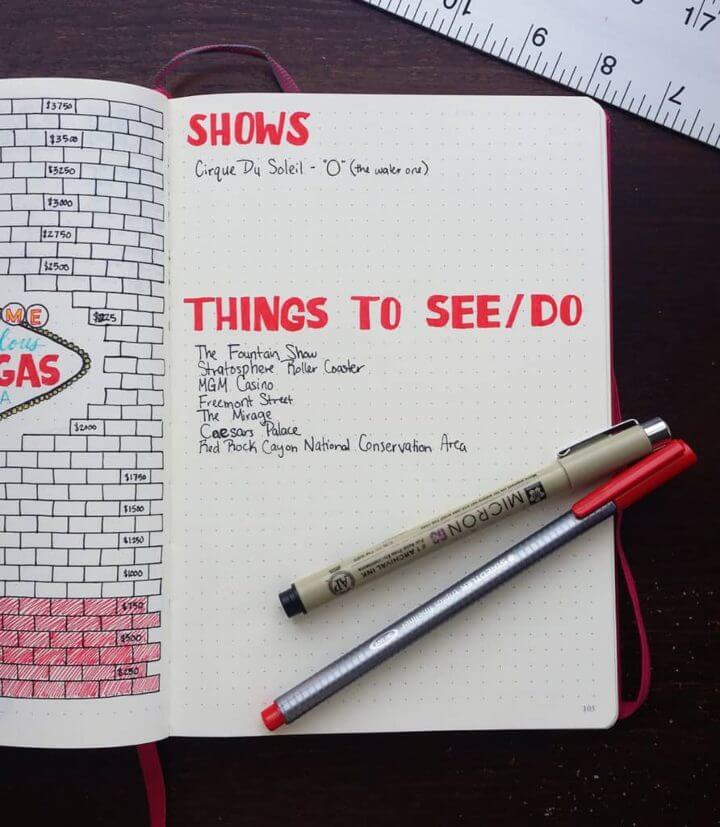 Everybody has a destination decided for their dream vacation! While dream vacation may sound all freeing, fun, and everything, it is quite more than that. With this budget tracker bullet journal for your dream vacation, you can actually manage your expenses, you must visit places and things to do by staying in budget. And at the same time, saving up the estimated budget. littlecoffeefox
25. Bullet Journal Guide for Beginners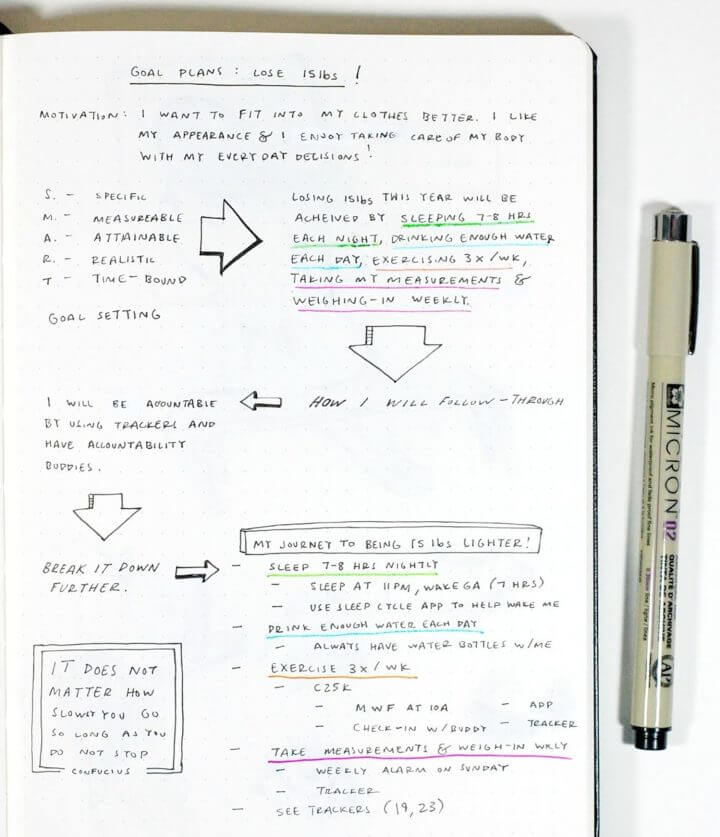 Have you ever decided one day to get up and book for the Gym membership that you have been delaying so long? But, then with the time passing by, see that motivation for weight loos fade away? Remedy that by clearly and using the SMART approach setting up a goal! Get inspired by this brilliant bullet journal. tinyrayofsunshine
26. Bullet Journal_ One Month Update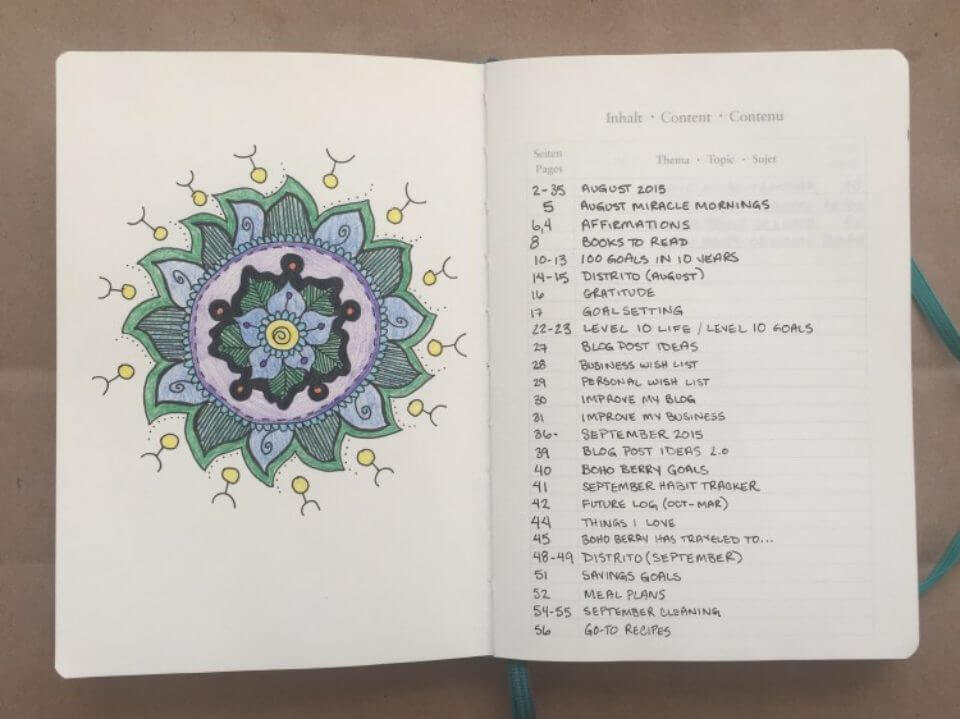 They say keeping yourself prepared makes life easier! So why not keep yourself updated with this monthly update bullet journal! You will need a notebook, pens and colored pencils. The simplicity of this bullet journal is that it makes logging quick and easier. You can introduce clarity and perspective to your life! bohoberry
27. Self-care and Bullet Journaling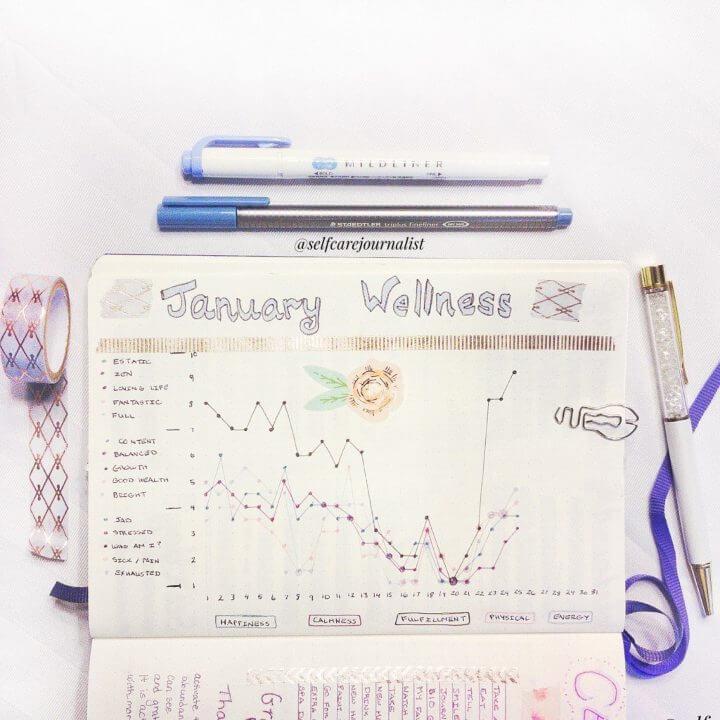 Along with the weight loss changes, the expenses chart, and everything else. There is this major thing that we miss out on majorly! And that is self-care. But here is one of our darling bullet journal ideas to remedy that! Start with personal care, then psychological, physical, emotional, spiritual, professional, environmental, and social care. bulletjournal
28. Bullet Journal Water Tracker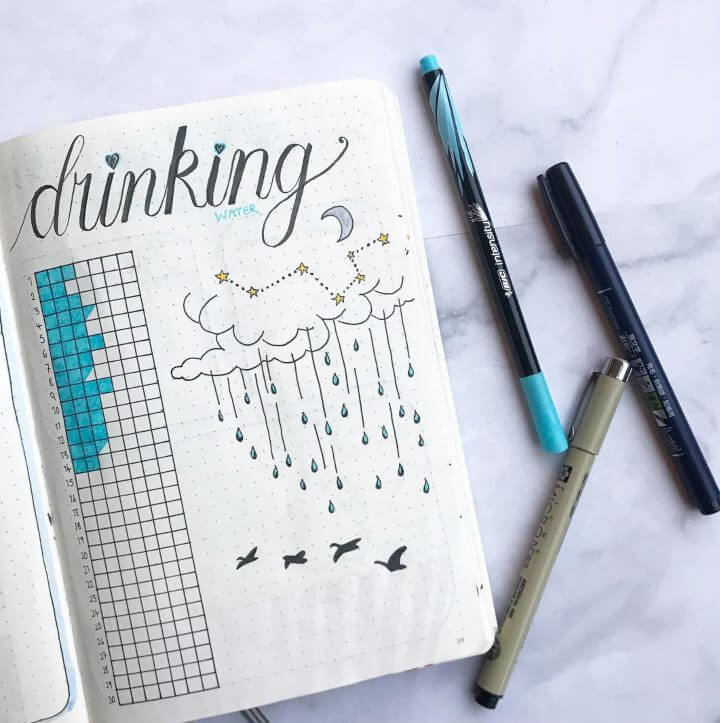 Did you know there is this 8×8 rule by health authorities when it comes to drinking water? If you have trouble drinking this much water each day, you can keep a journal to keep track of it. Keep this fun to fill daily water tracker with yourself to stay well hydrated. sweetplanit
29. Mood Trackers for Your Journal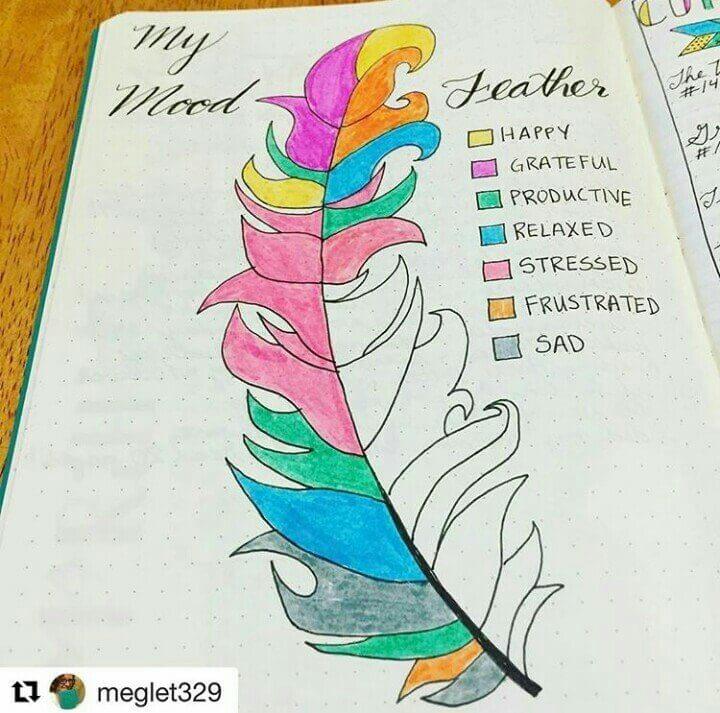 Mental and emotional health is one of the most important things that you need to keep track of! However, for a very long time, they were neglected. If you have been feeling more low lately, or angrier! Here's a tip. Keeping track of your moods can help in identifying what triggers the bad moods and what enables you to get happy! sheenaofthejournal
30. Bullet Journal Yearly Spread
Another one of our bullet journal ideas! Check out this gridded journal with easy access to your monthly and yearly planning! This is more of a minimalistic approach that is keeping everything to the point and on one page! You can tweak it as per your requirements. Like maybe spread the calendar to one whole month on a page. livingbetween
31. Mid-year Resolutions Bullet Journal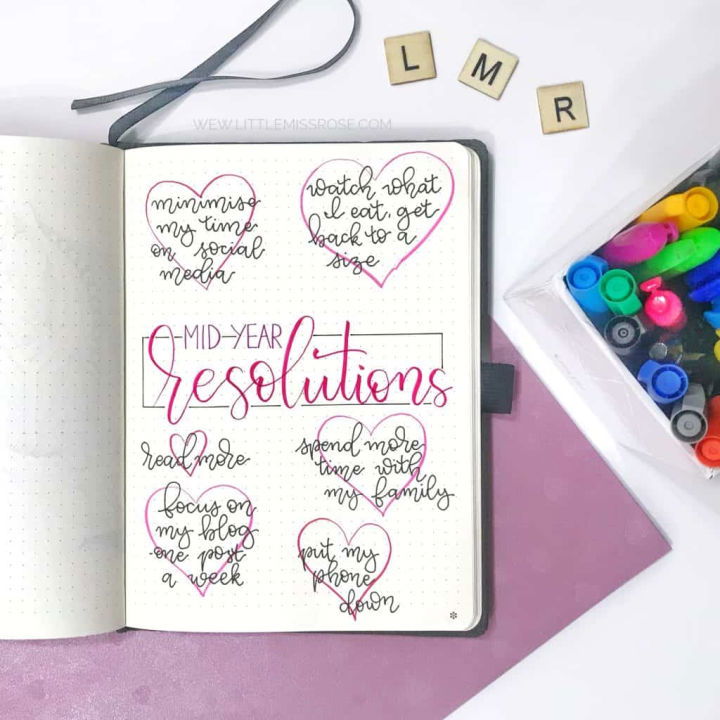 While we are all super passionate about setting up new year resolutions, sometimes across the way, things can get messier or new, and you can fill up some midyear resolutions to cover the void! And keep going. The key is to revisit your resolutions after every 6 months! Just to make sure that if you have been going on track, how much have you achieved. littlemissrose
32. Bullet Journal Monthly Memories Spread
With this bullet journal, you can keep your favorite memories on one page of one month! This monthly memories spread can be a great way to remember the big things about life and keep them with you! Even in case if you have them in your head, you might forget over time. Also, jot down the dates! ourjourney
33. Bullet Journal Books to Read Template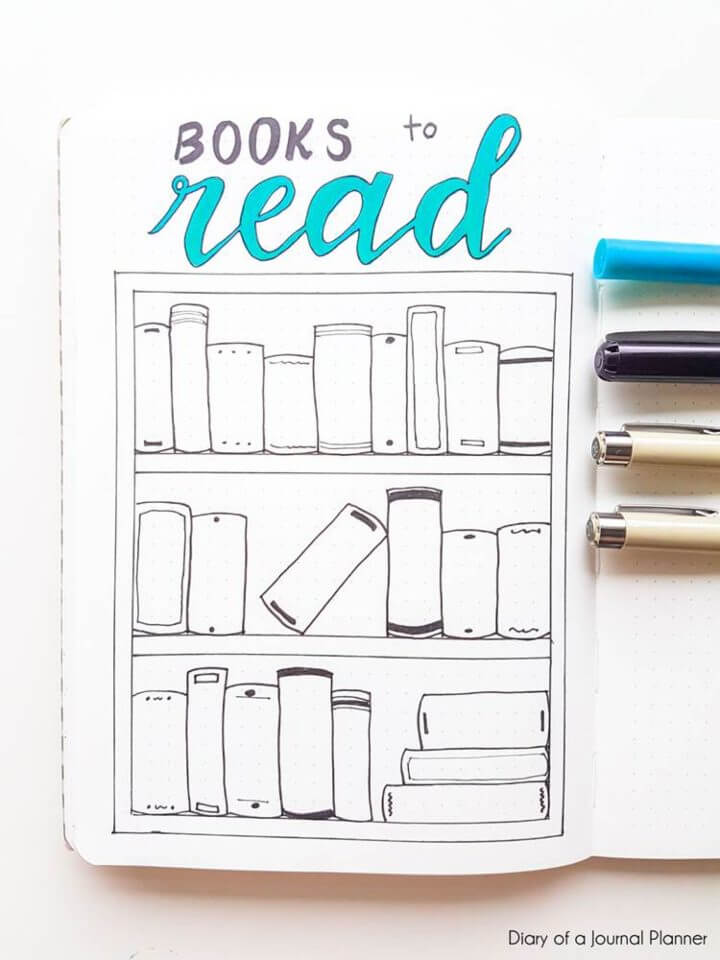 Are you a book lover? Always on the lookout for reading the next books or getting inspired by some quotes from books, and you can't wait to read the whole thing! You can quite easily make this bullet journal by using your black felt pen or any pen, ruler, and colored brush pen! Then start making this bullet bookshelf journal page. diaryofajournal
34. Bullet Journal Savings Tracker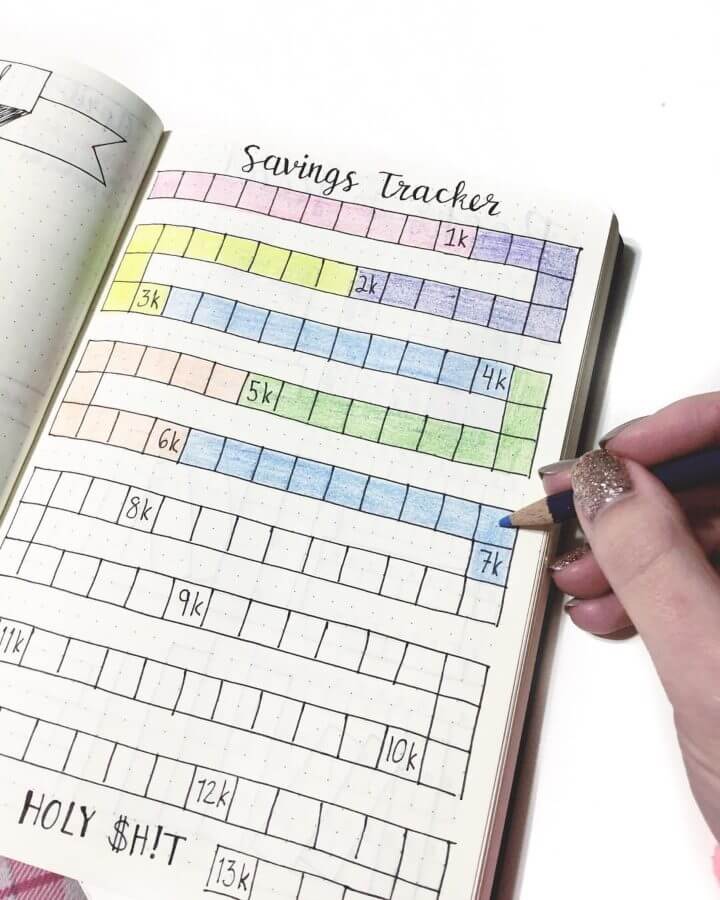 Savings are the one thing that has us got all worrying! If you, too, have been wondering how much you are saving each month, check out this cool saving bullet journal idea. You can make this easy savings tracker by using a pen, a ruler, and color up the saving limit using colors! It can both be fun, therapeutic, and perfect for keeping track of your savings. deskgram
35. Fitness Trackers for Bullet Journal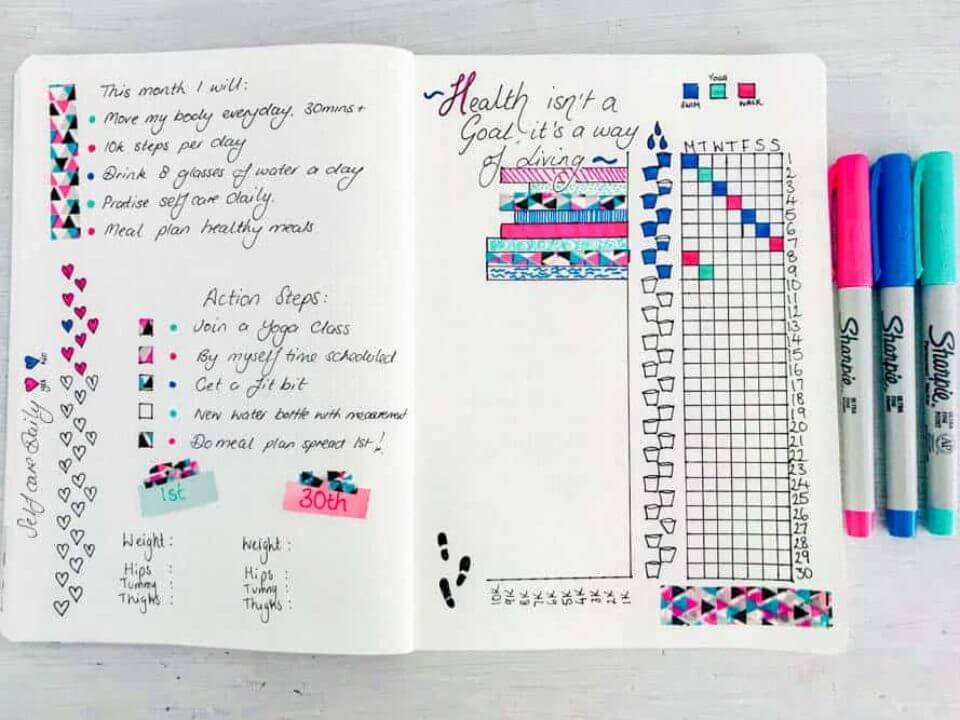 Fitness tracking, that too, religiously is when it starts to work its wonders! If you are looking for a way to keep yourself on a healthy track. This bullet journal fitness tracker can make things quite happenable. Just wanting to get fit is nothing! Until you make it discrete and break it down. diaryofajournal
36. Bullet Journal Wish List Layout
Every one of us has a wish list! A few places we want to visit, some more skills we wish to learn, watch some certain genre or story movies, read a certain book, etc., There is absolutely no stop to wishing. But, you can keep your wishes in this perfect bullet journal and start moving towards fulfilling them as you please! Enter some doodle art to spice things up. bulletjournaling
37. Daily Plan Bar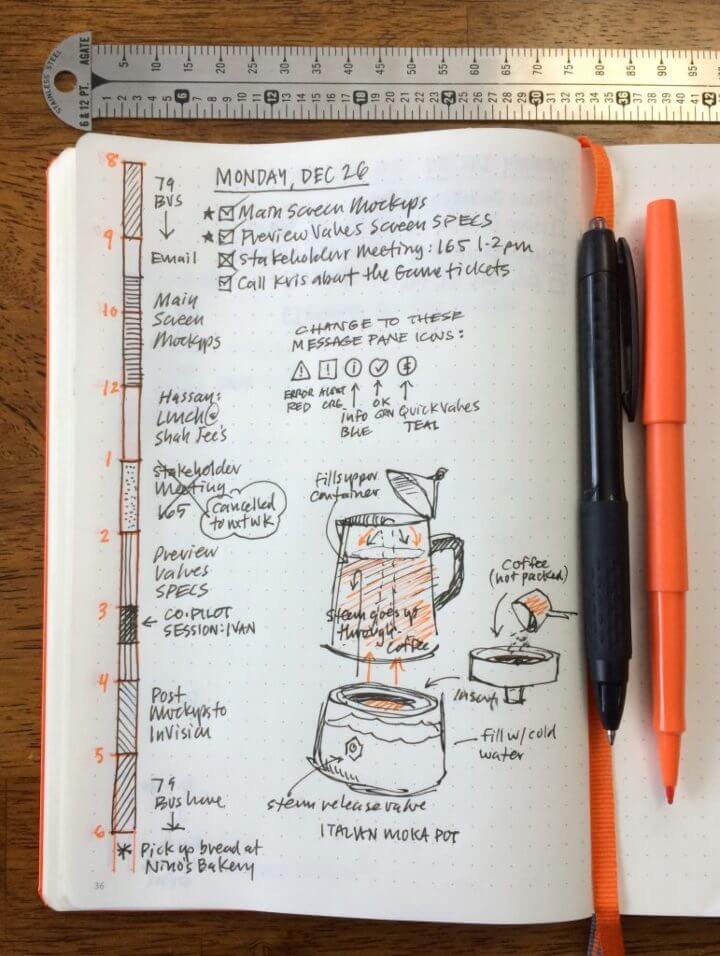 We have shared many monthly and weekly bullet journal ideas! But here is this another one cool daily plan bar. A daily plan bar is actually doing things just the day they are needed and preferably no migration to goals. Grid pages are the best for making a daily plan bar! You can make an hour grid at one end and map out days! Leave some empty space in between to write about your tasks. Get the detailed guide from the tutorial. bulletjournal
38. Brain Dump – Bullet Journal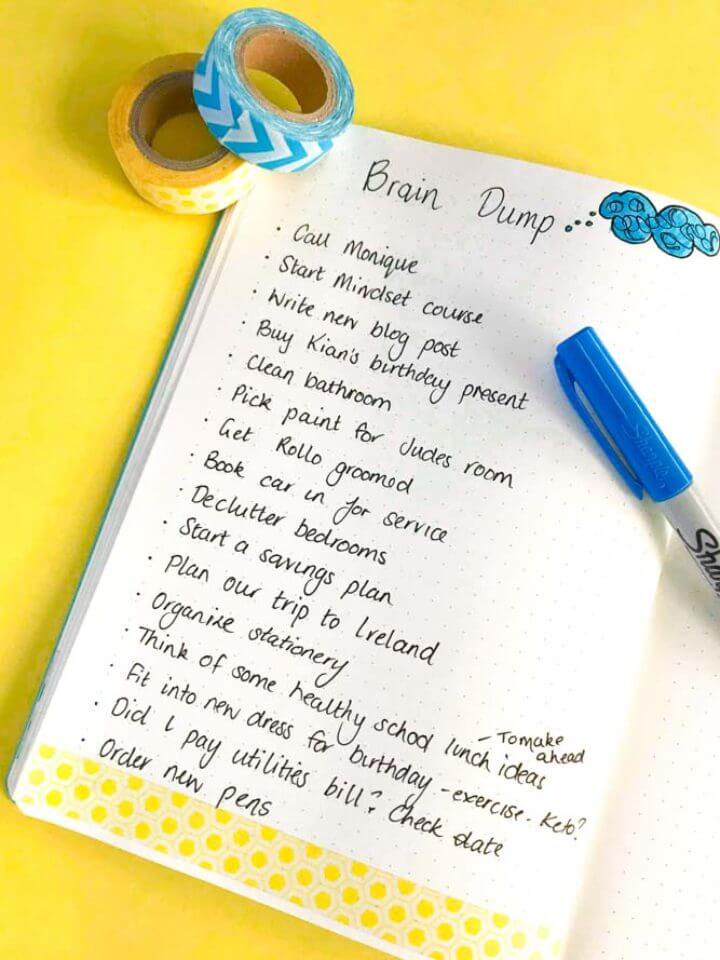 Brain dump bullet journal is quite simple to make, and you would love dumping your random to do things and thoughts in it. It is quite a free kind of pattern! From making a call to checking on the laundry room, you can pretty much add up anything in it. Don't keep your brain so overburdened, go easy on yourself, and dump the extra thoughts here! diaryofajournal
39. Bullet Journaling for Students
This bullet journal idea is going to be a lifesaver for students! Making a shift from high school to undergrad school can be quite intimidating and exhausting. Keep track of your assignments, tasks, lectures, presentations, pretty much everything with this super simple journal. The assignment calendar can especially help you keeping track of assignments due. productiveand
40. Travel Bucket List – Bullet Journal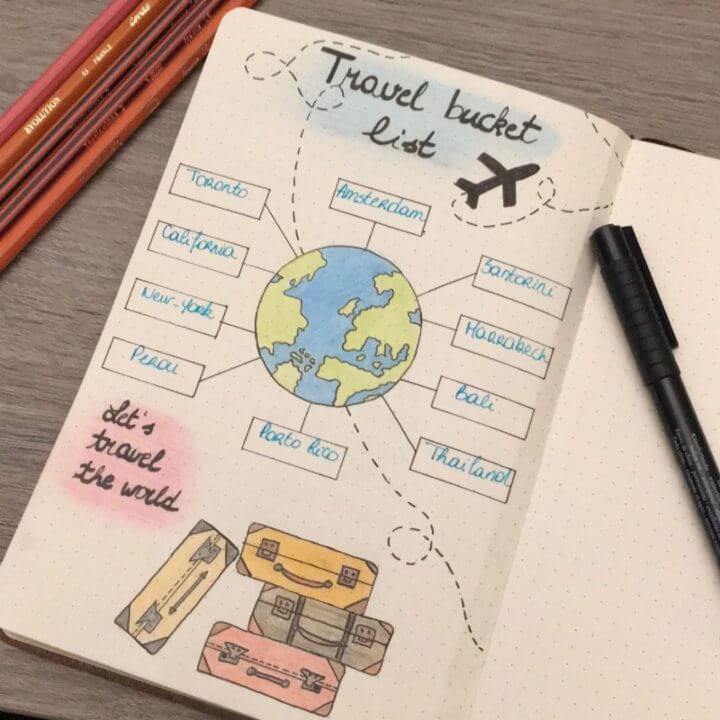 Name any better way to satisfy your wanderlust other than managing it this creatively in a travel bucket list bullet journal? Start by picking up a destination, writing them all down on a cover page, or something like in the picture. Then plan your trip, ever itinerary detail. Travel with ease and fun, don't forget to keep the thankyou notes. medium
41. Bullet Journal Bill Tracker Calendar Layout
How many times did you happen to forget the bill in the due date's time? We bet quite a few times. If that's the case, you can totally remedy that with this bill tracker bullet journal. Dividing bills from monthly, bi-monthly, etc., From keeping track of all bills, memberships, extra spends. Manage your finances like never before! bulletjournal
42. Bullet Journal Quotes Page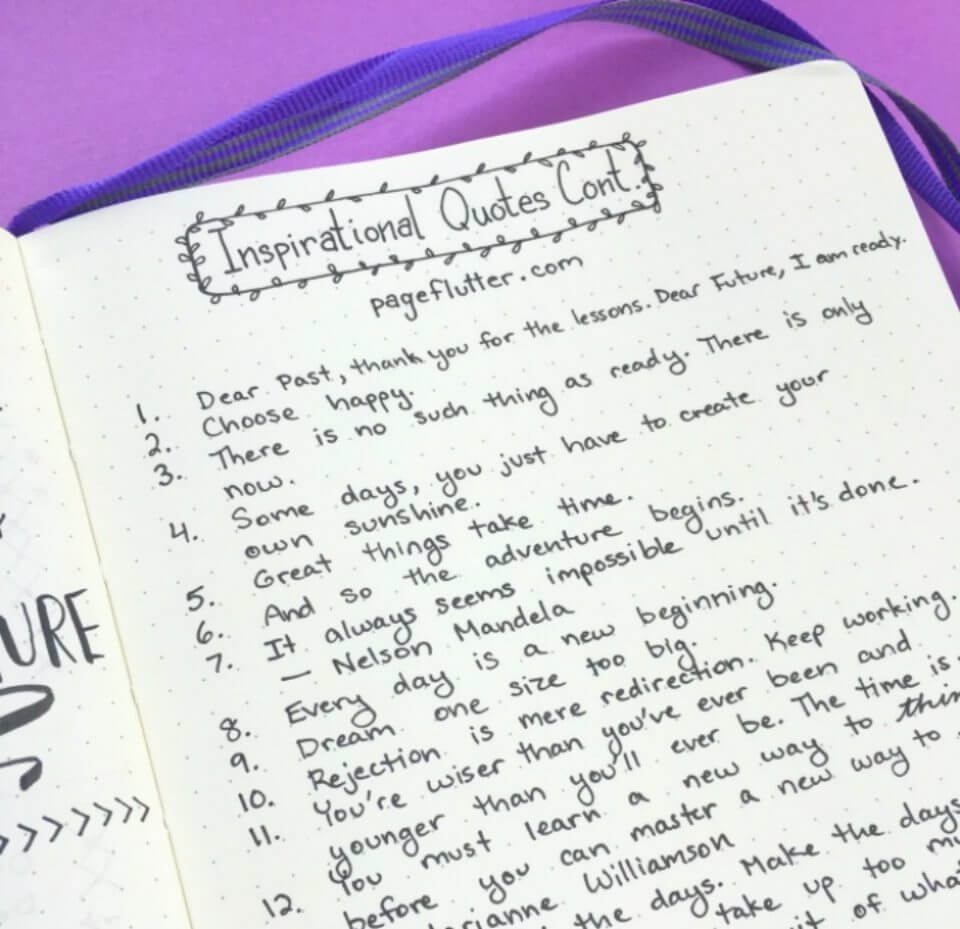 We know now is the time for keeping the screenshots of inspiring quotations, but have you ever experienced the soothing feeling of keeping those inspirational quotes in a bullet journal? Pick up a good thing each day or each week and keep it in your bullet journal! Color it up with doodles, paint, and art. Grab some therapeutic inspirational quotes. pageflutter
43. Bullet Journal Headers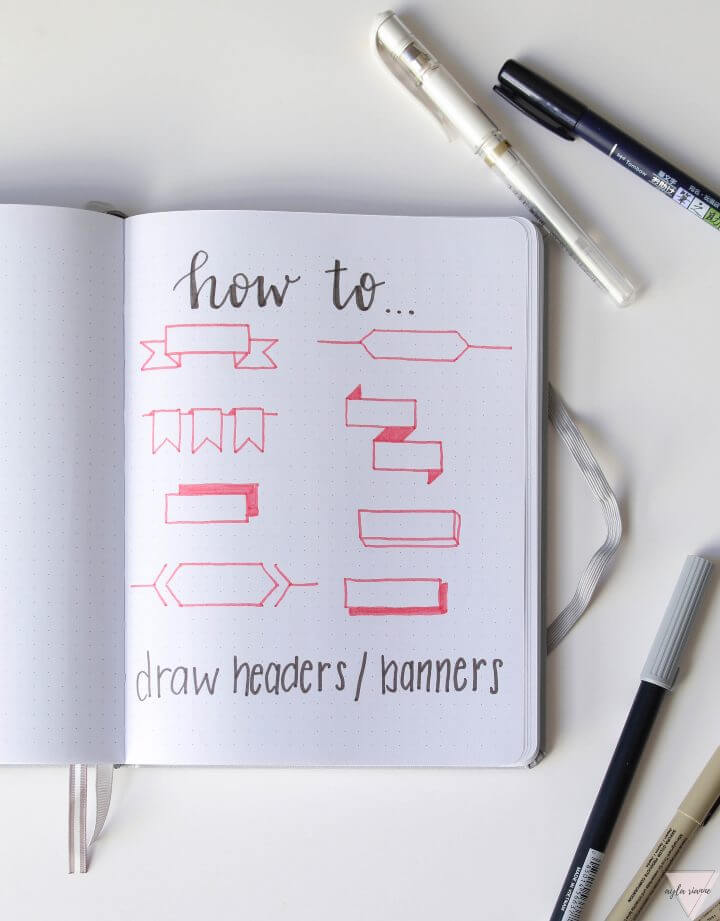 One of the fun ways to keep your bullet journals fun and catchy would be to add headers! Using bright colored pens, you can get a quick glance at the important stuff. These headers especially come in really handy if you like keeping up monthly or annually journals. They help you break down things. aylarianne
44. Bullet Journal Meal Plan Tracker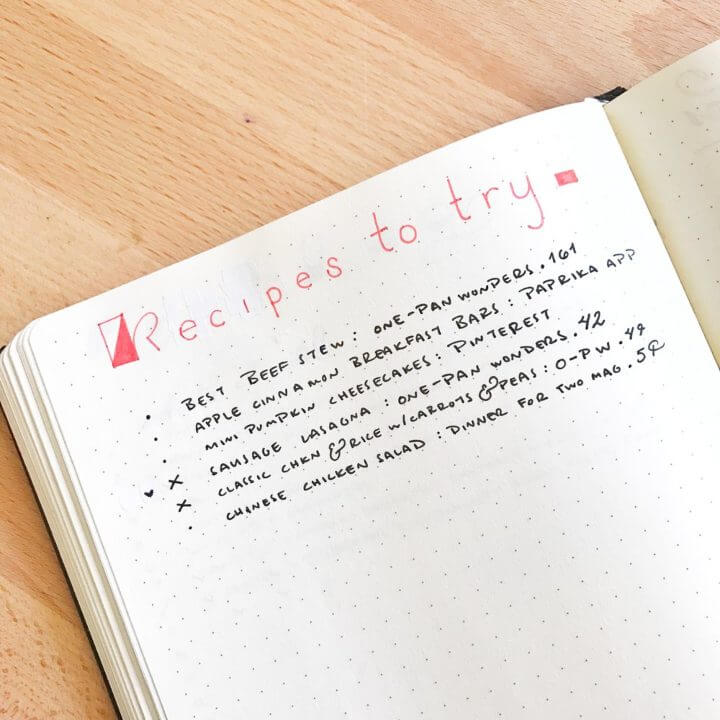 Here is another one from our amazing bullet journal ideas! Won't you love keeping track of your meals? This meal planner is going to be so much fun if you are a food or cooking lover. You can add small symbols when you have tried any recipe, write down the source against it. On the next pages, make bars and jot down the recipes. tinyrayofsun
45. Bullet Journal for Bloggers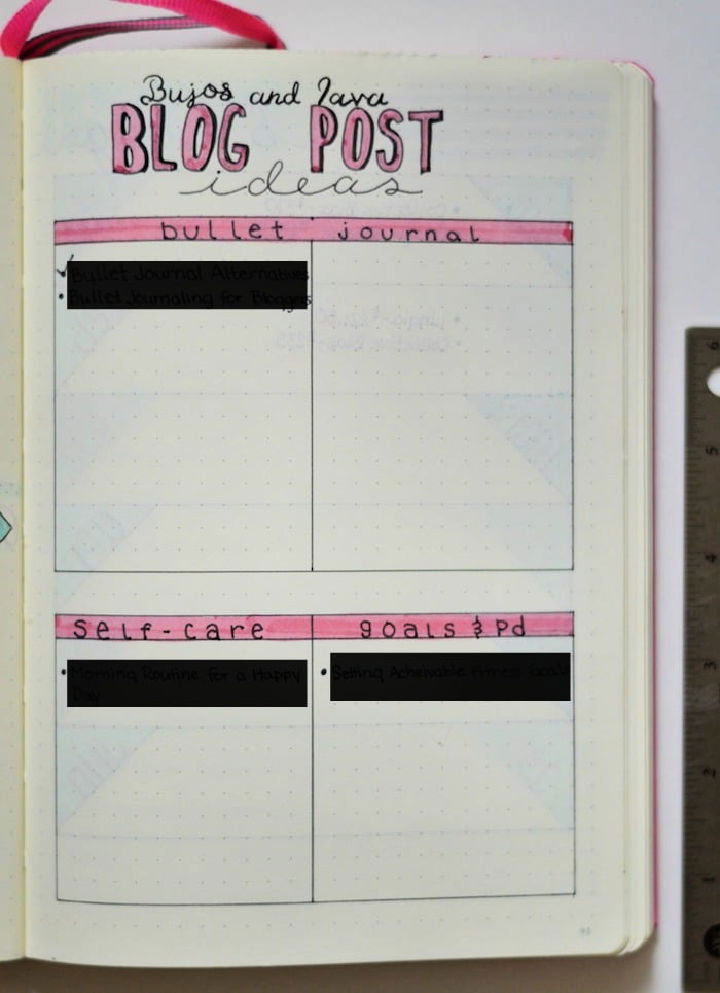 Are you a blogger but having trouble keeping track of your posting material or keeping track of the readers or followers' trends? You can keep a log of your written topics or topics you would like to write on next. Use different signifiers to mention your different social page's status. Get the complete details here. thepetiteplanner
46. Master Grocery List – Bullet Journal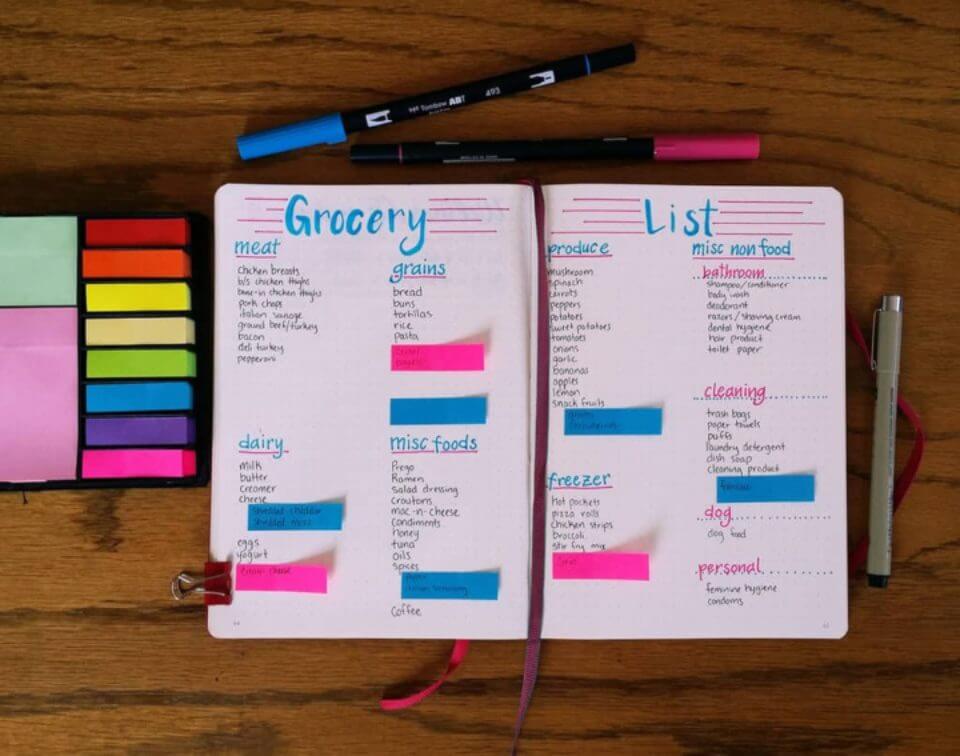 If you are anything like Monica from Friends, this master grocery planner with labels is going to make you lose a heartbeat out of sheer excitement. Make a master planner grocery list by writing down the kitchen groceries at one side of the page and the miscellaneous items like bathroom supplies, laundry, personal, or pet things on the other page. littlecoffeefox
47. Movies to Watch Bullet Journal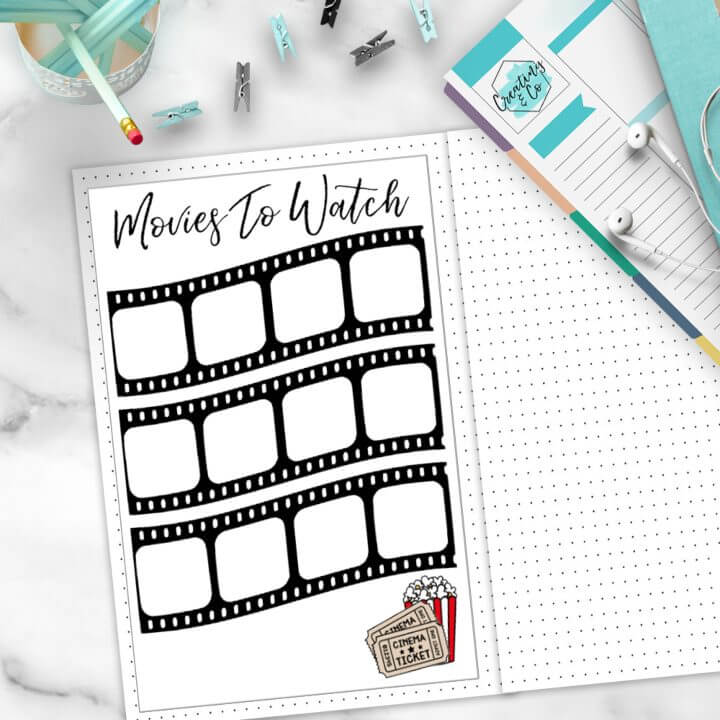 Many times we hear our friends asking, did you that movie, it was great! And then and there you just can't wait to watch that movie. How fun it would be to actually keep a journal for the movies you want to watch! You can get these funky cute cut stickers from the sticker collection here. creatingandco
48. Bullet Journal Budget Trackers
If you have some hidden worries that you are spending too much, here's this clean and clear budget tracker bullet journal. The best thing about this budget spread is that you can actually start by allocating budget, then see what it actually turned out to be and take on by seeing the difference. This way, maybe you can also start looking for reasonable alternatives to any brand or product. hellodeborah
49. Books Log – Bullet Journal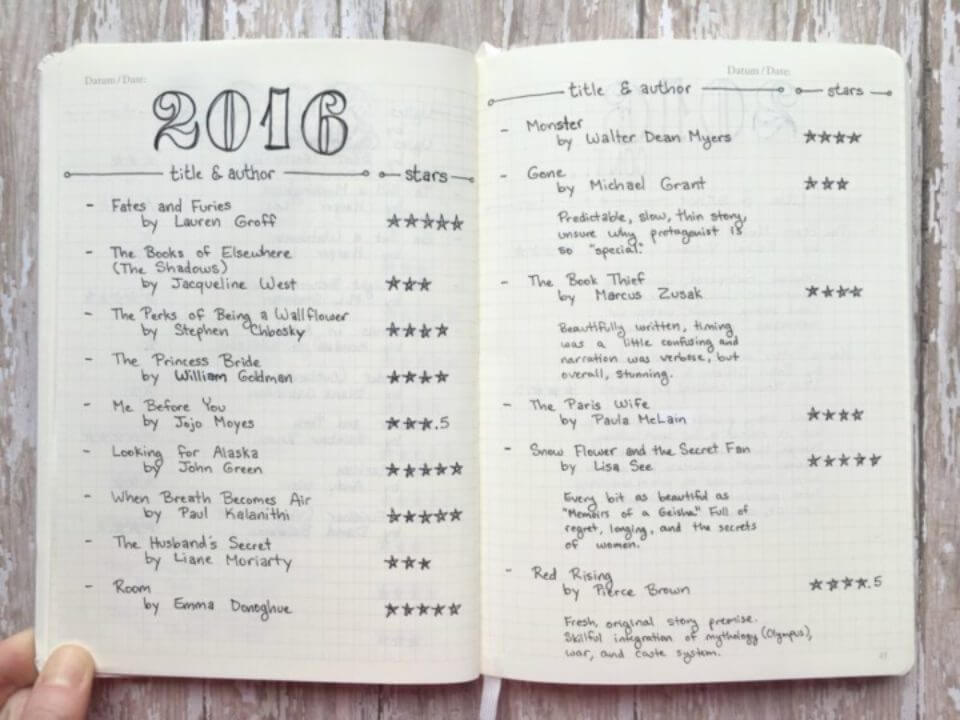 Can you tell me exactly the number of books that you have written? OR like the name of those books and what's your view about them?! Not quite possible. For our book lover friends, check out this reading journal to keep the memories safe. You can write the name of the book, author, the date you read it, and maybe use star reviews. pageflutter
50. Birthday and Anniversary Trackers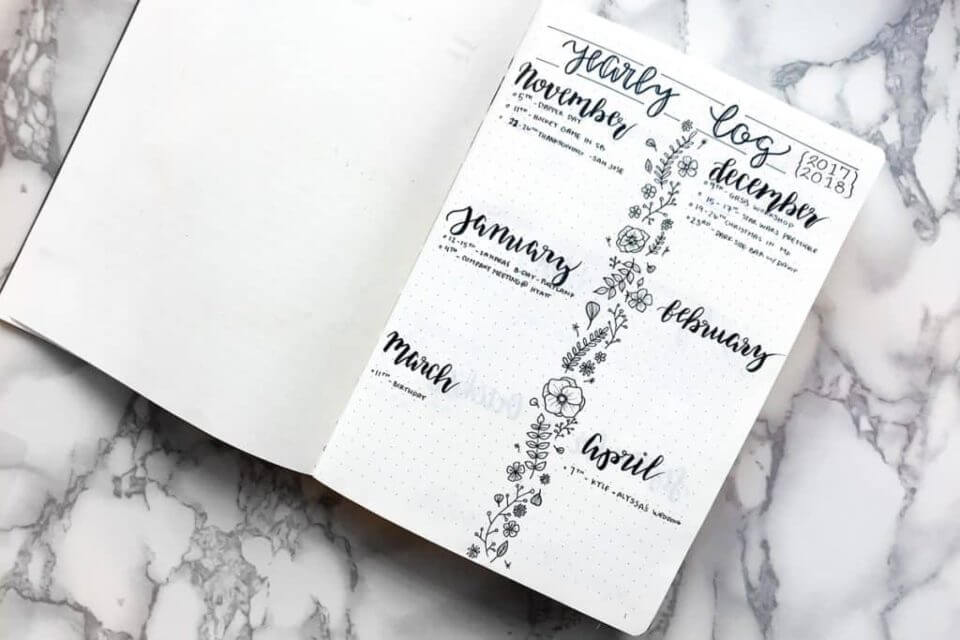 With all the exhaustive routine that life keeps throwing us at, you can save the important dates with this birthday and anniversary tracker. It is a yearly log, and you just need to write down the months, maybe go for a little stenciling there. Keep track of your plans, birthdays, and anniversary dinners you might want to hold! littlecoffeefox
51. Cleaning Schedule Spreads – Bullet Journal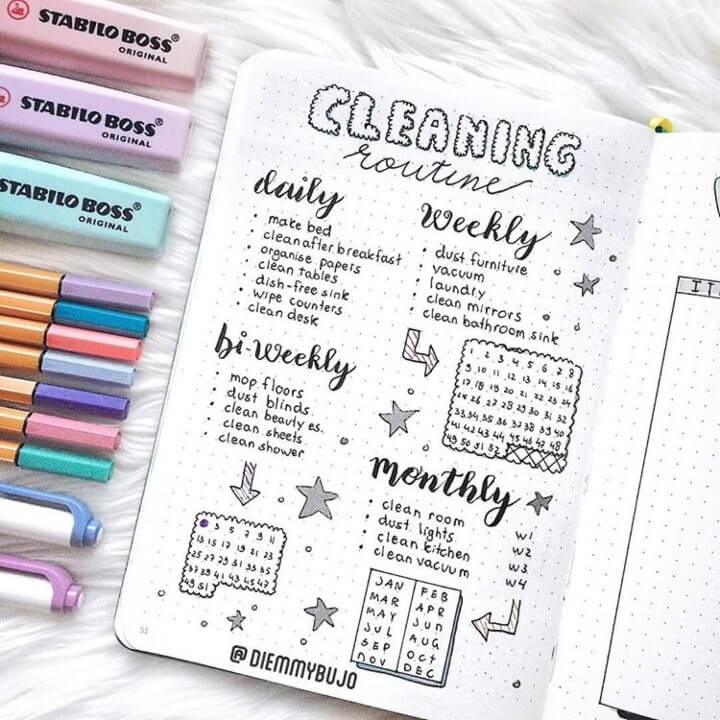 By keeping a household journal, you can customize the routine and flawlessly manage your household. Say like the cleaning routine. You can write down the daily cleaning list, weekly, monthly, and then so on. Add a teeny tiny calendar date too to be on time, for instance, when bi-monthly starts! planningmindfully
Related DIY Projects and Crafts To Make
Bulletin Board Ideas: Get your home and office organized with these simple DIY bulletin board ideas. These are sure to help you organize and decorate your space.
Crafts for Teens: Whether you are looking for ideas for a school project or just something fun to do on a rainy day, these fun and cool crafts for teens are the perfect resources!
Crafts to Make and Sell: From crafts for the home to gifts for friends, these creative DIY craft ideas will have you making and selling for profit in no time.
Back to School Projects: Whether you're a teacher, student, or parent, these DIY back to school projects are perfect for your kids, classroom, and home.
Makeup Organizer Ideas: Keep your bathroom counter, dresser, and vanity organized with these amazing DIY makeup organizer ideas.
Notebook Cover Ideas: Need a new notebook cover? Check out these easy DIY notebook cover ideas to make your own creative and personalized notebook cover.
Related DIY Projects and Ideas
Photo Collage Ideas: Create your own custom photo collage with these fantastic DIY photo collage ideas for any occasion. From baby to bridal, we got you covered!
Photo Album Ideas: If the traditional photo album gets a little boring, it's time to get creative. These creative DIY photo album ideas will say a big 'wow!' From cover-ups to cropping, design your own photo album using magazine clippings and personalized texts.
DIY Luggage Tags: Here are DIY luggage tag ideas to jazz up your suitcase with an artistic touch. From a luggage tag made with a photo of your pet to one with your favorite quote.
Teacher Appreciation Gift Ideas: Teachers deserve special recognition for their hard work and dedication. Here are DIY teacher appreciation gift ideas that you can make in your own home.
DIY Poster Hangers: Save money and use these DIY poster boards and hangers to frame your artwork. These items are perfect for any office, school or home environment.
Ideas to Reuse Old Picture Frames: Use old frames to make wall art, jewelry, organized desk items, and more with these easy DIY ideas to reuse old picture frames.
Conclusion:
We are sure after going through the details and the greatest things that you can bring into your life by keeping a Bullet Journal, you must be thrilled to start one already. And, if you have already been making your life easier with the bullet journal, you must have got some more fantastic bullet journal layout ideas! It's all about perspective and making your life worthwhile and easy by setting a plan for things.