Bring the wedding ornaments, home decorations and party knickknacks to the next level with these 20 simple DIY ways to make paper roses at home. They will require no maintenance, like regular watering. Unlike the natural flowers, these paper roses will never droop or wilt and will just be impossible to guess if they are fake. Explore these 20 DIY paper rose templates that are actually the smartest way here to incorporate the paper flowers into your life for bigger and impressive changes.
The tricks are beyond your creativity and there are tons of inventive tips involved in this episode of DIY origami flower projects, will inspire your imaginations. These downloadable paper rose templates here are promoting the recycling of old books, pages, papers that come to you in any form. If looking at flowers makes you happy, then you are definitely going to be delighted a lot with these DIY paper flowers. See the creative rose templates and approaches to add curls and folds to the normal paper pieces making astonishing paper flower beauties.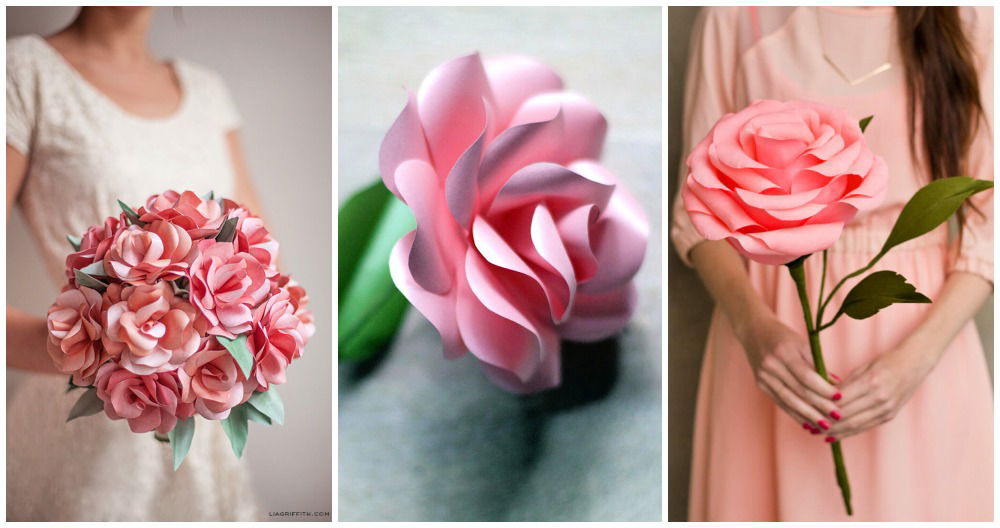 Make these realistic paper roses using crepe paper, tissue papers, watercolor papers, and metallic papers. Along with free DIY paper rose templates, you are also going to get free DIY paper flower tutorials and step-by-step picture instructions that will leave you with no excuse to try out these flowers at home
Display these DIY paper rose flowers in the vases, on the wall as handsome backdrops and also as enticing wedding decorations. From a Valentines' Day gift to a wedding bouquet, Paper Roses are good for all purposes.
How to Make Paper Roses:
Think of using your origami art to add more decorative details and elements to your home. Select the paper in respective colors and fold them like a genius to make cool and colorful roses, which can be put in a jar for making a gorgeous vase.
Here the sample jars come filled with faux moss. Complete how-to details here itsalways
DIY Paper Garden Roses – Giant Paper Flowers:
Make also giant paper flowers that can be a lasting longer part of your home decors as they will not die or wilt. Put these giant paper roses together for cool party backdrops and also to make amusing party knickknacks. How-to tutorial here burlapandblue
Easy DIY Paper Rose:
Looking for perfect party decorations based on flowers? Then consider whipping up these paper roses, will not die early and can be made with your favorite paper.
Add green wire stems, and individual flower gifts will be ready to give to your lover on Valentine's Day. Complete instructions here diynetwork
Find more DIY paper projects here:
Paper airplane: Learn how to make a paper airplane to make your kids happy at the time.
DIY paper crown: Decorate king and queen themed parties by making a simple DIY paper crown. Find 15 free crown printables and templates.
Paper snowflake: Learn how to make paper snowflakes by following these free paper snowflake patterns that come with detailed instructions.
Tissue paper flowers: Find this guide to learn how to make tissue paper flowers. Tissue paper flowers are a wonderful eco-friendly option for other types of gift ornaments like ribbons and bows.
Paper plate pumpkins: One of our preferred craftworks to make is the most effortless paper plate pumpkin craft ever! How to make a paper plate pumpkin? Find here.
DIY Rose Gold Paper Flower:
Sorting out the very expensive looking accents or embellishments for your items of interest? Then this rose gold paper flower will really make a great practical choice. Start with a template in hands and cut out the flower petal out of paper of choice.
Give them gold foil edging and then put together for an instant beautiful rose flower as you can see. Full tutorial here jennifermaker
DIY Giant Paper Rose Flower:
Make the paper roses in any size you want and start using in your decor projects and also to give as sweet handmade gifts.
Make a giant rose that all brides will love to hold in hands on the wedding day. Copy this giant paper rose, will be a more beautiful alternative to a flower bouquet. How-to details here greenwedding
DIY Giant Paper Rose Flower:
Want to be with the flower decors that will require no maintenance while being displayed in your home? Then do make this giant paper rose flower will not demand regular watering.
It can also be saved to use later for your home or party decors. This enticing flower decor will only cost you the price of paper. Full how-to instructions here countryhill
Pretty DIY Giant Crepe Paper Roses: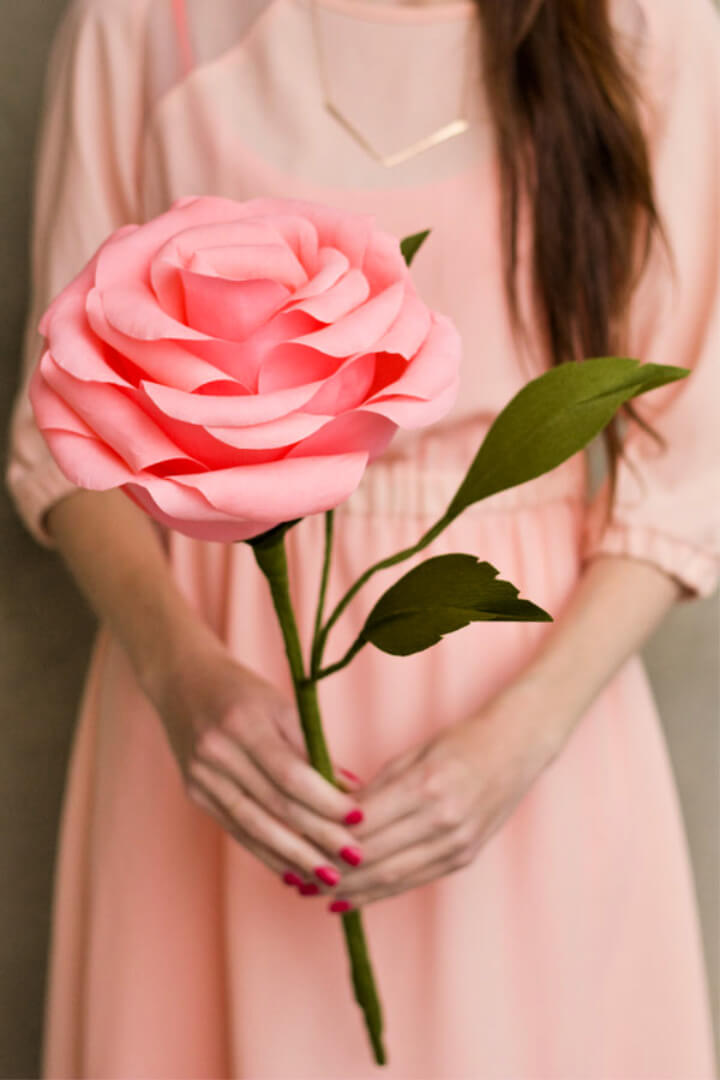 This giant crepe paper rose will just be impossible to guess if it is real or fake. Another origami creation, a more charming and handsome alternative to flower bouquets.
Here you need five paper petal, 15 heart-shaped petals, and three paper leaves to make this giant crepe paper rose. Complete instructions here studiodiy
Awesome DIY Spray Roses Paper Flowers: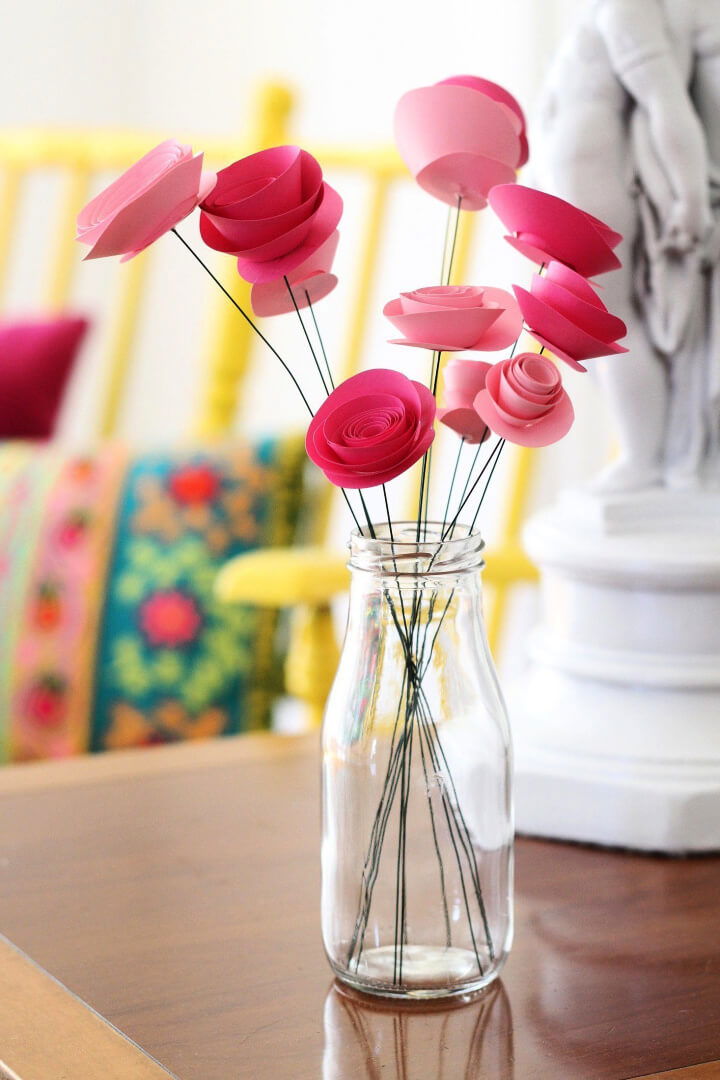 It will all demand you to get an awesome paper flower template to make to cut the paper petals accordingly. Next, you can glue them together for making stable paper roses, will be a durable part of your thoughtful floral decors.
Cut a paper circle in coil form around the mini center circle and then roll its tail toward the center to make these spray roses paper flowers. Complete guides here apartmenttherapy
Make an Easy Paper Rose Flower:
Prettify any of your space with a floral vase, worthy of a centerpiece in your wedding or home decors.
These are here white roses with yellow centers, a handsome flower vase to add to your wedding decors.
You only need paper and decorative vase to duplicate this floral centerpiece. celebrating
DIY Water Color Paper Rose: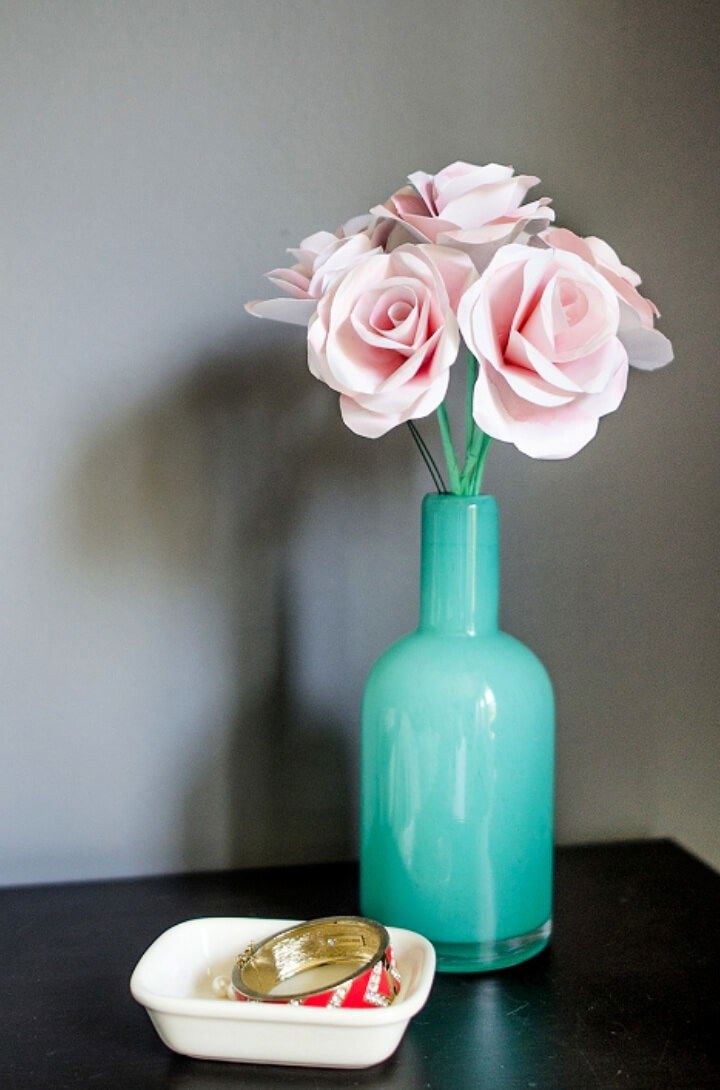 Rock your birthday parties, baby showers and weddings with these watercolor paper roses that you can display in the vases, can put together to make bouquets and also the party floral backdrops.
Another great type of flower to make with the watercolor papers. Full how-to tutorial here capitolromance
How to Make Mini Paper Rose:
Grab here also the best template for making mini paper roses. Cut out petals out of paper or choice. The light pink will rock.
Next, it is all about to put them together with nice curls to their edges, making epic looking paper roses.
Will make perfect accents and embellishments for different of your gifts and home decor projects. Details here livingandcrafting
Quick DIY Crepe Paper English Rose: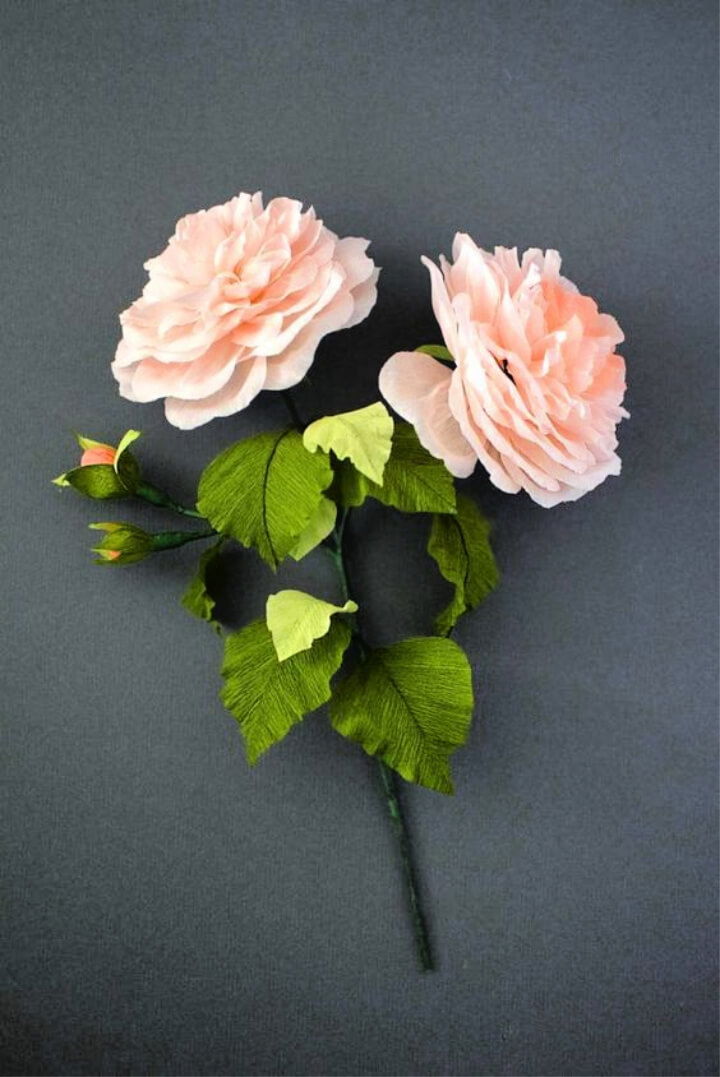 Making paper flowers is also something that promotes the recycling of papers lying around. Recycle the papers lying around and change them into arresting flower decors.
Take a great start by making these crepe paper English roses, a sweet handmade gift to give in the hands of your beloved friends. Full instructions here craftedtobloom
Make Your Own Giant Paper Roses:
Tweak your fingers on your favorite papers and gain these giant paper roses, will not cause sneezing if you have allergies from the floral pollens.
Consider jazz up your decors with these never-to-die paper flowers, can also be saved to use later. Thread them onto a piece of string to make epic flora garlands. Details here downloadand
Super Realistic DIY Paper Roses:
Add a little personal touch to a wedding by adding these paper roses you will be able to make with your own beautiful hands.
These are here the realistic paper roses to make at home, will look great in a glass vase, will be an irresistible gift to give someone special. Complete instructions here welivedhappily
Easy to Make Map Paper Roses: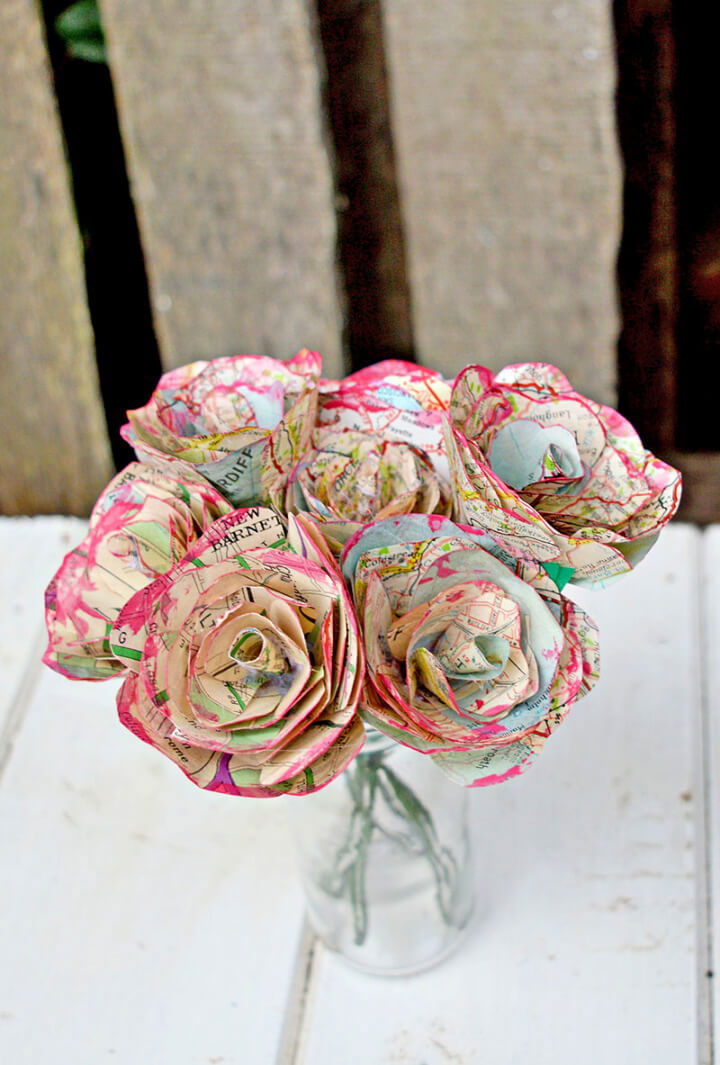 Upcycle your old book pages, maps, and other paper items and transform them into epic floral decors like these roses. A nice and glorious idea to keep using those old books are lying around.
You can keep on loving these roses as they will never die. Here is how to make them. Full visual guides are here pillarboxblue
Romantic DIY Crepe Paper Roses: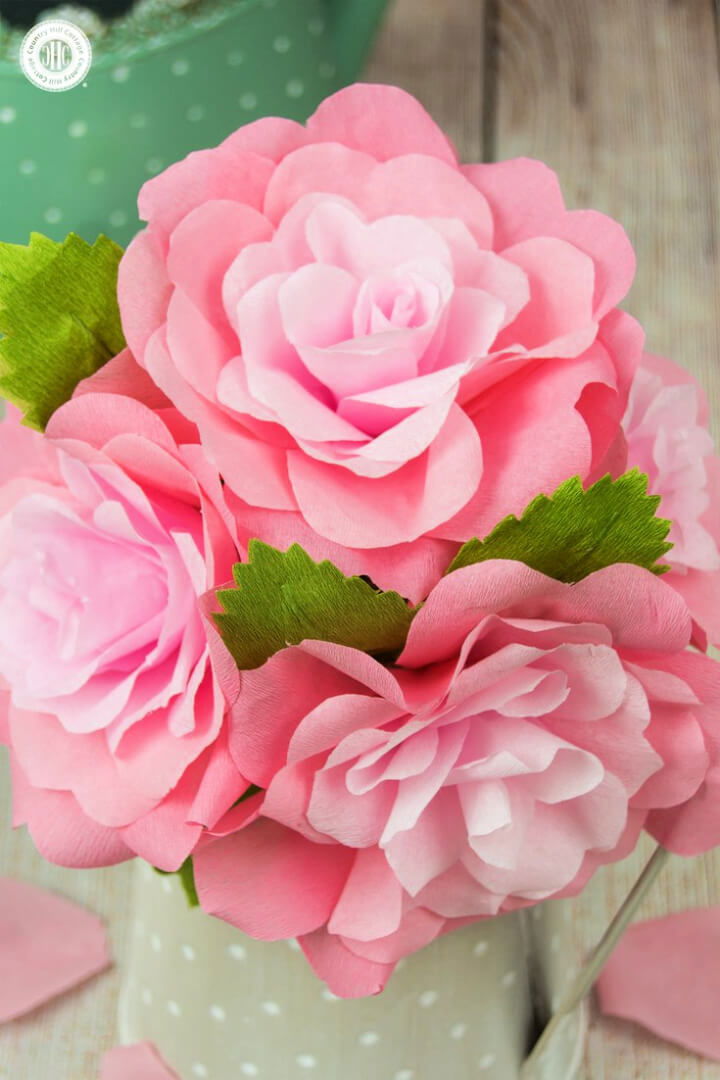 Thinking of crafting some romantic gifts for the lovers with your own beautiful hands? Then you must craft these crepe paper roses.
They are looking damn beautiful in the light pink color appeal. Whether in the hands of your lover, on a coffee table or in a glass vase, they will look awesome in either way you decide. Details here countryhill
Tissue Paper Full Bloom Rose:
Tissue papers are always lying around mostly on our coffee tables. Why not give them a few curls and fold to make a permanent part of your home decors?
Yes, we are talking about making these full blooms, will look great in the jars and decorative vases. Full instructions here liagriffith
Heirloom Crepe Paper Flower Roses: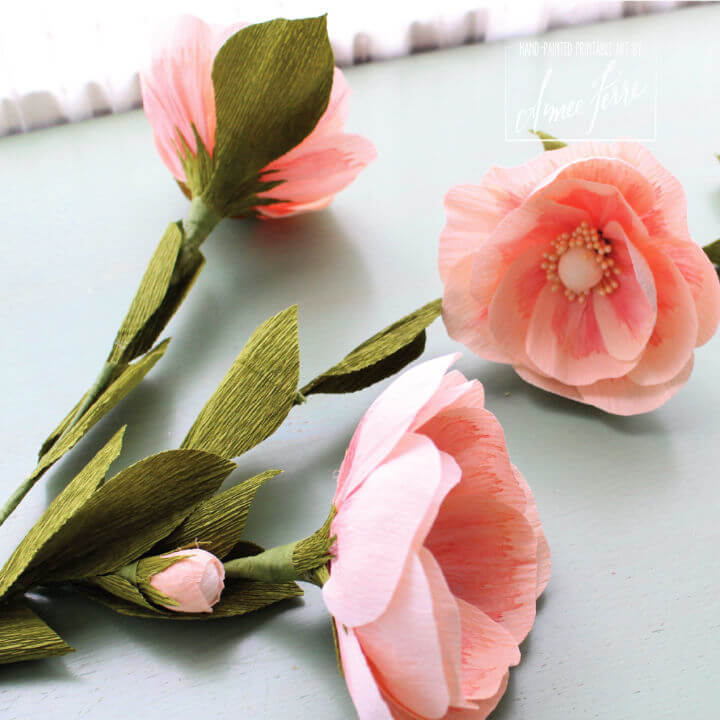 Give respect to your elders and also to your parents on Mother's Day or Father's Day by giving these heirloom crepe paper flower roses.
You will make them with your own hands and hence mixing your deep love for your beloved ones. These flowers will also make a thoughtful gift for a friend. Details here aimeeferre
DIY Large Crepe-Paper Roses:
Let these large crepe paper roses perform in place of flower bouquets, which will earn a lot of praising comments!
Get busy with a paper template, and cut the paper petals out of your favorite paper, glue them in place while adding curls in the edges and that's it. Grab the instructions from here marthastewart
Paper Rose Flower Wedding Bouquet:
Consider making wedding bouquets with your own beautiful hands and raise in the eyes of a friend who is going to be a bride soon.
Make dozens of these paper roses and next put them together in a globe style making a gorgeous wedding bouquet. Full how-to instructions here liagriffith