Capturing the most awful and enjoyable moments of life with your camera or Smartphone is a great idea but when it comes to displaying them nicely to your beloved ones and to the audience, the photo albums always make a great choice! Are you sorting out also the best photo album ideas that will turn your photos into super sweet memory gifts that your beloved ones will love to cherish for years to come! So, to make you nicely display your photos, we have compiled here these best of best 34 DIY Photo Album Ideas that will make you say a big 'wow' when they will showcase your photos beautifully! What is special in these DIY photo albums is that they are all budget-friendly and quick to make and will be a most loving way to turn your photos into smart memory gifts that will definitely go heart-touching to your beloved ones!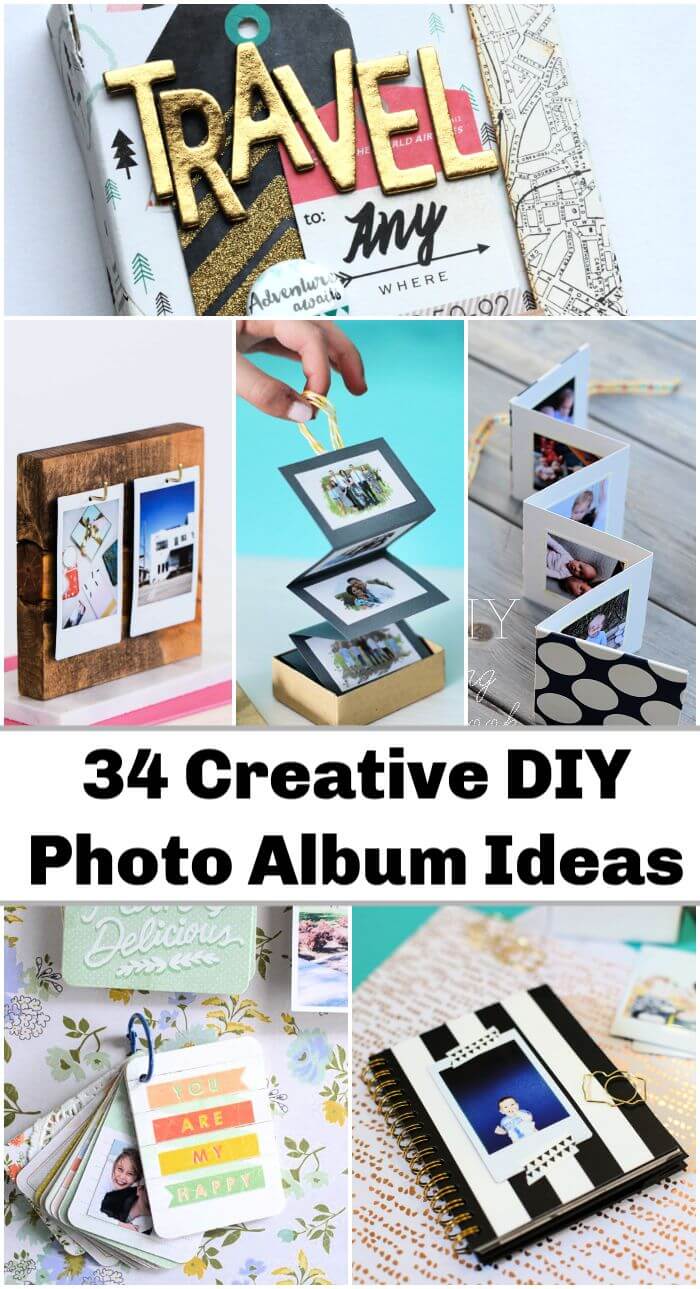 This list will guide you for making all different designs of photo albums that are most loved ones, that are in trends and all those that will be super gift-worthy! So, you going to find here all the tips and tricks to make the smart mini photo books, brag books, the accordion photo boxes and also flip photo albums, etc! The first thing you have to do is to make the blank album using the material like cardstock, envelopes, and paper brag books and next you can use adhere you resized and printed photos on them! Use your computer to give the final touches to your photos and also to resize them for a custom fit to the album! You are going to learn all here to make the best photo albums of life at home!
Best DIY Gift Ideas:
Make the Instagram boxes that you can decorate with custom embellishments and can give a lovely gift wrap to make amusing gifts for your beloved ones! Put your resized photos together and then add the front and back accent covers and finish with the binging rings, the super cute mini photo books will be ready dazzle the audience! Cut long strips of cardstock, create a zigzag appeal of it by adding folds and then paste your photos on it to make gorgeously cute and lovely brag books! Also, add the hooks on a vertical wooden board to hang your photos and make the flip photo albums that will be loved dearly by all! Browse the entire collection to see more unique homemade photo albums, visit the attached links for getting full free tutorials and guides!
How to Make Mini Photo Album: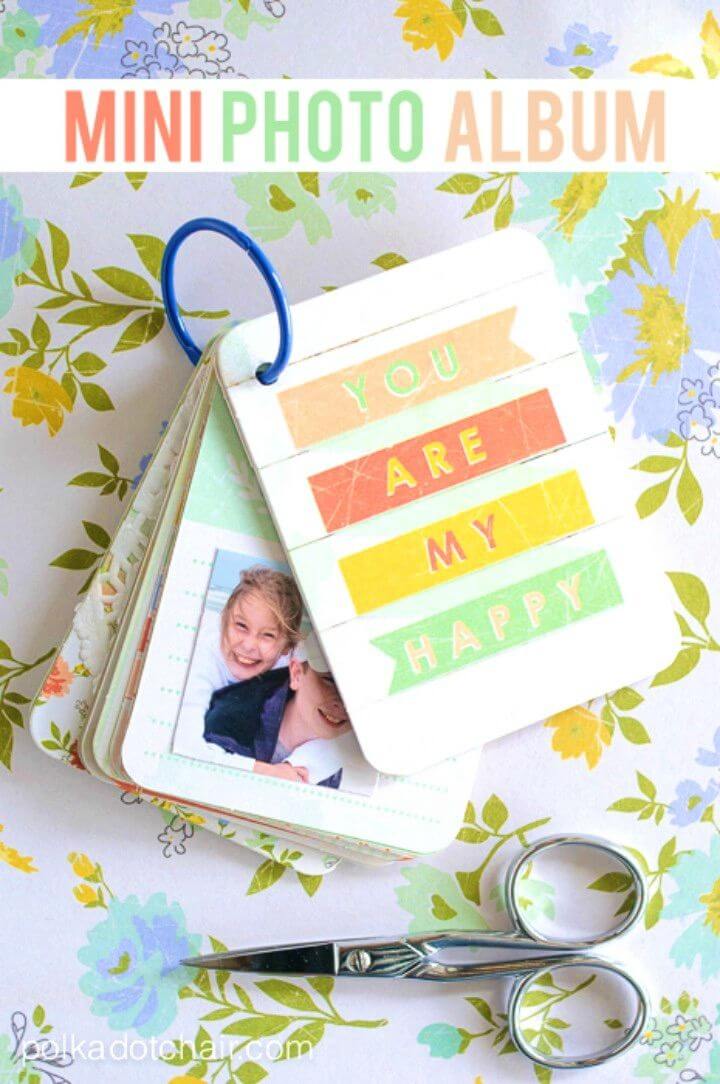 Save your favorite past photos nicely by making miniature photo albums! Take your photos to equal sizes like pages of a book and then punch holes in their corners and add rings to hold them together making beautiful mini photo albums check out the lovely given sample that comes with enchanting covers! polkadotchair
Easy DIY Instagram Photo Box: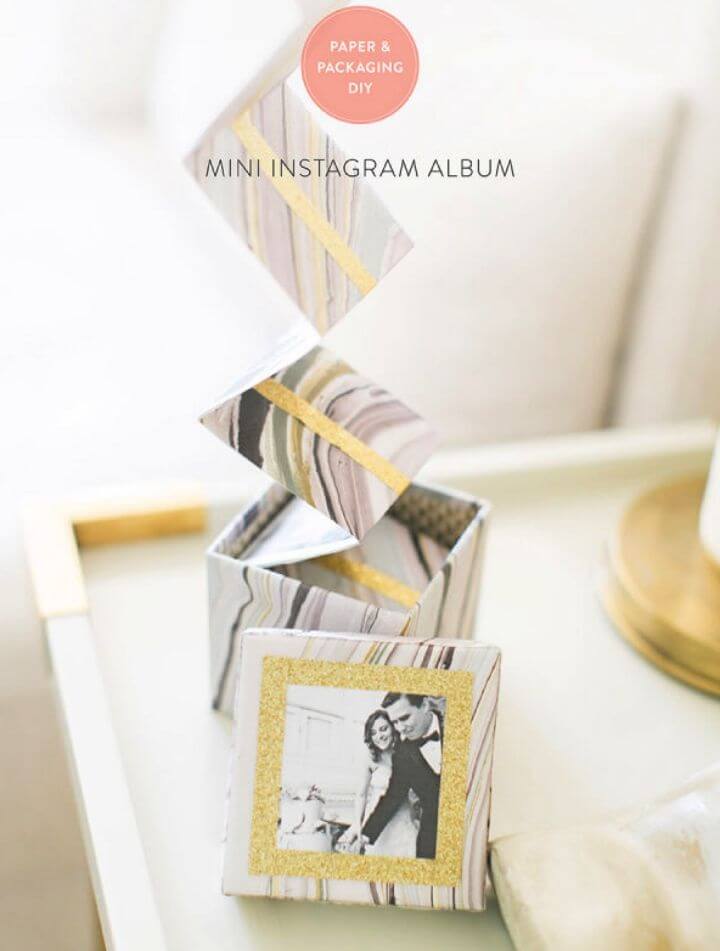 Do you really love the Instagram photos? If yes, then do make the Instagram photo boxes at home that will also make a cute gift to a beloved one! Make a brag book out of your photos and then simply put them in a decorative box and gain a lovely Instagram photo box and get inspired by the lovely given sample! stylemepretty
Easy to Make Brag Book: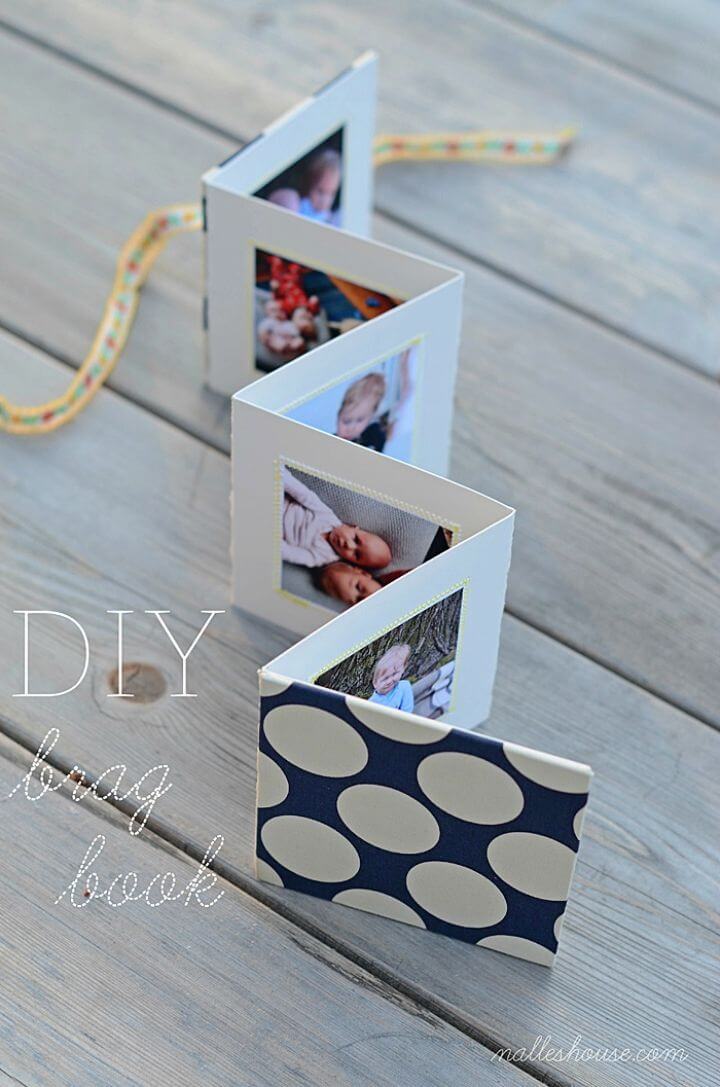 Get inspired by this one of the most decent and ways to showcase your photos! Make also interesting brag books that will create a lovely zigzag display of your photos and will be super easy to make even for a beginner! Check out here a lovely homemade brag book and do duplicate it at home! Details here nalleshouse
Quick DIY Magnetic Album: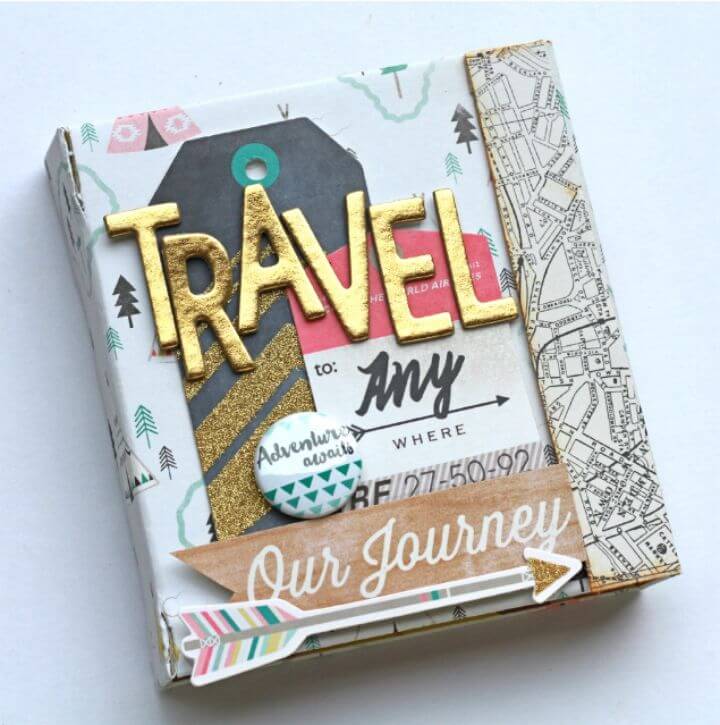 Create lovely albums of your photos that would be a great and decent way to save and display your photos and here is how to make a magnetic album of your photos! Grab the chipboard magnetic tape, patterned papers, accent gold letters, ink pad, and accordion to make the lovely magnetic album! Details here thescrapperinme.blogspot
How to Make Flip Photo Album: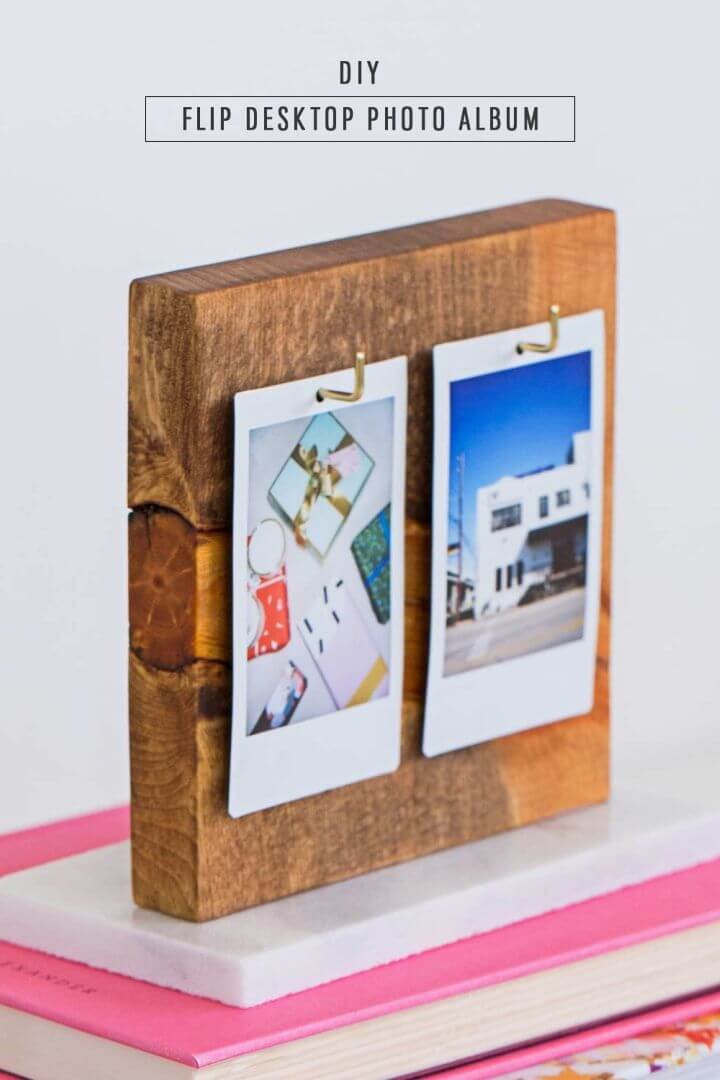 Do the justice with your photos by displaying them in an enchanting manner and here is an excellent way to display your photos! Make this flip photo album that will surely grab one's attention and is super easy to make using a piece of wood! Stain the wooden board, add it up with hooks and then hang then photos onto them and make a lovely flip photo album! sugarandcloth
Make Photo Album with Instax Film: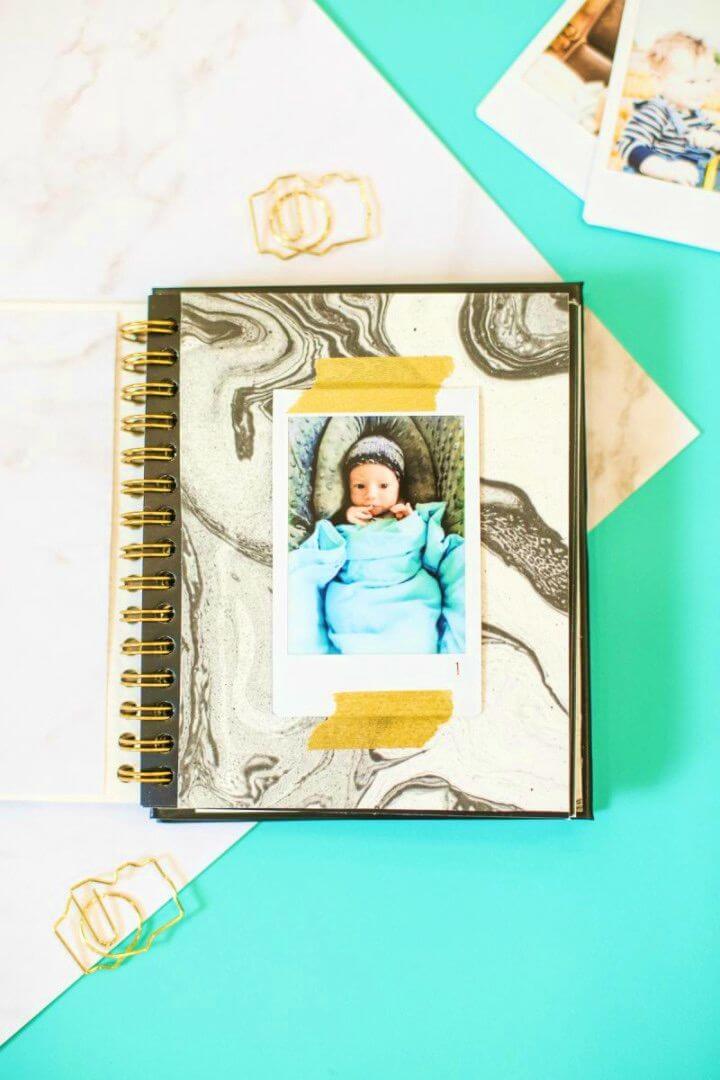 If you are striving for creating an enchanting display of your photos, then do make the lovely Instax film albums of your photos that will be appreciated by all and will also make cool memory gifts for the beloved ones! Live again the past moments by making this fabulous photo album! Here is how to make this photo album lovelyindeed
How to DIY Accordion Photo Box: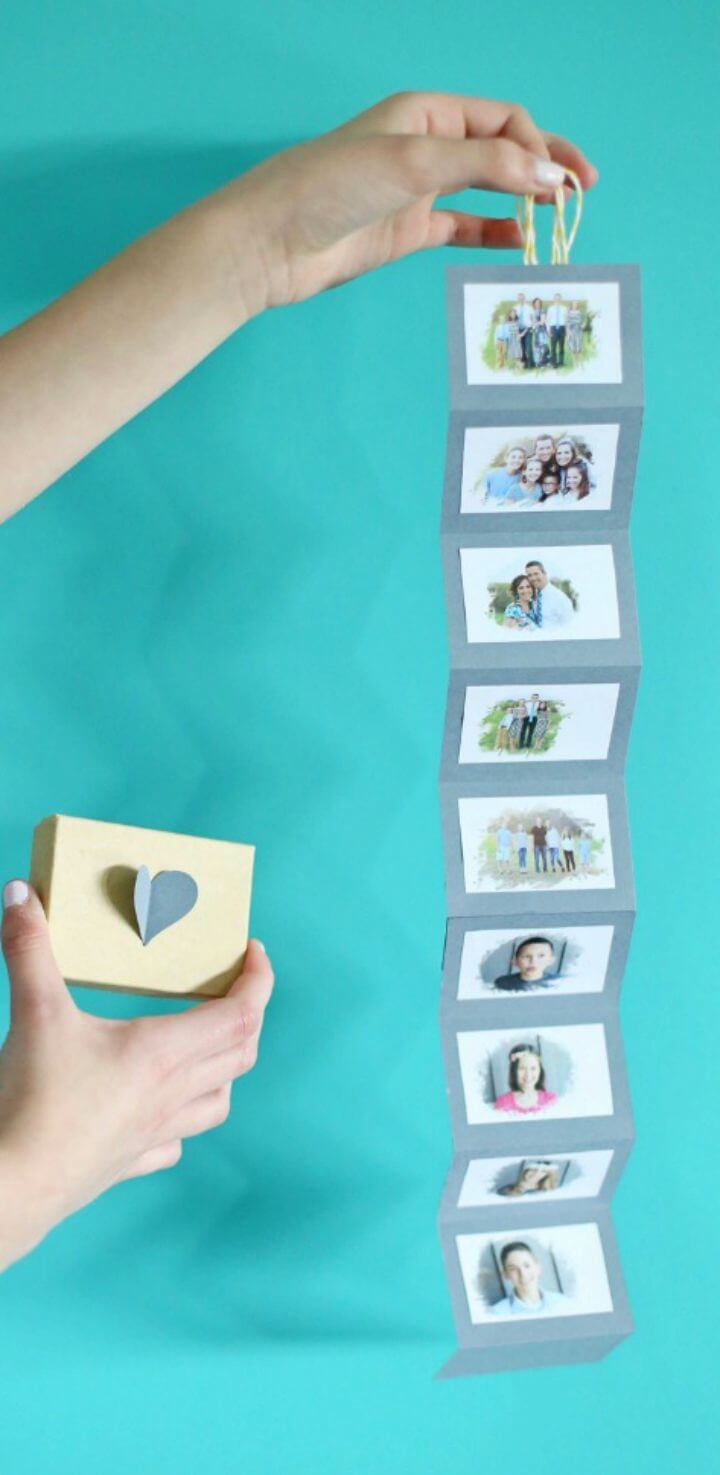 There are tons of ways out there to display your photos and here is another one to hold your attention! Make the accordion photo box that will be all about to make a quick zigzag brag book of your photos! Resize your photos and paste them on a piece of cardstock and create folds! Full project details here sugarbeecrafts
Awesome DIY Family Photo Board Book: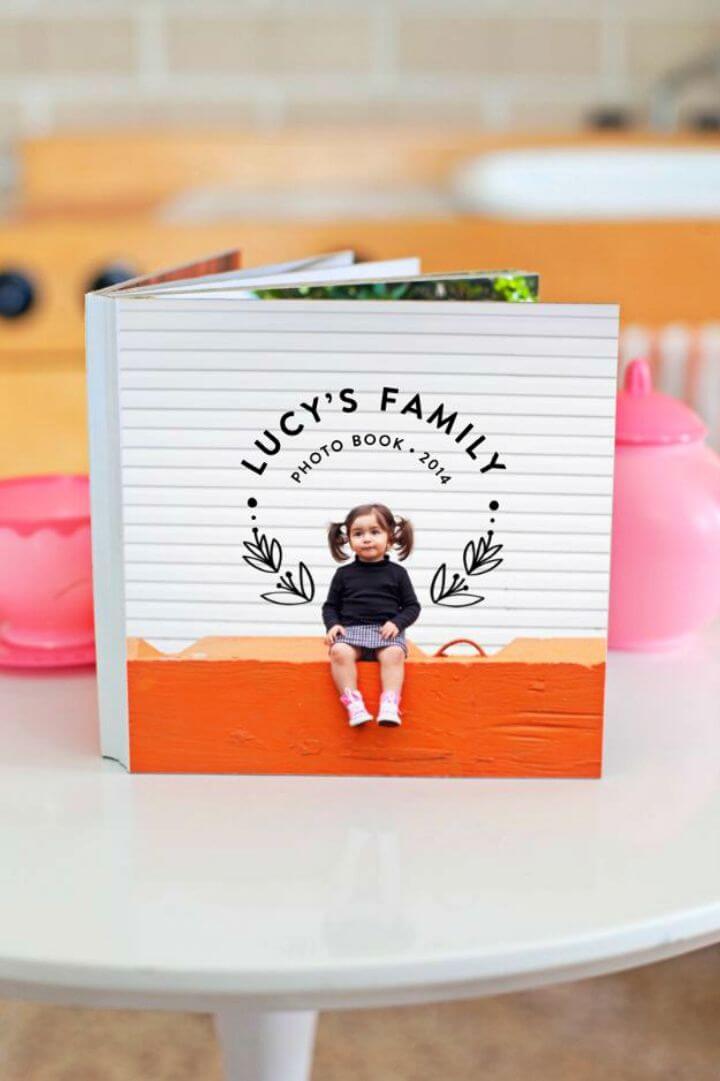 Make also the photo books of friends, family and kids photos that will also nicely display your photos, and it would be like to create a mini enchanting showcase of your favorite photos! Grab the custom bindings of book covers and then add the photos in it like pages of a book! Get inspired by this given sample! abeautifulmess
DIY Homemade Photo Album: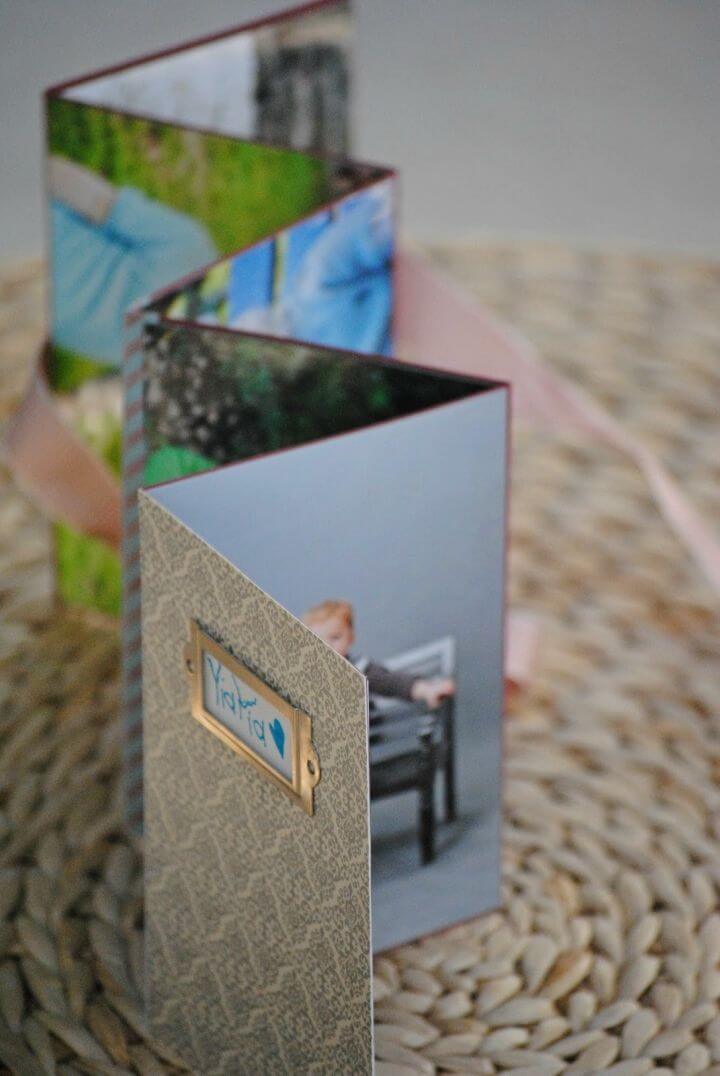 Are your sorting out the smart ways to create unique and low-cost albums of your photos? Then here is another great photo album hack for you! Grab your favorite photos, patterned and colored scrapbook paper sheets and make this lovely photo album that comes with a metal label holder in front! Here is how to make it makinglemonadeblog
Make Mini Origami Photo Album: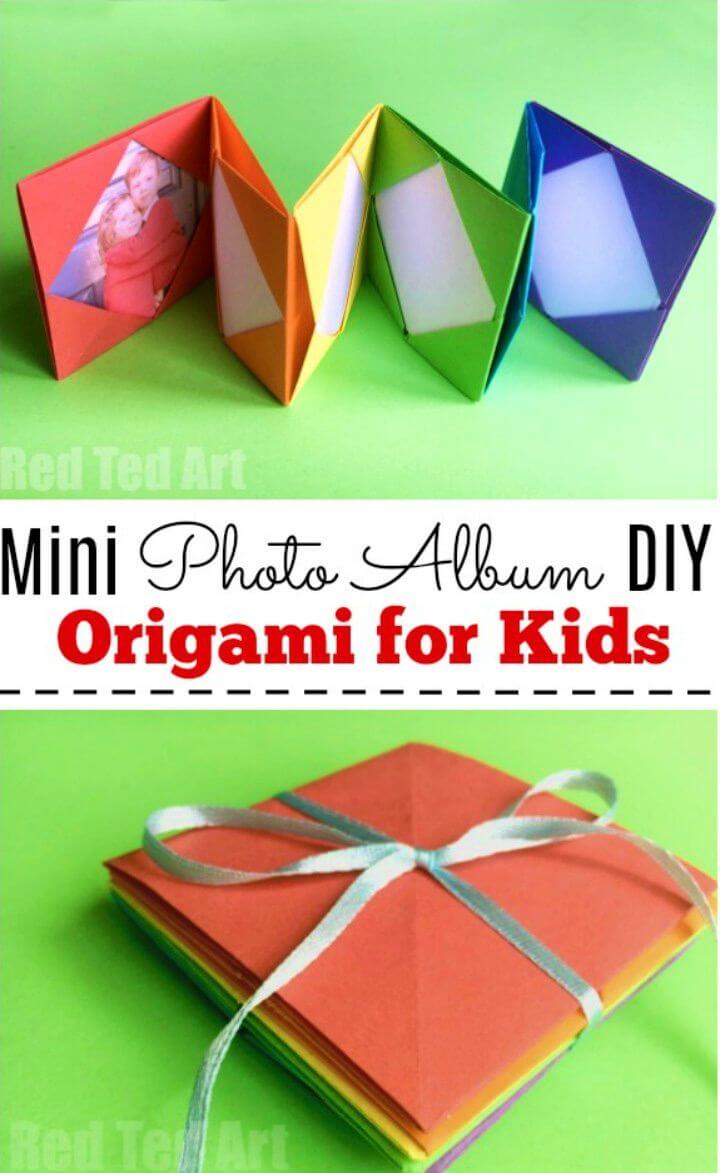 If you and your kids are having great kills in paper origami art then also create lovely photo albums using your origami art and here is a great inspiration for you here! Make the mini origami photo albums like the mini brag books and then fold them and save in an accent or decorative box to give as a sweet handmade gift! Details here redtedart
Make Pull-out Photo Album: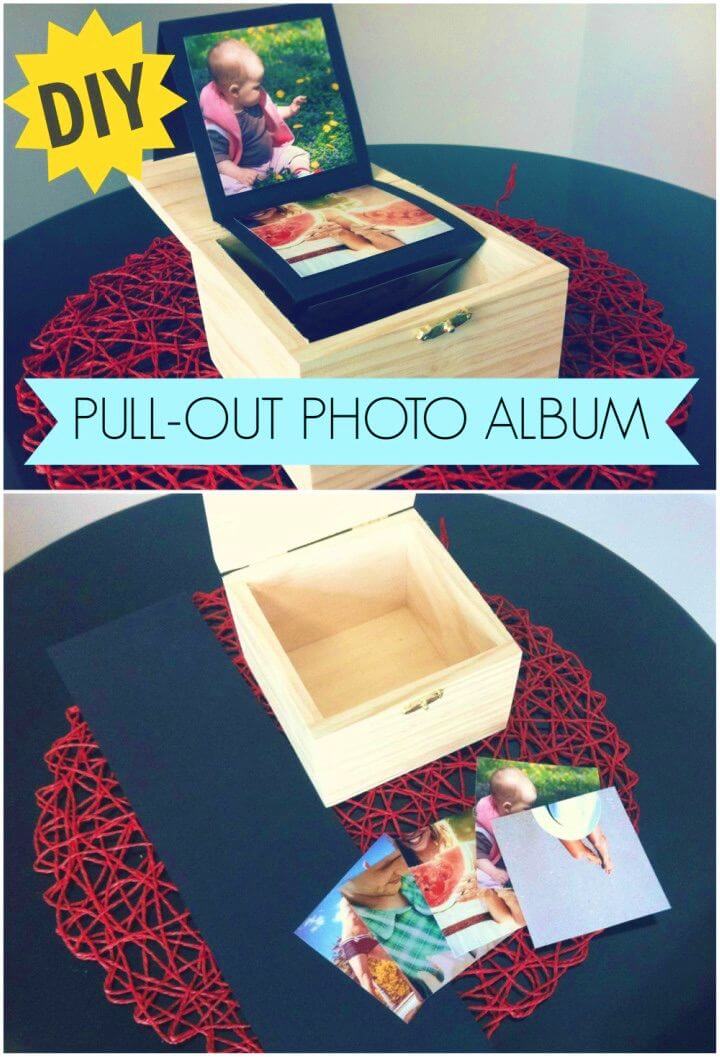 Here this pull-out photo album will be a more fun way to browse your favorite family photos! Creating this photo album would also be a great photo-based gift idea, and you can give this pull out photo album as a great Mother's Day gift! Make a brag book photo album and then add it in a wooden box! fujifilm.co
Easy DIY Folding Envelope Mini Album: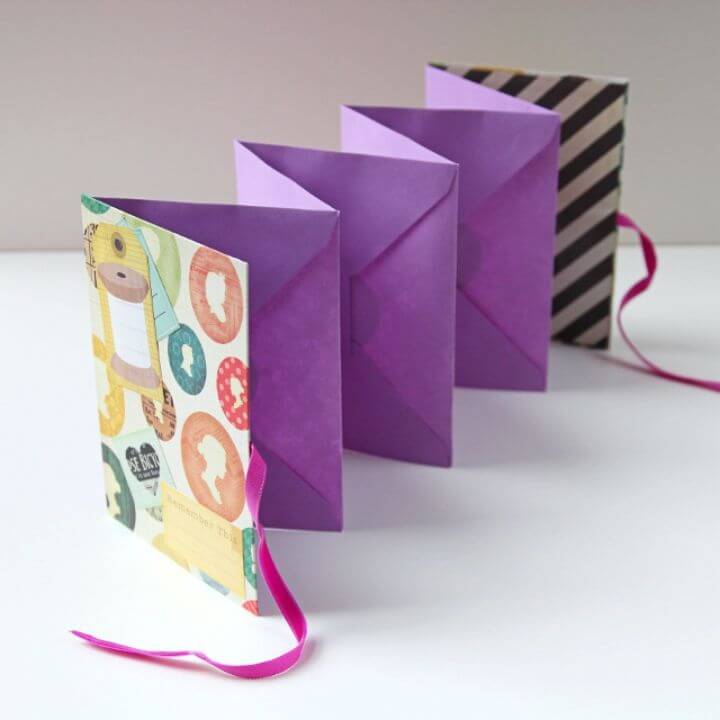 Create also the lovely mini photo albums at home using the envelops and then the idea is simple to glue together the envelops making a zigzag folding album and then to paste your favorite photos on the folding envelops creating a beautiful album! Decorate it up more with the accent front covers and ribbon and enjoy! gatheringbeauty
Pretty DIY Travel Photo Album: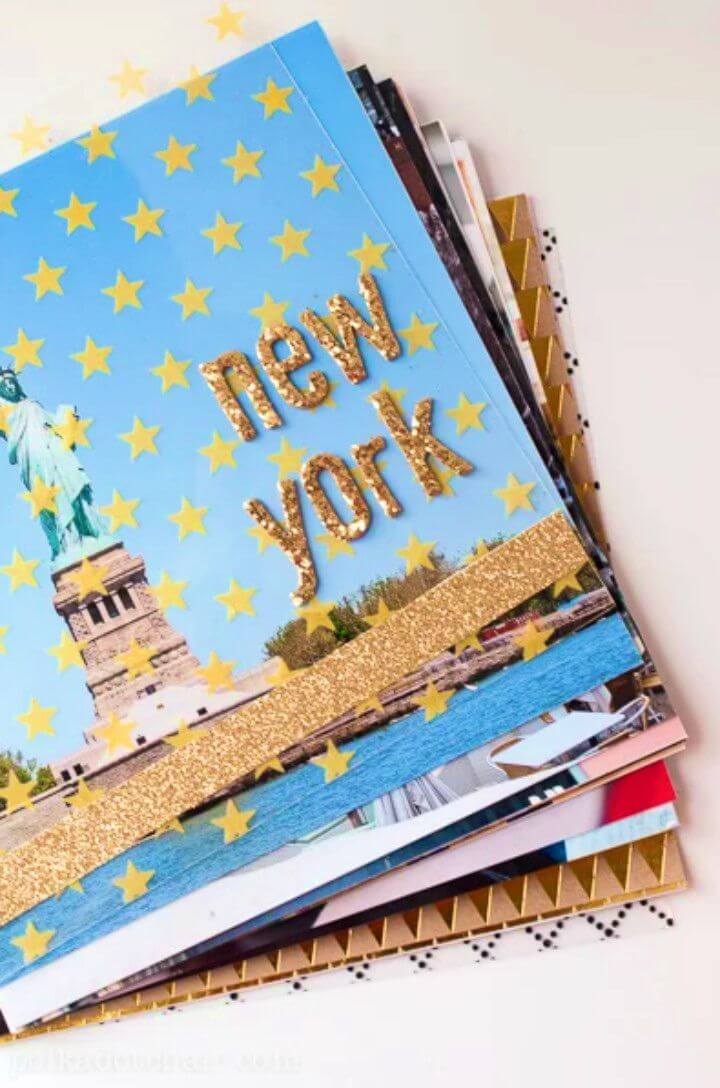 Want to display all of the photos nicely that are in your smartphone? Then make this pretty photo album that will be ready at a drop of a hat! Print out your favorite photos, place them together with the cardstock covers and then install the binding rings and make a precious travel photo album as you can see! Details here polkadotchair
Make Accordion Photo Book: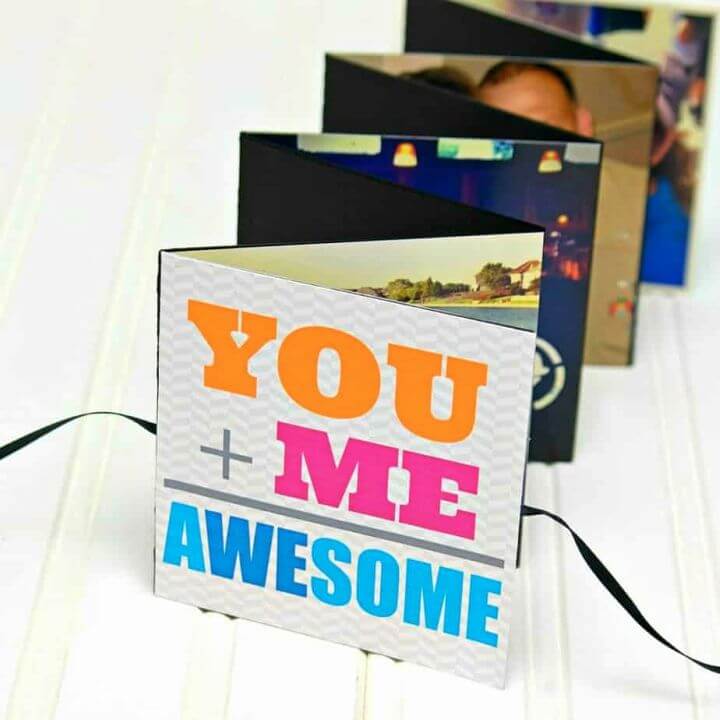 Cut out a wide strip of the cardstock to make the accordion and then use the double sided tape to adhere your photos on the cardstock and then create folds for getting a zigzag photo brag book that you can also put in a box for making a cool memory gift that you can give to anyone on a Memorial Day! happygoluckyblog
Easy DIY Fabric Photo Album for Baby: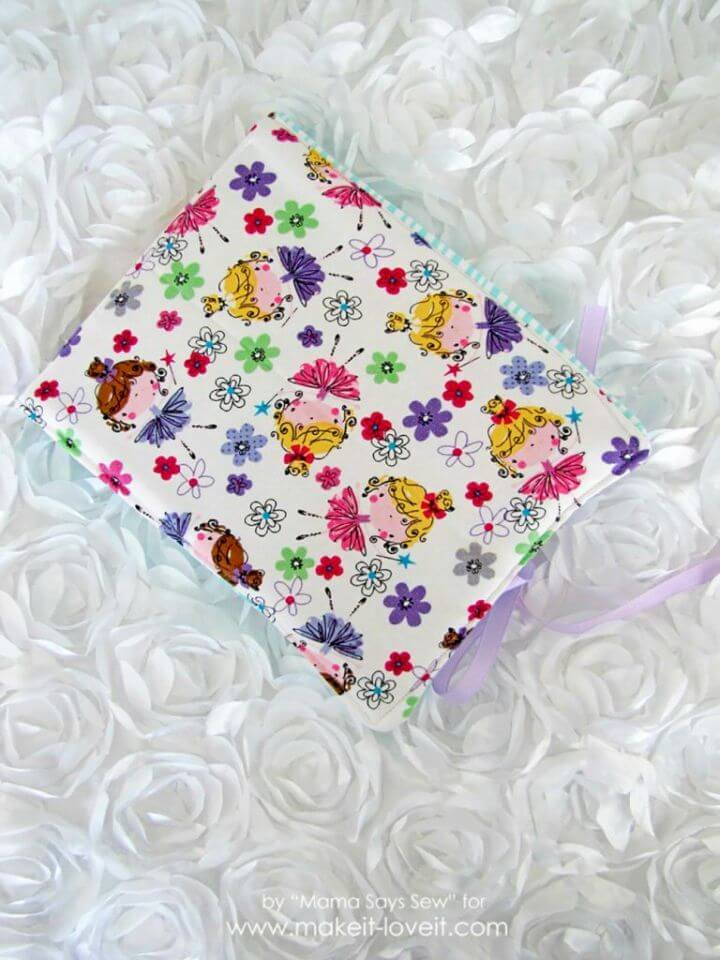 If you are having a collection of photos of your naughty baby, then do save them as childhood memories of your baby by making this lovely fabric photo album, will not a be a big hassle to make! Just like the paper photo books, sew the fabric pages and paste your photos on them creating a lovely fabric photo album! makeit-loveit
DIY Little Summer Mini Album: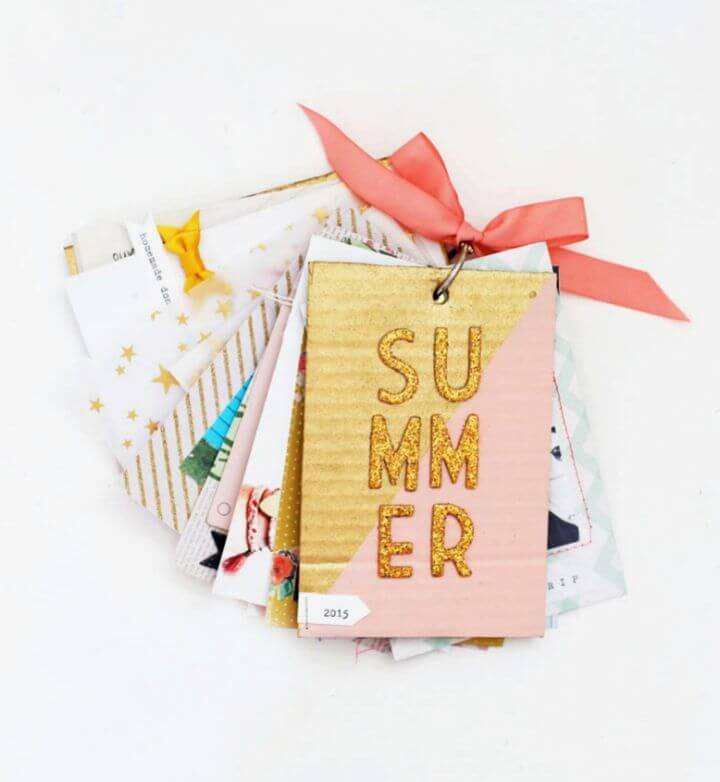 Use your art of scrapbooking and paper crafting and make the lovely mini summer albums that you can put together using the binding rings to save all your summer tours, beach visits and over enjoyed moments of summers! Here making these mini albums is super easy even for a beginner and here is how to make these mini albums! maggieholmesdesign
DIY Tiny Travel Album in a Box: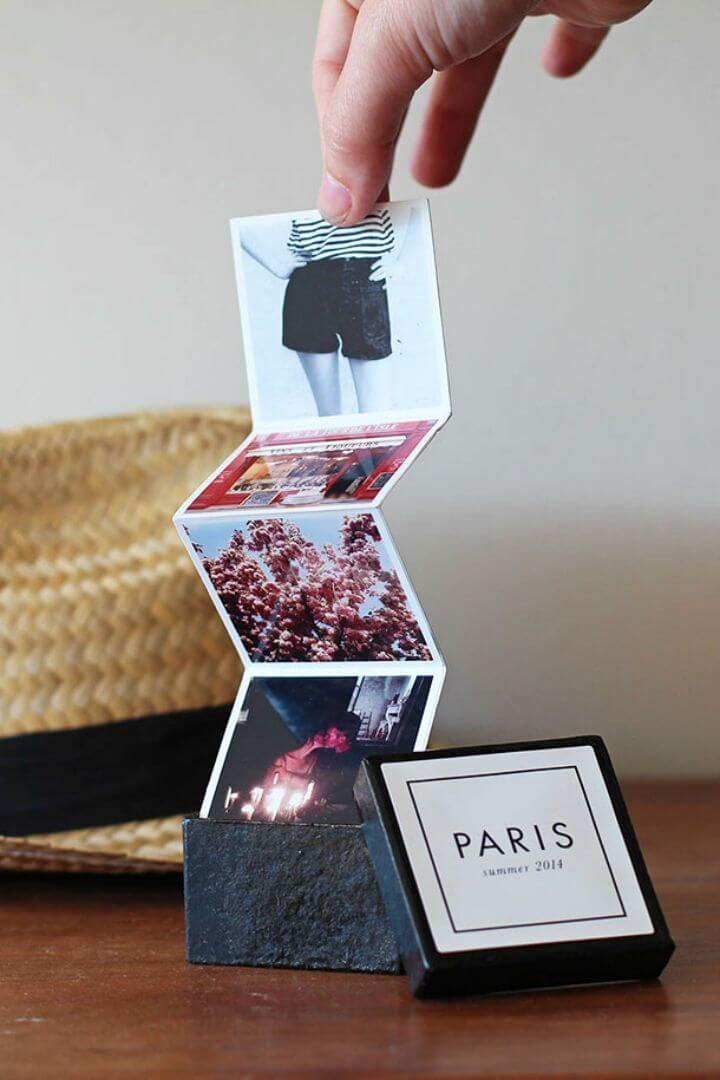 Want to show off with your traveling tours? Then you definitely consider making some lovely travel photo albums in a box, will also be a way to save your most enjoyed life moments! Paste your travel pictures or photos on a piece of paper or cardstock and then fold them as a mini book and place in a box! camillestyles
Quick to Make Generations Album: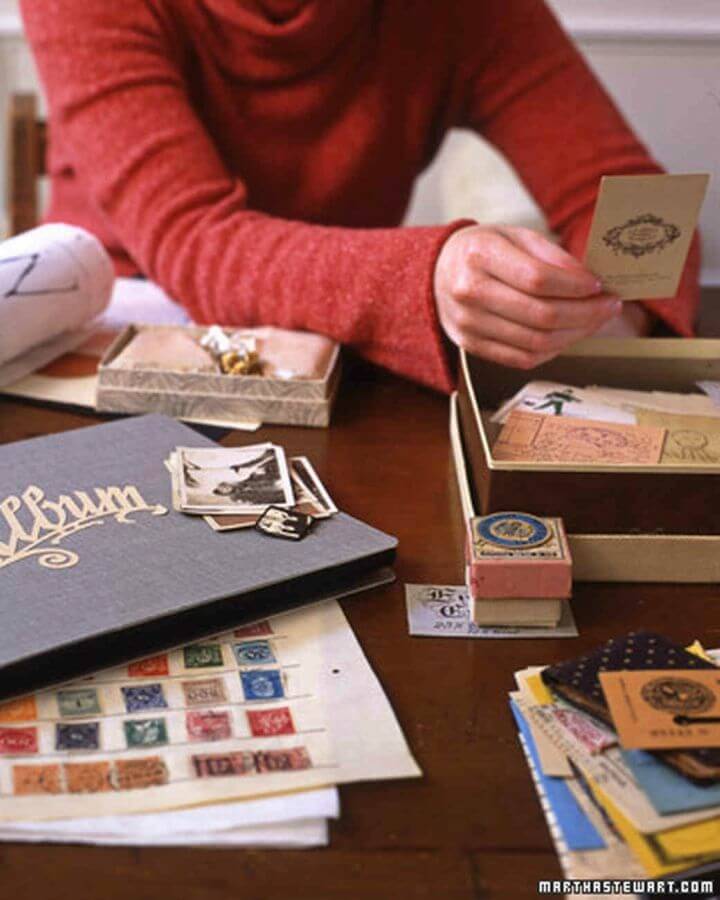 Here is how to beautifully save your family history, just make the generations albums that will be a great idea to tell one about the history of your family! Collection the generations wise photos and then make photo books, brag books or any other types of albums with them,  get inspired by some interesting samples give below! marthastewart
DIY Mothers Day Photo Album: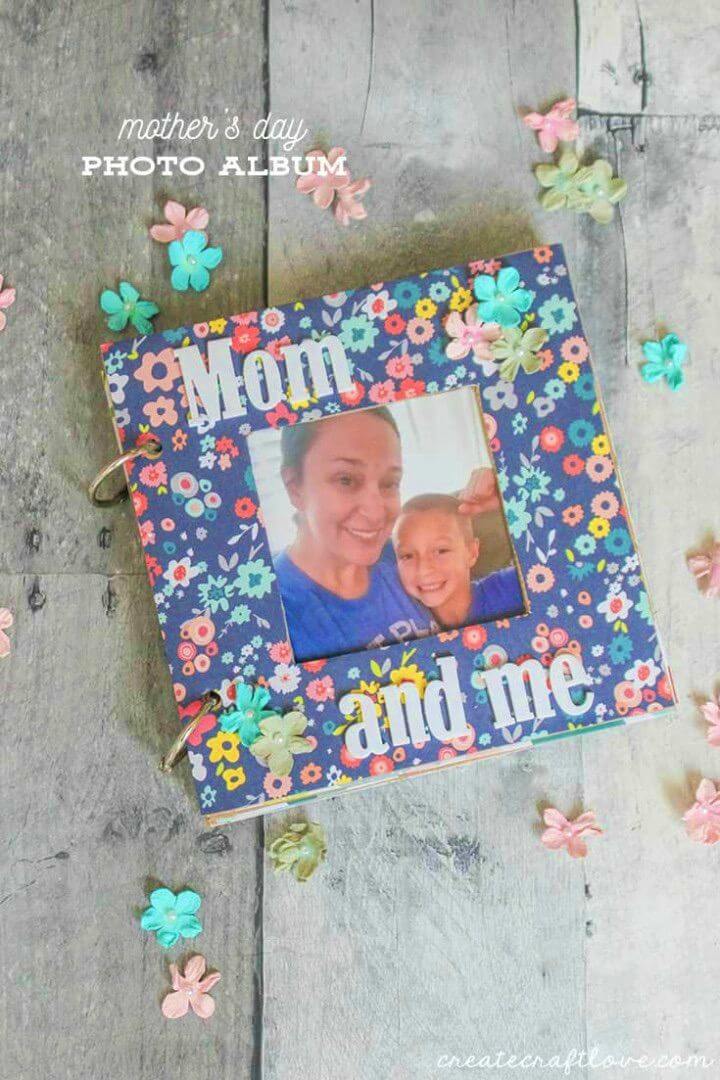 Earn more love of your Mother by giving this great gift to her on Mother's Day! This is here a handmade gift, and it is all about to make a photo albums of your mother's photos showing her priceless love to you! Again put together your selected photos as book pages, add covers and then install binding rings! createcraftlove
Simple DIY Vintage Photo Album Pocket: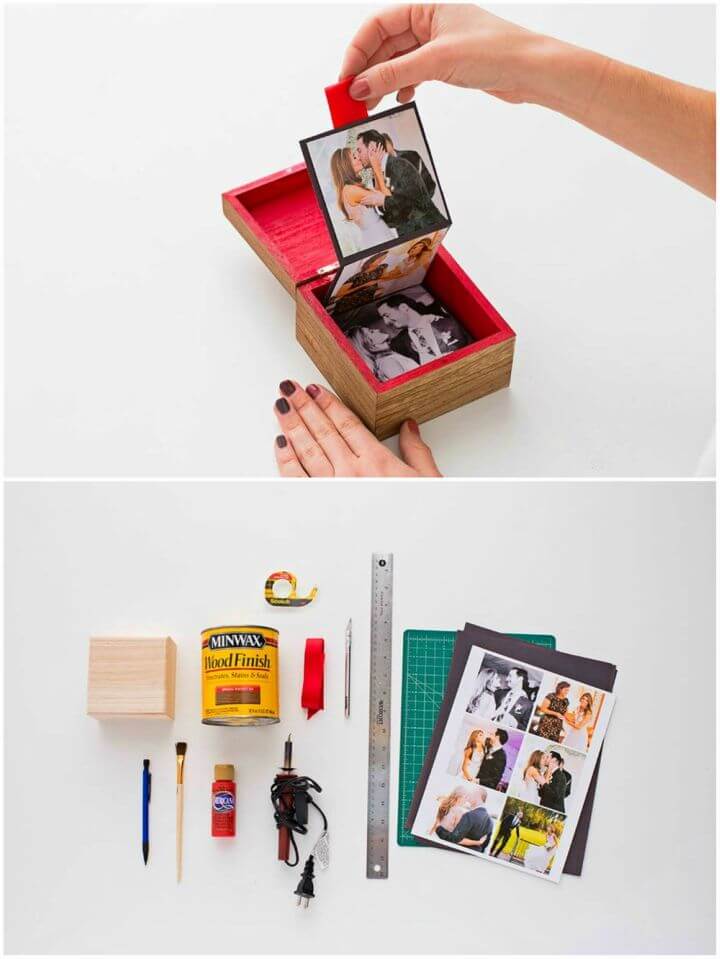 Also, make the vintage-inspired photo albums of your favorite family and friends photos and here is a lovely one that you can also place in a pocket! A pull-over photo album that holds a photo brag book inside a mini wooden box! This type of photo albums will rock for the newly married couples for sure! Details here brit.co
Easy DIY Concertina-fold Photobook: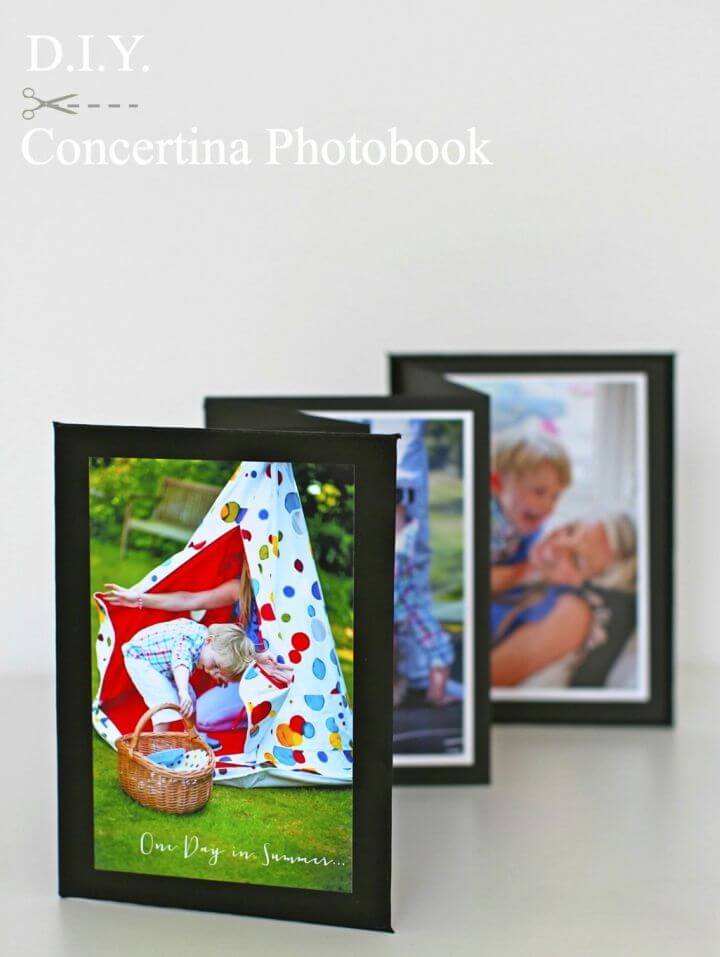 There are tons of different designs of the photo albums that you can choose to nicely showcase your photos and here one more to grab your attention! Also, make this concertina-fold photobook that also comes with zig-zag folds and will surely make a nice handmade gift to a beloved one! Here is how to make it katescreativespace
Make Your Own Scrapbook: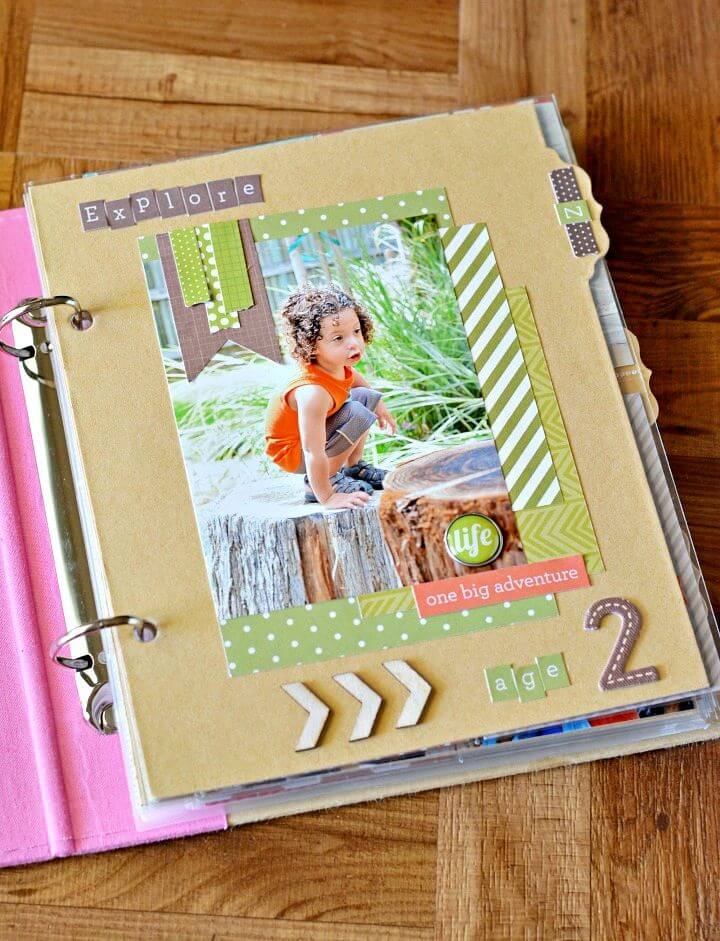 Use also your scrapbooking techniques and art to make decorative photo books, and this would be a great idea to save all the events of life and those most amazing moments of life you were with your friends and family! Use your embellishments and paper cuts out to give a decorative touch to the scrapbook photos! Details here blog.consumercrafts