While being on the mission to show your personality and taste throughout your home, we give always our first priority to wall art pieces for home decor! Different prints, photos, and posters describe your fantasy, interests and unique taste! By displaying different types of mural and art frames, you can also turn a simple blank wall into a fancy art gallery! This elegance and prettiness of your wall art pieces will art depend on your hanging systems! You may be tangled in different DIY poster hangers option and choices! Here we are to talk about a little that how you can make your own DIY poster hangers or poster boards or beautiful picture frames at home without causing too much load on your wallet!
Check out this very rare collection of hand-picked DIY poster hangers that will speak volumes about how you can craft your own stylish diy poster boards, print or picture frames with limited source or with always available home materials!
Reclaim the old wood to build classroom chart hangers and inspirational office posters! Learn also the all the basics and expert techniques here to make the very pretty magnetic artwork frames! You can also try the DIY poster hangers that will be ready in last 10-15 minutes along with a praise-worthy appeal! Here are also going to grab the tips of tricks that how you can use the nautical rope and copper rails to craft stunning print and photo hangers without major investments.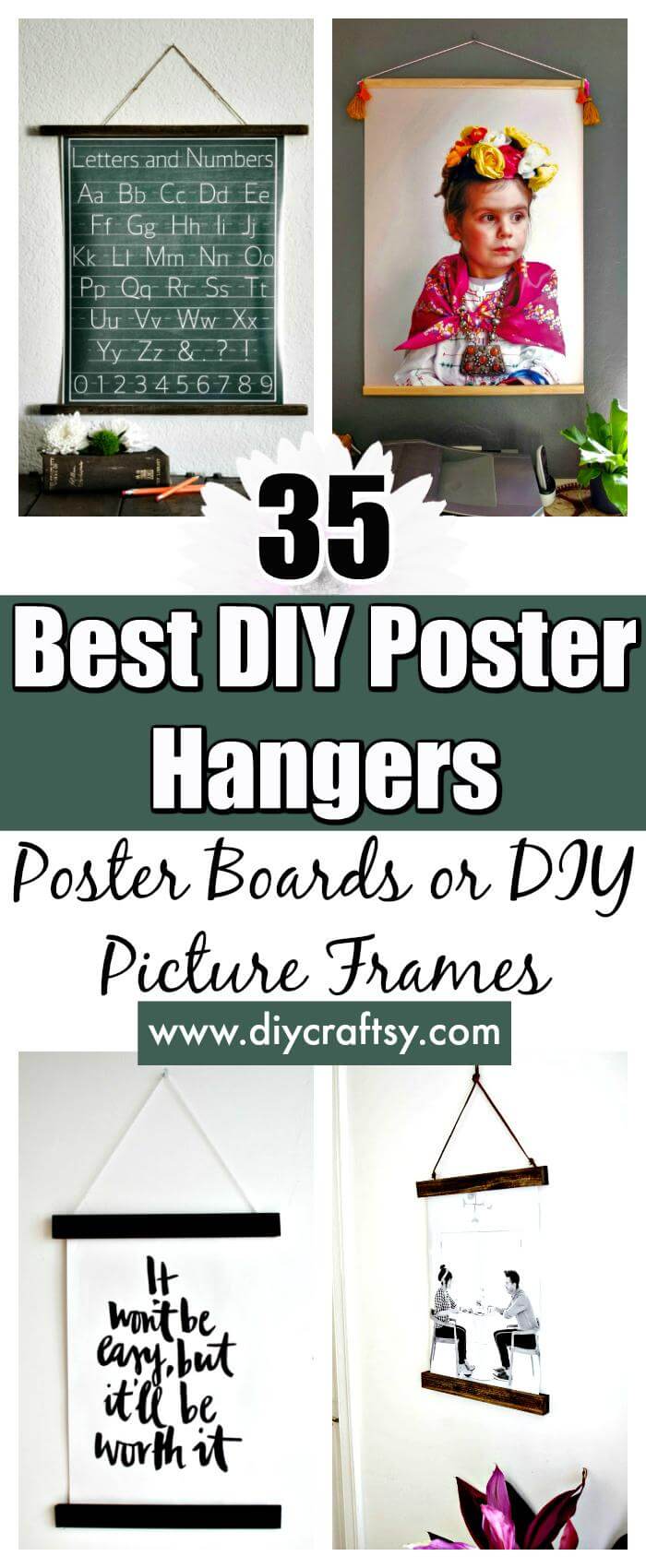 For each DIY poster hanger project details, easy step-by-step tutorials and instructions, simply visit the reference links that can be seen below each showcased poster hanger idea!
Handcrafted Vintage Classroom Chart Hanger:
You can increase the interest of the kids int the subject he is not good at like biology. By making these lovely posters and hanging them in vintage poster style on the walls. It would be really fun and informative to make at home yourself with your kids involved in it. See the tutorial here designmom
DIY Poster Hanger Instructions:
Bring some old schools vibes in your home decor with this french learning poster hanging on your home walls and that too making it of your own with simple crafting supplies. you can also make it a part of your office decor so here is the tutorial to give it a try this week. apartmentapothecary
DIY Vintage Handwriting Chart Hanging Print Tutorial:
Make your kids learn the basic numbers and letters at home and this chart poster can help you a lot in this regard. Just the basic supplies and you can do it of your own and display it in the class room or school room of the house with that fun vintage vibes. See the full tutorial here thecopperanchor
Self-Made Poster Print Hanger:
Making the copper stained LOVE letters and them making them hang on a poster for your walls would be a perfect idea for decor in your studio apartment. And its also best to make for the valentine day gift or just a simple love gesture too. So know it more here to make it yourself this weekend handmademood
Poster Hanger Step-by-Step Instructions:
Using your favorite posters with the wooden dowels and some needy tools you can turn them into a great wall ary piece to join proudly other wall decor stuff like paintings and pictures. Here is the full tutorial to turn your simple poster into a hanging sensation. ohprints
Easy-to-Made Poster Hanger:
Hanging posters are the best idea to decorate the dorm rooms with. Just grab any painting or poster of your choice and add wooden dowels on the top and bottom to make it hang easily on the walls which is low cost, simple and quite easy technique than framing up. See the quick and easy tutorial here diyinpdx
DIY Wooden Poster Hanger Tutorial:
Simple crafts can really add a homey touch to the home decor. This cute map poster with wooden hanging would make a perfect elegant spot on your wall decor. Just grab a personalized posters and add wooden hangers at the both edges and its done so easily, nicely and cheaply. Tutorial here monetsommers
Cost-Efficient Wooden Poster Hanger Project:
To fill up the empty walls of the house stylishly and artistically you can whip off this idea of wooden poster hanger. A simple and custom poster of your choice can be provided wooden hangers to get nicely displayed on the walls and jazz up the whole homey decor. Learn it more here simplicityinthesouth
Handcrafted Vintage Style Frame or Poster Hanger:
Even the nicely quoted prints or posters would make a lovely presence on the walls when made up with the wooden poster hanging style. Here is a cute and chic poster with a motivational quote with the wooden hangers being stained in black to look really classy and matching at the same time. Get the details right here apairandasparediy
Handmade Magnetic Poster Rails:
You can restyle any room of the house with the lovely wooden poster hangers like this one has been used to update the decor of the living area. All you need to do is just choose the kind of poster that you want to add in the decor and the rest of the work to make hang can be learnt here so nice and easily themerrythought
DIY Magnetic Poster Hanger Tutorial:
You can also use silhouette images as the poster hanger in your house to spruce up the walls decor. Here is a cute sample with us having been made with the wooden pieces to get it framed up and magnets with twine have been used to make it hang nicely on the walls. Catch the complete details of this project here frizzydiamond
DIY Simple Wooden Poster Hanger Tutorial:
This written up poster is all about the Halloween theme so it can be perfectly used for Halloween decor in the house. Get the poster and attache the wooden hangers at the top and bottom and adding a twine on the to make it paste on the wall nails is the last thing to do and its done. Step by step instructions here saralortondesign
DIY Retro Poster Hanger with Wooden Rods:
Adding the vintage vibes in the chic home decor is the best idea to upgrade the decor and make it look a bit unique and one of a kind. So grab and old map and make it display on your wall with the wooden hanger technique which is super easy to do yourself at home with the tutorial help here lesindecisesvintage
DIY Rope Poster Hanger Instructions:
There is a more simple and easy method to make your lovely posters hang on the walls other than the wooden hanging. that quick and feasible trick is to rope hanging and you can see and learn by just seeing the poster that how to make it of your own. Still we got the full tutorial here for you thecrazycraftlady
Inspirational Office Makeover – DIY Poster Hanger + Giveaway:
If your office is in need of getting cleaned up and some restyling then its the right time to do it. Just get the clutter out and bring about this lovely baby poster to get wooden hanged on your office walls along with some other renovation like entry of new office stuff. Get the complete tutorial here mypoppet
Brilliant Handmade Wooden Hanger:
The camera lovers are just obsessed with the photos and posters especially with the conventional ones. So if you are also that kind of artistic person here is this lovely idea of make a wooden hang frame with a lovely traditional poster and display in your room showing your love for them. check out the complete tutorial here meandorla
DIY Wooden Poster Rails:
Natural sights captured so artistically on the posters are always the weakness of the decor lovers. So if you want to bring a such an artistic poster in your home decor then do it with the wooden hanging way using the wooden dowels to hold the poster and twine to hang it nicely on the walls. Its easy yet the details of it are here instructables
Handcrafted Map Poster Hanger Project:
There are lots of ways to bring some uniqueness in the decor of your chic and modern home. One of the coolest way to do so is bring this lovely wooden hanger map poster and enjoy its lovely old school display in your rooms and that too so cheaply, feasibly and effortlessly. Catch the quick instructions here rachelteodoro
DIY 10 Minute Magnetic Artwork Frame Tutorial:
Displying the artwork in the house is the best way to make the wall decor look really fantastic and now you can do it yourself. Get an art poster and use two thin wooden scrap pieces to frame up the poster with and show it off proudly on your home walls be it hall or living area. The idea is quick, easy and totally budget friendly so grab it apartmenttherapy
Timeless DIY Poster Hanger Project:
Wooden hanging posters are all the rage for the home decor these days and you can also try you hands on it but with a twist. And that is using the wooden scarps with the wavy pattern that would add more conventional look to the poster and the decor at the same time. The dark brown stain enhancing the rustic fact so explore it more here diycandy
Super Easy DIY Poster Hanger Project:
Here is super, simple and innovative idea to spruce up the decor of your bedroom, hall or the living area with. This is a wooden photo hanger with a black and white photo print and the wooden pieces holding it tight between them. A leather cord is making it display on the walls and thus adding some romantic vintage vibes in your chic spaces. Step wise directions here abeautifulmess
Beautiful Self-Made Poster Hanger:
A lovely poster is really hard to resist so if you have them make them proudly show on your walls in that back to school poster hanger ways. Like this lovely pineapple poster has been made with wooden hanging and it looks more enchanting then the photo frames for the decor. Know it more here thecraftedblog
DIY Tape Picture Frames:
Getting ahead to the photo frame and wooden poster hangers you can get your hands dirty with these DIY tape picture frames for a fun and boho gallery wall in the hall, living or even the bedroom. Just get some cute posters and colorful tapes to make them stick on the walls. Full tutorial is here to hack this unique idea for your walls  designsponge
DIY Poster Size Pallet Frame:
An old USA map and some old imperfect wood can create this lovely and perfect pallet map frame. So if you are looking for something rustic and warm to add in the home decor then pull off this map fame idea as its cheap and totally simple to make of your own. Tutorial here spoonfulofimagination
DIY Easy Custom Poster Hangers:
There is always something special in our every DIY collection for the lazy crafters and here is another one.Just use the cloth hangers to display your favorite photos and posters on the walls to turn the wall into an artistic gallery but that too staying in your budget limits. Here is the complete tutorial to every bit about it byfryd
DIY Copper Poster Hangers or Frames:
There is another awesome way to give a lovey and glittery twist to the poster hangers with the copper pipes. You can see how catchy and appealing the posters look with the copper pie framing and boundary lines all around. So try it for sure this weekend as it is super easy and fun to do project ajoyfulriot
DIY Rustic Wood Poster Size Frame:
No matter how chic and modern our houses may be there is still a yearn for some natural, rustic and tradition to be in the decor. And you can now bring that prefect rustic touch to your home styling with this lovely rustically framed up poster hanger using the distressed wood scrap. Get the complete tutorial here knickoftime
Handcrafted Poster Frame:
From being the part of the dorm rooms now the posters are being accepted as a lovely part of the home decor too. So if you also want one for your homey walls you can get this lovely and inspirational poster being wooden framed up and hanged on the walls and making a dominant display there. This link would view it with all the details thehandymansdaughter
DIY Vintage Poster Frame for Gretas and Butterflies:
If you have a kid's class room in your house then these wooden posters can really help you a lot to make the rooms really functional, informative and decorative as well. Like this lovely butterfly full poster is the perfect one to get attached on the walls of the kid's room and also bringing you back the old school memories. chrislovesjulia
DIY Custom Hand-built Poster Frame:
Natural objects like flowers instantly get our attention when come in the form of painting and posters. Here is a cute flowery poster that you can display in the form of wooden poster frame and make it nicely hang on the walls of the living or hall area and adding some really fun vibes in the home decor. Check out the full tutorial here urbanacreage
DIY Movie Poster Marquee:
To make your entertainment center look more advanced and attractive you can add the poster of your favorite movies there but not with the tape but with the wooden framing up so that it looks really chic and fun and contributes much to the theme and decor of the TV lounge or theater area of the house. Full details here twothirtyfivedesigns
Custom Handmade Poster Frame:
Magazine catalogs and vintage maps can be really a unique way to style up your bedroom decor when you are working on renovation. So here is an amazing idea to whip off in this regard to bolt up these maps on the walls and make a floating display of them which would look really stunning. Grab the complete details of this fun project here atcharlotteshouse
DIY Easy Photo Clipboards:
3d posters are really a hype these days and you can make them display in the most gorgeous way in the home decor with the rustically stained wooden frames and using the clips to to hold the posters on. So if you need a quick, easy, unique and totally cost free idea for the wall, you know it now. Full tutorial here lovegrowswild
Custom Poster Hanger Project:
Kids really learn from the pictures so if you have  a class room in your house you can use the old school poster hanger ideas to make them learn different things. From alphabets to numbers and these birds name posters with wooden frame up is the genius idea in this regard. Complete tutorial here junkaholique
Easy Large Scale Picture Frame:
The bigger the beautiful would go perfectly with the frame art so if you are in search of  a big frame to cover up and fill up the walls with then this lovely scale frame with the black stained wooden frame up would be the perfect piece to try your hands on and display in the home decor so nicely and elegantly. Get it all here designsponge