Learn how to make DIY luggage tags with these 30 homemade luggage tag ideas for a fun and easy way to give your bag an individual touch. If you are planning a quick trip on a long awaited vacation or a business meeting, the most essential part of your journey is your luggage! To secure your luggage, you can explore our 30 DIY luggage tag ideas to ensure your trip goes without a bump! Like losing or misplacing your luggage. Especially if you are anything like Monica, just the luggage and what's inside don't count. It is also fun to have a unique and creative packaging experience. The great news is that to enjoy a flawless luggage experience, you can sew or make these creative diy luggage tags all by yourself!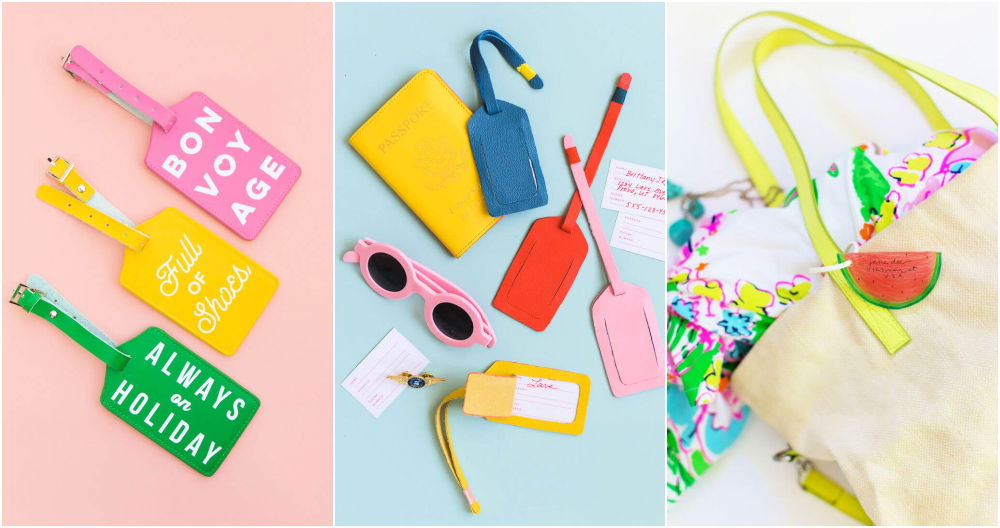 Explore through our DIY luggage tag ideas and make spotting your luggage at the baggage claim pretty easier! Another best thing about making your own luggage tag is that you can make it pretty customized! And in case if your luggage goes missing, you can jot down your address or contact details so it can be sent back to you! So, go for an informational tag along with the design and a catchy Instagram shot! If you want an informational luggage tag, you will love our sweets inspired diy luggage tags, with each sweet representing different information. These DIY luggage tags can also make thoughtful gifts to the people in your life who are planning to fly somewhere soon!
1. DIY Leather Cactus Luggage Tag
Sometimes in the baggage claim, it gets tricky to find your bag; on the conveyer belt, there are hundreds of bags, and few of them even are similar. This leather cactus luggage tag is a perfect assortment to hang on your bag to identify it from afar. weregoingtomake
2. How to Make Foiled Tropical Luggage Tags
As difficult it gets to carry a piece of luggage, so sometimes it gets to identify it. Since most people carry the same brand bags, trolley bags, or hand carry. This easy to make foiled tropical luggage tag comes handy to identify your luggage, it's easy to make. Get yours as done here. liagriffith
3. How to Sew Luggage Tags
If you are someone who loves to travel, you must make sure that all your carry essentials are up to date. So is the case with your luggage, to avoid the hassle in finding your luggage in the baggage claim this easy fabric luggage tag will come handy. sewverycrafty
4. Rustic Wooden Luggage Identifier
A rustic touch to any space create a whole new look, this DIY rustic luggage tags are durable and can be customized with your name on them. These tags will make your bags easy to recognize in the baggage claim and will save your important time. kenarry
5. DIY 10 Second Brushstroke Luggage Tags
Every time you travel across the globe, you make sure that your luggage is safe and sound, and for that matter, one hangs tags on them! These tags help you to recognize them on the baggage claim, try these brushed tags for your next visit. almostmakesper
6. Homemade Luggage Tags That Make a Statement
If you are planning to go on vacation this summer, you must need to look for these amazing MDF Made luggage tags, these tags as per your desire are sure to create a statement to stand out. You can customize these as per your liking. modpodgerocks
7. Make Your Own Watercolor Luggage Tags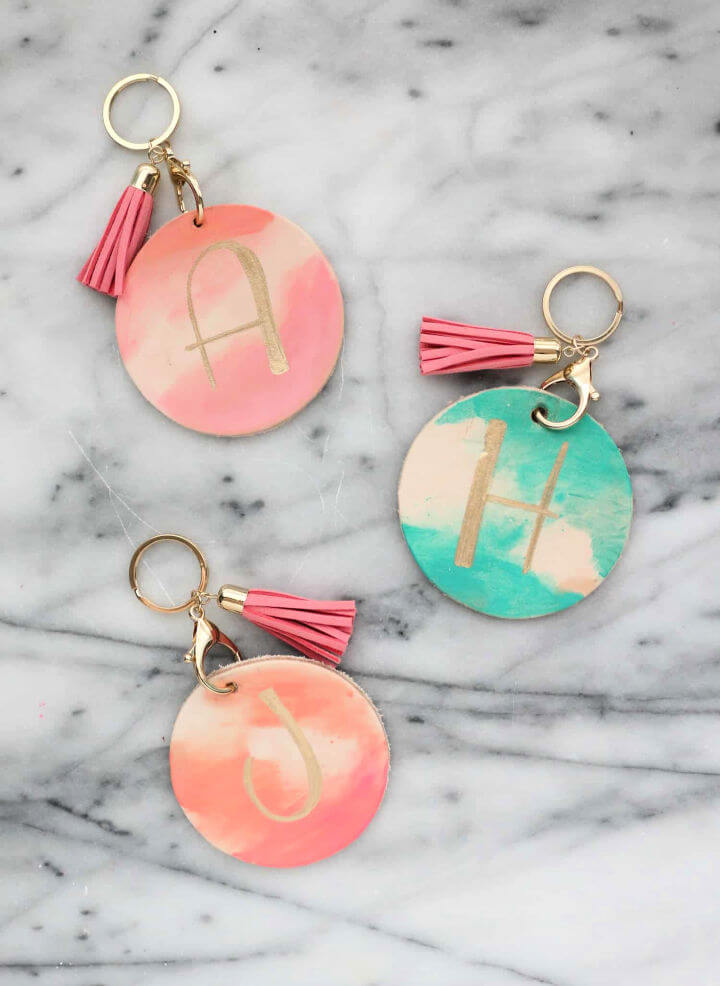 If you are hoping to visit your family this summer vacation, why not customize your trip essentials with some accessories. These leather-made luggage tags are a perfect piece of craft to hang on your bag, use some watercolor on them to give them a pop of color feeler. abeautifulmess
8. Homemade Typographic Luggage Tags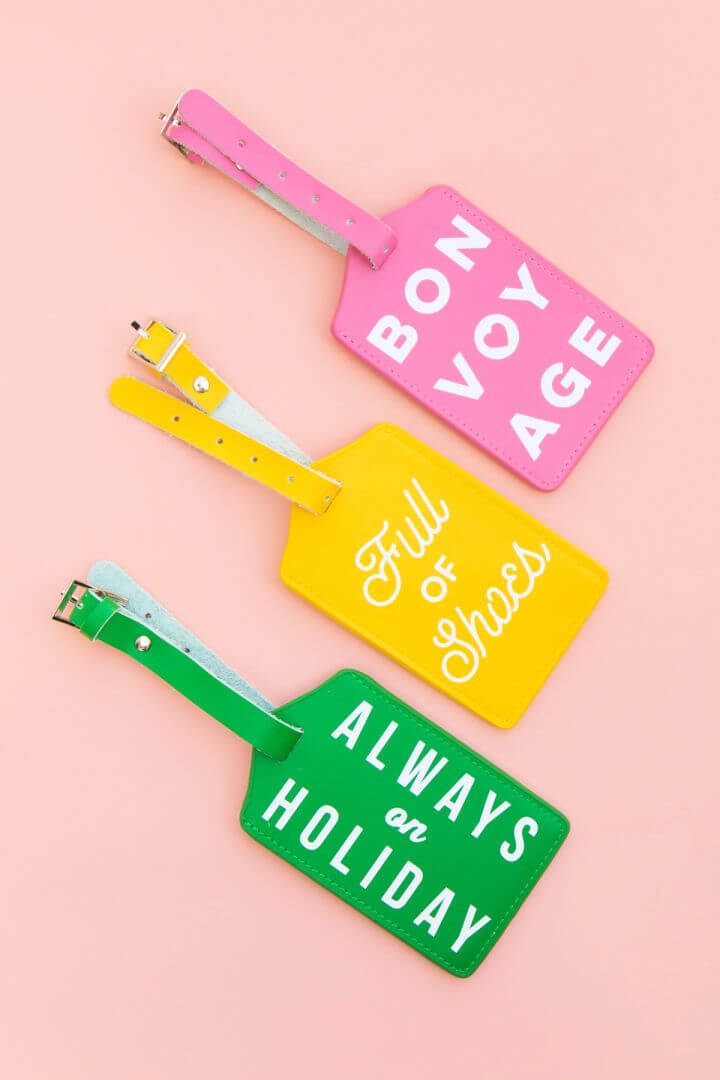 If you have visited the world, you must have seen different people carry colorful typography on their luggage. You can create one of your own, depending on your mood. These tags are easy to make, and all it takes is a few supplies. sarahhearts
9. DIY Shrinkable Plastic Luggage Tags
Art and craft school classes always come handy in life, especially when you love traveling, and you want to accessorize your luggage bag. This shrinkable plastic paper tag is a new DIY Craft you need to check out before you leave for your next destination. lovelyindeed
10. DIY Monogrammed Tags – Wood Burning Project
For a beginner traveler, it is essential to carry the necessary pieces of equipment when you travel. Most importantly, your luggage tag, which will be very helpful to recognize your bag among thousands. This DIY Monogrammed wood tag is easy to create, get yours in simple steps as done here. anikasdiylife
11. How to Make Leather Luggage Tags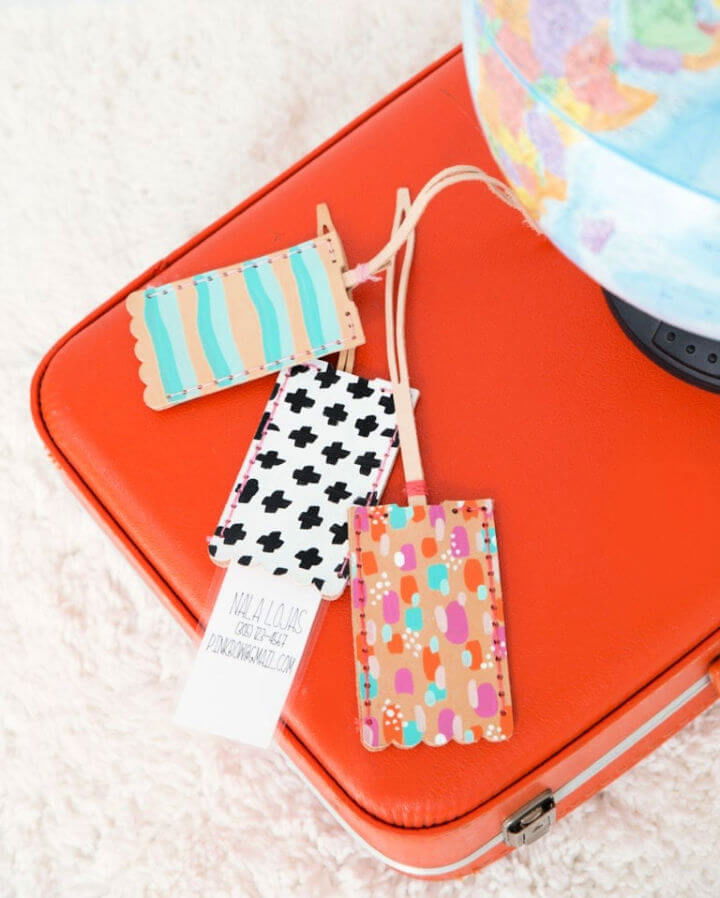 If you are someone who loves to travel, this customized leather luggage tag is for you. The perfect accessory to attach to your bag on your next trip. You can even create it in a few minutes and gift it to someone special on their trip. damasklove
12. Personalized Monogrammed Luggage Tag
Everyone loves some customization and personalization, people carry personalized outfits and accessories all the time. If you are that kind of person, then this personalized monogram leather tag is for you. Create yours in simple steps as done. mythriftyhouse
13. Sweets-Inspired Luggage Tag Ideas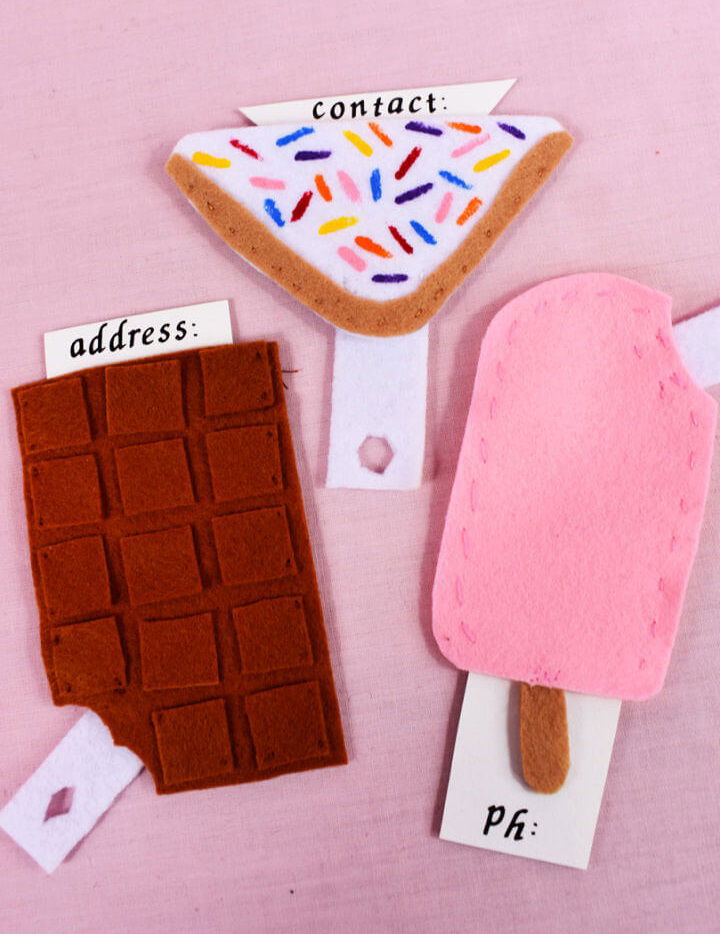 Everybody loves some sweets on their hands, sweets like ice cream, candies or chocolate. If you like sweets too, you can create some sweet inspired luggage tags. These DIY luggage tags are easy to make and can be customized as per your liking. thesmalladven
14. Fun and Unique DIY Luggage Tag
If you are looking for some unique and fancy luggage tags, but couldn't find a suitable one in the market. This DIY luggage tag tutorial will help you out as to how you can make one in your home in some easy and simple steps. theidearoom
15. Creative Fabric Luggage Tags
Do you have some beautiful silk fabric leftovers with you from your last knitting project, now is the time to put them to use. With this DIY luggage tags tutorial using fabric, you can create your very own customized fabric luggage tag in just simple steps. twirlingbetty
16. How to Make Watercolor Luggage Tags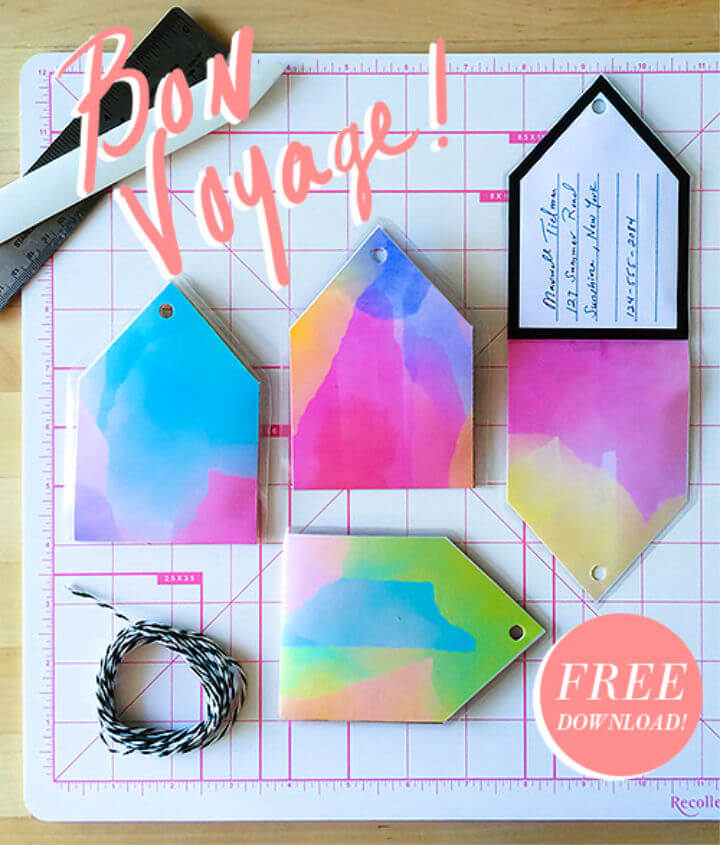 Everyone loves to stay all classy and dandy with their outfit wherever they go, so why not your luggage also stand out on your next trip. This watercolored luggage tag is an easy to craft to achieve, and it only takes very less time to achieve. designsponge
17. Making Luggage Tags With Your Kids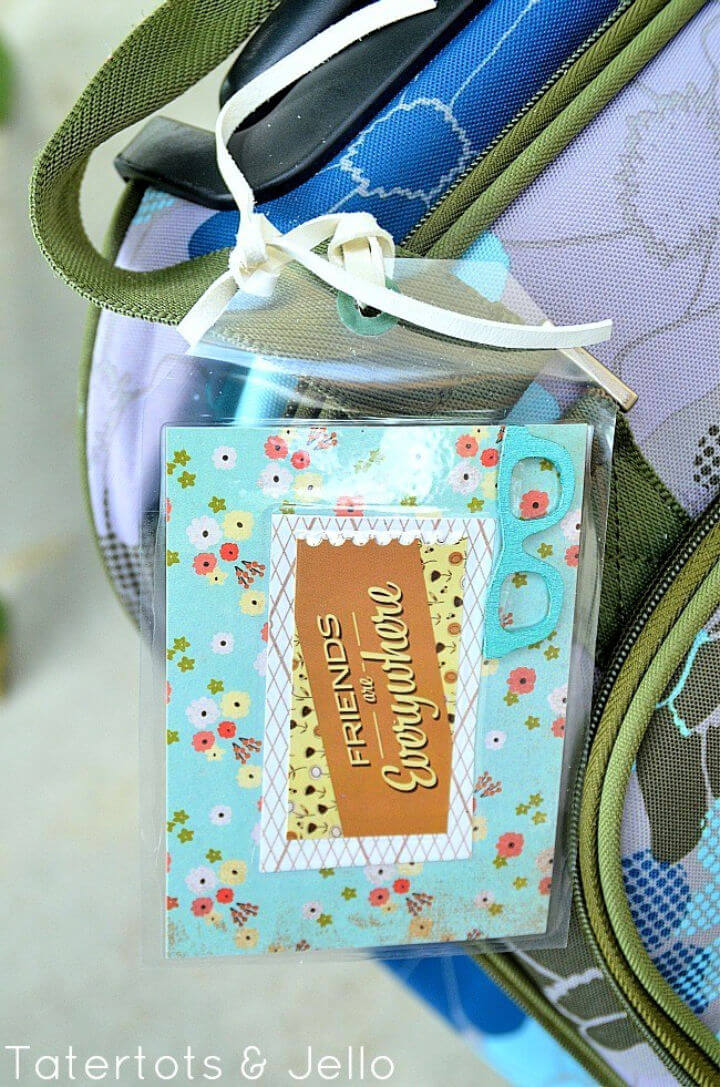 If you are planning to go on a trip next month with your kids, this DIY craft on luggage tags would be a fun activity to involve kids into. These tags can be modified as per their likings, all you need is some supplies to create these funky tags. tatertotsandjello
18. DIY Leather Travel Tags With Transfer
Planning for some vacation this summer? Gear yourself with some nice homemade leather Luggage tags! These DIY luggage tags are somewhat of a necessity for every luggage since they can be identified in thousands of bags when you travel in the baggage claim. eclectictrends
19. DIY Leather Travel Tags With Transfer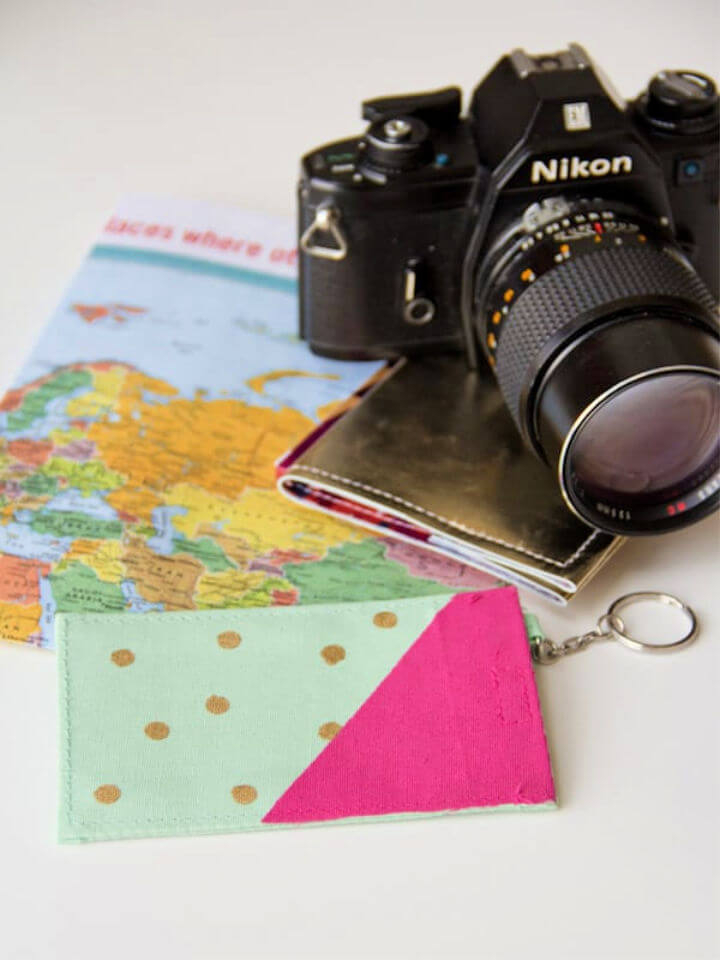 Leather is one durable material we see in our daily use accessories. If you are looking for some nice luggage leather tags but can't find any exceptionally appealing idea, these DIY Leather luggage travel tags are easy to make and will look fancy on your luggage. lovelyindeed
20. How to Create Polka Dot Luggage Tags
Every one of us have used Polka dots accessories once in our life, this DIY polka dots leather luggage tags are surely going to make a statement. Perfect for hanging on your bags with your credentials on it. maggieholmes
21. Custom Bag Tag Designs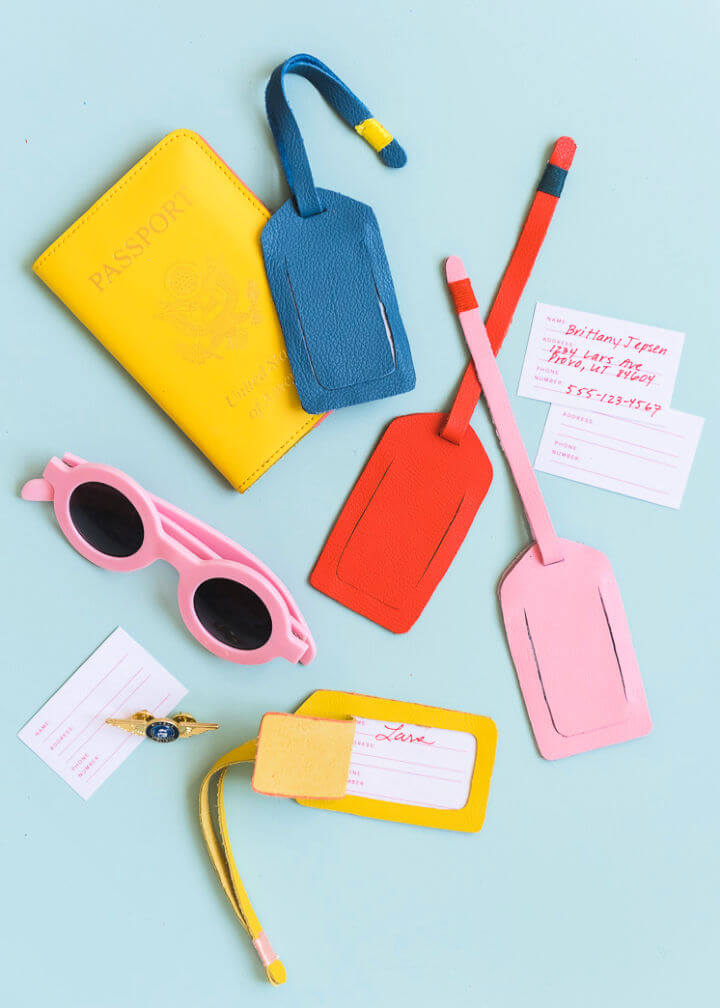 For little kids, every accessory or thing they carry is cute. If you are traveling with some infant in your next travel, these adorable DIY Leather luggage tags are a must for him/her. You can even put the credentials of little one of these tags. thehousethatlars
22. DIY Luggage Tag Using Duct Tape
It's always a hectic job to recognize your luggage on the baggage claim section. In order to avoid this problem, we have sorted some fantastic DIY luggage tag ideas on how you can use a washi tape to create a luggage tag for yourself. instructables
23. No Sew Fabric Luggage Tags
If you are planning for some family vacation, this no-sew fabric luggage tag is one thing that you need to carry with yourself. This tag is perfect to craft from old, leftover pieces of fabric. Other than the fabric, you need some basic supplies to achieve the right tag. thirtyhandmade
24. DIY Luggage Tags With Fun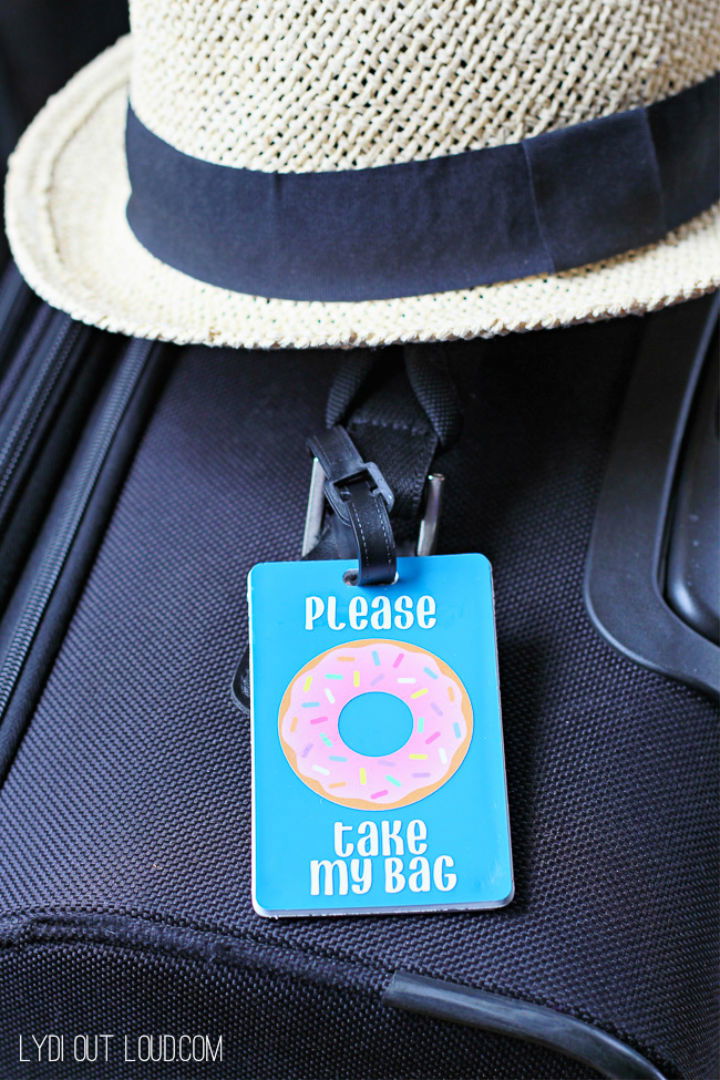 Traveling can be hectic sometimes. You have to wait for your flight, and sometimes it takes hours to reach your destination. With this fun DIY luggage tag now, you can have a little fun of your own. Get some design inspiration from here. lydioutloud
25. Leather Luggage Tags With Cricut Knife Blade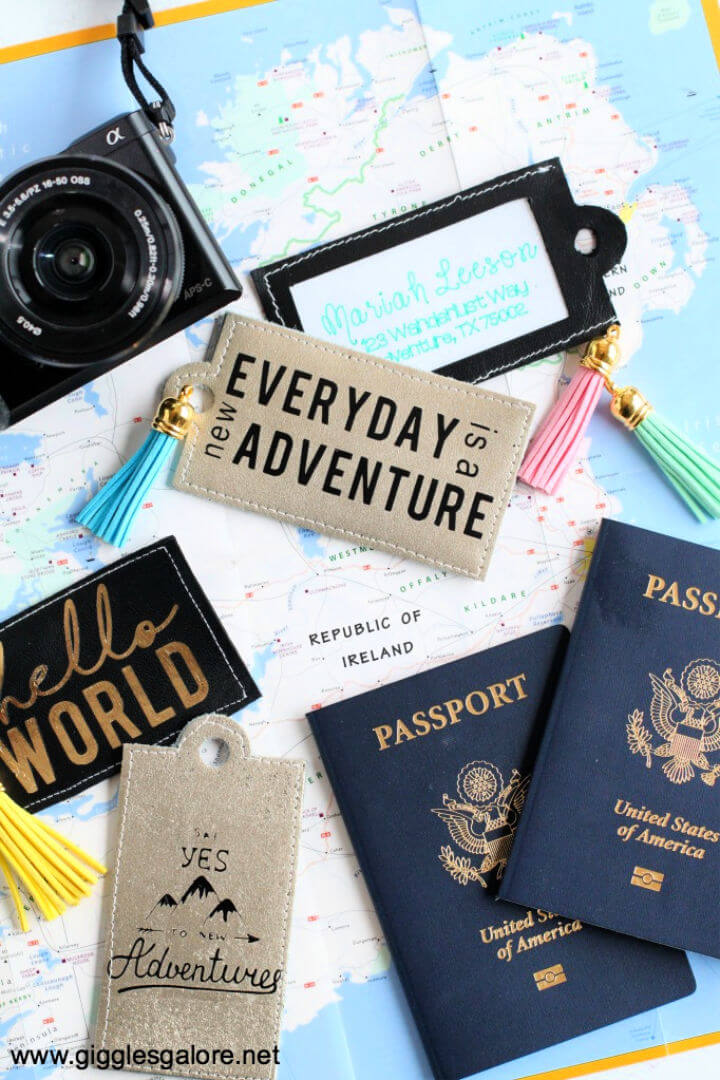 Travelling is fun, especially when you are traveling with your lovely family. Create an element of personalization in your luggage with these luggage tags, these tags can be made from Cricut knife blade. You can put your name on them for more personalization. gigglesgalore
26. DIY Gift Map Luggage Tags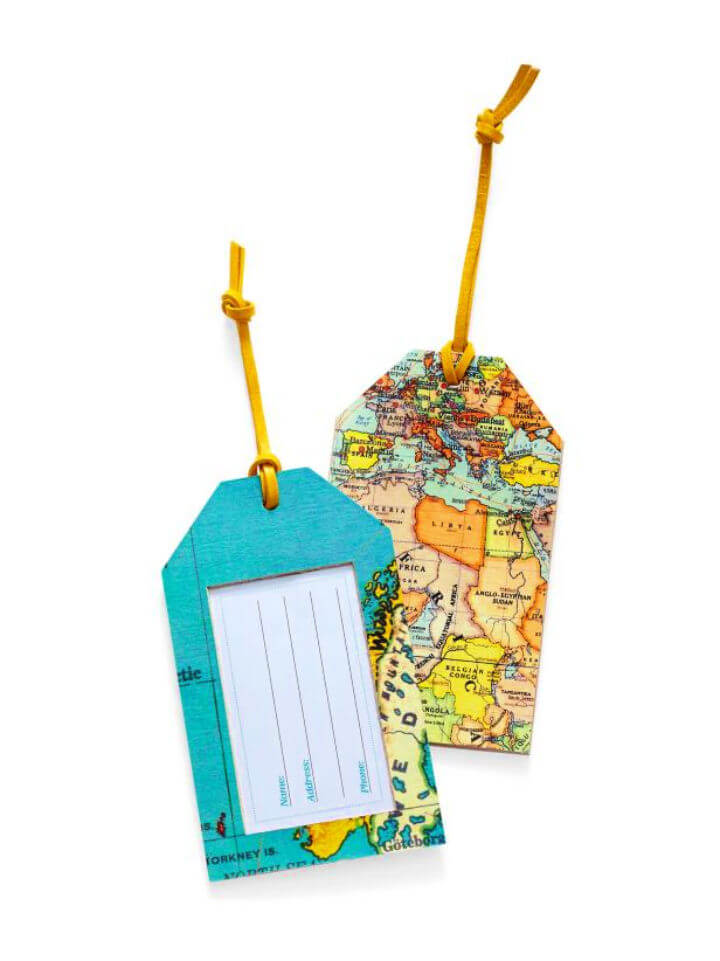 If any of your friends loves to travel and is planning to visit you shortly, what's a better gift for him that this Customized map luggage tag? You can even put a credential section on the back where he can put his name and other details. hgtv
27. Customize Your Luggage With a DIY Luggage Tag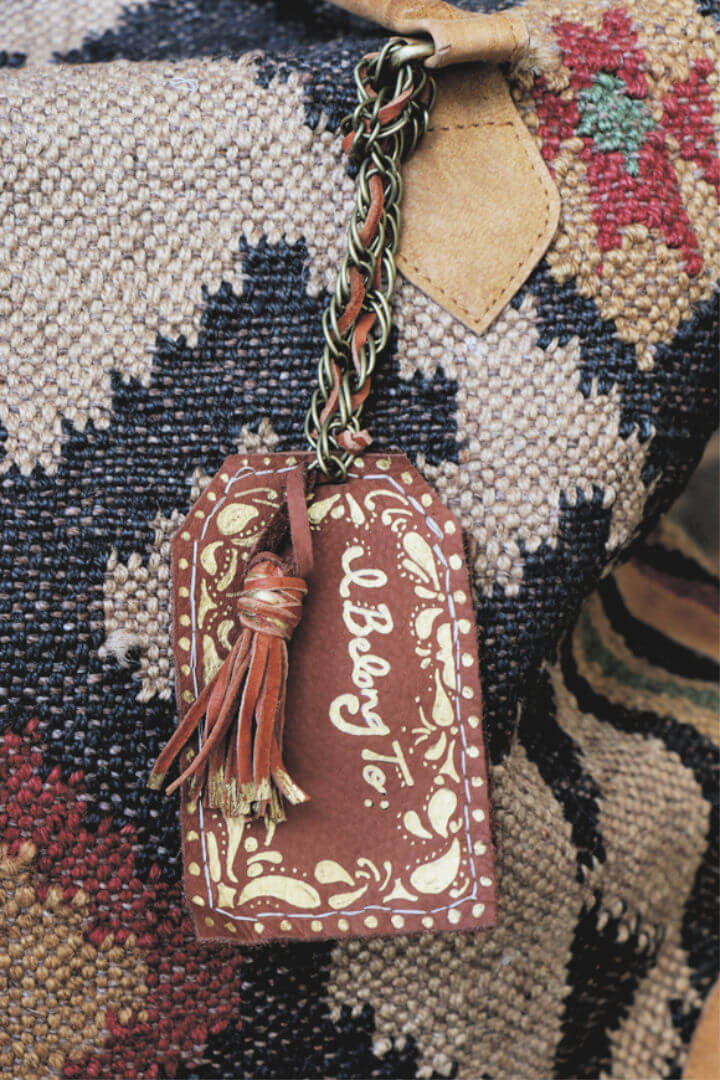 Are you a globetrotter? Do you fancy carrying some nice luggage bags? If yes, then this DIY luggage tag tutorial on how you can personalize your luggage with Luggage tags is for you. This chained luggage tag is a perfect accessory to hang with your bag as you travel the world. freepeople
28. DIY Luggage Tags With Embroidery
Embroidered accessories and essentials are used in our daily life routine work. If you like to travel the world, this embroidered luggage tag is the perfect accessory to hang to your bag. So now you don't need to panic in baggage claim to find your bag. lifesewsavory
29. How to Make Luggage Tag at Home
Most of the time in baggage claim we can't find out our luggage, this is because too many people use the same style of bags. Well, with this DIY Tutorial on luggage tags, you don't need to worry anymore. These tags are easy to achieve and requires very less of your time too. sugarbeecrafts
30. Photo Art Luggage Tag Ideas
If you are a travel freak, then you must have a thing for photography as well. With this DIY luggage wooden tag tutorial now, you can accessorize your luggage with some of your favorite places on the tag, get yours from here. littleredwindow
Related DIY Crafts to Make
Crafts to Make and Sell: If you're looking for a way to make money with your crafting talents, find easy crafts that are perfect for beginners and will be easy to sell.
DIY Charging Station: Find the perfect DIY charging station for your home, office, or dorm. It's easy to find the perfect charging station tutorial for your needs with this list of 40 tutorials. It saves space by consolidating the mess of cables, and it also looks great.
DIY Projects: Do-it-yourself projects are fun, affordable, and easy to complete. With these easy DIY projects and ideas make the perfect resource for anyone looking to do something new at home.
Crafts for Teens: Find these cool craft projects for teens that are easy to do and creative. Featuring step-by-step instructions and photos, the crafts include activities like jewelry, tie dye, and more.
Candies Jar Ideas: Here are cute and unique candy jar ideas to inspire you! These are perfect for a birthday party favor, wedding favors, holiday gift, or just because.
DIY Photo Gift Ideas: With the holidays right around the corner, it's time to start thinking about creating personalized gifts. Here are DIY photo gifts to inspire you with simple, inexpensive ideas.
Conclusion:
Whether you're looking for a unique gift for your loved ones or want to add a personal touch to your luggage, these DIY luggage tags will do the trick. With so many different designs and ideas to choose from, you can create a homemade luggage tag that reflects your personality and style.
The idea is to leave your unique imprint and style statement wherever you go! Of gift, your loved ones, a meaningful tag that will remind them of you at each stage of their travel diaries! And our DIY luggage tag ideas are befitting with all these unique attributes. Go crazy with your travel, but be safe and with a piece of secure luggage!