Photo collages are a perfect decor accent that you can add to any place and spruce up the decor to a new level. Explore these 25 unique and creative DIY photo collage ideas to display your favorite pictures stylishly. The biggest investment in life is the time! The time you invest in your relationships with your family, siblings, best friends, partner, and loved ones. While smartphones have taken over our world pretty, but taking thousands of photos on your smartphone means nothing if you can look at your wall right there and then and relive the moment like it happened just yesterday! With these DIY photo collage ideas, we promise to bring that love and sensational feeling back in a gif!
There are so many sweet and lovely ways to display your beautiful photos! Like in the shape of a perfect sensational heart photo collage, a cute wings spreader butterfly. Some huge candles with lovely memories on the surface. From photo collage pillows, huge wooden block letters, and hula hoop photo frames! Huge canvas or string lights, we have got so many exciting and lovely ideas for you to try and gear up your decor game! Set up some darling memory gallery walls and cherish every moment of your life. So, without saying any further, let's start exploring. Shall we?
1. Mod Podge Photo Collage Clipboard for Him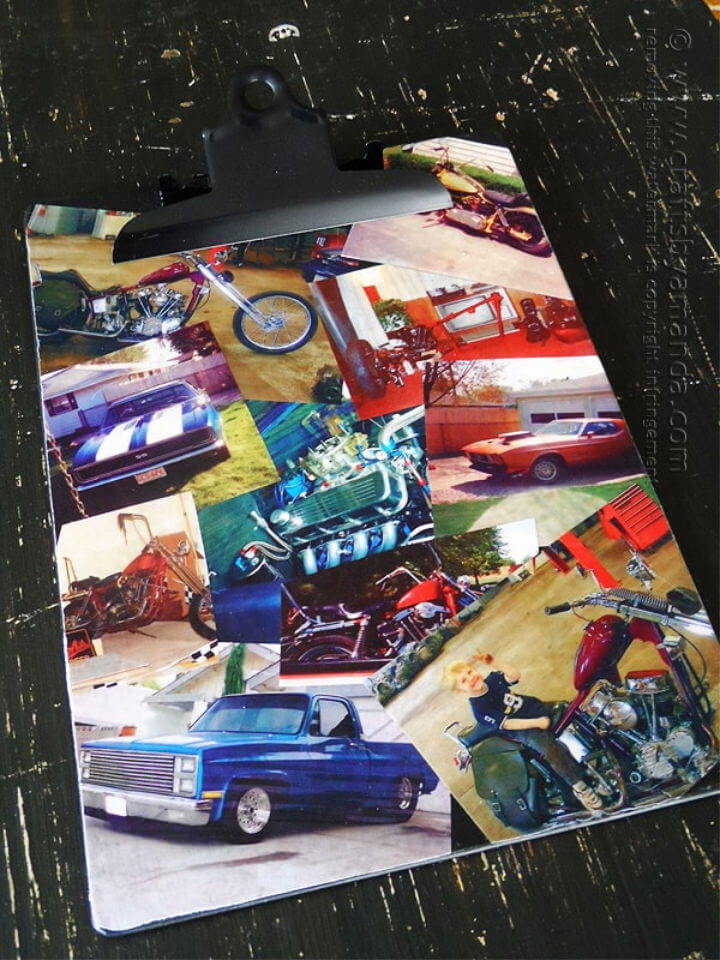 There is no gift better than the gift of beautiful and meaningful memories! And the thing with pictures is that they let you relive those memories again! Are you looking for the best birthday gift or V-day gift for your man? Put together some pictures using mod podge. craftsbyamanda
2. Make Heart Photo Collage Display
Because family is everything and family above all stands true even today! Check out this super pretty and beautiful photo collage made into a heart shape with all your beautiful people in one frame. Hit the tutorial for details. itsalwaysautumn
3. Adorable DIY Photo Table Runner
This adorable and sensational photo table runner can make the perfect Christmas decor! All the family members glued together in pictures in the form of a table runner and around the table! Enjoying the Christmas meal together! #Goals ruffledblog
4. Beautiful Photo Collage Letters
Get your hands on some wooden block letters, paint, sponge brush, paintbrush, pictures, mod podge, and polyurethane. Cutting the pictures neatly with an equal edge could be harder. Still, so the trick is to print the pictures individually. Hit the tutorial for more details. myanything
5. DIY Photo Collage Memory Board
This DIY photo collage is pretty simple to make, and you can easily customize this memory board using mod podge. This could be a lovely gift for grandparents, especially, put together their darling grandchildren on a board and put this up! thanksgiving
6. Photo Collage Giant Number
Is your parent's anniversary nearby? Looking for exciting and sensational ideas to make your folks feel special? All you need is black and white 4 X 6 photos, clear packaging tape, a big cardboard box, edge knife, and 3M hooks. nobiggie
7. How to Make Photo Collage Letters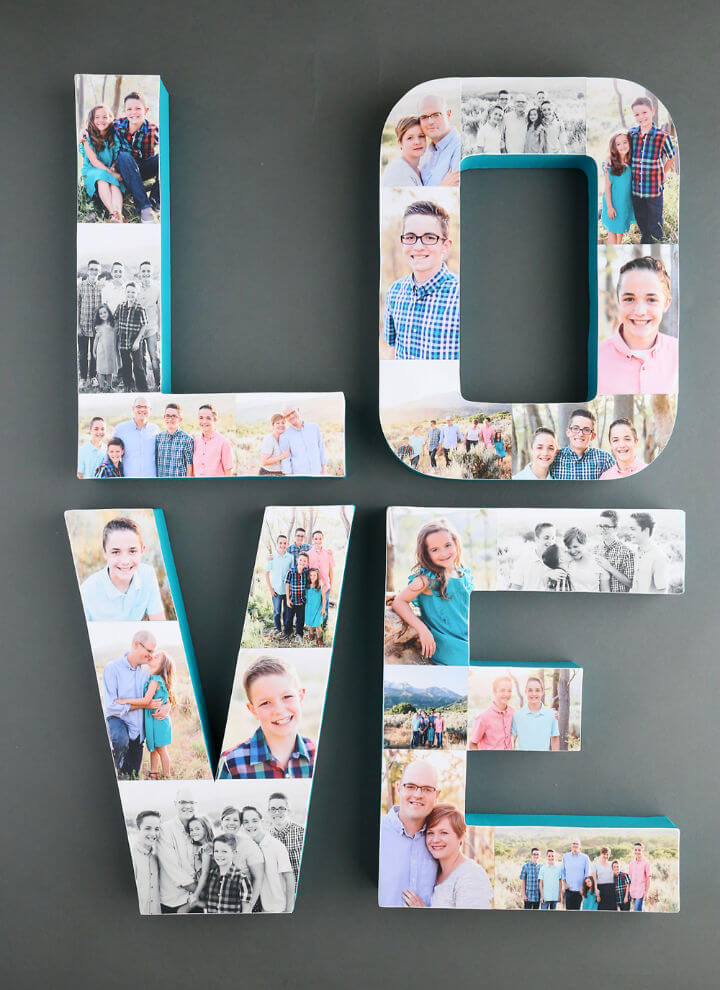 Love is where your heart is, where your family is! These photo collage letters can brighten up your decor to a whole new level and can bring SO much more love to the decor. What you need is paper mache letters, mod podge, and a few more supplies. itsalwaysautumn
8. Pretty DIY String Light Photo Frame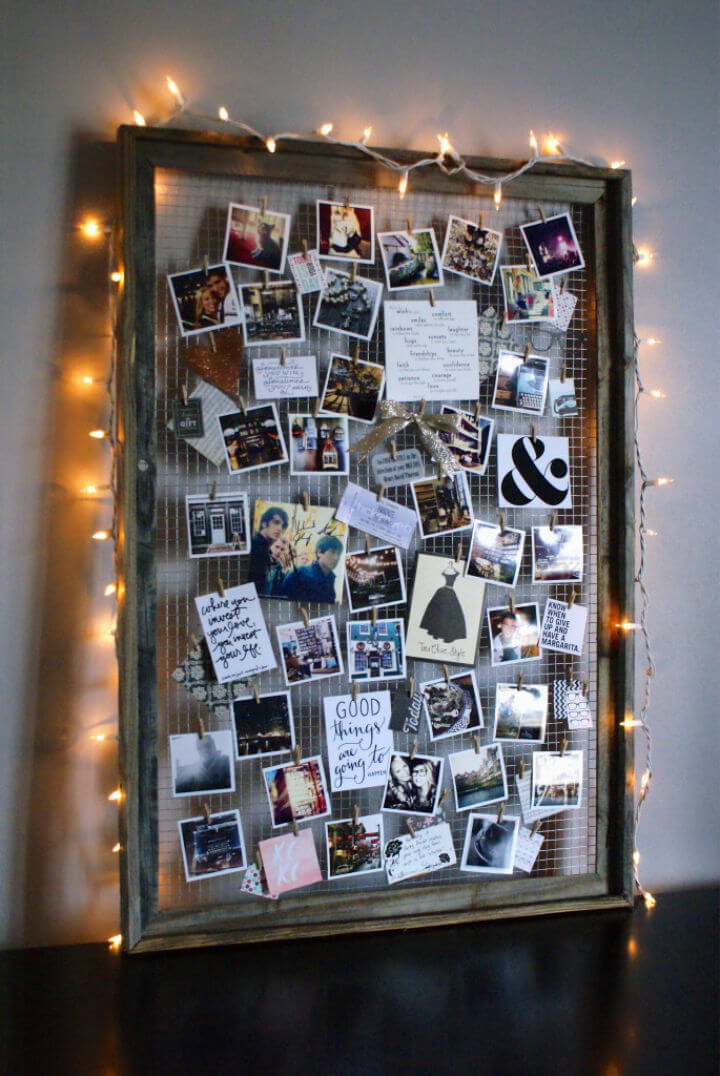 Are you looking for exciting ways to cover up an empty wall or corner of the room? Make a totally dreamy corner by using a frame, wire roll, wire cutters, staple gun, and a mini clothespin. Hang up your lovely memories and brighten things up with fairy lights. theanastasiaco
9. Photo Collage Canvas in
Get creative with this photo collage canvas! Print single photos and decorate the sides in such a way that it creates a beautiful and catchy lining and overall a unique pattern! It is super simple, and you can make pretty much any design with your imagination.
10. DIY Hula Hoop Photo Frame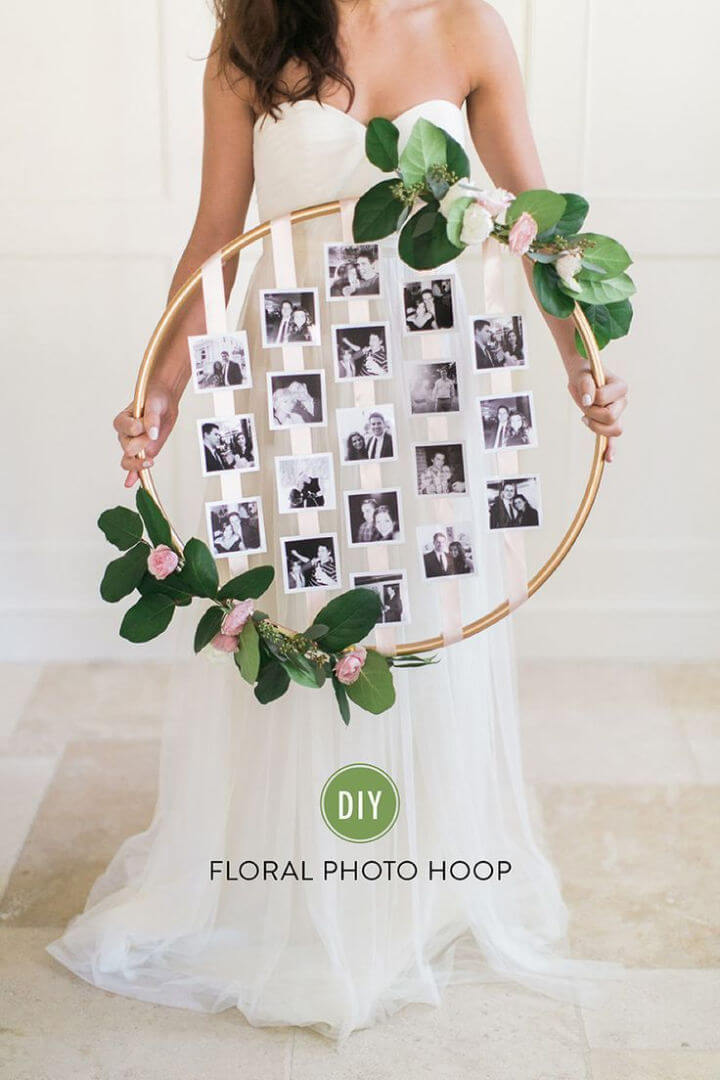 Introduce this sensational wedding decor accent to your big day by working on this lovely hula hoop, also known as DIY floral photo hoop. All you need is gold spray paint, hot glue gun, hot glue sticks, photo paper, fresh flowers, and a few more supplies. stylemepretty
11. Easy to Make Photo Collage Heart
Because we all absolutely heart our memories and our families! So why not make a super pretty heart photo collage and brighten up your wall's decor. What you need is Instagram prints, double-sided tap roller, poster board, picture frame, and ruler. freshmommy
12. Creative Photo Collage for Birthday Party
The first time you held your little one, that must have been the most perfect moment of your life! If you are planning to celebrate the whole year of that much of love, check out this pretty and creative DIY photo collage for the decor! swoodsonsays
13. Gorgeous Instagram Photos Wall Art
Time to dress up your empty wall with these super creative and gorgeous Instagram photo wall galleries. All you need is 4 x 4 photo prints, woodblocks, paint, decoupage, and brushes. Using up colorful paints can enhance the whole look! thecraftedlife
14. Make Photos Collage Onto Wax Candles
Nothing spruces up the decor as some huge and pretty accent candles! Give your candles this lovely customized look by adding these pretty photo collages on your candles and display them like the real game-changer in your decor! petapixel
15. Photo Collage Farm for Mother Day
For any mother, the most precious beings or people in her life are just her kids! The best chapters of her life. If you have been a good father and a lovely husband, help your little ones make this pretty MOM collage. pennypinchinmom
16. How to Make a Photo Collage Quilt
This lovely photo quilt can be the perfect thing to keep your loved ones warm in winters! All you need is 9" squares of fabric, printable fusible fabric, white fabric, 2 yards 50" inches of wide fabric for backing and binding, batting, and thread! polkadotchair
17. Kid-Friendly Photo Collage on a Big Letter
Add this lovely and huge photo collage on a huge letter for your little ones! What you need is a large wooden or foam-core letter, mod podge, glue dots or double-sided tape with paintbrush and scissors. diynetwork
18. Photo Collage Boxes to Decor Home
If you have a thing for artistic accents in your decor, look at this lovely photo collage boxes! You can theme up these boxes by making a pretty cute storyline across each box. Like the pictures of marriage, childhood, and then so on.
19. Butterfly Shape Photo Collages for Mother's Day Gift
While pictures are pretty cute and interactive themselves. Arranging them in a unique and creative shape or form can bring more lovely meaning to the whole thing. This mother's day, get your mom this super pretty butterfly shape photo collage.
20. 20 Year Anniversary Photo Collage
If your mom and dad are just around the silver jubilee of their love life together, make their anniversary gift more special and pretty by making this lovely "20" year anniversary photo collage by putting together all the loving memories of 2 decades.
21. Make Your Own Photo Collage Coffee Table
Time to get even more creative! Make yours get together times with your family more fun and sensational by making this super cute photo collage coffee table. All you need is a bunch of lovely family photos, bonded up together in a fun collage shape.
22. Photo Collage Pillow
Check out this photo collage pillow, a lovely and brilliant idea for Valentine's day or mother's day! From our many DIY photo collage ideas, this one is a lovely way and idea to imprint all the darling memories over a pillow.
23. DIY Instagram Photo Collage Frame
Instagram photos are a charmer, once you open the profile individually. If you love those blocked sensational photos, make this super cute Instagram photo collage frame for your living room! Put up your favorite places, destinations, etc.,
24. Memory Photo Collage Wall Ideas
Your marriage is filled with a lot of memories! From first date night to first travel together! Who wouldn't love cherishing all those memories with this lovely gallery wall idea? You can keep decorating this wall for a year and then transform it into a scrapbook later. abeautifulmess
Related DIY Projects
DIY Photo Gift Ideas: Make your loved ones feel special this holiday season with one of these easy DIY photo gift ideas. With ideas for the whole family, you'll have a unique present for everyone on your list.
DIY Photo Album: Homemade photo albums are a great way to cherish memories with loved ones! Here are creative DIY photo album ideas that will make anyone say a big 'wow.
DIY Photo Backdrop: Create a professional photography backdrop with these custom DIY photo backdrop ideas. Whether you're looking for a sleek and contemporary look or something more rustic, there's a project here for you.
DIY Maternity Shoot Ideas: Need a maternity shoot idea? From rustic to elegant, these simple DIY maternity shoot ideas will help you capture your pregnancy in a way you'll love.
DIY Photo Booth: Photo booths are a perfect addition to any party or event! Capture those unforgettable moments with these DIY photo booth ideas that are both easy and inexpensive.
DIY Picture Frame: With these DIY picture frame ideas, you can make a beautiful frame without needing power tools or expensive equipment.
Conclusion:
With these DIY photo collage ideas, you can enjoy a lovely walk down memory lane anytime and simultaneously! Display your best days and moments, and want to travel to destinations in a budget-friendly and stylish way! Life is all about celebrating the memories that we make and then counting our blessings. So, what are you waiting for?