Looking for a fun way to add some personality to your next birthday party? Try making DIY birthday banners for a personalized touch! This creative and affordable option allows you to customize your birthday decorations, making the event extra special and memorable. Learn how to make a happy birthday banner with these 25 fun and easy DIY birthday banner ideas with detailed step-by-step instructions that cater to all crafting skill levels. Personalize your party atmosphere with a homemade happy birthday banner using various materials such as wood, fabric, paper, and more. You can even incorporate popular themes like Baby Yoda or Winnie the Pooh into your birthday banner ideas!
From a simple pennant banner to a 3D design or a no-sew felt option, you'll find the perfect DIY birthday banner idea to suit your party theme and style. Customize your color scheme, materials, and designs with easy-to-follow DIY birthday banners. =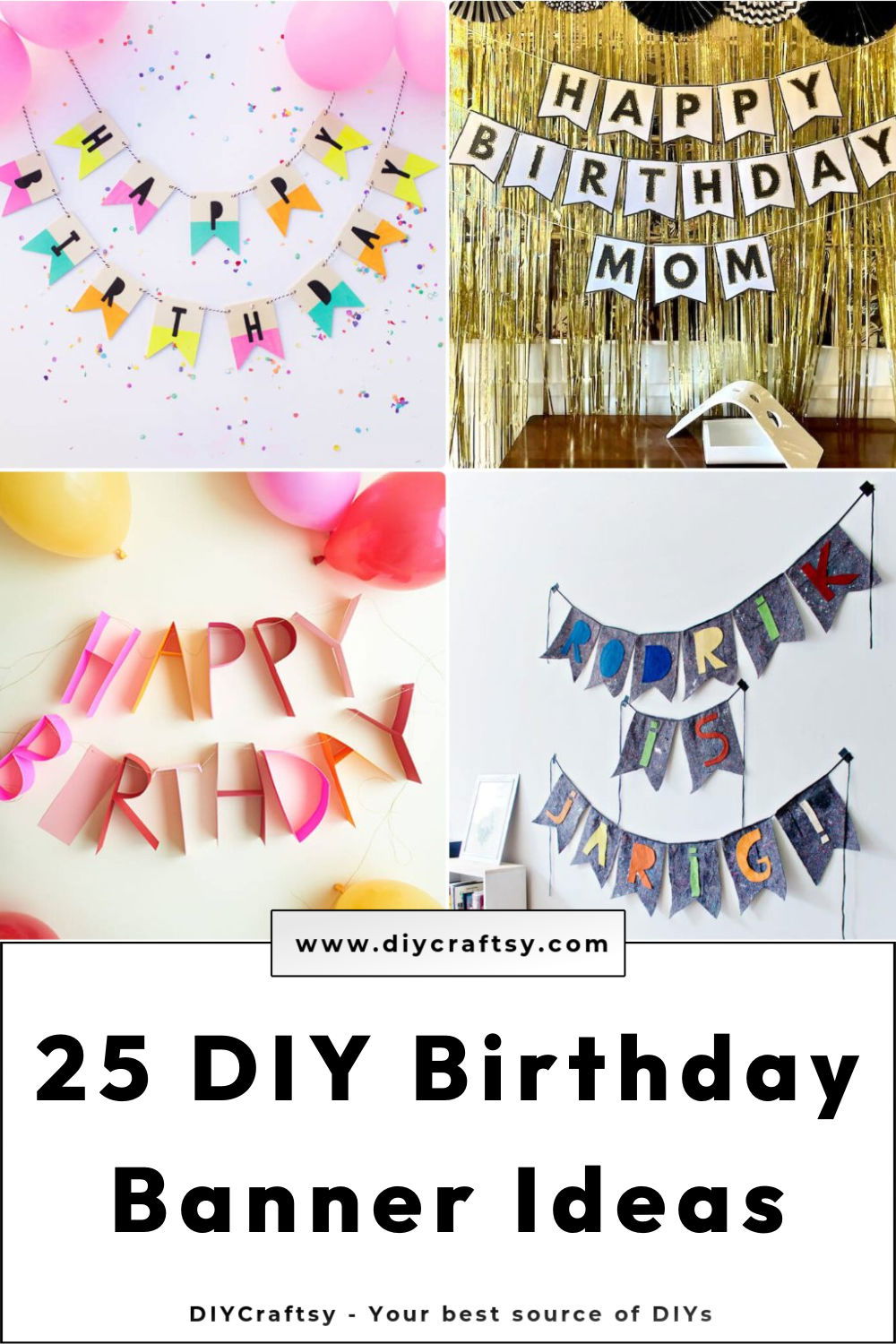 Whether you're decorating for a child's birthday or an adult celebration, these DIY birthday banners are sure to bring a festive touch and leave a lasting impression on your guests. So, grab your supplies and get ready to unleash your creativity with these fantastic DIY birthday banner ideas!
1. Easy DIY Happy Birthday Pennant Banner
Add a personalized touch to your next celebration with a charming, DIY pennant banner. Perfect for birthdays and other parties, this creative endeavor utilizes simple supplies such as 12 by 12 sheets of scrapbook paper, a rotary cutter, a ruler, and a cutting mat.
This straightforward craft project turns a simple square paper into a beautiful pennant-shaped piece, ideal for decorating any space. Adding freehand-cut letters lends a personal touch, while duck tape ensures easy assembly and durability.
With minimal cost and easy-to-follow steps, you can create a festive atmosphere, making any occasion unique. Craft your pennant banner today and turn your party into a memorable event! doodlecraft
2. Homemade Wood Birthday Banner
Capture the joy of birthdays and spontaneous celebrations with a handmade, reusable wooden banner. With this simple and cost-effective DIY project, you'll have festive decor ready for any impromptu party. You can craft this lasting party ornament using ArtMinds wooden banner pieces, acrylic paint, a black pen, baker's twine, an X-acto knife, and blue painter's tape.
Just make letter stencils on your computer, cut them out, and then paint the wooden pieces in alternating colors. Once dry, string the painted letters onto the twine, and voila! You have a personalized, reusable birthday banner that brings fun to any occasion. It's a celebration must-have that is as practical as it is playful. tellloveandparty
3. DIY Black and Gold Birthday Banner
Elevate your next celebration with a DIY black and gold happy birthday banner, adding a sophisticated and festive touch to your party decor. This post guides you through the creation process using simple materials, including a printer, white card stock, scissors, a hole punch, yarn or ribbon, and some glitter. The easy-to-follow steps involve:
Printing a free template.
Cutting out the banner pennants.
Adding a sparkly twist with glitter before stringing the pennants together.
The result is a personalized, elegant, and budget-friendly decoration. Transform any party into an unforgettable moment by customizing colors to match your theme! Make your celebrations shine brighter with this happy birthday banner! thesavvysparrow
4. Make Your Birthday Banner
Craft a vibrant DIY birthday banner with this straightforward guide that brings a personalized touch to your celebration! You can construct a memorable decor piece with essentials like Tombow dual brush pens, scissors, card-cut pennant shapes, string, a pencil, a MONO drawing pen (size 5), and a hole punch.
Add color to your pennants, sketch your letters, outline them, and fill them in with a black dual-brush pen. Once the ink is dry, punch holes and thread them onto the string, ready to be hung. Creating your party decorations can make the celebration more special and heartwarming. Try this birthday banner for a distinctive touch to your next event! brownpaper
5. DIY Happy Birthday Banners
Explore creative DIY birthday banner ideas, like using colorful paper, glitter, and personalized messages for a memorable celebration. Kickstart a birthday celebration to remember with these DIY happy birthday banners. These brightly colored and bold banners bring an added zest to any party. Not only are they perfect for your party, but they also make a delightful surprise for a friend's special day.
Crafted with a customizable color palette, they offer you the chance to match the decor to the party's theme or the birthday person's favorite hues. You'll create a unique and festive decoration with a printer, cardstock, hole puncher, and ribbon. Celebrate the life and create memories with these cheerful, eye-catching birthday banners. larsbuilt
6. Printable Baby Yoda Birthday Banner
Mark your child's special day with a fun, engaging Mandalorian-themed party! This free, printable DIY Baby Yoda birthday banner can be customized. Ideal for Star Wars enthusiasts of all ages, it perfectly complements the party atmosphere with sunset hues inspired by Tatooine and a touch of green for our beloved Grogu.
To create a complete party package, match this banner with coordinating printable cupcake toppers, a Baby Yoda birthday cake, and thank you cards.
The banners are easy to make: print on colored cardstock, cut out, punch holes, and hang with ribbon—bonus points for creating other party garlands using the banner's circles. Remember, no need for Beskar Steel payment – these printables are free. Enjoy bringing the Star Wars universe to your child's birthday! merrimentdesign
7. Cricut Maker Rotary Blade Happy Birthday Fabric Banner
Enhance your birthday celebrations with an eye-catching DIY fabric bunting! Created using the advanced capabilities of the Cricut Maker with its Rotary Blade and brought to life with iron-on vinyl and the EasyPress 2, this festive accessory adds extra joy to your celebrations.
Following a few straightforward steps, you'll craft unique banners in various colors, perfect for mounting over the mantel, wall, or any backdrop for a party. This versatile banner, designed with your chosen phrases, can be adapted for any holiday or celebration.
Notably, the Cricut Maker machine empowers you to explore many crafting possibilities, from home decor to school projects and party accessories. So grab your supplies, and let's begin crafting a tradition that will brighten every birthday! doodlecraft
8. How to Make Fabric Birthday Banner
Learn the art of crafting DIY birthday banners, incorporating meaningful messages or favorite characters to surprise and delight guests at your next festive gathering. Make a special day even brighter with a DIY fabric birthday banner, perfect for any celebration! Perfect for honoring your loved ones' special day uniquely and personally! This handcrafted decoration adds a personal touch to any celebration and is super simple to create. You can assemble this charming banner using materials like an old painter's cloth, fabric scraps, and yarn in less than an hour.
Also, the content is fully customizable. Choose the colors, fabric, and message that best fit the occasion. And the best part? You likely have everything you need right at home, so there's no need for expensive or hard-to-find supplies!
Plus, the banner is an eco-friendly alternative to store-bought plastic versions. Go beyond ordinary store offerings and surprise your loved ones with this unique birthday banner. It's time to get crafty and make every celebration unforgettable! lanaredstudio
9. Wood Letter Birthday Banner
A DIY wood letter birthday banner is the perfect personalized touch to add a special sparkle to any celebration! Crafted from soft, easily cut balsa wood and with a simple design, this banner is the perfect touch for any birthday celebration. This project combines stencils, a pencil, an X-acto knife or scissors, thread or twine, and a needle in a few easy steps.
Trace the letters onto the wood, delicately cut them out, and thread them onto your twine. This delicate crafting process ensures the longevity of your garland. Elevate your birthday decorations with this handmade, personal touch, perfect for those packed May and June birthday months. Enjoy the crafting process and, more importantly, the celebrations! themerrythought
10. DIY Pink Shibori Birthday Banner
Incorporate unique materials like fabric, burlap, or felt into your DIY birthday banner ideas for a charming and reusable decoration. Revamp your event decorations with a charming DIY pink Shibori banner. Crafted from white cotton fabric and dyed in soft pink hues, this banner adds a touch of elegance to any occasion – be it bridal showers, baby showers, birthdays, or a fun girls' weekend.
Inspired by a renowned tie-dye book, the shibori dyeing process makes the creative journey as enjoyable as the end product. You'll require a rotary cutter, a mat, an acrylic ruler, a baker's twine, and a hot glue gun for the assembly.
After dyeing and cutting the fabric, they are neatly glued onto the twine. Simple to store, this versatile banner is ready to make your next party unforgettable. Start planning today with this pink Shibori banner! tellloveandparty
11. Balsa Wood Happy Birthday Banner
Ditch the generic, store-bought options and make your birthday celebrations even more special with this DIY balsa wood happy birthday banner! Using balsa wood strips, an array of colored felt, Fabri-Tac glue, string, and a trusty pair of scissors, you can bring a personal touch to your celebration.
Begin by selecting a harmonious color palette and cutting out letters from the felt. Attach these onto balsa wood rectangles, then join them with string and glue to form an elegant banner. Hang individually or in pairs for a striking visual. This project brings an element of modernity to the traditional felt banner, promising to be the centerpiece of your festive decor. sayyes
12. How to Create a 3D Birthday Banner
Express your creativity and style with this engaging DIY paper banner project. Inspired by a beautiful cake design, this endeavor can add a personal and artistic flair to your celebration. Materials required are easy to find: card stock or heavyweight paper, a ruler, an X-acto knife, a bone folder, scissors, glue, string, and a mini hole punch.
Following the step-by-step instructions, you'll cut, bend, and glue to form letters, creating a unique decor piece. Errors aren't a worry – if you mess up, cut another piece and keep moving forward!
This innovative project is both cost-effective and aesthetically pleasing. Plus, it offers the enjoyment of a hands-on craft, culminating in a beautiful paper banner that's truly your own.s ohhappyday
13. Making a Happy Birthday Banner
DIY birthday banners offer endless possibilities for customization, allowing you to incorporate themes, colors, and unique lettering to celebrate your loved one's special day.Revel in the joy of birthdays with this custom-made DIY happy birthday banner! Using a Cricut Maker and a versatile knife blade, you can craft a durable, reusable chipboard banner for those memorable birthday surprises. The process requires basic tools, such as a strong grip mat, scissors, a scraper tool, masking or painter's tape, and your choice of permanent vinyl.
Adding the vinyl before cutting out your letters is an effective way to avoid time-consuming painting and to achieve a polished finish. Though cutting can take some time, the end product is a durable, personalized decoration that can become a cherished family tradition for years. Turn birthdays into extraordinary events with this creative, handcrafted banner. prettyprovidence
14. No Sew DIY Felt Birthday Banner
Get inspired by popular themes like superheroes, princesses, or animals when brainstorming DIY birthday banner ideas for a child's party. Immerse yourself in the joyful process of making a unique, no-sew-felt birthday banner. This vibrant, reusable decoration adds a burst of color to any celebration. The creation process is simple, needing only a handful of readily accessible materials like colorful felt, sharp scissors, and twine.
The crafting process is easy and enjoyable, involving cutting shapes from felt and stringing them together. The result is an enduring, attractive piece that can be displayed at all your future parties, making every celebration extra special.
It's an ideal project for craft lovers seeking an enduring and charming piece. This provides a sense of fulfillment during its making, and its long-lasting nature means it can be appreciated for years. So, get your crafting supplies ready and start making this delightful no-sew felt birthday banner today! artbarblog
15. Birthday Cake Banner With Pom-poms
Elevate any birthday celebration with a DIY birthday banner! Create a vibrant, handmade display with common household items like paper, glue, string, scissors, or a silhouette cutter. This project won't break the bank, as you'll likely already have most of these supplies.
Design your banner with a palette of paper colors for a festive effect, and repurpose the leftover paper banners for future crafts. With the guidance of detailed instructions, you can craft a unique banner while threading in your creativity.
Glue your letters to the paper, string the banner pieces, add a pom-pom flair, and voila! You've got a memorable birthday decor piece. Remember, it's all about enjoying the process. Craft a joyful surprise for a loved one or a self-care project for you! mothersniche
16. Easy DIY Felt Birthday Banner
Create memorable celebrations with DIY birthday banners, using eco-friendly materials and personalized designs to showcase your creativity and love for the honoree. Ready to decorate your party decorations with a vibrant DIY felt birthday banner? This creative project combines colorful felt, embroidery floss, and fun buttons to create a reusable, personalized addition to your birthday festivities. Made entirely by hand, the banner can adapt to any color scheme.
The process involves cutting and layering pieces of felt, stitching letters by hand and attaching the decorative elements with ribbon. This project is ideal for nighttime crafting, offers a delightful visual appeal, and adds a personal touch to your celebration. Enjoy the satisfaction of crafting a lasting decoration piece that makes birthdays in your home even more special. tatertotsandjello
17. How to Make a Happy Bday Banner
Add a DIY banner with a charming and personal flair to your next celebration. This easy, engaging activity is perfect for birthdays, baby showers, or any other special event. The required materials include crepe paper, glitter crepe paper or rigid paper, a glue stick, string, scissors, a pen, and printable letters for your banner.
The process involves printing and cutting out letters, folding and fringing crepe paper, securing the letters to the fringe, and hanging the final product.
Contrasting colors of crepe paper are recommended for an eye-catching design. The final result is a festive decoration unique to your celebration and adds a warm, welcoming feel to any room. Make your special day even more notable with a custom-made DIY banner. yoyo mom
18. Sprinkle Birthday Banner Tutorial
DIY birthday banner ideas can include adding a photo collage, incorporating handprints, or using stencils for a custom touch. Boost up your festive celebrations with a touch of colorful joy with this DIY sprinkle birthday banner! This project combines vibrant sprinkles and creative crafting to create a delightful birthday decoration that's easy to assemble.
You can transform your space into a fun-filled birthday party arena using sprinkled wrapping paper, twine, scissors, tape, and a signature Cold Stone birthday cake. The process involves creating flags from the sprinkled wrapping paper, then affixing them to twine with tape.
This user-friendly craft can add a personalized touch to your party decor and bring a whimsical feel to your celebrations. Add more sweetness to your special day with this birthday banner. Let the joy of sprinkles and crafting enhance your birthday ambiance! theflairexchange
19. DIY Fabric Scrap Banners
Turn your fabric scraps into DIY colorful banners to make a unique home decor look! This handy craft breathes new life into the leftover fabric and adds a whimsical charm to your celebrations. With the assistance of everyday items like jute twine, scissors, and various fabric patterns, you can create a unique and reusable decoration.
Also, if you're worried about perfection, don't be! All you need to do is cut your fabric and ribbons into strips, knot them onto the jute twine, and voilà! You have a colorful and versatile banner that perfectly reflects your style and creativity.
Whether preparing for Spring festivities or just looking to spruce up your living space, this guide offers a straightforward method to make your fabric scrap banner. Recycle those leftover fabric bits and embellish your space today! iheartnaptime
20. Winnie the Pooh Birthday Banner
Commemorate National Winnie the Pooh Day in style with a delightful DIY birthday banner featuring your favorite childhood bear, Winnie the Pooh. This banner is easy to make using a free printable pennant, including the complete alphabet.
Choose your letters, print them out, and decorate them with the adorable Winnie the Pooh stickers and scrapbook embellishments. This banner not only adds a fun touch to any Pooh-themed party but also offers a lovely crafting activity you can enjoy in the lead-up to the event.
With essentials like twine, scissors, a hole punch, and your chosen decorations, this banner brings a personalized touch to any celebration. What better way to honor the beloved bear than with this unique, heartwarming banner on his special day? craftingcheerfully
21. DIY Letter Decal Balloon Banner
Exalt the charm of your party decor with this versatile DIY balloon banner! Make personalized messages for every occasion by applying 6-inch boat decals onto balloons – from birthdays and graduations to festive greetings.
All you need are balloons of your chosen color and letter decals. Inflate your balloons, carefully attach the decal, and voila – your custom banner is ready to uplift any celebration!
While easy to assemble, these banners add a touch of creative flair to your festivities. Note each decal sticks just once, so take care during the application. Unleash your imagination and let your balloon banner do the talking at your next party! asubtlerevelry
22. Customizable Cricut Birthday Banner Ideas
Let the creative juices flow – make your own one-of-a-kind DIY birthday banner with Cricut! This customizable letter banner made with a Cricut machine is excellent for adding a personalized touch to your celebrations. This engaging, hands-on project transforms medium-weight cardstock into charming letters for birthdays, anniversaries, and more.
Uniquely crafted to cater to your needs, you can modify the letters using different sizes or fonts, ensuring each banner is exclusive. You'll have your Cricut machine, cardstock, and brads.
Spend an afternoon watching your machine diligently cut out each letter, ready to be assembled into a vibrant display. Remember, every special occasion deserves a personal touch – make your letter banner today! bonnieandblithe
23. Make Your Own Birthday Banner at Home
Try eco-friendly DIY birthday banner ideas by repurposing old magazines, newspapers, or leftover gift wrap for an environmentally-conscious celebration. Bring a splash of color to your birthday party by making a unique, handmade birthday banner and gift wrap using vibrant neon hues! This DIY project is a great option and only takes about 30 minutes using materials you probably already have at home. You'll need watercolor paper, scissors, tape, and bright-colored paper for letter cutouts.
Following a free-form style adds charm to the design, though printing and cutting letters from a template is an option for a more detailed look—jazz up the banner with stars, hearts, or other shapes for a touch of personality.
Additionally, use BBQ skewers to add handles and neon duct tape to ensure durability. To complete the theme, consider wrapping presents in DIY neon paper. A wonderfully brilliant way to add a personalized touch to any celebration! paintsewglue
24. How to Make Birthday Banner
Design a festive birthday banner to celebrate your special day with this easy DIY guide! It's a compact yet striking table decoration that you can individualize with the names of your loved ones. Crafted using simple materials – milk bottles, sand, wooden or plastic rods, ribbon, and felt in vibrant colors, this banner brings an exciting element to your birthday celebration.
The creation process involves cutting out letters with an added tab, which can be sewn or glued onto the ribbon. An optional addition is name garlands for each family member. When not in use, it smartly folds up for storage. This adorable, handmade decoration brings a unique touch to your family'sfamily's birthday dinner. lifesewsavory
25. Make a Birthday Banner in 5 Minute
Learn to craft a charming DIY birthday banner, an effortless addition to your home birthday or party decorations. Integrating this customizable piece into your theme enhances the aesthetics and adds a personal touch to the celebration. This guide ensures a quick, cost-effective, and easy creation process tailored to match your preferred colors.
The needed materials for this project are easily accessible – card stock paper, colored paper, ribbon or thread, glue, scissors, a scale, and a pencil. The straightforward process allows for many customizations, letting your creativity shine through.
Following these instructions, you can produce a birthday banner that stands out and adds a vibrant touch to any party setup. Emphasizing the project's versatility, affordability, and ease, it's an ideal decoration solution for any birthday theme or party.
Conclusion:
In conclusion, DIY birthday banners offer a creative and personalized touch to any celebration. With a variety of options like pennant banners, wood letter designs, fabric scrap banners, and even printable Baby Yoda-themed ones, you can find the perfect birthday banner idea for your special day! Don't be afraid to experiment with different materials and techniques as you craft your unique happy birthday sign. It's time to upgrade your party decor and impress your guests with memorable and eye-catching DIY birthday banner ideas.