A mermaid birthday party is an excellent idea if you want to have a party that is fun, whimsical and really gives off the mermaid vibe. If you're looking for some fun and unique mermaid party ideas, you've come to the right place! These DIY mermaid birthday party ideas will make a splash at your next event! Check out these awesome mermaid birthday party ideas for everything from the cake to the decorations.
Try making some DIY mermaid tail banners or hanging seashells from the ceiling for decor. You can also fill clear balloons with glitter to create magical mermaid bubbles! Set up a DIY photo booth with props like seashells, starfish, and pearls for activities. Or have guests make their own mermaid crowns or jewelry. And of course, no mermaid party would be complete without some delicious snacks and drinks! Serve up some tropical fruit skewers, shark fin soup shooters, and colorful mermaid cocktails.
With these creative mermaid party ideas, your guests will have a splash of a time! If you're looking for some fun and unique ideas for your child's mermaid-themed birthday party, look no further! These mermaid birthday party ideas will make your little one's special day one to remember. From invitations to decorations to food and games, we've got you covered. So grab your supplies and get started!
Beautiful DIY Mermaid Tail Centerpiece:

Girls are in huge love with the mermaids and a mermaid theme party is a perfect way to throw a blasting party. This beautiful DIY mermaid tail center piece would be the pretty decor for the party table. The mermaid tail is quite easy to make with some cardboard cutting, paint, and the netting. Tutorial here soiree-eventdesign
Make Beachy Mermaid Wall Sign:

While the kids are going to have some water fun in the outdoors you can add more to their water party with this beachy mermaid wall sign. Using some stencils, wooden boards and the sea theme colors you can easily work great on this mermaid wall sign for summer fun. Follow the details right here livingporpoisefully
Mermaid Fish Scales Wall Art Backdrop:
One of the best homemade diy mermaid party decorations! mermaid is the craze for the girls and their birthday parties are sure to have a mermaid theme at least once. For the mermaid theme party, this mermaid fish scales wall art backdrop would be the apt decoration and you can easily install it on your own.
Homemade Mermaid Lantern Jar:

Bring some fantasy fun to your spaces with these homemade mermaid lantern jars to light up your spaces so gorgeously. Spray paint a bunch of the mason jars and add the mermaid templates then lights and your whimsical pieces of the lanterns are ready to adorn your home decor. Tutorial is here redtedart
Mermaid Theme Table Number:
When mermaid is the theme then everything in your party decor is based on the mermaid beauty and so are the table numbers. These mermaid theme table numbers have been made with the mermaid scales to look just so catchy and cool. Learn to do this project here especially if you are planning a mermaid theme for your little girl's birthday party.
DIY Mermaid Crown with Seashells:

Showing up as a mermaid for any of your quirky dress celebrations would be eye-catching for sure. SO to add more charm and beauty to your mermaid avatar you can shape up this gorgeous crown. The mermaid crown has been decorated with seashells and the starfish for a complete complementary look and appeal. Tutorial here creativegreenliving
Mermaid Slime for Mermaid Party:

Adding games to your little girl's birthday party is an integral part and now you can do it in the mermaid style. Yes, you can make this super cute and fun looking mermaid slime for the mermaid party and the girls would love to play with it. The slime has been decorated with sequins for a so sparkly look. thebestideasforkids
See More Party Ideas That You Can DIY:
DIY Summer Party Decorations: We've got everything you need for your summer party. From tableware and decorations to favors and games, we've got it all! Check out our selection of diy summer party decorations now!
Unicorn Party Ideas: Don't worry! We have the best unicorn party ideas for you right here. Get all the inspiration you need for your event with these awesome unicorn party ideas for games, food, decorations, and more.
Tween Birthday Party Ideas: It's not always easy for tweens to find what they want for their birthday party, but with this list of tween birthday party ideas, you can make sure your daughter has the best day ever!
Cupcake Toppers: It's a really cute idea for a birthday party, or for any time you want to add a little extra something to your cupcakes. See these easy DIY cupcake toppers that you can do in less than 10 minutes.
Graduation Party Ideas: We've curated a list of the best graduation party ideas that you can use as inspiration for your celebration. From food, games, decorations and activities, you'll get all.
Make Flower Balloons: With just a few steps, you can learn how to make flower balloons at home with this step-by-step flower balloons guide.
Tissue Paper Flowers: With this guide about how to make tissue paper flowers, you can make your own tissue paper flowers in minutes.
DIY Balloon Garland: With these DIY balloon garland ideas, you can create an event decoration out of balloons for any occasion in just a few minutes.
Paper Crown Template: Learn how to make a paper crown with these DIY paper crown ideas that are easy to make and they come in a variety of colors, shapes, and sizes.
Make Your Own Mermaid Letter:
Another thing that is must present on a part table is the initial letter of the birthday person. For the mermaid themed party the letter should be mermaid based too. So get your hands on this gorgeous mermaid letter having been decorated with seashells and stars. Tutorial is here
DIY Little Mermaid Invitation: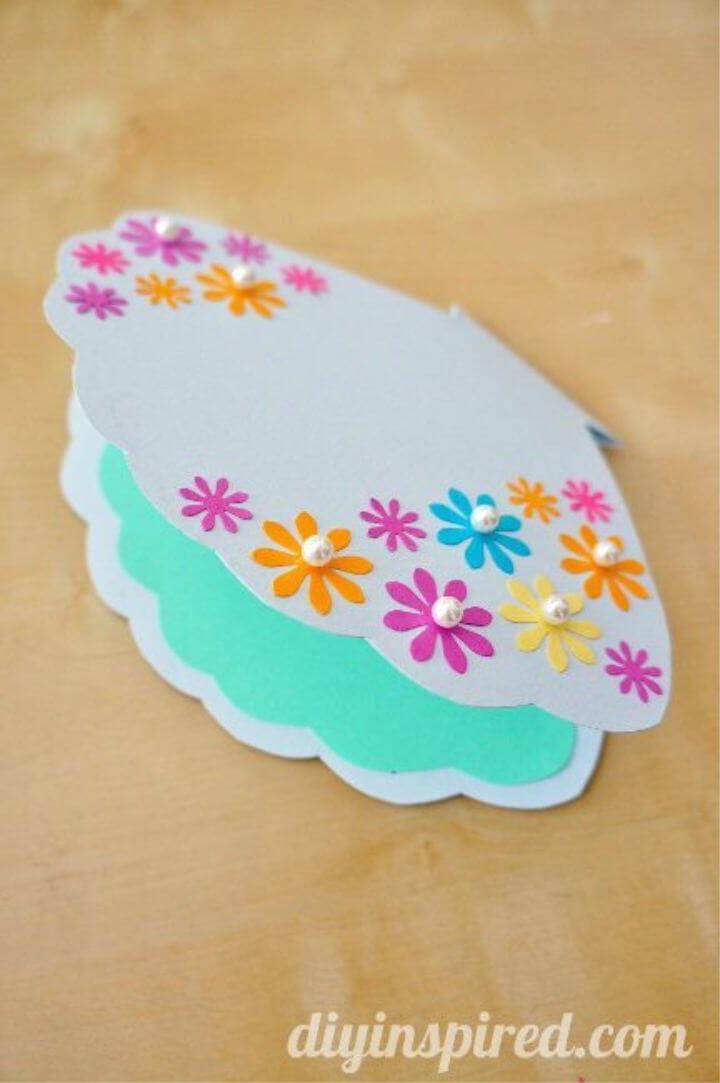 Girls go crazy for the mermaids and their joy would know no bounds when they have these mermaid theme based party. When everything of the party would be mermaid based so the invitations should be mermaid-inspired too. These little cute seashell-shaped invitation cards are decorated with pearls are perfectly gorgeous. Grab the details here diyinspired
Easy DIY Mermaid Tail Party Hat:

Party hats are one of the most fun things at a birthday party and also the most important ones too. So to incorporate in your mermaid theme you can make these mermaid tail party hat. The hats have been decorated with scales and topped with mermaid tails for that perfect cute and catchy look. Details here tinkerabout
Create Printable Mermaid Tail Cake Toppers:

Cupcakes are the most delightful things everyone looks forward over a party or any other celebration. So if you have arranged a mermaid themed party then your cupcake toppers should be nothing but these adorable mermaid tails which are super easy to create yourself at home. Tutorial details are lying here makeandtell
DIY Mermaid Themed Tassel Garland:

The walls need a perfectly matching and incorporating garland when you are decorating for a party. For the mermaid themed party this mermaid themed tassel garland is just so damn perfect. The crepe papers in various hues and the starfish are the things you need to shape up these tassel garlands. Details here artfuldays
Little Glitter Jar Mermaid Party Favor: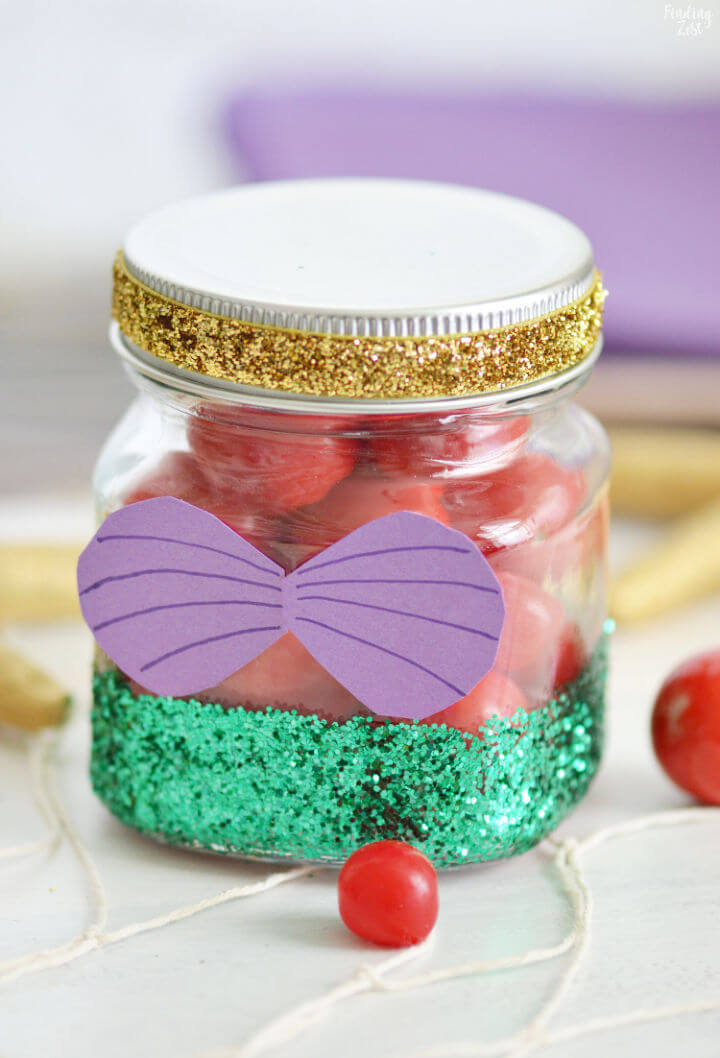 Your little guests would be more than happy leaving your mermaid theme party with these gorgeous and cute little glitter jar mermaid party favors. These jars are so easy and fun to decorate with some colorful glitter hues. You can check out the complete tutorial with details right here findingzest
Mermaid Sequin Fabric Gift Bag:

Here we have another great party idea to boost up the charm and fun of the mermaid fabric gift bags. With some tulle and colorful sequins, you can create these pretty gift bags to present a nice gift to the birthday girl. Follow the complete tutorial right here tikkido
Mermaid Doughnuts – Best Recipe for Mermaid Party:

Either it's a mermaid-themed party or you just want to surprise your kids on a weekend meal this idea of mermaid doughnuts is super fun. The doughnuts have been sprinkled with all the bright colors and topped with the mermaid tail toppers for the perfect mermaid theme look. Catch the details of the idea here thesimple-sweetlife
DIY Mermaid Backdrop for a Mermaid Party:

The mermaid backdrop plays a major role to make the party decor look all rock and roll. For a mermaid theme party, this DIY mermaid backdrop would be so damn perfect and magical. Using colorful balloons and paper plates this mermaid backdrop has been easily installed and fully detailed tutorial is here tikkido
DIY Mermaid Bottles – Mermaid Party Centerpiece:

Every gorgeous and crafty fun material has been used on these absolutely stunning DIY mermaid bottles to make the perfect centerpiece for a mermaid theme party. The bottles have been decorated with mermaid images, glitter, shells, pearls, and the paint and the result are just no less than the magic. Details here markmontano
Mason Jar Centerpiece for Mermaid Party:

Not only for the mermaid-themed birthday parties but this Mason jar centerpiece is also perfect for mermaid wedding table decor too. The centerpiece looks pure elegant and nice with the poured in rocks, rope binding on the jar top and then embellishing with a starfish. You can follow the details here
Mermaid Balloon Arch:

Another mermaid decor guide from our diy mermaid birthday party ideasThe styling of the balloon is so damn important for a gorgeous decor of a birthday party and for your mermaid theme this mermaid balloon arch is just perfect. Get the balloons in theme colors and create the mermaid arch and add oodles of charm and wonder to your party decor. Details here
Delicious Mermaid Cake:

This is probably the most gorgeous mermaid creation for a party and the kids are going to drool over this mermaid cake. The styling of the cake has been done in aqua shaded cream and that too in the mermaid shells. Follow the details of the idea right here preppykitchen
Circle Mermaid Garland:

Here is how you can bring the perfect backdrop to your mermaid birthday party with this circle mermaid garland project. Just cut out different colored and sizes of the circles from a crafty paper and then string them up in the form of the garland. Make multiple strings to cover up the wall and get a catchy decor.
DIY 20 Minutes Mermaid Sign:

With some wooden pieces and the paint hues, you can create this super pretty DIY 20 minute mermaid sign and enhance the charm and beauty of your party tables. This Mermaid hair no Care sign is just so damn perfect for all the girly parties to precisely fit in the decor. Follow the details of the idea here elevate-everyday
Mermaid Candy Bark Recipe:

This mermaid candy bark is so gorgeous with the pretty colors of the sea and thus it would make a perfect addition to your cool and tasty summer drinks. You can make this lovely and yummy mermaid candy bark for your summer weekend family fun and also for the parties too. Check out the recipe here rosyscription
How to Make a Mermaid Tail Centerpiece:

A mermaid theme party would be so incomplete without a mermaid centerpiece and here is this lovely mermaid tail centerpiece to get your hands on. So just make a glittery mermaid tail that you need to add in your flowery jar or the vase and your mermaid centerpiece is ready to rock. Details here stylingthemoment
Mermaid Party Table Centerpiece:

Decorate your mermaid themed party table with this gorgeous and complementary centerpiece for the table. Blue drink cups have been adorned with faux starfish to bring the complete sea vibes and mermaid appeal to your party tables. Follow the details of the idea right here meaningfulmama
Mermaid Candy Bags:

The kids would be over the moon when they have these gorgeous and cute mermaid candy bags as the party favors. The bags have been shaped up just like the lower abdomen part of a mermaid with the cute mermaid tail at the end. The mermaid candy bags are so easy and fun to make and here is the tutorial
Mermaid Mason Jar Utensil Holder:

When everything at a mermaid theme party is inspired by the beauty of the mermaids, then why not the utensil holders look like the mermaid style. With some pearls, ribbon and the glitter, you can easily create a bunch of the jars to hold the party utensils in the pure mermaid style. Follow the details here
Little Mermaid Headbands:

Your little girl will be the cutest mermaid at the party with this little mermaid headband! It will charm up her look and make her stand out even more.  The headband is super easy to make with some sea beauties of shells, studs and more. Details are here
Mermaid Shimmer Party:

When the birthday of your little girl is in the summers then the mermaid theme is sure to work. So here is a complete mermaid shimmer party plan to work on and let your little ones have a blast. Get your hands on the party ideas right here
Mermaid Number Pinata:

Making a mermaid number piñata is one of the most fun things at a birthday party for kids. All you need are some easy tools and supplies lying around to make it happen!
How to plan the best mermaid birthday party?
The best way to arrange a mermaid birthday party is to have a party at a beach or pool. You can decorate the pool area with lots of colorful balloons and streamers in the colors of the sea: blues, greens, and purples. You can hang up a banner that says "Happy Birthday" or "Happy 14th Birthday" in a fun font.
Make a mermaid tail out of cardboard and paint it to look like scales. You can make a backdrop out of fabric and make it look like the ocean. You could have beach balls all around the fabric, and you could hang up some fake fish to make it look more realistic.
To help guests feel like they're at the bottom of the ocean, you can set different activities for each guest; sink their toes into the sand, watch a movie on the beach, play water games.
Conclusion:
So, there you have it – some fun and unique ideas for throwing a mermaid-themed birthday party! Be sure to get creative with your decorations, food, and activities, and your guests are sure to have a party.