Learn how to make wedding cake toppers with ease by following these 20 unique DIY wedding cake topper ideas that you'll love! Add a touch of creativity and charm to your wedding day by crafting your own cake topper from various materials and designs. From simple wedding cake toppers, like glitter papercut designs and Sharpie balloon toppers, to more intricate creations like paper flower wedding cake toppers and homemade watercolor toppers, there is a perfect DIY project for every couple. These DIY wedding cake topper ideas include easy-to-follow instructions, making them suitable for beginners who want to dabble in cake decorating for their special day.
For those who love incorporating their pets into their celebrations, try making a DIY dog wedding cake topper or even a whimsical unicorn topper. Or, if you're looking for a more elegant touch, opt for DIY honeycomb paper cake toppers and delicate floral arrangements.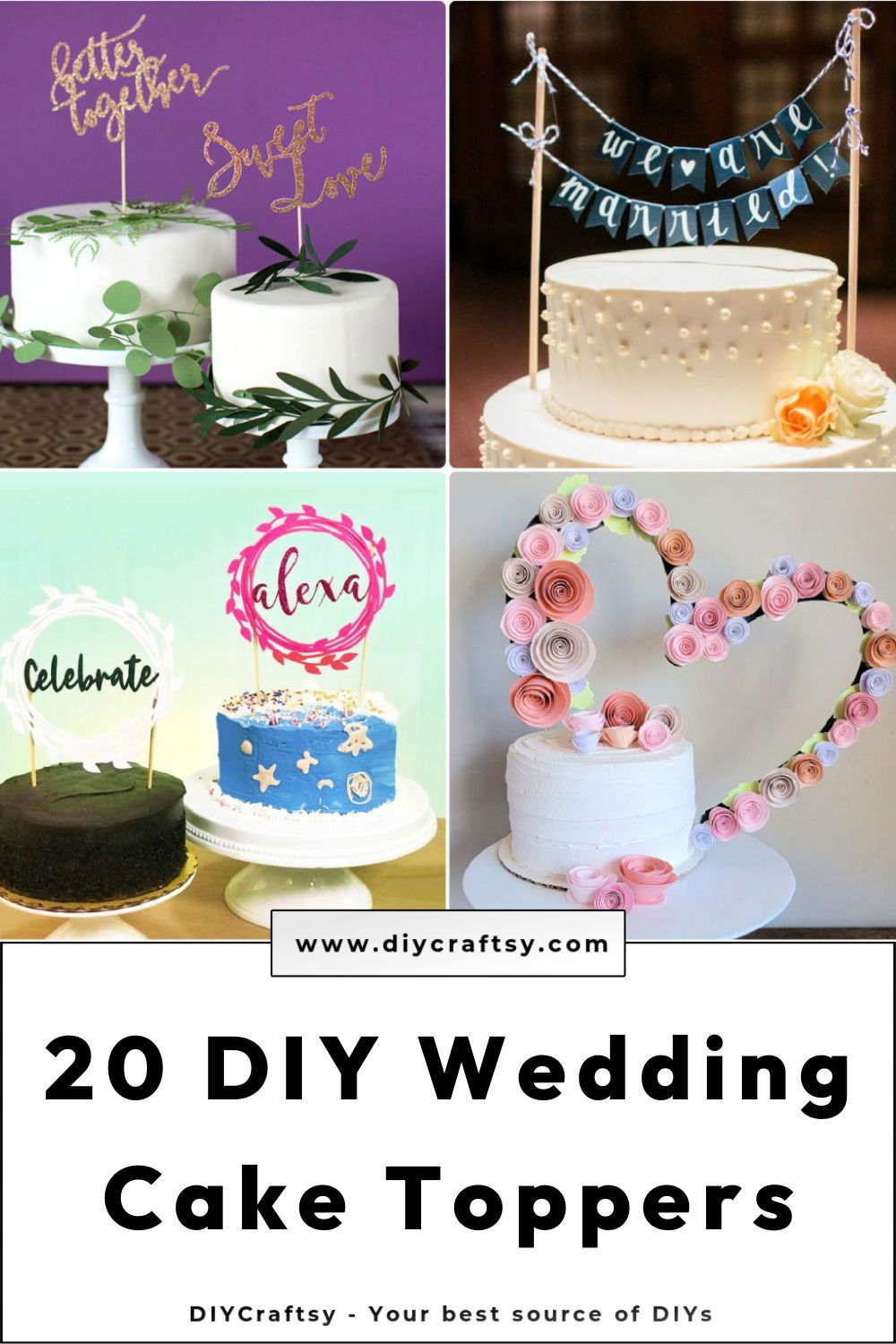 No matter your style and taste, these 20 DIY wedding cake topper ideas will help you make a memorable and beautiful centerpiece for your wedding cake. So, gather your materials, and let your inner artist shine with these charming and unique DIY wedding cake toppers.
1. DIY Cake Toppers for Wedding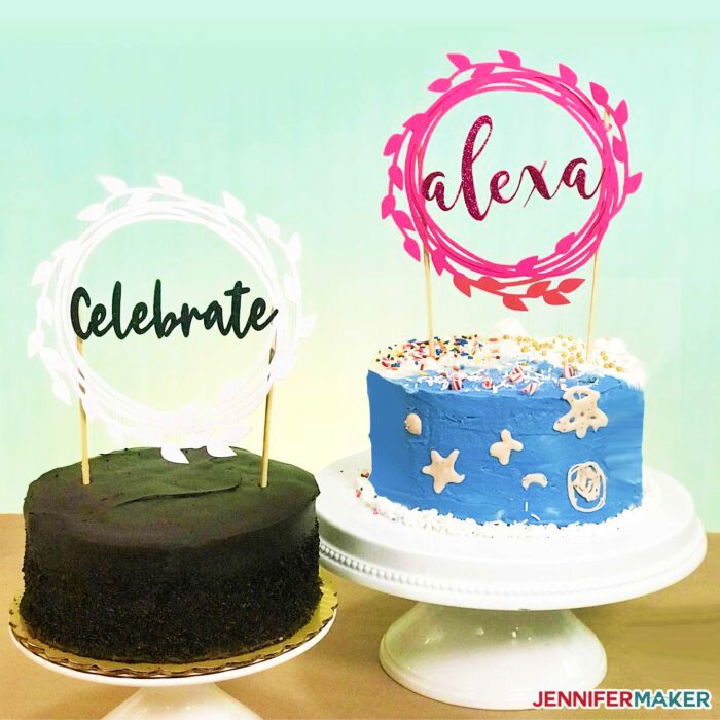 Add a personal touch to your celebrations with a DIY cake topper, perfectly suited for various occasions like birthdays, weddings, and holidays! You can turn store-bought cakes into unique masterpieces with a sprinkle of creativity and some basic supplies.
All you need are sheets of cardstock, bamboo skewers, adhesive, and a cutting machine to carve out your designs. Use one of the provided topper designs if you're short on time.
Otherwise, let your imagination run wild and make a custom cake topper featuring a special name or phrase. By following the step-by-step guide, you can transform your cake and enjoy the crafting process. So, turn your everyday cakes into the stars of your celebration with this DIY cake topper guide! jennifermaker
2. Make Your Own Wedding Cake Topper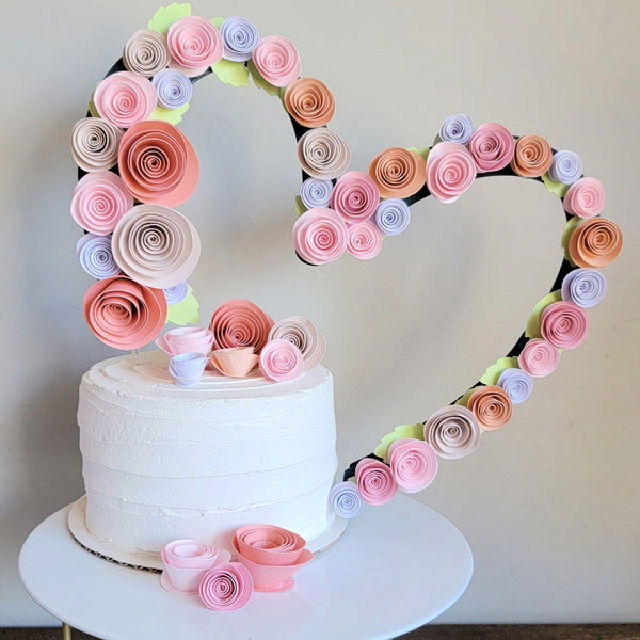 Get ready for the wedding season with a charming DIY wedding cake topper that can be personalized to match your palette. This heart-shaped topper, made from crafts cardstock in varying shades, brings a touch of color and handmade charm to your special day.
You can bring this design to life with basic supplies like a foam poster or cardboard, double-sided adhesive foam, cake sticks, and a hot glue gun. Optional quilling tools can be used to perfect the flower details.
Dimensions are flexible, allowing you to make the perfect topper to complement any cake size. The crafting process involves layering cardstock cutouts, making flowers, and arranging them on the heart. It's a rewarding and cost-effective way to add a personal touch to your wedding celebrations. 12x12cardstock
3. Glitter Papercut Wedding Cake Topper Design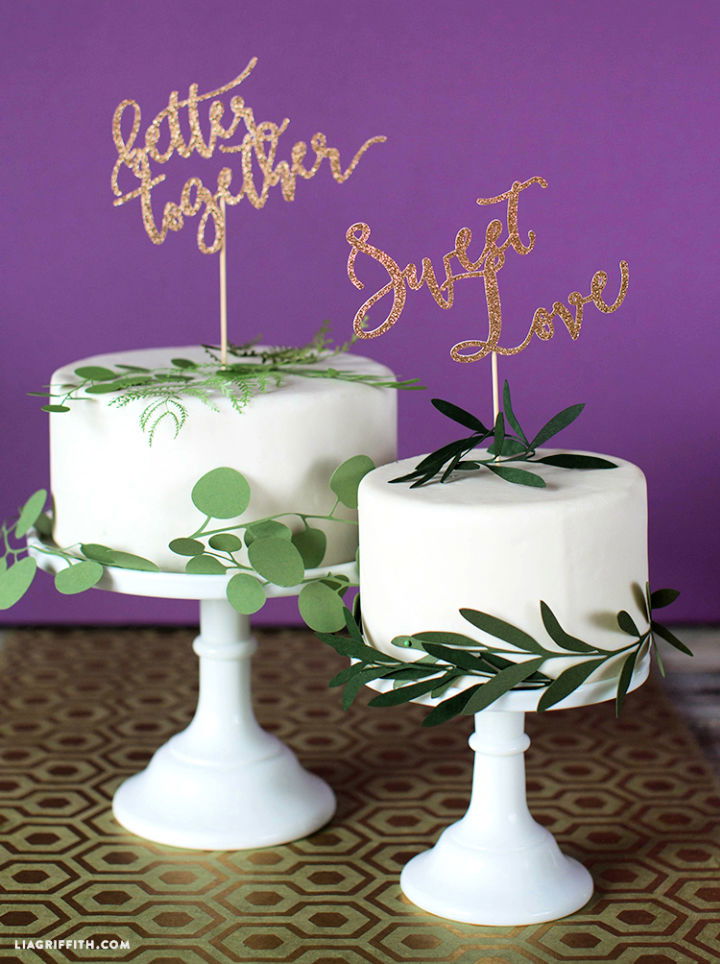 Make your special day even sweeter with our DIY wedding cake topper ideas. Add an enchanting flair to your wedding with DIY glittery wedding cake toppers. These are easy to make and lend a professional and attractive result. Choose between two charming phrases in an elegant script font for your big day.
To make these, gather scissors, a cutting machine, a low-temperature hot glue gun, a spray mount, glitter cardstock, white cardstock, and wooden skewers. The process involves:
Downloading the design.
Cutting out the words on the cardstock.
Adhering the glitter cardstock to the regular cardstock for firmness.
The final step is to hot glue a skewer to the back of the toppers and place it onto your cake. Make memories with these beautiful wedding cake toppers! liagriffith
4. Easy DIY Wedding Cake Topper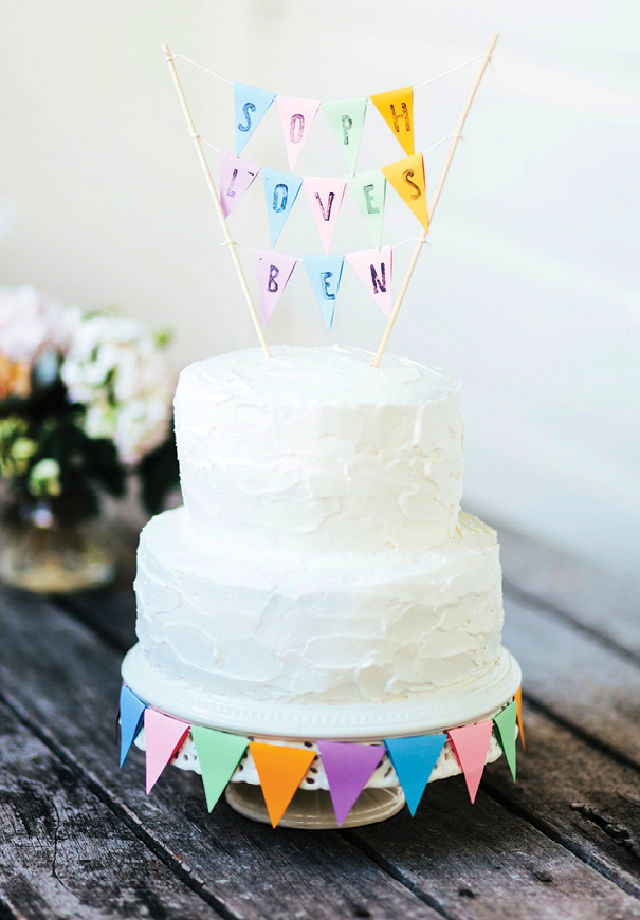 Craft a mouth-watering, personalized DIY wedding cake & topper with this step-by-step guide. You only need simple ingredients like sponge cakes, buttercream frosting, and materials like colored paper, bamboo skewers, baker's twine, and jumbo straws or cake dowels. The process starts with baking the cakes a day before stacking and icing them. Additionally, you'll craft charming bunting decorations from cut triangles of cardboard and twine. For a special touch, a topper featuring stamped names adds a unique and personal finish to the wedding cake. An interesting project that culminates in a beautiful and delicious dessert for your big day. hellomay
5. Make a Sharpie Balloon Wedding Cake Topper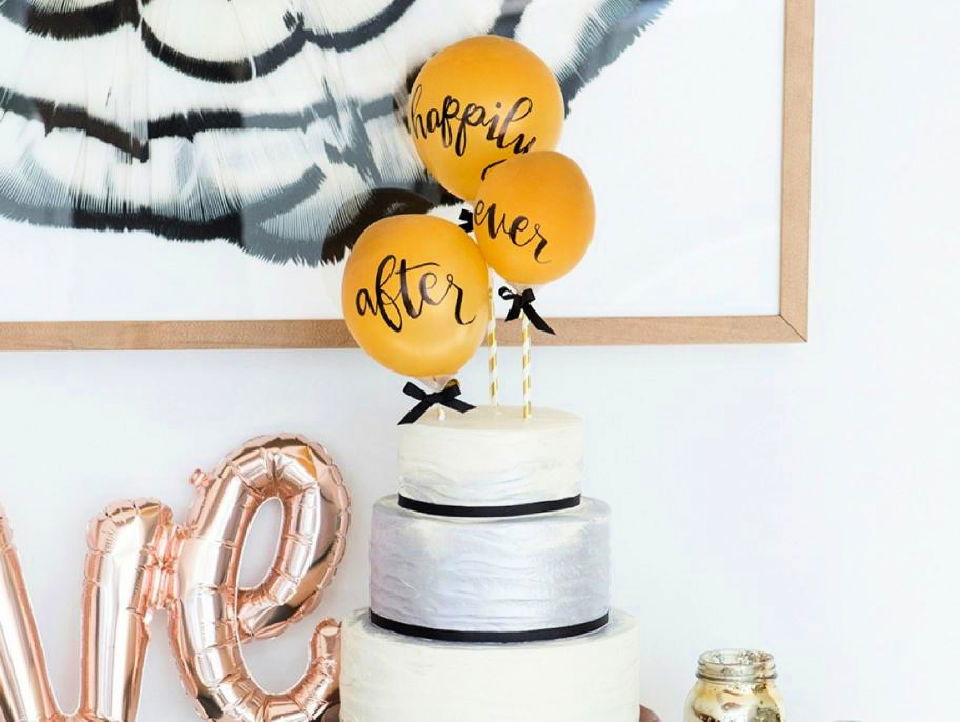 Breathe life into your celebrations with an adorable DIY balloon cake topper. With just a handful of supplies like regular-sized balloons, clear balloon sticks, gold straws, and a black Sharpie, you can fashion a unique and inexpensive cake topper that adds a personal touch to your party.
Hand-letter your favorite phrase or message on the balloons to give them a unique charm. Assembling this project is simple: blow up the balloons, attach them to balloon sticks, and position them on your cake.
Add finishing touches, such as a small bow on the stick or a spray-painted dessert stand for a themed look. This cake topper is created in under an hour and offers a delightful blend of creativity and uniqueness, enhancing any celebration. fun365
6. How to Make a Paper Flower Wedding Cake Topper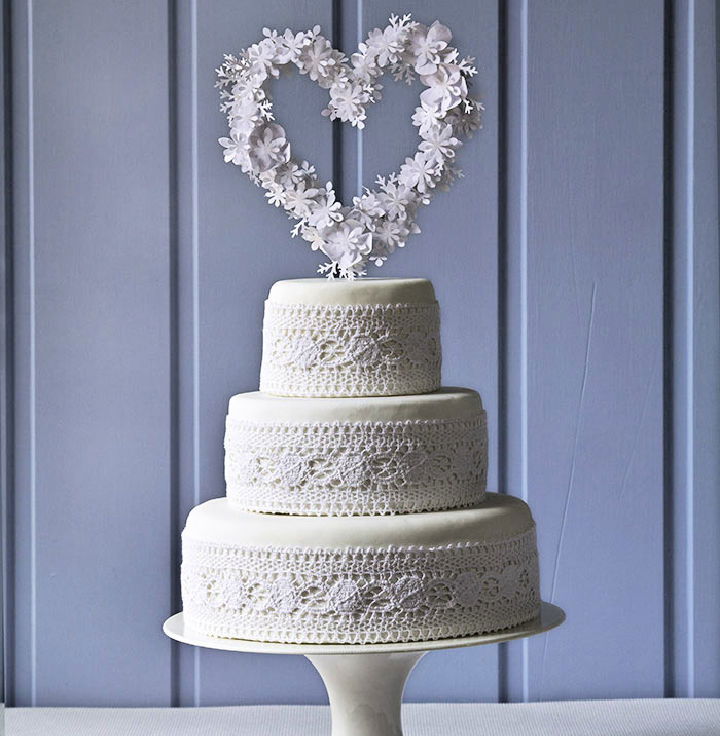 Elevate your wedding cake with a homemade floral wire heart cake topper featuring lush white paper flowers and leaves for a beautiful textural effect. This DIY craft project begins with a 45cm floral wire shaped into a heart and covered with white floral tape.
Utilize a variety of paper punches to make assorted flower and leaf shapes from sturdy white paper, with 3D flowers made possible through double-sided adhesive foam pads.
Arrange and glue these delicate paper elements on both sides of the wire heart frame using a hot glue gun for a full, lush look. This wire heart cake topper will add a charming, personal touch to your celebration cake. Discover more DIY wedding ideas in the latest issue of a modern wedding magazine. modernwedding
7. Homemade Wedding Cake Topper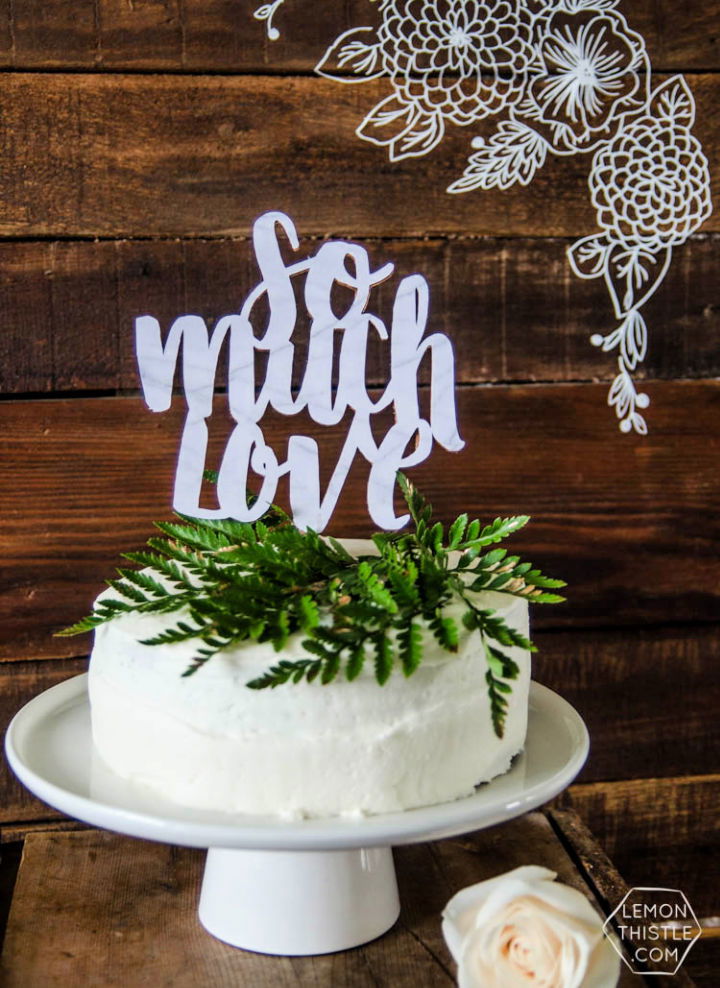 Add a personal touch to your wedding cake with these easy DIY topper designs. Have a personalized and stunning DIY wedding cake topper with this step-by-step guide. This cake topper incorporates marble, hand-lettering, and gilded edges, making it a unique and elegant addition to any wedding.
Using a Cricut machine, you can effortlessly cut out intricate shapes, saving time and ensuring professional-looking results. Download the free lettering design or make your custom design for a personal touch.
This tutorial provides detailed instructions, including the materials needed, such as chipboard, marble-printed cardstock, spray adhesive, liquid gold, and a small paintbrush. Learn how to make a beautiful wedding cake topper to impress your guests! lemonthistle
8. Making Your Own Watercolor Wedding Cake Topper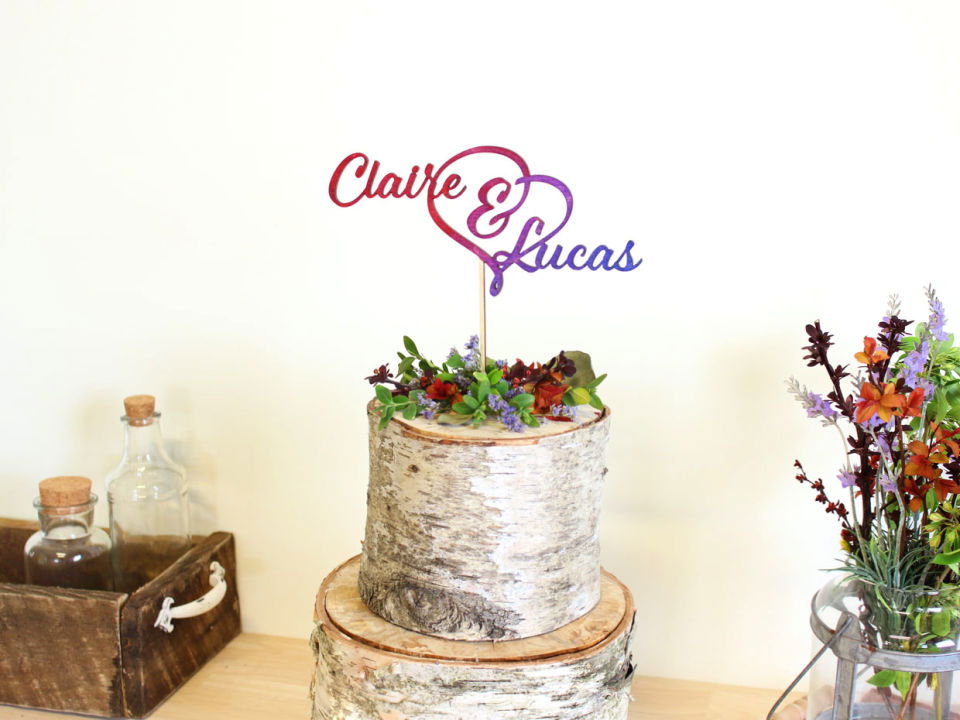 Add a personalized flair to your wedding cake with a DIY watercolor cake topper. Match it seamlessly to your wedding theme using a few simple materials: a natural wood cake topper, a watercolor paint set, and some paper towels.
Inspired by the wedding invitation, the creator delicately blended dark magenta, plain purple, and a blue-purple mix to match the wedding colors.
Handle the cake topper carefully as you paint, and blot any overly dark areas with a paper towel to maintain consistency. The spike was left unpainted to keep the focus on the painted section. The result is a beautiful, custom-made cake topper that adds an elegant touch to your wedding cake. craftcuts
9. Glittery Wedding Cake Topper in Ten Easy Steps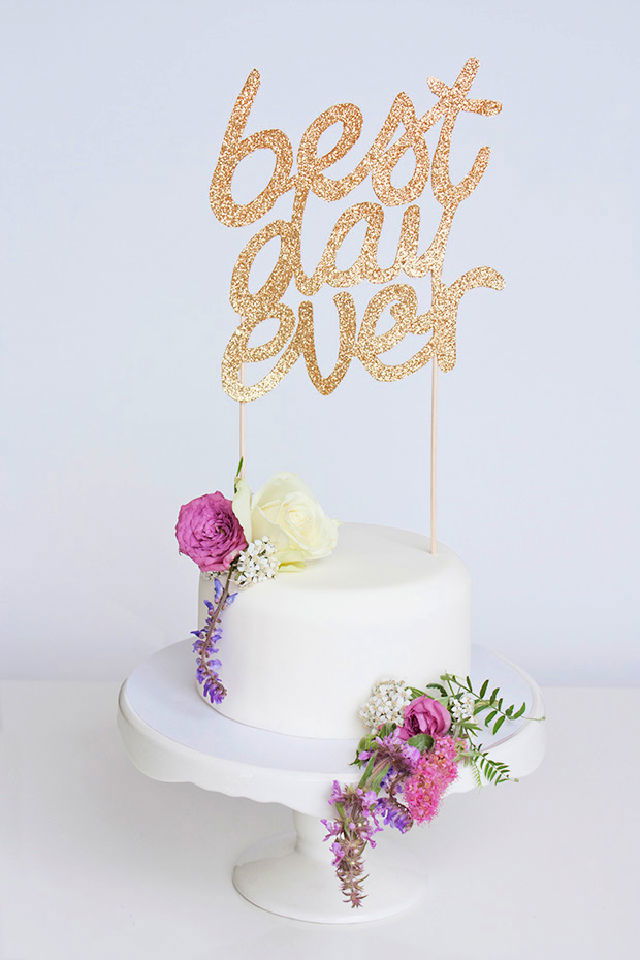 Introduce a dash of personality and charm to your wedding cake with a customized, glittery DIY topper! An easy, cost-effective venture, the 'Best Day Ever' wedding cake topper demands just a few materials: printer, white card, blade, scissors, cutting mat, washi tape, PVA glue, gold glitter, paint brushes, cupcake liners, skewers, and a glue gun.
The ten-step process starts with gathering your supplies and downloading a printable template. Cut, paste, and sprinkle glitter on the card template, then affix it to the skewers, ensuring it's dry before use. This DIY endeavor is an engaging, hands-on project that infuses uniqueness and individuality into your special day, making your wedding cake stand out. onefabday
10. DIY Dog Wedding Cake Topper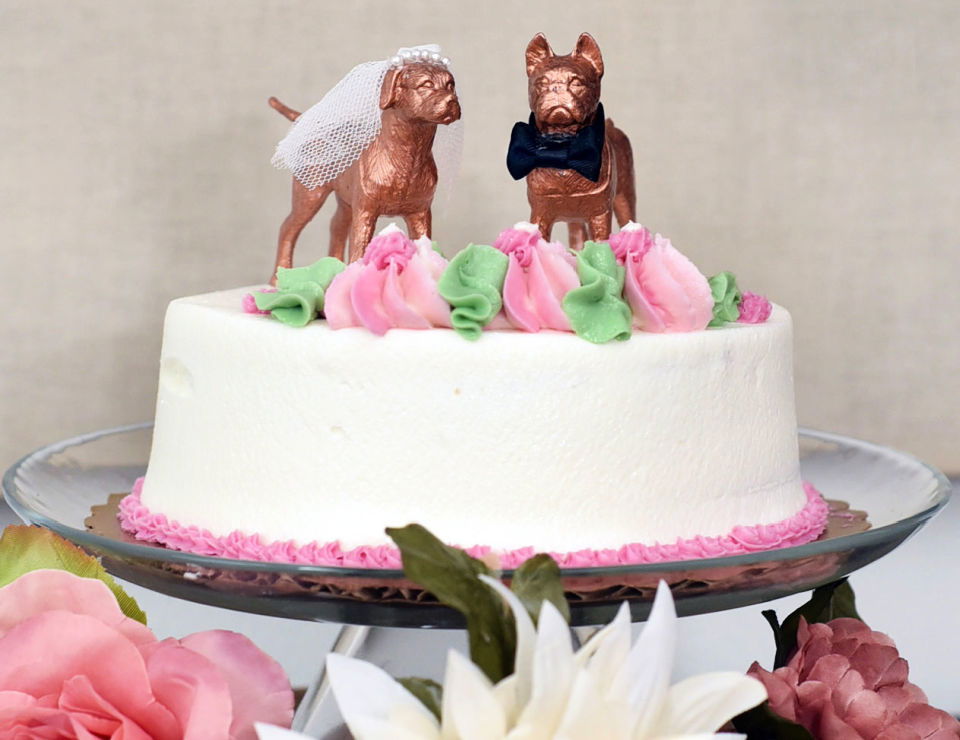 Elevate your wedding dessert game with these simple yet stunning DIY toppers. Celebrate your furry friends and the joy they bring to your life with these charming DIY dog wedding cake toppers. With affordable and readily accessible materials like dog figurines, acrylic paint, and everyday crafting supplies, you can make these adorable figures that express your canine love to your guests.
These toppers are easy to adapt for any occasion and make a unique and fun addition to any celebration cake. With detailed steps, from priming and painting the figures to crafting tiny accessories, this guide offers a creative, straightforward, and enjoyable project.
Remember to practice safe food handling, avoiding the consumption of any portion of the cake in contact with the toppers. Display your love for your four-legged companions in the most delightful way, making your big day even more memorable. thebrokedog
11. How to Make a Paper Banner Wedding Cake Topper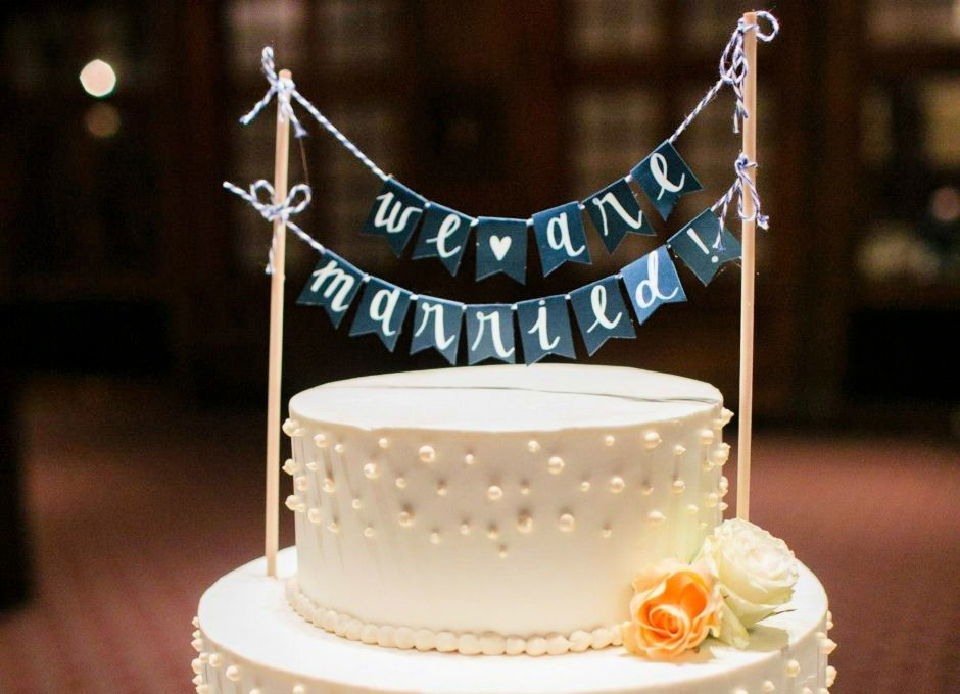 Experience the joy of adding a personal touch to your wedding with this charming DIY banner cake topper. Despite a wedding cake not being the highlight, the little details make your day extra special. This centerpiece here is easy to create, cost-effective, and can be personalized to match your theme.
Made with minimal materials like wooden dowels, baker's twine, cardstock, and a hot glue gun, this banner cake topper is the perfect solution for a last-minute decoration. Follow the straightforward steps, from deciding your slogan and arranging letter flags to the final assembly.
Consider this a fun opportunity to express your creativity. Regardless of your calligraphy skills, you can utilize alphabet stamps, stencils, or scrapbook stickers for the lettering. So, ready your DIY toolkit and make this endearing keepsake of your special day. ureadyteddy
12. Celebrate Tassel Wedding Cake Topper Design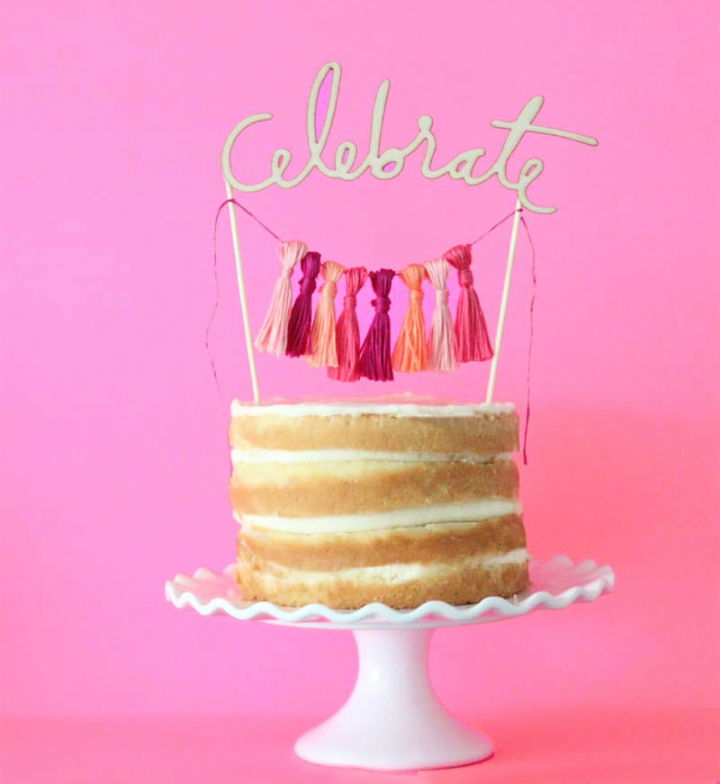 Gear up to spruce your party décor with this charming DIY celebrate tassel cake topper. Guided by the talented Chelsea from Bright Bold Design, this budget-friendly crafting project brings an eye-catching pop to any celebration. You can transform your cake into an unforgettable showpiece with basic materials like embroidery thread, scissors, a 'Celebrate' wood cutout, and skewers.
What's more, this unique topper costs less than $5! You make mini tassels by looping, tying, and trimming the embroidery thread. You've got a custom cake topper by securing these to your wood cutout and attaching them to skewers.
Go ahead and customize it according to your party theme or keep it pretty in pink! Make your cake topper today, and let every slice of cake be a reason to celebrate! bespoke bride
13. DIY Honeycomb Paper Cake Topper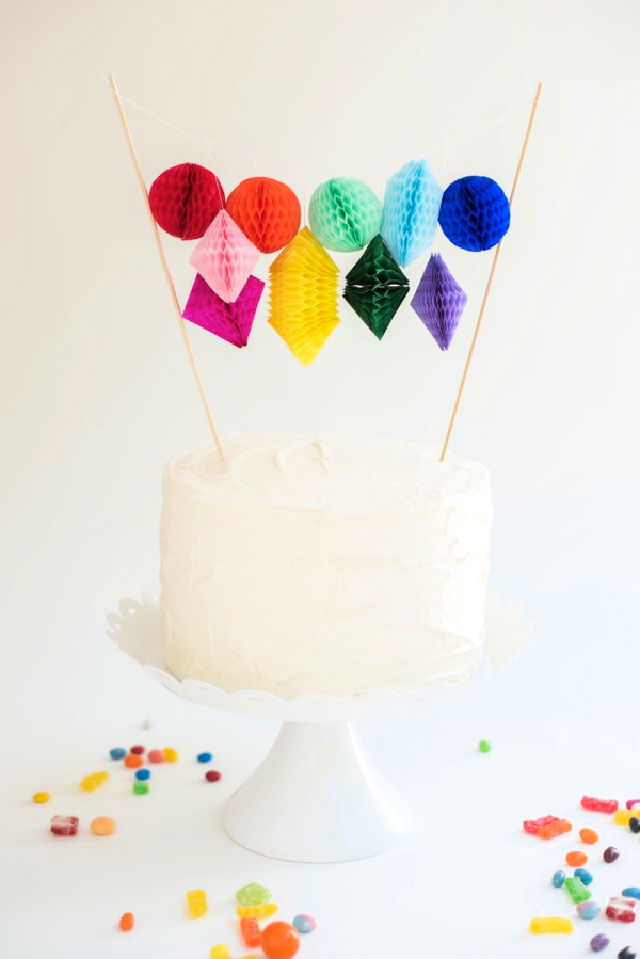 Make a charming and vibrant touch for your baby shower with a DIY rainbow honeycomb cake topper. This crafty addition uses a rainbow pack of honeycomb paper for its design, offering the flexibility to customize colors for a boy or girl shower.
The process is simple yet engaging, requiring basic supplies like a honeycomb paper pad, scissors, pencil, double stick tape, bamboo skewers, string or twine, and a needle and thread. Cut out shapes from the honeycomb paper and attach them using double-stick tape. Alternating between diamonds and circles, string together your vibrant honeycomb shapes to make a captivating rainbow sequence.
Once assembled, attach the rainbow to skewers, turning it into an irresistible cake topper. The result? A delightful handmade accent to your baby shower decor that adds a personal touch and a pop of color to your celebrations. Embrace this project to craft a keepsake that's as memorable as the occasion itself. ohhappyday
14. DIY Unicorn Wedding Cake Topper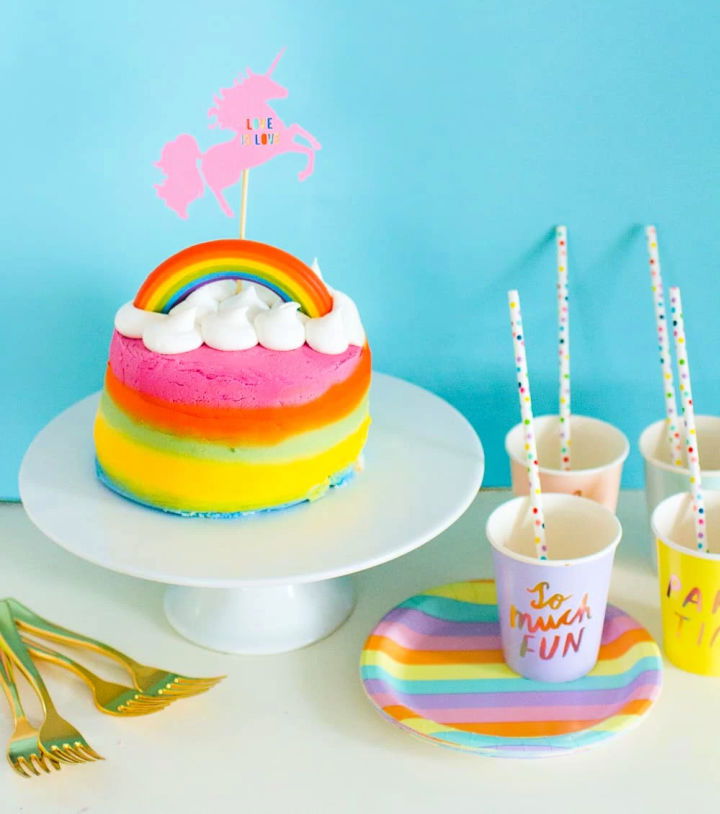 Upgrade your homemade cake's aesthetics with a whimsical DIY 'Love is Love' unicorn cake topper. This simple yet captivating addition will bring color and charm to your dessert in less than half an hour! With a Cricut Explore, a Unicorn Love is Love template and bright cardstock; you can make a vibrant cake adornment that radiates positivity.
The design process involves cutting out a unicorn silhouette and enhancing the letters with a rainbow effect by gluing multicolored rectangles on the back.
Secure the creation onto a BBQ skewer, and voila – your cake now boasts a beautiful, custom-made unicorn topper! Don't forget to double-check your work for accuracy and precision, ensuring a delightful cake decoration experience. bespoke bride
15. Paper Flowers Wedding Cake Topper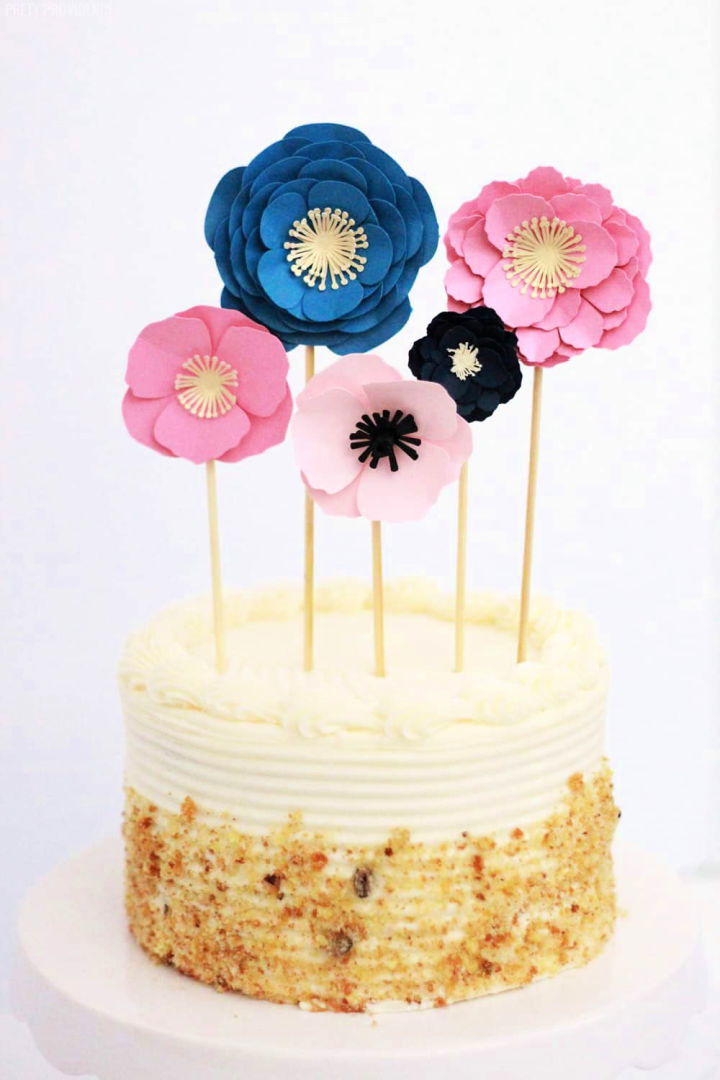 Put a splash of charm to your celebratory cakes with this simple DIY paper flowers cake topper! This decoration requires minimal time and budget, making it perfect for any occasion, for birthdays, weddings, Mother's Day, or baby showers.
Making paper flowers might seem daunting, but the process is straightforward, although it can be time-consuming, depending on your chosen design. You'll need paper flowers, wood skewers, a glue gun, and scissors for this DIY project.
The result? A delightful addition to your cake that elevates its appearance instantly! So why wait? Start crafting these exquisite cake toppers and make your cake as unforgettable as the occasion! prettyprovidence
16. Quick DIY Wedding Cake Toppers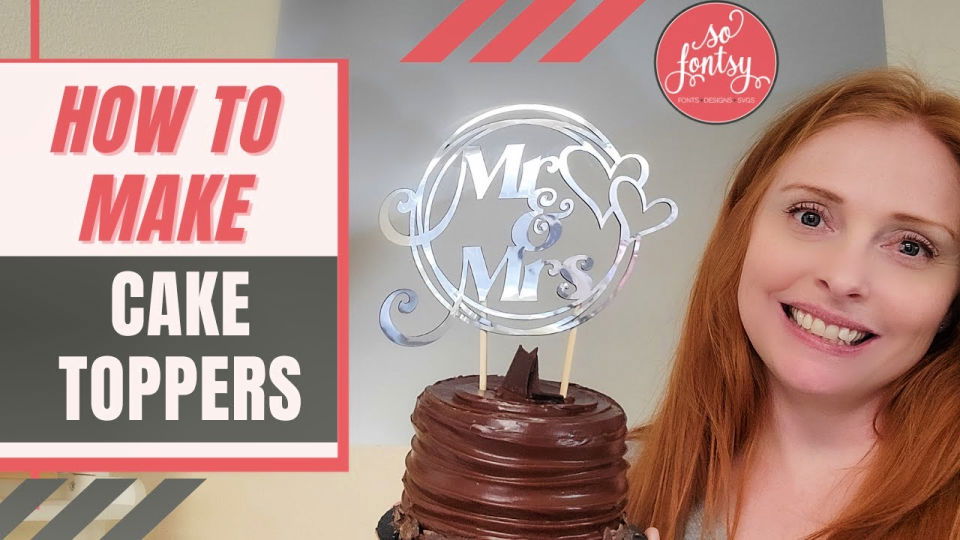 Save money and impress your guests by making your own beautiful wedding cake toppers. Heighten the joy of your special day with this step-by-step guide on how to craft your own elegant DIY cake topper. Featuring the enchanting 'Mr & Mrs' design from the Wedding Font & SVG Bundle, this tutorial opens up an exciting world of DIY possibilities.
The process involves using your die-cutting machine, heavyweight cardstock, bamboo skewers, and some glue. The methodology ensures a refined finish and guarantees the stability of your cake topper – no droopy decorations!
With this approach, you can customize your cake topper with any paper or cardstock, using the same layering technique for added strength. The result? A memorable addition to your wedding cake that adds a personal touch. Enjoy the satisfaction of making your unique wedding decor today!
17. How to Make a Cake Topper With Cricut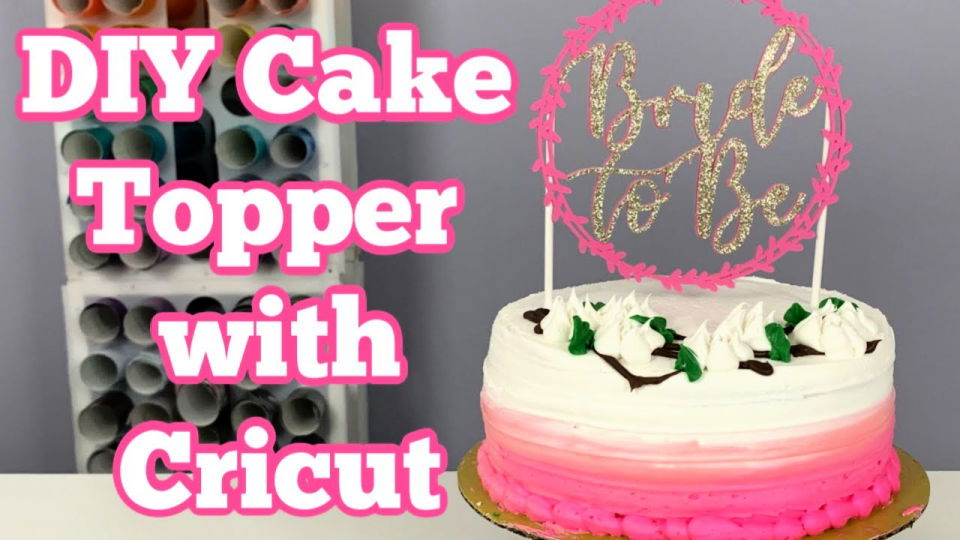 Make a statement piece for any celebration with a DIY cake topper! It's an innovative project that uses cardstock, tacky glue, and a Cricut Maker or Cricut Explore Air 2. Even the glitter cardstock is an optional ingredient for a touch of sparkle.
With this fun craft, you can elevate the charm of cakes for bridal showers, weddings, or any occasion. The process is straightforward and can be performed by anyone who loves to add a personal touch to their baking endeavors.
This cake topper is a testament to creativity and uniqueness, ensuring your dessert is the centerpiece of every event. Get started today, and craft a cake topper that's as unique as your celebration!
18. Easy DIY Floral Wedding Cake Topper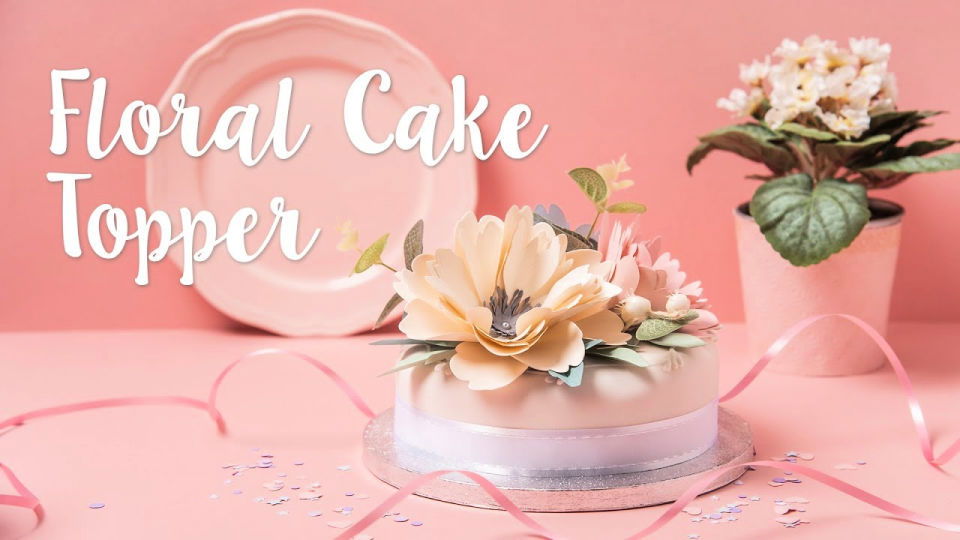 Ready to add a personal touch to your wedding celebration? Make your unique DIY floral wedding cake topper with ease. This creative project requires a Sizzix Big Shot Machine, Thinlits Die Set for Peony creation, various cardstocks, a paper sculpting kit, and a reliable glue gun.
Craft realistic-looking flowers by following detailed instructions, including die-cutting elements, organizing pieces, sculpting flowers, and assembling your craft floral topper.
Adding some faux foliage and gems gives the topper a touch of elegance. This handmade craft uniquely appeals to your wedding cake and allows you to express your creativity. Enjoy crafting your perfect cake topper today!
19. DIY Chipboard Wedding Cake Topper With Cricut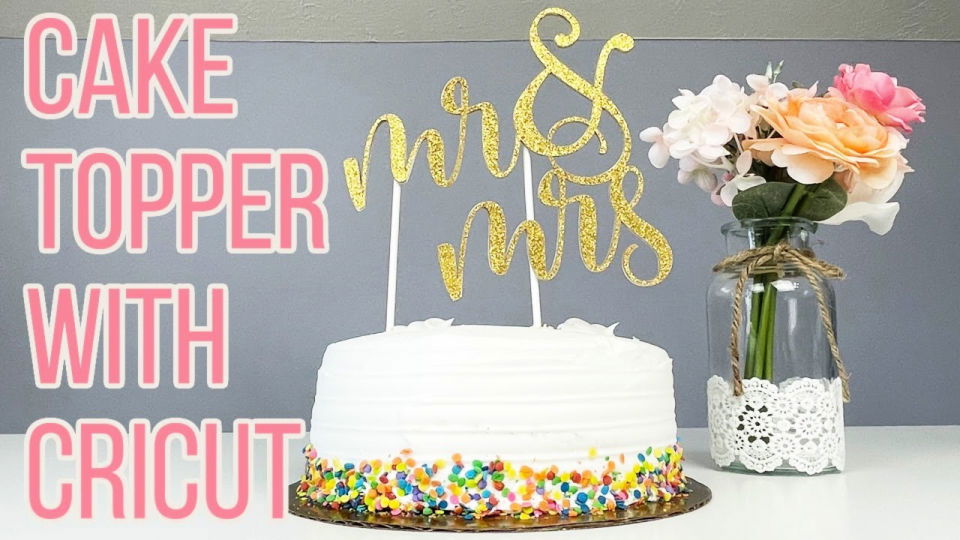 Delight in personalizing your wedding day with a DIY chipboard wedding cake topper made with Cricut Maker! A hands-on project perfect for DIY brides, this tutorial walks you through the step-by-step process, starting with an overview of navigating the Cricut Design Space. Required supplies include:
A Cricut Maker.
The Cricut Knife Blade for cutting chipboard.
A 1.5mm chipboard.
A Cricut Brayer tool.
After cutting the chipboard, let your creativity shine by decorating the topper with glitter or other cardstock. Adding sticks to your cake topper ensures it's ready to take the spotlight atop your wedding cake.
Beyond enhancing your wedding cake's beauty, crafting your topper presents an opportunity to imprint your personality and style on your special day. Utilize the provided links for the necessary materials, and let the tutorial guide you through this exciting project. Crafting your wedding cake topper never seemed so easy and fun!
20. How to Do Wedding Cake Topper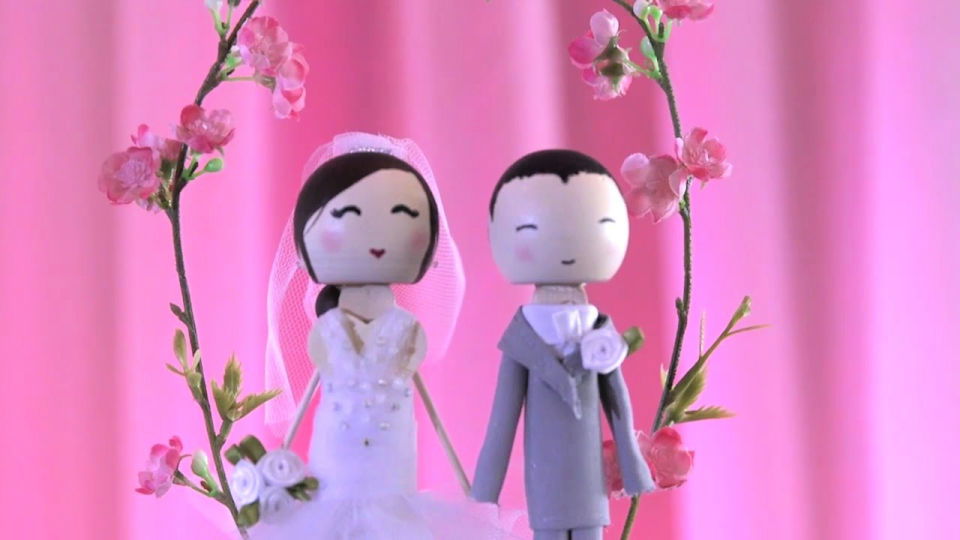 Let your creativity shine with our unique DIY wedding cake toppers for every style. Celebrate your special day with a unique touch by making your DIY wedding cake topper! Personalize every detail to make your cake truly one-of-a-kind. This guide will help you make an unforgettable piece that symbolizes your unique love story.
Using common materials such as polymer clay, acrylic paint, and thin wire, you can construct a topper that adds aesthetic value and a personal touch to your wedding cake. Start by preparing your tools and materials, following a step-by-step process that requires no advanced skills.
As you follow through, you'll discover the joy of making a piece that enhances your wedding cake and serves as a cherished keepsake for years. This topper adds a delightful flair to your celebration, making your wedding day even more memorable.
Conclusion: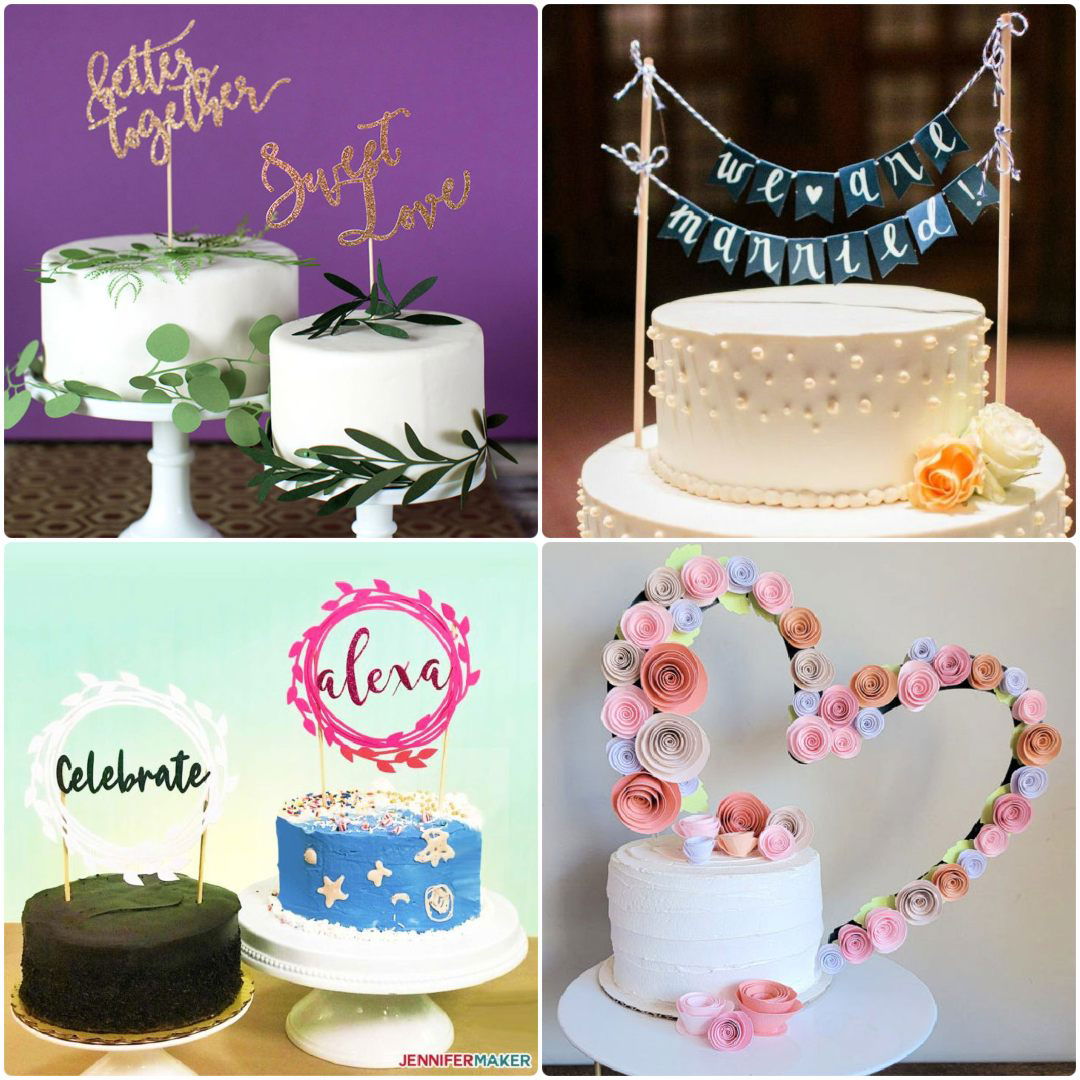 In conclusion, DIY wedding cake toppers can add a unique and personalized touch to your special day. With DIY wedding cake topper ideas ranging from glittery designs to homemade paper flower cake toppers, the possibilities are endless. Creating your own simple cake decorations for weddings is not only a great way to express your creativity but also a cost-effective option. So, explore these 20 DIY wedding cake topper ideas and learn how to make wedding cake toppers that perfectly capture your love and personality, making your celebration even more memorable.