Summer is the perfect time to enjoy most of the outdoor fun, and you can plan so many different things to raise your summer fun to peak level! In summers, the bbq feasting at outdoor and the outdoor parties become very common, and the poolside parties and the garden drink parties are the most popular in the summer! However, if you have also planned to please a cluster of friends, guests or family members by giving some parties, then we are to make you learn how to make your summer parties special! You can do so by installing amazing party decors that will make the people talking about your party and hosting forever!
It would demand to plan some unique, impressive and extra brilliant party decors to win the heart of your party members and to make the party memorable! Are you so intending to make your summer parties unforgettable by adding some unique decorations? Then these 35 DIY summer party decorations ideas are only for you, and it will teach you all the hacks to make the party decorations like a pro, and soon you will be planning your special party decors at home that will dazzle all the audience!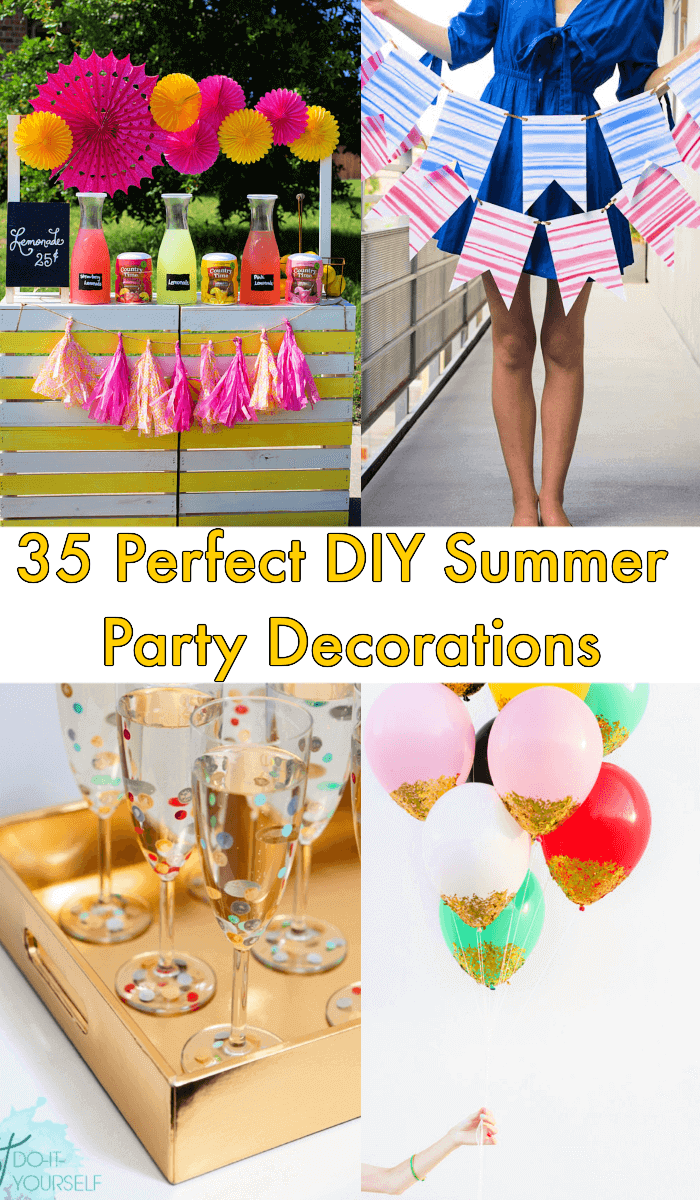 Adorn the party tumblers with gold foil and create a stunning posh look of them, make use of glitter to make gold polka dot and striped candles that will go enticing on your party tables and would be big fun to make! Make your parties impressive by adding colorful polka-dotted glassware that would be super easy to make and also make your parties special by adding individual vintage fabric buntings that would be super easy to make and will be ready in just no time! Give an instant facelift to your party tables by making the colorful popsicle stick part table runners!
Summer Craft Ideas:
Also, the heart of the party guests by making special crayon utensil, and cutlery holders that would add amazing fun colors to your party tables and also make the superb confetti dipped balloons that will hold the attention f the party members! Check out tons of more summer party décor ideas and projects by taking a short tour of the entire collection and duplicate your favorite ideas also for your summer party! Click the attached links to reach to full free tutorials, step-by-step guides and visual instructions for free!
DIY Handmade Gold Foil Confetti Tumblers:
Summers are so much fun as you enjoy lots of parties with yummy and cool drinks being served there. So if you are also hosting some parties this summer here is how you can make your drink glasses look so much cute and fun with the gold spray paint at the bottom and the pretty confetti dots on the rest of the glass. Check out the step by step details of the idea here earnesthomeco
Awesome DIY Gold Glitter Candles:
Summer season is the party season, and no party is complete without the candles being the perfect part of the party table. So here is the idea of making your candles look so much gorgeous and fun by adding the perfect glitter to them and that either in the form of dots or in the form of lines.Here is the idea to check out the details completely apumpkinandaprincess
Make Your Own Polka Dot Glassware: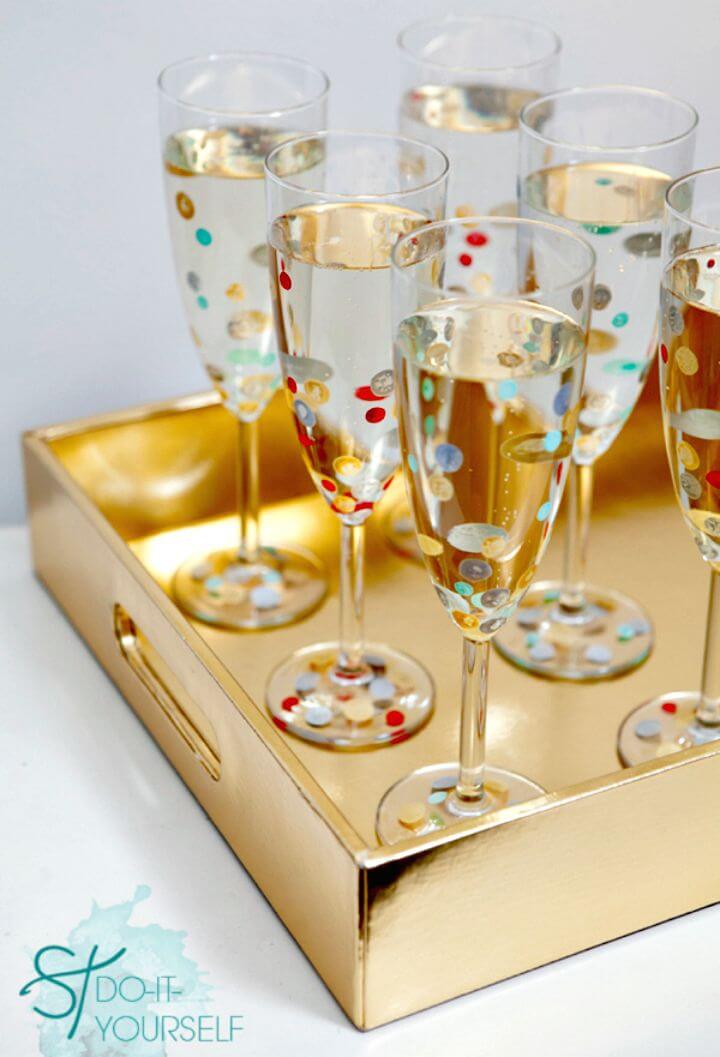 Summer parties are all about the fun and the tasty and cool drinks that you make and let the guests enjoy to beat the heat in a yummy way. Serving your drinks in these adorable polka dotted glassware would be just so much impressive as the glass look unique and fun in this colorful and cute attire.You can use any of the paint colors and create these pretty dots on bottom, top or all over.Link here for details somethingturquoise
DIY No-sew Vintage Fabric Bunting:
while summers bring you all the party fun, it also lets you play with the colors excitingly. So while you are preparing for your next summer party, this idea of creating the utterly cute and colorful fabric buntings is a pretty way to add the lovely summer colors and vibes in your party and home decor and also bust your fabric stash so beautifully.Check out the complete details of the idea here vintagescrapshop
Cute DIY Splatter Paint Popsicle Stick Runner: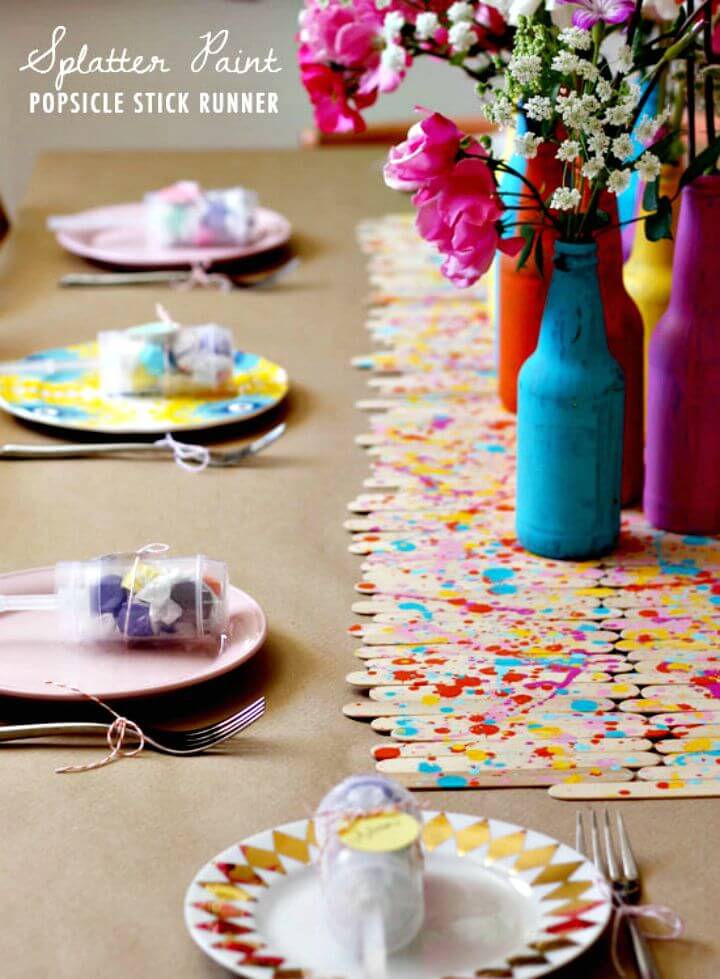 Bring some of the summer beauty and style in your dining room this season of heat with this fun and colorful Popsicle table runner piece that is a hell of easy and fun to make at home. You just need to stack the Popsicle pieces together to shape up the table runner and then paint it with the splatter method using all the vivid hues and here is what you would get.Catch the easy and fun details of the idea here athomeinlove
DIY Crayon Utensil Holders for Summer Party Decor:
Here is how you can add the perfect kind of fun touch to your table decor for your next summer party with all the colors and the funkiness. So grab some empty tin cans and cover them up with the cute and colorful crayons and tie up some ribbons and the stylishly cute holders are ready to house your party utensils to hold the spoons and the forks in them.Here is the link to check out the details of this easy and fun idea step by step chickabug
Easy DIY Confetti Dipped Balloons: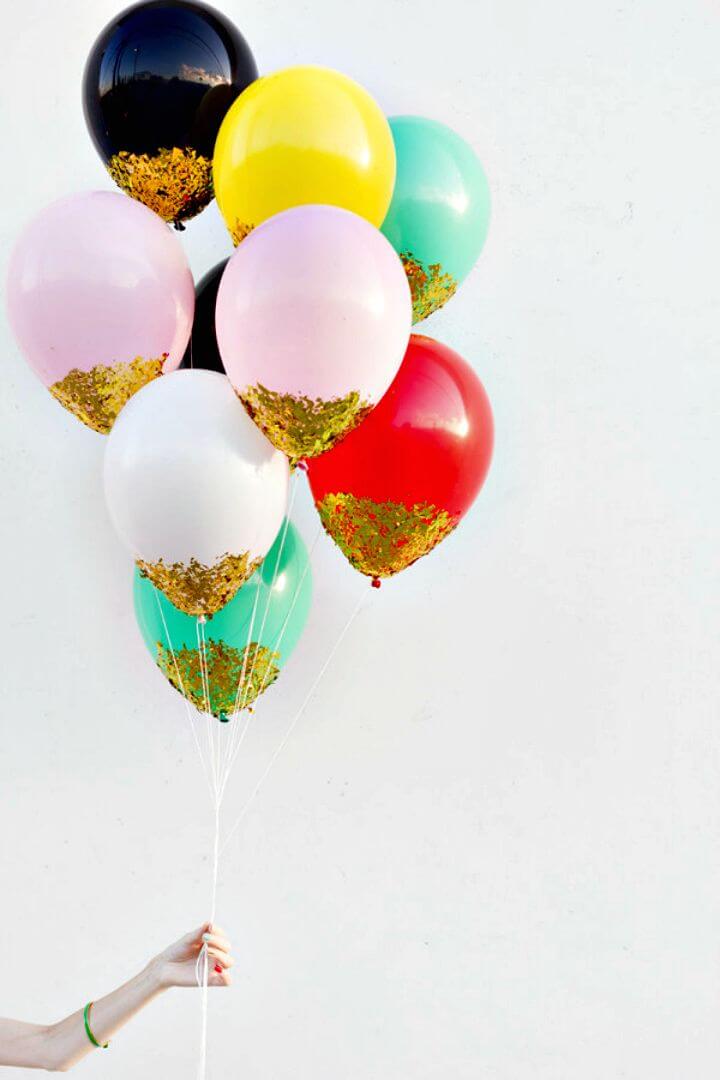 You can create these adorable balloons for the next party decor in your house either its a birthday, anniversary or the baby shower. These balloons have been glued at the bottom and then dipped in the gold foil confetti, and they have turned out to look so damn cute and fantastic. Here is the link to check out the step by step details of the idea so that you can style up your next party decor on your studiodiy
Gorgeous DIY Wedding Confetti Poppers: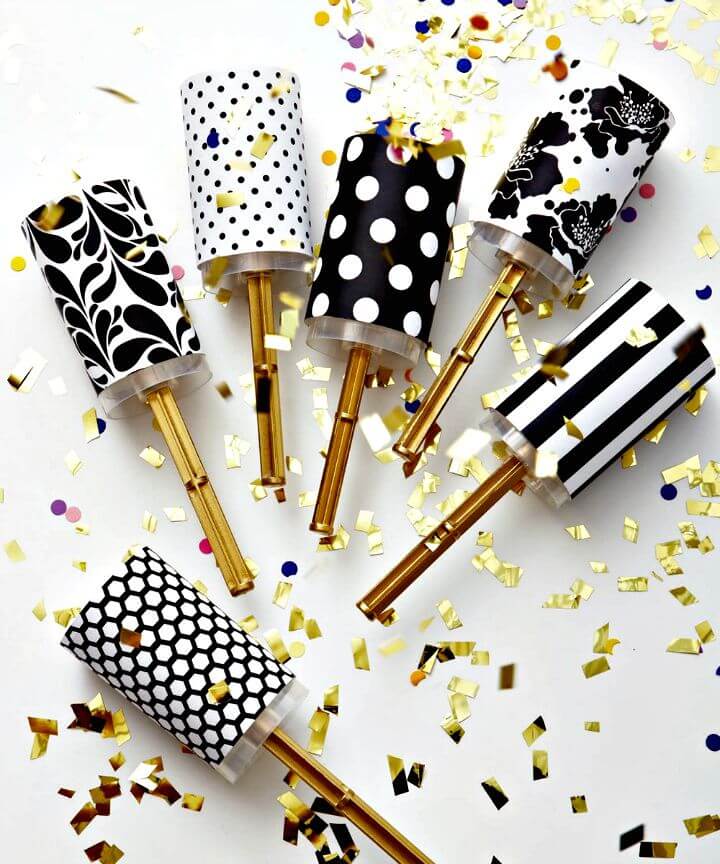 Poppers have become the new trend to celebrate any of the happy and fun occasions especially the wedding. And now instead of spending your money on the market bought poppers you can create these adorable confetti gold poppers on your own at home with the cheapest of the supplies and the materials, and for the tutorial, you can just browse the link here weddingbells
Sweet Summer DIY Pinwheel Tutorial:
Some small and cute crafty additions can add oodles of charm and fun to your decor and here is how you can beautify the table decor for the Independence Day celebrations. In the white, red and blue painted jars you can hold your party utilities, and in one of them you can add the handmade pinwheels, and they would look so much cute and adorable.Here is the link to check out the details of the idea craft-e-corner
Easy DIY Lemonade Stand + Watermelon Lemonade Recipe: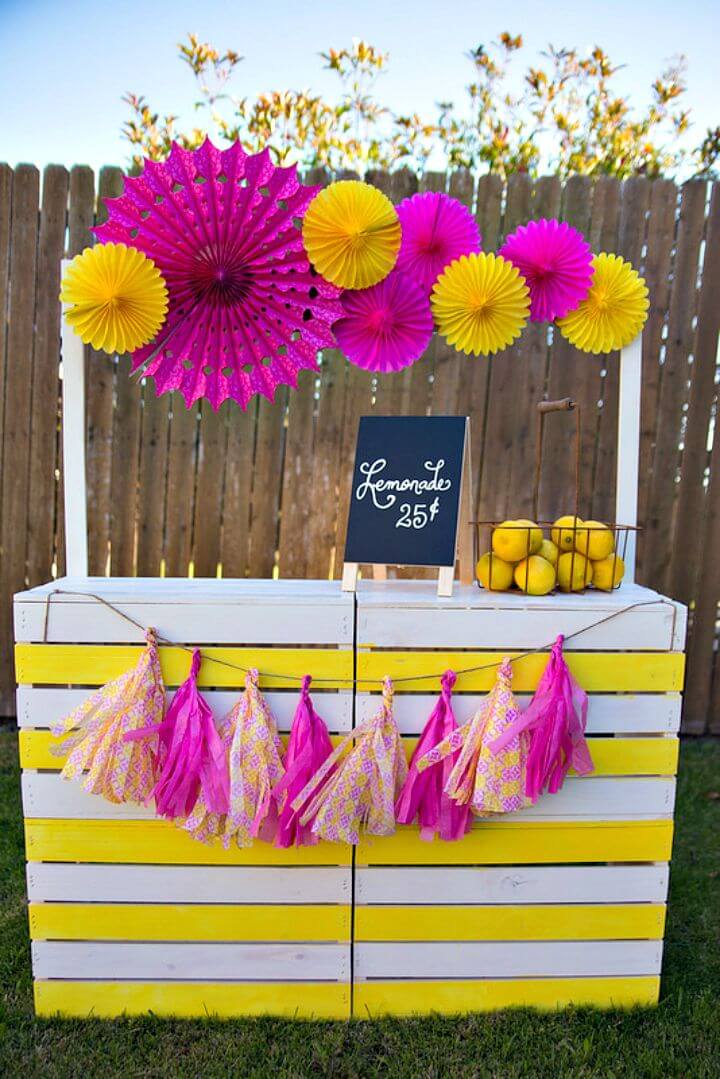 Lemonade and watermelons are the best of the drinks and the most favorite ones too for the summers and here is how you can help your kids to create a fun lemonade stand in the outdoors to enjoy the summers more and more.You can install this lovely table from some wooden planks, paint it with the yellow and the white strips and then decorate it with the ribbons and colorful wheels.Here is the link to check out the details of the idea thenerdswife
How To Make Watercolor Stripe Bunting: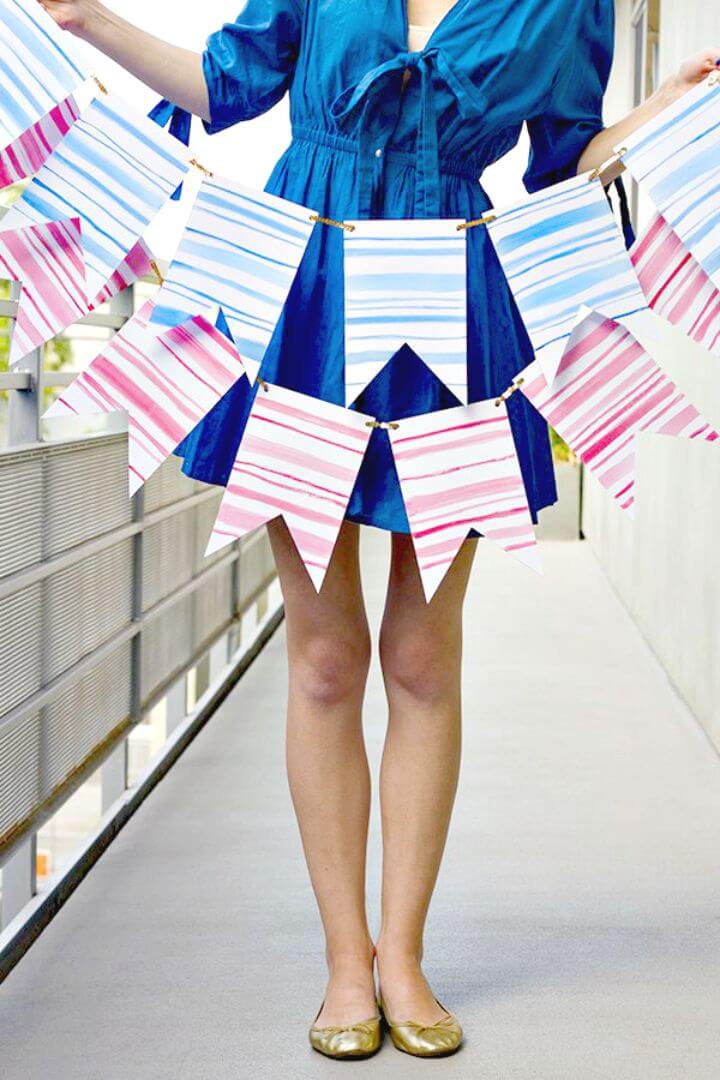 You can create the perfect kind of buntings at home so that they exquisitely match your party theme and more. here are these adorable and decent kind of water stripe buntings using the white paper. Just cut your flags or buntings, paint your watercolor strips in any of the hues and it's done. You can learn the details of the supplies and the tutorial here thesweetestoccasion
Adorable DIY Ice Buckets:
Chilled out drinks are the life of every summer party or the gathering and if you are also hosting one then here is how you can create an ice bucket that is not only functional but utterly good looking too. The ice buckets have been filled with water, lemon and citrus slices, cranberries and herb leaves and then the soda bottles have been placed inside and refrigerated. Here is the link to check out the tutorial with pictures and the instructions thechicsite
Super Cute DIY Mini Beach Bungalow Gift Wrap: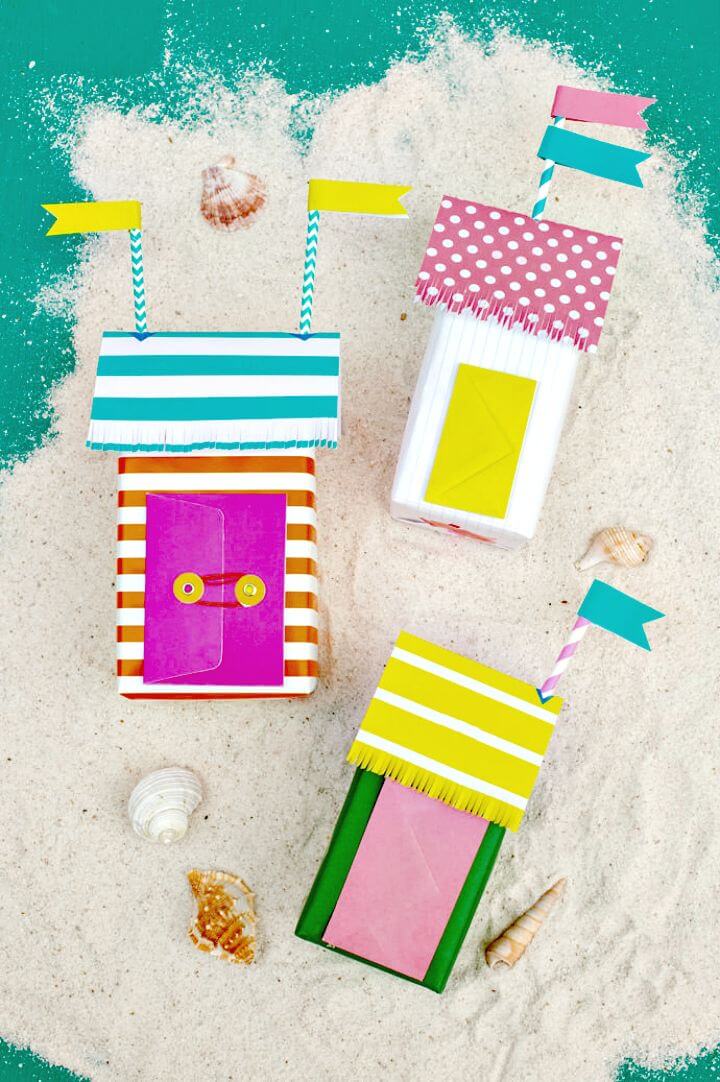 Gifts are fun to decorate and pack and here is how you can wrap up a gift if the celebrations or the birthday is coming in the summers. Being all about the beach fun you can give your gift the summery feel too and thus make it look like this cute and colorful beach bungalow gifts, and everybody would just instantly fall in love with them without even opening the gift.Learn the complete wrapping tutorial here handmadecharlotte
DIY Restoration Hardware Concrete Fire Column:
DIY Pineapple Honeycomb Party Decorations: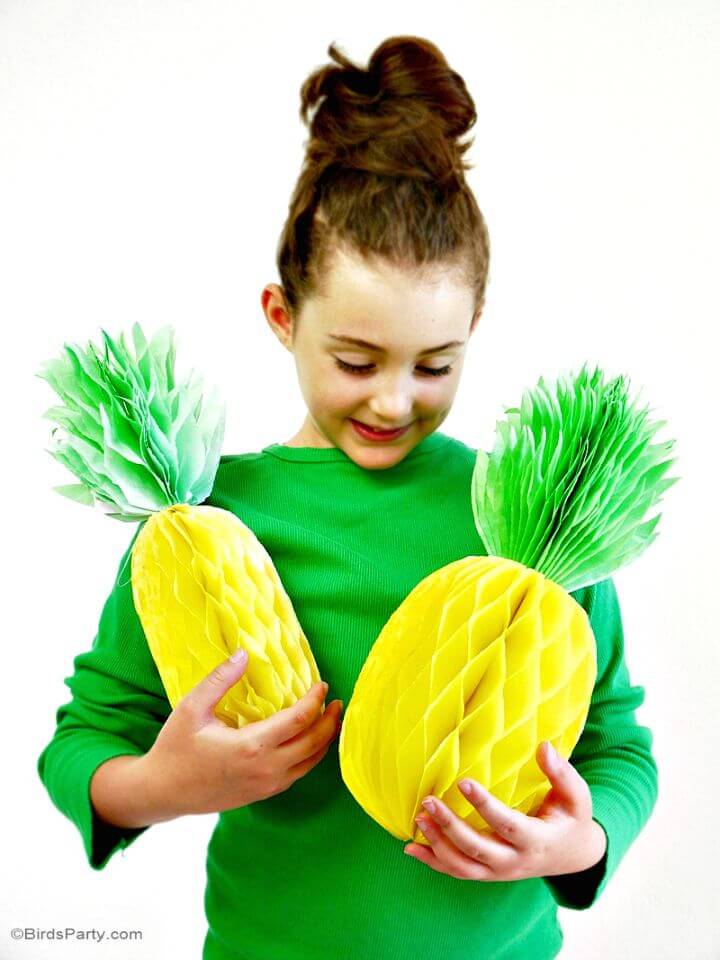 Anything out of your favorites can be adopted as the fun theme of your summer parties, poolside gatherings and the celebrations coming in the hot weather. So here is how you can adopt this fun pineapple theme and create these adorable pineapple decorations to style up the decor with. They are so much easy, cheap and fun to create yourself at home and you can learn everything about them right here birdsparty
Super Cute DIY Donuts Balloons: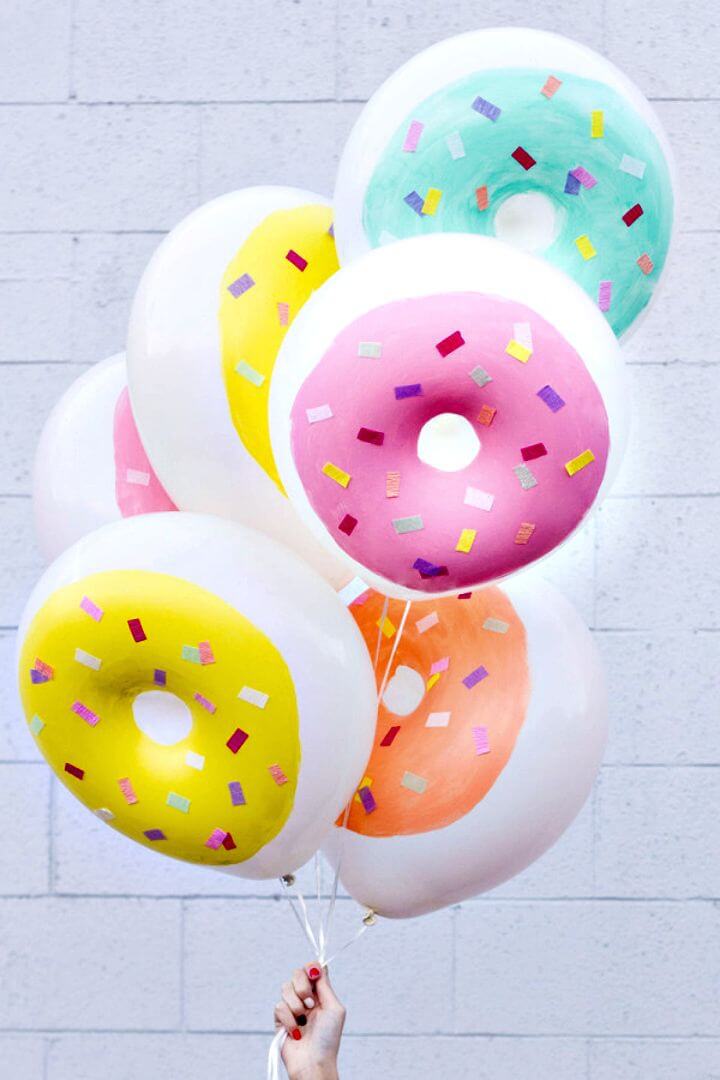 Donuts are making a fun theme for so many homey crafts and the party decors especially for the kids and here is something that would excite you more about them. Yes, these are the pretty, cute and colorful donuts balloons that would look fantastic I any of your party decors, especially for the summers. Just get the plain white donuts balloons, paint them up and add the colorful paper cute sprinkles and they are ready to spruce up the decor level of your party.Details here studiodiy
How To Make Lantern – Summer Part Decor:
The cool breeze in the summer evening is just the right thing to relax in the summers and here is what can add more to such relaxing ambiance in your patio or the porch and they are these cutely glowing lanterns. These pretty and cute round shaped lantern balls are so much easy to create out of the yarn and the string light and here is the complete tutorial suggesting you to all the details and instructions splashofsomething
Easy DIY Painted Glassware:
Tasty and healthy drinks are the best way to deal with the summer heat and to be served to the guests to either it's a small family gathering or a fun party at your places. So to make your drink serving impressive, you can create this unique and custom glassware set on your by painting them on your own and that too in your favorite design, pattern and the hues.Catch the complete details of the idea here iheartnaptime
Inexpensive DIY Spray Painted Vases – Centerpiece Ideas: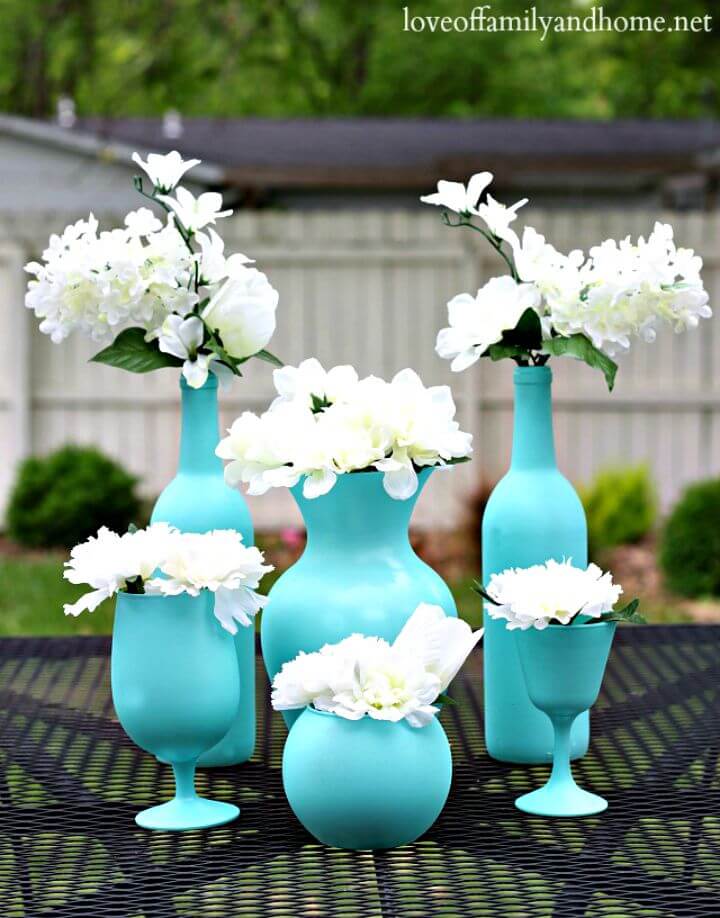 Now you can create the centerpieces for your party decor on your own and that too most cheaply and feasibly. All you need to do is just get some old wine bottles, and some different ins shape glassware pieces and then spray paint them in any of your favorite hues like turquoise, pink, creamy brown and more. Lastly, add flowers to them and arrange them in the center of your table and they would successfully attract each eye towards them.Here is the fully detailed idea to know about them more loveoffamilyandhome
How To Make Floral Plate Chargers: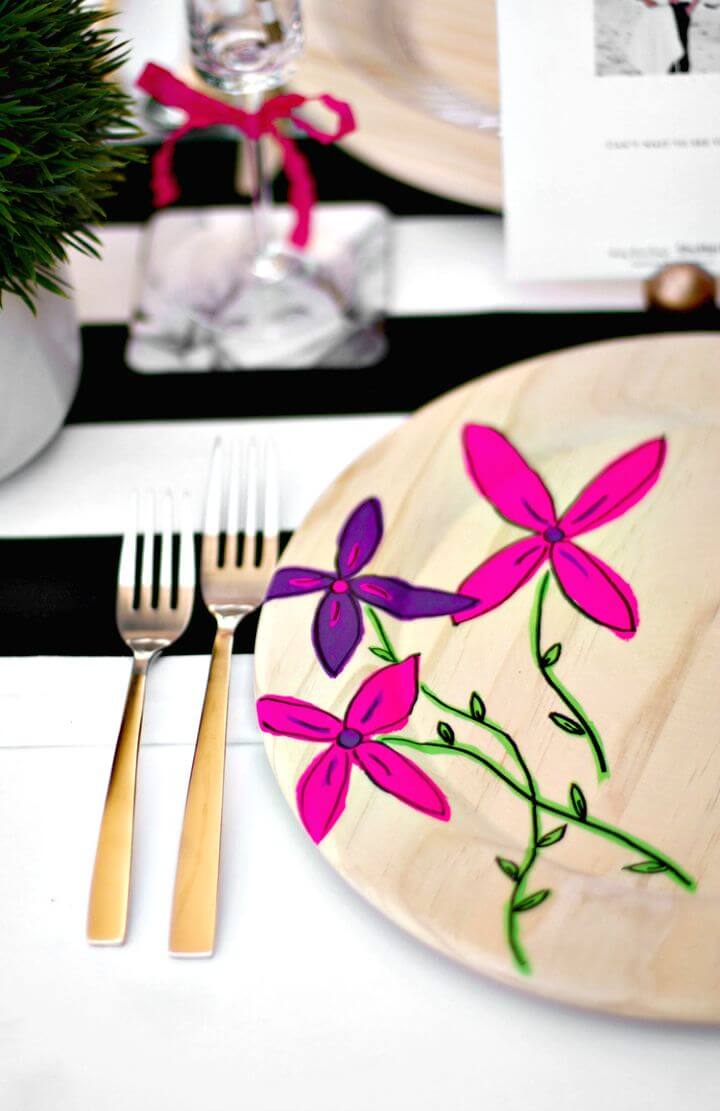 The dining tables ought to look beautiful and impressive for a big celebration like the wedding and here is how you can create these adorable and whimsy kind of chargers at home and turn your table decor to be super gorgeous and stunning. Using the acrylic paint and the sharpie markers you can create the floral design and paint it and its done.Check out the complete details of the idea right on this link kristimurphy
Create Your Gem Balloons: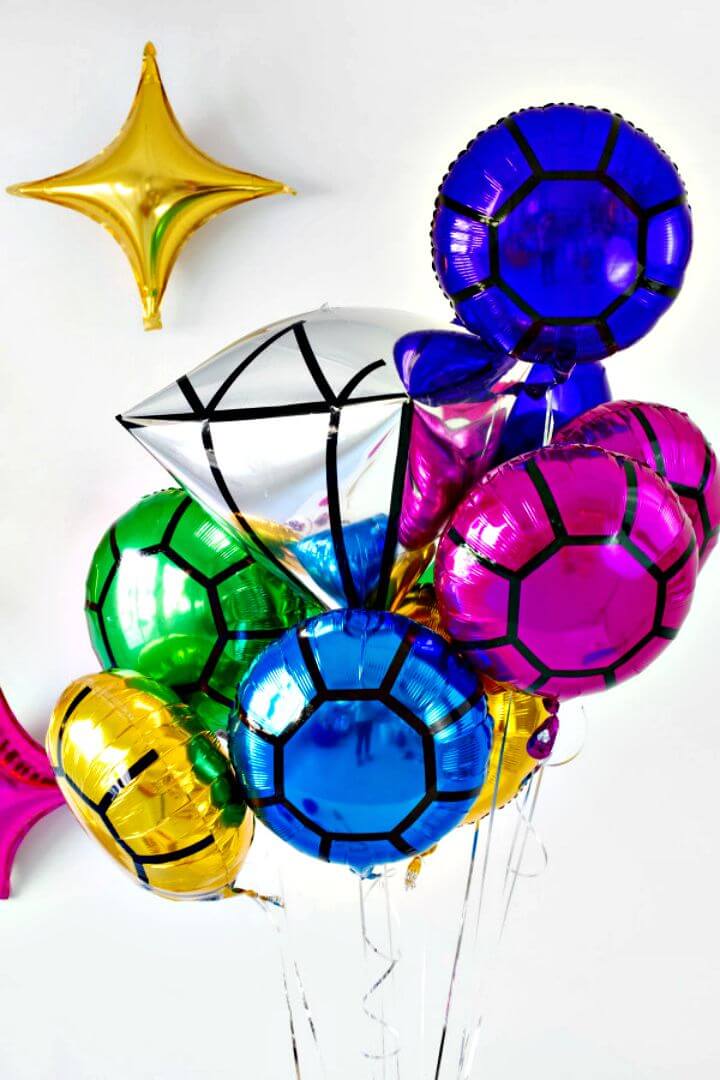 The smallest of the changes can bring the might impacts to your decor for regular home styling or the for the special occasions. SO here is how you can make your next birthday party or the baby shower to be a complete bash and these gem-shaped balloons are going to help you in this regard. You can check out the complete details about these balloons right on this link so do click studiodiy
How To Make Mason Jar Straw Lids:
Sippers are integral to have as they make it easy and fun to sip on your favorite drink and keep yourself hydrated in a tasty and healthy way. So either you need sipper for regular use for the parity these mason jar sippers with the straw lids are just perfect for keeping you sipping on and beat the heat. You need to drill a hole in the sipper, add a rubber round and then put the straws and they are ready to be filled with your favorite drinks and get sipped on thatswhatchesaid
Gorgeous DIY Pineapple Piñata: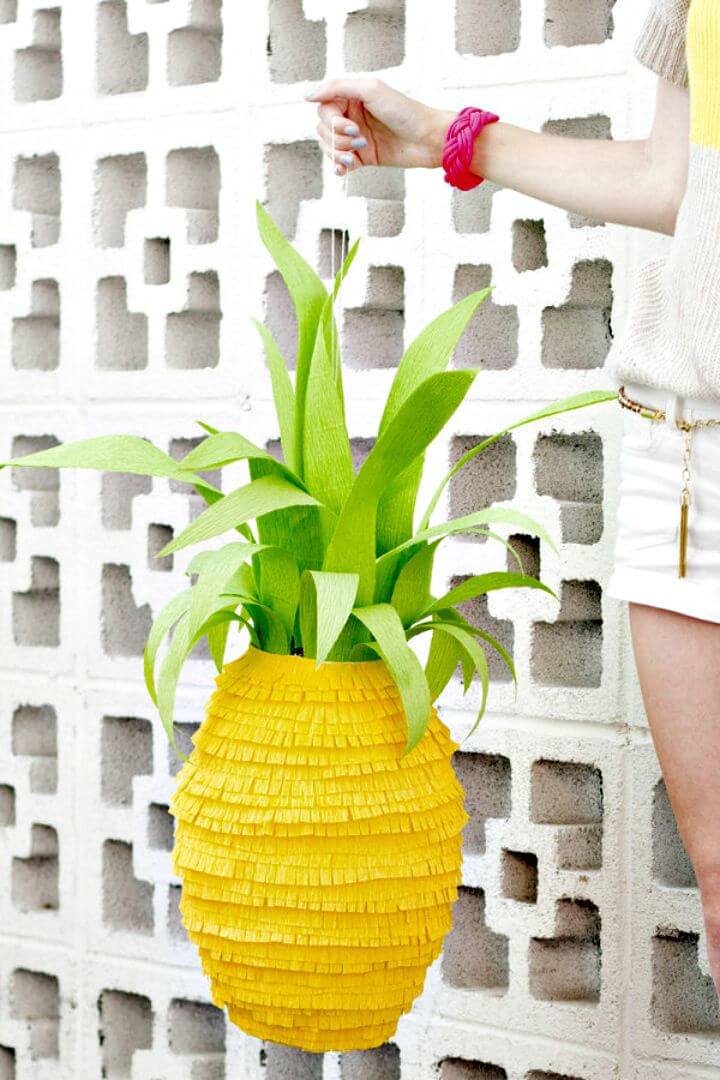 Make your party decor look all stunning and aptly going with the summer theme with this pineapple pinata to be hung over walls. This fun and fantastic pinata are just so much easy and fun to create on your own using the yellow and green paper being cut in the fringes and leaves respectively. Know the complete rest details of this awesome party pinata idea here for the summers studiodiy
DIY Watermelon Tablecloth from Apple Stamps:
Watermelon is the favorite summer fruit as it is best to eat and used for drinks to cope up with the heat int he yummiest manner. So they can make a fun theme for any of your summer decors, and these watermelon stamped tablecloths are just the perfect way to add the summer style in your outdoor or indoor spaces especially when there is a party being celebrated on it.Check out to do it at home here ilovetocreateblog
How To Make Dyed Bamboo Place-mats: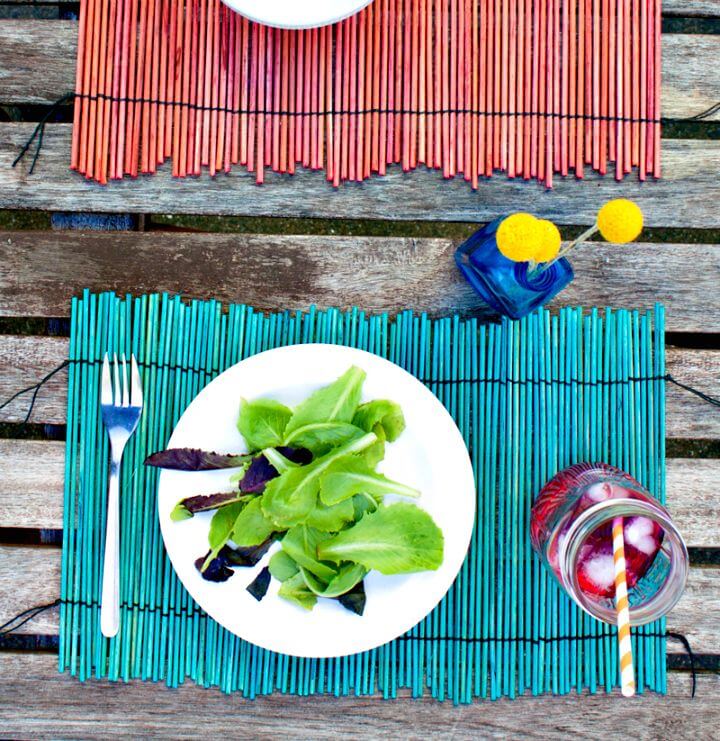 Colors are the style stamp of the summers and the decor for this season and here is how you can create these colorful bamboo mats for your outdoor dining either for yourself, or you are planning a dinner for your dear and near ones. Just cut out the pointed heads of the BBQ skewers, dye them and then weave them together with a strong rope, and your mat is just ready to dine on.Here is the link to check out the complete details with easy steps and instructions thehomesteady
DIY Chalkboard Embroidery Hoop Signs: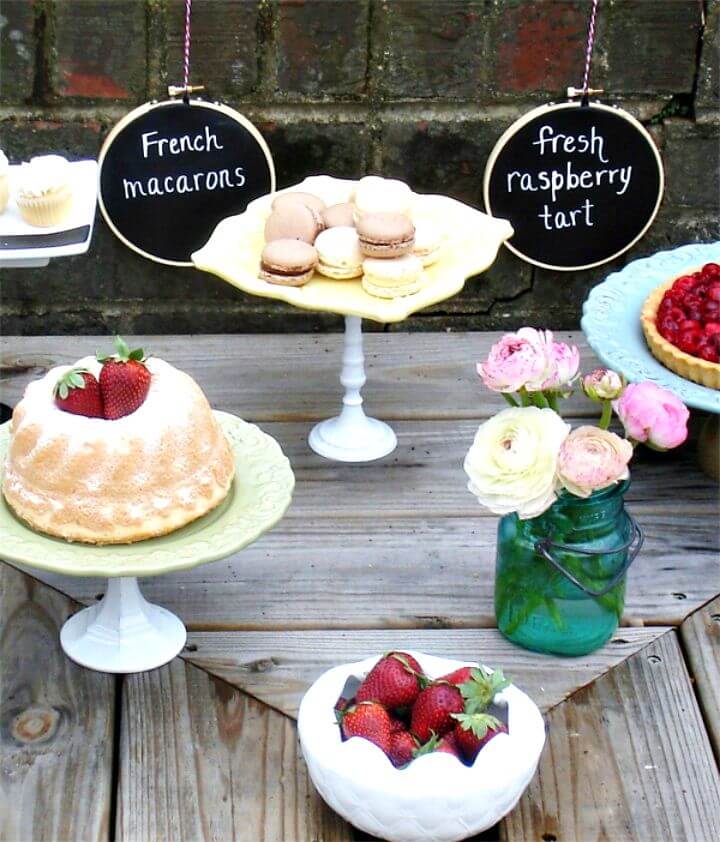 Your meal table for the summer party would look more amazing and fun with these handmade embroidery hoop signs for the food and the drinks. The signs are straightforward and fun to create yourself at home and add some extra charm to your party table decor and also helping the guests with what is being served in the meals by telling it through the signs.Go and check out the complete details of this simple and cute hoop sign ideas here hwtm
DIY Summertime Sun Tea: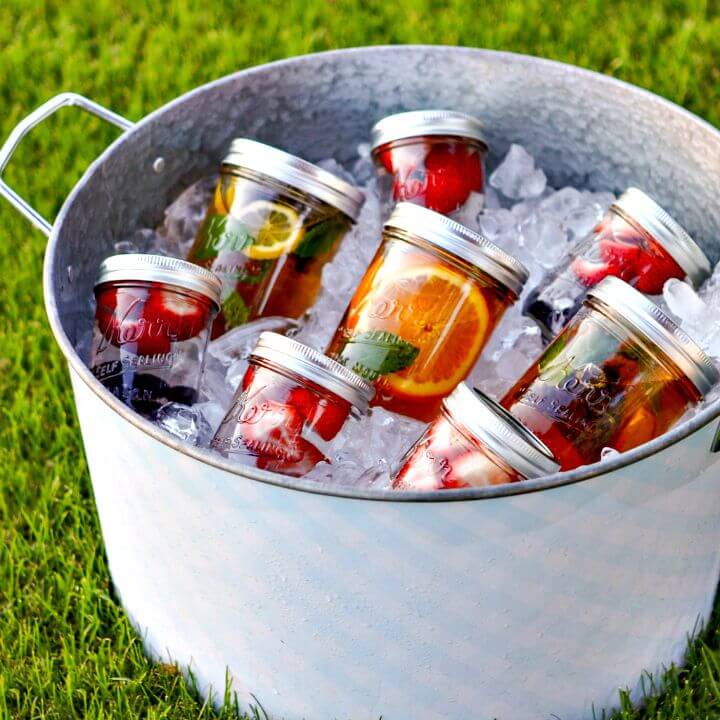 Your summer BBQ or the dinner meals are just so incomplete without some tasty and refreshing drinks being served with. So, here is the unique but awesome idea of drink refreshment that would make your BBQs and dinners special.You can create these pretty looking and utterly yummy sun-steeped cool teas using the fresh summery fruits and enjoy a whole new level of the tea and drinks at the same time.Check out the complete details of the idea here thirstyfortea
Easy DIY Cotton Candy Balloons – Summer Party Decorations: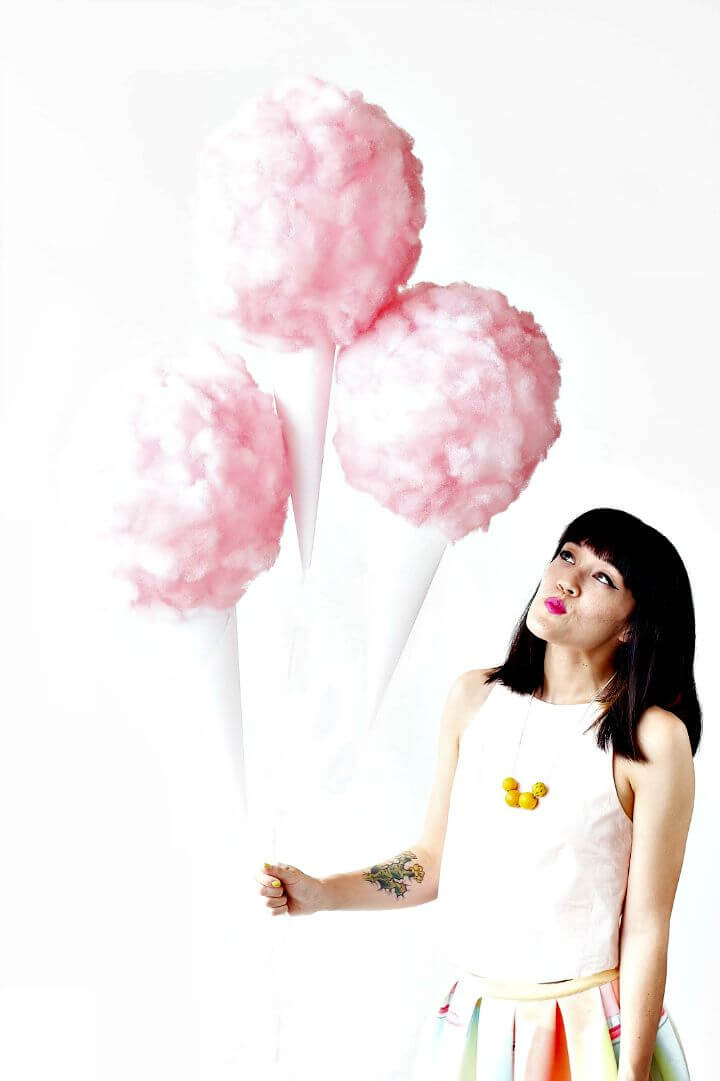 Kids love balloons, and so they love them in the decor and styling when it's their birthday or any other celebrations related to them. As they all love to eat the yummy and sweet cotton candies so you can take the idea from it and create these adorable cotton candy balloons and add oodles of charm and fun to the decor of their birthday. In the cute pink color, the balloons look just too adorable with a white cone tail adding more cuteness to them.Learn to create them on your own at home with the tutorial details here awwsam
How To DIY Floral Balloon with Afloral:
Balloons are an integral part of the decor be it any of the celebrations like birthday, baby shower and the wedding and here is how you can turn them out to be unique, gorgeous and whimsy by adding these adorable peony flowers to the balloon string. Yes, you can turn it into a pretty tassel tail by adding the flowers and the vine leaves, and they are ready to rock your decor.You can catch the complete details of the idea right on this link greenweddingshoes
DIY Party Decorations Using Washi Tape: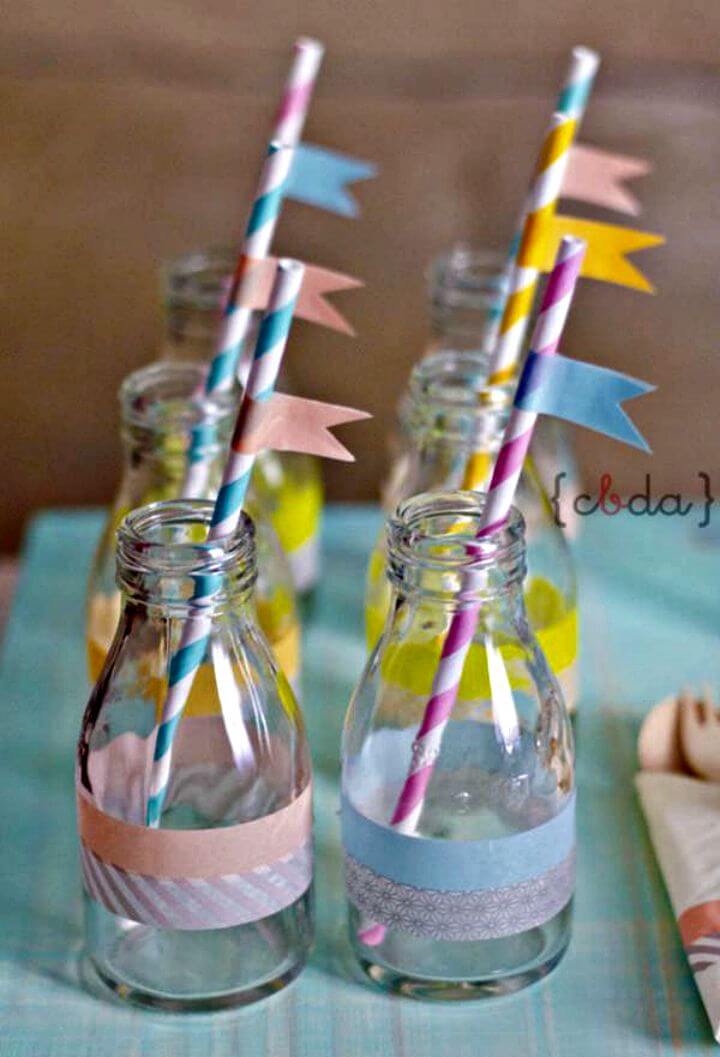 Washi tape is just miracle equipment in the world of crafts as they are available in loads of exciting colors and attractive designs to be used for a huge variety of projects with much ease and comfort. Here are these pretty drink bottles having been fancied up with the washi tape being wrapped around twice and the straws being beautified with the cute flags on the ends made out of the washi taps.You can check out the details of the idea here karaspartyideas
DIY Garden-Inspired Utensil Holders:
Utensil holders are the must-haves for the parties to hold a lot of meal accessories in them like spoons, knives and the forks and here is the idea of creating the most innovative and custom styled utensil holders ever. Yes, the garden pots have been used here as the utensil holders with the chalkboard signs on them and the cute flowers with tiny bottles being attached at the sides to make them look more gorgeous and whimsy.You can check out the fully detailed idea here hgtv
Super Easy DIY Cake Bunting Tutorial:
Make your cake look the awesome and the most the beautiful centerpiece of your party table by providing it this exquisite and cute bunting cake topper. The cute and colorful buntings have been printed with custom designs and then cut out and formed up as this cute and adorable cake topper using a small piece of twine and the skewers. You can learn to make this adorable and cute bunting cake topper on your own using the feasible of the supplies and the details lying under this link here jamiebartlettdesign
DIY Casual Elegance Party Decór: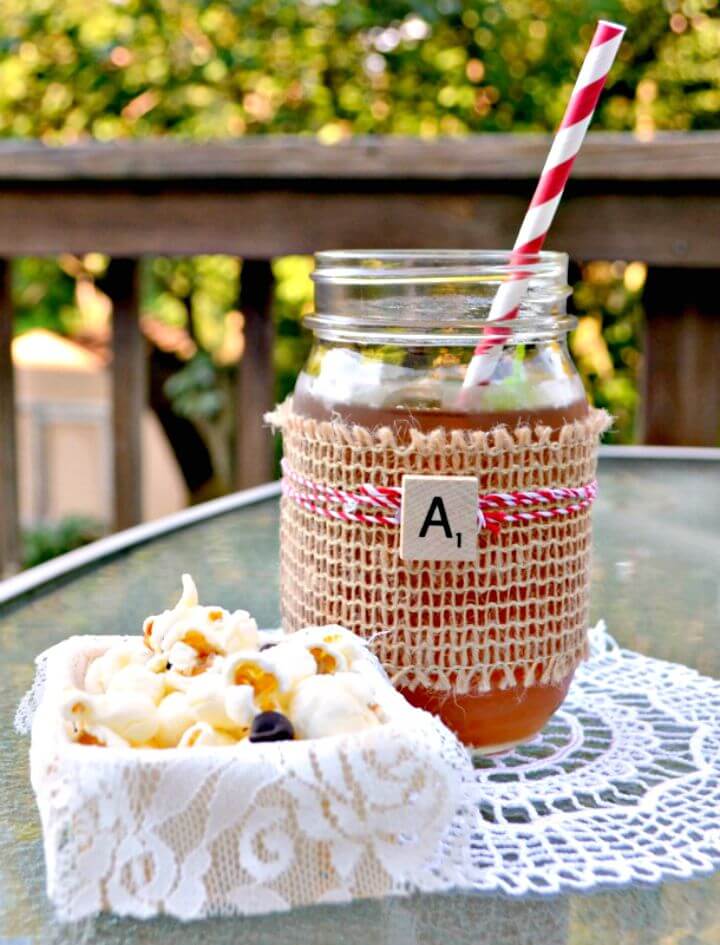 Being a hots is not so easy as you have to take care of lots of departments including the foods, drinks and the decor in the summer and here is how you can create these adorable drink glass with a touch of elegance and win yourself lots of praising remarks by the guests. The drink jars have been wrapped around with the burlap ribbon, and further styled up with colorful twine and the wooden stenciled letters for a sheer custom and personalized touch being added to them.Here is the link with all the details and the instructions to be followed easily at home oneartsymama
Simple DIY Balloon Wall:
Outdoor picnics are the fun parts of the summer weekends, and now you can make them more fun with some cute picnic decor and arrangements being done so nicely and easily there. So here is the idea of creating this pretty balloon wall around your picnic blanket and enjoy a lively and fun ambiance to sit inside and enjoy some quality time with the family or the friends along with tasty and refreshing summer drinks and the meals.Get the complete details of this amazing idea here thehousethatlarsbuilt
DIY Rose, Lemon & Strawberry Infused Water: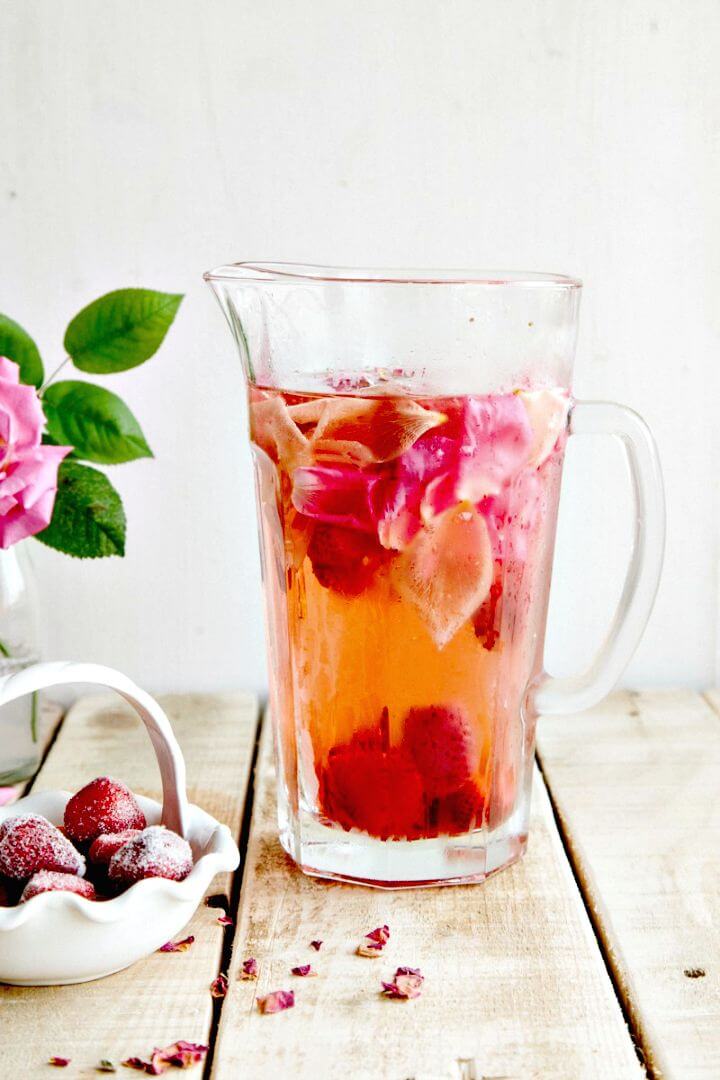 There are lots of drinks that you can create for your summer parties and meals and get everyone refreshed in a cool and tasty way. With the rose, lemon, and strawberry you can create this unique in taste but utterly healthy drink for yourself and for the guests with a delightful color of the rose and strawberry making it look more tempting. You can check out the details of the complete drink here so that you know how to entertain your guests so impressively.Just check out the details of the idea here wallflowerkitchen